New Visual Teased & Cast Announced for Sound! Euphonium the Movie: Oath's Finale
The official website for the upcoming anime film Sound! Euphonium the Movie: Oath's Finale released a new visual along with information on new cast.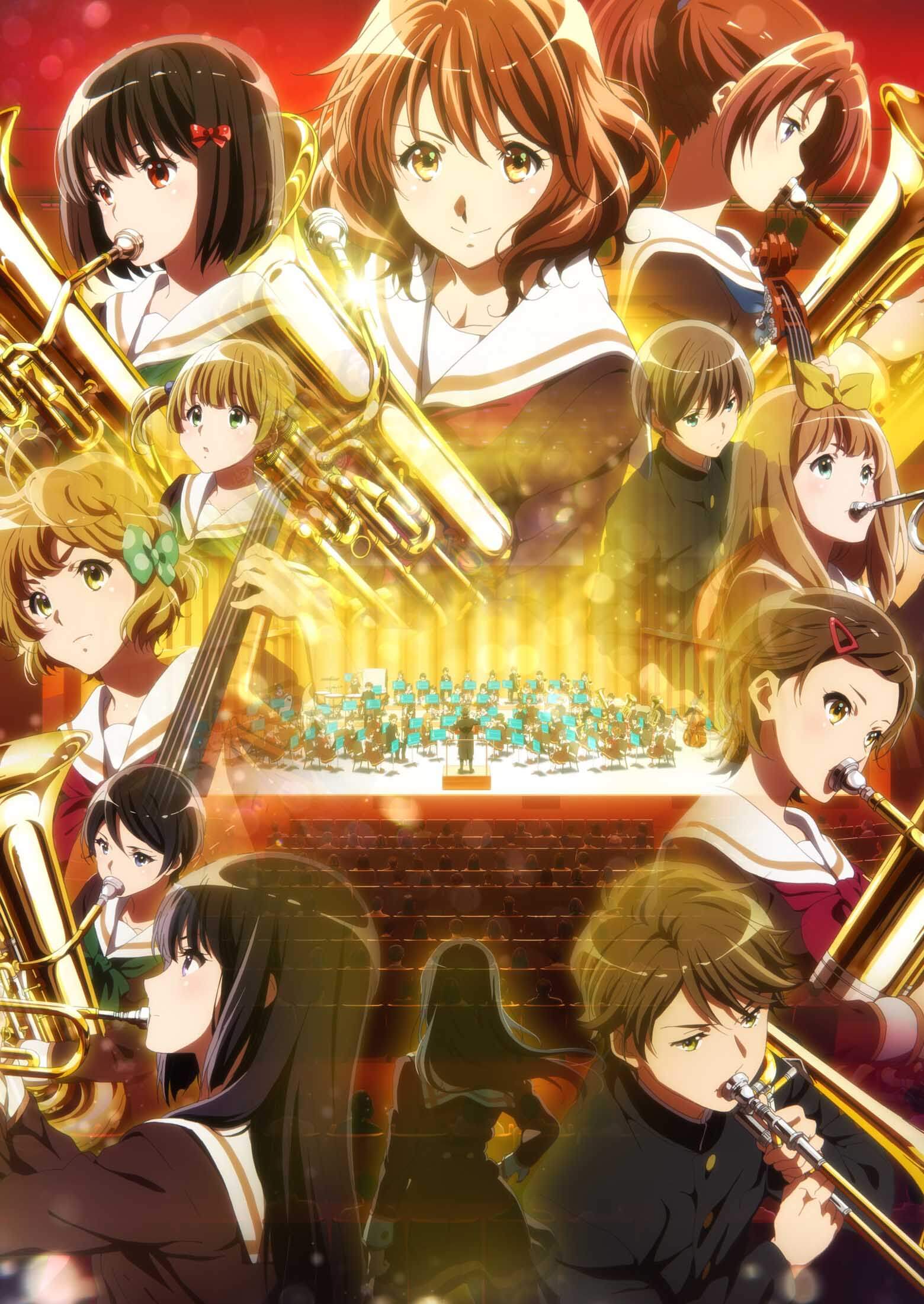 The visual centres on Kumiko Oumae (voiced by Tomoyo Kurosawa) who is now a second-year high school student. She is surrounded by the other supporting characters each playing their instruments with intent looks on their faces.
The newly-announced cast features a line-up of four new first-years:
Sora Amamiya as Kanade Hisaishi
Ayaka Nanase as Mirei Suzuki
Misaki Kuno as Satsuki Suzumi
Shimba Tsuchiya as Motomu Tsukinaga
Sound! Euphonium the Movie: Oath's Finale will hit Japanese theatres on April 19, 2019.
RELATED ENTRIES
Gai Ueno to Star in Upcoming Film 'Sensei! Kuchisake-onna desu!'

On July 7, the film Sensei! Kuchisake-onna desu!, starring Gai Ueno, will open in theaters.

The coming-of-age battle and horror film focuses on the unlikely relationship between an urban legend and a group of high school punks. After three punks steal a motorcycle, they realize that the owner of the bike is none other than a Kuchisake-onna–in Japanese folklore, this is an evil woman with her mouth slit from ear to ear. Gai Ueno plays the role of F1, a member of the high school gang and a hotwiring genius.

<Comment from Gai Ueno (F1)>

"I'm Gai Ueno, and I play the role of F1. Sensei! Kuchisake-onna desu! is truly a film that I want everyone to see. The characters are somehow cute and you'll immediately love them–I'm confident that this is the cutest-ever Japanese film focused on high school delinquents. Even now, I wonder if I can personally get fired up and serious about the smallest things. Working on this movie reminded me to have the power to believe in myself. Please enjoy the movie and take the time to think back to your high school days! I'll be waiting for you at the theater."

<Comment from Director Yuu Nakamoto>

"I guess it's been about 10 years since I lived in Hiroshima, where I grew up. I'm really interested in motorcycles, and one day, I was just mindlessly driving along the country roads at night. Then, from the other side of the road, I heard a noise…and suddenly, there was a woman wearing a mask walking nearby. I had this intuition…I thought "she's not from this world," and in that moment, I lost consciousness. Before I knew it, I was here, directing this film. Hmm…strange, isn't it?"

【STORY】

High school students Takeshi (Taisei Kido) and F1 (Gai Ueno) work part-time stealing motorcycles and selling them to a gang of delinquents for cash. One day, Ayaka (Reina Kurosaki) decides to join after transferring to the boy's school, and business booms. While trying to steal a bike parked at a deserted apartment, the group is discovered by a masked woman who seems to be the motorcycle's owner. In a panic, Takeshi and his friends rush to escape but are quickly overtaken by the woman, who seems to have unbelievable physical abilities far beyond any other human. This woman running 100 meters in 6 seconds is actually the Kuchisake-onna, her mouth slit from ear to ear! What will happen to the group of high schoolers?! And just who is this Kuchisaka-onna?!

Information

Sensei! Kuchisake-onna desu!
Release Date: July 7, 2023 nationwide
Starring: Taisei Kido, Reina Kurosaki, Gai Ueno, Ririka, Masanari Wada/Naomasa Musaka, Shigeo Osako, Hiroko Yashiki, etc.
Director/Screenwriter/Editor: Yuu Nakamoto (Shiryou Gundan Ikari no DIY, Fukuyama Shichou ni Ichinichi Micchakushitemita)

Official Site: https://kuchisake-onna.jp/

(C)2023REMOW

Fans Asked to Name Blimp Inspired by the Upcoming Film 'Doraemon: Nobita's Sky Utopia'

The film Doraemon: Nobita's Sky Utopia will be released on March 3, 2023. The 42nd Doraemon movie follows Doraemon, Nobita, and his friends as they venture off to find Utopia, a perfect land in the sky where everyone lines in joy and happiness. They do so using an airship with a time warp function on their adventure, and to commemorate the film's release, the Flying Doraemon Project began on January 14. A real-life 17-meter-long Doraemon blimp will soon appear in the sky, and fans are being asked to decide on a name for the craft.

The blimp, inspired by the Doraemon movie, will feature popular characters including Nobita, Shizuka, Suneo, and Gian. The blimp is the largest unmanned airship in Japan.

The message of the Flying Doraemon Project is to convey the feeling that in this day and age, children and adults alike can once again look upward and move forward toward their hopes and dreams.

Fans are asked to contribute ideas for the blimps name during the application period. Check the website for more details!

Natsume Mito to Appear in Upcoming Film 'Kono Chiisana Te'

Natsume Mito will star in the upcoming film Kono Chiisana Te (These Small Hands). The film will debut in theaters on April 8.

The movie is an adaptation of the manga series by Mamora Goda, also known for his works Kira Kira Hikaru and Mori no Asagao. The story follows a father who never cared for his daughter and a daughter who has forgotten her father.

This is the feature-length debut of director Hiroyuki Nakada, who previously worked as an assistant director on films such as Love is Light and Tsukuritai Onna to Tabetai Onna.

<Comment from Director Hiroyuki Nakada>

"What is a father?

This question came to me as I was watching my newborn son sleep.
Does supporting a family financially make a good father?
Can a man be a father in some other way? Can he do something else?
While I was pondering this, I came across Kono Chiisana Te.
I really wanted to find the answer to my question, so I decided to work on plans for this live-action film.

I hope that everyone who sees this film will take some time to think about their families in this fast-paced world."

<Story>
Kazuma, an illustrator, lives with his wife Sayuri and their three-year-old daughter Hina.

One night, while Kazuma is drinking with his work buddies, Sayuri gets into an accident and is hospitalized while out shopping.

Kazuma falls asleep at the bar and Hina wakes up alone the next day. She is rescued by the police and placed in an orphanage.

Given his actions, Kazuma can't take Hina home. Having done nothing to help raise her, he's decidedly unfit to parent. Sayuri doesn't wake up, and time continues to pass.

Desperate, Kazuma gradually realizes that there are people who care for him and want the best for his life. Determined, he sets out to repair his bond with his daughter.

When Kazuma visits, however, all Hina can do is cry. Has she forgotten her father's face?

(C)映画「この小さな手」製作委員会

Information

Kono Chiisana Te (These Small Hands)
Release Date: In theaters nationwide April 8, 2023at Euro Space and other locations
Original Story: Kono Chiisana Te by Mamora Goda / Hiroshi Yoshida
Director: Hiroyuki Nakada
Script: Yusuke Moriguchi
Theme Song: Karen Aoki
Producer: Sho Matsushima
Music: Rhythm & Note
Production: Kono Chiisana Te Production Committee
Distributor: Fulmotelmo Inc.
2022/Japanese/Color/Vista Size/90 minutes

<Starring>
Kouhei Takeda
Renwa Satou, Sei Ando
Chie Tsuji, Natsume Mito, Himena Irei, Kenji Mitamura, Yoko Asaji, Reon Yuzuki, Kanji Tsuda, Yuki Matsushita, Yasufumi Terawaki

SSSS.GRIDMAN Compilation Film Bonuses Revealed

Based on the Tsuburaya Productions Gridman live-action tokusatsu series from 1993, the
SSSS.GRIDMAN anime series aired in October 2018. A sequel, SSSS.DYNAZENON, followed in April 2021.

Ahead of the release of GRIDMAN UNIVERSE, an all-new anime film coming in March, both SSSS.GRIDMAN and SSSS.DYNAZENON will be getting compilation films. Each will only be
in theaters for two weeks.

劇場総集編『SSSS.GRIDMAN』

The SSSS.GRIDMAN film will be in theaters starting January 20. Those buying tickets will
receive a special illustration card with a voice drama created by Akira Amemiya, the director of the SSSS series, while supplies last. The title of the drama is Hinekuremono Demo (Even if You're Cynical) starring Soma Saito (Sho Utsumi) and Hass (Akari Kito).

The newly-revealed illustration card's design features Yuta Hibiki, Sho Utsumi, Rikka
Takarada, and Akane Shinjo happily snapping photos.

SSSS.DYNAZENON will be released for two weeks starting March 10, and those buying
tickets will also get an illustration card and a special voice drama written by Akira Amemiya.

The SSSS.GRIDMAN compilation film is being directed by Yoshiyuki Kaneko, who served as assistant director on the anime series. The film will show a somewhat new interpretation of the story under his new direction. Both compilation films will include extra footage leading
up to the release of GRIDMAN UNIVERSE on March 24, 2023.

©円谷プロ ©2023 TRIGGER・雨宮哲/「劇場版グリッドマンユニバース」製作委員会

Information

SSSS.GRIDMAN Compilation Film
Limited 2-week screenings begin January 20, 2023
Admission Bonus: Illustrated Card with Voice Drama by Akira Amemiya
Official Website: https://ssss-movie.net/

Sound! Euphonium Collaboration Cafe Opens at Kyoto's Hotel Keihan

Fans of the Sound! Euphonium anime will want to visit Hotel Keihan Kyoto Grande from September 23 until November 20, 2022! The second-floor restaurant Octava will be holding a special collaboration cafe with the series in conjunction with the Keihan Electric Railway. The project is part of the collaboration between the series and the local railway that began in August, and fans will be able to order food and drink items inspired by their favorite characters.

Collaboration Menu

Kumiko's Omurice

Reina's Pasta with Sweet and Spicy Tomato Sauce

Hazuki's Matcha Ice Cream & Sapphire's Macarons

Mr. Taki's Spicy Curry Pizza

Sound! Tuba-kun's Fruit Cake

Drink Menu

Kumiko's Strawberry Milk

Reina's Butterfly Pea

Hazuki's Blue Soda

Sapphire's Orange Juice

Band President & Vice President's Matcha au Lait

Straw Tags

Bonuses

Bonus for Dining In-store: Lunch Mat

Drink Order Bonus: Coaster (5 varieties, 1 secret)

*Coasters will be given at random.

Life-size Panels

From omurice and pasta to fruit cake and spicy curry pizza, there is certainly a dish perfect for everyone at the cafe. Guests can also enjoy five different types of drinks, and a coaster will be handed out at random for each order. Those dining at the cafe will enjoy their meal on a special lunch mat, and life-size character panels will be perfect for snapping some photos for social media. Music from the series will be played on-site, so come enjoy while you can!

Information

Keihan Electric Railway x Sound! Euphonium 2022

Running: September 23 – November 20, 2022

Lunch: 11:30-14:30 (Last order at 14:00)

Dinner: 17:30-22:00 (Last order at 21:30)

*From 2:30 to 5:30, only items from the take-out drink menu are available.

Reservations Now Open

Reservations: https://bit.ly/3RFPf4i   

Venue: Hotel Keihan Kyoto Grande, 2F Restaurant Octavar
https://www.hotelkeihan.co.jp/kyoto/restaurant/

Season 3 of Sound Euphonium Anime Series Coming in 2024

Sound Euphonium will be getting a third season in 2024! The first season of the popular anime series aired in 2015 and was followed by a second season the following year. A film was released in 2019 featuring a brand-new story. The third season will revolve around Kumiko Oumae as she attends the third year of high school.

A new animated film, 'Ensemble Contest,' will be released on Blu-ray and shown in select theaters in 2023.

The announcement was made during a Sound Euphonium event held on June 4 at Uji City Cultural Hall, the sixth such event to take place. A trailer for the new season was shown to excited audiences anxious for the story to continue after four years.

Check out the trailer at the link below. 

More details will be released at a later date, so stay tuned for more!

The story's band, represented by the company's real-life band Progressive! Wind Orchestra, will be performing summer concerts on August 13th and 14th at Tokyo's Line Cube in Shibuya. Please see the official website for details on how to get tickets!

Eight years after the first season aired, new anime and events are still being scheduled. Stay tuned to see where the story goes next!

©武田綾乃・宝島社/『響け!』製作委員会

Information

Sound Euphonium

New Animated Medium-length 'Ensemble Contest' to get Blu-ray Release and Special Screening in 2023

'Kumiko's 3rd Year Arc' to air in 2024

Official Site: http://anime-eupho.com/

New 90-Second Trailer, Key Visual Released for DEEMO: Memorial Keys

DEEMO: Memorial Keys is scheduled to release in select locations nationwide on February 25, 2022, and a new key visual and 90-second trailer filled with brand-new footage just dropped!

 

The key visual was created by Mebachi, a popular illustrator known for creating the character designs for both DEEMO and the ending animation of Love Live! Nijigasaki High School Idol Club.

Against the backdrop of the castle where Deemo lives, a spiral staircase made of piano keys leads guests to a mysterious world. Alice, the main heroine, and Deemo, the masked girl, along with other characters are seen gazing up at the sky. Cherry blossom petals and light pour down from above in this emotional key visual that perfectly encapsulates the story's world.

DEEMO tells the story of a girl who falls from the sky. She has no memories and finds herself traversing a strange castle. The sound of piano rings out, and the girl must discover the truth of who she is, and where she finds herself.

DEEMO: Memorial Keys Trailer

Based on the popular DEEMO mobile game, many famous tracks from the title will appear in the movie, so fans shouldn't miss it!

ⓒRayark Inc./「DEEMO THE MOVIE」製作委員会

Boat Race Tokoname in Aichi Prefecture to Screen Popular Films at Drive-in Theater

The Boat Race track at BOATRACE Tokonome will be home to a 3-day Drive-in Theater event on November 19, 20, and 21. The vast west parking lot will welcome guests to enjoy three films from the safety and privacy of their vehicles. In past years, the Hamanako, Tokuyama, Naruto, and Mikuni locations have participated. Now, it's Tokoname's turn!

Selected Films

La La Land (with subtitles) – November 19, 2021

© 2017 Summit Entertainment, LLC. All Rights Reserved.

The Secret Life of Pets 2 (dubbed) – November 20, 2021

© 2019 Universal Studios. All Rights Reserved.

A Whisker Away – November 21, 2021

© 2020「泣きたい私は猫をかぶる」製作委員会

This lineup of films can be enjoyed by families, lovers, and friends. The final film, A Whisker Away, is a coming-of-age fantasy set in the city of Tokoname. Visitors can enjoy these films on one of the largest air screens in Japan, at 722 inches. Don't miss some additional boat race content that even beginners can enjoy!

Information

BOATRACE de DRIVE-IN THEATER in BOATRACE Tokoname

Dates: November 19, 20, 21 – Doors open at 18:00, film starts at 19:00

Address: BOATRACE Tokoname West Parking Lot (4-111 Shinkaicho, Tokoname-shi, Aichi)

Official Site: https://boatrace-driveintheater.com

Uji, Kyoto-based Anime Sound! Euphonium To Collaborate With Keihan Railway

Keihan Holdings and Keihan Railway have announced a collaboration with anime Hibike! Euphonium, titled Keihan x Sound! Euphonium 2021. The collaboration will start on September 1, 2021.

Keihan x Sound! Euphonium 2021 STAGE TOUR Map (Sample)

Life-size Character Panel (Sample)

Commemorative Name Plate (Sample)

A: September 1 ~ September 30, 2021
B: October 1 ~ October 31, 2021
C: November 1 ~ November 30, 2021


Commemorative Ticket Sales

Sound!! Euphonium tells the story of the brass band members of a fictitious school in Uji City. Many real-life sights and events from the city are featured in the series, including some of the stations on the Keihan Uji line. The series, which has released a total of six works including a TV anime and movie, celebrated its fifth anniversary in 2020 and announced that a sequel was in production. This exciting collaboration will add to the excitement for the new series while boasting the charms of the Uji area!

A STAGE TOUR MAP listing the spots visited in the anime will be distributed, featuring a selection of major Keihan Railway stations and other locations throughout the city. The new STAGE TOUR app will allow you to take photos with your favorite characters using AR technology. A digital stamp rally will be held throughout the locations.
There are plenty more exciting projects too, including life-sized character panels and name plates throughout the railway stations. In addition, three commemorative name plate designs will be installed throughout the Keihan Line vehicles along with the release of special commemorative tickets.

Enjoy a scenic trip around Kyoto on the Keihan Line with Sound!! Euphonium!

Information

Keihan Line x Sound!! Euphonium 2021
STAGE TOUR MAP Distribution Start Date: September 1, 2021
Distribution Location: Major Keihan Railway stations, Uji city hall, Uji city tourist center, Keihan Uji Station tourist information center, and other locations.

STAGE TOUR Digital Stamp Rally
Event Duration: September 1 ~ November 30, 2021

Character Life-Size Panel Installation
Exhibition Duration: September 1 ~ November 30, 2021
Exhibition Locations: Chushojima Station, Rokujizo Station, Ōbaku Station, Uji Station (All Keihan Railway)

Commemorative Name Plate Installation
Exhibition Duration: September 1 ~ November 30, 2021
Specified Vehicle: 13000-type (four cars), one formation (3001-13051)

Commemorative Ticket Sales
Availability: September 1 ~ November 30, 2021
Validity Period: September 1, 2021 ~ March 31, 2022 (One-day use)
Valid Stations: All Keihan Line stations, Iwashimizu-Hachimangū Cable Line
Price: ¥1,300 (Not available for children)
Number: 5,000 Tickets (First-come first-serve)
Purchase Location Stations: Nakanoshima, Yodoyabashi, Tenmabashi, Kyoubashi, Moriguchi City, Neyagawa City, Kourien, Hirakata City, Kuzuha, Chushojima, Tambabashi, Gion-Shijo, Sanjo, and Denmayagachi.

Official Site: https://www.butaimeguri.com/


Kyoto Tower Announces New Collaboration Event with Anime Series Sound! Euphonium

A special Sound! Euphonium collaboration event is coming to the Kyoto Tower observation deck from September 1 until November 30, 2021!

Tickets

Rubber Coaster (5 varieties): ¥990 each (Tax Included) / Mini Framed Magnet (5 varieties): ¥660 each (Tax Included) / Commemorative Medals (5 varieties): ¥700 each (Tax Included) / B2-size Paper Poster: ¥770 (Tax Included) / Mouse Pad: ¥550 (Tax Included)
*Merchandise to be released in mid-September

Mini Name Plate (10 varieties): ¥2,000 each (Tax Included) Releasing September 1


Special Purchase Gifts (5 varieties)


Train Accessories

Life-sized Panels

The designs used for this collaboration will also make an appearance in a special Sound! Euphonium hotel room at the Kyoto Tower Hotel. The room will have scenes from the anime series on display, life-sized portraits of the characters, and handwritten messages from the band members on the wall. 

The Kyoto Tower event takes place in conjunction with a Sound! Euphonium x Keihan Electric Railway collaboration, in which travelers can use a special map to visit the locations of scenes from the Sound! Euphonium series. Life-sized panels, commemorative train tickets, and model trains will also be on display! Guests can also see the trophy and award certificate given to the Kitauji Brass Band.

Those purchasing over ¥2,000 yen (including tax) on merchandise will receive one of five original posters. 

Japanese Art Director Collaborates With Marc Jacobs To Promote New Line

The Japanese art director Hideyuki Tanaka has directed a special movie to promote the 2nd season of Marc Jacob's new line "Heaven by Marc Jacobs" as a contributor of this season.

ROBOT GIRL BABY TEE ¥14,300 (tax included) / ROBOT GIRL PILLOW ¥12,100 (tax included)

Special Movie:https://www.marcjacobs.jp/contents/heaven.php

The original graphic robot, Heaven is pop and cute, yet her poisonous ambience with Chinese character "Heaven" on her forehead is iconic. Heaven's motto is to protect Double-headed Teddy. To celebrate the collaboration, Marc Jacobs launches a compact baby T-shirt decorated with a playful three-dimensional patchwork and a pillow cushion featuring Heaven with scribbles as a print. Don't miss out the exclusive items and special movie of Heaven by Marc Jacobs.

My Film Recommendation: Pulled Into the Story by Minami Hamabe's Character in Let Me Eat Your Pancreas

ASOBINEXT is a new project launched by event management and talent agency ASOBISYSTEM, which is known for managing artists like Kyary Pamyu Pamyu. The project aims to create next generation icons who will promote their unique personalities and outlooks to the world using social media and in turn bring about new forms of culture.

As part of ASOBINEXT, MOSHI MOSHI NIPPON will be publishing content from each talent that is tied to ASOBINEXT in the form of their favourite and recommended things. Today, we are joined by ASOBINEXT's Haruna Tamura, an actor and YouTuber, whose film recommendation in this edition is the live-action adaptation of Let Me Eat Your Pancreas.




Synopsis

The story is centred on two individuals who, at the start of their relationship had never really spoken about anything in particular… initially. "Me," the male protagonist in the film, comes across a diary in a hospital waiting room and discovers it belongs to his classmate Sakura Yamauchi. He learns in the diary that she has a pancreatic illness.

映画「君の膵臓をたべたい」(7/28公開)の公式Twitterアカウントです✨
映画の最新情報をお届けします😊フォロー・RTをお願いします🙇#キミスイ #君の膵臓をたべたい #7月28日公開 #浜辺美波 #北村匠海 #北川景子 #小栗旬 #映画 pic.twitter.com/L3aWLoRomu

— 映画「キミスイ」公式 (@kimisui_movie) March 23, 2017

\映画『#キミスイ』公開カウントダウン企画第3弾/
公開まであと1ヶ月となる明日28日(水)に「#キミスイみたい」のハッシュタグをつけて、映画への期待コメントをツイートして下さい💕今回は、抽選で10名様に映画『キミスイ』ブックカバーをプレゼントしちゃいます‼続く⬇ pic.twitter.com/CHoXxj7IUT

— 映画「キミスイ」公式 (@kimisui_movie) June 27, 2017

Sakura is a very popular girl in Me's class, and he never thought she would be suffering from such a fatal illness. She had kept it a secret, with only the people in her family knowing about it. And so begins a bittersweet love story between the plain and simple Me and Sakura, his complete opposite who is the popular one of the class.

\映画『#キミスイ』公開カウントダウン企画スタート‼/
ただ今から~21時🕘までの間に「#キミスイ楽しみ」のハッシュタグをつけて、映画への期待コメントをツイートして下さい‼抽選で10名様に映画プレスをプレゼント💕皆さまお気軽にご参加ください😊#キミスイ #7月28日公開 pic.twitter.com/y5mLcviWUC

— 映画「キミスイ」公式 (@kimisui_movie) May 28, 2017

Cast 

There are different cast members in Let Me Eat Your Pancreas for playing both the present and past selves of the characters.

The characters of the past, 12 years ago, are played by the following: Minami Hamabe as Sakura Yamauchi, Takumi Kitamura as Me/Haruki Shiga, Karen Otomo as Kyoko, and Yuma Yamoto as Gamu-kun.

This film marked the first time Minami and Takumi had starred in film together, and it was a huge success amongst viewers who shed tears at the relationship between the ill-stricken girl, and the boy who found her diary that details her experiences of living with said illness.

Playing the characters of the present is: Shun Oguri as Haruki Shiga, Keiko Kitagawa as Kyoko, and Yusuke Kamiji as Gamu-kun. Comments from viewers who have watched the film often pointed towards how Shun and Yusuke gave authentic performances of Haruki and Gamu-kun grown-up together, and how they Keiko Kitagawa's dress was spot on. I was drawn in by how they all knew each other at school.

\レポートアップしました😆/
「#君の膵臓をたべたい」初日舞台挨レポートをアップしました🌻https://t.co/LD3gZP5kRh#キミスイ #君の膵臓をたべたい #大ヒット公開中 #浜辺美波 #北村匠海 #北川景子 #小栗旬 #月川翔 pic.twitter.com/fWXasWDZxa

— 映画「キミスイ」公式 (@kimisui_movie) August 1, 2017

My Favourite Part

The highlight of the film for me which I want to point out to everyone is Minami Hamabe's portrayal of Sakura Yamauchi. She purposely puts energy into her performance, and that really left an impression on me. The world of the movie and the real world are two completely different things. Of course, this character doesn't really exist, but when I watched the performance I felt I understood her. There was a real affinity there. As the story progresses, so too does the illness grow more serious, so what I want is for people to pay attention to her facial expressions, her demeanour, and such, as that happens.

\映画『#キミスイ』公開カウントダウン企画実施中‼/
本日21時🕘まで実施中!「#キミスイ楽しみ」のハッシュタグをつけて、映画への期待コメントをツイートして下さい😆映画「キミスイ」を知らないーという方はこちらから予告をどうぞ🎵⇒https://t.co/utJI3lLlJG pic.twitter.com/zixCSjyTW8

— 映画「キミスイ」公式 (@kimisui_movie) May 28, 2017

Wrapping Up

I first watched this film when I was a 3rd year high school student. Since the film is set in the same school year, the story had an even greater impact on me. I was able to learn the bittersweet-ness of romance as well as the preciousness of life. To this day, I think it remains my favourite film.

I was captured by the array of emotions that Minami Hamabe portrays in particular. There are a lot of parts that I can relate to from being a student to becoming an adult. It's a very easy story to get behind, so if you're reading this, I'd love it if you checked it out.

Minami Hamabe and Takumi Kitamura are also starring in the film Omoi, Omoware, Furi, Furare which is showing now too. I want to go and see it for myself to see how they have both grown.

Haruna Tamura

Actor and YouTuber. He has played major roles in drama series and films and has over 1 million subscribers on his YouTube channel. He is working towards appearing at Fun Fest. He's skilled at baseball and his hobbies include watching movies and playing games.