LiSA released her long-awaited double A-side single Akai Wana (who loves it?) / ADAMAS on December 12. To promote the record the singer held two talk events: one in Tokyo on December 15 and one in Osaka on December 16.
Two special guests were invited to the Tokyo talk event: Tomoya Tabuchi (UNISON SQUARE GARDEN) who wrote and composed Akai Wana (who loves it?) and Shouta Horie (PENGUIN RESEARCH) who arranged it. The three of them discussed what it was like recording the track.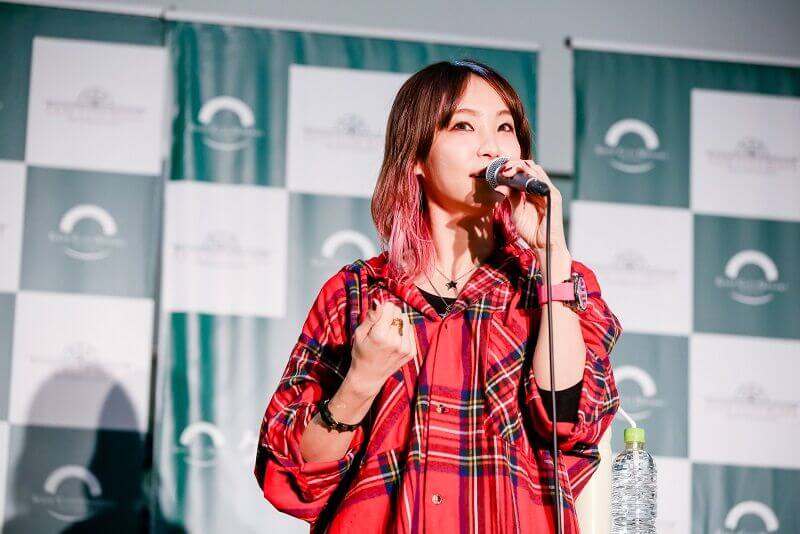 LiSA commented, "I wanted to sing a difficult song with style." Tabuchi replied, "I knew I wanted her to sing a song that only she could sing, one that nobody else could copy. I think we exceeded everyone's expectations."
At the Osaka event, Kayoko appeared as a special guest, who composed ADAMAS, and Shouta Horie once more who again arranged the track.
Kayoko commented, "LiSA is an artist who has gotten stronger with each release. I knew I wanted to write a song that expresses her powerful femininity." To this, LiSA replied, "This song isn't just about me. It's about bringing all of you to the next [chapter] with me. All three of us by chance had a common understanding of Joan of Arc, the woman led the way and risked her life to fight." Horie followed up with, "We were writing the song all the way up to the deadline."
ADAMAS is currently the No. 1 song on Oricon's Daily Digital Single Rankings as well as 23 other platforms including iTunes, a record for LiSA. Be sure to check out the official music clip for the song.
Information
Akai Wana (who loves it?) / ADAMAS
On Sale: December 12, 2018
First Press Limited Edition (CD+DVD): ¥1,600 (+Tax) [VVCL 1370~1]
*Includes Akai Wana (who loves it?) music video and booklet.
Limited Pressing Edition (CD+DVD): ¥1,600 (+Tax) [VVCL 1373~4]
*Includes ADAMAS music video, Sword Art Online Alicization creditless opening video, mini poster and anime slip case.
*Available until end of March 2019.
Regular Edition (CD-Only): ¥1,200 (+Tax) [VVCL 1372]
Akai Wana (who loves it?) / ADAMAS: https://lisa.lnk.to/s4IXz
LiSA Official Website: http://www.lxixsxa.com/