7 Souvenirs Celebrating the Year of the Pig & 2019
Onenga are an important part of the New Year holidays in Japan. They are gifts given when looking back over the past year with a person and are usually handed over with the phrase kotoshi mo douzo yoroshiku onegaishimasu which thanks the person for their support over the past year and into the next.
The Daimaru Tokyo department store is selling a whole range of confections based on the 2019 "Year of the Pig" from December 26 to January 3 which will make for perfect New Year gifts. Not only can they be used as onenga but as souvenirs for anyone visiting Japan during the New Year season.
Pig Shaped Monaka Bean Jam Wafer Cakes (Set of 12): ¥1,850 / Sold at Funabashiya
Both the wafer cake shell and the red bean paste are separate from each other which retains the freshly-made crunch. It's made in the cute shape of a pig which is unique for a monaka wafer cake.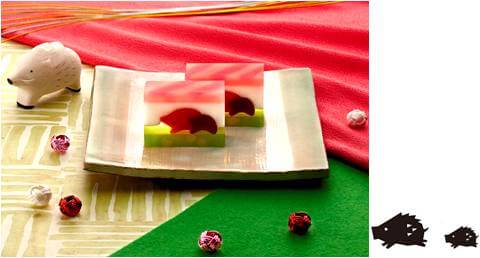 Pig Shaped Sweet Jelly: ¥918 / Sold at Ryoguchiya Korekiyo
This sweet jelly features a pig and piglet in it so adorable you'll want to take a photo. The light that filters through creates a beautiful scene of a pig and its child.
2019 Mochi (Set of 6): ¥1,080 / Sold at Ginza Akebono
This assortment of sticky rice cakes comes with various designs including "2019," pine trees, pigs and more.
Small Sweet Jelly With Pig Packaging (Set of 12): ¥3,240 / Sold at Toraya
The artistry of a long-standing store shines through on the piggy packaging of these sweet jellies.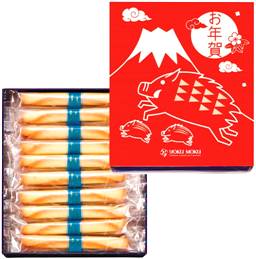 Sweet Cigars (Set of 20): ¥1,458 / Sold at Yoku Moku
These are a hallmark product at Yoku Moku loved by men and women of all ages.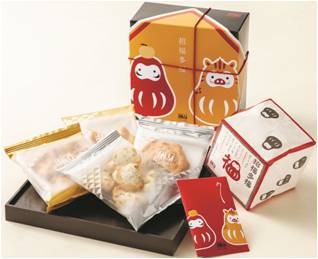 Shoufuku Tafuku (Set of 5): ¥864 / Sold at Akasaka Kakiyama
These mochi are cut thin, dried and baked before being put into cute boxes that feature illustrations of a pig dressed as a daruma.
Shichifukujin (Set of 7): ¥2,700 / Sold at Kanou Shoujuan
This set comes with a range of different confections inspired by the Seven Deities of Good Luck.
You're sure to find the perfect pick for a New Year's gift in this line-up!
RELATED ENTRIES
Top 10 Most Popular Souvenirs to Pick Up at Tokyo Station's HANAGATAYA Store | 2019 Edition

HANAGATAYA is a souvenir variety shop that opened in Tokyo Station's central passage back in July. After over 5 months of sales, the store has revealed its Top 10 most popular products based on sales.

The line-up features a selection of HANAGATAYA exclusives, as well as products from elsewhere which have received pre-sales at HANAGATAYA. You will be spoilt for choice with this selection, all of which are perfect for ringing in the New Year when travelling back home. Let's take a look.

1st Place

Banana Custard Cream – Tokyo 2020 Olympic Emblem Design (Tokyo 2020 Official Licensed Product) – Contains 8 – ¥1,134 (Tax Included)

Officially licensed by the Tokyo 2020 Olympics, these chewy cakes are made from domestic Japanese rice, and are filled with deliciously creamy banana custard.

2nd Place

Tokyo Banana Butter Madeleine (Tokyo Banana World) – Contains 4 – ¥560 Tax Included)

Exclusive to HANAGATAYA come these all-new butter madeleine's created by famous confectionery company Tokyo Banana. These baked treats feature a buttery fragrance and taste, and are made with a banana confiture and finished with fresh lemon.

*Exclusive to HANAGATAYA GRANSTA Tokyo Central Street

3rd Place

Toro One Press Chocolate Chick (Tokyo Hiyoko) – Contains 3 – ¥648 (Tax Included)

This year marks 107 since the company Hiyoko was established. The "Toro One Press Chocolate Chick" is a new confection from them: an adorable skyward-looking chick made up of three chocolate layersーeach with their own distinct flavour. At the heart of the chick is a moist chocolate paste.

*Exclusive to Tokyo Station

4th Place

Cheese Wich – Contains 5 – ¥594 (Tax Included)

These light and refreshing cheese cookies, called Cheese Wiches, are filled with a chocolate-coated melted cheese sauce. Three layers means an enjoyable amalgamation of flavours and textures.

*Exclusive to Tokyo Station

5th Place

Chocolate Chestnut Eggs (Ginza Tamaya) – Contains 4 – ¥800 (Tax Included)

"Goma Tamago" is a popular bite-sized egg-shaped confection. This chestnut flavour was created for HANAGATAYA, a mix of dark chocolate and vanilla flavoured chestnut paste.

*Exclusive to Tokyo Station

6th Place

Strawberry Cookie Sandwich (Berry UP!) – Contains 8 – ¥1,296 (Tax Included)

Berry UP! is a cute confectionery brand which creates baked strawberry sweets. Keeping with that theme, they have created a crunchy quintuple-layered cookie sandwich filled with sweet and sour strawberry chocolate.

7th Place

Shinjuku Curry Ebi (Shinjuku Nakamuraya) – Contains 6 – ¥600 (Tax Included)

If you're looking for something more savoury, then this one's for you: Shinjuku Nakamuraya's light, fluffy and melt-in-the-mouth ebi, coated in curry spices. One nibble is enough to get you instantly hooked.

8th Place

Strawberry Polvorón (Berry UP!) – Contains 6 – ¥1,296 (Tax Included)

Another entry from Berry UP!, these polvorón shortbreads are made from lots of fresh strawberries mixed with condensed milk and mascarpone, creating a subtle sweetness that's enough to have your mouth watering.

9th Place

BLUE MELTIN SAND (Tokyo Campanella) – Contains 8 – ¥1,200 (Tax Included)

What if herbal tea and cookies became its own snack? That's what Tokyo Campanella asked too, and so make it a reality. Their BLUE MELTIN SANDs are cat's tongue cookies stuffed with a herbal tea sauce that has a natural blue colour.

10th Place

Premium Cacao Full Sablé (Mary Chocolate) – Contains 18 – ¥1,350 (Tax Included)

Finally, we have a premium edition of chocolate company Mary Chocolate's Cacao Full Sablés. This one's for the adults, a sophisticated combination of bittersweet chocolate and berries.

*Exclusive to HANAGATAYA GRANSTA Tokyo Central Street

Did you enjoy this list? Which one takes your fancy the most? Whether as a souvenir for the folks back home, or as a treat to yourself to celebrate 2020, if you're in Tokyo this year then be sure to give HANAGATAYA a visit.

Tokyo Station's Top 10 Edible Winter Souvenirs as Chosen by Station Staff

There is just a month and a half left of 2019, with Christmas, the winter holidays and New Year celebrations right around the corner.

Tokyo Station City has compiled a list of must-grab food-related souvenirs and gifts at Tokyo Station. If you've ever visited Tokyo Station, you'll know that you can be spoilt for choice from the amount of goodies you can get your hands on. The list is based on the votes of 305 station staff members working at Tokyo Station who have voted on their Top 10 most recommend souvenirs to pick up this winter.

The staff members went around the shopping area and taste-tested different edible souvenirs across an 8-day period. Their early thoughts as they went down the list were how delicious or unique things were, but they soon began to take it more seriously to consider things like price, how easy an item was to carry and transport, and what certain people might like in particular.

If you're travelling to or from Tokyo Station during the holiday season, be sure to bookmark this list so you know what to buy for on the flight back home!

1st Place

Rakumadoka @ Terra Saison (GRANSTA) – 5 Set ¥1,080 (Tax Included) / 8 Set ¥1,728 (Tax Included)

This cheesecake is like a cream cheese-stuffed souffle-like sandwich. Branded with the words "Gin no Suzu" (a place in Tokyo Station) and "Tokyo," this seasonal product is exclusive to Tokyo Station. In December last year, they sold over 1,500 in a day.

2nd Place


Mount Baum Kuchen @ Nenrinya (Meihinkan) – ¥1,080 (Tax Included)

With its French bread texture, this delightful treat has a fragrant scent, is moist, and is simply delicious. It has a rich buttery taste and is baked slowly to perfection.

3rd Place

Shinjuku Curry Arare Ebi @ HANAGATAYA (GRANSTA) – 6 Set ¥600 (Tax Included)

This rich curry snack is made by Shinjuku Nakamuraya, and has a light melt-in-the-mouth texture with spicy curry seasoning and shrimp flavour. The shrimp flavour comes from a mix of shrimp powder and shrimp oil. The mix of curry powder and spices gives it a really authentic curry taste.

4th Place

Tokyo Vegetable Rice Crackers @ nomono (GRANSTA Marunouchi) – 12 Set ¥950 (Tax Included) / 18 Set ¥1,598 (Tax Included)

An assortment of rice crackers with three different flavours: great burdock, onion, and pumpkin. They have a set of 18 too which is perfect for handing out to lots of people.

5th Place

Maple Pie Sandwich @ The Maple Mania (GRANSTA) – 8 Set ¥1,944 (Tax Included)

Coated in caramel, this crunchy pie is made with a cream laced with maple sugar. Exclusive to Tokyo Station, the packaging design for this dessert is made with souvenirs in mind as it's made so it's easy to carry and take around with you.

6th Place

Kuzumochi @ Funabashiya Koyomi (ecute Tokyo) – 24 Cut (Serves 1-1.5) ¥790 (tax Included) / 36 Cut (Serves 2-3) ¥895 (Tax Included) / 48 Cut (Serves 4-5) ¥1,200 (Tax Included)

Funabashiya's kuzumochi is made with wheat starch that is fermented over a 450 day period before being cooked. It claims to be "the only fermented Japanese wagashi confection." Since it is fermented over such a long period of time, it takes on a unique flavour and elasticity.

7th Place

Cheddar Cheese Pie Sandwich @ Tokyo Milk Cheese Factory (ecute Keiyo Street) – 6 Pack ¥1,620 (Tax Included)

A crunchy pie filled with an addictive cheddar cheese cream. Exclusive to ecute Keiyo Street.

8th Place (Joint)

Premium Cacao Full Shortbread @ HANAGATAYA (GRANSTA) 8 Set ¥648 (Tax Included) / 18 Set ¥1,350 (Tax Included) / 27 Set ¥2,052 (Tax Included)

This is a premium edition of the store's Cacao Full Shortbread, made using the methods used to make the chocolate brand Merry Chocolate. The crunchy texture and full-bodied flavour of the cacao has been left as it is, while a few things have been added to make it a little more luxurious: French sour cream butter, strawberries, and raspberries.

8th Place (Joint)

Yaoki Senbei @ Mankaso (Meihinkan) – 16 Set ¥1,080 (Tax Included)

These plump senbei rice crackers are made with 100% domestic rice and come in six different delicious flavours: agodashi soy sauce, salted, shrimp, seaweed, plum and coarse sugar, and chirimen pepper.

10th Place

Tartlette Neuf @ le billet (ecute Tokyo) – 6 Pack ¥1,728 (Tax Included) / 9 Pack ¥2,592 (Tax Included)

la billet make their own tarts, and this assortment comes in a variety of flavours. Exclusive to Tokyo Station. A great option as a gift for meeting a business in Japan.

Which of these looks most tempting to you? Let us know on Twitter or Facebook!

Japanese Souvenir Diary: Tokyo Strawberry Whipped Langue-de-chat

You're going on holiday to another country, but there's someone special back at home that can't go with you. What's the best way to make them feel like they haven't been left out completely? Souvenirs, of course! Picking out the perfect souvenir for the right person or people, whether friends or family, is a lot of fun as you consider what each person might like and appreciate.

We've condensed that thrill of souvenir searching into an article series. We will showcase products that the MOSHI MOSHI NIPPON editorial team have actually tried and recommend as souvenirs.

Tokyo Ichigo Whipped Langue-de-chat (Includes 6) – ¥650 (Tax Included)

Today, we will take a look at Tokyo Strawberry Whipped Langue-de-chat. This whipped chocolate cat tongue biscuit is nothing short of delicious. It's a fact.

And the cute packaging makes it even better, both the box and individual packs when you open it up.

And since they are individually packaged, you can share them amongst multiple people.

Whipped chocolate is sandwiched between the cat tongue biscuits.

Time to try one.

The biscuit itself has a buttery, exquisite flavour. Though they're stuffed with whipped chocolate, the chocolate itself is light on the belly. You get those sweet and sour notes from the strawberry too.

The combination of the lightly baked and delicate biscuits with the soft texture and subtle taste of the whipped chocolate is to die for. Your taste buds are tantalised by a flurry of strawberry.

I showed the 6 pack of biscuits, but they also sell a 12 pack (¥1,080) and 18 pack (¥1,620) too, so cater it to how many you need to share out (or enjoy to yourself!) They have a best before date of 30 days too, so don't have to worry if there's still some time left before you return home.

If you love strawberries, you won't be able to rest the Tokyo Strawberry Whipped Langue-de-chat. Be sure to check them out if you're looking for a Japanese souvenir from Tokyo.

Writer: Sayuri Mizuno (MOSHI MOSHI NIPPON Editorial Team)

Translator: Joshua Kitosi-Isanga

Information

Tokyo Strawberry Whipped Langue-de-chat

Available: At major stations in the Kanto region of Japan, department stores in Japan, and elsewhere

Best Before: 30 Days

Official Website: http://www.oraikan.jp/ih.html

Take a Look at Daimaru Tokyo's Delicious Seasonal Sweets Line-Up

With the weather getting colder and colder, don't you just want to snuggle up indoors under a nice warm blanket and eat tasty sweets and snacks? well, if you're in Tokyo this autumn, head to Hoppe Town on the first floor of Daimaru Tokyo where they're selling a bunch of different seasonal sweets from November 20 to 26. We're going to showcase a select few.

Cookie Doumei Assorted Box

Contains 10 (5 Types, 2 Each) – ¥1,900 @ Cookie Doumei (Floor 1F)

Enjoy a box of assorted cookies made by a UK-based cookie brand with a recipe like that mother uses. These simple baked cookies are made with wheat flour from Japan, fruits, spices, and chocolate.

Premium Chocolate (Dark/Matcha)

Contains 5 – ¥1,080 Each @ Dari K (Floor B1F) *Available until December 3, 2019

These crunchy and buttery biscuit sandwiches come in two flavours: a dark chocolate and salt, and a matcha made with freshly powdered matcha from Kyoto. These biscuits only appear a few times in Tokyo throughout the year at events, so don't miss out on this rare opportunity.

Chocolate Canelé

¥345 Each @ Le Soeur (Floor 1F)

Bearing a crunchy exterior and chewy inside, these rich chocolatey canelé are topped with almond for added texture. Change it up and put them in the fridge to set for a crispier texture.

Caramel & Raspberry

Contains 5 – ¥675 @ Caramel Verger (Floor B1F) *Available until December 3, 2019

These crunchy chocolate cookies are filled with a mix of dried fruits, caramel and cornflakes. The sourness of the berries coupled with the smoothness of the caramel is to die for!

Premium Natural Sweets

Contains 10 – ¥1,500 @ Lady Bear (Floor B1F)

These raw chocolates from Lady Bear get their natural sweetness from a delicious agave syrup. Delicious, tempting, irresistible.

Baked Mallow Crystal Cherry

Contains 4 – ¥1,382 @ Baked Mallow (Floor 1F) *Available until November 30, 2019

Graham crackers covered in couverture chocolate with high cocoa content and stuffed with fluffy marshmallow and a whole juicy Amarena cherry. What's not to like? These are available in a very limited number, don't miss out!

Which of these six tasty treats are most tempting to you?

Information

Seasonal Sweets

Running: November 20, 2019 – November 26, 2019

Location: Hoppe Town, Daimaru Tokyo Floor 1F  (1-9-1 Marunouchi, Chiyoda Ward, Tokyo)

Daimaru Tokyo Official Website: https://www.daimaru.co.jp/tokyo/

Cute Pikachu, Mew, Eeevee and Snorlax Blush & Powder Release in Pokémon Cosmetic Series

The next set of beauty items in the popular Pokémon Cosmetic Series has finally been revealed: the Pokémon Cheek and Pokémon Pressed Powder will be released on September 10. The line-up includes Pikachu, Eevee, Mew, and Snorlax.

Pokémon Cheek – ¥1,300 (Before Tax)

The Pokémon Cheek is a cream-type blush that spreads smoothly on your skin without any stickiness. It's comfortable on the skin and is durable. It also contains micropearls and so gives your skin a natural shine.

It comes in four colours: Pikachu Milky Pink, Eevee Rose Pink, Snorlax Coral Pink, and finally Mew Pearl White which brightens your natural skin tone. The blush comes as a stick and so is ncie and easy to apply and carry around.

Pokémon Pressed Powder – ¥1,500 (Before Tax)

The pressed powder comes with its very own powder puff featuring a cute original design. The powder is mixed with minerals that are gentle on the skin as well as collagen. It leaves your face looking smooth and natural without any unwanted shiny patches.

Pick from four different colours: Pikachu Pink which brightens natural skin colour, Eevee Mint which elevates transparency, Snorlax Yellow which conceals blemished, and Mew Purple which brings out transparency and shimmer.

When out there in the wild catching Pokémon, why not look good at the same time? Be sure to check out the Pokémon Cosmetic Series, and stay tuned for any new products that are released.

Information

Pokémon Cosmetic Series – Pokémon Cheek / Pokémon Pressed Powder

Release Date: September 10, 2019

Available: Pokémon Center,  ITS'DEMO, Tokyu Hands, Village Vanguard, and elsewhere

Official Website: https://lovisia.jp/pokemon/

2019 Top 10 Souvenirs Available at Daimaru Department Store, Tokyo

Looking for some delicious, well presented Japanese souvenirs? Head to Daimaru department store which is adjoined to Tokyo Station. On the first floor and basement floor lies a Japanese-style desserts and sweets area which contains approximately 70 delicious brands. Every day, approximately 30,000 desserts are sold to customers who are looking for souvenirs to bring to their family and friends. 

Now we have arrived at the summer holidays, there are many tourists who will soon reach the stage of panic where they are unsure of what souvenirs to bring back to their loved ones. Luckily, Daimaru Department store is a goldmine of beautifully presented Japanese-style sweet snacks made by top brands. Today, we present you with a list of the 10 fastest-selling souvenirs that were sold from July 2018 to June 2019. There is still plenty of time to get your hands on these souvenirs!

1st Place: N.Y.C. SAND: Caramel Sandwich Biscuits (box of 8) ¥1,080 (1st floor)

 As you take a bite, you will notice that the biscuit, chocolate and caramel will balance in perfect harmony just for a brief glorious moment. 

2nd place: Fukusaya: Fukusaya Cube (Cut into two) ¥270 (1st floor)

Have a small slice of luxury with this traditional recipe castella sponge cake which was specially made by experienced bakers. This is presented in a small, cute box. 

3rd place: Kamakura Toshimaya: Hato Sable (box of 10) ¥1,080 (1st floor)

This is a crispy dove-shaped shortbread biscuit which has a rich buttery flavour. This was first produced in the early 1900's during the Meiji period and is a souvenir limited to Tokyo.

4th place: Asakusa Mangando: Imokin ¥129 each (1st floor)

This baked treat is packed with the delicious flavour of sweet potatoes. The freshly baked scent is enough to draw you in. 

5th place: TOKYO BANANA STUDIO: Panda Banana Yoghurt (Box of 4) ¥515 (1st/basement floor) 

Children would just love to see the cute panda design. Wrap yourself in the mild banana yoghurt-flavoured cream.

6th place: Noix: Walnut cookie (Box of 4) ¥648 (1st floor)

This crunchy cookie is topped with a generous amount of caramelised walnuts.

7th place: Nenrinya: Mount Baum Shikkarime ¥756 (1st floor)

The outside of this baumkuchen is fragrant and crispy whilst the inside is soft and spongy. Take a bite to experience the wonderful texture of this European-style baked good. 

8th place: Azabujuban Agemochi-ya: Panchetta Agemochi (40g) ¥442 (1st floor)

The flavour of this baked mochi dough is like eating bacon cooked in an Italian style. This new flavour is a wonderful discovery that you should also try.

9th place: Sugar Butter Tree: SUGAR BUTTER SAND TREE (Box of 10) ¥690 (1st floor)

The crispy biscuit and melty white chocolate is a sublime combination that you will want to try again and again.

10th place:  Kanou Shoujuan: Ikkoten ¥270 each (1st floor)

A whole Japanese chestnut is smothered in a thick layer of Tamba Dainagon adzuki bean mix that is simmered lightly. This is especially delicious when eaten with tea. 

What do you think? When in desperate need of a souvenir for your family, friends or work colleagues back home, how about choosing one of the souvenirs listed above?

Information

2019 Souvenirs at Daimaru Department Store, Tokyo

Available Period: July 31 ー August 31.

Avaialble at: Daimaru Department Store Tokyo, Floor 1/Basement floor Hoppe Town

Daimaru Tokyo

Address: 1-9-1, Marunouchi, Chiyoda, Tokyo

Website: https://www.daimaru.co.jp/tokyo/

Black Cheesecake & Other Delicious Seasonal Desserts Cooked Up at Daimaru Tokyo

School's nearly out for summer in Japan with summer break set to begin on July 20. Kids and adults alike can look forward rolling up to Daimaru Tokyo to get their sweet tooth hands on one of five special desserts available at Hoppe Town on the ground and first floor from July 17 to 23.

Let's take a look at these mouth-watering delights.

Basket Cheesecake (8cm) – ¥400 @ Aoyama Fromage (Floor 1F)

This cheesecake is all the rage in the dessert world this year for its eye-catching black surface. The burnt surface enjoys just the right amount of bitterness and is a perfect match for the soft, rich center.

CAKETALE (6 Included) – ¥648 @ CAKETALE (Floor 1F)

Tuck into one of six different of these different takes which have been turned into cat tongue biscuits. Flavours include strawberry shortcake, cheesecake, mont blanc and more, and they come in some seriously kawaii packaging which looks just like a book.

Tokyo Saku Saku Tiramisu Panda Package (16 Included) – ¥1,080 @ Tokyo Oraikan (Floor 1F)

Sink your teeth into these cute and crunchy rich panda tiramisu cakes♡

Dashi Shoyu (1 Bag) – ¥388 @ Okashi Rakuichi (Floor B1F)

This popular brand with their delicious flavours and cute packaging designs have their own shop in Senju in a low-lying part of the city where the Metropolitan Electric Railway runs through. This is their most popular product, a bag of crunchy soy sauce covered balls with a rich flavour.

Tokyo Lemonche (Includes 8) – ¥1,555 @ Tokyo Lemonche (Floor B1F)

A perfect summer treat, the Tokyo Lemonche is a light and refreshing lemon puff sandwich filled with lemon cream. You can really taste the original flavour of lemon in them.

Make a stop by Daimaru Tokyo this summer if you're in Japan!

Information

Seasonal Desserts

Running: July 17, 2019 – July 23, 2019

Location: Hoppe Town, Daimaru Tokyo (Floors B1F & 1F)

Daimaru Tokyo Official Website: https://www.daimaru.co.jp/tokyo/

New Pokémon Centre DX and West Japan's First Pokémon Café to open in Osaka

A new official Pokémon Centre DX and a new Pokémon Café will open in Osaka on September 20, 2019 in Daimaru Shinsaibashi's Main Building.

This will be the second Pokémon Centre to open in Osaka. The Pokémon café will adjoined to the shop and will be the first ever branch of the Pokémon café to have ever opened in West Japan. This is also the second permanent Pokémon café to open in Japan besides the Pokémon café in Nihombashi.

The new Pokémon Centre DX and Pokémon Café will be situated in a bustling tourist hotspot. On your visit, you can also take a gander around the Shinsaibashi shopping district or  the American Village (America-mura) which is full of entertainment. This area is thriving with department stores, special shops, big brands and so much more. Tourists from other parts of Japan and all over the world are constantly flocking to this giant marketplace.

As the worldwide exhibition event Expo 2025 will be held in Konohana Ward, Osaka, there is no doubt that Osaka is becoming more and more of a Tourist hotspot!

Osaka is a wonderful tourist destination. If you decide to visit, don't forget to include the Pokémon Centre DX and Pokémon Café on your itinerary!♪

©2019 Pokémon ©1995-2019 Nintendo/Creatures Inc./GAME FREAK inc.

Pocket Monsters, ポケットモンスター/ポケモン/Pokémon are registered trademarks of Nintendo/ Creatures Inc./GAME FREAK inc.

Information

Pokémon Centre Osaka DX &  Pokémon Café

Address: Daimaru Shinsaibashi Main Building, 9

1-7-1, Shinsaibashisuji, Chuo Ward, Osaka,

Grand Opening: September 20, 2019 (subject to change)

Closed: Dependent on the closing times of Daimaru Shinsaibashi Main Building.

Official Website: https://www.pokemon.co.jp/gp/pokecen/osaka/

Over 30 Matcha Desserts to be Sold at Daimaru Tokyo's Green Sweets Fair

Matcha is a huge part of Japanese food culture that has earned much love around the world. Its bitter taste is enjoyed in both traditional Japanese desserts and delicacies as well as those in the west too.

Daimaru Tokyo is currently holding the Green Sweets Fair until May 31 where you can enjoy over 30 different matcha desserts. Let's take a look at some of them.

<Nenrinya> Matcha Mound Baum: ¥1,836

This baumkuchen cake is left to mature after cooking over a long period of time. It's made with Uji matcha from Kyoto and has a strong matcha fragrance.

<YOKUMOKU> Cigar au Matcha (8 Pieces): ¥1,080

The round cigars are made with lots of Hokkaido butter and filled with matcha chocolate.

<Funabashiya> Matcha Rice Flour Dumpling Anmitsu: ¥583 (1 Pot)

Enjoy an assorted pot of rich matcha agar, specially-made strained bean paste, and rice flour dumplings.

<Ginza Mamehana> Soy Cream Animitsu Daifuku (Matcha/Brown Sugar Syrup): ¥1,029 (Box of 6)

These daifuku rice cakes come in two different flavours: one with brown sugar syrup soy cream and sliced agar and another with matcha, bean paste and agar.

There are plenty more where that came from, so head to Daimaru Tokyo for the Green Sweets Fair.

Daimaru Tokyo's Most Delicious Desserts of 2019

With Mother's Day in Japan set for May 12, an assortment of delicious desserts are set to be sold at Hoppe Town on the basement and first floors of Daimaru Tokyo from May 8 to 14. Let's take a look at 6 of them!

<Aoyama Fromage> Basque Cheesecake: Small ¥400 / Large ¥1,000 @ MVP SWEETS, Floor 1F

The new "Basque Cheesecake" is must-try, representing Basque Country in Spain. This burnt cheesecake is soft and creamy and has a slightly bitter caramel bite to it.

<Koganei Cheese Cake> Dried Fruit No-Bake Cheesecake (1 Slice): ¥422 @ WEEKLY SELECT SWEETS, Floor 1F

A no-bake cheesecake made with sugar and packed with plenty of additive-free dried fruits. The dried fruits add a sweetness to the cheesecake.

<Mameya Kanazawa Bankyu> Mameya's Parent & Child Panda Baum (1 Slice): ¥594 @ WEEKLY SELECT SWEETS 3, Floor B1F

These cute panda cakes are palm-sized and cut into the shape of the pandas. Crunchy fondant adds texture to the soft Japanese-style baum.

<Biscuits Millefeuille Croute> Biscuits Millefeuille Croute: 6 Pieces ¥864 / 10 Pieces ¥1,404 @ SEASON SWEETS, Floor B1F

These millefeuille have a crunchy texture with an exquisite balance of bitterness and sweetness.

<Ki no Kuniya> Handmake Hello Kitty Monaka: ¥200 Each @ WEEKLY SELECT SWEETS 2, Floor B1F

These monaka, or "wafer cakes," feature adorable Hello Kitty imprints on them. The crunchy outer layer encloses rich anko bean paste.

<AOYAMADORI NO PURINYASAN> Aoyama Sanpo Chocolat (4 Pieces): ¥1,080 @ WEEKLY SELECT SWEETS 2, Floor B1F

These rich and soft chocolate cakes have enjoyed long sales and are perfect as small gifts.

Pick up some of the hottest desserts and sweets in Tokyo this month at Daimaru Tokyo.

Daimaru Tokyo's Most Delicious Desserts This Spring

Lots of delicious desserts and sweets have arrived at Daimaru Tokyo for the spring season and will be sold up until April 16.

Here are some of the must-tries!

Sky Berry Strawberry Sandwich (3 Slices): ¥1,382 (Tax Included) @ Fruits Dining Palate, WEEKLY SELECT SWEETS (Floor 1F)

This brand new dessert is made with Sky Berries, a new type of strawberry from Tochigi Prefecture, and is packed inside fat sandwiches filled with fluffy fresh cream.

Kyoto Sanshoku (1 Slice): ¥1,080 (Tax Included) @ Grand Marble, WEEKLY SELECT SWEETS 2 (Floor B1F)

Grand Marble specialises in making Danish pastries with marble designs. The Kyoto Sanshoku is a mix of three flavours: matcha, strawberry and plain. It also comes in a gift box making it a great little gift.

Whole Mikan Orange Daifuku  – 1 Piece: ¥399 (Tax Included) / 4 Pieces: ¥1,589 (Tax Included) @ Ichifuku Hyakka, SEASON SWEETS (Floor B1F)

These daifuku contain whole mikan oranges grown in the southern part of Ehime Prefecture. When bitten into the juice of the mikan bursts into your mouth and fills it with a delicious citrus flavour.

Fried Marshmallow Sandwich – 4 Pieces: ¥734 (Tax Included) / 6 Pieces: ¥1,101 (Tax Included) / 10 Pieces: ¥1,836 (Tax Included) @ Baked Mallow, MVP SWEETS (Floor 1F)

Available for a limited time only, this innovative treat is a cookie sandwich filled with a gorgeous velvety fried marshmallow containing chocolate.

Caramel & Framboise (5 Pieces): ¥675 (Tax Included) @ Caramel Verger, WEEKLY SELECT SWEETS 2 (Floor B1F)

A perfect combination of dried fruits, caramel and corn flakes make up the base of this chocolate cookie. The sour berries and smooth, rich flavour of the caramel make for an delicious match.

Tokyo Mignon Cadeau – 6 Pieces: ¥756 (Tax Included) / 11 Pieces: ¥1,296 (Tax Included) @ Tokyo Mignon Cadeau, 1F WEEKLY SELECT SWEETS 3 (Floor 1F)

These crunchy wavers are made from fried crepe dough and coated in chocolate.

Head to Daimaru Tokyo for a taste of these limited-time sweets!

Francfranc Unveils Iconic New Tokyo Souvenir Range

Japanese furniture and home décor company Francfranc have approved to start a new project created by art director Tetsuya Chihara called "KISS,TOKYO" which aims to promote Tokyo. The collaborative collection will go on sale from April 26 at Francfranc branches across Japan and via their online shop.

The main motifs of the KISS,TOKYO brand are bright red lips and a winking girl. These original designs were created by Tetsuya Chihara. The icon has been branded onto 24 cute pop items which include everything from everyday things you can use to fun products great as souvenirs.

Girl Tumbler: ¥900 (Tax Included)

Every time you take a sip from this tumbler, the kissing lip glitter flutters around the cup.

Vinyl Umbrella 58 Red: ¥1,000 (Tax Included)

A pop design vinyl umbrella that will make going out in the rain fun.

Tokyo  Mug: ¥900 (Tax Included)

The rim of this beautiful mug is lined with gold leaf.

Red Lips Cushion: ¥2,500 (Tax Included)

These big and beautiful red lips are soft to touch and feel great to hug.

The product line-up also includes plenty of items perfect as souvenirs and gifts from Tokyo.

Tokyo Snow Dome: ¥4,000 (Tax Included)

Inside this snow globe is Tokyo Tower, Tokyo Skytree and more, as well as lots of kissing lips that flutter around the tiny world when shaken.

Girl Flat Pouch: ¥2,000 (Tax Included)

This pouch is made of soft cotton and is flat meaning it won't become bulky and uncomfortable to take around.

And there are lots of other items too, so get your hands on this cute and chic new line!

Information

KISS,TOKYO Product Page