Switching on my silky-smooth and dazzling self with makeup
Makeup is the habitual routine I use to affirm myself every morning. I borrow just a little magic that cosmetics offers to add to my natural self. Let's all start a healthy makeup schedule together―one for the women out there so they can go about silky-smooth.
The rising root of strength from within
Just a spoonful of wildness – without overdoing it. Those nonchalant, accidental gestures so beautiful as to be enticing. Natural but strongly attractive. Having skin that will make anyone spontaneously want to touch it.
Dignified, feminine
No soft spot left unturned. By relaxing your face, that gentle femininity will flow out.  That simple and cool girl smile without anything put on will inspire with its transparency.
Make up your face with highlighter, using no foundation. Bring out a wildness using a grey mascara base with fibres on your eyebrows. For lips, make them look healthier with gloss.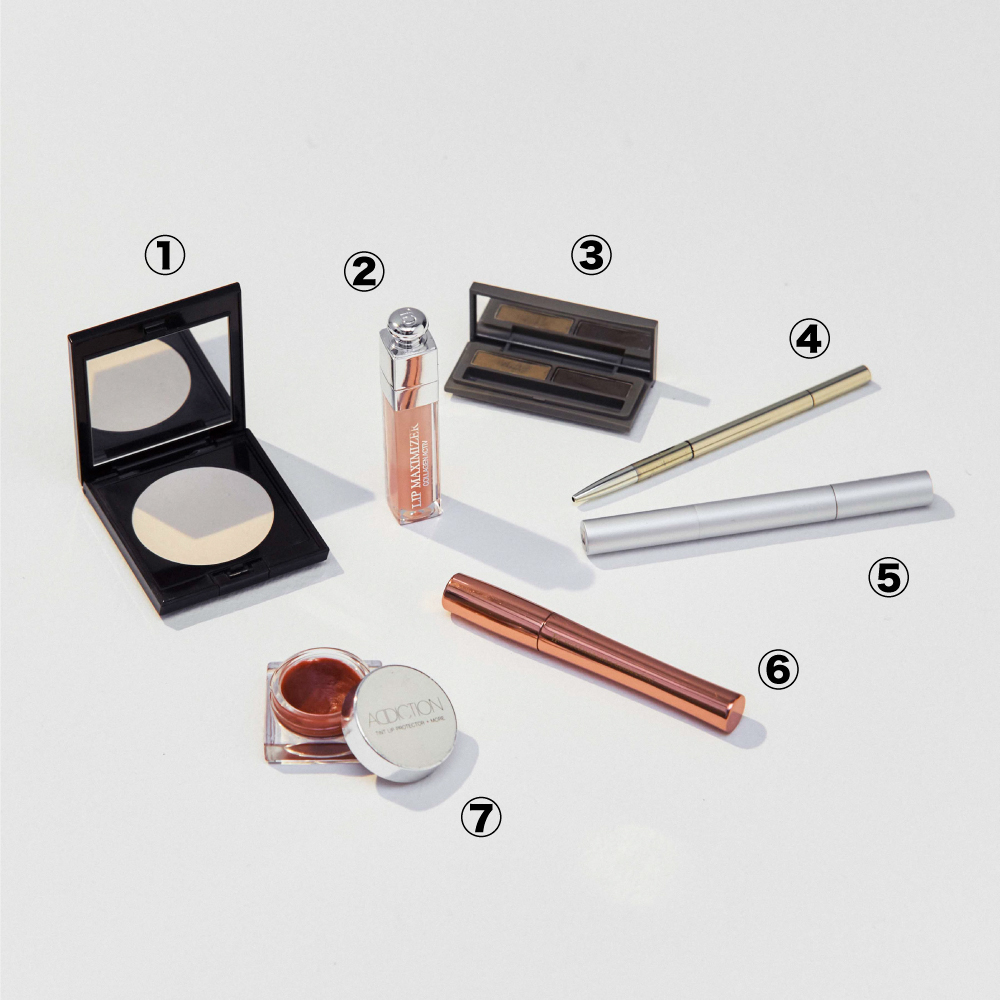 Clockwise from the top left: ①ADDICTION Sheer Pressed Powder,②Dior Addict Lip Maximizer, ③THREE Pressed Eyebrow Duo, ④Elegance Eyebrow Slim, ⑤RMK Super Basic Liquid Concealer, ⑥FLOWFUSHI Mote Mascara, ⑦ADDICTION Tint Lip Protector
Source:https://asbs.jp/archives/33688(Japanese)
RELATED ENTRIES
Japanese Cosmetic Picture Book #2: Brightening Oil & Beauty Essence by AGILE COSMETICS PROJECT

Japan is home to an abundance of top-class, high quality cosmetic items. Knowledge about these cosmetics is slowly becoming widespread outside the country, with travellers stuffing their suitcases with everything they can to take back home with them.

Our featured series Japanese Cosmetic Picture Book is all about us here in the MOSHI MOSHI NIPPON team recommending products to you, our readers, that are made in Japan and that we use ourselves. Look forward to learning about the latest in cosmetics from the land of the rising sun.

Left: Clock G.e.n.e / Right: White Oil

The products we are taking a look at today are the White Oil and Clock G.e.n.e by AGILE COSMETICS PROJECT. The White Oil is an indispensable partner for the summer season while the Clock G.e.n.e is an essence that conditions the skin throughout the day.

AGILE COSMETICS PROJECT is a Japanese skincare brand that launched in November last year. They use completely natural ingredients in their products that are safe and good for your skin. What's characteristic about them however is that they update their products based on the demands of customers. To make products that their customer base will want to continue using, they focus on how an item feels on the skin, the functionality of its visual aspect, and its palatability amongst other things, all while making speedy improvements.

Has there ever been another brand that has listened to the desires of its users?

White Oil – ¥6,400 (Before Tax/Free Shipping) / Repeat Purchase – ¥5,500 (Before Tax/Free Shipping)

The White Oil is a two-layer product and so is to be shaken first before being used. Mixing two separate layers makes it easier for the oil to come together, down to the smallest corners of the outer layer. Ensure you mix it well before use.

When applied to your skin, it has a smooth texture despite being oil and does not become sticky. It feels very comfortable and natural on the skin and never becomes sticky even after applying, all while ensuring it stays moist. Since it's fairly smooth it means you can use it in summer and before you put on any makeup.

It's a personal favourite of mine. It makes a skincare routine super simple: after applying skin lotion you use the oil and you're done. It even comes in a stylish bottle and has a pleasant herb fragrance. I also have sensitive skin, so the fact that it's free from petroleum-based oils, mineral oil, parabens, UV absorption, and synthetic colouring is a huge plus.

I have used it for a week so I can't feel any change to my skin tone yet, but it has been incredible for keeping my skin in good condition. There are a lot of people on social media who have used it and have said that their skin tone has become brighter, so I will wait and continue using it!

Clock G.e.n.e – ¥7,000 (Before Tax/Free Shipping)

The second product to showcase is Clock G.e.n.e which was developed to create and maintain a "daily rhythm" in your skin. This liquid essence will treat one's tired skin, whether it be from your body clock being off, stress or the like. It adds moisture to the skin throughout the day and also protects it from damage and repairs at night.

It comes in a pipette-type bottle. It is added to your skin after applying moisturiser and makes it super soft. This too is made from 98% natural ingredients and is free from silicon, parabens, mineral oil, synthetic fragrances, and synthetic colouring, meaning people with sensitive skin can use it freely without worry.

If you use skin lotion, Clock G.e.n.e and White Oil in that order, your skin is going to feel completely different the next year. When you start using these items, people are going to complement how smooth your skin looks, so for me the effects are outstanding.

Even now, with the high level of satisfaction people have with these two products, the company are continuing to update them based on feedback buyers can give via the QR code that is coupled with the products. I feel strongly AGILE COSMETIC PROJECT's desire to create products that they want consumers to continue using means that they are making good products. Both items are sold online, but the first production batch for Clock G.e.n.e is currently sold out. They are set to release more in the near future, so be sure to peruse their website.

Writer: Sayuri Mizuno (MOSHI MOSHI NIPPON)

Translator: Joshua Kitosi-Isanga

Japanese Cosmetic Picture Book: #1―Skin Care & Moisturisation With RMK

Japan is home to a plethora of top-class, high quality cosmetic items. Japanese cosmetics are slowly becoming in-the-know outside the country, but there is still an abundance of products that are unknown to people.

In this new featured article series, we here in the MOSHI MOSHI NIPPON editorial team will showcase products made in Japan that we use. The brands and prices are unrelated to our picks, they are simply items we want to recommend for you to try.

The first items I've chosen are two moisturising products by RMK. RMK's skin care items cater to a variety of skin types and have been enjoyed by Japanese people of all generations for many years. The company renewed their skincare products on April 5 of this year. I tried out the update items for myself, so let's take a look.

The concept of the new items is "First Sense." Not only do they ensure your skin stays moist, they also "tailor" your skin to how you want to look.

I'm concerned about the outer part of my nostrils, and so I used the First Sense Hydrating Lotion Fresh, a moisturiser that balances water and oil content of your skin.

The lotion is a new combination of pear extract and sage leaf extract. Using cotton, the first use removes old keratin from the nose, and on the second and third uses it completely soaks into the skin. The white gel spreads well across the skin so feels comfortable. Its orange scent gives you a feeling of freshness in those tired and early mornings. I personally really like the smell, so I use it to relax before I sleep too.

Another item that was renewed was another moisturising item: the Balance Skin Conditioner for sensitive skin. It's alcohol free and contains hyaluronic acid. The texture makes your skin feel super gentle, moisturising it nice and deep. It contains ingredients that combat dry skin so is good to use when the season changes or to strengthen your skin barrier. It has a citrus and ginger fragrance which is extremely refreshing like the First Sense Hydrating Lotion Fresh. I have used this item when my skin has been drier than usual and when the pollen count has been high in the run up to spring.

RMK items are sold in the cosmetic section of department stores in Japan. They are also sold in Hong Kong, Taiwan and South Korea too, so be sure to check them out.

Writer: Sayuri Mizuno (MMN Editorial Team)

Information

RMK Official Website

LuLuLun Face Mask: A Beautifying Souvenir From the Japanese City Ise

When travelling abroad, I find myself buying and taking back lots of different souvenirs for myself and my family. I look for those items that are made with each region's particular materials and ingredients. By handing them out to people, I'm also sharing a little bit of that place with the people around me too.

Today I introduce to you the "Ise LuLuLun" face mask, a souvenir from the Japanese city of Ise that's perfect for that one person we all know who's into beauty and cosmetics.

The Ise LuLuLun is part of the popular "Tabi Suru LuLuLun" face mask series which sees limited edition face masks sold in different regions. The masks are made from an assortment of ingredients and plants. They are sold not just in Japan but around the world. Some of the variants to hit Japan have included Okinawa Shequasar and Shōdoshima Olive.

Ise Lululun is the first product in Japan to include extract of sakaki leaf which moisturises the skin. Sakaki is a flowering evergreen tree native to several Asian countries including Japan and is used as a symbol of longevity and vitality. The extract was made in cooperation with Ise City's manufacturing and tourism department, making this a very special product indeed. The sakaki is used in various Shinto activities such as offering them to altars and household shrines. Ise itself is home to many sasaki trees from which the extract in the Ise Lululun is made. Its moisturising effect ensures the skin stays nice and moist.

Let's get onto talking about what it's like to use this product. I've used Lululun packs in the past, but the feature of the Ise Lululun is absolutely the fragrance it gives off. The instant you bring the mask to your face your nose is filled with a smell akin to a forest of trees. If you close your eyes it's like you're enveloped in nature. It gives you a feeling of peace and tranquillity. And the way it relaxes you is nothing short of incredible… It's truly a gift and souvenir from Ise, bound with the air and scent of the city.

My face felt so smooth the day. I think I'll definitely be using this again for special occasions.

The Ise Lululun is a fusion of the Ise spirit of "being thankful for and treasuring every day" and Lululun's own spirit of being in high spirits and sound health. At the end of the day it made me hold my head high and say "thank you" to today. I was also warmed by the message written on the packaging (which you can see above).

If you plan a trip to Ise be sure to check out this exclusive beautifying item and maybe pick one up as a souvenir.

Writer: Sayuri Mizuno (ASOBISYSTEM)

Translator: Joshua Kitosi-Isanga

Information

Ise Lululun

Price: 2 Packs of 7 – ¥1,000 (Before Tax) / 4 Packs of 7 – ¥1,700 (Before Tax)

Available: At souvenir shops in Mie Prefecture, Aichi Prefecture and select parts of the Kansai region

Official Website: https://lululun.com/oise/

Help Me Choose! Japan's Trending Makeup #2: Yurippa's Repeat Cosmetic Pickups♡

This is my first ever series I've ever been put in charge of as a writer and model.

As long as you're stocked up on these items, you're good to go. In this special edition, I will showcase cosmetics that I'm a repeat buyer of and would definitely buy again.

▽Skincare

The first thing I should mention is my skin type.

・I have tough skin and so it doesn't blemish easily

・It becomes dull when I have lack of sleep

・With my combination skin, it's easy to spot oily areas (T Zone) and dry areas (around the eyes, U Zone)

Like this.

Using my knowledge of various cosmetics and methods I have tried I would like to showcase my recommendations. (Don't worry if you don't have the same skin type as me as some of the items I have picked can be used with other types too, so be sure to take a look.)

Finally, you'll be happy to know that these can be used during all seasons.

So, ready to give it a go?

▶︎Dior Capture Youth Series

Quickly and actively delays the appearance of signs of ageing. This series was created to retain youthful looking skin. There are six serums to choose from which cater to different skin conditions. Each can be used on their own or in combination with your own serum products. I've made a custom serum for myself by combining two different types.

1. Intense Rescue Oil (30ml) – ¥12,420 *Photo is my own. Price shown is as was on the day of purchase.

(Effective against dry skin and helps maintain moisture. Supplements lipids.)

2. Glow Booster (30ml) – ¥12,420 *Photo is my own. Price shown is as was on the day of purchase.

(Rich in Vitamin C. Leaves skin glowing and feeling invigorated.)

For face lotion, I use 3.Enzyme Solution. It has a refreshing water-like texture and leaves skin moist. Good to use on skin that favours serums in this series.

Enzyme Solution (150ml) – ¥7,452 *Photo is my own. Price shown is as was on the day of purchase.

For cream, I use 9.Capture Youth Creme. It doesn't remove the face lotion or the serum and doesn't feel sticky.

Capture Youth Age-Delay Advanced Creme (50ml) – ¥12,420 *Photo is my own. Price shown is as was on the day of purchase.

It's safe to say that after using this series, I don't even know what dry skin is anymore. It really is that effective!

▶︎FEMMUE

5. Lumière Vital C  (30ml) – ¥8,000 (Before Tax) *Photo is my own. Price shown is as was on the day of purchase.

6. Ideal Oil (30ml) – ¥6,000 (Before Tax) *Photo is my own. Price shown is as was on the day of purchase.

FEMMUE is a really popular brand right now from the hub of beauty, South Korea. Firstly, it's steeped in fragrance. It's rich in floral scents like perfume. Simply holding the bottles fills you with a feeling of satisfaction. It leaves your skin feeling clear, smooth and glowing. And though it's a thick oil, the skin absorbs it extremely well. 10/10 from me!

I might recommend it to girls who've just stepped into adulthood, girls who want to look sexy, and those who want to be popular! It's perfect for skin that blemishes easily.

▶︎dear mayuko

7. Innocent Skin Serum (20ml) – ¥8,424 *Photo is my own. Price shown is as was on the day of purchase.

This serum contains sericin which comes from silkworm cocoons. Sericin ensures your skin is moist and is gentle on the skin. Despite being a beauty product the texture of this serum is really silky (like water!) and will leave your skin soft and healthy.

Personally, I recommend using it as a booster serum! It's an easy way to nourish the skin before putting on any makeup. It will also help things like face lotions and milky lotions soak in better. The serum itself soaks into your skin nice and quickly so it won't ruin your makeup. Its warm matte texture and colour will leave you looking soft♡

▶︎Kiehls

4. Kiehl's Ultra Face Cream (49g) – ¥4,000 (Before Tax) *Photo is my own. Price shown is as was on the day of purchase.

This cream spreads lightly on the skin. It's also very clear to see that it lets no moisture escape…! That's how dense this cream is, it's like it adds a cover to your face. It also doesn't clear away face lotion or any beauty essences. It reaaally moisturises your skin. This is my 5th or 6th time buying it.

8. Kiehl's Ultra Face Cleanser – ¥2,800 (Before Tax) *Photo is my own. Price shown is as was on the day of purchase.

This can be used on any skin time. (It's also good for people with eyelash extensions!)

It's a gel-type cleanser. What's good about it being gel-type is that cleans off better than oil and yet doesn't take in unnecessary moisture from the skin. You also don't get that stretched feeling after you wash your face. This can really be used all season and by anyone. I haven't used any other cleansers the past three or four times. It's one I can trust.

▽Cosmetics

Be sure to check out my recommended lipsticks from last time too!

https://www.moshimoshi-nippon.jp/183569

▶︎CANMAKE

8. Quick Lash Curler (Transparent Type) – ¥680 (Before Tax) *Photo is my own. Price shown is as was on the day of purchase.

I often use this as a top coat. It makes it harder for your eyelashes to sag and can be used with any kind of mascara. You get a great product for a cheap price, so there's no need to feel guilty about picking up something cheap. You'll end up picking it up multiple times a day, and the cosmetic pouch one stick comes with is sure to come in handy too!

▶︎BIODERMA

2. Sensibio H2O – ¥1,200 (Before Tax) *Photo is my own. Price shown is as was on the day of purchase.

This is a cleansing water to be used with sensitive skin. Pour some onto a cotton pad and simply wipe to remove your makeup without any unwanted excess being left on. It's a super convenient product to have during those times when your makeup need a quick fix up. It's often used in makeup shoots too! They have both small and large bottles, so try starting from the handy mini size first ☺

▶︎M.A.C

1. Strobe Cream Peachlite – ¥4,500 (Before Tax) *Photo is my own. Price shown is as was on the day of purchase.

A glittery pink cream that feels comfortable on the skin. When used as a base for your makeup it will brighten your skin, or when used as a highlight it will glimmer in the light on your shiny skin. It might be nice to add to the décolleté or when you are exposing skin too to add a little something. This item has many different uses!

▶︎Primavista

3. Long Keep Base UV – ¥2,800 (Before Tax) *Photo is my own. Price shown is as was on the day of purchase.

This product can won't blemish skin at all even if it's been working all throughout the day. It goes on gently and soaks up quickly. This means it can be used when you don't have much time, such as when you're in a hurry in the morning. It feels so light it makes you wonder whether you've even put any on! It also holds up well against sweat and oil so I highly recommend it for the coming season! (It's been a No. 1 best seller for 9 years in a row.)

As a footnote, I'll just add that I'm actually a model for Primavista's products and I'm really glad I discovered them.

▶︎YSL

5. TOUCHE ÉCLAT BLUR PRIMER 1 – ¥6,300 (Before Tax) *Photo is my own. Price shown is as was on the day of purchase.

This is a makeup base that has gold pearls in it. It fixes the uneven parts of the skin to make it uniform making it perfect for foundation. It has a semi-matte consistency and the goal pearls give your skin a gorgeous gloss.

10. LE CUSHION ENCRE DE PEAU B30 – ¥7,500 (Before Tax) *Photo is my own. Price shown is as was on the day of purchase.

This is the covering power, moisturisation and texture I wanted! It feels very light on the face, so much so that it feels like you have none on, but it's the opposite of useless―it covers the face completely. As expected of them. It's easy to put on too, just pat it onto your face with a sponge. It's very durable too!

▶︎MIMURA

4. Smooth Skin Cover – ¥4,200 (Before Tax) *Photo is my own. Price shown is as was on the day of purchase.

This too is a makeup base and evens out the odds of your face. It's silky and makes you look extremely beautiful so it's the perfect accompaniment to makeup. It also thankfully contains SPF20 and PA++ and is free from ethanol, colouring agents and synthetic fragrances, making it kind to skin. I would also recommend it to people with weak skin. This is my second pot ♡

▶︎LANCOME

6. Grandiôse Mascara (Volume Type) BK – ¥4,200 (Before Tax)

The rose design of the cap is so cute! This is the No. 1 easiest product to coat. The shape of brush has been carefully calculated to curve with your eyelashes. It does nothing short of bolstering the volume of them. It has also received high praise for how easy it comes off with hot water. But it doesn't blot either. This one's for those who want to emphasise their gaze♡

▶︎CLINIQUE

7. Lash Power Mascara Long-Wearing Formula BK – ¥3,780

We can all relate to mascara becoming clumpy. This formula entwines with each eyelash hair to give big, beautiful eyes. It makes you feel good when applied. Though this is my third time buying it it never fails to make me say out loud to myself, "Wow, how beautiful." You don't have to worry about sweat or oil either, plus it comes off easily with hot water♡

▶︎MAYBELLINE

9. Hyper Sharp Liner BK – ¥1,200 (Before Tax) *Photo is my own. Price shown is as was on the day of purchase.

I have loved and used MAYBELLINE since I was a high school student. I've used many different eyeliners but always end up returning to the same place. The Hyper Sharp Liner is easy to draw with, doesn't smear, and the tip of the brush is thin and soft, so drawing on cat eyes is so much easier now. It's perfect! Get it ASAP!

What do you think of my list? The categories are a bit jumbled, but I have listed all the items I highly recommend.

A lot of the items I've presented are expensive, but even if they are pricey, the quality is good and the effects they have really work! I wonder if the reason for people in their teens and 20s focus so much on skin care is because they have seen the speed at which you can revitalise your skin, or have the power to 'rebirth' oneself.

My skin is changing entirely now compared to back when I thought it was okay to not take care of it. I want to make more recommendations to people at my age and invest in my future self.

Be sure to reference this last, and thank you for reading! Until next time ☺

Writer / Model  Yuri Suganuma
Photographer  / Hikari Shibata

Translator / Joshua Kitosi-Isanga

TALENT PROFILE

Yuri Suganuma

Yuri Suganuma is a model with a high fashion sense that has been picked up by various magazines. She receives much love and support from girls of the same generation as her to whom she is known by her nickname "Yurippa." She has a huge influence across her social media. Recently, she has stepped into other fields outside of modelling, such as appearing in TV shoots and in music videos. She is skilled in make-up and involved in the development of cosmetics.

Kirby-themed cosmetics lineup "Ichiban Coffret" is coming to Lawson stores!

A character lottery where you are always a winner?! A new Kirby-themed cosmetic goods lottery will arrive at Lawson convenience stores across Japan on Saturday 25th May 2019! The Ichiban Coffret collection consists of goods themed around the game Kirby's Dream Land.

A flower-themed Kirby original design! This is not available anywhere else. Whether you're a fan or not, you must see it!

Prize A:Dream cosmetics palette (only one type available), approx. size: 18cm

This cosmetics palette contains six different eyeshadow colours and two different blush colours. Not only is this the perfect colour scheme for the start of summer but the range of colours also makes it easy and suitable for anyone to use! The palette colour scheme is the same as that of the game! Upon opening it, you'll realise just how cute it is and you're bound to make use of it every day.

Prize B:Boyoboyo compact (only one type available), approx. size: 7.5cm

This compact takes on the shape of Kirby's face! This will give a cute, soft and even colour to your cheeks!

Prize C:Dazzling rouge (Two colours available), approx. size: 7cm

Kirby and Waddle Dee ー You can choose from two varieties of rouge lipstick. These easy-to-use lipsticks come in coral and pink ー choose one to brighten up your lips! ♪

Prize D:Kirarin lipgloss (three colours available) , approx. size: 10cm

These lipgloss containers have original designs. The three lipgloss colours are; glossy pink with a reddish tinge, clear pearl, and elegant pink pearl.

E prize:Mildly fragranced hand cream (three varieties available), approx. size: 5cm

There are three types of hand cream: pink floral, blue botanical, and orange garden. Now you have three different hand creams to choose from to suit your daily mood!

Prize F:Multipurpose colourful compacts (5 different colours available), approx. size: 4cm

This is a collection of cute round compacts! Each has a unique colour that is both simple and trendy! The five colours are pink, orange, red, pearl and brown! Each of the colours is a unique blend and has a creamy texture. Depending on the colour, you can also them as eyeshadow, blusher, lipstick, face highlighter and much more!

Last One prize:Coffret pouch, approx size: 25cm

You can fit all the items from the lineup into this bag! There's also an inside pocket ー what a useful item!

There are just so many cute goods as part of this line up so please check them out!

(C)Nintendo / HAL Laboratory, Inc.

Information

Ichiban Coffret: Kirby's Dream Land COFFRET COLLECTION
Available at:Lawson convenience stores (and many other places)
Available from: Sat 25th May 2019

More information:https://bpnavi.jp/t/kirby_c

※ Some stores may not have some/all of these items in stock. The lineup availability period may vary depending on the shop. The series of goods will no longer be available once stock runs out.
※ The goods may look different from the photos.
※ The details on the lottery and goods lineup are subject to change without notification.
※ "Last One" and "Double Chance" are registered trademarks.

Pokémon Cosmetic Series: Pokémon Mirrors & Point Pack Released

We have seen five items release in the Pokémon cosmetic series up to now: the face mask, lip cream, hand cream, lip gloss and body gel.

In total over 470,000 items have shipped in the series. They have gained much attention online not only for their cute designs but for the considered ingredients they contain. The series has been also been sold in Japanese airports and enjoyed as a souvenir from Japan. It was even released in Taiwan this month.

Two new Pokémon have been added to the series for the newest product―Slowpoke and Mew―for a total of six Pokémon. The new items in the line-up are mirrors and the point pack.

Cute pastel colours and designs decorated the six mirrors which include Eevee, Slowpoke, Mew, Jigglypuff, Pikachu and Snorlax. Their petite 76mm size makes them compact and convenient to carry around. But don't be put off by their small appearance as they are plenty big enough to fix your makeup on the go. The mirrors also come with a clear case meaning they won't get dirty.

The cute designs also make them a perfect idea as a gift♡

Also released is the point pack which is sure to be a hit on social media.

The point pack includes adorable Pokémon stickers you can put on your face and body. They are made by the cosmetic brand Lovisia and contain collagen, hyaluronic acid and shea butter for beautiful skin care. They are also scented with sweet soap.

One point pack comes with 11 sheets so you can enjoy them with friends and family or hand them out at sleepovers!

Information

Pokémon Mirror
Price: ¥650 (Before Tax)
Designs: 6

Available: At variety shops in Japan

Release Date: Will begin rolling out at stores from April 13, 2019

Pokémon Point Pack
Price: ¥500 (Before Tax)
Contains: 11 mini sheets

Available: At variety shops in Japan

Release Date: Will begin rolling out at stores from April 17, 2019

Help Me Choose! Japan's Trending Makeup: #1 Lipsticks Loved by Everyone!

This is my first ever series I've ever been put in charge of as a writer and model.

Moshi Moshi Nippon is where I start!

To briefly explain my makeup history, I first became interested in makeup when I was in elementary school after I went to a drugstore and saw cosmetics all lined up. After entering middle school, I was an awkward girl hooked on eyeshadows. I realised in high school that unique people get a lot of attention, and so I wanted to learn more about makeup. Every week, if I had a free moment, I'd pop down to the department store and little by little, deepened my knowledge about cosmetics. At around the age of 22 or 23, I achieved my certification as a "Cosmetics/ Skincare Meister". (There's still a lot to learn though…)

At 23, I started writing a series of my own about makeup!
Even if it's just a little bit, I want everyone to feel like they can use my articles to help themselves find their favourite cosmetics.

As this is my first ever business, I was obviously quite nervous about a few things.

As the impression that makeup leaves, and everyone's individual tastes can always completely change in an instant, I made this report which puts the spotlight on lipsticks that are suitable for a range of people!

These are recommendations by Yurippa!

These lipsticks are perfect for spring and summer!

If you're looking for stylish yet affordable lipsticks, join me and take a peak of my world of makeup through my eyes!

▽ Yurippa's recommended lipsticks!

・3CE  MOOD RECIPE MATTE LIP COLOR #909 ¥2160

Feels like a cream when you spread it on your lips.

A matte finish colour that sticks to your lips.

Very good colouring

Slightly deep red coral…

Gives an adult-like impression!

Coordination ideas: Perfect highlight for an all black outfit or a white shirt, or all navy look. I think it would make a great contrast with blue!

Suitable for all skin types (yellow base, blue base)

No matter where you go, you'll be complimented for your lipstick coordination ♡

To buy this, search for "3ce" lipstick

It'll be somewhere around the 4th or 5th link down. Look out for the product number #909.

This is a very popular lipstick!

・another item・

・M・A・C

(Left)Dubonnet ¥3240

Matte finish wine purple colour.

Deep with an edgy finish.

M・A・C lipstick colours are very defined and difficult to rub off!

You don't even need to top up very much throughout the day.

(Right)Chili (MINI size) ¥1404

This is an orange brown matte lipstick.

There are many models these days who use this colour.

If you are not sure what colour suits you, you can play it safe with this.

All these lipsticks smell like vanilla.

※M・A・C lipstick is sold at some stores.

・CHANEL Rouge, Allure, Velvet series ¥4536

These are also matte lipsticks.

If you compare the feel of 3CE and M・A・C lipsticks, you'll find they both have a different matte texture.

You can really feel the moisture in this!!

A smooth, matte finish.

I'm way too keen on this series. I mainly have lipsticks from the colour version.

The texture, quality of colour, and the exquisite choice of colour is what makes this lipstick so addictive!

(Left)No.58 Rouge Vie

Deep, strong red

(Right)No.61 La Secrete

Salmon pink

▽2019 Perfect for spring and summer Lip

・ADDICTION  Lipstick Sheer 003 cherry cherry ¥3024

Finally here's a non-matte lipstick that I like! Haha…

But despite I love matte lipsticks so much, this lipstick just has the cutest texture! I fell in love with it at first sight.

The transparency is perfect for the shade of red.

Despite the strong red colour, it is rather transparent, giving a "pop" look.

The more you apply, the cuter your lips!

How about wearing a white shirt to match your red lips?

…or a patterned shirt, woven bag and denim bottoms??

Allow yourself to be driven by the wild feeling of spring and summer fashion. This lipstick is a must for your handbag!

I really want to wear cherry earrings to match the lipstick!

・shiro ginger lip butter(lip gloss)9C06 copper brown  ¥4104

A matte brown-orange.

This is quite a fashionable colour that will make you appear more like an adult.

A lip balm and gloss in one! No need to apply a balm as a base to stop your lips from drying out.

The shade is rather nice and the colouring is perfect.

The small touch of gloss will make you seem more adult-like ♡

It has a smooth texture and spreads smoothly!

The natural scent of ginger makes it seem just like an organic cosmetics product like "shiro".

Look no further for a lipstick you can use all year round!

The new colours came out on 7th March as a product not just for spring and summer, but also autumn and winter.

・Celvoke  Enthrall gloss 03 ¥3024

Orange/brown, glossy and plenty of moisture.

This will give you the plump lips that every girl wants!

As the colour is quite toned-down and dark, use a subtle amount of eyeshadow,  give your cheeks a matte finish and your lips will become the glossy accent to finish your look!

▽ Stylish yet affordable!

・CANMAKE Lip Tint Matte 03 rose ¥650

This is a rather girly rose pink.

Although this is a strong-coloured lip tint, it holds moisture so you don't have to worry about your lips drying out.

Spreads completely over your lips perfectly.

You would look so cute if you combined this with a floral outfit or gingham checks♡

01 coral

04 Terracotta red

・INTEGRATE Silky Matte Lip(Lip/cheek colour)PK384 ¥1296

Bright coral with a slight glossy semi-matte finish.

This is a fresh colour which will brighten your face.

Enjoy the light texture as you apply it.

As you can colour both your cheeks and your lips with this lipstick, this is perfect for those of you with busy mornings or those of you who are not good at makeup and are uncertain of how to balance colours!

This is an easy way to achieve a balanced look!

~ <Extra!> If you get your hands on this you should celebrate! ~

Pat McGrath is a hair and makeup artist. She owns the makeup brand "Pat McGrath"♡

She still hasn't been to Japan.

She is involved in famous fashion show brands and collections and is a hair and makeup specialist.

From the packet design, these products overflow with cuteness!

The smooth matte lipstick is absolutely perfect when it comes to durability and colour.

This high-quality lipstick is a leading lipstick ー no doubt about it!

Just how people buy CDs because of the awesome CD designs, you might end up getting this just for the packaging!

・Pat McGrath MATTETRANCE LIPSTICK

Elson 2  (The Perfect Red) ¥4752

Omi (Mid-tone Rose) ¥4752

(The packaging and the lipstick are just so beautiful!)

You can purchase these online.

I don't think there's many people who use these lipsticks!

If you have them, you can boast about your fashion to others! ☺︎

That's all!

…and that wraps up my personal lipstick report!

I didn't even realise that I wrote an entire report…

I want to continue with a second and even third series!

I aim to write these reports in a style that creates a close connection with my readers.

If you want to ask questions or need advice, I'm making an advice corner where you can reach me personally!

Let's be friends!

Writer / Model  Yuri Suganuma

Photographer    Haruka Yamamoto

Make & Hair      Yusuke Hashimoto

Travel Japan #4: Magic Items to Heal My Tired Skin and Body

After my stroll around Kyoto I head back to my hotel for a break and think back over my day. My curiosity is piqued – I want to know more about the history of this place.

Laid sprawled across my bed I picture myself walking through the city, the seasons changing, giving a sideways look at an elegant temple. The vivid cherry blossoms of spring, the cool riverbeds in summer, the autumnal orange hues, and the snow-beds of winter. All of these moments provide a spectacle that cannot be overlooked.

I feel that more wonderful things are still yet to occur. It's nighttime, and my mind wanders at these thoughts, so I can't sleep.

I take out the Kyoto guidebook from my baggage. I trace the path I traveled today in my head which vividly brings the sights I saw to my mind's eye.

I let my body sink gently into the bed and absorb myself in reading, checking all the nooks and crannies of the book.

This ancient city boasted by the island country of Japan, which I crossed the sky and sea to arrive at, is more wonderful than I expected. The orderly townscape makes me sit up and feel tense, in a good way.

My mind becomes clear. It feels as if I have been looking far into the distance for a long time.

"I feel the path I am heading for is beyond that beautiful landscape."

My heart beats fast at that hope.

I walked a lot today, so I give myself a treat.

I bask in the aromas of the cool sheets I place on my legs and heal my body to the core.

I add to that a touch of permeating organic oil that's both moist and gentle on the skin. When my skin is happy my heart too benefits.

The night is still young. I enjoy some me-time with my makeup-less skin and heart. Resting like this is another important part of travel.

I flick through the guidebook over and over again and visualise the routes of the places I want to visit. A magic-imbued miracle occurs and I feel this room directly connecting to the places I wish to go to.

Afterwards I enjoy a late-night retro movie. I am sure my coming to love alone-time is thanks to this trip. I also feel I have become a little stronger than I was. I try praising myself as my heart throbs at my favourite scenes which I watch over and over.

Model / Mala Morgan

Give your tired body the luxury time it deserves

TOPVALU Leg & Calf Adhesive Cooling Sheet


¥460 (Before Tax) / ¥496 (Tax Included) – 18 Sheets (14cm x 10cm)

On days where my legs become swollen from walking I like to massage my legs in the bath. I then use ÆON TOPVALU's calf sheets which refresh my legs with the power of their aroma and give them care for the next day. I step into a new world with this body.

TOPVALU GURINAI Organic  geo organics Moisturizing Lotion
¥1,800 (Before Tax) / ¥1,944 (Tax Included) – 150ml

TOPVALU GURINAI Organic geo organics Pure Oil Macadamia
¥1,800 (Before Tax) / ¥1,944 (Tax Included) – 27ml


This Geo Organics certified skin location uses orange fruit extract as its base which moisturises and is astringent. It steadily permeates the skin and leaves it glowing. I use it together with the organic certified Pure Oil Macadamia. It maintains a balance of normal bacterial flora of the skin and contains lots of palmitoleic acid which is said to enhance barrier function. The power of the macadamia nuts also grants lively skin. I don't want to mess up tending to my skin even when traveling.

We are handing out coupons for the products mentioned here. Be sure to use them the next time you visit ÆON for great discounts.

🎁 5% Coupon:https://www.welcome-aeon.com/coupon/web_coupon.html

ÆON Store Search: https://www.welcome-aeon.com/storesearch/index.html

Information

About ÆON Group

ÆON Group is a retail corporate group based in Japan that has established 21,742 branches (as of February 2018) in 13 countries across Asia.

Its private brand TOPVALU sells high-quality products at an affordable price. The TOPVALU GURINAI range for example stocks a myriad of products crafted with the utmost care through various production techniques, and of the ingredients used only the best are selected.

The GURINAI range is divided into three parts that give customers the opportunity to easily purchase organic products and ingredients. 'TOPVALU GURINAI Organic' offers organic foodstuffs marked with the official organic stamp of approval. 'TOPVALU GURINAI NATURAL' provides fresh meat that, as a general rule, is farmed using no chemicals. 'TOPVALU GURINAI free from' stocks processed foods with additives, raw materials and ingredients taken into strict consideration.

ÆON Group Private Brand TOPVALU: https://www.topvalu.net (Japanese only)

Miffy Design Makeup Brushes Released by Kumano Brush

Kumano is a hub for brushes in Japan responsible for producing 80% of brushes in the country for painting, writing and cosmetics. Kumano Fude (also known as Kumano Brush), the company that produces these brushes, has joined paws with Dick Bruna's internationally loved bunny character Miffy to release a new range of makeup brushes. Four types were released on February 14 including face brushes and cheek brushes.

Kumano Fude's previously-released Rilakkuma and Rilakkuma Halloween brushes were incredibly popular, and the Miffy and Melanie brushes are sure to receive the same love. There are two each of face and cheek brushes each in the colour of the respective characters. All the brushes produced by Kumano Fude are handmade by experts in Kumano Prefecture.

The face brush handles are made with wood from cherry blossom trees with blue and red designs and decorative flowers.

The cheek brushes too come in their own respective colours. The yellow dye of the brush hairs gives the ends a perfectly round shape. The handles are made of hard maple and feature illustrations of Miffy hugging his teddy bear and Boris hugging a rabbit plush toy.

Not only are these brushes cute, they are authentic tools and a must-have for any cosmetic connoisseur. Perfect as a gift to a friend (or yourself!)

Information

Miffy Kumano Fude

Price: Face Brushes – ¥5,500 Each (Before Tax) / Cheek Brushes ¥3,700 Each (Before Tax)

Released: February 14, 2019

Product Page: https://hkds.tokyo/category/MIFFYKUMANOFUDE/

Illustrations Dick Bruna © copyright Mercis bv,1953-2019  www.miffy.com

Impactful accessories that will transform simple co-ords

Whether it's adding a white shirt to denim or something else as simple, basic styles are my weapon of choice. And certain impacting accessories can sometimes perk up a lonely-looking co-ord. Common items are fine with the clothes you choose. So which accessories will give that change of vibe?

Wear piercings and earrings big

Mild colours evoke that girly essence

Larger accessories are the trend right now. I recommend those with an antique feel to them too. Piercings that sway make their colours stand out more and are perfect for that after-five date. Classic pearls are surefire so be sure to check some out.

Left: Earring ¥3,600 (YURI SUGANUMA×Liquem) / Bottom Left: Earring ¥2,300 (Liquem) / Top Middle: Piercing ¥1,600 (SMELLY) / Middle: Piercing ¥1,600 (SMELLY) / Lower Middle: Piercing ¥3,500 (Santa Monica Harajuku) / Right: Earring ¥3,000 (Liquem)

Flashy & edgy coloured scarves? Absolutely!

Vivid coloured scarves go well with an outfit. Popular choices are geometric, oriental and checkered designs. If you're looking in the used clothing section you're sure to find some unique options – and for a good price.

Top: ¥3,900 (Santa Monica Harajuku) / Bottom: ¥700 (Santa Monica Harajuku) / Left & Right: Stylist's own belonging

If you're not good at hairstyling, don't worry!

Make them look twice with a barrette

Barrettes will add a little sweetness to your hair. One barrette can make a big difference in those busy mornings so you look gorgeous. Even if you have a simple one, gold leaves a deep impression, and things like primary colours and retro, girly items fit grown-up women perfectly.

Top Left: Barrette ¥2,900 (Santa Monica Harajuku / Rest: Stylist's own belongings

Source:https://asbs.jp/archives/33712(Japanese)

Pokémon Candy Lip Gloss Released in Pokémon Cosmetic Series

We've seen the Pokémon Face Masks, the Pokémon Lip Cream and the Pokémon Hand Cream released as part of the ongoing series of Pokémon themed cosmetics. Now comes the Pokémon Candy Lip Gloss which was released on December 27.

The lip gloss is imbued with a sweet honey fragrance. When you open the tin you are met with two different glosses one of which is in the shape of a red heart.

The heart section is combined with vitamin-rich fruit extract and contains pearls. The part around the heart includes a range of moisturising ingredients like hyaluronic acid and beeswax. Both result in a glossy finish when applied to your lips.

When bought at select stores with over ¥1,000 (before tax) spent on the Pokémon cosmetic series you will receive one of ten possible limited edition pin badges. This store list can be found on the product's official website.

This is the perfect item for the dry winter season, so why not pick one up for yourself or as a gift to a friend?

Information

Pokémon Candy Lip Gloss

Release Date: December 27, 2018

Price: ¥980 (Before Tax)

Available: At all Pokémon Center branches, ITS'DEMO branches, Tokyu Hands branches, LOFT branches and other variety shops.

Pokémon Gift Cosmetics Official Website: https://lovisia.jp/

ON→ OFF slider co-ordination for working girls

These co-ords are for the everyday working girl who can also dress up nice and easily into a post-work, after-five outfit. Complete a look from your casual office-wear by adding some small accessories and head out to enjoy your date or girls get-together.

ONTIME

A mannish look with a clean white one piece and pants

A clean casual office outfit is life.

Opening the front button of the white one piece creates style like a long shirt.

When combined with coloured pants, everything comes together, and you look handsome.

1. Hair back, manful

Looking natural from all angles

2. Pin heels, a girl's icon

3. A leather bag brings to bring it all together

Always have yourself braced during ON TIME. Back straight, face dignified. Roll up the sleeves of your one piece just a little. Have your hair simple through and through with just one knot so it maintains the freshness of your white one piece look.

OFFTIME

Readying the concealed accessories in your bag for one's best outfit

Preparing those after-five accessories,

those that don't make even your work bag bulky.

Clock out of work and head to the powder room!

Transform entirely with these 3 stylish accessories while still in your ON TIME clothes

1: Hypnotize with swaying hooped earrings

2:Add class with a checkered scarf

Scarves are an upcoming fashion accessory gaining more and more attention. The milk tea-coloured checkered design is elegant and refined and reflects well with the ON TIME one piece. Choosing larger earrings naturally makes your face look smaller too.

Earring ¥4,500 (LATIA) / Scarf (stylist's own belonging)

Other Styling: Tying a scarf around one knot is good!

Scarves have many different uses. Highlight your face by tying one in your hair and around a single hair knot. Show just a little of the design, like a floral pattern, and make a point to combine with a simple outfit for perfect results.
Scarf ¥3,200 (Santa Monica Harajuku)

3:A barrette perfect for the bustling streets

A large barrette is after-five's best friend. Using a marble type plastic barrette will make your hairstyle look mature. If you braid your hair almost to the end and add the barrette and decorative pins your hair will look on-point and stylish all the way around.

Barrette (stylist's own belonging)

Source:https://asbs.jp/archives/33685