Valentine's Day at the KAWAII MONSTER CAFE Promises a 'Colorful Animal Valentine'
The KAWAII MONSTER CAFE in Harajuku has announced Valentine's themed fair titled Colorful Animal Valentine and it begins on January 28.
In Japan is common for friends to give each other chocolate during Valentine's but "friend sweets" is the latest Valentine's Day trend that has people enjoying desserts together instead of trading chocolate. The KAWAII MONSTER CAFE is jumping on this bandwagon with a colourful line-up of 7 animal themed desserts.
Shocking Pink Rabbit: ¥1,100
Prepare to nibble into a cute and colourful rabbit cake made with a doughnut and topped with a fluffy cassata.
Rainbow Love Letter With French Toast: ¥1,150
Enjoy sweet and juicy rainbow French toast decorated with chocolate ribbons and envelope seals served with fruit, fresh cream and chocolate sauce.
Sexy Blue Ice Cream: ¥850
You read that right. Indulge in a pastel blue ice cream topped with pink hearts, chocolate lips, white chocolate feather, and a strawberry Pocky.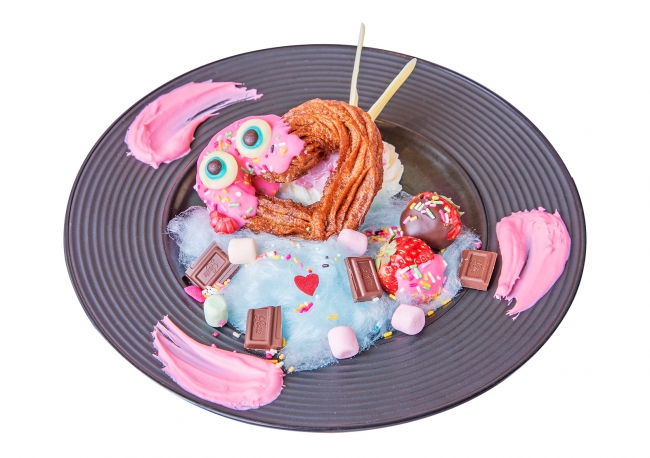 Pastel Moko Monster Churro Churros: ¥950
This churro has become an angel and swooped down onto your plate. Shaped like a heart, the cocoa churro has white chocolate wings and plenty of other eye-catching treats surrounding it.
Black Teddy Bear: ¥1,580
If you don't fancy anything sweet and want a a real meal, then try the cute black teddy bear burger filled with hot salsa sauce and rich cheese sauce.
Orange Crush Rabbit Monster: ¥1,580
If you can't pick between a meal or a dessert then try this Mexican chocolate chicken burger. Made in the image of a crazy rabbit, this rich burger contains crispy chicken layered with a dark chocolate sauce.
Heart Chicken Rice & Egg: ¥1,380
Last up on the menu is this chicken rice dish enjoyed with hashed beef and scrambled egg. It is finished with a loving pierced heart.
Enjoy some delicious desserts or a colourful meal with your friends this Valentine's season at the KAWAII MONSTER CAFE.
Information
KAWAII MONSTER CAFE Harajuku
Address: YM Square Bldg. 4F, 4-31-10 Jingumae, Shibuya, Tokyo
Access: 5-minutes on foot Harajuku Station via JR / 1-minutes on foot from Meiji-Jigumae Station via Chiyoda Line and Fukutoshin Line
TEL/FAX: 03-5413-6142/03-5413-6143
Opening Hours
Weekdays & Saturday:
[Lunch] 11:30-16:30 (last entry 15:30 / last orders 16:00 – 90 min stay max)
[Dinner] 18:00-22:30 (last orders 22:00)
Sundays & Holidays:
11:00-20:00 (last orders 19:30)
*During busy times, a max stay time of 2 hours may be implemented.
KAWAII MONSTER CAFE: http://kawaiimonster.jp
RECOMMENDED ENTRIES
HARAJUKU KAWAII MONSTER CAFE's pop Valentine's menu

Harajuku KAWAII MONSTER CAFE is serving up Valentine's Day desserts from Thursday 1st February to Wednesday 14th February 2018.

 

Colourful Pop Macaroon MONSTER GIRL: ¥850+ tax each. 

Price with MG Bracelet: ¥1300+ tax

The design for the Colourful Pop Macaroon MONSTER GIRL is based around the macaroon that is displayed in the Mel-Tea ROOM of the Café. The macaroon is transformed into an iconic monster girl colourful dessert. Each macaroon is made from a different ice cream ー vanilla, caramel, chocolate mint, chocolate chip or strawberry. The ice cream is arranged inside a heart-shaped macaroon sandwich and is presented on a rainbow plate. You can also get this dessert with an original bracelet.

 

Colourful Pop Macaroon Choppi Parfait (¥2,100+ tax)

The Colourful Pop Macaroon Choppy Parfait takes on the appearance of Mr. Choppy who is the café's mascot. The happy face of Mr. Choppy is decorated with vivid macaroons and berries that are piled onto a mountain of soft cream.

Colourful Choco Fondue (¥1,600 + tax)

The Colourful Choco Fondue is served with waffles and fruits for you to dip into chocolate sauce. To make the chocolate fondue more colourful, the dessert takes on the appearance of the sweet nectar drawn from the flowers of the carnivorous plants that are displayed in the Mushroom Disco area. The chocolate fondue is filled with a range of decorative colours.

On Valentine's day and during the night events that are held every Wednesday, not only will a DJ and monster girls be putting on a show, but Valentine's-limited special mini macaroons and pop lollipops will be presented as gifts.

Enjoy Valentines day with this photogenic menu!

■Information

KAWAII MONSTER CAFE HARAJUKU

Address: 4th floor, YM Square Building, 4-31-10, Jingumae, Shibuya, Tokyo.

Opening hours: Weekdays & Saturdays: Lunch/ 11:30〜16:30(Last entries: 15:30 Last orders: 16:00 – 90 minute seating period)

     Dinner: 18:00 〜 22:30(Last orders: 22:00)

     Sundays & national holidays: 11:00 〜 20:00 (Last orders: 19:30)

     ※ During peak times it is possible that seating time period will be increased to 2 hours

No closing days

TEL:03-5413-6142

KAWAII MONSTER CAFE HARAJUKU Announces New Regular Drag Queen Show to Begin in October

The KAWAII MONSTER CAFE in Harajuku celebrated its 3rd anniversary on September 3, 2018 with a commemorative event.

The event saw special versions of their popular lunchtime and dinnertime show take place. Customers were entertained with a variety of shows including a burlesque night, a geisha show, a show by the restaurant's iconic monster girls and more.

It was announced at the event that a new regular show would be introduced to the schedule which will take place on Friday every week. It was a very special one-night experience for guests both Japanese and those who had travelled from overseas.

KAWAII MONSTER CAFE holds numerous monthly events every week under its KMC SHOW CASE schedule for adults to have some late-night fun. For example, the 'KAWAII Geisha Night' which takes place every Tuesday and is hugely popular with foreign tourists, 'TOKYO POP CULTURE NIGHT' which it put on by the Monster Girls every Wednesday, and 'Thursday Burlesque Night' which sees sexy burlesque dancers singing and dancing.

The new regular show to enter the schedule this October is titled 'GO-GO Friday' which will be hosted by dragon queens.

A host of gorgeous dragon queens will perform dressed in fabulous outfits and invite guests into a fantastic and thrilling world.

The event also showcased a Tokyo 2020 themed selection of food which had that iconic KAWAII MONSTER CAFE twist. It included the TOKYO Roll Beef which is a vivid creation of five-coloured sushi rice topped with roast beef, Goshoku Tarts which are made with caviar, fruit and other ingredients, the Colourful Pop Burger "2020" and more.

The KAWAII MONSTER CAFE is now three years old and has served over 400,000 guests. As the number of foreign tourists to Japan continues to increase, the restaurant is sure to have more and more people enjoying Japanese nighttime in the run up to the Tokyo Olympics.

■Information

KAWAII MONSTER CAFE Harajuku
Address: YM Square Bldg. 4F, 4-31-10 Jingumae, Shibuya, Tokyo
Access: 5-minutes on foot Harajuku Station via JR / 1-minutes on foot from Meiji-Jigumae Station via Chiyoda Line and Fukutoshin Line
TEL/FAX: 03-5413-6142/03-5413-6143

Opening Hours
Weekdays & Saturday:
[Lunch] 11:30-16:30 (last entry 15:30 / last orders 16:00 – 90 min stay max)
[Dinner] 18:00-22:30 (last orders 22:00)

Sundays & Holidays:
11:00-20:00 (last orders 19:30)

*During busy times, a may stay time of 2 hours may be implemented.

KAWAII MONSTER CAFE: http://kawaiimonster.jp

KAWAII MONSTER CAFE Collaborates with Anime Series Captain Tsubasa

The KAWAII MONSTER CAFE in Harajuku has been holding an out-the-box collaborative campaign since last year under the name "Dream Collaboration Cafe." As part of the campaign, the cafe it teaming up with ongoing anime series Captain Tsubasa from June 26 to July 13 as a way to promote Japan's anime culture to both Japanese people and foreigners.

They will serve up a Captain Tsubasa themed menu, hand out novelty items related to the series and put up life-sized cardboard cutouts.

This year is a special year for soccer which comes once every four years. Harajuku is about to get in on the excitement with this special collaboration.

The menu will include dishes inspired by the characters of Captain Tsubasa. Those who order from the menu will receive an original limited-edition novelty present.

Menu

Nankatsu Golden Combi Burger – ¥1,680

BLACK Tako Rice – ¥1,200

Colourful Rainbow Pasta ~Red Cap~ – ¥1,450

Captain Tsubasa x Colourful Pop Macaron Ice Cream – ¥850 each

Ball wa Tomodachi! Colourful Tart – ¥950

SGGK Strawberry Mousse – ¥900

Captain Tsubasa x Fruity Heavenly ~Fruit Mix~ – ¥800 each

*Prices listed are pre-tax.

The KAWAII MONSTER CAFE will take these seven menu items themed centred around Captain Tsubasa and add their colourful twist to them. There'll also be cute desserts and drinks to choose from, meaning plenty of photo opportunities.

Fans of Captain Tsubasa won't want to miss out on this very special collaboration!

■Information

KAWAII MONSTER CAFE Harajuku
Address: YM Square Bldg. 4F, 4-31-10 Jingumae, Shibuya, Tokyo
Access: 5-minutes on foot Harajuku Station via JR / 1-minutes on foot from Meiji-Jigumae Station via Chiyoda Line and Fukutoshin Line
TEL/FAX: 03-5413-6142/03-5413-6143

Opening Hours
Weekdays & Saturday:
[Lunch] 11:30-16:30 (last entry 15:30 / last orders 16:00 – 90 min stay max)
[Dinner] 18:00-22:30 (last orders 22:00)

Sundays & Holidays:
11:00-20:00 (last orders 19:30)

*During busy times, a may stay time of 2 hours may be implemented.

KAWAII MONSTER CAFE: http://kawaiimonster.jp

Portal Site 'Ball wa Tomodachi': http://ball-ha-tomodachi.com

Captain Tsubasa 2018: http://www.tv-tokyo.co.jp/anime/captaintsubasa2018/

©Yoichi Takahashi / Shueisha・Captain Tsubasa 2018
RELATED ENTRIES
J-Pop Group Perfume to Open Fashion Pop-Up Shop 'Perfume Closet' at Laforet Harajuku

Worldwide famous Japanese pop group Perfume are taking their fashion project "Perfume Closet" to Laforet Harajuku where it will run in a pop-up shop from February 20-26 this year.

Perfume Closet is a fashion project helmed by Perfume which aims to connect with fans through Perfume's music by making outfits. This is the fourth time Perfume Closet has opened, and will feature a line-up entitled "Perfume Closet 2020SS" which is part of what Perfume are calling "Phase 2," which started in January this year and centres on clothing. It follows on from "Phase 1" which featured a line-up of miscellaneous items.

SATIN COMBI TRENCH COAT – ¥49,500 (Tax Included) / FLOWER PLEATS DRESS – ¥44,000 (Tax Included)

SHEER COMBI KNIT ¥17,600 (Tax Included) / 2 WAY PLEATS SKIRT ¥35,200 (Tax Included)

RELAX WEAR (LADIES) – ¥16,500 (Tax Included) / PLEATS SLEEVE TEE (WHITE) – ¥9,900 (Tax Included) / SHEER COMBI RELAX PANTS – ¥22,000 (Tax Included)

The pop-up shop will stock a plethora of items made by the Perfume members, who worked on the designs, chose the materials, and crafted the silhouettes. It includes everything from coats to one pieces, blouses, bottoms, as well as unisex items men can wear too like pants, shirts, and more.

Fans of Perfume and fans of Japanese fashion aren't going to want to miss out on the new Perfume Closet, open for one week only starting next Thursday!

Information

Perfume Closet

Running: February 20, 2020 – February 26, 2020

Location: Laforet Harajuku (Floor 2F CONTAINER)

Laforet Harajuku Official Website: https://www.laforet.ne.jp/

IKEA Harajuku to Open in April 2020 as IKEA Japan's First Central Tokyo Branch

IKEA Japan has announced the opening of its first central Tokyo branch. Located inside WITH HARAJUKU, and just a 1-minute walk from Harajuku Station, the store will officially open its doors on April 25, 2020.

Harajuku is the hub of Japanese youth fashion culture, and is known the world over as one of the main tourist spots for those travelling to Tokyo. IKEA is taking its Swedish roots and planting them in the ground of central Tokyo with its spacious new storeーwhich will also have its own cafe.

If you're travelling to Tokyo, make sure to pay IKEA Harajuku a visit during your inevitable Harajuku shopping spree.

Information

IKEA Harajuku

Address: WITH HARAJUKU, 1-14-30 Jingumae, Shibuya, Tokyo

Grand Opening: April 25, 2020

Access: 1-minute on foot from Harajuku Station via JR Line / 1-minute on foot from Meiji-Jingumae Station via Tokyo Metro

IKEA Japan Official Website: https://www.ikea.com/jp/en/

Visiting @cosme TOKYO in HarajukuーThe Place That Satisfies All Of Your Makeup & Cosmetic Needs

@cosme TOKYO is a new flagship store that opened in front of Harajuku Station in Tokyo on January 10, 2020.

@cosme is a web portal centred on makeup and cosmetics. Offering a wealth of beauty information from a number of perspective, the website lets you see the latest trending items in the makeup world from the word on the streetーby letting people comment on and rank itemsーoffers solutions to skincare and makeup-related problems, and more.

@cosme TOKYO is the first-ever physical store by @cosme. Its floor space spans over 1,300 square meters where it houses an enormous selection of cosmetics and makeup products, from inexpensive and affordable quality items to luxury brands. Since opening, it has become the talk of the town in Harajuku.

It's comprised of three floors, each with their own highlights. Let's go and check it out.

1st Floor: A Hall of Fame for the latest most popular cosmetics

When you walk into the first floor area, the first thing that's sure to catch your eye is the incredible "Best Cosmetic Award Tower," a collection of items that have have won past cosmetic awards for being the best. All the cosmetics are stacked up high in their own little display case.

As you proceed further across the shop floor, there is the "@cosme Weekly Ranking" corner which ranks the most popular items on the website for that week, so customers can always know what products are the best to incorporate into their makeup and beauty routine.

But perhaps the centrepiece of @cosme TOKYO is the "Tester Bar," where customers are free to try out products using the puffs and cotton pads provided. There's also a tap and sink for rinsing. You can't deny how great this service is; without worrying about others, you can try out all the cosmetics to your heart's desire and then buy them if they're to your liking.

There are also smart lockers so you can lock your things away, allowing for your hands to be free while you test makeup and shop. But it doesn't stop there, as there's even a foreign currency exchange machine which caters for 85 currencies in 120 countries.

2nd Floor: Men's cosmetics, beauty equipment, and more

Up on the second floor, you'll find another area that ranks products, this time the ones with the most sales at @cosme TOKYO. Everything is displayed in such a way that it's easy to find products as they are separated by base makeup, mascara, lipsticks, and so on. You'll find pop artwork hand drawn by the staff to highlight products, so enjoy comparing and considering all the different items.

Recently in Japan, men's products have been garnering attention, and so @cosme have created an entire section dedicated to male and unisex makeup items. Picking out makeup with your partner is goals, and now it's finally becoming a reality.

Another area that's popularーwith both Japanese people and foreignersーis one that stocks cosmetics made with naturally-derived ingredients from Japan, as well as products with Japanese-style packaging. It's perfect if you're looking for Japanese-specific items or for gifts and souvenirs.

Also on the second floor are beauty mirrors so you can check yourself out as well as two Tester Bars, so you can try out products here too.

If you have kids, you can drop them off in the kid's area while you shop. There's also bread-feeding rooms and places for changing diapers. They have it all!

3rd Floor: A place to relax exclusive to @cosme app users

The third floor is home to a lounge that can only be used by those who have the @cosme app installed on their phone. It can be used for relaxing or for hanging out with friends. It's hard to find a such a quiet and relaxing place like this so close to Harajuku Station.

If you want to retouch your makeup, there's a powder space you can do that for free, as well as oxygen boxes. This floor is packed full of different great services.

@cosme also has its own points system. One point equals one yen, and you get five for just visiting the store.

Anyone and everyone can enjoy a fun and easy shopping experience

 

Each product in the store has a JAN code on it which when scanned at one of the tablets in store will give you information about that product in multiple languages, including English, Simplified/Traditional Chinese, and Korean. This goes for the map of each floor too, so you can find out what each floor offers without getting lost.

@cosme TOKYO also has free Wi-Fi, and can also ship products around Japan. It offers a comprehensive shopping experience that caters to both Japanese and foreign customers.

You're sure to find many items you like when visiting @cosme TOKYO, so you can't miss out on visiting if you're travelling to Harajuku or Tokyo. Enjoy shopping!

Information

@cosme TOKYO
Opened: January 10, 2020

Address: 1-14-27 Jingumae, Shibuya, Tokyo
Opening Hours: 10:00-21:00
No Fixed Holidays
Official Website: https://www.cosme.net/flagship/

Japan's First CBD Shop 'HealthyTOKYO' to Open in Harajuku in February

HealthyTOKYO is set to open as the first shop in Japan specialising in the selling of CBD oil, and it's doing so in Harajukuーone of Tokyo's most famous towns that's at the forefront of trends and pop culture. It is both a shop and a cafe.

CBD oil has seen a spike in sales over the past year. Made from hemp, research shows that there are many health benefits to using CBD. The main gains are from helping reduce stress, relieving pain, improving sleep, and helping prevent skin inflammation.

CBD is used by mixing it with food or drink. It's also been recognised as having an effect as an ingredient in cosmetics and creams. While CBD oil is legal in Japan, the country's law is strict when it comes to traces of THC, and so only allows oils with 0%.


As well as the oil itself, HealthyTOKYO will also stock a variety of vegan sweets and drinks containing CBD. The food line-up includes vegan-friendly cheesecake, mont blanc, and gateau chocolate, as well as gluten-free lasagne, amongst many other things. For drinks, there's a variety of organic matcha, coffee, and more. A lot of these foods and drinks can be ordered with CBD oil too.

HealthyTOKYO brand CBD products all use naturally derived CBD oil, and the shop offers degrees of strength and different flavours too. They sell cosmetics, creams, and other products too.

If you've been looking for CBD while in Japan, or even vegan-friendly or gluten-free foods, then make sure you pay a visit to the country's first CBD shop and cafe in Harajuku.

Star Wars Theme Cafe Opens in Tokyo, Osaka, Nagoya, Hokkaido & Fukuoka

With The Rise of Skywalker concluding the Skywalker saga of the Star Wars film franchise, fans are left craving more from the galaxy far far away.

If you're one of those people, and need a fix before season two of The Mandalorian, which is coming in late 2020, then you'll want to hit up the all-new Star Wars-themed cafes now open for a limited time at branches of OH MY CAFE across Japan in Tokyo, Osaka, Nagoya, Hokkaido, and Fukuoka.

We visited the Tokyo branch of the cafe which is located inside Tokyu Plaza Omotesando Harajuku. Here's our report of this must-see cafe for Star Wars fans, a museum-like space chock-full of concept art.

Ready to greet you as you walk into the cafe is none other than Darth Vader. This life-size recreation of the Sith Lord is really striking, but don't worryーthough he is realistic, he won't use his Force choke on you, he only wishes for you to have a nice meal.

Plastered across the cafe walls are pieces of concept art used during the production of the Star Wars film series.

Here's a galactic showcasing of the cafe's menu. There are 7 food items and 5 drinks to choose from, all inspired by the franchise and its characters.

<STAR WARS> Far Far Away Galaxy Black Curry – ¥1,590

A signature dish of the cafe, this black curry features the Star Wars logo which is actually an edible wafer. The space design is bamboo charcoal-cooked rice which is mixed with spicy sauce and topped with peanuts for stars.

<BB-8> Seafood BB-8 Gratin – ¥1,690

Fans of BB-8 won't be able to resist this delicious gratin, served with salad and French bread for a full belly.

<Yoda> Root Leaf Stew – ¥1,590

This stew is inspired by Yoda living his final years in his little shack in Dagobah during Star Wars: Episode V – The Empire Strikes Back. It's packed full of vegetables and will no doubt be enjoyed by both kids and adults alike.

<R2-D2 & C-3PO> Buddy Burger Plate – ¥1,990

This set of two chicken burgers comes with an R2-D2 seasoned with béchamel sauce and a C-3PO burger seasoned with meat sauce. You can take the flags home with you too. We recommend sharing this between two people.

Portion Bread – ¥500

This is the one I was most interested in personally, because I was curious to know from its appearance how it would taste. It's the portion bread that Rey tries eating in the film. At first glance it looks crunchy, but to my surprise it was soft with a subtle sweet flavour.

Lightsaber Drinks – ¥600 Each (w/ Coaster ¥1,300)

From the left, the flavours are Darth Vader blood orange, Luke Skywalker ramune, and Yoda melon. When you draw your straw from the paper wrapping, it turns into a lightsaber!

<STAR WARS > Jet Black Coffee – ¥600 (w/Bottle ¥1,750)

These limited edition bottles of black coffee feature the famous Star Wars opening crawl credits. Which one you get is randomーa must-have for all fans!

After enjoying some Star Wars food and drink, it's time to check out the cafe's exclusive merchandise. There are 13 types of merch in total all bearing artwork from across the film series.

Folder – ¥350

I recommend picking up one of these folders made in collaboration with the cafe. It has illustrations of the food and drinks being sold there.

Tote Bag – ¥3,500

This tote bag has illustrations of characters from Star Wars and how they are all connected.

There's plenty of other must-grab merch too, from music to stationery and more.

Customers who spend over ¥1,000 (excluding tax) on any of these exclusive items will receive the above-pictured limited edition bag. These are limited in stock so are available while supplies last.

There's plenty of places inside for fans to take great photos, so make sure you snap lots.

Also, if you book a table in advance and order something from the menu, you'll receive one of these 25 possible A5 folders, so be sure to book before you go!

© & TM Lucasfilm Ltd.

*All listed prices are pre-tax. Photos are for illustrative purposes only.

Information

"Star Wars" at OH MY CAFE

Locations/Dates:

■Tokyo: OH MY CAFE TOKYO (Tokyu Plaza Omotesando Harajuku) / January 18, 2020 – February 23, 2020

■Osaka: kawara CAFE&DINING Shinsaibashi / January 17, 2020 – February 23, 2020
■Nagoya: kawara CAFE&KITCHEN Nagoya PARCO / January 23, 2020 – February 25, 2020

■Hokkaido: Cafe Interlude, Coach & Four Shinkawa-dori / January 24, 2020 – February 24, 2020

■Fukuoka: kawara CAFE & DINING KITTE Hakata / January 24, 2020 – February 26, 2020

"Star Wars" OH MY CAFE Official Website: https://sw.ohmycafe.jp/

Interview: Internationally Popular Japanese Artist Chocomoo Talks About Upcoming Harajuku Exhibition

A huge exhibition of Chocomoo's artwork is set to adorn WITH HARAJUKU HALL from August 20 to September 28 this year for "Chocomoo EXHIBITION -OUR SECRET PARTY- Supported by WITH HARAJUKU."

Chocomoo is a Japanese artist born and bred in Kyoto. Her work is known for its originality and pop style which she draws in black and white. Her work has been used for clothing and apparel brands, for music artists, and for many other special collaborations with other companies. She is active internationally and draws huge popularity with Japanese women between the ages of 10-20. We have translated an interview with her which was just released.

Chocomoo Interview

"I've loved drawing ever since I was a kid. I'd draw in notebooks, sketchbooks. When I went to New York for the first time, too, I kept a sketch diary and would draw in the park. I was later asked by a guy who managed a gallery if I'd put my work on at his site."

It was there at that gallery exhibiting several of her works that the first buyer came by.

"I sold my first piece of art. A piece of art drawn by an 'ordinary person,' not someone who was an active artist. It was about 30 dollars, if I recall, but I was super happy."

 

New York helped pave the way for Chocomoo to begin her first steps towards becoming an illustrator.

She would post her art on her blog and social media, which was seen by singers and songwriters who got in touch with her. She penned artwork for their tour merchandise, album covers, and more. Recently, she collaborated with Italian car brand FIAT. They released 100 limited edition cars with her art on it. Japanese convenience store FamilyMart even sold umbrellas with Chocomoo's illustrations on them. The reach of her work has no limits.

"When I create a piece, I incorporate a lot of positive words into it in the hopes that it lifts people up."

One distinct aspect of Chocomoo's art is the black and white monotone colouring. When asked why she draws in this way, she said: "I did calligraphy from elementary school to high school and was captivated by how we would write in black. When using black ink, it has a matte look to it, and when using black paint, it's got a glossiness. I think that's part of the reason why I do it."

This will be Chocomoo's biggest exhibition. She is currently working on new material and looking into the details of the exhibition. Speaking about it, she said: "I want to try evolving in a way that's me. I'm aiming to stimulate the people who come to see my work in a different kind of way."

She also commented on the 'OUR SECRET PARTY' part of the exhibition title. "It's an exhibition of my work, but I want everyone to enjoy it like they would a party. There's also new things to be discovered which you won't no about unless you visit, so I put 'secret' in there."

 

Chocomoo was asked to give a comment on her future plans and goals. She said, with a smile: "I want to steadily keep doing what I'm best at without changing what I already have, but I also want my work to reach lots of children too. I'd be happy for them to colour in my work, and I want to challenge myself to making some kind of video format aimed at kids. After that, since I've already painted a car, I want to go bigger and paint an aeroplane!"

Interview/Original Text: Naho Sotome (五月女菜穂)

Photos: 大黒屋 Ryan 尚保

English Translation: Joshua Kitosi-Isanga

As Chocomoo looks to expand her portfolio and reach, we look forward to seeing what she has in store for her exhibition in Harajuku.

©2020 Chocomoo

Information

Chocomoo EXHIBITION -OUR SECRET PARTY- Supported by WITH HARAJUKU
Running: August 20, 2020 – September 28, 2020
Location: WITH HARAJUKU HALL (1-14-30, Jingumae, Shibuya, Tokyo) *Building under construction at the time of posting this article
Exhibition Website: http://chocomoo-exihibition.com/

Harajuku's Korilakkuma Cafe: another me in the mirror | Food Review

"Korilakkuma Cafe: another me in the mirror" is set to open in Japan's hub of kawaii culture Harajuku on December 21 where it will run until March 22 next year.

MOSHI MOSHI NIPPON received early access to the cafe, so we went together with Ruki from Spain.

The cafe incorporates "interactive tabletop projection mapping" technology developed by Sony, which allows customers to enjoy their meals while playing together with the characters as they walk around their plates and tables.

So what exactly does this look like…?

Korilakkuma Cafe: another me in the mirror is located along Takeshita Street in Harajuku. Enter Takeshita Street and walk just a little bit to find HARAJUKU AR BOX. The entrance is pictured above.

The cafe operates on a "pair seating" system, making it the perfect spot to go with your best friend or special someone♡

The theme of the cafe is "another me in the mirror," which sees Korilakkuma meeting another Korilakkuma inside of a mirror. When seated at your pair table, you'll notice all of the Korilakkuma artwork adorning the cafe.

When we sat down, the staff came and gave us a dolomite coasterーa gift for all customers who visit the cafe.

When you place the coasters down on the table, that's when the fun begins. Trace your finger around the table to play with Korilakkuma and company.

Here is Ruki having Korilakkuma move around.

When we had finished playing, the appetisers from our course menu arrived. It costs ¥2,500 per person, and you both have to order when ordering this course menu. You can pick from clam chowder or minestrone.

If you thought that was it for the projection mapping, think again! The fun was only just beginning, as a new display came on the table when the plates went down.

Ruki was completely enchanted by the sparkling food. It makes you feel like you're inside of a picture book♡

The salad was Caesar, and the minestrone was packed full of veg and ingredients, making it nice and filling.

The next dish that was brought was the main. You pick one each of a main dish and dessert and share between two people.

We ordered the "Omurice – Let's Draw Together" (in Japanese: 一緒におえかきオムライス). Korilakkuma was wrapped up completely in an omelette blanket. The projection mapping comes on when you set this plate down too.

Korilakkuma draws around the plate, and we got to join in too by decorating Korilakkuma's blanket with drawings of Rilakkuma and Kiiroitori in ketchup.

The mapping helps you with drawing by projecting an outline you can trace. Ruki did hers really well!

As we forked into the omurice we found a cheeseburger underneath! The combination of the juicy cheese hamburger with the soft egg was to die for, and it becomes even more delicious and smooth when you pour over the cream sauce.

Last up was dessert. We got the "Spell-Cast Pancakes" (in Japanese: パンケーキに魔法をかけて). The projection mapping cast a mirror onto the pancakes. Even more animations happen when you wave the brush you're given on the table.

The fluffy pancakes are topped with a hearty serving of cream. You can enjoy them as they are, but they're delicious if you top them with the fruits, iced cream and nuts scattered around the plate too!

Twin Korilakkuma Strawberry Milk – ¥990

Korilakkuma Cafe au Lait – ¥890 (Served Hot Only)

As well as the course menu, there are also special drinks you can order separately which come with another free and exclusive coaster.

Sliding Mirror (Pink or Purple) – ¥1,200 Each

Acrylic Key Ring (4 Designs/Chosen Randomly) – ¥500 Each

Korilakkuma fans can expect to sift through a whole range of cafe-exclusive merchandise too, so be sure to check out what they've got in stock when you visit.

Korilakkuma Cafe: another me in the mirror is Harajuku's hottest new spot where you can enter the kawaii world of Korilakkuma. Pull up a seat and enjoy and interactive meal experience.

©2019 San-X Co., Ltd. All Rights Reserved.

Information

Korilakkuma Cafe: another me in the mirror

Running: December 21, 2019 – March 22, 2020 (Not running December 30, 2019 to January 3, 2020)

Location: HARAJUKU AR BOX -table projection mapping cafe- (4-28-28 Jingumae, Shibuya, Tokyo)

Grand Opening: December 9, 2019 at 16:00

Reservations: Now Open

*This cafe serves course menus for two people to share only

*Drinks ordered separately

Table Projection Mapping Seats: ¥2,500 per person (Before Tax)

*Reservations for two people only
*Course menu charged separately

Official Website: https://korilakkumacafe.jp/

Laforet Harajuku's 2020 Fukubukuro Lucky Bags Are Not to be Missed

Laforet Harajuku has finally dropped details on its 2020 fukubukuro. Fukubukuro is a New Year custom in Japan where stores make up grab bags full of random items for people to purchase at a discounted price. Around 50 stores in Laforet are set to participate, with pre-orders now running until December 31, 2019.

As always, the line-up this year is diverse, from the unique fukubukuro you can actually look inside to see what they have—which is a popular one every year—to the Laforet Gentei Fukubukuro which contains items exclusive to Laforet Harajuku, and more.

Those who pre-order a lucky bag will receive one of two things: either a coupon to get a random free item at one of the eateries at the GOOD MEAL MARKET on the second floor, or a ¥200 discount voucher to spend at Laforet Harajuku.

On New Year's Day and January 2, a taiko performance by Yushima Tenjin Shiraume Taiko will take place at the first floor entrance to drum in the New Year.

Around 70 stores in the shopping complex will also sell items at a special price between January 1 and 7 to celebrate 2020. Select stores will be handing out bag hooks in collaboration with the popular South Korean boy band SEVENTEEN.

The "Look and Choose" Fukubukuro

OLIVE des OLIVE (Floor 5F) – Set of up to 6 items priced at ¥7,700 (Tax Included) (Original Price: ¥25,000)

Cosme Kitchen (Floor 1.5F) – Set of 7 items priced at ¥5,500 (Tax Included) (Original Price: ¥14,000)

Laforet Harajuku Exclusives-Filled Fukubukuro

POU DOU DOU (Floor 4F) – Set of 7 items priced at ¥13,200 (Tax Included) (Original Price: ¥56,000)

la belle Etude (Floor B0.5F) – Set of 6 items priced at ¥11,000 (Tax Included) (Original Price: ¥70,000~¥80,000)

Other Fukubukuro

Ank Rouge (Floor 4F) – Set of 6 items priced at ¥16,500 (Tax Included) (Original Price: ¥50,000)

jouetie (Floor 4F) – Set of 5 items priced at ¥11,000 (Tax Included) (Original Price: ¥39,600)

This is just a small look at just some of the fukubukuro set to be sold, there are so many more to get your hands on. Start your 2020 year with some delicious discounts from Laforet Harajuku.

*Contents subject to change without notice

*Listed photos are select look only – more fukubukuro to be sold

A.T.A.D: Harajuku's New adidas Store to Open in Collaboration With atmos

adidas Japan is collaborating with atmos—Tokyo's streetwear and sneaker focused boutique—to open a new shop called A.T.A.D in Harajuku on December 20, 2019.

adidas Japan has collaborated with countless artists to date, and this will be its first with atmos, together with whom it will showcase streetwear sneakers the likes of which people have never seen.

A carefully selected line-up of adidas' newest shoes will be displayed at the counter where customers order their shoes like they would a drink at a bar. They can pick the model, colour, and size, and can try them on before making a purchase. The current designs, logos and other items in the store were created by YAR, a creative studio spearheaded by Japanese graphic artist YOSHIROTTEN.

The store also plans to sell items exclusive to A.T.A.D in collaboration with Japanese artists. More information will be posted on the store's official Instagram page.

Information

A.T.A.D

Grand Opening: December 20, 2019

Address: Majima Bldg. 1F, 4-29-1 Jingumae, Shibuya, Tokyo
Opening Hours: 11:00-20:00

Official Instagram: @a.t.a.d_tokyo

PLAYFUL KIRBY: Laforet Harajuku's Newest Pop-Up Shop Offers Exclusives For Fans of Nintendo's Popular Character

Fans of Kirby who are in Japan for the holiday season will be delighted to hear that the Kirby-themed pop-up shop "PLAYFUL KIRBY" finally opened at Laforet Harajuku today and will run until Boxing Day.

When playing Super Smash Bros. there's no other character I'll pick but Kirby. If you love Kirby as much as I do, then you'll be waiting no time at all to head to PLAYFUL KIRBY like I did after hearing that they're selling a whole range of original and exclusive merchandise the likes of which Nintendo players have never seen before.

The store itself is located on the second floor of Laforet Harajuku in Harajuku, Tokyo. You'll spot it instantly with the Kirby-pink text wrapped around the walls of the entrance.

Kirby's pink colour fills the entire shop floor. Upon entering you'll spot all the different items on offer, including fashion items, as well as various photo spots featuring Kirby's cute face.

There's even a tiny Kirby door so that he can get into the shop! Be sure to find it if you visit.

The original version of this pop-up shop first appeared two years ago, and enjoyed visits not only from game fans, both kids and adults who had never heard of Kirby before, or who had heard of him but never played the games. The fashion line-up was a result of fan demand to enjoy Kirby in a variety of different ways. A visit to PLAYFUL KIRBY is like being inhaled into his Dream Land.

PLAYFUL KIRBY is centred on two collaborations. This includes a teaming-up with popular illustrator Shogo Sekine. When this pop-up shop was conceived, Shogo Sekine was at the top of the list for collaborations with the staff in charge. The staff agreed that mixing the worlds of Kirby and Sekine together would give rise to some seriously wonderful results. After much internal discussion and talks with Sekine, a whole line of merchandise was created.

The items feature Sekine's stylised typography, symbols, shapes and so on. Their subtle design means they can be used as both everyday items and nerdy fan items. They're stylish while retaining the cute aspects of Kirby.

The following items are the number one most recommended pieces of merchandise to pick up as chosen by the PLAYFUL KIRBY staff.

Tote Bags Ver. 2 PINK STRIPE – ¥2,800

These tote bags feature gradations of Kirby pinks. This design is also featured on a t-shirt you can pick up too. They're both made with high quality fabrics.

Sacoche Pouches (2 Designs) – ¥2,300 Each

The "Copy" written on the sacoche pouches refers to Kirby's ability to copy his opponents' abilities and appearance. This design is also included on a variety of other merchandise pieces like a smartphone case and more.

Blanket – ¥3,800

At first glance, this blanket just looks like a stylish blanket with a floral print, but if you look closely you'll spot Kirby blended in with the design. A perfect choice for the coming winter season.

Plush Toy – ¥2,300

Kirby had intended to put on his stylish t-shirt ready to go out, but he ended up looking just adorable.

The store's second collaboration is with Converse Stars, also showcasing an assortment of cute and fun items.

Cap – ¥5,800 / Long T-Shirt (Medium/Large) – ¥7,800 Each

Show off your love of Kirby with some simple but stylish unisex Kirby attire.

Hand Towel – ¥1,200

Another must-get item is this hand towel which keeps the roundness of Kirby's head. Use at home or take it out with you!

Stickers (3 Designs) – ¥500 Each

Get your hands on these Laforet Harajuku-exclusive stickers with designs so cute you'll want to collect them all!

I spoke with the person in charge of the pop-up shop about the future of Kirby outside of the video game, and they told me that they plan to have more pop-up shops like this and open the opportunity for people to enjoy Kirby in a range of different ways while playing his games. For someone like me, who likes Kirby more than anything, I can't wait to enjoy even more Kirby in the future.

PLAYFUL KIRBY is open until December 26, 2019, so if you're in Tokyo until then, make sure to pop on over to Laforet Harajuku.

▶︎Win Limited Edition Stickers

MOSHI MOSHI NIPPON is holding a competition on our official Instagram, Twitter and Weibo pages for a chance to win limited edition stickers from PLAYFUL KIRBY.

How to Apply: Follow us on social media and share/retweet our post about the competition for a chance to win 1 special sticker from PLAYFUL KIRBY. (Designs are chosen randomly.)

These are limited edition stickers exclusive to PLAYFUL KIRBY, so don't miss your chance to get one!

© Nintendo / HAL Laboratory, Inc.

Information

PLAYFUL KIRBY

Running: December 16, 2019 – December 26, 2019

Location: Laforet Harajuku's 2nd Floor CONTAINER (1-11-6 Jingumae, Shibuya, Tokyo)

Opening Hours: 11:00-21:00 (Until 19:00 on December 26, 2019)

PLAYFUL KIRBY Official Website: http://playfulkirby.jp

Laforet Harajuku Official Website: https://www.laforet.ne.jp/

Kimono IN LAFORET 2020: Kimono Brands Galore to Gather at Event in Harajuku

Laforet Harajuku has announced that its next "Kimono IN LAFORET" kimono and furisode pop-up shop will run from January 4 to 22 next year.

Iroca Kimono "Leopard Gecko" – ¥63,800 (Tax Included) / Half-Width Obi – ¥26,400 (Tax Included)

Pure Silk Butterfly Black Cloth Furisode – ¥132,000 (Tax Included)

Light Blue Dove Print Polyester Furisode – ¥128,150 (Tax Included)

Eight brands will line the shelves of the annual pop-up shop, with kimono, furisode, accessories and more available for purchase, including new items.

Model and actress Shen Tanaka features as the star of the main visual for Kimono IN LAFORET 2020, mixing colourful kimono with western clothing to create a unique look. Marie Higuchi, who was the stylist for the visual, has also released some dress advice for those who love kimono or those who are beginners and newcomers to the scene.

Mixing kimono with the kind of regular clothing that screams you

Marie Higuchi is a stylist who also writes columns in Nylon Japan and Sozen. Her advice can be used by both beginners and experts alike: by mixing kimono with some of your own clothing, you can simply and easily create a stylish look that's you. This makes for a perfect outfit for a special occasion.

Styling Point

This outfit combines fishnet tights with sandals that have thick metallic soles to create an edgy kimono style. Using thick sandals makes them really stand out when wearing kimono, so you can easily incorporate them with any kimono you wear.

Items Used

Kimono/Obi/Other: iroca

Haneri: C.H.O.K.O

Obi Clip: conoco

Styling Point

The gorgeous flower head dress brings a strikingly elegant touch to the overall look of this outfit. Whether used with kimono or in your regular day-to-day outfits, it's sure to bloom beauty with whatever style you go with.

Items Used

Kimono: MIKI SAKURA

Head Dress: Atelier Senka

One Piece Shirt: Ank Rouge (Laforet Harajuku Floor 4F)

Styling Point

Coloured turtlenecks are in right now for the current season in Japan, and this kimono look incorporates one underneath the kimono. The mix of loose socks and thick-sole sneakers really adds to the flavour of this style, even more so with the addition of personal items like the vinyl record headband and lip clutch bag which make it unique.

Items Used

Kimono/Obi: Tamao Shigemune

Headband/Clutch Bag: SINZ (Laforet Harajuku Floor B0.5F)

Other: Personal items

If you're looking for kimono and furisode when visiting Japan in January, be sure to hit up Kimono IN LAFORET at Laforet Harajuku, located in Tokyo's fashion central: Harajuku.

WITH HARAJUKU: Shiseido to Open Beauty Parlour, Hair & Makeup Academy and More in Harajuku's New Shopping Complex

Shiseido has announced that it will open three new facilities in WITH HARAJUKU—a shopping complex currently in development by NTT URBAN DEVELOPMENT CORPORATION in front of Harajuku Stationーin April 2020. This includes the new beauty parlour Beauty Square, the hair & makeup academy and studio SABFA*, and the restaurant and lounge SHISEIDO PARLOUR THE HARAJUKU managed by Shiseido Parlour.

*SABFA is a school managed by Shiseido for training professional hair and makeup artists

Beauty Square will be located in the first floor as a place to discover beauty, have fun, and share experiences. As well as selling cosmetics, the facility will offer various beauty experiences using digital technology, and there will be a hair and makeup salon where customers can receive high quality service for a short period of time. By combining real experience with digital tech, Beauty Square hopes to bring in people of all ages and backgrounds from inside and outside Japan so that they can discover the fun of beauty and unlock their inner charm.

SABFA on the second floor will be home to an all-new lecture and training facility as well as a photo studio. It will train educate and support the next generation of hair and makeup artists who will challenge the ideas of beauty and revolutionise the industry.

SHISEIDO PARLOUR THE HARAJUKU is on the eighth floor where customers will be able to dine on French cuisine and indulge in line-up of wines carefully chosen by sommeliers. The restaurant overlooks Meiji Jingu, and its interior was designed by Kazuya Ura who designed the Twilight Express Mizukaze, a multiple unit sleeping-car excursion train operated by West Japan Railway Company.

Be sure to visit WITH HARAJUKU when it opens in April next year.

Information

WITH HARAJUKU

Grand Opening: April 2020

Address: 1-14-30 Jingumae, Shibuya, Tokyo