TV Anime Shōmetsu Toshi Opening Theme to be Performed by Mao Abe
It has been announced that Mao Abe will perform the opening theme for the upcoming anime adaptation of Shōmetsu Toshi set to begin airing in April this year. Titled Kotae, the opening video was posted to YouTube and the anime's official website has now opened.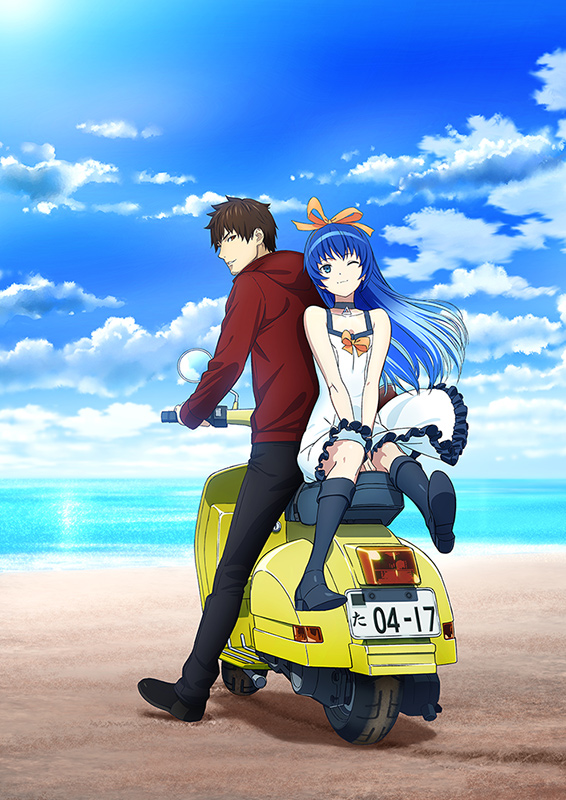 Shōmetsu Toshi is a popular action-RPG and drama game with over 9.5 million download worldwide. MADHOUSE is adapting the series known for creating and producing such works as Trigun, Death Note, Wolf Children and One Punch Man.
Singer-songwriter Mao Abe is celebrating her 10th anniversary since debuting this year and even performed at Nippon Budokan on January 22. This marks her second tie-up with an anime series, the first being Believe in Yourself which was used as the season one opening theme for Baby Steps.
The ending theme With Your Breath will be performed by SPR5, an idol group that appears in the series itself.
Information
Kotae
Vocals: Mao Abe
Lyrics/Composition: Mao Abe
Arrangement: akkin
Abe Mao Official Website: http://abemao.com/
Shōmetsu Toshi
Airing: April 2019 via TOKYO MX and other channels
Official Website: http://shoumetsutoshi-anime.com
© Wright Flyer Studios / Shōmetsu Toshi Production Committee
RELATED ENTRIES
7ORDER Releases Music Video for 'Moshimo,' Announce Autograph Sessions

Up-and-coming artist 7ORDER has revealed the music video fo Moshimo, written by singer-songwriter Mao Abe. The track will be included on the group's second album 'Re:ally?' which releases on February 2, 2022.

Moshimo is a sad love balled, the first song of its kind for 7ORDER. The music video feels like a short film capturing the fickleness of adolescence that everyone experiences. It conjures up memories of young life and things like career struggles and love triangles.


Moshimo Music Video (Drama Ver.)



The group has also announced an additional event limited to purchasers of their second album.

In addition to the online autograph sessions and rehearsal viewings, individual autograph sessions will be held face-to-face! This is an incredible opportunity to meet and talk with the 7ORDER members in person.



As they prepare for the final performance of their nationwide tour on February 26 and 27 at the Yoyogi National Stadium, keep an eye out for 7ORDER's future activities!

Limited First Edition

Standard Version

Fan Club Limited Edition

7ORDER Tour ~NICE "TWO" MEET YOU~ DVD/Blu-ray

Comment from Mao Abe


"I'm honored to be involved with 7ORDER by providing some of my music! I'm happy that the group played my personal favorite song Moshimo with such care and attention. Thank you so much. May this song, along with 7ORDER's charms, find its way into the hearts of the fans!"

Comment from 7ORDER


"This is the first love balled for 7ORDER. We spent a lot of time talking with Mao Abe before we started working on the song, and she took a lot of our thoughts into consideration. Moshimo means 'If…' I'm sure everyone has thought that at least once. We all look back at the past sometimes and think 'what if?' It can be a wonderful thing or a painful thing, but it also teaches the importance of dreaming about the future. It's a love song, but in this current world filled with so much sorrow, I would be happy if it could inspire people to dream about a brighter future."


Information

7ORDER 2nd Album 'Re:ally?'

Release Date: February 2, 2022

7ORDER Tour ~NICE "TWO" MEET YOU

Release Event for Purchasers Only
Those who buy the album will be entered to win participation in an individual autograph session, online meet and greet, rehearsal viewing session, and 'Re:ally?' off-shot footage viewing!

Rehearsal Viewing Session
February 20 at Pia Arena MM, February 27 at Yoyogi National Stadium

Stream
The songs agitate and Moshimo are now available to stream on all subscription music services!

agitate
https://nippon-columbia.lnk.to/7ORDER_agitate
Moshimo
https://nippon-columbia.lnk.to/7ORDER_moshimo

Official Site: https://columbia.jp/7order/

Anime Shōmetsu Toshi had its own stage at Anime Japan 2019!

The broadcast of the brand new anime Shōmetsu Toshi will start in April. To celebrate, the anime had its own special event held on the KILLER PINK stage at Anime Japan 2019. The anime convention was held on Sunday 24th March.

As the opening theme song started to play, five of the anime voice actors and actresses Kana Hanazawa (Yuki), Tomokazu Sugita (Takuya), Ayaka Asai (Souma), Taisuke Nishimura (Geek) and Ayane Sakura (Suzuna) took to the stage. When special guest Yuichi Nakamura (Akira) joined the stage, the audience erupted into cheers.

First, the voice actors and actresses introduced the anime and talked about the characters of Shōmetsu Toshi. The audience experienced hearing the story of the anime from the characters' perspectives. As it has been five years since the release of the game which then turned into this anime, Kana Hanazawa (Yuki) then presented her tough fight to make post voice recordings for the voice of Yuki again for the earlier part of the story.

They also showed the audience the latest anime trailer, to which the venue drowned in the applause.

Shōmetsu Toshi anime trailer 2

Continuing on, series director Shota Shimoda from Wright Flyer Studios also took to the stage. Shimoda reflected on the trailer and talked about important scenes with the audience.

There was also an announcement that advanced registration for the phone app game AFTERLOST – Shōmetsu Toshi started on that day. Along with this, an official website and Twitter have also been set up. As announcements and updates will be made from time to time, please check them out!

Wristwatches

Yuki & Souma: Memories as siblings

Yoshiaki: Hope for reunion

Tsubasa: Promise to reunite

The goods corner was selling collaboration jewellery made by the jewellery brand "U-TREASURE". On the day, Kana Hanazawa and Ayaka Asai (Souma) wore U-TREASURE collaboration necklaces and the crowd went wild! Afterwards, the five members from the SP15 game idol unit; Haruka Shamoto (Homura), Emiri Iwai (Nami), Hina Suguta (Haruka), Aguri Ōnishi (Rena) and Hikari Sonoyama (Yua), took to the stage. After the girls talked about their expectations for the anime, the crowd erupted into cheers and the stage curtains closed.

An advanced showing of the anime has been planned, so if you are interested in this anime, please check it out!

TV Anime Shōmetsu Toshi New Characters, Air Date Revealed

New characters have been unveiled for the upcoming TV anime series Shōmetsu Toshi.

Yoshitsugu Matsuoka as Yoshiaki

Nobunaga Shimazaki as Tsubasa

Kenn as Rui

Natsumi Hioka as Sumire

Atsushi Imaruoka as Jack

Yurika Kubo as Kana

The newly-revealed characters are Yoshiaki, Tsubasa, Rui, Sumire, Jack and Kana. Yoshiaki and Tsubasa are brothers while the other four make up the members of the Kaito Dan.

The anime will premiere on TOKYO MX on April 7 at 23:30 (JST).

Information

Initial Broadcasts
TOKYO MX – Every Sunday at 23:30 from April 7
Yomiuri TV – Every Monday at 02:29 from April 8
BS11 – Every Sunday at 01:00 from April 7
AT-X – Every Wednesday at 21:00 from April 10
*Broadcast dates subject to change without notice

Official Website: http://shoumetsutoshi-anime.com

© Wright Flyer Studios / Shōmetsu Toshi Production Team

TV Anime Shōmetsu Toshi Trailer and Visual Released

It was announced at an end-of-year livestream for the mobile game series Shōmetsu Toshi on December 26 that an anime adaptation by Madhouse will air in April 2019. A key visual and the first promotional video have been released.

Shōmetsu Toshi is a popular action-RPG and drama game with over 9.5 million download worldwide. The key visual features the young girl Yuki, the only survivor from a city that disappeared, and Takuya, a courier and lone wolf.

The promotional video showcases the character cast including Yuki (Kana Hanazawa), Takuya (Tomokazu Sugita), Suzuna (Ayane Sakura), Rui (KENN) and Sumire (Natsumi Hioka).

A new game titled Shōmetsu Toshi -AFTERLOST- has also been announced to be in development.

Idol Group SPR5 From Video Game Shoumetsu Toshi Release New Music Video

Shoumetsu Toshi is a popular action RPG mobile game developed and published by Wright Flyer Studios with 9.5 million downloads worldwide. An idol unit by the name of SPR5 features in the game. A live broadcast that aired on Nico Nico Live announced new information regarding the group.

Firstly, a music video for their song Alcyone was released from their upcoming anticipated album Supreme Revolution which is set to hit shelves on January 9, 2019. A new artist photo for the album was also released. Limited edition copies of the album include a DVD with the music video and its making-of.

Alcyone Music Video


The group's track Five! Suspects! from the album where each member introduces themselves was also released officially on YouTube. A single-cut version of the track will be sold for ¥500 (tax included) at upcoming SPR5 events. Details TBA.

Five! Suspects!


An anime illustration of SRP5 for the upcoming 2019 adaptation of Shoumetsu Toshi has also been unveiled, showcasing the five members on stage looking up towards their dreams.

Be sure to keep up to date with Shoumetsu Toshi and SPR5 as we move towards 2019.

Information

Supreme Revolution

First Press Limited Edition  (CD+DVD): ¥3,800 (+Tax)
*DVD includes Alcyone music video and its making-of footage.

Regular Edition (CD): ¥3,000 (+Tax)

Canime Limited Edition (CD+2 DVDs): ¥4,800

*DVD includes Alcyone music video and its making-of footage. Bonus DVD includes a video translating to "Supreme Revolution ~Training Camp to Our Dreams!~"

SPR5・Shoumetsu Toshi Official Website: http://shoumetsutoshi-spr5.com
Shoumetsu Toshi Official Game Website: http://shoumetsu.wrightflyer.net/
Shoumetsu Toshi Official Anime Website: http://shoumetsutoshi-anime.com