Mob Psycho 100 Exhibition Hitting Shibuya's GALLERY X BY PARCO
GALLERY X BY PARCO in Shibuya is set to host an exhibition for season two of the ongoing hit anime series Mob Psycho 100 from February 14 to 25.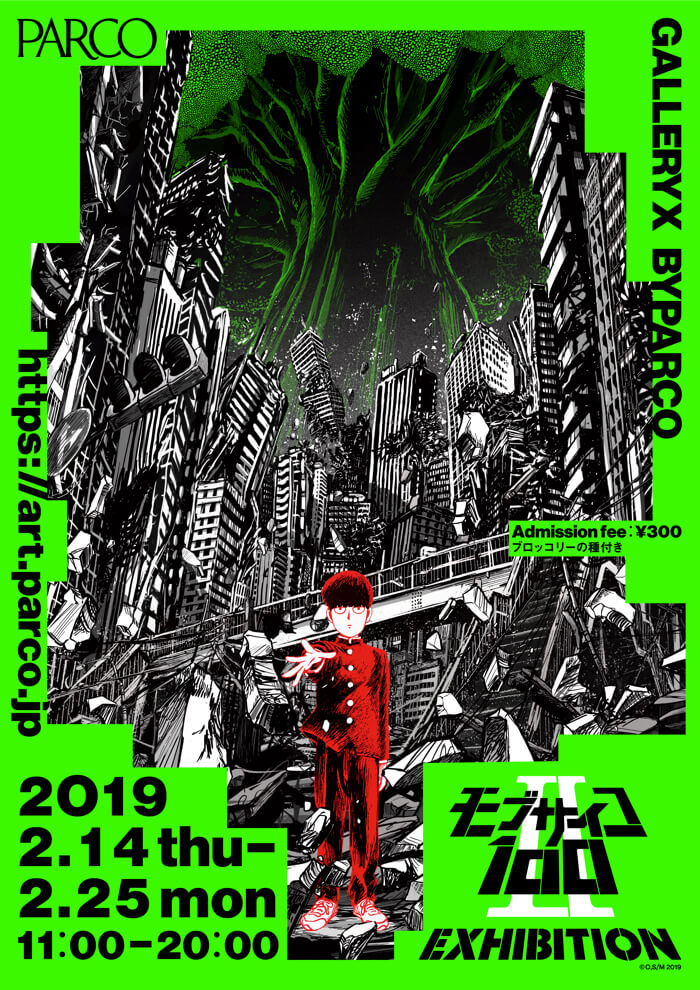 The exhibition will include pieces such as Arataka Reigen's desk from the Spirits and Such Consultation Office, artwork from both the anime and manga, audio commentary and more. The event's key visual pictured above was illustrated by the anime's character designer Yoshimichi Kameda. Expect to get your hands on a variety of merchandise using this illustration.
The exhibition will also hold pre-sales of official merchandise so you can get it before it releases anywhere else. This is a must-visit for fans of the series!
Information
Mob Psycho 100 II Exhibition
Location: GALLERY X BY PARCO, 13-17 Udagawacho, Shibuya, Tokyo
Running: February 14, 2019 – February 25, 2019
Opening Hours: 11:00-20:00
Price: ¥300 (Comes with one of five original Broccoli design mini bags) / Free for elementary school children and below
Website: art.parco.jp
©ONE・Shogakukan / "Mob Psycho 100 II" Production Committee
RELATED ENTRIES
Shibuya's L'OCCITANE CAFE Reveals Spooky Parfait For Halloween 2020

L'OCCITANE CAFE Shibuya is getting ready for Halloween with the reveal of its sweet potato and apple parfait which will be served from October 21 to 31. The Tokyo-based cafe is centred on the food culture and lifestyle of Provence in southern France.

Sweet Potato and Apple Parfait | ¥1,280 (Tax Included)

The seasonal treat is a mix of purple sweet potato and regular sweet potato, baked apples, apple sherbet, and vanilla ice, all topped off with whipped cream, roasted nuts, and almond tuile biscuits in the shape of ghosts and a pumpkin.

Information

Sweet Potato and Apple Parfait
Serving: October 21, 2020 – October 31, 2020

L'OCCITANE CAFE Shibuya
Address: 2-3-1 Dogenzaka, Shibuya, Tokyo
Opening Hours:
[Sun-Thur] 11:00~22:00 (Last Orders 21:00)
[Fri-Sat] 11:00-23:00 (Last Orders 22:00)
TEL:03-5428-1563
Access: Straight ahead of Shibuya Station's 5th Exit (Inokashira Exit)
L'OCCITANE Japan Official Website: https://jp.loccitane.com/

Tokyo's Mickey Mouse Exhibition 'THE TRUE ORIGINAL & BEYOND' Previews 5 Japanese Artworks

The Asahi Shimbun and Nippon TV are set to host an exhibition centred on Mickey Mouse at the MORI ARTS CENTER GALLERY in Roppongi, Tokyo, from October 30, 2020 to January 11, 2021, in celebration of 90 years since Mickey Mouse's screen debut. The exhibition will showcase works shown at the Mickey: The True Original Exhibition held in New York in 2018-2019.

Before the exhibition opens, five participating Japanese artists have each revealed their never-before-seen artworks which will be on display.

The Tokyo exhibition will be a travel back through time, looking at Mickey Mouse from the past to the present. It will be split into three zones: "The Origin," "The True Original," and "Beyond." The five artists showcasing their work early will be featured in the "Beyond" zone and include Tomoko Oshima, Kosuke Kawamura, Nana Soeda, Calligrapher MAMI, and WAKU. Below are their featured pieces along with their comments.

Tomoko Oshima | Comment

"What's fascinating about Mickey Mouse is, for reasons I can't begin to work out, how he became a part of each person's life. I was raised in a household that banned cartoon characters, so it always felt like something unobtainable. Mickey Mouse is like a hero to all of us. He's dazzling and radiant, a kind of being I can't look directly in the face of. When working on my Mickey Mouse art [for the exhibition], my concept was to create a Mickey that's special only to me, so I challenged myself to turning that Mickey Mouse that everyone feels happy looking at and loves into my usual art style."

Oheya (Bedroom), Tomoko Oshima

Kosuke Kawamura | Comment

"What I find fascinating about Mickey Mouse is that no matter how old I get, he always transports me away from the real world to a world of dreams. He's an idol of mine. I even have my own collection of merchandise I've been collecting over the years. For the exhibition, I needed to creating something for the Beyond [zone], so I tried shaping Mickey Mouse from how I see him in my head. I've always made sure to balance my artwork in such a way that it can be seen in two ways. When you stand close, you can see the detailed composition, but when you step away, it looks different. This time around I gave myself a little challenge and made the silhouette of his face and hands using flowers. If you get close to it you'll see that it's made up of lots of flowers, but stand from afar and you'll be able to see the facial expressions and his pointing figure. I'd like people to give both a go, so when you've looked at it up close then take a step back."

Untitled, Kosuke Kawamura

Nana Soeda | Comment

"I feel Mickey Mouse's appeal from his long history and how he has changed overtime, so I tried to express these aspects in the piece I made. The theme for it is centred on Mickey Mouse in the future, so when I was thinking about what he might look like in the future, I looked to past [designs] and tried fixing them up. So in my piece there's a trace of looking back at past Mickey Mouse while giving him an update. Creating those 'futures' made me feel like I was walking through my own past and processes. You can't know exactly what's to come in the future even for someone as internationally popular as Mickey Mouse. But by learning from past memories and mistakes, you can draw on those to create a future, don't you think? That's something I wanted to convey in this piece, and I did so by creating something that's close to the Mickey Mouse of the past with both 2D and 3D surfaces. The Mickey Mouse I drew is the one of ages past that looks completely different to his appearance today. But those look at it might feel something newer about it than older. That, or they might feel uncomfortable seeing him in a way they're not used to. I want people to take their time looking at both and feeling whatever they feel when they do."

LOVE, Nana Soeda

Calligrapher MAMI | Comment

"I've captured Mickey Mouse's silhouette as its own kanji by using calligraphy. His appearance is iconic worldwide, and by making him recognisable through this common language, I've tried to create a new kanji, effectively breaking the language barrier of calligraphy, something which is difficult in itself to overcome for people. Another thing with calligraphy is that you can write the same piece hundreds of times which means it can be fine tuned over and over. I believe that overlaps with Mickey Mouse's design as he has too has evolved for a hundred years. But by no means have his designs he just spring out of existence immediately. He has undergone trial and error through the times, and always shines bright. It's because of everyone who will see my piece as this exhibition that I've been able to create something I can feel from the heart."

ZEN Mickey, Calligrapher MAMI

WAKU | Comment

"I think the appeal of Mickey Mouse lies in the fact that people around the world all remember him from their childhoods. We form memories during our childhoods, and ever I've been able to recognise those memories inside of me, Mickey Mouse was something that was always close to me. When I see three circles together, Mickey Mouse's face comes into my mind. He might be the first internationally recognisable symbol. I felt that the affinity between symbolism and neon signs is very high. So for my piece, I incorporated the techniques used for traditional Japanese neon signboards, something which I see less of these days. I took that and created the three Mickey Mouse circles using light."

Untitled (Still Being Worked On), WAKU

Information

MICKEY THE TRUE ORIGINAL & BEYOND
Running: October 30, 2020 – January 11, 2021

Time: 10:00-20:00

Venue: MORI ARTS CENTER GALLERY (Roppongi Hills Mori Tower Floor 52F)

Entry Price: General ¥2,800 / Junior & High School Students ¥2,000 / Elementary School Students ¥1,200 / Preschoolers – Free
Official Website: mtob.exhibit.jp

Tokyo's Cheese Dish Factory Releases New Tart Parfait Mont Blancs

Cheese Dish Factory, a restaurant in Shibuya MODI in Tokyo, released a new seasonal dessert for the autumn season on Monday called the 'Tart Parfait Mont Blanc.' The tasty bite's foundation is an almond tart which is filled and layered with ingredients like a parfait before being topped off with mont blanc cream.


The dessert comes in for delightful variations such as the 'Chestnut & Tiramisu' which tops tiramisu with the flavours of autumn like chestnut ice cream and chestnut cream, and the 'Berry & Berry' which is piled full of strawberry cream and topped off with a strawberry. Sweet-tooths will discover a labyrinth of flavours as they gradually make their way through whichever they decide to order.

Chestnut & Tiramisu (Mascarpone Cheese) | ¥880 (Before Tax)

The tiramisu is made with mascarpone and has on top of it Japanese chestnut and chestnut ice cream. The chestnut cream is arranged like a mont blanc. The inner tiramisu adds a unique touch to make this a mont blanc for the ages.

Berry & Berry (Cream Cheese) | ¥820 (Before Tax)

This tiramisu is made from cream cheese which is topped with strawberry sauce and vanilla ice cream. A parfait mont blanc for the strawberry lover who won't be able to resist the strawberry cream and the crowning fresh strawberry.

Fromage & No-Bake Cheesecake (Parmigiano-Reggiano Cheese) | ¥780 (Before Tax)

A no-bake cheese cake combined with cream cheese ice cream and cream cheese. Inside you'll find fresh white peach. There's also a crispy texture brought by the Parmigiano-Reggiano. A must-try for cheese fanatics.

Matcha & Brown Sugar Syrup Soy Flour (Ricotta Cheese) | ¥780 (Before Tax)

A mountain made from matcha warabimochi, adzuki red bean paste, brown sugar syrup soy flour, and vanilla ice cream. This one's full of Japanese flavours, but also ricotta cheese, making it a Japan x Western fusion.

Information

Cheese Dish Factory Shibuya MODI
Address: Shibuya MODI Floor 9F, 1-21-3 Jinnan, Shibuya-ku, Tokyo

Access: 3-minutes from Shibuya Station
TEL: 03-6416-5179
Business Hours: Lunch 11:00-15:00 / Cafe 15:00-17:00 / DINNER 17:00-23:30
Official Website: http://www.sld-inc.com/cheesedishfactory.html

Picasso's Ceramic Works to be Displayed at Tokyo's New YOKU MOKU MUSEUM

YM House is set to open the new YOKU MOKU MUSEUM in Minami-Aoyama, Tokyo, on October 25, 2020. The museum began taking bookings on October 2. It will limit the number of people allowed in the museum at once as a precaution against the spread of COVID-19 so that visitors can enjoy the works on display without worry. Tickets are available directly at the museum on the day, but since there's a capacity limit, it's recommended that visitors book online.

About YOKU MOKU MUSEUM

YOKU MOKU is a Japanese confectionery company best known for their Cigare cookies which are shaped to look like cigars. The company was founded by Noriichi Fujinawa, who maintained that "confections are creations." Toshiyasu Fujinawa, the Chairman of YOKU MOKU Holdings, will act as the Museum Director at YOKU MOKU MUSEUM where a wide selection of artworks from YOKU MOKU's collection will be displayed, including the Picasso ceramics the company has collected for over 30 years.

About the YOKU MOKU Collection

YOKU MOKU's collection boasts a comprehensive line-up of Picasso's ceramics that the artist himself made at the Madoura workshop in Vallauris. That makes the works in the collection even more prized as the ceramics themselves were shaped by Picasso's skilled hands.

The artist's passion for ceramics developed in 1947 and he worked on them at the Madoura workshop until his death in 1973. He forged everything from bowls to plates, jugs, and more.

Information

YOKU MOKU MUSEUM
Address: 6-15-1 Minami-Aoyama, Minato-ku, Tokyo

Opening Hours: 10:00-17:00 (Last Entries 16:30)

Closed: Mondays / New Year Holidays / October 26, 2020

Access: 12-minutes on foot from Omotesando Station
Bookings: https://www.e-tix.jp/yokumokumuseum/

*Information subject to change depending on COVID-19

The Promised Neverland Special Exhibition Arrives in Tokyo This December

A special exhibition centred on the popular manga series The Promised Neverland will take place at Roppongi Hills Tokyo City View in Tokyo from December 12, 2020.

The Promised Neverland is a manga series written by Kaiu Shirai and illustrated by Posuka Demizu. The series was published in Weekly Shonen Jump and concluded with its final volume on June 15, 2020.

The exhibition will explore and celebrate the world of The Promised Neverland in detail, with displays, illustrations, early conceptions, and much more. A special manga episode will also be shown.

Entrance Exhibition

A towering display of every manga book cover will be on show, spanning 6 meters tall and 17 meters across. A photo spot for fans to take pictures with their favourite characters will be placed at the entrance area. Tokyo's night sky will also provide a beautiful backdrop.

Tickets

Tickets to the exhibition will go on sale via LINE Tickets on October 5, 2020. Limited edition tickets will also be sold which comes with a special booklet. And to reduce the risk of COVID-19 spreading, visitors must book a time and date in advance when purchasing their tickets. Full details are available here in Japanese.

Merchandise & Themed Food

Fans can also get their hands on a selection of exclusive and rare merchandise. The exhibition will also open CAFE GRACE FIELD, a collaborative cafe serving up food themed on the series.

©Kaiu Shirai・Posuka Demizu / Shueisha 

Information

THE PROMISED NEVERLAND SPECIAL EXHIBITION

Running: December 11, 2020 – January 11, 2021

Opening Hours: 10:00-22:00 (Last Entries 21:30)

Location: Roppongi Hills Tokyo City View Sky Gallery

Address: Roppongi Hills Mori Tower Floor 52F, 6-10-1 Roppongi, Minato-ku, Tokyo

Exhibition Website: https://yakuneba-ten.jp/

Experience Shinjuku's Famous Halloween Event Online at Virtual Shibuya

The Virtual Halloween Committee has announced that it will host an online Halloween event inside Virtual Shibuya as a result of the pandemic and to mitigate crowded streets in Shibuya, a place which becomes a sea of people during the spooky holiday season.

The event, titled Virtual Shibuya au 5G Halloween Fes, will begin on October 26 and run up to Halloween Day. It is being promoted with the hashtag #StayVirtual.


Shibuya 5G Entertainment Project launched its new digital platform "Virtual Shibuya" back in May of this year. Officially recognised by Shibuya City, Virtual Shibuya comes in response to the effects of the novel coronavirus (COVID-19) which has brought tight restrictions to the economy and people's way of life. It will enable people to continue enjoying entertainment from the comfort of their homes by participating in a whole host of virtual events and activities. The project aims to deliver content from Shibuya with live performances from artists, art exhibitions, talks, and more. The use of 5G and the latest cutting edge technology will connect the real Shibuya to a virtual space, combining the realms of the digital and real world.

The Halloween event is inviting a host of Japanese artists and comedians to perform inside the virtual space, which itself will be littered with all things Halloween like Jack-o'-lanterns, bats, and more. Users will also be able to dress their avatars in the appropriate clothing in line with the holiday season of scares. All of this aims to deliver the famous Shibuya Halloween experience that the people of Tokyo are so used to.

Virtual Shibuya au Halloween Fes

Virtual Shibuya is evolving and will be updated for the upcoming Halloween event. Users can look forward to a host of music events and talk events during this age of the 'new normal.'

au 5G Presents Kyary Pamyu Pamyu: Virtual Mini Live

Virtual Shibuya will host its very first virtual live concert to open the Halloween festival. Japanese pop star Kyary Pamyu Pamyu is included in the performance line-up, who will be serving a very special one-night-only Halloween themed show inspired by horror movies. Titled "Kyary Pamyu Pamyu Online Halloween Live 2020 THE FAMILY 10.31," you can find out more about the concert here.

au 5G Presents BiSH: Virtual Live

Japanese idol group BiSH will also be playing a special Halloween show at the event.

au 5G Presents "Everyone's 5G" – Comedy Duo Wagyu Perform

Japanese comedy duo Wagyu will perform live using 5G technology which will render them in high-speed, high quality holograms.


The rest of the line-up and more details about the event will be announced in the coming weeks.

Tokyo's TERRADA ART COMPLEX Ⅱ Welcomes 3 Modern Art Galleries

TERRADA ART COMPLEX Ⅱ, an art complex facility in Tokyo managed by Terrada, has announced the opening of three new galleries: Contemporary Tokyo, Tokyo International Gallery, and UG Gallery.

gallery UG Tennoz

gallery UG is not only celebrating its 20th anniversary this year, but opening its second-ever gallery at TERRADA ART COMPLEX Ⅱ. The gallery, like the Galerie Maeght in Paris, helps support the creation of artists' work as well as carries out various promotions and creates opportunities for the growth of young, up-and-coming artists. It aims to help expand the space of contemporary art, which it will do throughout the year at its new gallery with various exhibitions, such as solo exhibitions including one that showcases the amusement of 3D art, to more specialised exhibitions.

Contemporary Tokyo

Contemporary Tokyo takes on a more international approach by helping support Japanese artists based in Tokyo and various cities throughout China. The gallery will participate in numerous annual art fairs as well display the artworks of many contemporary Japanese artists. Looking towards the future, Contemporary Tokyo will eventually welcome artwork from Chinese artists, becoming a bridge between the art worlds of Japan and China.

Tokyo International Gallery

Tokyo International Gallery (TIG) was founded in 2019 with a mission to introduce global artists and global methods to the insular Japanese art scene. TIG wishes to to rethink the position of art in society, including environmental issues, urban planning, historical traditions, freedom of expression, and the questions and expressions that arise in the relationship between individuals and groups, subjectivity and objectivity, as well as dealing with subjects that are not framed or not actively discussed in a "borderless" manner. Its aim is to exhibit experimental works by a variety of unique artists.

TERRADA ART COMPLEX Ⅱ plans to open around 10 galleries by spring 2021 as well as a cafe and garden. TERRADA ART COMPLEX Ⅰ, which opened in September 2016, currently has 6 galleries which are also a must-see together with the upcoming new ones.

Information

TERRADA ART COMPLEX
TERRADA ART COMPLEX Ⅰ, 1-33-10 Higashishinagawa, Shinagawa-ku, Tokyo
TERRADA ART COMPLEX Ⅱ, 1-32-8 Higashishinagawa, Shinagawa-ku, Tokyo
Access: 8-minutes on foot from Exit B of Tennōzu Isle Station via the Rinkai Line / 11-minutes on foot from the Central Exit of Tennōzu Isle Station via the Tokyo Monorail Haneda Airport Line

Official Website: https://terrada-art-complex.com/ja/

Creamy Mami and Kimagure Orange Road Manga Artist Akemi Takada Gets Exhibition in Okayama

Kurashiki City Art Museum is now holding an exhibition dedicated to Japanese manga artist and character designer Akemi Takada. Titled TAKADA Akemi Exhibition: Angel Touch, the exhibition is set to run until November 8, 2020.

Akemi Takada majored in graphic design at Tama Art University. After graduating, she entered the world of animation where she learned character design working for the Japanese animation company Tatsunoko Production. She went on to design characters for a range of popular anime series such as Creamy Mami, the Magic Angel, Kimagure Orange Road, Patlabor, and more. Today, she works as an illustrator as well as a designer for book covers.

Angel Touch ©TAKADA Akemi


Creamy Mami, the Magic Angel ©Pierrot

The exhibition introduces original pictures of famous anime characters and Takada's illustration work. Though solo exhibitions have been held many times for her in both Japan and abroad, this hails as one of the largest exhibitions ever with 200 drawings. Fans will also get to see new works as well which were drawn for the exhibition.

Kimagure Orange Road ©Izumi Matsumoto / Shueisha・Nippon TV・Toho


Creamy Mami, the Magic Angel 2

Review: The 30 Year Old Cafe Chatei Hatou in Shibuya

Hi, everyone. It's Banako of MOSHI MOSHI FRIENDS. Today I'm reviewing Chatei Hatou, a long-standing cafe in Shibuya, Tokyo.

Shibuya is a place that bustles with youth culture and fashion. It's also home to many eateries, but there aren't many places around that you can go to to get away from the busy streets for a quiet break.

Chatei Hatou opened in 1989 at Miyamasuzaka Shita in Shibuya, where it has gone unchanged and welcomed customers for the past 30 years. It's very easy to get to, being just a 3-minute stroll from the Hachiko Exit of Shibuya Station.

When opening the door to the cafe and stepping inside, the first thing to jump out at you are the rows of coffee cups lined up along shelves behind the counter.

The coffee cup collection features a selection of works by many different makers. There's even a cup in there valued at ¥200,000!

The antiques littered here and there around the cafe elevate the vibe of the cafe. There's a number of seating areas, including the counter seats as well as tables for two, four, or big groups.

I felt the faint tasty scent of the Japanese pudding calling to me so I went and ordered a pumpkin pudding along with a hot chocolate.


Cafe Chocolat (Hot) ¥950 / Pumpkin Pudding ¥500


The pumpkin pudding was nice and moist and rich in flavour. Nothing short of delicious. It's made even sweeter when eaten together with the fluffy whipped cream―which also elevates the flavour of the pumpkin too.


I was inspired by the cafe owner to go for the cup I chose for my hot chocolate. There is so much variety between the cups; it's fun getting to see rare ones. Be sure to check their Instagram page where they have more detailed write-ups about their coffee cups and coffee varieties.

The cafe has a selection of original coffee blends which they make fresh with the utmost care and consideration. You can buy their coffee beans, take cake away from you, and even order whole cakes, so you can enjoy their delights at home.

Chatei Hatou has stood together with Shibuya these past 30 years. According to the owner, the most important thing about running a cafe is making sure its doors are always open. It's been tough as a result of the pandemic this year, but the cafe is still there as a part of people's lives.

The next time you're in Shibuya, why not enjoy a drink and a sit down at Chatei Hatou?

Information

Chatei Hatou
Address: 1-15-19 Shibuya, Shibuya-ku, Tokyo
Opening Hours: 11:00-23:30 (Last Orders 22:30)
No Fixed Holidays (But may be closed during the New Year Holidays)
Access: 3-minutes on foot from Shibuya Station's Hachiko Exit
Official Instagram: https://instagram.com/hatou_coffee_shibuya?igshid=9ubwybwvpktb
*The cafe is cash-only and has an outdoor smoking area

Writer: Banako
Translator: Joshua Kitosi-Isanga

Manga Series Tokyo Revengers Gets Exhibition at Tower Records Shibuya

Tower Records Shibuya will host an exhibition dedicated to the ongoing manga series Tokyo Revengers from September 26 to October 18. The exhibition is being held to promote the release of the 19th volume which hits shelves in Japan on September 17.

Tokyo Revengers is a manga series written and illustrated by Ken Wakui. An anime adaptation is scheduled to broadcast in 2021.

The exhibition will feature a variety of works drawn by Ken Wakui for the series, both black and white as well as coloured illustrations, as well as panels of each character, and more. There will also be an exhibit for the upcoming live-action film.


Tokyo Revengers x TOWER RECORDS OSMO Stamps (22 Designs) | ¥909 Each (Before Tax)

Tokyo Revengers Monochrome Panels | ¥30,000 Each (Before Tax, Includes Shipping)

Fans can also get their hands on a range of exhibition-exclusive merchandise, and from October, the exhibition will sell some Tokyo Revengers x Tower Records collaborative merch. There'll be some signed artwork for sale too.

Character Business Cards (11 Designs)

And for every ¥1,000 spent at the exhibit, fans will receive one of 11 possible character business cards.

Information

Tokyo Revengers Exhibition – Tower Records Shibuya
Running: September 26, 2020 – October 18, 2020

Time: 12:00-15:00 / 16:00-20:00 (Last Entries 19:30)

Location: Tower Records Shibuya Floor 8F SpaceHACHIKAI
Entry: Free (But you must book a place online)

Exhibition Information (Japanese): http://towershibuya.jp/news/2020/09/15/148467

TALENT PROFILE

Anna Yano

Released the song "Shape My Story" produced by kz (livetune) in August 2013. Performed as the vocalist on a single for kz's solo project 'livetune' in January 2014. Both songs were used as theme songs for anime series and received attention in Japan and overseas. In October 2015, she formed a new unit with kz called 'livetune+' and they released their first EP "Sweet Clapper" on May 11, 2016.

Ayumi Seto

Active as a model, especially in fashion magazines. Receives tremendous support for her cute and distinct fashion. In February 2014, she debuted her apparel brand 'Aymmy in the batty girls' where she works as a designer. She was the first Harajuku and Aomoji-kei model to establish an authentic apparel brand. She develops clothing items through her unique fashion sense lens.

Ema Tanioku

"Emaeri" is the nickname for models Ema and Eri Tanioku, who are Aomoji fashion model twins. Ema and Eri Tanioku specialise in twin fashion coordination. Over the years their fanbase has increased due to their cute looks. Ema Tanioku spreads Harajuku culture within Japan as well as overseas and works as a Harajuku Tourism Ambassador. Starting off as a model, Ema has broadened her talent range from fashion magazines to TV, and from playing the lead role in dramas to movies.

Japan's Largest Manga Exhibition MANGA⇔TOKYO Is Being Held At The National Art Center, Tokyo

The National Art Center, Tokyo (NACT) introduces Japan's distinctive culture to all areas of the world. The project started with MANGA*ANIME*GAMES from JAPAN which ran from June 24 – August 31, 2015. This was followed by the same exhibit held in Thailand and Myanmar. In 2018, as part of Japonismes 2018: les âmes en resonance, the NACT held the MANGA⇔TOKYO exhibition (November 29 – December 30, 2018) in Paris, France, which attracted over 30 thousand visitors. This time, the NACT will bring the renovated exhibition back to Japan.

Over 500 items are being displayed, including original drawings of manga and materials related to anime production, from a total of over 90 titles.

The largest ever MANGA exhibition in the country

The exhibition displays over 500 items such as original drawings of manga, production documents and visuals of anime and games, from the total of more than 90 titles of manga, anime, games and tokusatsu (SFX films) works that are closely related to Tokyo, in a 2000 m² exhibition space.

1/1000 Scale Giant Model of Tokyo and Visuals Installation

模型制作:株式会社ニシムラ精密地形模型/株式会社マーブリングファインアーツHD

A 1/1000 scale giant model of Tokyo, 17m wide and 22m long, along with visuals of anime, games and tokusatsu (SFX films) works staged in Tokyo, will allow spectators to experience the intertwined relations between "Tokyo" and "MANGA."

Exhibits are displayed so that visitors can experience the integrated reality of "Tokyo," with scenes of various stories and memories of characters merging into the real cityscapes.

Installation to Experience Reality merged with Characters

While manga, anime, games and tokusatsu (SFX films) in Japan have been influenced by the existing city, characters from those works appear in the sphere of reality, such as at stations, on trains and at convenience stores, altering the scenes and images of the city. It has become part of everyday life for those who live in Tokyo to live side by side with characters, which this exhibition will show through various installations.

Section 1: Cycles of Deconstruction and Reconstruction

EVANGELION:2.0 YOU CAN (NOT) ADVANCE. ©khara

"AKIRA"
Based on the graphic novel "Akira" by Katsuhiro Otomo. First published by "Young Magazine",Kodansha Ltd.
© 1988 MASH・ROOM/ AKIRA COMMITTEE All Rights Reserved.


Depiction of catastrophic damages to Tokyo, inflicted by unprecedented natural disasters or mysterious creatures, is almost routine in Japanese manga, anime, games and tokusatsu works. This section includes works with themes of  "destruction and reconstruction."

Section 2: Life in Tokyo

The three sections Edo as Pre-Tokyo, From the Beginning of Modernization to the Post-modern City, and From the End of the Century to the Present represent different eras of Japanese history.The exhibit depicts Tokyo as a place where ordinary people live despite the surreal experience of city-wide destruction and reconstruction.

Edo As Pre-Tokyo

"Sakuran" ANNO Moyoco ©Moyoco Anno / Cork

From the Beginning of Modernization to the Post-modern City

"Rurouni Kenshin" WATSUKI Nobuhiro ©Nobuhiro Watsuki / SHUEISHA

"CITY HUNTER" by HOJO Tsukasa © 1985 by TSUKASA HOJO/NSP

From the End of the Century to the Present

"Solanin" ASANO Inio © Inio Asano / Shogakukan

"5 Centimeters Per Second" © Makoto Shinkai / CoMix Wave Films

Section 3: Characters vs. the City

The Life-sized Unicorn Gundam statue in Odaiba.
Location: DiverCity Tokyo Plaza © SOTSU, SUNRISE


The last section focuses on characters existing alongside real life, for example, in cities as mascots for promotions, in advertising and in tourism.

Explore the history between Tokyo and Japanese pop culture media at MANGA⇔TOKYO.

Information

Exhibition title: MANGA⇔TOKYO

Dates: Aug. 12 (Wed.) – Nov. 3 (Tue.), 2020
Closed: Tuesdays (except for September 22, November 3)
Opening hours: 10:00-18:00
* Last admission 30 minutes before closing
Venue: The National Art Center, Tokyo, Special Exhibition Gallery 1E
7-22-2 Roppongi Minato-ku Tokyo 106-8558 Japan

MANGA⇔TOKYO website: https://manga-toshi-tokyo.jp/

Shibuya's New Tourist Information Centre 'SHIBU HACHI BOX' Opens October 1

Shibuya is set to welcome tourists to its all-new tourist information centre SHIBU HACHI BOX which will open on October 1, 2020.

Conveniently located outside of Shibuya Station next to Shibuya's iconic Scramble Crossing and Hachiko statue, SHIBU HACHI BOX, managed by PLAY! DIVERSITY SHIBUYA, will act as the hub for tourist and sightseeing information on events, food, shopping, hotels, and more.

The centre will also house a PR space for its supporting partner NTT Docomo which will offer entertainment and video content related to the latest in technology and more.

SHIBU HACHI BOX will be ready waiting to welcome the people of the world to Shibuya as they step outside of the famous Hachiko Exit of Shibuya Station.

Information

SHIBU HACHI BOX

Grand Opening: October 1, 2020

Address: 2-1 Dogenzaka, Shibuya, Tokyo

Opening Hours: 10:00-20:00

PLAY! DIVERSITY SHIBUYA: http://play-shibuya.com/