Mob Psycho 100 Exhibition Hitting Shibuya's GALLERY X BY PARCO
GALLERY X BY PARCO in Shibuya is set to host an exhibition for season two of the ongoing hit anime series Mob Psycho 100 from February 14 to 25.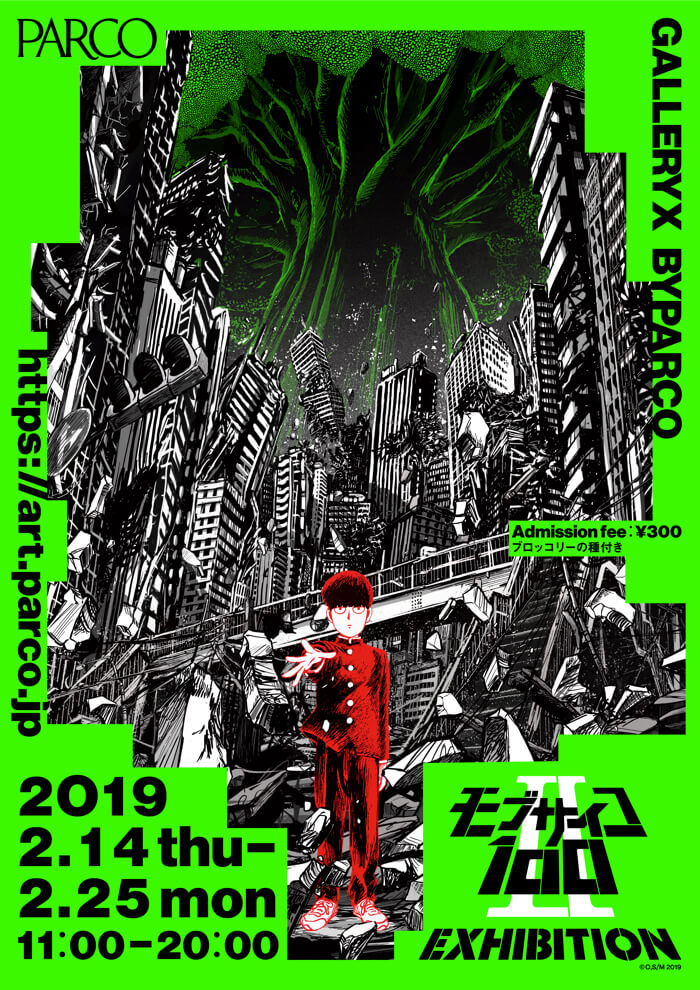 The exhibition will include pieces such as Arataka Reigen's desk from the Spirits and Such Consultation Office, artwork from both the anime and manga, audio commentary and more. The event's key visual pictured above was illustrated by the anime's character designer Yoshimichi Kameda. Expect to get your hands on a variety of merchandise using this illustration.
The exhibition will also hold pre-sales of official merchandise so you can get it before it releases anywhere else. This is a must-visit for fans of the series!
Information
Mob Psycho 100 II Exhibition
Location: GALLERY X BY PARCO, 13-17 Udagawacho, Shibuya, Tokyo
Running: February 14, 2019 – February 25, 2019
Opening Hours: 11:00-20:00
Price: ¥300 (Comes with one of five original Broccoli design mini bags) / Free for elementary school children and below
Website: art.parco.jp
©ONE・Shogakukan / "Mob Psycho 100 II" Production Committee
RELATED ENTRIES
PARCO Celebrates 50th Anniversary with New Fashion Coordination Event

PARCO has prepared a sensational autumn and winter campaign to celebrate reaching its 50th anniversary in 2019. This campaign, which is called 50 STYLES 50th PARCO, was launched on September 12 and is represented by the famous model Niki, who will be the main fashion icon for the duration of the campaign.  

Hiroshi Doiji (BEAMS Communications Director) 

Ayami Yamanobe: SUPER A MARKET Purchasing Agent (TOMORROWLAND Sales Department)  

PARCO opened a commemoration website for the anniversary called 50 STYLES 50th PARCO. This anniversary edition website features the recommended autumn and winter fashion of the 50 brands that reside within their walls. There is also a section dedicated to the brands' important rules of fashion, the trends to look out for this autumn and winter, and much more. There is even a Q&A column consisting of 5 hot questions and answers.

There are even special features containing some of the leading figures in the fashion industry including BEAMS Communication Director Hiroshi Doiji and SUPER A MARKET (TOMORROWLAND) Purchasing Agent Ayami Yamanobe. 

In addition, there is a special lottery with the chance to win one of the brands' recommended fashion coordination items. For the chance to win, purchase something from one of the 50 brand shops at PARCO. You will then receive a sticker with a QR code to gain access to apply to take part in the lottery. There will be a total of 51 lucky winners.

Please check the special edition website to find out which brands are taking part in this campaign. 

Information

Campaign

Application period: September 12 ー October 6, 2019 

51 winners will be chosen by lottery.

Prize: One item introduced in the 50 STYLES 50th PARCO recommended fashion collection. 

* Prizes will be announced in mid October

50 STYLES 50th PARCO Special Edition Website: https://parco.jp/50styles/

Japan's Poop Museum Dumps Its Load in Shanghai

The poop-themed exhibition Unko Museum is set to roll into Shanghai on October 19 where it will run until January 3 next year.

The museum first appeared at the entertainment facility ASOBUILD, which is connected to Yokohama Station, where it is still running as Unko Museum YOKOHAMA. It was then followed by Unko Museum TOKYO where it is still open at DiverCity Tokyo Plaza. This will mark the museum's first trip overseas.

Just 4 months after opening in in Yokohama, the museum had amassed over 200,000 visitors. The subsequent Tokyo museum served to promote the new Japanese concept of "kawaii poop" to tourists both Japanese and foreign. It was a huge success and enjoyed substantially more visitors than predicted.

With the museum receiving huge attention from both Japan and overseas, Shanghai was chosen as the next destination as a means to develop the concept outside Japan since Shanghai is one of the main global cities of the Asian region. There is also the fact that mainland China has a population of over 1.4 billion. The Unko Museum aims to promote and establish itself as a new entertainment experience.

The museum will be set up at Joy City Shopping Mall, which is home to a whole host of experience entertainment, as well as restaurants, shops, and even a Ferris wheel. It will have the same content as the museum in Japan, including giant poop statues, the "Unstagenic Area," a combination of the Japanese word for "poop" (unko) and the words "Instagram" and "photogenic" with cute and stylish poops, and more.

Information

Unko Museum SHANGHAI
Address: Joy City Shopping Mall Floor 4F, 166 Xizang N Rd, Zhabei Qu, Shanghai Shi, China
Running: October 19, 2019 – January 3, 2019
Opening Hours: 10:00-22:00 (Last Entries 21:00)

Official Website: https://unkomuseum.com/

Shibuya's New Tourist Information Center is Open For Business at Night & Offers Airport Bus Service

Tokyu Land Corporation has announced that Shibuya's all-new tourist information center will be named "shibuya-san." Located on the first floor of Shibuya FUKURAS, the tourist information and are center is set to open its doors to the public this December.

Tourist Information: Where you can become a Shibuya local

The tourist information section of the center is staffed by people from countries around the world, from Europe to Asia, most of which are non-Japanese students studying abroad. They are able to offer detailed tourist and sightseeing information for Shibuya from the perspective of a "foreigner in Japan."

The center also does away with the ordinary set-up of most tourist information centers in which you speak to someone over the counter. Instead, tourists entering shibuya-san will be greeted directly by staff and talk to them side by side.

They also offer English guide books with a map produced by Time Out Tokyo. Time Out is a city guide service published in 108 countries around the world in 39 languages.

Art Center: Where art brings Shibuya and the world together

shibuya-san will be the first tourist information center in Japan to have its own art gallery. Being located right in front of Shibuya Station means that people visiting from around the world will be exposed to Shibuya's culture through art. Focused on "Travel, City & People," the art gallery will offer not only exhibitions and performances, but also events in which tourists can participate, as well as opportunities to talk directly with artists.

Open Late: Shibuya's nightlife propelled with the center's night hours

Almost all tourist information centers close in the late afternoon/early evening, but not shibuya-san. Shibuya's nightlife is a huge part of the city's culture, and so to make it more accessible to tourists, shibuya-san will be open until 11:00pm, offering helpful information and suggestions for getting around and enjoying yourself after-hours.

shibuya-san even has its own drinks counter where alcohol is served in the evenings. Events will be held there periodically where you can meet and talk with people.

Limousine Buses: Haneda Airport and Narita Airport

The bus terminal in front of the tourist center offers regular buses and will soon offer airport limousine buses from Haneda and Narita Airport. They will serve to create a new doorstep to Shibuya at Shibuya Station's west exit for tourists visiting Shibuya. They will begin running in early December.

Whether you're visiting Shibuya for the first time or are a returning guest, find out all there is to know about the area when shibuya-san opens this December.

Information

shibuya-san tourist information & art center

Address: 1-2-3 Dogenzaka, Shibuya, Tokyo

Services: Tourist Information Center / Baggage Storage & Delivery / Airport Limousine Bus Tickets & Service / Foreign Money Exchange / Shibuya Experience Program / Drinks Bar / Art Center / Events

Business Hours: 10:00-23:00 (*Select services will run at varying times)

Grand Opening: December 2019 (subject to change)

Official Website: https://shibuyasan.jp

*The website is currently a teaser site which opened on August 28, 2019. The full website will go live in the coming months.

Andy Warhol Exhibition to Grace Kyoto's Kyocera Museum of Art in 2020

An exhibition centred around Andy Warhol, the American artist who was at the forefront of the pop art movement, is set to roll up to the Kyocera Museum of Art in Kyoto on September 19, 2020.

The exhibition will showcase pieces available only at the The Andy Warhol Museum in Pennsylvania, US. It will be the first Andy Warhol exhibition of its kind to hit Japan and will also touch on his deep knowledge of Kyoto.

The exhibition will be the first to take place in the museum's new Toyama Cube building which is currently under construction.

More details will be announced on the exhibition's website and social media accounts below.

BT21 Cafe Serves World Food in Shibuya, Umeda, Nagoya and Sapporo

LEGS COMPANY is opening four BT21 themed cafe called "BT21 CAFE 2019 WORLD"over the next couple of weeks. The Tokyo and Osaka branches opened on August 22. The Nagoya branch will open on September 4 and the Sapporo branch will open on September 5.

BT21 are the LINE messenger app characters created by K-pop group BTS. The cafe will serve up many different dishes of food from around the world, all with motifs of the various BT21 character line-up. Pictured below is just a select portion of the menu and merchandise you can look forward to.

Cafe Menu

 

Japanese Food Plate: Temari Sushi (Salmon, Duck, Minced Tuna, Fried Tofu, Shrimp Avocado) & Meat Udon – ¥1,490

American Food Plate: Slider Burgers (Macaroni Cheese, Egg Salad, Grilled Chicken), Potatoes & Carrot Salad – ¥1,490

South Korean Food Plate: Tteok-bokki, Japchae, Yangnyeom Chicken & South Korean-Style Rice Ball  – ¥1,490

Brazilian Food Plate: Churrasco, Mashed Potato & Feijoada – ¥1,490

Japanese Dessert (Left): Custard Taiyaki, Strawberry Daifuku, Berry Bean Paste Dango, Matcha Ice Cream – ¥1,290 / American Dessert (Right): American Waffles – ¥1,290

RJ (Left): Peach Calpis – ¥990 / CHIMMY (Right): Pineapple Soda – ¥990

COOKY (Left): Guava Soda – ¥990 / TATA (Right): Pineapple Soda – ¥990

Exclusive Merchandise

Japan Acrylic Key Rings (Left) – ¥750 / South Korea Acrylic Key Rings (Right) – ¥750

Folders (Left) – ¥400 Each / Hologram Stickers (Right) – ¥500 Each

Bonus Items

 

Every person who books a table in advance (¥650) will receive one of 7 possible mini fans pictured above on the left. Those who order a drink will receive one of 12 possible coasters pictured on the right.

There are lots of other cute pieces of merchandise and menu items to look forward to too. Full details can be found on the cafe's official website below.

*All listed prices are pre-tax. Photos are for illustrative purposes only.

©BT21

Information

BT21 Cafe 2019 WORLD

Locations/Dates:

SHIBUYA BOX CAFE&SPACE SHIBUYA 109 (August 22, 2019 – September 29, 2019)
UMEDA BOX CAFE&SPACE (August 22, 2019 – September 23, 2019)
NAGOYA BOX CAFE&SPACE (September 4, 2019 – October 6, 2019)
TOWER RECORDS CAFE at Sapporo PIVOT (September 5, 2019 – October 20, 2019)

*Cafes closed on September 30, 2019

Reservations

・Price: ¥650 (Before Tax)

Official Website: http://box-cafe.jp/

The BT21 Cafe is reservation-only

Bubble Tea Gourmets THE ALLEY to Open Flagship Store in Shibuya's Dogenzaka District

Tea enthusiasts THE ALLEY are opening a flagship store in Dogenzaka, Shibuya on September 14, 2019.

THE ALLEY's main customers are women and office workers. It's custom for people to go out for a cup of coffee with friends and coworkers, but THE ALLEY hopes to bring that same idea of "grabbing a coffee" to tea with their drinks line-up. Located at the top of Dogenzaka, the new branch aims to make tea even easier to enjoy while embedding a culture of tea.

Enjoy a drink between shopping or work in one of their 73 comfy seats spread across two floors, or grab a takeaway cup to sip.

"THE ALLEY x thermo mug" 300ml Tumbler – ¥3,500 (Before Tax) / "THE ALLEY x thermo mug" 300ml Stainless Steel Bottle – ¥3,500 (Before Tax)

The cafe has also teamed up with thermo mug to create a seriously stylish tumbler and stainless steel bottle. Both are limited in availability, and if you do decide to grab one, you can get a coupon for one free drink of your voice. They are perfect for using at home, out or at the office.

THE ALLEY is known for its three tea bases: Assam, Royal No. 9, and Jasmine. But the new Dogenzaka branch will have two extra exclusives. The first is White Peach Oolong which originally appeared as a limited-time flavour and in the cafe's milk foam series. It's now a regular at the new cafe. The other is Tieguanyin, a premium oolong tea, whose sales ended in May this year. Due to high demand, they are bringing it back to THE ALLEY Dogenzaka and plan to put it on the menu of other branches in the future.

The cafe has also incorporated paper straws to help combat the use of single-use plastic straws. This includes their thick straws used for tapioca bubble tea drinks and ordinary thin straws for their regular teas.

THE ALLEY Dogenzaka marks the cafe's move from a tea stand into a full-fledged tea shop. If you're in Shibuya, be sure to pay them a visit when they open on September 14.

Information

THE ALLEY Dogenzaka

Grand Opening: September 14, 2019

Address: 1-19-11 Dogenzaka, Shibuya, Tokyo

Business Hours: 10:00-22:30

Official Website: http://www.the-alley.jp/

Hippos Arrive Under Shibuya's Inari Bridge as Part Of National Geographic Promotion

The Hostile Planet documentary series by National Geographic is set to air in Japan from August 22. To celebrate the show's airing, a promotional shoot will take place at Inari Bridge in Shibuya on August 24 and 25 where three hippos will make an appearance to help spread the word of how animals have had to adapt to the recent rapid changes in the environment in order to survive.

A Tale Of Hippo Parents & Child, Living Off Grasslands, and Rapid Environmental Changes From the Seasons

Dry seasons are becoming regular, where water is snatched away from the earth's surface by the scorching sunlight. These are especially merciless seasons for hippos and a real threat to their survival. They cannot enter the water even for a brief moment. Their only options is to walk under the fire of the blazing sun. Their homes used to be packed full of watering holes, but now all they can do is embark on an aimless search. And the severity of this―the beating of the sun and lack of water―is becoming more and more of a problem.

Three panel cutouts of hippos will be set up under Inari Bridge to tell a story of two parents and their child who who survived these harsh conditions by escaping from Katavi National Park in Tanzania and arriving in Shibuya, Tokyo.

Information

Promotional Shoot

Running: August 24, 2019 – August 25, 2019

Time: 12:00-18:00

*In the case of rain on August 24 then the dates will be postponed to August 25 and 26. In the case of rain on August 25 then the dates will be postponed to August 26 and 27. Dates TBA if it rains on August 27. The dates will be extended if there is rainfall even when it is sunny. Additionally, the shoot will run from 11:00-17:00 on August 26 if it must fall on that day.

Location: Inari Bridge (3-21-2 Shibuya, Shibuya Ward, Tokyo)

Access: Directly connected to Exit 16b of Shibuya Station via the Tōkyū Tōyoko Line, Tōkyū Den-en-toshi Line, Tokyo Metro Hanzōmon Line, and Tokyo Metro Fukutoshin Line

Hostile Planet (6 Episodes)

Showing on National Geographic

Official Homepage (Japan): https://natgeotv.jp/tv/lineup/prgmtop/index/prgm_cd/2639

Gundam Artist Yuji Kaida Exhibition Announced For Osaka Umeda LOFT

To celebrate 40 years of Yuji Kaida's illustration artwork for the Gundam series, an exhibition entitled Yuji Kaida Gundam Gallery will take place on the fifth floor LOFT Forum of Umeda LOFT in Osaka from August 23 to September 8.

Yuji Kaida is known for his longtime work on box art for Gunpla model kits. The exhibition will feature a gorgeous collection of his iconic Gundam artwork, covering traditional art from Mobile Suit Gundam to Mobile Suit Gundam Wing to digital art in Mobile Suit Gundam: Iron-Blooded Orphans.

Over 70 pieces illustrated by Kaida will be displayed, each categorised into one of four themes. Many of these will include artworks being shown to the public for the first time such as the Gwazine-class battleship.

There will also be enormous towers of piled-up Gunpla boxes, a showcasing titled "Maiking of Hi-νGUNDAM" the process of digital art, and more.

The exhibition is an absolute must-visit for all fans of the Gundam franchise.

©Sotsu Co., Ltd.・Sunrise Inc.

Information

Yuji Kaida Gundam Gallery
Running: August 23, 2019 – September 8, 2019

Time: 11:00-21:00 (Until 18:00 on September 8) *Last entries 30-minutes before closing time
Location: LOFT Forum, Umeda LOFT Floor 5F, 16-7-5 Chayamachi, Kita Ward, Osaka
Entry Price: Adult ¥500 (Includes novelty gift) / High School Children & Below ¥400 (Includes novelty gift) / Elementary School Children & Below – Free
Official Website: https://art.parco.jp/

Celebrate Hello Kitty's 45th Anniversary at the Hello Kitty Collection Exhibition in Chiba

Lovers of Sanrio and all things Hello Kitty won't want to miss the 45th Anniversary Hello Kitty Collection Exhibition currently being held at Sogo Chiba until August 15.

The event look backs at the kawaii history of Hello Kitty with a huge range of old and new merchandise. There's also photo spots for taking cute photos, a wall of Hello Kitty plush toys, touch interactive digital videos, and much more.

If you're looking to stock up on your collection of Hello Kitty merch then you have around 850 items to choose from including goodies exclusive to the event, pre-sales of items to be released at a later date, and more. There's even a pottery workshop as well as a chance to take your photo with the real Hello Kitty.

Kawaii Chronicles: Hello Kitty Design Museum

Get ready to witness a wide selection of Hello Kitty goods from across generations, including rare and vintage items no longer manufactured. Witness the history of Hello Kitty's kawaii world and how things changed through the years to fit each generation.

Digital Content & Plush Toy Wall

Get interactive with Hello Kitty with the wall mapping – touch the wall and see the visuals change. There's also another wall completely full of Hello Kitty toys which makes for a really cute photo opportunity.

Photo With Hello Kitty

Hello Kitty will be present on August 12 in a beautiful kimono ready to have her picture taken with you! Tickets will be handed out 30 minutes before each session. Spaces are limited so make sure you're on time!

Date: August 12, 2019 at 11:00/13:00/15:00

Location: Floor 6F Event Hall

No. of People: 20 per shoot

Workshop

Paint your very own ceramic Hello Kitty ornament. You colouring it means that yours will be unique and the only one in the world♡

Running: August 7, 2019 – August 15, 2019

Time: 11:00-16:00

No. of People: 30 per day

Price: ¥1,296

Hello Kitty Kawaii Market
Get your hands one one of 850 pieces of Hello Kitty merchandise from plush toys to stationery, interior items and more. Many of these items are exclusive to the exhibition.

Mascot Holder – ¥1,728 (400 Available – 1 Per Person) / Acrylic Key Ring – ¥648 / Mug – ¥1,080 / Hand Towel – ¥756

Replica Classical doll – ¥17,280 / Mini Mascot Brooch (20 Designs) – ¥1,080 Each (1 Per Person) / A4 Folders (Includes 2) – ¥486

Enter the adorable world of Hello Kitty this summer and help her celebrate her 45th anniversary.

Information

45th Anniversary Hello Kitty Collection Exhibition

Running: August 7, 2019 – August 15, 2019

Time: 10:00-20:00 (Until 17:00 on August 15) *Last entries are 30-minutes before closing time

Location: Sogo Chiba Floor 6F Event Hall (1000 Shinmachi, Chuo Ward, Chiba, Chiba Prefecture)

Price: Adults & University Students ¥500 (High School Students & Younger – Free)

*Those with a disability certificate can enter the exhibition for free (including one guardian)

Sogo Chiba Official Website: https://www.sogo-seibu.jp/chiba/

Become Poop and Travel Through the Body in Kyoto's Bizarre Exhibition

The Toei Kyoto Studio Park―a theme park in Kyoto modelled after the Edo period of Japan―is set to hold an exhibition from next month titled "A Bizarrely Great Adventure Through the Body" in which you can travel through a giant model of a body to learn all about faeces.

The event is themed on the best-selling children's book series Grossology by Sylvia Branzei which gives humorous but straightforward descriptions of bodily functions and various medical conditions.

Stinky Poop (Unchi Kusai), the ninja mascot of the event, will join visitors on their adventure as they experience the gross potential of the human body: burps, farts, bodily odours, and more.

A total of fifteen attractions will make up the event where kids and adults can discover the "secrets" of the human body.

Sneeze Shutter

At the Sneeze Shutter you will learn why we sneeze by firing balls―the "foreign substance" entering the nose―into the giant nostrils which will cause it to become itchy. If you can get five balls into the nose it will let out a sneeze and blown out the balls.

The Kidney Game

At the Kidney Game you will help deliver urea, sugar, and other materials necessary for the kidney to the blood vessels to understand how the kidney functions.

Poop Fortune Telling

Sit on a real toilet and a poo character will appear on the monitor to tell you your fortune that day.

Poo Exhibition

Learn all about poo at the display board which features lots of interesting information.

Burp Kid

Why do we burp when we drink fizzy beverages? Burp Kid will explain it to you.

Take a photo with the giant poo

At the end of your trip to the event, take a commemorative photo next to the giant poo pile and butthole.

This is just a snippet of what there is to see at Kyoto's bizarre poo exhibition. Visit to learn all about something we all do but don't talk about!

Information

A Bizarrely Great Adventure Through the Body (Japanese: からだのふしぎ大冒険)

Running: September 14, 2019 – December 15, 2019

Price: General (13+ Years) ¥800 / Children (3-12 Years) ¥600

*A separate fee will be charged for entry to Toei Kyoto Studio Park

*Children aged 2-years and below are permitted free entry

Event Page (Japanese): http://www.toei-eigamura.com/event/detail/240

Tickets

Set tickets for the event and entry to Toei Kyoto Studio Park are now on sale at FamilyMart.

Adults: Park Entry ¥2,100 + Event Entry ¥800

Junior High School Students: Park Entry ¥2,000 + Event Entry ¥800

Children (3-12 Years): Park Entry ¥1,600 + Event Entry ¥600

*By buying this set you get ¥100 off what you would pay for purchasing them separately. The first 2,000 people to buy a children's ticket set will receive a plush toy

Buy: https://www.funity.jp/eigamura-event/

Toei Kyoto Studio Park

Address: 10 Uzumasa Higashihachiokachō, Ukyo Ward, Kyoto

Homepage: http://www.toei-eigamura.com

Lolita Singer Luna Haruna Announces Surprise Solo Live Performance at Most Recent Concert

Tokyo singer and lolita fashion model Luna Haruna finished her premium solo summer concert at SHIBUYA TAKE OFF7 on August 4. The concert title Lupa and Aries no gastronomie was named after her single Lupa to Aries which was released earlier this year in June and is so far only available on streaming services. Haruna performed once in the afternoon and once in the evening with a live band. She performed a total of 28 songs, including some brand new hits.

 She launched into her concert with her hit songs Stertear, Kimi Iro Signal, Stella Breeze and Overfly. She then performed her two new fairytale-themed songs Lupa to Aries and Kaiten Mokuba live for the first time. 

Afterwards, she turned to her fans and said:

"I challenged myself to something completely new this time. I want to show you all a side of me you have never seen before."

What the fans heard next was an unexpected surprise. 

She announced that she will be performing at Mt.RAINIER HALL SHIBUYA PLEASURE PLEASURE, Tokyo on November 16. The venue, packed with fans, could not contain their excitement, responding to the glorious news with cheers of joy that echoed throughout the entire room. 

Her recent release Kaiten Mokuba follows the same fairytale theme as Lupa to Aries. The beautiful harmonies created by the strings pierce through the strong and pressing beat of the song. This gothic fairytale song is appropriately titled Kaiten Mokuba (Carousel) to further emphasise the distorted feeling of being spun around in endless circles. Luna is an artist who represents the lolita scene for lolita fans worldwide. This fairytale video is where her true self comes alive. Her new, mysterious visuals are a fusion of lolita fashion and Alice in Wonderland themes. 

Luna Haruna Music Video: Kaiten Mokuba 

The head-spinning music video shows Luna in different lolita fashion outfits. Each outfit explores the depths of a different character from Alice in Wonderland. Watch Luna spin her way through five Alice in Wonderland-themed lolita dresses including the White Rabbit, the Cheshire Cat, the Mad Hatter and of course, Alice.  

Luna will also be singing the theme song for the upcoming anime film Saekano: How to Raise a Boring Girlfriend Fine, which will premiere on October 26. This isn't the first time Luna has been involved in the Saekano anime series. She performed the theme songs Kimi Iro Signal and Stella Breeze, which were the TV anime's first and second anime openings respectively. 

The anime film opening will be written by Miku Sawai, who wrote the lyrics for the TV anime's first and second ending theme songs Colourful and Sakura Iro Diary respectively. Miku Sawai and Luna Haruna have become massive sensations in the news for their anime hits. Just what kind of chemical reaction will unfold when these two heroines collaborate on the anime film's opening theme song? Please keep your eyes peeled for future updates. 

Photos: ©美澄

Information

Luna Haruna 2019 Autumn Solo Concert (Title to be confirmed)

Date/Time: November 16, 2019 Doors Open: 16:30 Start: 17:00

Venue: Mt.RAINIER HALL SHIBUYA PLEASURE PLEASURE, 

Address: Shibuya PRIME (6th floor), 2 Chome-29-5 Dogenzaka, Shibuya City, Tokyo

http://www.pleasure-pleasure.jp/index.php

Ticket Prices: ¥6,480 (after tax, designated seating only).

* You can order a maximum of four tickets per concert.

*There is also a compulsory one drink fee that you must pay upon entry into the venue. 

* Entry is not permitted for those under school age. 

Fan Club Member-limited preorder period: August 4th (21:00) ー 19th (23:59)

Luna Haruna Official Fan Club "L-67 Luna☆Station"

・General Ticket Sales period: To be confirmed.

Queries: (Sunrise Promotion Tokyo) 0570-00-3337(10:00-18:00)

Kaiten Mokuba

Available on most streaming services:  https://harunaluna.lnk.to/OWrKt0ME

Lupa to Aries

Available on most streaming services: https://harunaluna.lnk.to/ro4yd5wD

Saekano: How to Raise a Boring Girlfriend Fine

Premiere: October 26, 2019 across Japan. 

Anime Film Website: https://saenai-movie.com

Luna Haruna Official Website:  http://www.harunaluna.jp/

Cute LINE Penguin Character Gets Collaboration Café in Tokyo and Osaka

A collaboration café dedicated to the adorable penguin character Koupen chan will run over the summer period. The café will open on August 8 in Tokyo and September 5 in Osaka. 

The baby emperor penguin Koupen chan, who is often the go-to sticker for many Twitter and LINE users, is illustrated by the well-known RURUTEA. Many SNS users turn to the relaxing, soft and cuddly penguin to send soothing words of encouragement and a fuzzy hug to their loved ones. No wonder our adorable penguin has over 300,000 followers on Twitter. 

Yokoshima Enaga-San Burger: ¥1,490

Koupen Chan Ochazuke (Rice served with broth): ¥1,390

The first time the Koupen Chan Collaboration Café opened for a limited period was on November 2017. Now, the café is back with a refreshed image which plunges deeper into the depths of Koupen chan's affectionate world. There are even more features packed into this year's collaboration menu. No matter what you order, your table will be overflowing with adorable penguin love. 

Pink Koupen Chan Strawberry Milk Pancake: ¥1,390 (before tax)

Two Best Friends Lemon Peach Parfait: ¥1,290 (price before tax)

Don't forget to check out the drinks and desserts which are bound to melt your heart.

Acrylic Drink Coaster (random design ), 4 designs available: ¥900 (before tax) 

Bonus Gift for Café Customers: Placemat and Paper Drink Coaster (1 of 6 designs presented at random)

You won't just be served a cute meal, however. Customers have the chance to get their hands on original merchandise with cute café-themed designs. The designs, which were illustrated by RURUTEA, include Koupen chan as your personal café server, a pink-themed Koupen chan and even a light blue Koupen chan relaxing in the café.

The reservation period opened recently. Reservations are now being accepted via the official website. This café is the perfect place to escape from the blazing summer heat and humidity to get refreshed. Come relax and enjoy a moment of cute food and drinks in this comfortable atmosphere.

©RURUTEA

* The images shown in this article may differ slightly to the actual merchandise/menu items.

* English menu names above are not official translations. 

Information

Koupen Chan Café 2019 SUMMER

Tokyo: SHIBUYA BOX CAFE & SPACE (SHIBUYA BOX)

Address: Shibuya Loft 2nd floor, 21-1 Udagawacho, Shibuya City, Tokyo

Open: August 8, 2019 ー September 23, 2019 

Osaka: Shinsaibashi contact

Address: 1 Chome-6-24 Kitahorie, Nishi Ward, Osaka

Open: September 5, 2019 ー October 6, 2019

Reservations now open.

Reservation price: ¥500 (includes a complementary souvenir for making the reservation)  

A limit of 4 seats can be reserved through 1 reservation.