Jin Akanishi & Gudetama Collaborative Cafe Opens in Tokyo's Sangenjaya Area
Japanese musician and singer-songwriter Jin Akanishi and popular Sanrio character Gudetama opened a collaborative cafe on January 4 in the  Sangenjaya area of Tokyo.
This is the first time they have collaborated. When it was announced in August last year it became the No. 1 trending tweet in Japan.
The cafe interior features Gudetama inspired designs including a cartoonised Akanishi. Expect a whole array of original themed food and exclusive merchandise.
You must book online to dine at the cafe. When reservations first opened the website traffic was so crowded that it crashed for a short time. There are only 30 seats in the cafe and over to 10,000 people tried booking at the same time. Its popularity continues into February.
Dariina Curry: ¥1,300 (Before Tax)
Jin & Gudetama's Sleeping-In Omurice: ¥1,300 (Before Tax)
Mango Jin-kun's Treat Parfait: ¥1,100 (Before Tax)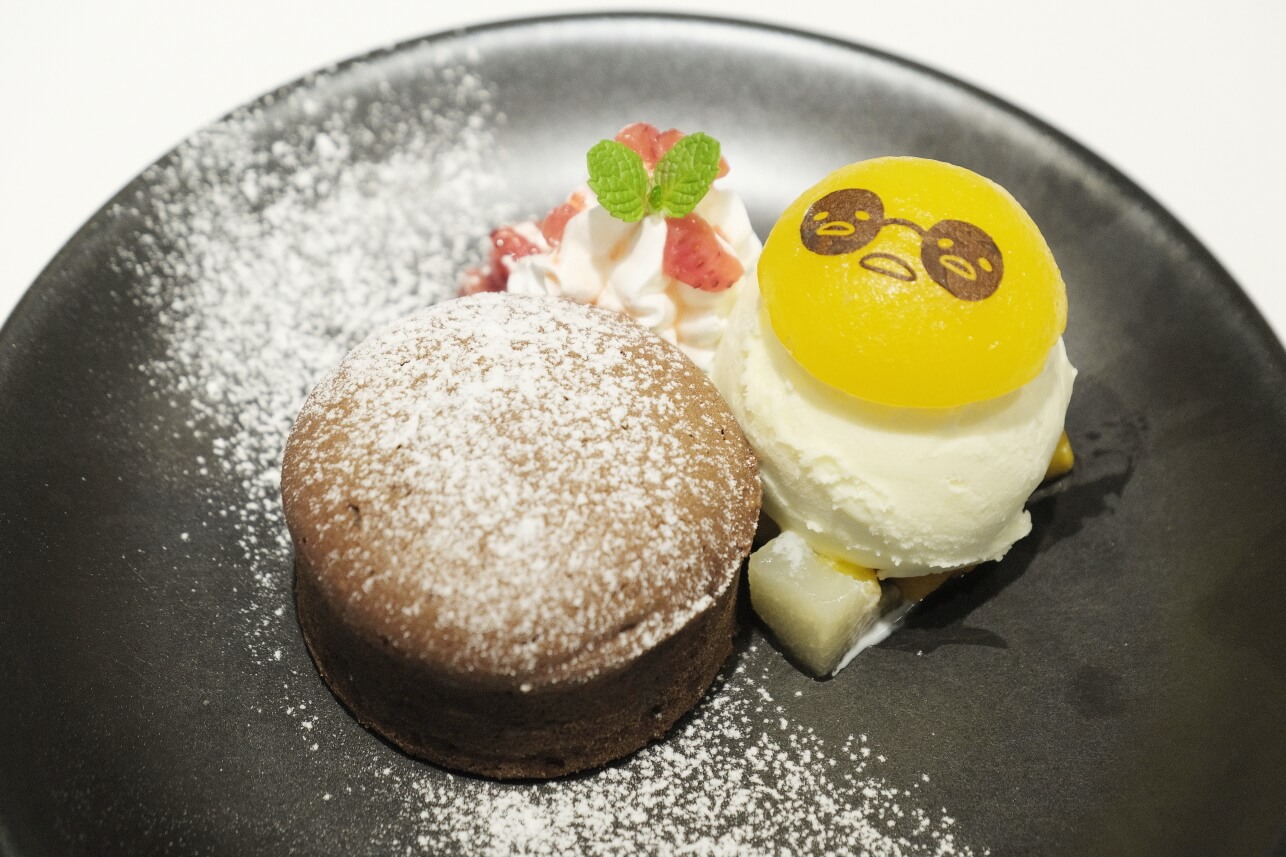 Toro Toro Jin Dan Chocolate: ¥950 (Before Tax)
Light-Up Jin & Gudetama Lemonade: ¥950 (Before Tax)
Jin & Gudetama's Lazy Latte: ¥750 (Before Tax)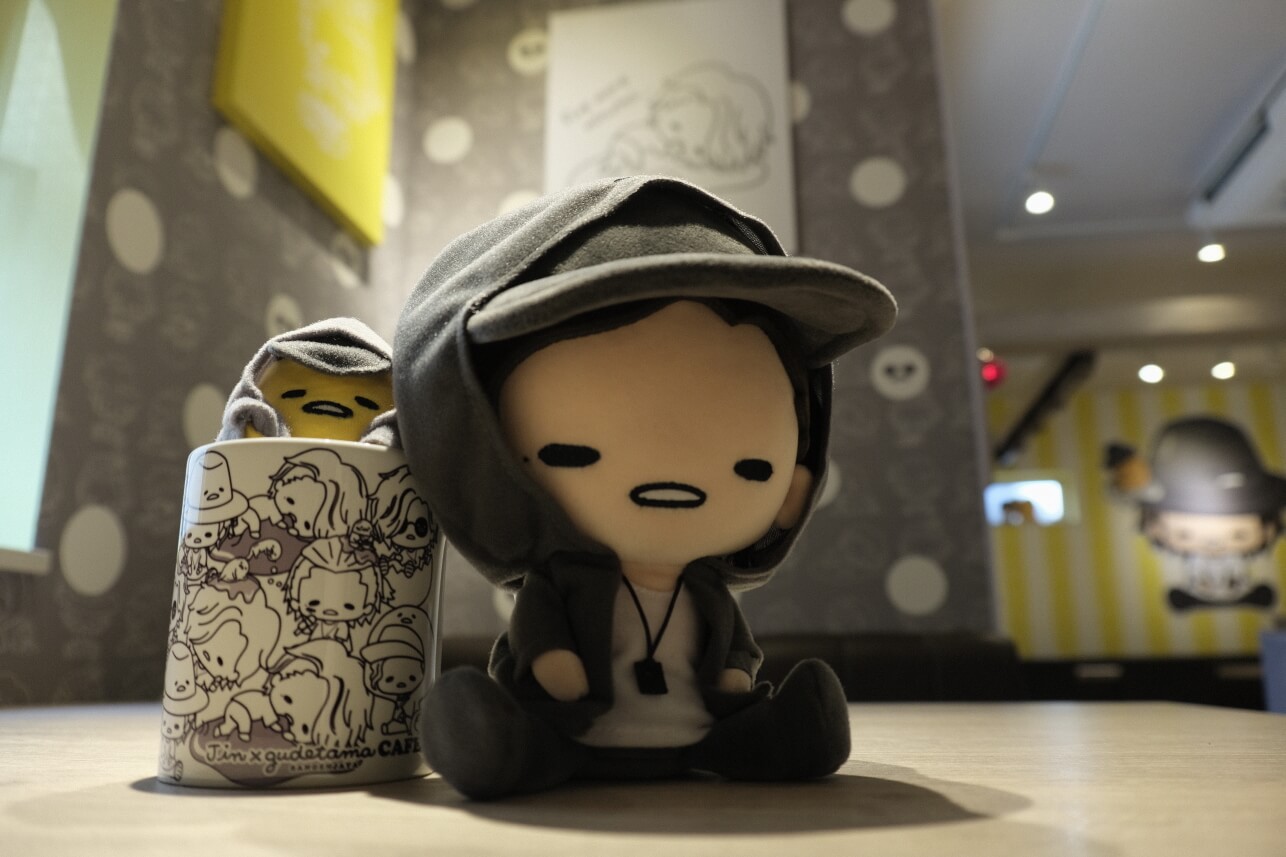 Assorted Merchandise
Jin Akanishi is enjoying immense popularity in China and across Asia. Don't miss out on this rare collaboration.
RELATED ENTRIES
Gudetama Doughnuts at Floresta Celebrate the New Year

Floresta Nature Doughnuts, a doughnut cafe that hand-makes doughnuts using organic ingredients, is baking up two new Gudetama doughnuts with New Year's messages on them. They will be served from January 9 to 24.

Florest Gudetama Collab Doughnuts | ¥450 (Before Tax)

The doughnuts capture the lazy and lethargic energy of Gudetama. The crowning Gudetama is made from Japanese pumpkin and is sat on a bed of sweet white chocolate. Both doughnuts are also available as a set coming with an extra of any of Floresta's signature doughnuts.

Relax and take in the new year together with Gudetama.

Gintama Themed Cafes to Open in Shibuya and Sapporo in Collaboration With Tower Records

Tower Records is promoting the upcoming release of the anime film Gintama The Final by turning two of its own Tower Records Cafe branches in Sapporo and Shibuya into Gintama-themed spaces serving inspired dishes and selling exclusive merchandise.

Merch Collab

Gintama x  Tower Records Trading Acrylic Key Rings (6 Designs) | ¥800 (Before Tax)


Gintama x  Tower Records Towel | ¥2,500 (Before Tax)

Get your hands on a Gintama x  Tower Records key ring or towel featuring the main cast wearing Tower Records aprons just like the real-life staff at the music store chain. These items are available to pick up at 41 Tower Records stores, three Tower Records Cafes, and their official website.

Cafe Collab

Tower Records Cafe has collaborated with numerous anime series before, but this will be its first with Gintama. Two menus will be rolled out, the first being served from January 1, 2021 to January 14, 2021 and the second from January 15, 2021 to January 24, 2021. The first menu is themed on the series's six main characters while the second menu will be based around Gintama The Final as well as the two-part anime special Gintama The Semi-Final.

Menu ① (Excerpt)


Kagura's Tenshidon With Kombu Salad | ¥1,480 (Before Tax)

Inspired by the heroine of Gintama, Kagura, and served with her favourite vinegar kombu salad.

Toshiro Hijikata's Mayo Chicken Nanban | ¥1,480 (Before Tax)

Hijikata is known for his love of mayo, so it was only right that this mayo chicken nanban be served with three types of mayonnaise.

Gintoki's Week's Worth Of Sugar Parfait | ¥1,380 (Before Tax)

A strawberry-loaded parfait with plenty of sugar content, just how Gitoki likes it.

Kotaro Katsura's Elizabeth Dessert | ¥1,380 (Before Tax)

An Elizabeth crepe with something hidden inside…

Gintoki's Perm Drink | ¥750 (Before Tax)

A cotton candy dessert drink inspired by Gintoki's luscious natural perm.

Shinsuke Takasugi's Blueberry Smoothie | ¥750 (Before Tax)

A cool blueberry smoothie whose delicious flavour comes from it being chilled in the refrigerator.

Menu ② (Excerpt)


Yorozuya's Special Curry | ¥1,480 (Before Tax)

Inspired by the friendship between the three members of Yorozuya, with the white rice representing Gintoki, the pink (sakura denbu) Kagura, and the blue (powdered cheese) Shinpachi.

Sadaharu's Pancakes | ¥1,280 (Before Tax)

Inspired by the pet of Yorozuya, served with three sides representing the three members.

Shinpachi's Ramune | ¥750 (Before Tax)

A ramune based on Shinpachi, topped with a cherry to express his cherry boy-ness!

Takeout-Only Menu

Gintama Quote Omurice | ¥1,280 (Before Tax)

Classic Japanese omurice served with one of six famous quotes in Japanese from the series. Not available at the Nagoya Sakae SKYLE or Umeda NU Chayamachi branches.

Yorozuya Gin-chan's Takeout Drink | ¥900 (Before Tax)

A takeout drink based on Yorozuya Gin-chan with two different coloured jellies at the bottom to represent Shinpachi and Kagura with the white Calpis drink being Gintoki.

Bonus Items


Coasters (6 Designs)

Those who reserve the bonus item ticket at Ticket Pia machines will receive one of six possible Tower Records x Gintama coasters.

Menu ① Postcards (6 Designs)

Menu ② Postcards (6 Designs)

For every item ordered on the menu, you'll get a free postcard. This includes takeout items.

Set of 3 Bookmarkers (6 Designs)

Those who order a food item, dessert, and a drink all together will get a set of three bookmarkers.

Lunch Mat (During Menu ② Servings Only)

Those who dine at the cafe during the second menuy serving will receive a free lunch mat featuring the key visual for Gintama The Semi-Final.

©空知英秋/劇場版銀魂製作委員会
©空知英秋/集英社・テレビ東京・電通・BNP・アニプレックス

Information

Gintama x Tower Records Merch Collab
Pre-Orders: December 10, 2020

Release Date: December 24, 2020
Merch Collab Page: https://tower.jp/gintama/

Gintama x Tower Records Cafe Collab
TOWER RECORDS CAFE Shibuya
Address: Tower Records Shibuya Floor 2F, 1-22-14 Jinnan, Shibuya, Tokyo

Opening Hours: 10:45-20:50
Menu ①: December 24, 2020 – January 7, 2021

Menu ②: January 8, 2021 – January 17, 2021

*Closes at 17:20 on December 31 and closed for the day on January 1 and 2

TOWER RECODRS CAFE Sapporo PIVOT
Address: PIVOT Floor 5F, 4 Chome Minami 2 Jonishi, Chuo Ward, Sapporo, Hokkaido
Opening Hours: 11:20-20:00

Menu ①: January 5, 2021 – January 21, 2021

Menu ②: January 22, 2021 – February 7, 2021

TOWER RECODRS CAFE Nagoya Sakae SKYLE (Takeout Menu Only)
TOWER RECORDS CAFE Umeda NU Chayamachi (Takeout Menu Only)
Menu ①: January 5, 2021 – January 14, 2021
Menu ②: January 15, 2021 – January 24, 2021

Cafe Collab Website: https://tower.jp/gintamacafe

Gintama The Final
Release Date: January 8, 2021
Official Website: https://wwws.warnerbros.co.jp/gintamamovie/

Gintama The Semi-Final (dTV Japan Only)
Episode 1: January 15, 2021

Episode 2: January 20, 2021
Official Website: https://pc.video.dmkt-sp.jp/ft/s0007147?campaign=sgm100149

Sailor Moon Eternal Cafes to Open in Tokyo, Osaka, Nagoya and Elsewhere in Japan

To promote the release of Sailor Moon Eternal, Japanese company LEGS is opening up six limited-time cafes themed on the film in five cities across Japan, beginning with Tokyo and Nagoya on December 24, 2020.

Sailor Moon Eternal is an upcoming two-part anime film set to release in 2021, with the first part dropping on January 8 and the second on February 11. The cafes, which are inspired by the films, were designed in collaboration with popular art director WATARU LINDA IGARASHI.

"Eternal Memories" is the name of the concept for the cafes which will transport customers into a magical and elegant world.

The Menu

The cafe menu features an enchanting line-up of food, desserts, and drinks based on characters and references in the films.

Food & Dessert

Usagi's Moon Floating Yogurt Bowl | Ami's Aqua Sparkling Parfait | Rei's Vivid Salmon Chirashi Sushi – ¥1,399 Each

Luna's Black Sesame Paste Doughnut – ¥899 | Moon Crisis Milk Crepe!! – ¥1,599

Drinks


Usagi's Eternal Soda | Ami's Eternal Soda | Rei's Eternal Soda | Makoto's Eternal Soda | Minako's Eternal Soda – ¥899 Each

Chibiusa's Eternal Soda Jelly | Hotaru's Eternal Soda Jelly – ¥999 Each

Original Merchandise


Merch line-up

The cafes will also sell their own original and exclusive merchandise to get fans excited for Sailor Moon Eternal.

Bonus Items

Customers who book a table in advance (¥650 per person before tax) will receive one of six possible face mask faces, and for every drink ordered, one of 11 original paper coasters.

©Naoko Takeuchi・PNP / Sailor Moon Eternal Production Committee

Information

Tokyo: TOKYO BOX cafe&space Tokyo Solamachi
Running: December 24, 2020 – February 21, 2021

Aichi: NAGOYA BOX cafe & space
Running: December 24, 2020 – March 7, 2021

Osaka: Abeno contact
Running: January 7, 2021 – February 21, 2021

Tokyo: SHINJUKU BOX cafe&space Lumine EST Shinjuku
Running: January 8, 2021 – February 28, 2021

Okinawa: Okinawa BOX cafe&space
Running: January 8, 2021 – February 28, 2021

Hokkaido: Coach & Four Shinkawa-Dori Cafe Interlude
Running: January 29, 2021 – March 14, 2021

Pretty Guardians Official Fan Club Pre-Bookings: December 4, 2020 – December 8, 202
General Pre-Bookings: December 17, 2020 at 18:00 (JST)

Cafe Official Website: https://sailormoon-cafe.jp/

KINGDOM HEARTS Melody of Memory Themed Cafes to Open in Japan This Holiday Season

Japanese company LEGS has announced the opening of two limited-time cafes themed on the video game KINGDOM HEARTS Melody of Memory which will run from December 11, 2020 to January 31, 2021.

KINGDOM HEARTS Melody of Memory is a rhythm action game developed by Square Enix. Released on November 11 in Japan and November 13 everyone else, it is the latest instalment to Square Enix and Disney's video game series Kingdom Hearts.

The cafe menu features a line-up of dishes, drinks, and desserts inspired by characters and worlds found throughout the internationally-beloved video game series. The items all adhere to Disney's nutrient guidelines and so are low in salt and sugar, offering fans a healthier option. The cafe will also sell a range of original merchandise.

The Menu

Food (Excerpt)

<Sora> Power of Waking Tomato Pasta | ¥1,599

A red tomato pasta inspired by Sora that comes with a potato salad shaped like King Mickey.


<Riku> Daybreak Chicken Burger | ¥1,599

A black chicken burger based on Riku becoming enveloped by the Power of Darkness. This dish also comes with a potato salad shaped like King Mickey.


<King Mickey> King's Tuna Sandwich | ¥1,399, with plate +¥2,000

A tuna sandwich branded with a King Mickey symbol that comes with a side of fruit.


<Neverland> Island Seafood Curry | ¥1,699

A squid and shrimp seafood curry inspired by Peter Pan's Neverland which you can travel to in Kingdom Hearts.

Drinks (Excerpt)


<Sora, Riku & Kairi> Fate's Pineapple Herb Soda | ¥899, with acrylic coaster +¥1,000

A pineapple herb soda based on the Paopu Fruit from the series.


<Roxas, Xion, Axel> Sea Salt Ice Cream & Milk | ¥1,199, with acrylic coaster +¥1,000

Based on the sea salt ice cream that Roxas, Xion, and Axel all eat together. It's served with hot milk that can be poured over the ice cream for a tasty treat.


<Hundred Acre Wood> Honey Latte | ¥799, with mug +¥1,650

A latte sweetened with Winnie the Pooh's favourite thing in the world: honey.

Merchandise (Excerpt)

Folder ¥500 / Acrylic Magnet ¥700


Tote Bags (3 Designs) | ¥3,500 Each (Timeless River/Keyblade A/Keyblade B)

Bonus Items

Customers who book a table in advance (¥650 before tax) and order from the menu will receive one of two folders, and if they order a drink, one of four coasters. Available while supplies last.

© Disney. © Disney/Pixar.

*All prices listed are pre-tax

Information

KINGDOM HEARTS Melody of Memory Cafe
・Tokyo (Shibuya): SHIBUYA BOX cafe&space
Running: December 11, 2020 – January 31, 2021
Address: LOFT (Floor 2F), 21-1 Udagawacho, Shibuya, Tokyo

・Osaka (Umeda): UMEDA BOX cafe&space
Running: December 11, 2020 – January 31, 2021
Address: Umeda LOFT (Floor 1F), 16-7 Chayamachi, Kita-ku, Osaka-shi, Osaka

KINGDOM HEARTS Melody of Memory Cafe Official Website: https://khmom.ohmycafe.jp/

Jin Akanishi and Ryo Nishikido Feature in Swarovski's Christmas Campaign

Swarovski Japan is launching a Christmas campaign this year in collaboration with Jin Akanishi and Ryo Nishikido's YouTube channel "NO GOOD TV" and fashion magazine ELLE Japon.

Swarovski is an Austrian glass producer founded in 1895 that's celebrating its 125th anniversary this year. The company's Swarovski Crystal Business is known for its craftsmanship and innovation, providing crystal glass, jewellery, and accessories to the people of the world since its inception.

As part of Swarovski Japan's Christmas campaign, it is teaming up with Japanese musicians Jin Akanishi and Ryo Nishikido. This is the first time the company has used male celebrities in its promotions in Japan. Together with the global women's fashion magazine ELLE Japon, the campaign will promote Swarovski products in the run up to Christmas. A six-page feature will be included in January 2021 issue of ELLE Japon of the two musicians promoting Swarovski's jewellery, watches, and more.

Jin Akanishi and Ryo Nishikido posted a 14-minute video on their YouTube channel ("NO GOOD TV – Vol. 21") with behind-the-scenes footage of their ELLE Japon photo shoot as well as other news related to the collaboration with Swarovski.

Exclusive photos of Akanishi and Nishikido which weren't feature in either the magazine or on YouTube were also officially released on Swarovski's official LINE account.

Information

Jin Akanishi and Ryo Nishikido Christmas Campaign Collaboration
Official Website: http://swarovs.ki/vl~D

Egyptian God Anime Series Tototsu ni Egypt Kami Announces December 7 Broadcast

It has been announced that the first episode of Frontier Works's upcoming web anime series Tototsu Ni Egypt Kami ("Suddenly, Egyptian Gods") will be posted on December 7, 2020 at 12:00pm (JST).

New promotional video released alongside air date announcement

Check out the newest PV release for the series which introduces each of the main characters.

Web Anime "Tototsu Ni Egypt Kami" PV Long Version


Get a free postcard in Japan

To promote the series, Japanese anime goods chain Animate is holding a campaign where for every ¥1,000 spent on Tototsu Ni Egypt Kami merchandise at Animate stores in Japan customers will receive one of 13 postcards.

Running: December 19, 2020 – January 17, 2021

Participating Stores: Animate / Animate Online / Shosen Grande / Horindo Takadanobaba

AMOCAFE Ikebukuro is also celebrating the release of the anime series by serving up a themed menu as well as selling exclusive merchandise.

Running: November 25, 2020 – December 9, 2020

Location: AMOCAFE Ikebukuro, 1-31-6 Higashi-Ikebukuro, Toshima-ku, Tokyo

Opening Hours: 11:00-19:45 (Reservation Only)

Official Website: https://amocafe-reserve.jp/to_to2ni_cafe/

Who would have thought that the Egyptian gods could be kawaii? Well, that's exactly what they've become in Tototsu Ni Egypt Kami, a series set in Ancient Egypt where the Egyptian deities, like Anubis, Thoth, Bastet, and Ra live laid-back and relaxed lives. The series is adapted from a popular line of character mascots of the same name.

©yuka/とーとつにエジプト神プロジェクト

Information

Tototsu Ni Egypt Kami

Initial Broadcast: December 2020

Watch On: YouTube, GYAO!, Bandai Channel, FOD, ABEMA, d Anime Store, U-NEXT

Official Website: https://to-to2ni-anime.jp

The Promised Neverland Cafe to Serve Up Themed Food and Drink in Tokyo

A special exhibition centred on the popular manga series The Promised Neverland will take place at Roppongi Hills Tokyo City View in Tokyo from December 11, 2020.

The Promised Neverland is a manga series written by Kaiu Shirai and illustrated by Posuka Demizu. The series was published in Weekly Shonen Jump and concluded with its final volume on June 15, 2020. A live-action film will be released in December while the anime adaptation's second season will air next year.

The exhibition will explore and celebrate the world of The Promised Neverland in detail, with displays, illustrations, early conceptions, and much more. A special 19-page manga episode written by Kaiu Shirai and illustrated by Posuka Demizu will also be shown.

Fans at the exhibition can also dine at CAFE GRACE FIELD,  the series-themed cafe opening up temporarily at Cafe THE SUN. Let's take a closer look and see what fans can expect to see at the cafe.

CAFE GRACE FIELD Collaboration Cafe

Illustrative photo showcasing the cafe

The Promised Neverland is set inside Grace Field House, an orphanage in a forest that houses children with no relatives. It's here that we meet the main characters: Emma, Norman, Ray, and Mom. CAFE GRACE FIELD is inspired by Grace Field House and the children who live in it, with food based on the characters and certain episodes in the series, a cafe latte you can order and get a free coaster with, and many other dishes, drinks, and desserts exclusive to the exhibition.

The Menu

Isabella's Burger | ¥1,480 (Tax Included)

A hearty hamburger inspired by Isabella, the Mom of Grace Field House, filled with a fat patty, tomatoes, and lettuce. It's served with chips which are topped with a key that opens all doors in the house.

Emma's Omelette Rice | ¥1,380 (Tax Included)

A serving of omurice (rice-filled omelette) which features Emma's trademark lock of hair that sticks up and orange edible flowers scattered over the tomato sauce, all to capture Emma's smiley personality.

Norman's Farm Green Curry | ¥1,580 (Tax Included)

A spicy green curry based on Norman standing in the fields of the forest. The plate includes the pen Norman finds which belongs to William Minevra, as well as the name Minevra written in Morse code around the outside of the dish.

Ray's Final Book Sandwich | ¥1,550 (Tax Included)

This dish is inspired by the scene when Ray gives Emma the last book he reads before escaping the house. The sandwich itself is made to look like the book and is filled with egg salad, crunchy fried fish, and tomatoes.

Full Score Parfait | ¥1,450 (Tax Included)

An assortment of ingredients based on the three main characters in the series who receive a full score: Emma (orange jelly), Norman (panna cotta), and Ray (chocolate pudding and cake). A parfait that's not overly sweet and displays each of the three characters' I.D. Numbers which are used for identification in the series.

Little Bunny Shortcake | ¥1,350 (Tax Included)

A mixed berry shortcake with Conny's precious Little Bunny on top. The bunny is made from milk pudding and sat on a bed of yogurt cream-filled fluffy sponge.

The House's Lantern Drink | ¥1,050 (Tax Included)

A lantern-style dessert drink with everyone from Grace Field House, topped with chocolate whip, frozen yogurt, and two pieces of orange inspired by Emma's hair.

The Promised Pendant Drink | ¥1,050 (Tax Included)

A refreshing combination of ginger ale, Calpis, and Blue Curaçao topped off with apple flavoured ice. The blue and green gradation of the beverage is based on the pendant given to Emma by Mujika, a key item of the story.

Emma's Cafe Latte, Norman's Cafe Latte, Ray's Cafe Latte | ¥850 Each (Tax Included)

Three cafe lattes with Emma, Norman, and Ray print on them. Every cup ordered gets you an original coaster. There are three coaster designs, each given randomly for every drink order.

Twitter Campaign – Christmas Edition Cafe Latte

Running: December 11, 2020 – December 25, 2020

From December 11-25, fans who answer the official Twitter quiz correctly have the chance to order the Christmas Edition Cafe Latte. Every cup ordered gets you a special coaster.

©Kaiu Shirai・Posuka Demizu /Shueisha

Information

THE PROMISED NEVERLAND SPECIAL EXHIBITION

Running: December 11, 2020 – January 11, 2021

Opening Hours: 10:00-22:00 (Last Entries 21:30)

Location: Roppongi Hills Tokyo City View Sky Gallery

Address: Roppongi Hills Mori Tower Floor 52F, 6-10-1 Roppongi, Minato-ku, Tokyo

Exhibition Website: https://yakuneba-ten.jp/

*Information about this event is subject to change without notice. Please visit the exhibition's portal site or Roppongo Hills Mori Tower's official website for the latest updates, cautions, and measures against COVID-19.

Sanrio Themed Cafe Celebrates Characters' Monthly Magazine 'Ichigo Shimbun'

Sanrio is once again collaborating with the EGG & SPUMA cafe located on the 8th floor of Shinjuku Lumine EST to celebrate the 45th anniversary of Ichigo Shimbun, a monthly magazine published by Sanrio which includes information about the latest character merchandise, the Sanrio Character Awards, and more. The limited-time cafe will run from November 1, 2020 to late January 2021.

Sanrio fans can expect a very special menu line-up of food, drinks, and desserts based on their favourite characters from the Sanrio roster.

There will in fact be two different menus served on separate occasions. The first menu will welcome a soufflé omelette topped with a potato salad Pochacco while the second will see an adorably pink My Melody cream stew.

There will also be an incredibly cute two-tiered afternoon tea set with desserts and savoury items.

For drinks, there is a Hello Kitty strawberry milk, Cinnamoroll milk, and milk caramel pudding Pompompurin.

© 2020 SANRIO CO., LTD. APPROVAL NO. L613344

And everyone who orders from the collaborative menu will receive one of eight possible coasters as thanks for visiting.

Information

Ichigo Shimbun 45th Anniversary CAFE
Location: EGG & SPUMA, Shinjuku Lumine EST Floor 8F, 3-38-1 Shinjuku, Shinjuku Ward, Tokyo
Running: November 1, 2020 – Late January 2021

Opening Hours: 11:00-21:00 (Last Orders)

TEL: 03-6273-0255
Official Website: http://salt-group.jp/shop/egg-spuma/

Disney: Twisted-Wonderland Mobile Game Gets Themed Cafes in Tokyo, Osaka and Nagoya

LEGS, INC. has announced that it will open three cafes themed on the mobile game Disney: Twisted-Wonderland at OH MY CAFE branches in Tokyo and Osaka on November 20 and in Nagoya on November 27.

Disney: Twisted-Wonderland is a Japanese mobile game that was released on March 18, 2020. The concept, character designs, and scenario for the adventure rhythm game were conceived by Yana Toboso, the creator of the popular Black Butler manga series. The game is centred on the villains of Disney.

The cafe's theme places customers in the food hall of Night Raven College, the magic training school where the game is set. It will be adorned in decorations inspired by the game's food hall, and coupled with that, the cafe will serve up food and drink that actually appear in the game. There's also exclusive merchandise for players to get their hands on.

The Menu

There are four different lunches to pick from, all of which are low in salt content and so are a healthy option for wizards and witches flying into the cafe.

Food

<Lunch Option A>


Deluxe Menchi Katsu Sandwich | ¥1,990, with plate ¥4,290 (Before Tax)

The most popular item on the food hall's menu is the non-fried menchi-katsu meat cutlet sandwich.

<Lunch Option B>


Salmon Cream Stew | ¥1,990, with plate ¥4,290 (Before Tax)

A cream stew packed with salmon and vegetables and served with slices of baguette for dipping.

<Lunch Option C>


Tomato Base Squid Ink Pasta | | ¥1,990, with plate ¥4,290 (Before Tax)

A colourful tomato-based veggie pasta in squid ink and served with fruity yoghurt.

<Lunch Option D>


Four Mushroom Risotto | ¥1,990, with plate ¥4,290 (Before Tax)

A creamy, mild-flavoured risotto served with four different kinds of mushrooms.

Drinks


Character Drinks (7 Flavours) – Heartslabyul, Savanaclaw, Octavinelle, Scarabia, Pomefiore, Ignihyde, Diasomnia | ¥890 with coaster ¥1,790 (Before Tax)

A selection of colourful tinted waters inspired by seven different characters seen in the game.

Merchandise


Superdeformed Series Art Example


Pattern Series Art Example

Magic-wielding players can get their hands on a selection of merchandise both at the cafes, and from November 20, via the OH MY CAFE STORE website. There are two different designs for the merch line-up as pictured above.

Bonus Items

Customers who book a table in advance (¥650 before tax per person) at the cafe will receive one of 22 possible lunch mats, and if they order a drink, one of 22 coasters.

©Disney

Information

Disney: Twisted Wonderland @ OH MY CAFE

OH MY CAFE TOKYO

Address: Tokyu Plaza Omotesando, 4-30-3 Jingumae, Shibuya, Tokyo

Running: November 20, 2020 – January 31, 2021

kawara CAFE&DINING Shinsaibashi

Address: Shinsaibashi Opa Floor 9F, Nishi-Shinsaibashi, Chuo Ward, Osaka, Osaka Prefecture

Running: November 20, 2020 – February 2, 2021

kawara CAFE&KITCHEN Nagoya PARCO
Address: Nagoya PARCO, 3-29-1 Sakae, Naka-ku, Nagoya-shi, Aichi
Running: November 27, 2020 – February 9, 2021

Official Website: http://twst.ohmycafe.jp

Rilakkuma Book Cafe Themed Afternoon Teas in Osaka Will Serve Bear-Huggingly Kawaii Food

Major bookstores across Japan are rolling out the Rilakkuma Book Fair where fans can get their hands on short Rilakkuma fairy tails, exclusive merchandise, and more.


In line with the event, Fruits Parlor & Bakery Season & Co., a cafe in Umeda, Osaka, is serving up a special menu with the theme "Rilakkuma Book Cafe" from October 30 to November 30. This includes a afternoon teas which also celebrates the cafe's 1st anniversary, more exclusive merchandise, and novelties for customers who order from the Rilakkuma menu.

Rilakkuma Zukin Afternoon Tea | ¥4,000 (Before Tax) *Reservation-only

A special afternoon tea featuring 13 different goodies from desserts to a sandwich, quiche, and more. It comes with a fruit iced tea welcome drink too.

Rilakkuma Yuki Hime Afternoon Tea | ¥4,000 (Before Tax) *Reservation-only

A different afternoon tea that serves up 12 items. This also comes with a fruit iced tea.

Rilakkuma's Honey Apple Smoothie | ¥800 (Before Tax)

A honey apple smoothie topped with refreshing vanilla ice cream, smooth fresh cream, and a Rilakkuma jelly candy.

Rilakkuma's Royal Chocolate Milk Tea | ¥1,200 (Before Tax)

Classic royal milk tea served with chocolate Rilakkumas. Eat on their own or dip into your tea!

The cafe is now taking reservations for the afternoon teas. Bookings must be made two days in advance by telephone or the official website.

Information

Rilakkuma Book Cafe
Running: October 30, 2020 – November 30, 2020
Reservations: https://season-co.shop/rilakkuma2020/

Fruits Parlor & Bakery Season & Co.
Address: LINKS UMEDA 1F, 1-1 Ofukacho, Kita-ku, Osaka
Opening Hours: 9:30-22:00 (Last Orders 21:30)
TEL: 06-6743-4212
Official Website: https://season-co.shop

Shaun the Sheep Themed Food Served Up in Japan to Celebrate 25th Anniversary

To celebrate 25 years since the screen debut of the beloved clay animated Shaun the Sheep, a new shop and cafe called "Shaun the Sheep Farm Cafe Stand" is opening up in Kanagawa serving up themed food, drink, and desserts.

Shaun the Sheep Farm Cafe Stand

Shaun the Sheep Farm Cafe Stand will open on October 15, 2020 in Kamiooka, Kanagawa, as a takeout cafe stand inspired by Shaun the Sheep. Customers can look forward to a selection of coffees and desserts based on the adorable sheep himself. And to celebrate the cafe's grand opening, a special free show will take place there from October 15-18, 2020.

Shaun Soft Cream | ¥500 (Before Tax)

Subtly sweet soft serve ice cream topped with a Shaun the Sheep cookie.

Shaun Cafe Latte | ¥700 (Before Tax)

A foamy latte with a cute Shaun marshmallow sat on top.

Shaun the Sheep Farm Cafe Stand

Location: mioka LIST (Floor 6F)

Access: Directly connected to Kamiōoka Station via the Tokyu Line and Yokohama City Blue Line
Opening Hours: 11:00-21:00 (Last Orders 20:45)

Shaun the Sheep Village Shop & Cafe

The Shaun the Sheep Village Shop & Cafe in Minami Machida Grandberry Park, which opened in November 2019, introduced a limited-time autumn menu last month which is still being served.

Shaun's Special Meatball Spaghetti | ¥1,580 (Before Tax)

A hot meatball spaghetti served with a Shaun the Sheep waffle which can be enjoyed together with fresh cream, maple syrup, and the meat sauce.

Baby Shaun's Forest Grape Trifle w/ Drink | ¥1,480 (Before Tax)

A towering trifle topped with seasonal grapes, vanilla ice cream, grape sherbet, custard, and grape jelly for a sweet and sour autumntime mix.

Fluffy Baby Shaun Custard or Caramel | ¥250 for one, ¥1,000 for five (Before Tax)

An adorable confection enjoyed by both child and grown-up customers. The cafe has now introduced a new caramel flavour.

Shaun the Sheep Village Shop & Cafe

Location: Grandberry Park Central Court Wonder Theatre (Floor 1F)

Opening Hours: 10:00-22:00 (Food Last Orders 21:00 / Drinks Last Orders 21:30)

Shaun the Sheep Farm Cafe: Halloween Menu

Shaun the Sheep Farm Cafe, a permanent cafe located inside Prime Tree Akaike Shopping Mall in Aichi, is serving up a special Halloween menu this year.

Shaun's Happy Halloween Plate 2020 | ¥1,380 (Before Tax)

A bright-red tomato sauce hamburger served with pumpkin cream soup and salad.

Shaun's Happy Halloween Dessert Assortment | ¥1,180 (Before Tax)

A sweet combo of pumpkin mont blanc and a pumpkin tart.

SHAUN THE SHEEP AND SHAUN'S IMAGE
ARE ™ AARDMAN ANIMATIONS LTD. 2020

BT21 Cafe to Open in Tokyo, Osaka and Nagoya For Autumn 2020

The 7th run of the popular BT21 Cafe is set to open in Tokyo, Osaka, and Nagoya starting from October 17, 2020.

BT21 are the LINE messenger app characters created by K-pop group BTS. The cafe has seen six runs in Japan until now, and has proven immensely popular amongst fans for the selection of original dishes and drinks as well as exclusive merchandise. The 6th run ran back in February and March with a spring theme.

The theme of the 7th edition is centred on having a pyjama party in the long autumn evenings. The cafe artwork as well as food and merchandise is all themed on the autumn season.

FOOD

The food menu is a choice of a main, such as pasta or paella, and a side like clam chowder which is served up a cute character mug of your choice.

Fish Ragu Fusilli Pasta Set Menu Example | ¥1,490

A fusilli pasta dish served with a seafood tomato sauce.

Eggplant & Zucchini Lasagne Set Menu Example | ¥1,490

A lasagne served with the summer vegetables eggplant and zucchini as the main ingredient.

Seafood Paella Set Menu Example | ¥1,490

A Spanish dish containing Paella made with a seafood stock and served with potato wedges covered in a bravas sauce.

Margherita Pizza Set Menu Example | ¥1,490

The staple takeout pizza topped with tomatoes, mushrooms, and basil.

DESSERT

A selection of cakes served in different mugs with BT21 character designs.

Shortcake / Chocolate Cake / Mont Blanc / Cheesecake  – ¥1,290 Each

DRINKS

Drinks are self-service and include carbonated water, milk, and other beverages all of which can be topped with a dollop of character ice cream. This is a new kind of drink to be introduced at BT21 Cafe.

Character Drinks: KOYA/RJ/SHOOKY/MANG/CHIMMY/TATA/COOKY  – ¥990 Each

Glass Drinks: KOYA/RJ/SHOOKY/MANG/CHIMMY/TATA/COOKY – ¥500 Each

TAKEOUT DRINK | 1,690

The takeout drink is a blueberry milk combination.

GOODS

Fans can get their hands on a selection of original and exclusive miscellaneous merchandise all with the stay-at-home pyjama party theme.

Heart Pins | ¥600 Each (Design Chosen Randomly)


Card File | ¥1,300

Bonus Items

Cafe Original Cards

Cafe Original Coasters

Customers who book a table in advance will receive a free cafe original card, and those who order a drink a free coaster.

©BT21

Information

BT21 Cafe

Tokyo Cafe

Running: October 17, 2020 – November 23, 2020

Address: PINE UNDER FLAT B1F, 5-13-2 Jingumae, Shibuya, Tokyo

Osaka Cafe

Running: October 17, 2020 – November 27, 2020
Address: TOWER RECORDS CAFE UMEDA NU CHAYAMACHI, 10-12 Chayamachi, Kita-ku, Osaka-shi, Osaka

Nagoya Cafe

Running: October 17, 2020 – November 27, 2020
Address: TOWER RECORDS CAFE Nagoya Sakae SKYLE, 3-4-5 Sakae, Naka-ku, Nagoya-shi, Aichi

Table Bookings
Price: ¥650 (Before Tax)
BT21 Cafe Official Website: https://box-cafe.jp/