Pop Team Epic & Sanrio Collaboration Cafe Opening at Seibu Ikebukuro
Pop Team Epic is set to collaborate with Sanrio's cast of characters at a limited time themed cafe at Dining Park Ikebukuro which is located on the 8th floor of Seibu Ikebukro. It will run from February 7, 2019 to April 14, 2019.
Pop Team Epic is a four-panel surreal comedy manga written and illustrated by Bkub Okawa. It received a 12-episode series which received much love outside of Japan making it onto Crunchyroll and even Toonami in the US.
Witness Popuko and Pipimi join hands with Hello Kitty, Pompompurin and other Sanrio characters with a line-up of inspired food, desserts, drinks and exclusive merchandise.
Badtz-Maru VS Popuko Noodles: ¥1,490 (Before Tax)
Enjoy a hearty bowl of noodles topped with a soft boiled egg Popuko that's served with a spicy black sesame tan tan soup made to look like Badtz-Maru. It may look funny but the flavour combinations of the egg and soup make for a delicious meal.
Popuko & Pipimi's Hello Kitty Burger Set: ¥1,590 (Before Tax)
Popuko and Pipimi are looking adorable in their Hello Kitty buns. Popuko is made from galantine style meat and a wrapped in a lightly fried egg while Pipimi is made of mashed potato.
Tabo & Popuko Mapo: ¥1,290 (Before Tax)
This spicy mapo tofu is topped with a giant Tabo rice ball (which contains a meatball) and another soft boiled egg Popuko. They seem to be getting on pretty well!
Pompompurin & Pipimi Mascarpone Pancakes: ¥1,390 (Before Tax)
In this dish Pipimi's face is made from sweet boiled corn. It comes with pancakes packed with berries and Pompompurin custard cream sauce.
Kuromi Pipimi & Popuko Black Purin Crepe: ¥1,190 (Before Tax)
Pipimi has transformed into Kuromi from the Sanrio cast. She is made from a black coffee flavoured purin. Popuko is also dressed as My Melody. The dessert comes with berry sauce, chocolate whipped cream and a crepe.
Fish Paste Cake Drink (3 Types): ¥890 Each (Before Tax)
These 3 drinks drink come with a tube-shaped fish-paste cake straw and a wafer cake that has Popuko, Kiki and Lala illustrated on it.
Swirling Cinnamon Hot Chocolate: ¥890 (Before Tax)
Enjoy stirring your hot chocolate Popuko with a whole stick of cinnamon. You'll want to whip out your phone and get it on video.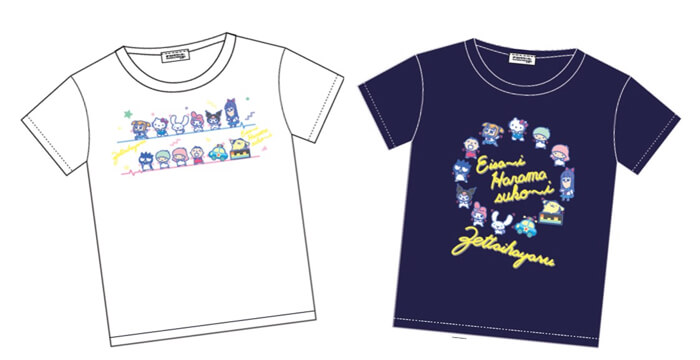 T-Shirts (4 Designs): ¥2,800 Each (Before Tax)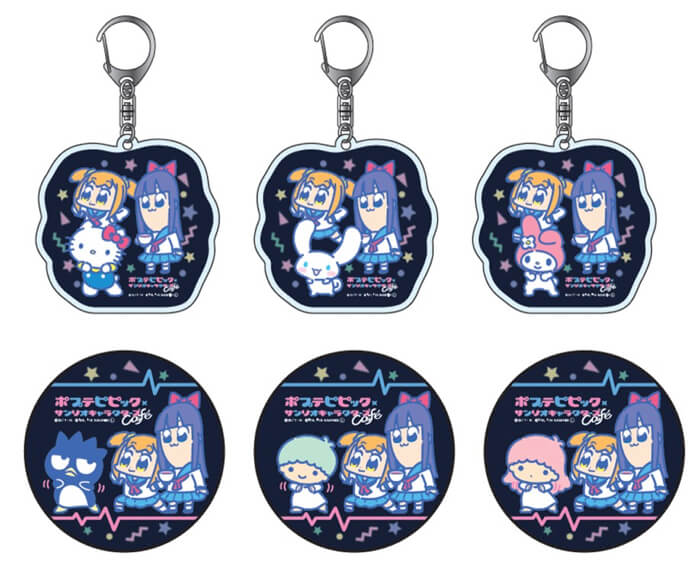 Acrylic Key Rings (9 Designs): ¥500 Each (Before Tax)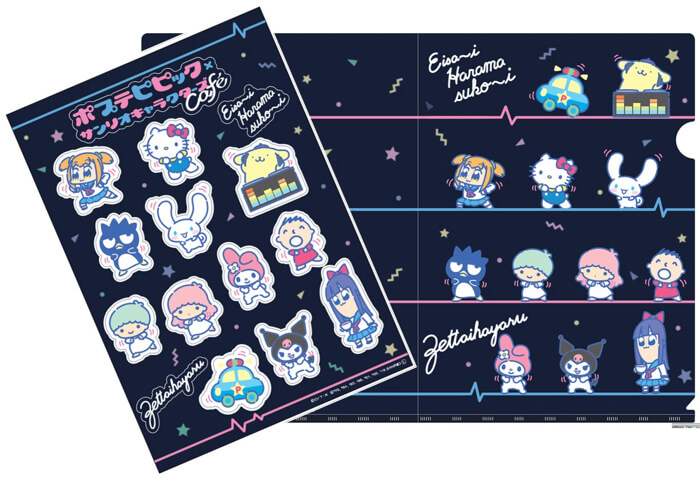 There's a bunch of exclusive collaborative merch to grab too! Also, when you order food, you'll get a free lunch mat and postcard, and when you order a drink you'll get a coaster. These are limited in stock so make sure you visit early so you get them!
Information
Pop Team Epic x Sanrio Characters Cafe Ikebukuro
Address: Gourmet Stadium II, Seibu Ikebukuro Floor 8F, 1-28-1 Minami-Ikebukuro, Toshima Ward, Tokyo
Running: February 7, 2019 – April 14, 2019
Opening Hours: 11:00-23:00 (open from 10:300 on weekends and holidays)
Last Orders: Food – 21:30 / Drinks – 22:00
TEL: 03-5949-5675
Pop Team Epic Official Website: http://hoshiiro.jp/
Sanrio Official Website: https://www.sanrio.co.jp/
©O/T・K
©'76,'84,'93,'96,'01,'05,'19 SANRIO CO., LTD. APPROVAL NO.S593879
RELATED ENTRIES
Kaori's Easy Recipe: Learn to Make Pompompurin Cheese Tarts

With just a small bit of ingenuity, turn everyday food into something cute using Kaori's Easy Recipe! With a few simple ideas, an ordinary recipe magically transforms into a cute dish.

In today's recipe, I'll be showing you how I made a batch of Pompompurin cheese tarts made using store-bought tart cups.

Ingredients (Makes 9-10)

9-10 store bought tart cups
200g cream cheese (brought to room temperature)
20-30g sugar
1 egg yolk
50ml fresh cream
8g potato starch (katakuriko)
Vanilla beans to taste (can be substituted for vanilla extract)
1 tbsp lemon juice

Step 1


Pour the following ingredients into a bowl in this order: cream cheese→sugar→egg yolk→vanilla beans→fresh cream→potato starch. Mix well. Make sure when you put the potato starch in last that you sprinkle it thinly.

Step 2
Bake the tart cups in an oven at 180℃ for 15-20 minutes. If you don't have store-bought cups, you can use small cocotte dishes.

Step 3

Leave to cool. Now you can start drawing the face.

For the hat I used sliced chocolate, for the ears sliced cheese, and for the facial features a chocolate pen.

Once you've drawn the face, it's time to tuck in!

Kaori invites you into her world of character-themed food dishes in her recipe series. Be sure to check out her Instagram where she has uploaded many pictures of her character dishes!

Kaori Kubota (@kaopan27)

I live in Hokkaido and I love to make character themed foods, desserts and pastries♡
I want to see my family smile, so I enjoy putting in a bit of effort to make character foods and changing food into something cute♡
You can see more of my character foods and character bento boxes on my Instagram page → @kaopan72

2020 Sanrio Character Ranking: Top 10 Characters Of Second Round-Up Revealed

The 2020 Sanrio Character Ranking awards began on April 10. Voting is now open and is set to run until May 25. The second round up of votes was revealed today for the current Top 10 characters.

The first place contender has not changed from the first round-up of votes: Cinnamoroll still sits atop the throne for now. The fluffy white rabbit hasn't seen No. 1 for two years but has won overall in 1st place twice in the past. In 2nd place is Pompompurin, while Pocchaco is in 3rd. It seems the Top 3 hasn't changed since the first round-up. One surprising name to see however is YOSHIKITTY who wasn't in the Top 10 of the first round-up and has already climbed to 5th place. Hello Kitty, who was last year's reigning champion, has dropped down to 7th place. It's looking to be a fierce fight, and there's still just under two weeks to vote, so there's no telling how this will all pan out.

Votes are set to close on May 25, with final announcements being declared on June 9 at 11:00am (JST).

1st Place: Cinnamoroll

"Thank you everyone for all of your support! All of your love is really encouraging. I'm practicing singing and dancing at home and growing vegetables in my garden. I can't wait to see you all. Stay healthy☆" (Translated by MMN from Japanese)

2nd Place: Pompompurin

"Thanks for your support. It's lonely not being able to see you, but your support gives me life! I'm eating snacks,and  taking afternoon naps (which is my favourite thing to do). I'll be super big when I see all of you! I can't wait to see you. Please keep supporting me." (Translated by MMN from Japanese)

3rd Place: Pochacco

"Thanks for all of your support, everyone! It's super sad not getting to see you all, but I'm looking forward to see you again with smiling faces. I'm eating way too much banana ice cream and being careful not to get chubby. Keep supporting me in the second half of the fight too." (Translated by MMN from Japanese)

There are messages in Japanese from the other Top 10 characters together with pictures over on the official Sanrio Character Ranking Twitter page.

Have you cast your vote yet? Who are you fighting for this year?

*Please note that due to the effects of COVID-19, select Sanrio stores are temporarily closed. More details can be found on Sanrio's official website.

Information

2020 Sanrio Character Ranking
Schedule:
①Voting: April 10, 2020 – May 25, 2020
②First round of ranking announcements: April 14, 2020
③Second round of ranking announcements: May 12, 2020
④Final result announcement: June 9, 2020

Enquiries: info@sanrio-charatai2020.jp (Sanrio Character Ranking Office)
*E-mail enquiries open April 10, 2020 – June 9, 2020. Communication in Japanese only.

Official Website: https://ranking.sanrio.co.jp/en

2020 Sanrio Character Ranking: Top 10 Characters Of Week One Revealed

The 2020 Sanrio Character Ranking awards began on April 10. Voting is now open and is set to run until May 25. The first round up of votes was revealed today, compiling all of the votes between April 10 at 10:00 (JST) to April 12 at 23:59 (JST).

Cinnamoroll Takes The Cake & Pochacco Climbs To 3rd Place

Taking the top spot for the first flash round up of votes is Cinnamoroll, who hasn't seen No. 1 for two years but has won overall in 1st place twice in the past. Pompompurin is currently in 2nd place, up from 3rd place last year. But the big contender to watch right now is Pochacco who was in 5th place last year but is up to 3rd place as of right now. The tension continues to run high as past veterans are making their way up the list too, including My Melody who is celebrating her 45th anniversary this year, the Little Twin Stars, and Hello Kitty who dominated at 1st place last year.

Voting is open worldwide. For more details on how to vote, check here: https://www.moshimoshi-nippon.jp/313162

Sub Competition: Guess Who Will Rank From 1st to 80th Place

A sub competition of the ranking is also being held this year which asks people to try and guess the order in which the 80 nominees will place. There are four categories you can win in, such as "Who Will Rank 1st Place" and "20 Correct Guesses." The ultimate category is is for those who guess all 1-80 correctly. That person will win a golden statue of their favourite character worth 1 million yen, a seat to see the Sanrio Puroland Parade, a special dinner themed on your favourite character, and lots of other exciting prizes.

Information

2020 Sanrio Character Ranking
Schedule:
①Voting: April 10, 2020 – May 25, 2020
②First round of ranking announcements: April 14, 2020
③Second round of ranking announcements: May 12, 2020
④Final result announcement: June 9, 2020

Enquiries: info@sanrio-charatai2020.jp (Sanrio Character Ranking Office)
*E-mail enquiries open April 10, 2020 – June 9, 2020. Communication in Japanese only.

Official Website: https://ranking.sanrio.co.jp/en

Guess Who Will Rank From 1st to 80th Place

Running: April 14, 2020 – May 11, 2020 at 23:59 (JST)
Categories:
・Those with the most guesses (+Anyone who guesses all 80)
・20 correct guesses
・10 correct guesses
・Those who guess 1st place

Conditions to Apply:
・Must reside in Japan
・Have a Twitter account
・Follow the Sanrio Character Ranking Twitter account

Details on how to apply can be found here (Japanese): https://twitter.com/sanrio_ranking

The 2020 Sanrio Character Ranking awards began on April 10. Voting is now open and is set to run until May 25.

This year marks the 35th run of the annual Sanrio Character Ranking. Eighty of Sanrio's 450+ characters have been chosen as entrants for 2020. Fans will cast their votes for their favourite character who will be ranked by how many votes they receive.

The theme of this year's ranking centres on fans cheering for characters who they have always loved and who have always been by their sides through the years. It's a chance to let the character you love know that you are cheering them on. So that even more people can enjoy the Sanrio Character Ranking in 2020, Sanrio plans to feature lots of fun online content for people to get involved with online at home. Voting is also open to people around the world. The official Twitter page of the Sanrio Character Ranking will also be holding quizzes in Japanese as well as releasing bite-sized pieces of information about participating characters.

Who are the big contenders to look out for this year?

Hello Kitty won the 2019 Sanrio Character Awards, which we previously covered. She has won six times in the past. Will she blossom once more in 2020? Or will Cinnamoroll, who took the crown in 2017 and 2018, reign as champion this year? Or perhaps Pochacco will take everyone by surprise having climbed up the ranking in recent years, making it to 5th place last year. It's sure to be another heated battle this year.

Hello Kitty's twin sister Hello Mimmy is a first-time entrant this year. Speaking about her sister's win last year, Mimmy said: "Thank you so much for so many votes for Kitty last year! She was celebrating her 45th anniversary that year, so I was super-duper happy! Me, her twin sister Mimmy, will be joining too this year for the first time. I said already how nervous I am, so please cheer me and my sister on!" It will be interesting to see where Kitty and Mimmy fall on the list in relation to each other.

How to Vote

1: Sanrio Character Ranking Website
Cast your vote on PC, smartphone, or tablet via the official website by picking your favourite character. You can cast one vote for one character per day.
Voting Period: April 10, 2020 at 10:00 (JST) to May 25, 2020 at 00:00 (JST)
*You can vote outside Japan

*Voting page available in English, Japanese, and Traditional/Simplified Chinese

2: Sanrio Online Shop
After purchasing something from Sanrio's online shop, pick the character you want to cheer on via the banner visible on the completed purchase page. This gets you 18 votes for your character.
Voting Period: April 10, 2020 at 10:00 (JST) to May 25, 2020 at 12:00 (JST)

*The amount you spend doesn't affect your vote. Every transaction gives one character 18 votes.

*If you cancel your order, your votes will become invalid.

©'75,'76,'79,'81,'82,'83,'84,'85,'86,'87,'88,'89,'90,'92,'93,'96,'98,'99,'01,'02,'03,'04,'05,'06,'07,'08,'10,'11,'12,'13,'14,'15,'16,'17,'19,'20 SANRIO ©'04,'20 SANRIO/Yahoo Japan Corporation. ©'08,'20 SANRIO/SEGA TOYS ©'12,'20 SANRIO SP-M ©'13,'20 SANRIO S/D·G ©'15,'20 SANRIO S/F·G ©'15,'20 SANRIO S/T·F
©'15,'20 SANRIO/SEGA TOYS S·S/RFPC ©'16,'20 SANRIO PJ ©'16,'20 SANRIO JAPANCD PC ©'17,'20 SANRIO MP,TX © '17,'20 SANRIO/SHOCHIKU © 2020 THOIP
著作 株式会社サンリオ

Information

2020 Sanrio Character Ranking
Schedule:
①Voting: April 10, 2020 – May 25, 2020
②First round of ranking announcements: April 14, 2020
③Second round of ranking announcements: May 12, 2020
④Final result announcement: June 9, 2020


Enquiries: info@sanrio-charatai2020.jp (Sanrio Character Ranking Office)
*E-mail enquiries open April 10, 2020 – June 9, 2020. Communication in Japanese only.

Official Website: https://ranking.sanrio.co.jp/en

Sanrio's Adorable Pompompurin and Cinnamoroll Characters Turn Into Tasty Desserts at Convenience Stores in Japan

Confectionery company Domremy has baked Sanrio's popular characters Pompompurin and Cinnamoroll into delicious desserts which released at supermarkets and select convenience stores in Japan on April 1. The desserts include "Pompompurin Tart," "Pompompurin Crepe," and "Cinnamoroll Parfait."

The desserts are also wrapped in cute packaging with designs of the characters, making it look like Pompompurin and Cinnamoroll really have been turned into tasty treats!

Pompompurin Tart

This homemade tart has an eggy flavour to it, with Purin's cute face and butt plastered on both the front and back. There are four possible facial expressions you can get your hands on.

Cinnamoroll Parfait

The custard mousse in this parfait is laced with strawberry whipped cream, and our little snug Cinnamoroll is made from milk pudding and more whipped cream. There are three possible facial expressions to find.

Pompompurin Crepe

The Pompompurin crepes are filled with whipped cream, Japanese custard pudding, and caramel sauce. There are four different packaging prints to find, all showcasing just how kawaii Pompompurin can be.

Information

Pompompurin Tart / Pompompurin Crepe / Cinnamoroll Parfait

Released: April 1, 2020

Available: Supermarkets and select convenience stores in Japan

Domremy Official Website: http://www.domremy.com/

Cute Pompompurin Puddings to be Released in Collaboration With Pastel

Desserts brand Pastel is collaborating with popular Sanrio character Pompompurin to release a selection of puddings at Pastel stores around Japan for the whole month of April.

Pastel prides itself on the smooth texture of its purinーa type of Japanese custard pudding. The company will celebrate Pompompurin's birthday, which falls on April 16, with a line of 4 adorable Pompompurin desserts.

Pompompurin's Mini Pudding – ¥380 (Before Tax)

The classic style of Japanese custard pudding, smooth and topped with whipped cream. It's finished with a cute sprinkled design of Pompompurin.

Soft and Fluffy Pompompurin – ¥450 (Before Tax)

Pompompurin is looking cute in this one as he pokes his head out of the caramel-drizzled and marshmallow-topped pudding.

Pompompurin's À La Mode – ¥600 (Before Tax)

Served in an original design cup branded with Pompompurin's adorable face, this à la mode includes a pudding topped with an orange slice and cherry.

Pompompurin's Chiffon – ¥2,200 (Before Tax)

This fluffy chiffon cake is about 15 meters across in size, and is made with pudding cream, glazed in caramel sauce, and topped with a Pompompurin who's just taking a little rest. *Available on weekends only

Shopper Bag Design (Available while supplies last)

When you order any of these desserts, you'll receive an exclusive Pastel x Pompompurin collaborative bag which makes for a great gift or souvenir to friends.

Don't miss out on these tasty Pompompurin treats.

Information

Pastel x Pompompurin Collaboration

Running: April 1, 2020 – April 30, 2020

Location: Pastel stores in Japan

Pastel Official Website: http://pastel-pudding.com

Harajuku's Rilakkuma Fruits Cafe Entertains Customers With Projection Mapping

"HARAJUKU AR BOX -table projection mapping cafe-," a cafe in Harajuku whose name speaks for itself, has announced its second collaboration with Rilakkuma to bring the new Rilakkuma Fruits Cafe which will open for a limited time from April 3, 2020 to June 28, 2020.

The cafe's first collaboration with Rilakkuma was in December last year. It was called "Korilakkuma Cafe: another me in the mirror" and earned itself many fans for its cute food and decor, but especially for its interactive tables which used projection mapping technology to have Rilakkuma and friends running around people's tables.

Harajuku's Korilakkuma Cafe: another me in the mirror | Food Review: https://www.moshimoshi-nippon.jp/284456

Fruit is the theme of the new Rilakkuma Fruits Cafe, which follows that Chairoikoguma and the other characters have gathered lots of nutritious fruit to fill up the belly of hungry Rilakkuma.

Food

Rilakkuma's Fruit Salad – ¥1,590

Get your fill of refreshing fruit from this fruit salad plate which has Rilakkuma poking his cute face out from behind it all. When you order this dish, you'll need to touch the fruits that appear on the table to give them to Rilakkuma.

Korilakkuma's Apple Cheese Gratin – ¥1,690

A combination of hot apple and melted cheese, you'll find yourself addicted to the sweet and sour mix of flavours. Pick lots of apples with Rilakkuma and company with the projection mapping game. (*Serving April 3, 2020 – May 17, 2020 only)

Chairoikoguma's Orange Burger – ¥1,690

The bun of this hearty burger is branded with Chairokoguma's cute bear face. But what happens when you squeeze Rilakkuma's orange? (*Serving May 20, 2020 – June 28, 2020 only)

Desserts

Rilakkuma's Maku Maku Fruit Tree Parfait – ¥1,590

Korilakkuma's Maku Maku Strawberry Tree Parfait – ¥1,590 (Serving April 3, 2020 – May 17, 2020 only)

Kiiroitori's Maku Maku Peach Tree Parfait – ¥1,590 (Serving May 20, 2020 – June 28, 2020 only)

For dessert, you have a selection of fruit-topped parfaits to choose from featuring Rilakkuma, Korilakkuma, and Kiiroitori.

Drinks

Rilakkuma & Friends Maku Maku Drinks – ¥790 / With Glass – ¥1,990

Warm & Fluffy With Everyone Cafe Latte – ¥890

Pick between one of the cold beverages, or if it's a cold day, warm up with a hot drink. Feel warm and fluffy like Rilakkuma and his friends with a warm beverage after your parfait.

Exclusive Merchandise & Bonus Items

Pin Badges (9 Designs/Chosen Randomly) – ¥400

Acrylic Key Rings (8 Designs/Chosen Randomly) – ¥500

Get your hands on a selection of original merchandise too, including pin badges, acrylic key rings, and more.

Stickers (4 Designs/Chosen Randomly)

Coasters (4 Designs/Chosen Randomly)

Book a table online in advance and receive one of four possible stickers. Order a drink at the cafe and get one of the four coasters!

You're sure to get your five-a-day when you dine at the Rilakkuma Fruits Cafe, opening for spring on April 3, 2020 in Harajuku.

©2020San-X Co., Ltd. All Rights Reserved.

Information

Rilakkuma Fruits Cafe

Running: April 3, 2020 – June 28, 2020

Location: HARAJUKU AR BOX-table projection mapping cafe- (Lucessimo Bldg. Floor 2F, 4-28-28 Jingumae, Shibuya, Tokyo)

Table Bookings: Now Open

*Table Projection Mapping seats for two people are ¥2,960 (before Tax)

Official Website: https://rilakkuma-fruits-cafe.jp/

Pompompurin Celebrates 24th Anniversary With Birthday Menu at the Pompompurin Cafe

Sanrio's popular character Pompompurin is celebrating his 24th anniversary at three branches of the Pompompurin Cafe in Harajuku, Yokohama, and Umeda with a special birthday menu that will be served for the whole month of April.

A special celebratory menu for the floppy-eared golden retriever

The official date for Pompompurin's birthday is April 16. The birthday menu line-up includes two food items, a drink made in collaboration with popular Japanese picture book author Yukako Ohde, and some novelty gifts.

Birthday Menu

Happy Birthday Flower Bouquet Bisque – ¥1,590 (Before Tax)

This cute bisque soup has Pompompurin and Muffin holding a colourful boquet made from broccoli and mashed potatoes made to look like roses. It has a rich but mild flavour, and is both adorable and filling.

Happy Birthday Strawberry Mousse – ¥790 (Before Tax)

The strawberry mousse has a fluffy texture and refreshing, sweet taste. It can be eaten as it is or drizzled with the accompanying raspberry sauce.

Yukako Ohde x Pompompurin Lemonade – ¥550 (Before Tax)

Take a sip from this delicious lemonade from a straw adorned with a cute, warm illustration of Pompompurin by Yukako Ohde.

Exclusive Anniversary Novelty Gifts

Lunch Mat Design

Customers who dine at any of the three cafes during the anniversary celebration will receive a free lunch mat.

Coaster Designs

And those who order the lemonade will receive a coaster with designs illustrated by Yukako Ohde. The designs are different at each branch of the Pompompurin Cafe. You can also receive another special coaster if you spend over ¥1,000 each (tax included) at Pompompurin Cafe Umeda and KIDDY LAND Osaka Umeda. Simply show your receipts at the cafe.

©1996,2020 SANRIO CO., LTD. APPROVAL NO.S605291

Information

■Pompompurin Cafe Harajuku

Address: CUTE CUBE HARAJUKU 3F, 1-7-1 Jingumae, Shibuya, Tokyo

Opening Hours: 11:00-21:00 (Food Last Orders 20:00 / Drinks Last Orders 20:30)

Access: 3-minutes on foot from the Takeshita Exit at Harajuku Station

TEL: 03-5786-0770

■Pompompurin Cafe Yokohama

Address: Yokohama Sotetsu Square, 2-1-5 Minamisaiwai, Nishi-ku, Yokohama-shi

Opening Hours: 10:00-21:00 (Last Orders 20:30)

Access: 5-minutes on foot from West Exit at Yokohama Station via JR Line

TEL: 045-311-6750

■Pompompurin Cafe Umeda
Address: Hankyu Sanbangai South Wing B2F, 1-1-3 Shibata, Kita-ku, Osaka-shi
Opening Hours: Weekdays 11:00-22:00 (Last Orders 21:30) / Weekends & Holidays 10:00-22:00 (Last Orders 21:30)
Access: 3-minutes from Osaka Station via JR Line
TEL: 06-6292-7140

Pompompurin Cafe

Official Website: http://pompom.createrestaurants.com

Sanrio Unveils New Eco Friendly Tote Bag Collection in 3 Types

Japanese retailers will be obligated to charge for plastic bags starting on July 1 this year. Sanrio is no exception to this, and so in an effort to get on board with helping protect the environment and reduce plastic waste, it will begin selling 20 different eco-friendly tote bags at Sanrio Shop branches, department stores stocking Sanrio merchandise, and the Sanrio online shop from March 11, 2020. The bags come in three types: small, medium, and cooler bags.

Sanrio is set to stop selling plastic bags altogether this April to promote the use of its eco-friendly bags. It will also begin rolling out paper shopping bags which it will charge for from May 13, 2020.

 ⓒ'76, '79, '88, '89, '93, '96, '01, '05, '20 SANRIO

Eco Bags – Small Size (10 Designs) – ¥990 Each

Eco Bags – Medium Size (8 Designs) – ¥1,320 Each

The bags come in three types depending on what kind of shopping experience you're going for. The small sizes come with an additional case with cute pictures of Sanrio characters on them. These sizes are perfect for popping to the supermarket or convenience store. The bag is also collapsible for easy carrying.

The medium size comes with an additional pouch bag made from polyester that's easy to grab from your bag. This bag is 40cm in height and 42cm in width, making it great for carrying more or bigger items.

Cooler Eco Bags (2 Designs) – ¥2,200

Finally, the cooler eco bags keep your items cool when fastened. They can be used for shopping, a picnic, or any kind of outing.

Pick a bag of your favourite character and look Sanrio-stylish while helping to combat plastic waste and protect the environment.

Fruit Parlour is the Theme Of Kichijouji's New 'The Very Hungry Caterpillar' Cafe

A cafe themed on Eric Carle's internationally beloved children's picture book The Very Hungry Caterpillar Cafe is set to open at Sunday Branch in Kichijoji PARCO in Tokyo on April 1, 2020 where it's set to run for an entire year, ending on March 31, 2021. Today, we finally get a look at the cafe's menu line-up.

The picture book has seen its fair share of themed cafes, with the first having taken place in Ginza back in 2018, which was so popular that customers had to book a month in advance to dine there. The cafe was always fully booked.

The franchise also collaborated with multiple branches of J.S. Pancakes from October 2018 to January 2019, and again at Cafe Cucina in Shibuya from March to April last year.

The concept for the new cafe opening in Tokyo's Kichijouji district is "Fruit Parlour." Look forward to munching your way through an assortment of fruit-filled sandwiches, pudding
à la mode, and moreーall of which are packed full of The Very Hungry Caterpillar's favourite fruits.

The Very Hungry Caterpillar's Fruit Curry (*Price TBA)

Very Hungry Plate (*Price TBA)

Meals on the menu are inspired by the fruits the caterpillar ate each dayーwhich have been recreated using rice! The fruit curry is made with lots of apple, mango, and tomato. It's a pork curry that has a fruity flavour and a subtle sweetness. If you don't like spicy curries, then this dish is the one for you.

The Very Hungry Caterpillar's Kid's Plate (w/Drink) (*Price TBA)

The menu is also packed with food for kids, like this kid's plate which comes with a chicken and broccoli tomato pasta, mini pancakes, and a side of fruit. There's also baby food, like a thin rice porridge made with soft rice and vegetables.

The Very Hungry Caterpillar's Fruit Sandwich (*Price TBA)

The Very Hungry Caterpillar's Cheesecake (*Price TBA)

Of course, this tasty menu wouldn't be complete without a long list of drinks and desserts. There's the adorable fruit sandwich which recreates the caterpillar's body, and a New York-style cheesecake topped with artistic cookies made with vegetables and spicesーand all with natural colourings.

This is just a small teaser of what's to come at The Very Hungry Caterpillar Cafe in Kichijouji; they have promised there will be even more. Their website will go live on March 18, but you can follow them at their social media with the links below.

Kaori's Easy Recipe: Learn to Make Hello Kitty Sushi Cakes For Hinamatsuri

With just a small bit of ingenuity, turn everyday food into something cute using Kaori's easy recipe! With a few simple ideas, an ordinary recipe magically transforms into a cute dish.

Hinamatsuri is almost here, and I've got the perfect treat for this year's festival: Hello Kitty Sushi Cakes. These Hello Kitty decorations can be made with basic Japanese ingredients, so follow along and try making them yourself.

1: Equipment/Ingredients

15cm cake tin

1 cup vinegared sushi rice

200g tuna

200g salmon

3 Japanese rolled omelettes (dashi-maki tamago)

20 beefsteak plant

Ikura salted salmon roe

Hanpen pounded fish cake

2:

Line a cake tin with baking sheet paper like in the photo. Use a cake tin with a detachable bottom spanning 15cm. In the case that you don't have a cake tin with a detachable bottom, cover the bottom of your tin with cling film which will make it easy to remove everything afterwards.

3:

Cut Hello Kitty, flowers and other shapes into some hanpen pounded fish cake.

4:


Slice the tuna, salmon, and Japanese egg into cubes about 1.2cm each.

Pile the ingredients in this order: rice→tuna, salmon, and egg→rice. Refer to the photo below.

5:


Leave the ingredients exposed around the outside like so✨

6:

Top with the rest of the ingredients as you like.

7:

Finish by adding your Hello Kitties and flowers which you can decorate with leftovers, like the noses and middle of the flowers. I also used cucumber and crab sticks for the head decorations.

Kaori invites you into her world of character-themed food dishes in her recipe series. Be sure to check out her Instagram where she has uploaded many pictures of her character dishes!

Kaori Kubota (@kaopan27)
I live in Hokkaido and I love to make character themed foods, desserts and pastries♡

I want to see my family smile, so I enjoy putting in a bit of effort to make character foods and changing food into something cute♡

You can see more of my character foods and character bento boxes on my Instagram page→@kaopan27

Floresta Nature Doughnuts Bakes Up Super Cute Cinnamoroll Doughnuts

Floresta Nature Doughnuts, a doughnut cafe that hand-makes doughnuts using organic ingredients, is joining paws with Sanrio's popular character Cinnamoroll for White Day to release a series of themed doughnuts. They will be served for two weeks commencing March 1, 2020.

Batch ①: March 1, 2020 – March 7, 2020

Cinnamoroll Character Doughnuts (Cinnamon/Mocha) – ¥450 Each

The first batch of doughnuts feature the adorable and wide-eyed Cinnamoroll and Mocha sat on top of Floresta's classic "Nature" doughnut lathered in strawberry chocolate.

Batch ②: March 8, 2020 – March 14, 2020

Cinnamoroll Koro Koro Cup Doughnuts – ¥600

The second doughnut product are these cup doughnuts featuring Cinnamoroll and Cappuccino-kun. These colourful doughnuts use absolutely no added colourings-just Floresta's delicious natural ingredients.

The Floresta Organic Store will also sell special sets in limited quantities.

Information

Floresta White Day – Sanrio Character Collaboration Doughnuts

Running: March 1, 2020 – March 14, 2020

Participating Stores

Tohoku Region: Ishinomaki R45 / SELVA Terrace
Kanto Region: Utsunomiya Heisei-dori / Koenji / Soshigaya-Okura Station / Gakugeidaigaku / KEIO Crown Shopping Street Sasazuka / Kamakura / Togoshi Ginza Shopping Street
Tokai Region: Nonami Station
Kansai Region: Nara / Horie / Kitahanada / Yao Aoyama-dori / Sanda Woody Town / Suma Kitchen (CHARMANT CAFE)
Chugoku Region: Yonago Japan National Route 431
Kyushu Region: Fujisaki / Kumamoto Hikarinomori / Oita / Oita Station (Ueno no Moriguchi) 
Okinawa: Shintoshin

Floresta Nature Doughnuts Official Website: https://floresta-ec.jp/