MOSHI MOSHI NIPPON INTERVIEW:Moe, Cute, and Fetish, All in One — the Inimitable Moira Kuchikaseya【Part 1】
It's hard being original nowadays. With the massive library that is the internet that connects us to the creative minds of those who share the same planet, something you thought was original is more than likely to have appeared on the internet three years back. However, we were in great luck. MOSHI MOSHI NIPPON was lucky enough to meet up with a genuinely idiosyncratic individual in a world where creating something one-of-a-kind has become an increasingly tricky deal. The woman we introduce today is Moira Kuchikaseya who is the creator behind the school uniform swimsuit we introduced a while back. Get to know the incredibly talented photographer/designer, who's been creating items that seamlessly blend Akihabara's moe (love for manga/anime) culture and Harajuku's kawaii (transl: cute) culture, giving it a fetish twist to top it all off.
Please introduce yourself to those who are new to you on MOSHI MOSHI NIPPON and tell us what got you started with all that you do!
I'm a photographer and a designer. Since I usually appear in most of the photos I take, people mistake me as a model, but I consider my work as self portraits and not myself as a model. I set up a tripod and use myself as the main subject, this is how I see it. I've been doing this since 2006.
So it's your 10th anniversary this year.
Yeah, it is. You can kind of figure out my age now (laughs).
I've always loved pictures that have a story to tell, which is what got me into photography. Photography varies in purpose, there's documentary-style photography, portraits and such, but I always had a knack for ones that have a story behind it. I used to write a bit too, but it felt easier to express with pictures. So I started that as a hobby back when I was 16. Then I moved on to designing accessories, doing DTP and design…everything, basically.
Many people know you for your "Original Kuchikase (gag) Series" — when did this come around? 
I first participated in the Design Festa back in May of 2010. This was the biggest thing I was ever a part of back then, and that was when it went official. I'd been making gags from before though, back when I lived in my hometown, Kyoto.
How did the people react to it?
All of my gags each have their own individual style and since it was shot quite differently from the "Ahiru-shiki (Duck-style) Piyoko" with my swimsuit, I guess people were surprised at first. But then I started receiving positive comments like "Awesome!" "Interesting!" And I was like, "Really? You like this?" (laughs)
Initially, the "Kuchikase (Gag) Moira-chan Series" was supposed to be a one time thing. I was just going to put up one picture and end it there, but I ended up really enjoying it and made a manga out of self portraits with the use of these gags. I think releasing this photo manga really got the hype going. I guess it was also quite rare to see a manga made up of photos instead of illustrations.
What was the process of making the photo manga like?
I did everything myself: the shoot, requesting it to get print by a printing company, all of it. But the first printing company I submitted my work said they wouldn't print it. It made me panic a bit because I'd never done this before and I thought all my effort was going to go to waste. But I took it to a different place after, and they took up my request so that was good. I honestly didn't think it was that explicit though. As for the whole process, it took a lot of work to complete. I wrote the script, directed it, and played both roles that appear in the manga…it was all me (laughs). But I was swept by an incredible feeling of fulfilment seeing the completed piece, I felt like I got my message across. This was back in 2009.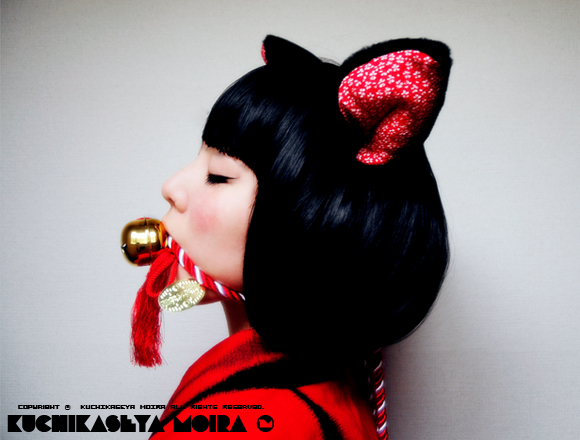 So this was when people started becoming familiar with your work.
Yeah. They started to embrace Moira as a character, rather than me as a person. I was happy people of all ages were interested and drawn to it. Come to think of it, it is quite flamboyant.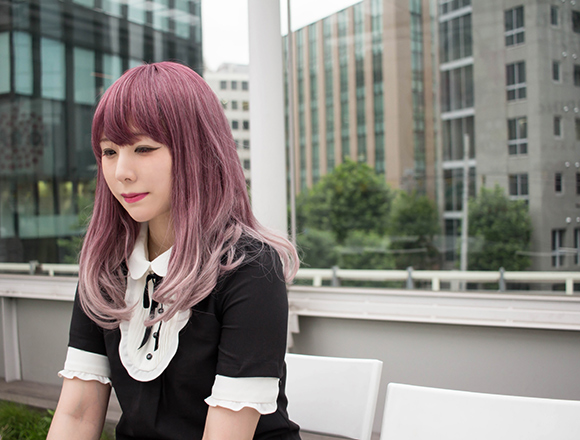 Photo: William Galopin
"Since the stuff I was into put me in the minority, I decided to create a world where the things I enjoyed were normal."
How would you describe the character, "Moira"?
Since the stuff I was into put me in the minority, I decided to create a world where the things I enjoyed were normal. I would always pose these questions — for example, the sailor-style school uniform is really comfortable to wear, but would it be weird if I wore this out in the open? Shouldn't it be okay to be a little more curvy than the average Japanese girl? I thought it'd be fun to create a world where that's the norm. Or maybe I'm just being overly positive about this? (laughs) Usually people expect models to be cute and skinny, so I understand when people tell me the stuff I do is quite graphic.
I also like it when people find Moira funny. I'd like people to give a friendly chuckle and be like, "What is she doing?" rather than people feeling slightly shy looking at what I have to offer. I've got a wide age range for my fanbase, and there are a lot of people who find me amusing. Obviously little kids are out of the question, but the older people surprisingly find me quite funny.
You definitely give off the comical, pop vibe.
Yeah, I get that a lot! Pop, kitsch, and fetish.
We spoke a bit about body image earlier — you previously posted a picture on Twitter of a very curvy model and mentioned how she had the ideal body shape in your perspective. It was interesting for you to say that, since the majority of Japanese girls still tend to praise the skinny, model look. Can you expand a bit on this ideal body image?
This is actually something I'm very passionate about. Before I say anything, I want to be clear that I believe people are attracted to women for various reasons. Maybe they like how they're seductive, or they like how they're cute because it makes them want to protect them. Personally though, I find a woman attractive when they look and act like a goddess. An ideal woman makes me want to honor them. Usually, I'm drawn to goddesses of the past because you see how they're very voluptuous in their imagery. The skinny body image has been praised in recent years, but I think as far as human history goes, the voluptuous body type has been considered attractive over a longer period of time. I also love Western paintings, especially Botticelli's works. These affirm my idea that being voluptuous or curvaceous exudes wealth and beauty.
I've been noticing "pocchari" (transl.: chubby) being a recent trend with popular TV talent, Naomi Watanabe being in the center of it all, so things seem to be changing. I've also noticed a magazine called La Farfa being released recently, and they're made specifically for chubby people.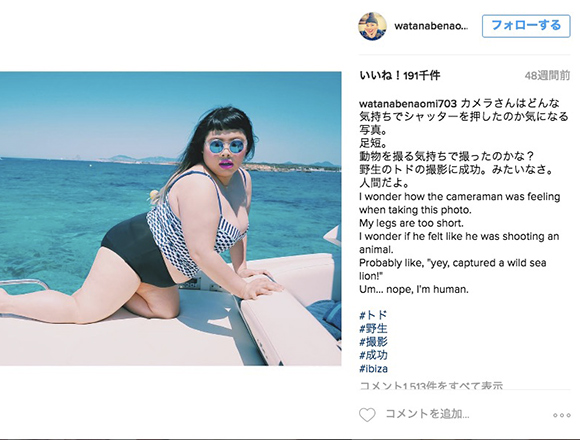 Different body types are what give character to each individual. I think beauty can come in various shapes, and shouldn't be limited to a certain body image. Being skinny is also one way to be beautiful if you ask me. But the ideal body type for me personally is someone who's toned and curvy. Not just fat, if you know what I mean. I like that about this model. She's really curvy, but she also works out a lot.
She's definitely not overweight. This curvy body shape took work. I think I'm drawn to this type of body shape because I used to do gymnastics, so my arms and legs are still quite muscular from that. I hated it when I was younger, but someone told me how they thought it was cool. I was 18 or 19 at the time, and I've embraced my body shape ever since. It gave me a brand new perspective on life, it was life changing for someone to say that to me. From then on, I've never felt afraid to show off my curves. The modern age is being a lot more accepting, it's a great change. I can be honest with what looks good, and it's even more incredible seeing how people agree with me.
Is this curvy body type something you'd like to preach for as Moira?
Yup. It wasn't much of a underlining theme before, but I recently started an illustration series that promotes this curvy body type called "Oniku Angel" (transl.: meaty angel). I draw a bunch of angels that have curvy bodies because I want to make curvy the norm. Not plump, not chubby, but curvy. I definitely want more people to be familiar with and appreciate "mucchiri" (transl: curvy) body types.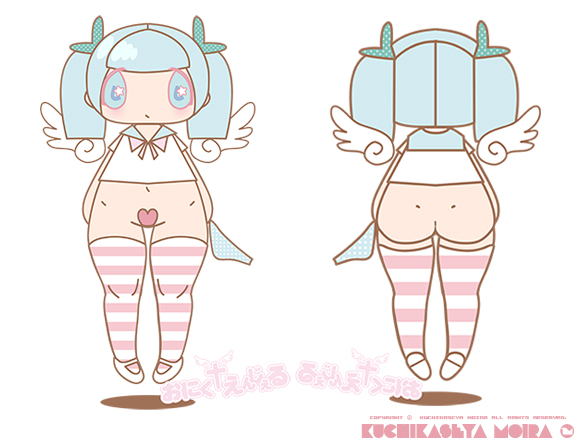 You currently got MOIRA DESIGN running which mainly concocts fashion items and accessories for women. I read how you wanted to create items for men as well — is this something that's still on your mind?
My fanbase is actually split right in half: half men, half women. But the items I make heavily lean towards women. Even the belts for the gags are small-sized so they fit women better. On top of that, I've got women T-shirts and accessories. There are, however, men who wear the stuff I make for women.
With that said, I do understand that it's a little disheartening that I don't have items specifically for men when I've got such a large male fanbase. If ever I do create items for men, I'd use the items I already have in my catalogue and make them unisex. So I won't be making items for men, but arrange the items so that men can use it as well, if you know what I mean. Unfortunately I haven't had the time to wrap my mind around it too much. Just because I'm a woman myself, I'm naturally inclined to make items that I, as a women, would enjoy and tend to prioritize that. But I've got male fans who wear the school uniform swimsuit!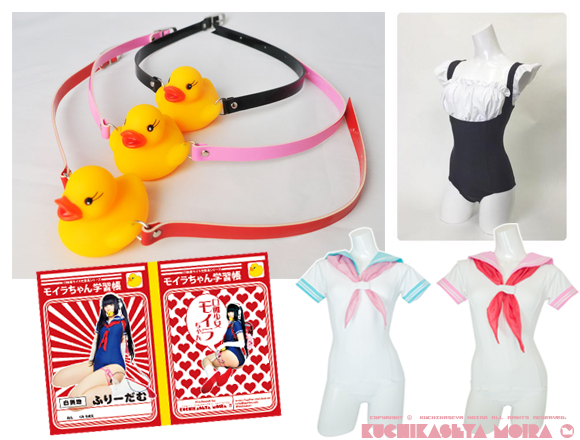 Wow, really?!
Yeah. I totally welcome that with open arms so it's cool with me. I've been trying to come up with a line of menswear, but it hasn't gotten anywhere yet. I've been taking polls on Twitter though.
How are the results looking?
I get requests for wristbands, towels, it almost seems like I'm getting them ready to attend a festival (laughs). Some people requested a notebook, so I took that into consideration and put that up on my store.
I guess notebooks are unisex.
Yeah, it is. But the ones I make are super flashy so I don't know if that makes it any easier to use (laughs). The stuff I make all in all have quite vibrant colors. But I'm not going to take that away just so my items are "more for men."
I see, so you're in the midst of experimenting and seeing what works.
Yeah pretty much. Sorry to keep you waiting guys! (laughs)
《To be continued》
Read about her recent obsession with freestyle rap and the mind-blowing subculture of "dollers" in part 2 of our interview with Moira Kuchikaseya.
Moira Kuchikaseya (Photographer/Designer)
Moira is a photographer/designer and has been taking self portraits under the concept "Nerd&Fetish" since 2003. Though mainly showcasing her work at solo exhibits, she has also participated in Comic Markets in the past, while also releasing photo books.
She is the designer of brands "School Fiction" and "mekemonia," major artwork includes "Ahiru-shiki Kuchikase (duck style gag) Piyoco" "Fork Ribbon Choker" "Glow Stick Holster" "Maid sukusui (Maid uniform swimsuit)."
Web:http://selfer.net/moira/ Twitter:@mekemon