Japanese-style confectionery series "Tabemasu" to release new Doraemon-themed bun at Lawson convenience stores!
Tabemasu is a Japanese confectionery series that features sweet treats designed to look like characters. From Tuesday 26th February 2019, they will be releasing the "Tabemasu Doraemon" and "Tabemasu Doraemon Heart ver." which will be sold at most Lawson stores.
There will be two varieties of Doraemon's face that you can enjoy. A smiley, sweet grin and a madly in love face. The Doraemon comes in the form of "Nerikiri", which is a traditional bean-jam-based confectionery surrounded by a light, soft bread. Even Doraemon's bell, red nose and tail are clearly formed out of dough!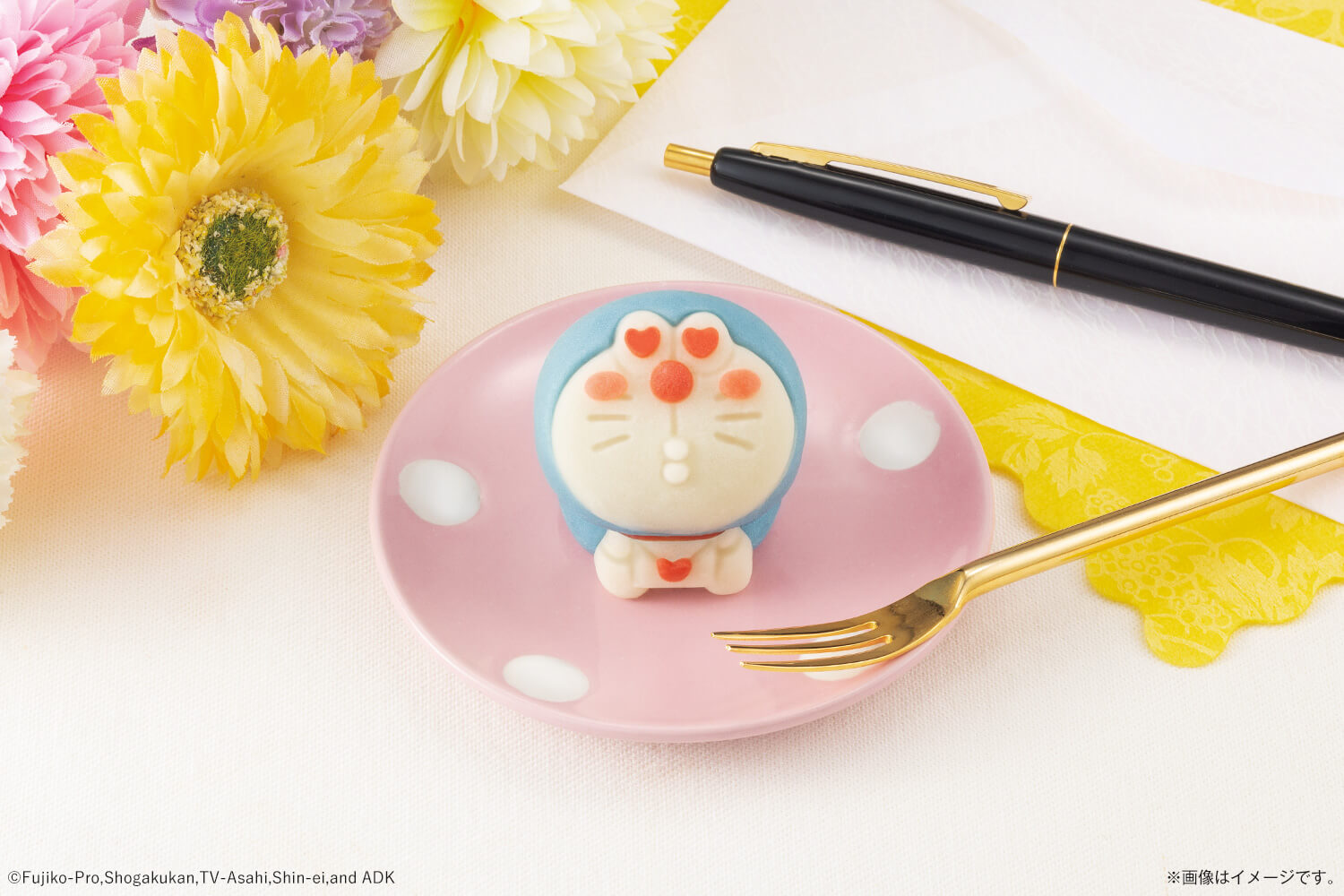 The heart-eyed Doraemon is a good contrast to the smiling Doraemon. He is madly in love and just as cute as before! The love letter he is holding in his hands, his heart-shaped eyes and rosy cheeks are just some of the finer details that have been carefully crafted!
The red bean jam at Doraemon's core is custard flavoured for the smiling version and strawberry flavoured for the heart version. These classic flavours are everyone's favourite and make for a great lineup. Chickpeas, that are known for their high nutrition value, have been used by the Tabemasu series for the first time. Only natural methods are used for the colourings. These delicate flavours and gentle texture in your mouth are not something you want to miss!
If you're looking for a pleasant snack, look no further ♡
Information
Doraemon(Custard flavour)
Doraemon Heart ver.(Strawberry flavour)
Price:¥259 each(¥280 including tax)
Release date:Tuesday 26th February 2019
Available at:Chilled dessert section of Lawson convenience stores nationwide.       
※ Not available at 100 Natural Lawson/Lawson convenience stores.        
※ Sales will end once limited stock is depleted.
URL:http://www.bandai.co.jp/candy/tabemas/doraemon2/ 
(C) Fujiko-Pro,Shogakukan,TV-Asahi,Shin-ei,and ADK
RELATED ENTRIES
Kirby and Waddle Dee Sweets Released to Celebrate Character's 30th Anniversary

Character-inspired Japanese confectionary series Tabemas has announced two new sweets inspired by Kirby and Waddle Dee from the popular game series! These will be available at select AEON and AEON Style locations starting November 18.

Kirby is celebrating his 30th anniversary in 2022, and the popular character has been seeing plenty of press time and special events to celebrate. Now, fans can snag these traditional sweets–though they might be too cute to eat!

The character's round and puffy body have been recreated perfectly with mild sweetness and a smooth custard flavor.

While the bean paste inside the Kirby sweet is custard-flavored, Waddle Dee features a smooth chocolate flavor. Grab these while supplies last!

(C)Nintendo / HAL Laboratory, Inc. KB22-P4730」

Information

Tabemas Kirby 2022

Varieties:

Kirby (Custard)

Waddle Dee (Chocolate)

Release Date: November 18, 2022~

Where to Buy: AEON and AEON Style locations nationwide (Not available in the Tohoku region on Okinawa)

*Available while supplies last.

*Items may not be available at some stores.

Doraemon's Official Store Launches Limited Edition Dorayaki-Flavored Black Tea

Doraemon's Mirai Department Store, Doraemon's official shop, has announced a limited edition black tea flavored with the character's favorite food: dorayaki! The tea and four special themed plates will be available starting November 11, 2022. The tea itself is provided by the tea specialty shop LUPICIA. 

Doraemon's Mirai Department Store Black Tea (Dorayaki Flavor)

Doraemon's Mirai Department Store is now offering this special tea in an adorable themed tin.

The flavor of the tea is inspired by Doraemon's favorite food, dorayaki, a sweet Japanese pastry filled with red bean paste. The gorgeous blue and red toppings blended into the tea leaves were inspired by Doraemon himself, and fans will want to enjoy a cup as they lose themselves in the classic manga or anime series.

Doraemon's Mirai Department Store Tasty Plate (4 varieties)

These 14cm square plates are perfect for snacks with tea. Dishwasher-safe, fans can pick from four designs, each showing Doraemon enjoying some tasty treats. 

©Fujiko-Pro

Doraemon's Official Shop Opens for a Limited Time at Daimaru Umeda

From December 1, 2022 until May 28, 2023, Doraemon's official shop will appear at Daimaru Umeda! Doraemon's Mirai Department Store will offer a variety of limited-edition products for this brief period. 

Doraemon's Mirai Department Store Exclusive Goods (Selection)

Chenille Embroidered Tote Bag (Doraemon and Mini Doraemon): ¥3,520 (Tax Included)

This tote bag is decorated with lasting embroidery and is sure to brighten any Doraemon fan's day. The shoulder-length handles are practical and each bag has excellent storage capacity!

Doraemon Striped Socks (Red/Green): ¥2,420 each (Tax Included)

These thick socks are sure to keep your feet warm during the cold winter months. The simple lines and chic colors make these a great gift for any age.

Come check out these exclusive items that you can only find here!

©Fujiko-Pro

Information

Doraemon's Mirai Department Store in Daimaru Umeda 2022-2023

Running: December 1, 2022 – May 28, 2023
Venue: Daimaru Umeda 13F (3-1-1 Umeda, Kita-ku, Osaka)

Hours: 10:00-20:00
Doraemon's Mirai Department Store Official Site: https://mirai.dora-world.com/

Confectionery Series Tabemas Transforms Members of BT21 into Japanese Sweets

The eight members of BT21 are the latest to be picked up by the character-inspired Japanese confectionery series Tabemas. These tasty treats will go on sale at FamilyMart stores across Japan starting November 8, 2022. Two characters will be included in each pack, and fans can snag either KOYA & RJ, SHOOKY & COOKY, MANG & CHIMMY, or TATA & VAN. Each pack will cost ¥398 (Tax Included). 

About Tabemas and BT21

All eight characters from BT21, a globally popular character brand featured as part of LINE FRIENDS, have been transformed into Japanese sweets. KOYA, RJ, SHOOKY, MANG, CHIMMY, TATA, COOKY, and VAN are cuter than ever before in these 3D treats, and this is the first time that the Tabemas series has revealed all eight characters in a collaboration. When all of the sweets are gathered together on a plate, it will look like the characters are having a party!

Why not enjoy a fun and tasty time with your favorite members of BT21?

(C)BT21

Information

BT21 x Tabemas

On Sale: November 8, 2022

Doraemon Ukiyo-e Series Reimagines Popular Characters in Classic Hiroshige Work

A Doraemon version of Hiroshige's 1833 ukiyo-e painting Fifty-Three Stations of the Tokaido Hoeido Edition (Rainstorm) will be available to order on October 29!

This work is said to be one of the most famous paintings by the artist, who was considered the last great master of ukiyo-e.


 

The painter was best known for his depiction of rainscapes, and many of his paintings pushed the envelope of traditional art.

 

This painting shows Ise Province, what is now present-day Mie Prefecture. 

Doraemon and his friends have been expertly placed into the famous piece of art, desperately climbing a steep hill during a sudden evening shower.

 

For Doraemon and Nobita, the rain is a chance to have fun. Looking at the piece, viewers can see an image of hope in tough times and can remember that with friends, anything is possible and any difficulties can be overcome. 

The piece is made from high-quality materials, and you won't want to miss ordering one of these rare works of art!

Information

Doraemon Ukiyo-e / Fifty-Three Stations of the Tokaido Hoeido Edition (Rainstorm)

Orders Open: October 29, 2022 at 12:00
Price: ¥45,000 (Excluding tax and shipping charges)
Number Available: 300
Echizen-Manufactured Washi Paper Provided by Iwano Ichibei
Online Shop: http://ukiyoework.com/

Sanrio Characters Cinnamoroll, Pompompurin, and Pochakko Available as Traditional Japanese Sweets

Cinnamoroll, Pompompurin, and Pochakko are the latest to be picked up by the character-inspired Japanese confectionery series Tabemas. These tasty treats will go on sale at Lawson stores across Japan starting August 2, 2022.

Tabemas Sanrio Characters 2022

Cinnamoroll with Ribbons

Pompompurin with Ribbon

Pochakko with Ribbon

Three of the most popular Sanrio characters have been transformed into traditional wagashi sweets! Pompompurin, Cinnamoroll, and Pochakko are dressed in their finest attire, complete with ribbons. Cinnamoroll's filling is milk-flavored, while Pompompurin is pudding-flavored and Pochakko is filled with banana sweetness. Be sure to take some pictures before chowing down! Honestly, these might be too adorable to eat. 

Information

Tabemas Sanrio Characters 2022

Cinnamoroll with Ribbons

Pompompurin with Ribbon

Pochakko with Ribbon

Release Date: August 2, 2022

Where to Buy: In the chilled desserts section of Lawson convenience stores across Japan

*Not available at Natural Lawson or Lawson Store 100

*Available while supplies last. Some stores may not offer all three products.

McDonald's Japan Launches Festive Doraemon-Themed Summer Sweets

On August 5, McDonald's Japan will begin selling some summer-only sweets! The McShake Doraemon Ramune and Doraemon Choco Banana Pie items are based on a summer festival, and the packaging will feature adorable Doraemon imagery. 

These treats will bring back memories of summer festivals, with popular flavors like chocolate banana and ramune. Each sweet will be available in a total of six newly-designed packages, so you might need to buy a few until you get your favorite character!

McShake Doraemon Ramune

The McShake Doraemon Ramune features the nostalgic flavor of ramune and a creamy texture. Two types of ramune flavors were used to create a taste that will keep you coming back for more, and citrus flavors were added to create a refreshing flavor perfect for summer. This tasty treat is available in three versions–Doraemon, Nobita, and Gian.

Doraemon Chocolate Banana Pie

The Doraemon Chocolate Banana Pie consists of a crispy pie crust packed with banana filling and a rich chocolate sauce. Fans of Doraemon can grab this pie in three different sleeves–Dorami, Shizuka, and Suneo.

※Product images for illustration purposes only. Actual products may vary.

Happy Meal

Round 1: August 5 – August 11

Round 2: August 12 – August 18

In addition, Doraemon-related items will be packed with every Happy Meal starting August 5.

Pocky on the Rocks, Popular Since the 1970s, Reimagined for Modern Tastes

Pocky is one of the most popular Japanese snacks around the world, and a new way to enjoy it is here. Since the 1970s, Pocky on the Rocks has been a popular way to enjoy the tasty treats during the summer. A modern version has just been unveiled, and six special boxes with exclusive designs will be released on June 14 along with a new campaign, recipe submission contest, and a collaboration with select cafes around Japan. 

Pocky on the Rocks was first introduced in an ad campaign in 1976. People began putting Pocky sticks in a cool glass filled with ice or using the sticks as muddlers for alcoholic drinks. This stylish summer snack has been reimagined for 2022, and customers are inspired to pair the sticks with their favorite drink, stick them into ice cream, or add them to a cup of seasonal fruit!

Pocky on the Rocks in the 1970s

Pocky on the Rocks Today

Collaboration with 5 Cafes in Tokyo and Kansai

Cafe Roman – Takadanobaba, Tokyo

Cream Soda

Cafe Negura – Shimokitazawa, Tokyo
Dark Cherry Soda

DORSIA – Sannomiya, Kobe
Heart Strawberry Milk

Sunshine Cafe – Higashi-Umeda, Osaka
Almond Mixed Juice

Poem Cafe – Motomachi, Kobe
Lemon Squash


Pocky's limited edition packaging, coming June 14, will feature a recipe for the 2022 Pocky on the Rocks. A recipe submission contest will also be held on Instagram, and anyone can participate. On the campaign website, fans can find collaboration recipes made in conjunction with five different cafes around Tokyo and the Kansai region. Of course, you can also grab these treats at each shop!


Fans can win retro goods in another ongoing campaign simply by snapping a picture of a Pocky receipt.

You've probably tried Pocky before, but have you ever tried Pocky on the Rocks? 

Confectionery Brand 'Edible Mascot' Celebrates Kirby's 30th Anniversary with New Sweets

It's hard to believe that Kirby is turning 30 today, bursting onto the video game scene back in 1992. To commemorate this special occasion, Bandai's Candy brand Tabemas (meaning 'Edible Mascot') is selling some adorable sweets inspired by the character at Lawson stores nationwide starting April 26, 2022. The items will be available in the chilled dessert section, and these items won't be available at LAWSON STORE100. 

Edible Mascot Kirby 30th: ¥353 each (Tax Included)

The Kirby sweets are made of mochi, the perfect food to express the character's round and squishy form, and the Warp Star is made of nerikiri. Nerikiri is a traditional Japanese sweet made from mochi flour and white bean paste, and it's especially easy to mold and carve into detailed shapes.

Kirby (Strawberry Flavored) Warp Star (Chocolate Flavored)

*Image for reference only. 

Kirby is filled with strawberry-flavored filling, while the Warp Star is stuffed with chocolate. Fans can find eight different expressions on Kirby's face, including a big smile and a sleeping expression. The Warp Star features a 30th-anniversary logo, perfect for photos.  Which one is the most adorable?

What's your favorite Kirby game?

© Nintendo / HAL Laboratory, Inc. KB22-P3638

Information

Edible Mascot – Kirby 30th

Available Now

Tasty Half-Moon Sandwiches Coming in Second Doraemon Tokyo Banana Collaboration

Doraemon Tokyo Banana Half-Moon Sandwiches are coming on April 1, 2022! These tasty snacks come in a pack of eight and are sure to make the perfect gift.

This release of Doraemon Tokyo Banana is celebrating the 30th anniversary of the Tokyo Banana brand and the 50th anniversary of Doraemon. Why not enjoy your daily snack time with these cute treats?

Each sandwich is filled with chocolate-banana cream with the dough baked into a crispy, savory crust with a winking Doraemon on both sides.

©Fujiko-Pro,Shogakukan,TV-Asahi,Shin-ei,and ADK ※画像はイメージです

Japanese Confectionary Series Tabemas Releases Chiikawa Sweets at FamilyMart Stores

Bandai's Japanese confectionary project Tabemas has been transforming popular characters into tasty treats for years. Starting April 5, over 16,600 FamilyMart stores nationwide will offer sweets inspired by illustrator nagano's popular characters Chiikawa and Usagi!

This is the first time these characters have been featured in the Tabemas series. Fans can grab Chiikawa with sparking eyes or smiling with red cheeks, a sparkly-eyed Usagi, and the adorable cat Hachiware. It will be difficult to eat something so painfully cute, but each is sure to taste delicious! The Chiikawa sweets are milk and custard flavored, Usagi is sweetened with caramel, and Hachiware offers the taste of strawberry milk. 

(C)nagano / chiikawa committee

Information

Chiikawa & Usagi Tabemas

Price: ¥398 each (Tax Included)

Release Date: April 5 ~

Where to Buy: Chilled Dessert Corners at 16,600 participating FamilyMart Stores Nationwide

*Limited quantities available.

*May not be available at all locations.

'Doraemon: Nobita's Little Star Wars 2021' Film Inspires Limited Edition Ukiyo-e Prints

Fans of Doraemon and traditional Japanese artwork won't want to miss this special collaboration! On March 30, preorders will open for ukiyo-e prints inspired by the film 'Doraemon: Nobita's Little Star Wars 2021.' These limited-edition pieces were created by Iwano Ichibei, a Living National Treasure.

The prints show Doraemon and friends along with the alien Papi and the special gadget the "Small Light." The tool is giving off light depicted in a traditional Edo pattern believed to bring good luck, and the characters are shown inside its silhouette. 

Ukiyo-e Woodblock Print Production

Engraving by Craftsman

Printing by Craftsman

First, a sketch is made, and a monochrome version of the print is carved. After carving a number of woodblocks for each color and using them to rub the painting tirelessly to bring it to life, one single woodblock print is completed. 

 

 

 



The extremely delicate and advanced techniques these craftsmen utilize have been passed down from the Edo period. Imagine having one of these beautiful pieces hanging in your home!

Information

'Doraemon: Nobita's Little Star Wars 2021' Commemorative Ukiyo-e Prints

Preorders Open: March 30, 2022
Price: ¥33,000 (Excluding Tax and Shipping Charges)

Quantity: 300
Painter: Living National Treasure Iwano Ichibei 
Online Shop: http://ukiyoework.com/