Conveyor Belt Sushi Chain Kura Sushi Unveils 'KURA BURGER'
Japanese sushi chain Revolving Sushi Bar Kurasushi has revealed two new delicious burger items it is adding to its conveyor belt line-up at all branches from March 1: the KURA BURGER Fish (an industry first) and the KURA BURGER Meat.
The KURA BURGER Fish contains fish caught in the waters of Japan. The patty is juicy and complemented by the delicious taste of fish, spices and sauce.
The KURA BURGER Meat is a classic yet scrumptious beef burger served with ketchup.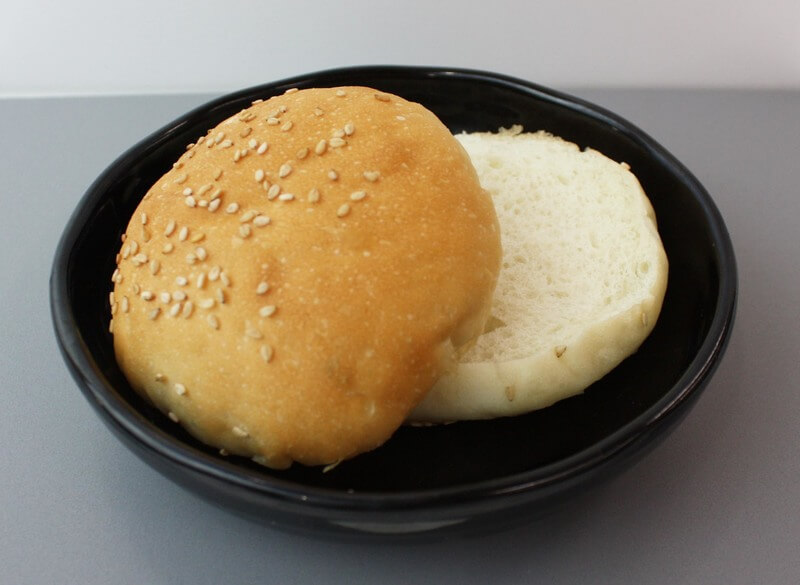 The burger buns are made from rice flour, giving them a tantalisingly chewy texture, and also contain black vinegar to make them fluffier and add a touch of sweetness.
Each burger s also topped with spring onion tempura which are crunchy on the outside and juicy in the middle. This combination of Japanese ingredients into a burger make for a matchless experience for your taste buds. Head to Kura Sushi to try them yourself.
Information
KURA BURGER Fish & KURA BURGER Meat
Price: ¥270 Each (Tax Included)
Location: Revolving Sushi Bar Kurasushi branches in Japan
Website: http://www.kura-corpo.co.jp/en/
RELATED ENTRIES
Eat All the Sushi You Can in the VR Game No Sushi, No Life Available On Steam

DMM VR lab released a new 3D VR game last week on Steam and DMM.com titled No Sushi, No Life.

The game is set in the year 20XX in a sushi bar in Neo Tokyo City. The aim of the virtual reality game is simple: to eat as much sushi as you can. Players must grab all the sushi coming their way and wolf it down. Their reflexes are tested as more sushi plates speed toward them on the conveyor belt. If a plate of sushi falls to the floor, it's game over. As players eat more sushi the conveyor belt will run faster and faster. Can you survive the culinary onslaught?

McDonald's Japan's Gurakoro Burger Gets New Beef Stew Flavour

The Gurakoro Burger is a seasonal item added to McDonald's Japan's winter menu every year. This year, they are releasing a new rich beef stew flavour on December 2 for a limited period.

"Gurakoro" is a portmanteau of the Japanese words for "gratin" and "korokke," the latter being the Japanese version of a French croquette. The Gurakoro burgers are crunchy on the outside and melty on the inside. They first appeared at McDonald's Japan in 1993 and have returned every winter since, popular for its combination of the Gurakoro patty which is filled with creamy ebi, cabbage, a special korokke sauce, and an egg sauce, all squished between a toasted bun.

Gurakoro Burger | ¥340

The burger was created with a new recipe in 2019 that makes the flavour richer. The number of egg yolks used for the egg sauce was also increased, as was the spiciness of the korokke sauce.

Beef Stew Gurakoro | ¥390

This year, McDonald's Japan is adding a beef stew sauce made with a combination of red wine and demiglace sauce. Added to this is mustard, creating a delicious flavour that goes hand in hand with the creamy gratin korokke.

Inari Sushi Restaurant Tsurigitsune to Open in Osaka International Airport's North Terminal

Japanese food and confectionery company Bijuu is opening a new restaurant called Tsurigitsune inside Osaka International Airport's North Terminal on August 5, 2020. The restaurant will specialise in inari sushi, a type of sushi packed into pouches of deep-fried tofu.

Bijuu is known for producing and selling such products as Kyoto's famous coarse sweet red bean paste-filled yatsuhashi otabe crackers.

Tsurigitsune will serve "Kyo Dashi Oinari," a type of inari sushi made with fried tofu Saga Tofu Morioka—a long-standing tofu shop in Sagano, Kyoto—soaked in lots of sumptuous Kyoto-style dashi. The restaurant will also serve a special type of sweet otabe cracker which cannot be eaten anywhere else.


Kyo Dashi Oinari (Includes 15) | ¥3,240 (Tax Included)

The dashi that the Kyo Dashi Oinari are soaked in take up all the delicious flavour of kombu, sababushi smoked mackerel, iwashibushi pilchard, and katsuobushi dried bonito, all of which serve to add that authentic Kyoto flavour.


Tanto Otabeyasu | ¥930 (Tax Included) *Served 6:30-10:00

As well as Kyo Dashi Oinari, Tsurigitsune's menu includes a line-up of dishes that celebrate the flavour of dashi, including soba, dashimaki tamago omelette, and more.

If you're travelling to Osaka, why not get an authentic Kyoto experience too by dining at Tsurigitsune?

Information

Tsurigitsune
Grand Opening: August 5, 2020
Address: Osaka International Airport North Terminal 2F Boarding Area, 3-555 Hotarugaike NishimachiToyonaka, Osaka
Opening Hours: 6:30-20:20 (Last Orders 19:50)
TEL: 06-6836-9217

Official Website: http://www.bijuu.co.jp/tsurigitsune/

Japan's New Eel Burger is Made in Collaboration With the Theatrical Entertainment Sushi Bar Teruzushi

Matsuya Foods, Gastroduce Japan, and Teruzushi have all joined hands to cook up the new "Eel Burger" which will be sold exclusively in Japan via Matsuya Food Court on Rakuten and Matsuya PayPay Mall starting from 8:00pm (JST) on July 4, 2020.

Like all countries around the world, Japan's food industry is suffering at the hands of the COVID-19 pandemic, with less customers dining in restaurants and eateries. That's where Matsuya Foods comes in, which has launched an effort to collaborate with fellow restaurants to release exquisite dishes online. That begins with the "Eel Burger," the first of many foods to come.

Teruzushi is a sushi bar famous for its "theatrical entertainment" style of sushi serving which has earned it the spotlight in the news and on social media in Japan. They serve high-grade sushi which can have the average person easily spending over ¥30,000 during their visit.

The restaurant, located in Fukuoka, is also famous for its "Unagi Burger," which uses 220g of eel that is prepared in the kabayaki-style and wrapped around sushi rice. That itself is then wrapped in high quality domestic seaweed, resulting in a unique burger-style of sushi. The Eel Burger is an amalgamation of flavours and textures, with the crunchy seaweed complementing the soft eel.

McDonald's Japan to Release International Beef Burgers Inspired by the World's Flavours

This summer, McDonald's Japan is releasing three beef burgers inspired by flavours of three countries. From Japan is the "Kalbi Mac," from Canada is the "Mighty Beef Original," and from the UK is the "Smokey BBQ."

When you think of McDonald's, the first thing that's sure to come to mind are their beef burgers. The fast food chain has added many different burger flavours to its menu, every country around the world has its own popular style of beef burger. That's where McDonald's Japan got the idea for this new series of international burgers, each made using recipes from their respective countries.

Mighty Beef Original: ¥490 / Value Set: ¥790 (Serving: June 24, 2020 – Early August 2020)

Released at McDonald's Canada, this bacon-filled beef burger is lathered in a rich sauce that has a smokey aroma and garlic punch mixed with black pepper. The salty and smokey bacon bits are what made this burger so deliciously irresistible.

Smokey BBQ: ¥490 / Value Set: ¥790 (Serving: June 24, 2020 – Early July 2020)

The smokey flavour is intense with this juicy beef burger which comes from the UK. It's filled with over 10 spices, including smokey bacon, black pepper, and cinnamon.

Kalbi Mac: ¥420 / Value Set: ¥720 (Serving: June 24, 2020 – Early August 2020)

And from Japan is beef-on-beef Kalbi Mac which is filled with spicy kalbi beef and a juicy beef patty served between a sesame seed bun. The refreshing sweet lemon sauce and crunchy lettuce serve to elevate the tasty flavours of both beefs.

This is just the first three international burgers to be released at McDonald's Japan. A new set will be released in mid-July.

Freshness Burger Powers Up its Popular Spam Burgers

Freshness Burger released a new limited-time burger on Wednesday called the "Teriyaki Spam Egg Burger."

Freshness Burger's spam burgers made more delicious

Spammy-kun

The teriyaki spam egg burger is made with the restaurant's spam burger patty. Out of the menu's 22 regular items, the spam burger is the staff's favourite. The new teriyaki version switches the bun to a pumpkin bun for new delicious flavour.

Teriyaki Spam Egg Burger – ¥490 (Tax Included)

The patty is topped with browned spam and covered in a specially-made sweet and spicy teriyaki sauce made with koji. It's also topped with a sunny-side up fried egg, kale, and mayoーand all of this squished between a pumpkin bun. You get the saltiness of the spam, sweetness of the teriyaki sauce and pumpkin bun, and finally the richness of the egg and smoothness of the mayo.

Spam Burger – ¥420 (Tax Included)

The spam burger is also served with browned spam which is covered in teriyaki sauce. It's topped with an egg, shredded cabbage, and tomato for a compact and hearty serving.

Be sure to try the Freshness Staff's number one spam burger made even more delicious.

Information

Teriyaki Spam Egg Burger
Released: May 13, 2020
Available: At most Freshness Burger branches in Japan

Official Website: https://www.freshnessburger.co.jp

Kaori's Easy Recipe: Learn to Make Hello Kitty Sushi Cakes For Hinamatsuri

With just a small bit of ingenuity, turn everyday food into something cute using Kaori's easy recipe! With a few simple ideas, an ordinary recipe magically transforms into a cute dish.

Hinamatsuri is almost here, and I've got the perfect treat for this year's festival: Hello Kitty Sushi Cakes. These Hello Kitty decorations can be made with basic Japanese ingredients, so follow along and try making them yourself.

1: Equipment/Ingredients

15cm cake tin

1 cup vinegared sushi rice

200g tuna

200g salmon

3 Japanese rolled omelettes (dashi-maki tamago)

20 beefsteak plant

Ikura salted salmon roe

Hanpen pounded fish cake

2:

Line a cake tin with baking sheet paper like in the photo. Use a cake tin with a detachable bottom spanning 15cm. In the case that you don't have a cake tin with a detachable bottom, cover the bottom of your tin with cling film which will make it easy to remove everything afterwards.

3:

Cut Hello Kitty, flowers and other shapes into some hanpen pounded fish cake.

4:


Slice the tuna, salmon, and Japanese egg into cubes about 1.2cm each.

Pile the ingredients in this order: rice→tuna, salmon, and egg→rice. Refer to the photo below.

5:


Leave the ingredients exposed around the outside like so✨

6:

Top with the rest of the ingredients as you like.

7:

Finish by adding your Hello Kitties and flowers which you can decorate with leftovers, like the noses and middle of the flowers. I also used cucumber and crab sticks for the head decorations.

Kaori invites you into her world of character-themed food dishes in her recipe series. Be sure to check out her Instagram where she has uploaded many pictures of her character dishes!

Kaori Kubota (@kaopan27)
I live in Hokkaido and I love to make character themed foods, desserts and pastries♡

I want to see my family smile, so I enjoy putting in a bit of effort to make character foods and changing food into something cute♡

You can see more of my character foods and character bento boxes on my Instagram page→@kaopan27

Hanami in Japan 2020: Bite-Size Sushi Hanami Bento Lunch Box Releasing in Ginza

SHARI and SHARI THE TOKYO SUSHI BAR in Ginza, as well as CRAFT in Ariake, are releasing the perfect accompaniment to your hanami flower-viewing experience in Japan this spring: the "Hanami Roll Sushi Bento" lunch box, which consists of 36 bite-size sushi pieces made up of 12 different kinds of sushi. It will be available February 18 to April 30.

Hanami Roll Sushi Bento (36 Pieces/Serves 3-4): ¥4,500 (Tax Included)

As soon as your take the lid off this colourful assortment of rolled sushi, you'll find yourself reaching for your camera to snap a photo for Instagram. Each piece is 3cm in diameter and so is deliciously bite-sized. The line-up includes four new kinds of sushi rolls conceived for this release which use seasonal spring ingredients, like sakuradai cherry blossom sea bream, sakura ebi, rape blossoms, fuki giant butterbur, green beans, and moreーas well as eight other types of sushi that are popular classics at each of the three restaurants.

Shrimp Roll

From the four new rolls, we have the sakura ebi shrimp roll, which is served with a gorgeous cherry blossom colour. It's made with shibazuke pickles and vinegared rice, which gives it its colour, and contains, rape blossoms, okra, Chinese yam, and egg. The rape blossoms add a springtime bitterness to the sweetness of the sakura ebi, creating a wonderful combination of flavours.

Beef Butterbur Miso Roll

Then there's the sakuradai roll is wrapped with vinegared tobiko flying fish roe, okra, and cucumber, which is topped with sashimi-style sakuradai cherry blossom seam bream and salty cherry blossom leaves. The spring vegetable and tempura roll has shrimp and green bean tempura mixed with yuzu kosho paste; and finally, the beef butterbur miso roll, which contains beef rib seasoned in a sukiyaki style, finished with sesame seeds, and seasoned with butterbur miso.

The eight popular classics include the wagyu roll sushi seasoned with luxurious truffle oil, Italian roll, duck roll, salmon roll, spider roll (soft shell crab), and more. All of these varied picks go great with wine or champagne.

Hanami Roll Sushi Bento (9 Pieces): ¥1,200 (Tax Included)

The "Hanami Roll Sushi Bento" comes in various sizes. As well as the 36 pieces of 12 sushi types, there's also 18 pieces of 9 types (serves 1-2), and the 9 pieces of 9 types (serves 1).

Reservations are available until 15:00 the previous day. Order yours for your Hanami cherry blossom flower-viewing this year in Japan.

Information

Hanami Roll Sushi Bento

Available:

SHARI (TEL: 050-5357-5354) (Address: Mitsui Garden Hotel Ginza Gochome Floor 2F, 5-13-15 Ginza, Chuo Ward, Tokyo)

SHARI THE TOKYO SUSHI BAR (TEL: 050-5212-7574) (Address: ALBORE GINZA Floor 8F, 2-4-18 Ginza, Chuo Ward, Tokyo)

CRAFT (TEL: 050-5357-5353) (Address: CRAFT Floor 2F, 3-7-2 Ariake, Koto Ward, Kyoto)

Prices:

36 Pieces/12 Types (Serves 3-4 People): ¥4,500

18 Pieces/9 Types (Serves 1-2 People): ¥2,400

9 Pieces/9 Types (Serves 1 Person): ¥1,200

Reservations

Reservations can be made via telephone or in-store until 15:00 the previous day.

*Reservation Window: Telephone 10:00-20:00 / In-Store 12:00-22:30

*Depending on the ingredient stock, reservations may be made on the same day

*The Hanami Roll Sushi Bento is for takeaway only and cannot be eaten in the restaurant

Experience a Cherry Blossom Burger in Kyoto's Famous Cherry Blossom Tourist Spot Arashiyama

This March, a restaurant in Arashiyama, Kyoto, that goes by the name CROSS Burger&Beer/Coffee, has announced it will release its new "Sakura Burger" (Cherry Blossom Burger) for the spring season.

CROSS Burger&Beer/Coffee is a restaurant known for its burgers made with pitch black buns – a result from combining the mixture with bamboo charcoal – which are served on afternoon tea stands. All of their patties are made with 100% domestic wagyu, specifically hiragyu from the town of Tanba in Kyoto. To ensure the meat maintains its high quality texture, it is minced together with shoulder and shank, which also creates great flavour.

The new cherry blossom burger uses a pink bun like that of the springtime flower. It has a chewy texture, and the surface is charred so that the outside is crispy and the inside soft. It also means that the meat juice permeates the bun better, and without making it go soggy. The patty is uses the same hiragyu meat, which is breaded and deep-fried to create what is known as menchi-katsu in Japanese. By doing this, it locks in the characteristic and unique flavour of the meat, as well its juice.

Drizzled over the patty is a homemade tartar sauce with Kyoto-style chopped vegetables pickled in salt as the base. The restaurant chops up the vegetables randomly to leave texture in the sauce, which has a refreshing taste thanks to them, creating a flavour you'll enjoy until the last bite. The burger is also stuffed with a sunny-side up egg and purple cabbage, the latter of which has a slightly bitter bite to it, resulting in an amalgamation of mouth-watering flavours.

Order together with a cocktail or soda float to create an Instagrammable photo.

If you're heading to Japan to visit Kyoto this cherry blossom season, head to Arashiyama to enjoy the sights and a delicious Sakura Burger.

Information

CROSS Burger&Beer/Coffee
Address: 48 Arashiyama Kamikaidōchō, Nishikyō Ward, Kyoto, Kyoto Prefecture

Opening Hours: Lunch 11:00-16:00 / Dinner 16:00-23:00

Official Website: https://cross.grandwest.kyoto/

Asakusa's New Conveyor Belt Sushi Chain Kura Sushi Offers a Traditional Japanese Space

Muten Kura Sushi opened the first of its its all-new chain of "global flagship" sushi restaurants in Asakusa BOX on January 22.

This kaitenzushi restaurant, or "conveyor belt sushi," aims to promote Japanese culture. It wants people, both Japanese and foreign, to rediscover the wonders of kaitezsushi, and what better place to open its first branch than Asakusaーone of the biggest tourist hot spots in Tokyo?

The restaurant's design and decor takes on a more traditional approach, drawing inspiration of Japan's Edo period with classic ukiyo-e paintings and paper lanterns adorning the walls, amongst many other things. This classic image of Japan has found its way to the dining space itself too, with flat tables made from plain wood and chairs topped with tatami. This gives it that air of grace and beauty which is typically associated with traditional Japanese culture, as well as a relaxed atmosphere.

The logo used on the restaurant's paper lanterns, crockery, staff uniform and elsewhere was designed by Japanese art director and creative director Kashiwa Sato. It was created for the brand to be used on all future branches, including all Japanese restaurants and those planned for the US and Taiwan.

The restaurant even has several Japanese festival games for customers to play, like target practice and ring toss. They can win coupons that can be used in the restaurant, and kids can win toys too.

Some of the staff can speak foreign languages too, and tablets that you order food from are available in 4 languages.

Staff also carry a "Langogo Genesis," a speech translation machine, to allow for smooth customer service. It's connected to an AI language server which can speak and translate quickly in 104 languages.

This global flagship restaurant also has a self check-in and payment system. Using touch screen, customers will be shown their seats automatically. The AI also adds up how many plates you have used by scanning their QR codes, and this is used to determine how much you need to pay. This means you needn't wait for someone to bring the bill, you just head straight to the till.

There's also a smartphone app (called スマホでくら) which you can use to book a table and makes for easy checking in when you arrive at the restaurant.

Head to Kura in Asakusa, Tokyo to enjoy Japan's longtime affordable and delicious fast food: sushi.

Information

Kura Sushi Asakusa ROX

Address: Asakusa ROX Floor 4F, 1-25-15, Asakusa, Taito Ward, Tokyo)

Opening Hours:

January 22-26 @ 12:00-21:00 (Last Orders 20:30)

From January 27 @ 11:00-23:00 (Last Orders 22:30)

Official Website (English): http://www.kura-corpo.co.jp/en/

Tokyo Sushi Restaurant Tsukiji Tamasushi Sasashigure Opens New Branch in Shibuya

Edomae sushi restaurant Tsukiji Tamasushi Sasashigure, which is known for its strict use of organic ingredients, just opened its second branch in Tokyo Plaza Shibuya following its first branch in Omotesando Hills.

Sasashigure is a type of sasanishiki rice grown completely organically without the use of any chemicals or fertilisers. It is grown by Akinori Kimura who is known for its "Miracle Apples," the world's first apples grown without pesticides.

Sasashigure rice yields 40% less rice quantity in one-tenth hectare than regular rice, but it has a natural sweetness and elevate flavour, with each and every grain savoured in a mouthful.

If you're all for healthy eating and protecting the environment, and happen to be in Tokyo looking for some sushi, be sure to visit the new branch of Tsukiji Tamasushi Sasashigure in Shibuya.

Information

Tsukiji Tamasushi Sasashigure

Address: Shibuya FUKURAS 6F, Tokyu Plaza Shibuya, 1-2-3 Dogenzaka, Shibuya, Tokyo

Opening Hours: 11:00-23:00 (Last Orders 22:30)

No Fixed Holidays (Except when Tokyu Plaza Shibuya is closed)

Official Website: http://www.tamasushi.co.jp/

WASHOKU: Asakusa's Newest Restaurant For Experiencing Japanese-Style Cuisine

Asakusaーone of the hottest spots in Tokyo for sightseeing, ever-bustling with Japanese and foreign tourists and travellers alike. This ancient district is famous not only for its sights, like Sensō-ji (the oldest temple in Tokyo) and the Nakamise-dōri shopping street leading up to it, but for its bountiful offering of gourmet restaurants.

Today, we're taking a look at Taikenkei Dining -WASHOKU-, a restaurant which opened in Asakusa on November 19 this year. If you're looking for the full package when it comes to experiencing Japanese food culture, WASHOKU has customers covered. Not only do they serve food, like traditional Kyoto obanzai, but they offer cultural experience plans too where you can learn to make sushi or dress up in a kimono and walk the old streets of Asakusa.

WASHOKU's concept when it comes to both lunch and dinner centres around enjoying Japanese-style food that is colourful. And that rings tantalisingly true with their kaleidoscopic obanzai, which is formed of 12 vivid bite-sized delights. Obanzai is a traditional style of Japanese cuisine that comes from Kyoto, made up of mostly seafood and vegetables. The obanzai served at WASHOKU was conceived under the guidance of nutritionists, and so is packed full of healthy nutrients for the body. Not only that, the ingredients selected are all domestic to Japan, and are of a very high quality.


The obanzai I ate included fried beni haruka sweet potato which is sourced from Ishida Farmsーa sweet potato growerーin Katori, Chiba. It had a moist texture and rich sweetness. When I sank my teeth into it, I was flushed with feelings of the fall season.

Other foods in the assortment included sashimi, scallop and yuzu, saikyo-yaki Kyoto-style grilled fish, and more. Each mouthful of the selection offered its own distinct and unique flavours.

The obanzai is served with miso soup too with which you get to choose a miso ball from a variety of flavours to put into your bowl. I went for the sesame seed miso ball.

The miso ball is made from miso paste and various ingredients. Once placed into the hot water, it melts and turns into miso soup. The sweet light-brown miso was perfect for warming up my chilly self.

Dinner also features a dessert menu, as well as courses with an all-you-can-drink option, so I recommend these options for people who want to relax and take their time with their dining experience.

As I mentioned earlier, WASHOKU also offers a variety of experience-based plans. This includes a sushi class where you can learn to make your own hand-rolled sushi.

There are two types of "temari" hand rolled sushi you can make: the regular type, which makes use of tuna, salmon and other classic sushi toppings, and the high quality type, which uses more high-end ingredients like uni sea urchin eggs, caviar, gold leaf, and more. And for foreign customers, the restaurant has prepared a handout detailing the history of Asakusa and recipes, as well as souvenirs for them to take home.

The MMN team of course had to have a go at making our own sushi, but it proved quite difficult. You have to get the right amount of sushi rice to roll, then actually roll it perfectly into a ball before topping with your ingredients. But the sushi I made was actually really delicious! To attend this class you have to book in advance, so if you've never tried making your own sushi before or have an need some guidance, then we can't recommend it enough.

As well as food-related experiences, WASHOKU provides customers with three different plans to experience Japanese culture. The first of these is the rickshaw ride, where you board a rickshaw pulled by a runner and are taken around the various sites of Asakusa. The 'Excursion Around Asakusa Course' takes you to the most popular spots around Kaminarimon, while the 'Sky Tree Course' takes you all the way to the Sumida River, and you also get to see Tokyo Skytree and various other attractions in Asakusa.

The Edo Kiriko plan gives you the opportunity to cut your own Japanese glass to drink from. You can drink from your glass if you reserve the plan with lunch or dinner.

Finally, you can rent a kimono. Select your favourite from the shop and have a professional dresser get you readyーwith both your kimono and your hair. After you're dolled up, you can take a stroll around Asakusa to get a real feel for Japanese culture.

All three of these plans are just ¥3,500 per person, and all require reservations which you can book online.

So, if you're looking for a taste of Japanese food and culture, why not take a trip to WASHOKU when visiting Asakusa for an all-in-one experience?

Information

Taikenkei Dining -WASHOKU-

Address: 2113 Kaminarimon Bldg. Floors 5F-6F, 2 Kaminarimon, Taito Ward, Tokyo

Opening Hours: Lunch 11:00-15:00 / Dinner 15:00-17:00

No Fixed Holidays

Access: 1-minute on foot from Exit 4 of Asakusa Station via the Tokyo Metro Ginza Line / 2-minutes on foot from Exit A3 of Asakusa Station via the Toei Asakusa Line

Official Website (English): https://washoku.site/en/