Anyone Can Become an Instagrammer With Drinks Sold at Harajuku's Popular 'cafe no.'
Hi, everybody. Midori here again, editor at MOSHI MOSHI NIPPON.
Have you ever had the experience that despite how cute your food or drink looks you just can't seem to take a good photo? Or perhaps it's positioned in the right place but something about the atmosphere or your surroundings makes it tricky to get it right. Maybe the shop or cafe decor wasn't photo-worthy so you completely gave up.
I heard that at cafe no. in Harajuku anybody can snap easy pictures, and that the drinks sold there are delicious, so I paid a visit!
It's in the same building at the cheese tea shop FORTUNER tea box.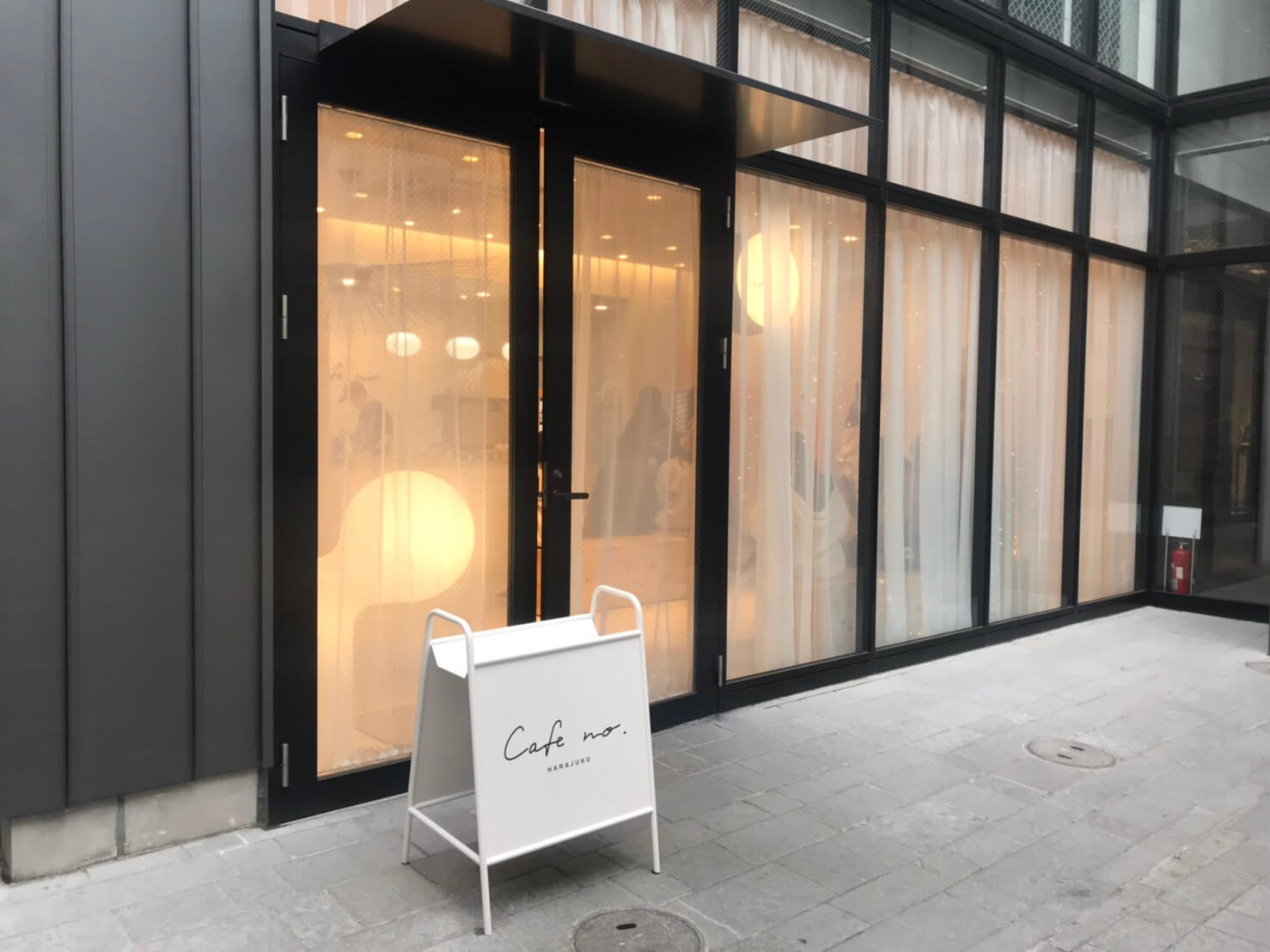 You will find it right inside a building called flags just opposite BEAMS RECORDS.
Orders are taken by a ticket machine. They have a lot of options in addition to their popular bottled drinks! I went for the bottled chocolate milk.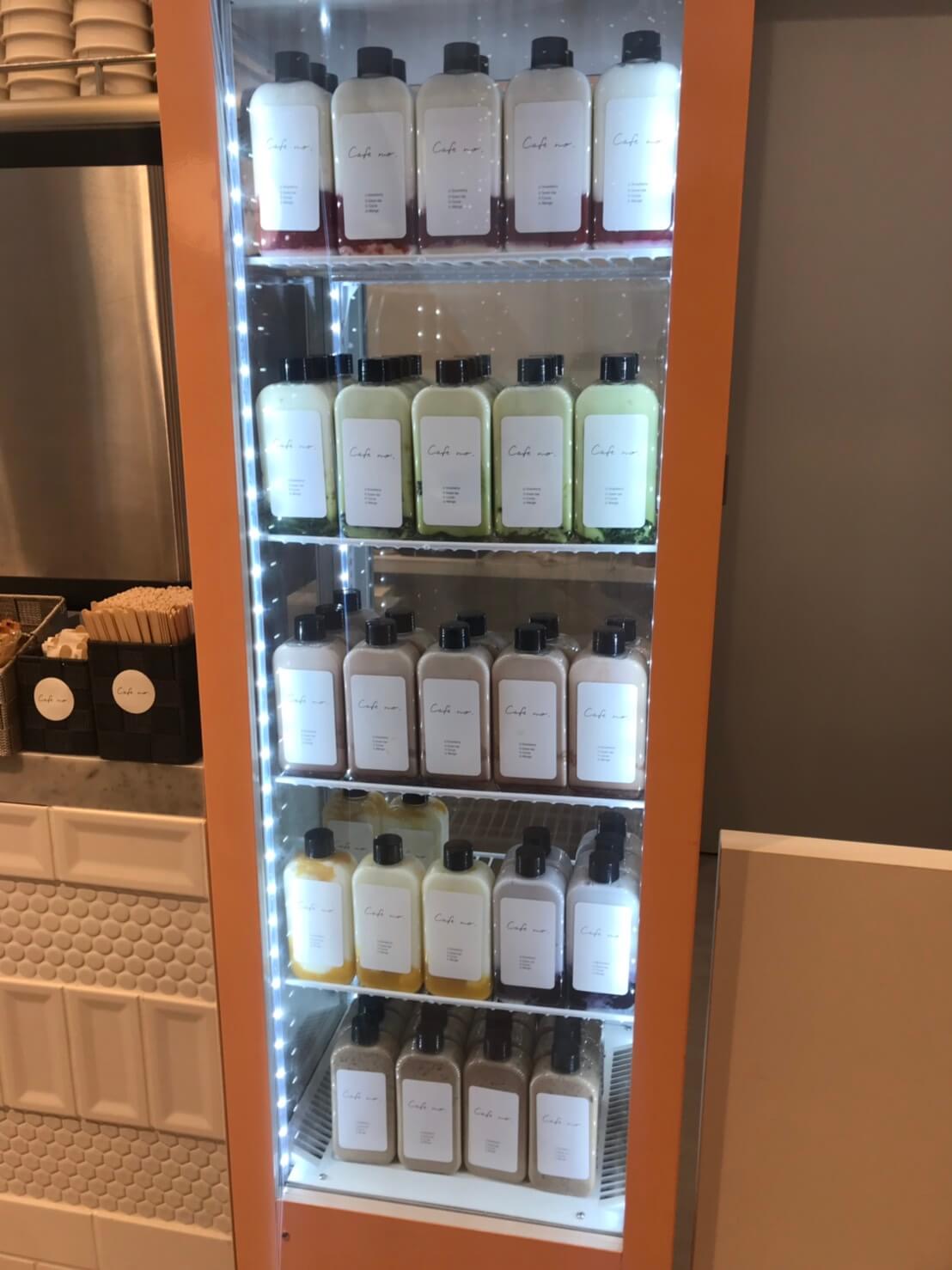 Lots of bottles are lined up nearly inside the refrigerator. Once you hand your ticket over to the staff they will take your drink out for you.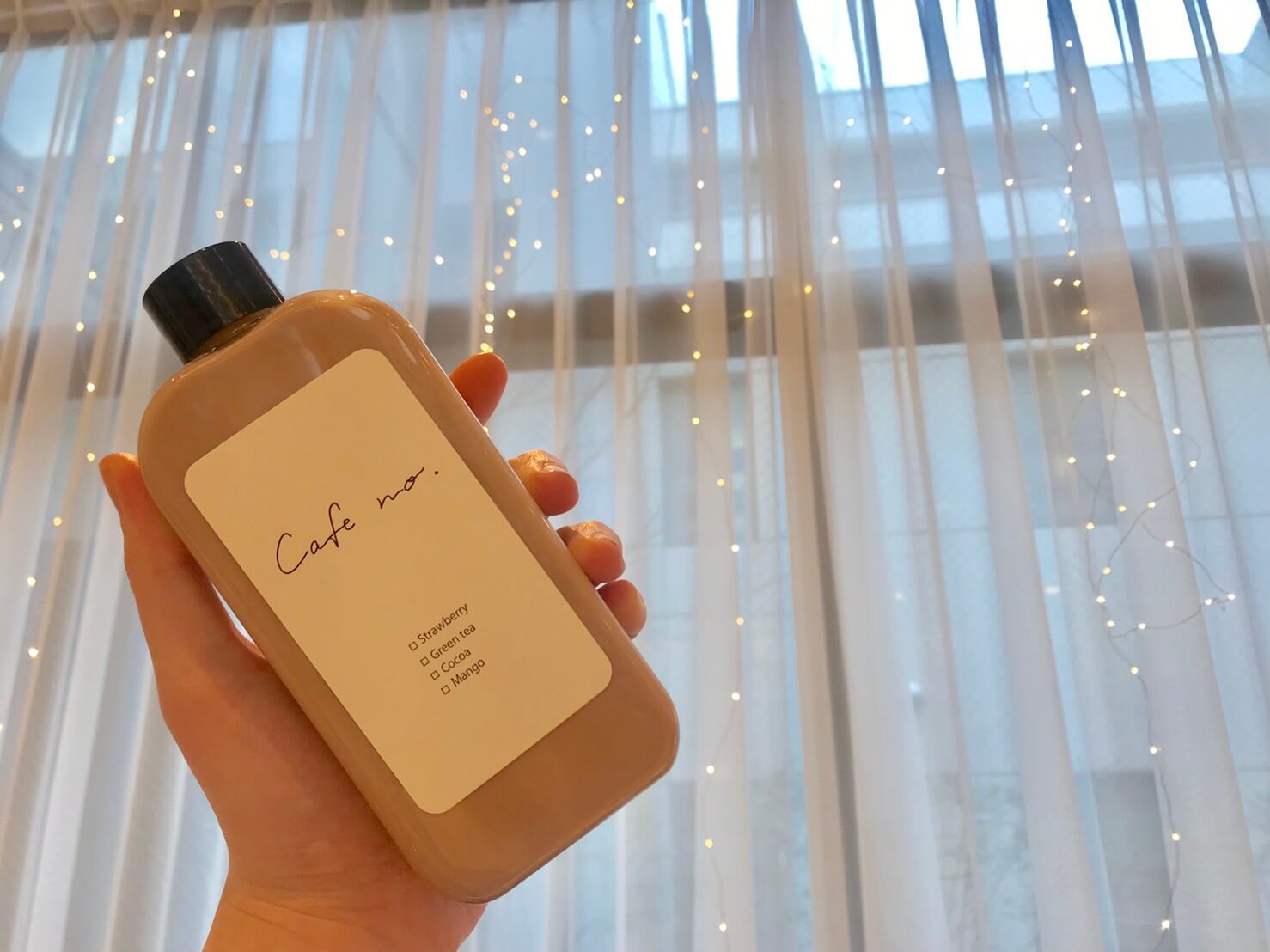 So cute! I wonder why bottled drinks are this cute?
Time to try it! But before that, I want to try taking a photo in front of the shop. There are lots of great photo spots here.
From the classic 'holding my drink' shot…
…to placing it down somewhere to snap a picture!
Bottled drinks are different from cups when taking photos in that even if they're knocked over you can still steal a great scene.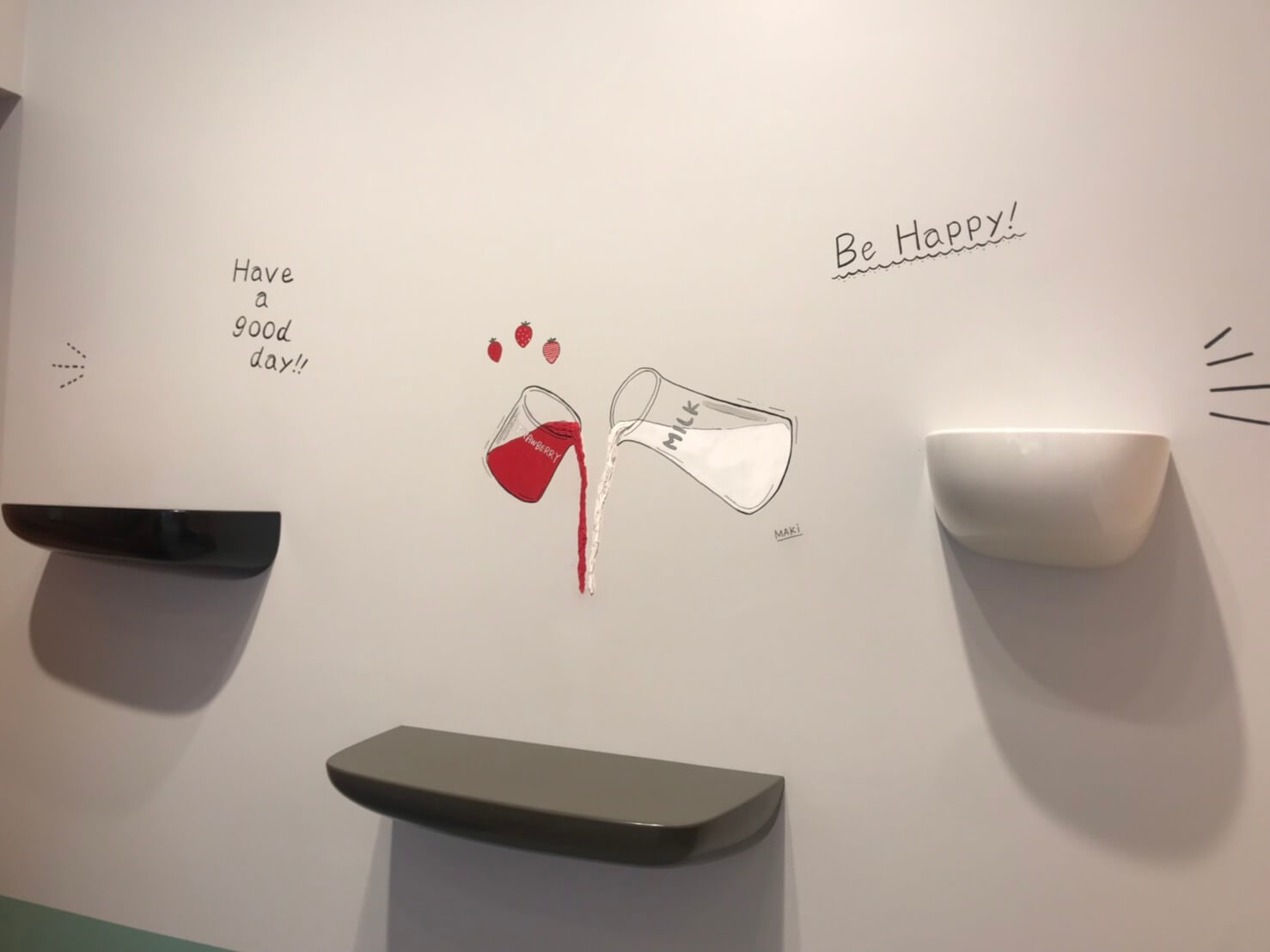 And take a look at this wall!
Just by simply placing the bottle on the shelf attached to the wall the photo instantly becomes Instagrammable.
It looks cute with the straw inside too. You're given one at the counter.
The majority of photos of cute sweets are people just holding them in their hands, but at cafe no. you can place your drink anywhere and get an adorable photo, so if you don't want your hand in it then this is a great place.
The fact that they prepared this many photo spots also means you can take as many as you like until you're satisfied without worrying about the staff!
My drink itself doesn't have that distinct 'heavy' taste that chocolate drinks do. I was able to drink it down smoothly. I'm interested in trying the other flavours too!
For those who have just started Instagram and aren't sure on how to get a good photo, or if you want to snap 'til you're satisfied, then I recommend visiting here!
Information
cafe no. Harajuku
Address: FLAG Jingumae Floor 1-A, 3-27-15 Jingumae, Shibuya, Tokyo
Opening Hours: [Weekdays] 11:00-20:00 / [Weekends & Holidays] 10:30-20:00
No Fixed Holidays.
Official Website: cafeno.jp
RECOMMENDED ENTRIES
CHAVATY's Houjicha Ice Cream & Tea in Omtesando is Bringing Autumn Early

Hi, everyone, it's Midori from the MOSHI MOSHI BOX Harajuku Tourist Information Center.

It's gotten cold lately. It feels like autumn is here. It's the season where numerous shops in Japan start selling houjicha sweets. With that in mind, I visited CHAVATY, an uva tea shop in Omotesando!

CHAVATY is located at the back of Tonkatsu Maisen, a famous restaurant in Omotesando. Maisen is along a road with a lot of signboards so follow it along towards 7-Eleven and you'll find it. It's in a part of Omotesando with a calm atmosphere.

I ordered the houjicha soft serve ice cream and the bottled uva tea latte.

First up, the ice cream!

You can pick from three flavours: uvacha, matcha or houjicha. I went with houjicha.

It's pretty big. It has a lot of volume too as the ice cream seeps all the way down to the bottom of the cone!

It has a really rich flavour, it's like eating houjicha. It's ice cream but isn't sweet at all so I recommend this for the non-sweet tooths out there.

This is the bottle tea latte! Again you can pick from the same three flavours as before. I chose uvacha.

Isn't the bottle so cute?

Drinks like this are usually served in cups with or without lids which can be a nuisance when shopping. But with this you get a cap so you can seal it completely and carry on shopping. It might even be an idea to take it home, wash it and fill it again with whatever drink you like.

The taste of course is light and it smells good too. It kind of makes you feel like a grown-up.

You can ask for a vinyl bag which looks cute too. The colour scheme is sophisticated Instagram-worthy.

Enjoy some authentic houjicha treats for yourself too at CHAVATY.

Information

CHAVATY

Address:Jingumae 4-6-9, Shibuya-ku, Tokyo

Hours:10:00~21:00

TEL:03-3401-2378

Cafe Yolum: The Popular & Pretty Pink South Korean Cafe in Harajuku

Hi, everyone, it's Midori here from the MOSHI MOSHI BOX Harajuku Tourist Information Center!

Harajuku is currently experiencing an unprecedented South Korean boom! The number of South Korean idol shops and South Korean desserts and sweets is on a rapid increase.

One of these places goes by the name Cafe Yolum and it's located opposite Harajuku Station! The name comes from the Korean word for 'summer.'

To find it, exit from Harajuku Station's Takeshita Exit and head left down the path.

Keep going straight until you see the pink sign below. The cafe is located on the second floor of the building.

There's a ramen restaurant next to it called Seiya (せい家) – use this as your landmark.

Head upstairs…

…and you'll find the pink door!

The whole cafe is decked out in pink, it's really cute!

There's even a neon sign with the cafe's name written in Korean. Neon signs are really popular on Instagram.

To order, you need to use the pink ticket machine.

First up, I bought myself a bottled drink! I ordered the most popular one – milk tea with jelly.

You get a heart-shaped straw with the drink. It's really tasty and not overly sweet!

The jelly is a lot softer compared to tapioca. It doesn't get in the way of the milk tea. Plus, it's cute!

Next I ordered hotteok, a type of Korean filled pancake! It comes wrapped in paper, but when you open it up the pancake has the Yolum mark on it written in Korean!

The pancake is filled with red bean paste. It's a milk taste.

If you have any drink left over they put it in one of their own bags for you!

It's fun to take your drink with you shopping along Takeshita Stree too.

They also introduced South Korean cuisine for lunch on October 18!

View this post on Instagram

Try visiting Cafe Yolum for yourself to feel like you're on a trip in South Korea while in Harajuku!

Information

Cafe Yolum

Address: 2F, 1-21-15 Jingumae, Shibuya, Tokyo

Opening Hours: 11:00-19:00 (Closed Tuesdays)
Website: http://cafeyolum.com/
RELATED ENTRIES
Ojamajo Doremi Cafe 2020 ~FRUITS PARLOR~ to Open in Tokyo, Osaka & Aichi

Japanese company LEGS has announced the opening of the limited-time Ojamajo Doremi Cafe 2020 ~FRUITS PARLOR~. The themed cafes will open in Tokyo on October 29, Osaka on October 30, and Aichi on October 23.

Ojamajo Doremi is an original magical girl created by Toei Animation that ran from February 1999 to January 2003. To celebrate the series's 20th anniversary last year, LEGS opened a different Ojamajo Doremi limited-time themed cafe in collaboration with Cafe&Kitchen which welcomed lots of magical girl fans.

This year once again welcomes Etoile et Griotte as the art director for the fruit parlor-inspired cafe.

Ojamajo Doremi Cafe 2020 ~FRUITS PARLOR~ celebrates the 20th anniversary of Ojamajo Doremi Sharp is the second series in the Ojamajo Doremi series. Fans will be able to get their hands on a range of exclusive magical merchandise as well as tuck into pastel coloured fruity food.

FOOD

Doremi's Cheese Steak Doria in Cherry Sauce | ¥1,699


Steak is Doremi-chan's favourite food, so it was a must-have on the menu. The cream cheese is coloured like Doremi, and there's a cute musical note topping too. It comes with a cute lunch mat that looks like Doremi's skirt.

Hazuki's Omurice in Porcino & Orange Cream Sauce | ¥1,399


The omelette is made to look like Hazuki's yellow skirt. Enjoy together with the delicious porcino sauce and orange combination.

Onpu's Waffles With Crepe & Mascarpone | ¥1,299

Blueberry sauce-drizzled and mascarpone-topped waffles served with a mashed potato skirt. The sweet and sour mix is to die for.

DESSERT

Aiko's Blueberry Float | ¥999

A fresh blueberry float inspired by Ai-chan. Mix everything together to create a different flavour.

Momoko's Lemon Cheesecake Parfait | ¥1,399

A fresh lemon cheesecake packed parfait with lots of enjoyable flavours and textures.

Rhythm Tap Tart | ¥1,300


Inspired by the Rhythm Taps seen in the series, the tart imagines Doremi's transformation scene in Ojamajo Doremi Sharp.

DRINK

Onpu Melody Drink (5 Flavours) | ¥1,099


A rainbow line-up of colourful Onpu drinks available for takeout.

Movie Theater Menu

Girls Meet Sushi | ¥1,299


Inspired by the meat sushi that Sora and the gang eat in the animated film Majo Minarai wo Sagashite. Comes with an original postcard.

Exclusive Merchandise

Acrylic Keyrings (6 Designs) – ¥600 Each

Letter Set (1 Design) – ¥1,200 | Folder Set (2 Designs) – ¥700

A selection of super kawaii cafe-original merchandise is available for fans to grab.

Bonus Items


Those who book a table in advance, order a drink, or spend more than ¥2,000 at the cafe will receive one of six possible A5 folders.

Become a magical girl like Doremi at the Ojamajo Doremi Cafe 2020.

©Toei Animation


Information

Ojamajo Doremi Cafe 2020
Tokyo Cafe
Running: October 29, 2020 – December 6, 2020
Location: SHIBUYA BOX cafe&space
Address: Shibuya LOFT 2F, 21-1 Udagawacho, Shibuya, Tokyo

Osaka Cafe
Running: October 30, 2020 – November 23, 2020
Location: Abeno Q's Mall 4F
Address: Abeno Contact, 1-6-1 Abenosuji, Abeno Ward, Osaka

Aichi Cafe
Running: October 23, 2020 – November 23, 2020
Location: NAGOYA BOX cafe&space
Address: LACHIC B1F, 3-6-1 Sakae, Naka-ku, Nagoya, Aichi

Tokyo's Pokémon Café Adds Eevee Frappe to the Menu

The Pokémon Café in Ikebukuro, Tokyo, is adding an apple flavoured Eevee frappe to its ever-growing Pikachu Sweets by Pokémon Café menu. The frappe will be available from October 2 to December 4.

Eevee Apple Pie Frappe

The sweet tang of the apple combines with the caramel to create a tasty dessert drink, topped with whipped cream, crunchy piece bits, and a cute Eevee tail cookie.

Buy the separate Eevee sleeve to put on your drink to make a fully complete and adorable Eevee frappe♡

© 2020 Pokémon.©1995-2020 Nintendo/Creatures Inc./GAME FREAK inc.
Pokémon, ポケットモンスター and ポケモン are registered trademarks of Nintendo, Creatures Inc. and GAME FREAK inc.

KAWAII MONSTER CAFE HARAJUKU Collaborates With Alice's Fantasy Restaurant For Halloween Fair

KAWAII MONSTER CAFE HARAJUKU is set to collaborate with Tokyo's three branches of Alice's Fantasy Restaurant to serve up a Halloween themed menu. It will be served from September 19 to October 31.

The Halloween season is right around the corner, and the KAWAII MONSTER CAFE is once again joining in with the spooky festivities. This year, the cafe has joined hands with Alice's Fantasy Restaurant to create a collaborative Halloween menu lineup.

Colourful Rainbow Pasta With Halloween Cream | ¥1,400

Colourful pasta served in rich pumpkin sauce and with a variety of different ghost creams.

Singing Alice's Caesar Salad | ¥1,360

Alice's Fantasy Restaurant's popular Caesar salad heads to KAWAII MONSTER CAFE, an assortment of purple carrots, pumpkin, and other tasty delights. Alice is also hidden in the pasta somewhere as a black witch.

Kingpin Choppy & Henchman Humpty Dumpty Curry | ¥1,300

KAWAII MONSTER CAFE's mascot is served wearing a silk hat and comes with his fellow henchman Humpty Dumpty.

Cheshire Cat Splatter Ice Cream | ¥1,100

Soft serve ice cream topped with crunchy cereal, cotton candy, and chocolate, all drizzled in a splattered sweet strawberry sauce.

Customers who post a photo of their foot onto social media with the hashtag #tokyohalloweencollection can enter for a chance to win some Halloween merchandise.

Review: Meeting Pixar Characters in Japan at PIXAR FEST in Omotesando

OH MY CAFE, a chain of cafes in Japan, is now running a special Pixar-themed food event called 'PIXAR FEST' which will run in Tokyo, Osaka, and Nagoya.

"Keep On Smiling" is the the concept of the event, which will serve up a whole range of different foods including a Lightning McQueen exclusive on September 5, a special drink inspired by Disney Pixar's Onward which released earlier this year, a collection of strawberry desserts centred on Lots-o'-Huggin' Bear to celebrate Toy Story's 25th anniversary, and more. There's lots to see, so we follow MIOCHIN to the Tokyo event in Omotesando.

PIXAR FEST at OH MY CAFE is packed full of exciting things for both kids and adults alike. Here's our report.

The fun begins even before you enter the cafe, as at the entrance, you are met with a wall poster of numerous popular Pixar characters.

The moment you step inside, Sully is there ready to greet you! You can even take a picture with him, so if you visit, don't miss the chance.

You'll find familiar faces scattered all around the cafe, like Woody, Buzz, Mike, Nemo. The decorations and designs are really wonderful.

The original menu has a cute lineup too, with dishes, drinks, and desserts inspired by characters from the animated movies.

The food tastes really good too, so be sure to pick out a menu item based on your favourite movie.

Until October 9, you can order the special Onward and Lightning McQueen menu items. This includes 'Ian & Barley's Pink Sunset Blue Mallow Tea' and 'Lightning McQueen's Kachow Lightning Hamburger Sandwich.' You can see the full menu lineup here. It makes you want to watch Pixar movies all day then grab some Pixar food!

Lots-o'-Huggin' Bear from Toy Story 3 will have his own special menu items too: the 'Lots-o's Strawberry Chicken Hamburger' and 'Lots-o'-s Strawberry Drink.' These will be served from October 10 to November 24.

The cafe has its own collection of PIXAR FEST merchandise in three different types: the "PIXAR FEST Series" which uses the cafe's main visual for its design, the "Vintage Series" which uses a cute purple, and the "Alien Mix" which has a pop design with the Little Green Men from Toy Story.

Customers can also receive a limited-edition OH MY CAFE sticker if they order something from the menu, buy some merchandise, and post their thoughts about the cafe and their items on Twitter with the hashtags #キャンペーン #PIXAR FESTカフェで最高の思い出を作ろう #OHMYCAFE. Be sure to get involved if you're in Japan this summer and autumn.

PIXAR FEST at OH MY CAFE is a dreamland for Pixar fans, and is best experienced in person.

©Disney/Pixar

Information

PIXAR FEST OH MY CAFE

Tokyo

OH MY CAFE TOKYO / August 28, 2020 – November 15, 2020

Address: Tokyu Plaza Omotesando Harajuku (Floor 3F), 4-30-3 Jingumae, Shibuya, Tokyo

 

Osaka

kawara CAFE&DINER Shinsaibashi / August 28, 2020 – November 17, 2020

Address: Shinsaibashi OPA (Floor 9F), 1-4-3 Nishishinsaibashi, Chuo Ward, Osaka, Osaka Prefecture

 

Nagoya

kawara CAFE&KITCHEN Nagoya PARCO / September 4, 2020 – November 24, 2020

Address: Nagoya PARCO South Building (Floor 5F), 3-29-1 Sakae, Naka Ward, Nagoya, Aichi Prefecture

Pixar Fest OH MY CAFE Official Website: https://pf2020.ohmycafe.jp/

Review: The 30 Year Old Cafe Chatei Hatou in Shibuya

Hi, everyone. It's Banako of MOSHI MOSHI FRIENDS. Today I'm reviewing Chatei Hatou, a long-standing cafe in Shibuya, Tokyo.

Shibuya is a place that bustles with youth culture and fashion. It's also home to many eateries, but there aren't many places around that you can go to to get away from the busy streets for a quiet break.

Chatei Hatou opened in 1989 at Miyamasuzaka Shita in Shibuya, where it has gone unchanged and welcomed customers for the past 30 years. It's very easy to get to, being just a 3-minute stroll from the Hachiko Exit of Shibuya Station.

When opening the door to the cafe and stepping inside, the first thing to jump out at you are the rows of coffee cups lined up along shelves behind the counter.

The coffee cup collection features a selection of works by many different makers. There's even a cup in there valued at ¥200,000!

The antiques littered here and there around the cafe elevate the vibe of the cafe. There's a number of seating areas, including the counter seats as well as tables for two, four, or big groups.

I felt the faint tasty scent of the Japanese pudding calling to me so I went and ordered a pumpkin pudding along with a hot chocolate.


Cafe Chocolat (Hot) ¥950 / Pumpkin Pudding ¥500


The pumpkin pudding was nice and moist and rich in flavour. Nothing short of delicious. It's made even sweeter when eaten together with the fluffy whipped cream―which also elevates the flavour of the pumpkin too.


I was inspired by the cafe owner to go for the cup I chose for my hot chocolate. There is so much variety between the cups; it's fun getting to see rare ones. Be sure to check their Instagram page where they have more detailed write-ups about their coffee cups and coffee varieties.

The cafe has a selection of original coffee blends which they make fresh with the utmost care and consideration. You can buy their coffee beans, take cake away from you, and even order whole cakes, so you can enjoy their delights at home.

Chatei Hatou has stood together with Shibuya these past 30 years. According to the owner, the most important thing about running a cafe is making sure its doors are always open. It's been tough as a result of the pandemic this year, but the cafe is still there as a part of people's lives.

The next time you're in Shibuya, why not enjoy a drink and a sit down at Chatei Hatou?

Information

Chatei Hatou
Address: 1-15-19 Shibuya, Shibuya-ku, Tokyo
Opening Hours: 11:00-23:30 (Last Orders 22:30)
No Fixed Holidays (But may be closed during the New Year Holidays)
Access: 3-minutes on foot from Shibuya Station's Hachiko Exit
Official Instagram: https://instagram.com/hatou_coffee_shibuya?igshid=9ubwybwvpktb
*The cafe is cash-only and has an outdoor smoking area

Writer: Banako
Translator: Joshua Kitosi-Isanga

Tokyo Stroll: The Café That You Want to Visit to See Someone #14 – 'Kayaba Coffee' in Yanaka

In this edition of The Café That You Want to Visit to See Someone, I visited Kayaba Coffee, a coffee shop in Yanaka, Tokyo, which is a perfect example of the old and traditional shitamachi neighbourhoods.

Kayaba Coffee is just a 10-minute walk from both Nezu Station and Nippori Station.


This is a place I've visited in my private time out of work and I'm always excited to go. Kayaba Coffee was established in 1938, and actually closed in 2006. But due to public demand, the cafe reopened just two years later in 2008. It's a popular coffee shop loved by people of all generations.

Time to head on in.

The first floor houses the counter and table seats, while the seating on the second floor is traditional zashiki style on tatami flooring. Although it's a cafe, you I feel so relaxed in there that it's like I'm visiting my grandma's house. The sun shines through the big windows, making you all warm and want to take a nap.

I ordered their super popular egg sandwich! The menu was changed in May this year, and a new and improved version of their egg sandwich was put on there. It's made using sourdough bread from VANER, a local bakery in Uenosakuragi not far from the cafe.


Breakfast Menu – Egg Sandwich | ¥1,000

The chewy, sour bread is the perfect combination with the fluffy eggs.

Lemon Squash | ¥600

The lemon squash has a cinnamon aftertaste. Everything on the menu is made with love and perfection; before I realised it, I was hooked on going there.

Strawberry Shaved Ice | ¥800

This was my first shaved ice of the year! I went with the classic strawberry flavour. The syrup is super juicy and nearly collapsed the fluffy shaved ice the moment I put it on. It has a syrupy texture and the strawberry juice has a sweet and sour kick that's just simply delightful♡

And you can make it even sweeter by pouring over your desired amount of condensed milk. It was really tasty.


Kayaba Coffee is the same as it was back in the day, and continues to be loved dearly. I think even people who visit it for the first time will feel a sense of nostalgia. If you have a place you can go to relax on bad days or when you're feeling down, it's sure to give you the strength to work hard again. This cafe is a wonderful place that's close to people's hearts.

I want to visit there again already.

Writer/Model: Ema Tanioku
Photographer: Haruka Yamamoto
Design: Yuko Takayama (ASOBISYSTEM)

Translator: Joshua Kitosi-Isanga

Information

Kabaya Coffee
Address: 6-1-29 Yanaka, Taito-ku, Tokyo

Opening Hours: [Tue-Fri] 8:00-18:00 (Last Orders 17:30) / [Weekends] 8:00-19:00 (Last Orders 18:30)

Closed: Mondays

Harajuku's New Carbonara Restaurant Serves Pasta Japanese Style

A new spaghetti carbonara restaurant by the name of Nama Carbonara opened in Harajuku, Tokyo on September 17, 2020.

The restaurant opened in the same building as Harajuku's popular fresh cream shop MILK and bubble tea shop Mot Tram. The restaurant makes its own fresh flat pasta everyday and uses fresh, rich cream sourced from Hokkaido.

The current menu lineup consists of six dishes, from classic carbonara to Japanese twists. Let's take a look at some of them.

Classic Carbonara | ¥790

Walleye Pollack Roe Japanese Carbonara | ¥1,090

Freshly Grated Cheese & Bacon Carbonara | ¥1,090

Seafood, Avocado & Basil Carbonara | ¥1,190

Discover a brand new world of carbonara like never before at Nama Carbonara in Harajuku.

Information

Nama Carbonara (生カルボナーラ専門店 原宿店)

Grand Opening: September 17, 2020

Address: THE SHARE 1F, 3-25-18 Jingumae, Shibuya, Tokyo

Opening Hours: 11:00-19:00 (Last Orders 18:30)

TEL: 03-5772-8858

Official Website: http://www.opefac.com/

Anime Film Crayon Shin-chan: Crash! Rakuga Kingdom and Almost Four Heroes Promoted With Themed Cafe in Saitama

Crayon Shin-chan: Crash! Rakuga Kingdom and Almost Four Heroes was released on September 11, 2020 as the 28th animated feature film in the Crayon Shin-chan series. To promote the film, a themed cafe is set to open at BOX cafe&space in the city of Koshigaya in Saitama Prefecture from October 1 to November 1.

The cafe originally opened at TOKYO PARADE inside Shibuya PARCO back in March for a limited time, and now it's headed north of Tokyo to Saitama.

Shin-chan fans can look forward to a menu lineup of dishes, drinks, and desserts inspired by the film's theme of "drawing."

Rakuga Kingdom Cafe Crayon Shin-chan Curry | ¥1,390 (Before Tax)

The Shin-chan curry is a spicy yellow curry combined with coconut milk. The white sauce is inspired by the light blue colour of the smocks worn at Futaba Kindergarten in the series.

Rakuga Kingdom Cafe Buriburizaemon Curry | ¥1,390 (Before Tax)

This one's a spicy black masala curry centred on Buriburizaemon.

Uki Uki Da Zo Crayon Shin-chan Pancakes | ¥1,390 (Before Tax)

Pancakes toped with cream and a cute Shin-chab illustration. It's served with a wafer featuring pictures of other characters from the film.

Minna Suki ni Kakeba? Rakugaki Pudding Plate | ¥1,390 (Before Tax)

Two pudding tarts and a crepe which you can draw on with a chocolate pen to create your own cute illustrations like Shin-chan.


Shin-Chan's Miracle Colourful Jelly Soda ¥890 | Shiro's Cotton Candy Strawberry Milk ¥990 (Before Tax)

A soda served with jelly in five different colours and a strawberry milk topped with Shiro who's made from cotton candy. It becomes a sweet strawberry milk as soon as the cotton candy hits and melts into the drink.

Pin Badges (8 Designs) | ¥400 (Before Tax)


Canvas Art | ¥3,500 (Before Tax) *Limited edition

Bonus Items

The merchandise lineup features items with original artwork. There's also bonus items for customers who book a table in advance as well as order a drink.

Enter the Rakugaki Kingdom of drawing at the limited-time Crayon Shin-chan cafe.

ⒸYoshito Usui/Futabasha・Shinei・TV Asahi・ADK 2020

Information

Uki Uki Kaki Kaki Rakugaki Kingdom Cafe
Location: BOX cafe&space
Address: AEON LakeTown kaze LakeTown Gate 1F, 4-2-2 LakeTown, Koshigaya, Saitama

Running: October 1, 2020 – November 1, 2020

Table Reservations: ¥500 (Before Tax) *includes free merch

Cafe Official Website: https://shinchan-movie2020-cafe.jp/

Kyary Pamyu Pamyu's Halloween Look Decorates Shiseido Beauty Square in Harajuku

Following her firework-inspired summer promotion look for Shiseido Beauty Square, Japanese pop icon Kyary Pamyu Pamyu has returned to the beauty facility with an all-new Halloween look, first revealed on Friday.


Kyary is serving a dark romantic world in Harajuku this Halloween, with Gothic hair and makeup that delivers us spook fantasy mixed with a bewitching, fairy tail-like sweetness. The look was brought to life thanks to Shiseido's top hair and makeup artist Tadashi Harada.

Kyary Pamyu Pamyu became the ambassador for Shiseido Beauty Square when it opened back in June. The concept of the beauty facility is centred on having people discovering their beauty, having fun, sharing experiences, and learning the latest in the scene

Information

Shiseido Beauty Square
Opened: June 18, 2020

Address: WITH HARAJUKU Floor 1F, 1-14-30 Jingumae, Shibuya, Tokyo

Opening Hours: 11:00-20:00

No Fixed Holidays
TEL: 03-5413-7717

Official Website: https://beautysquare.tokyo/

*Website available in English, Japanese, and Chinese

LUSH Harajuku Revamps With New 'Slow Bath' Concept

The Harajuku branch of UK cosmetics retailer reopened after a revamp on Friday with its all-new 'Slow Bath' concept. The branch first opened to the people of Tokyo in November 2018.


Since opening, LUSH Harajuku has delivered a LUSH-esque bath product lineup experience, since Japan is known for being a nation of bath lovers. That is now being taken to the next level with the Slow Bath revamp which will stock a wide variety of items for self care and indulgence.

Throw away the needless and make way for mind and body reconnection

LUSH Harajuku is a place that helps you discover new ways to design your daily routine, with face masks to refresh your skin, products to care for your hair, scents for your well-deserved bath time, and more.

Well-being is also a big part of the brand, teaching you to be kind to yourself while you're working everyday, and to look after your mind and body. LUSH Harajuku stocks not only bath bombs and bubble bars, but a selection of items to use while you're in the bath too for some much-needed self care.

Naked items are environmentally friendly

About 60% of LUSH's products are sold 'naked' without packaging in order to reduce on waste in the environment. This also lets the essential oils and natural smells of the products seep throughout and outside the doors of their stores, beckoning people with the pleasant fragrances.

LUSH's "Lush Labs" app also has a function called "Lush Lens." This lets customers scan any naked item which brings up information about that particular item such as what ingredients are used, as well as videos on how to use products and bath bombs fizzing.

If you're ever in Harajuku, be sure to stop by LUSH.

Information

LUSH Harajuku

Address: 1-13-11 Jingumae, Shibuya, Tokyo

Opening Hours: [Weekdays] 12:00-20:00 / [Weekends] 11:00-20:00

Official Website: https://jn.lush.com/  

Kyoto Neko Neko x eXcafe Kyoto Arashiyama Collaborate On Breakfast Dishes

eXcafe Kyoto Arashiyama is collaborating with Kyoto Neko Neko to release a new breakfast menu order on September 15, 2020.

eXcafe Kyoto Arashiyama sits in an alley off the main street of Arashiyama, one of Kyoto's most famous sightseeing spots. The cafe is home to a spacious 400㎡ modern Japanese garden.

Hoku Hoku Dango Set

The cafe is open from 10am-6pm and is so popular that it's common to always see a line of people waiting to go in. Some of their most popular dishes include the "Hoku Hoku Dango Set" which has you frying your own dango using a traditional Japanese shichirin BBQ, and the "Kuromaru Roll" roll cake.

Ikusu Cafe Breakfast | ¥1,280 (Before Tax)

The cafe's collaboration with Kyoto Neko Neko comes with cute thick-cut cat-shaped bread that you fry on a charcoal shichirin.


Toast toppings include red bean paste, butter, whipped cream, and fruits which you are free to use to create your own topping combination. The breakfast also comes with two mitarashi dango for dessert.

Information

eXcafe Kyoto Arashiyama
Address: 35-3 Sagatenryūji Tsukurimichichō, Ukyo Ward, Kyoto
TEL: 075-882-6366
Business Hours: 10:00-18:00 (Breakfast served from 8:00)

Official Website: https://nekoshoku.jp/

KUROMI♡MY MELODY CAFE Reveals Halloween Themed Menu

Sanrio's beloved characters Kuromi and My Melody have taken over EGG&SPUMA in Shinjuku this summer with the KUROMI♡MY MELODY CAFE which is open for a limited time until October 31, 2020.

The cafe has been split into two separate themes, with the second theme arriving on September 16, turning the cafe into a cute Halloween experience.

The menu, including the popular afternoon tea set, will transform into spooky Halloween inspired food, with Jack-o'-lanterns and bats decorating the plates.

The Kuromi Kimagure Omelette Curry will be sold in limited quantities on weekends at dinnertime. This cute plate features a pink curry topped with Kuromi's favourite leeks as well as seafood, souffle omelette, and Kuromi herself who is made out of rice.

There's also cute pancakes drizzled in berry sauce, My Melody and Kuromi drinks, and more.

Customers who order anything from the Halloween menu will receive one of these coasters free too!

© 1976, 2020 SANRIO CO., LTD. APPROVAL NO. L611679

Information

KUROMI♡MY MELODY CAFE

Location: EGG&SPUMA

Address: Shinjuku Lumine EST 8F, 3-38-1 Shinjuku, Shinjuku-ku, Tokyo

Running: August 1, 2020 – October 31, 2020

Opening Hours: 11:00-21:00 (Last Orders 20:00)

TEL: 03-6273-0255

Official Website: http://salt-group.jp/shop/egg-spuma/