CHAVATY's Houjicha Ice Cream & Tea in Omtesando is Bringing Autumn Early
Hi, everyone, it's Midori from the MOSHI MOSHI BOX Harajuku Tourist Information Center.
It's gotten cold lately. It feels like autumn is here. It's the season where numerous shops in Japan start selling houjicha sweets. With that in mind, I visited CHAVATY, an uva tea shop in Omotesando!
CHAVATY is located at the back of Tonkatsu Maisen, a famous restaurant in Omotesando. Maisen is along a road with a lot of signboards so follow it along towards 7-Eleven and you'll find it. It's in a part of Omotesando with a calm atmosphere.
I ordered the houjicha soft serve ice cream and the bottled uva tea latte.
First up, the ice cream!
You can pick from three flavours: uvacha, matcha or houjicha. I went with houjicha.
It's pretty big. It has a lot of volume too as the ice cream seeps all the way down to the bottom of the cone!
It has a really rich flavour, it's like eating houjicha. It's ice cream but isn't sweet at all so I recommend this for the non-sweet tooths out there.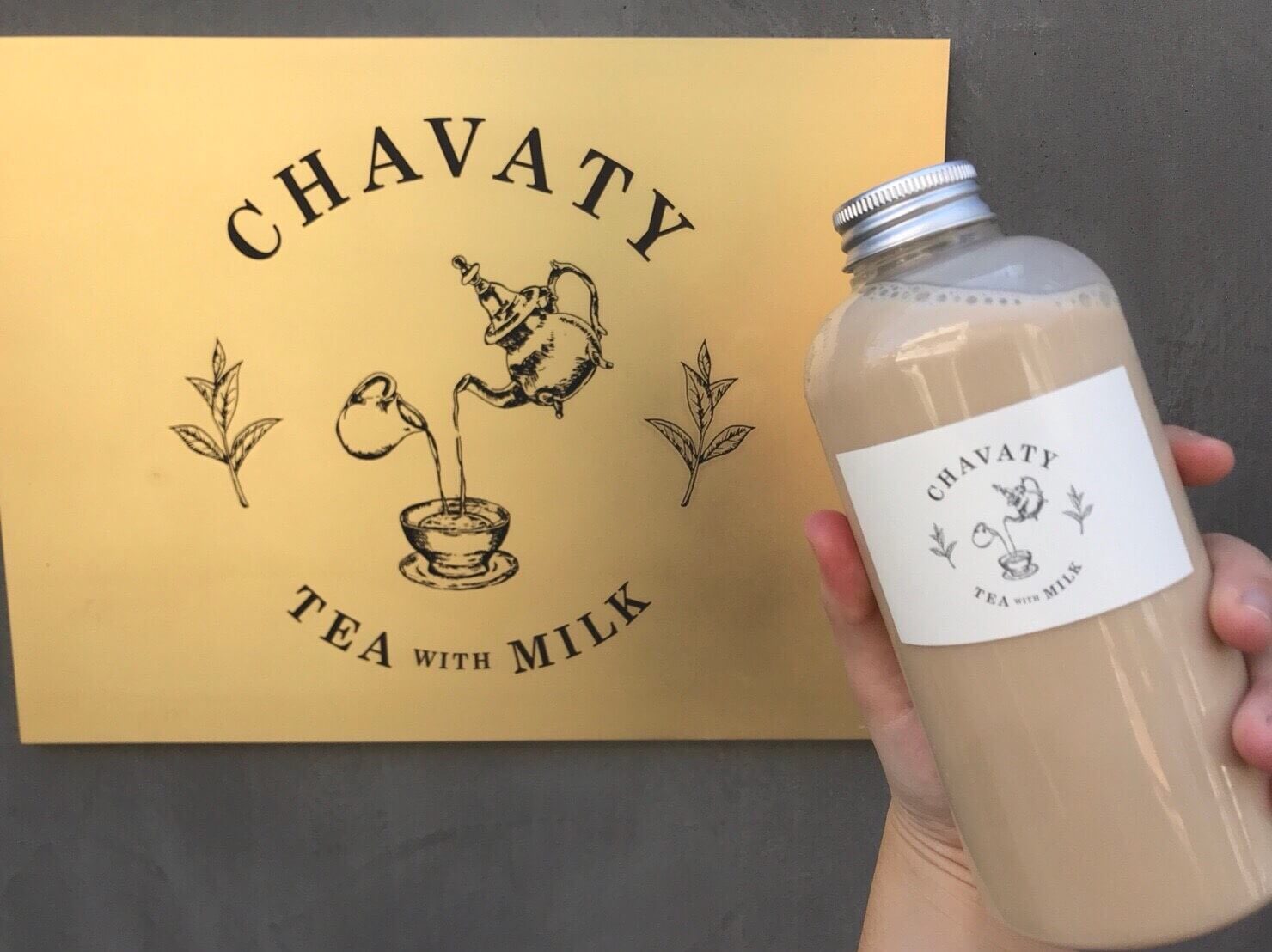 This is the bottle tea latte! Again you can pick from the same three flavours as before. I chose uvacha.
Isn't the bottle so cute?
Drinks like this are usually served in cups with or without lids which can be a nuisance when shopping. But with this you get a cap so you can seal it completely and carry on shopping. It might even be an idea to take it home, wash it and fill it again with whatever drink you like.
The taste of course is light and it smells good too. It kind of makes you feel like a grown-up.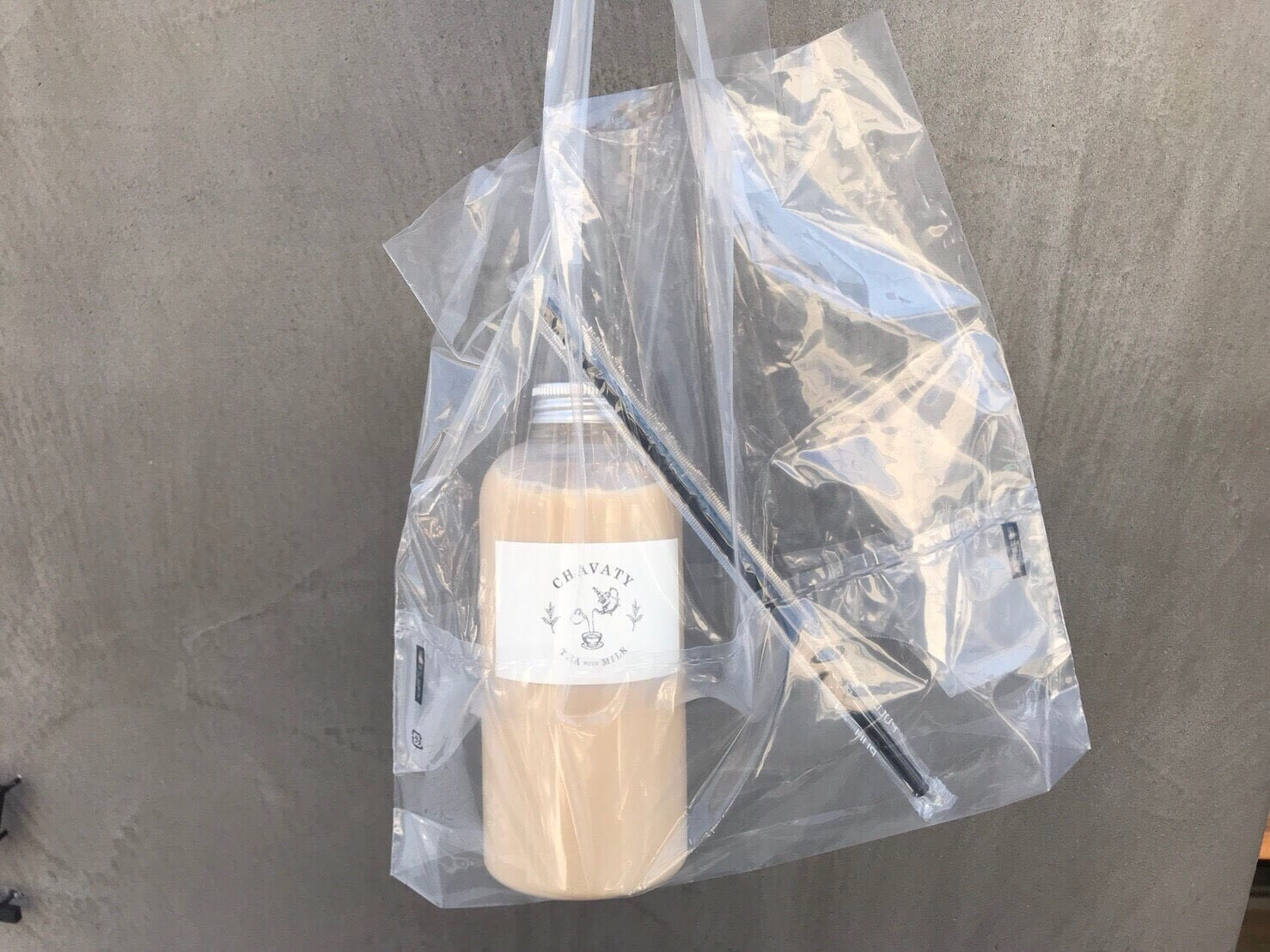 You can ask for a vinyl bag which looks cute too. The colour scheme is sophisticated Instagram-worthy.
Enjoy some authentic houjicha treats for yourself too at CHAVATY.
Information
CHAVATY
Address:Jingumae 4-6-9, Shibuya-ku, Tokyo
Hours:10:00~21:00
TEL:03-3401-2378
RECOMMENDED ENTRIES
Cafe Hohokam – A Hamburger Shop Recommended by the Harajuku Tourist Information Center Staff

Hi, everyone! I'm Midori Blackmore and I work at MOSHI MOSHI BOX, the Harajuku Tourist Information Center.

Today, I went to Cafe Hohokam with fellow MOSHI MOSHI BOX colleague Ellie, so I wanted to share my experience with you all.

Hohokam is located behind MOSHI MOSHI BOX and can be found up the staircase past FABIUS Cafe.

Head up these stairs to find the entrance.

Hohokam is decorated to look like a motel you would see in Arizona. I've never been outside Japan before so I had to look up what exactly they're like. Arizona is a state in the southwestern region of the US. It's bordered by Mexico to the south, is very hot, and is home to the Grand Canyon. It also has the largest Native American population.

*We have blurred the faces of the people inside to protect their identities.

'I see,' I said to myself and looked around. So that's the atmosphere they're going for. It's very stylish but also feels incomparable to anything else.

We both ordered an orange cream soda with a Hohokam burger and French toast that comes topped with Nutella, bananas and whipped cream.

How amazing does this look? It looks like the cream soda you only see in manga. I was really surprised. It's tall and the colour is gorgeous. Really just the best. This must be the proper way to make it in the cream soda industry. When you drink your cream soda, don't you think to yourself, 'Summer has arrived,' too?

It's strange when you first take a sip because although it's blue it has an orange flavour. The soft serve cream on top is also sweet and really delicious!

There's four cream soda flavours to choose from: melon, raspberry, lemon and orange, and they're all supposed to be colourful and taste good. It might be a fun idea to order different coloured drinks with your friends.

Next up is the Hohokam burger! The menu said it has chili beans, cheese and a jalapeno patty.

Tada!

The flag on top is cute, isn't it? You can wrap the burger with the napkins provided on the table before biting into it, but we both shared it.

This is how it looks cut in half. The red part is the chili beans. It's spicy when you take a bite, but it's not overly spicy at all! For me I thought it was a refreshing kind of spiciness like that of Mexican cuisine. I'm no good with spice and even I could eat it.

The meat inside was made very well. It was just the kind of hamburger you'd expect at a hamburger shop.

There's a bunch of other burgers to choose from too, like the mozzarella burger, barbeque burger, cheeseburger and more.

Last up is the French toast with Nutella & Banana & Whip cream!

Something looking like this has got to be delicious.

The burgers at Hohokam are of course delicious, but I personally want to give the nod to their desserts. They're seriously something else!

The fluffy French toast is topped with sweet Nutella and whipped cream, but it's not heavy at all. We were already quite full but we were able to lap it up easily.

They also have a terrace smoking area. The atmosphere there was fairly nice too! Dining outside can make eating your food taste good too, can't it?

Another great thing is that everything at Hohokam can be ordered for takeout! We recommend getting a delicious burger and having a picnic in Yoyogi Park!

So, do you like the sound of Cafe Hohokam? It's great for lunch or dinner, and we also recommend using it as a café to stop by when you're out shopping.

If you're in Harajuku and have an empty stomach, or you're in need of a dessert, then please try Cafe Hohokam for yourself.

■Information

Café Hohokam

Address: 2F, 3-22-14 Jingumae, Shibuya, Tokyo

Opening Hours: 11:30-23:00(L.O. 22:30)

TEL: 03-5755-5708

Website: http://www.cafe-hohokam.com/

Cute & Delicious Animal Gelato at Eiswelt Gelato on Takeshita Street in Harajuku

Hi everyone, it's Midori from the MOSHI MOSHI BOX Harajuku Tourist Information Center.

Isn't the food in Japan recently way too cute? Especially in Harajuku – they have a lot of cute ice cream shops there selling items so cute they almost seem a waste to eat.

A new shop with this very description just opened in Harajuku so I went to check it out! The name of the shop is Eiswelt Gelato, a chain that first opened on Huntington Beach in California.

It's located along Takeshita Street opposite Harajuku Station. It's packed even on weekdays!

This is how the menu looks. All the gelato sold here is shaped like animals.

I ordered "Froggy" which is available only at this Japanese branch. You can pick from either mint or matcha flavours. I went with mint.

The ice cream at the counter is super colourful. It's a lot of fun waiting for your finished gelato to be made!

After taking my order the lady carefully drew the frog's face on.

This is how it came out!

It's definitely something that came from California but it also has that cute Japanese character element to it. It's charming and something that will be popular with girls. It seems a waste to eat but I had to!

Gelato has less milk than regular ice cream but the flavour of the mint really comes through. It's crazy delicious.

I said it was a waste to eat earlier but I completely devoured it.

Visit there yourself to get your hands on some new sweets that aren't just cute but tasty too!

■Information

Eiswelt Gelato Harajuku

Address: 1-8-5 Jingumae, Shibuya, Tokyo

Opening Hours: 10:00-20:00

TEL: 03-6804-3103

Website: http://www.eiswelt-gelato.com/

The Korean shaved ice shop,"SULBING HARAJUKU" –a report by MOSHI MOSHI BOX, staff person, Midori

Hello, everyone. My name is Midori Blackmore and I am a staff person of MOSHI MOSHI BOX Harajuku Tourist Information Center.

Do you like strawberries? I love strawberries so, I feel happy during this spring season because many desserts using strawberries are released every year.

This time, I visited the very popular shaved ice specialized shop, "SULBING HARAJUKU" from Korea.

The shop is always crowded in summer, but you don't have to wait to get into the shop during the winter season.

It might sound weird to eat ice cream during winter, but I think it is nice to eat something cold inside a warm room, for some reason.

Eating a shaved ice inside a warm shop is the same!


The shop is located on the 2nd floor of the building where the sports store, SKECHERS is located, near the Takeshita Exit of Harajuku Station (make a right turn after getting out of the exit). The sign of the shop is small so be careful not to miss it.

The inside of the shop is spacious and warm. Many of the customers are women but I saw some groups of men as well. A wide generation of people visit the shop.

Secure a table first before making an order at the counter. The product I ordered was a winter-limited, "Nama Ichigo SULBIN"(fresh strawberry shaved ice)!

After ordering, take a buzzer and wait at your seat.

When the buzzer rings, go to the counter and receive your shaved ice.

"Nama Ichigo SULBIN"(fresh strawberry shaved ice) 1,400 yen (tax included)

Boom!

The product was bigger than I thought. Look at the size of it!

You will realize that it is not a normal shaved ice as soon as you put it into your mouth.

The ice is very fine and has a soft texture. Even when it is cold out, the ice will not result in a "rush to the head"and you will be able enjoy the fresh ice texture.

Also, the shaved ice of this shop has the flavor of milk! The combination of the milk-flavored shaved ice and lots of strawberries goes very well.

Red bean jam paste is inside the shaved ice so you will never get tired of eating this sweets item.

SULBIN HARAJUKU sells many kinds of menu items.

One popular menu item is"Mango Cheese SULBIN" 1,500 yen (tax included)


A popular item that is not a sweets is  (food menu)"Mozzarella Toppogi Toast" 1,100 (tax included)

For those of you who do not have "a sweet tooth,"I recommend that you share an ice shaving dish with your friends or with your boyfriend.


"Nama Ichigo SULBIN" will be sold until February for sure but it might not be sold in March. Let's go to the shop as soon as possible!!

◼︎Information

SULBING HARAJUKU

Address: 2F, Green Oak Harajuku, 1-14-34, Jingumae, Shibuyaku, Tokyo

Business hours: 10:30 – 20:00(LAST ORDER 19:30)

Fixed holiday: undecided

Access: 58m from the Takeshita exit of JR Yamanote Line – Harajuku Station

1 minute on foot from the 2nd exit of Tokyo Metro Chiyoda Line – Meiji Jingu Station
TEL:03-6721-0404

■MOSHI MOSHI BOX Harajuku Tourist Information Center

MOSHI MOSHI BOX is a tourist information center located at the cross road of Takeshita Street, Meiji Street, and Harajuku Street. The staff there are experts on the Harajuku area. You can get the most up-to-date news of Harajuku from the site.

Services:

Service list

・free wi-fi

・free water

・free PC & charge

・baggage room

・gift shop

・currency exchange

Opening Hours: 10:00-18:00

Closed: The year-end and New Year holidays

Contact: 03-2225-6447

Twitter・Instagram @mmb_harajuku
RELATED ENTRIES
Cheese Tea Shop machi machi Showcases Christmas 2020 Beverage

Taiwanese cheese tea shop machi machi is releasing a new drink in Japan this holiday season on December 1: the 'Flurry Strawberry Milk With Crème Brûlée.'

machi machi is an extremely popular cheese tea chain in Taiwan that has been called the 'king of cheese tea' by Taiwanese news outlets. Each and every cup poured is made fresh with tea from Taiwan to which rich cream cheese is added for a salty kick, creating a new kind of dessert drink.

Flurry Strawberry Milk With Crème Brûlée | ¥750 (Before Tax)


The new Christmas beverage being served in Japan uses fresh strawberries which adds a delightful sweetness to the milk. It's topped with crushed Oreos and combined with crème brûlée for a variety of layered flavours. The Oreos add crunch to the dessert drink so that it's a delicious experience down to the last sip.

If you've never had Taiwanese cheese tea, and are in Japan this Christmas, don't miss out on this seasonal drink, available for the whole month of December.

Information

Flurry Strawberry Milk With Crème Brûlée
Serving: December 1, 2020 – December 31, 2020
Available: machi machi stores in Japan
Official Website: https://machimachi.baycrews.co.jp

Japanese Koala's March Cookies Collaborates With Pokémon On Cheesecake Moomoo Milk Flavour

Koala's March is one of the many tasty treats made by Japanese confectionery company Lotte. They are bite-sized cookies with sweet fillings. Lotte is teaming up with Pokémon to release 48 Koala's March products with Pokémon prints on them.

Koala's March With Pokémon – Cheesecake Moomoo Milk Flavour

The crunchy biscuits feature a variety of Pokémon prints on them along with the Pokémon's names' in Japanese. They are filled with sweet cheesecake-flavoured chocolate. The collaboration is inspired by Moomoo Milk, an HP-restoring medicine seen in Pokémon. Together with the original Koala's March prints, there are a total of 96 individual designs to find.

A proper tasty snack for any Pokémon Trainer out there!

©LOTTE/Koala's March Project

©Nintendo・Creatures・GAME FREAK・TV Tokyo・ShoPro・JR Kikaku ©Pokémon

Strawberry Shortcake Crepe Arrive For Christmas 2020 at gelato pique cafe

gelato pique cafe in Japan is celebrating the holiday season with a series of 'WHITE CHRISTMAS' themed crepes and soft serve ice creams until December 27.

The cafe is a branch of the loungewear brand gelato pique. It aims to create desserts for adults. This Christmas, it is serving up some holiday special crepes and ice creams.

Strawberry Shortcake Crepe | ¥880 (Before Tax)

A fat crepe stuffed with strawberries and adorned in a way that's just like a shortcake. It contains not only strawberries, but raspberries, and cream. The whole wheat biscuit adds texture to the crepe so it's delicious to the last bite.

Pique Bear Crepe | ¥1,180 (Before Tax) *Limited quantity served each day


A snowy, all-white crepe made with sweet strawberries, milk gelato, and whole wheat biscuit. It's topped with a cute white chocolate bear.

Holiday Special Soft Creams – From Left: Strawberry Custard, Rich Milk, Mix | ¥450 Each (Before Tax)

The strawberry custard ice cream is made with smooth, sweet, and rich custard cream and strawberry for a melt-in-the-mouth combination. The rich milk ice cream is a mix of refreshing milk and rich vanilla. The mix option combines both of these flavours which results in a real mouth-watering treat.

If you're in Japan this holiday season, don't miss out on these delightful desserts.

Information

WHITE CHRISTMAS
Running: November 16, 2020 – December 27, 2020
Gelato pique cafe Official site:https://pique-cafe.com/
*The Gotemba Premium Outlets branch of gelato pique cafe is only selling the Strawberry Custard Cream Soft Cream
*The Tamagawa Takashimaya S.C. branch is not selling soft creams

Make Your Own Chocolate Pokémon Pies With Lotte's Confectionery DIY Kit

Japanese confectionery company Lotte is launching a new version of its popular Choco Pie dessert in collaboration with Pokémon.

Pokémon Trainers out there with sweet tooths are given an ordinary blank Choco Pie which they can decorate with the accompanying assorted chocolates, nuts, and sweets to create their favourite Pokémon. They can create their own from their mind or follow the recipe provided.

Choco Pie Art with Pokémon will be released by Lotte in Japan on November 24, 2020.

©Nintendo・Creatures・GAME FREAK・TV Tokyo・ShoPro・JR Kikaku ©Pokémon

Luxurious Christmas Desserts Whipped Up at Ginza's SHISEIDO PARLOUR SALON DE CAFE

SHISEIDO PARLOUR SALON DE CAFE in Ginza, Tokyo, is serving up Christmas cheer this year in the form of a delightful selection of desserts from December 1 to 29.

Christmas Angel Parfait | ¥2,300 (Tax Included)

Made with super sweet Le Lectier pears and combined with assorted berries, this parfait is like a gift from the heavens.

Present From The Heavens w/ Drink | ¥2,500 (Tax Included)

A super cute Christmas assortment with a Christmas present made from white chocolate and berry yam, a snowman made from yuzu citrus-laced milk ice cream, and more.

Shiseido Parlour Story w/ Drink | ¥2,600 (Tax Included) *Served weekdays only

Ensemble Chocolate w/ Drink | ¥2,200 (tax Included)

A brownie made from a combination of Belgian, French, and Swiss chocolate surrounded by ganache, ice cream, and more, served with a spread of berry sauce.

Strawberry Parfait | ¥2,000 (Tax Included)

A simple but deliciously sweet parfait made with koiminori strawberries from Nagasaki. It's served with ice cream and sauce but only contains 10g sugar content.

Information

SHISEIDO PARLOUR SALON DE CAFÉ
Address: Tokyo Ginza Shiseido Building 3F, 8-8-3 Ginza, Chuo-ku, Tokyo

TEL: 03-5537-6231 (Reservations Not Required)

Opening Hours:

[Mon-Sat] 11:00-21:00 (Last Orders 20:30)

[Sun & Public Holidays] 11:00-20:00 (Last Orders 19:30)

Closed: Mondays (Except Public Holidays) / New Year Holidays

Official Website: https://parlour.shiseido.co.jp/

Pikachu Caramel Frappes Zap Their Way to Pikachu Sweets by Pokémon Cafe This Holiday Season

Pikachu Sweets by Pokémon Cafe in Ikebukuro, Tokyo, is adding the new "Caramel Pika Pika Frappe" to its menu this holiday season from December 5, 2020 to January 15, 2021.

Caramel Pika Pika Frappe | ¥700 (Before Tax)

The adorable beverage is based on the Japanese custard pudding known as purin. It's laced with caramel sauce, closed off with a squirt of whipped cream, and finished with a sprinkling of chocolate chips for accent.

Pikachu Sleeves

The drink also comes with one of four possible Pikachu sleeves which feature designs in promotion of the upcoming animated film Pokémon the Movie: Secrets of the Jungle (also known as Pokémon the Movie: Coco) which will be released in Japan on December 25, 2020 and in the US in 2021.

© 2020 Pokémon.©1995-2020 Nintendo/Creatures Inc./GAME FREAK inc.
Pokémon, ポケットモンスター, and ポケモン are registered trademarks of Nintendo, Creatures Inc., and GAME FREAK inc.
© Nintendo・Creatures・GAME FREAK・TV Tokyo・ShoPro・JR Kikaku
© Pokémon © 2020 Pikachu Project

Tokyo Tower to Begin Morning Tea Gathering On 150-Meter Main Deck

Tokyo Tower is set to host a special morning tea gathering on its 150-meter-high main deck, which overlooks central Tokyo, from November 21, 2020.

A peaceful morning cup of tea above Tokyo

Tokyo is a communications tower in the middle of Tokyo which has its own observation deck open to the public which offers an incredible view of the capital. During the day, the tower is very busy with visitors, and so this morning tea gathering aims to offer people a chance to enjoy the tower and its view in peace and quiet, before opening hours, with a cup of Japanese tea.

An open display showcasing Japanese crafts

The event is cooperating with the Japan-France Tea Ceremony Association who is providing specially-selected traditional Japanese tea-making and serving equipment, all of which were made by traditional Japanese artisans and have been passed down since the Edo Period for an authentic.

Open to foreigners even if you don't know Japanese or the etiquette of the Japanese tea ceremony

Don't worry if you can't speak Japanese or don't know the manners or proper etiquette when it comes to the Japanese tea ceremony – the event is open to all, and you can participate without sitting in the traditional seiza positioning. The staff can speak English, French, and Spanish, so foreign tourists won't miss out on anything.

Information

Morning Tea Gathering
Running: November 21, 2020 / December 5, 2020 / December 19, 2020 / January 9, 2021 / January 23, 2021 / February 6, 2021 / February 20, 2021
Time: Meeting at 8:15am / Entering at 8:30am
Meeting Point: Tokyo Tower Floor 1F Foot Town
Sign Up: アソビューサイト

McDonald's Luxurious Chocolate Frappes in Collaboration With GODIVA Are Mouth-Watering

McDonald's Japan has revealed two new beverages which will be sold at McCafé by Barista branches of McDonald's from November 25: the "GODIVA Chocolate Espresso Frappe & Macaron" and the "GODIVA Chocolate Espresso Frappe."

This is McCafé by Barista's first collaboration with the Turkish chocolate company GODIVA. The drinks were made under the supervision of Yannick Chevolleau, an executive chef and chocolatier pâtissier at GODIVA, bringing together a match made in heaven of rich chocolate and espresso.

GODIVA Chocolate Espresso Frappe – Regular Size (¥540)

The beverage contains a dark chocolate sauce which combines cacao powder and roasted cacao beans which is mixed together with fragrant espresso and milk before being topped with whipped cream drizzled in a couverture chocolate sauce made from 54% Belgian chocolate.

GODIVA Chocolate Espresso Frappe & Macaron – Regular Size (¥540)

You can also get it topped with a vanilla-flavoured macaron which adds sweetness to the rich beverage and looks even more Instagram-worthy.

Information

GODIVA Chocolate Espresso Frappe & Macaron
GODIVA Chocolate Espresso Frappe
Serving: November 25, 2020 – Mid January 2021 (subject to change)
Available: At McCafé by Barista branches of McDonald's in Japan

Mickey & Friends Disney Christmas Cupcakes to be Released at Ginza Cozy Corner

Japanese confectionery company Ginza Cozy Corner is teaming up with Disney once again to release a new Christmas collection of cupcakes on December 1.

Colourful Disney treats for the holiday season

This sweet seasonal collection is inspired by Mickey & Friends and contains nine unique cupcakes which depict the characters getting ready for their Christmas party.

Disney Christmas Collection (Contains 9) | ¥2,500 (Before Tax)

Cupcakes include a Santa-hat wearing, chocolate ganache-filled Mickey cream cheese cake, a strawberry jam-filled Minnie mousse cake, a lemon and mint cream-packed, Christmas decoration-adorned Donald tart, a banana and mint cream Pluto tart, an orange cream Goofy chocolate cake, and more.

The cakes are packed in a special Disney Christmas box which is sure to catch the attention of sweet tooths this holiday season, perfect for stay-at-home Christmas parties.

Information

Disney Christmas Collection
Running: December 1, 2020 – December 25, 2020

Ginza Cozy Corner Official Website: https://www.cozycorner.co.jp/

Starbucks Japan Reveals Matcha x Matcha White Chocolate Frappuccino®

Starbucks Coffee Japan has revealed that its second instalment of its limited-edition holiday season 2020 beverages will be the "Matcha x Matcha White Chocolate" and "Matcha x Matcha White Chocolate Frappuccino®" which customers can order from November 24. A new batch of festive Starbucks merch will also hit Japanese branches on November 30.

A harmonious fusion of matcha and sweet white chocolate

Matcha x Matcha White Chocolate Frappuccino® Tall ¥590 (Tall-size only)

Matcha x Matcha White Chocolate: Short ¥450 / Tall ¥490 / Grande ¥530 / Venti® ¥570 (Hot option only)

Matcha is one of Starbucks Japan's signature flavours and just to happens to have been in the spotlight in last year's holiday season drinks. This year sees marbling mixture of of rich matcha sauce and sweet white chocolate syrup with the Frappuccino®, finished with a squirt of whipped cream, brownie bits, and snowy powdered sugar. The hot version comes as a marriage of matcha and white mocha mixed together with steamed milk to warm the cockles of hearts during the cold months.

New holiday season merchandise

The theme of the second batch of merchandise is "Brilliant Season" which capture the bright and sparkly vibe of winter like with the snowflake-covered stainless steel bottle, a glass mug with beads in it that move around when shaken, a snow globe, and more. The perfect line-up for capturing the holiday season mood during your coffee break.

Starbucks Japan is currently serving the Berry x Berry No-Bake Cheesecake Frappuccino® and Berry x Berry White Mocha holiday season drinks for the holiday season until November 24 when they will be replaced by the Matcha x Matcha White Chocolate and Matcha x Matcha White Chocolate Frappuccino®. It is also serving the Starbucks® Christmas Blend, Gingerbread Latte, and Macadamia Toffee Latte until Christmas Day.

Information

Matcha x Matcha White Chocolate and Matcha

Matcha White Chocolate Frappuccino®

Running: November 1, 2020 – December 25, 2020

Available: Starbucks in Japan
Starbucks Japan Official Website: https://www.starbucks.co.jp/

Toy Story's Little Green Men and Lots-o' Get Turned Into Confections at Japanese Convenience Stores

Bandai's character-inspired Japanese confectionery series Tabemas has revealed that its next batch of sweet treats will be inspired by the Little Green Men and Lots-o'-Huggin' Bear from the popular Pixar movie franchise Toy Story. The confections will hit 7-Eleven convenience stores in Japan on November 21, 2020.


Tabemas Toy Story | ¥258 Each (Before Tax)

The lovable Little Green Men and Toy Story 3's main antagonist Lots-o have been fully recreated, down to the finest details, into delicious confections. The details are well crafted you can almost hear the aliens chanting "OOOOOH" in unison! The sweets are also made with a dough called "nerikiri" which is used in making traditional Japanese wagashi sweets.

The Little Green Men are matcha flavoured while Lots-o is strawberry flavoured. Both contain Japanese bean paste, and neither use artificial colourings. Their colours comes from the original ingredients. Each sweet is also only 100kcal making is a perfect quick treat.

'Tabemas' is an abbreviation of the Japanese words taberareru masukotto, meaning 'mascots that you can eat.' It is a Japanese confectionery series that combines well-known characters and Japanese sweets made from ingredients like red bean paste, sugar and rice flour.

©Disney/Pixar

Information

Tabemas Toy Story 25th Anniversary – Little Green Man & Lots-o'-Huggin' Bear
Release Date: November 21, 2020
Available: At the chilled sweets section of 7-Eleven convenience stores in Japan

*Available while supplies last

*Stock date may differ from branch to branch

*Select stores not participating

Official Website: https://www.bandai.co.jp/candy/tabemas/toystory/  

Christmas-Themed Afternoon Tea Set to Arrive at Hyatt Regency Tokyo

Hyatt Regency Tokyo's brasserie Vicky's is reopening on November 20, 2020. To celebrate Christmas, Vicky's is serving up an adorable afternoon tea set which contains Christmassy desserts and savoury snacks. The afternoon tea set will be available on weekends and national holidays from November 21 to December 27, 2020.

Christmas Afternoon Tea Set: ¥4,400 (After Tax)

Enjoy a festive afternoon tea set in Vicky's comforting brasserie. For the occasion, head dessert maker Hirokazu Satō has created a selection of delicious pastries which take the forms of adorable Christmas characters. Enjoy the creamy layers of the strawberry mousse snowman, indulge in the aromatic pistachio cream tart which looks like a Christmas tree, and sink your teeth into a strawberry and pistachio macaron which looks like Santa Claus. Tuck into the strawberry shortcake which looks just like a Christmas present to finish off your dessert plate.

Minoru Ōtaki is in charge of the savory treats of the Christmas afternoon tea. The menu includes pulled pork sandwiches, quiche lorraine, fried shrimp and more. The savoury snacks balance out the sweet desserts and add a moderately savoury touch to your experience. Customers are also invited to indulge in the wide variety of delightful drinks.

To celebrate the reopening of Vicky's, Ōtaki has created a special dinnertime tapas selection where you can indulge in the natural flavours of fresh ingredients.

This Christmas afternoon tea is a wonderful way to relax after work or even with your friends.

Information

Christmas Afternoon Tea Set
Running: November 21 ー December 27, 2020
Location: Vicky's Brasserie, Hyatt Regency Tokyo Floor 1
2 Chome-7-2 Nishishinjuku, Shinjuku City, Tokyo
Teatime: 13:00 – 17:00 (Last Orders: 16:00)
*Available on weekends and national holidays only

Phone Number: 03-3348-1234

Vicky's Brasserie Official Website: https://www.hyattregencytokyo.com/portals/0/vickys/