RAKU SPA 1010 is a new spa located in Kanda, Tokyo that had its grand opening on March 1, 2019. With its concept of "an oasis in the city," the bath house perfectly balances relaxation, work and social interaction.
Reisei Otsumami (Cold Light Meals): ¥480 (Before Tax)
The facility also serves light food and refreshments. And as part of the grand opening, the first 5,000 people to use the bath house will receive an original RAKU SPA 1010 towel with the facility's logo on it.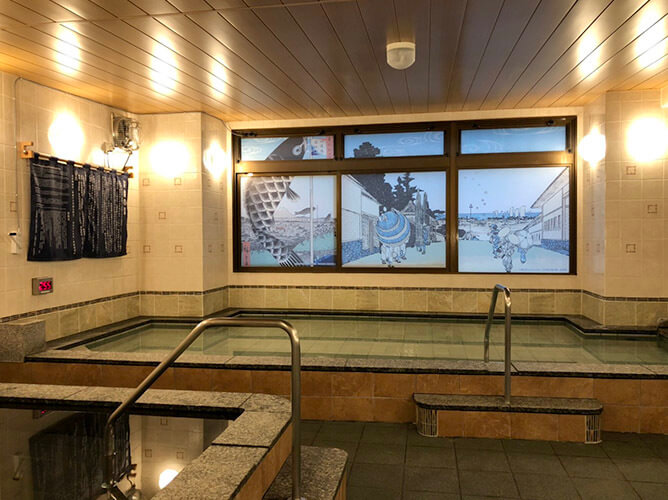 There are 3 different spa plans on offer at RAKU SPA. This includes a 10-hour option which allows full use of the facility, a 3-hour option for use of the bath house, and a sauna option. Each plan offers long stay periods which can be utilised in many ways whether to simply use the sento or sauna or to make use of the co-working space, eat at the pub and diner, and so on.
Enjoy a long and luxurious sojourn at RAKU SPA 1010.
Information
RAKU SPA 1010 Kanda
Address: 2-9-9 Kanda Awajichō, Chiyoda Ward, Tokyo
Opening Hours: 11:00am-8:00am (the following day)
Grand Opening: March 1, 2019
TEL: 03-5207-2683
Prices (Tax Included)
・RAKU SPA Course (10 Hours): ¥1,460
・Sauna Course (3 Hours): ¥890
・Sento Course (3 Hours): General ¥460 / Children ¥180 / Infants ¥80
*General: 12+ years / Children: 6-12 years / Infants: 6 years and below
Official Website: http://rakuspa.com/kanda/
RELATED ENTRIES
Yunohana Onsen Resort Reveals Contemporary Art-Inspired Guest Rooms

Sumiya Kihoan, a cozy inn at Yunohana Onsen in Kameoka City in Kyoto, opened a unique new guest room on April 28, 2022. The room's concept is "where guests can stay in the middle of contemporary art," and was inspired by the works of internationally-acclaimed contemporary artist Yukinori Yanagi. The new room, created as part of the Art Room Project, has been named 'Kofuu.'

The Icarus Corridor Connecting Heaven and Earth

Heavenly Bath Welcoming a Rainbow at Dusk

In-Ground Bath Featuring Oribe Glazed Ceramic

Concept Drawing of the Art Room Project by Yukinori Yanagi


The new room includes an open-air bath where guests can be transported into the world of Yanagi's contemporary art while gazing at the gorgeous Kyoto landscape. Upon entering the inn, guests are greeted by a long corridor leading to the bedrooms, dining room, and two creative open-air baths. The space was created in collaboration with Yanagi and local artists and craftsmen, such as potter Ishii Naoto, obi craftsman Yamaguchi Genbei X, plasterer Kusumi Akira, and Japanese paper craftsman Hatano Wakaru. A delicious menu is prepared by chef Hosoi Kunihiko.

Wakura Onsen in Ishikawa Prefecture to Hold Special Illumination, Luxurious Tea Time

The Wakura Onsen Tourist Association is sponsoring a new project to illuminate Seirinji Temple, a nationally registered cultural property. Along with this light show, guests can enjoy a luxurious tea time starting on January 8, 2022. This year, the pavilion and garden will be lit up again, and the entrance will be decorated with traditional local paper lanterns. 

The historic property was built in 1909 as a resting place for Emperor Taisho. Only two such buildings exist in Japan: one in Hamada City, Shimane Prefecture, and the other at Wakura Onsen. Both were registered as Tangible Cultural Properties of Japan in 2017. 

 

Last year, the area was photographed for posters and pamphlets as part of the 'Japanese Beauty Hokuriku' campaign organized by JR East, JR West, and the Central JR Railway.

Each Saturday evening through February 26, guests will be invited to enjoy a different kind of atmosphere while enjoying a very fancy tea time. The program has been very well received by visitors, so it shouldn't be missed!


The light-up of the temple and garden, with its slowly changing colors, will transport guests to another world. The entrance to Seirinji Temple will be redecorated and lit up, and a pathway of lights will be created from the gate to the entrance of the pavilion using paper lanterns.

Information

Seirinji Temple Illuminations & Luxury Tea Time

Running: Saturdays from January 8 – February 26, 2022 

First Seating: 17:00  

Second Seating: 18:00

Address: Seirinji Temple, Wakura Onsen (61 Wakuramachi, Nanao, Ishikawa)

*Available for guests of Wakura Onsen

Official Site: https://www.wakura.or.jp

Report: Sebastian Masuda's 'Yes, Kawaii is Art' Exhibition at Kanda Myojin Shrine Goes Beyond 'Cute'

What does the word 'kawaii' mean to you? For most people overseas, it's a purely Japanese aesthetic combining colorful visuals with cutesy characters to make something so adorable it defies imagination. In recent years, however, 'kawaii' has become a kind of philosophy that transcends language, national borders, and even consciousness. It's a driving force behind people's lives and something that pulls people out of bed in the morning–it's something capable of instantly putting a smile on people's faces. For those wishing to study the philosophy behind the 'kawaii' movement, the Godfather of Kawaii Sebastian Masuda is currently holding an exhibition at Kanda Myojin Shrine in Tokyo until December 12, 2021. What is it about 'kawaii' that is so capable of inspiring so many different people and cultures around the world? 

A correlation chart welcomes guests to the grounds. The 'Kawaii Archival Research,' a project on kawaii culture conducted with students from the Kyoto University of Arts, collected data on 'kawaii' trends from the post-war period to the present day. Through interactions with the worldwide 'kawaii' community, it's clear how much of an impact the aesthetic has had on people around the globe. 

In the midst of the pandemic in 2020, Masuda announced #KAWAIITRIBE, a way to encourage those coping with depression during the days of COVID-19. His followers were asked to use 'color' to bring the world together, and more and more, the 'kawaii' movement became a way to express and love oneself. Using #KAWAIITRIBE, more and more fans of the movements became connected–even if those users were countries apart. 

The hashtag #SPEAKUP was also utilized by Masuda to collect data from 'kawaii' lovers around the world, asking about hobbies, interests, and opinions on 'kawaii' culture. The data collected over the course of 12 days was incredibly meaningful to Masuda and led to plenty of new discoveries about the community as a whole. 

Masuda explains that each country has different types of 'kawaii,' and that the aesthetic is expressed in different ways around the world. One country may have people influenced mainly by 'kawaii' expressions in anime and manga, while another expresses it through fashion or music. 'Kawaii' is diverse, just as people are diverse. 

Sebastian Masuda has also held a Zoom meeting with people in 'kawaii' communities around the globe to discover how they became involved with the aesthetic initially, while also asking how it inspired them and gave them strength during these difficult times. Certain people claimed that 'kawaii' helped them in their personal growth, while others say it has brought out some of their potential in new and unexpected ways. While Masuda's artwork may simply seem visual, 'kawaii' has become a tool for new communication and personal healing and growth. Some may even call it a kind of therapy: a place where people can surround themselves with color and joy to heal from the difficulties of life. The bold colors of the 'kawaii' movement can inspire people to be bold in their daily lives. Individuality should be celebrated and self-confidence should reign supreme–that is yet another message of the 'kawaii' movement. 

Many people involved in the Zoom call had never met, and after the initial meeting, the room was left open to give people a place to communicate. Afterward, the 'kawaii' circle only became bigger, with a Facebook group bringing together more and more members of the community. 

The research done during the last year of the COVID-19 pandemic has given 'kawaii' lovers a reason to think deeply on how to overcome the many struggles born from the 'new normal,' and these forums are perfect places to share colorful messages of hope and strength. 

Inspired by Masuda's own struggles during his time in Manhatten in 2013, Colorful Rebellion -Seventh Nightmare- is on display at Kanda Myojin. The installation has previously appeared in locations around the world including New York City, Milan, and Amsterdam. This time, the exhibit was inspired by 'muro,' a basement room in Omotesando where amazake is fermented. The room was used as an air-raid shelter during the war, and walking along the dimly-lit path leading to Masuda's brightly-colored room, it's hard not to wish that those evacuees could have been surrounded by these beautiful colors instead of pitch darkness. 

It is no exaggeration to say that this is Masuda's representative work. Created in the midst of the artist's own struggles, it has helped establish the philosophy of 'kawaii' culture and continues to help those dealing with their own problems.

The Time After Time Capsule Art Project, starting in 2014 and held in 12 cities around the world, is a massive time capsule filled with messages and wishes for the future. Shaped like the beloved Sanrio character Hello Kitty, the capsule is gradually changing color as it becomes heavier and heavier with wishes for peace and happiness from fans around the world. Originally planned to be exhibited at the 2020 Tokyo Olympics, this couldn't come to fruition due to the current pandemic. This is the first time it is being shown in Japan. 

The WORLD TIME CLOCK, a once-famous landmark of Harajuku, has also been recreated and installed within Kanda Myojin. 

'Yes, Kawaii Is Art' at Kanda Myojin is a deeply emotional, personal, and inspiring exhibition allowing visitors to experience firsthand how 'kawaii' culture is capturing the hearts of people around the world. Sebastian Masuda isn't slowing down any time soon, and his works will continue to heal people and bring joy for many years to come. 

Sebastian Masuda's solo exhibition 'Primal Pop' will be held at Roppongi Hills A/D Gallery from December 11, 2021, until January 10, 2022.

TEXT:Natalie(MOSHI MOSHI NIPPON)

A Sneak Peek at Sebastian Masuda's 'Yes, Kawaii Is Art' Exhibition at Kanda Myojin Shrine

The Godfather of Kawaii Sebastian Masuda will open his 'Yes, Kawaii Is Art' exhibition at the 1,300-year-old Kanda Myojin Shrine on December 4, 2021. A number of Masuda's representative works will be on display at the historical site, known as one of the most important shrines during the Edo period. 

Colorful Rebellion -Seventh Nightmare-

Kanda Myojin Shrine

 

Colorful Rebellion -Seventh Nightmare- has been shown in New York, Milan, and Amsterdam over the past few years, and will now make an appearance as part of this exhibition. Given the magnificence of the venue, the work will be presented in a unique way–in the basement of the shrine. In addition, a part of the research on Kawaii culture conducted in collaboration with Kyoto University of Arts Ultra Factory will be on display as well. Guests will be invited to ponder the nature of Kawaii, and what makes it so beloved by audiences worldwide.


 

Colorful Rebellion -WORLD TIME CLOCK-

Time After Time Capsule Art Project

Kawaii Archival Research

Near the entrance to the shrine, the Colorful Rebellion -WORLD TIME CLOCK will be on display. Clad in the cutest colors imaginable, it has become a symbol of Harajuku around the world. The Hello Kitty-shaped time capsule, which was on display for five months in New York City in 2015, will also be shown on the temple grounds. The participatory art project has made it to 12 cities around the world so far. 

Kawaii culture will blend with traditional Japanese culture during this exhibition, so keep an eye out for more details coming soon!

What is 'Yes, Kawaii Is Art?' 

Sebastian Masuda has been at the helm of the global Kawaii movement for decades. 

 In 2020, Masuda asked a number of questions to fans of Japanese pop culture around the world–what is Kawaii? Why does Kawaii cross borders, generations, and gender? This new exhibition tries to find an answer to those questions while bringing some joy and excitement to the local community. 

Information

Sebastian Masuda Exhibition 'Yes, Kawaii Is Art' at Kanda Myojin Shrine

Dates: December 4 – December 12, 2021

Hours: 12:00-18:00 (Last Entry at 17:30)

Address: Kanda Myojin Shrine (2-16-2 Sotokanda, Chiyoda-ku, Tokyo)

Admission: Free (¥500 for Colorful Rebellion -Seventh Nightmare-)

https://sebastianmasuda.com/works/tokyo/

For more details on the event, follow Sebastian Masuda's Twitter: 

Gorgeous Project Mapping Event Coming to Yamashiro Onsen in Kaga, Ishikawa

DMM.com will sponsor a projection mapping project titled Yamashiro Night Promenade Fall 2021 on Yamashiro Onsen Street in Kaga, Ishikawa prefecture from October 30 until November 28, 2021. 

The limited-time project is being organized by the Yamashiro Onsen Tourist Association with support from DMM. Under the themes of harmony and local tradition, brilliant images of flowers, water, and geometric patterns will illuminate the hot spring resort while accompanied by music. There will also be traditional Taiko performances during the event. 

Information

Yamashiro Night Promenade Fall 2021

Running: October 30 – November 28, 2021

Hours: 20:20-21:20 (Canceled for rain) 

Address: Yamashiro Onsen Street in front of Hatori Ryokan (17 Onsen-dori, Yamashiro Onsen, Kaga City, Ishikawa) 

Official Site: https://sousei.dmm.com/

90 Year Old Renovated Public Bath-turn-Cafe 'Rebon Kaisaiyu' to Hold Collab Exhibition with Illustrator Miyaoka Chigav

Tokyo, Taito-ku based public bath cafe Rebon Kaisaiyu has announced a collaboration exhibition with illustrator Miyaoka Chiga, held between October 10 (public bath day) and October 24 2021, titled "Yu."

 

Rebon Kaisaiyu is a renovated public bath which was built 90 years ago, now transformed into a cafe serving home-roasted specialty coffee and handmade ice cream. The wooden tag shoe boxes, watch seats, ceilings, clocks, and Mt. Fuji paintings from the public bath have been preserved, retaining the comfort and warmth of the original building. 

The space was designed around the concept of "connecting memories through a cafe," striving to become a spot where locals could relax once more, connecting the building with the people of the new generation. The relaxing cafe has 16 seats available and is located only a five minute walk from Tokyo Metro Hibiya Station.

The collaboration exhibition will be filled with artwork using iconic public bath motifs. Miyaoka's gentle illustrations are sure to soothe your heart, immersing you in the warmth of "Yu" (public baths). Why not relax in this unique cafe with a comforting mug of hot coffee.

Information

Rebon Kaisaiyu x Miyaoka Chiga Collaboration Exhibition "Yu"

Duration: October 10 ~ October 24 2021 

Opening Hours: Weekdays 12:00 ~ 19:00 / Weekends, Holidays 11:00 ~ 19:00 (*Based on Rebon Kaisaiyu's opening hours.)

Admission Fee: Free (*Please order one item from the cafe if you decide to use the seats.)

Official Site: https://www.rebon.jp/ 

Sauna-loving "Sauna Manager' Starts New Apparel Brand 'Saunatte Iiyone!'

'Saunatte Iiyone!' is a new street x sauna apparel brand from the mysterious Sauna-ryman (sauna + salaryman) Sauna Manager (@sauna_bucho37), a Tokyo-based Instagrammer who really loves saunas!

Sunglasses Bag Logo Long-sleeved T-shirt

Logo Towel

The manager checks out locations nationwide in search of the perfect sauna, conveying the charms of saunas each day through their Instagram. Their sensational and fun new brand fuses street with the sauna, conveying the owners knowledge and love for the experience. The first items include a long-sleeved t-shirt and towels featuring the brand logo.

They will continue to produce new sauna goods while paying careful attention to fabric and details, so be sure to keep an eye on them!

Information

Saunatte Iiyone

Release Date: September 18 at Noon

Purchase Location: Online Store

Official Site: https://saunaiiyone.com 

BEAMS Announces Virtual Sento Bath Experience at Virtual Market 6

BEAMS is set to have its own booth at Virtual Market 6 (Vket6) which will be hosted by HIKKY from August 14-28. At the BEAMS booth, they will be showcasing must-visit sento bathhouses. Vket is one of the biggest virtual events in the world, and uses Web to VR technology so you don't need a VR headset, meaning people can access it simply by connecting via mobile, PC, or other smart device. This will be BEAMS' second attendance at the event, and shop staff will appear inside as avatars.

Inside BEAMS 'Recommended Sento 2021' Booth at Vket 6

Inside BEAMS 'Recommended Sento 2021' Booth at Vket 6

Vket-chan wearing the free towel you get at the BEAMS booth

BEAMS is taking their ongoing 'Recommended Sento 2021' project, which is running at Kotobukiyu in Ueno, Tokyo, until September, to the virtual realm in a collaboration with COW BRAND SOAP. As well as collaboration merch, players can use Vket-chan's 3D avatar and combine it with the free towel to bathe in the bath as her.

The virtual space is decorated with sento pictures illustrated by manga artist and calligrapher Mari Yamazaki. Users can also launch fireworks, and there are various Japanese summer-themed attractions.

The official Vket merchandise will be available on the Merch by Amazon service and can be shipped to Japan, the US, UK, France, Germany, Italy, and Spain.

Miyako Hotel Kyoto Hachijo Launches Sento Bath Hotel Plan

Miyako Hotel Kyoto Hachijo launched a new hotel plan on July 26 which includes a ticket to bathhouses around Kyoto, a bath amenity set, a hotel-original sento t-shirt, and more.

Available until March 30, 2022, the plan was conceived as a way for tourists to enjoy the ordinary, everyday Kyoto in a way that's different from people's usual tourist and sightseeing experiences in the city. Kyoto continues to be a hub for sento bath culture.

Hinode-yu, a bathhouse in Minami Ward, Kyoto

Hotel-original tees are available as part of the plan

Receive a bath amenity set and bathhouse ticket

Kyoto is home to around 100 unique sento bathhouses where people can enjoy a relaxing soak in a giant public bath while chatting. It's a huge part of Kyoto culture and one which is seeing a steady increase in popularity again with the younger generation.

If you're staying in Kyoto this year or planning a trip early next year, don't miss out on this limited-time hotel plan.

Love Live! Nijigasaki High School Idol Club x Oedo Onsen Monogatari Event Announced

The Tokyo-based bathhouse Oedo Onsen Monogatari is set to collaborate with the anime series Love Live! Nijigasaki High School Idol Club with a special event titled 'Tokimeki Onsen Monogatari' from July 30 to September 5. This will mark the site's final collaboration with an anime series as the bathhouse is closing on September 5.


For the collaboration, panels and decorations featuring original artwork of the Nijigaku members is featured around the bathhouse. There's also a special photospot featuring a backdrop of a scene taken the anime's second episode.

A lottery draw will take place where you can pay ¥550 for a chance to win a cushion, illustrated print, or bromide. There are also 10 collab drinks as well as three pasta dishes to pick from. Fans can also get their hands on exclusive merch such as keyrings, tees, tapestries, and more.

Satoyama Jujo THE HOUSE IZUMI: Rent Out a Renovated Japanese House in Niigata

Japanese design company Jiyujin launched its new Satoyama Jujo THE HOUSE chain of accommodations this month which offer a single group of guests a one-night stay in an entire house.

The first branch to open is IZUMI which features a fully-renovated Japanese-style house located in the city of Uonuma in Niigata. A gorgeous outlook is offered from the house with an unbroken view of lush forests, rice fields, and Mt. Makihata, which is listed as one of the '100 Famous Japanese Mountains.'

A breathtaking view awaits guests from the open-air bath

The spacious living room

Fully renovated from a 150-year-old private house, the building is supported by beautiful wooden beams and columns, and in the middle the oe, a sunken hearth. This, along with the beams and sashigamoi joints, are made from keyaki Japanese zelkova which is an elm-like tree. This species of tree is rare even in a tree-covered region such as Uonuma. The lumber used for this house was cut, preserved, and dried out for a number of decades before being processed into building material for the house. The heart in the middle of the living room is reminiscent of a time when large families would gather around one and serves to recreate that lifestyle.

The Nishiyama region is known for is production of delicious rice. IZUMI in fact looks out over Kabanosawa, a special and important place of rice production in Nishiyama. This vantage point also gives guests an opportunity to appreciate the hot and cold temperatures of the daytime and evening, the rivers, the shape of the land, and the earth the city sits on. The drastic change in temperatures in the day and night are especially noteworthy as this, along with the basin between the mountains, gives rise to a sea of clouds.

IZUMI sits on a hill that overlooks the rice paddies, making it a perfect location for spotting the sea of clouds. Minamiuonuma's sea of clouds has over a 70% chances of appearing in the autumn and spring seasons.

The number one reason why Japan's old, long-standing, and precious private houses are demolished is due to the cold getting in and it being too dark inside. Even those who want to see them preserved for tradition, including those who live in them already, would rather live in a modern home. That's why Jiyujin has begun a renovation project instead of a demolition one. By refurbishing the houses, the ancient framework can be fixed up and preserved while a range of contemporary amenities are incorporate to fit with modern lifestyles. The Satoyama Jujo accommodations are built so they can be used for over 100 years.

For dinner, there are three options for guests. The first is a dinner at SANABURI which earned itself a Michelin star in Michelin Guide Niigata 2020. The second is a meal at a restaurant that earned the status of Bib Gourmand in the same guide. The third is to prepare your own meal in the house. There are plenty of shops around the station nearby where you can buy local ingredients.

After a delicious meal, guests can take a soak in the open-air tub and enjoy gazing out across the fields and the beautiful mountains which stand almost 2,000 meters high.

Information

Satoyama Jujo THE HOUSE IZUMI

Japanese Name: 里山十帖 THE HOUSE IZUMI

Address: 671-1, Amanosawa, Minamiuonuma, Niigata, 〒949-6433, Japan

Official Website: Opening early July 2021

Access: 7-minutes by car from Jōetsu International Skiing Ground Station (JR Joetsu Line) / 16-minutes by car from Shiozawa-Ishiuchi IC

Chiba's New Sento Bathhouse Collaborates With BEAMS in the Run Up to Spring 2022 Opening

Next spring will Oakland Group open the new sento bathhouse Ryusenji no Yu Spa Metsä Okata. The bathhouse is has teamed up with Japanese fashion brand BEAMS and released a collection of original items at Ryusenji no Yu's online store on June 28.

Original Items

Mesh Tote Bags: ¥2,970 Each (Tax Included)

Mesh Satchels: ¥2,420 Each (Tax Included) / Mesh Pouches: ¥1,980 Each (Tax Included)

Salt Pillow: ¥2,970 (Tax Included) / Salt Eye Mask ¥3,300 (Tax Included)

Shower Sandals: ¥2,200 Each (Tax Included)

Towels: ¥1,980 Each (Tax Included)

Socks: ¥1,980 Each (Tax Included)

Acrylic Keyrings: ¥1,540 Each (Tax Included)

Dakimakura Hugging Pillow: ¥3,850 (Tax Included)

T-Shirts: ¥2,970 Each (Tax Included)

Pins: ¥300 Each (Tax Included)

Water Bottles: ¥1,650 Each (Tax Included)

The merchandise line-up was overseen by Kazuyoshi Minamimagoe, Executive Director at BEAMS. It includes durable mesh bags, shower sandals, and other must-have items when enjoying a day at the spa. There's also a t-shirt collection illustrated by Kao Okata, a hugging pillow, salt eye mask and pillow which are said to cool you down after a hot bath, face towels, socks made in collaboration with the old-time brand GLEN CLYDE, and more.

BEAMS has held many projects and been active in creating know-how solutions for other brands and businesses at their select shops. In 2019, they created a Business Production Team which enabled them to expand their business reach by developing products, content, promotional material, and so on. Their work doesn't stop at the products featured in this article – they also create work uniforms, interior design, create signs for facilities, produce e-commerce sites, and much more.

Information

Ryusenji no Yu Spa Metsä Okata x BEAMS Original Items
Released: June 28, 2021
Buy exclusively at Ryusenji no Yu: https://www.ryusenjinoyu.shop
*Not sold at BEAMS