RAKU SPA 1010 is a new spa located in Kanda, Tokyo that had its grand opening on March 1, 2019. With its concept of "an oasis in the city," the bath house perfectly balances relaxation, work and social interaction.
Reisei Otsumami (Cold Light Meals): ¥480 (Before Tax)
The facility also serves light food and refreshments. And as part of the grand opening, the first 5,000 people to use the bath house will receive an original RAKU SPA 1010 towel with the facility's logo on it.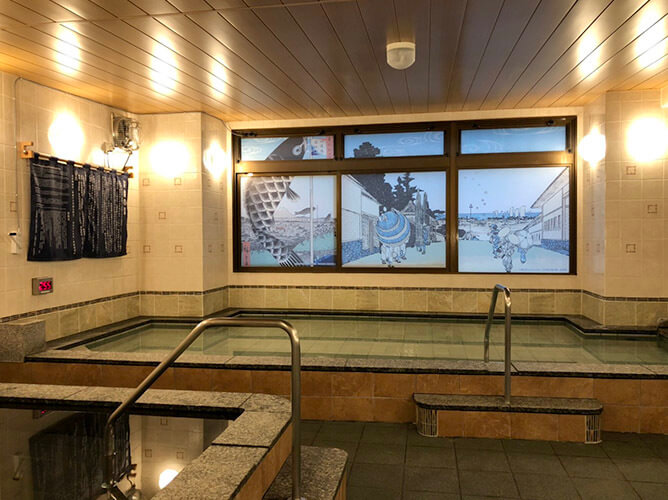 There are 3 different spa plans on offer at RAKU SPA. This includes a 10-hour option which allows full use of the facility, a 3-hour option for use of the bath house, and a sauna option. Each plan offers long stay periods which can be utilised in many ways whether to simply use the sento or sauna or to make use of the co-working space, eat at the pub and diner, and so on.
Enjoy a long and luxurious sojourn at RAKU SPA 1010.
Information
RAKU SPA 1010 Kanda
Address: 2-9-9 Kanda Awajichō, Chiyoda Ward, Tokyo
Opening Hours: 11:00am-8:00am (the following day)
Grand Opening: March 1, 2019
TEL: 03-5207-2683
Prices (Tax Included)
・RAKU SPA Course (10 Hours): ¥1,460
・Sauna Course (3 Hours): ¥890
・Sento Course (3 Hours): General ¥460 / Children ¥180 / Infants ¥80
*General: 12+ years / Children: 6-12 years / Infants: 6 years and below
Official Website: http://rakuspa.com/kanda/
RELATED ENTRIES
Kusatsu Onsen's Emerald Green Pudding is a Must-Try After a Dip in the Hot Springs

Kusatsu Onsen is a hot spring resort in Gunma Prefecture that is one of Japan's three principle hot spring locations. The site opened its new Japanese custard dessert (known as 'purin') shop, Kusatsu Onsen Pudding, on August 24, which serves the most incredibly smooth purin you have ever tried, each inspired by the hot springs.

Once you've stepped out of the nice warm hot springs of Kusatsu Onsen you can refresh yourself with a delicious purin packed full of love from the shop which has created a flavour you can only try by travelling to Gunma and going there. Each and every dessert is made fresh in the shop to further elevate its exclusivity as a local speciality.

Kusatsu Onsen Pudding also makes sure to use local and regional ingredients where it can to help support manufacturers and producers. Their purin is also made with a special type of milk sourced from in Gunma known as Haruna milk. The milk is made as delicious as can be by ensuring cows are raised on a healthy natural diet of grass on green pastures in Gunma bathed in plenty of sunlight.

Yuhata Purin

The Yuhata purin is inspired by the hot spring areas where mineral deposits are harvested, its jelly taking on a gorgeous emerald green colour. It's lemon and lime flavoured, the perfect flavour to enjoy when stepping out of the hot water, and one which goes surprisingly well with purin.

Yumomi Purin

The staple purin of the store, this purin is based on yumomi, a method used for cooling the hot water with paddles from which cold water gushes forth. This velvety delight is made with lots of fresh cream and high-quality vanilla beans from Madagascar for added punch.

Furomage

A pun on the word fromage, with furo in Japanese meaning "bath," the Furomage purin uses a rich cream cheese base which has a seriously smooth texture. It's topped off with strawberry jelly for the perfect combination, packing a perfect balance between sweet and sour.

Yuhata Soft (Milk/Yuhata/Mixed)

Choose from the Yuhata soft serve ice cream which is ramune flavoured and inspired by the flowing water of the hot springs or the Haruna milk-mixed vanilla flavoured Milk soft serve. If you can't pick, then choose mixed for a bit of both. A satisfyingly refreshing pick for when you're done in the hot springs.

The shop has plans to sell purin made using bamboo steamers in the near future, so you're pudding can be steamed like yourself after a dip in the water! The wooden spoons used to eat the desserts are also made in the image of the paddles used in yumomi too.

Mitama Hot Spring in Yamanashi Ranks in Japan's Top 100 Night Views & Registers as Night View Heritage

Located in the beautiful little town of Ichikawamisato in Yamanashi Prefecture is Mitama Hot Spring, a "day-trip" type hot spring, which has just received a double award: it has been listed as one of Japan's Top 100 night views for the first time, and as a Night View Heritage of Japan.

Mitama Hot Spring is built on the southern tip of the Kōfu Basin―Kōfu being Yamanashi's capital city-which can be viewed in a breathtaking 180 degree panoramic view from the northern side of the open-air baths. The majority of the hot spring also faces the south which means a breathtaking nighttime view of the city, picturesque against a resplendent sky, as you soak in the warm embrace of the hot spring.

During the day, one's eyes can roll their gaze across the Yatsugatake Mountains at the front, and in the direction of west is Mount Kita, the second tallest mountain in Japan after Mount Fuji.

Mitama Hot Spring should absolutely be on your bucket list of things to do when visiting Yamanashi Prefecture.

Information

Mitama Hot Spring

Address: 2608 Ōtsuka, Ichikawamisato, Nishiyatsushiro District, Yamanashi Prefecture

Opening Hours: 10:00-23:00 (Last Entries 22:00)

*Closed around 5 days a year for inspection and maintenance

Price: General ¥700 / Elementary School Children ¥500 / Toddlers – Free

*General price set to increase to ¥780 this October

Official Website: http://www.mitamanoyu.jp/

Goldfish Art Exhibition Begins at Ooedo-Onsen Monogatari in Tokyo Odaiba

Onsen theme park Ooedo-Onsen Monogatari in Odaiba, Tokyo launched its biggest event of the year Kingyo Matsuri Art Exhibition on June 24. The festival feature a range of exciting exhibits including Japan's biggest terrarium developed by aquarium creator Masanori Miyazawa.

Aquarium ①: Japan's biggest Japanese-style Terrarium

A terrarium is a sealable glass container inside which soil is placed to grow plants. Aquarium creator Masanori Miyazawa, who goes by the artist name GA☆KYO, has built Japan's biggest Japanese-style terrarium which represents the change from the old generation into the new. Standing at 5-meters tall and stretching 1.5-meters wide, the terrarium makes use of bonsai, moss and driftwood.

Aquarium ②: Yukata x Aquarium x Photo Spot

Inspired by the ladies of Edo Castle, beautiful cylindrical fish tanks with kimonos wrapped around them act as a great photo opportunity together with the goldfishes.

Aquarium ③: Meet the 1 Million Yen Ryukin Goldfish

This innovative art installation pairs the Ryukin, a type of Japanese goldfish that has been sold in long-standing fish shops for more than 200 years, with onigawara decorative tiles that have been used to ward off spirits since ancient times, bonsai and more. Also in the exhibit is the "Pre-Edo Goldfish Tearoom" and "Large Round Fish Tanks."

Summer Festival Drinks & Desserts

From Left: Blue Goldfish Shaved Ice: ¥550 @ Kuranoe / Goldfish Blue Hawaii Soda: ¥580 @ Yumeakari / Blue Mojito: ¥850 @ Ooedo Cafe

Feel the festive spirit with these summery drinks and desserts.

Goldfish Goodies

The souvenir store Ryokokuya is selling a range of goldfish themed merchandise perfect as gifts and souvenirs or for taking on summer trips with you.

The New VR NINJA DOJO in Kanda Combines the Ninja Experience With Virtual Reality

The new VR NINJA DOJO is set to open in Kanda, Tokyo on March 18, 2019.

Aimed at overseas visitors to Japan, the new entertainment facility blends the real and the virtual to provide an immersive virtual reality ninja experience. The building itself―from the exterior to the interior―take on traditional Japanese decor with tatami mats, sliding doors and more.

It is set up in such a way that even those not wearing the VR headset can enjoy the experience, allowing for everyone to come together even if the dojo is packed with people. The entire operation is carried out in English too, so ninja participants don't have to worry if their Japanese isn't up to scratch.

Everybody will carry out real ninja training before heading to the VR portion of the operation where they will be challenged against a real fully-trained ninja.

Get involved in a whole new kind of ninja experience at the new VR NINJA DOJO.

Information

VR NINJA DOJO
Grand Opening: March 18, 2019
Address: Takebashi Bldg. Floor 1F, 2-15-15 Uchi-Kanda, Chiyoda Ward, Tokyo
Target Guests: Visitors from abroad or foreigners living in Japan
*Free for foreigners if they bring a Japanese friend
Official Website: https://vr-ninja.jp/

Tokyo Stroll: The Café That You Want to Visit to See Someone #9 – 'Cafe Ace' in Kanda

In this edition of The Café That You Want to Visit to See Someone, I visited Cafe Ace in Kanda.

Being a cafe specialising in coffee it's no surprise they have 40 different varieties of coffee! They even have 15 kinds of tea. Being able to pick out your favourite coffee before the morning rush every morning is really wonderful.

Cafe Ace is one of the places I've wanted to cover for a long time in this series. I was excited to get inside!

Its striped roof gives it quite a retro atmosphere. The warm colour scheme of the decor inside is that from old times – it's very relaxed. It hasn't changed since it opened way back when. It has continued to maintain its ways in spite of times changing. I think that's wonderful.

The cafe carries all kinds of magazines that have been published over the years. They range from 3 to 40 years old. The owner showed me his collection as we spoke about the cafe and conveyed his sentiment for Ace. I feel I have learnt much about its history!

The menu plaques attached to the wall are all handwritten by the owner (he even wrote on the camel artwork above!)

Simply amazing. His handwritten work spreads across the entire wall of Ace.

I have come here on my before but I had no idea he had written all of this out so in learning more about it I have come to love Cafe Ace even more.


His love and warmth can be felt throughout the whole room.

And this―this is Cafe Ace's famous seaweed toast! It's made with seaweed, butter and soy sauce.


The ingredients are simple but the flavour of the seaweed complements the butter perfectly. It's super delicious, I want to eat it everyday! And it only costs ¥170.

In the morning you can have it with blend coffee for ¥500 (+¥20 for iced coffee). You even get free refills on the blend coffee up until noon!

American doughnuts, too. You can enjoy these at the small price of ¥230. They are sprinkled with cinnamon sugar and serve with a knob of butter in the ring. The heat of the doughnuts helps the butter to melt so you can lather it all over.

Finally, a photo of the owner himself. Even in the photo I feel like his smile gives his customers strength. Seeing his lively energy gave me energy too.

He holds his valuable feelings close, doing what he loves in the place he loves. I want to keep on seeing his radiating smile.

Information

Cafe Ace
Address: 3-10-6 Kanda, Chiyoda Ward, Tokyo
Opening Hours: Weekdays 7:00-18:00 / Saturday 7:00-14:00
Closed: Sundays & National Holidays
Access: 3-minutes on foot from Kanda Station via the JR Line and Tokyo Metro Ginza Line

Writer: Ema Tanioku
Photographer: Haruka Yamamoto
Design: Yuko Abe (ASOBISYSTEM)

Translation: Joshua Kitosi-Isanga

Hot Spring Theme Park Solaniwa Onsen Osaka Bay Tower to Open in 2019

The Kansai region's biggest hot spring style theme park Solaniwa Onsen, spanning 16,500m², is set open on floors 2 to 5 at Osaka Bay Tower North on February 26, 2019.

Osaka Resort City 200 (ORC 200) changed its name to Osaka Bay Tower on March 27, 2018. Following that, Hotel Osaka Bay Tower―which welcomes all guests from business people to families―underwent a re-branding and re-opened on March 29. The tower is now set to expand its facilities even further with the grand opening of Solaniwa Onsen.

The hot spring theme park is themed on "Beauty, Healing, Taste." It will be decked out with natural hot springs, stone saunas, relaxation facilities, restaurants, stores and more. Based on the concept of the Azuchi–Momoyama period of Japanese history, the park fuses traditional Japan with the modern to offer a unique and exceptional experience.

The area in which the park is being set up is where an already hugely popular theme park is based. A world fair is set to take place there in 2025 which will bring more international attention to the Osaka Bay area.

There will be many types of bathing experiences on offer at Solaniwa Onsen such as a natural hot spring with low alkalinity for beautiful skin, an open-air bath with the water source running into it, a bath that overlooks an immense Japanese-style garden, a bath with carbonic acid water, another that changes daily, and more. There are also baths that can be booked for 2-5 people for a more private bathe.

The female locker room at the park is home to Japan's biggest powder room which spans close to 100m². There they have a range of beauty equipment, cosmetic rental services and more. The menu includes a combination of traditional food crafted by Tsubouchi Sekisai―who is said to have been a chef to Oda Nobunaga―and modern cuisine.

Step back into the Azuchi–Momoyama period at Solaniwa Onsen.

Information

Solaniwa Onsen Osaka Bay Tower
Address: 1-2-3 Benten, Minato Ward, Osaka, Osaka Prefecture
Grand Opening: February 26, 2019
Opening Hours: 11:00am-9:00am (next day)
Price: Weekday ¥2,400 / Weekends & Holidays ¥2,600 / Special Day ¥2,800
Access: The closest station is Bentenchō Station which is connected to the Osaka Loop Line and Osaka Metro Chūō Line. You can also access the station by boarding the Rapid train on the JR Line at Kansai Airport Station (ETA: 60-minutes).

Official Website: http://www.solaniwa.com

Get to Know People at the New Sociable Hostel, Café & Diner Establishments Opening in Asakusa & Higashi-Kanda

Universal Hostel SEVEN GARDEN and Sustainable Hostel KIKKA are two hostel, café and diner fusions opening in Asakusa and Higashi-Kanda respectively on August 1, 2018.

The concept behind the establishments are to get people socializing with each other regardless of what country they're from, their sex, age, culture and values. They hope to create lots of opportunities and chances for people to bond and make a connection.

The café and diner areas are open to the public and not limited to guests, meaning people can easily and freely feel closer to one another.

Universal Hostel SEVEN GARDEN @ Asakusa

The café and diner at the Asakusa is named Well and is the first ever branch. There you will be greeted by the hospitable Digi Mama, a digital character and snack mama. The more she interacts with customers the more her experience will grow and in turn lead her to grow and mature every day. 'Mingle Drink Tickets' will also be handed out which aim to get people talking and making friends. As for the hostel, there's everything from dormitory rooms to individual rooms that can hold up to 4 people max. The beds are by Simmons so you can expect a comfy and cozy night.

Sustainable Hostel KIKKA @ Higashi-Kanda

The theme of this establishment is 'sustainable' which hopes to have people engaging in a natural environment without effort through dining and accommodation. Food, drinks, events and the use of amenities are linked to the Table for Two service provides meals for children in Africa. Additionally, items used by staff go towards a project by apparel brand Salasusu which supports the activities of Cambodian women. KIKKA will be home to Salasusu's first permanent sales area in Japan.

All the architecture and products used on the ground and first floors of KIKKA was made in collaboration with Suppose Design Office. They made full use of the existing building framework to further develop its design and functionality. The café is run in collaboration with well-established chef and author Shiori. They sell rice balls in the café using specialty products and ingredients from all 47 prefectures in Japan to tie the country's culture together in one place.

If you're looking for somewhere to stay in Tokyo and what to get to know people then consider staying at Universal Hostel SEVEN GARDEN or Sustainable Hostel KIKKA.

■Information

Universal Hostel SEVEN GARDEN @ Asakusa

Address: 1-34-2 Asakusa, Taito, Tokyo

Price: ¥4,800 per night

Rooms: Dormitory – 24 / Individual – 4

Website: https://seven-garden.com/ja/hotel/SEVENGARDEN

Sustainable Hostel KIKKA @ Higashi-Kanda

Address: 1-3-3 Higashi-Kanda, Chiyoda, Tokyo

Price: ¥3,800 per night

Rooms: Dormitory – 60 / Individual – 16

Fujiyama Onsen: The Hot Spring Facility With a Mount Fuji View Undergoes Renovation

Fujiyama Onsen is currently undergoing renovation and will reopen on July 14. Located in Yamanashi Prefecture, the site sits at the foot of Mount Fuji.

The facility is being fitted with a new stone sauna where you can have a clear view of Mount Fuji. There's also a new hammock resting spot as well as hot yoga classes amongst other things. All of these changes transform Fujiyama Onsen from a simple natural hot spring site into a full-day experience.

The fourth and highest floor now has a relaxation area with a picturesque view. There's also other stone saunas in a quiet area with the lights dimmed for winding down, as well as break rooms called 'hot rooms.'

Hot rooms are equipped with heated flooring and there's a reading corner with manga and magazines as well as cushions. Everyone is free to move between the sauna area and hot rooms.

*A separate fee of ¥600 is charged for use of the stone sauna area and hot room space.

The third floor resting area has rooms with tatami flooring and a wide view of Mount Fuji as well as hammocks and a kid's room. There are 6 hammocks – three chair types and three for laying down.

The menu of the site's restaurant, Fujiyama Dining, has also been updated. You can look forward to specially made Yamanashi Prefecture chicken and lots of locally source ingredients as well as beer.

Hot Yoga classes begin from July 21. By exercising at high temperatures, you'll be able to stretch your muscles much easier as well as get rid of any waste in your body. It's also good for dieting and your skin.

Gaze at Mount Fuji while having a relaxing time at Fujiyama Onsen.

■Information
Fujiyama Onsen

Address: 4-17-1 Shinnishihara, Fujiyoshida, Yamanashi Prefecture

Business Hours

・Morning Bath: 7:00am-9:00am

・Regular Bath: 10:00am-11:00pm

・Restaurant: 11:30am-10:30pm (Last Orders 10:00pm)

Price

・Morning Bath: Adults ¥620 / Children ¥310

・Regular Bath: Adults – Weekdays ¥1,400 / Weekends & Holidays ¥1,700

Children – Weekdays ¥700 / Weekends & Holidays – ¥850¥1,700

*Price includes entry fee, bath towel and face towel rental.

*Weekday prices to adopt weekend and holiday prices during the summer season.

*Includes stone sauna yukata and dry towel rental.

TEL: 0555-22-1126

Hotel Nampuro in Nagasaki Introduces an Infinity Pool Overlooking the Ariake Sea

Hotel Nampuro is located in Shimabara Onsen in Nagasaki Prefecture and has been around for 110 years. The hotel recently held the grand opening two infinity pools. One gives an unbroken view of the Ariake Sea and the other a lush garden.

The concept behind the pools is to get people closer to Shimabara's natural environment. Guests can enjoy feeling the sea breeze from ideal locations close amongst Shimabara's abundance of lush greenery and the Ariake Sea while offering an exquisite resort experience you can't get in the city.

The unique design of the open-air infinity pool makes it seem as if it flows into the sea itself. There's also an observation deck next to the pool too where people can gaze across the gorgeous waters.

The location also makes for a great power and energy spot as one can see the morning sun rise from Kumamoto across the shore. Guests can enjoy the sight in the morning, daytime and nighttime.

The other infinity pool is built by the garden restaurant deck terrace and blends in with the surrounding nature. Beyond the horizon lies Shimabara's waters, sky and nature which becomes one with the edge of the pool. The sky and trees also reflect on the surface of the water, making it feel like you're floating on top of a cloud in the sky.

The pool is around 50cm deep so children can enjoy themselves too. There are also jets fitted on the sides of the pool.

The poolside wooden deck is fitted with tables and sofas to enhance that resort feel. They also serve breakfast and there's a BBQ too.

Guests can look forward to the 300+ trees in the garden being lit up in a magical and mystical performance, giving the air a touch of romance. It offers an experience like no other as you're wrapped in a forest of lights under a starry sky.

Consider Hotel Nampuro if your trip to Japan is taking you to Nagasaki Prefecture.

Gear Up with Bathhouse Fashion and Community Goods at Tokyo Kaihoku in Isetan Shinjuku

The second floor of Isetan Shinjuku home to Tokyo Kaihoku, an unrivalled, innovative department store that brings together fashion and art. The store is currently selling fashion items for going to public bathhouses in Japan, made by numerous brands spearheaded by famed creators and designers. The inventory includes lots of items for going in and getting out of the communal baths.

Additionally, they are now accepting early orders for t-shirts made by two brands: Musare Hito, a creative group made up of a community of bathhouse and sauna lovers and Get Yu! who are hot with Japan's street culture movement. Let's take a look at the brands set to liven up bathhouse fashion.

MIYANISHIYAMA / ミヤ ニシヤマ
This brand thrives on their concept of wanting people to wear one-of-a-kind items, easily and freely, rather than them desiring to look cute every day. They wish for people to wear the clothes they like no matter what within their lifetime.

Melissa / メリッサ
Established in Brazil in 1979, this brand has built popularity and gained support for their forms and patterns with great designability made using plastic materials.

ACCOMMODE / アコモデ
From this brand comes a photogenic pouch with a milk bottle motif.

VL BY VEE / ヴイエルバイヴィー
This brand is run by Vee, a designer residing in Bangkok.

nana-nana / ナナナナ
An accessory brand supported by people of all ages as well as artists around the world for their unique outlook and innovations.

Other Brands
igor / AVALON / proef / Shin-Yoshiwara Souvenir Gift Shop / and more…

Get Yu! / ゲッチュウ
Get Yu! is an event co-planned and managed by Vou (棒), a shop and gallery in Kyoto, Sauna no Umeyu, a bathhouse in Kyoto, and Ron LONESOME Samu, a cultural spot in Atami. Together with artists who absolutely love bathhouses, Get Yu! aims to enliven the bathhouse experience and its surrounding culture.

Musare Hito / 蒸され人
This 22-member LINE group is formed of sauna lovers who stretch the point of saunas. They are now taking orders for t-shirts with an original Musare Hito logo print and are also selling a compilation album themed on saunas.

If you're thinking about trying public bathhouses in Japan then consider getting your hands on some of these cute and practical items and merchandise!

■InformationTokyo Kaihoku no Yu: Vol.2
Location: Center Park / Tokyo Kaihoku, Isetan Shinjuku Honkan 2F
Running: April 25, 2018-May 13, 2018

Hot spring trip in the mountains of Ishikawa Prefecture recommended by sommeliers

"Kissho Yamanaka" will sell the hot spring lodging plan named "Kissho TOUJI" from April of 2018 to the 30th of September.

Yamana Onsen (hot spring) which was opened about 1,300 years ago is a hot spring area where the famous Japanese poet Basho Matsuo stayed for 9 days.

The plan that they are going to sell offers the experience of enjoying the view/forest of Kakusen Valley, Kaga Area's delicious foods and hot springs. This hot spring is known to be effective for relieving stress and healing illnesses.

"Yuge Kaido Machi Aruki Ticket" where you can enjoy 10 hot springs in the mountains, local sakes, Daiginjo (sake variety) Soft Served Ice Cream and famous crocket is included in the plan as well as the Jiwamon Onigiri (rice ball) lunch menu/Teppanyaki (pan fried meat and vegetables), sauna, hand-massage service, rental cycle and bus tickets.

Persons who are interested in this plan must visit Kissho TOUJI since you can obtain an onsen textbook from the onsen sommeliers.

■Information

Kissho TOUJI – Hot Spring Plan Recommended by Onsen Sommeliers.
Address: Kissho Yamanaka, 14-3, 1st avenue, Higashimachi, Yamanaka Onsen, Kagashi, Ishikawa Prefecture
Date: 2018/04/01 (Sat.) to 09/30 (Sat.)
Price: One day ticket that comes with dinner and breakfast / 21,000 yen ~ (two persons – one room) ※the price differs depending on season. ※tax/service fees and hot spring fee (150 yen) are not included, additional fee (5,000 yen) must be paid when staying at the accommodation before a holiday. ※one person – one room ticket is available.
Meal: Dinner – tea ceremony dishes of Kaga Noto Area at "Benihana," breakfast – Japanese dishes or teppan breakfast
TEL:0761-78-5656
Website:http://kissho-yamanaka.com/

Projecting Mapping Recreates Festival Atmosphere at Ooedo-Onsen Monogatari

Odaiba Tokyo Ooedo-Onsen Monogatari is a hot spring 'theme park' popular with both local and foreign tourists that recreates the look and life of Edo. Projecting mapping by NAKED was brought to the entrance of the establishment on March 22, 2018.

The projection mapping display flies out across the hot spring water from the buildings. The footbath area themed on the 53 Stations of the Tōkaidō from the Edo Period is wrapped in ukiyo-e and patterns found on yukata, a popular dresswear in the building. 

At "Happyaku Yacho" on the main street in the building where the stalls are lined up, paper lanterns and digital lights illuminate to recreate the atmosphere of a festival during Edo.

Experience an Edo festival in Odaiba at Ooedo-Onsen Monogatari!

■information

Odaiba Tokyo Ooedo-Onsen Monogatari
Opening Hours: 11:00am-9:00am Next Day (Managed until 10:00pm) 
Address: 2-6-3 Aomi, Koto, Tokyo
TEL: 03-5500-1126 
URL: http://daiba.ooedoonsen.jp/

Odaiba Tokyo Ooedo-Onsen Monogatari × Projection Mapping by NAKED
Permanent display from March 22, 2018.
Time: 30-minutes after sunset until 12:00pm.
*Please note that sunset changes depending on the period.