RAKU SPA 1010 is a new spa located in Kanda, Tokyo that had its grand opening on March 1, 2019. With its concept of "an oasis in the city," the bath house perfectly balances relaxation, work and social interaction.
Reisei Otsumami (Cold Light Meals): ¥480 (Before Tax)
The facility also serves light food and refreshments. And as part of the grand opening, the first 5,000 people to use the bath house will receive an original RAKU SPA 1010 towel with the facility's logo on it.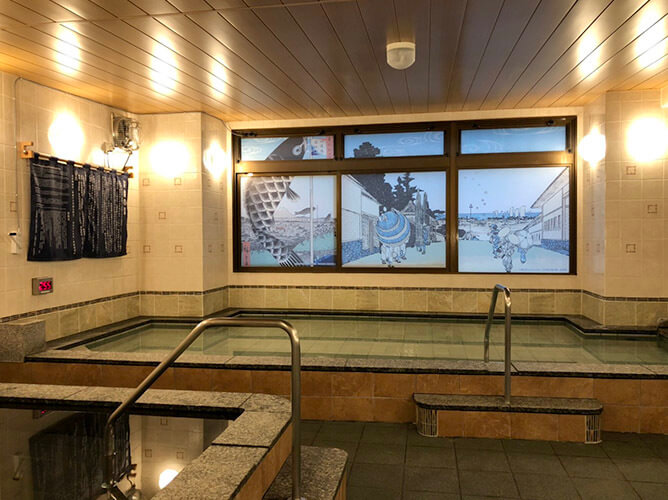 There are 3 different spa plans on offer at RAKU SPA. This includes a 10-hour option which allows full use of the facility, a 3-hour option for use of the bath house, and a sauna option. Each plan offers long stay periods which can be utilised in many ways whether to simply use the sento or sauna or to make use of the co-working space, eat at the pub and diner, and so on.
Enjoy a long and luxurious sojourn at RAKU SPA 1010.
Information
RAKU SPA 1010 Kanda
Address: 2-9-9 Kanda Awajichō, Chiyoda Ward, Tokyo
Opening Hours: 11:00am-8:00am (the following day)
Grand Opening: March 1, 2019
TEL: 03-5207-2683
Prices (Tax Included)
・RAKU SPA Course (10 Hours): ¥1,460
・Sauna Course (3 Hours): ¥890
・Sento Course (3 Hours): General ¥460 / Children ¥180 / Infants ¥80
*General: 12+ years / Children: 6-12 years / Infants: 6 years and below
Official Website: http://rakuspa.com/kanda/
RELATED ENTRIES
FUFU NIKKO: The New Hot Spring Hotel in Nikko, Tochigi Prefecture

Kato Pleasure Group is set to open its 4th branch of FUFU NIKKO hotels in Nikko, Tochigi on October 2, 2020 following their Atami, Lake Kawaguchi, and Nara branches.

A resort steeped in Japanese history and culture

The site in which the hotel is located has a sacred air to it. It dates back to the Meiji Period and has continued into modern times. Upon entering the hotel, your ears are treated to the sound of classical music. Overhead you will spot high ceilings made from wood which give it a warm and welcoming atmosphere.The shadows of the outside walls, the warmth of the inviting lights, and the metallic decorations which catch the light present a calm and quiet mood.

Classy and sophisticated cuisine

Both the food and plates it is served on capture the essence and beauty of the Japanese way. Meals are prepared using seasonal ingredients from Tochigi as well as high quality foods like foie gras, truffles, and caviar. Each dish expresses elegance and refinement and combines both Japanese and Western flavours.

Hot spring water sourced from Tamozawa

All rooms at the hotel are fitted with hot springs or large baths which natural light from the outdoors shining through. In the open-air baths, guests get to experience the surrounding sights of nature coupled with the sound of the flowing stream and chirping birds.

Information

FUFU NIKKO JAPAN

Grand Opening: October 2, 2020

Address: 1573-8 Honcho, Nikko, Tochigi Prefecture

Official Website: https://www.kpg.gr.jp/

teamLab's 'A Forest Where Gods Live' Exhibition in Saga Introduces Autumn Inspired Digital Art

teamLab's annual A Forest Where Gods Live exhibition is currently taking place at Mifuneyama Rakuen Park in Saga Prefecture until November 8, 2020. For autumn this year, the digital art team has introduced a seasonal piece entitled Forest and Spiral of Resonating Lamps in the Forest – One Stroke, Autumn Mountain.

Forest and Spiral of Resonating Lamps in the Forest – One Stroke, Autumn Mountain
teamLab, 2018, Interactive Installation, Murano Glass, LED, Endless, Sound: Hideaki Takahashi

Available to see for this autumn season only, ​Forest and Spiral of Resonating Lamps in the Forest – One Stroke, Autumn Mountain showcases Kasane no Irome, which are nuances of layered colours that were seasonal colours created in silk before Japan's modern era, in the form of lit lamps.

The lamps in the exhibition shine brightly and then fade. In the light, one can see the eight autumn Kasane no Irome colours: Budding Leaves, Green Leaves, Fallen Green Leaves, Yellow Leaves, Fallen Yellow Leaves, Fallen Leaves, Fallen Red Leaves, and Autumn Leaves.

Flowers Bloom in an Infinite Universe inside a Teacup
teamLab, 2016, Interactive Digital Installation, Endless, Sound: Hideaki Takahashi

Make tea in the tea house at the exhibition. Flowers will bloom inside the teacup, which if you pick up, sends the flowers scattering and spreading to the outside of the cup. Flowers will bloom infinitely as long as there is tea. For September, there are safflowers, dianthus, and Chinese asters, while next month will introduce cosmos, osmanthus, and chrysanthemums.

Ever Blossoming Life Rock
teamLab, 2017, Digitized Nature, Sound: Hideaki Takahashi

Megaliths in the Bath House Ruins
teamLab, 2019, Interactive Digital Installation

You can also see autumn flowers in the Ever Blossoming Life Rock and Megaliths in the Bath House Ruins exhibits too.

Visitors can also get set tickers which includes entry to the exhibition as well as a dip in the Rakan no Yu hot springs of Mifuneyama Rakuen Hotel. These tickets are limited to 40 people per day.

Information

teamLab: A Forest Where Gods Live

Running: July 22, 2020 – November 8, 2020
Address: Mifuneyama Rakuen, 4100 Takeo, Takeo-cho, Takeo City, Saga, Japan

Hours

Jul 22 – Sep 13, 2020 19:00 – 22:30
Sep 14 – Oct 11, 2020 18:00 – 22:30
Oct 12 – Nov 8, 2020 17:00 – 22:30

*Enter from Entrance 1. Entrance 2 is only available 60 min after the opening.
*Last entry is 22:00.

Official site:http://mifuneyamarakuen.teamlab.art/

Animal Crossing: New Horizons to Host Kanda Shrine's Summer Festival In-Game

Noryo Matsuri is a popular summer festival held every August at Kanda Shrine in Tokyo, bringing in over 40,000 visitors every year to enjoy a variety of fun and exciting activities like the big bon-odori dance to anime songs, live performances, events in collaboration with anime series and more. Unfortunately, the event was cancelled this year due to COVID-19.


However, that isn't stopping the festival from being held in some sort of form. In fact, the festival organisers are teaming up with Animal Crossing: New Horizons to bring the festival to the Nintendo Switch title in Japan.

Players can even get their hands on some original Kanda Shrine outfits, as well as visit Kanda Shrine Island by using Luna's dreaming service in game (until September 30).

Information

Kanda Shrine Noryo Matsuri x Animal Crossing
Release Date: August 28, 2020 at 10:00 (JST)
Official Website: https://www.kandamyoujin.or.jp/atumori/

Dreaming Service: August 28, 2020 – September 30, 2020
Dreaming Service ID: DA-0760-0601-9410

Glamp Dome Kobe Tenku: Go Glamping With Hot Springs and Kobe's Night Sky

The new glamping facility Glamp Dome Kobe Tenku is set to open inside Minotani Green Sports Hotel in Kobe, Hyogo on August 7, 2020.

Located in the lush green abyss of Kobe's Minotani area, Glamp Dome is just 20-minutes from Kobe-Sannomiya. Guests can look forward to a glamorous camping experience inside on of the huge dome tents set up on site from which they can enjoy Kobe's sunset and subsequent night sky. The facility promises a luxury camping experience like no other.

Your dome tent and a private BBQ space

The half-dome tents are 7 meters in circumference. They are fitted with air conditioning and can be used throughout all four seasons. Each one has its own private BBQ space too so you can enjoy a close-knit meal together with friends and family without having to interact with other guests.

The Ginga Hot Spring's water is directly from the water source

Ginga Hot Spring's water spurts out from 1,200 meters underground. The facility offers a variety of bathing experiences, from the open-air hot spring to utaseyu where water falls onto your back, and more, as well as a resting area, sauna, and so on.

It is said that if water pH levels are over 7.5 then it is good for your skin. The water at Ginga Hot spring is 8.5, making the water quality very high.

The unique foot bath bar

At Glamp Dome Kobe Tenku, guests can enjoy a bar experience with pouring their own drinks while getting a foot bath from the facility's hot spring water sauce. Open from 19:00-21:00, there's also campfires, fire pits for private domes, and other services.

Glamp Dome Kobe Tenku also offers high quality ingredients for a gourmet camping BBQ experience, from premium Japanese black wagyu steak to seafood and more.

Menu
・Japanese black wagyu steak
・Domestic smoked beef
・Skillet of the day日
・Acqua pazza
・Dessert skillet
・Baguette

Hotel amenities

Glamp Dome Kobe Tenku also offers hotel-style amenities like towels, toothbrushes, hair dryers, gowns, and more. All domes are also fitted with Wi-Fi and plug sockets.

When Glamp Dome Kobe Tenku opens, it will also be bookable on Resort Glamping, a booking website for glamping facilities and resort villas across Japan. If you're ever travelling to Kobe, why not stay there in style with this very special glamping experience?

Yukai Resort Premium Toba Saichoraku: The New Hot Spring Resort Hotel in Mie Prefecture

Yukai Resort, a company in Japan which manages lots of famous hot spring resorts across the country, opened Yukai Resort Premium Toba Saichoraku in Toba, Mie on June 5, 2020.

Yukai Resort manages 29 well-established hot spring resort hotels and ryokan throughout Japan, including hotels where you can get one night with dinner and breakfast from just ¥7,500 (before tax) to ryokan where you can enjoy kaiseki meal courses, and more. All their luxury establishments feature hot springs surrounded in lush environments.

Yukai Resort Premium Toba Saichoraku opened on June 5, 2020 and is taking all of the necessary precautions against COVID-19 to protect guests and so that guests can enjoy a comfortable stay.

Yukai Resort Premium Toba Saichoraku is 10 minutes by car from Toba Aquarium and 30 minutes from Ise Grand Shrine, making it a great location to enjoy the sightseeing spots of Ise and Shima. The hotel's concept is centred on being an "active resort" where you can get the full Toba experience with history, the sea, and activities.

The large open-air communal baths look out onto Toba Bay. The baths are designed like infinity pools, giving the effect that they are connected to the sea. Guests can enjoy a dip in the day or evening so they can enjoy both a blue sky or starry sky. There are also saunas.

There is also an indoor swimming pool with warm water, as well as foot baths, a kids play park, karaoke room, and many more fun features.

Yukai Resort Premium Toba Saichoraku also houses Yukai Resort's first ever indoor glamping guest rooms with large tents decked with beds, sofa, carpet, cushions, and other amenities for a glamorous camping experience. There are glamping rooms with their own open-air baths that look out onto Toba Bay too, as well as both Japanese-style and Western-style rooms.

As a precaution against COVID-19, the restaurant is serving its food for takeout only until August 31, 2020. Guests can enjoy their meal in their rooms or in one of the many communal spaces. There's plenty of health Japanese food to enjoy including sushi, Matsuzaka roast beef, eel, tuna, and more.

Okinawa's New Hot Spring Resort Lequ Okinawa Chatan Spa & Resort Opens

Lequ Okinawa Chatan Spa & Resort is the first hotel resort from Vessel Hotels. Operating on the concept of "Loving Yourself, Family, and the Town," the hotel opened in the town of Chatan in Nakagami, Okinawa on March 1, 2020.

Rooftop Infinity Pool & Cafe/Bar

Sat atop the hotel roof is a spa which houses an infinity pool that offers an unbroken view of Chatan as well as the picturesque sunset in the evenings. There's also a 3-meter high infinity pool, jacuzzis, and more, offering a luxurious space to relax.

Located to the side of the pool is a cafe and bar that serves a selection of original cocktails and fruity drinks as well as light food. When the sun sets and the evening settles, the pool lights are turned on, creating a relaxed atmosphere. Enjoy a cup of Japanese sake or one of the refreshing cocktails while staring down at nighttime Chatan.

Vessel Hotel's First Natural Hot Spring

Chatan Onsen hails as Vessel Hotel's first-ever natural onsen hot spring. The water is drawn from 1,400m underground, which provides relief and relaxation from a day of sightseeing and travelling. The hot spring has towering windows, and there's also a sauna for both men and women.

SPA SOLANI OKINAWA CHATAN – The Relaxation Salon

SPA SOLANI OKINAWA CHATAN is a "relaxation salon" which offers a Hawaiian-style spa experience using original products made using ingredients sourced in Okinawa. Oils are made with carefully-selected organic ingredients for that natural feeling. There are body treatments, messages, quick treatments, and more.

Filling Breakfasts at the Resort's Kitchen

Vessel Hotel has brought its "Happy Breakfast Project" to Lequ Okinawa Chatan Spa & Resort. Tuck into a variety of meals prepared with Okinawan ingredients, or try one of the household classic Okinawan breakfasts. Whatever you have, you are guaranteed the Okinawan experience to start your day off.

The restaurant's original souffle hamburger is made with a mix of Okinawan black cattle beef and Agu pork. The souffle is made in-house and prepared by the hotel guests' hands. Food is also served in Okinawan yamuchin porcelain.

URBAN SENTO: The New Brand Making Japanese Bath House Clothing Stylish

"JAPAN MADE PROJECT" is a project launched by Japanese apparel shop URBAN RESEARCH which aims to revitalise regions around Japan by building local communities with businesses and creators around the country while also looking to take a step back to reconsider what is appealing about each of those regions.

As part of this new project, URBAN RESEARCH has announced its plans to establish "JAPAN MADE PROJECT TOKYO" on March 20, 2020. Focusing on Tokyo, this branch of the project will see the launch of "URBAN SENTO." This will focus on the potential of sento, or "bath houses," in the city, which will also include a new line of bath house clothing made in collaboration with Kosugi-yu a sento located in the Tokyo district of Koenji.

Public bath houses play an important part in Japanese culture by contributing to people's mental health and creating communities. This is especially so in a city as busy as Tokyo. That's where URBAN SENTO comes in, which will encourage the rediscovery of the city's appealing culture through sento.

Pre-sales for the new clothing line opened on the URBAN RESEARCH online store on February 14, 2020. It features a collection of must-have items for the bath house, whose message is to spread the bath house lifestyle.

Apparel

To ensure the clothing is comfortable as bath-wear, the collection is made from high quality cotton provided in collaboration with HAAG, a brand managed by Smile Cotton. This cotton is nice and soft and does not rub against the skin. Smile Cotton's materials are even endorsed by the Japan Atopic Dermatitis Patients Association.

Crew Neck T-Shirt – ¥7,700 (Tax Included) | Sizes: Small/Medium/Large | Colours: White/Light Grey/Black

One Piece – ¥13,200 (Tax Included) | Sizes: Small/Medium | Colours: White/Light Grey/Black

Short Pants – ¥12,100 (Tax Included) | Sizes: Small/Medium/Large | Colours: White/Light Grey/Black

ZIP Parker Hoodie – ¥16,500 (Tax Included) | Sizes: Small/Medium/Large | Colours: White/Light Grey/Black

Pouch (Medium Size) – ¥3,080 (Tax Included) | Colours: White/Navy/Orange

The mesh pouch can be taken into the bath with you. Put your shampoo or other bath products in with you and take a dip.

Miscellaneous Items: IKEUCHI ORGANIC x URBAN SENTO
The bath towels you can use at Kosugi-yu are made by IKEUCHI ORGANIC. They come in two sizes and are incredibly soft on the skin.

Oragnic 120 Bath Towel – ¥5,060 (Tax Included) | Colours: White/Grey

Oragnic 120 Face Towel – ¥1,980 (Tax Included) | Colours: White/Grey

Kimura Soap x URBAN SENTO
The products used for cleaning yourself at Kosugi-yu, as well as what's used for washing the towels, is soap provided by Kimura Soap. This pure soap, crafted by artisans by cooking in kettles, is friendly to the environment and the skin. It can be used at the bath house, in the bath at home, or even for your laundry.

Body Soap (Hinoki Cypress/Lavender) – ¥1,980 (Tax Included)

This body soap gently lathers your skin in bubbles and leaves your skin filling refreshed. Both the hand soap and body soap feel good to use.

The a video and main visual were released for URBAN SENTO, which feature Japanese music artists Yusuke Emoto and Aoi Nogi as the models.

Information

JAPAN MADE PROJECT TOKYO "URBAN SENTO"
Pre-sales: Opened February 14, 2020
Available: URBAN RESEARCH online store
*Only a select number of items are available in the pre-sale

General Sale: March 20, 2020

Available: URBAN RESEARCH online store / URBAN RESEARCH Jinnan / URBAN RESEARCH Namba CITY / URBAN Famima!! Toranomon Hills Business Tower
*Store list subject to change

Official Website: https://media.urban-research.jp/news/61847/

Take a Plunge at Natural Hot Spring Heiwajima Near Haneda Airport

When it comes to recommending things to do when travelling to Japan, one of the biggest attractions for tourists is the country's "onsen," or hot springs. If you're landing into Haneda Airport, or happen to be around that area when exploring Tokyo, then we can't recommend Natural Hot Spring Heiwajima enough.

Located inside BIG FUN Heiwajima, this hot spring facility commemorated its 30th anniversary last year, and underwent a revamp before reopening on March 28, 2019. There actually aren't that many large-scale hot spring spots in Tokyo, so to have one so close to Haneda Airport makes it the perfect location for your sightseeing and must-visit agenda.

Direct shuttle bus from Haneda Airport and equipped with suitcase lockers

A shuttle bus runs directly from Haneda Airport to Natural Hot Spring Heiwajima which takes just 15-minutes and can be boarded in the early morning and late at night. Additionally, the hot spring facility is also equipped with suitcase lockers if you have heavy luggage with you. It also has a lounge you can relax in, and the entire building has free Wi-Fi. Hotel check-ins are generally from 15:00. If you arrive early in the morning, you can take a dip and relax in a nice warm onsen to unwind before heading to your hotel.

Bus Details: https://www.heiwajima-onsen.jp/en/bus/

You can enter the hot springs with a tattoo seal

When going to an onsen in Japan, many places forbid entering if you have a tattoo, no matter how small. Some places let you cover them up before entering, and Natural Hot Spring Heiwajima is one of those places. You can purchase a tattoo seal for ¥200 (10cm x 15cm) to cover your tattoo, and then you're free to enter and enjoy your toasty bathe.

One of Tokyo's best natural hot springs

Heiwajima Hot Springs is one of the largest hot spring facilities in Tokyo, with 150 tons of hot spring water bubbling up from 2000 meters underground every day. The water leaves your skin smooth and moisturised.

Experience the spacious Viewing Spa (6:00 am – 2:30 am the following day)

The Viewing Spa is open late until 2:30am everyday, where guests can plunge themselves into the thermal water bath or sit in the hot stone bath. We recommend the stone bath for those who aren't good with super hot saunas as it's set at a comfortable temperature. There is also a highly-carbonated bath which helps open small blood vessels and promotes good blood flow which helps boost metabolism. Carbonated water is also said to beauty the skin and restore moisture.

Enjoy a variety of baths at the Shining Spa (9:30 am – 6:00 am the following day)

The Shining Spa is home to a variety of different baths including a hydro-jet Jacuzzi-style, reclining-style, and more. The one I personally enjoyed the most was the Micro Bubble Togoal Bath which wraps your body in delicate bubbles and smooth-like hot water. You feel really refreshed afterwards.

Get comfy in one of the relaxation areas

Natural Hot Spring Heiwajima offers plenty of relaxation spaces after your bath, including a restaurant, a lounge with a TV and reclining chairs, and more. They even give you a towel blanket in the lounge, so I ended up dozing off. There's a female-only lounge space too.

This is just a small look at the many services offered at Natural Hot Spring Heiwajima. Visit their website for more information, and be sure to pay it a visit when travelling via Haneda Airport to relax after your long flight.

Information

Natural Hot Spring Heiwajima

Address: BIG FUN Heiwajima (Floor 2F), 1-1-1- Heiwajima, Ota Ward, Tokyo

Open: 24 hours a day all year

Bathing Hours:

Hot Springs @ 9:30 am – 6:00 am the following day

Viewing Spa @ 6:00 am – 2:30 am the following day

Hot Stone Bath @ 10:00-23:00

Full Relaxation Price Plan

Adults: Weekdays ¥2,000 / Weekends & Holidays ¥2,300

Children: Everyday ¥1,000 (From 3 years old to elementary school-age) 

Infants: Everyday ¥300 (Under 3 years old)

*Covers 7 hours allotted time and includes spa wear and towel

Additional Fees

Midnight Fee: ¥1,500 (Adults/Children) from 2:00 am – 5:00 am

Hot Stone Spa Fee: ¥500 (Adults) *Includes towel, spa wear, and hot drink

Full Price List: https://www.heiwajima-onsen.jp/en/price/

Access – By ¥100 Shuttle Bus

①Take the bus for Heiwajima Natural Hot Springs departing from the #6 bus stop at the East Exit of JR Omori Station. (about a 10-minute ride)

②Take the bus for Heiwajima Natural Hot Springs departing from Keikyu Heiwajima Station. (about a 3-minute ride)

Additional Methods: https://www.heiwajima-onsen.jp/en/access/

Official Website: https://www.heiwajima-onsen.jp/en/

Kissho Caren: Gaze at Shizuoka's Moonlit Night Sky From Your Hot Spring With New Hotel Plan

Kissho Caren is now offering a new hotel plan for women only which is available until the end of March 2020.

Kissho Caren is an incredible hideaway resort and inn located alone the quiet shores of Hokkawa Hot Spring in Shizuoka. All rooms offer a breathtaking ocean view, and all rooms, plus the restaurant and infinity pool open-air baths, offer a panoramic spectacle where the sky and sea meld together into one beautiful scene. Guests can also witness the "Moon Road," a popular power spot of Hokkawa Hot Spring which was chosen as one of Japan's "100 Moon Views."

Kissho Caren boasts two of its own water sources for its flowing water. It houses 18 water spots, including hot springs in seven locations around the inn and its sister facility Tsuruya Kisshotei, as well as rentable baths, foot baths, and the beachside "Kurone Rock Bath." All of these hot water spots are fully equipped with bath towels, face lotion, and other amenities. The inn's hospitality is also well-praised, including its salon which offers barely tea, soft drinks, and tokoroten made in the city of Izu. In the evenings, it also offers beer amongst other things.

After checking in, guests choose a yukata and obi of their liking and enjoy a luxurious and tranquil afternoon tea. The seasonal pancakes are prepared in front of you by the chef and are topped with sweet and refreshing soft serve ice cream and served with beautiful tea. The pancakes are mixed with whey which has a lot of skin benefits, and the teas vary from Izu guricha tea to Izu aloe tea which have anti-ageing benefits and strengthen the immune system. All of this takes place at Aodake which is open 14:00-15:30.

At the Kissho Spa, one can spy the gorgeous ocean from the window. Guests can enjoy some relaxing thalassotherapy with the warm climate of the beach and seaweed, oils prepared in Izu Ōshima, guricha tea, and other local treatments, all of which are popular.

The French course dinner comes with a free drink and flambéed dessert. All rooms also come with lots of other hopsitable gifts too, including a free mini bar and snacks, 20% off from the Kisso Spa, and more.

If you're looking for a place to stay with your girlfriends in Japan, then we recommend putting this place on your list. Don't miss out on this limited-time, girls-only offer.

Information

Girls-Only Amenity-Packed, Wine & Flambéed Dessert Plan

Running: January 6, 2020 – March 31, 2020

Prices (1 Night With Breakfast/Prices Per Person):

From ¥26,500 (2 People/1 Room)
From ¥24,500 (3 People/1 Room)
From ¥23,500 (4 People/1 Room)

*An extra ¥5,000 on public holidays. An extra ¥2,000 from February 9, 2020. Includes tax and service charge.

Meals:

Dinner: French dinner course at "Four Season" restaurant
Breakfast: Japanese breakfast at "Four Season" or teppanyaki breakfast at "Aodake"

Includes:

1 free drink (White or Red Wine/Sparkling Wine/Soft Drink)
Flambéed dessert after dinner
Free mini bar in all rooms and confectionery set
20% off Kissho Spa (Discounted: ¥8,000 / Usual Price: ¥10,000): 60-minute body lymphatic drainage/60-minute facial treatment

Kissho Caren

Address: 1130 Naramoto Higashiizu, Higashiizu, Kamo District, Shizuoka

Official Website: https://www.kissho-caren.com/en/

Rakuten Travel Reveals the Most Booked Onsen Regions of 2019

Japan's largest online travel site Rakuten Travel has announced the 2019 rankings for the most popular onsen spots in Japan. Having calculated the number of people staying at an onsen resort multiplied by the number of days they stayed, the rankings reveal that the winner has been the same for six years in a row now: Atami in Shizuoka.

Atami in Shizuoka has established its reputation as one of the leading locations for onsen in Japan. Its high quantity of hot spring water has earned the area top spot on Rakuten Travel's rankings for six years in a row now. Along with easy access from Tokyo and its range of leisure facilities, this is a popular location for couples and even families with children.

In second place is Beppu Onsen, Ōita prefecture which has also made it into the rankings for six years in a row. Rakuten Travel's customisable domestic travel package "Raku-Pack" has proven to be particularly popular among travellers to this region. "Raku-Pack" includes your airline ticket, access to all accommodations offered by Rakuten Travel across Japan, and free usage of rental services. Starting with Ōita prefecture's first ever ANA InterContinental resort in Beppu (InterContinental – ANA Beppu Resort & Spa), more than 10 travel accommodations have opened this year and next year sees even more resort development.

In third place is Gunma Prefecture's Kusatsu Onsen which has risen by one place since last year. This year, Sainokawara Open-air Bath (Sainokawara Rotenburo) received high amounts of praise for their mixed bathing day and changed this to be offered on a weekly basis as a result. A variety of events and tourist spots are constantly opening including the steepest zip line in Japan which will open in April.  

For more information on places to visit in Japan, please visit Rakuten Travel's website.

Indulge in the Best of Japan's Nature this Autumn at Hoshino Resorts

KAI is a hot spring ryokan brand of Hoshino Resorts which provides the perfect Japanese accommodation experience to enhance your stay. This autumn, KAI is providing guests with an enhanced seasonal experience to fully embrace the beautiful golden and amber autumn atmosphere. Spend some time soaking in the hot springs, taste the finest ingredients of the autumn season and even explore the unique features of the area through art. Hoshino Resorts is offering you a completely unique trip this autumn.

KAI Autumn Plans are being implemented at the following resorts: KAI Hakone, KAI Sengokuhara, KAI Aso, Kai Alps, KAI Kinugawa River, KAI Tsugaru and KAI Kawaji.

Hoshino KAI Japanese Autumn Onsen Ryokan Plans 2019

Hoshino Resorts released a video to show how their different accommodation features allow for guests to maximise their Japanese autumn experience. Today, we will be introducing just one autumn activity that you can experience at each of the resorts.

Autumn Leaf Illumination at KAI Hakone Miyanoshita, Kanagawa

Estimated best time to visit: Late November to early December

From September 6 to December 7, 2019, there will be a beautiful autumn leaf illumination display taking place around the open air baths, which is the perfect opportunity to relax under the auburn atmosphere of autumn. The autumn leaves fall at different times all over the Hakone region due to the mountainous and hilly terrain. This prolonged autumn season provides plenty of opportunities to watch the beautiful illumination display as you enjoy a moment of serenity, soaking in the soothing springs surrounded by the stunning scenery. 

Illumination Times: 16:00 – 01:00

Paint the Picturesque Autumntime at KAI Sengokuhara, Kanagawa

Estimated best time to visit: Mid November- End November

Enjoying a relaxing soak at KAI Sengokuhara Hot Springs is the perfect way to appreciate the picturesque view of any season. On September 1, 2019, they introduced the perfect accommodation plan to fully relax their guests. 

The guest rooms are equipped with traveller's art supplies. From the gorgeous terrace view to the outdoor hot spring view, guests are provided with the opportunity to capture the beauty of the surrounding nature in their own way wherever they feel like it. The autumn view outside every single guest room is breathtaking ― the perfect opportunity for the guests to refresh and relax their minds with a beautiful painting. 

Autumn Leaf Artwork

Available to customers who check in between September 1, 2019 – November 30, 2019 

Price: From ¥43,400 

*Price based on the price per guest per night for a two-person room. Tax and service charge not included. 

Includes: Room fee, dinner, breakfast, rental art set and art museum tickets

Reservations: https://kai-ryokan.jp/sengokuhara/

Your Own Private Outdoor Natural View at Okomori Koyo Onsen KAI Aso (Senomoto Hot Springs, Oita Prefecture)

Estimated best time to visit: Mid October – early November 

KAI Aso is located in Kuju National Park. Each guest room is surrounded by a lush forest, creating the perfect opportunity to soak in the hot springs and take in the beautiful view of the autumn leaves with lots of privacy. 

In the outdoor hot spring, guests can enjoy the beautiful faint yellow Mongolian oak and the natural red leaves. Guests can also get a Japanese citrus bathing set which is scented using a range of Japanese citrus fruits to further enhance your natural autumn colour experience. The guest rooms are equipped with coffee sets which you can enjoy whilst bathing. 

Available to customers who check in between October 1 and 31.

Price: From ¥46,480

*Based on the price per person per night in a 2-person room. Tax and service charge not included. 

Includes: Room fee, dinner, breakfast, bathing set (1 set per room), coffee beans, Aso spring water pet bottle and a range of hot spring rental items: (Pillow for hot spring use, waterproof book cover, coffee mill and coffee dripper)

KAI Reservations Telephone Number: 0570-073-011

Please check KAI's official website to find out more about the wide range of autumn plans on offer.

Miyako Hotel Hakata Opens With Instagram-Worthy Pool, Michelin-Led Restaurant Menu & More

Miyako Hotel Hakata will have its grand opening on September 22, 2019. To help spread word of the luxurious secrets behind its doors, an official report was released detailing everything there is for guests to look forward to.

Its metropolitan exterior is inspired by the spectacular natural landscapes of Kyushu

Miyako Hotel Hakata can be found by taking the Tsukushi Exit of Hakata Station where it stands directly in front, towering above the surrounding buildings. The basement floor of the hotel is directly connected to the station for ease of access. This floor is also home to a convenience store, restaurants and more and can be used by non-guests too.

The building is a gorgeous eye-catching glass cube which offers an abundance of natural light during the day. At night, the hotel exterior is illuminated with 168 LED lights, giving it an metropolitan appearance. The building rooftop has a running 'waterfall' which is inspired by the majestic rural environments of Kyushu. Its iconic design makes it instantly-recognisable, with hopes in mind that this will make it a new landmark of Hakata.

The lobby houses a gorgeous cafe lounge serving food and drink

Up on the 3rd floor is the clean, bright and spacious front lobby where staff are waiting to greet guests warmly. In addition to the reception desk, there is CAFÉ EMPATHY, a cafe and lounge which can be used by both guests and non-guests. The cafe is produced by Transit General Offiice which is known for having produced the The Rail Kitchen Chikugo―a restaurant train―amongst a host of shared offices, hotels and more.

The spectacular menu line-up includes an array of delicious drinks from herbal teas to flavoured lattes, as well as an assortment of light meals made using ingredients from around Kyushu. They also serve an original afternoon tea that's served from 14:30. Everything on the menu is nothing short of Instagrammable and perfect for those who love to wine and dine on drinks and food that is both cute and fancy.

The colourful flavoured lattes come in four flavours and can also be ordered for takeout. One of them is the Beets Latte which is a pink colour which comes from the beetroot used to make it. It has a subtle sweetness and smooth flavour.

The stocked teas include those made by Paris-based tea company KUSMI TEA, such as the Anastasia which is a mix of standard black tea and citrus, as well as an array of decaffeinated fruit teas.

Spend your time in luxury in your room

Floors 5 through 12 are all lined with guest rooms. There are four types of rooms, all large, including Twin and Double. Each and every room has been given the same level of care and attention to create the most comfortable experience for guests.

The Deluxe room is the perfect package if you're looking to indulge in a little extravagance, whether as a treat to yourself or together with that special someone. The room design is stylish and simple, allowing for optimal relaxation. The bed is roomy and is ideal for watching the television or chatting.

All guest rooms are also equipped with tablets from which you can control the air con, lights and so on. The TV can even tell you whether the restaurant is full or not which is a super convenient feature.

A restaurant and bar menu created by a Michelin-starred chef & dreamy terrace pool

On floor 13―the top floor―you will find Miyako Hotel Hakata's must-see feature: the SOMEWHERE RESTAURANT & BAR. This all-dining restaurant's concept is "A Beautiful Place Somewhere." Its dinner menu was conceived by Michihoro Haruta, the chef at Crony, a Michelin 1-starred restaurant in Nishi-Azabu, Tokyo. The innovative menu is made with local ingredients from Fukuoka and across Kyushu. The wine menu was created by Kazutaka Ozawa, a sommelier at Crony. The restaurant enjoys a laid-back atmosphere that isn't overly formal or strict, with a glass exterior including the roof, allowing diners to enjoy the romantic evening atmosphere.

Breakfast is served to both guests and non-guests and is served as a western-style buffet packed full of assorted foods such as freshly-baked bread, omelette, Eggs Benedict, and more. They serve an original Japanese-style breakfast too for those who fancy Japanese food. The tall windows allow natural light to pour into the restaurant.

Right next to the restaurant is the hotel's very own spa, offering a natural hot spring pool, jet bath, footbath and more. As part of the hotel's grand opening, the spa is free for all guest until March 31, 2020. The hotel offers rental swimsuits too so you can freely and easily enjoy a nighttime dip. And when night truly sets in, you can gaze an unbroken view of Hakata from the roof, and the 'waterfall' next to the pool will also be lit up.

There's even a special poolside menu so you can order cocktails and light food from the terrace. With everything illuminate in beautiful lighting, your cocktail in hand, you can certainly snap some Instagram-worthy shots. And if you're looking for a warm bath, there is a large public bath and even a sauna indoors.