Laforet Harajuku Announces Blue-Themed Event 'BLUE BY LAFORET'
70 stores are will participate in Laforet Harajuku's just-announced upcoming BLUE BY LAFORET event. Running from March 21 to April 14, the event is centred around the colour blue, with everything from apparel to accessories, drinks and more set to be dyed the colour.
The event's key visual pictured above was created by upand-coming art director KASICO. The pop graphics completely encompass and express the event's theme colour. The picture will be dotted around various locations in Laforet.
Shirt: ¥4,860 (Tax Included) @ LOWRYS FARM (Floor 5F)
Back Print T-Shirt: ¥6,480 (Tax Included) @ jouetie (Floor 4F)
Piercings & Earrings: ¥972 Each (Tax Included) @ ACCESSORIES BLOSSOM (Floor 3.5F)
Tote Bag: ¥5,940 (Tax Included) @ merry jenny (Floor 4F)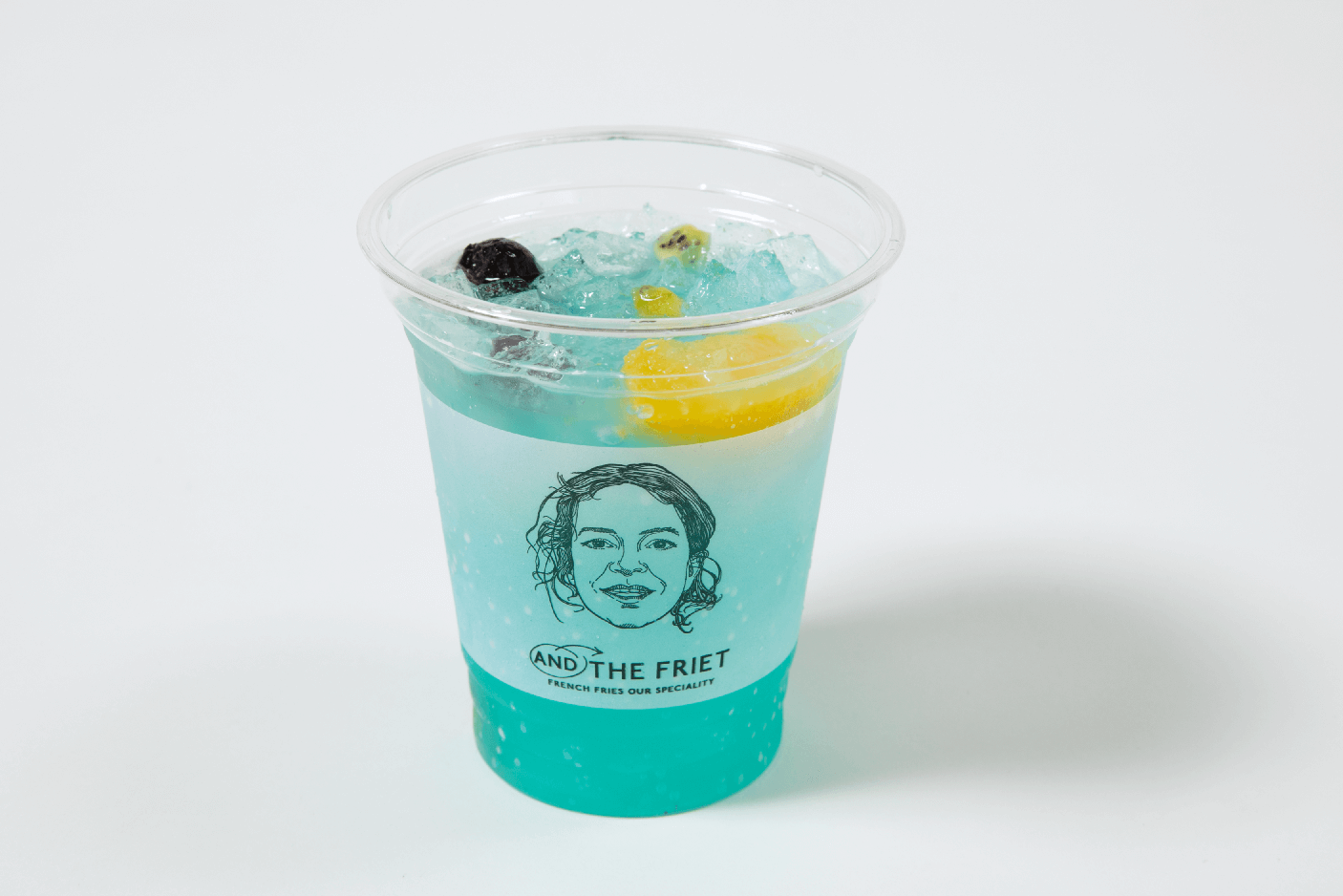 Sky Blue Fruit Soda: Individual ¥450 (Tax Included) / Set ¥380 (Tax Included) @ AND THE FRIET (Floor 2F)
This refreshing soda is a delicious mix of honey lemonade and blue curacao.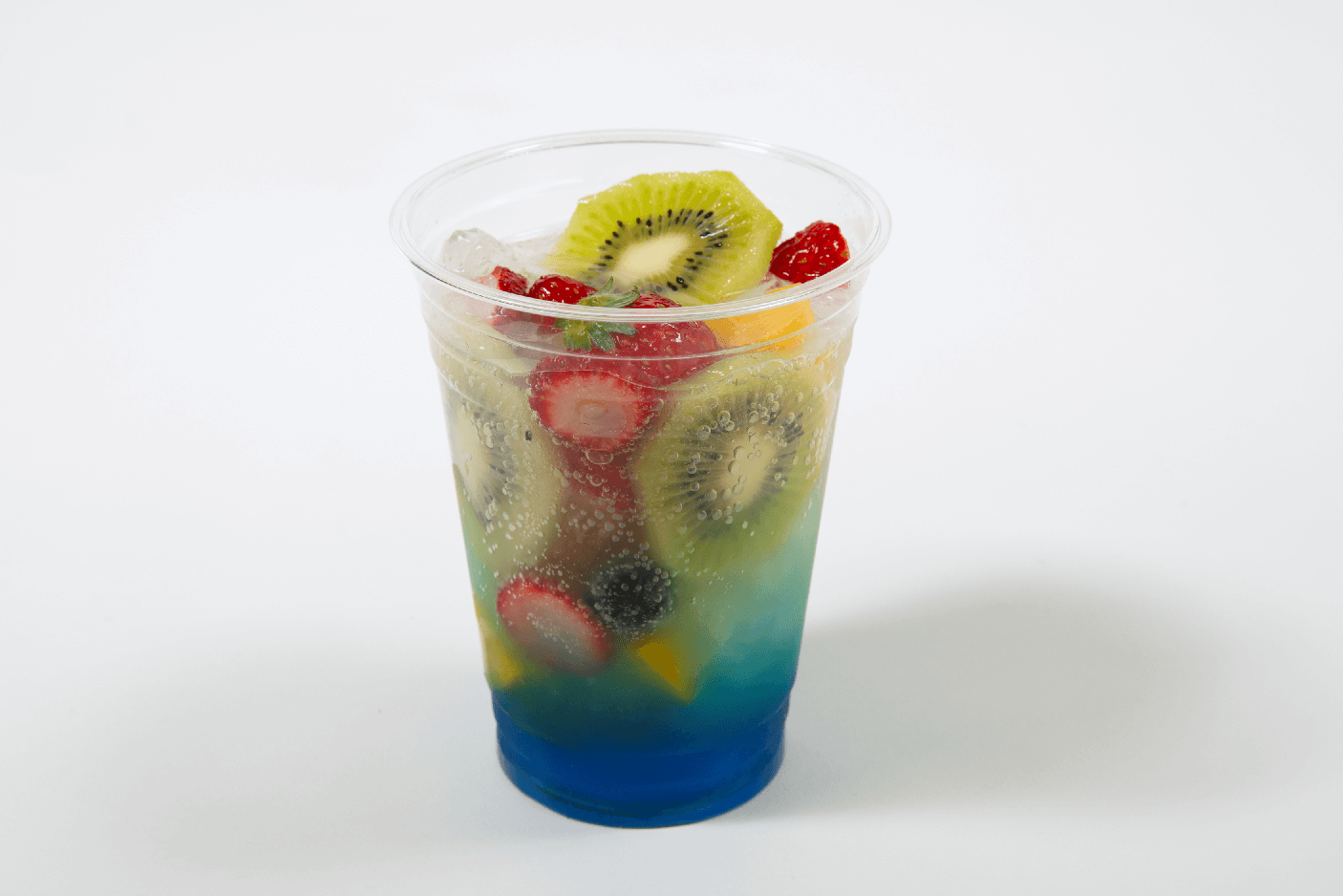 Fruit Soda: ¥630 (Tax Included) @ CAFE CREPE (Floor 1F)
A colourful and fruity mix of strawberry, kiwi, blueberry and more.
Select items bought during the event will also get you one of the above shopping bags. These are available on a first-come, first-served basis.
Information
BLUE BY LAFORET
Running: March 21, 2019 – April 14, 2019
Laforet Harajuku
Address: 1-11-6 Jingumae, Shibuya, Tokyo
Opening Hours: 11:00-21:00
TEL: 03-3475-0411
RELATED ENTRIES
Laforet Harajuku's 2020 Fukubukuro Lucky Bags Are Not to be Missed

Laforet Harajuku has finally dropped details on its 2020 fukubukuro. Fukubukuro is a New Year custom in Japan where stores make up grab bags full of random items for people to purchase at a discounted price. Around 50 stores in Laforet are set to participate, with pre-orders now running until December 31, 2019.

As always, the line-up this year is diverse, from the unique fukubukuro you can actually look inside to see what they have—which is a popular one every year—to the Laforet Gentei Fukubukuro which contains items exclusive to Laforet Harajuku, and more.

Those who pre-order a lucky bag will receive one of two things: either a coupon to get a random free item at one of the eateries at the GOOD MEAL MARKET on the second floor, or a ¥200 discount voucher to spend at Laforet Harajuku.

On New Year's Day and January 2, a taiko performance by Yushima Tenjin Shiraume Taiko will take place at the first floor entrance to drum in the New Year.

Around 70 stores in the shopping complex will also sell items at a special price between January 1 and 7 to celebrate 2020. Select stores will be handing out bag hooks in collaboration with the popular South Korean boy band SEVENTEEN.

The "Look and Choose" Fukubukuro

OLIVE des OLIVE (Floor 5F) – Set of up to 6 items priced at ¥7,700 (Tax Included) (Original Price: ¥25,000)

Cosme Kitchen (Floor 1.5F) – Set of 7 items priced at ¥5,500 (Tax Included) (Original Price: ¥14,000)

Laforet Harajuku Exclusives-Filled Fukubukuro

POU DOU DOU (Floor 4F) – Set of 7 items priced at ¥13,200 (Tax Included) (Original Price: ¥56,000)

la belle Etude (Floor B0.5F) – Set of 6 items priced at ¥11,000 (Tax Included) (Original Price: ¥70,000~¥80,000)

Other Fukubukuro

Ank Rouge (Floor 4F) – Set of 6 items priced at ¥16,500 (Tax Included) (Original Price: ¥50,000)

jouetie (Floor 4F) – Set of 5 items priced at ¥11,000 (Tax Included) (Original Price: ¥39,600)

This is just a small look at just some of the fukubukuro set to be sold, there are so many more to get your hands on. Start your 2020 year with some delicious discounts from Laforet Harajuku.

*Contents subject to change without notice

*Listed photos are select look only – more fukubukuro to be sold

PLAYFUL KIRBY: Laforet Harajuku's Newest Pop-Up Shop Offers Exclusives For Fans of Nintendo's Popular Character

Fans of Kirby who are in Japan for the holiday season will be delighted to hear that the Kirby-themed pop-up shop "PLAYFUL KIRBY" finally opened at Laforet Harajuku today and will run until Boxing Day.

When playing Super Smash Bros. there's no other character I'll pick but Kirby. If you love Kirby as much as I do, then you'll be waiting no time at all to head to PLAYFUL KIRBY like I did after hearing that they're selling a whole range of original and exclusive merchandise the likes of which Nintendo players have never seen before.

The store itself is located on the second floor of Laforet Harajuku in Harajuku, Tokyo. You'll spot it instantly with the Kirby-pink text wrapped around the walls of the entrance.

Kirby's pink colour fills the entire shop floor. Upon entering you'll spot all the different items on offer, including fashion items, as well as various photo spots featuring Kirby's cute face.

There's even a tiny Kirby door so that he can get into the shop! Be sure to find it if you visit.

The original version of this pop-up shop first appeared two years ago, and enjoyed visits not only from game fans, both kids and adults who had never heard of Kirby before, or who had heard of him but never played the games. The fashion line-up was a result of fan demand to enjoy Kirby in a variety of different ways. A visit to PLAYFUL KIRBY is like being inhaled into his Dream Land.

PLAYFUL KIRBY is centred on two collaborations. This includes a teaming-up with popular illustrator Shogo Sekine. When this pop-up shop was conceived, Shogo Sekine was at the top of the list for collaborations with the staff in charge. The staff agreed that mixing the worlds of Kirby and Sekine together would give rise to some seriously wonderful results. After much internal discussion and talks with Sekine, a whole line of merchandise was created.

The items feature Sekine's stylised typography, symbols, shapes and so on. Their subtle design means they can be used as both everyday items and nerdy fan items. They're stylish while retaining the cute aspects of Kirby.

The following items are the number one most recommended pieces of merchandise to pick up as chosen by the PLAYFUL KIRBY staff.

Tote Bags Ver. 2 PINK STRIPE – ¥2,800

These tote bags feature gradations of Kirby pinks. This design is also featured on a t-shirt you can pick up too. They're both made with high quality fabrics.

Sacoche Pouches (2 Designs) – ¥2,300 Each

The "Copy" written on the sacoche pouches refers to Kirby's ability to copy his opponents' abilities and appearance. This design is also included on a variety of other merchandise pieces like a smartphone case and more.

Blanket – ¥3,800

At first glance, this blanket just looks like a stylish blanket with a floral print, but if you look closely you'll spot Kirby blended in with the design. A perfect choice for the coming winter season.

Plush Toy – ¥2,300

Kirby had intended to put on his stylish t-shirt ready to go out, but he ended up looking just adorable.

The store's second collaboration is with Converse Stars, also showcasing an assortment of cute and fun items.

Cap – ¥5,800 / Long T-Shirt (Medium/Large) – ¥7,800 Each

Show off your love of Kirby with some simple but stylish unisex Kirby attire.

Hand Towel – ¥1,200

Another must-get item is this hand towel which keeps the roundness of Kirby's head. Use at home or take it out with you!

Stickers (3 Designs) – ¥500 Each

Get your hands on these Laforet Harajuku-exclusive stickers with designs so cute you'll want to collect them all!

I spoke with the person in charge of the pop-up shop about the future of Kirby outside of the video game, and they told me that they plan to have more pop-up shops like this and open the opportunity for people to enjoy Kirby in a range of different ways while playing his games. For someone like me, who likes Kirby more than anything, I can't wait to enjoy even more Kirby in the future.

PLAYFUL KIRBY is open until December 26, 2019, so if you're in Tokyo until then, make sure to pop on over to Laforet Harajuku.

▶︎Win Limited Edition Stickers

MOSHI MOSHI NIPPON is holding a competition on our official Instagram, Twitter and Weibo pages for a chance to win limited edition stickers from PLAYFUL KIRBY.

How to Apply: Follow us on social media and share/retweet our post about the competition for a chance to win 1 special sticker from PLAYFUL KIRBY. (Designs are chosen randomly.)

These are limited edition stickers exclusive to PLAYFUL KIRBY, so don't miss your chance to get one!

© Nintendo / HAL Laboratory, Inc.

Information

PLAYFUL KIRBY

Running: December 16, 2019 – December 26, 2019

Location: Laforet Harajuku's 2nd Floor CONTAINER (1-11-6 Jingumae, Shibuya, Tokyo)

Opening Hours: 11:00-21:00 (Until 19:00 on December 26, 2019)

PLAYFUL KIRBY Official Website: http://playfulkirby.jp

Laforet Harajuku Official Website: https://www.laforet.ne.jp/

Kimono IN LAFORET 2020: Kimono Brands Galore to Gather at Event in Harajuku

Laforet Harajuku has announced that its next "Kimono IN LAFORET" kimono and furisode pop-up shop will run from January 4 to 22 next year.

Iroca Kimono "Leopard Gecko" – ¥63,800 (Tax Included) / Half-Width Obi – ¥26,400 (Tax Included)

Pure Silk Butterfly Black Cloth Furisode – ¥132,000 (Tax Included)

Light Blue Dove Print Polyester Furisode – ¥128,150 (Tax Included)

Eight brands will line the shelves of the annual pop-up shop, with kimono, furisode, accessories and more available for purchase, including new items.

Model and actress Shen Tanaka features as the star of the main visual for Kimono IN LAFORET 2020, mixing colourful kimono with western clothing to create a unique look. Marie Higuchi, who was the stylist for the visual, has also released some dress advice for those who love kimono or those who are beginners and newcomers to the scene.

Mixing kimono with the kind of regular clothing that screams you

Marie Higuchi is a stylist who also writes columns in Nylon Japan and Sozen. Her advice can be used by both beginners and experts alike: by mixing kimono with some of your own clothing, you can simply and easily create a stylish look that's you. This makes for a perfect outfit for a special occasion.

Styling Point

This outfit combines fishnet tights with sandals that have thick metallic soles to create an edgy kimono style. Using thick sandals makes them really stand out when wearing kimono, so you can easily incorporate them with any kimono you wear.

Items Used

Kimono/Obi/Other: iroca

Haneri: C.H.O.K.O

Obi Clip: conoco

Styling Point

The gorgeous flower head dress brings a strikingly elegant touch to the overall look of this outfit. Whether used with kimono or in your regular day-to-day outfits, it's sure to bloom beauty with whatever style you go with.

Items Used

Kimono: MIKI SAKURA

Head Dress: Atelier Senka

One Piece Shirt: Ank Rouge (Laforet Harajuku Floor 4F)

Styling Point

Coloured turtlenecks are in right now for the current season in Japan, and this kimono look incorporates one underneath the kimono. The mix of loose socks and thick-sole sneakers really adds to the flavour of this style, even more so with the addition of personal items like the vinyl record headband and lip clutch bag which make it unique.

Items Used

Kimono/Obi: Tamao Shigemune

Headband/Clutch Bag: SINZ (Laforet Harajuku Floor B0.5F)

Other: Personal items

If you're looking for kimono and furisode when visiting Japan in January, be sure to hit up Kimono IN LAFORET at Laforet Harajuku, located in Tokyo's fashion central: Harajuku.

Kirby Pop-Up Shop 'PLAYFUL KIRBY' to Open in Laforet Harajuku in Tokyo

LEGS is opening a Kirby-themed pop-up shop named 'PLAYFUL KIRBY' for a limited time in Laforet Harajuku, a landmark of Tokyo's fashion hub Harajuku.

The shop has invited popular Japanese illustrator Shogo Sekine on board, who is known for its distinct typography work which mixes fashion with messages written in English, to create an original line of Kirby apparel and miscellaneous fashion items.

PLAYFUL KIRBY is also teaming up with Converse. Kirby has inhaled a few too many Converse Stars and has turned into a truly fashionable pink blob. The line-up is unisex so can be enjoyed by anyone and everyone. It will include items also available to purchase at Converse Stars branches as well as Laforet Harajuku exclusives.

Witness Nintendo's Dream Land hero in an all-new light as he becomes a fashion icon at Laforet Harajuku this month from December 16 to 26.

©Nintendo / HAL Laboratory, Inc.

*Photos are for illustrative purposes only

Information

PLAYFUL KIRBY

Running: December 16, 2019 – December 26, 2019

Location: Laforet Harajuku's 2nd Floor CONTAINER (1-11-6 Jingumae, Shibuya, Tokyo)

Opening Hours: 11:00-21:00 (Until 19:00 on December 26, 2019)

PLAYFUL KIRBY Official Website: http://playfulkirby.jp

Laforet Harajuku Official Website: https://www.laforet.ne.jp/

BABYMETAL Collaborates On Fashion Designer Yohji Yamamoto's Ground Y Collection

2019 is the year of BABYMETAL, with their latest album METAL GALAXY having dropped in October and making them the highest Japanese group/artist to place on the Billboard Top 200 in the US in 56 years. As they continue knee-deep in their ongoing world tour, you might be wondering what else they have in the pipeline.

Well, we can confirm that for you right here and now: they have teamed up with internationally-lauded Japanese fashion designer Yohji Yamamoto on his revolutionary Ground Y collection which boasts a genderless and ageless style.

Pre-sales of the collection will take place at the new Shibuya PARCO which is set to open on November 22. This will be followed by sales at GINZA SIX, Laforet Harajuku, and the online store THE SHOP YOHJI YAMAMOTO.

The collection will bring together the unique world of BABYMETALーa band which has won love the world over and has featured as guest acts on many tours of international artistsーand Yohji Yamamoto, a rebel and innovator in the fashion industry whose DNA is woven into the Ground Y line. The inspiration for this jet black collaborative collection is "galaxy," an homage to BABYMETAL's latest record METAL GALAXY.

There are numerous items in the collection, including a jumbo cut and sewn embroidered with both the BMD FOX APPAREL logoーBABYMETAL's official apparel brandーand the Ground Y logo. There's also a big hoodie featuring a 360° print and BABYMETAL's logo, a draped silk satin long shirt, and more.

MASATOSHI YAMASHIRO snapped the photos in this photoshoot, a Tokyo-based photographer who started his career in LA and New York and works with fashion magazines, advertisements, and more.

Information

Ground Y feat.BABYMETAL "GALAXY" Collection

Items: Long Shirt / Shirt Dress / Jumbo Cut & Sewn / Big Cut & Sewn / Big Hoodie / Big Sweater

Prices: Cut & Sewn ¥25,000-¥28,000 / Hoodie ¥35,000 / Sweater ¥38,000 / Shirt Dress ¥110,000-¥120,000 (All prices tax-excluded)

Release Date: November 28, 2019 (Pre-sales bein at Ground T Shibuya PARCO on November 22, 2019)

▼SHOP INFO:

Ground Y GINZA SIX (Floor 4F, 6-10-1 Ginza, Chuo Ward, Tokyo)
Ground Y LAFORET HARAJUKU (Floor 1F, 1-11-6 Jingumae, Shibuya, Tokyo
Ground Y FaSoLa STARS (Narita International Airport 1, Passenger Terminal Central Building Floor 3F, Narita, Chiba)
Ground Y SHIBUYA PARCO (Floor 2F, 15-1 Udagawacho, Tokyo) *Opens November 22, 2019
THE SHOP YOHJI YAMAMOTO: http://theshopyohjiyamamoto.jp/JP/shop/c/c20

Laforet Harajuku Announces 2019 Christmas Market, Menu & More

Laforet Harajuku is set to hold LAFORET CHRISTMAS 2019 from November 15 to December 25. Stores throughout the shopping centre will sell various holiday season fashion items that make perfect Christmas gifts, and up on the second floor at GOOD MEAL MARKET, you can look forward to the Laforet Christmas Menu.

All customers who spend over ¥3,000 (tax included) from November 15 onward will receive an original mirror, and those who spend over ¥5,000 (tax included) from December 14 onward will receive an original handkerchief. Both of these items will be available on a first-come, first-served basis until December 1 at Dinalog in Laforet Museum Harajuku.

Additionally, the main Christmas visual for this year's event was designed by Japanese art director YUNI YOSHIDA.

A two-day market will take place on Saturday December 14 and Sunday December 15 in Laforet Museum Harajuku titled Laforet Market vol.9 "Christmas."

CHRISTMAS GIFT

If you're searching for the perfect surprise gift to friends, family, a special someone or yourself, you're bound to find a fitting match for them during the event as stores in Laforet Harajuku display their Christmas goods in their windows.

Kailijumei/5F

Kailijumei 2019 Christmas Coffret – ¥5,500 (Tax Included)

Charles Chaton/4F

Flower Frill Cushion – ¥5,500 (Tax Included)

JUEMI Syncretic/1F

e.m.OrganicCollegeStarRing – ¥24,200 (Tax Included)

Les Merveilleuses LADURÉE/1F

Limited Edition Rose Ladurée – ¥13,200 (Tax Included)

CHRISTMAS FOOD "Laforet Christmas Menu"

"Pink" is the themed of the Christmas menus being whipped up at Laforet's restaurants.

Chipoon /2F

Tomato Soy Milk Cream Noodles – ¥935 (Tax Included)

This vegan noodle dish combines the full-bodied taste of soy milk with refreshing tomatoes to create a tempting mild flavour.

machi machi /2F

Strawberry Cheese Tea (Taro Topping) – ¥858 (Tax Included)

A fusion of Jasmine green tea and fresh strawberries to create a unique and delicious beverage.

Cafe de paris /B1F

Kumono Smoothe – ¥605 (Tax Included) / Whipped Cream Topping +¥110 (Tax Included)

Cafe de paris opened on November 1 and will be selling their exclusive cute drinks.

Laforet Market vol.9 "Christmas"

The Laforet Market is an opportunity for 40 shops to come together to sell fashion, food and miscellaneous Christmas goods. There will be workshops carried out be creators and artists, performances, and more.

If you'll be in Harajuku the holiday season then don't pass up the opportunity to visit Laforet Harajuku this Christmas.

New South Korean Cafe 'Cafe de paris' Opens in Laforet Harajuku

In South Korea, which has been dubbed "a cafe battleground," one particular cafe called Cafe de paris has stood out from the rest for their visually impacting fruity desserts. This immensely popular chain is now heading to Laforet Harajuku with a new branch opening on November 1.

Cafe de paris first appeared in Japan back in February this year, with its eye-popping "Bon Bon" parfait series attraction a great deal of attention for its Instagram-worthy appearance. In just six months, it exceeded 100,000 customer visits. The cafe, however, was only open for a limited time. But that's about to change, as Laforet Harajuku welcomes the country's first permanent branch.

The cafe interior takes on a light blue and white colour scheme, with table and counter seats lining the room and gorgeous chandeliers adorned overhead.

Kumo Smoothie – ¥594 (Tax Included)

To commemorate its opening, the new shop has developed a new item exclusive to the Laforet Harajuku branch: the "Kumo Smoothie." Inspired by fluffy clouds, this fruit-packed smoothie comes in a pink strawberry milk flavour and blue sky-coloured soda flavour.

And of course, Cafe de paris's famous fruit-topped Bon Bon parfaits will be sold too, with the upper part of the parfait towering 20m high. There are 5 seasonal fruits to choose from, such as strawberry, mango and grape.

Cafe de paris has plenty of cute must-buy goodies for customers to enjoy, so if you're in Japan, why not take the opportunity to try out something popular in South Korea  too while strolling around Harajuku?

Information

Cafe de paris

Address: Laforet Harajuku Floor B1F, 1-11-6 Jingumae, Shibuya, Tokyo

Grand Opening: November 1, 2019

Opening Hours: 11:00-21:00

TEL: 03-6447-0084

No Fixed Holidays (Except when Laforet Harajuku is closed)

Official Website: http://www.cafedeparis.jp/

Wrap Yourself in Harajuku Fashion With These New Stores Opening at Laforet Harajuku

Laforest Harajuku is getting a revamp towards the end of August with new stores as well as renewals of current stores. The revamp aims to "promote Harajuku's uniqueness and creativity."

August 24th – RENEWAL OPEN

<Floor 1F> Vivienne Westwood RED LABEL Concept Store

Vivienne Westwood is fusing the Japanese branches of its prêt-à-porter Red Label and Anglomania collections to serve up the all-new Vivienne Westwood RED LABEL branding. Japan will get its very first Red Label concept shop at Laforet Harajuku on August 24 which will act as the flagship store where they will sew to perfection a very special capsule collection that will offer a unique and exciting clothing consumption experience.

August 23rd – NEW OPEN

<Floor 4F> Charles Chaton

After the success of its first ever pop-up shop in March 2019, girly brand Charles Chaton is setting up a permanent store in Laforet. The brand's concept is "Girl, Forever!" which caters to girl culture and offers up items which it hopes that will catch the attention of girls in 50 years to come. The store's slogan at Laforet Harajuku is "My Sweet Home" with which it will sell cute, comfortable and casual everyday clothing.

August 23rd – NEW OPEN

<Floor 2F> starblinc

starblinc are set to showcase "cute pop age of the 1960's" with bright colours and flashy silhouettes, combining nostalgia and futurism to create an entirely new style. Look forward to diving into the unique future retro world of starblinc on August 23.

There are plenty more shops opening at Laforet Harajuku in addition to these ones, so if you're in Tokyo this summer, get ready to stock up your wardrobe.

machi machi Descends Upon Harajuku With Godlike Cheese Tea Limited Edition Menu

Head over to the GOOD MEAL MARKET food court located on floor 2 of Laforet Harajuku because a Cheese Tea shop has just opened up shop.

machi machi is known as the "Cheese Tea God" by Taiwanese media and is certainly stirring up a sensation in Japan too. Each cup extracts the deliciousness of Taiwanese tea. The salty flavour of the rich-flavoured cream cheese will leave you astonished at the discovery of a brand new dessert flavour. This drink is enough to enlighten you with an emotional journey of deliciousness. 

These drinks became a massive hit after they managed to capture the heart of globally famous Hollywood Star Jay Chou, who is known for his love of tea in Taiwan. As the thirst for this drink has spread worldwide, shops have been opening up in London, Korea and many other countries. This shop is gradually capturing more and more fans. 

Season-Limited Melon Cheese Tea: ¥788 (after tax )     Melon Cheese Tea Float: ¥950 (after tax)

Season-Limited Strawberry Cheese Tea Float/Wildberry Cheese Tea Float:¥950 (after tax)

Laforert Harajuku-Limited Brûlée Milk Tea: ¥680 (after tax )

There are currently season-limited and Laforet Harajuku-limited menus available. There are a total of 20 drinks on the menu that have been developed from five varieties of Taiwanese teas as base flavours. The five base teas are: Tieguanyin Oolong tea, Sun Moon Lake Black tea, Jasmine Green tea, Four Seasons Spring tea, and Ceylon Highland Black tea.

machi machi is blessing every country of the world with the sacred flavours of Taiwan, so head to Laforet Harajuku while you have the chance. 

Yukata IN LAFORET: Grab Your Summer Yukata at Laforet Harajuku's Event

Laforet Harajuku is holding a yukata event on its second floor CONTAINER area from June 25 to July 24 where you'll be able to pick from a wide range of different yukata designs.

This marks the 5th run of the event, and this year, it is being split into three separate periods. A total of 9 shops are participating including the popular kimono brand Roccoya Summer Shop which fuses the traditional with the modern as well as MICOPARADE which is managed by designer and Japanese clothing model Maria Kawahara.

The event's main visual was conceived by art director Tomoko Katayama, a designer at airlinesinc. and president of kimono teaching company Airport Lounge. There will be a photo spot as well as displays created by Katayama.

Period 1: June 25, 2019 – July 4, 2019

Roccoya Summer Shop

Roccoya is a brand popular for fusing together traditional and modern designs. The company is returning to Yukata IN LAFORET once again to sell a variety of new yukata, kimono and accessories. Pick anything from cute to contemporary to sophisticated couture. They also sell head accessories and customers can order specific sizes.

MICOPARADE

MICOPARADE is a kimono brand led by designer and Japanese clothing model Maria Kawahara which offers contemporary twists of traditional ideas. Expect kimono like you have never seen as modern fashion. This event will be MICOPARADE's first unveiling of their new products.

Period 2: July 5, 2019 – July 14, 2019

MIKI SAKURA & Sakura Maison

Sakura Maison focuses on "Japanese kawaii" kimono, accessories and obi sashes while MIKI SAKURA's concept, conceived by designers at Sakura Maison, is "dignified women wrapped in beautiful fragrances."

These two brands will come together to showcase an array of feminine yukata including yukata made from lase. They will also sell headdresses, ornate hairpins and other accessories. Expect to get your fill of kawaii♡

Asobiya Meets yuminique

Asobiya is a brand that adds a bit of fun to traditional Japanese motifs. They will collaborate with the "nostalgic and cinematic" brand yuminique for the very first time. Asobiya will have their popular paper crane series of items while yuminique will showcase their "SECRET" themed line-up this summer with an assortment of handmade head accessories with rose and lily of the valley designs. You're sure to find the right decorative accessories for your yukata look here♡

Period 3: July 15, 2019 – July 24, 2019

AYAKONAGAHASHI


Ayako Nagahashi's select shop is associated with many different kimono and yukata brands. The new yukata and accessory collection by KIIRO, which Nagahashi is the director of, and Furifu will be on show. New Yukata and obi sashes the likes of which the industry has never seen before from Nagahashi's private brand Fruttarossa will also make an appearance. There will also be plenty of other pieces like geta shoes and obi clips.

Shigemune Tamao

Unique and innovative kimono creator and artist Shigemune Tamao is opening her first ever store where she will sell original kimono, obi sashes, and a selection of items made in collaboration with guest brands that transcend traditional and contemporary clothing.

Find the yukata for you at this year's Yukata IN LAFORET.

Disney's The Lion King Themed Merchandise to be Sold at Laforet Harajuku

To celebrate the release of Disney's upcoming film The Lion King, Laforet Harajuku has announced a collection of merchandise to be sold at around 30 stores inside the shopping complex. Running from August 7 to September 1, look forward to getting your paws on one pieces, t-shirts, bags, smartphone cases and more. Everything on sale is exclusive to Laforet Harajuku meaning you won't get it anywhere else.

An exhibition entitled "The World of Disney's The Lion King" will also take place alongside the event which will feature stills, photo spots and more all themed on the film.

Additionally, another stall will open called "Disney Classics MARKET" which will sell a selection of chic Disney-themed goods including The Lion King and many more.

Customers who purchase any items in The Lion King collection will receive the above-pictured original shopping bag too. Further details will be announced on Laforet Harajuku's website in the run up to the event.

©2019 Disney Enterprises, Inc. All Rights Reserved.

©Disney

Information

Disney THE LION KING Collection | Laforet HARAJUKU

Running: August 7, 2019 – September 1, 2019

*Orders for fashion items will begin on August 1, 2019

The World of Disney's The Lion King Exhibition

Location: Laforet Museum Harajuku

Running: August 7, 2019 – September 1, 2019
Opening Hours: 11:00-21:00

*Entry may be restricted during busy times

*Please refrain from allowing children in by themselves

The Lion King (2019)

Release Date: July 18, 2019 (Japan: August 9, 2019)

Official Website: https://disney.co.uk/movies/the-lion-king-2019

Laforet Harajuku

Address: 1-9-13 Jingumae, Shibuya, Tokyo

Official Website: http://www.laforet.ne.jp/

Laforet Harajuku Opens New Girly & Creative Toilets

Laforet Harajuku's 3rd floor female and multipurpose toilets just reopened on March 23.

Since its establishment, the department store has found ways to promote and express creativity through fashion and advertising, and that unique inventiveness of theirs has now seeped into the toilets!

The stylish new toilets incorporate amenity with designs expressing that typical Laforet Harajuku-esque humour.

The entire interior design was created by Ran Tondabayashi, an artist who has worked on many of the visuals for Laforet Harajuku's campaigns. The concept is "a strange and otherworldly space of Harajuku." It makes use of collage, a technique that Tondabayashi is skilled at.

Talking about the design, she comments: "Harajuku is a place that is full of vitality and is flooded with people. I created this design so that when people step into these toilets, just for a short while, they feel excited at being in a strange and curious place."

If you're in Harajuku and need to use the bathroom then be sure to stop by Laforet Harajuku.