Gudetama Cafe Matcha Collaboration With MACCHA HOUSE
The Gudetama Cafe located in HEP FIVE is set to collaborate with MACCHA HOUSE―a cafe that has received huge media coverage for its Uji matcha tiramisu―from March 14 to May 6.
Uji Matcha Tiramisu: ¥600 (Before Tax)
For the collaboration MACCHA HOUSE have created Gudetama versions of their Uji Matcha Tiramisu and Houjicha Tiramisu. These fun treats will only be available for a limited time so don't miss out.
Gudetama White Curry + Uji Matcha Tiramisu Set: ¥1,400 (Before Tax)
Mountain Roast Beef Don + Uji Matcha Tiramisu Set: ¥1,600 (Before Tax)
The cafe will also sell sets of popular dishes together with the tiramisu. These delicious dishes are sure to make it onto people's Instagram pages.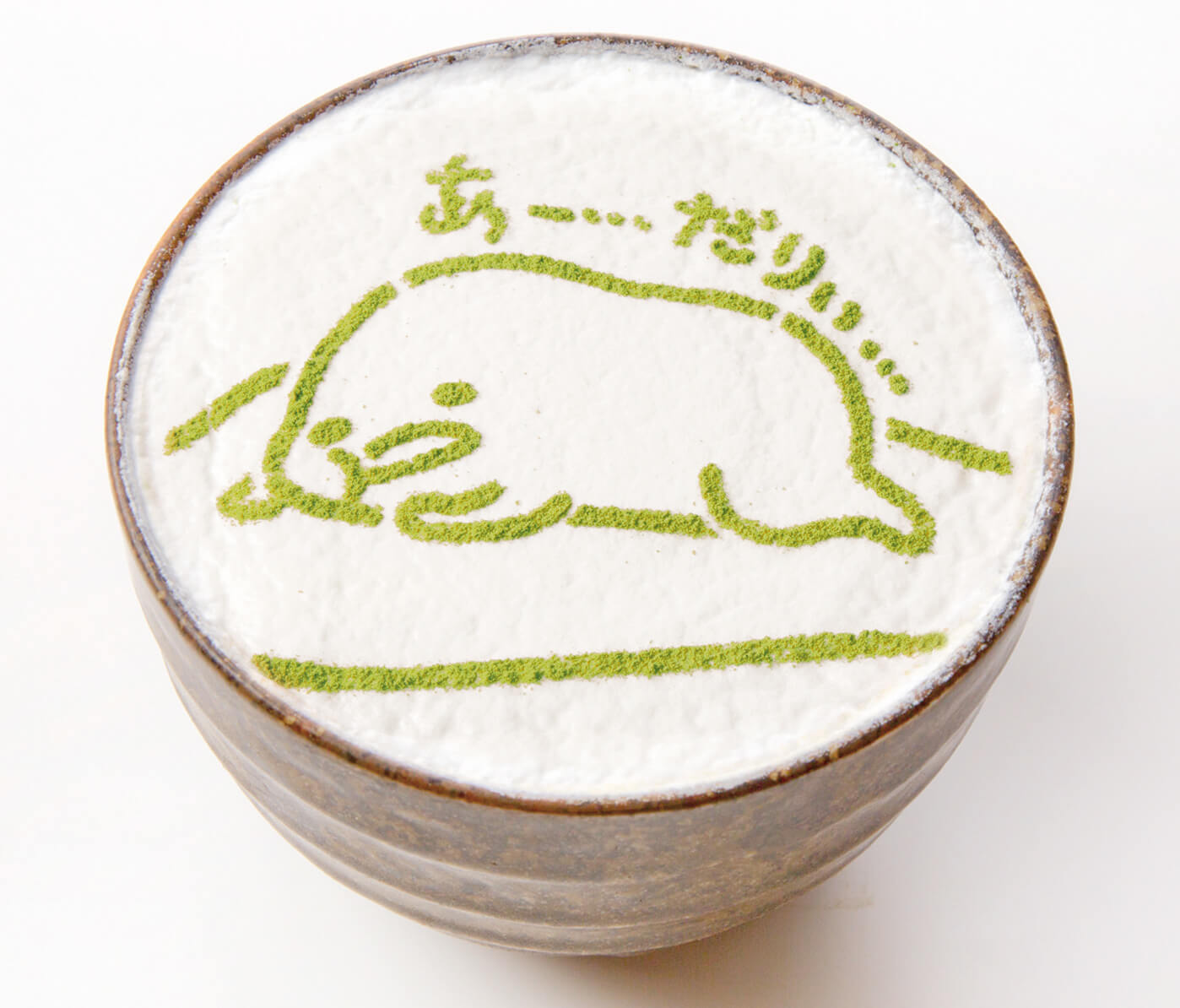 Hot Matcha Latte: ¥600 (Before Tax)
There will also be a Hot Matcha Latte and Hot Houjicha Latte to enjoy. These can be ordered on their own or as a set with the tiramisu for an extra ¥400 (before tax).
Diners during the collaboration will receive a lunch mat and sticker and those who order a drink will get a coaster. Additionally, if you buy anything from the Sanrio shop "Sanrio Vivitx" on floor 4F of HEP FIVE you will receive a coupon which can be exchanged at the Gudetama Cafe for a postcard. These are available during the collaboration only, so don't miss out.
Information
Gudetama Cafe HEP FIVE
Address: HEP FIVE 7F, 5-15 Kakudacho, Kita-ku, Osaka-shi, Osaka Prefecture
Opening Hours: 11:00am-10:30pm (Last Orders 10:00pm)
No Fixed Holidays. (*Except when HEP FIVE is closed)
TEL: 06-6366-3694
Gudetama Cafe Official Website: http://gudetama.createrestaurants.com/
©1993, 2013, 2018 SANRIO CO., LTD. APPROVAL NO.S592279
RELATED ENTRIES
Nana's Green Tea x Häagen-Dazs Release Chocolate Matcha Glass Dessert

Nana's Green Tea is serving up a brand-new dessert in collaboration with Häagen-Dazs for Valentine's Day at 77 branches in Japan. The dessert was released on January 6 and will be available up to February 14.

Matcha Chocolate Glass with Häagen-Dazs | ¥880 (Before Tax)

The dessert is a tempting sight to behold – not only is it delicious but visually appealing to the eye too, and layered with various textures so that every bite is a surprise.

The dessert is made with Häagen-Dazs' "Sweet Chocolate" ice cream coupled with Nana's Green Tea's own original matcha ice cream, soft and crunchy meringue sticks, crumbled cookies, white chocolate whipped cream, and matcha chiffon cake. Sat at the bottom waiting to be discovered is a sweet strawberry sauce for a tangy kick.

Information

Nana's Green Tea – Matcha Chocolate Glass With Häagen-Dazs
Serving: January 6, 2021 – February 14, 2021
Price: ¥880 (Before Tax)
Available: 77 Nana's Green Tea branches in Japan (Excluding DiverCity Tokyo Plaza, Tokyo Dome, and Iias Okinawa Toyosaki)
Official Website: http://www.nanasgreentea.com/

Gudetama Doughnuts at Floresta Celebrate the New Year

Floresta Nature Doughnuts, a doughnut cafe that hand-makes doughnuts using organic ingredients, is baking up two new Gudetama doughnuts with New Year's messages on them. They will be served from January 9 to 24.

Florest Gudetama Collab Doughnuts | ¥450 (Before Tax)

The doughnuts capture the lazy and lethargic energy of Gudetama. The crowning Gudetama is made from Japanese pumpkin and is sat on a bed of sweet white chocolate. Both doughnuts are also available as a set coming with an extra of any of Floresta's signature doughnuts.

Relax and take in the new year together with Gudetama.

Matcha and Strawberry Parfaits Whipped Up at Saryo FUKUCHA in Kyoto

Saryo FUKUCHA in Kyoto is now serving up a very special selection of succulent strawberry and matcha parfaits until May 30, 2021. These exquisite delights will see only 10 made of each per day.

Saryo FUKUCHA is a cafe that was opened by FUKUJUEN in Kyoto Station in April 2019. This year, they have brought back their extremely popular strawberry and matcha parfaits : the Konome, Konoha, and Konoka. They have also introduced a new addition to the line-up: the Strawberry & Matcha Milk Parfait. Also on the menu is a strawberry matcha latte.

Matcha & Strawberry Parfaits


Konome | ¥1,350


Konoha | ¥1,450


Konoka | ¥1,550


Strawberry Matcha Milk Parfait | ¥800


Strawberry Matcha Latte | ¥650

Discover the taste of Japanese tea in a new way with Saryo FUKUCHA's matcha and strawberry parfaits and latte.

Information

Saryo FUKUCHA
Address: 901 Higashi Shiokojicho, Karasumadori Shiokoji Sagaru,, Shimogyo-Ku Kyoto Station Bldg. 2F, Kyoto 600-8216 Kyoto Prefecture
Opening Hours: 8:30-21:00 (Last Orders 20:30)
*The cafe is currently running on reduced opening hours as of December 25, 2020 due to COVID-19. Hours are now 08:30-19:00 (Last Orders 18:30) on weekdays and 08:30-20:00 (Last Orders 19:30) on weekends. Times are subject to change.
TEL: 075-744-0552

Official Website: https://fukucha-fukujuen.com/

Brown Sugar Syrup Matcha Latte Arrives at Tully's Coffee in Japan On Christmas Eve

Tully's Coffee Japan is adding a new seasonal drink to its menu on December 26: the "Brown Sugar Syrup & Soy Flour Matcha Latte."

Brown Sugar Syrup & Soy Flour Matcha Latte (Hot/Iced) | Tall ¥520 (Before Tax)

Matcha beverages at Tully's Coffee are all made with Uji matcha from Kyoto. The powder is prepared in-house at Tully's Coffee, ensuring that the original taste and fragrance of the matcha is fresh. Their new seasonal beverage takes their classic Uji Matcha Latte and sweetens it with brown sugar syrup and Hokkaido soy flour.

Brown Sugar Syrup & Soy Flour Matcha Suwakuru® (Frozen) | Tall ¥540, with tapioca +¥100 (Before Tax)

Adding tapioca pearls creates a perfect combination with the syrup and soy flour, creating a taste and texture that's like the traditional Japanese confection warabimochi.

Uji Matcha Kouign-amann | ¥290 (Before Tax)

Tully's Coffee is also baking up some seasonal treats, like a Japanese-style Kouign-amann and red bean paste-filled doughnuts.

Milk Red Bean Paste Doughnuts | ¥300 (Before Tax)

The doughnuts are also made with milk from Hokkaido.

2021 Year of the Ox Mug | ¥1,500 (Before Tax)

And to celebrate the upcoming Year of the Ox, the coffee chain is also rolling out a cute ox-themed mug.

Information

Brown Sugar Syrup & Soy Flour Matcha Latte
Release Date: December 26, 2020
Official Website: https://www.tullys.co.jp

Gintama Themed Cafes to Open in Shibuya and Sapporo in Collaboration With Tower Records

Tower Records is promoting the upcoming release of the anime film Gintama The Final by turning two of its own Tower Records Cafe branches in Sapporo and Shibuya into Gintama-themed spaces serving inspired dishes and selling exclusive merchandise.

Merch Collab

Gintama x  Tower Records Trading Acrylic Key Rings (6 Designs) | ¥800 (Before Tax)


Gintama x  Tower Records Towel | ¥2,500 (Before Tax)

Get your hands on a Gintama x  Tower Records key ring or towel featuring the main cast wearing Tower Records aprons just like the real-life staff at the music store chain. These items are available to pick up at 41 Tower Records stores, three Tower Records Cafes, and their official website.

Cafe Collab

Tower Records Cafe has collaborated with numerous anime series before, but this will be its first with Gintama. Two menus will be rolled out, the first being served from January 1, 2021 to January 14, 2021 and the second from January 15, 2021 to January 24, 2021. The first menu is themed on the series's six main characters while the second menu will be based around Gintama The Final as well as the two-part anime special Gintama The Semi-Final.

Menu ① (Excerpt)


Kagura's Tenshidon With Kombu Salad | ¥1,480 (Before Tax)

Inspired by the heroine of Gintama, Kagura, and served with her favourite vinegar kombu salad.

Toshiro Hijikata's Mayo Chicken Nanban | ¥1,480 (Before Tax)

Hijikata is known for his love of mayo, so it was only right that this mayo chicken nanban be served with three types of mayonnaise.

Gintoki's Week's Worth Of Sugar Parfait | ¥1,380 (Before Tax)

A strawberry-loaded parfait with plenty of sugar content, just how Gitoki likes it.

Kotaro Katsura's Elizabeth Dessert | ¥1,380 (Before Tax)

An Elizabeth crepe with something hidden inside…

Gintoki's Perm Drink | ¥750 (Before Tax)

A cotton candy dessert drink inspired by Gintoki's luscious natural perm.

Shinsuke Takasugi's Blueberry Smoothie | ¥750 (Before Tax)

A cool blueberry smoothie whose delicious flavour comes from it being chilled in the refrigerator.

Menu ② (Excerpt)


Yorozuya's Special Curry | ¥1,480 (Before Tax)

Inspired by the friendship between the three members of Yorozuya, with the white rice representing Gintoki, the pink (sakura denbu) Kagura, and the blue (powdered cheese) Shinpachi.

Sadaharu's Pancakes | ¥1,280 (Before Tax)

Inspired by the pet of Yorozuya, served with three sides representing the three members.

Shinpachi's Ramune | ¥750 (Before Tax)

A ramune based on Shinpachi, topped with a cherry to express his cherry boy-ness!

Takeout-Only Menu

Gintama Quote Omurice | ¥1,280 (Before Tax)

Classic Japanese omurice served with one of six famous quotes in Japanese from the series. Not available at the Nagoya Sakae SKYLE or Umeda NU Chayamachi branches.

Yorozuya Gin-chan's Takeout Drink | ¥900 (Before Tax)

A takeout drink based on Yorozuya Gin-chan with two different coloured jellies at the bottom to represent Shinpachi and Kagura with the white Calpis drink being Gintoki.

Bonus Items


Coasters (6 Designs)

Those who reserve the bonus item ticket at Ticket Pia machines will receive one of six possible Tower Records x Gintama coasters.

Menu ① Postcards (6 Designs)

Menu ② Postcards (6 Designs)

For every item ordered on the menu, you'll get a free postcard. This includes takeout items.

Set of 3 Bookmarkers (6 Designs)

Those who order a food item, dessert, and a drink all together will get a set of three bookmarkers.

Lunch Mat (During Menu ② Servings Only)

Those who dine at the cafe during the second menuy serving will receive a free lunch mat featuring the key visual for Gintama The Semi-Final.

©空知英秋/劇場版銀魂製作委員会
©空知英秋/集英社・テレビ東京・電通・BNP・アニプレックス

Information

Gintama x Tower Records Merch Collab
Pre-Orders: December 10, 2020

Release Date: December 24, 2020
Merch Collab Page: https://tower.jp/gintama/

Gintama x Tower Records Cafe Collab
TOWER RECORDS CAFE Shibuya
Address: Tower Records Shibuya Floor 2F, 1-22-14 Jinnan, Shibuya, Tokyo

Opening Hours: 10:45-20:50
Menu ①: December 24, 2020 – January 7, 2021

Menu ②: January 8, 2021 – January 17, 2021

*Closes at 17:20 on December 31 and closed for the day on January 1 and 2

TOWER RECODRS CAFE Sapporo PIVOT
Address: PIVOT Floor 5F, 4 Chome Minami 2 Jonishi, Chuo Ward, Sapporo, Hokkaido
Opening Hours: 11:20-20:00

Menu ①: January 5, 2021 – January 21, 2021

Menu ②: January 22, 2021 – February 7, 2021

TOWER RECODRS CAFE Nagoya Sakae SKYLE (Takeout Menu Only)
TOWER RECORDS CAFE Umeda NU Chayamachi (Takeout Menu Only)
Menu ①: January 5, 2021 – January 14, 2021
Menu ②: January 15, 2021 – January 24, 2021

Cafe Collab Website: https://tower.jp/gintamacafe

Gintama The Final
Release Date: January 8, 2021
Official Website: https://wwws.warnerbros.co.jp/gintamamovie/

Gintama The Semi-Final (dTV Japan Only)
Episode 1: January 15, 2021

Episode 2: January 20, 2021
Official Website: https://pc.video.dmkt-sp.jp/ft/s0007147?campaign=sgm100149

Sailor Moon Eternal Cafes to Open in Tokyo, Osaka, Nagoya and Elsewhere in Japan

To promote the release of Sailor Moon Eternal, Japanese company LEGS is opening up six limited-time cafes themed on the film in five cities across Japan, beginning with Tokyo and Nagoya on December 24, 2020.

Sailor Moon Eternal is an upcoming two-part anime film set to release in 2021, with the first part dropping on January 8 and the second on February 11. The cafes, which are inspired by the films, were designed in collaboration with popular art director WATARU LINDA IGARASHI.

"Eternal Memories" is the name of the concept for the cafes which will transport customers into a magical and elegant world.

The Menu

The cafe menu features an enchanting line-up of food, desserts, and drinks based on characters and references in the films.

Food & Dessert

Usagi's Moon Floating Yogurt Bowl | Ami's Aqua Sparkling Parfait | Rei's Vivid Salmon Chirashi Sushi – ¥1,399 Each

Luna's Black Sesame Paste Doughnut – ¥899 | Moon Crisis Milk Crepe!! – ¥1,599

Drinks


Usagi's Eternal Soda | Ami's Eternal Soda | Rei's Eternal Soda | Makoto's Eternal Soda | Minako's Eternal Soda – ¥899 Each

Chibiusa's Eternal Soda Jelly | Hotaru's Eternal Soda Jelly – ¥999 Each

Original Merchandise


Merch line-up

The cafes will also sell their own original and exclusive merchandise to get fans excited for Sailor Moon Eternal.

Bonus Items

Customers who book a table in advance (¥650 per person before tax) will receive one of six possible face mask faces, and for every drink ordered, one of 11 original paper coasters.

©Naoko Takeuchi・PNP / Sailor Moon Eternal Production Committee

Information

Tokyo: TOKYO BOX cafe&space Tokyo Solamachi
Running: December 24, 2020 – February 21, 2021

Aichi: NAGOYA BOX cafe & space
Running: December 24, 2020 – March 7, 2021

Osaka: Abeno contact
Running: January 7, 2021 – February 21, 2021

Tokyo: SHINJUKU BOX cafe&space Lumine EST Shinjuku
Running: January 8, 2021 – February 28, 2021

Okinawa: Okinawa BOX cafe&space
Running: January 8, 2021 – February 28, 2021

Hokkaido: Coach & Four Shinkawa-Dori Cafe Interlude
Running: January 29, 2021 – March 14, 2021

Pretty Guardians Official Fan Club Pre-Bookings: December 4, 2020 – December 8, 202
General Pre-Bookings: December 17, 2020 at 18:00 (JST)

Cafe Official Website: https://sailormoon-cafe.jp/

KINGDOM HEARTS Melody of Memory Themed Cafes to Open in Japan This Holiday Season

Japanese company LEGS has announced the opening of two limited-time cafes themed on the video game KINGDOM HEARTS Melody of Memory which will run from December 11, 2020 to January 31, 2021.

KINGDOM HEARTS Melody of Memory is a rhythm action game developed by Square Enix. Released on November 11 in Japan and November 13 everyone else, it is the latest instalment to Square Enix and Disney's video game series Kingdom Hearts.

The cafe menu features a line-up of dishes, drinks, and desserts inspired by characters and worlds found throughout the internationally-beloved video game series. The items all adhere to Disney's nutrient guidelines and so are low in salt and sugar, offering fans a healthier option. The cafe will also sell a range of original merchandise.

The Menu

Food (Excerpt)

<Sora> Power of Waking Tomato Pasta | ¥1,599

A red tomato pasta inspired by Sora that comes with a potato salad shaped like King Mickey.


<Riku> Daybreak Chicken Burger | ¥1,599

A black chicken burger based on Riku becoming enveloped by the Power of Darkness. This dish also comes with a potato salad shaped like King Mickey.


<King Mickey> King's Tuna Sandwich | ¥1,399, with plate +¥2,000

A tuna sandwich branded with a King Mickey symbol that comes with a side of fruit.


<Neverland> Island Seafood Curry | ¥1,699

A squid and shrimp seafood curry inspired by Peter Pan's Neverland which you can travel to in Kingdom Hearts.

Drinks (Excerpt)


<Sora, Riku & Kairi> Fate's Pineapple Herb Soda | ¥899, with acrylic coaster +¥1,000

A pineapple herb soda based on the Paopu Fruit from the series.


<Roxas, Xion, Axel> Sea Salt Ice Cream & Milk | ¥1,199, with acrylic coaster +¥1,000

Based on the sea salt ice cream that Roxas, Xion, and Axel all eat together. It's served with hot milk that can be poured over the ice cream for a tasty treat.


<Hundred Acre Wood> Honey Latte | ¥799, with mug +¥1,650

A latte sweetened with Winnie the Pooh's favourite thing in the world: honey.

Merchandise (Excerpt)

Folder ¥500 / Acrylic Magnet ¥700


Tote Bags (3 Designs) | ¥3,500 Each (Timeless River/Keyblade A/Keyblade B)

Bonus Items

Customers who book a table in advance (¥650 before tax) and order from the menu will receive one of two folders, and if they order a drink, one of four coasters. Available while supplies last.

© Disney. © Disney/Pixar.

*All prices listed are pre-tax

Information

KINGDOM HEARTS Melody of Memory Cafe
・Tokyo (Shibuya): SHIBUYA BOX cafe&space
Running: December 11, 2020 – January 31, 2021
Address: LOFT (Floor 2F), 21-1 Udagawacho, Shibuya, Tokyo

・Osaka (Umeda): UMEDA BOX cafe&space
Running: December 11, 2020 – January 31, 2021
Address: Umeda LOFT (Floor 1F), 16-7 Chayamachi, Kita-ku, Osaka-shi, Osaka

KINGDOM HEARTS Melody of Memory Cafe Official Website: https://khmom.ohmycafe.jp/

Egyptian God Anime Series Tototsu ni Egypt Kami Announces December 7 Broadcast

It has been announced that the first episode of Frontier Works's upcoming web anime series Tototsu Ni Egypt Kami ("Suddenly, Egyptian Gods") will be posted on December 7, 2020 at 12:00pm (JST).

New promotional video released alongside air date announcement

Check out the newest PV release for the series which introduces each of the main characters.

Web Anime "Tototsu Ni Egypt Kami" PV Long Version


Get a free postcard in Japan

To promote the series, Japanese anime goods chain Animate is holding a campaign where for every ¥1,000 spent on Tototsu Ni Egypt Kami merchandise at Animate stores in Japan customers will receive one of 13 postcards.

Running: December 19, 2020 – January 17, 2021

Participating Stores: Animate / Animate Online / Shosen Grande / Horindo Takadanobaba

AMOCAFE Ikebukuro is also celebrating the release of the anime series by serving up a themed menu as well as selling exclusive merchandise.

Running: November 25, 2020 – December 9, 2020

Location: AMOCAFE Ikebukuro, 1-31-6 Higashi-Ikebukuro, Toshima-ku, Tokyo

Opening Hours: 11:00-19:45 (Reservation Only)

Official Website: https://amocafe-reserve.jp/to_to2ni_cafe/

Who would have thought that the Egyptian gods could be kawaii? Well, that's exactly what they've become in Tototsu Ni Egypt Kami, a series set in Ancient Egypt where the Egyptian deities, like Anubis, Thoth, Bastet, and Ra live laid-back and relaxed lives. The series is adapted from a popular line of character mascots of the same name.

©yuka/とーとつにエジプト神プロジェクト

Information

Tototsu Ni Egypt Kami

Initial Broadcast: December 2020

Watch On: YouTube, GYAO!, Bandai Channel, FOD, ABEMA, d Anime Store, U-NEXT

Official Website: https://to-to2ni-anime.jp

Starbucks Japan Reveals Matcha x Matcha White Chocolate Frappuccino®

Starbucks Coffee Japan has revealed that its second instalment of its limited-edition holiday season 2020 beverages will be the "Matcha x Matcha White Chocolate" and "Matcha x Matcha White Chocolate Frappuccino®" which customers can order from November 24. A new batch of festive Starbucks merch will also hit Japanese branches on November 30.

A harmonious fusion of matcha and sweet white chocolate

Matcha x Matcha White Chocolate Frappuccino® Tall ¥590 (Tall-size only)

Matcha x Matcha White Chocolate: Short ¥450 / Tall ¥490 / Grande ¥530 / Venti® ¥570 (Hot option only)

Matcha is one of Starbucks Japan's signature flavours and just to happens to have been in the spotlight in last year's holiday season drinks. This year sees marbling mixture of of rich matcha sauce and sweet white chocolate syrup with the Frappuccino®, finished with a squirt of whipped cream, brownie bits, and snowy powdered sugar. The hot version comes as a marriage of matcha and white mocha mixed together with steamed milk to warm the cockles of hearts during the cold months.

New holiday season merchandise

The theme of the second batch of merchandise is "Brilliant Season" which capture the bright and sparkly vibe of winter like with the snowflake-covered stainless steel bottle, a glass mug with beads in it that move around when shaken, a snow globe, and more. The perfect line-up for capturing the holiday season mood during your coffee break.

Starbucks Japan is currently serving the Berry x Berry No-Bake Cheesecake Frappuccino® and Berry x Berry White Mocha holiday season drinks for the holiday season until November 24 when they will be replaced by the Matcha x Matcha White Chocolate and Matcha x Matcha White Chocolate Frappuccino®. It is also serving the Starbucks® Christmas Blend, Gingerbread Latte, and Macadamia Toffee Latte until Christmas Day.

Information

Matcha x Matcha White Chocolate and Matcha

Matcha White Chocolate Frappuccino®

Running: November 1, 2020 – December 25, 2020

Available: Starbucks in Japan
Starbucks Japan Official Website: https://www.starbucks.co.jp/

The Promised Neverland Cafe to Serve Up Themed Food and Drink in Tokyo

A special exhibition centred on the popular manga series The Promised Neverland will take place at Roppongi Hills Tokyo City View in Tokyo from December 11, 2020.

The Promised Neverland is a manga series written by Kaiu Shirai and illustrated by Posuka Demizu. The series was published in Weekly Shonen Jump and concluded with its final volume on June 15, 2020. A live-action film will be released in December while the anime adaptation's second season will air next year.

The exhibition will explore and celebrate the world of The Promised Neverland in detail, with displays, illustrations, early conceptions, and much more. A special 19-page manga episode written by Kaiu Shirai and illustrated by Posuka Demizu will also be shown.

Fans at the exhibition can also dine at CAFE GRACE FIELD,  the series-themed cafe opening up temporarily at Cafe THE SUN. Let's take a closer look and see what fans can expect to see at the cafe.

CAFE GRACE FIELD Collaboration Cafe

Illustrative photo showcasing the cafe

The Promised Neverland is set inside Grace Field House, an orphanage in a forest that houses children with no relatives. It's here that we meet the main characters: Emma, Norman, Ray, and Mom. CAFE GRACE FIELD is inspired by Grace Field House and the children who live in it, with food based on the characters and certain episodes in the series, a cafe latte you can order and get a free coaster with, and many other dishes, drinks, and desserts exclusive to the exhibition.

The Menu

Isabella's Burger | ¥1,480 (Tax Included)

A hearty hamburger inspired by Isabella, the Mom of Grace Field House, filled with a fat patty, tomatoes, and lettuce. It's served with chips which are topped with a key that opens all doors in the house.

Emma's Omelette Rice | ¥1,380 (Tax Included)

A serving of omurice (rice-filled omelette) which features Emma's trademark lock of hair that sticks up and orange edible flowers scattered over the tomato sauce, all to capture Emma's smiley personality.

Norman's Farm Green Curry | ¥1,580 (Tax Included)

A spicy green curry based on Norman standing in the fields of the forest. The plate includes the pen Norman finds which belongs to William Minevra, as well as the name Minevra written in Morse code around the outside of the dish.

Ray's Final Book Sandwich | ¥1,550 (Tax Included)

This dish is inspired by the scene when Ray gives Emma the last book he reads before escaping the house. The sandwich itself is made to look like the book and is filled with egg salad, crunchy fried fish, and tomatoes.

Full Score Parfait | ¥1,450 (Tax Included)

An assortment of ingredients based on the three main characters in the series who receive a full score: Emma (orange jelly), Norman (panna cotta), and Ray (chocolate pudding and cake). A parfait that's not overly sweet and displays each of the three characters' I.D. Numbers which are used for identification in the series.

Little Bunny Shortcake | ¥1,350 (Tax Included)

A mixed berry shortcake with Conny's precious Little Bunny on top. The bunny is made from milk pudding and sat on a bed of yogurt cream-filled fluffy sponge.

The House's Lantern Drink | ¥1,050 (Tax Included)

A lantern-style dessert drink with everyone from Grace Field House, topped with chocolate whip, frozen yogurt, and two pieces of orange inspired by Emma's hair.

The Promised Pendant Drink | ¥1,050 (Tax Included)

A refreshing combination of ginger ale, Calpis, and Blue Curaçao topped off with apple flavoured ice. The blue and green gradation of the beverage is based on the pendant given to Emma by Mujika, a key item of the story.

Emma's Cafe Latte, Norman's Cafe Latte, Ray's Cafe Latte | ¥850 Each (Tax Included)

Three cafe lattes with Emma, Norman, and Ray print on them. Every cup ordered gets you an original coaster. There are three coaster designs, each given randomly for every drink order.

Twitter Campaign – Christmas Edition Cafe Latte

Running: December 11, 2020 – December 25, 2020

From December 11-25, fans who answer the official Twitter quiz correctly have the chance to order the Christmas Edition Cafe Latte. Every cup ordered gets you a special coaster.

©Kaiu Shirai・Posuka Demizu /Shueisha

Information

THE PROMISED NEVERLAND SPECIAL EXHIBITION

Running: December 11, 2020 – January 11, 2021

Opening Hours: 10:00-22:00 (Last Entries 21:30)

Location: Roppongi Hills Tokyo City View Sky Gallery

Address: Roppongi Hills Mori Tower Floor 52F, 6-10-1 Roppongi, Minato-ku, Tokyo

Exhibition Website: https://yakuneba-ten.jp/

*Information about this event is subject to change without notice. Please visit the exhibition's portal site or Roppongo Hills Mori Tower's official website for the latest updates, cautions, and measures against COVID-19.

Cuzen Matcha Releases in US and Lets You Make Fresh Matcha at Home

World Matcha Inc. launched the Cuzen Matcha machine in the USA on October 21, 2020. The product arrives to the North American market after a hugely successful Kickstarter campaign where it achieved 235% of its funding goal. It has already received praise from some of the country's top chefs and hoteliers including Tartine's Chad Robertson and SingleThread's Kyle Connaughton.

Cuzen Matcha

Cuzen Matcha allows for any person to produce fresh matcha with the company's shade-grown whole organic leaves and award-winning technology. Users simply add fresh leaves grown in Kyushu to the machine, and with the press of a button, it instantly creates freshly-ground matcha, delivering the superior health benefits of matcha to everyone. Sustainability is also at the heart of the brand which incorporates sustainable tea farming, sustaining a tea-growing tradition, and wrapping it all up in sustainable packaging

Eijiro Tsukada (World Matcha Inc., Co-Founder and CEO)

"We have been helped by a lot of people and have put our trusts in them while developing Cuzen Matcha. Now we're launching it into the world to lots of people, even if it reaches only one. We will deliver fresh matcha in a way no one else is along with all of its health and lifestyle benefits. And I hope to create a more sustainable future together with our customers around the world." (Translated from Japanese by MMN)

Taste Authentic Japanese Matcha at Asakusa's New Matcha Specialist Shop Kaminari Issa

Asakusa welcomed the newest and third branch of matcha dessert specialist shop Kaminari Issa on October 2, 2020, which opened its doors along Dempoin Street. The shop is just a 3-minute walk from Asakusa Station and 2-minutes from Kaminarimon.

Signature delights on Kaminari Issa's menu include the Okoicha Warabi Latte and Okoicha Gelato. Everything on the menu is made with rich, high quality matcha, from the matcha tea lattes to the matcha beer, parfaits, ice cream, dacquoise, and more. If you love matcha, and you're in Tokyo, this place is a must-visit.


There are plenty of items to get your hands on in this newest store, which also has its own eat-in space, tea leaf display, and more.

They even sell kits so you can make your own Okoicha Warabi Latte and Wakocha Brown Sugar Warabi Latte at home.

Information

Kaminari Issa Dempoin-dori
Address: 2-2-2 Asakusa, Taito-ku, Tokyo
Opening Hours: 10:00-18:00 (until 17:00 on Mondays)
TEL: 03-5830-6948
Access: 3-minutes on foot from Asakusa Station
Official Website: https://www.kaminari-issa.com/