Japan's Oldest Kabuki Theatre to be Dazzled by Projection Mapping
To celebrate the reopening of Minami-za, Kyoto's oldest kabuki theatre, an event bringing together innovative entertainment entitled Kyoto Mirai Matsuri 2019 is taking place in April and May. Japanese creative company NAKED has announced that it will participate in the festival's HIRUMATSURI and YORUMATSURI events which will run from May 12 to 25.
Several companies are getting involved in the event, including movie studio and production company Shochiku and event organiser and talent/model agency ASOBISYSTEM. They will come together to bring people the latest in technology and culture for both HIRUMATSURI and YORUMATSURI which will be held in the daytime and evening respectively, each with their own unique atmospheres that will imagine a futuristic festival.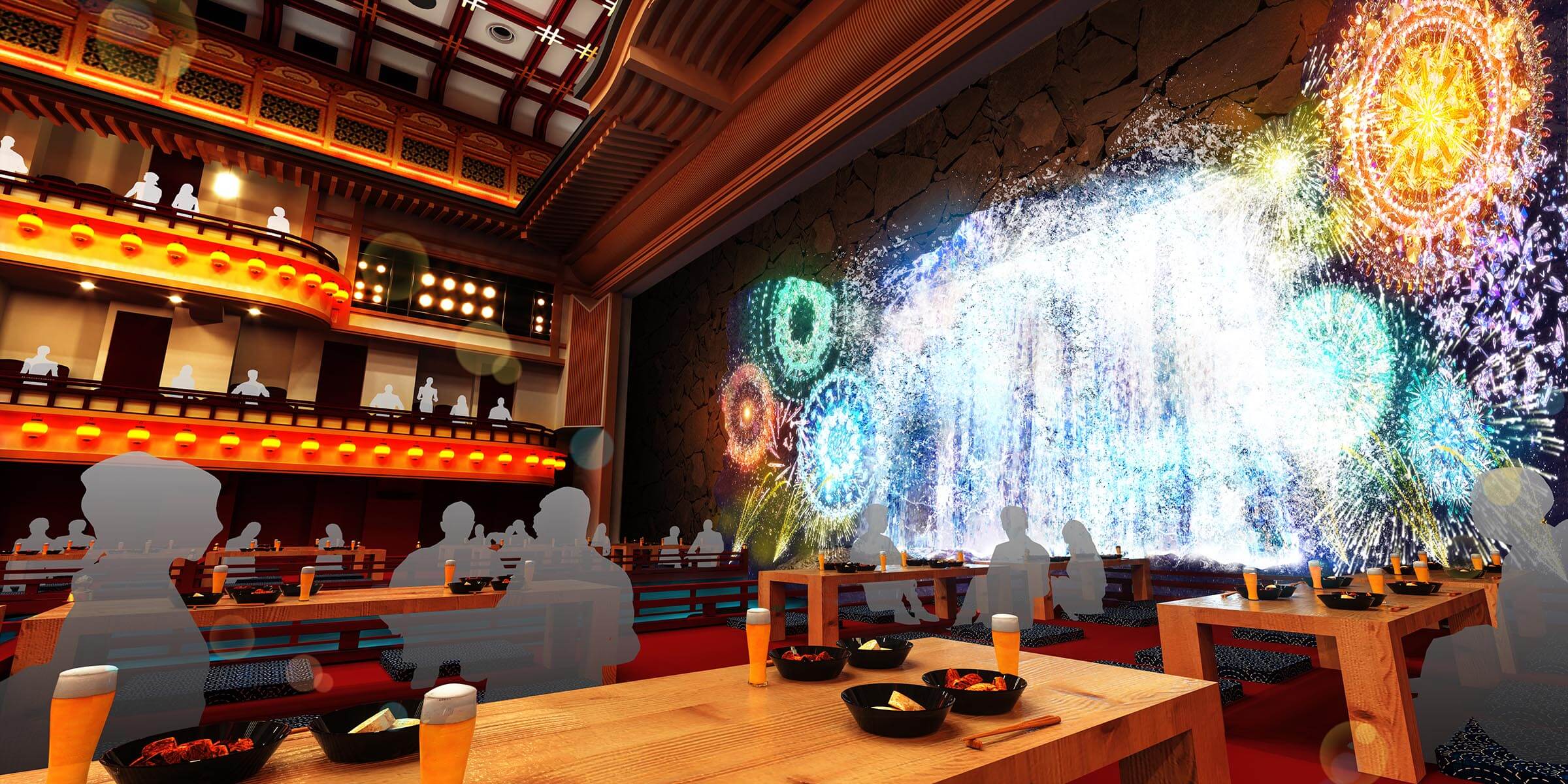 NAKED will use art to picture what an old-fashioned, traditional Japanese matsuri, or 'festival' will look like in the future.
During HIRUMATSURI they will use projection mapping to project a huge waterfall. There will also be the "Hyper Target Practice" which will have you putting your hands into the shape of a gun and shouting "bang!" The company will deliver plenty of other digital and technology-driven fun too.
A DJ booth will be placed in front of the waterfall for YORUMATSURI to combine music and visuals and bring nighttime entertainment to Minami-za.
Information
Kyoto Mirai Matsuri 2019
OTOMATSURI: April 30, 2019 – May 5, 2019 (*Times and prices TBA)
HIRUMATSURI/YORUMATSURI: May 12, 2019 – May 25, 2019
HIRUMATSURI
Time: 11:00-17:30 (subject to change)
Price (Tax Included): Adults ¥2,000 / Children ¥1,000
YORUMATSURI
[Monday-Thursday]
Time: 18:30-22:00 (subject to change)
Price (Tax Included): ¥2,000
[Friday & Weekend]
Time: 18:30-23:00
Price (Tax Included): ¥3,000
NAKED Inc. Official Website: https://naked.co.jp
RELATED ENTRIES
Colourful New Agar & Mango Jelly Drink Released at Kyo Yakasa Pudding in Kyoto

Kyo Yakasa Pudding opened its doors to the world back in April, and since then they have whipped up many different kinds of Japanese custard pudding, known as purin. Earlier this month they released their all new "Yasaka Cider," a jelly-like drink which became a hit on Japanese Instagram (search with #京八坂プリン).

The shop's most popular product since launching is the Kyo Yasaka Pudding―named just like the shop. It has a honey and lemon flavoured jelly which is full of agar and mango jelly balls, giving it a cute appearance and very refreshing flavour and completely new kind of texture.

Now, the shop has released its new Yasaka Cider. The word "Cider" in Japanese doesn't actually refer to the alcoholic drink, but instead is usually a carbonated mixture of lemon and/or lime.

Available this summer only, the Yasaka Cider is the perfect accompaniment for cooling yourself down while strolling the streets of Kyoto, filled with Kyo Yasaka Pudding jelly, agar balls, mango jelly balls, and an in-house made lemon slice and honey mix. The beverage is made fresh to order and comes in a cute bag which you can carry around easily with you.

There are lots of great photo opportunities for Instagram in the store too! If you're in or travelling to Kyoto this summer then be sure to stop.

Information

Kyo Yakasa Pudding

Address: 87-4 Hoshinocho, Higashiyama, Kyoto, Kyoto Prefecture

Opening Hours: 10:00-17:30

No Fixed Holidays

Website: http://www.kyo-yasaka-pudding.co.jp

Kyoto's Kurodani Temple Autumntime Illuminations Begin on November 4

Konkaikōmyō-ji, also known as Kurodani Temple, is set to open its doors to the public from November 4 for its autumn illuminations.

Kurodani Temple has a long history, best known as serving as the Kyoto Shugoshoku―the office of the Tokugawa shogunate―during the Bakumatsu period. It has relations to the Shinseigumi, a military force which was active during this time which was dedicated to suppressing anti-shogunate activities. It is also the first place that Hōnen, the founder of Japanese Pure Land Buddhism, spread his teachings.

For the special opening, you will be able to see the famous chicken painting Tori-zu Oshiebari Byobu by Itō Jakuchū as well as treasures associated with Hōnen and more.

The number of tigers on the famous tiger doors of the temple changes as you slide them.

From the temple grounds you can enjoy a breathtaking scene of the gardens where the autumnal colours of the trees reflect from the surface of the pond.

Kurodani Temple is also home to the Gokōshiyui Amidabutu Statue, which became the talk of the town in the media when it was dubbed the "Afro Buddha," and looks deep in contemplation.

There will also be performances three times a day in the evening using traditional Japanese instruments like the koto and shinobue.

If you pay for the premium entry plan you can enter 30 minutes earlier and will be guided by one of the official gardeners or expert of the gardens.

Information

Autumnal Light-Up

Running: November 4, 2019 – December 8, 2019

Time: 17:30-21:00 (Last Entries 20:30)

Price: Adults ¥800 / Children ¥400 / Infants – Free

*Groups of over 20 people – ¥700

Music Performances: Everyday at 18:00/18:45/19:30

Premium Plan

Running: Fridays & Weekends

Time: From 17:00

Price: Adults ¥1,200 / Children ¥600

Kurodani Temple

Address: 121 Kurodanicho, Sakyo Ward, Kyoto, Kyoto Prefecture

Event Page: https://www.kurodani.jp/lightup_aut/

Kyoto's Sweet and Salty Matcha Cheese Tea is an Enlightening Flavour Discovery

Kiyomizu Cheese Kobo opened at Kiyomizu Gojozaka at the foot of the famous Kiyomizudera Temple as Kyoto's first ever cheesecake shop to sell its delicious cheesecakes in a cute jar. On August 13, they released a mouthwateringly rich Matcha Cheese Tea which will enlighten you with a new way to enjoy matcha.

The Matcha Cheese Tea harnesses Kyoto's unbeatable Uji matcha which is full of rich and fresh flavour. A light cloud of fluffy cheese foam floats on top of the drink, adding a salty accent to the overall flavour. A traditional tea combined with a sweet and salty cheese flavour ー this brand new flavour discovery will leave you feeling refreshed and enlightened. The recipe for the cheese foam consists of cream cheese carefully selected by the cheesecake shop's specialists. This is then blended with a small amount of salt to accent the flavour. 

If you mix the matcha milk tea with the cheese foam, the rich matcha mixes with the saltiness of the cream cheese, creating a sweet salty flavour that you will not be able to get enough of. As the flavour is not too overpowering, you can enjoy this drink endlessly and will feel refreshed even on a hot summer's day. 

Matcha Cheese Tea: ¥460

Kiyomizu Cheese Kobo recommends three different ways to drink the Matcha Cheese Tea to enjoy three different levels of flavour combinations. 

① First off, drink just the matcha milk tea so you can experience the true authentic flavour of Kyoto's famous rich Uji matcha tea. 

② Next, move your straw so that you taste just the cheese foam on its own. The fluffy foam will gently slide over your tongue and spread a mild and sweet flavour all over your mouth. 

③ Finally, it's time to mix everything. The saltiness of the cheese foam and the sweetness of the matcha milk will create a new salty sweet flavour that you will want to try again and again.

Whether you are a Japanese local or a foreigner, this drink is a fun new way to enjoy matcha. If you are new to matcha, this is a good way to try the flavour without being too overwhelmed. 

Information

Kiyomizu Cheese Kobo (清水チーズ工房)

Address: 569-10, Shiraitocho, Higashiyama Ward, Kyoto City, Kyoto

Opening Hours: 11:00 ー 17:30

No fixed closed days.

Official Website: http://kiyomizu-cheese.com/

4 Must-Visit Fireworks Festivals in Kyoto This Summer

Kyoto―also known as the "old capital" and said to be the birthplace of Japanese culture. In its 1,200 year history, this ancient city has given rise to much of what can be considered quintessential Japanese culture. Fireworks are a monumental feat of summer in Japan with countless festivals up and down the country dedicated to them, and Kyoto is no exception.

If you're in Kyoto this summer then you mustn't miss these 4 fireworks festivals.

Kameoka Peace Festival Hozugawa River Fireworks Festival – A Magnificent Arsenal of 8,000 Beauties

This long-running event is held every year to pray for world peace. Its spectacular display features a lineup of fireworks specially selected by the Japan Fireworks Artist Association which aims to evolve the tradition of firework culture. Expect to see the night sky illuminated with a rainbow of colours from the festival's launch of 8,000 fireworks, including the Starmine which shoots a cloud of bright stars into the overhead abyss, as well as some original fireworks crafted for the festival such as the "Kamemaru Hanabi."

▼Kameoka Heiwasai Hozugawa Fireworks Festival (Kameoka Peace Festival Hozugawa River Fireworks Festival)

Date: August 11, 2019

Time: From 19:30
Location: Hozubashi Bridge
Official Website: http://kameoka-hanabi.jp/

Kyoto Nantan City Fireworks Festival – The Spectacular Starmine

Held by the riverbed of the Katsura River, the fireworks festival in Nantan makes use of the opposite shore from the viewing point which makes the fireworks look like they are raining down from the sky like a waterfall. The finale of this festival welcomes the behemoth of all Starmine fireworks which rips across the night sky in a blazing spread. The festival is also held as part of the Bon Festival and so lanterns are let loose down the Ōi River, creating a sight of subtle grace and beauty.

▼Kyoto Nantan City Fireworks Festival

Date: August 14, 2019

Time: From 19:30

Location: Katsura River
Official Website: http://www.yagi-hanabi.com/

Miyazu Toronagashi Fireworks Festival – Floating Lanterns & Fireworks For 400 Years

Held in the city of Miyazu, this festival combines fireworks with floating lanterns and shoryobune―boats adorned with tanzaku paper slips that are sent out to light the way for the deceased as part of the Bon Festival.  Floating lanterns on the water (known as toronagashi in Japanese) in Miyazu began 400 years ago. This year, it was counted as one of Japan's three biggest toronagashi events.

Together with the boat, around 10,000 lanterns are sent into Miyazu Bay, creating a beautiful and majestic atmosphere. Close to 3,000 fireworks are set to illuminate the sky above, leading to an indescribable beauty as the fireworks and lights give off their own light.

▼Miyazu Toronagashi Fireworks Festival

Date: August 14, 2019

Time: From 19:30

Location: Shimasaki Park
Official Website: https://www.kyo.or.jp/miyazu/hanabi/

Ine Fireworks – Fireworks Galore Envelop Ine Bay

Around 1,200 fireworks climb up and over Ine Bay, lighting the calm water surface and the funaya boat houses of Ine with their brilliance. The boat houses themselves are also strung and lined with hanging lanterns.

▼Ine Fireworks

Date: August 24, 2019

Time: 20:15

Location: Ine, Kyoto
Official Website: http://www.ine-kankou.jp/inehanabi/

Did you enjoy our pick? It isn't summer in Japan without fireworks. If you're travelling to Kyoto to catch some sun this year, finish the day off with one of its many fireworks festival―from traditional Kyoto-esque events to large-scale ones with 8,000 fireworks ready to be deployed.

Sold Out On Day One―Itohkyuemon's Matcha Parfait Bars Release at Gion Shijo Store

Kyoto-based Uji tea store Itohkyuemon released its new Matcha Parfait Bars at its new branch in Gion Shijo on August 7.

The bars proved so popular that all 1,500 in stock sold out on the first day. The store is currently being piled with orders for future sales. There are five flavours to enjoy: the classic matcha parfait flavour as well as cherry blossom, tropical, mont blanc, and strawberry.

Matcha Parfait Bar – Matcha

The matcha flavoured bar retains the original rich flavour of the Uji matcha, which has been passed down since the Muromachi period, and combines it with a delicious assortment of parfait toppings including raw matcha chocolate, mini daifuku, coarse sweet red bean paste, and more.

Matcha Parfait Bar – Sakura (Cherry Blossom)

For another traditional Japanese twist there is the springtime sakura parfait bar which is made with cherry blossom pink rice flour dumplings and ice cream. It's also topped with cherry blossom cream and salted cherry blossom petals for a cute finish.

Matcha Parfait Bar – Tropical

Tropical flavours like pineapple and mango blend together in this bar which is drizzled in a sweet, sour and refreshing tropical sauce. Topped with fresh tropical fruits, this is the ultimate summertime luxury.

Matcha Parfait Bar – Mont Blanc

This bar incorporates a sense of autumn with its mix of candied chestnut, astringent chestnut skin, and melt-in-the-mouth mont blanc cream.

Matcha Parfait Bar – Strawberry

Strawberry lovers will delight in the handmade strawberry sauce and strawberry meringue of this bar. The meringue elevates the sumptuous flavours of the parfait even more, including the fresh strawberry, raspberry and blueberry toppings which provide a sweet and sour kick.

Which of these Matcha Parfait Bars do you want to try the most?

Information

Matcha Parfait Bars

Released: July 10, 2019 (On August 7, 2019 at the Gion Shijo branch)

Prices

Matcha Parfait Bar – Matcha: ¥540 (Tax Included)

Matcha Parfait Bar – Sakura (Cherry Blossom): ¥590 (Tax Included)

Matcha Parfait Bar – Tropical: ¥590 (Tax Included)

Matcha Parfait Bar – Mont Blanc: ¥590 (Tax Included)

Matcha Parfait Bar – Strawberry: ¥640 (Tax Included)

Participating Branches: Uji Honten, JR Uji Station, Gion Shijo, Byodoin, Kyoto Station, and online shop

Online Shop Product Page: https://www.itohkyuemon.co.jp/site/parfait-bar/index.html

Stay Cool This Summer in Kyoto at These 4 Nature Spots

When talking about seasons in Kyoto, a lot of people are sure to point towards autumn when the leaves turn fiery red and sun yellow. But did you know that in Kyoto enjoys cool and truly beautiful summers?

If you're in the old capital this summer, or are planning to catch the sun there with a trip next year, then you'll want to add the 4 spots in this list into your schedule, each abloom with magical foliage and verdure.

We are joined by Macchan, a Japanese Instagrammer who snaps photos of sightseeing spots around Kyoto lush with greenery.

Giouji Temple

Giouji Temple is a modest thatched hut wrapped in a bamboo thicket and maple trees. The temple is detailed in the epic The Tale of the Heike in which the dancer Gio fled to the temple from her home in the capital with her mother and sister after falling out of love with Taira no Kiyomori.

A visit here ensures you can enjoy the summer with more than just your eyes as you listen to the dancing of the bamboo thicket and the cries of the cicadas.

Giouji Temple
Address: 32 Sagatoriimoto Kozakachō, Ukyo Ward, Kyoto
Official Website: http://www.giouji.or.jp/en

Adashino Nenbutsu-ji

Adashino Nenbutsu-ji is a Buddhist temple with a history spanning 1,200 years. A memorial service for those who died without kin is taking place on August 23 and 24 at the riverbed of the temple's west wing where candles will be lit in their honour. Lanterns are also lit in the surrounding area along the streets.

Adashino Nenbutsu-ji

Address: 17 Saga Toriimotoadashinocho, Ukyo Ward, Kyoto

Official Website: http://www.nenbutsuji.jp/index.html

Fushimi Port Park

Fushimi Port Park is a huge park home to a gymnasium and sumo area. They also have a hiking course. The sea does not reach here, but there is a canal which boats go up and down, and this is where the park gets its name. It has a bounty of trees and plants, so if you're looking to enjoy a peaceful stroll in nature then be sure to visit.

Fushimi Port Park

Address: Yoshijima Kanaidocho, Fushimi Ward, Kyoto
Official Website: http://www.kyoto-park.or.jp/fushimi/

Kan'in-no-miya Residence

This residence was built for and used by the Kan'in-no-miya family in 1710, with Prince Naohito as its founder―the son of Emperor Higashiyama. The family lived in the house until 1877 after which they moved to Tokyo. Following the war, it was liberated and became a park, and today it is used to exhibit photography and paintings. The residence is famous for its peach trees, making it a popular spot in spring. However, in summertime, it's much quieter, adding grace to the tranquillity of the surrounding green landscape. What's more is that despite it being such a prestigious location, it's free to enter! Don't tell too many people about this secret spot.

Kan'in-no-miya Residence

Address: 3 Kyotogyoen, Kamigyo War, Kyoto, Kyoto Prefecture

Official Website: https://kan-in-nomiya-teiato.jp/eng/

Macchan has visited many incredible spots around Kyoto, so if you're in need of recommendations be sure to give them a follow.

Photos: @macchan358

Best Kyoto Souvenirs to Pick Up This Summer at Daimaru Kyoto

Are you planning to shop for souvenirs in Kyoto this August? Daimaru Kyoto has the perfect lineup for the summer season, from cool and refreshing wagashi confections to sweets made with matcha grown in Kyoto and more―all packaged in gorgeous in packaging exclusive to the Kyoto branch of Daimaru. Here's our top picks for summer 2019!

Ryo no Seifuu (Contains 8) @ Sasaya Iori, Floor B1F Wagashi Marketplace – ¥2,160 (Tax Included) *Available until Mid-August

Inspired by cool springs, this tasty Japanese-style confection comes in 4 different refreshing and fruity flavours.

Kuzu Nagashi (Contains 3) @ Oimatsu, Floor B1F Wagashi Marketplace – ¥1,339 (Tax Included) *Available until Mid-August

Indulge in two different flavours of arrowroot: one made with brown sugar from the island of Hateruma and another with sweet apricot juice. The brown sugar arrowroot is also mixed with honey and the apricot with apricot honey.

Kakitsubata (Contains 6) @ Shogoin Yatsuhashi Sohoten, Floor B1F Wagashi Marketplace – ¥540 (Tax Included)

Yatsuhashi is a classic Japanese confection and is a famous souvenir sweet in Kyoto. These uncooked yatsuhashi have a faint cinnamon aroma and are formed in a way similar to dango.

Salted Lemon Pound Cake (1 Cake) @ Adachi Otoemon, Floor B1F Wagashi Marketplace – ¥2,160 (Tax Included)

Laced with tangy lemon skin, this refreshing pound cake is topped with rock salt which elevates the flavours to delicious new heights.

Raw Uji Matcha Chocolate (Contains 8) @ ATELIER de GODIVA [Kyoto Branch Only], Floor B1F Wagashi Marketplace – ¥2,916 (Tax Included) *Available until Mid-August

Luxurious, rich and melt-in-your-moth raw chocolate made lavishly with bitter Uji matcha.

Kyo Chafure (Contains 5) @ Kyoto Tsuruya, Floor B1F Wagashi Marketplace – ¥810 (Tax Included)

These soft doughy sablés made with rich Uji matcha.

Koto no Natsu @ Nomura Kyotsukidani, Floor B1F Tsukudani Marketplace – ¥1,080 (Tax Included)

If you're looking for something a little more savoury then you'll absolutely want to check out the popular chirimen sansho, dried whitebait seasoned with pepper. It comes packaged in beautiful summery Kyoto packaging.

Did you enjoy this list? Be sure to pick up as many tasty edible Kyoto souvenirs while exploring the ancient city.

Become Poop and Travel Through the Body in Kyoto's Bizarre Exhibition

The Toei Kyoto Studio Park―a theme park in Kyoto modelled after the Edo period of Japan―is set to hold an exhibition from next month titled "A Bizarrely Great Adventure Through the Body" in which you can travel through a giant model of a body to learn all about faeces.

The event is themed on the best-selling children's book series Grossology by Sylvia Branzei which gives humorous but straightforward descriptions of bodily functions and various medical conditions.

Stinky Poop (Unchi Kusai), the ninja mascot of the event, will join visitors on their adventure as they experience the gross potential of the human body: burps, farts, bodily odours, and more.

A total of fifteen attractions will make up the event where kids and adults can discover the "secrets" of the human body.

Sneeze Shutter

At the Sneeze Shutter you will learn why we sneeze by firing balls―the "foreign substance" entering the nose―into the giant nostrils which will cause it to become itchy. If you can get five balls into the nose it will let out a sneeze and blown out the balls.

The Kidney Game

At the Kidney Game you will help deliver urea, sugar, and other materials necessary for the kidney to the blood vessels to understand how the kidney functions.

Poop Fortune Telling

Sit on a real toilet and a poo character will appear on the monitor to tell you your fortune that day.

Poo Exhibition

Learn all about poo at the display board which features lots of interesting information.

Burp Kid

Why do we burp when we drink fizzy beverages? Burp Kid will explain it to you.

Take a photo with the giant poo

At the end of your trip to the event, take a commemorative photo next to the giant poo pile and butthole.

This is just a snippet of what there is to see at Kyoto's bizarre poo exhibition. Visit to learn all about something we all do but don't talk about!

Information

A Bizarrely Great Adventure Through the Body (Japanese: からだのふしぎ大冒険)

Running: September 14, 2019 – December 15, 2019

Price: General (13+ Years) ¥800 / Children (3-12 Years) ¥600

*A separate fee will be charged for entry to Toei Kyoto Studio Park

*Children aged 2-years and below are permitted free entry

Event Page (Japanese): http://www.toei-eigamura.com/event/detail/240

Tickets

Set tickets for the event and entry to Toei Kyoto Studio Park are now on sale at FamilyMart.

Adults: Park Entry ¥2,100 + Event Entry ¥800

Junior High School Students: Park Entry ¥2,000 + Event Entry ¥800

Children (3-12 Years): Park Entry ¥1,600 + Event Entry ¥600

*By buying this set you get ¥100 off what you would pay for purchasing them separately. The first 2,000 people to buy a children's ticket set will receive a plush toy

Buy: https://www.funity.jp/eigamura-event/

Toei Kyoto Studio Park

Address: 10 Uzumasa Higashihachiokachō, Ukyo Ward, Kyoto

Homepage: http://www.toei-eigamura.com

Experience Kyoto at Night: 5 Must-See Spots – MOSHI MOSHI NIPPON

The ancient city of Kyoto enjoys waves of tourists and sightseers from around the world throughout the year. It is particularly hot during the summertime because it's situated in a valley. If you've never walked around Kyoto's towns at night then we invite you to add it onto your list of sightseeing experiences.

We have compiled a list of 5 must-visit locations to best enjoy Kyoto's nightscape. We are joined by Taka, a Japanese Instagrammer who conveys the beauty of Kyoto through his picturesque photographs which has has provided us today.

Kyoto Station & Kyoto Tower

The modern architecture of Kyoto Station is a juxtaposition against the traditional image of Kyoto. There are lots of great places inside the station where you can get up high and gaze down at Kyoto's streets, but the absolutely unmissable nighttime spot are the mirrored windows. When evening sets in, you can see Kyoto Tower―which is opposite the station―reflected on the outside. Of course, you can enjoy the tower during the day too, but at night they light it up, making for a truly magical sight.

▼Kyoto Station

Address: Higashishiokoji Kamadonocho, Shimogyo Ward, Kyoto, Kyoto Prefecture

Kyoto Station Building Official Website: https://www.kyoto-station-building.co.jp/

▼Kyoto Tower

Address: 721-1 Higashishiokojicho, Shimogyo Ward, Kyoto, Kyoto Prefecture

Opening Hours: 9:00-21:00 (Last Entries 20:40)

*Opening hours subject to change without notice

Official Website: https://www.keihanhotels-resorts.co.jp/kyoto-tower/

Yasaka Shrine

Yasaka Shrine is an easy sightseeing spot to reach being just a 5-minute stroll from Gion-Shijo Station. The shrine is a power spot said to provide good luck when it comes to marriage ties. It bustles with visits from people from around the world and is in fact open 24-hours a day.

Paying a visit at night provides you with an entirely different look at Yasaka Shrine. Why not dine out along Shijō Street and take a walk to the shrine when the sky turns dark?

▼Yasaka Shrine

Address: 625 Gionmachi Kitagawa, Higashiyama Ward, Kyoto, Kyoto Prefecture

Official Website: http://www.yasaka-jinja.or.jp/

Kyoto Minamiza Theatre

Minamiza is the oldest theatre in Japan and is officially registered as a Japanese Tangible Cultural Property. Like Yasaka Shrine, the closest station to the theatre is Gion-Shijo Station. Leave through Exit 6 and it's right outside.

Minamiza has a long history spanning back to 1610 when it was founded. In May this year, Kyary Pamyu Pamyu performed a special concert there entitled Kyary Kabuki Kabuki which made use of projection mapping, fusing history and tradition with the latest cutting-edge technology to provide a concert like no other. The theatre is becoming a new sightseeing spot as it is lit up at nighttime. All of the lights are turned on until 10pm after which just the roof lights are kept on.

▼Kyoto Minamiza Theatre

Address: 198 Nakanocho, Higashiyama, Kyoto, Kyoto Prefecture

Official Website: https://www.shochiku.co.jp/play/theater/minamiza/

Ninenzaka

Ninenzaka is a long winding road that leads up to Kiyomizu-dera temple and is also a very famous tourist spot. It is registered under the Important Preservation Districts for Groups of Historic Buildings. In the daytime, the street bustles with locals and tourists dipping in and out of the souvenir shops, but the dark evenings of Ninenzaka are another kind of wonderful. The number of tourists drops significantly at night meaning you can have the street all to yourself and take plenty of photos, warm lanterns lighting your way.

▼Ninenzaka

Address: 2 Kiyomizu, Masuyacho, Higashiyama Ward, Kyoto, Kyoto Prefecture

Official Website: http://www.2nenzaka.ne.jp/

Kiyomizu-dera

Kiyomizu-dera is a 25-minute walk from Kiyomizu-Gojō Station which is reached via the Keihan Main Line. Registered as a UNESCO World Heritage Site, this ancient Buddhist temple is a very popular tourist destination. What we want those of you to see when visiting in the evening is the beautiful sunset which can be seen from the temple, colouring the streets of Kyoto a gorgeous orange.

▼Kiyomizu-dera

Address: 1-294 Kiyomizu, Higashiyama Ward, Kyoto, Kyoto Prefecture

Opening Hours: https://www.kiyomizudera.or.jp/access.php

Official Website: https://www.kiyomizudera.or.jp/

Taka has visited so many incredible locations in Kyoto, so if you're planning a trip there and need some recommendations be sure to follow him on Instagram.

Photos: Taka

Kyoto's Famous Buddhist Temple With Heart Window Holds Wind Chime Festival

The ancient city of Kyoto enjoys flurries of tourists and sightseers from around the world throughout the year. It is particularly hot during the summertime because it's located in a valley.

Shojuin is a Buddhist Temple located in a summer retreat that was erected nearly 800 years ago. Hidden at the temple is the 11-faced Buddha statue of Kannon Bosatsu which is open to the public only once every 50 years.

The temple has a long history, and today it is used as a site for yoga, copying the sutras, and other activities when booked in advance. It's enjoyed by people of all ages.

Today, we are joined by Macchan, an Instagrammer who tours the many sightseeing spots of Kyoto. They have provided photographs of the must-see parts of this ancient temple.

Shojuin is famous for its beautiful heart-shaped window located in the reception hall as well as its 160 pieces of ceiling art. The decorative window has been around for nearly 1,400 years and has survived disasters. It stands as a symbol of happiness.

From outside the heart window visitors can enjoy the different flowers through the four seasons. Right now during summer the view is a green spectacle. At nighttime the outdoor garden is lit up beautifully as shown in the photo.

Shojuin is famous for its summer Wind Chime Festival which is currently running until September 18.

2,000 colourful wind chimes gently sway around the temple with the summer breeze. The chimes are there for their sound and appearance and to elicit that sense of refreshing coolness.

Even the wind chimes are illuminated in the evenings. They are lit up on weekends only (except August 1 to 18) from 18:00-20:00.

The hypnotic ring of the wind chimes sounds they are calling the wind. If you're travelling to Kyoto this hot summer, why not plan a trip to Shojuin?

Macchan has lots of other photos on their Instagram where you can feel the vibe of Kyoto. Use it as reference when you're planning your Kyoto sightseeing.

Information

Shojuin

Address: Kawakami-149 Okuyamada, Ujitawara, Tsuzuk District, Kyoto

Access:

①Reachable by Keihan Uji Bus (Numbers 180, 182 or 184) from Uji Station and Shin-Tanabe Station. Get off at Ichumae Bus Stop (維中前)

②10 minutes by the Okayamada Community Bus or taxi

Official Website: http://shoujuin.boo.jp/

This Summer, Try These Luxurious Kyoto-Limited Uji Matcha Pancakes

Eggs 'n Things, Shijo Street, Kyoto will be selling luxurious Uji matcha pancakes from August 1, 2019. 

Eggs 'n Things Shijo Street first launched their delicious uji matcha pancakes back in February 2017. The pancakes quickly became a big hit among the locals as well as the tourists, appealing to visitors who wanted to discover more about Kyoto. This summer, Eggs 'n Things is packing their Kyoto-limited pancakes with even more Kyoto goodness.

These pancakes are luxuriously covered with rich matcha custard cream and garnished with rice flour dumplings, adzuki bean paste, chestnuts and a mini monaka wafer cake. Matcha is even kneaded into the pancake dough, maximising its mellow flavour. If you visit Kyoto, be sure to fully immerse yourself in the wonders of matcha ordering these matcha pancakes at Eggs 'n Things Shijo Street, Kyoto.

Information

Kyoto-limited Uji Matcha Pancakes 

Price: ¥1,580 (before tax)

Limited sale period start date: August 1, 2019 

Restaurant: Eggs 'n Things Shijo Street, Kyoto

 Eggs 'n Things Shijo Street, Kyoto

Address: 47-4,  Motoakuojicho, Higashinoroindori Shijo Sagaru, Shimogyo Ward, Kyoto

Opening Hours: 9:00 ー 22:00 (last orders: 21:00)

4 Shaved Ice Desserts You Have to Line Up For in Kyoto This Summer

Kyoto, also known as the "old capital," is renowned for its historical architecture and richness in traditional Japanese culture, bring in tourists every year both Japanese and foreign. The city has an especially popular food culture, serving everything from traditional Japanese cuisine to twists of contemporary cuisine.

Today we take a look at 4 different shaved ice desserts you must try in Kyoto this summer all of which are equally worth lining up for.

Hatagoya Rihei – Espuma Matcha Shaved Ice

Kyoto is the home of Uji matcha, and its city of Joyo is home to Hatagoya Rihei, a Japanese confectionery shop which specialises in dorayaki, a traditional dessert in Japan which consists of two pancakes filled with sweet adzuki bean paste.

The absolute must-try contender on their menu is the Espuma Matcha Shaved Ice which is lavishly packed full of matcha. Available for a limited-time only, this shaved ice is made with espuma, which is Spanish for "foam." It's a mix of fluffy shaved ice and a rich matcha sauce which takes on a thick mousse-like texture. The ice and sauce melts the moment it hits your tongue, creating a new kind of texture that makes for light eating. It comes with a side of toppings including matcha honey, red bean paste, rice flour dumplings, and matcha jelly. The dessert can be enjoyed from start to finish as you mix and match all the different flavours to your taste.

▼Hatagoya Rihei

Address: Higashinokuchi-44-54 Terada, Joyo, Kyoto

Business Hours: 10:00-18:00

Closed: Tuesdays

Access: Joyo Station via JR Nara Line / Terada Station via Nara Line

Official Website: http://rihe.jp/

Senba Miyabi – Mix Juicy Shaved Ice

Senba Miyabi is another shop in Joyo which specialises in fruit sandwiches and confections. It is managed by the fruit shop Fruit Shop Senba which are known for their high quality fruit selection.

Their Mix Juicy Shaved Ice is drizzled in a cute pink sauce which is a juiced mix of strawberry, banana, kiwi, pineapple and other fresh fruits. The shaved ice is topped with even more assorted fruits for colour and flavour, and even more fruits are hidden inside. If you like sweet things, we recommend making the flavour even richer by topping with condensed milk or ice cream.

▼Senba Miyabi

Address: Fukurojiri-19-1 Terada, Joyo, Kyoto

Business Hours: 10:00-19:00

Closed: Mondays

Access: 420m from Joyo Station via JR Nara Line

Official Website: http://www.senba2018.com/

Amami no Ie Takegushi – Berry Berry Custard

Amami no Ie Takegushi is a cafe located in Kyoto Prefecture's city of Kizugawa where you can enjoy handmade Japanese confections and pastries as well as indulge in some great coffee.

Their bright-red Berry Berry Custard shaved ice is like powdered snow, topped with an strawberry and assorted berry sauce and velvety fresh cream. Hiding inside the ice is custard made with specially made condensed milk by Clover Farm in Kizugawa. It also contains condensed milk honey and frozen berries for a refreshing sweet and sour combination.

▼Amami no Ie Takegushi

Address: 2-6-9 Umemidai, Kizugawa, Kyoto

Business Hours: [Tues] 14:30-17:30 / [Wed-Fri] 11:00-17:30 / [Sat] 11:00-17:30

Closed: Mondays & Sundays

Access: 26-minutes on foot from Kizu Station via JR Kansai Main Line

Official Facebook Page: https://www.facebook.com/kyoto.kizugawa.kushitake

Gion Tokuya – Bancha Shaved Ice

Gion Tokuya takes the utmost pride and care in its use of high quality ingredients. Their Bancha Shaved Ice is lined with fresh lemon slices and covered in a syrup made from bancha tea and sugar. The way you eat this shaved ice is to slowly drizzle the syrup over the dessert right before eating. A spoonful will cover your taste buds with fragrant Kyoto-style bancha tea and a gentle sweetness. Eating it together with the lemon slices makes it taste like lemon tea. If you're looking to enjoy something refreshing or to cool you down then we recommend this one!

▼Gion Tokuya

Address: 570-127 Gionmachi Minamigawa, Higashiyama Ward, Kyoto, Kyoto Prefectur

Business Hours: 12:00-18:00

No Fixed Holidays

Access:

6-minutes on foot from Gion-Shijō Station via the Keihan Main Line
8-minutes on foot from Kawaramachi Station via the Hankyu Kyoto Main Line

Official Website: http://gion-tokuya.jp/index.html

If you're visiting Kyoto for summer then what better way to cool yourself down than with some refreshing shaved ice? Be sure to try out one of these 4 cute and unique shaved ice desserts this summer.

Photos/Information: KYOTO SIDE