Francfranc Unveils Iconic New Tokyo Souvenir Range
Japanese furniture and home décor company Francfranc have approved to start a new project created by art director Tetsuya Chihara called "KISS,TOKYO" which aims to promote Tokyo. The collaborative collection will go on sale from April 26 at Francfranc branches across Japan and via their online shop.
The main motifs of the KISS,TOKYO brand are bright red lips and a winking girl. These original designs were created by Tetsuya Chihara. The icon has been branded onto 24 cute pop items which include everything from everyday things you can use to fun products great as souvenirs.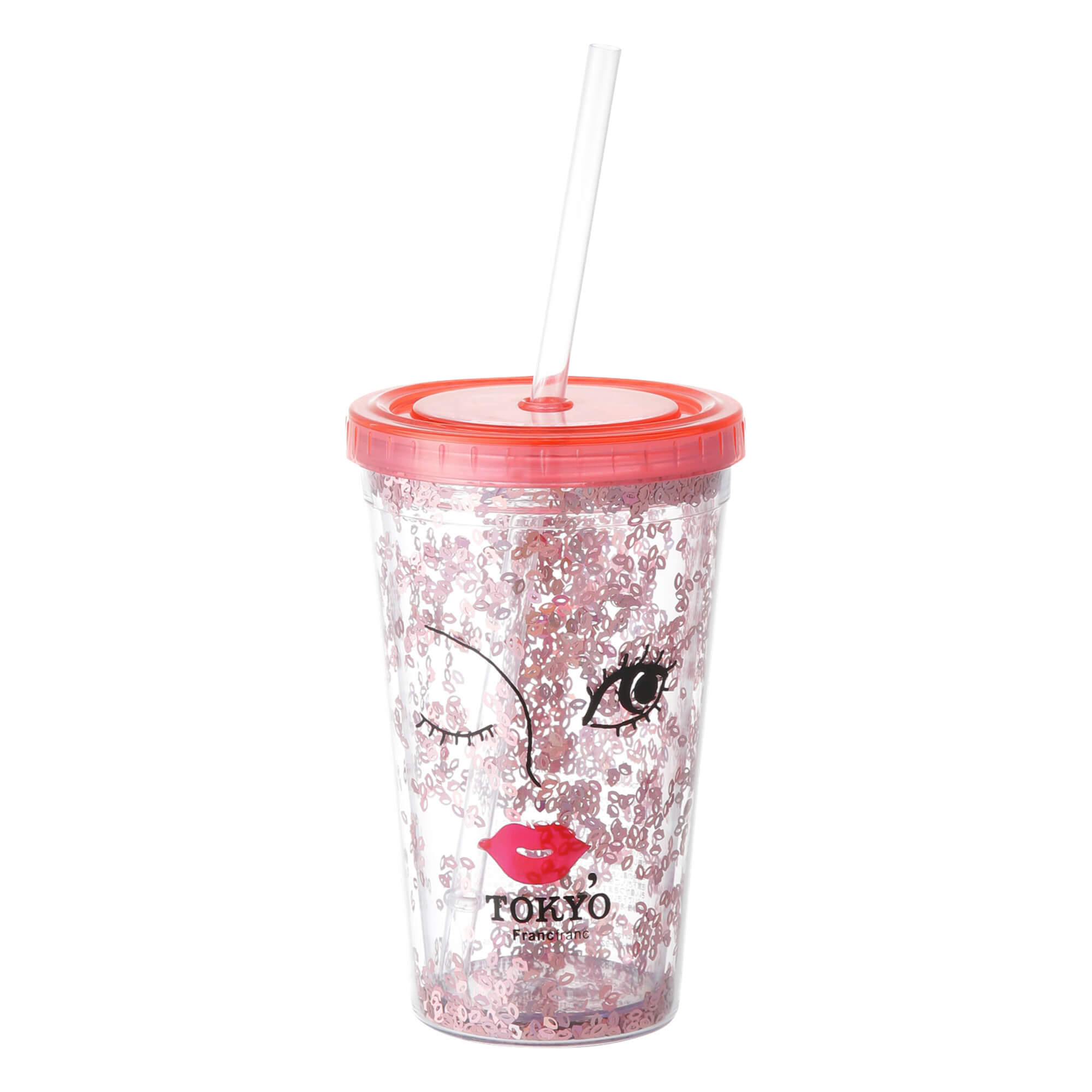 Girl Tumbler: ¥900 (Tax Included)
Every time you take a sip from this tumbler, the kissing lip glitter flutters around the cup.
Vinyl Umbrella 58 Red: ¥1,000 (Tax Included)
A pop design vinyl umbrella that will make going out in the rain fun.
Tokyo  Mug: ¥900 (Tax Included)
The rim of this beautiful mug is lined with gold leaf.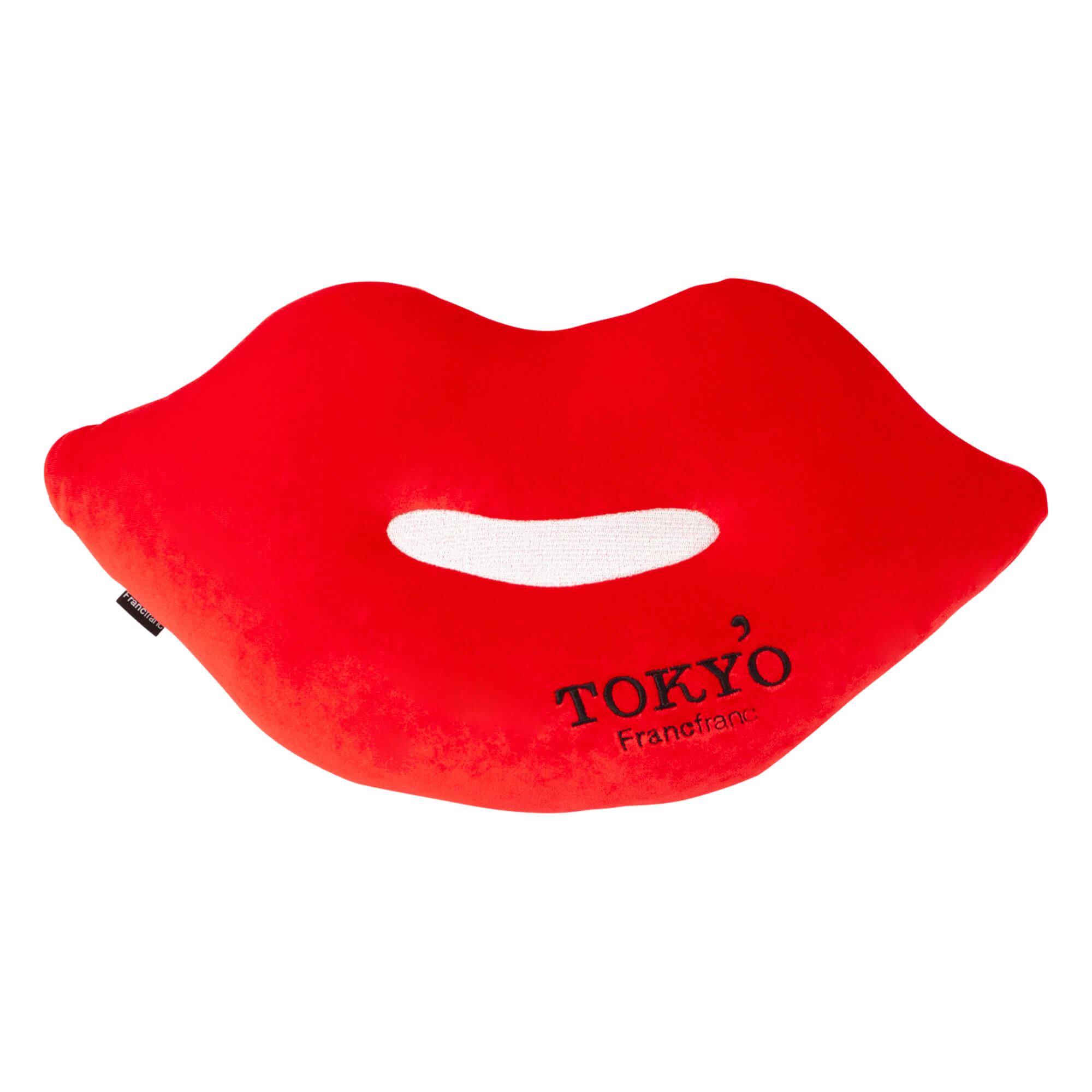 Red Lips Cushion: ¥2,500 (Tax Included)
These big and beautiful red lips are soft to touch and feel great to hug.
The product line-up also includes plenty of items perfect as souvenirs and gifts from Tokyo.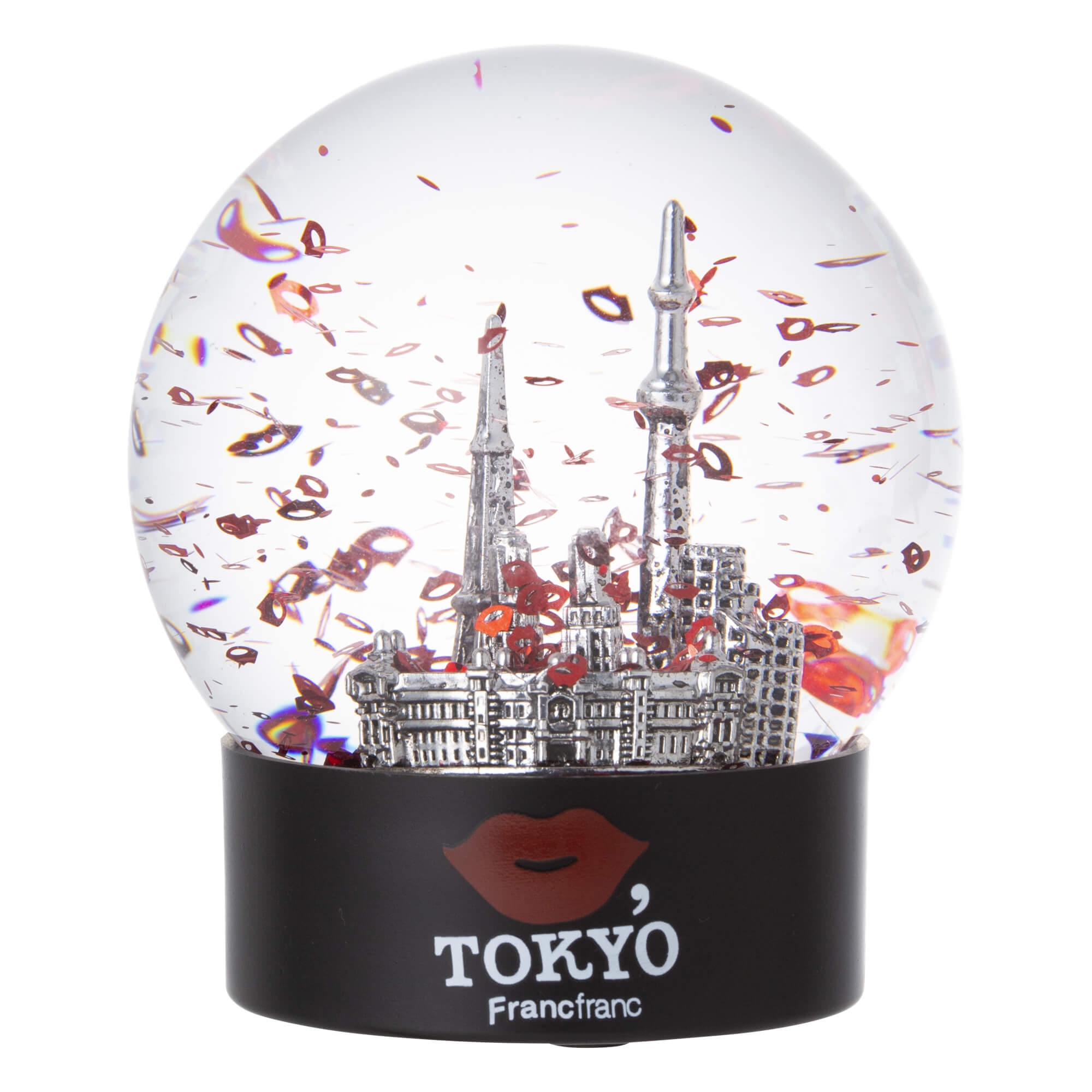 Tokyo Snow Dome: ¥4,000 (Tax Included)
Inside this snow globe is Tokyo Tower, Tokyo Skytree and more, as well as lots of kissing lips that flutter around the tiny world when shaken.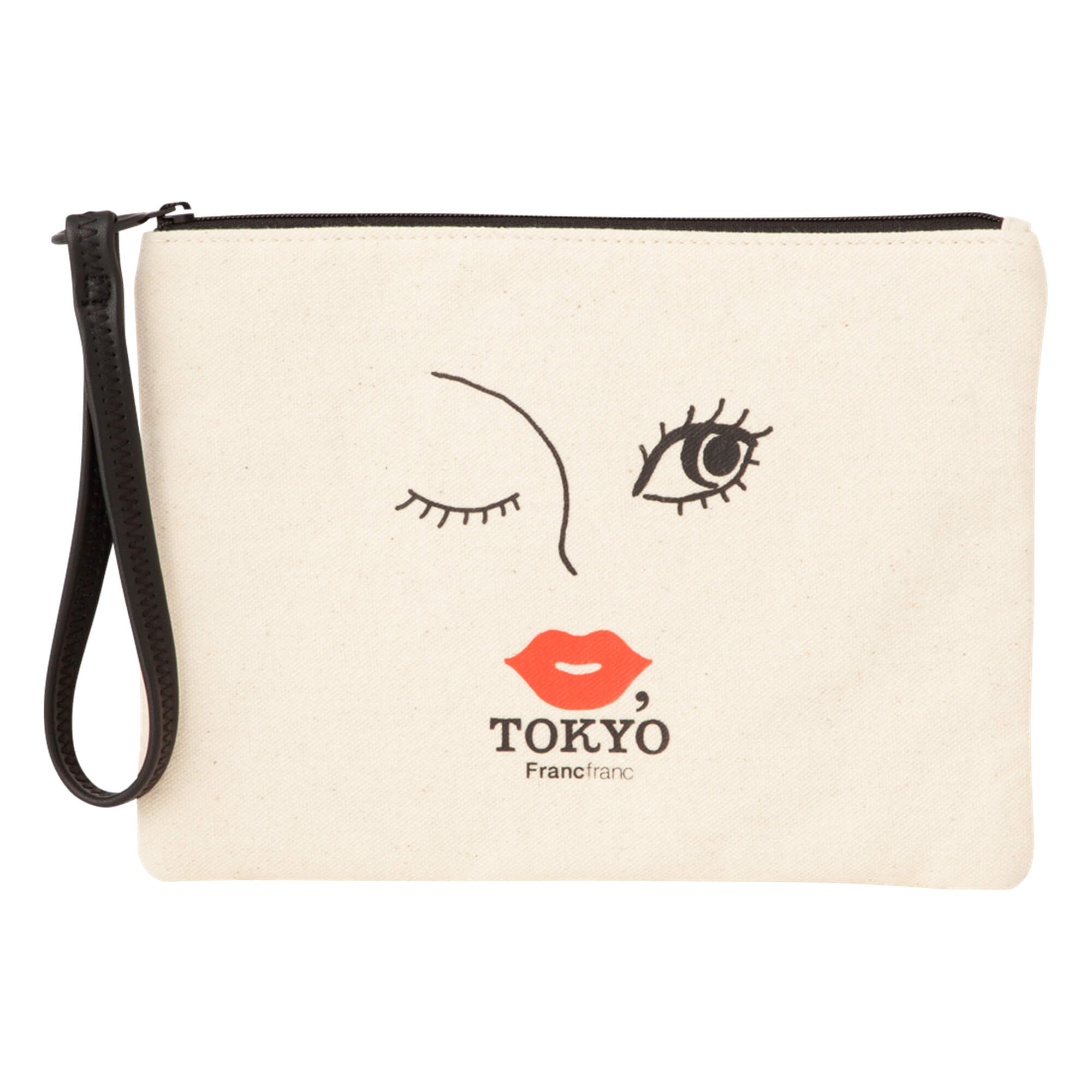 Girl Flat Pouch: ¥2,000 (Tax Included)
This pouch is made of soft cotton and is flat meaning it won't become bulky and uncomfortable to take around.
And there are lots of other items too, so get your hands on this cute and chic new line!
Information
KISS,TOKYO Product Page
RELATED ENTRIES
Tokyo Neko Neko: Cat Shaped Desserts and Pastries Served at Ginza's New Bakery

ALL HEARTS COMPANY, a Japanese company that develops bakeries and patisseries across Japan, opened its new bakery and confectionery shop Tokyo Neko Neko in Ginza, Tokyo on July 22, 2020. The shop has replaced Heart Bread ANTIQUE, another bakery also run by ALL HEARTS COMPANY, which was previously at this location.

At Tokyo Neko Neko, they are serving cat-shaped pastries and desserts including Tokyo-exclusive products from their Neko Neko Bread brand and Neko Neko Cheesecake shop. This is the second branch to open following the opening of Kyoto Neko Neko last month.

A stylish bakery


Tokyo Neko Neko's pastries and interior design takes on a completely different look from Kyoto Neko Neko, with the walls acting as a canvas to display their food like an art museum. The bakery's line-up centres on seeing as well as eating, adding an extra level of deliciousness to the products. If you've visiting Tokyo, you don't want to pass up on the opportunity to visit Tokyo Neko Neko.

Tokyo Neko Neko Bread

Tokyo Neko Neko's cat-shaped bread is palm-sized and so is a perfect gift and takeaway snack. The outside is crunchy while the middle is kept nice and moist. The secret behind the bread's tastiness is the use of fermented butter which they get from France. The use of lots of almond cream adds a tasty kick too.

Tokyo Neko Neko Bread – Plain: ¥1,000 (Before Tax)

Made using croissant pastry and loaded with fermented butter.

Tokyo Neko Neko Bread – Caramel Almond: ¥1,200 (Before Tax)

Caramel almonds and almond slices are added to this version, also made with lots of fermented butter.

Tokyo Neko Neko Bread – Praline Rose: ¥1,200 (Before Tax)

This flvour is filled with praline rose, a traditional French confection of caramelised sugar-coated almonds.

Tokyo Neko Neko has lots of other tasty foods to offer too, like their Neko Neko Cheesecake, Neko Neko Butter Sandwiches, and more.

Information

Tokyo Neko Neko Ginza

Address: OPTICA 1F, 3-4-17 Ginza, Chuo-ku, Tokyo

TEL: 03-6228-6806

Opening Hours: 10:00-20:00

No Fixed Holidays (Except New Year)

Official Website: https://nekoshoku.jp

Tokyo Banana's New Disney Sweets Collection Looks Delicious

Japan's popular confectionery souvenir shop Tokyo Banana is collaborating with Disney for one week from July 29 to August 7 at the Hankyu Umeda branch of Tokyo Banana in Osaka.

Officially named the "Disney SWEETS COLLECTION by Tokyo Banana," the line-up brings together the iconic Disney characters and centres them around the company's brand concept which is to bring happiness to all who see and taste their products.

Mickey Mouse Pancake Sandwich: ¥1,080 for 4 / ¥1,382 for 6 (Tax Inclusive)

A box of "Mickey Mouse Pancake Sandwiches" contains baked, deliciously fluffy treats filled with soft cream. They come in two shapes: Mickey's face and the iconic Tokyo Banana. The Mickey ones contain caramel cream and roasted almonds while the Tokyo Banana designs are filled with banana milk cream and chocolate chips.

Mickey Mouse Chocolate Sandwich: ¥1,080 for 12 / ¥2,160 for 24

The "Mickey Mouse Chocolate Sandwich" are crunchy cat tongue biscuits which have Tokyo Banana's distinct milky flavour. They are made to be like a delicious banana milkshake you can eat and contain rich chocolate.

 © Disney

Information

Mickey Mouse Pancake Sandwich / Mickey Mouse Chocolate Sandwich
Running: July 29, 2020 – August 4, 2020

Available: Tokyo Banana Hankyu Umeda
Official Website: https://www.tokyobanana.jp/disney/

7 Lucky Foods and Items From Tokyo Station To Push You Towards Success

You've studied as much as you can for your exams and prepared as much as you can for that mid-term presentation but the nerves are still getting to you. How about some lucky items to help you succeed? As the exam season is approaching, Tokyo Station's shopping centre GRANSTA is holding a fair from January 13 to February 14, selling a variety of lucky items and foods to fill you with the courage and strength you need to calm your nerves and boost your confidence.

 Katsu Sandwiches

As "katsu" also means "win", a crunchy and juicy "winning" sandwich is the perfect way to boost your confidence and energy levels.

Kinokuniya Katsu Sandwiches (3 Sandwiches): ¥430 (After Tax)/KINOKUNIYA Entrée GRANSTA Marunouchi Floor B1 (Outside ticket barriers)


A crunchy katsu sandwich with a thick slice of juicy Japanese pork – This popular katsu sandwich will provide you with the stamina you need to do that presentation.

Katsu Fillet Sandwich (4 Sandwiches): ¥880 (After Tax) / Nagoya Meibutsu Misokatsu Yabaton: GRANSTA Floor B1 (Inside ticket barriers)


A soft southern Kyushu katsu meat fillet drizzled with Yabaton's special sauce. Enjoy the juicy flavour with every bite. 

Egg and Shrimp Katsu Sandwich (1 Full Sandwich): ¥388 (After Tax) /Kyo no Gohan Wasai no Kuni: GRANSTA Marunouchi Floor B1 (Outside ticket barriers)


This pack includes a tender shrimp sandwich and a rich-flavoured egg sandwich. (Limited number sold per day)

Sangenton Katsu Sandwich Eat-In: ¥396, Take Away: ¥388 (After Tax)/ BOULANGERIE ASANOYA, GRANSTA Floor 1 (Inside Ticket Barriers)


The Sangenton Katsu Sandwich is a hearty meal that consists of pork of three origins. This is perfect to fuel up on energy before your big moment. (Limit of 40 sold per day)

Chestnut-Flavoured Talisman of Victory

Silver Bell Pancake Sandwich: ¥378 Each (After Tax)/ Colombin GRANSTA Floor B1 (Inside ticket barriers)

Chestnut-based foods as a victory treat date back to the end of the 15th century during the Warring States period of Japanese history. In this pancake sandwich, two fluffy pancakes hug a filling of delicious cream and chestnuts, creating the perfect victory snack. *Sold from January 13 – February 14, 2020

Lucky Iyokan Mikan Vinegar

Lucky Iyokan Mikan Vinegar (1:5 Dilution, 150ml): ¥1,296/ Drinking Vinegar expre・su Tokyo GRANSTA Floor B1 (Inside ticket barriers)

This mikan orange-flavored drinking vinegar is made from Iyokan mikan oranges, which is said to bring luck. "Iyokan" also means "good premonition", which is sure to provide both an energy and confidence boost. *Limited sales: From January 13, 2020 while stocks last.

Lucky Pentagonal Chopsticks Set

Lucky Pentagonal Chopsticks Set: ¥3,300/ Nihonbo GRANSTA Floor B1 (Inside Ticket Barriers)


These lucky pentagonal (gokaku) chopsticks are a play on words with the word "gokaku", which also means success. They are pentagonal right to the tip, making it easy to grip your food. This is the perfect present for your friend who is going to take an exam. Limited Selling Period: Until the beginning of March.

Tokyo Station GRANSTA is full of lucky items and foods to help you and your friends prepare for success.

Information

GRANSTA

Location: JR Tokyo Station Floor B1/1 (Inside Ticket Barriers)

Address: 1-9-1, Marunouchi, Chiyoda-ku, Tokyo

Opening Hours: 08:00 – 22:00 (Open until 21:00 on Sundays and the last days of consecutive holidays)

GRANSTAMARUNOUCHI

Location: JR Tokyo Station Floor B1/1 (Outside Ticket Barriers)

Address: 1-9-1, Marunouchi, Chiyoda-ku, Tokyo

Opening Hours: 10:00 – 22:00 (Open until 21:00 on Sundays and the last days of consecutive holidays)

*Opening hours of some shops may vary

Official Website: https://www.tokyoinfo.com/shop/mall/gransta/

Furoshiki-Wrapped Matcha and Strawberry Sandwich Biscuits Released at PRESS BUTTER SAND

PRESS BUTTER SAND released two new sandwich biscuit products on December 13. PRESS BUTTER SAND Kyoto Station will release the Tsutsumi Uji Matcha and PRESS BUTTER SAND Hakata Station the Tsutsumi Amaou Strawberry. Both are limited in stock.

Both boxes of these delicious treats contain five of the store's famous "PRESS BUTTER SAND" sandwich biscuits, and they come gift-wrapped in an original furoshikiーa type of Japanese wrapping cloth. The appearance of both products in their packaging maintain an artisanal aesthetic and capture the vibe of their respective cities.

The furoshiki were designed by Yumiko Kakizaki (BAKE Inc.), the creative director at PRESS BUTTER SAND, and several creators active around Kyoto and Fukuoka. Each design was made to represent the characteristics of Kyoto and Hakata.

Also available is the Tsutsumi Black, a set each of 5 original and black flavoured butter biscuit sandwiches.

PRESS BUTTER SAND boasts over 2.5 million sales a year on average. If you've get to try their scrumptious biscuit sandwiches then don't pass up the opportunity to try these new flavours.

Information

Tsutsumi Uji Matcha (Includes 5 Uji Matcha and 5 Original Biscuit Sandwiches)

Price: ¥3,240

Available: PRESS BUTTER SAND Kyoto Station

Running: December 13, 2019 until stock sells out

Tsutsumi Amaou Strawberry (Includes 5 Amaou Strawberry and 5 Original Biscuit Sandwiches)

Price: ¥3,240

Available: PRESS BUTTER SAND Hakata Station

Running: December 13, 2019 until stock sells out

Official Website: https://buttersand.com

Top 10 Most Popular Souvenirs to Pick Up at Tokyo Station's HANAGATAYA Store | 2019 Edition

HANAGATAYA is a souvenir variety shop that opened in Tokyo Station's central passage back in July. After over 5 months of sales, the store has revealed its Top 10 most popular products based on sales.

The line-up features a selection of HANAGATAYA exclusives, as well as products from elsewhere which have received pre-sales at HANAGATAYA. You will be spoilt for choice with this selection, all of which are perfect for ringing in the New Year when travelling back home. Let's take a look.

1st Place

Banana Custard Cream – Tokyo 2020 Olympic Emblem Design (Tokyo 2020 Official Licensed Product) – Contains 8 – ¥1,134 (Tax Included)

Officially licensed by the Tokyo 2020 Olympics, these chewy cakes are made from domestic Japanese rice, and are filled with deliciously creamy banana custard.

2nd Place

Tokyo Banana Butter Madeleine (Tokyo Banana World) – Contains 4 – ¥560 Tax Included)

Exclusive to HANAGATAYA come these all-new butter madeleine's created by famous confectionery company Tokyo Banana. These baked treats feature a buttery fragrance and taste, and are made with a banana confiture and finished with fresh lemon.

*Exclusive to HANAGATAYA GRANSTA Tokyo Central Street

3rd Place

Toro One Press Chocolate Chick (Tokyo Hiyoko) – Contains 3 – ¥648 (Tax Included)

This year marks 107 since the company Hiyoko was established. The "Toro One Press Chocolate Chick" is a new confection from them: an adorable skyward-looking chick made up of three chocolate layersーeach with their own distinct flavour. At the heart of the chick is a moist chocolate paste.

*Exclusive to Tokyo Station

4th Place

Cheese Wich – Contains 5 – ¥594 (Tax Included)

These light and refreshing cheese cookies, called Cheese Wiches, are filled with a chocolate-coated melted cheese sauce. Three layers means an enjoyable amalgamation of flavours and textures.

*Exclusive to Tokyo Station

5th Place

Chocolate Chestnut Eggs (Ginza Tamaya) – Contains 4 – ¥800 (Tax Included)

"Goma Tamago" is a popular bite-sized egg-shaped confection. This chestnut flavour was created for HANAGATAYA, a mix of dark chocolate and vanilla flavoured chestnut paste.

*Exclusive to Tokyo Station

6th Place

Strawberry Cookie Sandwich (Berry UP!) – Contains 8 – ¥1,296 (Tax Included)

Berry UP! is a cute confectionery brand which creates baked strawberry sweets. Keeping with that theme, they have created a crunchy quintuple-layered cookie sandwich filled with sweet and sour strawberry chocolate.

7th Place

Shinjuku Curry Ebi (Shinjuku Nakamuraya) – Contains 6 – ¥600 (Tax Included)

If you're looking for something more savoury, then this one's for you: Shinjuku Nakamuraya's light, fluffy and melt-in-the-mouth ebi, coated in curry spices. One nibble is enough to get you instantly hooked.

8th Place

Strawberry Polvorón (Berry UP!) – Contains 6 – ¥1,296 (Tax Included)

Another entry from Berry UP!, these polvorón shortbreads are made from lots of fresh strawberries mixed with condensed milk and mascarpone, creating a subtle sweetness that's enough to have your mouth watering.

9th Place

BLUE MELTIN SAND (Tokyo Campanella) – Contains 8 – ¥1,200 (Tax Included)

What if herbal tea and cookies became its own snack? That's what Tokyo Campanella asked too, and so make it a reality. Their BLUE MELTIN SANDs are cat's tongue cookies stuffed with a herbal tea sauce that has a natural blue colour.

10th Place

Premium Cacao Full Sablé (Mary Chocolate) – Contains 18 – ¥1,350 (Tax Included)

Finally, we have a premium edition of chocolate company Mary Chocolate's Cacao Full Sablés. This one's for the adults, a sophisticated combination of bittersweet chocolate and berries.

*Exclusive to HANAGATAYA GRANSTA Tokyo Central Street

Did you enjoy this list? Which one takes your fancy the most? Whether as a souvenir for the folks back home, or as a treat to yourself to celebrate 2020, if you're in Tokyo this year then be sure to give HANAGATAYA a visit.

Tokyo Station's Top 10 Edible Winter Souvenirs as Chosen by Station Staff

There is just a month and a half left of 2019, with Christmas, the winter holidays and New Year celebrations right around the corner.

Tokyo Station City has compiled a list of must-grab food-related souvenirs and gifts at Tokyo Station. If you've ever visited Tokyo Station, you'll know that you can be spoilt for choice from the amount of goodies you can get your hands on. The list is based on the votes of 305 station staff members working at Tokyo Station who have voted on their Top 10 most recommend souvenirs to pick up this winter.

The staff members went around the shopping area and taste-tested different edible souvenirs across an 8-day period. Their early thoughts as they went down the list were how delicious or unique things were, but they soon began to take it more seriously to consider things like price, how easy an item was to carry and transport, and what certain people might like in particular.

If you're travelling to or from Tokyo Station during the holiday season, be sure to bookmark this list so you know what to buy for on the flight back home!

1st Place

Rakumadoka @ Terra Saison (GRANSTA) – 5 Set ¥1,080 (Tax Included) / 8 Set ¥1,728 (Tax Included)

This cheesecake is like a cream cheese-stuffed souffle-like sandwich. Branded with the words "Gin no Suzu" (a place in Tokyo Station) and "Tokyo," this seasonal product is exclusive to Tokyo Station. In December last year, they sold over 1,500 in a day.

2nd Place


Mount Baum Kuchen @ Nenrinya (Meihinkan) – ¥1,080 (Tax Included)

With its French bread texture, this delightful treat has a fragrant scent, is moist, and is simply delicious. It has a rich buttery taste and is baked slowly to perfection.

3rd Place

Shinjuku Curry Arare Ebi @ HANAGATAYA (GRANSTA) – 6 Set ¥600 (Tax Included)

This rich curry snack is made by Shinjuku Nakamuraya, and has a light melt-in-the-mouth texture with spicy curry seasoning and shrimp flavour. The shrimp flavour comes from a mix of shrimp powder and shrimp oil. The mix of curry powder and spices gives it a really authentic curry taste.

4th Place

Tokyo Vegetable Rice Crackers @ nomono (GRANSTA Marunouchi) – 12 Set ¥950 (Tax Included) / 18 Set ¥1,598 (Tax Included)

An assortment of rice crackers with three different flavours: great burdock, onion, and pumpkin. They have a set of 18 too which is perfect for handing out to lots of people.

5th Place

Maple Pie Sandwich @ The Maple Mania (GRANSTA) – 8 Set ¥1,944 (Tax Included)

Coated in caramel, this crunchy pie is made with a cream laced with maple sugar. Exclusive to Tokyo Station, the packaging design for this dessert is made with souvenirs in mind as it's made so it's easy to carry and take around with you.

6th Place

Kuzumochi @ Funabashiya Koyomi (ecute Tokyo) – 24 Cut (Serves 1-1.5) ¥790 (tax Included) / 36 Cut (Serves 2-3) ¥895 (Tax Included) / 48 Cut (Serves 4-5) ¥1,200 (Tax Included)

Funabashiya's kuzumochi is made with wheat starch that is fermented over a 450 day period before being cooked. It claims to be "the only fermented Japanese wagashi confection." Since it is fermented over such a long period of time, it takes on a unique flavour and elasticity.

7th Place

Cheddar Cheese Pie Sandwich @ Tokyo Milk Cheese Factory (ecute Keiyo Street) – 6 Pack ¥1,620 (Tax Included)

A crunchy pie filled with an addictive cheddar cheese cream. Exclusive to ecute Keiyo Street.

8th Place (Joint)

Premium Cacao Full Shortbread @ HANAGATAYA (GRANSTA) 8 Set ¥648 (Tax Included) / 18 Set ¥1,350 (Tax Included) / 27 Set ¥2,052 (Tax Included)

This is a premium edition of the store's Cacao Full Shortbread, made using the methods used to make the chocolate brand Merry Chocolate. The crunchy texture and full-bodied flavour of the cacao has been left as it is, while a few things have been added to make it a little more luxurious: French sour cream butter, strawberries, and raspberries.

8th Place (Joint)

Yaoki Senbei @ Mankaso (Meihinkan) – 16 Set ¥1,080 (Tax Included)

These plump senbei rice crackers are made with 100% domestic rice and come in six different delicious flavours: agodashi soy sauce, salted, shrimp, seaweed, plum and coarse sugar, and chirimen pepper.

10th Place

Tartlette Neuf @ le billet (ecute Tokyo) – 6 Pack ¥1,728 (Tax Included) / 9 Pack ¥2,592 (Tax Included)

la billet make their own tarts, and this assortment comes in a variety of flavours. Exclusive to Tokyo Station. A great option as a gift for meeting a business in Japan.

Which of these looks most tempting to you? Let us know on Twitter or Facebook!

Japanese Souvenir Diary: Tokyo Strawberry Whipped Langue-de-chat

You're going on holiday to another country, but there's someone special back at home that can't go with you. What's the best way to make them feel like they haven't been left out completely? Souvenirs, of course! Picking out the perfect souvenir for the right person or people, whether friends or family, is a lot of fun as you consider what each person might like and appreciate.

We've condensed that thrill of souvenir searching into an article series. We will showcase products that the MOSHI MOSHI NIPPON editorial team have actually tried and recommend as souvenirs.

Tokyo Ichigo Whipped Langue-de-chat (Includes 6) – ¥650 (Tax Included)

Today, we will take a look at Tokyo Strawberry Whipped Langue-de-chat. This whipped chocolate cat tongue biscuit is nothing short of delicious. It's a fact.

And the cute packaging makes it even better, both the box and individual packs when you open it up.

And since they are individually packaged, you can share them amongst multiple people.

Whipped chocolate is sandwiched between the cat tongue biscuits.

Time to try one.

The biscuit itself has a buttery, exquisite flavour. Though they're stuffed with whipped chocolate, the chocolate itself is light on the belly. You get those sweet and sour notes from the strawberry too.

The combination of the lightly baked and delicate biscuits with the soft texture and subtle taste of the whipped chocolate is to die for. Your taste buds are tantalised by a flurry of strawberry.

I showed the 6 pack of biscuits, but they also sell a 12 pack (¥1,080) and 18 pack (¥1,620) too, so cater it to how many you need to share out (or enjoy to yourself!) They have a best before date of 30 days too, so don't have to worry if there's still some time left before you return home.

If you love strawberries, you won't be able to rest the Tokyo Strawberry Whipped Langue-de-chat. Be sure to check them out if you're looking for a Japanese souvenir from Tokyo.

Writer: Sayuri Mizuno (MOSHI MOSHI NIPPON Editorial Team)

Translator: Joshua Kitosi-Isanga

Information

Tokyo Strawberry Whipped Langue-de-chat

Available: At major stations in the Kanto region of Japan, department stores in Japan, and elsewhere

Best Before: 30 Days

Official Website: http://www.oraikan.jp/ih.html

Cute Pikachu, Mew, Eeevee and Snorlax Blush & Powder Release in Pokémon Cosmetic Series

The next set of beauty items in the popular Pokémon Cosmetic Series has finally been revealed: the Pokémon Cheek and Pokémon Pressed Powder will be released on September 10. The line-up includes Pikachu, Eevee, Mew, and Snorlax.

Pokémon Cheek – ¥1,300 (Before Tax)

The Pokémon Cheek is a cream-type blush that spreads smoothly on your skin without any stickiness. It's comfortable on the skin and is durable. It also contains micropearls and so gives your skin a natural shine.

It comes in four colours: Pikachu Milky Pink, Eevee Rose Pink, Snorlax Coral Pink, and finally Mew Pearl White which brightens your natural skin tone. The blush comes as a stick and so is ncie and easy to apply and carry around.

Pokémon Pressed Powder – ¥1,500 (Before Tax)

The pressed powder comes with its very own powder puff featuring a cute original design. The powder is mixed with minerals that are gentle on the skin as well as collagen. It leaves your face looking smooth and natural without any unwanted shiny patches.

Pick from four different colours: Pikachu Pink which brightens natural skin colour, Eevee Mint which elevates transparency, Snorlax Yellow which conceals blemished, and Mew Purple which brings out transparency and shimmer.

When out there in the wild catching Pokémon, why not look good at the same time? Be sure to check out the Pokémon Cosmetic Series, and stay tuned for any new products that are released.

Information

Pokémon Cosmetic Series – Pokémon Cheek / Pokémon Pressed Powder

Release Date: September 10, 2019

Available: Pokémon Center,  ITS'DEMO, Tokyu Hands, Village Vanguard, and elsewhere

Official Website: https://lovisia.jp/pokemon/

2019 Top 10 Souvenirs Available at Daimaru Department Store, Tokyo

Looking for some delicious, well presented Japanese souvenirs? Head to Daimaru department store which is adjoined to Tokyo Station. On the first floor and basement floor lies a Japanese-style desserts and sweets area which contains approximately 70 delicious brands. Every day, approximately 30,000 desserts are sold to customers who are looking for souvenirs to bring to their family and friends. 

Now we have arrived at the summer holidays, there are many tourists who will soon reach the stage of panic where they are unsure of what souvenirs to bring back to their loved ones. Luckily, Daimaru Department store is a goldmine of beautifully presented Japanese-style sweet snacks made by top brands. Today, we present you with a list of the 10 fastest-selling souvenirs that were sold from July 2018 to June 2019. There is still plenty of time to get your hands on these souvenirs!

1st Place: N.Y.C. SAND: Caramel Sandwich Biscuits (box of 8) ¥1,080 (1st floor)

 As you take a bite, you will notice that the biscuit, chocolate and caramel will balance in perfect harmony just for a brief glorious moment. 

2nd place: Fukusaya: Fukusaya Cube (Cut into two) ¥270 (1st floor)

Have a small slice of luxury with this traditional recipe castella sponge cake which was specially made by experienced bakers. This is presented in a small, cute box. 

3rd place: Kamakura Toshimaya: Hato Sable (box of 10) ¥1,080 (1st floor)

This is a crispy dove-shaped shortbread biscuit which has a rich buttery flavour. This was first produced in the early 1900's during the Meiji period and is a souvenir limited to Tokyo.

4th place: Asakusa Mangando: Imokin ¥129 each (1st floor)

This baked treat is packed with the delicious flavour of sweet potatoes. The freshly baked scent is enough to draw you in. 

5th place: TOKYO BANANA STUDIO: Panda Banana Yoghurt (Box of 4) ¥515 (1st/basement floor) 

Children would just love to see the cute panda design. Wrap yourself in the mild banana yoghurt-flavoured cream.

6th place: Noix: Walnut cookie (Box of 4) ¥648 (1st floor)

This crunchy cookie is topped with a generous amount of caramelised walnuts.

7th place: Nenrinya: Mount Baum Shikkarime ¥756 (1st floor)

The outside of this baumkuchen is fragrant and crispy whilst the inside is soft and spongy. Take a bite to experience the wonderful texture of this European-style baked good. 

8th place: Azabujuban Agemochi-ya: Panchetta Agemochi (40g) ¥442 (1st floor)

The flavour of this baked mochi dough is like eating bacon cooked in an Italian style. This new flavour is a wonderful discovery that you should also try.

9th place: Sugar Butter Tree: SUGAR BUTTER SAND TREE (Box of 10) ¥690 (1st floor)

The crispy biscuit and melty white chocolate is a sublime combination that you will want to try again and again.

10th place:  Kanou Shoujuan: Ikkoten ¥270 each (1st floor)

A whole Japanese chestnut is smothered in a thick layer of Tamba Dainagon adzuki bean mix that is simmered lightly. This is especially delicious when eaten with tea. 

What do you think? When in desperate need of a souvenir for your family, friends or work colleagues back home, how about choosing one of the souvenirs listed above?

Information

2019 Souvenirs at Daimaru Department Store, Tokyo

Available Period: July 31 ー August 31.

Avaialble at: Daimaru Department Store Tokyo, Floor 1/Basement floor Hoppe Town

Daimaru Tokyo

Address: 1-9-1, Marunouchi, Chiyoda, Tokyo

Website: https://www.daimaru.co.jp/tokyo/

New Pokémon Centre DX and West Japan's First Pokémon Café to open in Osaka

A new official Pokémon Centre DX and a new Pokémon Café will open in Osaka on September 20, 2019 in Daimaru Shinsaibashi's Main Building.

This will be the second Pokémon Centre to open in Osaka. The Pokémon café will adjoined to the shop and will be the first ever branch of the Pokémon café to have ever opened in West Japan. This is also the second permanent Pokémon café to open in Japan besides the Pokémon café in Nihombashi.

The new Pokémon Centre DX and Pokémon Café will be situated in a bustling tourist hotspot. On your visit, you can also take a gander around the Shinsaibashi shopping district or  the American Village (America-mura) which is full of entertainment. This area is thriving with department stores, special shops, big brands and so much more. Tourists from other parts of Japan and all over the world are constantly flocking to this giant marketplace.

As the worldwide exhibition event Expo 2025 will be held in Konohana Ward, Osaka, there is no doubt that Osaka is becoming more and more of a Tourist hotspot!

Osaka is a wonderful tourist destination. If you decide to visit, don't forget to include the Pokémon Centre DX and Pokémon Café on your itinerary!♪

©2019 Pokémon ©1995-2019 Nintendo/Creatures Inc./GAME FREAK inc.

Pocket Monsters, ポケットモンスター/ポケモン/Pokémon are registered trademarks of Nintendo/ Creatures Inc./GAME FREAK inc.

Information

Pokémon Centre Osaka DX &  Pokémon Café

Address: Daimaru Shinsaibashi Main Building, 9

1-7-1, Shinsaibashisuji, Chuo Ward, Osaka,

Grand Opening: September 20, 2019 (subject to change)

Closed: Dependent on the closing times of Daimaru Shinsaibashi Main Building.

Official Website: https://www.pokemon.co.jp/gp/pokecen/osaka/

Travel Japan #10: Sending Japanese Souvenirs to My Dear Friend

My trip is almost at an end. My final destination is the huge supermarket next to the beach where I was able to feel like a real Okinawan local as I blended in with the crowd while pushing my cart.

Kanji, Katakana, Hiragana. The Japanese bubble writing was like hints to solving a puzzle. I peruse the products lined on the shelves to see what the symbols symbolize.

It's time to go ahead and by a souvenir for my treasured friend who is waiting across the ocean for my return.

Snacks galore fill the shelves. I find myself lost on which to pick, but I use my senses to see which packaging I like the most and put something in my basket.

Part of the fun is looking forward to what flavour it will be after opening them. Let's call it a Happy Bag.

The meat and fish aisle is overflowing with items. I see stickers along it with the names of products and their prices. There's a mountain of ready-to-eat foods. It's not like this is something uncommon to see, I have them in my country too, but it's interesting to see the little differences.

There were fruits and vegetables I had never seen before too.

How do they taste?

How do you use them in cooking?

The supermarket breathes the lives of Japanese people.

I take some chopsticks with me too which I learned to use during my trip.

This vermilion colour is unique to Japan. Though vivid, it's an elegant and refined red that sticks in my mind.

This country's culture is packed tight into these chopsticks.

Their respect of dining, delicateness and humility. It would be great to share these feelings with someone.

When in Japan, an everyday scene in the country that's different from what one usually does is almost like a dream to a foreigner like me.

Even though I am leaving the country, I will remember the sights I saw here clearly and vividly. I can wear this little bit of courage I gained from flying into a new culture with pride.

I really mean it when I say that what I have gathered on this trip will spill into my road ahead in life.

I push my cart and begin moving forward.

Model / Mala Morgan

Items to send to a precious friend found only in Okinawa, Japan

TOPVALU Brown Sugar Dough Cake Triple Friend in Rice Oil ¥98 (Before Tax) / ¥105.84 (Tax Included) –150g

This brown sugar dough cake is made using Okinawan brown cane sugar. Simply frying them three times in rice oil gives them a crunchy texture. They feel nice to chew, there's a rhythm to it; I ended up buying several bags so I want to share them with my friend as an afternoon snack.

TOPVALU Full-Bodied Brown Sugar Toffees Made with Okinawan Brown Sugar ¥90 (Before Tax) / ¥97.20 (Tax Included) – 100g

I liked the look of the brown sugar snacks so I went ahead and grabbed another. These toffees are cooked on an open fire. They are a mix of sugar, brown sugar and starch syrup. They have two enjoyable textures―the inside and outside―and are delicious enough that your taste buds will never tire of them. I'm completely obsessed with Okinawa's brown sugar.

HOME COORDY Dishwasher-Safe Brown Apitong Wood Chopsticks ¥398 (Before Tax) / ¥429.84 (Tax Included) –23cm

These chopsticks are relaxing to hold. They have a really nice wooden texture. On my trip food taught me about the delicateness of Japanese people as well as polite manners. I want to convey that same feeling by taking these chopsticks back as a souvenir.

AEON Mihama's matchless stock of Okinawa's amazing products

Whether it be daily necessities during your travels or souvenirs to take back home, AEON boasts a wide range of Japanese products at an affordable price. The Maihama branch is close to the beach and hotels too equaling convenience for quickly picking up what you need on your trip.

AEON Tyatan

Address: 8-3 Mihama, Chatan, Nakagami District, Okinawa Prefecture

Opening Hours: Food 7:00-Midnight / Clothing & Living Goods 10:00-Midnight

*Business hours may differ for certain select stands and stores.

*The Clothing & Living Goods section is open from 9:00 to midnight on weekends and Thank You Day

TEL: 098-982-7575

*Tax-inclusive prices are displayed up to the second decimal point.

*In the case that multiple items are purchased, the fraction below the decimal point will also be added to calculate the consumption tax.

We are handing out coupons for the products mentioned here. Be sure to use them the next time you visit ÆON for great discounts.

5% Coupon:https://www.welcome-aeon.com/coupon/web_coupon.html

ÆON Store Search: https://www.welcome-aeon.com/storesearch/index.html

Information

About ÆON Group

ÆON Group is a retail corporate group based in Japan that has established 21,742 branches (as of February 2018) in 13 countries across Asia.

Its private brand TOPVALU sells high-quality products at an affordable price. The TOPVALU GURINAI range for example stocks a myriad of products crafted with the utmost care through various production techniques, and of the ingredients used only the best are selected.

The GURINAI range is divided into three parts that give customers the opportunity to easily purchase organic products and ingredients. 'TOPVALU GURINAI Organic' offers organic foodstuffs marked with the official organic stamp of approval. 'TOPVALU GURINAI NATURAL' provides fresh meat that, as a general rule, is farmed using no chemicals. 'TOPVALU GURINAI free from' stocks processed foods with additives, raw materials and ingredients taken into strict consideration.

ÆON Group Private Brand TOPVALU: https://www.topvalu.net (Japanese only)

Disney Store and Francfranc to celebrate the live-action Dumbo with new Dumbo-themed goods!

To commemorate the release of the Dumbo live-action film, there is a new lineup of Dumbo-themed goods that will be released in Disney Stores nationwide from Friday 15th March. These goods will also be available slightly earlier (from Friday 8th March) on the online store. Japanese furniture and home décor company Francfranc are also releasing their own Dumbo original design series which will be sold at all Francfranc stores and on their online store from Friday 15th March. There will be a limited number of these items in stock. The items will not be selling at Francfranc BAZAR.

Disney Store

Bag ¥3,900 (+tax)

Cushion ¥3,000 (+tax)

Umbrella ¥2,500 (+tax)

Wallet ¥4,000 (+tax)

The design for this collection depicts hand-drawn circus illustrations that are filled with the many distinctive colours a circus tent. The bag's illustrations and its white and red stripe patterns against the black background are just some of the features that give this bag a modern touch. The thickness of the materials and golden tassels prove its high quality. Other items in the lineup include a cushion with a tapestry-like design and gold embroidery, and a large umbrella with an illustration on the inside. These items are sure to accent your look and are perfect for a range of themes.

Francfranc

(From the left) Disney Dumbo pencil case ¥1,500 /Flat pouch ¥1,800 /Square pouch ¥1,800

Disney Dumbo multicase ー ¥2,500

Disney Dumbo cup lid pink & blue/ pink & green ー ¥1,000 each

Disney Dumbo Hankerchief Towel blue/pink ー ¥1,000 (each)

Francfranc portrays the world of Dumbo and the circus stage in a slightly retro-pop style. This original item lineup consists of fun pouches and cute cup lids with Dumbo as the grip to cleverly depict Dumbo on the roof of a circus! These items would make the perfect gift!

Enjoy the adorable Dumbo and this fantastical world that is packed into these goods ー and don't forget to watch the movie!