Francfranc Unveils Iconic New Tokyo Souvenir Range
Japanese furniture and home décor company Francfranc have approved to start a new project created by art director Tetsuya Chihara called "KISS,TOKYO" which aims to promote Tokyo. The collaborative collection will go on sale from April 26 at Francfranc branches across Japan and via their online shop.
The main motifs of the KISS,TOKYO brand are bright red lips and a winking girl. These original designs were created by Tetsuya Chihara. The icon has been branded onto 24 cute pop items which include everything from everyday things you can use to fun products great as souvenirs.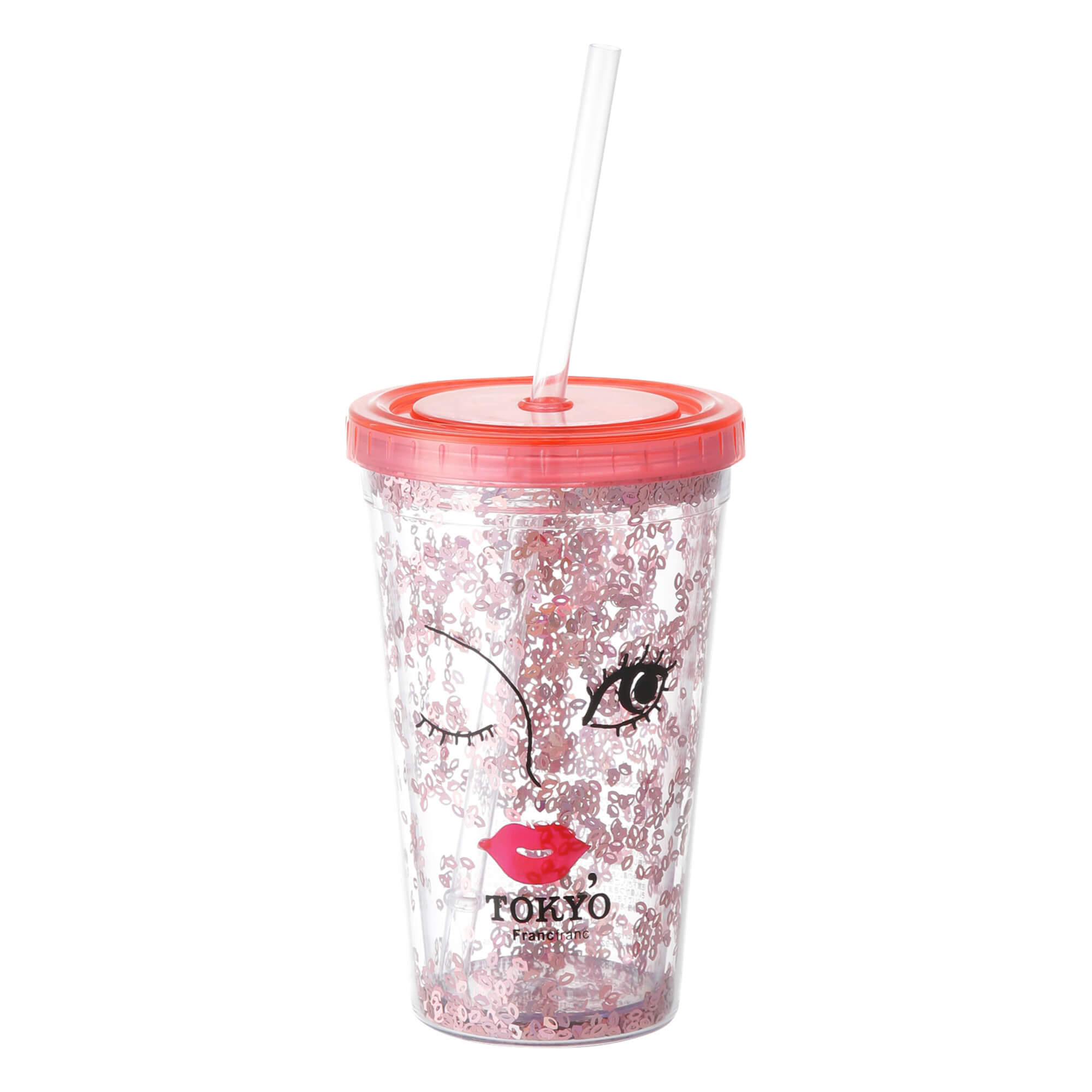 Girl Tumbler: ¥900 (Tax Included)
Every time you take a sip from this tumbler, the kissing lip glitter flutters around the cup.
Vinyl Umbrella 58 Red: ¥1,000 (Tax Included)
A pop design vinyl umbrella that will make going out in the rain fun.
Tokyo  Mug: ¥900 (Tax Included)
The rim of this beautiful mug is lined with gold leaf.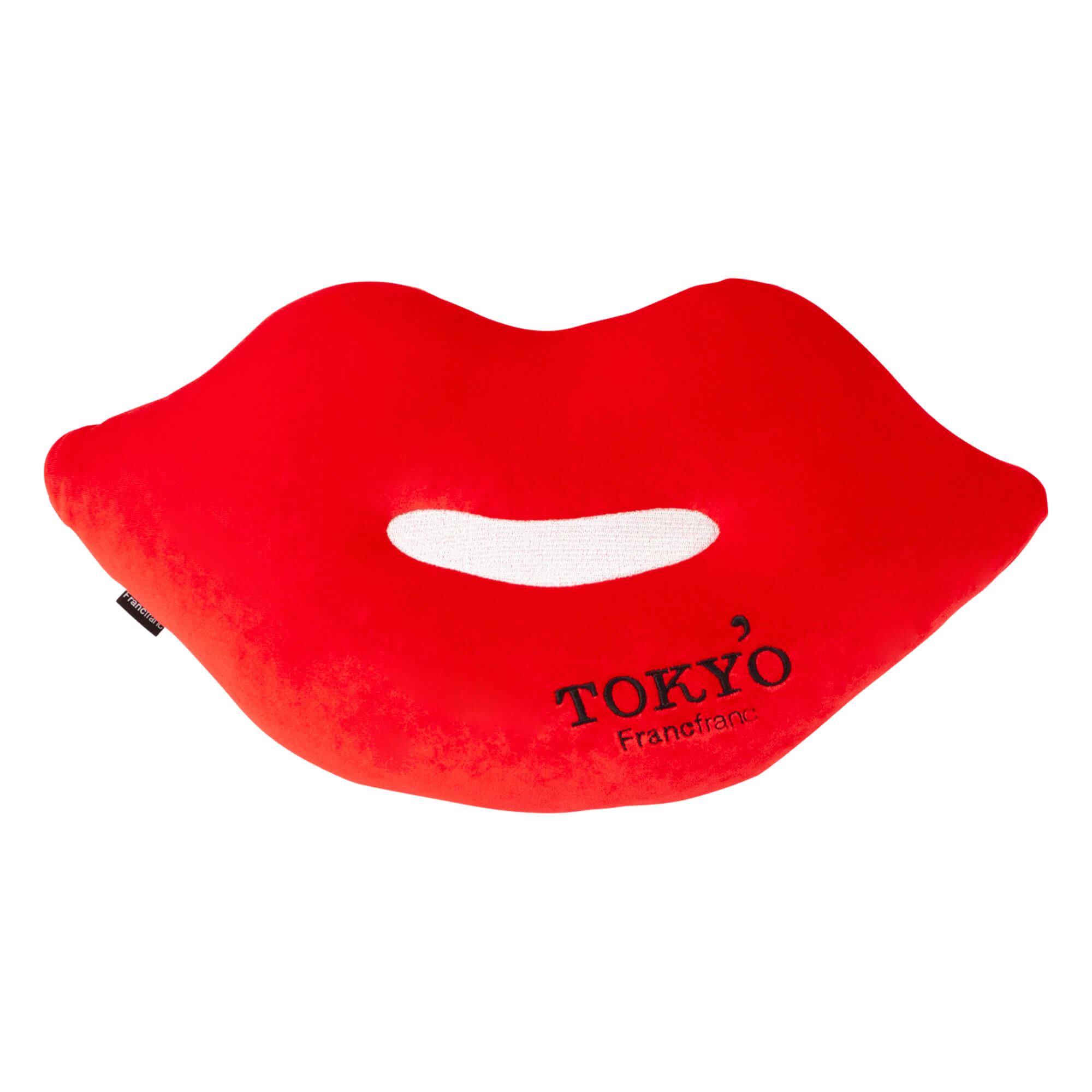 Red Lips Cushion: ¥2,500 (Tax Included)
These big and beautiful red lips are soft to touch and feel great to hug.
The product line-up also includes plenty of items perfect as souvenirs and gifts from Tokyo.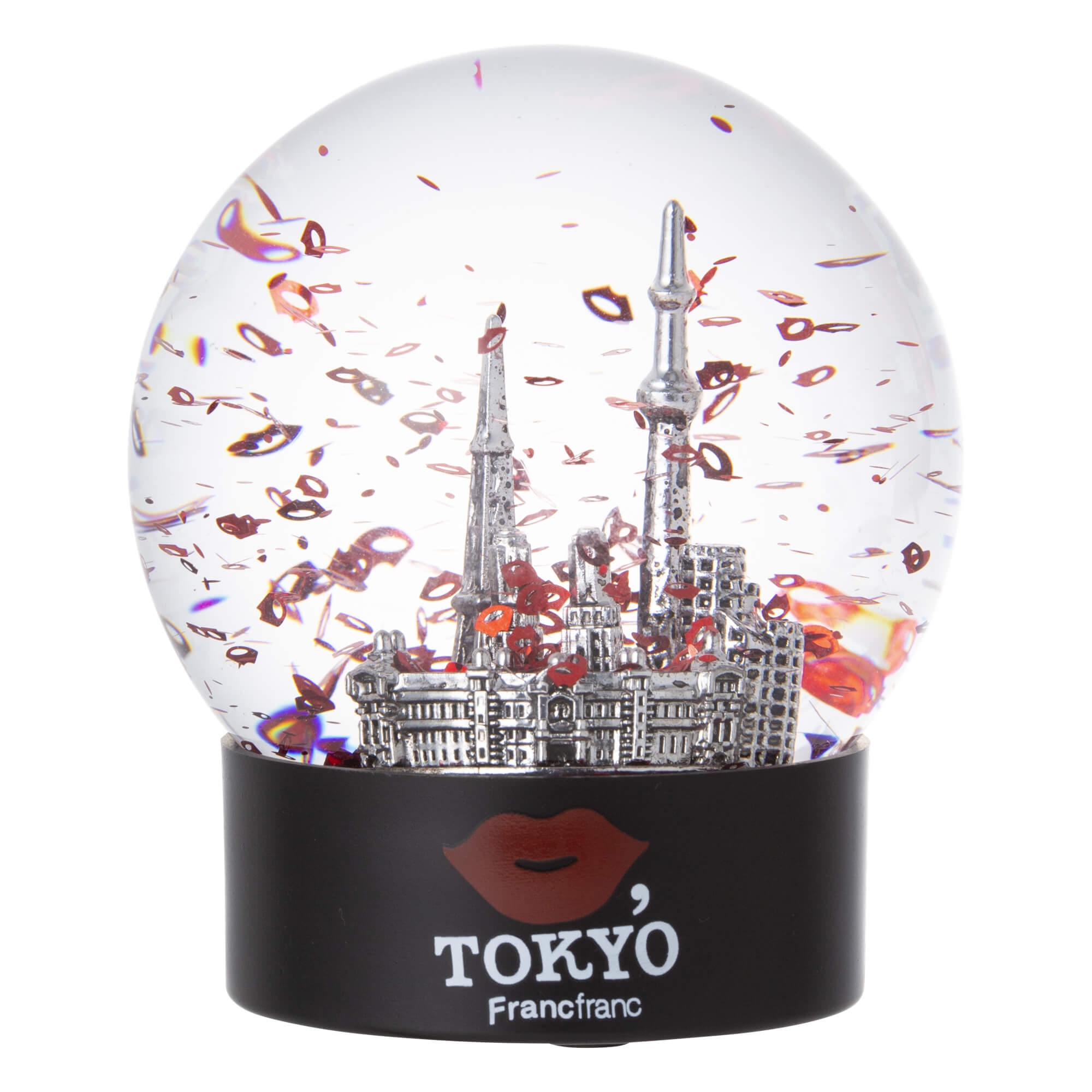 Tokyo Snow Dome: ¥4,000 (Tax Included)
Inside this snow globe is Tokyo Tower, Tokyo Skytree and more, as well as lots of kissing lips that flutter around the tiny world when shaken.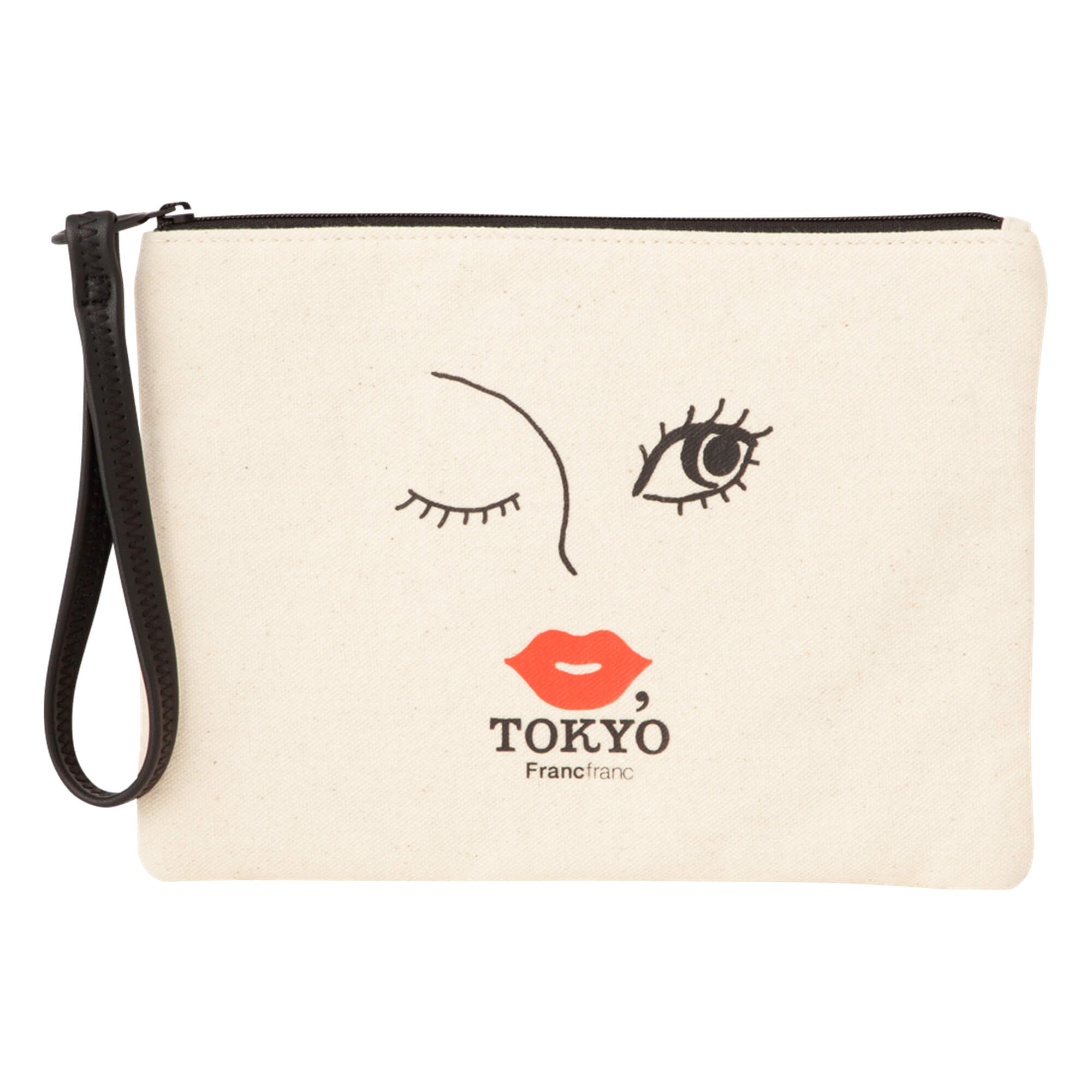 Girl Flat Pouch: ¥2,000 (Tax Included)
This pouch is made of soft cotton and is flat meaning it won't become bulky and uncomfortable to take around.
And there are lots of other items too, so get your hands on this cute and chic new line!
Information
KISS,TOKYO Product Page
RELATED ENTRIES
Interior Shop Francfranc Reveals Disney Princess Collection

Japanese furniture and home decor company Francfranc has just launched a collection inspired by popular Disney princesses! The PRINCESS DAYS by Francfranc collection was inspired by five beloved Disney princesses, and fans can find these unique items at Francfranc stores nationwide and online. 

To celebrate the launch, customers can take a quiz on the Francfranc website to find out which Disney princess they are and which goods they should buy!

Cinderella

Ariel

Belle

Jasmine

Rapunzel

Original Emblem

Customers can choose from items inspired by Rapunzel, Cinderella, Ariel, Jasmine, or Belle. Which princess do you think would best accent your home decor?

© Disney

Interior Shop FrancFranc to Launch New Products in Collaboration with ANNA SUI

Japanese furniture and home décor company FrancFranc is teaming up with global fashion brand ANNA SUI for a new product collection. ANNA SUI HOME FrancFranc will be released at FrancFranc stores nationwide and online starting September 3.

Product Lineup

2-seater Sofa, Dark Red: ¥149,000 (Tax Included) / 1-seater Sofa, Dark Red: ¥79,000 (Tax Included) / Ottoman, Dark Red: ¥39,000 (Tax Included)

Side Table, Black: ¥39,000 (Tax Included) / Medium Rug, Dark Purple: ¥35,000 (Tax Included)

Pillow Covers (Purple Logo / Beige Retro Flowers / Multicolor Flowers / Black and Gold): ¥5,000 each (Tax Included)

Flower Pillow Cover: ¥4,000 (Tax Included) / Flower Quilt Cover, Single: ¥15,000 (Tax Included) / Semi-Double: ¥16,000 (Tax Included) / Double: ¥17,000 (Tax Included) / Large Purple Cushion: ¥5,800 (Tax Included)

Removable Wallpaper (Purple Flower / Pink Flower / Black Swan): ¥3,200 each (Tax Included)

Roomwear, Navy: ¥10,000 (Tax Included) / Slippers (Black / Navy): ¥4,000 each (Tax Included)

Drawstring Bag (Navy / Black / Red / Pink): ¥3,000 each (Tax Included)

Travel Jewelry Box: ¥2,500 each (Tax Included) / Small Jewelry Box: ¥7,500 each (Tax Included) / Large Jewelry Box: ¥10,000 each (Tax Included) / Multi-level Box: ¥9,500 each (Tax Included)

Room Fragrance (Black / Gold / White): ¥4,800 each (Tax Included) / Candle (Black / Gold / White): ¥3,800 each (Tax Included)

Mug with Lid (Pink Flower / Blue Flower / Red Lace Flower / Beige Retro Flower / Purple Logo / Pink Storefront): ¥2,200 each (Tax Included)

Tea for One Teapot (Purple / Green): ¥5,000 each (Tax Included) / Mini Plate Set: ¥3,000 (Tax Included)

This marks the first time ANNA SUI has collaborated on an interior design collection in the brand's history. FrancFranc will celebrate its 30th anniversary in July 2022, and the release of these 47 unique products will mark this auspicious occasion. From furniture and home décor to candles and jewelry boxes, there's something for everyone!

How would you like to decorate your space with these one-of-a-kind pieces?

Tottori Prefecture's White Rabbit of Inaba Wins Top Prize in Japan's Indie Souvenir Contest

From July 29 to August 11, over 320,000 people from around Japan voted for their favorite lesser-known local souvenir. Sponsored by Japanese e-commerce site Mercari, the contest highlighted 47 unique goods from around the country, one for each prefecture. The winners have been announced, and the White Rabbit of Inaba from Tottori Prefecture has won first place, receiving more than 60,000 votes.

A music video-style web commercial featuring the winning product is now being produced to support the shop and particular region of Tottori. The music will be performed by electro-pop group Frasco.

In Japan, the rabbit is known for bringing good fortune, and has been a beloved symbol since ancient times.  The white rabbit in particular, featured in the local Izumo myth 'The White Rabbit of Inaba,' plays a major role in connecting the characters Onamuchi-no-kami and Princess Yakami. In 1968, the famous confectionery 'White Rabbit of Inaba' was created in the hopes of bringing good luck to those visiting the area.

Much like how an indie music group has a small group of hardcore fans but may not be well-known outside of small circles, these indie souvenirs are popular with locals, but may not be known to those outside the community. On the official website, fans can see their favorite treats displayed on what looks like album covers as an homage to this fitting comparison.

On social media, there was incredible support for the project from all kinds of people: those who made the souvenirs in the first place, those who love their local area, and those who were seeing these treats for the first time and dying to try them.

Which of the 47 souvenirs would you be most happy to receive?

Disney's Mickey & Friends Teams Up With Tokyo's Souvenir Sweet Tokyo Banana

Disney SWEETS COLLECTION by Tokyo Banana, a joint confectionery shop between GRAPESTONE and Tokyo Banana, released its new Mickey & Friends collection on Thursday.

Tokyo Banana Mickey & Friends Collection | ¥1,300 (Tax Included)

Mickey, Minnie, Donald, Daisy, Goofy, and Pluto join hands in a heart-warming new collection of Tokyo Banana, a cream-filled sponge cake and the official souvenir sweet of Tokyo's official souvenir sweet: Tokyo Banana.

 

Mickey & Friends arrive in all the colours of the rainbow

The colourful packaging features the Disney group of best friends including Mickey, who loves his friends, his girlfriend Minnie, the anger-prone Donald, stylish Daisy, silly Goofy, and trusty Pluto.

Six cute patterns decorate the sponge cakes

There are six super cute Mickey & Friends designs you could get in your Tokyo Banana, and each one is random. They are filled with chocolate banana-flavoured custard cream.

Collect all the postcards

All boxes of these treats come with two of eight possible postcard designs which you can use for sending to someone or even as room decoration.

 © Disney

Pokémon x Tokyo Banana Expands Across Japan

The Pokémon Tokyo Banana confection series launched its first two products that it ever released at Yume Town, Yume City, LEC, and Yume Mart branches in the South-west most part of Honshu, Shikoku, and Kyushu on May 14.

Pikachu Tokyo Banana (Banana Flavour) | Includes 2 | ¥292 (Tax Included)

Eevee Tokyo Banana (Caramel) | Includes 2 | ¥292 (Tax Included)

Heart-shaped tail ends

Six different packaging designs each for Pikachu and Eevee

Tokyo Banana are popular cream-filled cakes and are the official souvenir sweet of Tokyo. The Pokémon series turns these fluffy treats into cute confections for you to enjoy with your favourite Pokémon during snack time.

Pikachu was the first to enter the Pokémon Tokyo Banana series who was turned into a banana custard cream-filled sponge cake. The second was Eevee with the fluffy sponge a delicious caramel macchiato flavour and filled with sweet banana custard cream

The confections are both branded with adorable heart-shaped tails, and each comes with one of six possible packaging designs.

©2021 Pokémon. ©1995-2021 Nintendo/Creatures Inc./GAME FREAK inc.
ポケットモンスター・ポケモン・Pokémonは任天堂・クリーチャーズ・ゲームフリークの登録商標です。

Matcha and Latte Cookies and Drinks Released by Yojiya

Kyoto makeup brand Yojiya is now selling its own collection of snacks and drinks which it released via its website last week.

Yojiya Matcha Sandwich Cookies | ¥1,400 (Tax Included)

Yojiya Cafe Latte Chocolate Cookies | ¥1,350 (Tax Included)

Yojiya Matcha Milk | ¥950 (Tax Included)

Yojiya's snack line-up is made with the idea of being able to enjoy high-quality food products at home. Their collection includes crunchy matcha and cafe latte cookies along with matcha milk, the latter of which is made with famous Uji matcha from Uji, Kyoto. Perfect for a tea/coffee break or as a souvenir.


Sablé Shortbread Cookie Shop Sablé MICHELLE Opens First Tokyo Branch in Ikebukuro

Sablé MICHELLE opened its first Tokyo branch inside Seibu Ikebukuro last Friday to serve up their cute and colourful baked treats for the people of Japan's capital.

Voyage Sablé New York

Voyage Sablé Netherlands

Voyage Sablé Hawaii

Voyage Sablé Tokyo

Voyage Sablé Gift (Contains 3)

Voyage Sablé Air Male (Box of 6)

Cake Sablé Tin (Small Size)

Cake Sablé Bag Type (Contains 2)

Fleur Sandwich Sablé (Contains 4)

Fleur Sandwich Sablé Bag Type (Contains 2)

Experience Okinawa From Tokyo Station to Shin-Osaka Station at Tokai Kiosk's Fair

Tokai Kiosk Company has announced a Kyushu and Okinawa themed fair which will run at all branches of Tokai Kiosk from Tokyo Station to Shin-Osaka Station starting on March 2. Customers will be able to enjoy a range of local foods and products from Kyushu and Okinawa.

Kyushu Okinawa Fair Poster

A Look at Some of the Available Products

Salted Shiroi Tabekko Doubutsu

Sugar Butter Sand Tree – Amaou Strawberry Butter

Okinawa Bireley's Ishigaki Island Pineapple

Sausage & Egg Yuzu Kosho Sandwich

This is just a peek of what will be available to try from Kyushu and Okinawa this spring. If you're travelling in Japan this March, then don't miss out.

Information

Kyushu Okinawa Fair

Japanese Event Title: 旅行気分で「うまい!」を楽しもう!九州・沖縄フェア

Running: March 2, 2021 – March 22, 2021

Where: Bellmart Kiosks, Grand Kiosks, Gift Kiosks, and Kiosks from Tokyo Station to Shin-Osaka Station

Official Website: https://www.kiosk.co.jp

Aromatic Kamakura Raw Chocolate Brand to Open New Branch in Nagoya

MAISON CACAO, the company behind the aromatic raw chocolate brand of the same name, will open a store on floor B1F of JR Nagoya Takashimaya on March 3, 2021. It will be the brand's first permanent shop in Japan's Tokai region.

The company held a special Valentine's event from late January to Valentine's Day where MAISON CACAO made the second most sales. They also enjoyed other sold out products, and showcased some exclusive indulgences like the gold leaf-adorned "Aroma Raw Chocolate ARMOUR" and "Aroma Raw Chocolate STRAWBERRY" as well as the all-new "Cacao Butterland."

The Nagoya Line-Up

Aroma Raw Chocolate AMOUR | ¥6,000 (Before Tax)

Exclusive to this new Nagoya branch of MAISON CACAO, these "AMOUR" chocolates are all handmade using techniques that have been passed down through the company. The dark chocolates are wrapped in luxurious gold leaf and have a fruity, sweet, and bitter combination. One box contains a generous serving of 16.

Cacao Butterland | ¥2,000 (Before Tax)

MAISON CACAO uses cacao beans from Columbia to bake its menu. These gooey treats are made with cacao butter and chocolate caramel with a double layering of dark and white chocolate. A rich and filling serving of six comes in a box.

 

Aroma Raw Chocolate STRAWBERRY | ¥2,200 (Before Tax)

Also a Nagoya-exclusive, these strawberry variants are made with intensely sweet JApanese amaou strawberries white combine with the fragrance cacao butter and white chocolate for a refreshing taste. You get 16 in a single box.

But Wait, There's More…

Raw Chocolate Butter Cake | ¥3,500

A cake made with velvety chocolate butter cream packed with roasted nuts, raisins, and caramel chips.

Rich Raw Chocolate Tart STRAWBERRY | ¥2,000

Yet another exclusive to Nagoya, these crunchy tarts are lathered in amaou strawberry chocolate and filled with runny and fruity amaou strawberry cream. A box comes with three included.

Other Popular Goodies Available While Supplies Last

Aroma Raw Chocolate MAISON (Grape) | ¥2,400 (Before Tax)

Babka | ¥2100

Raw Gateau Chocolate | ¥2500 (Before Tax) 

Information

MAISON CACAO

Grand Opening: March 3, 2021

Location: JR Nagoya Takashimaya Floor B1F

Address: 1-1-4 Meieki, Nakamura-ku, Nagoya-shi, Aichi

Opening Hours: 10:00-20:00

MAISON CACAO Official Website: https://maisoncacao.com/

Yokohama Welcomes Products and Souvenirs From Ise at the New ISE SHOP

Tama Plaza Terrace, a shopping centre in Yokohama, opened a limited-time pop-up shop on Tuesday (February 9) called ISE SHOP which is selling goods and products from Japan's city of Ise.

The shop opened in response to the reduction of sales of foodstuff, traditional handicrafts, and more in Ise due to the pandemic. Ise is known for its bounty of diverse products, and so this is a way to continue supporting it. Free tourist pamphlets are also being handed out detailing information about the city's wonders.

Some of the must-grab items

The store is a showcase of Ise's history, traditional, and food culture. Shoppers will find staple souvenir items like Ise udon, sea lettuce, hijiki seaweed, pearls, and more. Other touches of Ise include a popular hand cream made with water drawn from the Isuzu River, a fragrance mist also made from the same water, all-new cosmetic items, cookies inspired by the oshiraishi stones spread over the most holy part of Ise Grand Shrine—the list goes on. 58 Ise-based businesses are stocking around 100 products inside the store, so it's a must-visit for anyone interested in the ancient city.

Information

ISE SHOP
Running: February 9, 2021 – March 28, 2021
Opening Hours: 10:00-21:00
*Opening hours subject to change depending on the pandemic

Location: Tama Plaza Terrace – Gate Plaza Floor 2F
Official Website: www.tamaplaza-terrace.com

This Colourful Striped Pasta Looks Just Like Sweet Candy

Padonni is a Japanese pasta brand that sells multicoloured pasta that look like little candies. The brand tied up with Village Vanguard to make their stock available on their website on Wednesday (January 20).

Striped Paper Hat Pasta | ¥702 (Tax Included)

Shooting Star Pasta | ¥540 (Tax Included)

Heart Pasta | ¥540 (Tax Included)

Salted Striped Twist Short Puglia | ¥1,296 (Tax Included)

The rainbow-coloured pastas use no artificial colourings, all colours are brought about naturally with ingredients like beetroot and paprika.

The Instagrammable striped pasta is particularly cute and are sure to add some fun to pasta night. And these pastas aren't just for show either – they are made with high quality durum wheat from Apulia in Southern Italy so great taste is guaranteed. Traditional techniques are used to make the pasta with each and every piece being handmade. They are carefully dried in a low temperature for 4+ hours, giving them a delicious chewy texture.

Tokyo's Cat-Shaped Food Bakery Tokyo Neko Neko Announces New Branch in Tokyo Station

Tokyo Neko Neko will open a new branch at ecute Keiyo Street inside Tokyo Station on January 25, 2021.

The launch comes just 6 months after the bakery opened its store in Ginza, attracting customers from all over for its line-up of cat-shaped pastries. Both of these bakeries are the result of yet another branch, Kyoto Neko Neko, which opened in June last year as the first in the line of these cute locations.

Tokyo Station Exclusives: Neko Neko Jam Bread – Marmalade, Caramel, Strawberry, Blueberry

Tokyo Neko Neko Bread – Plain, Chocolate, Caramel Almond, Tsubu-an, Matcha, Soybean

As well as the classic Tokyo Neko Neko Bread—which is like a croissant being loaded with French butter, crunchy on the outside, and moist on the inside—the new Tokyo Station branch is also serving its own exclusive pastry treat: the Neko Neko Jam Bread, made with plenty of milk, and arriving in four irresistible flavours including marmalade, caramel, strawberry, and blueberry. And most important of all: everything is shaped like an adorable kitty.

If you're travelling through Tokyo Station then don't miss out on a trip to Tokyo Neko Neko, opening January 25.

Information

Tokyo Neko Neko (Tokyo Station branch)
Grand Opening: January 25, 2021

Shop Name: Tokyo Neko Neko ecute Keiyo Street

Location JR Tokyo Station inside the ticket gates of the Yaesu South Exit on Floor 1F

Address: 1-9-1 Marunouchi, Chiyoda, Tokyo, 〒100-0005

Opening Hours: 8:00-22:00 (until 21:30 on weekends and holidays)

No Fixed Holidays
TEL: 03-3217-5557
Official Website: https://nekoshoku.jp