Going on a cinema trip during Golden Week? Here's 5 films perfect for kids and adults!
Hey everyone! It's Midori again from Moshi Moshi Nippon's Editorial Department!
As this Golden Week holiday is especially long, some people are going on holiday! As the weather is pretty unpredictable, it's the perfect opportunity to get your hands on cinema tickets ー it shouldn't be crowded either! Here's five of our film recommendations. Adults as well as kids are bound to love these films and they're all showing during April and May!
Crayon Shin-chan: Honeymoon Hurricane ~The Lost Hiroshi~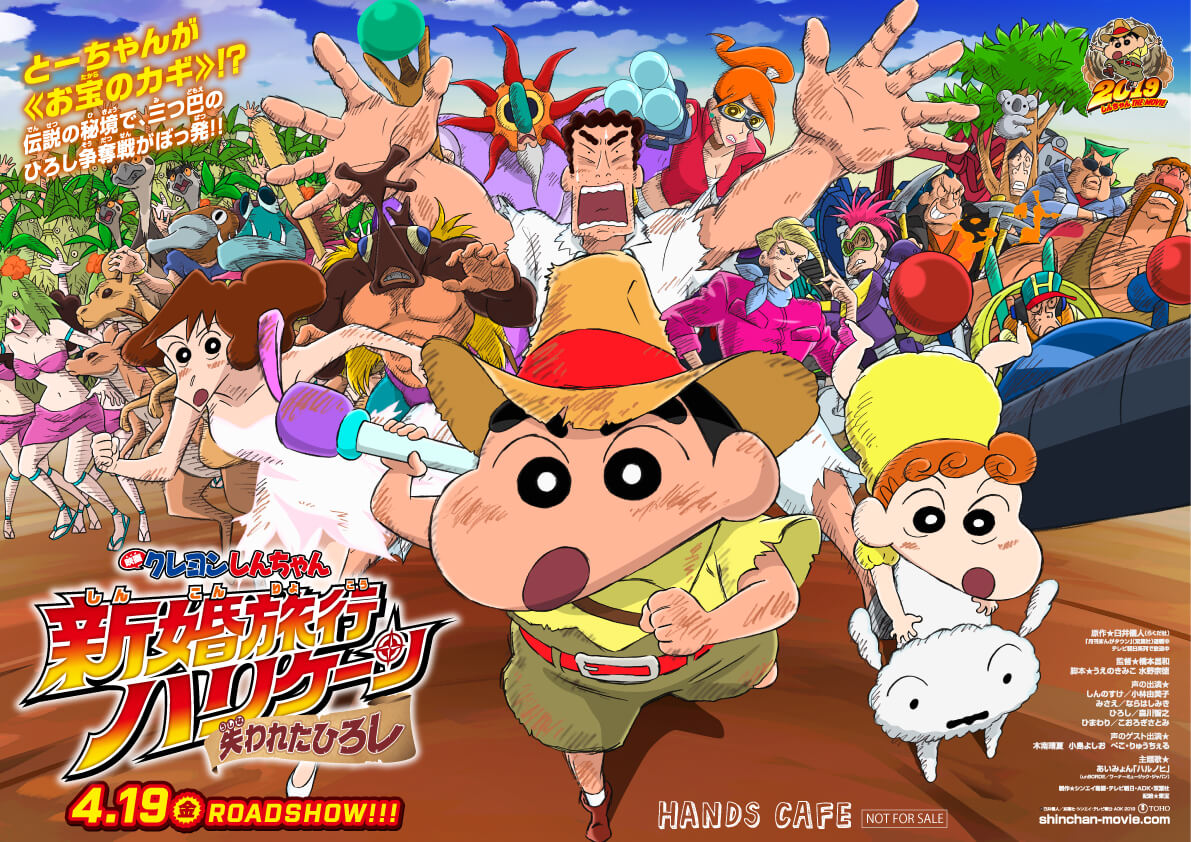 Every year, there's a new Shin-chan movie! In this movie, the Nohara family explore an unknown region during their trip to Australia! The Nohara couple have never celebrated their honeymoon, so what better time than now, they thought! Father Hiroshi, however, was kidnapped by a masked figure who wants to get their hands on some treasure! The masked figure, treasure hunters and the Nohara family are against each other to retrieve Hiroshi! As the final silly adventure of the Heisei era, it's something you just can't miss! Aimyon is in charge of the theme song for this movie, so this is your chance to hear her song "Haru no Hi"!
Aimyon to Perform Crayon Shin-chan: Honeymoon Hurricane ~The Lost Hiroshi~ Main Theme
Crayon Shin-chan: Honeymoon Hurricane ~The Lost Hiroshi~
Release: Fri 19th April 2019
Official website: http://www.shinchan-movie.com/
© Yoshito Usui / Futabasha / Shinei / Television Asahi ADK
2019 ©U/F・S・A・A 2019
Detective Conan: The Fist of Blue Sapphire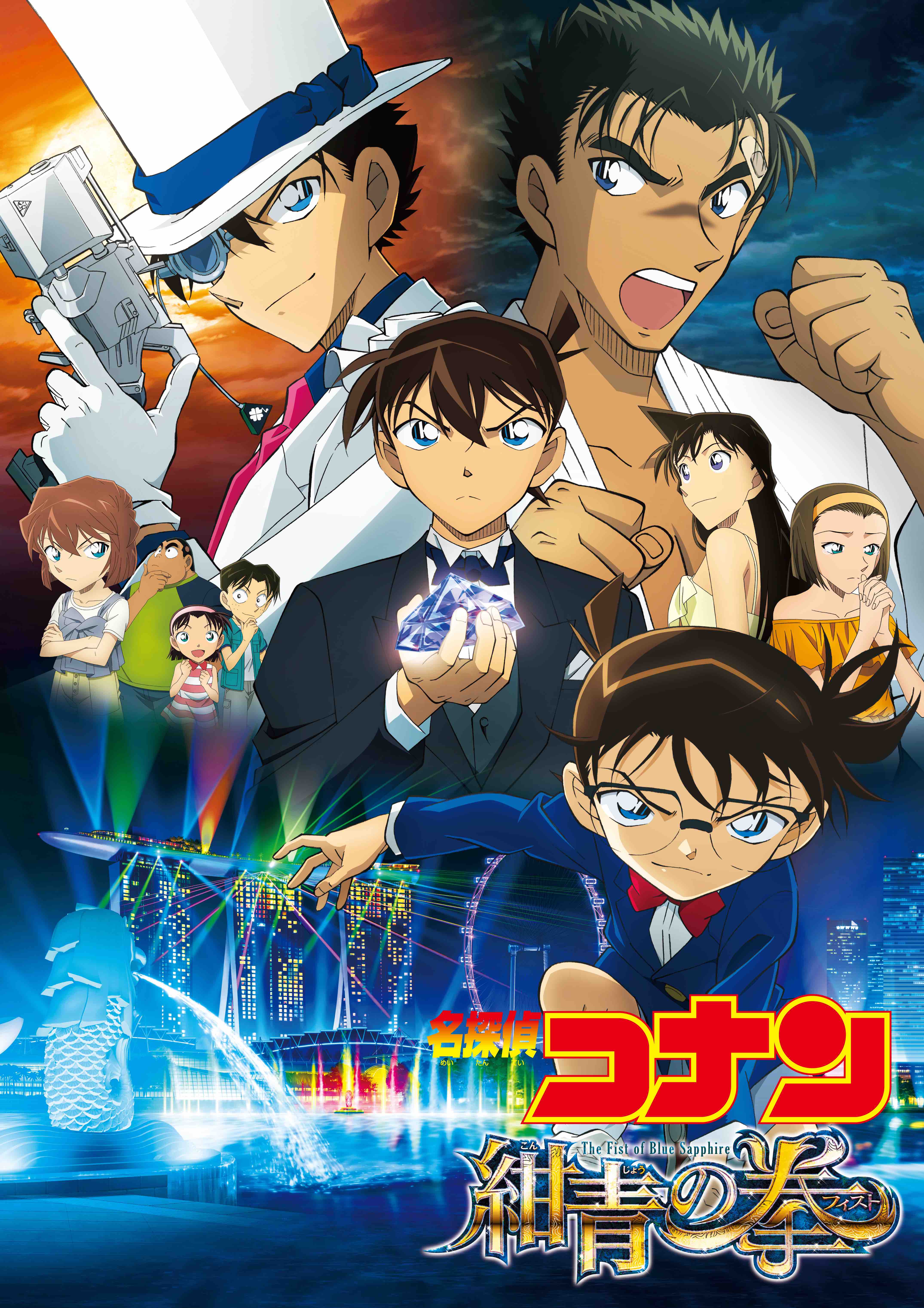 The film Detective Conan: Zero the Enforcer which was released last year was the highest grossing film out of the entire Detective Conan series. In its opening weekend, The Fist of Blue Sapphire managed to top the revenue of Zero Enforcer, and we are expecting this to rise up to become the highest grossing film in the Japanese box office! The film is set in Singapore where Kaito Kid steals the blue sapphire! Kaito Kid is a popular character even in the original series and with Makoto Kyogoku added to the mix, we've got a recipe for mayhem! Adults and children are bound to love this Detective Conan movie!
Detective Conan: The Fist of Blue Sapphire
Release: 12th April 2019
Official website: https://www.conan-movie.jp
©1997-2019 Gosho Aoyama/Detective Conan Design by Committee
Pokémon Detective Pikachu
This world-famous anime has finally become a movie! Former Pokémon trainer Tim discovers that his father has gone missing and embarks on a quest to find him. He heads to Ryme City;  a city where Pokémon and people live together in harmony. Upon his arrival, he meets his father's partner Detective Pikachu,  who surprisingly seems to be able to talk to him! Tim is still uncertain whether his father is even still alive, and so the pair search for Tim's father and protect Ryme City against the terrible incidents that occur during their visit! Will Tim ever be reunited with his father?! This is your chance to see Pikachu feature in a Hollywood film!
Pokémon Detective Pikachu
Released first in Japan on 3rd May.
Official website: https://meitantei-pikachu.jp/
© 2019 Legendary and Warner Bros. Entertainment Inc. All Rights Reserved.
© 2019 Pokémon.
Kakegurui
/
「映画 #賭ケグルイ」
舞台挨拶付き先行上映会@大阪
開 催 決 定 !
\

4月27日(土)TOHOシネマズ梅田に #浜辺美波 さん、#森川葵 さんが登場予定‼️
🎲1回目 11:00の回上映後
🎲2回目 14:00の回上映前

詳しくはコチラ🔽https://t.co/bexE2E5xym

大阪でも・・・
賭け狂いましょう! pic.twitter.com/fFBLnfm6Zq

— ドラマ&映画『賭ケグルイ』 (@kakegurui_jp) 2019年4月12日
This popular adult manga/anime is becoming a movie! The movie is set at Hyakkaou Private Academy; a school for rich kids. Here, the social hierarchy is determined by the strongest gambler.  The movie features obsessive gambler Yumeko; a natural gambler who gets a thrill from taking risks and has plunged into game with sweaty clenched fists. The series currently on air is a massively popular drama series. With Minami Hamabe playing the leading part, Taishi Nakagawa, Elaiza Ikeda and many other young actors and actresses have joined forces for this! The original author and director of the series created this version of film too, and so it is a completely original story! Whether you've always been a fan or whether this is your first encounter with the series, you're bound to enjoy it!
Kakegurui
Release: 3rd May
Official website: https://kakegurui.jp/
Aladdin
Check out the new poster for Disney's #Aladdin. See it in theaters May 24. pic.twitter.com/XlLCWxdulh

— Disney's Aladdin (@disneyaladdin) 2019年3月12日
Disney's classic movie Aladdin is now a live-action film! The poor, young Aladdin meets the rich princess Jasmine, and through fate, they encounter a magical genie in a lamp! The genie, who can grant three wishes, sets them on an adventure to seek what they really desire! Not only can you enjoy the movie's signature song "A Whole New World", but the live-action film features new songs created by the music teams behind La La Land and the Greatest Showman. Disney's high movie quality reputation and Will Smith's appearance as the Genie in the film are quite big topics in the news right now!
Aladdin
Release: 7th June
Official website: https://www.disney.co.jp/movie/aladdin.html
All these films were quite big in the news even before Golden Week! If you're tired of the crowds of tourists, how about popping to the cinema for a break?
RELATED ENTRIES
Actress Utano Aoi will star in the film Boku no Naka ni Saku Hanabi (The Fireworks That Blossom Within Me).

The film is directed by Yuto Shimizu, who won the Best J. Horror Award at the Japan Film Festival Los Angeles 2022 at the young age of 20 for The Soloist. Set in his hometown of Gifu Prefecture, he penned the screenplay after being inspired by his own life experiences. This marks his first feature film as a director.

After a painful incident, protagonist Minoru slowly begins to open up to his family and friends and gradually starts to accept his fear of death, deciding to live entirely in the present. The film focuses on the finite amount of time we have on this earth and Minoru's knowing that even that nature around him will someday disappear, which is all the more reason to show love while you can. The heroine, Jyuri Mizuishi, is played by Utano Aoi.

Crowdfunding for the film is currently underway.

<Comment from Utano Aoi (Jyuri Mizuishi)>

"Strength and weakness, harshness and gentleness…we must juggle these extremes in order to learn how to live in the midst of unfathomable loneliness and despair. I hope to show all sides of Akari with subtlety. I want to feel the sights, smells, people, and emotions of the city. At the moment, I can already feel the power that the cast and crew are bringing to the filmmaking process. I'm also looking forward to the emotional location. I'm so excited. Please look forward to the film!"

On August 10, the apparel brand tiit tokyo released a short film titled ESCAPE starring model and talent Nagomi.

The film comes prior to tiit tokyo's first solo pop-up shop at Shibuya PARCO, scheduled to open on August 24. The final scene of the film was filmed at Shibuya PARCO and features the location's classic symbol–a neon 'P.'

The story follows a woman who lives a strictly controlled life who, after witnessing an incredible scene, begins planning her escape and a new beginning. Nagomi plays the main character, a female vampire.

ESCAPE was written and directed by fashion event director and filmmaker Hajime Tsuda, who previously worked on the film Daughters. The creative director for tiit tokyo, Sho Iwata, served as fashion director.

『

ESCAPE (Part One)

*Part Two will be released on August 22

Information

ESCAPE (tiit tokyo Short Movie)

Release Date: August 10, 2023 (Part One) / August 22 (Part Two)

Where to Watch: tiit tokyo's Official Instagram / YouTube

Writer / Director: Hajime Tsuda

Starring: Nagomi

Fashion Director: Sho Iwata (tiit tokyo)

tiit tokyo Official Site

Sora Nomoto to Star in Upcoming Film 'Fanfare'

Actress Sora Nomoto will star in the film Fanfare, set to premiere on November 17, 2023.

The film tells an emotionally-charged story as two women who have graduated from an idol group struggle to pursue new careers. Sora Nomoto will play the role of Rei Sudo, the former center of the idol group Fun☆Fare who left the group to pursue a career in fashion.

The film will be directed by Ryohei Yoshino, whose works include Spring Has Come (2015) and Eternally Younger Than Those Idiots(2021). The idol music, costumes, and choreography are all original to the film.

Crowdfunding is also underway to support the film's nationwide release.

Information

Fanfare
Release Date: November 17, 2023 at CINE QUINTO and other theaters nationwide
Starring: Kyoka Minakami, Sora Nomoto
Noa Kita, Karin Hashiguchi, Miyu Matsuzaki, Mimi Shirai, Nene Sotohara
Director/Screenwriter/Editor: Ryohei Yoshino

[Story]
Marika and Rei were members of the idol group Fanfare, and after graduating from the group, the two went on to become choreographers and stylists. One day, Yuna, a current member of the group, asks the girls to design the costumes and choreography for her graduation concert. The opportunity appears suddenly, as the two yearn to grasp their own dreams. However, trouble soon arises as the two struggle to create what they envision and begin to dredge up painful past relationships. The film follows the girls as they face themselves and attempt to move forward, from the moment they begin the exciting project to the day of the concert.

Crowdfunding
https://motion-gallery.net/projects/funfare-1117

©「ファンファーレ」製作委員会

Actress Haruhi Ito will star in the upcoming film Matatakimade, which will be screened at Ikebukuro's cinema rosa for one week only starting August 5.

The film is the fourth from the independent film production company Rune Cinema and follows Kazoku Awase, which received record attendance in 2019 despite its late-night run at cinema rosa. The company's film Arano no Hate won three awards at the Kadoma International Film Festival in 2020, including Best Film, while Tooi Raimei appeared at numerous domestic and international film festivals and won Best Director at the 2022 Asian Film Festival. Matatakimade tells the story of a family through the events that take place in a single room in an apartment.

Ito will play the role of Chiho Matsui, a childhood friend of the main character Ami Tokita, a popular novelist.

<Comment from Haruhi Ito (Chiho Matsui)>

"What is family? I've been thinking about that question since I read Matatakimade. Is it something ambiguous? Something solid, or corrupt, or something that's warm and occasionally cold? I've thought about it so much, yet I haven't found a complete answer. When you glimpse a family through a single telescope or a single book, I hope you'll search for the answer too."

[Summary]


Ami Tokita (Hitomi Maki), a popular novelist, is in the middle of dealing with a divorce settlement over custody of her only child, an elementary school student. One day, a mysterious man (Ryo Ikeda) appears at the apartment where she works, asking to rent a room for the night. Despite pushback from her editor, Reiko Iijima (Karin Nishina), Ami agrees to the man's request out of curiosity. Strangely, the mysterious man intends to look through a telescope at the apartment building across the street. The next morning, Reiko casually peeks through the telescope left in her room, only to see a small child being abused. Ami's best-selling novel, titled Snow, Moon and Flowers, tells the story of a young girl who was abused by her mother. Is what happened in the apartment across the street a coincidence? Or was it inevitable?

Information

Matatakimade
Release Date: August 5 – August 11 at cinema rosa in Ikebukuro (Late-night screenings)
Starring: Hitomi Maki, Ryo Ikeda, Karin Nishina, Yusuke Takahashi, Haruhi Ito, Yasuhiko Fujita, Harumi Shuhama
Writer/Director/Cinematographer: Tomofumi Hasegawa

Official Site: https://runecinema.com/matataki/

Gai Ueno to Star in Upcoming Film 'Sensei! Kuchisake-onna desu!'

On July 7, the film Sensei! Kuchisake-onna desu!, starring Gai Ueno, will open in theaters.

The coming-of-age battle and horror film focuses on the unlikely relationship between an urban legend and a group of high school punks. After three punks steal a motorcycle, they realize that the owner of the bike is none other than a Kuchisake-onna–in Japanese folklore, this is an evil woman with her mouth slit from ear to ear. Gai Ueno plays the role of F1, a member of the high school gang and a hotwiring genius.

<Comment from Gai Ueno (F1)>

"I'm Gai Ueno, and I play the role of F1. Sensei! Kuchisake-onna desu! is truly a film that I want everyone to see. The characters are somehow cute and you'll immediately love them–I'm confident that this is the cutest-ever Japanese film focused on high school delinquents. Even now, I wonder if I can personally get fired up and serious about the smallest things. Working on this movie reminded me to have the power to believe in myself. Please enjoy the movie and take the time to think back to your high school days! I'll be waiting for you at the theater."

<Comment from Director Yuu Nakamoto>

"I guess it's been about 10 years since I lived in Hiroshima, where I grew up. I'm really interested in motorcycles, and one day, I was just mindlessly driving along the country roads at night. Then, from the other side of the road, I heard a noise…and suddenly, there was a woman wearing a mask walking nearby. I had this intuition…I thought "she's not from this world," and in that moment, I lost consciousness. Before I knew it, I was here, directing this film. Hmm…strange, isn't it?"

【STORY】

High school students Takeshi (Taisei Kido) and F1 (Gai Ueno) work part-time stealing motorcycles and selling them to a gang of delinquents for cash. One day, Ayaka (Reina Kurosaki) decides to join after transferring to the boy's school, and business booms. While trying to steal a bike parked at a deserted apartment, the group is discovered by a masked woman who seems to be the motorcycle's owner. In a panic, Takeshi and his friends rush to escape but are quickly overtaken by the woman, who seems to have unbelievable physical abilities far beyond any other human. This woman running 100 meters in 6 seconds is actually the Kuchisake-onna, her mouth slit from ear to ear! What will happen to the group of high schoolers?! And just who is this Kuchisaka-onna?!

Information

Sensei! Kuchisake-onna desu!
Release Date: July 7, 2023 nationwide
Starring: Taisei Kido, Reina Kurosaki, Gai Ueno, Ririka, Masanari Wada/Naomasa Musaka, Shigeo Osako, Hiroko Yashiki, etc.
Director/Screenwriter/Editor: Yuu Nakamoto (Shiryou Gundan Ikari no DIY, Fukuyama Shichou ni Ichinichi Micchakushitemita)

Official Site: https://kuchisake-onna.jp/

(C)2023REMOW

Fans Asked to Name Blimp Inspired by the Upcoming Film 'Doraemon: Nobita's Sky Utopia'

The film Doraemon: Nobita's Sky Utopia will be released on March 3, 2023. The 42nd Doraemon movie follows Doraemon, Nobita, and his friends as they venture off to find Utopia, a perfect land in the sky where everyone lines in joy and happiness. They do so using an airship with a time warp function on their adventure, and to commemorate the film's release, the Flying Doraemon Project began on January 14. A real-life 17-meter-long Doraemon blimp will soon appear in the sky, and fans are being asked to decide on a name for the craft.

The blimp, inspired by the Doraemon movie, will feature popular characters including Nobita, Shizuka, Suneo, and Gian. The blimp is the largest unmanned airship in Japan.

The message of the Flying Doraemon Project is to convey the feeling that in this day and age, children and adults alike can once again look upward and move forward toward their hopes and dreams.

Fans are asked to contribute ideas for the blimps name during the application period. Check the website for more details!

Natsume Mito to Appear in Upcoming Film 'Kono Chiisana Te'

Natsume Mito will star in the upcoming film Kono Chiisana Te (These Small Hands). The film will debut in theaters on April 8.

The movie is an adaptation of the manga series by Mamora Goda, also known for his works Kira Kira Hikaru and Mori no Asagao. The story follows a father who never cared for his daughter and a daughter who has forgotten her father.

This is the feature-length debut of director Hiroyuki Nakada, who previously worked as an assistant director on films such as Love is Light and Tsukuritai Onna to Tabetai Onna.

<Comment from Director Hiroyuki Nakada>

"What is a father?

This question came to me as I was watching my newborn son sleep.
Does supporting a family financially make a good father?
Can a man be a father in some other way? Can he do something else?
While I was pondering this, I came across Kono Chiisana Te.
I really wanted to find the answer to my question, so I decided to work on plans for this live-action film.

I hope that everyone who sees this film will take some time to think about their families in this fast-paced world."

<Story>
Kazuma, an illustrator, lives with his wife Sayuri and their three-year-old daughter Hina.

One night, while Kazuma is drinking with his work buddies, Sayuri gets into an accident and is hospitalized while out shopping.

Kazuma falls asleep at the bar and Hina wakes up alone the next day. She is rescued by the police and placed in an orphanage.

Given his actions, Kazuma can't take Hina home. Having done nothing to help raise her, he's decidedly unfit to parent. Sayuri doesn't wake up, and time continues to pass.

Desperate, Kazuma gradually realizes that there are people who care for him and want the best for his life. Determined, he sets out to repair his bond with his daughter.

When Kazuma visits, however, all Hina can do is cry. Has she forgotten her father's face?

(C)映画「この小さな手」製作委員会

Information

Kono Chiisana Te (These Small Hands)
Release Date: In theaters nationwide April 8, 2023at Euro Space and other locations
Original Story: Kono Chiisana Te by Mamora Goda / Hiroshi Yoshida
Director: Hiroyuki Nakada
Script: Yusuke Moriguchi
Theme Song: Karen Aoki
Producer: Sho Matsushima
Music: Rhythm & Note
Production: Kono Chiisana Te Production Committee
Distributor: Fulmotelmo Inc.
2022/Japanese/Color/Vista Size/90 minutes

<Starring>
Kouhei Takeda
Renwa Satou, Sei Ando
Chie Tsuji, Natsume Mito, Himena Irei, Kenji Mitamura, Yoko Asaji, Reon Yuzuki, Kanji Tsuda, Yuki Matsushita, Yasufumi Terawaki

SSSS.GRIDMAN Compilation Film Bonuses Revealed

Based on the Tsuburaya Productions Gridman live-action tokusatsu series from 1993, the
SSSS.GRIDMAN anime series aired in October 2018. A sequel, SSSS.DYNAZENON, followed in April 2021.

Ahead of the release of GRIDMAN UNIVERSE, an all-new anime film coming in March, both SSSS.GRIDMAN and SSSS.DYNAZENON will be getting compilation films. Each will only be
in theaters for two weeks.

劇場総集編『SSSS.GRIDMAN』

The SSSS.GRIDMAN film will be in theaters starting January 20. Those buying tickets will
receive a special illustration card with a voice drama created by Akira Amemiya, the director of the SSSS series, while supplies last. The title of the drama is Hinekuremono Demo (Even if You're Cynical) starring Soma Saito (Sho Utsumi) and Hass (Akari Kito).

The newly-revealed illustration card's design features Yuta Hibiki, Sho Utsumi, Rikka
Takarada, and Akane Shinjo happily snapping photos.

SSSS.DYNAZENON will be released for two weeks starting March 10, and those buying
tickets will also get an illustration card and a special voice drama written by Akira Amemiya.

The SSSS.GRIDMAN compilation film is being directed by Yoshiyuki Kaneko, who served as assistant director on the anime series. The film will show a somewhat new interpretation of the story under his new direction. Both compilation films will include extra footage leading
up to the release of GRIDMAN UNIVERSE on March 24, 2023.

©円谷プロ ©2023 TRIGGER・雨宮哲/「劇場版グリッドマンユニバース」製作委員会

Information

SSSS.GRIDMAN Compilation Film
Limited 2-week screenings begin January 20, 2023
Admission Bonus: Illustrated Card with Voice Drama by Akira Amemiya
Official Website: https://ssss-movie.net/

30th Anniversary Crayon Shin-chan Exhibition to Open in Ikebukuro

Crayon Shin-chan's 30th Anniversary Exhibition will be held at Ikebukuro Sunshine City starting December 17, 2022. Humorously titled The Adventure in Ass Wonderland, the interactive exhibition will pay homage to the past three decades of the beloved anime series. In conjunction with the event, a key visual drawn especially for this exhibition has also been unveiled.

This special exhibition looking back on the 30th anniversary of the anime series and films will feature many hands-on Crayon Shin-chan projects based on the theme of Shinnosuke's butt. More details will be announced soon, so stay tuned.

Advance tickets for the exhibition will be on sale starting November 17, 2022. The exhibition is also scheduled to travel to other venues in Japan beginning in 2023. See the official website for more information. 

©臼井儀人/双葉社・シンエイ・テレビ朝日・ADK

Crayon Shin-chan and Cinnamoroll Collaboration Apparel Available at AEON

Aeon's fashion brand DOUBLEFOCUS has announced a unique apparel collection featuring Crayon Shin-chan and Sanrio's popular character Cinnamoroll! The collection itself will include 14 items and will release on September 29, 2022. Those interested will be able to purchase these items at over 150 AEON and AEON-STYLE locations around Japan, as well as online. Crayon Shin-chan has been a popular series for decades, and Cinnamoroll has won first place for three consecutive years in the Sanrio Character Awards. 

Many characters from Crayon Shin-chan will be featured in the collection, including Shinnosuke, Himawari, Shiro, and Buriburizaemon. These unique items can only be purchased at AEON stores, and fans can find everything from cushions and key chains to clothing. Be sure to grab your favorite items before they sell out!

 

Ⓒ臼井儀人/双葉社・シンエイ・テレビ朝日・ADK

Ⓒ2022 SANRIO CO.,LTD.TOKYO.JAPANⓁ

Grand Chariot Big Dipper 135° Hotel Offers Special Gift for Guests Reserving the Crayon Shin-chan Collaboration Room

The Grand Chariot Big Dipper 135° Hotel is a luxury hotel located within Awaji Island Park in Hyogo Prefecture. The hotel has an incredible Crayon Shin-chan collaboration room, and guests reserving this room will receive an original postcard featuring a new illustration for a limited time starting on August 1, 2022. Those finding Buriburizaemon within the room will receive this exclusive gift only available at the hotel!

Original Postcards

The collaboration room, dubbed 'My Cocoon,' is a one-of-a-kind suite filled with Crayon Shin-chan imagery. Perfect for fans, the room is filled with playful gadgets, a massive skylight, and a large rug in the shape of the dog Shiro. 

©臼井儀人/双葉社・シンエイ・テレビ朝日・ADK ©臼井儀人/双葉社・シンエイ・テレビ朝日・ADK 1993-2022

30th Anniversary Crayon Shin-chan Cakes Available from Cake.jp

Mail order cake shop Cake.jp has unveiled three original cakes celebrating the 30th anniversary of Crayon Shin-chan! The sweets are available to order now.

Crayon Shin-chan Action Kamen Cake

Crayon Shin-chan Shin-chan Family Cake

Crayon Shin-chan: Mononoke Ninja Chinpūden Cake

Crayon Shin-chan is a slapstick comedy series detailing the hilarious daily life of five-year-old Shinnosuke Nohara and his family. 

 

The original manga series began serialization in 1990 and an anime series began airing in April 1992. 2022 marks the 30th consecutive year of the anime series. 


The original manga series has sold over 134 million copies worldwide, and the anime has been dubbed in 30 languages and aired in 45 countries. Shinnosuke has now become a popular character around the world and one that represents Japan.

 

Cake.jp is offering three brightly colored cakes, each depicting different aspects of the Crayon Shin-chan anime series and the most recent film. The cakes are packed with strawberries and are perfect for both adults and children to enjoy!



Crayon Shin-chan: Mononoke Ninja Chinpūden debuted in theaters on April 22, 2022.

©臼井儀人/双葉社・シンエイ・テレビ朝日・ADK
©臼井儀人/双葉社・シンエイ・テレビ朝日・ADK 2022