Aimyon to Perform Crayon Shin-chan: Honeymoon Hurricane ~The Lost Hiroshi~ Main Theme
It has been announced that singer-songwriter Aimyon will perform the main theme song for the anime film Crayon Shin-chan: Honeymoon Hurricane ~The Lost Hiroshi~ which is set to release on April 19, 2019.
Aimyon is a huge fan of Cragon Shin-chan. The song she has written for the latest film is titled Haru no Hi ("Spring Day"). It focuses on the love between Shin-chan's parents Hiroshi and Misae Nohara from their perspective and their honeymoon trip which they have never been on and which the film is based on.
The song will also be used as the new ending theme song for the Crayon Shin-chan anime series from February 8. Aimyon's 7th single to date, the CD will hit shelves on April 17, two days before the film's premiere.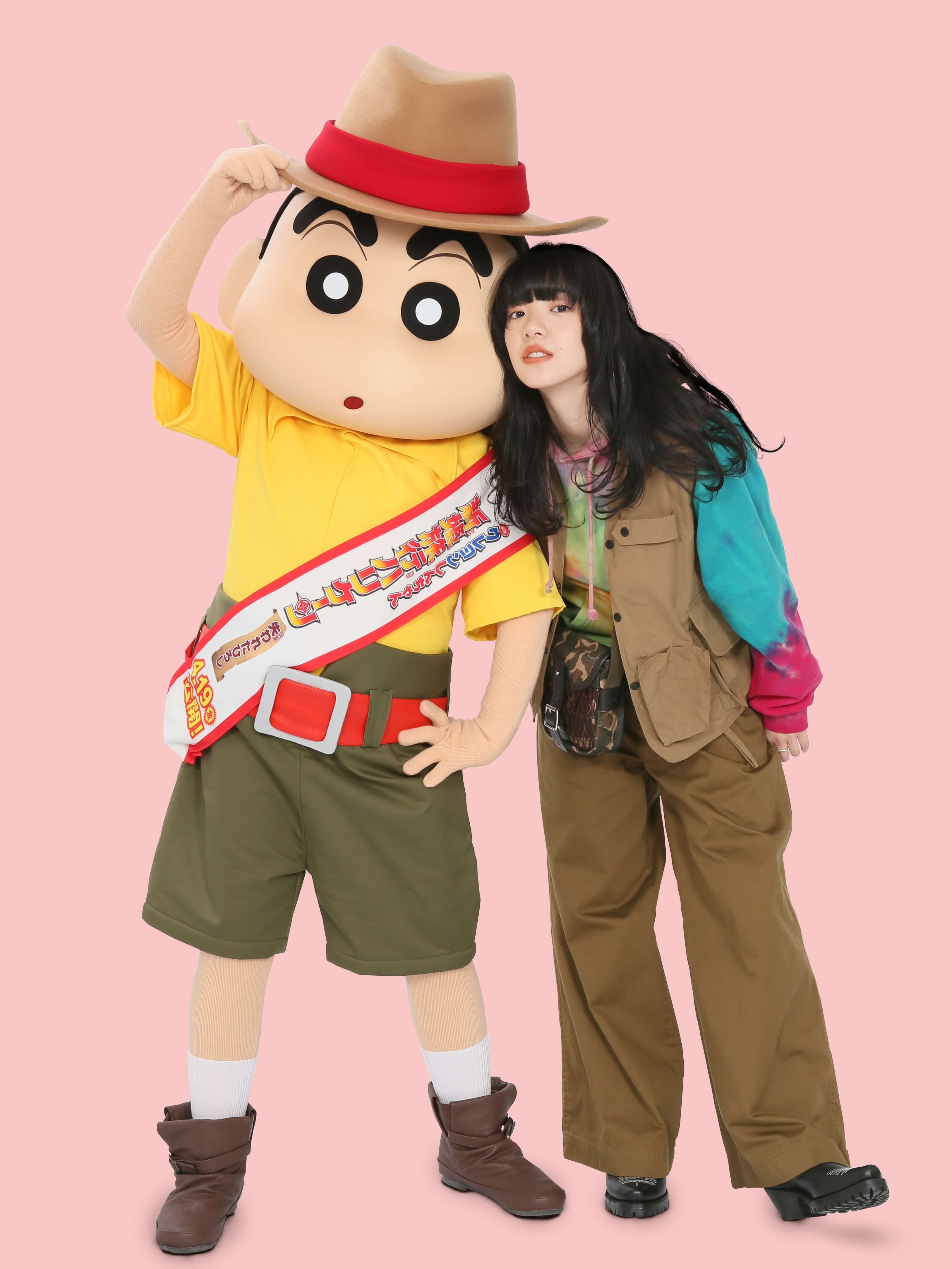 Aimyon gave the following comments about the collaboration: "I have been given the opportunity to perform the main theme for Crayon Shin-chan: Honeymoon Hurricane ~The Lost Hiroshi~. I have loved the series since I was a child. I am so grateful to be able to say that. But at the same time I wondered to myself how I would be able to convey those loving memories, in my own way, in a song. When I heard that it was about 'family love' I thought I would write a song about the birth of the Nohara household. Crayon Shin-chan always taught me about the strength of family ties and happiness. Of course, that includes his bonds with everyone in the Kasukabe Defence Force too. There are of course times he stumbles too. The message the series gets across touches my heart. I am truly happy to be involved with this movie. Thank you for this lifetime treasure. I hope that the song Haru no Hi that I wrote reaches many places."
She continues: "This is a different film, but I watched [Crayon Shin-chan: Fierceness That Invites Storm!] The Adult Empire Strikes Back from 2001. That's where I first saw the Tower of the Sun by Tarō Okamoto. Crayon Shin-chan also introduced me to Takuro Yoshida, Betsy & Chris and others. It might not be the same, but I would be happy if I'm able to return the favour even a little."
Shin-chan also made a comment himself: "Cheers for making such a wonderful song for us. It makes me feel relaxed all the way to the centre of my butt. It was a really good song! Ahh, I want Aimyon to propose to me… Be sure you all listen to it!"
*Comments translated from Japanese.
Information
Haru no Hi
Release Date: April 17, 2019
First Press Limited Edition (Crayon Shin-chan Edition) ¥1,000 (Before Tax) [WPCL-13038]
Regular Edition: ¥1,000 (Before Tax) [WPCL-13037]
*Both editions come with different sleeve cases.
Aimyon Official Website: http://www.aimyong.net
Crayon Shin-chan: Honeymoon Hurricane ~The Lost Hiroshi~
Release Date: April 19, 2019
Official Website: http://www.shinchan-movie.com/
©Yoshito Usui / Futabasha・Shinei・TV Asahi・ADK 2019 ©U/F・S・A・A 2019
RELATED ENTRIES
30th Anniversary Crayon Shin-chan Exhibition to Open in Ikebukuro

Crayon Shin-chan's 30th Anniversary Exhibition will be held at Ikebukuro Sunshine City starting December 17, 2022. Humorously titled The Adventure in Ass Wonderland, the interactive exhibition will pay homage to the past three decades of the beloved anime series. In conjunction with the event, a key visual drawn especially for this exhibition has also been unveiled.

This special exhibition looking back on the 30th anniversary of the anime series and films will feature many hands-on Crayon Shin-chan projects based on the theme of Shinnosuke's butt. More details will be announced soon, so stay tuned.

Advance tickets for the exhibition will be on sale starting November 17, 2022. The exhibition is also scheduled to travel to other venues in Japan beginning in 2023. See the official website for more information. 

©臼井儀人/双葉社・シンエイ・テレビ朝日・ADK

Crayon Shin-chan and Cinnamoroll Collaboration Apparel Available at AEON

Aeon's fashion brand DOUBLEFOCUS has announced a unique apparel collection featuring Crayon Shin-chan and Sanrio's popular character Cinnamoroll! The collection itself will include 14 items and will release on September 29, 2022. Those interested will be able to purchase these items at over 150 AEON and AEON-STYLE locations around Japan, as well as online. Crayon Shin-chan has been a popular series for decades, and Cinnamoroll has won first place for three consecutive years in the Sanrio Character Awards. 

Many characters from Crayon Shin-chan will be featured in the collection, including Shinnosuke, Himawari, Shiro, and Buriburizaemon. These unique items can only be purchased at AEON stores, and fans can find everything from cushions and key chains to clothing. Be sure to grab your favorite items before they sell out!

 

Ⓒ臼井儀人/双葉社・シンエイ・テレビ朝日・ADK

Ⓒ2022 SANRIO CO.,LTD.TOKYO.JAPANⓁ

RecoChoku Announces Winners for Best Music of August 2022

13.September.2022 | MUSIC

Japanese music streaming site RecoChoku has announced the top song and album rankings for August 2022!

Unsurprisingly, Ado tops both the single and album charts with her new tracks from the movie ONE PIECE FILM RED. The singer provided the singing voice of Uta, a main character in the film which was released nationwide on August 6, 2022.

New Genesis, the theme from ONE PIECE FILM RED, was released ahead of the movie's release on June 8, 2022. It ranked 4th in the monthly rankings for June and July, and following the film's release in August, it shot to the top of the charts for four consecutive weeks, continuing to hold the #1 spot.

Ado also took first place in August's album ranking with her collection of songs from ONE PIECE FILM RED. Released on August 19, 2022, the album features a number of tracks made for the film, with seven different artists helping to produce these now legendary songs.

For the daily ranking on August 11, the top seven singles were all from this one album. Starting at the top spot, the songs included were: New Genesis, Where the Wind Blows, Tot Musica, The World's Continuation, Binks' Sake, I'm Invincible, and Fleeting Lullaby.

In the album ranking, it was number one in the weekly ranking for three consecutive weeks since its release on August 17 and continued its momentum to take the top position in the monthly ranking for the month of August.

Ado had her first top single ranking in February 2021 with Usseewa, and her first #1 album in January and February 2022 with Kyogen.

If you haven't listened to the singer's collection of songs from the most recent ONE PIECE film, you're missing out!

RecoChoku Monthly Music Award – August 2022 (Announced September 1, 2022)

Single Ranking


1st Place: New Genesis (Uta from ONE PIECE FILM RED) – Ado (Released June 8, 2022)
2nd Place: Start Over – THE BEAT GARDEN
3rd Place: Ame Sansan – King Gnu
4th Place: Where the Wild Blows – Ado
5th Place: Mixed Nuts – Official HiGE DANdism

https://recochoku.jp/ranking/single/monthly/

Album Ranking


1st Place: Uta's Songs from ONE PIECE FILM RED – Ado (Released August 10, 2022)
2nd Place: M – INI
3rd Place: BE:1 – BE:FIRST
4th Place: Falling into your eyes Record – Aimyon
5th Place: Suki Toiunowa Rock Daze! (Special Edition) – Nogizaka46

https://recochoku.jp/ranking/album/monthly/

©尾田栄一郎/2022「ワンピース」製作委員会

Popular singer Aimyon has released the music video for her song 3636 from her fourth original album, Falling Into Your Eyes Record. The album was released on August 17, 2022.

 

The video was directed by Classic 6, marking the first collaboration between the two. The lyrics of the song contain the phrase 'delivery box,' and this became a big theme in the direction of the video. Along with the video release, Aimyon and Classic 6 both released comments about the new creation, so be sure to read them below. 

3636 – Aimyon (Official Music Video)

Aimyon is currently on her largest-ever national tour, seeing the artist perform 28 shows in 14 cities throughout Japan. On November 5, Aimyon will perform her largest solo concert ever at Hanshin Koshien Stadium in Nishinomiya. 

 

Comment from Aimyon

"When the delivery box wouldn't open anymore, I felt as though my heart had been closed. I was so incredibly sad. I wondered if it had simply grown tired of me, and I went on a journey of endless delusion. I remembered what happened in that small room as the seasons passed."

 

Comment from Classic 6

"When I heard the song, I pictured Aimyon riding on a train in a private compartment, something that isn't common in Japan. It's also a metaphor for the time, space, and heart that the delivery box and Aimyon shared. That's what I imagined when I planned the video. I wanted it to be obvious. There was a way for both of them to keep going, to not stop along the way. Even now, the box alone is being carried somewhere far away."

Information

Falling Into Your Eyes Record

Released: August 17, 2022 

Standard Edition (CD Only): ¥3,080 (Tax Included)

Limited First Edition (CD+Blu-ray): ¥7,700 (Tax Included)

Limited First Edition (CD+DVD): ¥6,600 (Tax Included)

Aimyon Official Site: http://www.aimyong.net/

Grand Chariot Big Dipper 135° Hotel Offers Special Gift for Guests Reserving the Crayon Shin-chan Collaboration Room

The Grand Chariot Big Dipper 135° Hotel is a luxury hotel located within Awaji Island Park in Hyogo Prefecture. The hotel has an incredible Crayon Shin-chan collaboration room, and guests reserving this room will receive an original postcard featuring a new illustration for a limited time starting on August 1, 2022. Those finding Buriburizaemon within the room will receive this exclusive gift only available at the hotel!

Original Postcards

The collaboration room, dubbed 'My Cocoon,' is a one-of-a-kind suite filled with Crayon Shin-chan imagery. Perfect for fans, the room is filled with playful gadgets, a massive skylight, and a large rug in the shape of the dog Shiro. 

©臼井儀人/双葉社・シンエイ・テレビ朝日・ADK ©臼井儀人/双葉社・シンエイ・テレビ朝日・ADK 1993-2022

On June 8, popular singer Aimyon released her 13th single My First Love is Crying. Now, the music video is here–and it was filmed in a yakiniku restaurant!

 

The music video was directed by Tomokazu Yamada, who previously directed the videos for Aimyon's Marigold, Let the Night, Harunohi, The Smell of a Midsummer Night, On This Day We Say Goodbye, and Naked Heart. The video itself was filmed in one shot at a yakiniku restaurant in Tokyo, showing Aimyon eating alone and crying. A stirring and emotional song paired with this moving video will be enough to stir any fan's heart. 

My First Love is Crying – Aimyon

 

The coupling song, Satsuki, is available to stream now. The track is a continuation of the song Mini-Skirt and Hi-Lite from Aimyon's 11th single. The track features Moto Kawabe, the first time a male has participated in one of Aimyon's tracks. 

Aimyon is currently holding her largest-ever national tour, performing 28 concerts in 14 cities around Japan. 

 

Comments

Aimyon

"When I got dumped by the person I was dating, I can remember crying uncontrollably. 

I was asking myself "why me?" People would respond with "there's nothing you can do," or "this was for the best," or "there are other fish in the sea!" 

I ate, I drank, I reminisced, I cried, I got angry, and as time went on, I realized that I had forgotten why I loved him so much in the first place. 

But I still love him a little bit–and that pisses me off! That's the emotion I wanted to bring to this shoot."

 

Tomokazu Yamada (Director)

"In this age when people can easily impersonate (or quote) someone else, people like Aimyon, who is unapologetically herself, seem to shine more brightly. Even in the midst of her sadness, she wants to show that side of her to someone else in the hopes that it can help. She has the power to light up anyone's day with her honesty and sense of self." 

 

30th Anniversary Crayon Shin-chan Cakes Available from Cake.jp

Mail order cake shop Cake.jp has unveiled three original cakes celebrating the 30th anniversary of Crayon Shin-chan! The sweets are available to order now.

Crayon Shin-chan Action Kamen Cake

Crayon Shin-chan Shin-chan Family Cake

Crayon Shin-chan: Mononoke Ninja Chinpūden Cake

Crayon Shin-chan is a slapstick comedy series detailing the hilarious daily life of five-year-old Shinnosuke Nohara and his family. 

 

The original manga series began serialization in 1990 and an anime series began airing in April 1992. 2022 marks the 30th consecutive year of the anime series. 


The original manga series has sold over 134 million copies worldwide, and the anime has been dubbed in 30 languages and aired in 45 countries. Shinnosuke has now become a popular character around the world and one that represents Japan.

 

Cake.jp is offering three brightly colored cakes, each depicting different aspects of the Crayon Shin-chan anime series and the most recent film. The cakes are packed with strawberries and are perfect for both adults and children to enjoy!



Crayon Shin-chan: Mononoke Ninja Chinpūden debuted in theaters on April 22, 2022.

©臼井儀人/双葉社・シンエイ・テレビ朝日・ADK
©臼井儀人/双葉社・シンエイ・テレビ朝日・ADK 2022


Upcoming 'Crayon Shin-chan: Mononoke Ninja Chinpuden' Film Inspires Collab Cafe in Osaka

To commemorate the upcoming release of the film 'Crayon Shin-chan: Mononoke Ninja Chinpuden,' a special collaboration cafe is scheduled to open at Seasons & Co Fruits Parlor & Bakery at Osaka LINKS UMEDA! The cafe will be open from April 4 until May 15, and will feature a number of film-inspired dishes and bonus goods for fans to enjoy!

Collaboration Cafe Menu

Shin-chan's Roll Cake 


Silly Ninja! Strawberry, Vanilla & Black Currant Cake 


Ninjas love it too?! Matcha Parfait


Shinnosuke's Birthday Blue Soda 

Ninja Child Matcha Frappe

Bonus: Sticker and Coaster





The upcoming film is a gag-filled ninja action blockbuster featuring everyone's favorite boisterous youth. Shinnosuke will be transformed into a ninja this time around to defeat a mysterious ninja army! Along with the collab menu, fans can also grab some new merchandise and bonuses at the cafe, so don't miss out!

©臼井儀人/双葉社・シンエイ・テレビ朝日・ADK 2022 ※短縮:©U/F・S・A・A 2022

Popular singer Aimyon has released the music video for her new song Futaba, which premiered on streaming services on March 24, 2022.

The video was directed by Kodai Kobayashi, who previously directed videos for Only Under the Full Moon, Dream Chaser Bengal, Chika, and Till I Know What Love Is. Futaba was shot in locations all over Okinawa, and is a treat to watch. Check out comments from Aimyon and Kodai Kobayashi below!

Futaba – Aimyon (Official Music Video)

The track was used as the theme song during the March 23 broadcast of 'Aimyon 18 Festival' on NHK, which will be rebroadcast on April 3, 2022. Aimyon will perform the song live along with a special talk, so don't miss it!

 

Aimyon Comment

This was such a fun trip, and the director really captured so many different sides of me. 

When I saw the finished video, I thought to myself "Wow, I've really grown up!" Yet some of the expressions I made were the same ones I made as a child.

There are things you can only do as an adult and things you can only do as a child,

but all I care about is valuing the things I'm doing right now.

With that in mind, I jumped into the ocean for the first time in my life.

I was terrified, but it was something I always wanted to do. 

(I won't do it again!)

Kodai Kobayashi (Director) Comment

The team ran all over the place getting these shots. Please check out the final product made possible by these dedicated adults.

Aimyon's new track Futaba is now available to stream! The track was used as the theme song during the March 23 broadcast of 'Aimyon 18 Festival' on NHK. The show featured Aimyon collecting messages and videos from 17 to 20-year-olds across Japan which were then used to create the video. Ran Tondabayashi was in charge of the jacket photo and art direction.

 

The music video for Futaba will be released on March 31 at 20:00 on Aimyon's official YouTube channel.

 

The singer will start her new tour–her largest ever–in April.

30 Years of Crayon Shin-chan Films Honored in Online Exhibition

The digital service Anique will launch an online exhibition and begin selling limited-edition merchandise on April 15 to commemorate 30 years of Crayon Shin-chan films!

The exhibition will highlight the many characters found in the long-running series, and will also feature an exhibit focusing on the upcoming film Crayon Shin-chan: Mononoke Ninja Chinpūden, coming to theaters on April 22, 2022. 

 

Fans are invited to think back on the last three decades of these classic anime films. 

Visitors can also order goods with limited-edition designs that can only be purchased during the event. By pre-registering your email address on the official website, you can be notified when the new merch goes on sale!

©臼井儀人/双葉社・シンエイ・テレビ朝日・ADK 2022 ※短縮:©U/F・S・A・A 2022

Crayon Shin-Chan's Sengoku Period Winter Adventure Now Open at Nijigen no Mori Amusement Park

Crayon Shin-Chan's Sengoku Period Adventure, a permanent attraction at the Nijigen no Mori Amusement Park in Hyogo Prefecture, has been transformed for the cold winter months until February 27, 2022!

 

During the event, guests will have to dodge the snow-like bubbles with a 99.9% hit rate as they race towards the finish line. Do you think you could handle it?

Information

Crayon Shin-Chan's Sengoku Period Winter Adventure
Running until February 27, 2022
Location: Nijigen no Mori Amusement Park, Awaji, Hyogo Prefecture

Tickets / Official Site: https://nijigennomori.com