Diner is an upcoming film adaptation of author and horror writer Yumeaki Hirayama's 2009 novel Diner directed by Mika Ninagawa and starring Tatsuya Fujiwara.
It will star Masataka Kubota, Kanata Hongō, Shinji Takeda, Takumi Saitoh, Eriko Sato and Nobuaki Kaneko, as well as huge Japanese film industry names Shun Oguri, Anna Tsuchiya, Miki Maya and Eiji Okuda. Everyone will play the role of killers with colourful personalities.
The film's official Twitter page teased the date "April 25" with a hashtag translating to "visiting a killer's store" from April 18 to 24. The date has finally come around, and the big reveal is a brand new trailer and poster.
"Diner" Trailer
In the chaotic trailer, we get to see master chef and "king" of the diner Bombero (Tatsuya Fujiwara) his customers, all of whom are psychotic killers. This includes Skin (Masataka Kubota), an aloof murderer whose face is covered in scars who we see firing a machine gun, and Psycho Killer Kid (Kanata Hongō) who we see spurting blood while stabbing someone with pencils. We also see organisation leader Mateba (Shun Oguri) eating a stag beetle, as well as Maria (Anna Tsuchiya), Bureizu (Miki Maya) and Kofi (Eiji Okuda) gathered together for the banquet. Other characters in the trailer include the Spanish-speaking Buro (Shinji Takeda), Cowboy (Takumi Saitoh) slamming a car, Dee Dee (Eriko Sato), and the masked Buta Otoko (Nobuaki Kaneko).
The standout from the trailer however is Tatsuya Fujiwara's performance of Bombero. Who, or what was he about to hack down at the end when he leaps into the air?
Under the direction of Mika Ninagawa, we can expect an extravagant and over-the-top killer game the likes of which we have never seen before. Speaking about playing Bombero, Fujiwara joked, "First of all, you should never place a lethal weapon in my hands!"
He also commented on the other characters: "I though Bombero was the most normal of them all! The other characters are way too dark! Everyone is crazier than me [laughs]." He continues: "The only actors we have here are those with serious talent […] It was a rigorous film shoot, but to that extent the scenes are well worth seeing."
He concludes, "We have made a completely new and original film, one where you can't predict what's going to happen."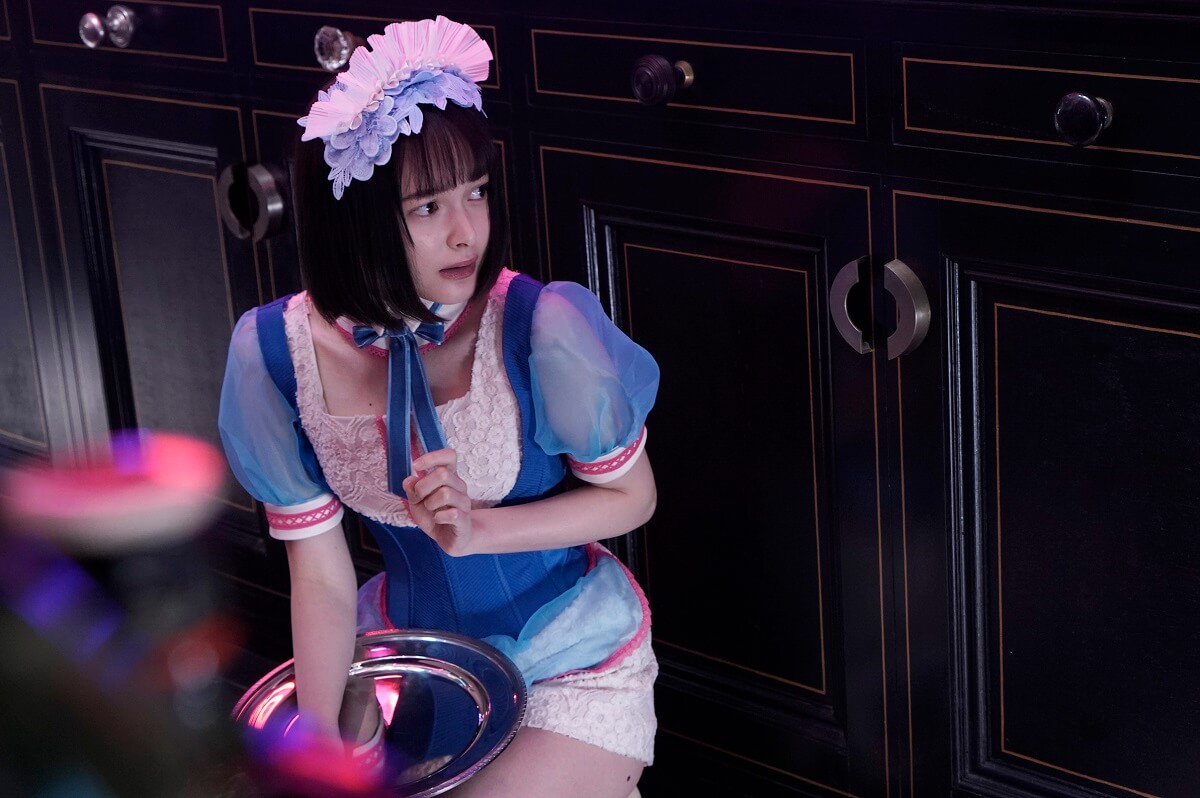 The trailer also reveals that Japanese actress and model Tina Tamashiro will play the role of Kanako Ooba, a girl who is sold to the diner.
Excitement continues to build in the run up to the release of Diner in Japan on July 5, 2019.
©2019 "Diner" Production Committee ©2019  Mika Ninagawa / "Diner" Production Committee