Feast On High Quality Wagyu Meat at Omotesando Hills
Ten restaurants in Omotesando Hills are set to serve up their own individual "ultra meat" dishes from April 26 to May 31. Each meal is aimed at meat lovers and serves to showcase each restaurants' abilities and appeal.
Domestic Wagyu Beef Topped With Uni & Ikura: ¥2,484 (Tax Included)
Tsukiji Tama Sushi Sasashigure (Floor 3F) ― Serving 11:00-22:00 (Last Orders 21:30)
This luxurious sushi is the ultimate fusion of meat and seafood-a combination which has been incredibly popular in recent years. The rich grilled Japanese wagyu beef sits atop a bed of perfectly cooked rice and is topped with sea urchin eggs and salted salmon roe.
Japanese Black Hirekatsu Sandwich: ¥4,860 (Tax Included)
GOLDEN BROWN (Floor 3F) ― Serving 14:00-22:00 (From 15:00 on Sundays / Last Orders 21:00)
A sumptuous cutlet sandwich made from A4 grade Japanese black wagyu. The beef comes from cows raised in a lavish natural environment in Kyushu. The sandwich contains 180g thickly-cut meat cooked to a juicy rare, a perfect accompaniment to the fluffy bread and a must-try for any meat lover.
Charcuterie Assortment: ¥1,944 (Tax Included)
bar à vin PARTAGER (Floor 3F) ― Serving 11:00-22:00 (Last Orders 21:30)
This assortment of French-farmed meat is coupled with a side dish of the day. The food selection changes each day and is best enjoyed with a glass of wine.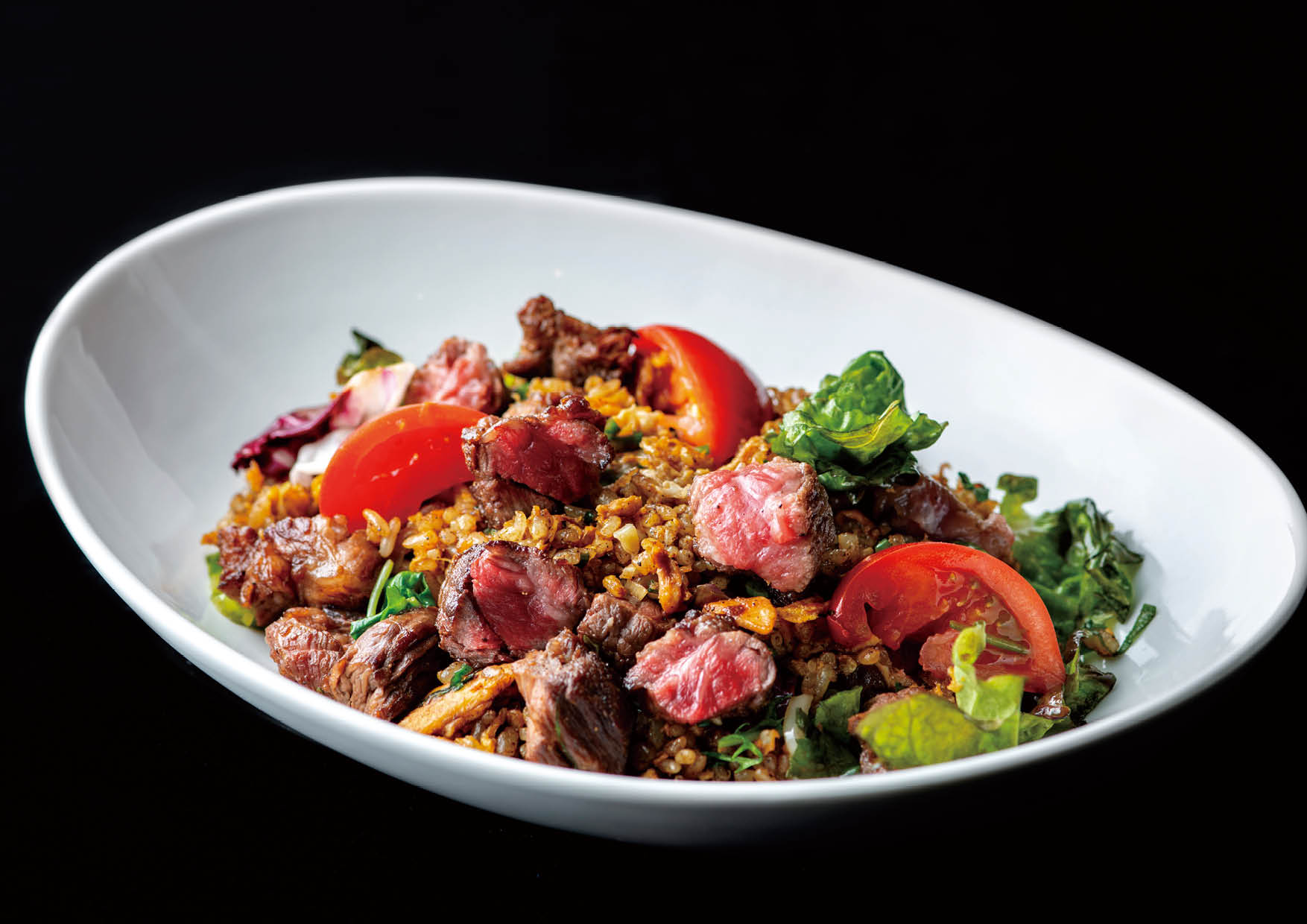 Japanese Black Wagyu & Amela Tomato Black Chinese-Style Fried Rice: ¥2,138 (Tax Included)
KAGEYAMAROU (Floor 3F) ― Serving 11:00-15:30 / 17:30-22:00 (Last Orders 21:30)
A hearty bowl of Chinese-style fried rice packed with Japanese black beef. The rice soaks up the delicious flavour of the meat and is enjoyed together with the fruity sweet Amela tomatoes and a grind of black pepper.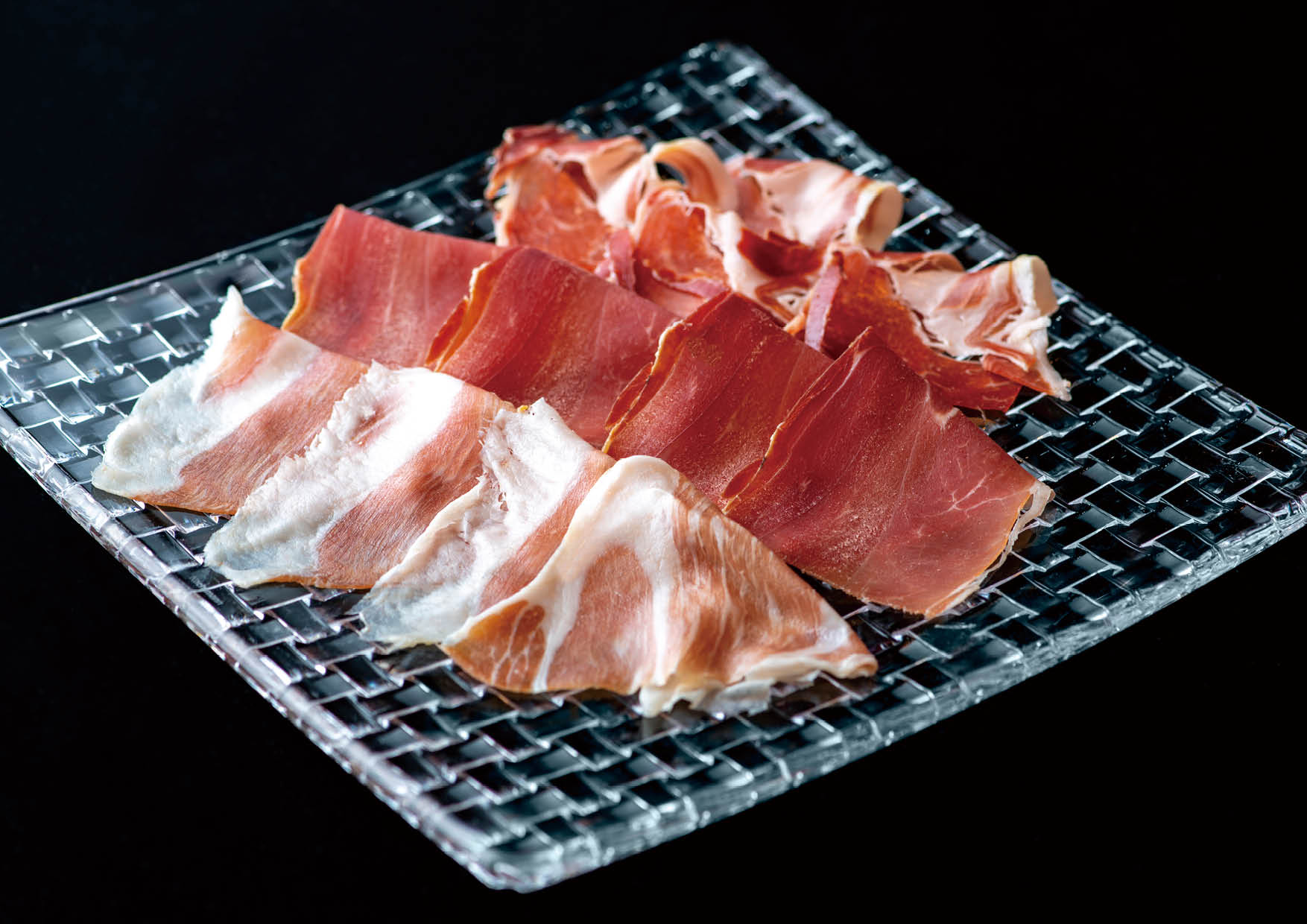 Palma Prosciutto, Jamón Serrano & Jamón Ibérico Plate: ¥2,160 (Tax Included)
WINE SHOP ENOTECA & BAR (Floor 3F) ― Serving 11:00-21:30 (Last Orders 20:30)
A selection of hams to taste and compare that all go well with wine. Enjoy the different flavours of each region the ham was farmed in.
Specially Selected Hire & Foie Gras Poêlé in Truffle Sauce: ¥4,298 (Tax Included)
Spätzle CAFE & WINE (Floor B3F) ― Serving 14:30-22:00 (Last Orders 21:00)
Only 5 of these 200g dishes of specially selected Rossini-style beef are served per day. They are topped with A-grade foie gras from Hungary and coated in a rich truffle sauce.
As Japan draws closer to the beginning of its new Reiwa era, use this special opportunity to treat yourself to a menu of tasty meat delights.
Information
Gokujoniku Meat Menu:
RELATED ENTRIES
SHIRO's Omotesando Cosmetic and Beauty Store Gets Museum-Like Makeover

The flagship store of cosmetic brand SHIRO, SHIRO Omotesando, received a makeover on Friday last week (December 18). The shop, which has moved to the building's second floor, has increased in size by 30%, allowing for SHIRO to display its 70 or so skincare and cosmetic products like a museum.

Ingredients Showcase

The many ingredients used in SHIRO's products are now on display—something which customers don't normally get to see―such as extract of gagome kombu, tamanu, pot marigold, and more. The line-up is packed solely with high quality ingredients by trusted producers and is a chance for people to get to know about the products they are buying even more.

The Edible Display

A special display of edibles, which will change depending on the harvesting seasons, can be enjoyed including ginger, yuzu, aloe, and more.

8 Drawers

Underneath the displayed ingredients are eight drawers which reveal the actual size of the ingredients before they are turned into products. It also reveals when they are produced, information about the producers, and so on.

Store Design

The store has of course undergone a full revamp, with the walls layered with gravel and soil, further adding to the display of the raw materials and ingredients. The wall design incorporates a traditional Japanese architecture method which results in it looking like something straight out of nature.

Limited Edition Products

To celebrate the renovations at SHIRO Omotesando, the store will be selling a limited-edition SHIRO PERFUME as well as a selection of products available at only select stores like SHIRO LIFE and SHIRO HOME items.

SHIRO BEAUTY (B1F)

SHIRO BEAUTY is a salon on floor B1F that manages SHIRO Omotesando. It's set to close on December 31 and will reopen in mid-February next year to bring in haircut, hair colouring, head spa, and other services as well as facials, body treatments, and more.

SHIRO PERFUME

SHIRO PERFUME will be sold in limited quantities and is exclusive to SHIRO Omotesando.

SHIRO PERFUME – WISHING WELL | ¥10,500 (Before Tax)

SHIRO PERFUME – WISHING WELL Fragrance
A warm and cosy fragrance with fresh berry notes on top and bitter orange for accent.

TOP: Bitter Orange, Berries, Redcurrants
MIDDLE: Jasmine, Rose
LAST: Wood, Cedarwood, Musk

Information

SHIRO Omotesando
Address: 5-2-7 Jingumae, Shibuya, Tokyo
Opening Hours: 11:00-20:00
Access: 5-minutes on foot from Omotesando Station's A1 Exit
TEL: 03-6712-5546
SHIRO Official Website: https://shiro-shiro.jp/

Sailor Moon Handbags and Accessories Released in Collaboration With Samantha Thavasa

Samantha Thavasa Japan Limited launched a new collection of merchandise last Friday (November 6) in collaboration with the Sailor Moon franchise to promote the upcoming two-part Sailor Moon Eternal anime film which will be released on January 8, 2021 and February 11, 2021 respectively.

The collection features an original line-up of bags, purses, and accessories created by Samantha Thavasa Group. They were released at SAMANTHAVEGA, Samantha Thavasa Petit Choice, and Samantha Tiara respectively.


Each of the bags by SAMANTHAVEGA are nods to each of the Sailors' costumes with their colouring, ribbons, and more. And they're not just for show either – they are practical and functional handbags.


Samantha Thavasa Petit Choice has crafted a handful of delicate and fashionable purses for keeping your coins safe.


And from Samantha Tiara is a collection of breathtakingly beautiful accessories including necklaces and a ring, all of which when bought are packaged in a gorgeous box inspired by Super Sailor Moon's outfit.

The brands have also created a separate series of items based on Super Sailor Moon.


From SAMANTHAVEGA is a collection of stylish bags and a pass case each of which have glitter on them.


There's also the eye-catching pink leather purses by Samantha Thavasa Petit Choice which are based on the Climax Moon Compact from the anime and manga series.


Samantha Tiara has also created even more accessories and jewellery including two different rings and necklaces.


The necklace and ring pictured above will be available to purchase online only in Japan from November 20.

A Sailor Moon pop-up store is now open inside Samantha Thavasa Omotesando GATES until November 17 where you can get your hands on some of these items. There's also a special photo spot for taking pictures and giant LED displays promoting Sailor Moon Eternal.

Information

Samantha Thavasa x Sailor Moon Eternal
Release Date: November 6, 202
*サマンサタバサ公式オンラインショップは11時~順次発売

Sailor Moon Pop-Up Store
Location: Samantha Thavasa Omotesando GATES

Address: 6-5-6 Jingumae, Shibuya, Tokyo
Opening Hours: 11:00-20:00
TEL: 03-3400-2258

Special Site: https://online.samantha.co.jp/layout/feature/20sailormoon.html

Marvel Superhero Cafe to Open in Harajuku This October

Japanese company LEGS is set to open a Marvel themed cafe for a limited time in the Omotesando and Harajuku area of Tokyo from October 30, 2020. The cafe's concept is centred on themes such as power, courage, talent, justice, and camaraderie, and will serve up a special menu inspired by the heroes of the Marvel universe.

The cafe will be decorated in all things Marvel, with Spiderman, Iron Man, and Captain America statues stood proud and ready to welcome customers. There will also be a photo spot in celebration of the upcoming film Black Widow which will be released in Japan first on April 29, 2021 and subsequently the US on May 7, 2021.

The menu line-up will be inspired by Marvel's roster of characters such as Spiderman, Iron Man, Thor, Captain America, Black Widow, and more.

The Menu

<Marvel> Paprikash | ¥1,599 (Before Tax)

A paprikash inspired by the one that Marvel demigod Vision makes in Captain America: Civil War. This one's sure to have you feeling assembled and ready.

<Captain America> American Tomato Pasta | ¥1,7900 (Before Tax)

A Japanese-style napolitan pasta with a tomato sauce that packs a punch to charge up your power.

<Iron Man> Evening Doughnut-Style Bagel Sandwich | ¥1,799 (Before Tax)

A bagel sandwich inspired by the doughnut eaten by Tony Stark under the sunset.

The Drinks

<Captain America> Ramune Soda | ¥1,099 (+¥700 for coaster) (Before Tax)

A bubbly ramune soda for when you're in need of a power kick, topped with a cherry.

<Marvel> Cafe Latte | ¥899 (+¥1,500 for mug) (Before Tax)

A cafe latte which comes with an original mug.

All customers who book in a table advance (¥650 per person before tax) and order from the themed menu will receive one of the above-pictured face mask cases from seven different designs.

Exclusive Merchandise

The cafe will also sell a range of original merchandise in several different designs such as the cafe logo, items based on the menu art, art from the Marvel movies, and more.

<Cafe Logo Series> Acrylic Keyring (6 Designs) | ¥750 (Before Tax)

<Menu Art Series> A4 Folder | ¥400, Bandana Handkerchief | ¥800 (Before Tax) *Available early November

<Movie Series> Avengers: Infinity War Postcards (8 Designs) | ¥250 (Before Tax)

Ⓒ 2020 MARVEL

Information

Marvel Cafe Produced by OH MY CAFE

Location: TOKYO BOX cafe&space Omotesando

Address: 6-3-7 Jingumae, Shibuya, Tokyo

Running: October 30, 2020 – November 29, 2020

Official Website: https://heroes.ohmycafe.jp/

Kawaii Bear Themed Cafe Menu Arriving at Tokyo's Q-pot CAFE. This Christmas

Q-pot CAFE. in Omotesando, Tokyo, has revealed its upcoming Q-pot CAFE. "KUMA"STMAS MENU which is set to be served from November 1 to December 25.

Happy Merry "KUMA"STMAS!

"KUMA"STMAS is a portmanteau of the Japanese word for bear (kuma) and Christmas. The cafe's cute menu is here to bring warmth and cosiness this holiday season.

Merry "KUMA"STMAS Plate w/ Drink – ¥2,060 (Tax Included)

A sweet assortment cute enough to tug your heartstrings.

Q-pot CAFE.'s pastry chefs take their time to delicately handmake the adorable bear's baby face oat milk cookie. The cookie is sat on top of a fluffy duvet of whipped cream, berry jam with fresh berries, and a chocolate génoise cake. It's a sweet and tangy combination of raspberry and strawberry.

The cookie-topped cake is also served with a rich pistachio cream Christmas tree.

Merry "KUMA"STMAS Bitter Caramel Milk Tea – ¥750 (Tax Included)

A warm and cosy beverage to heal your heart, mind, and soul. This baby bear looks sweet but has delightfully rich notes thanks to the caramel. The tea is one of the cafe's originals, the "Sweet Weekend," which has a refreshing after taste and goes perfectly with the caramel cream.

Merry "KUMA"STMAS Afternoon Tea Set | ¥2,400 per person (Tax Included) *Photo shows a set for two

If you love teddy bears, then this afternoon tea set is a dream come true.

Top Plate

The top plate is a delicate assortment of sweet and crunchy oat milk cookies, a glass dessert of fromage blanc and fresh orange jelly, velvet cupcakes topped with pistachio cream made to look like a Christmas tree, and creamy macarons.

Bottom Plate

The bottom plate is the savoury selection and comes with croissants stuffed with roast beef topped with honey mustard sauce, a rich potato potage, and skewers piercing olives, mini tomatoes, and pickles.

Special Novelty <Teddy Bear Message Card>

Customers who book a table in advance to the cafe will receive a free teddy bear message card. These are limited in stock, so if you're in Tokyo don't miss out.

Information

Q-pot CAFE. "KUMA"STMAS

Location: Q-pot CAFE. Omotesando

Running: November 1, 2020 – December 25, 2020

Opening Hours: 11:00-19:00 (Last Orders 18:30)

Online Bookings: Tabelog

TEL :03-6447-1218

Bookable Slots: 11:00/12:30/14:00/15:30/17:00

Jazz Manga Series BLUE GIANT Collaborates With Brooks Brothers in Omotesando

Brooks Brothers, the oldest apparel brand in the US, is teaming up with Shinichi Ishizuka's popular jazz manga series BLUE GIANT with a collaborative event set to take place at Brooks Brothers Omotesando in Tokyo from October 30 to November 15.

The event celebrates the simultaneous release of all 11 volumes of the European edition of the manga series, entitled BLUE GIANT SUPRIME, as well as the first volume of BLUE GIANT EXPLORER which is set in the US—the holy grail of jazz.

The event will showcase Brooks Brothers' iconic button-down shirt with a famous quote said by the protagonist of BLUE GIANT as pictured above which roughly translates to: "A white shirt is proof of a jazzman!!"

There will also be displays of original illustrations drawn by Shinichi Ishizuka himself for the event, panels from the manga on show, original art by popular collage artist Kosuke Kawamura and embroidery artist Mana Morimoto, and more. Visitors will even get to try some embroidery themselves in a special workshop, and much more.

The Aoyama branch of Brooks Brothers recently moved to Omotesando, signalling a new start for the store. Likewise, the BLUE GIANT story is now set in the US, which will make for more new and exciting stories. The event serves to celebrate the new chapters of both Brooks Brothers and BLUE GIANT.

Information

Brooks Brothers x BLUE GIANT "NEW CHAPTER"
Running: October 30, 2020 – November 15, 2020
Opening Hours: 11:00-20:00
Location: Brooks Brothers Omotesando
Address: H-CUBE MINAMIAOYAMA 5-7-1 Aoyama, Minato-ku, Tokyo

Embroidery Workshop
Running: October 30, 2020 – October 31, 2020

Silkscreen Service
Running: October 30, 2020 – November 15, 2020
*Silkscreen service that prints BLUE GIANT motifs, Kosuke Kawamura's original art, and more onto shirts you buy

Brooks Brothers Japan Official Website: http://www.brooksbrothers.co.jp/
BLUE GIANT Official Website: https://bluegiant.jp/

Keep Your Hands Off Eizouken! Themed Cafe to Open at Omotesando Hills in Tokyo

Japanese companies LEGS and TRANSIT GENERAL OFFICE are set to open the new cafe TOKYO BOX cafe&space inside Omotesando Hills on September 10, 2020.

For the grand opening of the cafe, it has been announced that it will team up with the manga series Keep Your Hands Off Eizouken! to promote the upcoming live-action adaptation. The themed event will run from September 10 to October 12.

Keep Your Hands Off Eizouken! is a Japanese manga series written and illustrated by Sumito Ōwara and serialised in Monthly Big Comic Spirits. The live-action film, which will hit Japanese cinemas on September 25, 2020, stars Asuka Saitō, Mizuki Yamashita, and Minami Umezawa—all members of the Japanese idol group Nogizaka46—as the main character.

Customers at the collaborative cafe can enjoy a selection of food inspired by the series as well as get their hands on exclusive merchandise.

The full menu and merch list will be announced in early September on the cafe's official website.

Information

Keep Your Hands Off Eizouken! Cafe
Location: TOKYO BOX cafe&space Omotesando Hills
Address: Omotesando Hills Main Building 3F, 4-12-10 Jingumae, Shibuya, Tokyo

Cafe Official Website: http://eizouken-cafe.jp/

Keep Your Hands Off Eizouken! Live-Action Film Official Website: https://eizouken-saikyo.com/

Gothic Halloween Afternoon Tea Spookily Served Up at Q-pot CAFE. in Tokyo

Halloween is creeping its way early to Q-pot CAFE. in Omotesando, Tokyo, as the cafe announces its "Mad Sweets" themed Halloween menu for 2020. The Gothic-inspired menu will be served from September 9 to October 31 and will be centred on "Sister Obake-chan," a cute and original ghost nun character conceived by the cafe.

Mad Sweets Sister Obake-chan Plate with Drink | ¥2,060 (Tax Included)

Sister Obake-chan is made from sweet and fluffy vanilla mousse and is filled with a sweet and sour berry sauce. Next to her is a cookie gravestone, pumpkin macaron, and a bone meringue.

Mad Sweets Bone & Ribbon Drinks | ¥750 (Tax Included)

There are both hot and iced variants of the Bone & Ribbon drinks. The hot version is a hot chocolate made with black cocoa-laced cream and topped with a crossbone meringue. The iced drink has a cuter appearance mixing pink and white colours together. It's a strawberry shake topped with a cute ribbon meringue.

Happy Halloween Afternoon Tea Set | ¥2,400 Per Person (Tax Included) | *The photo is a serving for 2 people

Q-pot CAFE. is will also serve an afternoon tea set this Halloween with plenty of tasty themed sweet and savoury bites.

The top level of the afternoon tea is plated with strawberry jelly topped with an assortment of berries and a bone-shaped meringue, tombstone-topped blackcurrant mousse, and bat velvet cupcakes. Q-pot CAFE.'s popular jack-o'-lantern macarons also make a return this Halloween.

The bottom level is served with hearty croissant sandwiches filled with duck pastrami and mushroom omelette, pumpkin potage, and skewered olives, tomatoes, and pickles.

Q-pot CAFE. is a must-visit for a Halloween experience in Tokyo this year.

Information

Q-pot CAFE. 2020 Halloween Limited Menu
Location: Q-pot CAFE. Omotesando

Running: September 9, 2020 – October 31, 2020

Opening Hours: 11:00-19:00 (Last Orders 18:30)
1F Cafe: 11:00-19:50
2F/3F Shop: 12:00-20:00

Official Website: https://www.q-pot.jp

Dine at Harajuku's New Tarako Spaghetti Restaurant Tokyo Tarako Spaghetti

Tokyo Tarako Spaghetti opened its all-new, second branch in Harajuku Omotesando on July 31, 2020. The restaurant opened its first branch back in January this year.

To commemorate the opening of the new restaurant, it is serving up two brand new tarako (cod roe) spaghetti dishes made with Japanese dashi.

Tarako & Kombu Umami With Dashi Spaghetti | ¥990 (Before Tax)

The first new dish is a combination of tarako, kombu, and dashi spaghetti. This dish adds a Japanese flair to it by combining tarako spaghetti with tarako boiled in soy. The full flavour of the kombu is extracted when the dashi is poured over, creating an irresistible flavour.

Three Fish Egg Tarako Spaghetti | ¥1,390 (Before Tax)

The second new dish on the menu is the "Three Fish Egg Tarako Spaghetti" which combines lots of tarako with toppings of salted salmon roe and flying fish roe. There's a whopping 100g of fish eggs on there, so you won't be going hungry with this filling, colourful serving of spaghetti.

Discover new kinds of tarako spaghetti dishes at Tokyo Tarako Spaghetti Harajuku Omotesando.

Information

Tokyo Tarako Spaghetti Harajuku Omotesando

Address: MS Bldg. 2F, 6-7-16 Jingumae, Shibuya, Tokyo

Opening Hours: 11:00-23:00 (Last Orders 22:00)
TEL 03-6803-8688

Official Website: https://www.tokyotarako.com

Support Japan's Cherry Farmers During Lockdown by Eating Q-pot CAFE.'s Cherry Parfait

Q-pot. and Q-pot CAFE. introduced a special cherry parfait to its menu on June 27 to help support cherry farmers whose work has been affected by COVID-19.

Due to less people travelling and sightseeing around Japan as a result of the lockdown and self-isolation practices, orders for cherries are being cancelled, and many festivals across Japan too are being cancelled, all of which is having a huge affect on the country's cherry industry.

The current season is the best time to enjoy Japan's juicy cherries, and so Q-pot CAFE. has teamed up with a cherry farm in Yamagata, a prefecture famous for its cherries.

Cherry Cherry Parfait (w/Drink): ¥1,850 (Tax Included)

The "Cherry Cherry Parfait" is topped with snow-white whipped cream, crunchy meringue, and cherries for a gorgeous contrast of red and white.

The cherries used are considered a high-grade type called "satonishiki" which has been dubbed the "King of Cherries." They sit gracefully atop their kingdom of sweet ingredients including salt milk ice cream, chocolate, cherry jam, sponge cake, and panna cotta.


The cherry farmers are taking all the necessary safety precautions against COVID-19 while they continue to delivery delicious cherries to the people of Japan.

Information

Cherry Cherry Parfait
Location: Q-pot CAFE. Omotesando
Serving: From June 27, 2020 while supplies last
*Due to an event taking place between July 21, 2020 – September 4, 2020, customers must book a table in advance to dine at Q-pot CAFE. Omotesando. The regular menu will not be served.

Official Website: http://www.q-pot.jp

Cute and Dreamy Tanabata Inspired Confections Arrive at Q-pot CAFE. in Omotesando

Q-pot CAFE. is celebrating Japan's Tanabata festival with a limited-time menu which was introduced on June 27.

Romantic Star Plate w/Drink: ¥2,060 (Tax Included)

This starry delight is plated with a fromage blanc filled with ganache cream and peach jelly. There's star-shaped meringue macarons filled with cream, creamy blueberry and blackcurrant panna cotta, star-shaped chocolate to represent the Tanabata deities Orihime and Hikoboshi, and a luxurious Q-pot CAFE. macaron.

さらに、レモンの皮を練り込み、サクッと焼き上げた星型クッキーには短冊のようにグラサージュショコラで願い事を込めて・・・クッキーを残さず口にすれば、願いもきっと叶うはず!


Romantic Peach & Elderflower Soda: ¥750 (Tax Included)

Refresh yourself with a summery glass of this peach and elderflower soda which is filled with blue, purple, and pink transparent jelly which twinkle like a kaleidoscope.

Bottled Drinks (Takeout Only): ¥1,296 Each (Tax Included) *Limited quantity available / *¥100 off if you take your own bottle

Enjoy a takeout bottle of "Aurora Lychee Tea Soda" with its romantic pink, purple, and blue gradation. This herb tea changes colour like magic, and contains marrow cheese plant, lychee puree, and Blue Curacao. The twinkling pearl powder makes it glow like an aurora.

There is also bottled Strawberry Tea Soda, Ginger Ice Milk Tea, and Honey Lemon Vinegar Soda.

If you're in Tokyo this summer, head to Q-pot CAFE. to enjoy a round of pastel-coloured Tanabata confections and drinks.

Information

Q-pot CAFE. Omotesando
Address: 3-4-8 Jingumae, Shibuya, Tokyo
Running: June 27, 2020 – July 20, 2020
*From July 21, 2020 to September 4, 2020 the cafe will be reservation-only in line with an event, and the regular menu will not be available.
*For the time-being, reservations can be made by telephone call only. Web reservations are currently not available.

Official Website: http://www.q-pot.jp

3 New Limited-Edition Botanical Drinks to Arrive This Summer at BOTANIST Tokyo

BOTANIST Tokyo, the flagship shop of BOTANIST in Omotesando, has announced a new collection of limited-edition drinks will be served on the second floor BOTANIST Cafe from July 12, 2020. BOTANIST Tokyo is currently closed but it scheduled to reopen on June 1.

There are three new refreshing drinks to choose from, all of which can be ordered for takeout. From apple mint to grapefruit, each beverage us the perfect accompaniment for cooling you down in Japan this summer.

REFRESH MENU


Refresh Soda: ¥600 (Tax Included)

A combination of grapefruit jelly and fizzy soda water make this one of those drinks that you go "Ahh!" afterwards on a hot summer's day. There's also a hint of sweet green apple.

Botanical Melon Soda: ¥800 (Tax Included)

This is a smoothie which blends together two types of melon soda and adds melon jelly and a dollop of ice cream. It's like a dessert in a cup!

Banana & Avocado Refresh Smoothie: ¥720 (Tax Included)

Enjoy the sweetness of banana and sugar beet together with the smoothness texture of the avocado in this smoothie which has apple and mint mixed into it for that refreshing summertime kick.

The cafe's regular menu has also been revised to add three new desserts.

REGULAR MENU


Vegan Waffles w/Drink: ¥800 (Tax Included)

These vegan waffles are healthier for the body if you're looking for some guilt-free indulgence. It's topped with soy whipped cream, maple syrup, and fruits of your choice.

Lemon Cheesecake w/Drink: ¥1,000 (Tax Included)

A crunchy cookie base, a creamy cheese top, and a lemon to top it all off. The combination of the salty flavour with the sour hit is a match made in heaven.

Homemade Rich Pudding: ¥500 (Tax Included)

An in-house made purin, which is a type of Japanese custard pudding. It's a delightful mix of rich egg and subtly sweet soy whipped cream.

Customers who spend over ¥4,000 (tax included) on items in the Refresh Series will also be entered in for a chance to win a "Refresh Soda." The soda is available while supplies last.

Information

REFRESH MENU
Serving: June 1, 2020 – July 12, 2020

REGULAR MENU
Serving: From June 1, 2020

BOTANIST Tokyo
Address: 6-29-2 Jingumae, Shibuya, Tokyo (1st Floor – Shop / 2nd Floor – Cafe)
TEL: 1st Floor: 03-5766-3777 / 2nd Floor: 03-5766-3778
Opening Hours: 11:00-20:00
Official Website: https://shop.botanistofficial.com/

Tokyo's New Skin Care Concept Shop SKINCARE LOUNGE BY ORBIS to Open in Omotesando

SKINCARE LOUNGE BY ORBIS is the debut concept shop by Japanese beauty company ORBIS, and it's set to open in Omotesando this summer. The shop's teaser website opened on May 13 where information on its conception, special content, interviews with the company's partners, and more will roll out in the run up to the grand opening.

ORBIS established themselves in 1984, and in 1987 launched their mail-order service. Since then, their mission has been to "create a world filled with people who are true to themselves, think positively, and lead lives of beauty." They believe in the beauty each of us has inside them and want to unlock its full potential.

SKINCARE LOUNGE BY ORBIS aims to have people learning about their own skin and to unlock its full potential. "Feel," "Learn," and "Take" are the keywords of the concept shop.

The shop's creative directors are Hisato Ogata, who is a designer and innovator at takram, and Momo Kudo of Tokyo-based architecture and interior design studio MMA Inc. They are also supported by George Amano of GEORGE CREATIVE COMPANY.

SKINCARE LOUNGE BY ORBIS has two floors. On the first floor, customers are free to test various products as well as learn about the correct way to look after their skin. The second floor offers skincare treatments, workshops, and various private events. You must be a member on the shop's official app and book in advance for the second floor services.

If you're strolling around the Harajuku and Omotesando area this summer, pop into SKINCARE LOUNGE BY ORBIS and learn all there is to know about proper skin care.

Information

SKINCARE LOUNGE BY ORBIS

Address: 5-7-1 Minamiaoyama, Minato Ward, Tokyo
LOUNGE: 10:00 AM-8:00 PM
JUICE BAR: 8:00 AM-8:00 PM
*Please note that the shop is subject to temporary closure

Official Website: http://www.orbis.co.jp/skincarelounge/