Office Lady Higashi's Nonchalant Shibuya Diary #1: "Monmouth Tea" – Sendagaya
Dear You,
Hello, and nice to meet you all. My name is Miyu Higashi.
I'm an ordinary office lady (23-years-old) and I work at a certain company in the city.
I love Shinjuku, my home town, beyond all else.
It's a town that births Tokyo culture, where you encounter many people, where you repeatedly see people off, where all kinds of stories are written.
To say the least, it's the greatest place.
What kind of people come here, and what sort of things are they thinking about?
I decided to start this featured article series in hopes it serves as an opportunity to find out, if even a little.
I hope that you―you are who are kindly taking the time to read this article―pays a visit to that person you'd like to visit the most.
Regards.
With all that out the way, here it is―the first article in the series! Yippee!!
This first one is set smack bang in the middle of Shinjuku and Harajuku.
(Which is, by the way, in Shinjuku Ward. Higashi's. Favourite. Place.)
It seems this store has been around for over 10 years and is greatly loved by the locals…
It's a shop of deliiicious products, where a Ganko Oyaji is said to work!
Ganko Oyaji…? (…"Stubborn Old Man")
Huh? So what exactly is delicious about that???
I'd best find out, time to go and meet him!!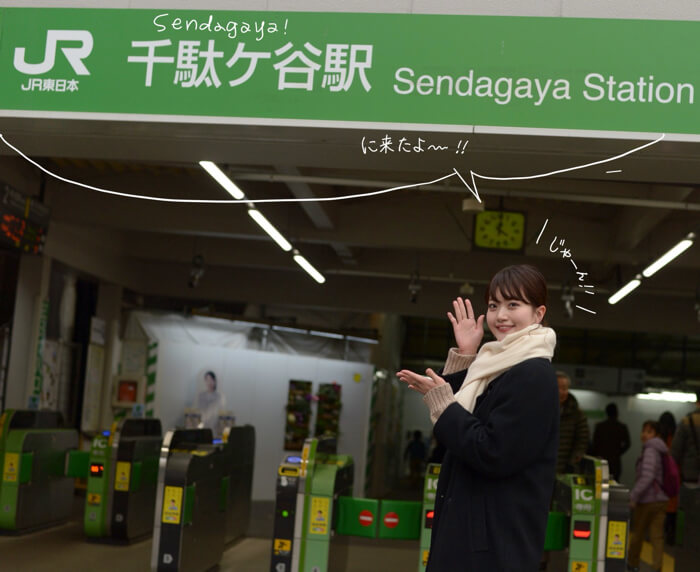 Ta-da!
We're off to Sendagaya!
Come to think of it, this place also became famous because of the film Your Name.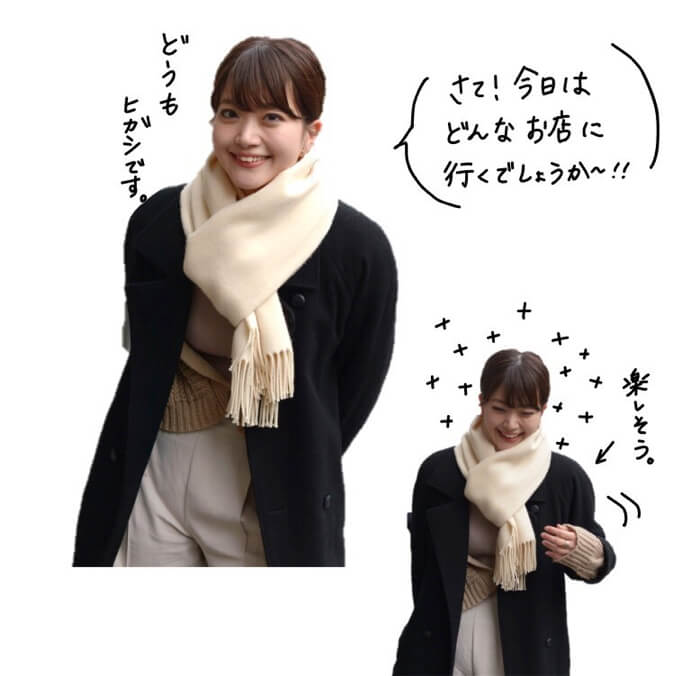 "Right, I wonder where we're off to today then! Right?"
All jokes aside, I know where we're going. It's about a five-minute walk from Sendagaya Station.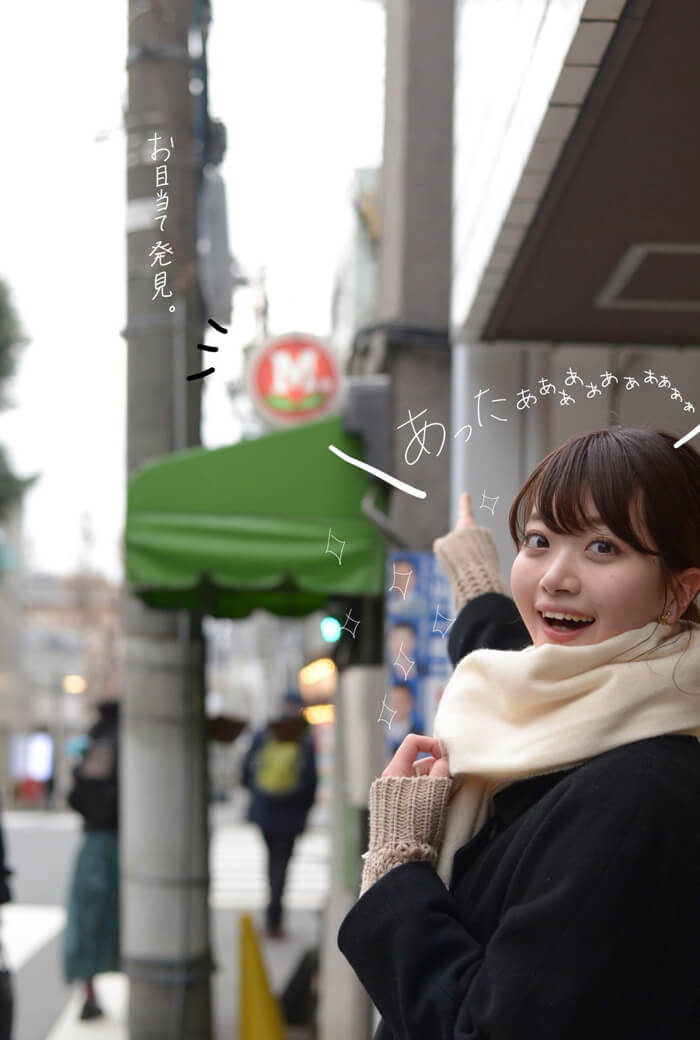 Ah… there it is!!
Ta-da!
The place with the stubborn old man who sells sweet products is Monmouth Tea.
(Not Mammoth, Monmouth!)
I want to meet him already, but first thing's first.
Since I've come all this way let's get one of the shop's famous "Monmouth Teas" and have a chat.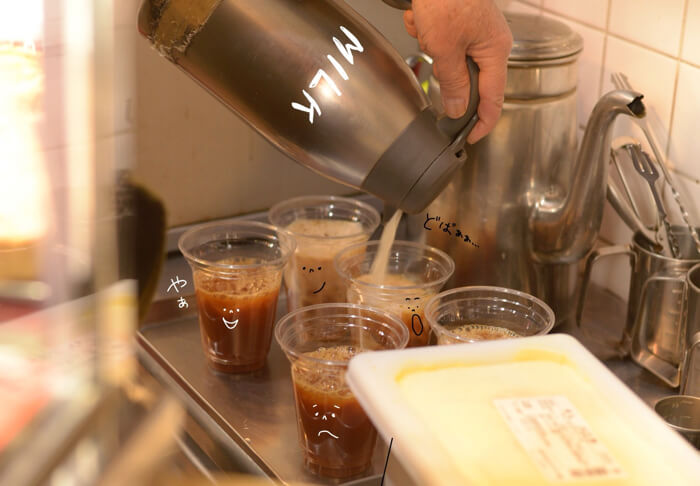 Looks tasty! Milk is being poured into the cup.
Here's the famous Monmouth Tea.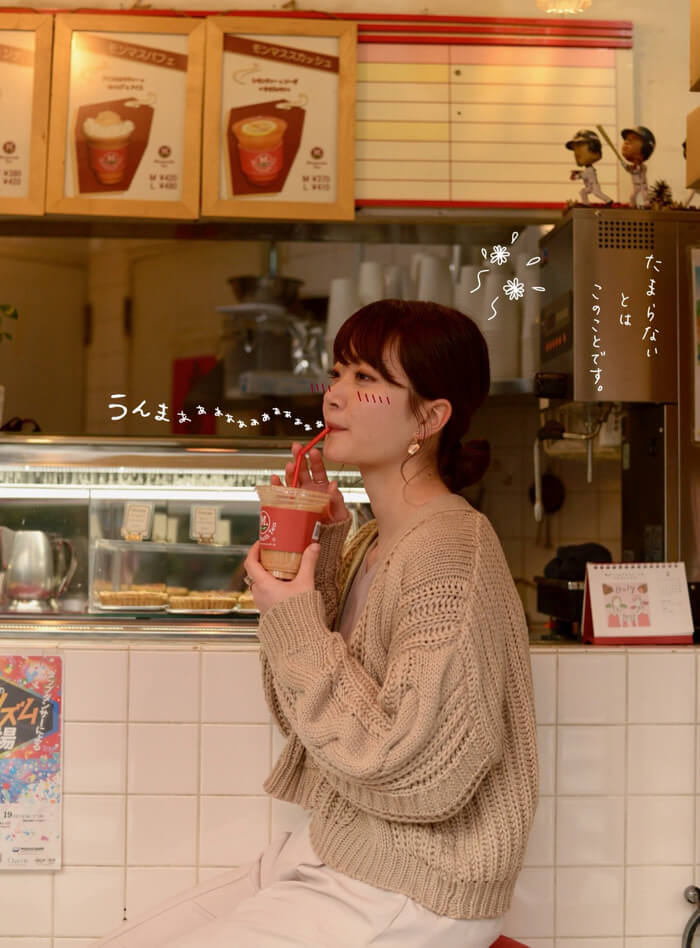 The balance of the amazing aroma of the tea and milk make for a perfect match.
It's sweet and delicious that you have to take a breather after taking a sip.
I can't get enough of the rich taste of the tea and milk.
Too good♥
This takes away my routine fatigue in one fell swoop… I'd like to dedicate this sweetness to all the office ladies around the country.
Just as I'm thinking this…
"It's tasty, right?"
A voice addresses me all of a sudden.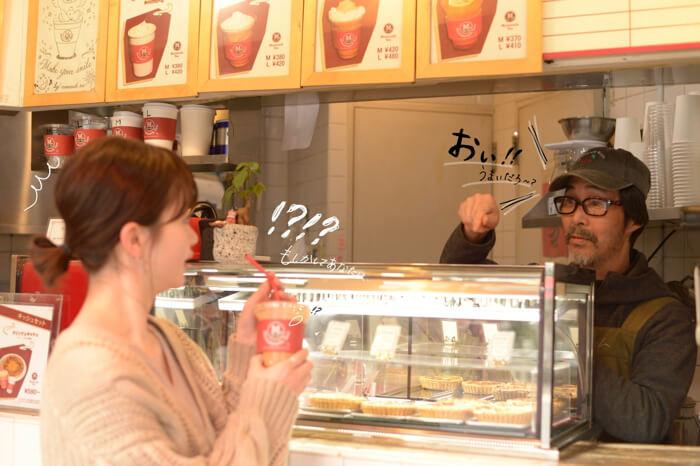 There he is… there he is!!!
Are you, perhaps, the stubborn old man of delicious products!?
I wanted to meet you!!
Please tell me your story―in detail!
"I suppose I've got no choice," the kind owner says to me, and lets me in on it.
Higashi: "Why did you open this shop?"
Owner: "I originally set out to be a rock 'n' roller in my hometown. I moved to Tokyo with a guitar and worked hard to make my dream come true, but in the end it didn't work out. After that I worked as a salary man at a firm, but I quit ten years ago and took a fling to open this shop."
Higashi: "I see… but why a tea shop owner?"
Owner: "A while back I was obliged to the owner of tea shop in Shibuya. He took me on as an apprentice at that shop and taught me about tea. That's what made me decide to open this shop."
Higashi: "What a wonderful relationship. Your dream changed from wanting to become a rock 'n' roller, but now you're pushing forward with a new dream and goal."
Owner: "Well… the truth is I play music while working this shop. I make music with an acquaintance of mine. They're actually in a record company. I even released a CD some time ago. If you'd like, you sure give it a listen."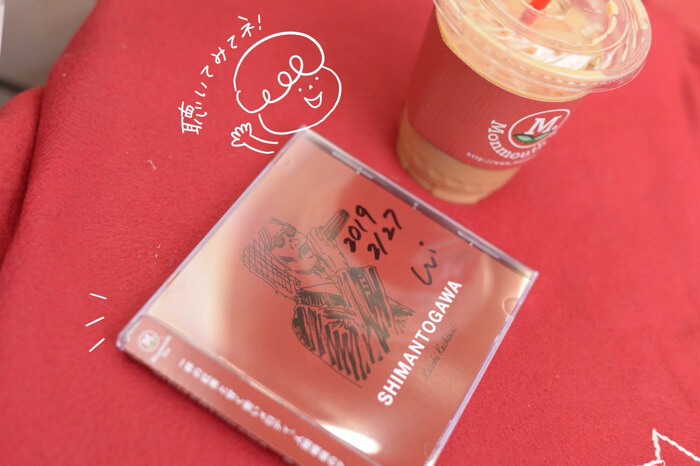 He looked happy as he told me his story and gave me a copy of his CD.
He's actually an active musician and performs live periodically.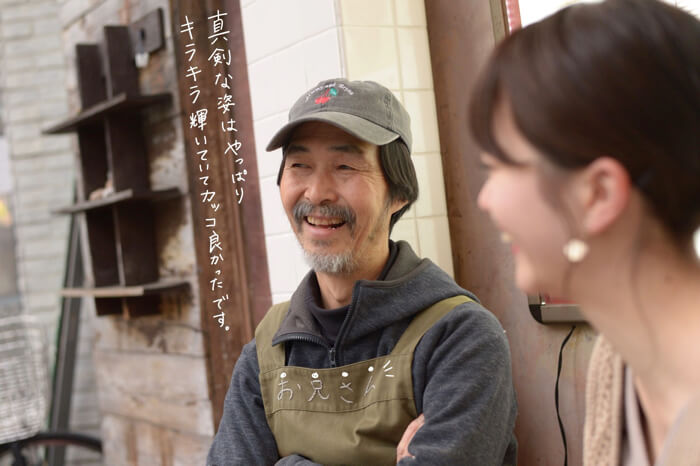 Higashi: "Wow! I'll give it a listen!! So right now your dreams and the road you are taking are different from the past, but in coming to work as a tea shop owner, your former dream to become a rock 'n' roller has come true. If somebody admired you and waned to open a shop like you, what would you say to them?"
Owner: "I'd tell them to forget about it [laughs]. People who imitate what others do will only ever be imitators. I thought that back when I climbed Mount Fuji. I thought that no matter how much I climbed I'd never reach the top. That at this rate, I'll never arrive. But step by step I walked, and I got there. In other words, a journey of a thousand miles begins with a single step. If you properly take it one step at a time each day your dream will come true some day."
The owner spoke looked at me intently as he spoke.
When I looked at him, I felt that the flavour and sweetness of my tea came to fruition out of his many life experiences.
I've actually been coming to this shop since elementary school.
Whenever I ran out of energy.
Whenever I felt down.
Whenever I was plugging away.
Whenever I wanted a little more power.
It's strange, but when I see the stubborn owner of sweet products and Monmouth Tea, I feel like I want to work hard tomorrow too.
You should visit next weekend too!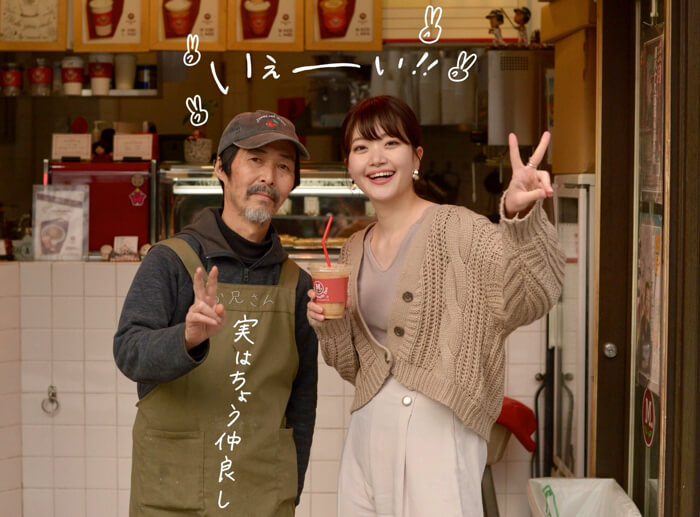 Peace! ✌
See you next time, owner!
~Today's doodle~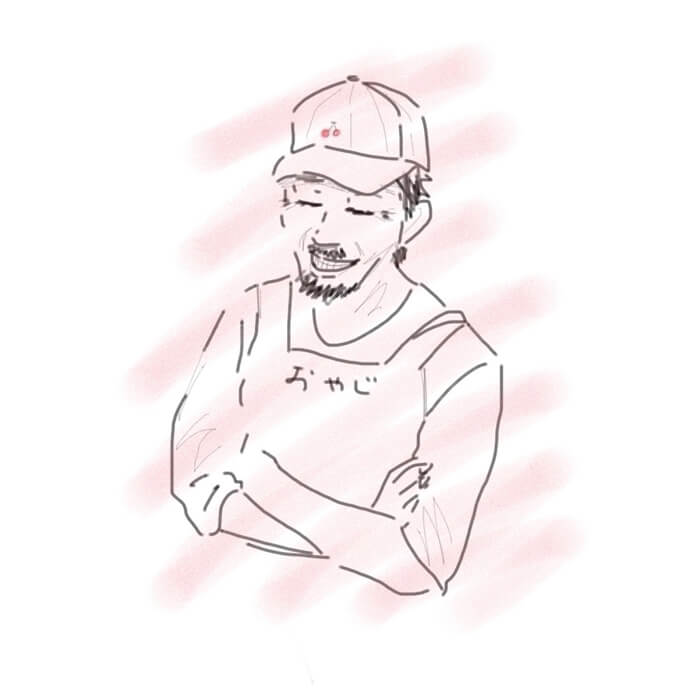 The owner looks good in his hat with cherries on them and his apron which says oyaji ("old man") on it.
I made them red like the Monmouth Tea, but the wonderful owner, who looks good in red, had bought friendly pink.
Model/Writer: Miyu Higashi
Information
Monmouth Tea (Sendagaya)
Address: 1-21-2 Sendagaya, Shibuya, Tokyo
Business Hours: 7:00-Midnight (No Fixed Holidays)
TEL: 03-3478-2357
Website: http://www.monmouth.jp/
RELATED ENTRIES
Make Your Own Matcha Drink and Try Black Bean Butter Toast in Nakameguro, Tokyo

If you're looking for a cool café experience in Tokyo then head to Nakameguro for a goldmine of craft beer taprooms, coffee roasters and restaurants. One café to consider adding to your list of must-go places is music café and wine bar epulor. The café has added a number of exquisite and unique items to its menu this November including a matcha drink, black bean paste and butter toast and craft cola.

Take a seat and admire the walls of old records which create a soothing artistic atmosphere while sipping your cup of the café's specialty hand drip coffee or sommelier-selected wine as the music of old records fills the air. When you have finished, feel free to take a gander at the gallery corner to appreciate the cafés art. 

The November menu introduces a high-quality matcha by UK brand Matchæologist®, providing the opportunity to make and enjoy your own matcha drink. From the high-quality rich flavour to the contemporary design of the tea vessel, Matchæologist® lives up to its reputation as artisanal matcha green tea specialists.

Fans of epulor's popular Red Bean Paste and Butter Toast are in for a treat as the café is now serving up the Black Bean Paste and Butter Toast. The bread is a charcoal bread from the bakery Lotus baguette, which uses only natural yeast, Japan-produced wheat and no additives. The binchotan charcoal used to prepare the bread is a traditional charcoal which has been used since the Edo period. The appearance is just as striking as its taste. 

The café has also started to sell Japan's craft cola TOMO COLA. The cola is spiced with flavours from around the world including kola nut, nutmeg, Japanese herbs and Japanese citrus fruits. This natural cola contains no additives so you can indulge in the taste of nature and enjoy a unique flavourful experience of Japan. 

epulor is the perfect spot to enjoy a luxurious moment of relaxation during your busy day while immersing yourself in an artistic and cultural experience. 

Information

epulor

Address: ESCENARIO AOBADAI Floor 1, 1-19-10,Aobadai, Meguro, Tokyo

Opening Hours: 11:00 – 24:00

Closed: Mondays

Website: http://www.epulor.jp/

Tokyo Stroll: The Café That You Want to Visit to See Someone #12 – 'J-COOK' in Gaiemmae

In this edition of The Café That You Want to Visit to See Someone, I visited J-COOK in Gaiemmae, a place I visited one time while off work which ended up in me wanting to absolutely feature it in the series!

It's just a 5-minute stroll from Gaiemmae Station.

The cafe enjoys lots of sunlight, which is brightened further by all the plants scattered through the shop. The cafes I have visited to date are often a little darker with only a little light seeping through the windows to create a certain atmosphere, and they are wonderful, but this was the first I have ever visited with so might light and so many plants. The air felt clear, adding to the level of comfort in the cafe, perhaps because there are so many plants adorning the interior.

The cafe also has a space with a slightly more darker light and atmosphere on the left side. I haven't sat in that area yet, so I think I'll try it out on my next visit.

When I come to J-COOK, my eyes always wander over to the marzipan creations (¥450).

These ones here were actually all individually handmade by the owner's husband from the early morning.

If you look really closely, you'll notice all the dog designs are different. When ordering, get to pick out which one you want, so try finding your perfect pup!

I had mine together with an iced coffee (¥450). The sweet marzipan is a delicious combination with the bitterness of the coffee.

I also got some potted cream (¥450). It's kind of like a Japanese custard pudding with just a moderate amount of sweetness.

I had mine with a bit of brandy which had fragrant vanilla notes. They've had this brandy for 33 years since the store first opened.

The cream was sensational, and the gentle notes linger afterwards.

They have a lot of different homemade soups too which are perfect for the coming cold weather. I got the New Orleans-style gumbo soup. It's spicy with clam and okra in it.

Relaxing jazz music plays in the cafe while you sit and enjoy your drink and meal.

J-COOK is a wonderful little cafe run by a husband and wife. When I first came, the wife came and talked to me. She's super friendly, and although it was our first meeting, she made me feel really comfortable and welcome. She must be full of happiness, which in turn naturally gives people who visit the strength to be positive and work hard.

I reckon their smiles have saved a lot of people.

I can't wait to visit again!

Writer/Model: Ema Tanioku

Photographer: Haruka Yamamoto

Design: Yuko Abe (ASOBISYSTEM)

Translator: Joshua Kitosi-Isanga

Information

J-COOK

Address: 3-36-26 Jingumae, Shibuya, Tokyo

Opening Hours: [Tue-Sat] 8:00-22:00 (Last Orders) / [Sun] 11:00-18:00 (Last Orders 17:30)

Closed: Mondays

Official Twitter: @jcookjp

Experiencing Japan: Dining at Denkiya Hall in Asakusa Wearing a Retro and Antique Kimono

Hi, MOSHI MOSHI NIPPON readers! Banako here again from the MOSHI MOSHI Friends group.

I have a question to ask you all. If you've been to Japan, did you ever dress up in a kimono or yukata to go sightseeing? It's become common to see not only Japanese people, but foreign travellers and tourists clad in traditional Japanese ware snapping photos in the country's historical locations. Dressing up in a kimono and walking the streets really immerses you in that Japanese spirit and transforms your experience entirely.

I visited kesatokyo in Asakusa which rents out kimono that are somewhat different from the norm, got myself a kimono, and took a trip to Denkiya Hall, a long-standing cafe in Asakusa.

Denkiya Hall is located along Senzoku-dori Shopping Street which is a 10-minute walk from the Tsukuba Express side of Asakusa Station. The street is quiet and peaceful since it's away from the hustle and bustle of the station front.

The kimono at kesatokyo are renowned through the town as they give off cute retro-antique vibes with their combination of things like lace necks, head dresses and berets.

You can get some romantic co-ords which you won't find with other kimono by matching with your friend in terms of design and accessories. I headed into the cafe excited with my kimono choice which matches the old-fashioned design of the cafe exterior.

A standout feature of this cafe is that some of the tables have arcade games attached to them. If there's a free seat at one of them, pick your favourite-looking, slot in a coin and start playing! Be sure to ask the staff to switch it on for you beforehand.

While gazing through the nostalgic games, I ordered the cafe's popular omumaki (¥700) and cream soda (¥650) while my friend got hot cakes.

Stuffed and wrapped inside the omelette is a hearty serving of fried noodles. The noodles themselves are on the thicker side and have a rich seasoning like that from the Showa period. You can also pick between different noodles.

The cream soda had deliciously sweet syrup and vanilla ice cream inside it.

Your kimono will match the atmosphere of the cafe really well, so you can take some really great pictures at any time.

Denkiya Hall opened over 100 years ago and incorporates styles from three different historical periods: Meiji, Taisho and Showa, giving it a nostalgic feeling.

Another one of Denkiya Hall's specialities is their boiled adzuki, the perfect treat to warm yourself up as the weather gets colder.

It was fun strolling around Asakusa after our cafe visit, as well as searching for more modern towns like Ginza and Omotesando.

We returned our kimono to kesatokyo at 18:40, right before the final return time. The basic rental plan for one person is ¥6,050 and it even includes hair styling! You can make reservations either via DMs on the store's official Instagram or by telephone. You're certain to get a reply on Instagram so it's recommended going that route. The shop has more details on their plans on their website.

Wearing a beautiful kimono and warming up inside a cafe during wintertime. How does that sound?

Japanese Sweets Brand Minamoto Kitchoan to Open Cafe Restaurant K. MINAMOTO in Ginza

Japanese confectionery brand Minamoto Kitchoan will open a new cafe and restaurant called "K. MINAMOTO" on October 19.

K. MINAMOTO will be located on floors 2-5 at THE HOUSE, Minamoto Kitchoan's new company building which it just moved to on October 3. The cafe-restaurant's menu concept is dubbed "Ginza Sunny Fruits." It takes into consideration how daily fruit consumption has greatly decreased today by serving up a luxurious fresh fruit-packed line-up.

Minamoto Kitchoan is a company that has made full use of fruits since its establishment, including the suikanshuku, a Japanese wagashi confection made of whole dried domestic persimmons. We can trust then that K. MINAMOTO will provide us with our 5-a-day.

Roast Beef Sandwich w/ Fruit Soup – ¥2,420 (Tax Included)

Seafood Lemon Cream Fedelini w/ Fruit Soup – ¥1,650 (Tax Included)

Each and every dish on the menu has fruit, all grown in Japan to ensure the a high level of quality. Since the dishes have fruity flavours, prepping them is simple, and they enjoy the colours and textures of each fruit.

Drinks haven't been left out either. They are made with fruit purees and syrup, or are tossed in as they are, allowing for maximum fruity goodness.

Smoked Salmon, Fruit Salad & Potato Galette w/ Fruit Soup – ¥1,980 (Tax Included)

Autumn Fruit Almond Pudding – ¥1,760 (Tax Included)

All the staff at K. MINAMOTO have a wealth of knowledge about the menu and the fruits used in each dish. Their service creates a comfortable atmosphere, and though they are polite they are incredibly friendly, so you can call out to them without worry.

Get your fill of fruit from the all-new K. MINAMOTO, opening October 19.

Information

K. MINAMOTO

Grand Opening: October 19, 2019
Address: Minamoto Kitchoan Shinhonsha Bldg. "THE HOUSE" (Floors 2F-5F), 6-9-8 Ginza, Chuo Ward, Tokyo

Opening Hours: [Mon-Sat] 11:30-20:30 / [Sun & Holidays] 11:30-19:00

No Fixed Closures

Minamoto Kitchoan official website: https://www.kitchoan.co.jp

Visiting the Weathering With You Cafe Now Open in Tokyo and Osaka

LEGS COMPANY opened two cafes themed on the hit anime film Weathering with You in Tokyo and Osaka on October 8 and October 10 respectively. The cafes will run for a limited time only.

We paid a visit to the Tokyo branch which opened inside OMOTESANDO BOX CAFE & SPACE which is only a 7-minute walk from Omotesando Station.

The new blockbuster hit from internationally-acclaimed animator and film director Makoto Shinkai Weathering with You dropped back on July 19 and has since amassed over 13 billion yen (approximately US$131 million) in the box office. It was seen by 7.5 million people in the first 34 days of its release, and over 10 million after 75 days. Its huge success has cemented itself in the Japanese animated film industry as another monumental masterpieces from Shinkai. The film has also been nominated for Best International Feature Film for the upcoming 92nd Academy Awards set to take place on February 9, 2020.

While sat in the cafe you can watch scenes from the film on the giant screens while the main songs performed by RADWIMPS play.

The cafe menu features a line-up of drinks, dishes and desserts inspired by the characters and moments in the series, including the chahan set prepared by Hina for Hodaka, the Hodaka Welcome Party Set, and more.

Teru Teru Omurice – ¥1,490

This is the dish I ordered to eat. I couldn't resist how cute it was. It's inspired by the teru teru bōzu that Nagi makes, a traditional Japanese doll used to prevent rain and bring good weather. The doll's head is made of mashed potato. He's sat on a bed of ketchup rice filled with vegetables and bathed in a delicious sauce. This one's too cute it almost seems a waste to eat♡

Nagi's Teru Teru Bōzu À La Mode – ¥1,490

For dessert I ordered another teru teru bōzu treat. This one is made from gyūhi, a type of Japanese confection made from rice flour. Its head is filled with vanilla ice cream, and if you turn it over, you'll find Japanese pudding underneath, and under that granola. It's finished with a lining of bright blue lychee jelly around the outside for a hint of freshness.

The cafe offers plenty of other dishes that will leave any Weathering with You fans spoiled for choice.

Hina's Handmade Sesame Oil Infused Pea Sprout Potato Chahan Set – ¥1,490

A chahan set lovingly prepared by Hina for Hodaka. Chop up the spring onions that come on the side and add them to the soup just like Hina does in the film! This is a hearty set sure to fill you up.

Hodaka's Welcome Party Set – ¥1,590

This one-person set was made lovingly by Natsume when Hodaka comes to work at the same company as her, K&A. If you're looking for a healthy green meal packed with veggies then you'll love this one.

Clearing Up Weather Tiramisu – ¥1,490

This refreshing matcha tiramisu is inspired by the scene when Hina and Hodaka reunite, with the sauce representing the sunlight and the cotton candy the rainy clouds. Pour the sauce over the cotton candy and watch the clouds clear up.

Acai Bowl of the World's Secrets – ¥1,390

Enjoy the main key visual of the film right on top of your plate. The mild flavour of the yogurt coupled with the refreshing kiwi is a mouth-watering combination. The colours are really beautiful, too.

Swirling Snow Whipped Latte – ¥990

Inspired by the immense snow that spirals around Tokyo in the film, a cup of this whipped cream latte is perfect as a post-meal wind-down.

Left: The Fine Weather That Day (Grapefruit) – ¥1,690 / Right: The Sunset That Day (Cranberry) – ¥1,690

These two drinks are for takeout, and are based on iconic scenes in the film, specifically when the turns fine and the sunset. They are served in exclusive cafe-original bottles. Both flavours are sweet, sour and refreshing. Plus, you can reuse the bottles.

If you order one of the many drinks from the menu you'll receive one of six possible coasters chosen randomly.

The cafe has plenty of exclusive merchandise on their shelves too.

Sparkly Rain Smartphone Case (7/8 Ver. & X Ver.) – ¥3,900 Each

When you shake these iPhone cases, it looks like the rain is falling.

Raindrop Stickers (10 Designs) – ¥400

Don't you just want to collect all of these cute raindrop stickers?

If you book a seat in advance (¥650 before tax per person) you will receive one of six possible bromide pictures chosen randomly, so don't forget to reserve in advance.

Plunge yourself into the world of Weathering with You at either one of these cafes, now running until November 17.

*Photos are for illustrative purposes only. All listed prices are pre-tax prices.

©️2019 "Weathering with You" Production Committee

Information

Weathering with You Cafes

Locations/Dates:
①OMOTESANDO BOX CAFE&SPACE (Pine Under Flat B1F, 5-13-2 Jingumae, Shibuya, Tokyo) @ October 8, 2019 – November 17, 2019

②Osaka Shinsaibashi contact (1-6-24 Kitahorie, Nishi Ward, Osaka, Osaka Prefecture) @ October 10, 2019 – November 17, 2019

Table Reservations:

Price: ¥650 (Before Tax) *Includes bonus item

*Advance table reservations opened on September 24, 2019

Weathering with You Cafe Website: https://tenkinoko-cafe.jp/

Hiroo's Cafe CANVAS TOKYO Turns Into a Pure White Canvas in New Monochrome Theme

CANVAS TOKYO is a cafe and open concept store based in Hiroo, Tokyo produced and managed by BLANCA ASSOCIATION. The cafe has announced that it is taking on a new monochrome theme on October 10 where the entire cafe will be decked out in white like a blank canvas. They will also sell new products as part of the transformation.

The idea behind this concept is to make the overall look simple while putting great care and attention into the little details. Everything from the cafe exterior to its interior, cups, cutlery and so on have been dyed black and white to give a plain yet sophisticated appearance.

The cafe will also stock a new range of merchandise under the same concept, like coats and bags, allowing the cafe's stylish look to extend into the outside world too. As well as this, the cafe is introducing some new menu items, including a tea latte, bao, and more.

Black & White Sweaters – ¥12,000 (Before Tax)  *One size

Made into a loosely tailored size with wide ribbed sleeves, these sweaters have a design that makes them easy to coordinate, meaning you can pair them with countless outfits.

London Fog – ¥500 (Before Tax)

CANVAS TOKYO's original London Fog beverage is an Earl grey tea mixed with natural maple syrup from Canada, warm milk and fluffy foamed milk, effectively creating a tea latte.

Left: Fresh Salsa & BBQ Pork – ¥430 (Before Tax) / Right: Coriander & TERIYAKI Pork – ¥430 (Before Tax)

These Chinese-style steamed meat buns, known as "bao," are a popular snack item with people around the world. New York and London are known for having several stores specialising in bao.

This is just a small peek into the monochrome heaven of CANVAS TOKYO. To see it in all it's black and white glory, head to the trendy district of Hiroo in Tokyo.

Information

CANVAS TOKYO

Address: 5-19-6 Hiroo, Shibuya, Tokyo
Opening Hours:

[Weekdays] 08:45-18:00 (Last Orders 17:30) *2nd floor until 17:00

[Weekends & Holidays] 10:45-19:00 (Last Orders 18:30) *2nd floor until 18:00

No Fixed Holidays

Official Website: www.canvas-tokyo.com

Pink Ribbon Raises Breast Cancer Awareness with Pink Drinks and Pink Ribbon Smile Walk

Pink Ribbon aims to spread knowledge about breast cancer and conveys the importance of breast cancer screening. In order to reach out to more people, Pink Ribbon has released special drinks for the month of October that are dyed completely pink. This limited edition series debuted at Cafe & Dining Zelkova which is located on the first floor of THE STRINGS in Omotesando.

The White Chocolate Strawberry Cappuccino consists of hot milk blended with white chocolate and strawberry syrup. The beautiful blend creates a pure pink-coloured cappuccino. The Pink Lemonade is a cocktail which consists mainly of refreshing grapefruit juice. Both these beautiful drinks are Instagram-worthy.

Those who order a drink will receive a free book which is full of essential information about breast cancer. There are also donation boxes for the Japanese Foundation For Cancer Research which provides customers with the opportunity to contribute towards research that saves lives.

On October 5, there will be the Pink Ribbon Smile Walk Tokyo event where part of the terrace area will be lit up with pink illumination in order to raise awareness for Pink Ribbon's breast cancer campaigns. Make sure to get involved.

Information

White Chocolate Strawberry Cappuccino

Pink Lemonade

Available: October 1 ー 31, 2019

Available at Cafe & Dining Zelkova (THE STRINGS, Omotesando Floor 1)

Opening Hours: Weekdays: 11:30 – 22:00, Weekends and national holidays: 11:00 – 22:00

Prices:

White Chocolate Strawberry Cappuccino: ¥970

Pink Lemonade (with/without alcohol): ¥780

* The prices stated above do not include tax or service charge.

Enquiries: 03-5778-4566 (Cafe & Dining Zelkova)

Website: https://www.strings-hotel.jp/omotesando/restaurant/zelkova/info/zelkova-drink-special.html

GODIVA Releases New Heavenly Chocolixir Tea and Chocolate Pairing Drink

As the almighty creator of the chilled chocolate drink called the Chocolixir, GODIVA has now transcended to a whole new level with its Tea Magic Series which pairs luxurious GODIVA chocolate with a specially made tea. The fourth and final heavenly Chocolixir drink for the Tea Magic Series has now been revealed to be called the Chocolixir Uji Matcha Kiwami. This is a pairing of GODIVA white chocolate and Uji matcha. A limited number of these will be released for sale from October 1, 2019 to November 30, 2019.  

The GODIVA Tea Magic Series is made using the finest GODIVA chocolate. The chocolatier considers the most appropriate tea to enhance the flavour of the chocolate and only uses the finest tea leaves to make the drink. The result is a chilled chocolate tea which is filled with a flavour that will enlighten you. Hojicha Chocolate tea was the first tea of the series and was released on July 1st.

Chocolixir Uji Matcha Kiwami (270ml): ¥602 (before tax)

GODIVA's mildly sweet and velvety white chocolate is blended with rich uji matcha tea and then chilled to a perfectly refreshing temperature. A light cloud of whipped cream floats on the surface and is sprinkled with carefully made uji matcha powder. Matcha chocolate sticks garnishe the drink. 

From your first sip to your last, your mouth will be filled with a rich and luxurious matcha flavour. From time to time, your tongue will discover the exciting texture of small pieces of smashed white chocolate pieces.

This is the perfect opportunity to indulge in the luxurious flavour of mild white chocolate blended with rich uji matcha. 

Pretty, Palatable and Pleasant: A Purin Expert's Top 6 Purin Picks in Kyoto

Here at MOSHI MOSHI NIPPON, we have never failed to provide you with the essentials: updates on the best bubble teas around Kyoto. However, today we have a special sweet treat for you. After consulting expert Instagrammer kyoto cafe life tiara, we have compiled a list of Kyoto's top purin that will fill you with satisfaction and as well as nostalgia. Purin is a type of Japanese custard pudding loved by the Japanese for generations. When it comes to searching for the best desserts in the Kansai region, kyoto cafe life tiara leaves no stone unturned . 

Cafe Yamamoto, Higashiyama

Pudding (Set): ¥750

The bitter and fragrant caramel sauce of this purin is to die for. This purin has a rich eggy flavour and is stiffer than a traditional purin. Enjoy your purin served in a silver plate which will fill you with the nostalgia of the retro Showa Era.

▼Cafe Yamamoto (やまもと喫茶)

Address:307―2 Ishibashicho, Kyoto

Opening Hours: 7:00-17:00 (L.O.16:30)

Closed: Tuesdays

Kissa Zou, Imadegawa

The purin here is rich in flavour and garnished with a scrumptious biscuit. It is too cute to eat.

▼Kissa Zou (喫茶ゾウ)

Address: 440-3 Santeicho, Kamigyo Ward, Kyoto

Opening Hours: 9:00-18:00 (Last Orders: 17:00)

No regular holidays

BAR Tantei, Mototanaka

This fancy pudding is topped with seasonal fruit, ice cream or even cake. The retro atmosphere of the bar is the perfect place to enjoy a fancy moment to yourself.

▼BAR Tantei (喫茶探偵)

Address:

26 Tanaka Satonouchicho, Sakyo Ward, Kyoto

Opening Hours: 12:00-17:00,  19:00-02:00

Closed: Sundays, additional irregular holidays.

Takagi Coffee Takashiji Honten, Shijo Street

Homemade Purin Set: ¥ 800

Takagi Coffee is known for the unique shape of their purin, which looks very similar to a slice of cake. This purin is slightly stiffer than your usual purin and has a lovely accent of rum which adults love. This is best enjoyed with a cup of coffee.

▼Takagi Coffee Takashiji Honten, Shijo Street (高木珈琲店 高辻本店)

Address: 175 Honeyacho, Shimogyo Ward, Kyoto

Opening Hours: 7:00-19:00 (Closes at 18:00 on Sundays)

Closed: January 1-3

Salon de thé François, Gion Shijo

This purin is bigger than you expect it to be. Although the flavour is simple, it will send you on a trip to old traditional Kyoto. This purin is stiffer than usual and sweet with a gentle touch of bitter caramel sauce. This is topped with ice cream and garnished with tangy yet sweet strawberries. This purin is on a slightly more luxurious level which makes it perfect for adults.

▼Salon de thé François (フランソワ喫茶室)

Address: 184 Nishikiyamachi-dori-Shijo-kudaru; Shimogyo-ku, Kyoto.

Opening Hours: 11:00-22:30(L.O 22:0)

No regular holidays

NOTTA CAFE, Saiin

This deceiving purin may appear to look like a cake and avoid jiggling like a true purin would, however, once you take a bite, the rich custard flavour will flood your mouth. The flavour is perfect for those of you who cannot handle very sweet flavours and are looking for something more refined. To fully enjoy your experience, order this purin with the oiri sweets cream soda.

▼NOTTA CAFE (ノッタカフェ)

Address: 37 Saiinkitayakakecho, Ukyo Ward, Kyoto
Opening Hours:

Tuesdays-Sundays: 11:30-20:00

Wednesdays: 11:30-21:00
Closed: Mondays

So, how about it? For those of you who are in desperate need of a sweet fix in the Kansai region, Kyoto café life tiara's Instagram will swoop in to rescue you.

Research for article contents and photos provided by: @happy_pinkrose_tiara

This Week's Lunch: Peach & Yoghurt at dotcom space Tokyo in Harajuku

One thing I do at least once a week without fail is treat myself out to some delicious food or dessert. It's very important time well spent in order to live a happy life.

Today, I went and got my lunch early ahead of my morning work. I visited dotcom space Tokyo, a café in Harajuku where you can indulge in a laid-back experience.

©️photo Takumi Ota

The café is just a 4-minute walk from the Takeshita Street exit of Harajuku Station. Its atmosphere is so peaceful and related that you wouldn't believe it's right next to noisy and busy Takeshita Street. It's a spacious place with simple and stylish furniture and furnishings. I fancied something sweet this time, so I went and ordered the Peach & Yoghurt bread.

©️photo Takumi Ota

©️photo Takumi Ota

The interior decorating scheme is based on wood; you can feel how particular they were about the furniture. It's easy to wind down at this café due to its spacious interior. It's common to see workers scattered throughout too. It's a nice place to leave your desk for a little bit for lunch for a change of pace.

Peach & Yoghurt ¥680 / Iced Café Latte ¥550

The bread is piled with a generous serving of yoghurt cream and shiny peach which the light shines on.

I feel happy just looking at this delicious treat. Just spellbinding!

I sliced my first piece and popped it into my mouth. The bread is deliciously chewy, and the refreshing yogurt cream and sweet peach filled my mouth. The bread itself is a thick-cut slice and made by Pelican, a bakery in Asakusa. It has a chewy and moist texture you can't find anywhere else.

The yogurt cream isn't overly sweet, instead having a more refreshing flavour to it. When eaten together with the sweet ripened peach, the gorgeous mix blends together around your taste buds and melts in your mouth. Depending on the season, you can pick fruits other than peach too. They always have seasonal choices. I'm looking forward to their autumn and winter line-up.

The iced latte has a slight acidity to it, my favourite kind of flavour. It went really well with the Peach & Yogurt bread. The café is also particular about its coffee bean selection; one of its baristas is noted to be a past "Japan champion" when it comes to coffee. I've got to try the hot coffee the next time I visit.

A set meal, burger or the likes would have been good too, but I had my eyes set on a sweet dessert lunch. Getting a moment to chill out and enjoy something sweet made me happy today. I recommend enjoying some autumn fruit-topped bread too as the seasons change.

Today's Presents

Apple Juice ¥450

I's important to share the happiness between family and colleagues on when you get the chance to enjoy something tasty. I bought them some apple juice, which is poured into a cup with a smiling face on the side. It's made from 100% apples from Nagano. The straw is made from environmentally-friendly sugarcane.

Writer:Sayuri Mizuno(MOSHI MOSHI NIPPON)

Food Review: Shibuya's Stylish Sandwich Shop BUY ME STAND

Hello, readers of MMN! I'm Banako of the MOSHI MOSHI FRIENDS program.

Today, I'm here to show you a unique and stylish sandwich shop I visited in Shibuya called BUY ME STAND. Shibuya is home to countless restaurants and cafes, but if it's sandwiches you're looking for, this place is the one people are going to recommend. That's how famous it is!

You can reach it in just a brisk 5-minute stroll from the New South Exit of Shibuya Station's JR Line building. You'll know it by the big windows and green and white stripes.

The store is managed by apparel brand SON OF THE CHEESE. The entire interior is coloured in mint green, and it has a vintage American vibe to it. Both the outside and inside are nothing short of stylish-looking. It has a second floor too which has table seats.

I ordered the shop's most popular menu item: "Apple Cheeks." The sandwiches are cooked to order in an open kitchen in full view of the customers.

BUY ME STAND typically serves hot sandwiches. Most of them are filled with cheese which is grilled until melted and oozing.

This is the Apple Cheeks, which costs ¥1,200. Take a look inside, what do you see?

That's right. Just as the name of the sandwich suggests, is stuffed with apple slices. As well as apple, it also contains pork belly, onions, and Camembert cheese.

Apples and sandwiches are seemingly an unlikely combination, but by my first bite into the crunchy toast I was already hooked. The melted cheese coils itself delicious around the pork belly and onions while the apple adds a favourable sweetness to the combination of flavours. It was like happiness in my mouth.

It's quite a hearty sandwich, but it comes with a crunchy coleslaw salad which is a great palate cleanser and changes up the flavour party on your tongue, so you can get through it all no problem

Since there's a lot of ingredients packed inside their sandwiches, they are also served with a burger bag like when you eat a hamburger, so you can wrap it up to ensure nothing falls out.

Sandwiches are generally seen as a quick and light meal, but BUY ME STAND has redefined their image by making their sandwiches fat and filling.

BUY ME STAND is open from 8am, and breakfast is sold until 11am where they serve a range of food options in addition to sandwiches. I wanted to try everything.

The menus differ slightly for breakfast, lunch and dinner.

BUY ME STAND is in fact a chain sandwich shop and has branches not only in Shibuya, but Yokohama, Fukuoka, and even Okinawa too, and all of them are just as fancy as one another.

Pay a visit to BUY ME STAND yourself and find your sandwich of choice!

Beasty Coffee by amadana Opens Flagship Store Beasty Coffee [ cafe laboratory ] in Shibuya

Coffee brand Beasty Coffee by amadana, which uses the same coffee-making equipment and by the the top baristas in the country, as well as has delivered high quality coffee beans like them, is opening its new flagship store Beasty Coffee [ cafe laboratory ] in Shibuya on September 27.

Beasty Coffee [ cafe laboratory ] boasts inventory of stock developed by the company themselves, including its own hand-drip coffee tools, as well as original coffee bean blends, an espresso machine, and coffee roaster. The coffee house will also host workshops and other experimental activities, creating a new way to enjoy your cafe experience.

The cafe itself is renovated from a buckwheat noodle restaurant which was deep-rooted in the local area. It has a Japanese-style aesthetic with a modern approach, using mortar as its main decoration.

The furniture is walnut wood, which looks gorgeous in both Japanese and western-style decor, while the entrance has a stylish sliding door with a black frame. There is also a partition inside the cafe. All of this makes for a calm and relaxed atmosphere.

Drip Coffee

Lemonade

If you're interested in ordering the hand drip coffee, there are three types to choose from. They also sell an in-house original lemonade, is a mix of lemon, which uses no preservatives, and herb tea.

The espresso machine comes in a navy colour, which is the brand's main colour, with which the baristas can make customers coffees like cappuccino using original blends.

Behind the partitions sits two coffee roasting tester machines where the cafe will research making original blend coffees day to day to create coffee that people will love.

When you heard about a cafe that is set on creating delicious coffee every time, you want to become a repeat customer. If you're a coffee lover then make sure you pop into Beasty Coffee [ cafe laboratory ] when it opens in Shibuya, Tokyo on September 27.

Information

Beasty Coffee [ cafe laboratory ]

Address: 1-19-3 Tomigaya, Shibuya, Tokyo

Grand Opening: September 27, 2019

TEL: 03−6804−8101

Business Hours: 9:00-19:00

Closed: Mondays

Official Website: http://beastycoffee.com/