Pearl Lady Bubble Tea Collaborates With Sanrio Character Cast
To celebrate their 15th anniversary, Japanese bubble tea shop Pearl Lady is now collaborating with six characters Sanrio characters including Hello Kitty and Pompompurin.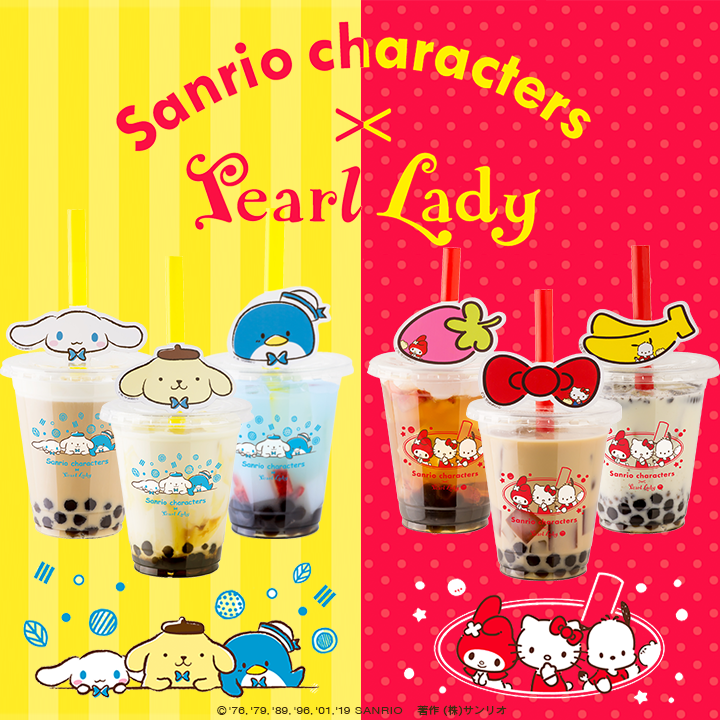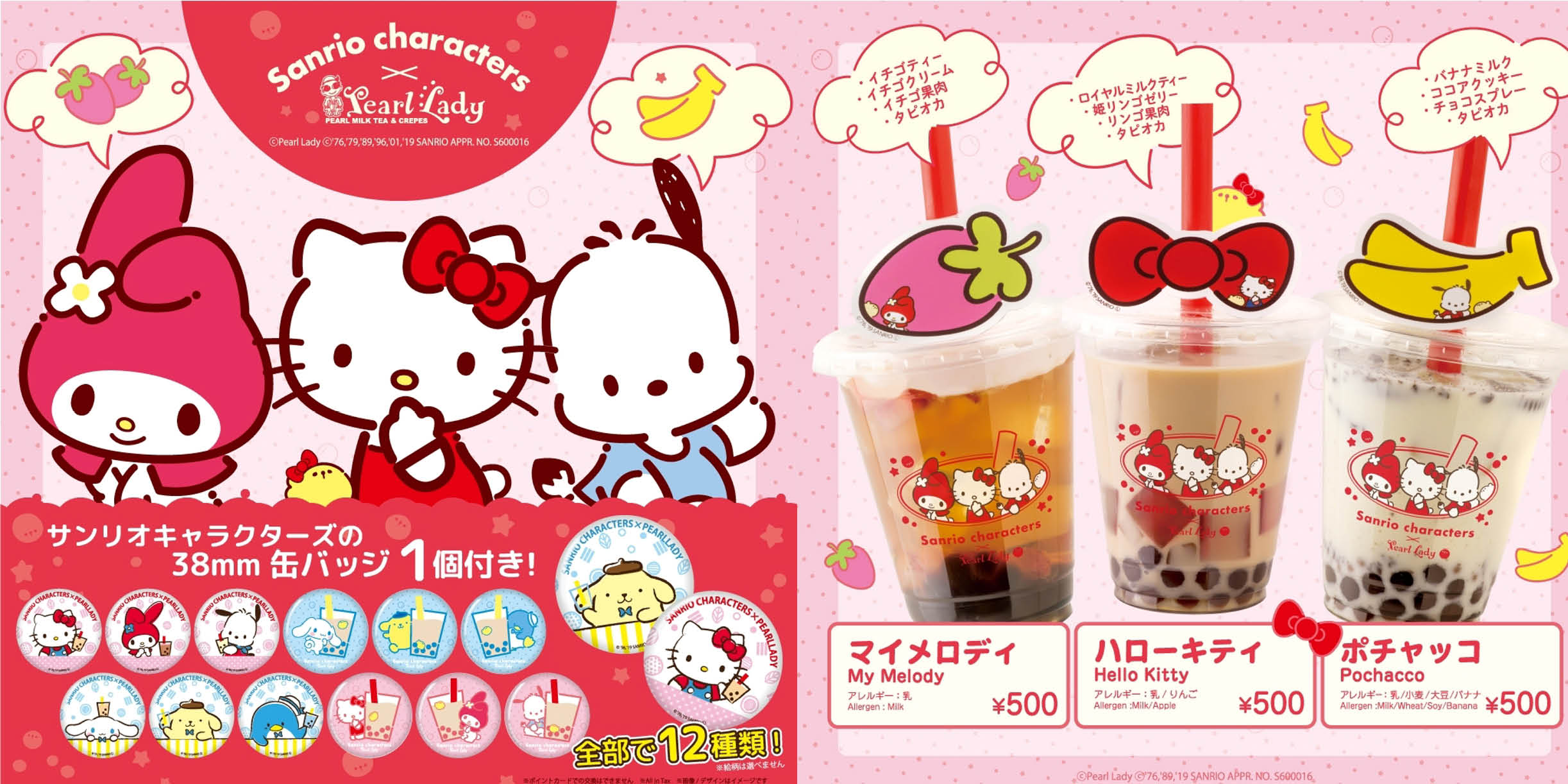 Participating Stores (Above Drinks): Shinjuku Higashi-guchi / Ikebukuro / Harajuku / Shibuya / Machiya / Machida / Omiya / Nagoya Natsuta / Kokura / Nago / Haebar
Pearl Lady is credited as the creator of 'dessert bubble tea' drinks. Their menu has many options from classic milk tea to whipped cream tea, ice cream tea and more.
For this collaboration customers can enjoy drinks inspired by Hello Kitty, My Melody, and Pochacco.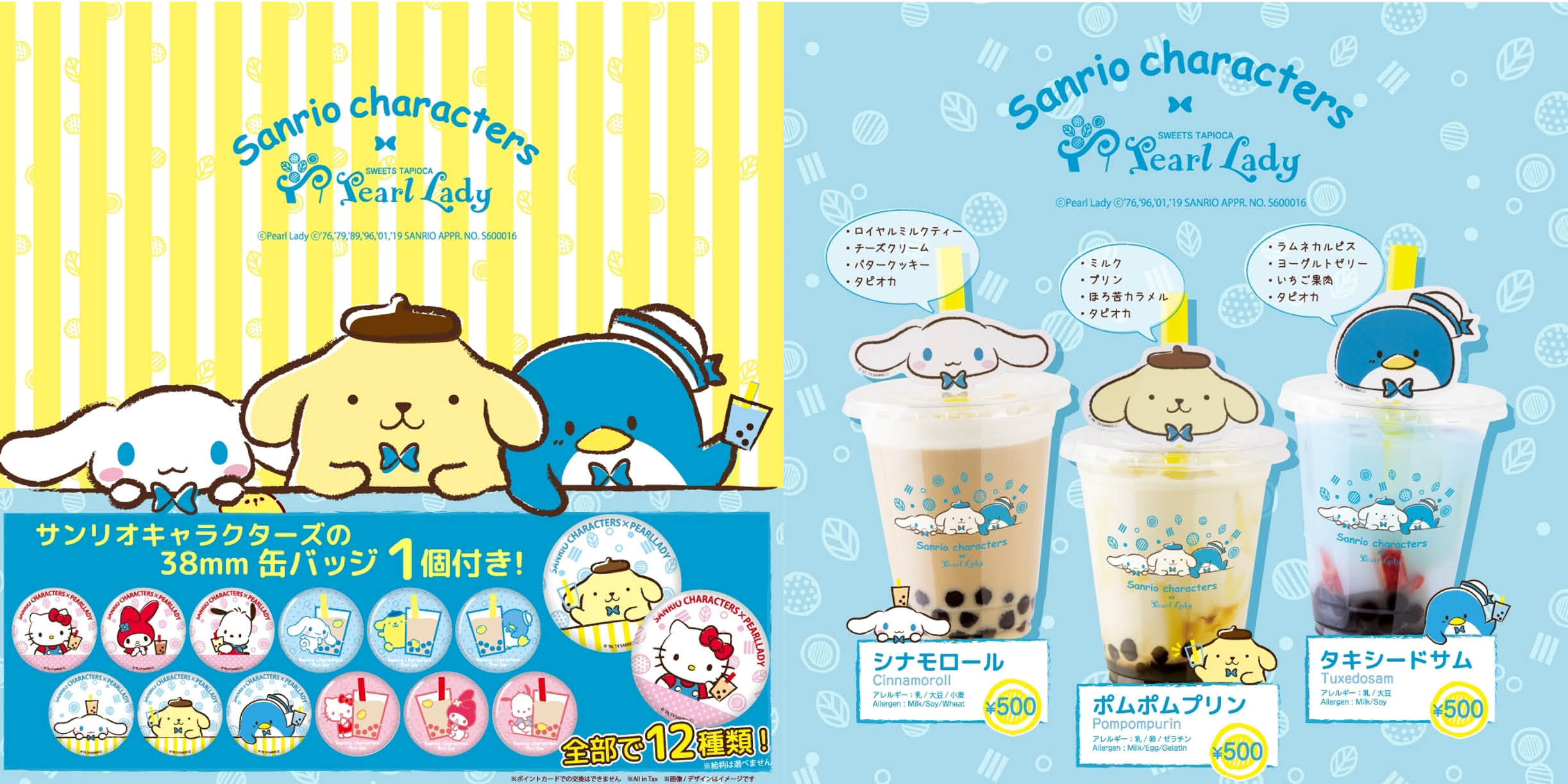 Participating Stores (Above Drinks): SHINJUKU TOHO BLDG / Shinjuku PePe / Akabane / Kamata / Kasai / Shimokitazawa / Kichijoji / Musashi Murayama / Kawagoe / Yokohama Vivre / Kamiooka / Chiba / Funabashi / Nikke Colton Plaza / Shizuoka / Osaka Tsurumi / Kashihara / Kobe South
Sweets Pearl Lady is a sister brand of the shop and offers a rich menu with amazing ingredients. They also have a huge variety of tapioca options in four varieties of their milk teas. They will collaborate with Cinnamoroll, Pompompurin and Tuxedosam.
All six of these drinks come with a seal tag that can be used as a sticker. You can also get your hands on one of twelve possible pin badges.
RELATED ENTRIES
Sanrio's Hello Kitty Inspires Cute Robot Set by LOVOT

GROOVE X's home robot series LOVOT is set to launch its first collaboration with Sanrio's beloved character Hello Kitty on May 17 with the release of a limited-edition set of two robots.

Yellow nose sold separately

The Hello Kitty x LOVOT original set comes with a charm (pictured far right)

Dress up in a cute Hello Kitty outfit


Those who purchase this set receive an original cloissone ware charm, each of which has a unique serial number on it. There's also a cute Hello Kitty outfit for dressing up your robot. The base of these robots, all of which are handmade individually, are coloured white like Hello Kitty and features her cute whiskers and red ribbon.

LOVOT launched four years ago and began selling its home robots in December 2019. This marks the company's first tie-up with Hello Kitty, a character known to all around the world.

2021 SANRIO CO., LTD. APPROVAL NO. S620221

Hello Kitty Diamond Necklaces Released by Japanese Luxury Jewellers U-TREASURE

Japan's luxury character jewellery brand U-TREASURE, which creates accessories for character-loving adults, released a new collection of Hello Kitty-inspired necklaces on Tuesday which are available for a limited time until May 25.

The necklaces feature a simple design with a single diamond stone tipped with Hello Kitty's ribbon. The necklaces come in various versions including platinum, yellow gold, pink gold, and also silver with cubic zirconia. The collection is available to purchase at U-TREASURE's concept store in Ikebukuro and their online shop.

<Hello Kitty Ribbon Necklaces> Platinum 950: ¥88,000 / K18 Yellow Gold, K18 Pink Gold: ¥88,000 / Silver & Cubic Zirconia: ¥16,500

©2021 SANRIO CO., LTD.

Hello Kitty x INTERGRATE Design Cosmetics Releasing This Spring

Shiseido's self-makeup brand INTERGRATE is set to release select beauty products with limited-edition Hello Kitty packaging on May 21. The theme of the collection is Meet "LOVELY." In the run up to its release, Hello Kitty cans can enjoy three filters of the popular Sanrio character over on INTERGRATE's official Instagram page.

INTERGRATE Limited-Edition Pro Finish Foundation Special Set K (2 Types) | ¥1,430 Each (Tax Included)

Colour palette

INTERGRATE Limited-Edition Pro Liquid Special Set K | ¥1,760 Each (Tax Included)

Colour palette

INTERGRATE Limited-Edition Water Jelly Crush Special Set K (2 Types) | ¥2,200 Each (Tax Included)

Colour palette

INTERGRATE Limited-Edition Triple Recipe Eyes Special Set K (2 Types) | ¥2,200 Each (Tax Included)

Colour palette

The limited-edition designs feature Hello Kitty and her cute friends who are ready to help you apply your makeup. The collection focuses on three each of INTERGRATE's iconic foundations and eye shadows. This includes the Pro Finish series which has foundation in a compact case, durable liquid foundation, and water jelly crush. Pick from three foundations too which come in a triple set. For this limited-edition collaboration, you can enjoy the pink PK704 and brown BR703, both of which are popular colours.

Sanrio Puroland Launches Idol Auditions

Samrio Puroland is teaming up with mysta to recruit Puro Boys and Puro Girls for the Sanrio-themed theme park. Auditions are currently taking place on the audition app mysta, with the cut-off dates for Puro Girls as June 6 and Puro Boys as June 13.

Winners that are selected will perform alongside Sanrio characters at Puroland's events, appear in videos on the park's official YouTube channel, and more. The song and choreography that participants must follow was created by people who compose and create choreography for Puroland's shows. These same people will be judging applicants.

Do you have what it takes to be a Puro Boy or Puro Girl?

©2009, 2021 SANRIO CO., LTD. TOKYO, JAPAN S/D・G 著作 株式会社サンリオ

Information

Sanrio Puroland Official Idols

Application Period

・Puro Boys: April 23, 2021 – June 6, 2021 @ 23:59 (JST)

・Puro Girls: April 23, 2021 – June 13, 2021 @ 23:59 (JST)

Ages: 12-30 (Born between December 7, 1990 – April 1, 2009)

Apply Here: https://puroland-idol.mysta.tv/

Sanrio and SEGA's Beatcats Releases 4th Digital Single 'Colourful Days'

Japanese virtual dance and vocal unit Beatcats released their fourth digital single, Colourful Days, on April 22 across music streaming and download services. The five-member feline pop band were created by SEGA Toys and Sanrio, the latter of which is known for such characters as Hello Kitty and My Melody, in 2020.

The single's full music video is yet to be released—all we have for now is a teaser—but happySEEONE, who is known for creating dances for numerous K-pop groups, released a choreography video to the track on the official Beatcats YouTube page. Additionally, Colourful Days and the cat band's three previous singles are now available at JOYSOUND, a Japanese online karaoke service. To promote the new song, a new collection of merch has also dropped.

©2021 SANRIO/SEGATOYS

Colourful Days: The 4th Single

Colourful Days is a feel-good song aimed at cheering up emotionally-explosive teenagers. It takes all the feelings towards love and friendship such as fun, happiness, sadness, and worry, and mixes them all together to create a colourful dye that represents the self. It's a a cute pop number with a dance-inducing beat and of course showcases all five of the Beatcats members' unique voices. The music video is yet to be released as of posting this article, but you can listen to the song now on Spotify, Apple Music, and elsewhere.

Music Video Teaser & Dance Video

While you wait for the music video, check out the teaser below, as well as a choreography video by happySEEONE which has the dances for all five members. If you're looking for a new dance to learn, let it be this one!

Beatcats – "Colourful Days" Music Video Teaser

New Beatcats Merchandise

Grab Beatcats' new merch drop in promotion of the new single which is perfect for the spring season.

Mini Key Rings | ¥308 Each (Tax Included)

Stick Key Rings | ¥660 Each (Tax Included)

Tape Key Rings | ¥880 Each (Tax Included)

Scrunchie | ¥990 Each (Tax Included)

Hairbands | ¥1,320 Each (Tax Included)

Turbans | ¥1,430 Each (Tax Included)

Sanrio Announces 60th Anniversary Exhibition 'The Beginning of Kawaii'

From Hello Kitty to Pompompurin, Cinnamoroll, My Melody, and more – Sanrio's internationally adored cast of characters can be universally agreed to be representatives of Japan culture of 'kawaii.' In celebration of Sanrio's 60th anniversary, the company have announced an exhibition centred on the beginning of kawaii culture. The event will take place at TOKYO CITY VIEW from September 17, 2021 to January 10, 2022.

60th Anniversary Sanrio Exhibition: The Beginning of Kawaii is currently taking place at Matsuzakaya Art Gallery in Nagoya until June 12 and will move to Ōita Prefectural Art Museum where it will run from July 10 to September 5 before heading to TOKYO CITY VIEW.

 

© 2021 SANRIO CO., LTD. APPROVAL NO. SP610376

This exhibition will not only look back over Sanrio's 60-year history, but will also dive into how Japan's culture of 'kawaii' came about. Fans of Sanrio and Japan's kawaii can expect product and design showcases, in-depth explanations, and more.

Over 800 products, documents, and materials related to Sanrio will be presented, many of which will shine a spotlight on some of their most famous characters out of their roster of 400, such as Hello Kitty and My Melody, and other characters that might not be known to those outside Japan such as best friends Patty & Jimmy.

What to look out for at Sanrio's 60th anniversary exhibition

Unforgettable Tower by Sebastian Masuda

Sebastian Masuda, a pioneer of kawaii culture, will showcase his symbolic art pieces at the event at TOKYO CITY VIEW's observation deck, combining his iconic work against a breathtaking background.

 

The Beginning of Kawaii

Learn about the history of Sanrio's culture of kawaii, beginning as a service to 'move people's hearts' through gifts and products. Visitors will get a chance to see the secrets of Sanrio's iconic style which draw a line under fancy products from other companies.

There will also be a chance to see Japanese illustrators Takashi Yanase, Ado Mizumori, and Rune Naito's work with Sanrio.

The Birth of the Characters

What makes something kawaii or not kawaii? Why do characters not necessarily need to have a story to become so popular? These questions are more will be answered as the exhibition looks at the birth of Sanrio's characters.

Sanrio's Characters

How did their hit characters come to be? During the 1980's, Japan was a warzone for characters. Sanrio changed how characters became popular, moving from characters that were popular with everyone to creating characters that people wanted for themselves – their own personal characters. Discover how Sanrio's long list of characters came about, including ones that have stood the test of time and ones that have declined in popularity.

Ichigo Shimbun

Ichigo Shimbun is a magazine published by Sanrio all about Sanrio and their characters – a familiar read to all fans in Japan. The magazine will be featured at the exhibition.

Hello Kitty: The Character Who Turned Into a Global Icon

Hello Kitty is known the world over, with even Lady Gaga having worn a dress of Hello Kitty plush toys in the past. This dress will be exhibited at the event, amongst many other things related to Sanrio's global idol.

A Battle Between Artists

Artists from various artistic background will participate in the exhibition by creating a range of different Sanrio works. Participating artists and their specialities include Ryūsuke Fukahori (objects), Hajime Nakatomi (bamboo art), Takaya Mori (sculptor), Mio Hashimoto (sculptor), and Risa Fukui (paper cut-outs).

Information

60th Anniversary Sanrio Exhibition: The Beginning of Kawaii

Running: September 17, 2021 – January 10, 2022

Where: TOKYO CITY VIEW (Roppongi Hills Mori Tower Floor 52F)

Address: 6-10-1 Roppongi, Minato-ku, Toky0

Price: TBA

60th Anniversary Sanrio Exhibition: The Beginning of Kawaii Official Website: https://sanriocharactermuseum.com/

Sanrio x Odakyu Romancecar Merchandise Collection Released

The Romancecar Museum in Japan opened its doors to the public on Monday, and as a special collaboration, the museum has teamed up with Sanrio to release an exclusive collection of merchandise featuring Hello Kitty, Pochacco, Cinna,oroll, Pompompurin, Badtz-Maru, and other characters by Sanrio.

Hello Kitty Plush Box | ¥3,080 (Tax Included)

Train Car Model Magnets: SE 3000/SSE 3000/NSE 3100/LSE 7000/HiSE 10000/RSE 20000/VSE 50000/GSE 70000 – ¥550 Each (Tax Included)

Sanrio Characters Souvenir Bag | ¥880 (Tax Included)

The line-up includes a Hello Kitty plush packaged in a box inspired by the GSE 70000 Odakyu Romancecar train model, a selection of magnets, a bag with the Sanrio characters wearing train staff uniform, and more.

©️ 2021 SANRIO CO., LTD.
©️ 2021 Odakyu Electric Railway Co., Ltd.

Sanrio Releases Google Search AR Feature With Hello Kitty, Pompompurin And Other Characters

Sanrio released their own Google AR features which has Hello Kitty, Pompompurin, Little Twin Stars, and Cogimyun appear as AR characters when you search their names in Japanese on Google. The release comes in response to fans being unable to meet with their favourite characters at various events and at Sanrio's parks. The function is available until the end of 2021.

When users type Hello Kitty (ハローキティ) on their smartphones into Google and press the AR button on the search engine, she will appear on their screens and say a message either in Japanese or English. Pompompurin and Cogimyun's messages are only in Japanese, while the Kiki and Lala sing a theme song when you enter Little Twin Stars.

Spend time with your favourite characters in all situations

©'21 SANRIO S/F・G 著作(株)サンリオ

Sanrio Designs Fate/Grand Order Subscription Box Collection

Japanese media and entertainment company Smarprise launched a new subscription box on Saturday featuring Fate/Grand Order illustrations produced by Sanrio.

The items come as part of the company's "Surprise Box" subscription service where users receive random items themed around their likes. Each delivery is a complete surprise which is all part of the fun.

Fate / Grand Order Design produced by Sanrio」サプライズボックス 9,350円/3,850円(税込)

Surprise Box: ¥9,350 (Tax Included) / ¥3,850 (Tax Included)

The new entry to the service is themed on the popular smartphone RPG Fate/Grand Order with designs produced by Sanrio, who are known for creating famous characters like Hello Kitty. The box, which ships every two months, will include acrylic stands, calendar postcards, and a set of square pins.

Information

Fate / Grand Order Design produced by Sanrio – Surprise Box

Order Window: April 10, 2021 – May 10, 2021 (Ships June 2021)

Further Orders: Rolling out August, October, and December

Official Website: https://surprisebox.jp/lineup/fgo_sanrio

Pompompurin Celebrates 25th Anniversary With Cute Pudding Confection at Lawson

Bandai released a new chewy and delicious custard pudding-flavoured confection at Lawson convenience stores in Japan on Tuesday in celebration of Pompompurin's 25th anniversary, the popular character by Sanrio.

Mochi Mochi Pompompurin Yaki Pudding Flavour | ¥158 (Tax Included)

The cute confection is made to look like Pompompurin laying down. The chewy delight is filled with Japanese custard pudding-flavoured cream.

The packaging also features limited-edition artwork for Purin's 25th year milestone where he is joined by his cute furry friends.

©2021 SANRIO CO.,LTD. 著作(株)サンリオ

Harajuku's Pompompurin Maid Café to Open on April 14

Akihabara's premiere maid café chain "@home café" announced last month the opening of a permanent maid café themed on Sanrio's popular character Pompompurin. The café is set to open along Harajuku's famous Takeshita Street on April 14, 2021.

 © 2021 SANRIO CO., LTD.  APPROVAL NO. S620028

@home café has collaborated with many of Sanrio's popular characters in the past at its Akihabara-based café branches such as Hello Kitty, My Melody, Cinnamoroll, and of course Pompompurin, but this time the collaboration is flying out of Akiba and straight into the heart of Japanese pop culture: Harajuku.

This new Pompompurin Café is themed on Pompompurin throwing a party for everyone—that's you and your friends. It's a place for Purin to deliver happiness to all who visit in the form of cute and tasty food.

Of course, the @home café maids will also be present, and all wearing original maid uniforms coloured like Pompompurin.

A little look at some things on the menu

The Food

Soufflé Omurice | ¥1,450

Butter Chicken Curry | ¥1,300

The Desserts

Pompompurin Pudding | ¥700

Chocolate Banana Mountain Waffle | ¥1,200

The Drinks

Custard Pudding Latte | ¥850

Muffin's Caffe Mocha | ¥850

Take a commemorative photo

For just ¥550, you can take a chekki photo at the café. It comes with café-original stickers and paper. For an extra ¥300, you can take a photo with one of the maids.

Pompompurin Birthday Party

 

April 16 is Pompompurin's birthday, so on that day the café will have a special dessert prepared (which you can see below) along with novelties for customers, new decorations, and more.

Pompompurin's Birthday Dessert

Special Birthday Parfait | ¥1,700 | Serving: April 14, 2021 – April 30, 2021

Birthday Novelty

To commemorate Pompompurin's birthday and the opening of the café, all visitors will receive the pin below for free.

Pompompurin will visit the café

On the evening on April 16, Pompompurin will visit the cafe for his birthday to celebrate with everyone. Details and bookings can be found here in Japanese.

Information

Pompompurin Cafe x @home cafe

Grand Opening: April 14, 2021

Where: CUTE CUBE HARAJUKU Floor 3F, 1-7-1 Jingumae, Shibuya, Tokyo

Opening Hours: [Weekdays] 11:00-22:00 / [Weekends] 10:00-22:00

No Fixed Holidays

Pompompurin Cafe Official Website: https://pompompurincafe.com/

@home Official Website: http://www.cafe-athome.com/

2021 Sanrio Character Ranking Welcomes Sky Peace's Ini to the Collaboration Category

The upcoming 2021 Sanrio Character Ranking is welcoming a new face to the Collaboration Category of the competition: the Japanese music artist Ini, who has over 800,000 subscribers on YouTube and is also part of the music unit Sky Peace who has over 3 million subscribers.

This year's Sanrio Character Ranking will open initial votes from April 9 to May 24 when fans can vote for their favourite character from Sanrio's roster. As with previous years, the 2021 run will also welcome the "Collaboration Category" of the awards which will feature 27 character entries from those who have collaborated with other companies and businesses over the past year.

© 2021 SANRIO CO., LTD. APPROVAL NO. S612432

Sky Peace ☆Ini☆

Ini was born and raised in Tokyo. In 2008, he uploaded his first rap arrangement to the video streaming site Nico Nico Douga. His activity grew, and in 2011 his rap tracks began to grow in popularity, leading him to earn the online title of am internet creator. He formed Sky Peace in 2016 with his friend. Their YouTube channel has over 3 million subscribers and a big youth following. His solo channel, where he is known as Iri, has over 800,00 subscribers.

© 2021 SANRIO CO., LTD. APPROVAL NO. S612432

Information

2021 Sanrio Character Ranking

Running: April 9, 2021 – May 24, 2021 (From April 10 in Ichigo Shimbun)

First Round-Up Announcements: April 14, 2021 at Noon (JST)

Second Round-Up Announcements: May 13, 2021 at Noon (JST)

Winner Announcement: June 8, 2021 (Online event, details TBA)

News Page:  https://www.sanrio.co.jp/news/mx-ranking2021-20210331