Celebrate Cocoa Day this November with Morinaga & Company's Milk Cocoa X VERY FANCY limited edition collaboration menu!
To celebrate Cocoa Day, which is on 7th November, specialist pancake shop "VERY FANCY" will be serving up a new limited edition collaboration menu from Monday 7th 〜 Wednesday 30th November. The new collaboration menu uses "Milk Cocoa" ー a long selling brand of chocolate by Morinaga & Company, Ltd.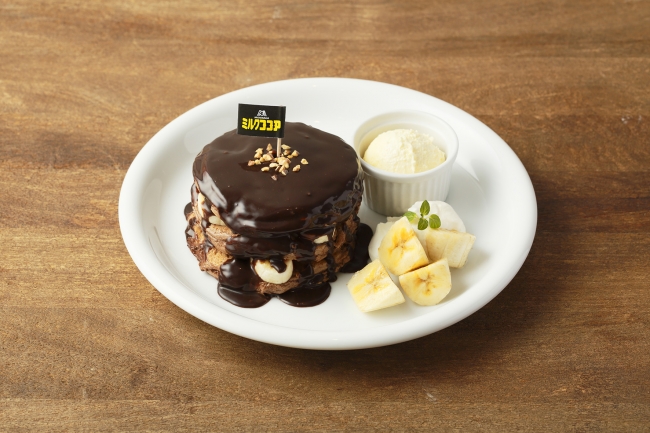 Enjoy the full yet mild-flavour of Morinaga & Company's standard milk cocoa sauce, which has been generously poured over the pancake. The batter of the pancake has also been kneaded with cocoa, and then finally sandwiched with layers of mascarpone cream and banana. The chocolate and banana combination is perfect for children and even adults.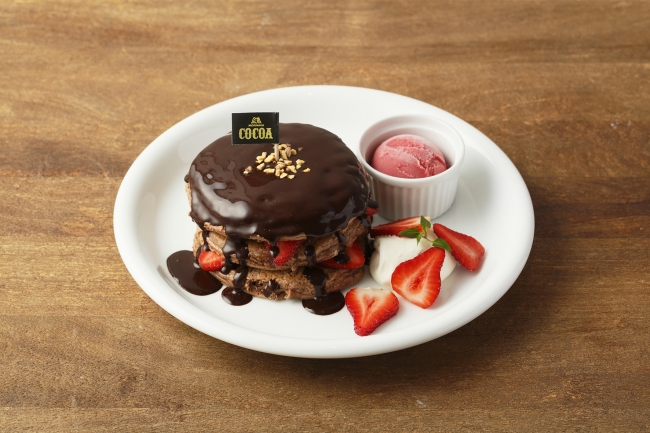 The pure cocoa pancake is another variety of pancake sold ー cocoa pancakes are layered with mascarpone cream and strawberries and finished off with Morinaga & Company's pure cocoa sauce. The bitter chocolate combined with the strawberries makes a perfect match, creating a bittersweet flavour which adults may find particularly appealing.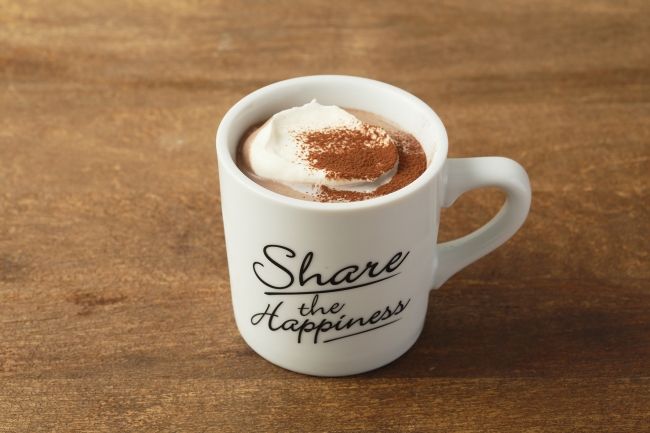 The collaboration drink uses Morinaga & Company's cacao 70 as the bass. This is then topped with extravagant fresh cream to make a perfect high bitter cocoa drink which has a bittersweet scent. This drink is perfect to warm up your heart and body this Autumn and Winter!
Made with the best wheat flour, buttermilk, homemade cheese and baking powder without aluminium ー don't miss out on VERY FANCY's pancakes or the long-loved Morinaga & Company's Cocoa combination! The limited edition collaboration tasty treats will be available until 30th November, so grab some while you can!
■Information
Limited period: Monday 7th 〜 Wednesday 30th November
Location: Available at 6 "VERY FANCY" stores nationwide
Official website: http://veryfancy.me
ーーー
■ Related article:【MOSHI MOSHI GOURMET】The best Fruit Parlor where you can enjoy seasonal fruits in Japan.
■ Related article: Taste a bit of the luxurious high life at Freshness Burger: "Foie Gras Burger Special Set"
RELATED ENTRIES
My Melody and Kuromi Bubble Tea to be Served at Pearl Lady in Japan

Bubble tea chain Pearl Lady, which is celebrating its 17th anniversary this year, is teaming up with Sanrio for the second time to release two new drinks themed on the popular characters My Melody and Kuromi on October 16, 2020. My Melody and Kuromi are also celebrating their 45th and 15th anniversaries respectively.

Black Lemonade | Strawberry Milk Tea (w/ Novelty) – ¥500 Each (Tax Included)

The two beverages are Sweet Strawberry Milk Tea, which is inspired by the cute My Melody, and Black Lemonade, which is based on her rival Kuromi.

When ordering either of the drinks at Pearl Lady, customers will also get one of 6 possible badges as pictured above. One of the designs is a secret, so you'll need some luck if you want that one.

Demon Slayer Confections Slash Their Way Into Lawson Convenience Stores in Japan

Bandai Candy's character-inspired Japanese confectionery series Tabemas collaborating with the popular TV anime series Demon Slayer: Kimetsu no Yaiba to release two confections themed on the show's main characters Tanjiro Kamado and Nezuko Kamado as well as a collection of tarts. The sweet treats will hit the chilled desserts corner of Lawson convenience stores in Japan on October 20, 2020.

Tabemas x Demon Slayer


Tabemas x Demon Slayer: Kimetsu no Yaiba (Tanjiro Kamado/Nezuko Kamado) – ¥264 Each (Before Tax)

The tarts feature all the little details of the beloved characters, from the scar on Tanjiro's forehead and his earrings to the bamboo pipe in his sister Nezuko's mouth and her hair adornment. It also captures the designs of their clothes. Both are filled with Japanese red bean paste with Tanjiro being chocolate flavoured and Nezuko strawberry flavoured.

Demon Slayer Tarts


Demon Slayer Tarts | ¥231 (Before Tax)

An assortment of biscuit base tarts laced with caramel mousse. The tart designs feature a range of popular characters from the anime series including the Kamado siblings, Zenitsu, Inosuke, Shinobu, and Tomioka.

Demon Slayer: Kimetsu no Yaiba is a manga series by Koyoharu Gotouge serialised in Weekly Shonen Jump. The popular series has over 100 million copies in circulation and spawned a hit anime series last year. The upcoming anime film Demon Slayer: Kimetsu no Yaiba the Movie: Mugen Train, which is being animated by ufotable, is set for release tomorrow on October 16, 2020 will serve as a direct sequel to the 2019 anime series.

©Koyoharu Gotouge/Shueisha・Aniplex・ufotable

Get Ready For Summer with mikko illustrations and HONEY SALON's Collection

Fashion brand HONEY SALON, which was developed by Stripe International Inc., is releasing a new line of items in collaboration with mikko illustrations. mikko illustrations is famous for their charming illustrations of women with sexy flair. The new line of items will be released from July 4, 2020.

About mikko illustrations

Charming, nostalgic with a touch of sexiness, mikko illustrations welcomes you to the adorable everyday life of a girl. mikko illustrations started off as a freelance illustrator in 2013. Their illustrations appeared in women's magazines, on websites and in apparel collections. They have also showcased their portraits and original merchandise at a number of exhibitions.

mikko illustrations and HONEY SALON Collaboration Collection

"An extraordinary girl like a sweet cherry" is the main concept of the collaboration. The sexy illustrations are also inspired by the retro and sexy 80's pin-up model. The collaboration items include t-shirts and skorts (skirts with shorts underneath). There are also tote bags, and two kinds of pouches.  The design seen above shows an adorable girl striking a pose with a cat helping itself to her scrumptious dessert.


sweetest cherry Puff Sleeve Shirt: ¥5,900 (Before Tax) Colours: White/ Light Pink


The illustration featured on this shirt shows the adorable young woman putting on her makeup while her mischievous cat seizes the opportunity to steal the cherries on her drink. The design is in full colour and in vintage style. Dainty and light material is used to make the puff sleeves which are decorated with ribbons to finish the vintage girly look. The skirt the girl is wearing in the illustration inspired the design for the gingham skorts in the collection.

sweetest cherry Gingham Skorts: ¥9,000 (Before Tax) Colours: Red/Black

The skorts are lined with a collaboration-limited gingham pattern. A beautiful ribbon hides the elastic that beautifully embraces the waistline while adorable round buttons decorate the front. Tuck in your top to enjoy this look. The high waist skort can be worn with the top for a beautiful silhouette.

sweetest cherry Compact Tote Bag: ¥4,800 (Before Tax) Colour: Ivory/ Pink

The tote bag comes with a useful pocket, making it easy to carry and use as one pleases. It is perfect for carrying a mini purse, train card and essential items to enjoy a day out. The back pocket design is adorable and cherry-themed. The tote bag is made from light satin, making it perfect for any kind of trip.

sweetest cherry Frilly Pouch: ¥2,900 (Before Tax) Colour: Ivory/ Pink

Every time you pull out this soft, frilly satin pouch, your heart will be overwhelmed by the kawaii world of mikko illustrations. This two-coloured pouch is fastened together with a heart-shaped charm. The round shape makes it easy to organise and easy to use.

sweetest cherry Multi-Pouch: ¥3,000 (Before Tax) Colour: Ivory/ Pink

The multi-pouch is made from water resistant fabric and shows off an original design. This pouch is perfect for your toothbrush and toothpaste, cosmetics, hair comb, handkerchief, mask and much more. A snap faster is affixed to close the pouch, making it easy to access.

If you want to get your hands on some of the items in this collection, head to Laforet Harajuku. These items will be sold from July 4 to July 17, 2020. Not only can you get your hands on these collaboration items here, but also many other items which feature original designs by mikko illustrations. Spend more than ¥13,000 (tax included) on mikko illustrations items and you will be given a ticket granting entry to a campaign where mikko illustrations creates digital portraits of participants.

As we're celebrating summer, this is the perfect opportunity to spice up your wardrobe.

Information

mikko illustrations X HONEY SALON Collaboration
Release Date: July 4, 2020

Avaialble At: HONEY SALON Shops across Japan ( Laforet Harajuku, Lumine EST Shinjuku, EST Umeda)

Online (STRIPE CLUB): https://stripe-club.com/honeysalon/

Cute Bear Pancakes Whipped Up at IMADA KITCHEN in Tokyo's SHIBUYA109

IMADA KITCHEN in SHIBUYA109 has teamed up with Hattendo Cafe to co-create the new "Torokeru Kuma-san Pancakes" (Melty Mr. Beat Pancakes) which will be served from July 1, 2020 to August 30, 2020.

IMADA KITCHEN is a food project that aims to create original food in Shibuya. Together with Hattendo, a Hiroshima brand known for its incredible cream pastries, they have created a super cute bear design pancake. Bear designs are popular with young girls in Japan.

Torokeru Kuma-san Pancake: ¥450 (Before Tax)

The fluffy pancakes are filled with melt-in-the-mouth, handmade custard cream, meaning a single bite lets you enjoy both the moist texture of the pancake and the melty drizzle of the custard cream. Your mouth is instantly filled with flavours of maple syrup and egg, which when combined with the accompanying berries makes for a sweet amalgamation of deliciousness.

Torokeru Koro Tama Kuma Sandwich: ¥450 (Before Tax)

Normally, you would have to go to Hiroshima to try Hattendo Cafe's "Torokeru Koro Tama Kuma Sandwich," but now it will be available to try at IMADA KITCHEN. Made with the cafe's "cream bread," this moist sandwich is filled with egg salad, korokke, and cabbage for a hearty meal.

Eggs 'n Things Harajuku's Exclusive Chocolate Mint Pancakes Ship Nationwide in Japan

Eggs 'n Things Japan has announced that it is releasing its "Harajuku Chocolate Mint Pancakes" and "Mango Salsa Chicken & Eggs" to all branches throughout Japan (excluding temporarily closed branches).

Harajuku Chocolate Mint Pancakes: Eat In ¥1,480 (Before Tax), Takeout ¥880 (Before Tax) | Serving: May 15, 2020 – June 11, 2020

The Harajuku Chocolate Mint Pancakes speak for themselves. Enjoy a serving of mint flavoured pancakes drizzled in smooth mint cream which is sure to send a refreshing tinge through your nose. It's topped with an Oreo cookie, chocolate mint ice cream, and served with a side of chocolate sauce.

*The takeout option doesn't come with whipped cream or chocolate mint ice cream

Mango Salsa Chicken & Eggs: ¥1,280 (Before Tax) *Takeout option available | Serving: May 15, 2020 – June 11, 2020

A plate of juicy fried chicken and a punchy mango salsa with a flavourful coriander taste and spicy kick.

Two perfect dishes to enjoy an early summer this year, coming to Eggs 'n Things in Japan this Friday.

Streetwear Brand XLARGE to Release My Hero Academia Collaborative Clothing

Established in November 1991 in Vermont Avenue los angeles, XLARGE has become one of the leading streetwear brands, infusing a range of culture such as music, art and comics into their designs and pioneering a new direction in fashion. 

 XLARGE is set to release a line of My Hero Academia collaborative clothing with Kōhei Horikoshi – the creator of the popular Weekly Shōnen Jump series (Shueisha. Inc).  

My Hero Academia is set in a world where 80 percent of the world possess some kind of superpower called "quirks". The main character Izuku Midoriya (Deku), who has dreamt of becoming a hero since childhood, discovers that he was born quirkless. After an unexpected encounter with the world's greatest hero All Might, Deku inherits the "One For All" quirk and is able to enter the prestigious hero school U.A. High School where he studies and fights alongside his new classmates to master his quirk. From children to adults, the series has become incredibly popular worldwide and the TV anime is set to release its fifth season. 

S/S TEE DEKU WHITE,BLACK,GREEN / S,M,L,XL / ¥5,500+TAX

S/S TEE ALLMIGHT WHITE,BLACK,NAVY / S,M,L,XL / ¥5,500+TAX

The new clothing series features Izuku Midoriya, his rival from childhood Katsuki Bakugo, the top-class hero Shoto Todoroki and the world's number one hero and Deku's biggest role model All Might. All the illustrations are original and include the XLARGE logo.

MY HERO ACADEMIA DENIM PANT LtINDIGO / 30,32,34,36inch / ¥20,000+TAX

If you're a fan of these new generation Jump characters then this stylish lineup is just what you need. The lineup will be sold from May 2, 2020 on calif and ZOZOTOWN online stores. 

This is perfect for any My Hero Academia fan looking to quirk up their look. 

©Kōhei Horikoshi/ SHUEISHA. Inc, My Hero Academia Production Committee

Kaori's Easy Recipe: Learn to Make Mickey Mouse Pancakes

With just a small bit of ingenuity, turn everyday food into something cute using Kaori's easy recipe! With a few simple ideas, an ordinary recipe magically transforms into a cute dish.

In this recipe, I made Mickey Mouse pancakes from the Face Art ga Kawaii Pancake Pan Mickey Mouse set you can buy on Belle Maison. You hear a lot of different tips and tricks on how to make the perfect pancake with your batter, so I'll show you a combined recipe to make yours as beautiful as possible♡

1. Ingredients (Makes 7-8 pancakes)

400g hot cake mix

300ml milk

1 large egg (approx. 52g)

15g honey

2. Mix the egg and milk together well. Add the hot cake mix slowly to ensure it does not become lumpy. Next, add the honey and mix. If you have time, leave to stand for 30 minutes on the side.

3. For the next step, please see the video I made below.

Heat the pan well without any oil.

Once heated, place the pan on a wet cloth once to remove the residual heat, turn the flame down to a medium, and pour in your mix.

Once your mix is in the pan, reduce to a low heat, put the lid on and leave to cook.

Once the surface is dry, cook the back side of the mix in another pan which you have already heated.

Done!

Belle Maison sells Minnie Mouse and Winnie the Pooh versions too. Try making your own Disney pancakes!

Kaori invites you into her world of character-themed food dishes in her recipe series. Be sure to check out her Instagram where she has uploaded many pictures of her character dishes!

Profile

Kaori Kubota (@kaopan27)
I live in Hokkaido and I love to make character themed foods, desserts and pastries♡

I want to see my family smile, so I enjoy putting in a bit of effort to make character foods and changing food into something cute♡

You can see more of my character foods and character bento boxes on my Instagram page→@kaopan27

©️Disney

Hokkaido Confectionery Makers Ishiya Open New Cafe in COREDO Muromachi Terrace

COREDO Muromachi Terrace is a new shopping complex in Nihonbashi, Tokyo that opened its doors on September 27, 2019. Confectionery company Ishiya, which is known for its Shiroi Koibito cookers that are considered a souvenir and speciality of Hokkaido, opened its first ever cafe outside Hokkaido entitled ISHIYA NIHONBASHI at the shopping centre.

ISHIYA NIHONBASHI is the first cafe managed by Ishiya outside of Sapporo, Hokkaido. The cafe's concept is to treat the people of Tokyo to the wonderful flavours of Hokkaido. This includes a selection of popular sweets and desserts, including the Shime Parfait―a common accompaniment to the end of any drinking party in Sapporo.

During the day, the establishment offers a sumptuous cafe menu whipped up by the chefs, such as pancakes and parfaits. Let's take a look.

Strawberry Ishiya Pancake (Fluffy) – ¥1,400 (Tax Included)

The Ishiya Pancakes are fluffier than clouds, made lavishly with cream cheese and fresh cream. They're topped with even more fresh cream and strawberries and are finished sweetly with condensed milk and a sweet and sour raspberry sauce. The pure white cream and raspberry sauce make these pancakes look cute and tempting♡

Shiroi Koibito Blend Coffee – ¥400 (Tax Included)

This original blend of coffee was crafted so it goes perfectly with a Shiroi Koibito biscuit. When you order a cup of this coffee you get one biscuit to enjoy with it.

During the evening and late night, the cafe serves snacks made to pair with alcohol as well as exclusive parfaits drizzled in Japanese sake. They also sell the "Shime Parfait," a classic post-drinking dessert in Sapporo.

Parfait Nihonbashi – ¥1,600 (Tax Included)

This Nihonbashi-exclusive parfait is topped with alcohol which you drizzle sake over. The parfait includes rich jelly. You can create even more delicious flavours with the accompanying matcha pudding or brown sugar syrup.

The cafe also sells Saqu, colourful high-class biscuits normally only sold in Hokkaido. They make for a perfect souvenir.

Taste the flavours of Hokkaido in Tokyo at Nihonbashi's newest hot spot.

Information

ISHIYA NIHONBASHI

Address: COREDO Muromachi Terrace 1F, 3-2-1 Nihonbashimuromachi, Chuo Ward, Tokyo

Opening Hours: 11:00-23:00

TEL: 03−6265−1143

No fixed holidays except when COREDO Muromachi Terrace is closed.

The "Pancake Prince" Opens A Brand New Pancake Restaurant in Omotesando

After a year of extensive research eating pancake after pancake, the one known as the "Pancake Prince" will open another branch of the Pancake restaurant VERY FANCY® in Omotesando on September 11. This restaurant will feature a unique Omotesando menu. 

The real identity of the legendary Pancake Prince is Satoru Sugimoto. In just one year, he visited a total of over 200 pancake restaurants in Japan and even overseas. His endless research led him to crafting a series of special recipes, which consist of high quality ingredients such as low viscosity wheat flour, aluminium-free baking powder, buttermilk and homemade cheese. The pancakes are fried carefully, creating a fluffy pancake with a new half-baked texture. 

VERY FANCY® has launched a brand new online advanced booking system which allows customers to quickly take to their seats without having to wait. Thanks to this new system, the restaurant has now become queueless. 

The menu at the brand new restaurant is based on the restaurant's standard pancake menu. The additional Omotesando menu is full of original ingredients and toppings that are unique to Omotesando. If you turn up to this branch, you can enjoy a lot more than just pancakes as there will be a variety of collaboration contents offered as well. This restaurant has also prepared a kid's menu and baby chairs. 

Homemade cheese kneaded into pancake batter and then fried to perfection ー this is just one example of the new fluffy "half cooked" texture pancakes that you absolutely must try. Come spend a wonderful moment munching marvelous pancakes surrounded by a cute and photogenic atmosphere.  

Information

VERY FANCY®︎ OMOTESANDO
Grand Opening: September 11, 2019

Address: AF Lohas St.Bidg 2F, 5-3-8 Jingumae, Shibuya, Tokyo
Opening Hours: 11:00-22:00
No regular holidays.

Reservation Website: http://veryfancy.me

Introducing Four Delicious Strawberry Desserts This Summer in Hokkaido

Hokkaido is a popular tourist destination for Japanese people as well as foreigners. During the winter, it is the perfect place to go skiing and during the summer, you will not suffer under sweltering heat like the rest of Japan. Hokkaido not only flourishes with wonderful tourist locations and delicious gourmet seafood, but also beautiful and stylish cafés.

Instagrammer Kei @607keih) uses his account to introduce the world to delicious desserts and meals. Today, he will be introducing you to the delicious strawberry-flavoured desserts that Hokkaido's capital Sapporo has to offer.

holidays pancake/ Susukino

Strawberry Pancake with Raspberry Sauce: ¥1200

holidays pancake is only open on Sundays. It is located inside a beer bar called es CRAFT. I ordered the strawberry pancake with raspberry sauce. The plate was stacked with three pancakes which were deliciously covered in fresh cream, whipped cream, vanilla ice cream, strawberries and raspberry sauce. The pancakes were soft and spongy. The flavour of the ricotta cheese really came through. Overall, this pancake is a very unique pancake to Hokkaido. 

The sweetness of the raspberry sauce and sourness of the lemon juice balanced out for a slightly sour tinge. The fresh cream and vanilla ice cream toppings can be obtained for free by simply following the café on Instagram. The variety of toppings add a whole new range of flavours and colours for you to mix and match, so there is no getting bored. You can reserve your spot simply by sending them a direct message on Instagram, or by referring to their story! These pancakes are a rare find in Hokkaido, so you must try them.

▼holidays pancake

Address: 1st floor N-place Building, 3-2-1, 4 Jonishi, Chuo Ward, Sapporo

Access: 3-minute walk from Susuki Station/Hosui-Susukino Station  

Opening Hours: 11:00 ー 16:00(Last orders: 5:30)

Closed: Mondays ー Saturdays

Official Instagram: https://www.instagram.com/kyujitsulab/

BerryBerryCrazy/ Susukino

Berry Berry Crazy is located on the 2nd floor of the building between 5-chome and 6 chome of Tanuki-Koji. The desserts here are made using strawberries sourced from Urakawa Sugano Orchard in Hokkaido. The species of strawberry used in the desserts is completely dependent on what is received upon the delivery of the ingredients that are received on the day. The parfait I ordered was made using a species of strawberry called Kaorino.

The parfait contained fresh strawberries and strawberry compote, whipped cream, strawberry granita, pie crust, chiffon cake, and milk ice cream. You can tell that this parfait is full of strawberry goodness just by looking at it. Not only are the strawberries delicious, but the strawberry granita and strawberry compote were also to die for. This combined with the delicious whipped cream enhances the rich flavour even more. 

▼Berry Berry Crazy

Address: 2nd floor, 5-20-2, Minami 3 Jonishi, Chuo Ward, Sapporo

Access: Approx. 5-minute walk from Odori Subway Station/Susuki Station

Opening Hours: 18:00 ー 24:00 (Last orders: 23:30)

Official Instagram: https://www.instagram.com/berryberrycrazy/

Café Blue/ Chuo Ward


Condensed Milk Strawberry Pancake: ¥1380 ※ Can change pancakes to waffles

A mountain of whipped cream sits on the pancakes served at this popular café. The condensed milk strawberry pancake intrigued me for quite while so I decided to order it. 

The plate is stacked with three pancakes, fresh cream and condensed milk. This is then drizzled with strawberry sauce and topped with vanilla ice cream. The pancakes were fluffy and the cream balanced the overall flavour, making it moderately sweet. The sweetness of the condensed milk and the sourness of the strawberry sauce were so delicious that there was no way I could get bored. 

▼ Café Blue

Address: 16-9-12, Minami 3 Jonishi, Chuo Ward, Sapporo

Access: 5-minute walk from Ropeway iriguchi Station

Opening Hours: 9:00 ー 19:00, (last orders: 18:00) 

Breakfast: 9:00 ー 11:00, lunch/dinner: 10:00 ー 19:00, desserts: 10:00 ー 19:00,

Open all year round.

Official Website: https://cafeblue.exblog.jp/

SHIRAYUKI/Tanuki-Koji 

Fruit Squash: ¥500 each

Shirayuki is located in Tanuki-Koji. The fruit squash here comes in four flavours and each contains popping boba. Today I ordered the Strawberry Squash. Strawberry sauce is drizzled into a cup of carbonated water. Popping boba is then added. The drink is topped with strawberries. 

The bubbles of the carbonated water makes it the perfect way to cool down in the summer. This drink is only available until August 15, so if you want to try it, get there soon.

▼SHIRAYUKI

Address: Shirayuki Sapporo Aiseikan Building, 5 Chome, Minami 1-jo nishi 5, Chuo Ward, Sapporo

Access: Approx. 5-min walk from Odori Subway Station

Opening Hours: 12:30 ー 19:00

No regular holidays

Official Instagram: https://www.facebook.com/shirayuki.hokkaido

So how about it? Kei's Instagram account is full of desserts and meals that you absolutely must try. If you are going to visit Hokkaido, make sure to check out Kei's Instagram so you know exactly which restaurant or café you want to visit!

Original article information and photographer: Kei (@607keih)

This Summer, Try These Luxurious Kyoto-Limited Uji Matcha Pancakes

Eggs 'n Things, Shijo Street, Kyoto will be selling luxurious Uji matcha pancakes from August 1, 2019. 

Eggs 'n Things Shijo Street first launched their delicious uji matcha pancakes back in February 2017. The pancakes quickly became a big hit among the locals as well as the tourists, appealing to visitors who wanted to discover more about Kyoto. This summer, Eggs 'n Things is packing their Kyoto-limited pancakes with even more Kyoto goodness.

These pancakes are luxuriously covered with rich matcha custard cream and garnished with rice flour dumplings, adzuki bean paste, chestnuts and a mini monaka wafer cake. Matcha is even kneaded into the pancake dough, maximising its mellow flavour. If you visit Kyoto, be sure to fully immerse yourself in the wonders of matcha ordering these matcha pancakes at Eggs 'n Things Shijo Street, Kyoto.

Information

Kyoto-limited Uji Matcha Pancakes 

Price: ¥1,580 (before tax)

Limited sale period start date: August 1, 2019 

Restaurant: Eggs 'n Things Shijo Street, Kyoto

 Eggs 'n Things Shijo Street, Kyoto

Address: 47-4,  Motoakuojicho, Higashinoroindori Shijo Sagaru, Shimogyo Ward, Kyoto

Opening Hours: 9:00 ー 22:00 (last orders: 21:00)

6 Must-Visit Cafes in Hokkaido For Their Kawaii Pancakes

Hokkaido is the northernmost of Japan's islands and a popular tourist location with both locals and overseas visitors, enjoyed for its winter sports like skiing, hot springs and more. It is also enjoyed for its cool climate, being the coldest region in Japan. It's home to many tourist spots and seafood restaurants, but today we're covering its countless cute cafes.

Kei, a Japanese Instagrammer, posts his visits to the many cafes of Sapporo―the capital of Hokkaido―on his Instagram page(

607keih). Today he will introduce us to 6 must-visit cafes in Hokkaido with the cutest pancakes.

Fafi Tamago no Pancake g-plus (Susukino, Sapporo)

This popular little cafe in the district of Susukino showcases its assortment of pancakes in a glass display. The cafe now sells affordable pancake and purin sets. I ordered the "Fruits and Milky & Chocolate Purin" set (¥980).


The fluffy pancake is made with Fafi's famous eggs which have a rich flavour and big yolks. The milky cream is sweet and silky smooth. Inside the pancake is delicious pineapple and strawberries which add a deliciously fruity accent.

Their pancakes are noticeably smaller at g-plus but since it comes with a purin in the set you're sure to be nice and full after. The set is perfect to share too.

▼Fafi Tamago no Pancake g-plus (Japanese: ファフィたまごのパンケーキ g-plus)

Address: 9-1019 Minami 5 Jonishi, Chuo Ward, Sapporo, Hokkaido

Business Hours: 11:30-19:00 (Last Orders 18:00)

Closed: Thursdays & Fridays

Official Website: https://g-plus.owst.jp/

Café ZIKKA (Kiyota, Sapporo)

Café ZIKKA serves a variety of pastries and desserts. Their elusive strawberry pancakes are a limited-time-only offer. These fat and fluffy pancakes have a distinctly different taste to other places. Heaping with strawberries, the fruit and pancakes marry in the most sumptuous of flavours when eaten with the yogurt ice cream centre. The strawberries also come in a variety of forms including whole, compote and sauce, making for a variety of succulent textures.


The fresh cream isn't overly-sweet making for a lighter pancake. It's also topped with crushed almond for added texture. The size of the pancakes aren't huge but since it's served with two and many toppings you'll absolutely be satisfied afterwards.

▼Café ZIKKA

Address: 11-12 Hiraokakoenhigashi, Kiyota Ward, Sapporo, Hokkaido

Business Hours: 11:00-20:00 (10:00-19:00 in January and February)

Closed: Wednesdays (Open on national holidays)

Official Website: http://yoshidacoffee.com/index.html

Kaze o Kanjite (Motomachi, Sapporo)

This cafe is just a 5-minute walk from Motomachi Station via the Tōhō Line. Simply exit from Exit 1 of the station, make a right and you'll arrive right there.

This cafe's aim is to bring it lots of students to eat their pancakes which are both cheap and delicious. I ordered the berry sauce pancakes.


The cafe's homemade strawberry jam contains pieces of fresh strawberry which alone already make the pancakes tantalising enough. They are served with a side of fresh fruits like extra strawberries as well as orange slices. The pancakes served here are so good that I personally count them as the best in Sapporo. That, and the prices are amazing for the huge portions you get. I want more people to get to know about this place, and not just students.

▼Kaze o Kanjite (Japanese: 風をかんじて)

Address: Kita House 1F, 17-2-3 Kita 24 Johigashi, Higashi Ward, Sapporo, Hokkaido

Business Hours: 10:00-18:00 (Last Orders 17:00)

Closed: Mondays & Tuesdays

Website: https://tabelog.com/hokkaido/A0101/A010202/1058705/

ROJIURA CAFÉ (Susukino, Sapporo)

ROJIURA CAFÉ is another cafe located in Susukino round on the backstreet of Round One. They serve pancakes and parfaits right into the early hours of the morning.

Their caramel sauce has salt in it to add a mouthwatering salty flavour that draws out the sweetness of the fresh cream. The nuts only add to this delectable delight of a pancake.

Fine and fluffy pancakes fit for the gods. Whether it's a dessert like pancakes or parfaits or even meals, ROJIURA CAFÉ's doors are open to  you from the evening until the deepest hours of the night.

▼ROJIURA CAFÉ

Address: TAKARA6.3, 3 Chome Minami 6 Jonishi, Chuo Ward, Sapporo, Hokkaido

Business Hours:

[Mon-Thurs] 18:00-03:00 (Last Orders 02:00)

[Fri-Sat] 18:00-04:00 (Last Orders 03:00)

[Sun & Holidays] 18:00-01:00 (Last Orders 00:00)

No Fixed Holidays

Official Website: http://sapporo-rojiuracafe.com/

OJ Coffee (Kotoni, Sapporo)

You'll find OJ Coffee just a few minutes' walk from Kotoni Station in Nishi Ward, Sapporo. This cafe serves exquisite coffees and boasts an abundant menu consisting of soba noodles, curries, steaks and more. They also serve pancakes so I decided to give them a go.

Fluffy, moist and glorious. The pancake is topped with custard and served with a side of fresh cream, both of which aren't overly sweet and go perfectly with the sweet beaten eggs of the pancakes. Decorated the outside of the plate is an assortment of fruits, maple syrup and other tempting treats for a variety of flavours. The coffee flavoured soft serve ice cream is a great palate cleanser too. The ice cream doesn't have the bitterness that comes with coffee but it's very coffee flavoured. It's close to Kotoni Station so if you're strolling around Nishi Ward looking for a cafe I highly recommend visiting here.

▼OJ Coffee

Address: D Planning Bldg. 1F, Kotoni 2 Jo, Nishi Ward, Sapporo

Business Hours: 7:30~22:00 (Last Orders 21:30)

No Fixed Holidays

Official Website: https://www.oj-coffee.com/

 

Café Blue (Ishiyama-dori, Sapporo)

Café Blue, built up from a renovated old house, is currently selling a new lemon and yogurt pancake for a limited time.

Their pancakes never fail to be anything less than fluffy. The generously drizzled yogurt sauce is fairly refreshing and sweet while still retaining that yummy yogurt flavour. The lemon curd sauce, too, is refreshing and combines well with the pancakes as lemon always does. The lemon also has honey in it making for a satisfyingly sweet and sour combination.


The ice cream on top is salt flavoured which bring out all the sweet flavours of the dessert. The crunchy almonds are nice and nutty and bring a great texture to the soft and sticky combinations. When I eat pancakes this is the  kind of thing I'm looking for!

The sauce was refreshing and the pancake overall was delicious and very easy to get down. The yogurt sauce really is amazing!

▼Café Blue

Address: 16-9-12 Minami 19 Jonishi, Chuo Ward, Sapporo, Hokkaido

Business Hours: 9:00-19:00 (Last Orders 18:00)

No Fixed Holidays

Website: https://tabelog.com/hokkaido/A0101/A010104/1036972/

Did you enjoy Kei's picks? Be sure to check out their Instagram page for more recommended desserts and foods to try in Sapporo. There's a wealth of choices on there that will make for great reference when travelling to Hokkaido.

Photo & Text: Kei (@607keih)

Translation: Joshua Kitosi-Isanga