Senkyakubanrai by DAOKO X MIYAVI Unveiled as Theme Song For Sensational Movie 'Diner'
Diner is an upcoming film adaptation of author and horror writer Yumeaki Hirayama's 2009 novel Diner directed by Mika Ninagawa and starring Tatsuya Fujiwara ー a dream tag team! The novel was said to be so good that it cannot be made into a movie…however, it was!  The movie features the fabulous actors and actresses Kanata Hongo, Masataka Kubota, Shinji Takeda, Takumi Saitoh, Eriko Sato and Nobuaki Kaneko as well as Shun Oguri, Anna Tsuchiya, Miki Maya and Eiji Okuda. For this movie, they are all playing the role of contract killers. This non-stop action film is all about pushing your instincts to the max. The movie will be released on Friday 5th July 2019.
 The main theme song for the film Senkyakubanrai by DAOKO X MIYAVI can be previewed in the trailer which has finally gone public! 
Last year, guitarist MIYAVI finished up his 7th world tour "DAY 2" World Tour 2018. The tour started in Tokyo and took place in a number of Japan's cities, finally hitting up Seoul, Singapore, Taiwan, Shanghai, Beijing, Hong Kong, and even Europe, Russia, the US, as well as Central and South America! The release of his album SAMURAI SESSIONS vol.3 last year in December also became very popular. Recently, he was recruited by fashion designer Yohji Yamamoto and Y-3 to take part in the worldwide advertising campaign Moncler BEYOND as a model. These are just a few examples of the many varieties of collaborations that have made MIYAVI so famous. Now, he has even created a song with DAOKO!
Rap singer DAOKO and guitarist MIYAVI's new song Senkyakubanrai will be available for digital download and on streaming services from 3rd July!
The passionate samurai spirit of guitarist MIYAVI combined with the enthusiastic rapper DAOKO is no doubt a collaboration that will reverberate throughout the entire country, sending ripples of passion through Japan. You just can't take your eyes off DAOKO and MIYAVI for a minute!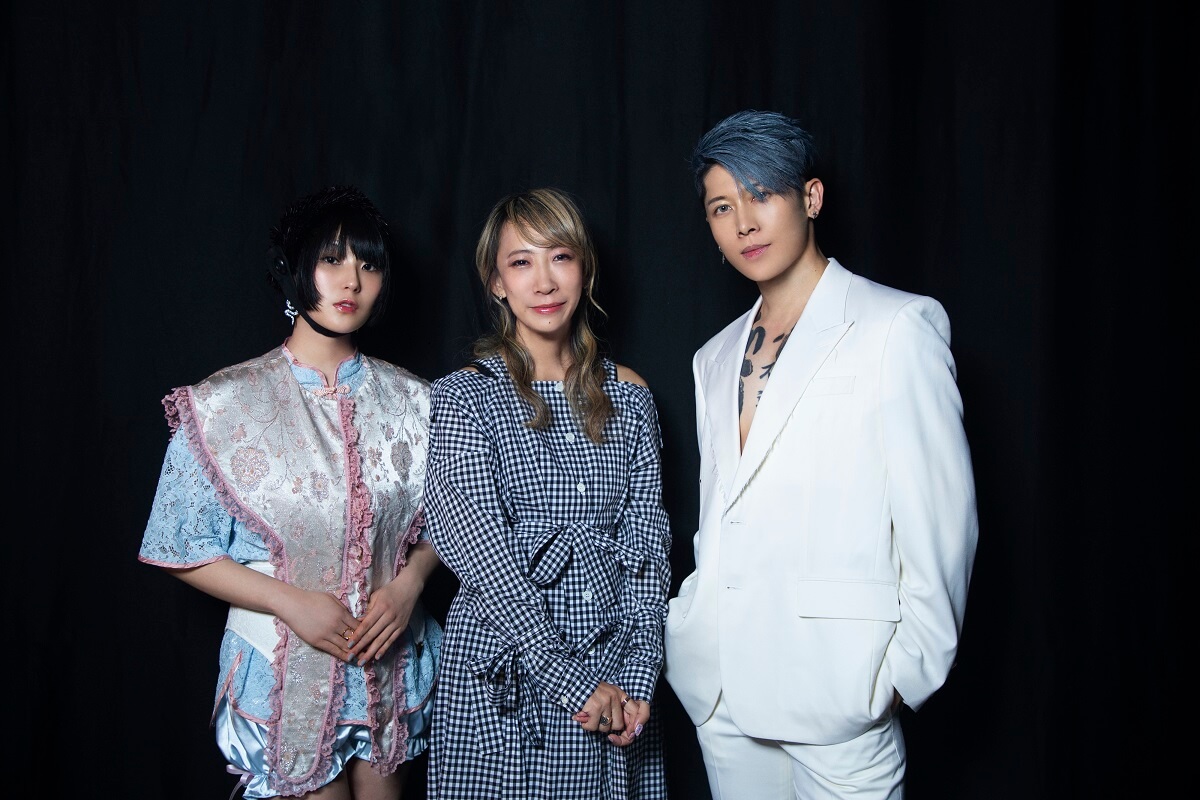 A statement by director Mika Ninagawa
An absolute dream come true. I am so thrilled. I've always been a fan of DAOKO and MIYAVI separately. One day, I was on the way to the set for the filming of the movie Diner, and I heard their song play. I thought to myself; wouldn't it be wonderful if we could work together someday? I then thought, wouldn't it just be amazing if I could put those two in charge of the opening theme song for the movie! After that thought was in my head, I didn't even think of considering anyone else. I asked them immediately and it's actually happening. I just can't express how happy I am.
Statement by DAOKO
I wanted to portray the 1v1 battle between the main characters Bombero and Kaneko in song form somehow. I was thinking of how to do this with MIYAVI when the idea crossed my mind! I challenged myself to keep to my rapping flow but to sing in a style to reflect the stubborn, strong-willed female role of Kaneko. I got really close to her personality through the lyrics and challenged myself with full power!
Statement by MIYAVI
Creating a song that perfectly describes Mika Ninagawa's perspective was key. I thought about making something to reflect the static relationship between Bombero and Kaneko, and so I took the concept of pushing away and coming close together and worked around that. The time difference between Tokyo and Los Angeles made things a bit difficult  but DAOKO putting her heart into the lyrics really helped. I can't wait for the world to be shaken when our song along with the film are finally released! 
©2019 "Diner" Production Committee ©2019  Mika Ninagawa / "Diner" Production Committee
Information
Senkyakubanrai
Release on digital streaming services/digital download: Weds 3rd July 2019
Diner (ダイナー)
Release: Friday 5th July 2019
A Warner Bros. film
Official website: diner-movie.jp
RELATED ENTRIES
KANDANIEL Releases New Single Featuring Miyavi, Announces Japan Tour

KANGDANIEL is a member of the Korean idol group Wanna One. The artist has won a number of awards since making his solo debut in South Korea in 2019, also starring in the Disney+ drama Rookie Cops. KANGDANIEL will digitally release the song TPIR (feat. Miyavi) from his long-awaited debut EP Joy Ride in Japan on August 17, and a lyric video has already been released.

 

TPIR stands for 'The Pain Isn't Real,' and the digital single proudly features samurai guitarist Miyavi. The track reminds listeners that no matter how painful things may be, it's not the end. Miyavi's guitar sounds incredibly emotional, and fans will be able to see a side of KANGDANIEL they haven't seen before. 

To celebrate this distribution, LINE MUSIC has started a playback campaign! Those listening to TPIR over 1,210 times by December 10 (KANGDANIEL's birthday) just need to post a screenshot on Twitter, with 10 winners being selected by lottery to win an autographed photo signed by the artist himself. For more information, see KANGDANIEL's official site.

 

The lyric video for the song was shot during a visit to Japan while the artist was snapping artwork for his debut EP Joy Ride in the suburbs of Tokyo. The video was shot with a smartphone in a vlog style.

KANGDANIEL will hold his first Japan tour, 'KANGDANIEL: 1st EP Release Tour: JOY RIDE THROUGH JAPAN,' on October 15 and 16. Fan club tickets for the shows at Zepp Namba (Osaka) on the 15th and KT Zepp Yokohama on the 16th will go on sale on August 20 at 10:00.

 

The fan club is also offering a special prize for those who purchase the EP Joy Ride. Those selected will win a Meet & Greet with the artist to be held during the Japan tour. By pre-ordering the EP at select stores, fans can also grab some special bonuses! These will be announced at a later date, so keep an eye out for more info.

Miyavi's New Song 'Fearless' Chosen as Theme Song for WOWOW European Soccer

WOWOW will be broadcasting an incredible amount of European soccer matches during the 2022-23 season, including the Spanish LaLiga starting August 13. The UEFA Champions League and UEFA Europa League competitions will decide who is the best on the continent, and many are ready to tune in. 

The WOWOW European Soccer Theme Song for this season will be Fearless by the globally popular performer Miyavi, known to many as the samurai guitarist.

Fearless was written by Miyavi himself. The artist formerly played soccer for Cerezo Osaka and channeled his memories of the competition and supporters into his music and lyrics. The song will begin airing during matches starting with the UEFA Super Cup 2022: Real Madrid vs. Frankfurt match on August 11. This season will be even more exciting than usual, with the World Cup scheduled to take place this November and December in Qatar.


Comment from Miyavi

"As a child, I wanted to become a professional soccer player and I practiced kicking a ball around every day. As a soccer fan, I imagined a song that would be played in a stadium and that everyone in the audience could sing along with.

I created the music and melody to inspire listeners to feel a sense of unity and to soothe the soul.

When I'm about to perform live or participate in a photo shoot, I always feel that sense of nervousness before a fight–that fear of failure before a challenge. I think that's something everyone has felt at some point. All we need to do is put in the energy and work to overcome it. I hope you'll sing along with the song, even at home in front of your TV."

Trilingual Singer MeiMei and MIYAVI Release New Song, Music Video

18-year-old trilingual singer MeiMei has released a new track, 'Strangers feat. MIYAVI,' in which the popular Japanese performer takes on the role of a samurai guitarist in the music video.

 

The killer tune blends MIYAVI's shredding guitar and MeiMei's strong yet fragile vocals. Curiously, MIYAVI accepted a direct offer from musical newcomer MeiMei to participate, and this song came to fruition. 

 

The music video was created by MeiMei, who speaks Chinese, Japanese, and English, and MIYAVI, a world-renowned guitarist. Sayaka Nakane, a LA and Tokyo-based video creator, served as director. The video itself portrays how young people will shape the future as they deal with anonymous 'unknown adults' who hit them with cruel words both online and in real life. 

 

Strangers feat. MIYAVI

MeiMei was selected to participate in the 'Tokyo Tower Red Light-Up 2022' diplomatic event and has served as a link between China and Japan. With the Beijing Olympics approaching, the artist is sure to find more work!

 

With diversity and borderlessness at the heart of her music, MeiMei aims to make music that transcends gender, age, or nationality. Listening to her voice, it's hard to believe that she's still a teenager!

Comment from MeiMei

During my time spent in both China and the US, I listened to MIYAVI's music and saw his videos. I was a huge fan. It's a miracle and an honor for me, a new artist, to be able to work with him. I still can't believe it's real. I'm too happy!

 

I learned so many things from MIYAVI, and he really inspired me. I want to become a better artist because of him. He gave me a lot of friendly advice and he feels like a big brother I can rely on. I hope that this song will inspire and give courage to those who are going through tough times. Everyone should be confident and live their life how they want. Please enjoy the song!

Hope everyone will love this song and support it, Let's rock the world!!

 

Comment from MIYAVI

Music can connect people across borders, across race, and across language. 


Age and career are completely irrelevant. 

I hope that Mei's fragile, beautiful, and supple voice will reach as many people as possible. I'm so happy and honored to be able to support her. 


The world is going through a difficult time, and I hope that this kind of music can connect people as we all make our way through it to a brighter future.


Let's go Mei, let's rock the world!!

Otome Game Tears of Themis Inspires Limited-Time Cafe in Ikebukuro

From January 14 until February 6, Ikebukuro Sunshine City's E-DINER will feature a special menu inspired by the MiHoYo otome game Tears of Themis. 

Original Food Menu

Minase's Orange Pancakes: ¥990 (Tax Included) / Sakyou's Omurice with Handmade Tomato Sauce : ¥1,100 (Tax Included) / Moritsuki's Avocado Sandwich: ¥1,100 (Tax Included) / Izumi's Fresh Blueberry Parfait: ¥990 (Tax Included)

Original Drink Menu

Non-alcoholic Cassis Orange / Hot Blended Coffee / Matcha Cream Latte / Violet Jelly Soda: ¥880 each (Tax Included)

Purchase Bonus

Guests will receive one random coaster (9 varieties) for each food or drink order.

Merchandise

Acrylic Stand: ¥1,320 each (Tax Included)

Chibi Character Acrylic Stand: ¥1,100 each (Tax Included)

Holographic Pins: ¥550 (Tax Included)

A4-sized Clear Folder Set: ¥770 (Tax Included)

Mug: ¥1,650 (Tax Included)

Masking Tape: ¥440 (Tax Included)

SNS-style Clear Sheet: ¥330 (Tax Included)

B2-sized Tapestry: ¥3,300 (Tax Included)

Canvas Art: ¥4,400 (Tax Included)

Blanket: ¥5,500 (Tax Included) / On sale starting January 24

NFT Platform Kollektion to Hold 'Month of MIYAVI' to Celebrate Performer's 20th Anniversary

Kollektion, a global platform connecting artists and fans through the sale of NFTs, will hold the 'Month of Miyavi' during the month of January 2022. NFTs and other items commemorating the 20th anniversary of the rock musician will be available.

MIYAVI started selling NFTs on the platform in October 2021 to positive fan response. In addition, fans who become holders of MIYAVI KLKTN Passes through the purchase of an NFT will be invited to a private Discord channel.



More details were announced during the Virtual Holiday Party on December 25, 2021. Fans from all over the world are invited to take part in this exciting sale!

1. MIYAVI KLKTN Pass
These NFTs were available for 24 hours only on January 2, 2022. Purchasing one gives fans access to over 380 MIYAVI NFT airdrops in the future. This also gives access to the private Discord channel.

2. Moments
These 'Moments' can only be seen in Kollektion, and include behind-the-scenes footage of MIYAVI's music production and private life. This time, each NFT has been sorted into one of three levels of rarity: Common, Rare, and Legendary. 


3. ArtKards
These NFTs were inspired by MIYAVI's album 'Imaginary.' Extremely limited and featuring a serial number, each item comes with a digital autographed photo card NFT and a raffle ticket for a personal video message NFT. 


4. Kodex
Introducing a new way to enjoy music in the modern era, cover art, lyrics, and liner notes will be included in each purchase.


5. Fender Official Guitar NFT (MIYAVI TELECASTER®)
FENDER and MIYAVI have come together to create a one-of-a-kind guitar NFT. Winners in the raffle will win a real signed guitar and other items!


6. Special Editions from the Hush Hush Music Video
A part of the limited-edition music video for MIYAVI's song Hush Hush has been made into goods and are on sale now! Each comes with premium extras like photo cards and extra commentary.


Comment from MIYAVI
"To celebrate the 20th anniversary since my solo debut, Kollektion will be holding the 'Month of MIYAVI!' I want to continue to take on new challenges and use the power of technology to better connect with my fans in both directions, not just one way. Don't miss out!"

KLKTN aims to create a new experience that deepens the connection between fans and creators, thereby increasing the enjoyment of fans and creating an environment where creators can enjoy their creative activities more.

DAOKO released her new music video for anima, the title track taken from her 4th studio album which dropped on July 29, 2020.

The song was written in collaboration with Japanese musician Shohei Amimori. The music video was directed by OSRIN of PERIMETRON and features dancing from Aoi Yamada.

DAOKO – "anima" Music Video


Speaking about the new music video, DAOKO released the following statement.

DAOKO | Comment

"I invited dancer Aoi Yamada on board, and worked together with the director OSRIN to express a sense of anima and animism. Me and Shohei Amimori played around lots with sounds and words together. The song is like a ticket into a new world 🙂 Please, enjoy yourself!"

Information

anima

Digital Release Date: June 24, 2020

CD Release Date: July 29, 2020

First Press Limited Edition (CD+DVD): ¥3,800 (Before Tax) [TFCC-86715]

Regular Edition (CD-Only): ¥2,800 (Before Tax) [TFCC-86716]

DAOKO Official Website: https://daoko.jp/

The CD cover for DAOKO's upcoming 4th album anima, which was announced last week and for which pre-orders opened today, has been revealed. The illustration was drawn by Shihatsu-chan.

DAOKO is set to release anima initially on June 24, 2020 across music subscription and download services before it hits shelves as a CD on July 29, 2020. The record comes as her first album since Shiteki Ryoko dropped back in December 2018.

anima will also be released with Limited Edition and Regular Edition copies.

The album is being co-produced by DAOKO herself and Akito Katayose (GREAT3) who was also the sound producer for DAOKO's self-titled album—her first to be released from a major label.

The 12-track album invites a diverse range of track makers and musicians on board who DAOKO respects. Songs will see a return to DAOKO's iconic rap style, as well as enter new territory for the singer.

DAOKO | Comment

"I first encountered Shihatsu-chan's work on Twitter. It was love at first sight. Her art makes me feel somehow nostalgic and lonely… but it also feels close and warm. The penny dropped when I actually got to meet Shihatsu-chan. She's a very warm and kind person in real life. I grew to love her work even more. The scenery we saw when we took a stroll together through Shibuya became the basis for the album artwork. It's wonderful, I felt a wave of emotions seeing it. It fits the outlook of the song perfectly and itself is an important part of this record. I'm honoured to have come together with her, so I'd like to thank her. I want to see your work enlarged, so now I want an art book of your work!")

Shihatsu-chan | Comment

"When I went to see DAOKO live, her music touched my heart. She's powerful, transient. As I watched her, she shone brighter than any one, and in my heart I knew I had to draw something for her. And she let me. Every piece I do is my best – I put my all into all of them. I hope you enjoy the artwork alongside DAOKO's wonderful music."

Information

anima

Digital Release Date: June 24, 2020

CD Release Date: July 29, 2020

First Press Limited Edition (CD+DVD): ¥3,800 (Before Tax) [TFCC-86715]

Regular Edition (CD-Only): ¥2,800 (Before Tax) [TFCC-86716]

DAOKO Official Website: https://daoko.jp/

Japanese singer DAOKO is set to release her fourth album anima initially on June 24, 2020 across music subscription and download services before it hits shelves as a CD on July 29, 2020. The record comes as her first album since Shiteki Ryoko dropped back in December 2018.

The album is being co-produced by DAOKO herself and Akito Katayose (GREAT3) who was also the sound producer for DAOKO's self-titled album—her first to be released from a major label.

The 12-track album invites a diverse range of track makers and musicians on board who DAOKO respects. Songs will see a return to DAOKO's iconic rap style, as well as enter new territory for the singer.

First Press Limited Edition copies of anima are coupled with a DVD featuring DAOKO's concert at Ebisu LIQUIDROOM held in February this year as part of her "2020 Otogi no Mitoshi Tour."

A new artist photo of DAOKO has also been released in promotion of her new album. The photo was taken by Shinkai Baba who also worked together with DAOKO on an exhibition held at Ebisu KATA.

DAOKO | Comment

"When I heard the final mastered version of my album 'anima,' I teared up. The album is intertwined with philosophical ideas, something which I often think about. It has an amazing sound. I felt beauty from my heart. The album is one which helps brings the light closer—a light which until now could only be seen from a distance—and one which illuminates the path ahead. I'm thankful from the bottom of my heart to all the musicians [involved] whom I admire and respect, and who helped me find a new DAOKO. This album saved me, and I hope it becomes a ray of light to those who hear it."

Akito Katayose | Comment

"Her words stir my heart, and her voice brings about a fiery pleasure to my ears. DAOKO has been special since I met her when she was 17-years-old. Her talent is endless, and it shows on this album. She feels liberated on it. It was an incredible experience to work with her […] as well as all of the wonderful musicians who followed along, including my former friend John McEntire. I hope this beautiful and curious album echoes as a source of strength to all the unstable hearts and the world."

Information

anima

Digital Release Date: June 24, 2020

CD Release Date: July 29, 2020

First Press Limited Edition (CD+DVD): ¥3,800 (Before Tax) [TFCC-86715]

Regular Edition (CD-Only): ¥2,800 (Before Tax) [TFCC-86716]

DAOKO Official Website: https://daoko.jp/

DAOKO Releases New Song 'Ocharaketayo' Featuring Indonesian Hitmaker pxzvc

DAOKO released her last single Otogi no Machi in February this year and promoted it with a mini solo tour in Nagoya, Osaka, and Tokyo.

Her new single and the second of 2020, Ocharaketayo, was released yesterday on March 25, and features Indonesian hitmaker pxzvc. It is a coming together of cultures to bring listeners next generation music.

The song is a response to the speed of Tokyo's urban development, and expresses her feeling of impatience, which cannot be put into words, at her own pace.

This is a must-listen for fans of DAOKO, an artist who just keeps on expanding her scope of expression.

Tokyo-bred singer and rapper DAOKO just dropped the music video for her new song Otogi no Machi which was released as a digital single just yesterday (January 15). Check it out below.

DAOKO – "Otogi no Machi" MUSIC VIDEO

In the video, DAOKO plays the role of an 'OL'—a Japanese abbreviation for an office ladyーworking somewhere in the city. Tired from work, she drags her tired body through the night-wrapped downtown streets. Awaiting her at the club she arrives at is blaring music and bright lights. When she steps back outside, the worldーwhich before was black and white for herーnow has colour to it, expressing the fact that music can bring colour to our ordinary lives. The scenes and outfit were all conceived by DAOKO herself, making this DAOKO's first entirely self-produced video.

The music video also features many pieces of work from illustrator Hermippe, who worked on the CD cover for the digital single as well as the key visual for DAOKO's "2020 Otogi no Mitoshi tour."

The song's lyrics are fantasy-like as they mix together fiction and non-fiction, woven together effortlessly by DAOKO's lyrical rap flow, and calling back to the music of her early days while evolving her sound at the same time. Together with Nariaki Obukuro, DAOKO has created a new and fitting style of club music for the Reiwa era.

Information

Otogi no Machi

Released: January 15, 2020 (Digital Release)

Download/Stream Links:  https://TF.lnk.to/DAOKO_otoginomachi

2020 Otogi no Mitoshi tour

2020/2/3 @ Nagoya CLUB QUATTRO, Aichi

2020/2/4 @ Umeda CLUB QUATTRO, Osaka

2020/2/10 @ Ebisu LIQUIDROOM, Tokyo

Official Website: https://daoko.jp/

Guitarist MIYAVI Releases His Own Brand of Sake in Collaboration with One of Kyoto's Oldest Breweries

MIYAVI is collaborating with the oldest brewery in Fushimi, Kyoto to create his unique brand of sake. After meeting Tokubei Masuda – the fourth generation owner of Tsuki no Katsura – a collaboration was launched to produce a new brand of Japanese sake called MIYAVI SAKE which was released in Japan on October 29.

MIYAVI wrapped up his seventh world tour last year, and even starred in the American dark fantasy film Maleficent: Mistress of Evil as Udo which hit theatres earlier this month. Continuing to make achievements on a global scale, MIYAVI is now aiming to spread Japanese culture around the world. To get started, he met with Masuda Tokubei in November 2018 where he observed and studied the brewery's sake-making process. From the precise recipes, making process, flavours and aroma to the care, tradition and history, Tsuki no Katsura made a grand impression on MIYAVI. Masuda Tokubei, who also shares in MIYAVI's vision, agreed to the collaboration and they both set out on their project to get their brand out there to the world.


MIYAVI SAKE STANDARD Junmai Daiginjo-Shu: ¥4,300 (before tax)/ MIYAVI SAKE LIGHT Junmai-Shu: ¥3,200 (before tax)

After endless discussions between the two of them, MIYAVI and Tokubei Masuda carefully crafted the recipes to perfection. The MIYAVI SAKE collection consists of four types of junmai sake which are made from polished rice. This reduces the bitterness of the alcohol and creates a clearer flavour. MIYAVI SAKE PREMIUM is a junmai daiginjo-shu which is made without adding any extra alcohol or sugar and has been matured over 10 years. The MIYAVI SAKE STANDARD is infused with fruity flavours such as peach and lychee and is perfectly balanced and refined with a refreshing aftertaste. The MIYAVI SAKE LIGHT tastes like a fruity white wine and the MIYAVI SAKE SPARKLING is a sparkling wine which resembles champagne.

With the expertise of Tsuki no Katsura, MIYAVI's sake is bound to get as much global attention as his guitar skills so be sure to check it out.

Watch the Teaser for DAOKO's New Dragalia Lost Album

Dragalia Lost™ is an action role-playing smartphone game developed by Cygames and published by Nintendo. It has been one year since the game launched last year on September 27, and to commemorate, young famous singer DAOKO is collaborating with the title to release an anniversary album on October 9 called DAOKO x Dragalia Lost.

Check out the epic album teaser below released just moments ago.

The teaser gives us a cheeky taste of many songs that are included on DAOKO's new album and follows DAOKO's journey with Dragalia Lost. The range of game scenes in the teaser is enough to make any Dragalia Lost fan lose themselves in excitement. 

Don't forget to check out the album when it is released!

Information

DAOKO × Dragalia Lost 

Release Date: October 9, 2019  

First-Press Limited Edition

Includes 2 CDs in a luxury 3-sided sleeve case, Digipak and 60-page booklet

TFCC-86694 ¥4,000 (price before tax)

Regular Edition (CD Only)

TFCC-86695 ¥2,800 (price before tax)

 

DAOKO Official Website: http://daoko.jp/