LEGO NINJAGO World Grand Opening! Check out the Ninja Food Menu!
LEGOLAND JAPAN is no doubt the perfect day trip for families with kids (and adults who still haven't grown up). 13:00 on Monday 1st July will be a very special moment for the park… as it will be celebrating the grand opening of LEGO NINJAGO World! This will be the first time the park has ever been extended since opening!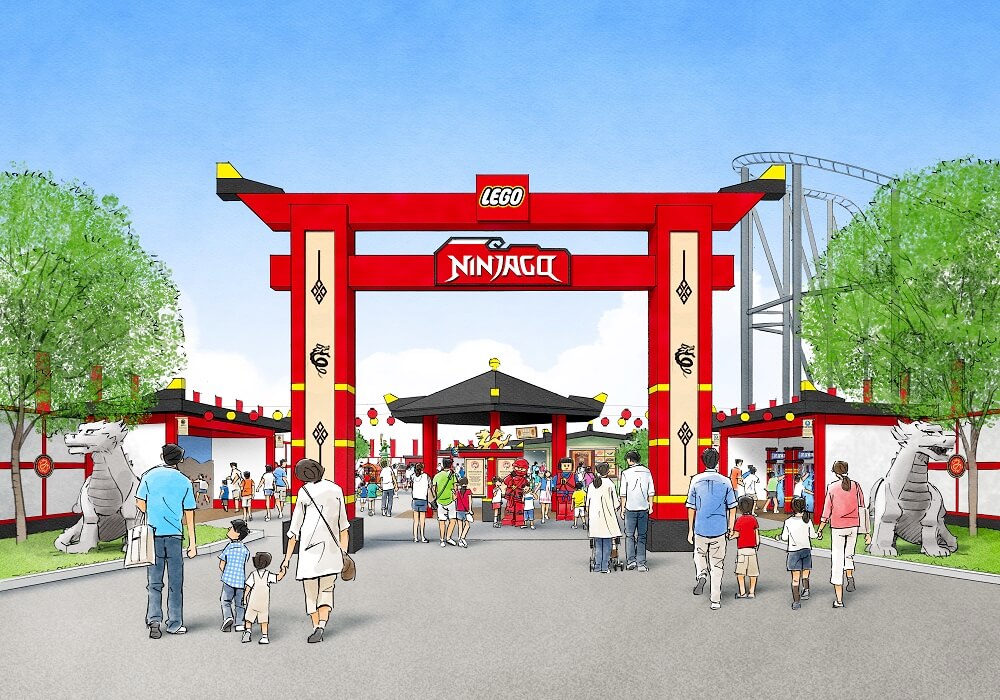 Except Dubai, all countries/states in the world that are home to a LEGOLAND own a NINJAGO World too ー and they are so popular! Now, it's about time that the country of ninja actually gets a LEGO NINJAGO World! It will be the eighth area of the park. From the moment you enter, you will be immersed in a ninja world! Rise up to the challenges set by the activities and plunge into all the attractions to better your ninja skills!
Flying Ninjago
The new area is home to three new attractions.  The Flying Ninjago will be the first to catch your eye. This is a gigantic ride that adults and kids are bound to get a thrill out of! Two brand new rides called Lloyd's Spinjitzu Spinners and Kai Sky Master will have their world debut at LEGOLAND JAPAN!
Apart from the attractions, there's so much more fun stuff to do to immerse fully in the NINJAGO experience.
Jay's Lightning Drill
Cole's Rock Climb
Polish your fundamental ninja skills with Jay's Lightning Drill and Cole's Rock Climb. NINJAGO World also contains many new lego models. The largest in the area is the 4-metre tall Samurai robot lego model!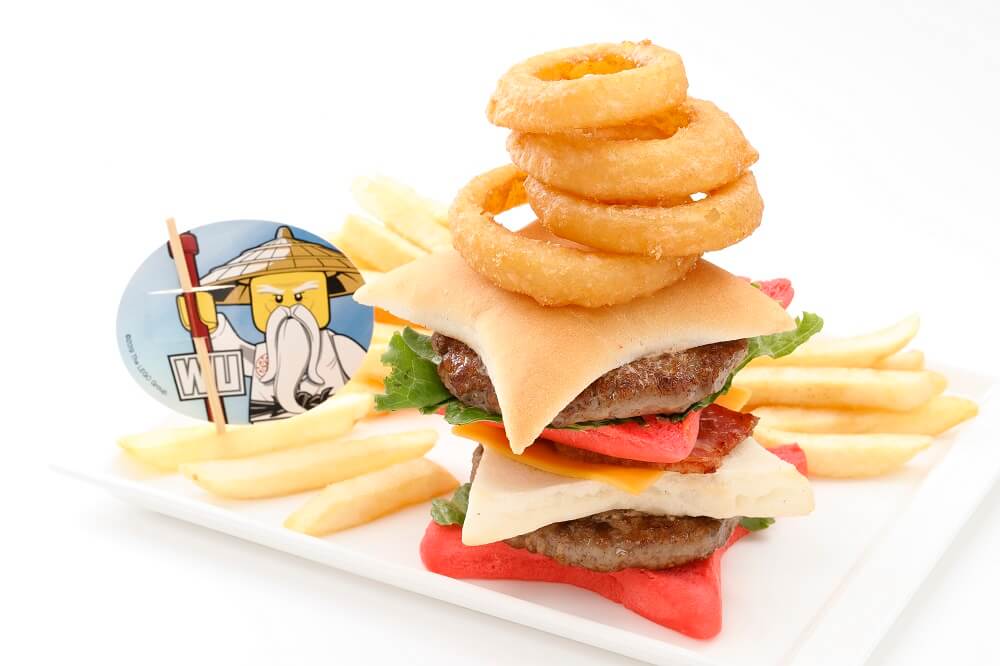 Spin Tower Burger Set【Brick House Burger】¥2,000 (price after tax)
Shuriken Pancake【Naruto Table】¥450 (price after tax)
To commemorate the birth of NINJAGO World, there are so many ninja-themed meals, treats and desserts being sold all over the new attraction area and throughout the theme park!
Challenge your ninja skills, enjoy the thrilling rides and indulge in the delicious ninja food at LEGO NINJAGO World!
Information
LEGO NINJAGO World
Grand opening: Monday 1st June 2019 at 13:00
LEGOLAND JAPAN
Address: Kinjoufutou, LEGOLAND Japan Limited, 2 Chome-2-1, Minato Ward, Nagoya, Aichi
Website: https://www.legoland.jp/
RELATED ENTRIES
Ghibli Park Gives First Look at Ghibli's Grand Warehouse Ahead of November Opening Date

Ghibli Park Phase 1 will open to the public on November 1 in Nagakute City, Aichi Prefecture at Moricoro Park within the Expo 2005 Aichi Commemorative Park. Ahead of the exciting day, fans are getting their first glimpse at the Ghibli's Grand Warehouse area!

For those looking to immerse themselves in the world of Ghibli, look no further. Phase 1 will see the opening of a theater, a shop, a cafe, and three unique exhibits. 

Cinema Orion

The theater will screen ten short films that were previously only available to watch at the Ghibli Museum in Mitaka, Tokyo. 

Trio of Special Exhibitions

The Famous Scenes Exhibition will invite guests to pretend to be a character in their favorite Ghibli films, stepping directly into recreated scenes. In addition, due to how often fans claim that food in Ghibli films looks exceptionally tasty, a special exhibition from the Ghibli Museum is also coming to Ghibli Park featuring these delectable-looking treats. 

The on-site store and cafe will also be selling original products only available at the park. A new trailer has been released for the park as well, showing what fans can look forward to in November. Tickets for Ghibli Park will go on sale on the 10th of each month and are reservation-only, with a date and time assigned for each area. Lottery sales for December admission will run from September 10 until September 21 at 23:59.

© Studio Ghibli

Information

Ghibli Park

Phase 1 Opening: November 1, 2022

Address: Expo 2005 Aichi Commemorative Park (1533 Ibaragabasama, Nagakute, Aichi)

Official Website: https://ghibli-park.jp/

Kyary Pamyu Pamyu Collaborates with Famed Nagoya Tea Shop Myokoen

Kyary Pamyu Pamyu inspired music lovers around the world in April when she performed at Coachella, one of the largest music festivals on Earth. The second half of the singer's 10th anniversary nationwide tour 31-show has begun, gaining even more momentum following the announcement of a solo concert at Nippon Budokan in October. In conjunction with the nationwide tour, the LOCAL POWER JAPAN Project was launched to energize Japan through the appeal of regional towns and cities. As with past concert locations, a new collaboration has been announced ahead of Kyary's June 19 performance in Aichi Prefecture. 

Since its opening in 1916, Myokoen has been providing high-quality tea leaves to tea lovers around Japan. The store is known for its hojicha, or roasted green tea, which is made by roasting the leaves over a gentle flame. With a particular focus on aroma, taste, and color, this secret blend of tea leaves is selected by tea masters from all over the country. 

Kyary's collaboration with Myokoen draws inspiration from the singer's 6th single Invader Invader (2013), in which a fashionable alien played by Kyary seeks to take over the world. The tea shop's logo has been transformed with a bit of pop flare.

Myokoen (Aichi Prefecture) x LOCAL POWER JAPAN Project 'Invader Hojicha': ¥1,200 (Tax Included)


The special product released for the new collaboration is the Myokoen and LOCAL POWER JAPAN Project Invader Hojicha. The recipe for the tea has remained unchanged for over six decades and this blend focuses on the golden color of fresh green tea after it has been roasted. This release features new packaging, and those interested can purchase a package at all Myokoen shops and on the company's online store. Limited quantities will also be sold at the Aichi Prefectural Art Theater's Main Hall starting at 2:00 on June 19, 2022.

Myokoen (Aichi Prefecture) x LOCAL POWER JAPAN Project T-shirt: ¥3,300 (Tax Included)

A collaborative T-shirt is also on sale featuring the new logo and the singer's 10th-anniversary logo. The shirt is available on the LOCAL POWER JAPAN Project website for two weeks only!

Information

Myokoen (Aichi Prefecture) x LOCAL POWER JAPAN Project 'Invader Hojicha'

Running: June 13 – July 31, 2022 *While supplies last. 

Where to Buy: Myokoen Stores, Myokoen Online Shop

Online Shop: https://www.myokoen-shop.com

Myokoen (Aichi Prefecture) x LOCAL POWER JAPAN Project T-Shirt
LOCAL POWER JAPAN Project Online Shop:
https://store-localpowerjapan.com/

World's First Ninja Specialty Store 'Ninja Tokyo Pro Shop' to Open in Tokyo Tower

The world's first store dedicated exclusively to ninjas will open inside Tokyo Tower in 2022.

It's said that Japan's top three tourist attractions are Mt. Fuji, Kyoto, and ninja–but the latter has no dedicated location for visitors to enjoy. This shop will specialize in ninjas, for ninjas, by ninjas!

Ninja Tokyo Pro Shop will open on the second floor of Tokyo Tower, still one of Tokyo's most popular attractions. With 22 years of experience, the company running the shop offers ninja-specific goods, armor, sweets, and more.

Special Sanrio Characters are Back!

Sanrio Characters NINJA, an original brand first developed in 2016, will make a triumphant return! Original goods featuring new illustrations will be available at the store. The characters were first created to celebrate the Sanrio collaboration with the Ninja Cafe at NINJA KYOTO, but no new products in the series have been released since 2017.

The Ninja Tokyo Pro Shop will offer authentic armor that will satisfy not only domestic and international tourists but also ninja enthusiasts and cosplayers. Visitors can try on armor and enjoy a shuriken experience using the 'Ninja Trainer' as well! The store will include a large selection of original swords, bowls, and plenty of exclusive goods only available on site.

Be sure to visit in October 2022!

NAKED to Hold Nighttime Cherry Blossom Event at Toyokawa Inari in Aichi Prefecture

Toyokawa Inari in Aichi Prefecture will be taken over by NAKED projection mapping and events with a spring theme from March 22 until April 3, 2022. 

NAKED Tsukubai – Spring Ver.

NAKED Distanced Lanterns – Spring Ver.

Projection-Mapping 'Sakura Pilgrimage' *Spring Exclusive

'Sando Illumination – Rim of Light' Spring Ver.

NAKED Flower Fortune Telling – Spring Ver.

The Tokyokawa Inari x NAKED YORU MO-DE is being transformed as spring approaches, and popular NAKED attractions are being reimagined with cherry blossoms in mind. The popular NAKED Tsukubai, in which guests have their hands purified with art, will show cherry blossoms blooming. The NAKED Distanced Lanterns, made to encourage social distancing, will also feature a sakura theme.





Visitors can also participate in Flower Fortune Telling, which has been very popular across social media. Why not come see the temple illuminated with cherry blossoms?

Projection-Mapping Event at Okazaki Castle in Aichi Prefecture Captured on Video

Okazaki Castle in Aichi Prefecture is one of the most beloved historical spots in Japan. The fourth-largest castle in the country and the birthplace of Tokugawa Ieyasu, the spot was illuminated by an impressive projection mapping event in early January. Now, thanks to a new video of the show, people around the world can experience it for themselves!


During the event, incredible images of the city's cultural assets and artworks were shone on the gate, including those by Reizi Tamechika. The region's popular Mikawa Fireworks made appearances as well, along with more modern digital art. The 16.4-meter wide and 11-meter high gate to the castle was also covered in brilliant lights!


Video Recording of Event

In 1959, Okazaki Castle's tower was reconstructed, and in 2006, the location was selected as one of the 100 best castles in Japan. Each floor inside the castle has a different theme, and the location's history is introduced through a collection of exhibits and a diorama theater. Guests can enjoy a panoramic view of the city from the observation room on the 5th floor


The creators of the event hope that visitors and viewers from around the world can experience Japanese culture, art, and tradition through digital entertainment.

Information

Okazaki Castle Main Gate Projection Mapping

Dates: January 8 – January 10
Address: Okazaki Castle in Okazaki Park (561-1 Kosei-cho, Okazaki City)
Official Site: https://www.hitohata.jp


Studio Ghibli Theme Park to Open in Nagakute, Aichi Prefecture in November 2022

The Aichi Prefectural Government announced that part of the Studio Ghibli theme park will open on November 1 in the city of Nagakute. 

During the announcement, the first video and key visual of the park was released, both created by Studio Ghibli. The tourism video highlights the appeal of Aichi Prefecture and features local tourist spots, encouraging those visiting the theme park to also spend some time touring the prefecture.





Three areas of the Ghibli Park will open on November 1 of this year: Ghibli's Grand Warehouse, the Hill of Youth, and Dondoko Forest. Two additional areas–Mononoke's Village and the Valley of the Witches–are scheduled to open in November 2023.


Ghibli no Daisoko (Ghibli's Grand Warehouse)


Three times the size of the Ghibli Museum in Mitaka, Ghibli's Grand Warehouse will be an indoor area featuring shops, restaurants, ongoing exhibitions, and a small theater. An interactive area featuring oversized objects will allow visitors to feel as though they've stepped into Arrietty's world, while another part of the space will recreate the sky garden from Laputa: Castle in the Sky. The Warehouse will also have a My Neighbor Totoro-inspired playground complete with Catbus.

Seishun no Oka (Hill of Youth)

Serving as the entrance to the park, the Hill of Youth features a yellow observation tower which will double as the main gate. The area will showcase the antique shop from Whisper of the Heart, featuring curiosities from films like Laputa: Castle in the Sky and Howl's Moving Castle. The Hill of Youth will also feature a mini version of the Cat Bureau from the movie The Cat Returns.

Dondoko Mori (Dondoko Forest)

Dondoko Forest will feature Satsuki and Mei's house from My Neighbor Totoro. A completely immersive experience, guests will notice that much of the local nature is intact–Miyazaki himself asked that no trees were to be cut down in the building of the park. 

Which Ghibli film would you like to see brought to life at Ghibli Park?

 © Studio Ghibli

Information

Ghibli Park

Opening Date: November 1, 2022

Projection-Mapping Event to Take Over Main Gate of Okazaki Castle in Aichi Prefecture

Okazaki Castle in Aichi Prefecture has a fascinating history, known as the birthplace of Tokugawa Ieyasu and once the fourth largest castle in Japan. Now, a new projection-mapping event by the digital artist group Hitohata will cover the main gate of the structure in incredible lights from November 12 to November 14. 

During the event, incredible images of the city's cultural assets and artworks will be brilliantly shone on the gate, including those by Reizi Tamechika. The region's popular Mikawa Fireworks will proudly make appearances as well, along with more modern digital art.

At the same time, the Sakurajo Bridge x FORUM 8 Central Rally 2021, also produced by Hitohata, will be held at the nearby Sakurajo Bridge. 

Information

Okazaki Castle Main Gate Projection Mapping

Running: November 12 – November 14, 2021 

Hours: 18:00-21:00

Address: Okazaki Castle in Okazaki Park (561-1 Kosei-cho, Okazaki City)

Admission: Free, no reservations required

Official Site: https://www.hitohata.jp

INAX LIVE MUSEUM Exhibition 'Spectacular! Nagoya's Mosaic Era' To Open Soon

The INAX LIVE MUSEUM in Tokoname, Aichi Prefecture, specializes in sharing the beauty in soil and pottery. Between November 6 2021 and March 22 2022, the museum will be holding the 'Spectacular! Nagoya Mosaic Era' exhibition. 

 

 

One wall will be covered in countless tiny pieces of tile, glass, and stone to create one large mosaic mural. The architectural decorations have been colored in a Pointillism style, where even bold shades mysteriously fade with time to blend in with everyday landscapes.

 

During the era of high economic growth, mosaic art flourished in and around Nagoya, boosted by the national demand for decorating the newly built reinforced concrete buildings. Nagoya was also home to leading pottery producing areas such as Tokoname, Seto, Tajimi, with close links to Gifu which was known for its marble production. A Yabashi Marble Shop (now Yabashi Marble) was also located in Nagoya. Architect Murano Tōgo's Maruei Department Store, painter Yabashi Rokurou's piece in the Aichi Prefectural Office West Building, Kitagawa Tamiji's mural which integrates with the architecture of the Seto Library… Each piece was made during this period. Many murals have been lost to rebuilding in the half-century that has since passed, but the remaining pieces still retain their brilliance.

 

The exhibition will focus on the years between the late 1950's and 1970's, featuring photos of 17 impressive pieces crafted during this golden age of Nagoya mosaic art, along with part of the ceiling painting from the Central Japan Building (Previously the China-Japan Building). The art from the old Nagoya Castle Hotel which was stored in the museum will also be on display, as well as both murals from the old Kagome Building lobby. You will be amazed at the expressive art, the masterful use of color, and the detailed handiwork.

Step into the world of murals and learn all about soil and pottery at the INAX LIVE MUSEUM, just one of Nagoya's many impressive attractions.

 

Information

Spectacular! Nagoya's Mosaic Mural Era

Duration: November 6 2021 ~ March 22 2022

Location: INAX LIVE MUSEUM 'Soil & Pottery' Exhibition Room

Address: 1-130 Okuei-cho, Tokoname City, Aichi Prefecture 479-8586   

Closures: Wednesdays (excluding national holidays), between December 27 2021 and January 5 2022. 

Official Site: https://livingculture.lixil.com/ilm/ 

Boat Race Tokoname in Aichi Prefecture to Screen Popular Films at Drive-in Theater

The Boat Race track at BOATRACE Tokonome will be home to a 3-day Drive-in Theater event on November 19, 20, and 21. The vast west parking lot will welcome guests to enjoy three films from the safety and privacy of their vehicles. In past years, the Hamanako, Tokuyama, Naruto, and Mikuni locations have participated. Now, it's Tokoname's turn!

Selected Films

La La Land (with subtitles) – November 19, 2021

© 2017 Summit Entertainment, LLC. All Rights Reserved.

The Secret Life of Pets 2 (dubbed) – November 20, 2021

© 2019 Universal Studios. All Rights Reserved.

A Whisker Away – November 21, 2021

© 2020「泣きたい私は猫をかぶる」製作委員会

This lineup of films can be enjoyed by families, lovers, and friends. The final film, A Whisker Away, is a coming-of-age fantasy set in the city of Tokoname. Visitors can enjoy these films on one of the largest air screens in Japan, at 722 inches. Don't miss some additional boat race content that even beginners can enjoy!

Information

BOATRACE de DRIVE-IN THEATER in BOATRACE Tokoname

Dates: November 19, 20, 21 – Doors open at 18:00, film starts at 19:00

Address: BOATRACE Tokoname West Parking Lot (4-111 Shinkaicho, Tokoname-shi, Aichi)

Official Site: https://boatrace-driveintheater.com

Detective Conan Escape Games Open in Japan

In promotion of SCRAP's new Detective Conan themed escape game Escape From the Scarlet Investigation (Blood Task Force), five of the company's past escape games made in collaboration with the anime series are being revived for a temporary period.

Escape From the Orient Express

Escape From the Magical Castle

Escape From the Black Assassin

Escape From the Final Public Examination

Escape From the Navy Blue Art Museum

Here's what it's like to play..

SCRAP's escape games are made in collaboration with many different series and see players become a character in the story where they must solve puzzles and riddles to find a way out. They have collaborated with Detective Conan since 2013 during which over 1.3 million people have played. The newest entry to the series is Escape From the Scarlet Investigation (Blood Task Force).


Five previous escape games make a return this year including Escape From the Orient Express (2014), Escape From the Magical Castle (2015), Escape From the Black Assassin (2016), Escape From the Final Public Examination (2018), and Escape From the Navy Blue Art Museum (2019). Each features a completely original story set in the world of Detective Conan.

©青山剛昌/小学館・読売テレビ・TMS 1996
©青山剛昌/小学館

Information

Escape From the Scarlet Investigation (Blood Task Force)

Japanese Title:「緋色の捜査網からの脱出」

Release Date: 2021

Details:  https://realdgame.jp/conan2020/

Escape From the Orient Express

Japanese Title:「オリエント急行からの脱出」

Tokyo
Venue: Tokyo Mystery Circus
Running: August 4, 2021 – September 12, 2021
Details: https://mysterycircus.jp/events/8933

Aichi
Venue: Real Dasshutsu Game Nagoya (formerly Nazo Complete Nagoya)

Running: September 2, 2021 – September 20, 2021
Details: https://www.scrapmagazine.com/nazocomplex/events/orient_express2021/
 

Escape From the Magical Castle

Japanese Title:「奇術城からの脱出」

Tokyo
Venue: Real Dasshutsu Game Kichijoji
Running: August 19, 2021 – September 5, 2021
Details: https://www.scrapmagazine.com/nazobldg_kichijoji/events/2021conan3/
 

Escape From the Black Assassin

Japanese Title:「黒き暗殺者からの脱出」

Aichi
Venue: Real Dasshutsu Game Nagoya (formerly Nazo Complete Nagoya)

Running: July 29, 2021 – August 29, 2021
Details: https://www.scrapmagazine.com/nazocomplex/events/assassin2021/

Tokyo
Venue: Real Dasshutsu Game Kichijoji

Running: September 15, 2021 – October 24, 2021
Details: https://mysterycircus.jp/events/8934
 

Escape From the Final Public Examination

Japanese Title:「公安最終試験からの脱出」

Aichi
Venue: Real Dasshutsu Game Nagoya (formerly Nazo Complete Nagoya)

Running: August 26, 2021 – September 26, 2021
Details: https://www.scrapmagazine.com/nazocomplex/events/project_zero2021/
 

Escape From the Navy Blue Art Museum

Japanese Title: 「紺青の美術館からの脱出」

Tokyo
Venue: Real Dasshutsu Game Kichijoji

Running: September 9, 2021 – September 26, 2021
Details: https://www.scrapmagazine.com/nazobldg_kichijoji/events/2021conan7/

This Luxurious Shaved Ice is Made With Figs From Aichi Prefecture's City of Anjo

TEA HOUSE ANJO, a cafe in Aichi Prefecture, released a new shaved ice dessert to its menu last Friday which is made with seasonal figs.

Fig Shaved Ice | ¥1,080 (Tax Included)

Taste isn't the only luxury of this dessert: it's also made with appearance in mind. It's crafted with whole fresh figs grown in Anjo that are in-season right now and is drizzled in a sauce made from fig juice. Perfectly refreshing for summer, the shaved ice also hides other tasty secrets too including homemade fig pudding and rich caramel pudding which mix deliciously with the sweet and juicy figs. The fig sauce and fig puddings that are used in this dessert will also be available to buy separately in Japan online at Oyatsu on July 12. Of course, this isn't the only delight on the menu at TEA HOUSE ANJO, but you'll have to pay the cafe a visit to see all the other treats they have to offer.

Information

Fig Shaved Ice

Released: June 25, 2021

Location: TEA HOUSE ANJO

Address: Ryūta-86-5 Sasamechō, Anjo, Aichi 446-0073, Japan

Oyatsu Online Shop: https://oyatsu-lacasa.stores.jp

Tokyo's Pixar Exhibition 'PIXAR! PIXAR! PIXAR!' to Open in Spring 2021

A Japan-original Pixar exhibition by the name of PIXAR! PIXAR! PIXAR! is set to run from April 8-19 at Seibu Ikebukuro in Tokyo. The exhibition is a celebration of all things Pixar Animation Studio and Walt Disney Japan where fans will have the opportunity to glimpse never-before-seen concept art, learn about the secrets of the studio's office building, hear interviews with Japanese staff who work at the animation studio, and much more.

Pixar fanatics can expect to see all their favourite characters from the filmography such as Monsters Inc., Toy Story, Wall-E, Coco, Finding Nemo, and more. There will be plenty of merchandise to add to the collection too—around 200 pieces in fact—including items with official artwork that has never been made into merch before.

New official artwork illustrated by Pixar Animation Studios for 'PIXAR! PIXAR! PIXAR!'

 

The artists at Pixar Animation Studios have created an original collection of artwork for the exhibition which will be displayed around the site itself as well as on merchandise sold there. There will also be a behind-the-scenes video showing at the exhibition where you can see the staff drawing the pieces.

                                               

A historical lookback at Pixar's filmography

The exhibition will pay homage to everything Pixar has to offer, from their roots of animation shorts to their critically acclaimed full length animated features. If you have a favourite from any of these, you're sure to find merchandise of it at the exhibition.

Feel like you've been invited to Pixar Animation Studios

The exhibition will have an area decorated with a gallery of posters, the famous Pixar lamp and ball, Woody and Buzz statues made from Lego, and more, as well as a photo gallery from pictures taken inside the studio.

Learn all there is to know about Pixar

Learn all the trivia about Pixar from what kind of Japanese people work at the studio, what characters are hidden throughout their films, and more.

Original Merchandise                                     

Fans can sift through around 200 pieces of original merchandise.

Movie Poster Collection

The posters released for each of Pixar's films have been shrunk down into a collection of postcards.

Final frame merchandise

A line-up of merchandise featuring the final frames taken from all 23 of Pixar's feature length animations.

Early concept art

The exhibition will sell an array of merchandise featuring artwork that has never been turned into merch before, such as early concept art.

Easter eggs

There will also be merchandise featuring fun Easter eggs hidden throughout Pixar's films.

 

Pixar Animation Studios

A line-up of merchandise that makes you feel like you're part of the Pixar office.

Bonus Items                              

Visitors that spend over ¥3,000 (tax included) on merchandise at the exhibition will receive one of 8 possible pins. These are available on a first-come, first-served basis. Additionally, spending over ¥6,000 will get fans an original bottle too.

The exhibition will also be moving around Japan after its Tokyo run. Check the locations below.

©DISNEY/PIXAR All rights reserved. No reproduction or republication without written permission.

Information

PIXAR! PIXAR! PIXAR!

Running: April 4, 2021 – April 19, 2021

Opening Hours: 10:00-20:00 

Where: Seibu Ikebukuro Annex Bldg. Floor 2F

Price: General ¥800 / Children ¥500

Kyoto Exhibition

Running: April 21, 2021 – May 5, 2021

Where: Daimaru Kyoto Museum Floor 6F

Entry: Free

Aichi Exhibition

Running: July 21, 2021 – August 12, 2021

Where: Matsuzakaya Nagoya Floor 7F

Entry: Free

Shizuoka Exhibition

Running: December 29, 2021 – January 16, 2021

Where: Matsuzakaya Shizuoka Floor 8F

Entry: Free

POP-UP SHOP

Where: Fukuoka PARCO Floor 5F

Running: April 17, 2021 – May 9, 2021

Entry: Free

Official Website: https://www.ntvs.co.jp/ppp-official/