LEGO NINJAGO World Grand Opening! Check out the Ninja Food Menu!
LEGOLAND JAPAN is no doubt the perfect day trip for families with kids (and adults who still haven't grown up). 13:00 on Monday 1st July will be a very special moment for the park… as it will be celebrating the grand opening of LEGO NINJAGO World! This will be the first time the park has ever been extended since opening!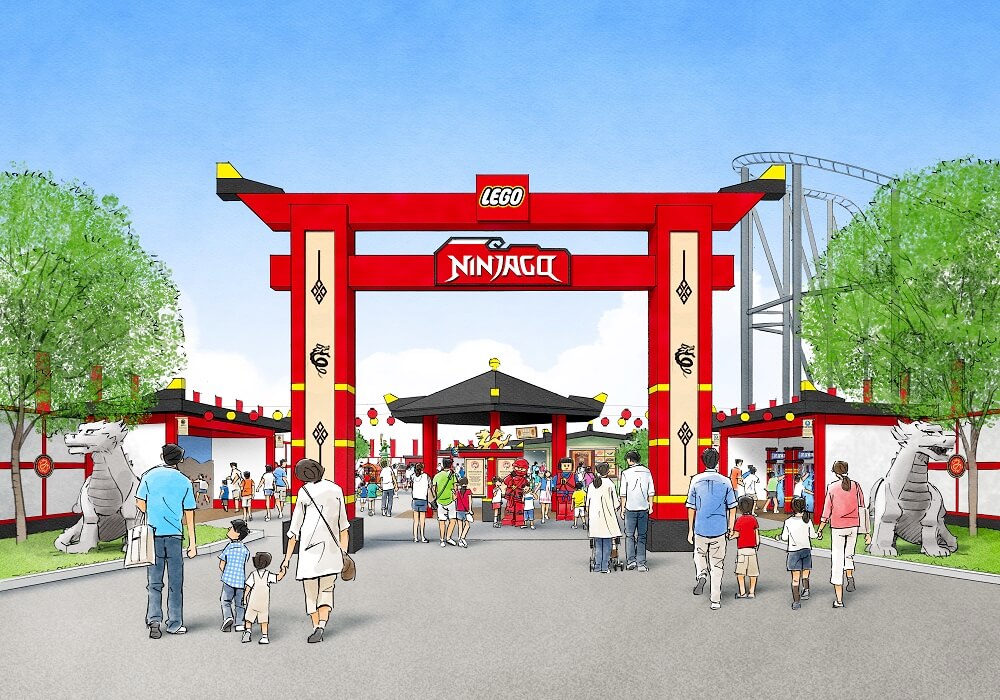 Except Dubai, all countries/states in the world that are home to a LEGOLAND own a NINJAGO World too ー and they are so popular! Now, it's about time that the country of ninja actually gets a LEGO NINJAGO World! It will be the eighth area of the park. From the moment you enter, you will be immersed in a ninja world! Rise up to the challenges set by the activities and plunge into all the attractions to better your ninja skills!
Flying Ninjago
The new area is home to three new attractions.  The Flying Ninjago will be the first to catch your eye. This is a gigantic ride that adults and kids are bound to get a thrill out of! Two brand new rides called Lloyd's Spinjitzu Spinners and Kai Sky Master will have their world debut at LEGOLAND JAPAN!
Apart from the attractions, there's so much more fun stuff to do to immerse fully in the NINJAGO experience.
Jay's Lightning Drill
Cole's Rock Climb
Polish your fundamental ninja skills with Jay's Lightning Drill and Cole's Rock Climb. NINJAGO World also contains many new lego models. The largest in the area is the 4-metre tall Samurai robot lego model!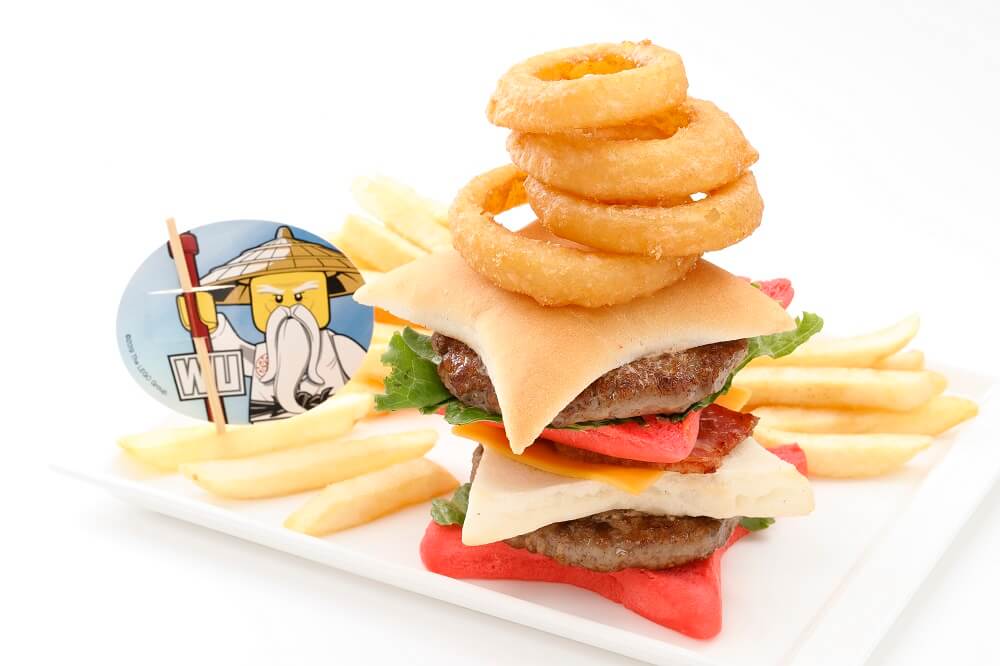 Spin Tower Burger Set【Brick House Burger】¥2,000 (price after tax)
Shuriken Pancake【Naruto Table】¥450 (price after tax)
To commemorate the birth of NINJAGO World, there are so many ninja-themed meals, treats and desserts being sold all over the new attraction area and throughout the theme park!
Challenge your ninja skills, enjoy the thrilling rides and indulge in the delicious ninja food at LEGO NINJAGO World!
Information
LEGO NINJAGO World
Grand opening: Monday 1st June 2019 at 13:00
LEGOLAND JAPAN
Address: Kinjoufutou, LEGOLAND Japan Limited, 2 Chome-2-1, Minato Ward, Nagoya, Aichi
Website: https://www.legoland.jp/
RELATED ENTRIES
Tokyo's Pixar Exhibition 'PIXAR! PIXAR! PIXAR!' to Open in Spring 2021

A Japan-original Pixar exhibition by the name of PIXAR! PIXAR! PIXAR! is set to run from April 8-19 at Seibu Ikebukuro in Tokyo. The exhibition is a celebration of all things Pixar Animation Studio and Walt Disney Japan where fans will have the opportunity to glimpse never-before-seen concept art, learn about the secrets of the studio's office building, hear interviews with Japanese staff who work at the animation studio, and much more.

Pixar fanatics can expect to see all their favourite characters from the filmography such as Monsters Inc., Toy Story, Wall-E, Coco, Finding Nemo, and more. There will be plenty of merchandise to add to the collection too—around 200 pieces in fact—including items with official artwork that has never been made into merch before.

New official artwork illustrated by Pixar Animation Studios for 'PIXAR! PIXAR! PIXAR!'

 

The artists at Pixar Animation Studios have created an original collection of artwork for the exhibition which will be displayed around the site itself as well as on merchandise sold there. There will also be a behind-the-scenes video showing at the exhibition where you can see the staff drawing the pieces.

                                               

A historical lookback at Pixar's filmography

The exhibition will pay homage to everything Pixar has to offer, from their roots of animation shorts to their critically acclaimed full length animated features. If you have a favourite from any of these, you're sure to find merchandise of it at the exhibition.

Feel like you've been invited to Pixar Animation Studios

The exhibition will have an area decorated with a gallery of posters, the famous Pixar lamp and ball, Woody and Buzz statues made from Lego, and more, as well as a photo gallery from pictures taken inside the studio.

Learn all there is to know about Pixar

Learn all the trivia about Pixar from what kind of Japanese people work at the studio, what characters are hidden throughout their films, and more.

Original Merchandise                                     

Fans can sift through around 200 pieces of original merchandise.

Movie Poster Collection

The posters released for each of Pixar's films have been shrunk down into a collection of postcards.

Final frame merchandise

A line-up of merchandise featuring the final frames taken from all 23 of Pixar's feature length animations.

Early concept art

The exhibition will sell an array of merchandise featuring artwork that has never been turned into merch before, such as early concept art.

Easter eggs

There will also be merchandise featuring fun Easter eggs hidden throughout Pixar's films.

 

Pixar Animation Studios

A line-up of merchandise that makes you feel like you're part of the Pixar office.

Bonus Items                              

Visitors that spend over ¥3,000 (tax included) on merchandise at the exhibition will receive one of 8 possible pins. These are available on a first-come, first-served basis. Additionally, spending over ¥6,000 will get fans an original bottle too.

The exhibition will also be moving around Japan after its Tokyo run. Check the locations below.

©DISNEY/PIXAR All rights reserved. No reproduction or republication without written permission.

Information

PIXAR! PIXAR! PIXAR!

Running: April 4, 2021 – April 19, 2021

Opening Hours: 10:00-20:00 

Where: Seibu Ikebukuro Annex Bldg. Floor 2F

Price: General ¥800 / Children ¥500

Kyoto Exhibition

Running: April 21, 2021 – May 5, 2021

Where: Daimaru Kyoto Museum Floor 6F

Entry: Free

Aichi Exhibition

Running: July 21, 2021 – August 12, 2021

Where: Matsuzakaya Nagoya Floor 7F

Entry: Free

Shizuoka Exhibition

Running: December 29, 2021 – January 16, 2021

Where: Matsuzakaya Shizuoka Floor 8F

Entry: Free

POP-UP SHOP

Where: Fukuoka PARCO Floor 5F

Running: April 17, 2021 – May 9, 2021

Entry: Free

Official Website: https://www.ntvs.co.jp/ppp-official/

Learn the Secrets of Ninjas From a Pro With the Online Ninja Experience

With people around the world restricted when it comes to travel, Japan, like other countries, has seen a sharp drop in tourism. To combat that, Odawara Tourism Association has announced the "Online Ninja Experience," an online event that people can sign up to to enjoy Japanese culture remotely—specifically, ninjas.

Ninjas are known for favouring stealth and secrecy over strength and combat. Their goal is using intelligence to infiltrate without causing a ruckus, but they are of course equipped with lightweight weapons that can still bring a person down should it come to it. The online experience therefore will not showcase any kind of flashy action, and participants won't be taught how to cast any Naruto-style Rasengans.

Those who join the online experience will learn what a ninja truly is and why they respect peace along with helpful hints that will prove beneficial in the daily lives of those in modern society.

The 40-minute live tour will take place from the ninja building at Odawara Castle and be hosted by real ninja living in the modern day. There will be guide commentary available in both English and Japanese.

Information

Online Ninja Experience
Running: Saturdays & Mondays

Times: 7:00 / 19:00 (Subject to change)

Price: ¥1,500 Per Person (Tax Included)

No. of People: No limit
Official Website: https://odawaratrip.com/experience/

Demon Slayer: Kimetsu no Yaiba x Lagunasia Theme Park Collaboration Event Begins in March

Lagunasia, a theme park managed by Laguna Ten Bosch, has announced an event in collaboration with the TV anime series Demon Slayer: Kimetsu no Yaiba which will run from March 6 to June 5.

©Koyoharu Gotouge / Shueisha・Aniplex・ufotable

©Koyoharu Gotouge / Shueisha・Aniplex・ufotable

The event will feature an immersive attraction called "Trial of Recollection: Tanjiro's Journey" as well as a rally event to hunt down all the stickers around the theme park, a Demon Slayer themed menu line-up, exclusive merchandise, and more.

Further details will be announced in the coming months.

Attack on Titan The Final Season Themed Cafe to Open in Ikebukuro

Two branches of Animate Cafe, Animate Cafe Ikebukuro 3 and Animated Cafe Nagoya 2, are set to collaborate with Attack on Titan from November 25 in promotion of the anime's upcoming final season which will begin airing on December 7. This marks Animate Cafe's fourth collaboration with the anime.

Menu

Animate Cafe held a poll amongst customers who dined at the previous Attack on Titan collaboration cafes to find out what the most popular dishes were. These have been chosen to go on the menu for this collaboration.

5 Years Colossal Hamburger & Mother's Handmade Stew | ¥1,000


Eren Meringue & Bertholdt Tart | ¥750


Hange's Experiment Drink | ¥600


Eren's Death Wish Drink | ¥600

New additions to the menu include Hange's Experiment Drink and Eren's Death Wish Drink.


The Final Season Special Rose Cake | ¥750


Gorgeous Champagne Jelly | ¥600

Original merchandise


Big Acrylic Stands (4 Designs) | ¥1,600


Trading Pins (A Group: 6 Designs/B Group: 7 Designs/C Group: 4 Designs) | ¥400 Each


Print Cookies | ¥1,000 Each (Comes with 1 illustration card)

©️Hajime Isayama・Kodansha / Attack on Titan The Final Season Production Committee

Information

Animate Cafe x Attack on Titan The Final Season
Running: November 25, 2020 – December 14, 2020

Locations: Animate Cafe Ikebukuro 3 / Animated Cafe Nagoya

*On November 25, November 27, and weekends, customers must sign up to dine at the cafes – those who sign up will be selected randomly. On all other days, it's free-entry where you don't have to book, but keep in mind that the cafe may still be busy on these days.
Official Website:  https://cafe.animate.co.jp/event/shingeki2011/

Demon Slayer Merchandise Collaboration With Onigawara Demon Decorative Tile Makers Announced

Sanshu Onigawara Kogeihen, a traditional crafts company in Takahama, Aichi, which is known for making 'onigawara'—a type of decorative tile in Japan (kawara) traditionally bearing the face of a demon—has announced a collaboration with the hit TV anime series Demon Slayer: Kimetsu no Yaiba which will begin in the city of Takahama on October 30, 2020.

The tiles are made by artisans called Onishi and are used for warding away evil spirits and evil in general. For the collaboration, Demon Slayer fans can get their hands on a selection of original kawara tiles, get involved in an Onishi workshop, and more.

Original Kawara Merchandise

Demon Slayer x Kawara

Crafted by a real Onishi, the kawara line-up includes paperweights, magnets, card stands, and other items all with Demon Slayer designs. They can be purchased at the ONI-House tourist information centre, Takahamashi Yakimononosatokawara Museum shop, Sanshu Onigawara Kogeihen's online shop, and elsewhere.

Onishi Workshop (Reservations Required)

A special workshop will be held by a real Onishi where people can learn to make their own paperweights featuring characters from Demon Slayer. All participants will also receive a free original pin badge and folder. Bookings for December workshops will open at the end of this month (October) and January workshop bookings open in November.


Other Merchandise

A monument to the 14 Taishi from the Demon Slayer: Kimetsu no Yaiba series will be put up in front of Takahama City Hall for a limited time. A selection of exclusive merchandise will also be sold at the city's tourist information centre and museum shop too.

There is lots planned for this collaboration which is set to run until January 29, 2021. More details can be found on Takahama City's official website.

©Koyoharu Gotouge/Shueisha・Aniplex・ufotable

Information

Onishi x Demon Slayer: Kimetsu no Yaiba Collaboration
Running: October 30, 2020 – January 29, 2021

Location: Takahama, Aichi
Takahama City Official Website: https://www.city.takahama.lg.jp/
*Event subject to cancellation or postponement depending on the situation of COVID-19

Ojamajo Doremi Cafe 2020 ~FRUITS PARLOR~ to Open in Tokyo, Osaka & Aichi

Japanese company LEGS has announced the opening of the limited-time Ojamajo Doremi Cafe 2020 ~FRUITS PARLOR~. The themed cafes will open in Tokyo on October 29, Osaka on October 30, and Aichi on October 23.

Ojamajo Doremi is an original magical girl created by Toei Animation that ran from February 1999 to January 2003. To celebrate the series's 20th anniversary last year, LEGS opened a different Ojamajo Doremi limited-time themed cafe in collaboration with Cafe&Kitchen which welcomed lots of magical girl fans.

This year once again welcomes Etoile et Griotte as the art director for the fruit parlor-inspired cafe.

Ojamajo Doremi Cafe 2020 ~FRUITS PARLOR~ celebrates the 20th anniversary of Ojamajo Doremi Sharp is the second series in the Ojamajo Doremi series. Fans will be able to get their hands on a range of exclusive magical merchandise as well as tuck into pastel coloured fruity food.

FOOD

Doremi's Cheese Steak Doria in Cherry Sauce | ¥1,699


Steak is Doremi-chan's favourite food, so it was a must-have on the menu. The cream cheese is coloured like Doremi, and there's a cute musical note topping too. It comes with a cute lunch mat that looks like Doremi's skirt.

Hazuki's Omurice in Porcino & Orange Cream Sauce | ¥1,399


The omelette is made to look like Hazuki's yellow skirt. Enjoy together with the delicious porcino sauce and orange combination.

Onpu's Waffles With Crepe & Mascarpone | ¥1,299

Blueberry sauce-drizzled and mascarpone-topped waffles served with a mashed potato skirt. The sweet and sour mix is to die for.

DESSERT

Aiko's Blueberry Float | ¥999

A fresh blueberry float inspired by Ai-chan. Mix everything together to create a different flavour.

Momoko's Lemon Cheesecake Parfait | ¥1,399

A fresh lemon cheesecake packed parfait with lots of enjoyable flavours and textures.

Rhythm Tap Tart | ¥1,300


Inspired by the Rhythm Taps seen in the series, the tart imagines Doremi's transformation scene in Ojamajo Doremi Sharp.

DRINK

Onpu Melody Drink (5 Flavours) | ¥1,099


A rainbow line-up of colourful Onpu drinks available for takeout.

Movie Theater Menu

Girls Meet Sushi | ¥1,299


Inspired by the meat sushi that Sora and the gang eat in the animated film Majo Minarai wo Sagashite. Comes with an original postcard.

Exclusive Merchandise

Acrylic Keyrings (6 Designs) – ¥600 Each

Letter Set (1 Design) – ¥1,200 | Folder Set (2 Designs) – ¥700

A selection of super kawaii cafe-original merchandise is available for fans to grab.

Bonus Items


Those who book a table in advance, order a drink, or spend more than ¥2,000 at the cafe will receive one of six possible A5 folders.

Become a magical girl like Doremi at the Ojamajo Doremi Cafe 2020.

©Toei Animation


Information

Ojamajo Doremi Cafe 2020
Tokyo Cafe
Running: October 29, 2020 – December 6, 2020
Location: SHIBUYA BOX cafe&space
Address: Shibuya LOFT 2F, 21-1 Udagawacho, Shibuya, Tokyo

Osaka Cafe
Running: October 30, 2020 – November 23, 2020
Location: Abeno Q's Mall 4F
Address: Abeno Contact, 1-6-1 Abenosuji, Abeno Ward, Osaka

Aichi Cafe
Running: October 23, 2020 – November 23, 2020
Location: NAGOYA BOX cafe&space
Address: LACHIC B1F, 3-6-1 Sakae, Naka-ku, Nagoya, Aichi

LEGOLAND Japan Resort Announces 'BRICK-OR-TREAT' Halloween 2020 Event

LEGOLAND Japan Resort has announced a special Halloween event for Autumn 2020 called "BRICK-OR-TREAT" which will run from September 11 to November 3.

Halloween at LEGOLAND Japan Resort this year invites the whole family for a fun-packed time of activities, from mysteries to be solved to getting to create your own Halloween mask.

The park will also serve up special Halloween themed food and be decorated in all things spooky.

LEGOLAND RIDDLE 2020: A Written Challenge From the Phantom Thief (?) Ron Regado -Prologue-

This year's LEGOLAND RIDDLE using their brain to solve the mystery behind Ron Regado. They can pick up a Challenge Pack from the riddle counter to begin their adventure which will have them solving 5 riddles around the park. The second part of the mystery, the Epilogue, will take place around Christmastime.

Price: ¥500 (free for those with an Annual Passport)

Location: Ticket Counter Entrance and various shops around the park

Draw your own Halloween mask

Guests are invited to create their own Halloween masks which they can draw on, whether it be pumpkins, ghosts, or whatever Halloween nod they want to illustrate. The staff will teach you how to make the mask, so kids can get involved too.

A Halloween themed menu

LEGOLAND Japan Resort is serving up a menu inspired by familiar motifs of Halloween, like Jack-o'-lanterns and ghosts.

Halloween Food (Park)


Halloween Food (Hotel)

Halloween Floats (Melon Soda/Cola) | ¥550 Each @ Oasis Snacks, LEGOLAND Japan Resort

The park's creepy-cute Halloween floats are a must-try. Pick between melon soda or cola, both of which are topped with a chocolate eyeball.

Ghost Hayashi Rice Set | ¥2,300 @ Knight's Table Restaurant, LEGOLAND Japan Resort

The cute white ghost on top of this rich Hayashi rice dish is a fluffy omelette made from egg white.

Purple Tapioca Latte | ¥420 @ Factory Sandwich Co., LEGOLAND Japan Resort

A super cute purple latte filled with chewy tapioca and topped with a smiling chocolate ghost who's popping out of a portal of whipped cream.

Studio Ghibli Exhibition to be Held in Aichi Prefecture This Summer

Aichi Prefecture and Chunichi Shimbun have revealed that they are to hold a Studio Ghibli exhibition at Aichi Prefectural Museum of Art from July 22, 2020 – September 3, 2020.

Yubaba wearing a Mask ©TS ©Studio Ghibli

The exhibition, called Ghibli no "Dai Janai" Hakurankai (Ghibli's "Not So Big" Exhibition), will be taking all necessary safety measures against COVID-19 to ensure people's safety.

Never before seen Ghibli material a must-see for fans

Ghibli Park's "Seishun no Oka" (Hill of Youth) Area ©Studio Ghibli

The exhibition will look back at Studio Ghibli's past as well as into the studio's future. Fans will be able to look at construction materials and sketches of Ghibli Park, a new Studi Ghibli themed facility set to open at Aichi Expo Memorial Park in autumn 2022, as well as dolls of the characters from the upcoming animated film Earwig and the Witch which is being written by Hayao Miyazaki and directed by his son Goro. The film was originally scheduled to premiere at the 2020 Cannes Film Festival before the event was cancelled due to COVID-19 and will now be aired by NHK this winter.

The Cat Bus from the Studio Ghibli Museum will also be showcased at the event; stills taken from Studio Ghibli's films such as Laputa: Castle in the Sky, Porco Rosso, Howl's Moving Castle, Princess Kaguya and more will be displayed; there will be a photo spot for taking photos, and much more.

Fans of Spirited Away will also be able to get their own omikuji fortunes from the giant Zeniba and Yubaba faces.

Information

Ghibli no "Dai Janai" Hakurankai (Japanese Name: ジブリの"大じゃない"博覧会)
Running: July 22, 2020 – September 3, 2020
Location: Aichi Prefectural Museum of Art Galleries A/B/H/I
Address: 1-13-2 Higashisakura, Higashi-ku, Nagoya, Aichi
Opening Hours: 10:00-16:00 (until 20:00 on Fridays) *Last entries 30 mins before closure
Closed: Mondays

Official Website: https://www.ghibli-daijanaiexpo.jp/

Gourmet Shaved Ice Served Up at the New VERMICULAR PREMIUM SHAVED ICE SALON in Nagoya

For this summer only, a limited-time gourmet shaved ice shop called "VERMICULAR PREMIUM SHAVED ICE SALON" is opening up inside VERMICULAR VILLAGE in Nagoya from July 2 to September 13.

The exquisite shaved ice options are topped with fruit confitures which are made without any water involved, allowing for the original flavour of the fruits to come through, as well as adzuki beans cooked with Vermicular cookware, and more. The shaved ice is served inside Vermicular's high quality mini pots, which have been kept cool, meaning the ice doesn't melt when it's put inside, meaning it stays nice and fluffy until the end.

There are three to pick from, and underneath each the shaved ice is a blancmange which goes hand in hand with the shaved ice flavours.

Strawberry, Pistachio, & Condensed Milk: ¥1,300 (Before Tax)

This ice pot is topped with a strawberry jam which was made using no water, and pistachios—which go really well with the fruity confiture. At the very bottom is a condensed milk blancmange, making it delicious down to the last spoonful.

Nishio Matcha, Adzuki Beans, Brown Cane Sugar Warabimochi, & Houjicha: ¥1,500 (Before Tax)

Next is a matcha flavoured shaved ice pot made with adzuki beans and matcha grown in Nishio, Aichi. Sat at the bottom of the pile is a houjicha tea blancmange and brown cane sugar warabimochi.

Mango, Passion Fruit, & Coconut: ¥1,300 (Before Tax)

Lastly is a mango and passion fruit sauce covered shaved ice with coconut milk and a topping of fresh mango. At the bottom is a coconut blancmange.

Information

VERMICULAR VILLAGE
Address: 2-4 Funatocho, Nakagawa Ward, Nagoya, Aichi

Bookings: https://www.tablecheck.com/shops/the-foundry/reserve

Enquiries: VERMICULAR RESTAURANT THE FOUNDRY (052-355-6800)

Dining: 50 minutes max

*Photos are for illustrative purposes only

Mobile Game BanG Dream! Girls Band Party Gets Themed Cafe in Tokyo, Osaka, & Nagoya

LEGS COMPANY is opening three cafes in Tokyo (Ikebukuro), Osaka (Umeda), and Aichi (Nagoya) based on the popular mobile game Game BanG Dream! Girls Band Party for a limited time from July 31, 2020.

Game BanG Dream! Girls Band Party is a rhythm and adventure mobile game that was released in Japan in 2017. It is part of Bushiroad's "BanG Dream!" music media franchise which is centred on all-female bands.

Since summer 2017, LEGS COMPANY has opened themed cafes based around the game every year. 2017 saw the cafes focus on the vocalists of the bands in the game. In 2018, it was the keyboardists and DJs, and last year the drummers. Each theme brought with it illustrations and decorations created specifically for the cafes, as well as a food menu inspired by the characters, original merchandise, and more.

This year marks the 4th run of the annual summer cafe which will hit Tokyo, Nagoya, and Osaka. The theme this time around focuses on the seven main bands from the game. Seven characters from the bands, including one from a new band, will welcome fans in the form of kawaii-packed dishes, drinks, and desserts.

Yamabuki Bakery's Mini Croissant Plate (Poppin'party): ¥1,590 (Before Tax)


Kitazawa Butcher's Stamina Croquette Curry (Hello, happy world!): ¥1,490 (Before Tax)

All of the main dishes on the menu are colourful and vivid, plated with hearty portions of delicious and nutritional goodies.

Strawberry Rock Parfait (Afterglow): ¥1,290 (Before Tax)


Colourful Doughnut Sandwich (Pastel*Palettes): ¥1,290 (Before Tax)

This gourmet dessert is topped with fruit, so gorgeous it seems a waste to eat.

Grape: ¥890


Ramune: ¥890

There are colourful drinks too with each colour representing a different band. Support your favourite band by getting a glass!

Pin Set 2020 ver. (7 Designs): ¥3,100


Canvas Art (7 Designs): ¥3,500 Each


Birthday Pins (4 Designs): ¥650 Each

Fans can get their hands on plenty of exclusive merchandise too, and there's even birthday items and food available too.

Online Birthday Cake (4 Designs): ¥3,850 Each (+¥950 shipping fee)


Cushions (22 Designs): ¥3,800 Each

You can even order your own special birthday cake in Japan from the cafe, and they're not short on exclusive merchandise.

©BanGDream! Project ©Craft Egg Inc. ©bushiroad All Rights Reserved.

Information

Game BanG Dream! Girls Band Party Cafe 2020
Tokyo

IKEBUKURO BOX cafe&space / July 31, 2020 – September 6, 2020
Address: Matsumoto Kiyoshi Ikebukuro Part 2 (Floor 4F), 1-22-8 Higashi-Ikebukuro, Toshima-ku, Tokyo

Osaka

UMEDA BOX cafe&space / July 31, 2020 – September 6, 2020
Address: Umeda LOFT (Floor 1F), 16-7 Chayamachi, Kita-ku, Osaka, Osaka Prefecture

Aichi

NAGOYA BOX cafe&space / July 31, 2020 – August 30, 2020
Address: LACHIC (Floor B1F), 3-6-1 Sakae, Naka-ku, Nagoya, Aichi Prefecture

Booking Price: ¥650 (Before Tax) *Max 4 people per booking, comes with gift

Game BanG Dream! Girls Band Party Cafe 2020 Official Website: https://bang-dream-cafe.jp/

5 Must-Visit Cherry Blossom Spots in Toyota City in Aichi Prefecture For Hanami 2020

Toyota in Aichi Prefecture is a city abundant with nature and one home to countless famous flower spots. Tourism Toyota has outlined a list of the perfect places to visit there this spring to enjoy viewing the cherry blossoms for this year's Hanami.

Asian Fawnlily | Korankei

Korankei is a valley created by the Yodo River in Toyota, Aichi, and is said to be one of the best places in Japan to enjoy the autumn colours. In spring, an area covering 5,000m² blooms with beautiful Asian fawnlilies, dyeing the grass as a light purple carpet.

Best Time To See: Mid March – Late March

Location: Korankei, Iimori Asukecho, Toyota, Aichi

Access: Board the Meitetsu Bus bound for Yamani (矢並線) at Toyotashi Station's East Exit, get off at Korankei (香嵐渓), and walk for 10-minutes

Official Website: https://www.tourismtoyota.jp/spots/detail/272/

Cherry Blossoms & Spiraea Thunbergii | Aichi Greenery Center

 

Every year at Aichi Greenery Center from late March to early April, the Spiraea Thunbergii, also known as Thunberg's meadowsweet, blossom their white flowers in full along a path stretching 200 meters, which makes it look like the area is covered in snow. When the cherry blossoms bloom, their light pink flowers offer a beautiful contrast with the snowbound meadowsweet.

Best Time To See: Late March – Early April

Address: Saruta-21-1 Nishinakayamachō, Toyota, Aichi

Access: Board the Oiden Bus bound for Fujioka/Toyota Via Nishinakayama (藤岡・豊田線(西中山経由)) and get off at the Greenery Center (緑化センター)

Official Website: https://www.tourismtoyota.jp/spots/detail/277/

Weeping Cherry Blossoms | Kaminaka

Kaminaka is home to some incredible weeping cherry sights. Around 3,000 weeping cherry trees stretch 1km from the car park, dyeing the mountainous landscape white, red, and pink.

Best Time To See: Early to Mid April

Address: Makigahora Kaminakacho, Toyota, Aichi

Access: 27km from Shidare Interchange (枝下IC) via Sarugata Green Road (猿投グリーンロード)

Official Website: https://www.tourismtoyota.jp/spots/detail/225/

Weeping Cherry Blossoms | Zuiryuji Temple & Daian-ji Temple

Zuiryuji Temple is home to a weeping cherry tree that is said to be 400 years old. It is officially listed as a Natural Treasure of Aichi Prefecture. Its flowers are best enjoyed in early April when it offers a spectacular sight next to the temple gate.

Daian-ji Temple also has an ancient weeping cherry tree that is 260 years old and listed as a National Treasure of Toyota. Another row of cherry trees are located next to it, wrapping the area in gorgeous pink hues. Both of these temple trees are also lit up in the evenings, offering a different kind of beautiful atmosphere from a daytime viewing.

Best Time To See: Early April

Address: Terayama-3 Inabuchō, Toyota, Aichi

Access: Board the Oiden Bus [Kaisoku Inabu] at Toyotashi Station's East Exit, get off at Dongurinoyu Mae (どんぐりの湯前), and walk for 10-minutes

Official Websites:

https://www.tourismtoyota.jp/spots/detail/39/ (Zuiryuji Temple)

https://www.tourismtoyota.jp/spots/detail/697/ (Daian-ji Temple)

Wisterias | Fuji no Kairo

This 370-meter long path is known as Fuji no Kairo, or "Wisteria Corridor," which is home to four different species of wisteria that bloom fully in the spring to the delight of those passing under it.

Best Time To See: Late April – Early May

Address: Mitsukuricho, Toyota, Aichi

Access: Board the Oiden Bus bound for Fujioka/Toyota Via Kanocho (藤岡・豊田線(加納経由)) and get off at Toyota City Hall (藤岡支所). Change onto the Fuji Bus bound for Kawaguchi/Ino (川口・飯野線), then get off at Fuji no Kairo (ふじの回廊口).

Official Website: https://www.tourismtoyota.jp/spots/detail/191/

NINJA SKILL BALLERZ Short Movie Combines the Worlds of Ninja, Basketball, Shamisen & Taiko Drumming

If you haven't heard of NINJA SKILL BALLERZ yet, you're in for a treat. They are a crew of five of the world's top level basketball players spreading a fascination of freestyle basketball to the world.

Their video NINJA x BASKETBALL? garnered over 1 million views on Facebook within just 10 days of its posting. One month after its release, they appeared on the Japanese television show Sukkiri where they held their first ever live television performance. The group are paving the way for the freestyle basketball culture, which in Japan isn't recognised enough and has few players.

Now, the group have just dropped a new short movie which translates to "Ninja-Style Basketball Squad."

The video not only shows off the group's thrilling skills, but their performance also incorporates Japanese elements like the tsugaru shamisen and taiko drums which serve to make the show that much more captivating. Pay particular attention to three of the members: ZiNEZ, the Flow Ninja; ISSEI, the Spin Ninja; and TaMa, the Multi-Ball Ninja.