Experience a Tea Latte Made With The First Pick of the Season at CHAVATY
Using only the finest tea leaves, CHAVATY makes high quality tea lattes. Using Saemidori tea leaves that can only be enjoyed during one season of the year, they created two new drinks: BOTTLE GREENTEA STRAIGHT and SHINING CITRUS WIND, which has refreshing citrus flavour. Both these new drink flavours will be released on June 13, 2019.
BOTTLE GREENTEA STRAIGHT ¥580 (before tax)
The first tea pick of the season is said to give the most fresh and delicious flavour. The first Saemidori tea leaves grow fastest in Tanegashima, however Yakushima follows in second place. This is where CHAVATY picks their tea leaves for the BOTTLE GREENTEA STRAIGHT. The young, fresh Saemidori tea leaves are cold brewed in order to extract the full flavour of the tea. The Saemidori is blended with Yabukita, which makes up more than 70 percent of the country's tea, and Asatsuyu, which is known as a naturally high quality tea.
Saemidori tea has a beautiful colour and a rich flavour. Its delicious sweetness spreads gently through your entire mouth. The tea leaf sprouts are full of the nutrition which was stored up over the winter. It is even said that drinking tea made with young and fresh Saemidori tea leaves picked at the start of the season will keep you healthy for the entire year.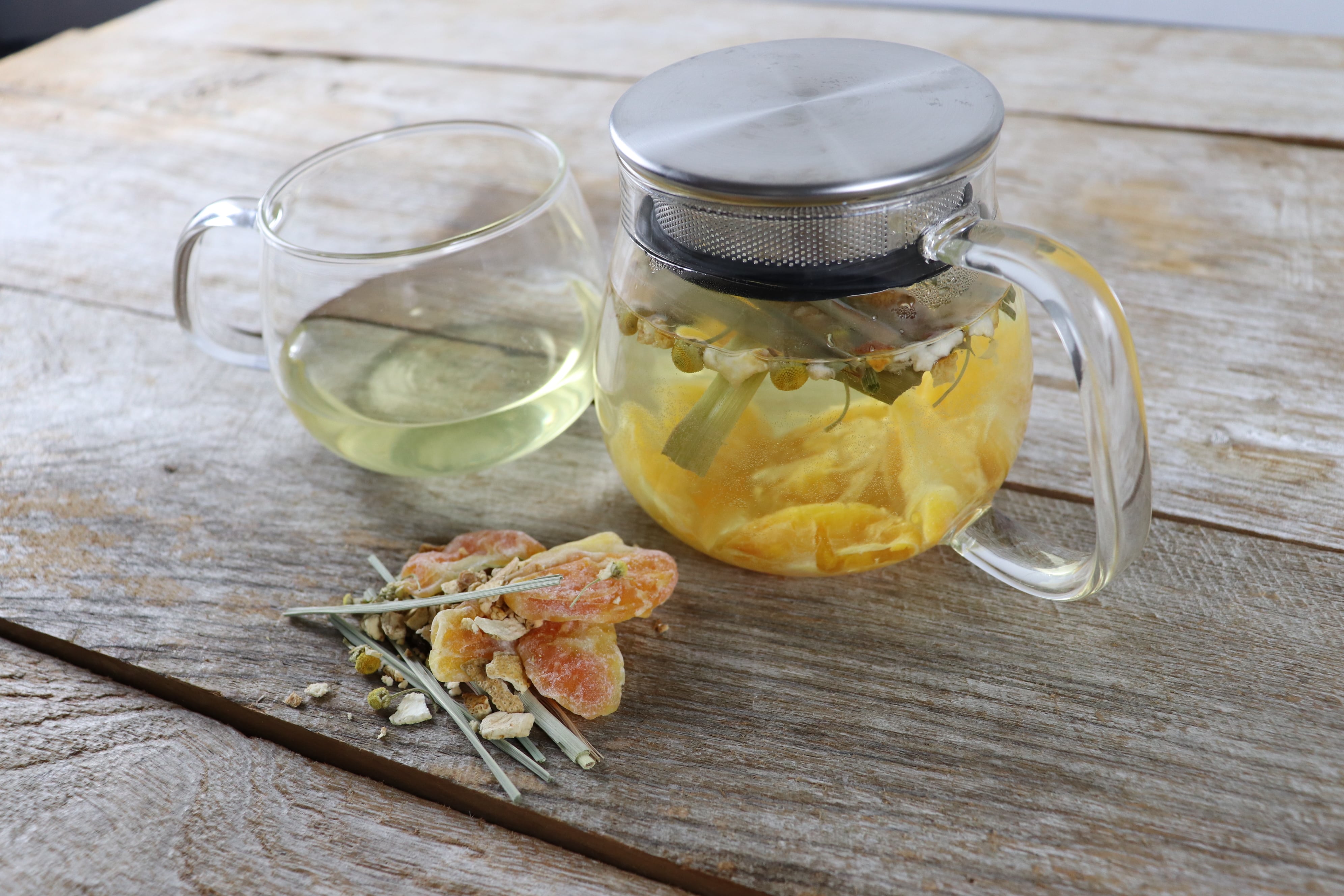 SHINING CITRUS WIND ¥680 (before tax)
Like the way the radiant sun sparkles, the SHINING CITRUS WIND consists of aromatic yellow German chamomile which is infused with plenty of rejuvenating ingredients such as orange, citrus peels, and refreshing lemongrass. Along with the rich aroma and of dried fruit, this luxurious tea is bound to get your mouth watering for tea time.
These elegant, delicious and fresh teas are perfect to get your mouth watering for the start of spring.
Information
BOTTLE GREENTEA STRAIGHT
Release date: June 13, 2019
※ Sold only from 12:00 ー 17:00. It is possible to order to take out. Sales will end once stock is fully depleted.
SHINING CITRUS WIND
Release Date: June 13, 2019
※ Sales will end when stock is fully depleted
CHAVATY(チャバティ)
Address: Minami–Harajuku Bldg. 1F, 4-6-9 Jingumae, Shibuya, Tokyo
Closest station: Omotesando station, Tokyo Metro (5-minute walk)
Opening hours: 10:00 ー 20:00(LO19:30)
Closed: Depending on when Minami-Harajuku Building is closed.
Information (Tabelog) https://tabelog.com/tokyo/A1306/A130602/13224245/
RELATED ENTRIES
Tokyo Tower to Begin Morning Tea Gathering On 150-Meter Main Deck

Tokyo Tower is set to host a special morning tea gathering on its 150-meter-high main deck, which overlooks central Tokyo, from November 21, 2020.

A peaceful morning cup of tea above Tokyo

Tokyo is a communications tower in the middle of Tokyo which has its own observation deck open to the public which offers an incredible view of the capital. During the day, the tower is very busy with visitors, and so this morning tea gathering aims to offer people a chance to enjoy the tower and its view in peace and quiet, before opening hours, with a cup of Japanese tea.

An open display showcasing Japanese crafts

The event is cooperating with the Japan-France Tea Ceremony Association who is providing specially-selected traditional Japanese tea-making and serving equipment, all of which were made by traditional Japanese artisans and have been passed down since the Edo Period for an authentic.

Open to foreigners even if you don't know Japanese or the etiquette of the Japanese tea ceremony

Don't worry if you can't speak Japanese or don't know the manners or proper etiquette when it comes to the Japanese tea ceremony – the event is open to all, and you can participate without sitting in the traditional seiza positioning. The staff can speak English, French, and Spanish, so foreign tourists won't miss out on anything.

Information

Morning Tea Gathering
Running: November 21, 2020 / December 5, 2020 / December 19, 2020 / January 9, 2021 / January 23, 2021 / February 6, 2021 / February 20, 2021
Time: Meeting at 8:15am / Entering at 8:30am
Meeting Point: Tokyo Tower Floor 1F Foot Town
Sign Up: アソビューサイト

Sailor Moon Handbags and Accessories Released in Collaboration With Samantha Thavasa

Samantha Thavasa Japan Limited launched a new collection of merchandise last Friday (November 6) in collaboration with the Sailor Moon franchise to promote the upcoming two-part Sailor Moon Eternal anime film which will be released on January 8, 2021 and February 11, 2021 respectively.

The collection features an original line-up of bags, purses, and accessories created by Samantha Thavasa Group. They were released at SAMANTHAVEGA, Samantha Thavasa Petit Choice, and Samantha Tiara respectively.


Each of the bags by SAMANTHAVEGA are nods to each of the Sailors' costumes with their colouring, ribbons, and more. And they're not just for show either – they are practical and functional handbags.


Samantha Thavasa Petit Choice has crafted a handful of delicate and fashionable purses for keeping your coins safe.


And from Samantha Tiara is a collection of breathtakingly beautiful accessories including necklaces and a ring, all of which when bought are packaged in a gorgeous box inspired by Super Sailor Moon's outfit.

The brands have also created a separate series of items based on Super Sailor Moon.


From SAMANTHAVEGA is a collection of stylish bags and a pass case each of which have glitter on them.


There's also the eye-catching pink leather purses by Samantha Thavasa Petit Choice which are based on the Climax Moon Compact from the anime and manga series.


Samantha Tiara has also created even more accessories and jewellery including two different rings and necklaces.


The necklace and ring pictured above will be available to purchase online only in Japan from November 20.

A Sailor Moon pop-up store is now open inside Samantha Thavasa Omotesando GATES until November 17 where you can get your hands on some of these items. There's also a special photo spot for taking pictures and giant LED displays promoting Sailor Moon Eternal.

Information

Samantha Thavasa x Sailor Moon Eternal
Release Date: November 6, 202
*サマンサタバサ公式オンラインショップは11時~順次発売

Sailor Moon Pop-Up Store
Location: Samantha Thavasa Omotesando GATES

Address: 6-5-6 Jingumae, Shibuya, Tokyo
Opening Hours: 11:00-20:00
TEL: 03-3400-2258

Special Site: https://online.samantha.co.jp/layout/feature/20sailormoon.html

Marvel Superhero Cafe to Open in Harajuku This October

Japanese company LEGS is set to open a Marvel themed cafe for a limited time in the Omotesando and Harajuku area of Tokyo from October 30, 2020. The cafe's concept is centred on themes such as power, courage, talent, justice, and camaraderie, and will serve up a special menu inspired by the heroes of the Marvel universe.

The cafe will be decorated in all things Marvel, with Spiderman, Iron Man, and Captain America statues stood proud and ready to welcome customers. There will also be a photo spot in celebration of the upcoming film Black Widow which will be released in Japan first on April 29, 2021 and subsequently the US on May 7, 2021.

The menu line-up will be inspired by Marvel's roster of characters such as Spiderman, Iron Man, Thor, Captain America, Black Widow, and more.

The Menu

<Marvel> Paprikash | ¥1,599 (Before Tax)

A paprikash inspired by the one that Marvel demigod Vision makes in Captain America: Civil War. This one's sure to have you feeling assembled and ready.

<Captain America> American Tomato Pasta | ¥1,7900 (Before Tax)

A Japanese-style napolitan pasta with a tomato sauce that packs a punch to charge up your power.

<Iron Man> Evening Doughnut-Style Bagel Sandwich | ¥1,799 (Before Tax)

A bagel sandwich inspired by the doughnut eaten by Tony Stark under the sunset.

The Drinks

<Captain America> Ramune Soda | ¥1,099 (+¥700 for coaster) (Before Tax)

A bubbly ramune soda for when you're in need of a power kick, topped with a cherry.

<Marvel> Cafe Latte | ¥899 (+¥1,500 for mug) (Before Tax)

A cafe latte which comes with an original mug.

All customers who book in a table advance (¥650 per person before tax) and order from the themed menu will receive one of the above-pictured face mask cases from seven different designs.

Exclusive Merchandise

The cafe will also sell a range of original merchandise in several different designs such as the cafe logo, items based on the menu art, art from the Marvel movies, and more.

<Cafe Logo Series> Acrylic Keyring (6 Designs) | ¥750 (Before Tax)

<Menu Art Series> A4 Folder | ¥400, Bandana Handkerchief | ¥800 (Before Tax) *Available early November

<Movie Series> Avengers: Infinity War Postcards (8 Designs) | ¥250 (Before Tax)

Ⓒ 2020 MARVEL

Information

Marvel Cafe Produced by OH MY CAFE

Location: TOKYO BOX cafe&space Omotesando

Address: 6-3-7 Jingumae, Shibuya, Tokyo

Running: October 30, 2020 – November 29, 2020

Official Website: https://heroes.ohmycafe.jp/

Kawaii Bear Themed Cafe Menu Arriving at Tokyo's Q-pot CAFE. This Christmas

Q-pot CAFE. in Omotesando, Tokyo, has revealed its upcoming Q-pot CAFE. "KUMA"STMAS MENU which is set to be served from November 1 to December 25.

Happy Merry "KUMA"STMAS!

"KUMA"STMAS is a portmanteau of the Japanese word for bear (kuma) and Christmas. The cafe's cute menu is here to bring warmth and cosiness this holiday season.

Merry "KUMA"STMAS Plate w/ Drink – ¥2,060 (Tax Included)

A sweet assortment cute enough to tug your heartstrings.

Q-pot CAFE.'s pastry chefs take their time to delicately handmake the adorable bear's baby face oat milk cookie. The cookie is sat on top of a fluffy duvet of whipped cream, berry jam with fresh berries, and a chocolate génoise cake. It's a sweet and tangy combination of raspberry and strawberry.

The cookie-topped cake is also served with a rich pistachio cream Christmas tree.

Merry "KUMA"STMAS Bitter Caramel Milk Tea – ¥750 (Tax Included)

A warm and cosy beverage to heal your heart, mind, and soul. This baby bear looks sweet but has delightfully rich notes thanks to the caramel. The tea is one of the cafe's originals, the "Sweet Weekend," which has a refreshing after taste and goes perfectly with the caramel cream.

Merry "KUMA"STMAS Afternoon Tea Set | ¥2,400 per person (Tax Included) *Photo shows a set for two

If you love teddy bears, then this afternoon tea set is a dream come true.

Top Plate

The top plate is a delicate assortment of sweet and crunchy oat milk cookies, a glass dessert of fromage blanc and fresh orange jelly, velvet cupcakes topped with pistachio cream made to look like a Christmas tree, and creamy macarons.

Bottom Plate

The bottom plate is the savoury selection and comes with croissants stuffed with roast beef topped with honey mustard sauce, a rich potato potage, and skewers piercing olives, mini tomatoes, and pickles.

Special Novelty <Teddy Bear Message Card>

Customers who book a table in advance to the cafe will receive a free teddy bear message card. These are limited in stock, so if you're in Tokyo don't miss out.

Information

Q-pot CAFE. "KUMA"STMAS

Location: Q-pot CAFE. Omotesando

Running: November 1, 2020 – December 25, 2020

Opening Hours: 11:00-19:00 (Last Orders 18:30)

Online Bookings: Tabelog

TEL :03-6447-1218

Bookable Slots: 11:00/12:30/14:00/15:30/17:00

Jazz Manga Series BLUE GIANT Collaborates With Brooks Brothers in Omotesando

Brooks Brothers, the oldest apparel brand in the US, is teaming up with Shinichi Ishizuka's popular jazz manga series BLUE GIANT with a collaborative event set to take place at Brooks Brothers Omotesando in Tokyo from October 30 to November 15.

The event celebrates the simultaneous release of all 11 volumes of the European edition of the manga series, entitled BLUE GIANT SUPRIME, as well as the first volume of BLUE GIANT EXPLORER which is set in the US—the holy grail of jazz.

The event will showcase Brooks Brothers' iconic button-down shirt with a famous quote said by the protagonist of BLUE GIANT as pictured above which roughly translates to: "A white shirt is proof of a jazzman!!"

There will also be displays of original illustrations drawn by Shinichi Ishizuka himself for the event, panels from the manga on show, original art by popular collage artist Kosuke Kawamura and embroidery artist Mana Morimoto, and more. Visitors will even get to try some embroidery themselves in a special workshop, and much more.

The Aoyama branch of Brooks Brothers recently moved to Omotesando, signalling a new start for the store. Likewise, the BLUE GIANT story is now set in the US, which will make for more new and exciting stories. The event serves to celebrate the new chapters of both Brooks Brothers and BLUE GIANT.

Information

Brooks Brothers x BLUE GIANT "NEW CHAPTER"
Running: October 30, 2020 – November 15, 2020
Opening Hours: 11:00-20:00
Location: Brooks Brothers Omotesando
Address: H-CUBE MINAMIAOYAMA 5-7-1 Aoyama, Minato-ku, Tokyo

Embroidery Workshop
Running: October 30, 2020 – October 31, 2020

Silkscreen Service
Running: October 30, 2020 – November 15, 2020
*Silkscreen service that prints BLUE GIANT motifs, Kosuke Kawamura's original art, and more onto shirts you buy

Brooks Brothers Japan Official Website: http://www.brooksbrothers.co.jp/
BLUE GIANT Official Website: https://bluegiant.jp/

Pokémon Cafe and Pikachu Sweets by Pokémon Cafe Reveal New Desserts Including Polteageist Tea Set

Pokémon Cafe and Pikachu Sweets by Pokémon Cafe are releasing a new teatime menu at their respective branches on October 24, 2020.

Pokémon Cafe

Polteageist & Sinistea Tea Party! Fruit Tea Set ~Apple Flavoured~ | ¥1,188 (Tax Included)


Polteageist & Sinistea Tea Party! Fruit Tea Set ~Strawberry Flavoured~ | ¥1,188 (Tax Included)

Pokémon Cafe is serving up two different fruit tea sets based on the Ghost-type Pokémon Polteageist and Sinistea. Customers are free to pour in their desired amount of fruit syrup which changes the colour of the tea. The sets come with a cute cookie too.

Pikachu Sweets by Pokémon Cafe

Left: Polteageist's Tea Party! Fruit Tea ~Mixed Berry Flavour~ / Right: Polteageist's Tea Party! Fruit Tea ~Peach Orange Flavour~ | ¥700 Each (Before Tax)

Pikachu Sweets by Pokémon Cafe is also going to serve up some Polteageist themed fruit teas as well as a selection of desserts like macarons and financier almond cakes which have Pokémon tail and ear designs.

After ordering one of the Polteageist fruit teas, customers can place their cups under the Polteageist tea pot as pictured above and activate the pot to dispense their drink, so it's like Polteageist  really pouring tea for you.

Left: Swirlix Strawberry Macaron | Middle: Pikachu Vanilla Macaron | Right: Galarian Ponyta Pistachio Macaron – ¥500 Each (Before Tax)

Treat yourself to one of the super cute Swirlix, Pikachu, or Ponyta macarons each with designs that tell you instantly which Pokémon they're inspired by.


Polteageist Fruit Tea and & Pikachu Macaron Set

Customers can order a tea and macaron combination set too.

Pikachu Parfaits

Pikachu Glass Parfait Set | ¥1,500 (Before Tax)

An adorable set of Pikachu parfaits, one being caramel banana flavoured and the other chocolate.

Pikachu Tea Party Assortment – Pika Pika Pikavee Set | ¥2,800 (Before Tax)

Another set to share between friends and family, this time with two Pikachu glass desserts as well as Pikachu and Eevee cupcakes.

Pikachu Tea Party Assortment – Ghost Type Set | ¥2,800 (Before Tax)

This set comes with the Pikachu glass desserts as well as Ghost-type Gengar and Litwick mousse cakes.

The Polteageist teapot and Sinistea teacup used at the Pokémon Cafe and Pikachu Sweets by Pokémon Cafe will also be released at Pokémon Center Online in Japan on December 5, 2020.

© 2020 Pokémon.©1995-2020 Nintendo/Creatures Inc./GAME FREAK inc.
Pokémon, ポケットモンスター, and ポケモン are registered trademarks of Nintendo, Creatures Inc., and GAME FREAK inc..

Information

Pokémon Cafe (Nihombashi, Tokyo)
Address: Nihombashi Takashimaya SC East Bldg. 5F, 2-1-2 Nihombashi, Chuo Ward, Tokyo
Business Hours: 10:30-22:00
No Fixed Holidays (Except when Nihombashi Takashimaya SC is closed)
Reservations: https://www.pokemoncenter-online.com/cafe/reservation.html

Pokémon Cafe (Shinsaibashi, Osaka)
Address: Daimaru Shinsaibashi Honkan 9F, 1-7-1 Shinsaibashisuji, Chuo Ward, Osaka, Osaka Prefecture
Business Hours: 10:00-21:30
No Fixed Holidays (Except when Daimaru Shinsaibashi is closed)
Reservations: https://www.pokemoncenter-online.com/cafe/reservation.html

Pikachu Sweets by Pokémon Café 

Address: Sunshine City Alpa Floor 2F, 3-1-2 Higashiikebukuro, Toshima City, Tokyo

Opening Hours: 10:00-20:00
Official Website: https://www.pokemoncenter-online.com/cafe/pikachu_sweets/

*Opening hours subject to change, please check in advance before travelling.

*Food served and duration subject to change without notice.

*Photos are for illustrative purposes only.

*Seat reservations are taken online only – phone reservations not available.

McDonald's Japan Reveals Japanese Tea Infused Dessert Beverage Series

McDonald's Japan has announced the release of four limited-time drinks which will be sold at McCafé by Barista branches of McDonald's from September 2. The line-up includes the 'Houjicha Frappe Shiratama Kuromitsu Kinako,' 'Houjicha Frappe,' Matcha Frappe Shiratama Kuromitsu Kinako,' and 'Matcha Frappe.'

The beverage lineup is the perfect pink for an autumn-time dessert drink, each made with authentic flavours from Japan.

Houjicha Frappe Shiratama Kuromitsu Kinako | Regular ¥490, Large ¥530 (Tax Included)

Made using 100% Japanese houjicha powder and delicious milk, this houjicha frappe is topped with soy flour, sweet brown sugar syrup from Okinawa, chewy rice flour dumplings, and a squirt of whipped cream. This is the ultimate McDonald's Japanese dessert drink, laced with fragrant houjicha tea with a creamy texture.

Houjicha Frappe | Regular ¥450, Large ¥490 (Tax Included)

Houjicha frappe is used as the base for this one, and if inished with whipped cream and a dusting of houjicha powder. The subtly sweet houjicha and creaminess of the whipped cream is a deliciously perfect match.

Matcha Frappe Shiratama Kuromitsu Kinako | Regular ¥490, Large ¥530 (Tax Included)

Just like the houjicha variant, except this time it's a latte made with matcha and matcha powder from Uji, Kyoto. A truly all-star Japanese dessert drink.

Matcha Frappe | Regular ¥450, Large ¥490 (Tax Included)

The matcha frappe too is sprinkled with matcha powder from Uji, combined with full-bodied milk, and topped with whipped cream.

Keep Your Hands Off Eizouken! Themed Cafe to Open at Omotesando Hills in Tokyo

Japanese companies LEGS and TRANSIT GENERAL OFFICE are set to open the new cafe TOKYO BOX cafe&space inside Omotesando Hills on September 10, 2020.

For the grand opening of the cafe, it has been announced that it will team up with the manga series Keep Your Hands Off Eizouken! to promote the upcoming live-action adaptation. The themed event will run from September 10 to October 12.

Keep Your Hands Off Eizouken! is a Japanese manga series written and illustrated by Sumito Ōwara and serialised in Monthly Big Comic Spirits. The live-action film, which will hit Japanese cinemas on September 25, 2020, stars Asuka Saitō, Mizuki Yamashita, and Minami Umezawa—all members of the Japanese idol group Nogizaka46—as the main character.

Customers at the collaborative cafe can enjoy a selection of food inspired by the series as well as get their hands on exclusive merchandise.

The full menu and merch list will be announced in early September on the cafe's official website.

Information

Keep Your Hands Off Eizouken! Cafe
Location: TOKYO BOX cafe&space Omotesando Hills
Address: Omotesando Hills Main Building 3F, 4-12-10 Jingumae, Shibuya, Tokyo

Cafe Official Website: http://eizouken-cafe.jp/

Keep Your Hands Off Eizouken! Live-Action Film Official Website: https://eizouken-saikyo.com/

Gothic Halloween Afternoon Tea Spookily Served Up at Q-pot CAFE. in Tokyo

Halloween is creeping its way early to Q-pot CAFE. in Omotesando, Tokyo, as the cafe announces its "Mad Sweets" themed Halloween menu for 2020. The Gothic-inspired menu will be served from September 9 to October 31 and will be centred on "Sister Obake-chan," a cute and original ghost nun character conceived by the cafe.

Mad Sweets Sister Obake-chan Plate with Drink | ¥2,060 (Tax Included)

Sister Obake-chan is made from sweet and fluffy vanilla mousse and is filled with a sweet and sour berry sauce. Next to her is a cookie gravestone, pumpkin macaron, and a bone meringue.

Mad Sweets Bone & Ribbon Drinks | ¥750 (Tax Included)

There are both hot and iced variants of the Bone & Ribbon drinks. The hot version is a hot chocolate made with black cocoa-laced cream and topped with a crossbone meringue. The iced drink has a cuter appearance mixing pink and white colours together. It's a strawberry shake topped with a cute ribbon meringue.

Happy Halloween Afternoon Tea Set | ¥2,400 Per Person (Tax Included) | *The photo is a serving for 2 people

Q-pot CAFE. is will also serve an afternoon tea set this Halloween with plenty of tasty themed sweet and savoury bites.

The top level of the afternoon tea is plated with strawberry jelly topped with an assortment of berries and a bone-shaped meringue, tombstone-topped blackcurrant mousse, and bat velvet cupcakes. Q-pot CAFE.'s popular jack-o'-lantern macarons also make a return this Halloween.

The bottom level is served with hearty croissant sandwiches filled with duck pastrami and mushroom omelette, pumpkin potage, and skewered olives, tomatoes, and pickles.

Q-pot CAFE. is a must-visit for a Halloween experience in Tokyo this year.

Information

Q-pot CAFE. 2020 Halloween Limited Menu
Location: Q-pot CAFE. Omotesando

Running: September 9, 2020 – October 31, 2020

Opening Hours: 11:00-19:00 (Last Orders 18:30)
1F Cafe: 11:00-19:50
2F/3F Shop: 12:00-20:00

Official Website: https://www.q-pot.jp

Dine at Harajuku's New Tarako Spaghetti Restaurant Tokyo Tarako Spaghetti

Tokyo Tarako Spaghetti opened its all-new, second branch in Harajuku Omotesando on July 31, 2020. The restaurant opened its first branch back in January this year.

To commemorate the opening of the new restaurant, it is serving up two brand new tarako (cod roe) spaghetti dishes made with Japanese dashi.

Tarako & Kombu Umami With Dashi Spaghetti | ¥990 (Before Tax)

The first new dish is a combination of tarako, kombu, and dashi spaghetti. This dish adds a Japanese flair to it by combining tarako spaghetti with tarako boiled in soy. The full flavour of the kombu is extracted when the dashi is poured over, creating an irresistible flavour.

Three Fish Egg Tarako Spaghetti | ¥1,390 (Before Tax)

The second new dish on the menu is the "Three Fish Egg Tarako Spaghetti" which combines lots of tarako with toppings of salted salmon roe and flying fish roe. There's a whopping 100g of fish eggs on there, so you won't be going hungry with this filling, colourful serving of spaghetti.

Discover new kinds of tarako spaghetti dishes at Tokyo Tarako Spaghetti Harajuku Omotesando.

Information

Tokyo Tarako Spaghetti Harajuku Omotesando

Address: MS Bldg. 2F, 6-7-16 Jingumae, Shibuya, Tokyo

Opening Hours: 11:00-23:00 (Last Orders 22:00)
TEL 03-6803-8688

Official Website: https://www.tokyotarako.com

Support Japan's Cherry Farmers During Lockdown by Eating Q-pot CAFE.'s Cherry Parfait

Q-pot. and Q-pot CAFE. introduced a special cherry parfait to its menu on June 27 to help support cherry farmers whose work has been affected by COVID-19.

Due to less people travelling and sightseeing around Japan as a result of the lockdown and self-isolation practices, orders for cherries are being cancelled, and many festivals across Japan too are being cancelled, all of which is having a huge affect on the country's cherry industry.

The current season is the best time to enjoy Japan's juicy cherries, and so Q-pot CAFE. has teamed up with a cherry farm in Yamagata, a prefecture famous for its cherries.

Cherry Cherry Parfait (w/Drink): ¥1,850 (Tax Included)

The "Cherry Cherry Parfait" is topped with snow-white whipped cream, crunchy meringue, and cherries for a gorgeous contrast of red and white.

The cherries used are considered a high-grade type called "satonishiki" which has been dubbed the "King of Cherries." They sit gracefully atop their kingdom of sweet ingredients including salt milk ice cream, chocolate, cherry jam, sponge cake, and panna cotta.


The cherry farmers are taking all the necessary safety precautions against COVID-19 while they continue to delivery delicious cherries to the people of Japan.

Information

Cherry Cherry Parfait
Location: Q-pot CAFE. Omotesando
Serving: From June 27, 2020 while supplies last
*Due to an event taking place between July 21, 2020 – September 4, 2020, customers must book a table in advance to dine at Q-pot CAFE. Omotesando. The regular menu will not be served.

Official Website: http://www.q-pot.jp

Cute and Dreamy Tanabata Inspired Confections Arrive at Q-pot CAFE. in Omotesando

Q-pot CAFE. is celebrating Japan's Tanabata festival with a limited-time menu which was introduced on June 27.

Romantic Star Plate w/Drink: ¥2,060 (Tax Included)

This starry delight is plated with a fromage blanc filled with ganache cream and peach jelly. There's star-shaped meringue macarons filled with cream, creamy blueberry and blackcurrant panna cotta, star-shaped chocolate to represent the Tanabata deities Orihime and Hikoboshi, and a luxurious Q-pot CAFE. macaron.

さらに、レモンの皮を練り込み、サクッと焼き上げた星型クッキーには短冊のようにグラサージュショコラで願い事を込めて・・・クッキーを残さず口にすれば、願いもきっと叶うはず!


Romantic Peach & Elderflower Soda: ¥750 (Tax Included)

Refresh yourself with a summery glass of this peach and elderflower soda which is filled with blue, purple, and pink transparent jelly which twinkle like a kaleidoscope.

Bottled Drinks (Takeout Only): ¥1,296 Each (Tax Included) *Limited quantity available / *¥100 off if you take your own bottle

Enjoy a takeout bottle of "Aurora Lychee Tea Soda" with its romantic pink, purple, and blue gradation. This herb tea changes colour like magic, and contains marrow cheese plant, lychee puree, and Blue Curacao. The twinkling pearl powder makes it glow like an aurora.

There is also bottled Strawberry Tea Soda, Ginger Ice Milk Tea, and Honey Lemon Vinegar Soda.

If you're in Tokyo this summer, head to Q-pot CAFE. to enjoy a round of pastel-coloured Tanabata confections and drinks.

Information

Q-pot CAFE. Omotesando
Address: 3-4-8 Jingumae, Shibuya, Tokyo
Running: June 27, 2020 – July 20, 2020
*From July 21, 2020 to September 4, 2020 the cafe will be reservation-only in line with an event, and the regular menu will not be available.
*For the time-being, reservations can be made by telephone call only. Web reservations are currently not available.

Official Website: http://www.q-pot.jp