Hi everyone! This is Midori from MMN's Editorial Department.
Now that summer is here, it's the perfect opportunity to visit a beer garden! Having a refreshing cold beer on a rooftop during a hot summer's day is on a whole new level. Every year, beer gardens put a lot of effort into coming up with new ideas for their customers to have the time of their lives. The entire atmosphere is an entirely new experience. That's why today, I will be introducing you to 2019's must-visit beer gardens in Kyoto and Osaka.
Or click here to discover Tokyo's top 5 beer gardens instead!  
Korean BBQ Sakeba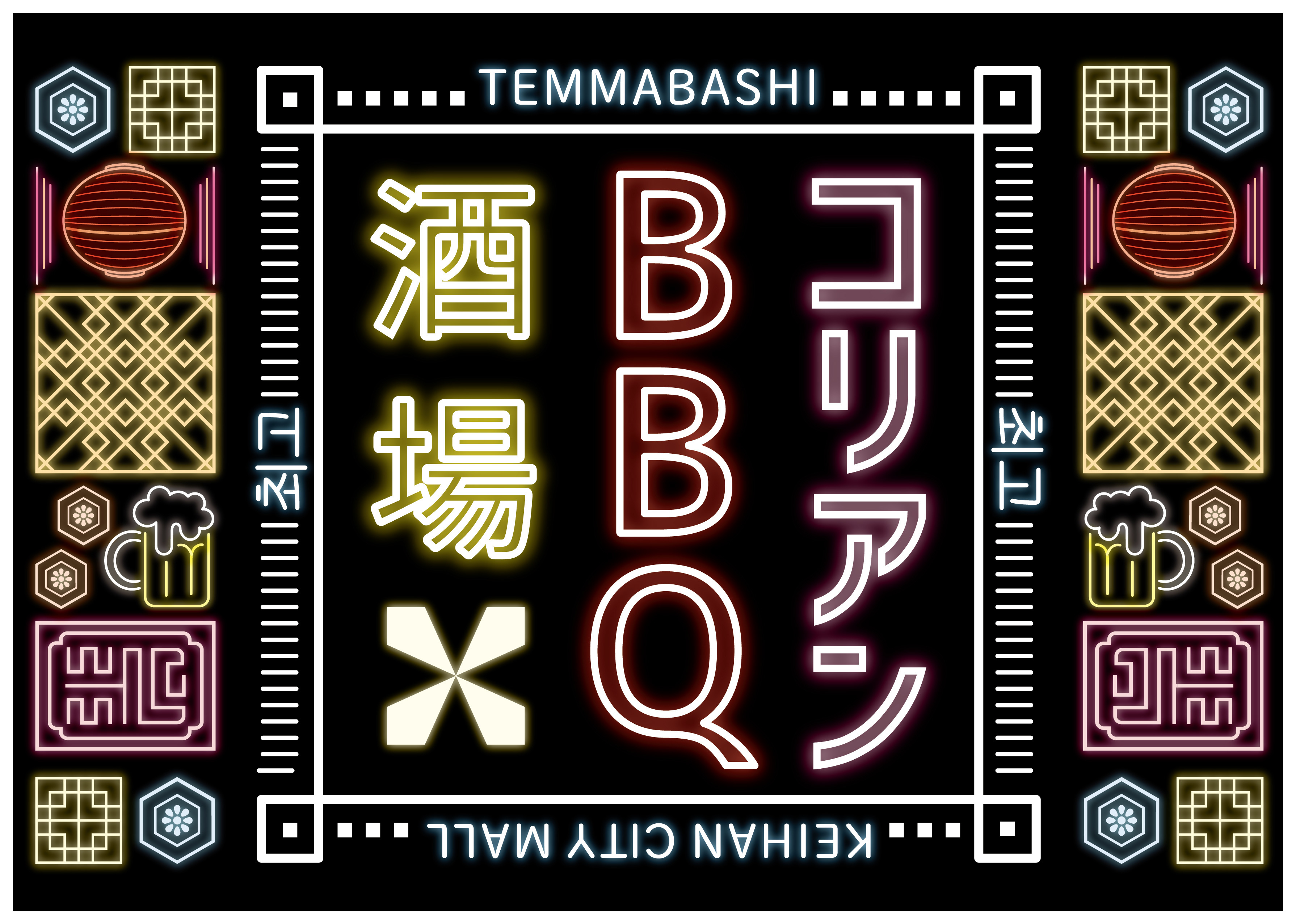 Head to the rooftop of Keihan City Mall which is attached to Temmabashi station  in Osaka for a Korea-themed beer garden. From grilled meats such as Korean grilled pork belly, (Samgyeopsal), and gourmet food such as cheese Dak-galbi (spicy stir-fried chicken), there are just so many delicious meals to try. You can treat yourself to the free self-service drinks or get your beers, highballs and lemon sours topped up as many times as you like! Korean grilled meat and beer is the perfect combination. No wonder it is so popular!
▼ Temmabashi Korean BBQ Sakeba
Address: Keihan City Mall rooftop, 1-1 Tenmabashikyomachi, Chuo Ward, Osaka,
Running: May 22 ー September 30, 2019 (No regular holidays.)
※ Closed on days of severe or stormy weather
Opening Hours: 17:00 ー 22:30 (Last entries: 20:00)
Official Website: https://www.matsuri-bbq.com
Hotel Keihan Rooftop Beer Garden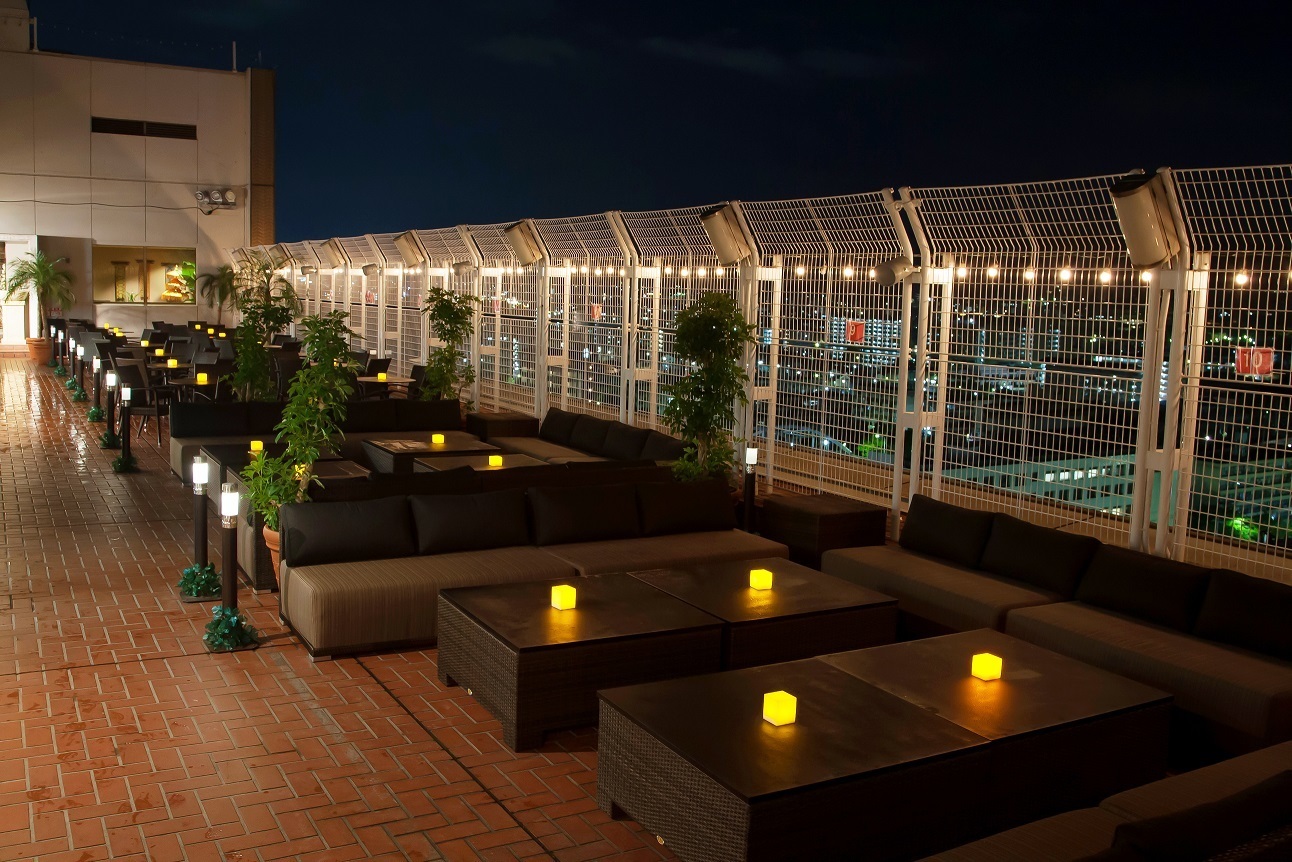 Before the rooftop garden opens at Keihan Hotel, Osaka, you can still enjoy alcohol at the "Choi Nomi" alcohol stand. Here, you pay for each individual drink, which is perfect for those who do not want to drink too much. You can also enjoy a couple of drinks here with friends while you are waiting for the beer garden to open. Whether you want to drink a little or go all the way, this beer garden caters for all kinds of alcohol-lovers. ♪
▼ Rooftop Beer Garden
Location: Hotel Keihan Kyoto Grande
Address: 31 Higashikujo Nishisannocho, Minami Ward,
Running: June 1 ー August 31, 2019
※ Closed during bad weather
Opening Hours: 17:30 ー 21:00 (Last orders: 20:45) (Choi Nomi alcohol stand opening times: 16:00 ー 17:30
Website: https://www.hotelkeihan.co.jp/Kyoto/
Senri Hankyu Hotel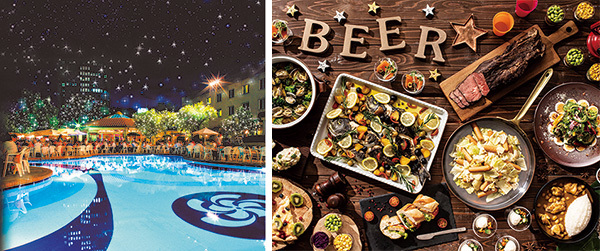 Senri Hankyu Hotel Poolside Beer Garden also has private spaces this year, allowing you to relax in private with your friends without having to worry about others around you. Amongst all the typical drinks, you can also enjoy Smirnoff and Sangria. There will also be a variety of dance performances to keep you entertained including samba, hula and belly dancing. Grab your girlfriends and boyfriends for the perfect summer reunion party.
▼ Senri Hankyu Hotel Beer Garden
Location: Senri Hankyu Hotel Poolside
Address:  2-1 Shinsenri Higashimachi, Toyonaka, Osaka
Running: June 1 ー September 30, 2019
Opening Hours: Mondays ー Saturdays (17:30 ー 21:00)
Last orders: 20:30),
Sundays, national holidays: 17:30 ー 20:30 (Last orders: 20:00)
Website: https://www.hankyu-hotel.com/home/hotel/hh/senrihh/contents/beergarden/
Hotel New Hankyu Kyoto
Right now, the rooftop of Hotel New Hankyu, is home to a beer garden. From the same rooftop, you can enjoy a view of Kyoto Tower amongst the breathtaking scenery of nightfall in Kyoto. There is also a live performance menu at the grilled dish corner, performance desserts and much more. Treat yourself to a luxurious beer garden experience.
▼Hankyu Top Beer Garden Kyoto
Location: Hotel New Hankyu Kyoto (Rooftop )
Address: Opposite Kyoto station (Karasuma central exit), Shimogyo Ward, Kyoto
Running: May 17, 2019 ー September 23, 2019
On national holiday August 16, opening hours will change due to the Gozan no Okuribi festival of Kyoto.
Opening Hours: 17:30 ー 21:30
※ Open until 22:00 on Fridays and Saturdays during July and August, however a time limit of 120 minutes for each group of customers applies.
Website: https://www.hankyu-hotel.com/hotel/hh/kyotoshh/restaurants/beergarden
So, what do you think? A beer garden with friends is the perfect way to have fun with friends in the evening!
RECOMMENDED ENTRIES
Experience Japanese Culture #2: Comparing Tastes of Unique Japanese Chocolates – From Matcha to Sake

Japanese model Yuri Sugunama, a.k.a "Yurippa," is taking us on her next trip in this series where she goes to personally experience Japanese culture and cultivate new hobbies. Yurippa loves chocolate – she eats one tablet of the stuff day. In this Valentine's-special second entry, Yurippa sampled different chocolates that are popular right now.

For Valentine's Day in Japan, it's custom for girls give guys chocolate and convey their feelings towards them. Guys return the favour on a day called White Day, which falls on March 14. So, since there's one month to go before the big day, that means the most delicious chocolate in the world is about to hit shelves in Japan – popular both in Japan and overseas.

The first pick was the classic "KitKat," a very well-known brand in over 100 countries. The Japanese brand of KitKat is actually made in Japan. It's received much attention around the world for its original flavours. It's also known for being associated with exam season for students – the word KitKat in Japanese (kitto katto) almost sounds like the phrase "Kitto Katsu!" which means "You will surely win!"

Yurippa tried out the new "KitKat Chocolatory" series, created by the chef and owner of "La Patissier Takagi," Yasumasa Takagi. The "Sublime Valentine's Assortment" costs ¥2,400 (tax excl.) and includes 7 KitKat bars with 6 different flavours. There's dark chocolate, milk chocolate, white chocolate, matcha, raw, and a pink coloured ruby flavour. It's a great selection to share and eat together with people.

The centerpiece of the collection is new Ruby KitKat, developed by the Swiss chocolate makers Barry Callebaut over a period of more than 10 years. The chocolate uses no colouring agents – the pink colour is made naturally to create an entirely new chocolate. Yurippa gave it her stamp of approval, saying it'll be popular with girls for its vivid pink colour. She couldn't contain her surprise for this newfound chocolate, saying "The berry flavour has a sour taste, but it's different from strawberry chocolate. It's something I've never tasted before."

Next on the list is "Tea Chocolate Premium Matcha 7". Costing just ¥1,000 (tax excl.), these chocolates are made by Shizuoka Matcha Sweet Factory "Nanaya," who are known for producing the world's most rich flavoured matcha gelato. These matcha chocolates don't hold back on the milk so as to bring out the fragrance and taste of the tea leaves to the max. The set comes with 7 different matcha chocolates of varying intensity and 1 houjicha flavoured chocolate.

Yurippa expressed her excitement for the delicious chocolate before opening it. "When you open the packaging, the fresh smell of the tea whets your appetite so much you can't wait to tuck in!"

The chocolate and tea leaves have a good combined balance of 3.1%, and the smell and taste of the leaves kicks in with a strong flavour combination of 21%. "The tea leaf combination is different but my impression of the chocolate changed dramatically!"

"If you eat the chocolates in order as written on the packaging, you can understand each flavour's intensity much better! This chocolate would go better with hot milk or soy milk than coffee. The richer chocolate flavours are fairly moderate when it comes to sweetness, so if you're on a diet then you can eat them without feeling guilty."

The last pick is from the long-standing chocolate maker Mary Chocolate. The KANADE Japanese Sake Truffles (¥1,000) come in 3 flavours – milk, sweet and white – and are topped with carefully selected Japanese sake. Only the finest sake from Japan is used, such as Gokyo Junmai Sake from Yamaguchi Prefecture. Since the truffles contain alcohol, be wary not to hand them out to minors or people that are driving.

"There's a good balance between the chocolate and sake, and depending on which brand of sake is used, you can enjoy a different flavour on your taste buds from each!"

Yurippa's favourite was the milk truffle topped with Koyama Shuzo. She was very satisfied having recently acquired a taste for sake. "It brings out the enduring qualities of refreshing Japanese sake and a fruitiness. I really want people who like Japanese sake to try these! If you're not too good with sake from Japan, then I recommend the white chocolate truffle with Ichiro from Dewazakura. The subtle fragrance of sake that you can feel inside the smooth texture of the white chocolate makes it really sophisticated."

Yurippa gives friend chocolate to everyone on Valentine's Day, guys and girls. Why don't you try tasting this unique Japanese collection of chocolates recommended by Yurippa with everyone?

Model:Yuri Suganuma @yurippa93

Yuri Sugunuma is a model with a high fashion sense that has been picked up by various magazines. She receives much love and support from girls of the same generation as her to whom she is known by her nickname "Yurippa." She has a huge influence across her social media. Recently, she has stepped into other fields outside of modelling, such as appearing in TV shoots and in music videos. She is skilled in make-up and involved in the development of cosmetics.

Writer:Ryoichi Komaba

Photographer:Haruka Yamamoto

Translator: Joshua Kitosi-Isanga

Beer garden open on top of Japan's tallest building, ABENO HARUKAS – Osaka

The beer garden named, "ABENO HARUKAS Beer Garden – Beer300" will open in the observatory of Japan's tallest building, ABENO HARUKAS, starting on April 28th (Sat.).

This will be the fourth year for this beer garden called HARUKAS 300 to open. This beer garden is gathering much attention because of the great view from 300m up and because of its highly satisfying menu line up. Last year's new menu item called, "Barbeque Menu" was very popular in that the customers could barbeque what they liked by themselves. This do-it-yourself feeling matched this wide open view of Osaka's skyline.

For this year's "Barbeque Menu" the highlight meats are thick cuts of "skirt steak," "pork shoulder" and "spicy chicken" which goes well with beer. The great variety of meats will make for a hearty BBQ meal.

The drink menu includes such drinks as sparkling wine, tropical cocktails and drinks which many women will want to upload on their SNS accounts. Furthermore, so as to not keep anyone waiting, self-service beer servers and wine servers have been installed. Everyone is for sure to have a wonderful time at this beer garden.
 
For customers wanting to order the "Barbeque Menu" advanced reservations are necessary. In the case of rain, there are seats installed alongside the windows at Beer 300 so there is no need to worry about getting wet. Here is a beer garden you can enjoy without having to worry about the weather. In addition to the "Barbeque Menu" there are many single item menu items and you can also choose the "all-you-can drink" plan with no advanced reservation.
 
Why not visit this beer garden 300m up in the sky and enjoy the sense of expansiveness as you eat and drink with your friends or family.

■Information

HARIKAS 300
Address: 1-1-43 Abenosuji, Abeno-ku, Osaka
Hours: 9:00-22:00
TEL:06-6621-0300

Standing Style Japanese Sake Bar Junmaishu YATA to Open in Chubu Centrair International Airport

Tachinomi is a type of Japanese bar that focuses on standing and drinking rather than sitting down. The new branch of Junmaishu YATA is one of these, and will open in Chubu Centrair International Airport on April 25, 2018 as the first branch from the company to open inside an airport.

The idea behind the new store is that rather than branching out overseas, they wanted to set up shop at Chubu Centrair International Airport where both Japanese and those from overseas gather to offer seriously delicious sake for everybody to enjoy.

YATA is a standing-style bar where customers can casually and easily enjoy Japanese sake. All the drinks on their menu are junmaishu, which is sake made from just rice and rice malt with no added. There's no menu display. Instead, you can converse with the staff while choosing a drink of your course.

The bar is thoroughly particular about the ingredients, brands, chasers and so on of the drinks served there. There's even an all-you-can-drink option.  It's great for how simple it is, as well as the reasonable prices.

Despite the current climate of strict regulations, YATA has overcome various hurdles and will successfully open in Chubu Centrair International Airport. Head on in if you're passing through and experience their passion for yourself.

■Information

Junmaishu YATA Centrair

Address: Chubu Centrair International Airport Passenger Terminal Building 4F, 1-1 Centrair, Tokoname-shi, Aichi Prefecture

Day of Opening: April 25, 2018

Opening Hours: 8:00-21:00 (Weekdays, Weekends & Holidays)

No Fixed Holidays.

Access: 28-minutes from Meitetsu Nagoya Station (If using μ-SKY)

TEL: 0569-89-2225

Website: https://junmaishu.net

Ryuhei Maruyama and You Yokoyama From Kanjani Eight Sing Passionately About Sweet Sake

Morinaga Sweet Sake will release their new TV commercial for their chilled sweet sake "Hiyashi Amazake" on July 5th.

Hiyashi Amazake is made using a blend of carefully selected sake lees produced when making sake, malted rice, and Hakata salt. This drink will provide you with a refreshing aftertaste to keep you cool during the hot summer. To share the news of this wonderful drink with the rest of Japan, Ryuhei Maruyama and You Yokoyama from Japanese boyband Kanjani Eight will feature in the brand's new advert as promotional characters. Watch the two idols as they muster up all their passion to sing a song about their undying love for Hiyashi Amazake whilst dressed in Hiyashi Amazake-themed Yutaka, leaning against the trees.  

 

You just have to hear the intense rap, too. The boys manage to sing it all the way through to the end without breaking their serious face into fits of laughter.

 

Please check out the incredibly entertaining Hiyashi Amazake advert!

Information

Amazake bros. Summer 15-second version

Broadcast Date: July 5, 2019

Broadcasting Regions: To be broadcasted all over Japan

※ After 10 pm on June 24, you can watch the commercial on Morinaga's Brand Website.

https://www.morinaga.co.jp/amazake/

Hiyashi Amazake (Chilled Sweet Sake)

Release Date: To be announced

Release Region: All over Japan

Brand Website: https://www.morinaga.co.jp/amazake/

Go Japanese Sake Tasting with VELTRA's 'Sake Tours Around Japan'

VELTRA offers an endless list of tours and activities for travellers across the globe for them to discover and experience everything the countries of the world have to give.

The travel website posted a special page on June 4, 2018 titled "Sake Tours around Japan."

Wanting people to discover the true authentic side of Japan, the page focuses on the art of Japanese sake, its qualities, and how best to enjoy it, as well as sake tours people can enjoy while in the country. The tours can only be booked on the VELTRA website.

Let's take a peek at some of the tours.

Historic Kawagoe and Retro Saitama Sake Tasting Tour from Tokyo

After seeing the historical architecture of Kawagoe, you will visit a Isegen, a sake shop with a history spanning over a hundred years. Afterwards, you'll head to Gyoda for a soba lunch before exploring the quiet town which is famous for the movie The Floating Castle. Finally, you will go sake taste testing in Kumagaya at Gonda brewery.

Kawagoe Sake Tasting and Bonsai Museum Tour from Tokyo

Go back in time and stroll through a historical neighbourhood which was formally known as 'Koedo' (Little Edo) before heading to Isegan Sake Shop which has a history stretching over 100 years. You will then get the bus to Uruido for lunch at Seiryu Sake Brewery. Your last destination will be the Omiya Bonsai Art Museum where you will be sucked into the little world of bonsai.

Bellovisto Bar Drinks and Appetizers on the 40th Floor of Cerulean Tower Hotel

From the 40th floor of Cerulean Tower at the Bellovisto bar you can enjoy Japanese sake along with a luxurious meal while gazing the nightscape of Tokyo. Choose from a selection of premium brand drinks including sake, wine and beer. For food, you can pick from a main dish and four appetisers. Together with a serenading piano performance, you're sure to spend a night in Tokyo you will  never forget!

There are many other tours to choose from too. Discover the true essence of Japanese sake with VELTRA's sake tours around Japan!

Sake App "SakeWiz" to be Released in Japan, US, Canada and Singapore for iOS & Android

A mobile app called SakeWiz used for finding information on Japanese sake was released on May 8, 2018 and is available on iOS and Android in Japan, the US, Canada and Singapore.

There's been a boom recently amongst young females in Japan for local sake. SakeWiz was developed to play a role in helping spread the boom of Japanese sake even more through the internet.

The app was officially endorsed by Sake Service Institute (SSI), a Japanese sake service that authorises the Kikisake, or Master of Sake course.

Using artificial intelligence, the app has label scanning software to search for Japanese sake brands and names which can be difficult to remember. Additionally, you can save your favourite brands on the app to share and recommend with friends.

Sake has a tendency to mostly be enjoyed by males and females in their 30s. The polyphenol effect, which became the impetus for the first wine boom in Japan, also played a role in lighting a fire amongst young women who are consistently the leaders consumption in this area.

There are plans to implement more functions such as to enable users to be able to comment on sake and food they like, as well as introduce coupons. The app is also available in multiple languages, including Chinese and Korean.

If you love Japanese sake or someone who wants to try out all the sake that Japan has to offer, then consider downloading SakeWiz.

■Information

SakeWiz

Fuctions:

・Label scanning

・Favourites list

・Japanese sake online purchasing

・User community

・Search function for restaurants serving Japanese sake

・Ability to post on social media including Facebook and Instagram

Download:http://l.ead.me/baqirY

Firenze SAKE:http://firenzesake.jp/
RELATED ENTRIES
Famous Japanese Matcha Company Collaborates With Japan's Convenience Stores

With shops and businesses temporarily closed as a result of lockdown measures in Japan, Japanese convenience store chain FamilyMart decided that since people can't as easily get their hands on authentic matcha right now, they would collaborate with the famous matcha company Kanbayashi Shunsho Honten to stock some authentic matcha treats on its shelves. They were released at FamilyMart branches across Japan on May 19, 2020.

Umami Matcha Parfait

The parfait begins with a soft sponge bottom and is then layered with milk mousse and matcha mousse before being topped with matcha jelly, red bean paste, and other tasty accompaniments.

Umami Matcha Cheesecake Baumkuchen

The matcha baumkuchen is made using authentic Uji matcha and is baked to look like a cheesecake. You get the full rich matcha kick with this one.

Hidetoshi Kanbayashi (Kanbayashi Shunsho Honten) | Comment

"We use a blend of first-grade Uji matcha and top it with jelly and matcha mousse. We have made it in such a way that you can enjoy the full flavour and aroma of the matcha itself. Please enjoy."

Information

Kanbayashi Shunsho Honten Umami Matcha Parfait
Price: ¥298 (Tax Included)
Released: May 19, 2020
Available: FamilyMart convenience stores across Japan (except Okinawa)

Kanbayashi Shunsho Honten Umami Matcha Cheesecake Baumkuchen
Price: ¥298 (Tax Included)
Released: May 19, 2020
Available: FamilyMart convenience stores across Japan (except Okinawa)

FamilyMart Official Website: https://www.family.co.jp/

MOSHI MOSHI PLAYLIST: J-Pop Songs For The Start Of Summer | May 2020 #2

MOSHI MOSHI NIPPON is now on Spotify, and every week, we plan to post a new playlist with a different theme, focusing on music from Japan. If you love J-music, or are new to J-music, be sure to give us a follow.

MOSHI MOSHI NIPPON Spotify: Follow Us

Nogizaka46 – Toki Toki Meki Meki


The kind of super cute and energetic idol song you want to listen to at the start of summer!

Kobukuro – Summer rain

Kobukuro is a music duo which never fails to disappoint when it comes to charming vocals and beautiful guitar melodies.

Natsume Mito – Odekake Summer

A feel-good track with an addictive melody that reminds you of summer.

 Leo Ieiri – Kimi ga Kureta Natsu


A sad love song that was used as the main theme song for the Japanese drama series Koinaka.

SiD – Natsu Koi

A groovy love song that's also SID's classic summertime track.

Aimer – Ref:rain

This song is known for being used as the ending theme for the anime series After the Rain.

RIP SLIME – Rakuen Baby

Rakuen Baby is one of those songs everyone plays when summer arrives. The catchy hook will have you singing along in no time.

DAOKO x Kenshi Yonezu – Uchiage Hanabi

This is the theme song for the movie Fireworks, Should We See It from the Side or the Bottom? This song compares the feeling of not wanting to let go with the image of fireworks soaring away out of reach in the evening sky.

LiSA – Datte Atashi no Hero.

This rock song is the ending theme song for the popular anime My Hero Academia and is overflowing with vibrant summer energy.

Vickeblanka – Natsu no Yume

This urban and mellow track is a story about one summer where a hesitant man has feelings for a free-spirited woman.

YUI – Summer Song

From the gentle breeze of the beach to laughter and good memories, YUI's Summer Song represents the excitement we feel as summer peaks round the corner and we get ready for another summer of fun.

Ai Otsuka – Kingyo Hanabi

Going to a fireworks festival with your lover is a key ingredient to enjoying a Japanese summer. In this song, Ai Otsuka compares her emotions to "goldfish fireworks" which illuminate the face of her lover for a split second and fade away gracefully.

Dempagumi.inc – Otsukare Summer

Dempagumi gets the summer vibes flowing with Otsukare Summer. The song reflects the excitement of leaving behind those stressful exams and busy days to celebrate freedom that summer brings us.

GReeeeN – Kiseki

This love song is accompanied by a baseball-themed music video – a Japanese summer sport bound to get you excited for summer.

w-inds. – Backstage


This tropical song and video will fill you with refreshing beach vibes and is perfect to listen to while basking in the sun.

As summer is just round the corner, this playlist is the perfect way to get refreshed with Japanese summer vibes. We will be releasing a new playlist every week so stay tuned!

Information

MOSHI MOSHI NIPPON Spotify: Follow Us

The Day I Became a God TV Anime Series Cast and Staff Revealed

It has been announced that Yoshiyuki Asai (Charlotte) is directing the upcoming TV anime series The Day I Became a God, and that Ayane Sakura (My Hero Academia; Your Lie in April; Non Non Biyori) will voice the main female protagonist.

The Day I Became a God is an upcoming anime series being produced by P.A.Works and Aniplex. It is the third original anime series conceived by Key following Angel Beats! and Charlotte. It will be released this October.

The Day I Became a God Official Promotional Video


The story follows Hina, a girl who awakens as a god, who foresees the end of the world. This leads her to choose a boy, a companion to watch over until the end arrives.

©VISUAL ARTS / Key / "The Day I Became a God" Project

tofubeats Collaborates With DJ Q and Gaidaa On Red Bull Check Your DMs

tofubeats appeared on the first episode of Red Bull Check Your DMs, a reality show by Red Bull which connects artists around the world together online for the first time and has them make a song together remotely. He collaborated with UK music producer DJ Q and Netherlands singer Gaidaa to create an original track named All In.

Red Bull Check Your DMs – Episode 1


This was the first time the three artists had met each other, all of whom have different nationalities as well as work on different styles of music, from hip-hop and electronic to singer, rapper, and track maker. Just how did these three individuals create a new song from scratch? All they need is talent, inspiration, and an internet environment for this unique project which coincides with today's digital age.

The show welcomes a whole host of artists, from this episode's tofubeats, music producer DJ Q, and singer Gaidaa to bassline DJ Flava D, rappers Ms Banks and Burna, Canadian electronic music producer Ryan Hemsworth, South Korean singer CIFIKA, Diamond Vargas from Australia, Girl Ultra from Mexico, Phil Speiser and Palazzo Beats from Austria, Wow Jones from the USA, Yartze from Puerto Rico, and more.

Red Bull Check Your DMs is available to watch for free on YouTube and the Red Bull TV app. A new episode will air every Friday.

The music video for Inochi no tabekata (How to eat life) by Eve has been released. Known for his intricately animated music videos, Eve has amassed over 1.7 million followers on YouTube. Inochi no tabekata is from Eve's album Smile which was released in February this year and is still in popular demand.

This ambitious project is the result of Eve's first ever collaboration with animator Mariyasu. The song was even adapted to perfectly synchronise with the video. Like all of Eve's music videos, you just can't miss out on seeing this.

Inochi no Tabekata Music Video


Eve's album Smile is available on a number of streaming services. If you love sophisticated and catchy tunes, Eve's mesmerizing world is waiting for you.

HOSHINOYA Guguan Listed in Condé Nast Traveler's 2020 Hot List

HOSHINOYA Guguan in Taiwan was listed in the 2020 Hot List of Condé Nast Traveler on May 5, 2020.

Condé Nast Traveler is a travel magazine which showcases the latest information for travel, hotels, restaurants, and shopping around the world. HOSHINOYA Guguan was chosen as "The Best New Wellness Resorts in the World" in their 2020 Hot List which featured new hotels that opened in 34 countries and regions worldwide last year.

HOSHINOYA Guguan opened on June 30, 2019 as the first Taiwan-based luxury hot spring resort produced by Hoshino Resorts, which manages 42 branches outside Japan. It is also the second overseas branch of the company's "HOSHINOYA" brand, whose concept is "taking a break from the modern world." It's located on the outskirts of Taichung in Guguan which is home to natural hot springs. There, it co-exists and blends in naturally with the landscape. All guest rooms have open-air baths, so guests can enjoy the warm water together with the breeze in a spacious environment. They also offer various programs for guests to enjoy Guguan's culture and natural environment.

HOSHINOYA Guguan was also picked as one of Travel + Leisure's "The Best New Hotels in the World (The It List)" on February 20.

If you're planning a trip to Taiwan in the future, be sure to check out HOSHINOYA Guguan.

Information

HOSHINOYA Guguan
Address: No.16, Wenquan Lane, Section 1, Dongguan Road, Heping District, Taichung City 424, Taiwan
TEL: 0570-073-066
Rooms: 49 (All with open-air baths)

Check In: 15:00 / Check Out 12:00

Price: From NT$18,000 per night (1 room, doesn't include tax or service charge, meals charged separately)
Official Website: https://www.hoshinoresorts.com/en/resortsandhotels/hoshinoya/guguan.html

Cool Yourself This Summer With SHISEIDO's Ultimune Mist

SHISEIDO is launching a new limited edition collection of its Ultimune™ Defense Refresh Mist worldwide on July 1, 2020.

SHISEIDO Ultimune™ Defense Refresh Mist – ¥7,200 (Before Tax)

The product takes inspiration from the Japanese custom of uchimizu in which people sprinkle water onto the pavements, in their gardens, and elsewhere to cool down the immediate area. The micro mist helps to keep you feeling cool and refreshed to combat the stickiness of the heat as well as the dryness caused by UV rays. It also helps protect the skin. The product is bottled in a small bottle for easy carrying around so you can whip it out at any time for some quick skincare action.


The bottle features a limited edition design which reads 'Ginza,' the place in Tokyo where SHISEIDO started. Essence and a cushioned compact case are also being released with the same limited edition design.

Fragrance Body Care Brand 'SWATi' Opens Overseas Shipping

Japanese fragrance body care brand SWATi has announced that it is opening a full overseas shipping service.

SWATi was established back in 1998 as a handmade candle brand with candle designs such as ice creams, parfaits, and other pop motifs. In 2018, it launched the fragrance body care brand "MARBLE label" which was exclusive to Japan and aimed at busy workers to offer them some luxury during their jam-packed, tiring days. It has since become a hugely popular brand with female customers in Japan with its authentic scent and texture as a result of the ingredients used, all of which originate in Japan.

The brand is now set to roll out across ASEAN states in stores and online shops. There is also now a SWATi overseas page on Buyee.

The website is available in English, Japanese, Chinese (Traditional/Simplified), Indonesian, Thai, Korean, Spanish, Germany, Russian, and more. Overseas payments are completed via PayPal, Alipay, credit cards, and other methods. Additionally, queries from buyers on Buyee can send their questions from nine different languages.

Set some time aside for yourself during your busy work day to enjoy some luxurious time with SWATi's body care range.

BAPE® Releases Face Mask Case For Storing Your Mask

A BATHING APE® released its new face mask case on Saturday (May 23) for people to hygienically put away their face masks, whether to store away or for on the go. The cases will be given to everyone that purchases something from the BAPE STORE® or BAPE.COM in Japan.

The case features BAPE's iconic APE HEAD design. It's made from PVC and so can be hand washed so people can safely and hygienically store their face masks. The case can of course be used to store hand sanitiser or hand wipes too.

Information

BAPE® MASK CASE

Release Date: Saturday, May 23rd, 2020
Available: BAPE STORE® and BAPE.COM in Japan to all customers. One case per transaction. Available while supplies last.

Product Page: https://bape.com/blogs/news/bape-mask-case

Weathering with You Anime Film's Official Art Book Limited Edition Bonuses Revealed

The official Weathering with You art book is set for release in Japan on May 27, 2020. The book will include a limited edition version, and depending on where you purchase it from you will receive a different bonus item.

KADOKAWA announced the release of the art earlier this month. The hit anime film directed by Makoto Shinkai (Your Name, The Garden of Words) was released in July last year to critical acclaim, earning the title of Best International Feature Film at the 92nd Academy Awards.

The art book is to feature over 240 gorgeous pieces of background art which of course includes image of Tokyo's sky changed by the weather in the film. It will also include an interview with the director Makoto Shinkai, comments by the art director Hiroshi Takiguchi, and plenty more for a detailed, behind-the-scenes look into the movie.

Let's check out the different stores offering their exclusive bonus items.

Animate

IC Card/Smartphone/Tablet Stickers (Sticker Set A)

Books Kinokuniya

IC Card/Smartphone/Tablet Stickers (Sticker Set B)

MARUZEN & JUNKUDO

IC Card/Smartphone/Tablet Stickers (Sticker Set C)

*Stickers are available at select branches only. Please enquire in-branch for more information.

The three different sticker sets feature breathtaking background art from Weathering with You, and can be used on IC cards, smartphones, or tablets.

Amazon

PC Wallpapers (3 Designs/3 Sizes) – these can be used as backgrounds for online calls too

Smartphone Wallpaper (1 Design)

If bought on Amazon, you'll get some PC wallpapers and a smartphone wallpaper.

*Wallpaper designs subject to change without notice. The wallpapers are exclusive to customers who buy the book by July 31, 2020 at 23:59 (JST). Wallpapers can be downloaded until October 29, 2020 at 23:59 (JST).

©2019 "Weathering with You" Production Committee

Information

Weathering with You Official Art Book (Japanese Title: 新海誠監督作品『天気の子』美術画集)
Release Date: May 27, 2020

Price: ¥2,700
Size: B5 (224 pages, comes with sleeve)
ISBN: 978-4-04-604698-7
Publisher: KADOKAWA
Rolling out on Amazon Japan and Japanese book retailers

KADOKAWA Official Webpage: https://www.kadokawa.co.jp/product/321911000087/

Experience Teasing Master Takagi-san in New VR Game

A new VR game entitled Teasing Master Takagi-san VR – 1st Semester was released on May 22, 2020 on Steam and Oculus. The game is based on the popular manga series Teasing Master Takagi-san by Sōichirō Yamamoto.

Walk together with Takagi under your umbrella

Play some beach volleyball with Takagi

You play as Nishikata from the manga and anime series who Takagi likes to tease all the time. The VR game allows you to experience popular scenes from the original story, and also introduces some completely original story points. Walk home from school with Takagi, play volleyball with her on the beach, and more. Rie Takahashi, who voices Takagi in the anime series, also voices her in the VR game to make it that much more immersive.

Drink some juice with Takagi from the vending machine

The VR game implements not only head tracking, but 6DoF, or "six degrees of freedom," which is required for movement in game, allowing for the player to feel fully immersed.

According to SuperData Research, VR headset sales rose rapidly by 31% in 2018—from $1.6 billion to $2.1 billion—which has meant that more and more content has been coming out. Additionally, the result of the novel coronavirus (COVID-19) has shown record numbers of people using Steam and VR headsets. This is what let to the creation of Teasing Master Takagi-san VR – 1st Semester.

Steam is holding a 10% off campaign for one week starting from May 22, 2020. The Oculus Quest version will also expand on the game with a 2nd semester.

Big Hero 6's Baymax Turns Into Tasty Confections in Q-pot.'s Accessory Range

Q-pot is an accessory brand whose products are made to look just like delicious desserts. The brand also has its own Disney-inspired line called "Disney Story Dreamed by Q-pot." into which it has added the cute Baymax from Big Hero 6.

Baymax is a tall, round, and white healthcare-providing robot who is gentle by nature. Q-pot. has turned him into delicious confection accessories for their Disney range.

Daifuku

Necklace: ¥9,500 (Before Tax) / Ring: ¥6,000 (Before Tax) / Bag Charm: ¥7,500 (Before Tax)

 Daifuku is a Japanese confection which features a round mochi filled with some kind of sweet filling, usually anko red bean paste. The shape of a daifuku is perfect for capturing Baymax's form.

Underneath the squishy accessories is what feels like real anko.

Macaron

Necklace: ¥10,000 (Before Tax) / Ring: ¥8,000 (Before Tax)

For these accessories, Baymax has been turned into the traditional French macaron. It's like Baymax really has been filled with fluffy cream.

The necklace and ring are also topped with various decorations like the cute little heart.

Information

Baymax Collection

Order Window: May 27, 2020 – June 14, 2020

Deliveries: From Late July 2020

*Dates subject to change depending on manufacturing conditions

Available: Q-pot. ONLINE SHOP (From 12:00pm JST)

*Please note that physical Q-pot. stores are temporarily closed and so the release date of this product in-store is TBA