Hi everyone! This is Midori from MMN's Editorial Department.
Now that summer is here, it's the perfect opportunity to visit a beer garden! Having a refreshing cold beer on a rooftop during a hot summer's day is on a whole new level. Every year, beer gardens put a lot of effort into coming up with new ideas for their customers to have the time of their lives. The entire atmosphere is an entirely new experience. That's why today, I will be introducing you to 2019's must-visit beer gardens in Kyoto and Osaka.
Or click here to discover Tokyo's top 5 beer gardens instead!  
Korean BBQ Sakeba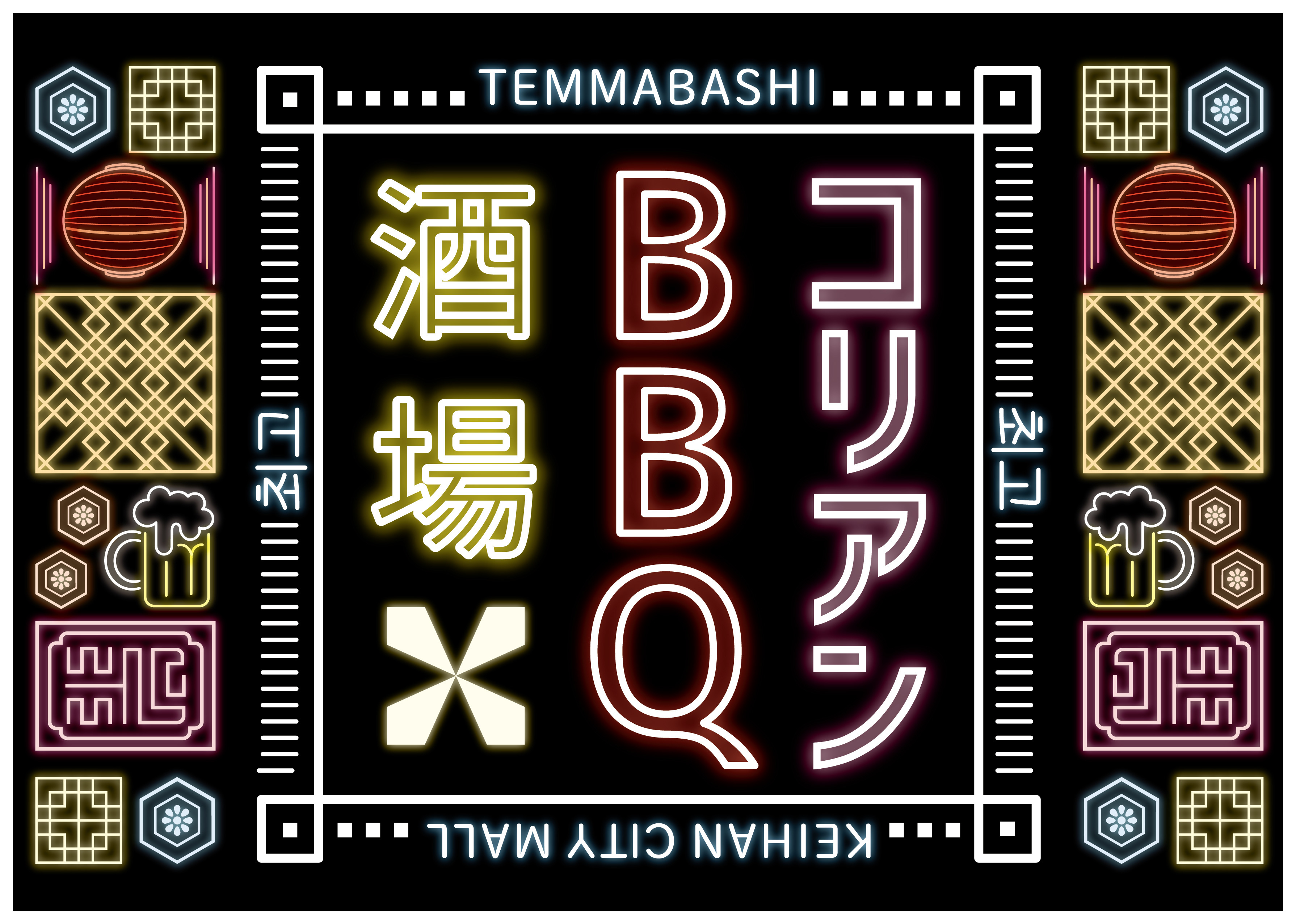 Head to the rooftop of Keihan City Mall which is attached to Temmabashi station  in Osaka for a Korea-themed beer garden. From grilled meats such as Korean grilled pork belly, (Samgyeopsal), and gourmet food such as cheese Dak-galbi (spicy stir-fried chicken), there are just so many delicious meals to try. You can treat yourself to the free self-service drinks or get your beers, highballs and lemon sours topped up as many times as you like! Korean grilled meat and beer is the perfect combination. No wonder it is so popular!
▼ Temmabashi Korean BBQ Sakeba
Address: Keihan City Mall rooftop, 1-1 Tenmabashikyomachi, Chuo Ward, Osaka,
Running: May 22 ー September 30, 2019 (No regular holidays.)
※ Closed on days of severe or stormy weather
Opening Hours: 17:00 ー 22:30 (Last entries: 20:00)
Official Website: https://www.matsuri-bbq.com
Hotel Keihan Rooftop Beer Garden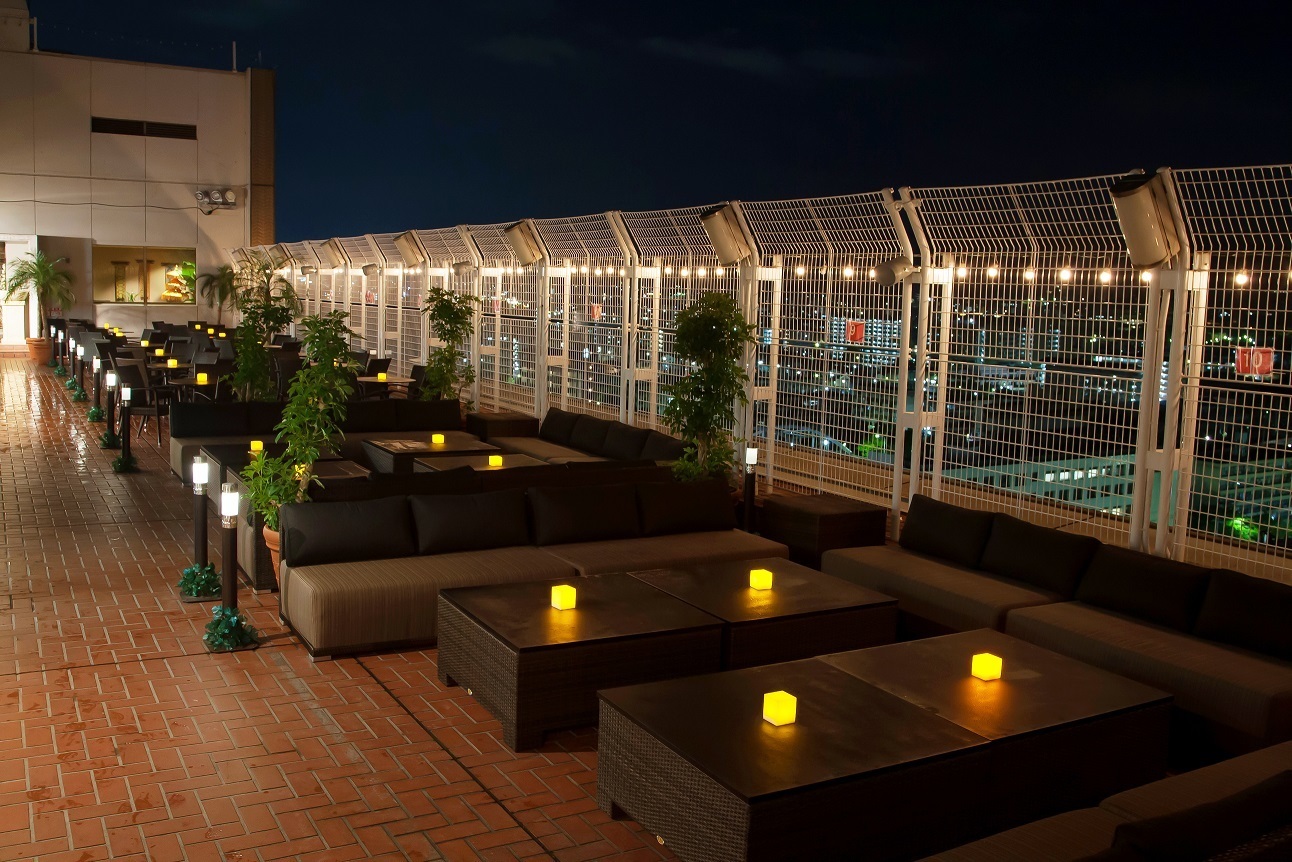 Before the rooftop garden opens at Keihan Hotel, Osaka, you can still enjoy alcohol at the "Choi Nomi" alcohol stand. Here, you pay for each individual drink, which is perfect for those who do not want to drink too much. You can also enjoy a couple of drinks here with friends while you are waiting for the beer garden to open. Whether you want to drink a little or go all the way, this beer garden caters for all kinds of alcohol-lovers. ♪
▼ Rooftop Beer Garden
Location: Hotel Keihan Kyoto Grande
Address: 31 Higashikujo Nishisannocho, Minami Ward,
Running: June 1 ー August 31, 2019
※ Closed during bad weather
Opening Hours: 17:30 ー 21:00 (Last orders: 20:45) (Choi Nomi alcohol stand opening times: 16:00 ー 17:30
Website: https://www.hotelkeihan.co.jp/Kyoto/
Senri Hankyu Hotel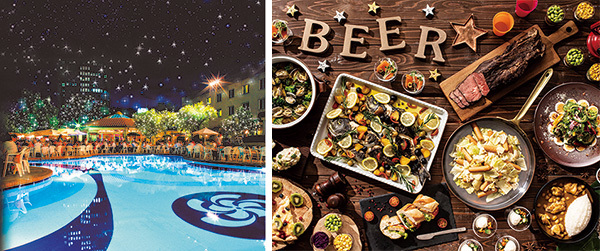 Senri Hankyu Hotel Poolside Beer Garden also has private spaces this year, allowing you to relax in private with your friends without having to worry about others around you. Amongst all the typical drinks, you can also enjoy Smirnoff and Sangria. There will also be a variety of dance performances to keep you entertained including samba, hula and belly dancing. Grab your girlfriends and boyfriends for the perfect summer reunion party.
▼ Senri Hankyu Hotel Beer Garden
Location: Senri Hankyu Hotel Poolside
Address:  2-1 Shinsenri Higashimachi, Toyonaka, Osaka
Running: June 1 ー September 30, 2019
Opening Hours: Mondays ー Saturdays (17:30 ー 21:00)
Last orders: 20:30),
Sundays, national holidays: 17:30 ー 20:30 (Last orders: 20:00)
Website: https://www.hankyu-hotel.com/home/hotel/hh/senrihh/contents/beergarden/
Hotel New Hankyu Kyoto
Right now, the rooftop of Hotel New Hankyu, is home to a beer garden. From the same rooftop, you can enjoy a view of Kyoto Tower amongst the breathtaking scenery of nightfall in Kyoto. There is also a live performance menu at the grilled dish corner, performance desserts and much more. Treat yourself to a luxurious beer garden experience.
▼Hankyu Top Beer Garden Kyoto
Location: Hotel New Hankyu Kyoto (Rooftop )
Address: Opposite Kyoto station (Karasuma central exit), Shimogyo Ward, Kyoto
Running: May 17, 2019 ー September 23, 2019
On national holiday August 16, opening hours will change due to the Gozan no Okuribi festival of Kyoto.
Opening Hours: 17:30 ー 21:30
※ Open until 22:00 on Fridays and Saturdays during July and August, however a time limit of 120 minutes for each group of customers applies.
Website: https://www.hankyu-hotel.com/hotel/hh/kyotoshh/restaurants/beergarden
So, what do you think? A beer garden with friends is the perfect way to have fun with friends in the evening!
RECOMMENDED ENTRIES
Experience Japanese Culture #2: Comparing Tastes of Unique Japanese Chocolates – From Matcha to Sake

Japanese model Yuri Sugunama, a.k.a "Yurippa," is taking us on her next trip in this series where she goes to personally experience Japanese culture and cultivate new hobbies. Yurippa loves chocolate – she eats one tablet of the stuff day. In this Valentine's-special second entry, Yurippa sampled different chocolates that are popular right now.

For Valentine's Day in Japan, it's custom for girls give guys chocolate and convey their feelings towards them. Guys return the favour on a day called White Day, which falls on March 14. So, since there's one month to go before the big day, that means the most delicious chocolate in the world is about to hit shelves in Japan – popular both in Japan and overseas.

The first pick was the classic "KitKat," a very well-known brand in over 100 countries. The Japanese brand of KitKat is actually made in Japan. It's received much attention around the world for its original flavours. It's also known for being associated with exam season for students – the word KitKat in Japanese (kitto katto) almost sounds like the phrase "Kitto Katsu!" which means "You will surely win!"

Yurippa tried out the new "KitKat Chocolatory" series, created by the chef and owner of "La Patissier Takagi," Yasumasa Takagi. The "Sublime Valentine's Assortment" costs ¥2,400 (tax excl.) and includes 7 KitKat bars with 6 different flavours. There's dark chocolate, milk chocolate, white chocolate, matcha, raw, and a pink coloured ruby flavour. It's a great selection to share and eat together with people.

The centerpiece of the collection is new Ruby KitKat, developed by the Swiss chocolate makers Barry Callebaut over a period of more than 10 years. The chocolate uses no colouring agents – the pink colour is made naturally to create an entirely new chocolate. Yurippa gave it her stamp of approval, saying it'll be popular with girls for its vivid pink colour. She couldn't contain her surprise for this newfound chocolate, saying "The berry flavour has a sour taste, but it's different from strawberry chocolate. It's something I've never tasted before."

Next on the list is "Tea Chocolate Premium Matcha 7". Costing just ¥1,000 (tax excl.), these chocolates are made by Shizuoka Matcha Sweet Factory "Nanaya," who are known for producing the world's most rich flavoured matcha gelato. These matcha chocolates don't hold back on the milk so as to bring out the fragrance and taste of the tea leaves to the max. The set comes with 7 different matcha chocolates of varying intensity and 1 houjicha flavoured chocolate.

Yurippa expressed her excitement for the delicious chocolate before opening it. "When you open the packaging, the fresh smell of the tea whets your appetite so much you can't wait to tuck in!"

The chocolate and tea leaves have a good combined balance of 3.1%, and the smell and taste of the leaves kicks in with a strong flavour combination of 21%. "The tea leaf combination is different but my impression of the chocolate changed dramatically!"

"If you eat the chocolates in order as written on the packaging, you can understand each flavour's intensity much better! This chocolate would go better with hot milk or soy milk than coffee. The richer chocolate flavours are fairly moderate when it comes to sweetness, so if you're on a diet then you can eat them without feeling guilty."

The last pick is from the long-standing chocolate maker Mary Chocolate. The KANADE Japanese Sake Truffles (¥1,000) come in 3 flavours – milk, sweet and white – and are topped with carefully selected Japanese sake. Only the finest sake from Japan is used, such as Gokyo Junmai Sake from Yamaguchi Prefecture. Since the truffles contain alcohol, be wary not to hand them out to minors or people that are driving.

"There's a good balance between the chocolate and sake, and depending on which brand of sake is used, you can enjoy a different flavour on your taste buds from each!"

Yurippa's favourite was the milk truffle topped with Koyama Shuzo. She was very satisfied having recently acquired a taste for sake. "It brings out the enduring qualities of refreshing Japanese sake and a fruitiness. I really want people who like Japanese sake to try these! If you're not too good with sake from Japan, then I recommend the white chocolate truffle with Ichiro from Dewazakura. The subtle fragrance of sake that you can feel inside the smooth texture of the white chocolate makes it really sophisticated."

Yurippa gives friend chocolate to everyone on Valentine's Day, guys and girls. Why don't you try tasting this unique Japanese collection of chocolates recommended by Yurippa with everyone?

Model:Yuri Suganuma @yurippa93

Yuri Sugunuma is a model with a high fashion sense that has been picked up by various magazines. She receives much love and support from girls of the same generation as her to whom she is known by her nickname "Yurippa." She has a huge influence across her social media. Recently, she has stepped into other fields outside of modelling, such as appearing in TV shoots and in music videos. She is skilled in make-up and involved in the development of cosmetics.

Writer:Ryoichi Komaba

Photographer:Haruka Yamamoto

Translator: Joshua Kitosi-Isanga

Beer garden open on top of Japan's tallest building, ABENO HARUKAS – Osaka

The beer garden named, "ABENO HARUKAS Beer Garden – Beer300" will open in the observatory of Japan's tallest building, ABENO HARUKAS, starting on April 28th (Sat.).

This will be the fourth year for this beer garden called HARUKAS 300 to open. This beer garden is gathering much attention because of the great view from 300m up and because of its highly satisfying menu line up. Last year's new menu item called, "Barbeque Menu" was very popular in that the customers could barbeque what they liked by themselves. This do-it-yourself feeling matched this wide open view of Osaka's skyline.

For this year's "Barbeque Menu" the highlight meats are thick cuts of "skirt steak," "pork shoulder" and "spicy chicken" which goes well with beer. The great variety of meats will make for a hearty BBQ meal.

The drink menu includes such drinks as sparkling wine, tropical cocktails and drinks which many women will want to upload on their SNS accounts. Furthermore, so as to not keep anyone waiting, self-service beer servers and wine servers have been installed. Everyone is for sure to have a wonderful time at this beer garden.
 
For customers wanting to order the "Barbeque Menu" advanced reservations are necessary. In the case of rain, there are seats installed alongside the windows at Beer 300 so there is no need to worry about getting wet. Here is a beer garden you can enjoy without having to worry about the weather. In addition to the "Barbeque Menu" there are many single item menu items and you can also choose the "all-you-can drink" plan with no advanced reservation.
 
Why not visit this beer garden 300m up in the sky and enjoy the sense of expansiveness as you eat and drink with your friends or family.

■Information

HARIKAS 300
Address: 1-1-43 Abenosuji, Abeno-ku, Osaka
Hours: 9:00-22:00
TEL:06-6621-0300

Standing Style Japanese Sake Bar Junmaishu YATA to Open in Chubu Centrair International Airport

Tachinomi is a type of Japanese bar that focuses on standing and drinking rather than sitting down. The new branch of Junmaishu YATA is one of these, and will open in Chubu Centrair International Airport on April 25, 2018 as the first branch from the company to open inside an airport.

The idea behind the new store is that rather than branching out overseas, they wanted to set up shop at Chubu Centrair International Airport where both Japanese and those from overseas gather to offer seriously delicious sake for everybody to enjoy.

YATA is a standing-style bar where customers can casually and easily enjoy Japanese sake. All the drinks on their menu are junmaishu, which is sake made from just rice and rice malt with no added. There's no menu display. Instead, you can converse with the staff while choosing a drink of your course.

The bar is thoroughly particular about the ingredients, brands, chasers and so on of the drinks served there. There's even an all-you-can-drink option.  It's great for how simple it is, as well as the reasonable prices.

Despite the current climate of strict regulations, YATA has overcome various hurdles and will successfully open in Chubu Centrair International Airport. Head on in if you're passing through and experience their passion for yourself.

■Information

Junmaishu YATA Centrair

Address: Chubu Centrair International Airport Passenger Terminal Building 4F, 1-1 Centrair, Tokoname-shi, Aichi Prefecture

Day of Opening: April 25, 2018

Opening Hours: 8:00-21:00 (Weekdays, Weekends & Holidays)

No Fixed Holidays.

Access: 28-minutes from Meitetsu Nagoya Station (If using μ-SKY)

TEL: 0569-89-2225

Website: https://junmaishu.net

Ryuhei Maruyama and You Yokoyama From Kanjani Eight Sing Passionately About Sweet Sake

Morinaga Sweet Sake will release their new TV commercial for their chilled sweet sake "Hiyashi Amazake" on July 5th.

Hiyashi Amazake is made using a blend of carefully selected sake lees produced when making sake, malted rice, and Hakata salt. This drink will provide you with a refreshing aftertaste to keep you cool during the hot summer. To share the news of this wonderful drink with the rest of Japan, Ryuhei Maruyama and You Yokoyama from Japanese boyband Kanjani Eight will feature in the brand's new advert as promotional characters. Watch the two idols as they muster up all their passion to sing a song about their undying love for Hiyashi Amazake whilst dressed in Hiyashi Amazake-themed Yutaka, leaning against the trees.  

 

You just have to hear the intense rap, too. The boys manage to sing it all the way through to the end without breaking their serious face into fits of laughter.

 

Please check out the incredibly entertaining Hiyashi Amazake advert!

Information

Amazake bros. Summer 15-second version

Broadcast Date: July 5, 2019

Broadcasting Regions: To be broadcasted all over Japan

※ After 10 pm on June 24, you can watch the commercial on Morinaga's Brand Website.

https://www.morinaga.co.jp/amazake/

Hiyashi Amazake (Chilled Sweet Sake)

Release Date: To be announced

Release Region: All over Japan

Brand Website: https://www.morinaga.co.jp/amazake/

Go Japanese Sake Tasting with VELTRA's 'Sake Tours Around Japan'

VELTRA offers an endless list of tours and activities for travellers across the globe for them to discover and experience everything the countries of the world have to give.

The travel website posted a special page on June 4, 2018 titled "Sake Tours around Japan."

Wanting people to discover the true authentic side of Japan, the page focuses on the art of Japanese sake, its qualities, and how best to enjoy it, as well as sake tours people can enjoy while in the country. The tours can only be booked on the VELTRA website.

Let's take a peek at some of the tours.

Historic Kawagoe and Retro Saitama Sake Tasting Tour from Tokyo

After seeing the historical architecture of Kawagoe, you will visit a Isegen, a sake shop with a history spanning over a hundred years. Afterwards, you'll head to Gyoda for a soba lunch before exploring the quiet town which is famous for the movie The Floating Castle. Finally, you will go sake taste testing in Kumagaya at Gonda brewery.

Kawagoe Sake Tasting and Bonsai Museum Tour from Tokyo

Go back in time and stroll through a historical neighbourhood which was formally known as 'Koedo' (Little Edo) before heading to Isegan Sake Shop which has a history stretching over 100 years. You will then get the bus to Uruido for lunch at Seiryu Sake Brewery. Your last destination will be the Omiya Bonsai Art Museum where you will be sucked into the little world of bonsai.

Bellovisto Bar Drinks and Appetizers on the 40th Floor of Cerulean Tower Hotel

From the 40th floor of Cerulean Tower at the Bellovisto bar you can enjoy Japanese sake along with a luxurious meal while gazing the nightscape of Tokyo. Choose from a selection of premium brand drinks including sake, wine and beer. For food, you can pick from a main dish and four appetisers. Together with a serenading piano performance, you're sure to spend a night in Tokyo you will  never forget!

There are many other tours to choose from too. Discover the true essence of Japanese sake with VELTRA's sake tours around Japan!

Sake App "SakeWiz" to be Released in Japan, US, Canada and Singapore for iOS & Android

A mobile app called SakeWiz used for finding information on Japanese sake was released on May 8, 2018 and is available on iOS and Android in Japan, the US, Canada and Singapore.

There's been a boom recently amongst young females in Japan for local sake. SakeWiz was developed to play a role in helping spread the boom of Japanese sake even more through the internet.

The app was officially endorsed by Sake Service Institute (SSI), a Japanese sake service that authorises the Kikisake, or Master of Sake course.

Using artificial intelligence, the app has label scanning software to search for Japanese sake brands and names which can be difficult to remember. Additionally, you can save your favourite brands on the app to share and recommend with friends.

Sake has a tendency to mostly be enjoyed by males and females in their 30s. The polyphenol effect, which became the impetus for the first wine boom in Japan, also played a role in lighting a fire amongst young women who are consistently the leaders consumption in this area.

There are plans to implement more functions such as to enable users to be able to comment on sake and food they like, as well as introduce coupons. The app is also available in multiple languages, including Chinese and Korean.

If you love Japanese sake or someone who wants to try out all the sake that Japan has to offer, then consider downloading SakeWiz.

■Information

SakeWiz

Fuctions:

・Label scanning

・Favourites list

・Japanese sake online purchasing

・User community

・Search function for restaurants serving Japanese sake

・Ability to post on social media including Facebook and Instagram

Download:http://l.ead.me/baqirY

Firenze SAKE:http://firenzesake.jp/
RELATED ENTRIES
Heart-Meltingly Cute Olaf Confection to Arrive in 7-Eleven to Celebrate Frozen 2

Tabemas is a Japanese confectionery series of small, traditional sweets designed to look like characters. To celebrate the release of Frozen 2 on November 22, the series is releasing an Olaf confection which will be sold at 7-Eleven convenience stores across Japan from the same day as the release of the film. 


The series name "Tabemas" means "edible mascot" and as the name suggests, Olaf has completely transformed into a delicious traditional sweet from carrot nose to adorable feet. In sweet form, the 40mm-tall chubby Olaf is stood still, staring up at you with adorable round eyes overflowing with adoration.

This is a traditional nerikiri confection made from bean paste and soft mochi to a surprising level of detail. Even the snowflake pattern has been recreated. As Frozen 2 is set in autumn, Olaf has been stuffed with the most appropriate autumn flavour: maple. This small and dainty confection is the perfect treat for people of all ages.

These are in limited stock so hurry down to your nearest 7-Eleven from November 22 if you are interested. 

©️Disney

Information

Tabemas Confectionary Series: Frozen 2 Olaf 

Flavour: Maple

Recommended Retail Price: ¥258 (Before Tax)

Release Date: November 22, 2019

Available at: The chilled desserts section of 7-Eleven convenience stores across Japan

*As these are in limited stock, sales will end once stock has been depleted.

*Not available at all 7-Eleven convenience stores.

More Information: https://www.bandai.co.jp/candy/tabemas/olaf/

Cosy Up in the Snow Huts This Winter at Hoshino Resorts KAI

Hoshino Resorts is once again bringing its kamakura snow huts to two of its KAI hotelsーa brand of hot spring hotels. You'll catch them at Hoshino Resorts KAI Tsugaru and Hoshino Resorts KAI Alps from February 1 to 29 next year.

KAI Tsugaru: Beautiful Koginzashi Stitched Lanterns Light Your Way

Koginzashi is a type of sashiko stitch work famous in the Tsugaru region. Japanese kogin designer Iemasa Yamahata has designed 50 beautiful Kogin lanterns for Hoshino Resorts' KAI Tsugaru hot spring hotel, which is hidden away in the town of Owani in southern Tsugaru, Aomori.

When you arrive at KAI Tsugaru, follow the lanterns along the snow and you'll arrive at the kamakuraーa type of Japanese igloo built in northern Japan for winter festivals. Multiple objects, big and small, have been designed with koginzashi, so guests can enjoy this beautiful art form.

Cosy up inside your secret snow hut and enjoy some tasty chocolate with cute koginzashi designs made by a local Japanese confectionery shop. Order a hot cocktail too made using apples grown in Aomoriーa prefecture famous across the country for its apples. There's a non-alcoholic cocktail option too.

You'll also find an original card game inside the huts created by the KAI Tsugaru staff. It's called "Kogin Awase" and works like the card game Pairs. What could be better than sat warm inside an igloo, eating sweets and drinking while playing a card game?

KAI Alps: Enjoy Life as a Yukinko Snow Child

Turn back into a child and experience young life in the snow country of the Shinano Province (now Nagano Prefecture) with the Shinshū Kamakura Yukinko Experience.

In the harsh cold and knee-deep snow environment of Shinano, people would take anti-snow measures by wearing things like the straw raincoat known as a mino, a traditional winter coat called a hanten, and other things. Guests can do the same and dress up to become a child of the snow, known as a Yukinko. You'll forget about the snow before you even realise it.

In old Japanese houses, friends and family would gather around an iroriーa sunken fireplace. You'll find these dotted around the public space at KAI Alps too, where you can sit around and enjoy the crackling and warmth of the fire. There will also be hand warmers and shiruko sweet porridge too so you can rest assured you won't go cold.

Experience life in the snow at Hoshino Resorts KAI this winter.

Information

KAI Tsugaru – "Kogin Kamakura"

Running: February 1, 2020 – February 29, 2020 (Subject to change depending on snowfall)

Time: 18:20-18:45/18:50-19:15/19:50-20:15/20:20~20:45

Price: ¥1,500 per person (includes snow hut entry, confections, and 1 drink)

*Alcoholic/non-alcoholic cocktail options available

Reservations: Available from the front desk on the day

*Reservations mandatory

KAI Tsugaru

Address: Kamibotanmori-36-1 Ōwani, Ōwani-machi, Minamitsugaru District, Aomori Prefecture

Website: https://www.hoshinoresorts.com/resortsandhotels/kai/tsugaru.html

KAI Alps – "Shinshū Kamakura Yukinko Experience"

Running: February 1, 2020 – February 29, 2020 (Subject to change depending on snowfall)

Time: Kamakura Light-Up 17:00-21:00 / Yukinko Dress-Up 15:00-21:00 / Winter Stroll Preparations 20:00-21:00

No. of People: 4

Price: Free

Reservations: Not required

KAI Alps

Address: 2884-26 Taira, Ōmachi-shi, Nagano Prefecture

Website: https://www.hoshinoresorts.com/resortsandhotels/kai/alps.html

Hoshino Resorts KAI Official Website: https://www.hoshinoresorts.com/brand/kai/

TOTOCO Odawara: Kanagawa's Sea Food Theme Park Opens November 22

Gyoko no Eki TOTOCO Odawara is a new "fish theme park" set to have its grand opening on November 22, 2019 at 10:00am (JST).

The facility was established to promote further exchanges with Odawara Fishing Port which is said to be the biggest fish market in western Kanagawa Prefecture. It is the first "Fishing Port" (Gyoko no Eki*) and will sell seafood sourced locally, fishery products and more, as well as hold events to help promote Odawara.

The building has three flours. The first floor is like a marketplace where fish, fishery products, produce, and more will be sold. The second and third floors house seafood restaurants and offer a panoramic view of Sagami Bay. This view is best observed from the terrace while you enjoy your delicious meal.

*Fishing Port (in Japanese: Gyoko no Eki, or 漁港の駅) is a registered trademark of Odawara City to highlight facilities that promote exchange with Odawara Fishing Port. (Registered Trademark No.: 6163121).

Odawara Fishing Port sells fresh fish sourced from the waters of Sagami Bay, which houses a variety of fish species, as well as fish and processed marine products from around Japan. TOTOCO Odawara will sell these very same products, all delivered directly from the port, to help spread the fishing culture and economy of Odawara.

Let's take a look at some of the delicious gourmet seafood meals you can expect to tuck into at TOTOCO Odawara!

Totomaru Summit Bowl – ¥2,480

A hearty and towering dish so high that it looks like it might topple over.

Greedy Sea Urchin Eggs & Salmon Roe Bowl – ¥4,280

A dream combination you've been waiting for your entire life. Savour the richness and sweetness of both of these mouth-watering delights.

Oyster Egg Donburi Set – ¥1,680

You can't even see the rice any more for the pile of tasty oyster eggs, with their exquisitely soft texture.

Osashimi Tengoku – Odawara Kaisen GO GO

The third floor of the building is home to Osashimi Tengoku – Odawara Kaisen GO GO, a restaurant that calls itself "Sashimi Heaven" and offers a 59 minute all-you-can-eat buffet of fish, sides, desserts and more.

59 Minute All-You-Can-Eat
Adults – ¥2,590 / Children (Elementary School & Younger) – ¥1,390 / 3-Years & Younger – Free (All Prices Before Tax)

Gyoko no Eki TOTOCO Odawara is easily reachable from Tokyo and right next to the local station. If you've come to Japan looking to try the country's famous seafood, then make sure to put this place on your list.

Information

Gyoko no Eki TOTOCO Odawara

Address: 1-28 Hayakawa, Odawara, Kanagawa Prefecture (West side of of Odawara Fishing Port)
Opening Hours: 9:00-17:00 (Subject to change depending on the season)
Access: By train – 10 minutes on foot from JR Hayakawa Station / By car – 2 minutes from Seishō Bypass Hayakawa Interchange or 4 minutes from Odawara-Atsugi Road Odawara-Nishi Interchange
Official Website: https://www.totoco-odawara.com

This Relaxing Onsen Hotel with Picturesque Nature and Luxurious Local Cuisine is the Perfect Getaway

Japan is full of picturesque locations where you can be at one with nature and soak the tiredness of your body away in the onsen baths. If you are looking for an escape from busy working life, then you're in luck: Today we'll be introducing you to a modern onsen hotel which is perfect for families, lovers, and even solo travellers. 

Escape from Tokyo on the bullet train, ride the Zairai line and finally, catch a bus. After your two-hour journey, you will arrive at onsen hot spot Uonuma city in Niigata Prefecture. Today, we'll be heading to Tomoya Hotel. The picturesque scenery of paddy fields and mountains will unfold before your very eyes and put your mind at ease.    

Sunlight pours over the reception desk from the giant window. It was time to check in. After being informed on meal times and private onsen rentals, I quickly headed to my room.

I was given room 305. The warm wooden structure made the room feel lavishly large. Whether you're snuggling up with a lover, chilling out with friends or relaxing with family, the atmosphere and size of the room allows for flexible usage.

The Sanashi river was right outside my window. I could watch the soothing clear water flow out to the horizon for hours. 

The room was prepared with loungewear, bath towels, toothbrushes, socks and many other amenities. It was even fitted with a fridge and water heater. 

From the lamps lighting the stairway and hallway sofas to the displayed artwork, every item in Tomoya Hotel is a carefully selected item of special design. 

There was even a DJ area next to the lobby which contained a surprising stash of records, CDs and DVDs which was uncountably large. Being able to discover new music and films is another admirable feature of the hotel. 

The front lobby is filled with a fresh and liberating atmosphere. There are plenty of spots to sit and read to yourself as the melodies of records weave through the air.

The shop sells specially selected products including locally produced juice, snacks and much more. You can even purchase Tomoya Hotel's original skincare goods. Reading the cheerful and thoughtful comments written on the goods by the manager made it clear that every single item in the shop was chosen with the utmost care. 

One by one, several lavish courses arrived at my door for dinner that evening. The locally-sourced ingredients and seasonal vegetables were served with Niigata prefecture's uonuma koshihikari rice, which is famed as Japan's best rice. 

Nameko mushroom hotpot, salt-fried East Asian trout, tofu mixed with lotus root, and sashimi were just some of the hotel's many original dishes that were brought to my door. As the rice was harvested from the first crop of the year, it was very sweet and so delicious that I helped myself to multiple servings without realising. The food was flavoured and seasoned very lightly to ensure that guests could fully enjoy the true flavours of the fresh harvest from the mountains and the sea. The luxurious dinner was highly enjoyable. 

I enjoyed sipping a small glass of Tomoya's chilled Reishu sake with my meal. This is an original recipe sake created by Tomoya Hotel and local sake brewery Tamagawa Shuzo. It was so refreshing, easy to drink and perfectly complimented every dish. The hotel provided a rich variety of alcoholic dinks including refreshing beer, carefully-selected wines, rare local sake, homemade fruit liqueurs, and more.

The onsen is home to rich history dating back to the year 1300 when it first opened its doors to the public. There are two types of private rental onsen and large public onsen indoors. Some square-shaped baths sit right beside a small stream which branches off from the Sanashi river. Treat yourself to a soothing soak in a historical onsen while absorbing the beautiful scenery. 

After finishing your relaxing soak, head to floor 1 of the main building to spend some time relaxing. This space is for guests to use freely and how they please. There are bookshelves lined with books and games available.

The first floor of the hotel annexe was my favourite place. Music from a variety of genres is played here. A disco ball hangs high, splashing light across the spacious room. There is a ping-pong table, a pool table, massage chair, piano, an old Nintendo game, manga and much more. It may seem like a relaxing place at first glance, but my heart was racing with excitement as I got hooked on the games.

The following morning, breakfast was delivered right to my room again. Seeing the tray filled with a luxurious mix of both western and Japanese-style cuisine was very pleasing to see. I indulged in yaki-fu: baked wheat gluten which is a specialty of Niigata, fried fish, rolled Japanese-style omelette, homemade cheesecake and much more. All the meals served at the hotel are made with the utmost care and precision. 

If I were to introduce all the wonderful services and features of Tomoya hotel then there would be no end to this article. The main highlights were the delicious meals made with locally sourced ingredients, the soothing onsen, the music, films and experience of art culture, and of course, the opportunity to get in touch with nature, watching the water trickle down the mountain streams as your mind discovers peace. 

If you are looking to heal your body, mind and soul whilst discovering nature and art, then Tomoya Hotel is perfect for you. 

Writer:Ellie(MOSHI MOSHI NIPPON)

The Perfect Souvenir: Kyoto's Famous OTABE Confections in Velvety Matcha Chocolate

If you're in Kyoto looking for a delicious elegant souvenir for your people back home then BijuuCo.,ltd. is your port of call. Their irresistible desserts vary from their well known sweet bean paste-filled Yatsuhashi to their Kyo-Baum. They will be releasing the mouthwatering Matcha Chocolate OTABE from November 20, 2019.

The rich aroma of the matcha chocolate will be the first thing to entice you. The matcha Yatsuhashi is made from specially selected water and Koshihikari rice, which is famed as Japan's best rice. The soft and chewy texture of the Yatsuhashi dough gently embraces a velvety, melt-in-the-mouth matcha chocolate ganache filling. These OTABE confections are bursting with the flavours of Kyoto and are only available to purchase for a limited period.

OTABE combined with Kyoto's famous matcha chocolate is matcha match made in heaven. If you're ever in Kyoto, you must try it.

Information

Matcha Chocolate OTABE

Selling: November 20, 2019 to the start of May, 2020

Price: Box of 10 (2 packs of 5): ¥660 Before Tax

Eat within 11 days of production.

Purchasable from souvenir shops in Kyoto and Kyoto Station. 

Official Website: http://www.otabe.kyoto.jp/

Take a Look at Daimaru Tokyo's Delicious Seasonal Sweets Line-Up

With the weather getting colder and colder, don't you just want to snuggle up indoors under a nice warm blanket and eat tasty sweets and snacks? well, if you're in Tokyo this autumn, head to Hoppe Town on the first floor of Daimaru Tokyo where they're selling a bunch of different seasonal sweets from November 20 to 26. We're going to showcase a select few.

Cookie Doumei Assorted Box

Contains 10 (5 Types, 2 Each) – ¥1,900 @ Cookie Doumei (Floor 1F)

Enjoy a box of assorted cookies made by a UK-based cookie brand with a recipe like that mother uses. These simple baked cookies are made with wheat flour from Japan, fruits, spices, and chocolate.

Premium Chocolate (Dark/Matcha)

Contains 5 – ¥1,080 Each @ Dari K (Floor B1F) *Available until December 3, 2019

These crunchy and buttery biscuit sandwiches come in two flavours: a dark chocolate and salt, and a matcha made with freshly powdered matcha from Kyoto. These biscuits only appear a few times in Tokyo throughout the year at events, so don't miss out on this rare opportunity.

Chocolate Canelé

¥345 Each @ Le Soeur (Floor 1F)

Bearing a crunchy exterior and chewy inside, these rich chocolatey canelé are topped with almond for added texture. Change it up and put them in the fridge to set for a crispier texture.

Caramel & Raspberry

Contains 5 – ¥675 @ Caramel Verger (Floor B1F) *Available until December 3, 2019

These crunchy chocolate cookies are filled with a mix of dried fruits, caramel and cornflakes. The sourness of the berries coupled with the smoothness of the caramel is to die for!

Premium Natural Sweets

Contains 10 – ¥1,500 @ Lady Bear (Floor B1F)

These raw chocolates from Lady Bear get their natural sweetness from a delicious agave syrup. Delicious, tempting, irresistible.

Baked Mallow Crystal Cherry

Contains 4 – ¥1,382 @ Baked Mallow (Floor 1F) *Available until November 30, 2019

Graham crackers covered in couverture chocolate with high cocoa content and stuffed with fluffy marshmallow and a whole juicy Amarena cherry. What's not to like? These are available in a very limited number, don't miss out!

Which of these six tasty treats are most tempting to you?

Information

Seasonal Sweets

Running: November 20, 2019 – November 26, 2019

Location: Hoppe Town, Daimaru Tokyo Floor 1F  (1-9-1 Marunouchi, Chiyoda Ward, Tokyo)

Daimaru Tokyo Official Website: https://www.daimaru.co.jp/tokyo/

96 NIKUHOLIC: Eat Japanese Wagyu Beef at Tokyo's Hot New Restaurant

kuLoーa company that sets up unique restaurants and eateries in Tokyoーhas announced the grand opening of the first branch of a new restaurant called 96 NIKUHOLIC, which will open in Nishi-Azabu, Tokyo on November 20, 2019.

This highly exclusive restaurant is home to only two private rooms which must be reserved in advance. If you manage to get a reservation, you can look forward to tucking into a luxury gourmet meal made with exquisite Japanese wagyu beef and high-quality ingredients.

96 NIKUHOLIC is drawing a line under your commonplace restaurant that serves high-quality meat, doing away with ordinary decor and replacing it with two private rooms themed as 'hideouts.'

The domestic wagyu beef used is from the Japanese black cattle. The chefs scrutinise the beef parts and variety each day to join them with the best menu items to go with that day, so customers can rest assured they'll be eating the meat at its most delicious when they dine at the restaurant.

The restaurant's signature dish is the "Chateaubriand no Warayaki." Chateaubriand goes for tens of thousands of yen per kilo. The speciality of this dish is that the chateaubriand is cooked on straw, which intensifies the flavour of the meat and imbues it with the fragrance of the straw. The restaurant also serves courses, side items and more, most of which incorporate wagyu.

Discover the new little-known-good-place and hideout that is 96 NIKUHOLIC.

Information

96 NIKUHOLIC

Address: CUBE Nishiazabu 5F, 3-24-23, Nishiazabu, Minato Ward, Tokyo

Access: 9 minutes on foot from Roppongi Station via the Hibiya Line

Opening Hours: 17:00 to Last Orders

No Fixed Holidays

Tabelog Website: https://tabelog.com/tokyo/A1307/A130701/13240249/

Tokyo DisneySea's Christmas Food & Drink Feast Will Put You in the Christmas Spirit

Tokyo Disney Resort's most sparkly event of the year, Disney Christmas, is currently taking place at Tokyo Disneyland and Tokyo DisneySea until December 25.

Today, I'll be showcasing the must-buy Christmas food at drink at Tokyo DisneySea this Disney Christmas.

Desserts with souvenirs make the perfect take-home gift

Chocolate & Milk Mousse w/ Souvenir Mug – ¥800 @ Mamma Biscotti's Bakery

This cute chocolate and milk mousse is sure to soothe you, topped with star-shaped chocolate, crunchy nuts, and moist mousse. This sweet treat comes with a mug inspired by the calm night of Christmas which you can take home with you.

Coffee Cream Tart w/ Souvenir Plate – ¥800 @ Mamma Biscotti's Bakery

This one's for the adults: a coffee cream tart with a delightfully subtle bitterness to it. It's not overly sweet, and so can be lapped up without leaving you with that sickly aftertaste. It also comes with a souvenir plate which has the same design as the mug.

Christmas feasts to get you in the holiday season mood

"Select Five" Set – ¥2,080 @ Horizon Bay Restaurant

With this set, you get to pick five items: two from soups, salads and desserts, one entree, rice or bread, and a soft drink. The hamburger is super juicy and delicious with the tomato BBQ sauce!

Enjoy a soy flavoured potato salad, cute Mickey onion soup, reindeer dessert, and more♡

Christmas Cake – ¥1,480 @ Horizon Bay Restaurant

And if we're talking Christmas, we can't forget about the cake! This cake is topped with a Mickey and Minnie cookie, holly shaped chocolate, candy cane-coloured biscuit, and other little Christmas vibe goodies. Perfect for sharing with multiple people.

"Taste of Christmas" Food Programme: Pair drinks with food

In the New York area of American Waterfront they're holding a food programme called "Taste of Christmas" where they pair food with alcoholic and hot alcoholic drinks.

Okonomiyaki Roll – ¥500 / Kirin Beer – ¥620 @ Restaurant Sakura

This rolled okonomiyaki goes amazingly with beer. Its thin chewy wrap is filled with yakisoba noodles and ebi shrimp.

It's finished with a sprinkling of sesame seeds for added accent. A great option if you need something light to eat.

Drinks and snacks to enjoy while waiting in line for attractions

Popcorn w/ Basket – ¥2,400 @ The Gazebo (Popcorn Wagon)

k up some popcorn served in a Christmas present basket decorated with cute illustrations of Mickey and company celebrating Christmas. This is also available at Tokyo Disneyland!

Hot Matcha Milk (Tapioca & Strawberry) – ¥450 @ Hudson River Harvest

Roll up to Hudson River Harvest in Tokyo DisneySea for a cup of this Hot Matcha Milk which has been filled with chewy matcha flavoured tapioca pearls, a texture that's deliciously enjoyable when fused with the faint fragrance of the strawberry. A hot drink is the perfect thing to pass the time waiting in line.

There's lots of other limited-time food and drink to be enjoyed at Tokyo Disney Resort this Christmas besides our picks too. Treat your taste buds to some Disney delights this Christmas season.

Writer: Ellie (MOSHI MOSHI NIPPON)

Translator: Joshua Kitosi-Isanga

©️Disney

Starbucks Japan's Second Holiday Season Drinks Shine Like Christmas Lights

Follow on from Merry Strawberry Cake Frappuccino®, Starbucks Coffee Japan has announced its second release in its series of holiday season beverages: the Nutty White Chocolate Frappuccino® and the Nutty White Mocha will hit most branches across Japan from November 22.

These two delicious drinks are the perfect holiday season treats, both capturing the moment when Christmas lights and illuminations twinkle. The coffee chain is also releasing its second batch of merchandise too.

The Nutty White Chocolate Frappuccino® is a combination of milky white chocolate and nutty hazelnuts with a sprinkling of roasted walnuts and crunchy shortbread for tantalising texture. It's finished with a squirt of whipped cream which has been topped with chocolates of three different colours and silver dragees to create that Christmas light sparkle. You're sure to feel the Christmas spirit with this order.

If it's a hot drink you desire for warming up during the chilly weather, then you won't be able to resist the Nutty White Mocha, a rich cup of coffee made with white chocolate and hazelnut syrup and a strong shot of espresso. The instant you take a sip from your cup, your taste buds will be treated to the nuttiness of the hazelnuts, and the subsequent milkiness of the white chocolate and full-bodied flavour of the espresso. The whipped cream represents a Christmas tree while the sauce is the ribbons and the dragees are the lights. A true capturing of Christmastime.

*This product uses chocolate that with less than 0.5% cocoa.

"Brilliant Season" is the theme of Starbucks' second batch of Christmas goods this holiday season. We see the return of the snow dome cup from last year as well as a snow dome tumbler, a cutlery set with teaspoons and forks, a journal, clear pouch, and moreーlots that can be used as gifts. There's plenty to plunge you into that Christmas mood as you stroll through the winter-kissed town amongst the warm Christmas lights. There's also a special stainless steel tumbler which changes colour depending on which angle the light touches it, as well as a sparkly holographic mug.

Warm yourself up this winter in Japan by stopping by your nearest Starbucks branch.

Information

Nutty White Chocolate Frappuccino®

Price: Tall ¥590 (Before Tax) (*Tall size only)

Release Date: November 22, 2019 (*Available while supplies last)

Available: At most Starbucks branches in Japan

Nutty White Mocha

Price: Short ¥450 / Tall ¥490 / Grande ¥530 / Venti® ¥570 (All Before Tax)

Running: November 22, 2019 – December 25, 2019

Available: At most Starbucks branches in Japan

2nd Merchandise Batch

Running: November 22, 2019 – December 25, 2019

Available: At most Starbucks branches in Japan at the online store (some products available in-store only) while supplies last

*Prices etc. can be found on the official website

Starbucks Coffee Japan Official Website: https://www.starbucks.co.jp/

Concert Review: Linked Horizon Perform at Saudi Anime Expo 2019

Linked Horizon, who are known for performing the theme songs for the internationally-acclaimed TV anime series Attack on Titan, performed in Saudi Arabia on Thursday, making them the first-ever Japanese band to perform at an official event in the country.

The event in question was Saudi Anime Expo 2019, which is running from November 14-16 as the first official event to take place in Saudi Arabia centred on Japanese animation. From booths to performances, interactive experiences and more, it is a celebration of all things anime for the fans in Saudi Arabia.

Linked Horizon were invited to perform on the main stage at the event, which was attended by 16,000 people. There were countless fans of the band in the crowd, who were sure to be thrilled by them having visited and played in their home country.

Linked Horizon have performed in multiple countries across the globe, but this was their first live show take place in the Middle East, a fact which has garnered attention in Saudi Arabia as being a historical moment in Japanese pop culture spreading worldwide. Together with the band members, over 60 staff members travelled from Japan for the performance, which was mostly identical to a regular Linked Horizon live show.

The set begin with what can be considered the anthem of Linked Horizon and the anime scene as a whole: Guren no Yumiya, the opening theme to season one of Attack on Titan, which of course kindled a blaze of excitement across the crowd.

After the song had finished, the leader of the band Revo spoke in Arabic, saying: "Good evening, we are Linked Horizon. This is our first time coming to Saudi Arabia, and getting to shout 'Jaeger' together with all of you was the best feeling ever! Thank you so much." His words were responded to with a generous round of applause.

Eiko Matsumoto went on to sing 14 Moji no Dengon, followed by Misaki Fukunaga's performance of Kanojo wa Tsumetai Hitsugi no Naka de. As the band led up to the climax, they performed another classic, the opening theme for Attack on Titan's second season, Shizou wo Sasageyo, during which the crowd sang along and threw their fists in the air.

Revo thanked fans again in Arabic, closing with "See you again!"

Sound Horizon, the group led by Revo under which Linked Horizon operates, recently began their Around 15th anniversary project. Be sure to check out the special site below.

Photos by Tsukasa Miyoshi (Showcase)

Shibuya-based multinational hip-hop/funk band ALI made their name known internationally with their song Wild Side which is used as the opening theme for the TV anime series BEASTARS.

The band are set to release their first full-length album ALI on November 27, and they just dropped a music video for the record's title track No Tomorrow (Give It Up).

The video was directed by Yoshirotten and is the band's first video to be shot in full colour, a change from the monochrome videos they have released up to now. The theme Yoshirotten was going for in this one was "gypsy." The video weaves together the world of a real gypsy and a spiritual gypsy, showcasing ALI's life as a band as they go from show to show.

Tickets for the band's first ever solo tour, "Wild Side Tour 2019," are now on sale.

Information

1st Album – "ALI"

Release Date: November 27, 2019

First Press Edition (CD+DVD): ¥3,000 (Before Tax) [ALI-003]

Regular Edition (CD-Only): ¥2,000 (Before Tax) [ALI-004]

ALI Official Website: https://alienlibertyinternational.com/

Cö shu Nie's Psycho-Pass 3 Ending Theme 'bullet' Remixed by Slushii

Cö shu Nie's newest song bullet is being used as the current ending theme for the season three of the ongoing hit TV anime series Psycho-Pass.

American DJ, singer-songwriter and record producer Slushiiーwho is known for working with a variety of notable artists including Marshmello, as well as receiving big time support from Skrillexーjust dropped a remix of bullet which was posted on Cö shu Nie's YouTube channel below.

The collaboration happened after Cö shu Nie vocalist Miku Nakamura featured on Slushii's song Calling Out to You. Slushii himself is an anime fan, and Nakamura is the composer for many an anime theme song including the Tokyo Ghoul:re opening theme asphyxia, the The Promised Neverland ending themes Zettai Zetsumei and Lamp, and more.

The bullet remix is also streaming on Spotify, so be sure to give it a listen to hear the song in an all-new light.

Tickets for Cö shu Nie's 2020 tour "PURE" -who are you?- are now on sale.