Matcha Beer Garden to be Held This Summer at Restaurant 1899 Ochanomizu
Tokyo tea restaurant Restaurant 1899 Ochanomizu is set to open its Matcha Beer Garden this summer from June 1 to September 30.
For the five time ever in its 5-year run, Matcha Beer Garden will sell a "Matcha Highball." This drink is a mix of bitter Uji matcha and full-bodied whisky. It has a unique deep green colour and is surprisingly refreshing and easy to drink. Your mouth is gently filled with the taste of matcha with one sip of this special Japanese-style highball.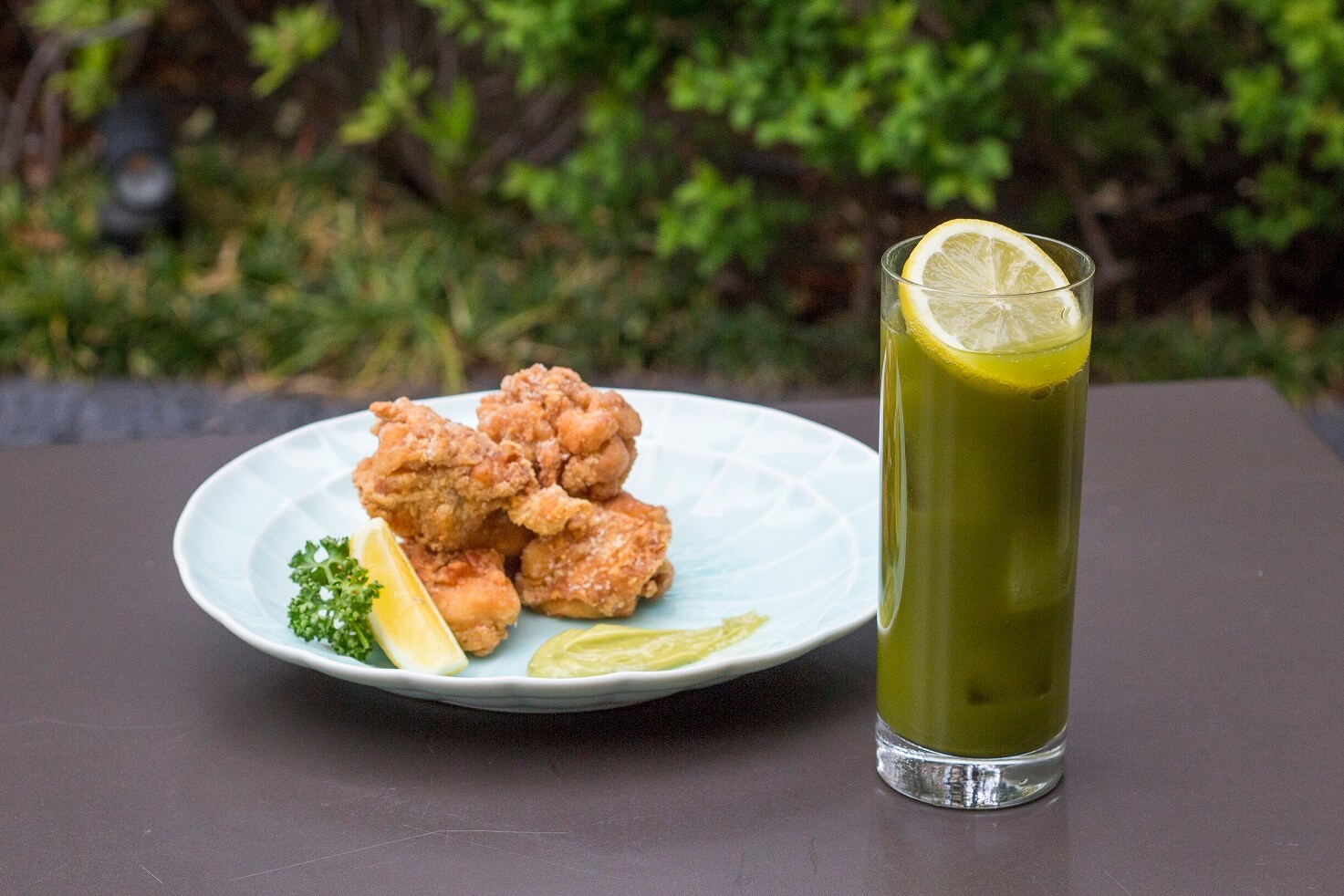 The restaurant recommends having the beverage with the "Chiken Karaage & Matcha Mayonnaise." There is no other place you can enjoy such a combination: a matcha highball and chicken karaage in one.
The beer garden's most popular item is the "Matcha Beer." By adding matcha to the beer, the restaurant has created a healthy beer cocktail that has a distinct smooth texture and bitter flavour. The deep green colour also makes it photo-worthy!
There are six "Tea Beers" you can enjoy with the all-you-can-drink service, and the Matcha Beer counts as one of them. The "Houjicha Black Beer" is for the real grown-ups, a black beer with a full-bodied flavour and smell. The "Wakoucha Beer" is made with domestic black tea and as such maintains its natural sweetness and gorgeous fragrance. Others include the "Black Matcha Beer," "Black Wakoucha Beer" and the "Non-Alcoholic Matcha Beer." Each and every one of these tea beers is poured with care and consideration by the restaurant's tea experts.
Together with the tea beers there are a total of 11 beers to kick back and enjoy with the all-you-can-drink service which includes the restaurant's standard beer, black beer, half & half, non-alcoholic beer, and bottled beer. There is also "Matcha Wine," an original blend of white wine and matcha. It's an easier drink to pick for most meals with its perfect match of crisp white wine and slightly bitter matcha.
There are twelve dishes to choose from, including two new ones, that best go with this line-up of tea alcohol. The centrepiece new dish is the "Oomugi Gyu Sencha Roast Beef." The beef is topped with sencha tea leaves and roasted carefully on a low heat. The effect of the tea gives the meat an even softer quality as well as a faint tea flavour. The new "Fish Carpaccio" comes with white fish drizzled in sencha-infused oil.
Returning dishes include "Tea Sausages," "Matcha & Houjicha French Fries," "Matcha Potato Salad," "Matcha Mayo Karaage" and more.
To finish off your meal, choose from one of the restaurant's delicious tea desserts such as the "Matcha Cake" made with sake and matcha, the "Houjicha Cake" which combines brandy, wine and houjicha, or the restaurant's homemade purin with which you can pick from 3 different sauces: matcha, koucha or houjicha.
If you're a tea-lover then you won't want to miss out on this beer garden!
Information
Matcha Beer Garden
Location: Restaurant 1899 Ochanomizu (Hotel Ryumeikan Ochanomizu Floor 1F, 3-4 Kanda-Surugadai, Chiyoda Ward, Tokyo)
All-You-Can-Drink Service: ¥3,500 (Tax Included)
Running: June 1, 2019 – September 30, 2019
Time: 17:00-23:00 (Food Last Orders 22:00 / Drinks Last Orders 22:15)
Bookings: Open from May 1, 2019 via telephone (03-3251-1150) or the website below.
*During booking you can pick from two entry slots: either 17:00-18:00 or 20:00-20:30.
Official Website: http://1899.jp/ochanomizu/
RELATED ENTRIES
Famous Oil Blotting Paper Brand's Yojiya Café Reforms Three Popular Parfait Flavors

The Yojiya Café, opened by the Yojiya brand famous for its Aburatorigami, or facial oil blotting paper, will be renewing its menu from September 13. The popular face parfait, which features the logo alongside a Kyoto woman with a mole, comes in three flavors available – Kinako, Matcha, and Milk Tea. Each parfait comes with a sauce, so you can adjust the taste as you eat.

 

Kinako Parfait: ¥1,200 (Tax Incl.)

Matcha Parfait: ¥1,200 (Tax Incl.)

Milk Tea Parfait: ¥1,200 (Tax Incl.)

The Yojiya Café is currently open in two locations, Gion and Sagano Arashiyama, offering a relaxing space to rest between shopping and sightseeing.

The café has renewed their iconic Kinako Parfait, which combines Japanese Kinako and Western Maple Syrup, along with the Matcha Parfait, which is packed full of matcha ice cream, jelly, and cookies. The Milk Tea Parfait is made with a rich Japanese Tea and Earl Gray ice cream.

Take a trip to Yojiya and find out which parfait is your favorite!

Information

Yojiya Café – Parfait Renewal

Release Date: 14 September 2021

Availability:

Yojiya Café Gion

Address: Izawa Building 2F, 266 Gionmachi Kitagawa, Higashiyama-ku, Kyoto

Opening Hours:

Weekdays 11:00 ~ 17:00 (LO16:30)

Weekends/Holidays: 10:00 ~ 18:00 (LO17:30)

YOJIYA CAFE Sagano Arashiyama

Opening Hours:

Weekdays 11:00 ~ 17:00 (LO16:30)

Weekends/Holidays: 10:00 ~ 18:00 (LO17:30)

Address: 2 Tateishicho, Sagatenryuji, Ukyo-Ku, Kyoto

Official Site: https://www.yojiya.co.jp/

McCafe by Barista® Offering New Kuromitsu Uji Matcha Frappe

In Japan, McDonalds McCafe by Barista will be releasing the new Kuromitsu Uji Matcha Frappe beginning September 1. The sweet autumn drink will only be available for a limited time.

McCafe by Barista has been popular with customers looking for sweet beverages, such as Frappes and smoothies. The Uji Matcha Frappe was added to the regular product lineup in June 2021, and features a mellow matcha flavor. With this release, kuromitsu, or Japanese black sugar syrup, has been added to enhance the drink's flavor.

Kuromitsu Uji Matcha Frappe: ¥490 (M), ¥560 (L)

 

The Kuromitsu Uji Matcha Frappe is made with powdered Uji Matcha tea from Kyoto, mixed with milk and topped with Kuromitsu jelly, known for its gentle sweetness and rich flavor. Brown sugar from Okinawa Prefecture along with whipped cream is added on top.

Uji Matcha Frappe: ¥440 (M), ¥490 (L)

The regularly available Uji Matcha Frappe is made with Uji Matcha powder from Kyoto, milk, and fluffy whipped cream. Dark green matcha powder and pure white whipped cream gives the beverage a gorgeous appearance, along with a truly Japanese flavor.

These are two drinks not to miss if you're in Japan!

Three PEANUTS Collaboration Tea Cans Available From Senchado Tokyo

Single-origin Sencha speciality store Senchado Tokyo will be collaborating with PEANUTS for the PEANUTS ~Look To Tomorrow~ limited event, held between August 11 and 24, 2021.

"We're All Friends" Theme

"We're All friends" is the theme of the PEANUTS ~Look to Tomorrow~ collab, with PEANUTS & Friends themed goods available to purchase. Senchado Tokyo offers "teatime with friends" and "a solo teatime."

The collaboration has been produced and designed to offer a fun teatime at home, with joy in every option.

The collaboration item designs feature Snoopy reading while drinking tea, Snoopy relaxing in an empty cup, and Charlie Brown enjoying some tea while listening to records.

PEANUTS Collaboration Single-Origin Sencha Can: ¥1,977 (Tax Included)

PEANUTS Collaboration Hojicha Can: ¥1,836 (Tax Included)

PEANUTS Collaboration Genmaicha: ¥1,944 (Tax Included)

The Sencha is made using single-origin blend Uji Midori from Kyoto, while the Hojicha is made with stems shallowly roasted in far-infrared to bring out a dazzling fragrance. The Genmaicha blend uses single-origin Saemidori and brown rice.

Whether you're relaxing with a cup of tea or enjoying a toast with somebody precious, why not invite Snoopy to join your teatime?

。

Long-Standing Kyoto Tea Wholesaler Yamamasa Koyamaen Opens Cafe in Tokyo

TZEN, a company dedicated to promoting traditional Japanese culture around the world, has teamed up with Yamamasa Koyamaen, a tea wholesaler in business since the Edo period, to open a new matcha cafe in Tokyo!

ATELIER MATCHA, a quick walk from Ningyocho station, is harnessing the concept of 'the third wave of matcha,' serving up premium matcha in a cozy atmosphere. 

MATCHA Cookies & Cream Shake: ¥748 (Tax Included) 

MATCHA with Warabimochi and Red Bean Topping: ¥748 (Tax Included)

MATCHA Jelly Cider: ¥660 (Tax Included)

MATCHA Granola and Yogurt Latte: ¥715 (Tax Included)

MATCHA Cotton Candy Milkshake: ¥748 (Tax Included)

MATCHA Affogato: ¥660 (Tax Included)

MATCHA Shot (Espresso Style): ¥220 (Tax Included) / MATCHA Water: ¥275 (Tax Included) / MATCHA Green Tea: ¥330 (Tax Included)

Supreme MATCHA Terrine: ¥660 (Tax Included)

(This is a partial menu, all prices are for those dining in.)

Matcha is becoming popular around the world. ATELIER MATCHA was created to offer customers a unique experience which showcases the true taste and culture of this beloved tea grown in Japan. 

Yamamasa Koyamaen is a Kyoto institution, cultivating and grinding matcha tea leaves for 160 years. Over 1,000 tea retailers, department stores, domestic and international trading companies and hotels stock their high-grade matcha, gyokuro, sencha, and other specialty teas, making them one of the most recognized and respected names in this traditional Japanese art. The company even prefers to call themselves a 'studio' rather than a 'factory', using the 800-year history of tea cultivation in Uji, Kyoto as a starting point to create their masterpieces. 

ATELIER MATCHA is Yamamasa Koyamaen's first cafe, and also the company's first experience selling directly to consumers. 

Blending the highest-grade matcha with locally made sweets, the cafe hopes customers will enjoy these original creations while surrounded by the relaxing aroma of tea. 

The matcha used in the cafe includes signature Yamamasa Koyamaen blends, including Ogurayama and Tennozan, both varieties often used in tea ceremonies. For a limited time, the cafe is offering a single-origin blend with one rare variety of matcha, as well as a beverage made with tencha, which are the leaves used to make matcha before being ground down in a stone mortar. Visitors can also enjoy gyokuro and hojicha teas, made from carefully selected leaves. 

Pulling recipes from Yamamasa Koyamaen's book 'Kyoto Uji-Koyamaen: Simple Matcha Drinks to Enjoy at Home,' the menu features refreshing drinks blending the traditional with the modern, with unexpected combinations of soda, fruit and yogurt. Seasonal drinks will also be making an appearance, including shaved ice in summer and chocolate drinks in winter. 

The name MATCHA SHOT packs a punch, using matcha instead of espresso for a needed pick-me-up. MATCHA WATER, a refreshing cup of watered-down tea, offers a way to fully enjoy the fullness and more hidden flavors of this popular Japanese tea. 

As expected, ATELIER MATCHA also has a sweets menu set to impress: these sweet treats feature only the best, created with the top 0.03% of total national matcha production. This insanely high-quality matcha is a part of Yamamasa Koyamaen's ultimate matcha experience project, titled "ALL FOR ONE," which provides these rare leaves to some of the country's top professionals in various fields. 

At opening, only limited qualities of the Supreme MATCHA Terrine, made by well-known pâtissier Toshi Yoroizuka, will be available. 

These authentic matcha creations are perfect for a hot summer's day, or as a gift for a friend. When in Tokyo, don't miss it!

Information

ATELIER MATCHA 

Address: 1-5-8 Nihonbashi Ningyocho, Chuo Ward, Tokyo 103-0013, Japan

Access: 30-second walk from Ningyocho Station/5-minute walk from Suitengumae Station

Open Date: August 2, 8:00

Hours of Operation: 8:00-19:00 (Last order 18:30)

Closed on Tuesdays (Open daily throughout August) 

Phone Number: 03-3667-7277

Official Site: https://ateliermatcha.com/

Matcha Republic Takes Kyoto's Uji Matcha to Tokyo For the First Time

Uji-based matcha tea shop Matcha Republic is taking their menu to Tokyo for the first time with a pop-up shop inside Shibuya Hikarie which will run from July 15-28.

Matcha Ink Hikarie Exclusive Version Premium Matcha Latte | ¥681 (Tax Included)

Original Clear Shopping Bag

Matcha Republic's ink bottle matcha lattes are super popular on Japanese social media. For their Tokyo pop-up shop, their premium matcha latte arrives in an exclusive design. The dirnk is made from only the best picked matcha leaves to make a smooth, milky beverage. The bottle is also sold in an original shopping bag.

Matcha Panna Cotta Hikarie Exclusive Version | ¥681 (Tax Included)

The brand's popular panna cotta set also arrives in a Hikarie exclusive design. The delicious dessert is made with fragrant Uji matcha.

PREMIUM GOLDEN UJI MATCHA CASTELLA | ¥2,381 (Tax Included)

Matcha Republic's moist matcha castella is sprinkled delicately with gold leaf, creating a luxurious dessert.

Information

Matcha Kyowakoku

Location: Shibuya Hikarie ShinQs B2 Food Stage

Running: July 15, 2021 – July 28, 2021

Opening Hours: 11:00-20:00

Official Website: https://www.matcha-republic.com

Sendagaya's Japanese Tea Cafe Hachiya Reopens After Renovations

Hachiya, a Japanese tea cafe located in Setagaya, Tokyo, reopened on June 28 after undergoing renovations.

Handmade onigiri rice balls

Seasonal fruit anmitsu with Japanese tea set

Hachiya offers a new way to enjoy Japanese tea, serving it in a range of styles such as carbonated, as a tea latte, in smoothies, and more. It's located in Setagaya, a stylish and relaxed part of Shibuya that's surrounded by trees and plants and has become more talked about in recent years. Alongside the cafe's reopening, it has also introduced new items to the menu such as onigiri and animitsu which can be enjoyed together with a cup of tea.

Matcha with confections

Ice cream available in four flavours: vanilla, nanko-ume, sobacha, and kusa mochi

Other new menu items include a set of matcha and confections as well as four different ice cream flavours, all of which go perfect with Japanese tea.

The cafe has incorporated a new lightning system and has also introduced a special coating that uses photocatalysis which can eliminate up to 99% COVID-19, allowing for guests to enjoy their time there safely.

Information

Hachiya

Reopening: June 28, 2021

Address: 3-2-10 Setagaya, Shibuya-ku, Tokyo

Opening Hours: 8:30-18:30 (Last Orders 18:15)

Closed: Weekends / National Holidays/ New Year

Acccess: 2-minutes on foot from Kita-Sando Station / 8-minutes on foot from Harajuku Station

Hachiya Official Website: http://8ya.jp/

Uji Matcha and White Peach Shaved Ice Gets Served at Nihonbashi E-Chaya in Tokyo For Summer

Eitaro Sohonpo Co. Ltd. has released two new seasonal shaved ice desserts at Nihonbashi E-Chaya in Tokyo for summertime.

Uji Matcha Yamamotoyama x Eitaro | ¥660

Made with Uji matcha from Yamamotoyama and honey from Eirato, this shaved ice is topped with adzuki beans from Hokkaido. A refreshing delight for the hot Japanese summer that's not overly sweet.

Peach & Cream Cheese | ¥660

This flavour is made with lots of white peach puree from Yamanashi along with fresh peach pieces and Eitaro's honey. It's finished with cream cheese from Hokkaido and peach fluffy cream. Another perfect pick for cooling down this summer.

Information

Nihonbashi E-Chaya

Address: Eitaro Bldg. 1F, 1-2-5 Nihonbashi, Chuo-ku, Tokyo

Opening Hours: [Mon-Fri] 8:00-16:00 / [Sat] 10:00-16:30

Closed: Sundays/Public Holidays

Official Website: https://www.eitaro.com/

*These desserts are eat-in only

Yojiya Matcha Cosmetic Blotting Paper Releasing This Summer

Kyoto-based cosmetic brand Yojiya is set to release its seasonal summer matcha cosmetic blotting paper online on July 1. Pre-orders opened on Monday along with a present campaign that's running until the release date.

Matcha Oil Blotting Paper

Free limited-edition slim clear bottle for the first 50 people who spend over ¥8,000

Exclusive pre-order set

Yojiya's oil blotting paper is a popular product. Every summer, they release it in special limited-time scents, with this year seeing the paper infused with Uji matcha leaves.

Information

Yojiya Oil Blotting Paper Matcha

Release Date: July 1, 2021 (Online Exclusive)

Pre-Orders: June 21, 2021

Buy Online: https://www.yojiyacosme.com/

Present Campaign

Running: June 21, 2021 – June 30, 2021

Requirements: Spend over ¥8,000

Stock: 50

Tokyo's Craft Chocolate Shop nel Releases Cacao Kintoki Shaved Ice Desserts

nel craft chocolate tokyo, a craft chocolate shop located in Nihonbashihamacho, Tokyo, released two chocolate shaved ice desserts last Wednesday for the hot summer season. The desserts are also being sold at Saryo Tsukikage, a restaurant inside the hot spring ryokan Yuen Bettei Daita in Setagaya.


Left: Cacao Kintoki | Right: White Cacao Kintoki

Cacao kintoki is a type of shaved ice made with specially-selected cacao beans from Vietnam. It uses a 'bean to bar' method where the shaved ice is made from scratch, roasting the beans fresh to create the dessert.

The two new treats at nel use a chocolate base and add cacao pulp to the mix, adding a natural fruity flavour derived from the bean. Each is also served with a special cacao sauce for extra flavour. The white cacao version is made by combining with in-house white chocolate. It also comes with an Okinawan passion fruit and cacao pulp sauce, resulting in a sour kick and refreshing taste.

Saryo Tsukikage

The open-air baths at Yuen Bettei Daita

A special matcha version of this shaved ice can also be enjoyed while bathing in the open-air baths at Yuen Bettei Daita. It's made with nel's homemade white chocolate as well as dark chocolate, cacao pulp, and specially-selected yame matcha from Shimokita Chaen Ōyama, a cafe in Setagaya.

Kirin Announces Restoration Project With Gogo no Kocha Milk Tea

Kirin Beverage launched the Gogo Tea Happiness Project on June 1, 2021. The project will donate the proceeds made from select products to locations in Japan that require support in restoration efforts. The first product to launch is the 'Gogo no Kocha for HAPPINESS Kumamoto Strawberry Tea' which released in limited quantities in Japan on Tuesday.

 

Kirin Group launched a similar project in 2011 called the 'Kirin Bond Project.' in 2016, they began efforts to support the people of Kumamoto after the earthquake that struck there that year – to 'bind' them to the future. From then until 2018, they also shot commercials for their Gogo no Kocha milk tea brand at Miharashidai Station, Shirakawa River, and other places around Kumamoto, as well as promoted the village of Minamiaso to showcase its beautiful natural environment.

The Gogo Tea Happiness Project takes Kirin back to Kumamoto to continue helping to support restoration efforts, something the company has been doing since July 2011 after the Great East Japan Earthquake struck. For every bottle of Gogo no Kocha for HAPPINESS Kumamoto Strawberry Tea sold, not only does 3.9 yen of the proceeds go towards supporting Kumamoto, it also gives people around Japan the chance to try a type of strawberry grown in Kumamoto called yuubeni. The project also ties in with the 35th anniversary of Kirin's Gogo no Kocha tea.

Information

Gogo no Kocha for HAPPINESS Kumamoto Strawberry Tea

Japanese Product Name: キリン 午後の紅茶 for HAPPINESS 熊本県産いちごティー
Released: June 1, 2021

Available: Japan

Price: ¥140 (Before Tax)

Official Website: https://www.kirin.co.jp/

Cinnamoroll's Warm & Fluffy Dessert Party to Grace Hilton Osaka This Summer

Hilton Osaka's second floor restaurant Folk Kitchen has announced a collaboration with Sanrio to serve up Cinnamoroll's Warm & Fluffy Dessert Party, a food menu themed on Sanrio's popular character Cinnamoroll who took home the number one spot in the 2020 Sanrio Character Ranking. He was born up on a cloud in the sky, and that's where guests are invited to dine with him: on his dessert wonderland, featuring around 25 dreamy-cute items, atop a fluffy cloud. The restaurant will take on special decorations for the menu's duration, and guests might even spot some other familiar Sanrio faces too like Hello Kitty, My Melody, and more.

Raindrop & Dance Yogurt Ring Cake

Kuru Kuru Coffee Cup Peach Mousse

Warm & Fluffy Cloud Mousse

Cafe Cinnamoron Cream-Loaded Pastries /Brown Sugar Chocolate Flower Tarts

Marshmallow Truffle

I Dropped My Ice Cream – Chocolate Mousse & Blackcurrant Cake

This is Hilton Osaka's third summer dessert buffet in a row held in collaboration with Sanrio's characters. Focusing on the greatly loved Cinnamoroll, whose fandom is mostly made up of those in their teens and 20's, guests can look forward to tucking into a deliciously kawaii menu. The restaurant's pastry chef Hyaku, also known as the wizard of smell and texture, recommends the 'Raindrop & Dance Yogurt Ring Cake' which is made with a fruity mango cream that melts into a creamy sour mousse. The raindrops are represented by chocolate, and the fluffy cloud is actually crunchy meringue. The dessert captures the bright and sparkly world of Cinnamoroll.

The 'Kuru Kuru Coffee Cup Peach Mousse' is loaded with peach compote and vanilla mousse for an exquisite balance of flavours. It's topped off with Sanrio characters made of chocolate.

The 'Warm & Fluffy Cloud Mousse' has a gorgeous pink gradation. Inside the honey mousse is a refreshing layering of sudachi citrus jelly, fresh orange, and pistachio biscuit.

There's also the 'Cafe Cinnamoron Cream-Loaded Pastries' and 'Brown Sugar Chocolate Flower Tarts' which capture the cuteness of Cinnamoroll.

There's also a refreshing dessert-in-a-glass for cooling down over the summer: the 'Marshmallow Truffle' which is inspired by unicorns. It has alternating layers of raspberry and lychee cream which when mixed create all-new delights for your taste buds.

Another fun item on the menu is the 'I Dropped My Ice Cream – Chocolate Mousse & Blackcurrant Cake.' Now that's a mouthful! The ice cream cake is steeped in elderflower foam which goes amazingly well with the chocolate mousse. Other bites include the hibiscus-scented 'Almond Panna Cotta White Peach Compote' and the 'Rainbow Agar-Agar' among other things.

Cinnamoroll's Warm & Fluffy Dessert Wonderland – Sanrio Characters Collaboration Afternoon Tea Set

There's even a special afternoon tea set served in a cute little jewellery box!

There are many kawaii moments to be had in Japan, and this is one of many!

Information

Cinnamoroll's Warm & Fluffy Dessert Wonderland – Sanrio Characters Collaboration Tea Party

Japanese Name: シナモロールのふわもこスイーツワンダーランド ~サンリオキャラクターズ コラボティーパーティー~

Running: June 4, 2021 – September 12, 2021

Where: Folk Kitchen (Hilton Osaka Floor 2F)

Serving Times: Everyday 15:00-16:30

Price: [Weekdays] ¥4,900 Per Person / [Weekends] ¥5,300 Per Person

Afternoon Tea Set

Running: June 4, 2021 – September 12, 2021

Where: MYPLACE Cafe & Bar (Hilton Osaka Floor 1F)

Serving Times: 12:00 until daily limited stock runs out

Price: ¥4,500 Per Person

Official Website: https://osaka.hiltonjapan.co.jp/plans/restaurants/sweets/folkkitchen-2106

Hydrangea Matcha Parfait Gets Served For Spring at Kyoto Tea Shop

Japanese Uji tea shop Itohkyuemon broughr back its seasonal Hydrangea Parfait to the menu at three of its stores last Monday.

Hydrangea Parfait

Hydrangea Tea Party

Kyoto's city of Uji, where Itohkyuemon's main branch is based, is home to Mimuroto Temple which is famous for its hydrangea flowers. The temple always bustles during the springtime rainy season. It's around this time that people can be waiting up to 3 hours for a seat at Itohkyuemon. Their Hydrangea Parfait is their most popular parfait, never failing to create a buzz on Japanese social media. It contains hydrangea-flavoured mashed sweet potato, hydrangea jelly, leaf-shaped matcha cookies, blueberries, and more, all capturing the swaying hydrangeas during the downpour of the rainy season. They are limited in stock and are not re-added to the menu until the following year once they run out.

Customers can order the parfait on its own, with a cup of tea, or with both tea and warabimochi. The tea set and tea party versions come with a free hydrangea coaster.