Oita Prefecture News Letter June 2019
Oita Prefecture is Kyushu is known as having the most hot spring sources and yield in Japan. Places in Oita such as the city of Beppu and town of Yufuin are highlighted as some of the most famous hot spring sites in Japan and enjoy an influx of tourists every year, but their appeal doesn't stop at hot springs. Oita will host this year's Rugby World Cup, and because of that, the prefectural government is putting more efforts into dining, speciality products and spreading tourist and sightseeing information.
Let's take a look at some of the must-see sites, art and culture of the prefecture.
InterContinental ANA Beppu Resort & Spa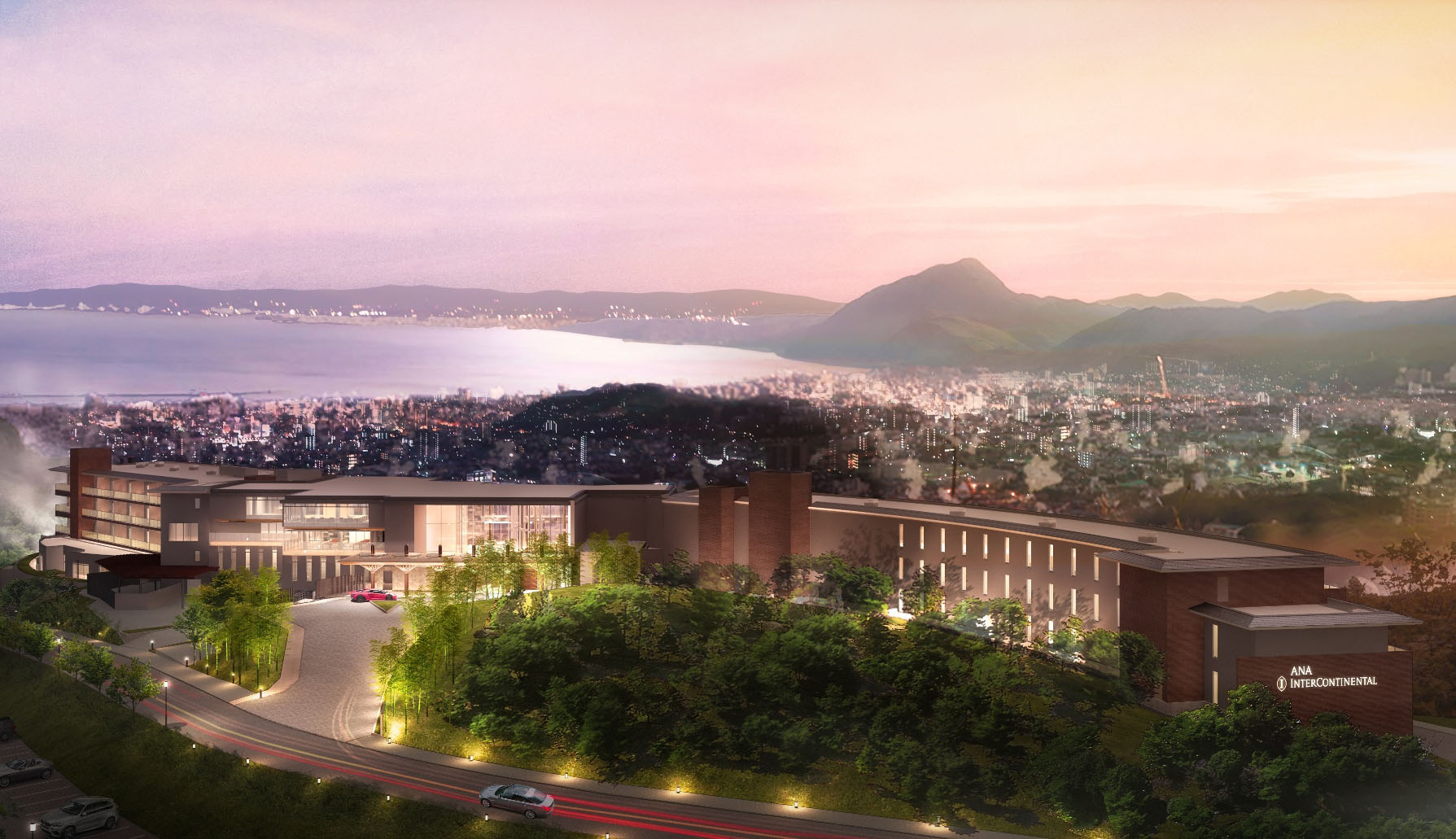 InterContinental ANA Beppu Resort & Spa is Oita's first foreign-owned luxury brand hotel set to open this year on August 1. This resort-style hotel will combine Beppu's status as Japan's spearhead of hot springs with the concept of an intercontinental brand hotel to offer the ultimate relaxation and healing.
There are 89 rooms at the hotel which incorporate the strenuous craft and expertise of local artists and artisans such as bamboo work. The rooms span 62-212m2 and are decked out with interiors made with natural materials and enjoy presentations perfect for those seeking peace and tranquillity. 21 of the rooms are suites and club rooms each with terraces equipped with private open-air baths. And if you make use of the Club Intercontinental Lounge you can enjoy top class service.
Guests can enjoy the rich spring water of Beppu in both the open-air baths and public baths. Not only is there a spa there's even an infinity pool from which guests can enjoy a gorgeous view.
Official Website: https://anaicbeppu.com/en/
Ryumon Falls (Kokonoe)
Ryumon Falls is a 26-meter waterfall spanning 40-meters wide. The waterfall itself runs down the rocks below it, almost creating a second waterfall. In summer, kids and adults alike both enjoy the thrill of using it as a water slide. During the summer season, the camp sites, diners and souvenir shops bustle with tourists. You can pick up a mat and other items required to slide down the rocky slope in the surrounding area.
Address: Matsugi, Kokonoe-machi, Kusu-gun 879-4632, Oita Prefecture
Traditional Crafts at Nakatsu Castle Shitamachi – Shuka's Japanese Umbrellas
During Japan's economic crisis at the turn of the 19th century, policies were enacted that encouraged areas to create their own speciality products. This sparked the manufacturing and selling of umbrellas which were made from bamboo, Japanese paper, oil, astringent and other materials all sourced locally. The early Showa period was the golden age for Japanese umbrella production, but it later declined and production eventually stopped in 2003 due to the ageing of the craftsmen who made them. However, production restarted in 2005 by Shuka to help revitalise the traditional Japanese craft of creating umbrellas. Since then, the same production methods that were used back in the day have been adhered to, and new designs have come to life. They are now back in fashion and growing in popularity.
Official Website: http://shu-ka.jp/
Michi no Eki Innai
Michi no Eki Innai is located in the centre of Innaimachi Kushino, a town home to the only village in Japan built on a stone bridge. They sell a variety of food products including speciality food items, including a range of loach dishes such as fried loach and loach hot pot. They also have information on the stone bridge itself, and visitors can see a Japanese giant salamander up close. Their Usa Karaage is a favourable dish amongst visitors.
Official Website: https://www.michinoeki-innai.net/
Oita Prefecture is home to many fun and exciting spots and events, so be sure to explore if you're planning a visit.
RELATED ENTRIES
Harajuku Whips Up Oita Prefecture's Jazz Youkan Sweet Adzuki Bean Block

The Jazz Youkan is a cute confection made from sweet adzuki red bean paste and made to look like a little piano. It's made in Japan's Oita Prefecture, but Tokyo residents can now enjoy this sweet treat at HARAJU Cross JAPAN MASTERY COLLECTION_est which is located on Floor B1F of WITH HARAJUKU, a shopping complex in front of Harajuku Station. It is being sold until February 14 in three flavours: Chocolat, Matcha Chocolat, and Classic.

The Jazz Youkan

The Jazz Youkan is a confectionery made by Jazz to Youkan Yufuin CREEKS, a shop in Yufu, Oita. It's part of their concert series of sweets and pairs well with a cup of coffee or glass of wine.

Line-Up (Prices Include Tax)

Chocolat | ¥2,646

The seasonal winter Chocolat is made with sweet white bean paste, couverture chocolate, dried cherries, fig, and raisins. All the chocolates in this series are individually handmade by the shop's chocolatiers, and this time, the classic Chocolat variant has been made even more delicious. It's smooth, moist, and rich without being too sweet. Best enjoyed with coffee or wine.

Matcha Chocolat | ¥2,646

If you love matcha then this is the treat for you. It's different from the normal Chocolat version of this sweet as it's made without dried fruits. Instead, it contains large-grained adzuki beans for an irresistible texture.

Classic | ¥2,160

The Classic version is made with brown sugar from Okinawa and adzuki beans and contains dried figs soaked in wine. Another perfect pairing with coffee or wine, and the piano face shows the work of true Japanese artistry.

©冬季限定 ジャズ羊羹 chocolat

Information

Jazz Youkan
Order Window: January 16, 2021 – February 14, 2021
Orders: TEL: 03- 6384-5815 / E-mail: shop_est@japanmasterycollection.jp
Sales Window: February 7, 2021 – February 14, 2021
Where: HARAJU Cross JAPAN MASTERY COLLECTION_est
Address: 1-14-30 Jingumae, Shibuya, Tokyo
Opening Hours: 12:00-18:00
Jazz to Youkan Yufuin CREEKS Official Website: http://www.jazz-youkan.com/

Solo Sauna Tune: Tokyo's New Privacy Guaranteed Finnish-Style Sauna

Solo Sauna Tune is a new sauna that offers "total privacy" which is set to open its first branch inside UNPLAN Kagurazaka in Tokyo this November.


Most sauna facilities in Japan cater to groups, but at Solo Sauna Tune, all guests are given their own space where they can undress, bathe, and relax in their own private room. This is especially desirable during the current pandemic where social distancing is paramount, and is a great opportunity for people not wanting to travel in groups.

The solo saunas are heated using sauna stoves imported from Finland. Adding water to the sauna stones lets guests control the amount of steam in the room so they can adjust as they like. There is also a Japanese white birch aroma provided to the löyly (Finnish for 'steam').

Guests can also cool off in cold water. The Chiller provides water at 15℃. There are also overhead showers for cooling down, and the showerheads can be adjusted to make the water come out like mist.

The relaxation area is coloured in a stylish black where guests can kick back for a while.


After using the sauna, guests can visit the powder room where there are a varieties of free amenities. There's also a café which serves craft beers, food, and other treats.

Information

Solo Sauna Tune
Address: UNPLAN Kagurazaka, 23-1 Tenjincho, Shinjuku-ku, Tokyo
Grand Opening November 2020

Opening Hours: TBA

Prices: TBA
Access: 3-minutes on foot from Kagurazaka Station / 7-minutes on foot from Edogawabashi Station / 9-minutes on foot from Ushigome-Kagurazaka Station

Official Website: https://www.solosauna-tune.com/

6 Best Spots to Visit in Japan's Oita Prefecture During Autumn – MOSHI MOSHI NIPPON

Oita in Kyushu has been nicknamed "Hot Spring Prefecture Oita" due to having the largest number of hot spring water sources and outputs in Japan. Oita welcomes many visitors every year who flock to the prefecture's many famous hot spring locations like Beppu and Yufuincho Kawakami.

But the charm of Oita doesn't lie solely in its hot springs. It's also a location that offers breathtaking scenery during autumn. We've picked 6 spots around Oita Prefecture that are must-visits during autumn.

Keiseki-en

The gorge of Yabakei is designated as a Place of Scenic Beauty in Japan. Keiseki-en is a beautiful Japanese garden that was built to commemorate the completion of the Yabakei dam. It's home to over 31,000 individual trees of around 100 species as well as a lake, waterfalls, and crags. It's a place that boasts natural beauty throughout all four seasons.

Address: 2286-1 Yabakeimachi Ōaza Ōshima, Nakatsu, Oita

Kinrin Lake

Kinrin Lake is one of Yufu's most famous sightseeing spots for the mysterious torii gate that sits within the lake. Spring water and hot spring water flows through the lake, and because the temperature of the water is warm throughout the year, you can see steam rising from the surface in the early hours of winter days. Tenso Shrine also sits on the bank of the lake which is home to a sacred tree that's designated as a natural monument.

Address: 1561 Yufuinchō Kawakami, Yufu, Oita
Access: 20 minutes on foot from Yufuin Station (JR Line)

Kyusuikei

Kyusuikei's scenery spans through the prefectural road that connects the Kokonoe IC to Yamanami Highway. Its 2km expanse is made up of sheer cliffs which create the valley that is known for its autumn colours. Visitors can enjoy a panoramic view of the maple and ginkgo trees from the observation deck that runs along the cliff. There are other nearby sightseeing spots too like Kokonoe Yume Otsurihasi Bridge and Kyusuikei Onsen hot springs.

Address: Tano, Kokonoe, Kusu District, Oita
Access: 20-minutes by car from Kokonoe IC

Hakubakei

The valley of Hakubaki was designated as a Place of Scenic Beauty of the city of Usuki. In autumn, surrounding trees are dyed in reds and yellows, bringing people from all over to witness the spectacle. And because the valley it at a high altitude, the gradation of the colourful trees changes as you go further in.

Address: Badai, Usuki, Oita
Access: 5-minutes by car from Usuki IC

Fukiji Temple

Fukiji Temple was built in the Heian Period for the high priest of Usa Jingu. The temple is a national treasure, and the Amida-Nyōrai contained inside is designated by the Japanese government as an Important Cultural Property.

Address: 2395 Tashibufuki, Bungotakada, Oita
Access: 30-minutes by car from Usa Station

Mount Kuju

Mount Kuju stands as the highest mountain in Kyushu Island at nearly 1,800-meters tall, which has also led to to be nicknamed the "Rooftop of Kyushu." Its has many peaks, the highest being Mount Nakadake at 1,791-meters. One peak in particular draws mountain climbers, and that's Mount Taisen. At its apex one can enjoy the breathtaking autumn colours together with the sight of the rolling mountains.

Address: Tano, Kokonoe, Kusu District, Oita
Access: 40-minutes by car from Kokonoe IC.

Sanrio Harmonyland Announces 'Happy Halloween' Event For October 2020

Harmonyland, a theme park centred on Sanrio's cast of characters, has announced that this year it is holding a Halloween themed event titled "Happy Halloween" which will run from October 11 to 31.

Meet the characters

A greeting event will take place twice a day where guests can have photos taken next to the Sanrio characters who will be dressed in their best Halloween outfits. For the afternoon greeting, the characters will dance too.

Photo opportunities

There will be many photo opportunities around the park at a variety of Hello Kitty, My Melody, Kuromi, and other character decorations. Shops inside the park will also be decorated in all things spooky.

Hello Kitty's Castle transforms into Halloween mode

Hello Kitty Castle will feature Halloween themed decor to greet guests who enter. Hello Kitty will also change into a spooky ghost costume at 10:00, 12:00, and 14:30 each day of the event.

Halloween character merchandise

Sanrio fans can get their hands on a selection of Halloween themed character merch.

Limited-time character events

Sanrio character 'Wish Me Mell' will also have her own birthday party between September 20 and 23 where she will be out to greet guests. After each greeting, 100 people will be given a special free thank you card on a first-come, first-served basis.

Pin Badge Set ¥990 / Acrylic Key Ring Set ¥1,540 / Strawberry Milk Pudding ¥500 / Pancakes ¥600 / Smile Set ¥1,200

This year marks the 15th anniversary of Kuromi, as well as My Melody's 45th anniversary, and so both will be performing mini live concerts between September 25 to October 31. After each show 100 people will be given a Kuromi anniversary card on a first-come, first-served basis.

Pin Badge Set / Kuromi Black Curry ¥1,380

©'76,'79,'88,'89,'91,'93,'96,'98,'99,'01,'05,'10,'12,'13,'17,'20 SANRIO  S/D・G
*The information in this article is correct as of September 2, 2020. Please note that information related to the event is subject to change.

Japan's Pixar Bullet Train Project 'GO! WAKU WAKU ADVENTURE with Pixar' Details Announced

JR Kyushu has signed a promotional license agreement with Walt Disney Japan to launch the "GO! WAKU WAKU ADVENTURE with PIXAR" project, which will see the shinkansen bullet trains decorated in characters from the Pixar animated filmography starting on September 12, 2020.

The project comes at a time when Pixar celebrates the 25th anniversary of the original Toy Story film, which released back in 1995 as the first entirely computer-animated feature film.

New details have been released for the upcoming project, including the unveiling of the key visual, the content of the collaboration, campaigns that will be held, and limited-edition merchandise which will be sold.

Key Visual

The key visual is a colourful Pixar creation which is shaped to look like the seven prefectures that make up Kyushu—Japan's south-westernmost island where the JR Kyushu WAKU WAKU ADVENTURE Shinkanen bullet train will run.

Character Visuals

Poster Design

All major stations along the JR Kyushu Line display the key visual along with the above-pictured poster featuring various Pixar characters. Each of Kyushu's seven major prefectural train stations listed below will also have additional posters for different Pixar films.

Hakata Station: Toy Story
Saga Station: Up
Nagasaki Station: Finding Nemo
Oita Station: The Incredibles
Kumamoto Station: Cars
Kagoshima-Chūō Station: Monsters, Inc.
Miyazaki Station: Wall-E

Tabloid Distribution

For illustrative purposes only. Distribution from September 12, 2020.

At all major stations running the JR Kyushu Line, commuters can get their hands on a free tabloid inspired by the "My Adventure Book" from the Pixar film Up. The content of the tabloid features information related to the collaboration and where you can find Pixar characters at stations throughout Kyushu, so you too can have your own adventure.

Photo Spots

Cars photo spot

The seven JR Kyushu prefectural stations will also have their own photo spots where you can snap a picture. You'll also spot Woody and Buzz dolls and Hakata Station and Sully and Mike ones at Kagoshima-Chūō Station.

Participating Stations: Hakata Station, Saga Station, Nagasaki Station, Oita Station, Kumamoto Station, Kagoshima-Chūō Station, Miyazaki Station

Special Site & Official Instagram

A special site opened which features the departure schedule for the JR Kyushu WAKU WAKU ADVENTURE Shinkansen, details on campaigns, the latest details on the collaboration, and more. Waku Waku ADVENTURE now also has its own Instagram page which includes reports on event, pictures of merchandise, and other details.

Special Movie

A special collaborative movie will be released in September centred on the themes of Pixar's movies such as bonds between people, family, friends, and adventure. It will be shown at JR Kyushu stations and the special site.

Campaign: Find the Pixar Ball

Original sticker designs

If you spot a station staff member at any of the JR Kyushu prefectural stations wearing a Pixar ball badge, call out to them and they'll give you one of seven possible Pixar stickers as pictured above. All seven can be put into your "My Adventure Book," so try collecting them all!

Participating Stations: Hakata Station, Saga Station, Nagasaki Station, Oita Station, Kumamoto Station, Kagoshima-Chūō Station, Miyazaki Station

*Depending on the time, platform staff may not be wearing the badges

*Stickers are available while supplies last

GO! WAKU WAKU ADVENTURE Digital Stamp Rally

A digital stamp rally will be held on the official JR Kyushu app. Board the JR Kyushu WAKU WAKU ADVENTURE Shinkansen, visit JR Kyushu Stations, and get some original stamps.

1st Stamp Rally: September 12, 2020 – January 31, 2021

Limited Edition Merchandise

Merchandise lineup

A special collection of merchandise has been created featuring designs of Kyushu and the Pixar characters. The items will be sold at shops around JR Kyushu stations and online in Japan.

Release Date: September 12, 20202
Merchandise List: https://www.jrkyushu.co.jp/train/wakuwaku-adventure/goods/

Those who ride the very first departing train will receive an original Pixar design train ticket. The Tsubame 363 train bound for Kagoshima-Chūō Station will depart from Hakata Station at 12:19 on September 12, 2020.

©Disney/Pixar

Japan's New High Speed Bus Travels From Kyoto to Mount Koya

Keihan Bus and Nankai Rinkan Bus are bringing back their high-speed bus service this year which will run from September 18 to November 30. The service will incorporate a mandatory booking system, making it even more convenient than last year.

Mount Kōya is the name of the temple settlement found in Wakayama which first settled in 819. It is the centre for the Kōyasan Shingon sect of Japanese Buddhism and is designated as a World Heritage Site, one of many found in Kyoto alongside Kinkaku-ji, Kiyomizu-dera, and Shimogamo Shrine.

The new Kyoto Koya-san buses offer a smooth, direct ride to the World Heritage Site, arriving there from Kyoto in just 2 hours and 40 minutes.

Information

Kyoto Koya-san Bus (Japanese Name: 京都高野山線)
Running: September 18, 2020 – November 30, 2020

Keihan Bus Official Website: https://www.keihanbus.jp/

Enter the World Of My Neighbor Totoro in Japan's Oita and Miyazaki Prefectures

My Neighbor Totoro is one of Studio Ghibi's most celebrated animated feature films, adored by people around the world. If you've visited Japan, you're bound to have run into something Totoro-related, but did you know there's actually several locations in Kyushu which takes it to the next level, bringing the world of the film to life?

Today, we are joined by Rie who posts her Kyushu travels on her Instagram page. She has provided us with photos of these amazing spots, which are must-visits for Totoro fans, along with her thoughts.

Tataragi Bus Stop | Hita, Oita Prefecture

When you roll up to Tataragi Bus Stop (多々良木バス停) in Oita's city of Hita, you are welcomed by a giant piece of wall art made into the moss that grows on the wall. This bus stop is actually a stop used exclusively by school buses, so ordinary people can't actually catch a bus here. And unfortunately, you won't see any cat buses running down the street if you wait long enough in the rain, but it's still a must-visit for fans.

Address: Amagasemachi Gota, Hita, Oita, Japan (In Japanese: 大分県日田市天瀬町合田)

Totoro's Forest | Saiki, Oita Prefecture

This area is visited by many tourists and sightseers throughout the year because of how similar it looks to something from My Neighbor Totoro. There is a small park near the bus stop which is known as Totoro no Mori (Totoro's Forest).

Being surrounded by nature, enveloped by the green trees and foliage, makes you feel like Mei and Satsuki from the movie. It's like being transported back to my childhood. It's a strange place that makes you feel nostalgic even if it's your first time visiting.

Address: 1368 Ume Oaza Minamitabaru, Saiki-shi, Oita Prefecture (In Japanese: 大分県佐伯市宇目大字南田原轟1368)

Takahara, Miyazaki Prefecture

The next spot I want to show you is where an ordinary person made their very own Totoro statue. If you hold up an umbrella in the rain you can take a photo that recreates that one scene from te movie. There is a sign nearby the statue with a caution written on it as the Totoro is actually inside a family garden. When visiting to take a photo, please make sure to follow the caution and not cause any trouble for people in the neighbouring area.

Address: 7538-6 Kamamuta, Takaharu, Nishimorokata-gun, Miyazaki Prefecture (In Japanese: 宮崎県西諸島県群高原町大字蒲牟田7538-6)

Rie posts photos of all her visits around Kyushu on Instagram, so if you're thinking of ever visiting there, be sure to follow her for ideas on where to go.

Photos by Rie

*The information listed in this article is correct at the time of publishing

Fufu Nara: The First Luxury Hotel Set to Open in Nara Park is Designed by Kengo Kuma

Fufu Nara is set to be the first luxury hotel to open inside Nara Park on June 5, 2020. Designed by industry-leading Japanese architect Kengo Kuma, the hotel promises a unique dining experience with food served using herbal medicines that can only be tasted here, and guest rooms that are covered in art made by Nara-based artists who use traditional techniques. Both the dining and accommodation experiences aim to immerse guests in the culture of Nara.

Witness the handiwork of Nara's artists

Nara is a city steeped with beautiful history and culture. This has been captured by the artists who have collaborated with Fufu Nara in the form of paintings, crafts, entrance decorations, and more. A stay at Fufu Nara is an opportunity to witness first hand the deep traditions and techniques of Nara's art world.

There are 30 rooms in total which are split into five different types. For example, one room type is designed around the old Japanese style of sitting on the floor. Inks and woods are used in the room to enhance that feeling that you're in Nara, and the colour tones too are chosen to bring to mind the ancient city.

Fufu Nara's dining concept

Nara Prefecture is closely tied to herbal medicines. Herbal medicine came about in the year 611 during the monarch of Empress Suiko. It is written in the Nihon Shoki that the use of herbal medicine had already been adopted by the time Prince Shōtoku was serving under the Empress. Many different traditional herbal medicines are still used in Nara today, including Angelica root, shakuyaku peonies, fennel, and so on. Traditional herbal medicines have become popular again in the prefecture in recent years.

The food prepared at Nara Fufu makes use of ingredients grown and produced in Nara, from vegetables to herbs and beyond. Breakfast, lunch, and dinner all incorporate Japanese and Chinese herbal ingredients.

Spa by sisley

The hotel also has a spa made in collaboration with French luxury skin care brand Sisley. There, guests can enjoy Fufu Nara's medicated baths.

Information

Fufu Nara
Address: 1184-1 Takabatakecho, Nara, Nara Prefecture
Grand Opening: June 5, 2020
Price: From ¥77,000 (for 1 night and 2 meals for 2 guests in 1 room) *Tax and service charge included; spa charged separately
TEL: 0557-52-6606
Official Website: https://fufunara.jp

MAXPLAN AZABU10: The New Landmark of Tokyo's Azabu Juban District

MAXPLAN Co. is set to open MAXPLAN AZABU10 on October 22, 2020 which is set to become the new symbol and a landmark of Tokyo's Azabu Juban District. The building will offer many unique and extraordinary experiences.

Nakamura Suzuko (CEO, MAXPLAN Co.) | Comment

"This project borrows the strength of internationally-active architect Kengo Kuma. I am overjoyed to have the opportunity to be a driving force together with him once again. This building, which is the 'Azabu Juban Development Project,' will be a place that creates and discovers new collective value between companies and individuals. A place of creative symbiosis. It aims to offer well being for companies that brings about a sense of cultural values. It will be a creative space for companies and individuals to resonate, bounce ideas off, and flow with one another. I pray from the bottom of my heart that these things will serve as a connection to how we want to live in the future."

Kengo Kuma (Architect) | Comment

"Azabu Juban is Tokyo's intersection between tradition and the future. I wanted to create a symbol for this district of 'fluctuations' around its crossroads. Combining panels of varying sizes with different heights, thicknesses, and textures expresses the district's diversity and energy. I wanted the building to blend in as part of the 'fluctuations,' as well as create a small 3D city which itself has 'fluctuations' […]"

We look forward to seeing how this new landmark and symbol of Azabu Juban brings together the traditional and the futuristic.

Information

MAXPLAN AZABU10
Building Site: 4-1-1 Azabu Juban, Minato Ward, Tokyo
Access: 1-minute on foot from Azabu Juban Station (via Tokyo Metro Namboku Line and Toei Oedo Line)
Grand Opening: October 2020 (subject to change)

Join Kawaii Virtual Traveller Emma on Her Global Sightseeing Tour

While the world is on lockdown, embark on a global adventure from the comfort of your own home with kawaii virtual character Emma.


The newly-launched EMMA Travel project follows the adventures of Emma as she travels from country to country, discovering and learning new things.

Satisfying your thirst for adventure couldn't have been easier. Emma will be uploading pictures of her adventures to Instagram so you can enjoy travelling without leaving your house. All her travels will be documented in English to cater to foreigners who are eagerly awaiting the chance to visit Japan.

While global lockdown measures are still in place, join Emma as she takes you on a virtual tour of must-visit sightseeing locations.

1→10, Inc. Brings Magical Shores Interactive Land Art to Siloso Beach in Singapore

Japanese creative studio 1→10, Inc. opened up Singapore's first ever permanent interactive land art exhibition "Magical Shores" on January 23 this year together with Lighting Planners Associates (LPA), a lighting company based in both Tokyo and Singapore.

Magical Shores spans 400 meters of Sentosa's Siloso Beach, turning it into an immersive, multi-sensory experience of AI-operated lights and sounds which elevate the beauty of the surrounding natural environment.

Guide To Magical Shores | Siloso Beach, Sentosa:

AI technology responds to visitors on the beach, giving them a breathtaking and unique performance. Sensors are dotted around the area which use sensing data to react based on people's movement around the beach. The AI is constantly developing as it collects big data about the temperature and climate of Siloso Beach as well as that of people's movements.


In two of the interactive areas, people can witness the "Circle of Life" beginning with the big bang. After that there is magma, followed by heavy rainfall and eventually flowing water which gives birth to life. Cells divide as plants begin to sprout, fish swim in the sea, and birds and insects sing in the mountains. At the end, life falls, and the process begins again.


Japanese musician Masakatsu Takagi was put in charge of the music and sound design of the exhibition. Takagi is known for having written the music for Wolf Children and The Boy and the Beast. He took inspiration from his music project "Marginalia," a sound diary where he would record the sounds of birds, insects, the wind, rain, and so on from his studio window. Takagi did field recording on the beach to capture the sounds of nature to use for the art exhibition.

Kuniyuki Takahashi also offered his musicianship to the exhibition. Based in Sapporo, he is an internationally-recognised composer. He also recorded the sounds of Siloso Beach, and together with Takagi, created the perfect soundtrack for Magical Shores.

Magical Shores is currently temporarily closed as a result of the coronavirus but will resume once more as soon as the situation allows it.

Yowamushi Pedal Anime's 'Five Bridges of Amakusa' Ranks Number One in Places People Want to Visit Most

Seikatsu Guide, and online website that helps support and promote local regions around Japan, has announced its Top 10 selection for "Places I Most Want To Go And See (Western Japan)" as voted for by people.

Right now, most of us are under lockdown and are prohibited from making trips deemed unnecessary. So why not make a list of places you want to visit for when we can next travel? One of those places should be the Five Bridges of Amakusa in Kumamoto Prefecture.

"Yowamushi Pedal" Anime | Five Bridges of Amakusa in Kumamoto


Taking the number one spot on the list is Five Bridges of Amakusa which is located in Kamiamakusa, Kumamoto. As the name suggests, five bridges make up the landmark, all of which stretch from Misumimachi and connect to Oyano Island, Nagaura Island, Oike Island, and Maejima Island. The bridges are a famous sightseeing spot and have been chosen as one of Japan's "100 Best Evening Spots" and "100 Best Roads."


One woman in her 30's said, "I've been there on numerous occasions. It's a really beautiful place." A man in his 30's also commented, "I love the [Yowamushi Pedal] manga. If you're going as a fan, that scene is really exciting, so I went there on my bike."

Comment from the person in charge of the Kamiamakusa Planning Committee

"Thank you for honouring us with 1st place in this […] ranking. Five Bridges of Amakusa features as the location for the race in the Yowamushi Pedal movie. It gets its name from its five bridges which connect the islands along National Route 266. The area is also nicknamed 'Amakusa Pearl Line' for the abundance of pearls that can be found here. It was also selected as one of Japan's 100 Roads. It's a truly beautiful bridge which is also an example of Japan's fine bridge building craftsmanship."

They continue: "Amakusa is surrounded by the beautiful ocean and spectacular mountains. Most of the city is located in Unzen-Amakusa National Park. There are islands that sit atop the glistening sea, and there's the Amakusa Alps which offer a spectacular view. It hails as one of Japan's best places for nature! There are many fun outdoor activities to experience, like dolphin watching, kayaking, cycling, and more. We have incredible food like kuruma prawns, which are a speciality food here, as well as free range local chickens. You can relax your mind and body with a dip in the hot springs while gazing at the ocean. Please be sure to drop by Kamiamakusa to enjoy everything it has to offer."

Other places that ranked on the list include the following.

2nd Place – "Manpuku" TV Drama | Porto Europe, Wakayama

3rd Place – STU48 Promotional Video | Chichibugahama Beach, Kagawa

4th Place – "Yatsuhakamura" Movie | Makido Cave, Okayama

5th Place – "Segodon" TV Drama | Tatsumonjizaka Trail (Ryumonjizaka), Kagoshima