Manga Themed Outfits Showcased at Event Produced by Fashion Designer Kansai Yamamoto
Students at the fashion, hair, makeup, and graphic design-centred school Vantan Design Institute took part in the International Cultural Exchange Project of Nippon Genki Project 2019 SUPER ENERGY!! which is produced by Japanese fashion designer Kansai Yamamoto. Each student showcased their manga-inspired outfits at Roppongi Hills Arena on June 8. These outfits will also be displayed at a fashion presentation taking place at The British Museum on July 5.


The International Cultural Exchange Project strives to give talented young individuals in Japan and the UK the opportunity to bring their ideas to life and find "tomorrow's" designers.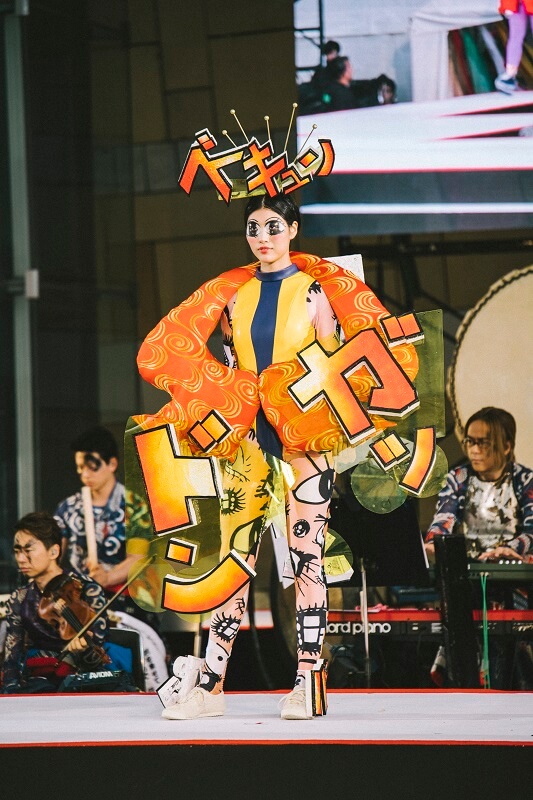 Artwork Name: embody manga
The project is also teaming up with the fringe event "Late – Manga: Colour and Style" which is part of Citi's "Manga" exhibition currently taking place at The British Museum to bring the fashion presentation to the UK on July 5. Seven students will participate including one from the University of the Arts London and six from six different Japanese fashion institutions including Vantan Design Institute.
Information
Late – Manga: Colour and Style
Running: July 5, 2019
Time: 18:00-21:30
Location: Great Court, The British Museum
RELATED ENTRIES
Manga Series Dandadan Gets Collaboration Merch at Tower Records to Celebrate Volume 3

To celebrate the release of volume 3 of the Dandadan manga series, participating Tower Records locations in Japan will be selling some collaborative merchandise starting on December 3. The items will also be available to purchase on Tower Records Online. 

Acrylic Keychain (8 varieties): ¥715 (Tax Included) 

*This product is limited to 16 per person.

Square Pins (6 varieties): ¥605 (Tax Included) 

*This product is limited to 12 per person. 

Sticker (Momo Ayase, Okarun, Aira Shiratori & Turbo-Granny, 3 Varieties): ¥880 each

Tiny Pin: ¥660 (Tax Included) 

Sticky Note Set: ¥880 (Tax Included) 

Towel:  ¥2,200 (Tax Included) 

Reversible Reuseable Bag: ¥2,200 (Tax Included) 

T-shirt (Okarun, Turbo-Granny, 2 varieties): ¥3,850 each

©︎龍幸伸 / 集英社

Information

Dandadan x TOWER RECORDS

Release Date: December 3, 2021 *Reversable bag will go on sale December 10

Participating Locations: Shibuya, Shinjuku, Sapporo PIVOT, Sendai PARCO, Ikebukuro, Akihabara, Machida, Kawasaki, Nagoya Kintetsu Pass'e, Umeda NU Chayamachi, Fukuoka PARCO

Tower Records Online: https://tower.jp

Details: https://tower.jp

Manga Artist Macoto Takahashi Collaborates With Tsudanuma PARCO for Christmas Event

Legendary shojo manga artist Macoto Takahashi is collaborating with Tsudanuma PARCO in Funabashi, Chiba, for the 2021 Christmas event from November 19 until December 25, 2021. The creator recently released an art book featuring many of his works titled 'Macoto Takahashi's Jewelry Box.' An exhibition featuring mini-prints and mini-panels of works featured in the book will also be held, and merchandise will be on sale both on-site and online. 

Main Visual

Window

After his debut in 1953, Takahashi published the manga series Arashi wo Koete and Princess Anne. His signature style of depicting glittering stars in the eyes of his protagonists would have a lasting influence on other manga artists. In the 1960s and 1970s, he was at the helm of many magazine covers and illustrations for popular girls' manga magazines like Nakayoshi, Shojo Friend, and Margaret. Despite his classic style, his works are still largely popular today. The main visual for the event 'Lucky Star' features a girl in a red Christmas-themed costume surrounded by animals, blue snowflakes, and delicate lace.

Information

MACOTO CHRISTMAS 2021

Running: November 19 – December 25, 2021

Location: Tsudanuma PARCO 1F Entrances, Windows (Christmas Decorations) /

B Building 4F, In front of ACADEMIA Kumazawa Bookstore, Next to Escalators (Exhibition / Shop)

Online Store: https://kaeru.parco.jp/shop/detail/shop000027204/

Popular Seinen Manga Series Mononogatari Getting Anime Adaptation

Manga series Mononogatari is finally getting an anime adaptation. The series began in Shueisha's Miracle Jump in April 2014, switching to Ultra Jump in January 2016. Onigunso, the manga's creator, drew an original illustration to celebrate the announcement and posted it to Twitter along with a comment. 

Comment from Onigunso

"Thanks to the support of so many people, Mononogatari is becoming an anime series. Thank you to all of the readers, and thank you to everyone involved in this project! As a manga artist, I draw the character's movements and words, but it can be hard to visualize exactly how it would look in motion. As the author, I'm looking forward to seeing how the characters appear on screen. I hope you'll continue supporting both the manga and anime series in the future!"

Mononogatari Synopsis

As objects get older, they eventually get worn-out and rusty. When this happens, they develop a 'soul,' becoming a tsukumogami. Hyoma Kunato hates these creatures for stealing something important from him. Traveling to Kyoto, he meets Botan Nagatsuki, a girl who loves tsukumogami and lives with six of them as her family.

©オニグンソウ/集英社

Sanrio Starts First Multiprotagonist Manga Series 'Maimaimaigoen,' Focusing on Growing Pains

Sanrio has started an ambitious new manga project. 'Maimaimaigoen' is currently being serialized on the Young Ace UP website, and a special music video by Vocaloid producer Kairiki Bear has been released to celebrate the series start. A free game is also under development and is scheduled to be released during 2021. 

Nursery School Students: (From the Top Row, Left) Maria, Hikaru, Shinta, Kanata, Daigorou, Lion, Lime, Zoya (From the Bottom Row, Left) Madoka, Yuzuriha, Hayate, Mamoru, Rinrin, Wataru, Daiya, Aki

Teachers: (From the Left) Yuu Okada, Rumi

The Mysterious Lifeform, 'Froggy Egg' 

(c)Yakan Nabeya

(c)Yakan Nabeya

'Maimaimaigoen' is an ensemble drama series focusing on emotional growing pains. In an age where many people feel uncomfortable in their own skin, this story is sure to hit close to home, affirming that it's perfectly okay to be just the way you are. The story invites readers into the world of many diverse characters, each with incredible individuality. 'Maimaimaigoen' aims to team up with unique creators in the future, and with that in mind, Sanrio has released some guidelines for fan content. This is the first time Sanrio has ever directly offered support to fan creators. 

To commemorate the manga's release, a collaborative music video with popular Vocaloid creator Kairiki Bear is now available to watch on YouTube. The artist has over 560,000 subscribers. 

The latest information about the project will be released on pixivFANBOX, along with new creator content and behind-the-scenes stories. Don't miss it!

Synopsis


One day, a group of nursery school students and their teacher, Yuu, go on a field trip to Sanrio Puroland. Suddenly, they are swept away into a deserted amusement park called 'Yuuropia.' 

Froggy Egg, a mysterious creature from this strange world, explains that by completing the attractions in the park, the children can return to their world…

Love of Kill Anime Adaptation Coming January 2022, 1st Key Visual and Trailer Unveiled

The popular manga series Love of Kill is getting an anime adaptation in January 2022, and the first image and trailer have been released. The key visual shows the members of Ritzland Support, the organization to which the main character Chateau Dankworth belongs, and the people targeting Son Ryang-ha. In the first trailer, you can see a glimpse of the fierce battles between hitmen to expect in the series set to Toshiki Masuda's theme song Midnight Dancer.

Key Visual

1st Trailer

 

More cast members have also been announced: Kenyu Horiuchi will play Ritzland Support owner Euripedes Ritzland, Kohei Amasaki will play Jim (named Indian in the manga), Tomoaki Maeno will play Hou, and Hochu Otsuka will play Donny. Each actor has also provided a comment about the upcoming series. 

To celebrate the release of the first trailer, a special campaign is taking place on Twitter now, with the winner snagging a script signed by the aforementioned actors as well as Saori Onishi (Chateau) and Hiro Shimono (Son Ryang-ha). Don't miss it!

Cast Comments

Kenyu Horiuchi (Euripedes Ritzland) Comment
When I was chosen to perform in the Love of Kill anime adaptation, I quickly fell in love with the series. I expected it to be about this twisted love between killers, but it's much deeper than that. So many characters are intertwined, and their pasts are continuously being unraveled. There's a love between two incompatible people, and it is portrayed with such heartache. The story is so action-packed and full of content. I play the role of Euripedes Ritzland, who is unreliable but who gets things done when he has to. There is so much kindness in his heart. I just hope that everyone who sees the show enjoys it–it's a wonderful work of art.

Kohei Amasaki (Jim) Comment


I've loved Jim as a character since I read the original manga, so I'm super excited to play him. There was a lot of trial and error while I tried to find the best way to express him, and I hope you'll enjoy what I came up with! The story is addicting, the characters are fascinating, and Jim is a major player in the story…Please watch!

Tomoaki Maeno (Hou) Comment


This is a super impactful character. Ho has his own personal beliefs and objectives, and these drive his every action. My first impression of Ho was that he was a somewhat unlikeable character, but I grew to love his cunning. He knows that he could be killed if he isn't careful at every moment. Please enjoy his story.

Donny (Hochu Otsuka) Comment


I am so excited to portray Donny in Love of Kill. Donny was born in noir and lives in noir. I absolutely love noir novels, so this is my dream role! It's ruthless, it's cruel, it's filled with sorrow. I hope you'll look forward to the first episode!

Toshiki Masuda (Opening Theme) Comment


This is the first time I've ever performed an anime theme, so I've really been feeling the pressure. While creating this song, I wanted it to express the world of Love of Kill without spoiling anything. Please enjoy the song as much as I do!

Aika Kobayashi (Ending Theme) Comment


I'm so proud to announce that I will be performing the ending theme, Makoto Period, for the Love of Kill anime series. I read the original manga before starting the project, and I ended up binging it in one go. While reading, I couldn't help but wonder–what is true and what is false? It's sad, it's filled with love and pain. I created this song with those feelings in mind. Please enjoy the show!

SPYxFAMILY Anime Adaptation to be Celebrated at Animate for Limited Time

Last week, it was announced that the popular manga series SPYxFAMILY would receive an anime adaptation by Wit Studio and CloverWorks in 2022. Animate locations across Japan will be celebrating this amazing news with a special SPYxFAMILY anime-themed fair from November 27 until December 12, 2021. Certain goods will also be available online!

Written and illustrated by Tatsuya Endo, SPYxFAMILY has been running in Shonen Jump+ since 2019. With over 11 million copies in circulation, it has been growing more and more popular over the past two years, with volume six recently becoming the series' second consecutive volume to debut at number one on Oricon's weekly list of best-selling manga. SPYxFAMILY tells the story of a spy who must 'build a family' to complete a mission, not realizing that the girl he adopts as his daughter and the woman he agrees to fake marry are a mind reader and an assassin. 

Merchandise

Clear Folder (3 varieties): ¥440 each (Tax Included) 

Acrylic Keychain (3 varieties): ¥715 each (Tax Included) 

Acrylic Stand (3 varieties): ¥1,650 each (Tax Included) 

Tote Bag: ¥1,980 (Tax Included) 

For every ¥1,000 spent on SPYxFAMILY goods during the event, visitors will receive a random clear bookmark (3 varieties). A bonus illustration of Loid, Yor, and Anya will also be gifted as a bonus. 

Are you excited for the upcoming anime adaptation?

(C)遠藤達哉/集英社・SPY×FAMILY製作委員会

Artist Macoto Takahashi, Known for Shojo Manga Paintings, Releases Art Collection

You've likely seen Macoto Takahashi's artwork before. Imagine a girl with large, starry eyes, clad in over-the-top elegant clothing. For the past 68 years, Takahashi has been drawing princesses and girls to turn heads, each of them full of life and captivating coquettish energy. 

After his debut in 1953, Takahashi published the manga series Arashi wo Koete and Princess Anne. His signature style of depicting glittering stars in the eyes of his protagonists would have a lasting influence on other manga artists. In the 1960s and 1970s, he was at the helm of many magazine covers and illustrations for popular girls' manga magazines like Nakayoshi, Shojo Friend, and Margaret. 

Since 1992, Takahashi has regularly held solo exhibitions of new works, and these activities have expanded overseas as well. His paintings were used in the 2018 Comme des Garçons SS collection, and there's no sign that his style will fall out of favor any time soon. 

On October 28, an art book filled with Macoto Takahashi's beloved images was released. The 232-page book features over 150 works from the 1960s to the current day and is compact enough to bring anywhere. 

Information

Macoto Takahashi's Jewelry Box

Released: October 28, 2021

Price: ¥3,300 (Tax Included) 

Manga Artist Kazuo Umezu's Work Featured in UMEZZ ART PROJECT Exhibition

UMEZZ ART PROJECT logo featuring self-portrait by Kazuo Umezu ©Kazuo Umezu

The UMEZZ ART PROJECT, focusing on the works of manga artist Kazuo Umezu, is coming to Tokyo City View in Roppongi Hills in Tokyo from January 28 until March 25, 2022. The artist is widely known for his work on a number of horror series including Cat Eyed Boy and The Drifting Classroom, Working in the industry since 1962, his works have inspired a number of other manga creators, with Urusei Yatsura and Inuyasha creator Rumiko Takahashi once serving as Umezu's assistant.

Orochi(1969-1970)


The Drifting Classroom(1972-1974)


My Name is Shingo(1982-1986)


*Dates of serialization in parentheses.


©楳図かずお/小学館

Is the Order a Rabbit? Series 10th Anniversary Exhibition Coming to Tokyo and Osaka

The popular four-panel manga series Is the Order a Rabbit? premiered in 2011. Written and illustrated by Koi, the series has been serialized in Manga Time Kirara Max for the past decade and is still ongoing, while three seasons of the anime have been aired starting in 2014. To commemorate the series' ongoing success, a new exhibition is scheduled to open in both Tokyo and Osaka in October and November. 

Mini-Panels Drawn by Koi (7 varieties)

Tickets for the Tokyo event will go on sale starting at 5:00 PM on October 15. Remember, these tickets are first-come, first-served, and each will feature a specific date and time, so don't miss out! As a special gift, those buying tickets will receive a random original mini-panel drawn by the series creator upon entry. Head to the official Twitter page to take part in a new campaign to win tickets to the Tokyo exhibition!

(C) Koi/芳文社

Information

Is the Order a Rabbit? Exhibition Café Lumière Tokyo

Running: October 29 – November 7, 2021

Address: Hulic Hall 2F (1-22-16 Asakusabashi, Taito-ku, Tokyo)

Hours: 10:00-20:00 (Last admission at 19:30)

*Exhibition will close at 18:00 on November 7, last entry at 17:30

Ticket Information (Tokyo)

General Admission: ¥1,800 (Advance tickets) / ¥2,000 (Day-of tickets)

Tickets on sale starting October 15, 17:00

Where to Buy: 

Lawson Ticket

Online: https://l-tike.com/gochiusa-exhibition

In-store sales: Available directly from Loppi at Lawson and Ministop stores. 

Is the Order a Rabbit? Exhibition Café Lumière Osaka

Running: November 18 – November 30, 2021

Address: Daimaru Umeda 13F (3-1-1 Umeda, Kita-ku, Osaka)

Hours: 10:00-20:00 (Last admission at 19:30)

*Exhibition will close at 18:00 on November 30, last entry at 17:30

**Hours of operation are subject to change. 

Official Twitter: https://twitter.com/GochiusaT (@GochiusaT)

Official Site: https://gochiusa-exhibition.com

Frederic Performs Opening Theme for The Night Beyond the Tricornered Window Anime Series

Kobe-based rock band Frederic has been chosen to perform the opening theme song for the upcoming supernatural boys-love series The Night Beyond the Tricornered Window. The song, Saika, will be available on streaming services October 6.

Koji Mihara, bassist and vocalist for the band, wrote the lyrics to the new track. "Something about the way each character's mental state is addressed so delicately really drew me in. I'm more of an expressive artist, someone who's aware of even the sounds the audience can't hear. I approached this with feeling, and a deep awareness of how each character feels. There's something powerful about two people with such strange talents working so closely together, even though they think so differently. I hope you'll enjoy Saika, and also enjoy this very deep and moving story about these two unique people."

The upcoming anime series The Night Beyond the Tricornered Window is based on the popular manga series of the same name, written and illustrated by Tomoko Yamashita. It ran from 2013 until 2020 in the popular monthly yaoi manga magazine Be x Boy, and has sold over 2 million copies. The horror mystery follows Kosuke Mikado, a bookstore clerk able to see spirits, and Rihito Hiyakawa, an exorcist.

The Night Beyond the Tricornered Window will premiere in October on TOKYO MX, Sun Television, BS Fuji, and Fuji On-Demand. A promotional video has been released featuring the new track and some footage from the series, so give it a watch!

The Night Beyond the Tricornered Window PV

Frederic is currently working on a new album, with a nationwide tour set to start from Sendai Rensa on October 31.

©ヤマシタトモコ/リブレ・さんかく窓プロジェクト

Exclusive Collection Releases in Collaboration with Japanese Manga Legend Osamu Tezuka

HIRUME, a company in Japan that provides creative idea using Japanese traditional techniques and material, has launched an exclusive collection in collaboration with Osamu Tezuka, a Japanese manga legend, from March 24 to April 13 at HIRUME Hankyu Umeda in Osaka.

Silk Scarf "Phoenix" | ¥42,000 (tax not included)

Modal Cashmere Scarf | ¥52,000 (tax not included)

3 set of Mamezara small plates | ¥3,800 (tax not included) / single Mamezara ¥1,500 (tax not included)

2 set of Mamezara small plates | ¥2,800 (tax not included) / single Mamezara ¥1,500 (tax not included)

Osamu Tezuka changed the concept of Japanese manga and established the ways to express manga with stories that led it into the realm of art. Tezuka's characters continue influencing all genres, including literature and movies from generations to generations. His eternal theme of life and its preciousness was pierced in all his works which continue sending powerful messages.

The collection has inspired by Tezuka's manga series Phoenix, his life work that he continued to work passionately until his late years, and Black Jack, which is still popular overwhelmingly among the doctors. The silk scarf embellishes prints of Black Jack. Mamezara the small plates come with 2 designs of Phoenix and Black Jacks gorgeously.

The collection with Osamu Tezuka's manga that you can enjoy in your daily life is unmissable.

Information

HIRUME × TEZUKA CHARACTERS

Running :From March 24 ,2021 to April 13,2021

Address: 61 Koto Koto Stage 6F, Umeda Hnakyu, Osaka

Official Site:https://www.hirume.jp

An Otaku's Dream: The EJ Anime Hotel in Saitama Where You Can Stay in Rooms Themed On Anime Series

Manga publisher KADOKAWA opened the new anime concept hotel EJ Anime Hotel at Tokorozawa Sakura Town in Tokorozawa, Saitama, on October 1, 2020.

Tokorozawa Sakura Town is a new shopping complex set to open on November 6, 2020, where it will serve as a hub for the latest in Japanese pop culture with events, shops, restaurants, a museum, and more. EJ Anime Hotel opened on early Thursday in the run up to the complex's grand opening to welcome guests.

The 'EJ' of EJ Anime Hotel stands for 'Entertainment Japan.' The hotel aims to have guests living inside the stories they love from a wide range of Japanese media from anime to manga, movies, tokusatsu SFX movies, idol culture, and more.

As well as room decorations and the exclusive merch that will be on sale, the hotel is also offering a new kind of accommodation experience by incorporating videos, sounds, lighting, and more. Its restaurant will also offer a selection of food and drink in collaboration with various series including all-out full course dinners.

When using the hotel elevator, you will hear announcements from none other than popular Japanese voice actor Yuki Kaji who has played many big roles in anime including Eren Jaeger in Attack on Titan. "As an anime fan first and foremost, having such a fun concept hotel like this open, not to mention getting to be involved as an announcer, makes me really happy," explains Kaji. "I want guests to make some great memories staying at EJ Anime Hotel."

"Bofuri: I Don't Want to Get Hurt, so I'll Max Out My Defense." Collab Room ©2020 夕蜜柑・狐印/KADOKAWA/防振り製作委員会

"Uzaki-chan Wants to Hang Out!" Collab Room © 2020 丈/KADOKAWA/宇崎ちゃん製作委員会

"KonoSuba: God's Blessing on this Wonderful World!" Collab Room ©2019 暁なつめ・三嶋くろね/KADOKAWA/映画このすば製作委員会

"A Certain Scientific Railgun T" Collab Room ©2018 鎌池和馬/冬川基/KADOKAWA/PROJECT-RAILGUN T




"Yuki Yuna Is a Hero" Collab Room ©2017 Project 2H

Right now, EJ Anime Hotel is collaborating with five different anime series: Bofuri: I Don't Want to Get Hurt, so I'll Max Out My Defense., Uzaki-chan Wants to Hang Out!, KonoSuba: God's Blessing on this Wonderful World!, A Certain Scientific Railgun T, and Yuki Yuna Is a Hero. The hotel is taking bookings on its official website.

If you're thinking of travelling to Japan as an anime fanatic, then look no further and book with EJ Anime Hotel.

Information

EJ Anime Hotel
Grand Opening: October 1, 2020
Location: Tokorozawa Sakura Town Floor 6F
Address: 3-31-3 Higashitokorozawawada, Tokorozawa-shi, Saitama Prefecture
Opening Hours: 24 hours a day
Check In: 4pm / Check Out: 10am
No Fixed Holidays
Official Website: https://tokorozawa-sakuratown.jp/hotel/