MOSHI MOSHI GOURMET:Obanzai (a traditional Japanese cuisine native to Kyoto), tasty sake, and delicious set meals
Most people have an impression that the restaurants in Kyoto are high-priced.
Kyoto is actually one of the highest costs of living after Tokyo and Kanagawa, so you might feel it's expensive when you go out to eat at restaurants around the sightseeing spots.
However, there are some reasonable restaurants. I would like to introduce a good restaurant which is located in the middle of downtown in Kyoto. The restaurant is called "Kyo Obanzai Dining Takayama" and the slogan for this restaurant is "Obanzai (a traditional Japanese cuisine native to Kyoto), tasty sake, and delicious set meals" is located on a side road on the way from Shinkyogoku Street to Kawaramachi Street.
While most restaurants in Kyoto close early, this store is open until eleven PM, so it is a good place for drinking and eating Obanzai. They also serve local brewed sake.
The set meal in this picture is "hamburger meat and kara-age set meal (780yen)." It is very popular on the menu since you can taste two different kinds of meat foods. The hamburger meat is thick and has a rich taste with plenty of sauce, and kara-age is crispy and delicious. These foods are already fulfilling, but it is great that you also get as much rice and miso soup as you want. There are a variety of kinds of food on the menu that only cost 780yen or 880yen.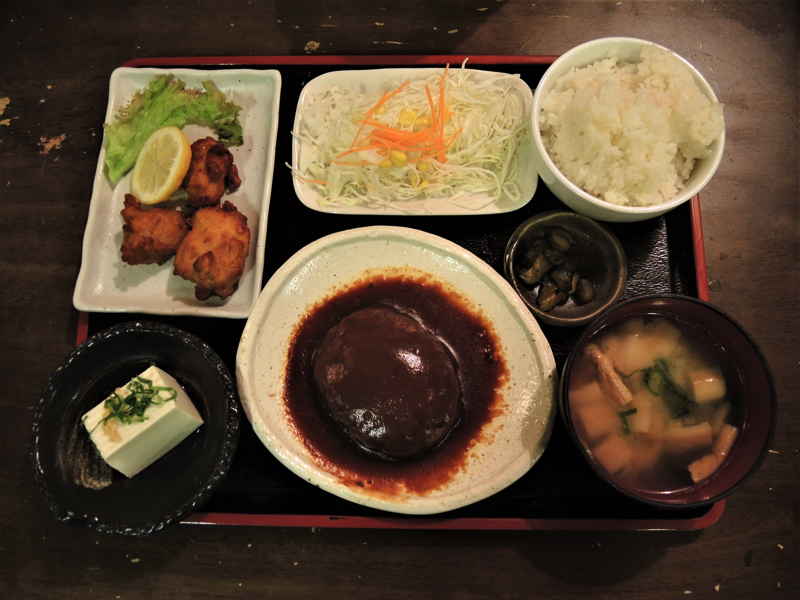 If you want to drink at first, I would recommend you to order "Otsukare-sama set (1000yen)" which has both of sake and Obanzai. One glass of alcohol (beer, sake or sho-chu), the food to go with drink such as deep fried skewer, small bowl of food such as pickles, and today's main dish such as grilled fish will be served in this plate.
It is a very useful restaurant when you visit Kyoto.
■Kyo-No-Obanzai Sake-Dokoro Takayama
Address: 457-3 Matsugaecho, Nakagyo-ku, Kyoto 604-8034, Kyoto
Maki(Writer)
−−−
■Related article:MOSHI MOSHI GOURMET Why don't you go bar hopping at "Omoide Yokocho"?
■Related article:MOSHI MOSHI GOURMET Enjoy with your friends on New Year holidays at "Niku-Sakaba"