6 Must-Visit Cafes in Hokkaido For Their Kawaii Pancakes
Hokkaido is the northernmost of Japan's islands and a popular tourist location with both locals and overseas visitors, enjoyed for its winter sports like skiing, hot springs and more. It is also enjoyed for its cool climate, being the coldest region in Japan. It's home to many tourist spots and seafood restaurants, but today we're covering its countless cute cafes.
Kei, a Japanese Instagrammer, posts his visits to the many cafes of Sapporo―the capital of Hokkaido―on his Instagram page(
607keih). Today he will introduce us to 6 must-visit cafes in Hokkaido with the cutest pancakes.
Fafi Tamago no Pancake g-plus (Susukino, Sapporo)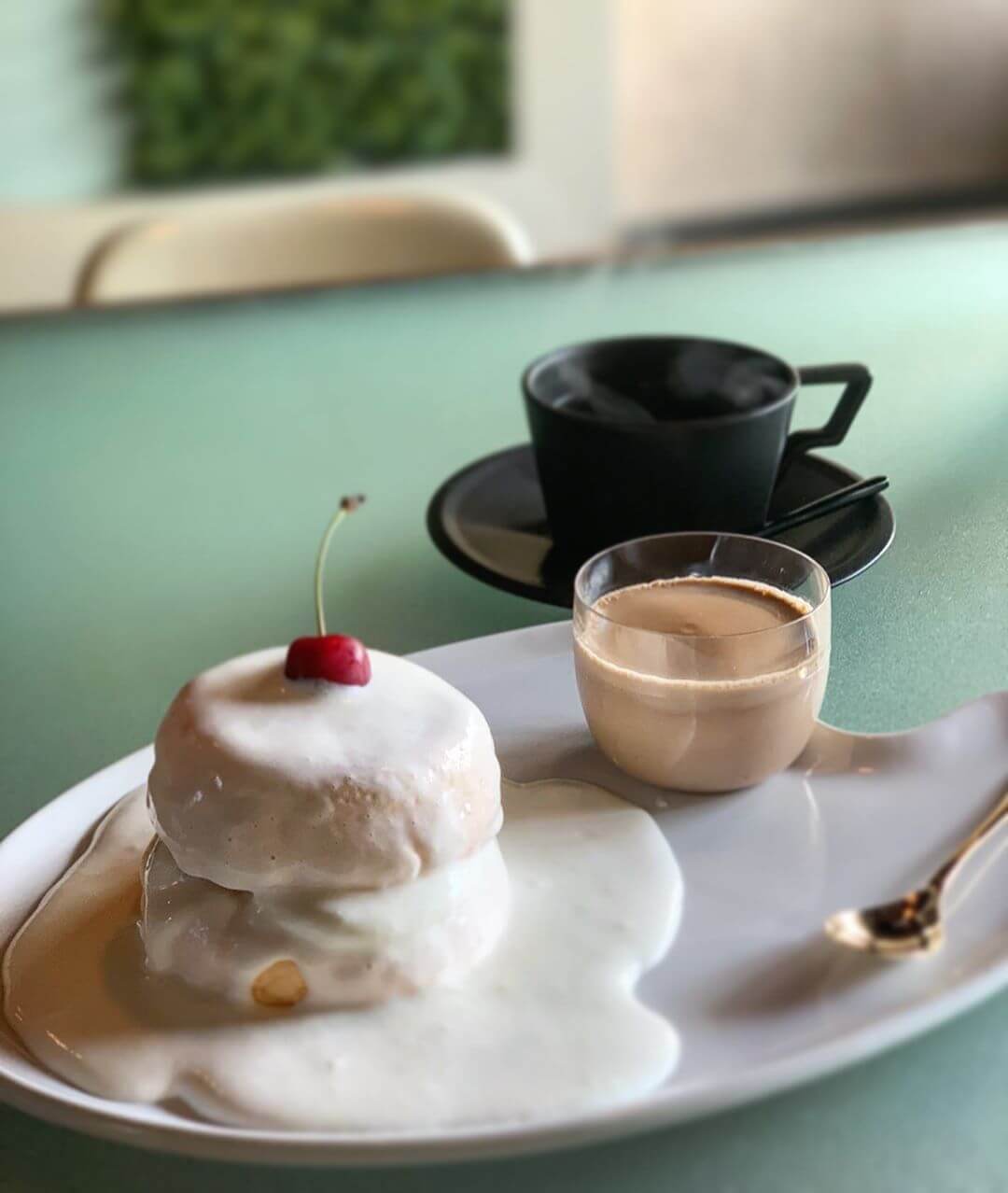 This popular little cafe in the district of Susukino showcases its assortment of pancakes in a glass display. The cafe now sells affordable pancake and purin sets. I ordered the "Fruits and Milky & Chocolate Purin" set (¥980).

The fluffy pancake is made with Fafi's famous eggs which have a rich flavour and big yolks. The milky cream is sweet and silky smooth. Inside the pancake is delicious pineapple and strawberries which add a deliciously fruity accent.
Their pancakes are noticeably smaller at g-plus but since it comes with a purin in the set you're sure to be nice and full after. The set is perfect to share too.
▼Fafi Tamago no Pancake g-plus (Japanese: ファフィたまごのパンケーキ g-plus)
Address: 9-1019 Minami 5 Jonishi, Chuo Ward, Sapporo, Hokkaido
Business Hours: 11:30-19:00 (Last Orders 18:00)
Closed: Thursdays & Fridays
Official Website: https://g-plus.owst.jp/
Café ZIKKA (Kiyota, Sapporo)
Café ZIKKA serves a variety of pastries and desserts. Their elusive strawberry pancakes are a limited-time-only offer. These fat and fluffy pancakes have a distinctly different taste to other places. Heaping with strawberries, the fruit and pancakes marry in the most sumptuous of flavours when eaten with the yogurt ice cream centre. The strawberries also come in a variety of forms including whole, compote and sauce, making for a variety of succulent textures.

The fresh cream isn't overly-sweet making for a lighter pancake. It's also topped with crushed almond for added texture. The size of the pancakes aren't huge but since it's served with two and many toppings you'll absolutely be satisfied afterwards.
▼Café ZIKKA
Address: 11-12 Hiraokakoenhigashi, Kiyota Ward, Sapporo, Hokkaido
Business Hours: 11:00-20:00 (10:00-19:00 in January and February)
Closed: Wednesdays (Open on national holidays)
Official Website: http://yoshidacoffee.com/index.html
Kaze o Kanjite (Motomachi, Sapporo)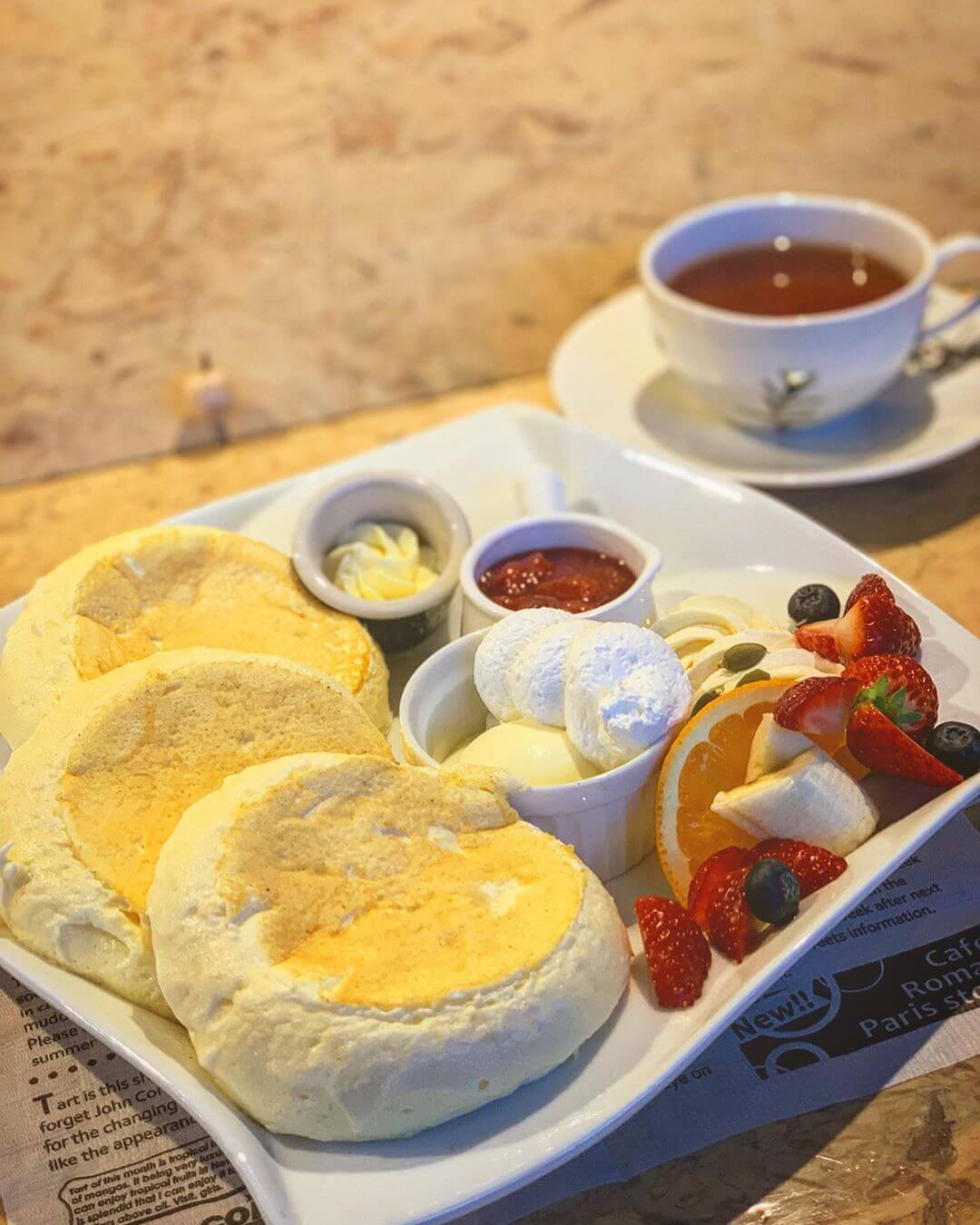 This cafe is just a 5-minute walk from Motomachi Station via the Tōhō Line. Simply exit from Exit 1 of the station, make a right and you'll arrive right there.
This cafe's aim is to bring it lots of students to eat their pancakes which are both cheap and delicious. I ordered the berry sauce pancakes.

The cafe's homemade strawberry jam contains pieces of fresh strawberry which alone already make the pancakes tantalising enough. They are served with a side of fresh fruits like extra strawberries as well as orange slices. The pancakes served here are so good that I personally count them as the best in Sapporo. That, and the prices are amazing for the huge portions you get. I want more people to get to know about this place, and not just students.
▼Kaze o Kanjite (Japanese: 風をかんじて)
Address: Kita House 1F, 17-2-3 Kita 24 Johigashi, Higashi Ward, Sapporo, Hokkaido
Business Hours: 10:00-18:00 (Last Orders 17:00)
Closed: Mondays & Tuesdays
Website: https://tabelog.com/hokkaido/A0101/A010202/1058705/
ROJIURA CAFÉ (Susukino, Sapporo)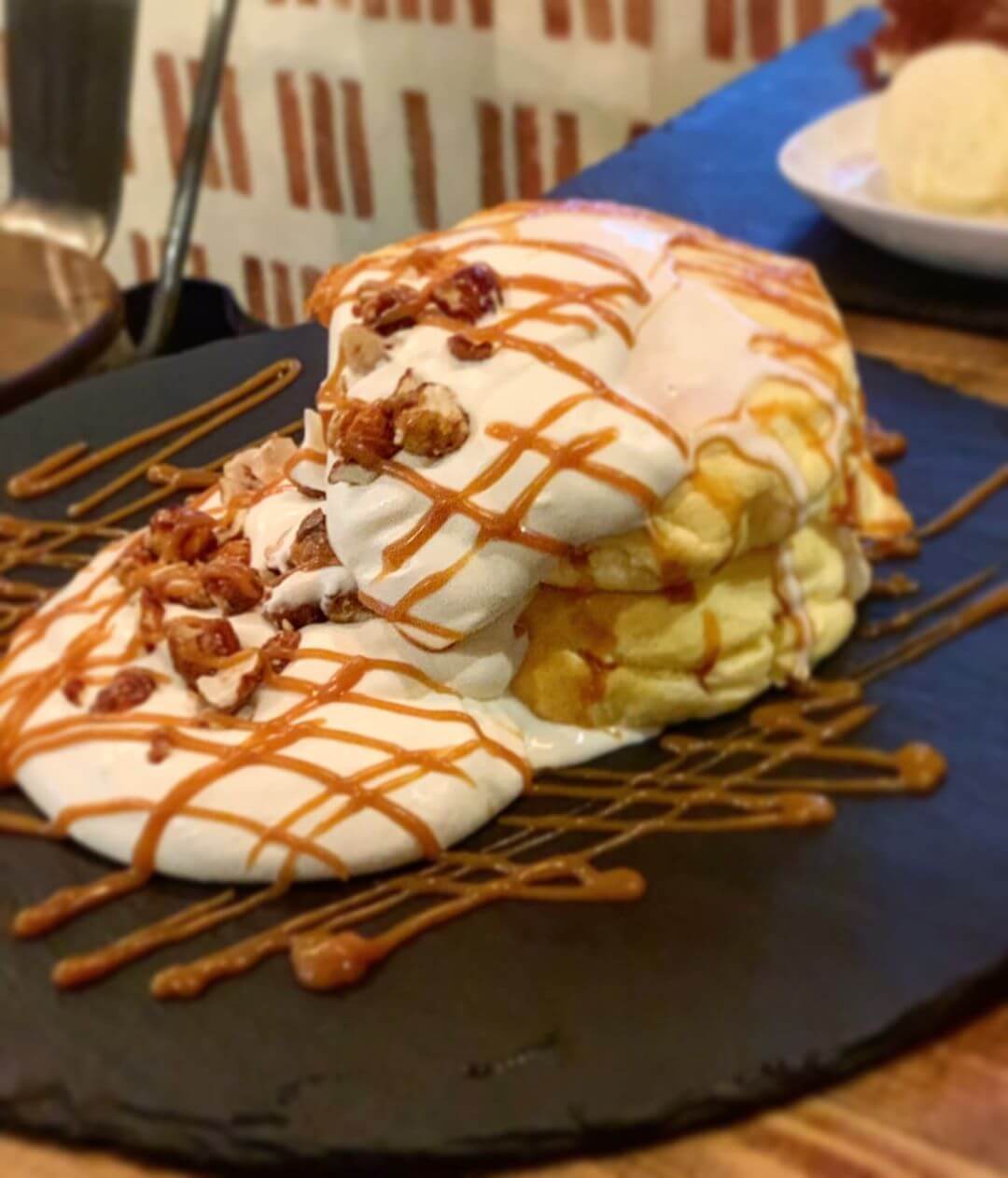 ROJIURA CAFÉ is another cafe located in Susukino round on the backstreet of Round One. They serve pancakes and parfaits right into the early hours of the morning.
Their caramel sauce has salt in it to add a mouthwatering salty flavour that draws out the sweetness of the fresh cream. The nuts only add to this delectable delight of a pancake.


Fine and fluffy pancakes fit for the gods. Whether it's a dessert like pancakes or parfaits or even meals, ROJIURA CAFÉ's doors are open to  you from the evening until the deepest hours of the night.
▼ROJIURA CAFÉ
Address: TAKARA6.3, 3 Chome Minami 6 Jonishi, Chuo Ward, Sapporo, Hokkaido
Business Hours:
[Mon-Thurs] 18:00-03:00 (Last Orders 02:00)
[Fri-Sat] 18:00-04:00 (Last Orders 03:00)
[Sun & Holidays] 18:00-01:00 (Last Orders 00:00)
No Fixed Holidays
Official Website: http://sapporo-rojiuracafe.com/
OJ Coffee (Kotoni, Sapporo)
You'll find OJ Coffee just a few minutes' walk from Kotoni Station in Nishi Ward, Sapporo. This cafe serves exquisite coffees and boasts an abundant menu consisting of soba noodles, curries, steaks and more. They also serve pancakes so I decided to give them a go.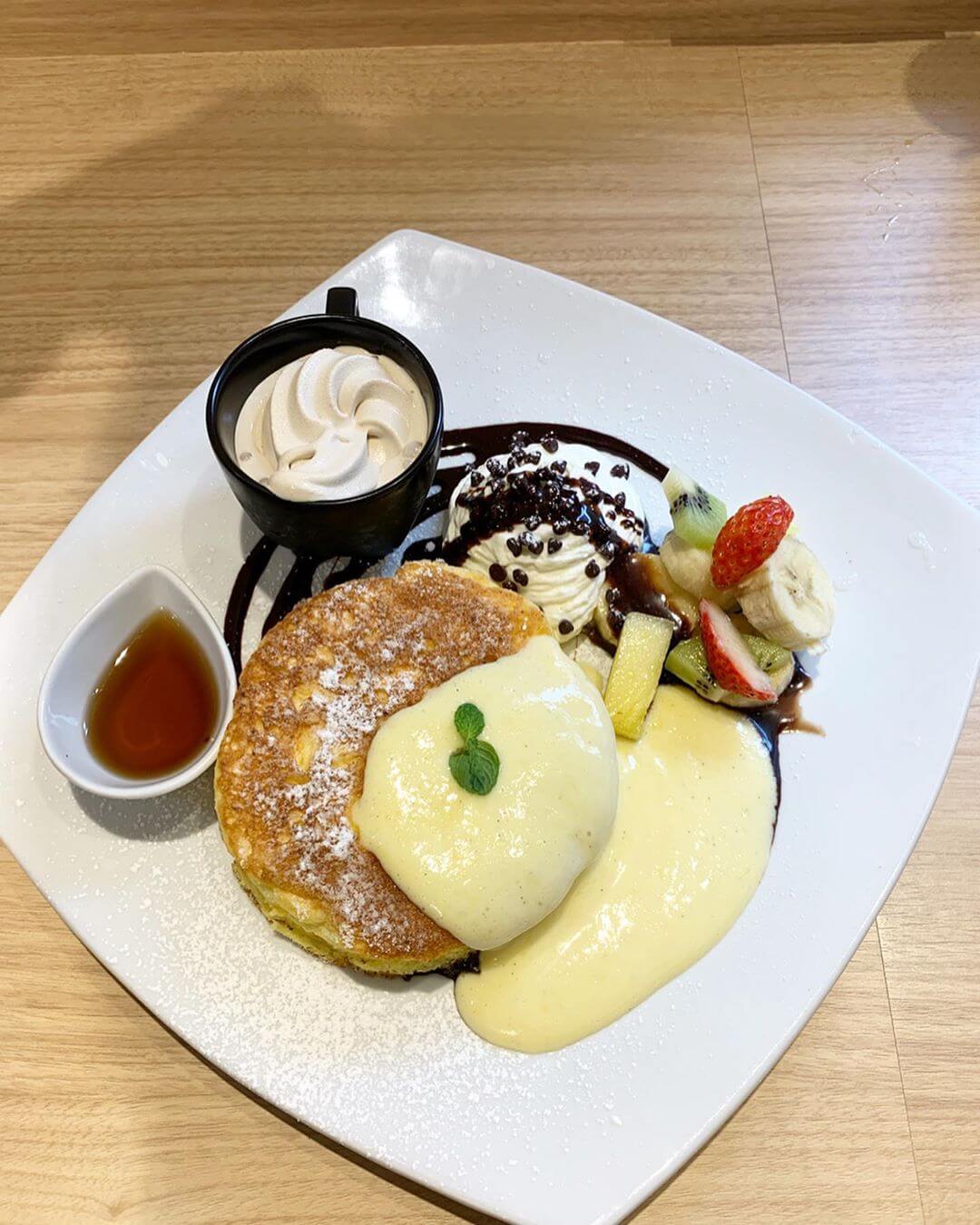 Fluffy, moist and glorious. The pancake is topped with custard and served with a side of fresh cream, both of which aren't overly sweet and go perfectly with the sweet beaten eggs of the pancakes. Decorated the outside of the plate is an assortment of fruits, maple syrup and other tempting treats for a variety of flavours. The coffee flavoured soft serve ice cream is a great palate cleanser too. The ice cream doesn't have the bitterness that comes with coffee but it's very coffee flavoured. It's close to Kotoni Station so if you're strolling around Nishi Ward looking for a cafe I highly recommend visiting here.
▼OJ Coffee
Address: D Planning Bldg. 1F, Kotoni 2 Jo, Nishi Ward, Sapporo
Business Hours: 7:30~22:00 (Last Orders 21:30)
No Fixed Holidays
Official Website: https://www.oj-coffee.com/
Café Blue (Ishiyama-dori, Sapporo)
Café Blue, built up from a renovated old house, is currently selling a new lemon and yogurt pancake for a limited time.
Their pancakes never fail to be anything less than fluffy. The generously drizzled yogurt sauce is fairly refreshing and sweet while still retaining that yummy yogurt flavour. The lemon curd sauce, too, is refreshing and combines well with the pancakes as lemon always does. The lemon also has honey in it making for a satisfyingly sweet and sour combination.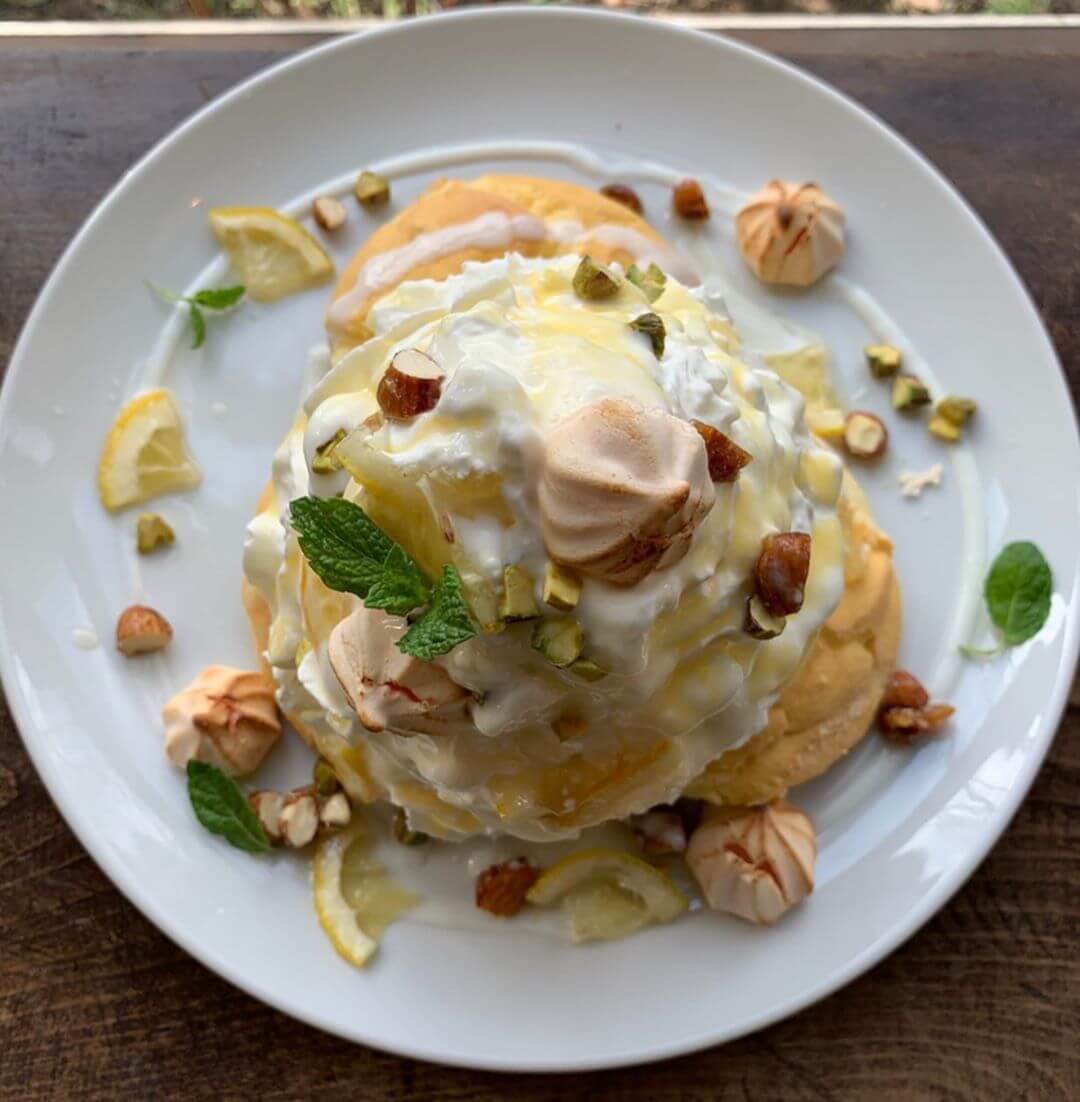 The ice cream on top is salt flavoured which bring out all the sweet flavours of the dessert. The crunchy almonds are nice and nutty and bring a great texture to the soft and sticky combinations. When I eat pancakes this is the  kind of thing I'm looking for!
The sauce was refreshing and the pancake overall was delicious and very easy to get down. The yogurt sauce really is amazing!
▼Café Blue
Address: 16-9-12 Minami 19 Jonishi, Chuo Ward, Sapporo, Hokkaido
Business Hours: 9:00-19:00 (Last Orders 18:00)
No Fixed Holidays
Website: https://tabelog.com/hokkaido/A0101/A010104/1036972/
Did you enjoy Kei's picks? Be sure to check out their Instagram page for more recommended desserts and foods to try in Sapporo. There's a wealth of choices on there that will make for great reference when travelling to Hokkaido.
Photo & Text: Kei (@607keih)
Translation: Joshua Kitosi-Isanga
RECOMMENDED ENTRIES
Aladdin Inspired Afternoon Tea Wishes Its Way to VINO BUONO in Omotesando

The Omotesando branch of VINO BUONO is now selling a special Aladdin-themed afternoon tea until September 1.

This luxurious tea set comes with a mix of light savoury food and desserts. But the savoury side of it isn't your conventional assortment, instead coming with four different selections including tandoori chicken pitta bread sandwiches, a couscous and seafood salad, and more.

The scones contain sweet and fragrant rosemary honey which fill are sure to tickle your fancy.

The Pistachio Macarons and Arabian Night Blanc-Manger are glazed in a beautiful blue colour reminiscent of the world of Aladdin. And don't forgot the cute Magic Lamp Cookie with its blue centre―it's almost too good to eat!

Other delights include the Mango & Flower Verrine, Pyramid Mousse, and gorgeous tea that looks like it has had a spell cast on it.

Take your special someone to VINO BUONO this summer and show them the world with this limited-time Aladdin afternoon tea.

Information

VINO BUONO

Address: Portofino Floor 2F, 3-15-5, Kita-Aoyama, Minato Ward, Tokyo

Business Hours: Weekdays 11:30-17:00 (Last Entries/Orders 15:00) / Weekends & Holidays 14:00-17:00 (Last Entries 15:00 / Orders 15:30)

*2 hours allotted

Closed: Mondays & Tuesdays

Official Website: https://www.bestbridal.co.jp/restaurant/vino-buono/

Special Afternoon Tea

Running: Now Until September 1, 2019

Price: ¥3,360 (Tax & Service Charge Included)

Delicious Matcha Desserts Released at Itohkyuemon Gion Shijo in Kyoto

Kyoto-based green tea company Itohkyuemon has been around since the end of the Edo period, its longevity having established itself has a hugely popular store. The company have just announced that they will open their first ever tea house extension in Kyoto called Itohkyuemon Gion Shijo on August 7.

The cafe will serve up its own exclusive menu items from desserts to meals.

(Left) Gion Parfait – ¥1,480 / (Right) Sweets Plate – ¥1,680

The Gion Parfait is made with high-quality Uji matcha, something Itohkyumon is renowned for. It's served in a large parfait class bigger than their usual matcha parfait and is stacked sumptuously with chestnuts, tamba black beans, chocolate, a slice of Uji matcha roll cake, and more.

If you love Japanese tea then you'll adore the Sweets Plate which is filled with an assortment of matcha and houjicha sweets.

Matcha Curry Udon: ¥980

The Matcha Curry Udon, which was previously sold only at the JR Uji Station branch of Itohkyuemon, will now be served at the new establishment. This Itohkyuemon-original dish is a combination of chewy matcha udon noodles and white broth matcha curry. The curry is also served as a souvenir; when it was first released in 2014 it sold out its stock of 2,000 in just two days. Experience matcha like never before when visiting Kyoto at Itohkyuemon Gion Shijo.

Information

Itohkyuemon Gion Shijo

Address: 586 Gionmachi Minamigawa, Higashiyama Ward, Kyoto (Japanese Address: 京都市東山区四条通大和大路東南角祇園町南側586 井澤南ビル)

Business Hours: 11:00-19:00 (Last Orders 18:30)

No Fixed Holidays (Except New Year's)

Website: https://www.itohkyuemon.co.jp/site/gionshijo/

Gion Parfait

Price: ¥1,480 (Tax Included)

Sweets Plate

Price: ¥1,680 (Tax Included)

as Drink Set: ¥1,980 (Tax Included)

Matcha Curry Udon

Price: ¥980 (Tax Included)

as Rice Set: ¥1,240 (Tax Included)

as Rice & Mini Parfait Set: ¥1,580 (Tax Included)

Korea Town Shin Okubo's Hottest Shaved Ice This Summer | Seoul Café

Hi, everyone. I'm Banako of MOSHI MOSHI Friends!

Shin Okubo is known as Japan's Korea town, taking in all the current trends from Korea before anywhere else. It's also become a hot spot for food and dining. Today, I'm here to show you the perfect thing to cool you down from the summer heat. I visited the Seoul Café to try their "Seoul Bingsu" which looks like a spool of thread. It's looking to be the next big thing with its unique texture.

Seoul Café is located on the second floor of a building just a 5-minute walk from Shin Okubo Station.

It just opened in March of this year. Its interior is based on the colour white against white sits stylish decor. At this café you order at the counter. I went ahead and got the "Seoul Bingsu Mango" (¥1,300).

It comes with a huge slice of mango! And just like its name implies, it looks like thread. Using a fork to eat it feels fresh too, it's a fun way to enjoy shaved ice.

The centre is packed full of fluffy shaved ice. It's super soft and melts in your mouth, but since it's packed tightly it's satisfyingly filling. It's easy to eat and has a unique texture. And if you eat it together with the mango it makes for an even tastier dessert♡

Seoul Café's menu is full of Instagrammable desserts. In addition to the Seoul Bingsu there's also Seoul Waffles and lots more.

If you're passing through Shin Okubo on a trip to catch up with the latest in Korean pop culture then be sure to pay a visit to Seoul Café to try their Seoul Bingsu and experience a whole new kind of shaved ice.

Information

Seoul Café

Address: Seoul Café 2F, 1-16-30 Okubo, Shinjuku, Tokyo

Business Hours: 11:00-23:00 (Last Order Food 22:00/Drinks 22:30)

No Fixed Holidays

Access: 5-minutes on foot from Shin Okubo Station and Seibu-Shinjuku Station

Tabelog Site: https://tabelog.com/tokyo/A1304/A130404/13232939/

Black Cheesecake & Other Delicious Seasonal Desserts Cooked Up at Daimaru Tokyo

School's nearly out for summer in Japan with summer break set to begin on July 20. Kids and adults alike can look forward rolling up to Daimaru Tokyo to get their sweet tooth hands on one of five special desserts available at Hoppe Town on the ground and first floor from July 17 to 23.

Let's take a look at these mouth-watering delights.

Basket Cheesecake (8cm) – ¥400 @ Aoyama Fromage (Floor 1F)

This cheesecake is all the rage in the dessert world this year for its eye-catching black surface. The burnt surface enjoys just the right amount of bitterness and is a perfect match for the soft, rich center.

CAKETALE (6 Included) – ¥648 @ CAKETALE (Floor 1F)

Tuck into one of six different of these different takes which have been turned into cat tongue biscuits. Flavours include strawberry shortcake, cheesecake, mont blanc and more, and they come in some seriously kawaii packaging which looks just like a book.

Tokyo Saku Saku Tiramisu Panda Package (16 Included) – ¥1,080 @ Tokyo Oraikan (Floor 1F)

Sink your teeth into these cute and crunchy rich panda tiramisu cakes♡

Dashi Shoyu (1 Bag) – ¥388 @ Okashi Rakuichi (Floor B1F)

This popular brand with their delicious flavours and cute packaging designs have their own shop in Senju in a low-lying part of the city where the Metropolitan Electric Railway runs through. This is their most popular product, a bag of crunchy soy sauce covered balls with a rich flavour.

Tokyo Lemonche (Includes 8) – ¥1,555 @ Tokyo Lemonche (Floor B1F)

A perfect summer treat, the Tokyo Lemonche is a light and refreshing lemon puff sandwich filled with lemon cream. You can really taste the original flavour of lemon in them.

Make a stop by Daimaru Tokyo this summer if you're in Japan!

Information

Seasonal Desserts

Running: July 17, 2019 – July 23, 2019

Location: Hoppe Town, Daimaru Tokyo (Floors B1F & 1F)

Daimaru Tokyo Official Website: https://www.daimaru.co.jp/tokyo/
RELATED ENTRIES
Snow Miku Collaborates with Sanrio's Kuromi to Promote Hokkaido Tourism

Snow Miku has teamed up with Sanrio's popular character Kuromi to promote the beautiful prefecture of Hokkaido! A new collection of goods went on sale starting December 14, 2022. 

Goods

Clear Folder

Pen with Clip

Mini Sign Board

Mini Towel (Set of 2)

Pin

Framed Magnet with Stand

Sticker

T-Shirt

Tapestry

Acrylic Stand

Acrylic Keychain

Rubber Keychain

Silver Foil 2-Layer Magnet

 

Snow Miku debuted during the Sapporo Snow Festival in 2010 when an incredible snow sculpture of Hatsune Miku was unveiled. Ever since then, Snow Miku festivals have popped up in Hokkaido each winter, and the character dons costumes designed by popular internet creators.





Kuromi is back this year, with Miku's outfit dyed black and tons of adorable art featuring the rock 'n roll character. The life-size version of Miku was designed by illustrator PiPi, and the chibi character was designed by illustrator Yoi. Between Miku's cute idol energy and Kuromi's edginess, this is the perfect collab for all audiences!

 

The items are available in two versions: Day, featuring Hokkaido's beautiful landscapes covered in snow, and Night, featuring twinkling winter lights. 

Don't miss out on these exclusive items!

Information

Hokkaido Exclusive – Snow Miku x Kuromi Hokkaido

Available: December 14, 2022

Official Site: https://snowmiku.com/

Report: Kyary Pamyu Pamyu's Tasty Time in Gastropolis Kobe – Sweets Edition

Kobe is filled with famous sightseeing spots like the nostalgic Ijinkan neighborhood and port. The city is packed with fashionable shops and restaurants and is highly regarded for its selection of tasty sweets!

The port city, with over 150 years of history, has fostered a unique and diverse culinary culture.

Recently, Kyary Pamyu Pamyu began starring in a series of promotional videos for the Gastropolis Kobe project. The artist traveled to the city to partake in plenty of delicious treats, and MOSHI MOSHI NIPPON went along for the ride! Here are some of the singer's favorite spots around town.

Kobe, known as a city where East meets West, is lined with sweets shops that are unique to the area.

The tea salon TOOTH TOOTH Dekoboko Sabo opened in 2019 in the Kobe City Museum and offers a menu that mixes Western food and sweets with tea and ingredients from traditional Japanese cuisine. Kyary ordered the Dekoboko Sabo Afternoon Tea Set, a collection of western sweets blended with the essence of traditional Japanese flavors. Guests are invited to enjoy their tea and sweets in a one-of-a-kind space filled with Meiji period flare and retro Western furniture. Those interested will need to make a reservation, so be sure to remember the next time you're in Kobe.

TOOTH TOOTH Decoboco Sabo

Address: 24 Kyomachi, Chuo Ward, Kobe (Inside the Kobe City Museum)

Hours: 9:30-17:30 (Last Order at 16:30) 

Closed Mondays

Official Site: https://toothtooth.com/restaurant/decoboco-sabo

The next stop was Kobe Nankin-machi, one of the three major Chinatowns in Japan. Kobe MILK is known nationwide for its Apricot Pudding, which is made with local ingredients. The raw apricot pudding is mixed with milk brought from the foot of Mt. Rokko and other ingredients from Hyogo Prefecture. Of course, Kyary ordered some, and was amazed by its fluffy texture. You can only enjoy it in Kobe–also, the shop sells other puddings mixed with seasonal fruits, so don't miss those either!

Kobe MILK

Address: Shin-Motomachi Building 1F (1 Motomachi-dori, Chuo-ku, Kobe)

Hours: Weekdays 9:30-19:00 / Weekends 9:30-19:30

Official Site: https://kobe-milk.com

For Kyary's final stop, the singer visited the Moore House, a cafe located in a building with over 100 years of history. Guests are surrounded by greenery, and the Western-style building is incredibly elegant. The Strawberry Mille-feuille Kyary ordered was created by an expert patissier and based on the strawberry mille-feuille recipe from the legendary French restaurant Maxim's de Paris in Ginza. A generous amount of custard cream complements the crispy pie crust and enhances the sweetness of the fresh strawberries. We'd recommend it with a glass of champagne–if you're of age.

Kitano Ijin-kan Moore House

Address: 2-9-3 Kitanocho, Chuo-ku, Kobe

Hours: 11:00-17:00

Closed Tuesdays

Official Site: https://www.kitanomoore.com/cafe/

The streets of Kobe are packed with sweets that you can only enjoy if you visit. Why not come experience these incredible spots like Kyary did?

Kobe Sweets Trailer: https://youtu.be/Sx9B1ZdAvlI

Hirosaki and Hakodate to Begin Winter Tourism Campaign with Snow Miku Starting December 2022

The cities of Hirosaki and Hakodate in Hokkaido have announced that they will team up with Hatsune Miku's popular iteration Snow Miku to promote tourism in the area this winter. A number of activities will begin in December 2022.

[Snow Miku x Hirohako] Collaboration Project

■Hirohako Winter Tourism Campaign Poster Featuring Snow Miku

・Period: Mid-November~February 28, 2023

・Locations: Facilities in both cities, tourist facilities, hotels, shopping areas

■Snow Miku Illustration Contest Exhibition Event

Over 50 illustrations have been submitted under the theme of Snow Miku and Hakodate / Snow Miku and Hirosaki. These will be on display through the winter!

・Running: December 1, 2022 – February 28, 2022

・Venues: Hirosaki Municipal Tourist Center (Hirosaki)
                    Kanemori Red Brick Warehouse (Hakodate)

■Snow Miku Photo Spot

Snow Miku panels featuring shamisen and apples from Hirosaki will be on display, while the Hakodate version will include references to squid fishing and footbaths. 

・On Display: December 1, 2022 – February 28, 2022

・Locations: JR Hirosaki Station, Chuohirosaki Station (Hirosaki)
                        JR Hakodate Station, Hakodate Airport (Hakodate)

■Digital Stamp Rally Using the Mikunavi App

A number of panels will be installed at five checkpoints in Hirosaki and Hakodate. A total of 1,000 people–500 in each city–will win original merch including a Snow Miku mask case and decorated masking tape. All you need to do is check in!

・Available: December 1, 2022 – February 28, 2022

・Locations: (Hirosaki) Hirosaki Municipal Tourist Center, Hirosaki City Machinaka  Information Center,

                         Hirosaki Tourist Information Center, Hirosaki Castle Information Center, Tsugaru-han Neputa Village

      (Hakodate) Kanemori Red Brick Warehouse, Yunokawa Hot Spring Footbath, Goryōkaku Tower,

Hakodate Green Plaza C Block (Hakodate Lumi-Pop), Old Public Hall of Hakodate Ward

■Hirohako Winter Tourism Campaign Theme Song and Music Video 

The tourism theme song will get a new music video that will be broadcast on YouTube, at local tourist facilities, and on TV and radio!

・On Air: December 1, 2022~

・Theme Song: Mahou no Keshiki (Lyrics/Composition: ryuryu)

■Snow Miku Welcome Announcements to be Broadcast at Tourism Facilities, etc. 

A one-minute welcome announcement by Snow Miku will air at tourist facilities!

・Running: December 1, 2022 – February 28, 2022

・Locations: Tourist areas in both cities

■Snow Miku Filters Using AR

When each barcode is scanned with a smartphone, Snow Miku will appear on the screen! Visitors can take pictures with Snow Miku to commemorate their winter trip to Hirosaki and Hakodate.

・Available: December 1, 2022 – February 28, 2022

60th Anniversary Sanrio Exhibition: The Beginning of Kawaii to Open at Hokkaido Museum of Modern Art in February 2023

The word 'kawaii' is now commonly used around the world. Sanrio is largely to thank for this, and the beloved company has announced that the 60th Anniversary Sanrio Exhibition will open at the Hokkaido Museum of Modern Art from February 11 until April 2, 2023. Advance tickets will include a discount and will be available until November 14 online. 

"Sanrio celebrated its 60th anniversary in 2020, and the company continues to share Japan's character culture with fans around the world," Sanrio said in a comment. "Kawaii is now a universal language, and this is very much thanks to the over 450 characters that are part of Sanrio's history, from Hello Kitty to My Melody. 

This exhibition traces the history of Sanrio and guests can enjoy seeing rare materials including merchandise, publications, and early designs from the company's founding. We want to continue to grow and develop our characters while valuing communication with our fans, ensuring that our adorable characters are loved by generations to come."

The Sanrio exhibition is something that generations of fans can enjoy, so come immerse yourself in this kawaii world! For more details, visit the official website. 

Information

60th Anniversary Sanrio Exhibition: The Beginning of Kawaii

Running: February 11 – April 2, 2023

Hours: 9:30 – 17:00 (Last entry at 16:30)

Venue: Hokkaido Museum of Modern Art (17-chome Kita 1 Jonishi, Chuo-ku, Sapporo, Hokkaido)

Official Site: https://stv.jp/event/sanrio

13th BT21 Cafe to Open in Tokyo, Yokohama, Nagoya, Osaka, and Sapporo

The 13th iteration of the BT21 Cafe will open at six venues in five cities around Japan. Fans in Tokyo, Yokohama, Nagoya, Osaka, and Sapporo will want to visit this exclusive event titled ~MAGICAL TIME~. The first cafe opens in Shibuya on November 3. In celebration of BT21's 5th anniversary, this special cafe is filled with joy and excitement and aims to give fans the best possible experience.

Cafe Menu

Magical Tea Time Set

Food Plate

Food Plate (7 varieties)

Dessert Plate

Dessert Plate (7 varieties)

Drinks

Magical Milk Tea

Black Tea

Iced Coffee / Hot Coffee

Original Goods

Acrylic Keychain (7 varieties, Random)

Acrylic Clip (7 varieties, Random)

Satin Sticker (7 varieties)

Clear Folder (2 varieties)

Handkerchief (7 varieties)

Tote Bag

Mug

Masking Tape / Balloon on a Stick

Dolomite Coaster (2 varieties) / Mirror (2 varieties)

[Online Store Exclusive] Acrylic Keychain (7 varieties, Random)

The cafe's new menu includes afternoon tea, perfect for warming the body and soul during the cold winter months. The colorful food items and desserts are sure to be a hit on social media, and fans will enjoy the Magical Milk Tea and other dishes inspired by the popular BT21 characters.

 

In addition to new merchandise and bonuses featuring newly-drawn art, a photo spot will welcome guests to the cafe and invite them to celebrate this five-year milestone. 


Why not take a break from everyday life to enjoy a magical time with these cute characters?

©BT21

Information

BT21 Cafe #13 ~MAGICAL TIME~

Venue/Dates


■Shibuya, Tokyo:

BOX cafe&space SHIBUYA109

Running: November 3 – December 10, 2022

Address: SHIBUYA109 B2F (2-29-1 Dogenzaka, Shibuya-ku, Tokyo)

■Oshiage, Tokyo:

BOX cafe&space Tokyo Solamachi

Running: January 13 – February 19, 2023

Address: Tokyo Skytree Town, Solamachi 1F (1-1-2 Oshiage, Sumida-ku, Tokyo)

■Yokohama, Kanagawa:

Collabo_Index Lumine Yokohama

Running: January 13 – February 5, 2023

Address: Lumine Yokohama 6F (2-16-1 Takashima, Nishi-ku, Yokohama, Kanagawa)

■Nagoya, Aichi:

BOX cafe&space Nagoya LACHIC #1

Running: December 2, 2022 – February 5, 2023

Address: LACHIC B1F (3-6-1 Sakae, Naka-ku, Nagoya, Aichi)

■Shinsaibashi, Osaka:

Shinsaibashi contact

Running: November 11 – December 18, 2022

Address: 1-6-24 Kitahorie, Nishi-ku, Osaka

■Sapporo, Hokkaido:

Cafe Interlude, Coach & Four Shinakawa

Running: November 3 – December 29, 2022

Address: 18-chome 3-jo, Kita-ku, Sapporo

Reservations: https://box-cafe.jp/



Online Shop

Open: November 3, 11:00 – December 4, 23:59
https://box-cafe.jp/online_store/

ANNA'S by Landtmann in Shibuya Scramble Square Now Offering Halloween Sweets

ANNA'S by Landtmann, a cafe located inside +Q Beauty on the 6th floor of Shibuya Scramble Square, has begun selling two Halloween cakes! These spooky sweets will be available until October 31, 2022.

Halloween Mont Blanc

Halloween Poison Apple

Guests will be able to snag the Halloween Mont Blanc and Halloween Poison Apple cakes, available for ¥580 each including tax. The Mont Blanc is filled with pumpkin custard and Chantilly cream. The Poison Apple is a sweet and sour cake featuring a blend of chocolate mousse covered in red glaze and applesauce with apple pulp.

Which of these two adorable cakes would you like to enjoy this autumn?

Second Sylvanian Families Sweets Buffet to Open with a Christmas Theme

Keio Plaza Hotel in Tokyo will hold a special Christmas-themed Sylvanian Families buffet starting November 1, 2022. This is the second Sylvanian Families event following the previous Halloween-themed buffet, which became extremely popular. Some guests even bring their own Sylvanian Families dolls!

Starting in November, visitors can enjoy a full lineup of 20 scrumptious dishes inspired by the cake shop found in Sylvania Village. Some sweets are also inspired by the many beloved characters found in the series, and anyone wanting to get into the Christmas spirit won't want to miss this exclusive event. For those without a sweet tooth, some light lunches will also be available.

The restaurant will also erect a decorative display of Sylvanian Families enjoying a Christmas party and a sweet diorama made exclusively of desserts by the pasty chef. Guests can enjoy tea time while getting lost in this magical world, so get excited about the Christmas season!

1. Sweets Inspired by the World of Sylvanian Families

2. Become Enthralled by a Wonderful Winter World of Sweets

3. Exclusive! Sweets Diorama and Sylvanian Families Photo Spot

4. Light Meals Perfect for Winter and Burgers Featuring Original Illustrations

5. A Special Plan to Enjoy the Buffet with Sylvanian Families Babies

Information

Sweets Collection with Sylvanian Families

Running: November 1 – December 31, 2022

Venue: Keio Plaza Hotel's Jurin Restaurant

Price: ¥5,500 (Adults) / ¥3,000 (Children 4-12) *Children under 3 free

Details/Reservations: https://www.keioplaza.co.jp/event/autumn-sweets/#event02

Hilton Tokyo Odaiba to Hold Second Touken Ranbu ONLINE Collaboration Sweets Buffet

From October 21 until November 30, 2022, Hilton Tokyo Odaiba will hold the Touken Ranbu ONLINE Special Buffet ~Black & White~ event! This second collaboration with the popular series will be held Grillogy Bar and Grill on the second floor.

Dessert Menu

Drink Menu

Drink Order Bonus: Original Coaster (8 varieties)

At the buffet, guests can enjoy luxurious dishes inspired by characters from the sword-centered game and anime series. The desserts blend Japanese and Western cuisine, and special cocktails will be available during the first phase, each coming with a special coaster as a bonus! In addition, original goods will be on sale at the venue, so don't miss it!

Information

Touken Ranbu ONLINE Special Buffet ~Black & White~

Running: October 21 – November 30, 2022

Reservation Start Dates and Times: 

Lottery Opens: September 16, 12:00~

General Reservations Open: October 6, 12:00~

*Lottery reservations and general reservations will be open
for the first and second runs.

*Please see the official website for the full reservation schedule.

Venue: Hilton Tokyo Odaiba 2F Restaurant, Grillogy Bar and Grill

*Reservations required

Tickets/Details: https://odaiba.site/

Online Shop: https://touken-yorozuya.com/

Yokohama Royal Park Hotel to Hold Halloween Sweets Fair in October

From October 1 until October 31, Yokohama Royal Park Hotel will hold a special Halloween Fair at its delicatessen and lounge Coffret. In addition to six playful sweets from the Halloween Frankenstein to the Halloween Mummy, two types of autumn bread featuring pumpkin and purple sweet potato will be available, allowing guests to enjoy the taste of the season!


Halloween Frankenstein

Halloween Cat

Halloween Mont Blanc

Halloween Mummy

Halloween Pudding

Halloween Pound Cake

Pumpkin Cream Fondue / Halloween Anpan

  

Come enjoy this Halloween with some cute and silly sweets!

Information

Halloween Fair

Running: October 1 – October 31, 2022
Venue: Coffret Delicatessen and Lounge, 1F
Hours: Lounge 10:00-20:00 (*Cakes served starting at 11:00) /
Delicatessen 11:00-20:00
Reservations: 045-221-1111 (Representatives available 11:00-20:00)

Tsujiri Reveals Colorful Autumn Parfait Using Purple Sweet Potatoes

Tsujiri, a staple of Uji, Kyoto, has announced an exclusive autumn menu! Guests can enjoy the Tsujiri Soft Autumn Parfait, the Kyo Latte Smoothie with Purple Sweet Potato, and the Kyo Latte with Hojicha at the Kyoto location and three other stores starting September 1, 2022.

Tsujiri Limited Time Autumn Menu

These three limited-time items are filled with fall flavors. The Tsujiri Soft Autumn Parfait is filled with Uji green tea carefully selected by tea masters and topped with purple sweet potato paste, sweet potato nectar, and other gorgeous goodies.

The Kyo Latte Smoothie with Purple Sweet Potato features an autumn-only flavor combining purple sweet potato bean paste, cream, and sweet potato nectar with Tsujiri's matcha green tea smoothie. The Hojicha version is made with luxurious Uji Hojicha and milk for a soothing experience.

Enjoy autumn with these tasty treats filled with seasonal flavors!

Information

Tsujiri Kyoto Store
Address: 215 Nakanocho, Kyoto 

Tsujiri Kyoto Tower Sando
Address: Kyoto Tower Sando Building 1F (721-1 Higashishiokojicho,
Shimogyo-ku, Kyoto)

Tsujiri arde! Shin-Osaka
Address: arde! Shin-Osaka, JR Shin-Osaka Station 2F (5-16-1 Nishinakajima, Yodogawa-ku, Osaka)

*The autumn menu is not available at the Uji location or the Naha Airport location.

Q-pot CAFE to Offer Cute Halloween Sweets to Celebrate 10th Anniversary

Q-pot CAFE in Omotesando will be offering up some Halloween treats to celebrate the location's 10th anniversary! Guests will be able to sample these special sweets from September 3 until October 31, 2022.

Happy Halloween! Afternoon Tea Set

The festive Happy Halloween afternoon tea features pink Jack-o'-lantern macarons and other Halloween-inspired sweets.

Fluffy Floating Ghost Plate (Drink Included)

The adorable ghost is made from fluffy milk mousse covered with gyuhi, a typical ingredient in Japanese sweets made from rice flour. Inside is blackcurrant and redcurrant jelly with an incredibly sweet and sour flavor.

Black Devil Tea Mocha

Featuring large devil wings, this tasty and eye-catching beverage is a mix of black tea, chocolate, and milk. When the cocoa cream melts, the taste changes to something creamy and cozy, perfect for the autumn months.

Shimmering Blueberry & Grapefruit Soda

This refreshing sweet and sour drink combines blueberries and pink grapefruit along with soda and pearl powder.

Come enjoy Halloween while celebrating the cafe's 10th anniversary!

Information

Q-pot CAFE 10th Halloween Menu

Location: Q-pot CAFE Omotesando

Running: September 3 – October 31, 2022

Hours: 11:00-19:00 (Last Order at 18:30)

Details/Reservations: http://www.Q-pot.jp/news/2022/08/1746.html

Pancake Shop Butter Collaborates with LINE's 'Honesty Series' Sticker Set

The pancake specialty cafe Butter is collaborating with illustrator Yuu Itsuki from August 19 until September 4, 2022. Fans of Itsuki's adorable LINE Sticker series will recognize a few characters appearing in the many dishes popping up during the event. Along with a lineup of sweets, main dishes, and beverages available to enjoy at the store, some special collaboration macarons will be sold as a takeout-only item.

Friendly Fruit Buttermilk Pancakes

Kuma-chan's Shortcake Pancakes with Handmade Donuts

Kuma-chan's Sleepy Omu Curry

Lemonade

Blue Lagoon Lemonade

Exclusive Macaron Box (Take-out Only)

Order Bonus for Sweet and Main Dishes: Original Postcard and Pin

Drink Order Bonus: Pin

Come enjoy this sweet collaboration menu featuring Kuma-chan and his two best friends!