6 Must-Visit Cafes in Hokkaido For Their Kawaii Pancakes
Hokkaido is the northernmost of Japan's islands and a popular tourist location with both locals and overseas visitors, enjoyed for its winter sports like skiing, hot springs and more. It is also enjoyed for its cool climate, being the coldest region in Japan. It's home to many tourist spots and seafood restaurants, but today we're covering its countless cute cafes.
Kei, a Japanese Instagrammer, posts his visits to the many cafes of Sapporo―the capital of Hokkaido―on his Instagram page(
607keih). Today he will introduce us to 6 must-visit cafes in Hokkaido with the cutest pancakes.
Fafi Tamago no Pancake g-plus (Susukino, Sapporo)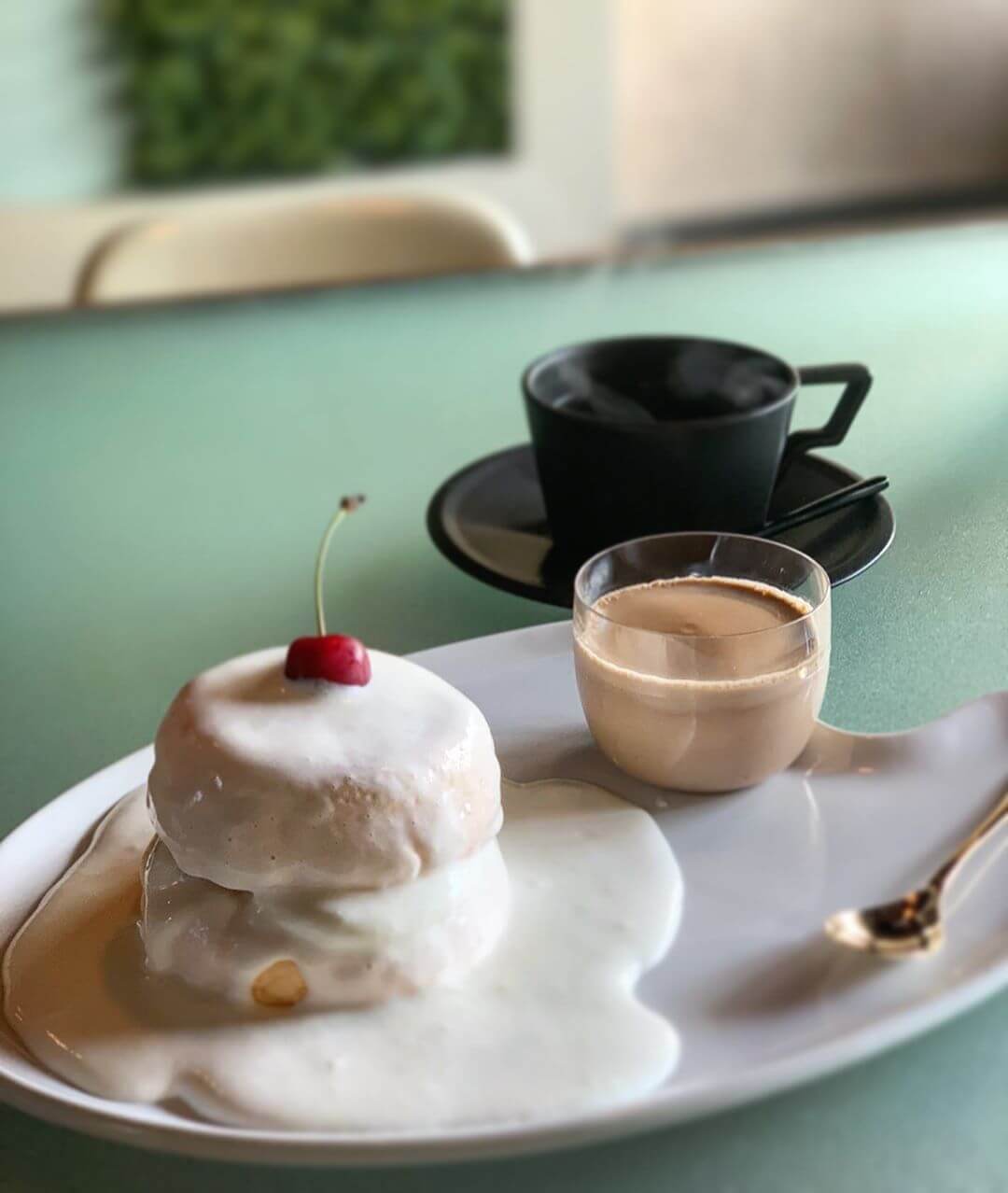 This popular little cafe in the district of Susukino showcases its assortment of pancakes in a glass display. The cafe now sells affordable pancake and purin sets. I ordered the "Fruits and Milky & Chocolate Purin" set (¥980).

The fluffy pancake is made with Fafi's famous eggs which have a rich flavour and big yolks. The milky cream is sweet and silky smooth. Inside the pancake is delicious pineapple and strawberries which add a deliciously fruity accent.
Their pancakes are noticeably smaller at g-plus but since it comes with a purin in the set you're sure to be nice and full after. The set is perfect to share too.
▼Fafi Tamago no Pancake g-plus (Japanese: ファフィたまごのパンケーキ g-plus)
Address: 9-1019 Minami 5 Jonishi, Chuo Ward, Sapporo, Hokkaido
Business Hours: 11:30-19:00 (Last Orders 18:00)
Closed: Thursdays & Fridays
Official Website: https://g-plus.owst.jp/
Café ZIKKA (Kiyota, Sapporo)
Café ZIKKA serves a variety of pastries and desserts. Their elusive strawberry pancakes are a limited-time-only offer. These fat and fluffy pancakes have a distinctly different taste to other places. Heaping with strawberries, the fruit and pancakes marry in the most sumptuous of flavours when eaten with the yogurt ice cream centre. The strawberries also come in a variety of forms including whole, compote and sauce, making for a variety of succulent textures.

The fresh cream isn't overly-sweet making for a lighter pancake. It's also topped with crushed almond for added texture. The size of the pancakes aren't huge but since it's served with two and many toppings you'll absolutely be satisfied afterwards.
▼Café ZIKKA
Address: 11-12 Hiraokakoenhigashi, Kiyota Ward, Sapporo, Hokkaido
Business Hours: 11:00-20:00 (10:00-19:00 in January and February)
Closed: Wednesdays (Open on national holidays)
Official Website: http://yoshidacoffee.com/index.html
Kaze o Kanjite (Motomachi, Sapporo)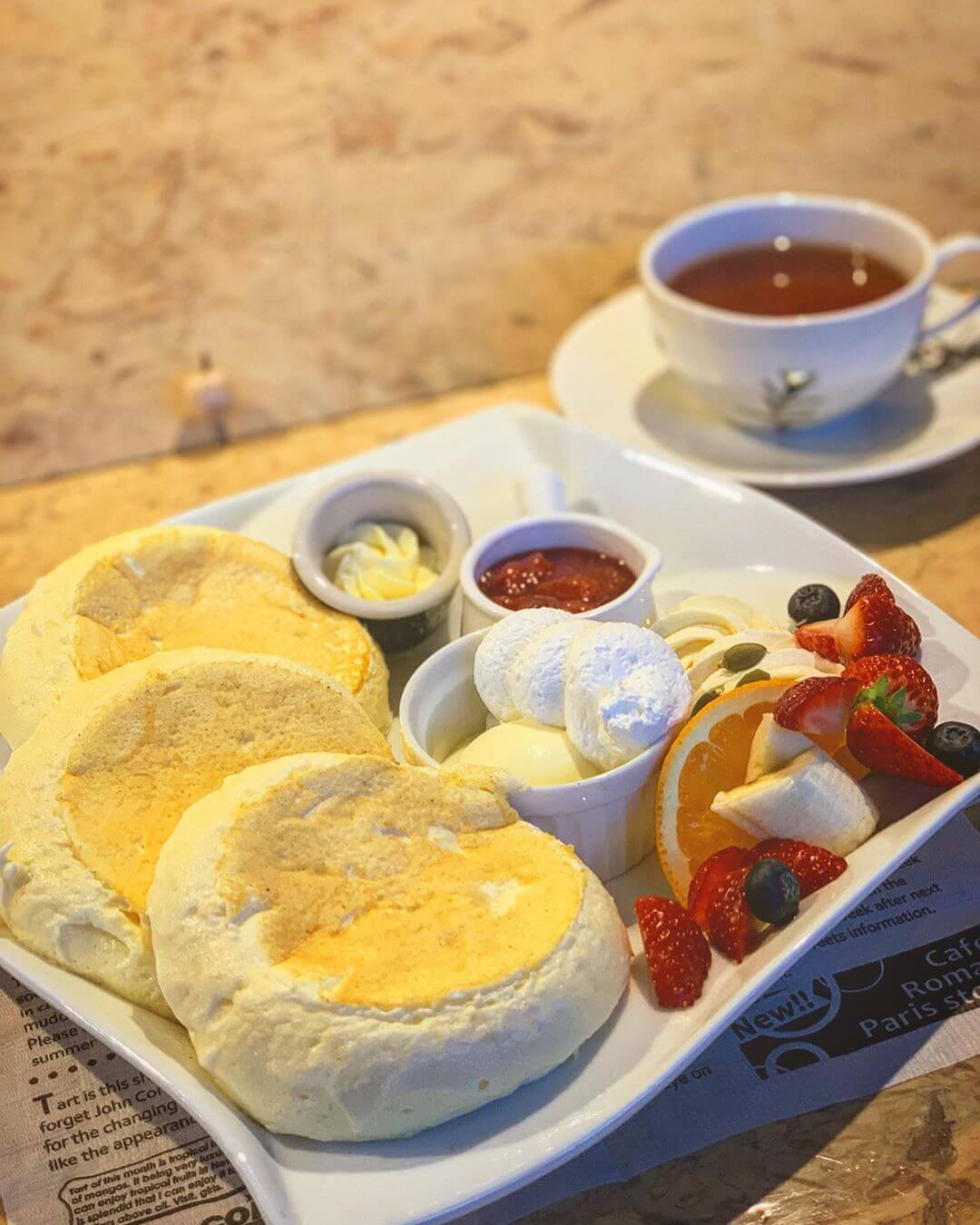 This cafe is just a 5-minute walk from Motomachi Station via the Tōhō Line. Simply exit from Exit 1 of the station, make a right and you'll arrive right there.
This cafe's aim is to bring it lots of students to eat their pancakes which are both cheap and delicious. I ordered the berry sauce pancakes.

The cafe's homemade strawberry jam contains pieces of fresh strawberry which alone already make the pancakes tantalising enough. They are served with a side of fresh fruits like extra strawberries as well as orange slices. The pancakes served here are so good that I personally count them as the best in Sapporo. That, and the prices are amazing for the huge portions you get. I want more people to get to know about this place, and not just students.
▼Kaze o Kanjite (Japanese: 風をかんじて)
Address: Kita House 1F, 17-2-3 Kita 24 Johigashi, Higashi Ward, Sapporo, Hokkaido
Business Hours: 10:00-18:00 (Last Orders 17:00)
Closed: Mondays & Tuesdays
Website: https://tabelog.com/hokkaido/A0101/A010202/1058705/
ROJIURA CAFÉ (Susukino, Sapporo)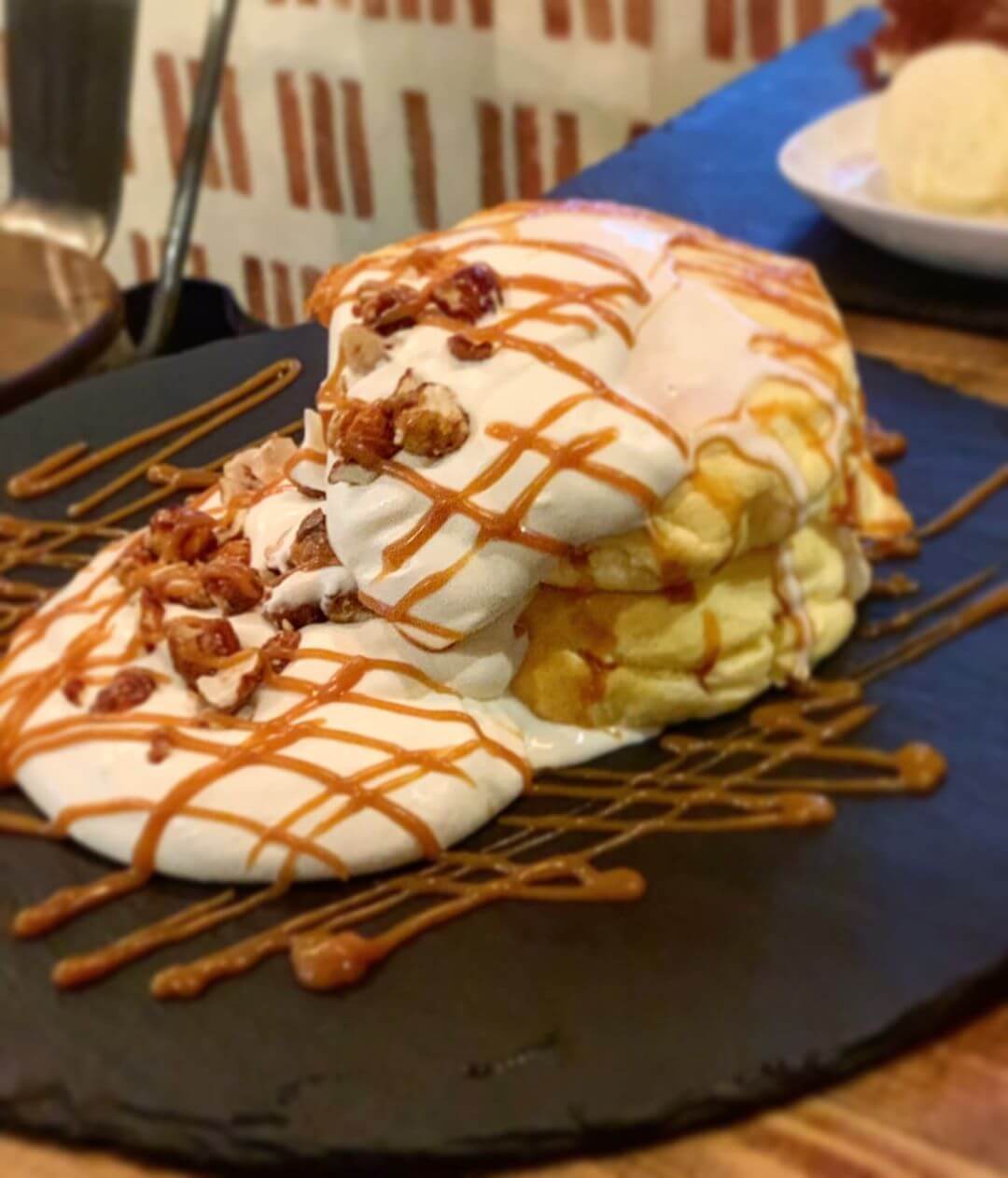 ROJIURA CAFÉ is another cafe located in Susukino round on the backstreet of Round One. They serve pancakes and parfaits right into the early hours of the morning.
Their caramel sauce has salt in it to add a mouthwatering salty flavour that draws out the sweetness of the fresh cream. The nuts only add to this delectable delight of a pancake.


Fine and fluffy pancakes fit for the gods. Whether it's a dessert like pancakes or parfaits or even meals, ROJIURA CAFÉ's doors are open to  you from the evening until the deepest hours of the night.
▼ROJIURA CAFÉ
Address: TAKARA6.3, 3 Chome Minami 6 Jonishi, Chuo Ward, Sapporo, Hokkaido
Business Hours:
[Mon-Thurs] 18:00-03:00 (Last Orders 02:00)
[Fri-Sat] 18:00-04:00 (Last Orders 03:00)
[Sun & Holidays] 18:00-01:00 (Last Orders 00:00)
No Fixed Holidays
Official Website: http://sapporo-rojiuracafe.com/
OJ Coffee (Kotoni, Sapporo)
You'll find OJ Coffee just a few minutes' walk from Kotoni Station in Nishi Ward, Sapporo. This cafe serves exquisite coffees and boasts an abundant menu consisting of soba noodles, curries, steaks and more. They also serve pancakes so I decided to give them a go.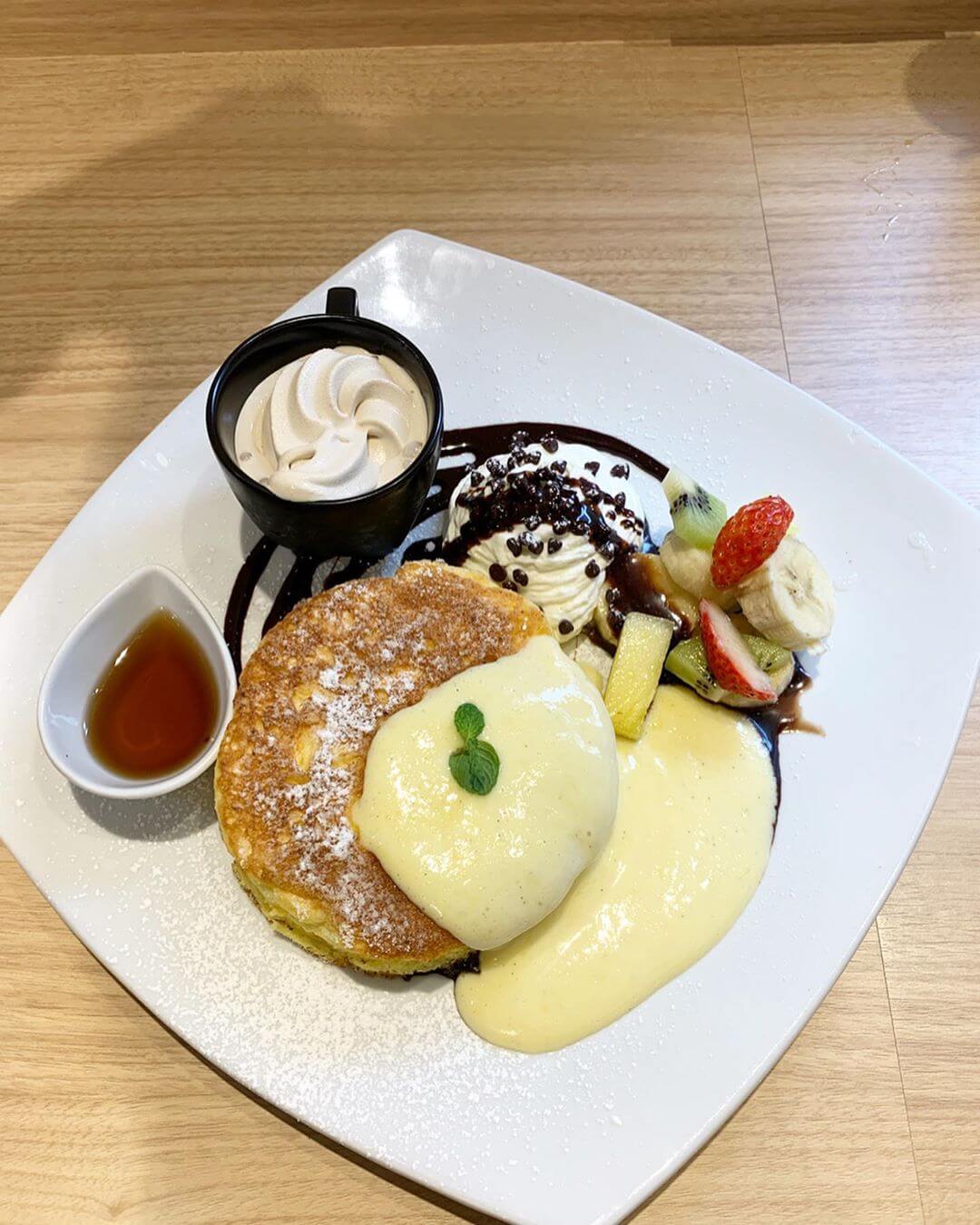 Fluffy, moist and glorious. The pancake is topped with custard and served with a side of fresh cream, both of which aren't overly sweet and go perfectly with the sweet beaten eggs of the pancakes. Decorated the outside of the plate is an assortment of fruits, maple syrup and other tempting treats for a variety of flavours. The coffee flavoured soft serve ice cream is a great palate cleanser too. The ice cream doesn't have the bitterness that comes with coffee but it's very coffee flavoured. It's close to Kotoni Station so if you're strolling around Nishi Ward looking for a cafe I highly recommend visiting here.
▼OJ Coffee
Address: D Planning Bldg. 1F, Kotoni 2 Jo, Nishi Ward, Sapporo
Business Hours: 7:30~22:00 (Last Orders 21:30)
No Fixed Holidays
Official Website: https://www.oj-coffee.com/
Café Blue (Ishiyama-dori, Sapporo)
Café Blue, built up from a renovated old house, is currently selling a new lemon and yogurt pancake for a limited time.
Their pancakes never fail to be anything less than fluffy. The generously drizzled yogurt sauce is fairly refreshing and sweet while still retaining that yummy yogurt flavour. The lemon curd sauce, too, is refreshing and combines well with the pancakes as lemon always does. The lemon also has honey in it making for a satisfyingly sweet and sour combination.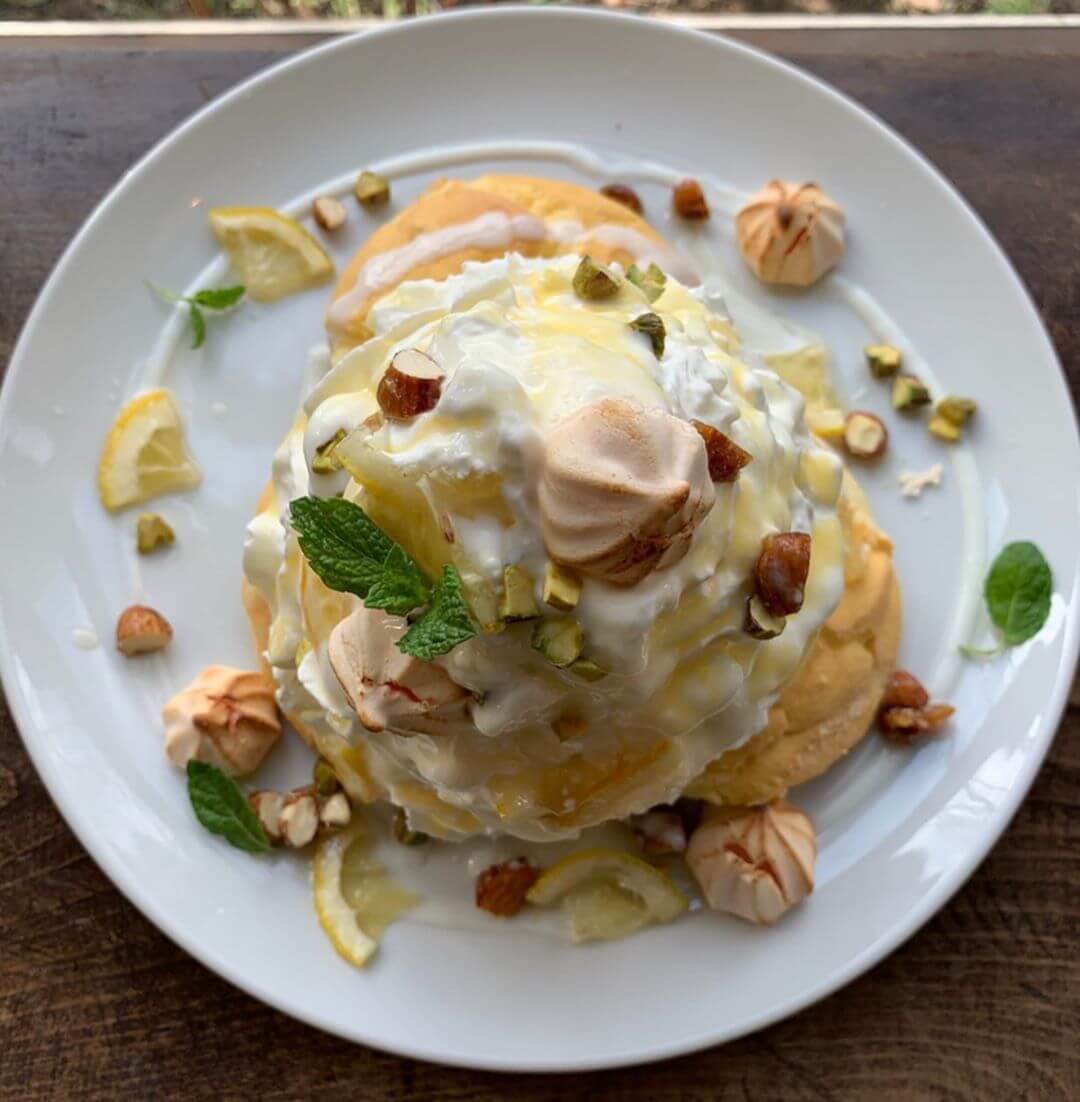 The ice cream on top is salt flavoured which bring out all the sweet flavours of the dessert. The crunchy almonds are nice and nutty and bring a great texture to the soft and sticky combinations. When I eat pancakes this is the  kind of thing I'm looking for!
The sauce was refreshing and the pancake overall was delicious and very easy to get down. The yogurt sauce really is amazing!
▼Café Blue
Address: 16-9-12 Minami 19 Jonishi, Chuo Ward, Sapporo, Hokkaido
Business Hours: 9:00-19:00 (Last Orders 18:00)
No Fixed Holidays
Website: https://tabelog.com/hokkaido/A0101/A010104/1036972/
Did you enjoy Kei's picks? Be sure to check out their Instagram page for more recommended desserts and foods to try in Sapporo. There's a wealth of choices on there that will make for great reference when travelling to Hokkaido.
Photo & Text: Kei (@607keih)
Translation: Joshua Kitosi-Isanga
RECOMMENDED ENTRIES
Aladdin Inspired Afternoon Tea Wishes Its Way to VINO BUONO in Omotesando

The Omotesando branch of VINO BUONO is now selling a special Aladdin-themed afternoon tea until September 1.

This luxurious tea set comes with a mix of light savoury food and desserts. But the savoury side of it isn't your conventional assortment, instead coming with four different selections including tandoori chicken pitta bread sandwiches, a couscous and seafood salad, and more.

The scones contain sweet and fragrant rosemary honey which fill are sure to tickle your fancy.

The Pistachio Macarons and Arabian Night Blanc-Manger are glazed in a beautiful blue colour reminiscent of the world of Aladdin. And don't forgot the cute Magic Lamp Cookie with its blue centre―it's almost too good to eat!

Other delights include the Mango & Flower Verrine, Pyramid Mousse, and gorgeous tea that looks like it has had a spell cast on it.

Take your special someone to VINO BUONO this summer and show them the world with this limited-time Aladdin afternoon tea.

Information

VINO BUONO

Address: Portofino Floor 2F, 3-15-5, Kita-Aoyama, Minato Ward, Tokyo

Business Hours: Weekdays 11:30-17:00 (Last Entries/Orders 15:00) / Weekends & Holidays 14:00-17:00 (Last Entries 15:00 / Orders 15:30)

*2 hours allotted

Closed: Mondays & Tuesdays

Official Website: https://www.bestbridal.co.jp/restaurant/vino-buono/

Special Afternoon Tea

Running: Now Until September 1, 2019

Price: ¥3,360 (Tax & Service Charge Included)

Delicious Matcha Desserts Released at Itohkyuemon Gion Shijo in Kyoto

Kyoto-based green tea company Itohkyuemon has been around since the end of the Edo period, its longevity having established itself has a hugely popular store. The company have just announced that they will open their first ever tea house extension in Kyoto called Itohkyuemon Gion Shijo on August 7.

The cafe will serve up its own exclusive menu items from desserts to meals.

(Left) Gion Parfait – ¥1,480 / (Right) Sweets Plate – ¥1,680

The Gion Parfait is made with high-quality Uji matcha, something Itohkyumon is renowned for. It's served in a large parfait class bigger than their usual matcha parfait and is stacked sumptuously with chestnuts, tamba black beans, chocolate, a slice of Uji matcha roll cake, and more.

If you love Japanese tea then you'll adore the Sweets Plate which is filled with an assortment of matcha and houjicha sweets.

Matcha Curry Udon: ¥980

The Matcha Curry Udon, which was previously sold only at the JR Uji Station branch of Itohkyuemon, will now be served at the new establishment. This Itohkyuemon-original dish is a combination of chewy matcha udon noodles and white broth matcha curry. The curry is also served as a souvenir; when it was first released in 2014 it sold out its stock of 2,000 in just two days. Experience matcha like never before when visiting Kyoto at Itohkyuemon Gion Shijo.

Information

Itohkyuemon Gion Shijo

Address: 586 Gionmachi Minamigawa, Higashiyama Ward, Kyoto (Japanese Address: 京都市東山区四条通大和大路東南角祇園町南側586 井澤南ビル)

Business Hours: 11:00-19:00 (Last Orders 18:30)

No Fixed Holidays (Except New Year's)

Website: https://www.itohkyuemon.co.jp/site/gionshijo/

Gion Parfait

Price: ¥1,480 (Tax Included)

Sweets Plate

Price: ¥1,680 (Tax Included)

as Drink Set: ¥1,980 (Tax Included)

Matcha Curry Udon

Price: ¥980 (Tax Included)

as Rice Set: ¥1,240 (Tax Included)

as Rice & Mini Parfait Set: ¥1,580 (Tax Included)

Korea Town Shin Okubo's Hottest Shaved Ice This Summer | Seoul Café

Hi, everyone. I'm Banako of MOSHI MOSHI Friends!

Shin Okubo is known as Japan's Korea town, taking in all the current trends from Korea before anywhere else. It's also become a hot spot for food and dining. Today, I'm here to show you the perfect thing to cool you down from the summer heat. I visited the Seoul Café to try their "Seoul Bingsu" which looks like a spool of thread. It's looking to be the next big thing with its unique texture.

Seoul Café is located on the second floor of a building just a 5-minute walk from Shin Okubo Station.

It just opened in March of this year. Its interior is based on the colour white against white sits stylish decor. At this café you order at the counter. I went ahead and got the "Seoul Bingsu Mango" (¥1,300).

It comes with a huge slice of mango! And just like its name implies, it looks like thread. Using a fork to eat it feels fresh too, it's a fun way to enjoy shaved ice.

The centre is packed full of fluffy shaved ice. It's super soft and melts in your mouth, but since it's packed tightly it's satisfyingly filling. It's easy to eat and has a unique texture. And if you eat it together with the mango it makes for an even tastier dessert♡

Seoul Café's menu is full of Instagrammable desserts. In addition to the Seoul Bingsu there's also Seoul Waffles and lots more.

If you're passing through Shin Okubo on a trip to catch up with the latest in Korean pop culture then be sure to pay a visit to Seoul Café to try their Seoul Bingsu and experience a whole new kind of shaved ice.

Information

Seoul Café

Address: Seoul Café 2F, 1-16-30 Okubo, Shinjuku, Tokyo

Business Hours: 11:00-23:00 (Last Order Food 22:00/Drinks 22:30)

No Fixed Holidays

Access: 5-minutes on foot from Shin Okubo Station and Seibu-Shinjuku Station

Tabelog Site: https://tabelog.com/tokyo/A1304/A130404/13232939/

Black Cheesecake & Other Delicious Seasonal Desserts Cooked Up at Daimaru Tokyo

School's nearly out for summer in Japan with summer break set to begin on July 20. Kids and adults alike can look forward rolling up to Daimaru Tokyo to get their sweet tooth hands on one of five special desserts available at Hoppe Town on the ground and first floor from July 17 to 23.

Let's take a look at these mouth-watering delights.

Basket Cheesecake (8cm) – ¥400 @ Aoyama Fromage (Floor 1F)

This cheesecake is all the rage in the dessert world this year for its eye-catching black surface. The burnt surface enjoys just the right amount of bitterness and is a perfect match for the soft, rich center.

CAKETALE (6 Included) – ¥648 @ CAKETALE (Floor 1F)

Tuck into one of six different of these different takes which have been turned into cat tongue biscuits. Flavours include strawberry shortcake, cheesecake, mont blanc and more, and they come in some seriously kawaii packaging which looks just like a book.

Tokyo Saku Saku Tiramisu Panda Package (16 Included) – ¥1,080 @ Tokyo Oraikan (Floor 1F)

Sink your teeth into these cute and crunchy rich panda tiramisu cakes♡

Dashi Shoyu (1 Bag) – ¥388 @ Okashi Rakuichi (Floor B1F)

This popular brand with their delicious flavours and cute packaging designs have their own shop in Senju in a low-lying part of the city where the Metropolitan Electric Railway runs through. This is their most popular product, a bag of crunchy soy sauce covered balls with a rich flavour.

Tokyo Lemonche (Includes 8) – ¥1,555 @ Tokyo Lemonche (Floor B1F)

A perfect summer treat, the Tokyo Lemonche is a light and refreshing lemon puff sandwich filled with lemon cream. You can really taste the original flavour of lemon in them.

Make a stop by Daimaru Tokyo this summer if you're in Japan!

Information

Seasonal Desserts

Running: July 17, 2019 – July 23, 2019

Location: Hoppe Town, Daimaru Tokyo (Floors B1F & 1F)

Daimaru Tokyo Official Website: https://www.daimaru.co.jp/tokyo/
RELATED ENTRIES
Creepy-Cute Halloween Sweets Available for a Limited Time at Hyatt Centric Kanazawa

Halloween is on the way, and the Hyatt Centric Kanazawa hotel is prepping some spooky sweets to celebrate! From October 1 until October 31, a Monster Halloween Cake Set will be available at the hotel's restaurant FIVE – Grill and Lounge. Guests can also enjoy a Halloween lunch and dinner menu featuring a chic menu filled with black, red, and purple dishes. Visitors who come in costume will gain access to some special offers as well!

Halloween Lunch / Dinner Course

Poached Eggs with Black Chaudfroid Sauce

Grilled Beef Tenderloin with Beet Variation

 

The courses were inspired by an adult Halloween party and will be available for four days only. Each dish contains colors perfect for the season, like haunting black and bloody red punctuated with a purple-tinted memory of moonlight. While the dishes may look strange, they are made with the finest ingredients. 

Monster Halloween Cake Set

Witch's Mont Blanc Pudding

Mummy Macaron

Denture Parfait

Jack-o'-Lantern Cream Puff

Frankenstein Brownie

Gyuhi Ghost

Spider Web Mousse

GO FOR KOGEI 2022 Collaboration 5×5 Cake Set

A special cake set featuring everything from Frankenstein to spider webs will get you in the Halloween mood. The lineup includes Witch's Mont Blanc Pudding topped with purple sweet potato cream, and the adorable Jack-o'-Lantern cream puff filled with–you guessed it–pumpkin cream. Come enjoy some other playful treats like the Mummy Macaron filled with apricot and the Denture Parfait with berries and marshmallows. On weekdays from October 3 until October 21, the cakes will be served on a special Kutani ware in collaboration with GO FOR KOGEI 2022. This 5×5 set will be limited to five servings per day. Kutani ware is a style of traditional Japanese porcelain found in Ishikawa Prefecture.

Halloween Cocktail


This year's Halloween cocktail is the rock-themed Back in Black. With a tequila base, you're sure to have some extra fun after downing this classy beverage. 

Come enjoy some spooky and cute Halloween sweets while you can!

Information

Monster Halloween 

Hyatt Centric Kanazawa
FIVE – Grill & Lounge
Address: Hyatt Centric Kanazawa 3F (1-5-2 Hirooka, Kanazawa, Ishikawa)
Official Site: http://fivegrillandlounge.jp

Lunch / Dinner Menu

Available: October 28 – October 31, 2022
Hours:
Lunch: 11:30-14:30 (Last Order at 14:00)
Dinner: 17:30-21:00 (Last Order at 20:30)
Details/Reservations: https://bit.ly/FIVEHalloween 

Monster Halloween Cake Set
Available: October 1 – October 31, 2022
*On weekdays from October 3 to October 21, the 5×5 cake set, made in collaboration with GO FOR KOGEI 2022, will only be offered in a limited number of 5 per day. (Advance reservations required.)
Hours: 12:00-17:00 (Last Order at 16:30)
Details/Reservations: https://bit.ly/FIVEHalloween 

Halloween Cocktail
Available: October 24 – October 31, 2022
Hours: 17:00-24:00 (Last Order at 23:30)

*Menu subject to change depending on availability.

Tomakomai Mirai Fest 2022 Announces Second Round of Performers, Additional Details

New performers and events have been announced ahead of the start of Tomakomai Mirai Fest 2022 in Tomakomai, Hokkaido on September 17 and 18. The event will be held in one of the most gorgeous towns on the island and excitement is building!

The purpose of this event is to promote the appeal of the Tomakomai region, not only to those living in Japan but to those living abroad. In addition to music, the event will also feature art, food, technology, and more content that can be enjoyed by kids, families, and people of all ages and genders.

Tomakomai Civic Hall, Large Hall

Incredible live performances will be held in a futuristic setting. Along with Awesome City Club, Kyary Pamyu Pamyu, and Little Glee Monster, guests can look forward to seeing HY, Wednesday Campanella, Taichi Mukai, and Atarashii Gakko!

Tomakomai Civic Hall, Parking Lot

DJ performances and food trucks will welcome guests to the futuristic area, and the illuminations are sure to impress!

Kirakira Park

An AR system accessible by smartphone will allow guests to take pictures of the Tomakomai Mirai Fest logo for a surprise. During the daytime, a food truck area will provide visitors with different types of gourmet offerings and a stage will showcase local dancers and musicians from Tomakomai. A family-friendly picnic area will allow guests to relax and enjoy good food and live music.

At night, in addition to impressive illuminations and a live stage showcasing Hokkaido's best talent, an island bar will amplify the mood.

O-machi/Nishiki-machi

During the daytime, a gourmet area will feature Tomakomai's famous curry ramen, local craft beer, craft spices, and more. At night, visitors can enjoy restaurants in the O-machi and Nishiki-machi areas while still enjoying the vibe of the event.

And More!

A stamp rally will be held during the event, and guests finding stamps at each location will be eligible to win fantastic prizes. A bus service is also planned.

More performers and details will be announced soon, so stay tuned!

Information

Tomakomai Mirai Fest 2022

Dates: September 17 and 18, 2022

Tomakomai Civic Hall, Large Hall (Admission Fee Required)

September 17 / Doors Open 16:30, Event Starts 17:30

September 18 / Doors Open 14:30, Event Starts 15:30

Tomakomai Civic Hall, Parking Lot / Kirakira Park / O-machi, Nishiki-machi (Free Entry)

September 17: Open at 12:00

September 18: Open at 11:00

*May be earlier or later depending on the venue. Detailed event times will be announced at a later date.

Locations: Tomakomai Civic Hall, Large Hall / Parking Lot / Kirakira Park / Around Omachi, Nishikimachi

Ticket Agency: Ticket Pia

[1-day or 2-day Tickets Available]
Official 2nd Advance Ticket Lottery: July 28, 12:00 – August 7, 23:59

https://w.pia.jp/t/tomakomaimiraifest22/

Official Site: http://miraifest-tomakomai.jp/

Sanrio Characters Autumn Sweets Buffet to be Held at Hilton Nagoya

From August 18 until November 3, visitors to the Hilton in Nagoya will be able to enjoy a special autumn buffet featuring the popular Sanrio characters Kuromi, Cinnamoroll, and Hello Kitty. 

These three characters are some of Sanrio's most loved. Kuromi is the self-proclaimed rival of My Melody, while the fluffy Cinnamoroll won first place in this year's Sanrio Character Awards. Hello Kitty has been beloved by audiences worldwide for decades, and her iconic ribbon really shines in this buffet collaboration. Themed around an autumn harvest festival in a dark forest, the event includes 27 varieties of sweets and seven savory items. From sweet potatoes and pumpkins to chestnuts and apples, guests will be able to taste the fall season!

Kuromi's Dark Forest Cake

Autumn Cinnamoroll Cake

Hello Kitty's Ribbon Cake

Crazy Mushrooms / Praline and Gianduja Truffles / Tonka Bean & Chocolate Caneles

 

Kuromi's Dark Forest Cake is a traditional German black forest cake featuring decorations inspired by the character's black hood and a pink skull. The Autumn Cinnamoroll Cake is made with rice flour and is inspired by the adorable puppy's fluffy appearance. Hello Kitty's Ribbon Cake is topped with apple compote simmered with strawberries and red wine. 

At the popular Live Station, guests can also enjoy an artistic performance by the chef himself. Visitors can also find and harvest their own Crazy Mushrooms and Truffles. 

Kuromi's Autumn Soup

Pumpkin Mont Blanc

Hello Kitty's Apple

Pastry Chef Mamoru Watanabe's specialty autumn sweets and Sanrio Characters-inspired goodies will invite you into a cute and dark forest world. Kuromi's Autumn Soup is made with Japanese chestnuts and chicken consomme poured over panna cotta made with purple sweet potatoes. The Pumpkin Mont Blanc includes four layers of milk chocolate cream, chocolate crumble, pistachio cream, and pumpkin Mont Blanc cream.

Praline Paris-Brest

Hojicha Basque Cheesecake

Green Tea Tiramisu

Come enjoy the taste of autumn with your favorite Sanrio characters!

© '22 SANRIO CO., LTD. APPR. NO. L632215

Fruit-Filled Afternoon Tea Inspired by Japanese Folktale Momotaro Announced

Kawagoe Prince Hotel, located in an Edo-period castle town in northwest Tokyo, will begin offering a special afternoon tea set starting July 1, 2022. Inspired by the Japanese folktale Momotaro, the summer fruit-filled tower of treats will be available until August 31, 2022.

Top Plate

Middle Plate

Bottom Plate

Savory

 

The top plate of the three-tiered set features tasty peach and cheese mousse, peach meringue, macadamia nut chocolate, and Kibi Dango put together to resemble the hero of the story, Momotaro. On the middle tier, visitors will find sweets inspired by the many animals found in the story, from the monkey and dog to the pheasants. Guests can enjoy many summer fruits including mango and kiwi. 

Those who come to the store in a yukata (summer kimono) and follow the official Kawagoe Prince Hotel Instagram will receive a special fruit platter.

Come enjoy the world of Momotaro as you wander around this historical Japanese town!

Picture Book 'The Bear Who Lost the Moon' Inspires Fair, Collaboration Pancakes

Tonomori Taniguchi has an adorable new picture book on the market, and it's time to celebrate! Bibliotheque, a cafe and bookstore with locations in Tokyo, Osaka, Fukuoka, and Kumamoto, will hold a fair to celebrate the new publication The Bear Who Lost the Moon from July 1 to August 31, 2022. 

Bear and Crescent Moon Pancake with Honey Lemon Vanilla Sauce

Bear's Pancake Mix

Taniguchi is known for books like 100 Santa Clauses and Chameleon's Shaved Ice. The special fair for his new book The Bear Who Lost the Moon will feature collaboration pancakes inspired by the sweet story, as well as a limited-edition pancake mix. In addition, live painting and autograph sessions have been planned for Fukuoka and Kumamoto.

Information

Celebratory Fair for Tonomori Taniguchi's New Picture Book The Bear Who Lost the Moon

Running: July 1 – August 31, 2022

Venue: Cafe & Books Bibliotheque Tokyo / Osaka / Fukuoka / Kumamoto

Live-Painting & Autograph Session

Dates: 

August 20 / Cafe & Books Bibliotheque Tenjin, Fukuoka

August 21 / Cafe & Books Bibliotheque Tsuruya, Kumamoto

Official Site: http://www.bibliotheque.ne.jp/

Tomakomai Mirai Fest 2022 to be Held in September

On September 17 and September 18, the Tomakomai Urban Renewal Project Committee will hold Tomakomai Mirai Fest 2022, inviting guests to celebrate the area around Tomakomai in Hokkaido. 

The purpose of this event is to promote the appeal of the Tomakomai region, not only to those living in Japan but to those living abroad. In addition to music, the event will also feature art, food, technology, and more content that can be enjoyed by kids, families, and people of all ages and genders.

The main venue of the event will be the Tomakomai Civic Hall. Musical acts announced so far include Awesome City Club, Kyary Pamyu Pamyu, and Little Glee Monster.

In the Tomakomai Civic Hall parking lot and the nearby Kirakira Park, guests can enjoy free DJ performances, mini-concerts, art and technology installations, food trucks, picnic areas, and more. In addition, the Nishikimachi and Omachi areas will be decorated with digital art, and food and beverages will be available.

Advanced 2-Day tickets are available now on Ticket Pia by lottery. More performers and additional content will be announced soon, so keep an eye on social media and the official website.

Information

Tomakomai Mirai Fest 2022

Dates: September 17 and 18, 2022

Venue: Tomakomai Civic Hall, Large Hall

Hours: 

September 17 / Doors Open 16:30, Event Starts 17:30

September 18 / Doors Open 14:30, Event Starts 15:30

*More detailed event times and locations will be announced at a later date.
Locations: Tomakomai Civic Hall, Large Hall / Parking Lot / Kirakira Park / Around Omachi, Nishikimachi

Tickets: https://w.pia.jp/t/tomakomaimiraifest22/

Official Site: http://miraifest-tomakomai.jp/

Private Jet Package Now Available in Toyama Offering Spectacular View of Tateyama Mountains

Mizu to Takumi, a company associated with the Toyama West Tourism Promotion Association, has teamed up with SKYTREK to offer guests a once-in-a-lifetime chance to visit the area via private jet. Reservations for the incredible experience began on June 17, 2022.

Offering an entirely new tourism experience in Toyama Prefecture, visitors can see the area's natural wonders from miles above the Earth. The program also aims to share local culture and more about traditional craftsmanship and cuisine.

Toyama Prefecture boasts dramatic topography, from the massive peaks of the Northern Alps and the Tateyama Mountains to the deep waters of Toyama Bay. To better allow visitors to see the sights, these private jet tours will be chartered on special courses different from standard airlines.

After the flights, guests will be welcomed to explore Takaoka's deep history and culture. Kane no Sanzun, a restored and preserved inn, will welcome visitors, offering a relaxing and rejuvenating time.

Visitors can also book optional excursions to further explore the area, such as a Zen meditation experience at a famous temple in Takaoka, a traditional crafting workshop, and a tour and tasting of the only whiskey distillery in the Hokuriku region.

Come enjoy a trip to Toyama with a whole new perspective!

Hokkaido Information Base the Lodge to Open in 2023, Invites Guests to Learn More about the Area's Unique Attractions

Hokkaido Ballpark F Village, a commercial space coming in 2023 and located on the south side of ES CON Field Hokkaido, will feature a unique attraction. Visitors to Hokkaido won't want to miss checking out THE LODGE, an information center focusing on unique experiences and attractions that can only be found on Japan's northernmost island.

THE LODGE will be located in the center of F Village, connecting the ES CON Field to the waterfront area. Guests will be able to get valuable tips about local attractions and one-of-a-kind experiences.

In addition to a showroom where visitors can discover the charms of neighboring areas, the building will also serve as a tourism hub where tenants can enjoy outdoor activities and workshops. The location hopes to create a larger sense of community, and guests are encouraged to learn more about each unique and distinct area of Hokkaido. 

 

Materials unique to Hokkaido (Hokkaido larch, local cedar wood, Ebetsu bricks) were used to create the space, and the roof was made to reflect the local mountain range. The creators are excited to welcome guests to this warm and inviting space next year!

Airbnb Reveals Top 10 Most Popular Summer Destinations in Japan

Airbnb boasts one of the largest travel communities in the world, filled with users offering up lodging and those eager to visit somewhere new. The Japanese subsidiary of the company has revealed the top spots added to Japanese users 'Favorites (Wish Lists)' from May 1 to May 17, 2022. Where will travelers in the country be headed this summer?

Golden Week is long gone and users are starting to think about where to visit during the hottest part of the year. This national 'Wish List' might make it easier to pick a spot, with many locations highlighting lesser-known areas!

Gujo Hachiman Villa, Limited to 1 Couple Per Day (Gifu)

This completely private rental villa was made for sauna enthusiasts. One lucky pair per day can book this suite along the Yoshida River flowing through Gujo Hachiman, known as the "City of Water and Dance." Currently booked through the end of August, reservations for September and beyond will be available in early June. Book a stay to enjoy the gorgeous autumn foliage!

A House Surrounded by Lush Greenery in the Countryside (Tottori)

Hosted by a family of musicians and architects, this guesthouse invites guests to enjoy gorgeous Nordic-inspired interiors and the serene quiet of the countryside. For those looking to escape the hustle and bustle of the city, this is the perfect spot.

Hoshina Satomachi, Limited to 1 Couple Per Day (Nagano)

There's nothing like spending the summer in a traditional Japanese home. Enjoy a barbeque on the terrace and relax on the massive lawn. This is the perfect spot for families with children or pets!

Coastal Cabin (Chiba)

You can't have summer without a pool. This luxurious coastal retreat boasts a 15-meter pool, outdoor Jacuzzi, bonfire space, and a barbeque. Relax by the pool while listening to your favorite songs or soak in the outdoor bath as you watch the waves crash along the shore.

An Elegant and Peaceful Log Cabin (Nagano)

Located at 1,300 meters above sea level on the Iizuna plateau, this log cabin is situated in the midst of a dense forest. A perfect space for couples, families, or small groups of friends, guests are welcome to enjoy hiking through this gorgeous landscape in the center of Japan!

Kyary Pamyu Pamyu Collaborates with Famous Poeme Sweets in Ehime Prefecture

Kyary Pamyu Pamyu made waves with music lovers around the world last month when she performed at Coachella, one of the largest and most famous music festivals on Earth. On May 28, Kyary will perform in Ehime, and the artist has released details about another collaboration as part of the LOCAL POWER JAPAN Project, launched to energize Japan through the appeal of regional towns and cities.

In Ehime Prefecture, Kyary is teaming up with Poeme, a famous sweets shop in Setouchi close to the Seto Inland Sea. The shop itself opened in 1950 with a different name and quickly became popular for its Butter Manju. The buns, baked in a buttery biscuit dough with red bean paste, were an extravagant confectionary at the time. In the late 1950s, a friend of the founder Okada Kazutarou tasted the Butter Manju and said "This is a poem," hence the current name of the location. After 76 years, the name of the shop still reflects Poeme's mission that has been present since the company's founding just after WWII. 

The collaboration logo for the project was inspired by Kyary's 2018 album Japamyu, which was released after four successful overseas tours. The album cemented the artist as one of Japan's top talents, and the logo combines Poeme with Japamyu to make Poemyu.

A collaborative T-shirt is also on sale featuring the new logo and the singer's 10th-anniversary logo. The shirt is only available until June 8 on the official LOCAL POWER JAPAN Project website.

Information

Ehime's Poeme x LOCAL POWER JAPAN Project

Collaboration T-shirt
Price: ¥3,300 (Tax Included)

Where to Buy:
LOCAL POWER JAPAN Project Online Shop

Available until June 8 at 23:59
https://store-localpowerjapan.com/

Official Site: https://localpowerjapan.com


*Please allow two weeks to one month from order completion to product shipment.

*A portion of T-shirt sales will be donated to local projects and social programs.

NAKED's Popular Night Walk Returns to Illuminate Jozankei Onsen in Hokkaido

The JOZANKEI NATURE LUMINARIE -WATER LIGHT VALLEY- event is coming back in 2022! The event, which shows off the natural beauty of Jozankei's rivers, valleys, and forests, from June to October. Guests can enjoy an illuminated walk along the Toyohira River in the Jozankei area of Hokkaido and wander across the picturesque Futami Suspension Bridge. 

 

This year, the park area at the entrance to the event has been redesigned with new lights. A 2.5-meter-high blue dome will welcome guests with an image of water, and the trees and wisteria trellises will be decorated with twinkling golden lights.

Welcome Light Lake *Image from 2021

River Road

Forest Water Ripple

Nature Projection

Futami Valley

Visitors will encounter a variety of unique light art as they stroll through the rich nature of Jozankei guided by the elusive kappa, known to be the guardian Gods of the region. As visitors approach, the river begins to glow while flowers bloom in this interactive art experience. By using projection mapping across the Futami Suspension Bridge and an all-encompassing light show within the canyon, the event hopes to remind visitors that nature is important and worth preserving. 

How would you like to spend your summer deep in the illuminated nature of Hokkaido?

Information

JOZANKEI NATURE LUMINARIE – WATER LIGHT VALLEY

Address: Jozankei Futami Park – Futami Suspension Bridge
(Jozankei Onsen Nishi 4-chome, Minami-ku, Sapporo, Hokkaido)

Running: June 1 – October 23, 2022
Hours:
June – August: 19:00-21:00
September – October: 18:00-21:00

*Tickets available for guests of Jozankei Onsen only
Official Site: https://jozankei.jp/jozankei-nature-luminarie

Rilakkuma 20th Anniversary Tour to Visit Hokkaido

Everyone's favorite lazy bear Rilakkuma is turning 20! To commemorate this big event, Sanrio is holding a special tour that will travel around Japan. From July 13 until August 31, events will pop up in three cities in Hokkaido–Sapporo, Obihiro, and Hakodate.

Merchandise

Rilakkuma & Todok Collaboration Cotton Gloves

The environmentally-friendly event will offer locally designed products made from recycled materials. A special Hokkaido Ocean Cleanup will also be held with a group in Sapporo, and those participating in the event will receive a limited edition pair of cotton gloves.


Prior to the start of the event, the official Twitter account of the Rilakkuma tour (@rk_ensembletour) is running a limited-time campaign until May 29. 10 lucky people will win a magnet sticker not available for sale! To enter, just follow the account and retweet the tagged Tweet.

Information

Anniversary Tour ~Let's Share the Leisurely SDGs Together~

Sapporo Venue

Running: July 13 – July 25, 2022

Venue: Daimaru Sapporo 7F

Address: 4-Chome-7, Kita 5-Jonishi, Chuo-ku, Sapporo

Obihiro Venue

Running: July 29 – August 9, 2022

Venue: FUJIMARU 6F Event Space

Address: 8-Chome-1 Nishi 2 Jominami, Obihiro

Hakodate Venue

Running: August 13 – August 31, 2022

Venue: Kanemori Yobutsu Red Brick Warehouse Event Space

Address: 14-12 Suehirocho, Hakodate
Contact/Details: 

Cut-off Date: June 5, 2022
https://mybottle-eco.com/action/cleanup/

Hokkaido Ocean Cleanup
Date: June 15, June 18 / 10:00-11:00 (Reception open at 9:30~)
Location: 51 seashores around Hokkaido

Participation Fee: Free

Event: https://www.san-x.co.jp/rilakkuma/ensembletour/
Hokkaido Special Site: https://www.san-x.co.jp/rilakkuma/ensembletour/hokkaido.html