Enjoy a relaxing stay at the new samurai and ninja-themed hostel which has just opened in Ikebukuro.
The unique "SAMURAIS HOSTEL" has recently opened in Ikebukuro. Fusing together the concepts of samurai, ninja and art, the hostel consists of rooms decorated with wall paintings and castle-themed private rooms. You can enjoy a variety of events at the same location, including commemoration photography where the guests can try on armour. This is no ordinary accommodation ー it is packed with entertainment!

The concept of "Samurai, Ninja X Art" runs through the hostel. The 4th floor has been designed for families and groups. This floor contains private rooms themed around castles which stood during the Warring States Period of Japanese history (approx. 1467-1568 CE). The 3rd floor consists of dormitory-style rooms, and the 2nd floor includes private rooms for up to 2 guests. Both the 3rd and 2nd floors include rooms which are ninja-themed, mount fuji-themed, and much more!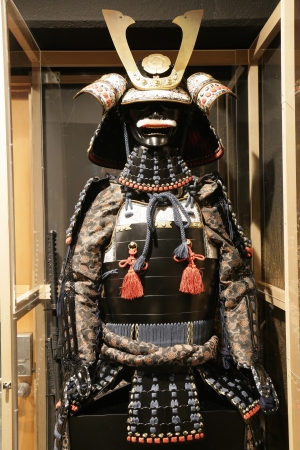 Guests are welcome to have their photo taken whilst wearing  samurai armour and a helmet. This event is located in the reception area of the 1st floor. Guests will then receive a photo of themselves wearing the armour set as a present (fee included).
The price to stay at this accommodation depends on the season, varying between ¥3,000 〜 ¥6,000 per person per night. Experience Japan to your heart's content at a reasonable price at this hostel!
■Information
SAMURAIS HOSTEL Ikebukuro
Address:3-52-12 Ikebukuro, Toshima-ku, Tōkyō-to
Contact number:03-5904-8384
URL: http://www.samurai-s.co.jp/
ーーー
■Related article: Dress up as a wartime samurai over at the "Samurai Armor Photo Studio" in Shibuya!
■Related article: 【MOSHI MOSHI GOURMET】Why don't you go bar hopping at "Omoide Yokocho"?
RELATED ENTRIES
NINJA SKILL BALLERZ Short Movie Combines the Worlds of Ninja, Basketball, Shamisen & Taiko Drumming

If you haven't heard of NINJA SKILL BALLERZ yet, you're in for a treat. They are a crew of five of the world's top level basketball players spreading a fascination of freestyle basketball to the world.

Their video NINJA x BASKETBALL? garnered over 1 million views on Facebook within just 10 days of its posting. One month after its release, they appeared on the Japanese television show Sukkiri where they held their first ever live television performance. The group are paving the way for the freestyle basketball culture, which in Japan isn't recognised enough and has few players.

Now, the group have just dropped a new short movie which translates to "Ninja-Style Basketball Squad."

The video not only shows off the group's thrilling skills, but their performance also incorporates Japanese elements like the tsugaru shamisen and taiko drums which serve to make the show that much more captivating. Pay particular attention to three of the members: ZiNEZ, the Flow Ninja; ISSEI, the Spin Ninja; and TaMa, the Multi-Ball Ninja.

The World's First Living Siren Displayed at Ikebukuro's Sunshine Aquarium to Spook Visitors

From January 23 to March 8, 2020, the family-friendly Sunshine Aquarium is getting a horror makeover by haunted house producer Hirofumi Gomi. From sight to sound, the aquarium's unique characteristics have been transformed to trigger your senses. The aquarium will even display a legendary siren.

The horror aquarium debuted in 2016 as the Noroi no Mizugushi (Curse of the water comb). Following its great response, it returned in 2017 as Ayakashi no Ningyo (Ghost Mermaid) and again in 2018 as Shichinin Misaki (Themed on the legendary seven ghosts spotted in lakes and oceans). The horror aquarium has raked in a total of 65,000 visitors. This year's Siren is bound to bring as much of a scare as its predecessors.

A siren is a creature that takes on the appearance of a beautiful woman. Known to lurk in the depths of the sea, they lure in sailors with their beautiful singing to sink their ships. Stories of sirens have been told throughout the years in countries all over the world. The seductive and simultaneously deadly creature has aroused our curiosity for decades, leading to Sunshine Aquarium actually capturing one to display to the public. This one is particularly terrifying. Nobody knows what it is capable of.

Note: Sirens are not real creatures and the displayed siren is not real either.

What was once a relaxing and soothing atmosphere has taken a complete turn. Goosebumps will raise on your skin as you delve deeper into the unknown depths of the aquarium with family and friends.

Information

Horror Aquarium: Umi no Yōjo "Siren"- Ikiteiru Kyōfu-

Running: January 23 ー March 8, 2020

Opening Hours: 18:30 – 21:00
*Closes at 22:00 on Fridays, Weekends and National Holidays (Last Entry: 30 mins before closing time)

*Sunshine Aquarium's usual exhibition period runs until 18:00. (Last Entry at 17:00)

Venue: Sunshine Aquarium (3-1, Higashiikebukuro, Toshima, Tokyo
Price: Two Adults (Above High-School-Age): ¥3,500/ One Adult: ¥2,200/ Child (Middle School/ Elementary School-Age): ¥1,200/ Infant ( 4-years-old and over): ¥700
*Young children must be accompanied by an adult or a carer of at least high-school-age. Those under 4-years-old can only enter with the consent of their accompanying carer or adult.

Advanced tickets are currently being sold as of December 19, 2019. Please visit the aquarium's official website for more information on tickets and year-long passport memberships.

Sunshine Aquarium Official Website: https://sunshinecity.jp/en/

My Hero Academia Pop-Up Shop to Open at Ikebukuro Sunshine City in Tokyo

Bandai Namco Amusement is opening a My Hero Academia pop-up shop at the new Namco Ikebukuro facility which itself is set to open this winter at Sunshine 60 Street. The pop-up shop will run for a limited time only from December 20, 2019 to January 19, 2020.

*The pop-up shop will be open before Namco Ikebukuro fully opens

To date, this pop-up shop has hit Shinjuku, Nagoya, Hakata and elsewhere across Japan since March 29 this year. The shop features official designs and illustrations drawn specifically for itself, themes of which include the cool Heroes laughing in the face of adversity, wearing festive headbands and happi coats, and more. These designs feature on exclusive merchandise, and there is even a raffle mini game where fans can win tapestries, pin badges, and other limited edition goodies.

Fans can also get involved in a digital roulette game which has been held at the other pop-up shops, which features a background image featuring the characters from the series, where they can win more items. New prizes will be included at both Nambo Ikebukuro and Namco Umeda.

And to promote the upcoming anime film My Hero Academia – Heroes: Rising, Namco Ikebukuro is holding a campaign for fans to win one of three possible postcard designs from the film.

©My Hero Academia Production Committee ©️2019 "My Hero Academia THE MOVIE" Production Committee ©️Kohei Horikoshi/Shueisha

*The information in this news release is up to date at the time of posting. Information regarding the event is subject to change without notice.

*Photos are for illustrative purposes only.

Information

My Hero Academia Character Pop Store

Running: December 20, 2019 – January 19, 2020

Opening Hours: 10:00-20:00

Address: Ikebukuro Sunshine 60 Street Floor B1F, 1-22-10 Higashi-Ikebukuro, Toshima Ward, Tokyo

Pop-Up Shop Website: https://bandainamco-am.co.jp/chara_shop/heroaca/

My Hero Academia Official Website:  https://heroaca.com/

Campaign Details

To enter the campaign, you must download the Namco App (ナムコアプリ) and follow Namco Ikebukuro as one of your favourites. Those who follow the store will receive a coupon to receive a postcard. If they show this coupon to a staff member at the store, they will receive one of three possible My Hero Academia – Heroes: Rising postcards chosen randomly. Available on a first-come, first-service after Namco Ikebukuro opens. Exclusive to the Namco Ikebukuro branch.

Store Website:  https://bandainamco-am.co.jp/game_center/loc/ikebukuro/

Gintama Diner: Tokyo's Gintama Themed Cafe Heads to Animate Branches Across Japan

Animate Cafe, a chain of cafes that collaborate with popular anime and game franchises, is teaming up with Gintama to open the Gintama Diner for a limited time at the following branches: Ikebukuro 3, Kobe Sannomiya, and Nagoya 2.

The cafe will be inspired by American diners, and will run from December 19 to January 7 next year. Each cafe has its own system for being able to dine there. The Ikebukuro 3 and Kobe Sannomiya branches are all reservation-only, with each daily reservation going through a lottery system for a chance to have a place allocated. The Nagoya 2 branch has the same system for December 19-20 only, otherwise it is first-come, first-served.

Thick-Cut Bacon Burger – ¥850

Yorozuya Gin-chan's Sakata Parfait – ¥850

Gin's Strawberry☆Milk – ¥600

The menu features dishes, desserts and drinks inspired by the characters of the series. The bacon burger comes with a side menu item of your choice, with each being based on a specific character's favourite side menu item. The parfait too is bright and vivid like the Yorozuya members.

When fans order from the themed menu, they'll receive one of eight possible coasters featuring original designs.

Big Acrylic Stands (Diner ver.)

Squishy Trading Pin Badges

Trading Acrylic Keyrings (Diner ver.)

Fans will also be able to pick up some exclusive cafe merchandise they won't find anywhere else, including acrylic stands, pin badges, key rings, and moreーall featuring a diner design.

©️Hideaki Sorachi/Shueisha・TV Tokyo・Dentsu Inc.・BNP・Aniplex

*All listed prices include tax

Information

Gintama x Animate Cafe

Running: December 19, 2019 – January 7, 2020

Participating Branches

・Animate Cafe Ikebukuro 3

・Animate Cafe  Kobe Sannomiya

・Animate Cafe Nagoya 2

How to Enter

You must reserve a place for dining at Animate Cafe Ikebukuro 3 or Animate Cafe Kobe Sannomiya where you will be entered into a lottery and randomly allocated a slot. This applies to Animate Cafe Nagoya 2 for only December 19-20, weekends and public holidays, otherwise this branch is first-come, first-served.

Cafe Website: https://cafe.animate.co.jp/event/gintama1912

Devil May Cry 5: Capcom Cafe Ikebukuro Collaborates With DMC5 Again Featuring New Menu & Merch

The Capcom Cafe is collaborating with the action-adventure hack and slash video game Devil May Cry 5 once again at the Ikebukuro, Tokyo branch from December 5, 2019 to January 15, 2020.

The cafe will feature various menu items and merchandise that was sold at the Laketown branch of Capcom Cafe, as well as a new meal and two new desserts. For new merchandise, they have introduced a Vergil perfume.

New Menu Items

Devil Breaker "Overture" Potato – ¥880 (Before Tax)

These fries are inspired by the Overture Devil Breaker used by Nero. They are served with two kinds of sauce: ketchup and bagna càuda. Enjoy this simple but delicious dish based on the first Devil Breaker available in the game.

My Strawberry Sundae – ¥1,100 (Before Tax)

Piled to the top with sweet strawberries, now fans can enjoy Dante's favourite dessert too.

Demon World Mont Blanc – ¥980 (Before Tax)

Dive into the Demon World with this mont blanc, made with black cocoa and mixed berries for a rich and deep flavour.

These are the new food items introduced, but there are lots of others you can order too.

New Merchandise

Vergil Perfume – ¥4,800 (Before Tax)

This perfume captures everything about the DMC character Vergil including his path to seeking the truth and his superiority. The first smell to hit your nose is the cool and piercing mint, followed by the waft of cedarwood, and finally amber for an oriental finish.

The cafe also has plans to reproduce the Nero, Dante and V perfumes for the cafe too, all of which originally sold out.

©CAPCOM CO., LTD. ALL RIGHTS RESERVED.

Information

Devil May Cry 5 x Capcom Cafe Ikebukuro

Running: December 5, 2019 – January 15, 2020

Address: Capcom Cafe Ikebukuro, 1-30-3 Higashi-Ikebukuro, Toshima Ward, Tokyo
Opening Hours: 10:00-22:00 (Last Orders 21:00)

Official Website: http://www.capcom.co.jp/amusement/capcomcafe/ikebukuro/

This Week's Dessert: Savouring Autumntime Matcha Sweets at ATELIER de GODIVA in Ikebukuro

One thing I do at least once a week without fail is treat myself out to some delicious food or dessert. It's very important time well spent to ensure happiness.

I've been working relatively hard as of late. I had some spare time before a business meeting, so I took advantage of the occasion to treat myself to some desserts. My destination: ATELIER de GODIVA located inside Seibu Ikebukuro.

GODIVA has numerous stores throughout Tokyo, but Ikebukuro's concept store branch has an eat-in space that's perfect for that tea or coffee break.

ATELIER de GODIVA boasts that same level of quality when it comes to their desserts, some of which are exclusive to this branch. There are only three branches: this one in Seibu Ikebukuro (Tokyo), another in Daimaru Kyoto (Kyoto), and the last in Hakata Hankyu (Fukuoka). The cake I am showing you today is a special dessert sold only in these three branches (and is takeout only at Hakata Hankyu).

The first delight I ordered was the Mousse Matcha Cherry.

Mousse Matcha Cherry: Eat in ¥980 / Takeout ¥780 (*Matcha Ice Cream is eat-in only)

Available: Until November 26, 2019 while supplies last

The shiny cake is served on a round white plate with a dollop of matcha ice cream. The pink berry sauce is drizzled around the plate to make the plating even cuter.

Time to tuck in. This extravagant cake is supported by a fluffy matcha mousse topped with a crunchy chocolate sable. On top of that still are juicy cherries, adding a hint of freshness to the cake. The matcha glaze on the mousse has just the right amount of bitterness, which when coupled with the subtly sweet matcha mousse makes for a heavenly balance of flavours. Lined around the base of the mousse are sweet and sour dried raspberries which elevated the matcha-ness of the matcha mousse.

The matcha ice cream which it comes with when you order to eat in is rich and creamy.

I was full up after my dessert, but since I'd taken the time to come here I wanted to order a drink too… so I got a takeout Chocolixir Uji Matcha Kiwami from a shop adjoining ATELIER de GODIVA.

Chocolixir Uji Matcha Kiwami – ¥602 (*Takeout only at the GODIVA Seibu Ikebukuro branch)

This new drink is part of GODIVA's chocolate and tea pairing series. The chefs at GODIVA have carefully selected the best varieties of tea to combine with chocolate. This one is an iced drink made with white chocolate and matcha.

It's a mix of GODIVA's popular smooth and sweet white chocolate and rich Uji matcha. It's crowned with a sprinkling of bitter Uji matcha powder. All of the flavours are highlighted in this sweet drink. The crunchy white chocolate pieces you sip up as you drink are delicious. It's the kind of drink where you're sure to find something new each time you take a drink.

My 30-minute tea break is my little self-indulgence for the day. Spare minutes in my daily schedule affords me the chance to go and enjoy some delicious desserts. You should treat yourself to some special autumntime sweets too.

Today's Presents

Matcha Adzuki ATELIER Tablet – ¥800

It's important to share the happiness between family and colleagues on when you get the chance to enjoy something tasty. The present I bought today was a tablet chocolate handmade in the shop. The matcha white chocolate has almonds in it as well as Japanese-style chocolate mixed with adzuki. It has a strong matcha flavour and isn't overly-sweet. You can also request for a ribbon to be tied around it for gift-giving. It's a chocolate that's sure to bring anyone joy.

Writer:Sayuri Mizuno(MOSHI MOSHI NIPPON)

Translator: Joshua Kitosi-Isanga

Information

ATELIER de GODIVA Seibu Ikebukuro

Address: Seibu Ikebukuro B1F, 1-28-1 Minami-Ikebukuro, Toshima Ward, Tokyo

Opening Hours: [Mon-Sat] 10:00-21:00 / [Sun & Holidays] 10:00-20:00

ATELIER de GODIVA Daimaru Kyoto

Address: Daimaru Kyoto B1F, 79 Tachiuri Nishimachi, Shimogyo Ward, Kyoto, Kyoto Prefecture

Opening Hours: [Mon-Sun] 10:00-20:00

ATELIER de GODIVA Hakata Hankyu

Address: Hakata Hankyu B1F, 1-1 Hakataekichūōgai, Hakata Ward, Fukuoka, Fukuoka Prefecture

Opening Hours: [Sun-Thurs] 10:00-20:00 / [Fri-Sat] 10:00-21:00

Chocolixir Uji Matcha Kiwami

Running: October 1, 2019 – November 30, 2019

Available: GODIVA

https://www.godiva.co.jp/boutique/?view=map&store_list_id=50

GODIVA Official Website: https://www.godiva.co.jp/

Stroll the Edo Streets as an Elegant Samurai and Make Tea in the Feudal Lord's Residence

Sakura, Chiba is home to important cultural heritage and even what is also known as the "Samurai Town". Now you can stroll around the beautiful old streets of Sakura dressed as a Samurai, attend a relaxing zen session and even take part in a tea ceremony as part of a limited period tourist plan. The Samurai tour is mainly aimed at foreigners, however Japanese people who are curious about samurai culture are also more than welcome to join. 

Sakura Castle Samurai Stroll

In 2016, Sakura became one of the four cities of the Hokuso region to be designated as a Heritage site under the title "An Edo Travelogue through Four Hokuso Cities" for its preservation of the old Edo culture. Old buildings full of secrets can be spotted all over the town, creating the old atmosphere of the Edo period. Embrace the elegant remnants of the Edo period with a relaxing stroll in Samurai clothing. Who knows what you might discover.

Your relaxing stroll will be led by a tour guide who knows a lot about the history of Sakura. This is a wonderful opportunity to take beautiful pictures of the historical Samurai house (Bukeyashiki). Your tour guide will also show you Hiyodorizaka, which is a natural path lined with a dense forest of tall bamboo trees where Samurai are said to have often pass by. Every year, the bamboo and wooden sword martial arts sessions in the program are also very popular. 

◇ Running:

October 26

 November 9, 23

 December 14, 21

January 11, 25

February 8, 22

March 12, 28

April 9, 25

May 9, 16

◇ Times: 9:30 ー 12:30

 *The program will still run in bad weather excluding stormy or severe weather.

◇ Prices:

¥6,500 per person (Includes lunch voucher and entry to the samurai house)

* ¥6,000 per person when you purchase tickets as a group of 3 or more.

◇ Tickets

Reservation Website: https://www.govoyagin.com/ja

Apply Directly to Sakura City Tourism Association

TEL: 043-486-6000

Email: sakurashi-kankou@catv296.ne.jp

* Phone calls will be answered in Japanese only.

Zen Meditation and Tea Ceremony in the House of a Feudal Lord

There are also guided zen meditation and tea ceremony sessions which are available for a limited period only. These guided zen meditation and tea ceremonies will take place in the Kyuhottatei ー one of Japan's most preserved traditional-style feudal lord residences. This luxurious Edo-style mansion was built 130 years ago and is classified as an Important Cultural Property.  

◇ Running:

October 16,

November 7, 19

December 6, 18

◇ Times: 9:00 ー 12:30

 *The program will still run in bad weather excluding stormy or severe weather.

◇ Prices:

¥10,000 per person (Includes lunch voucher, entry to the Kyuhottatei and tea ceremony participation fee.)

◇ Tickets

Please enquire directly to the Sakura City Tourism Association

TEL:  043-486-6000

Email Address: sakurashi-kankou@catv296.ne.jp

* Phone calls will be answered in Japanese only.

If you are curious about Edo Samurai culture, you won't be disappointed by this program.

That Time I Got Reincarnated as a Sanrio Slime Fair Opens at Three KIDDYLAND Stores

From September 21 to October 11, three KIDDYLAND stores will be holding a fair dedicated to the anime That Time I Got Reincarnated as a Slime, which has become a big hit overseas. 

 

The series, which was created by Fuse, aired two seasons from October 2018 to March 2019. It has been confirmed that a sequel will be made in the year 2020. Following the anime's successful reception, a novel version of the anime series which goes by the same name was produced by GOT A CHANCE novel. More than 14 million copies have been sold so far.

The story follows an extraordinary event which happened to a normal man. The main character Satoru Mikami died to random knife attack and was reincarnated as a monster called a slime. The series became massively popular once the adorable figure of the main character as a slime was revealed.

That Time I Got Reincarnated as a Sanrio Slime: Slime Keyring (5 designs): ¥1,200 each (before tax)

All your favourite characters have been reincarnated in a cute Sanrio-style! Head to the KIDDYLAND fair to get your hands on a KIDDYLAND-limited Slime Keyring. A large variety of new goods are being sold here ahead of any other shop and online service.

That Time I Got Reincarnated as a Sanrio Slime: Cuddly Characters Badge (5 designs): ¥680 each (before tax)

Come explore all your favourite characters in their adorable Sanrio form!

©川上泰樹・伏瀬・講談社/転スラ製作委員会

Information

That Time I Got Reincarnated as a Sanrio Slime Fair IN KIDDYLAND

Location: KIDDYLAND (Harajuku, Ikebukuro Sunshine City, Sannomiya)

Running: September 21 ー October 11,2019 

More Information: https://www.kiddyland.co.jp/event/ten-sura/

My Hero Academia Themed Cafe to Open at SEGA Ikebukuro GiGO in Tokyo

A cafe based on the hit TV anime series My Hero Academia will open at SEGA Ikebukuro GiGO on October 12.

Drinks Menu

 

Drinks – ¥600 Each (Before Tax)

Original Latte Art (11 Designs) – ¥700 Each (Before Tax) *Choose your own

Food Menu

Menu ①: October 12, 2019 – November 1, 2019

Katsu-Lover Midoriya's Pork Rib Noodles / Eijiro Kirishima's Crunchy Kakiage Don – ¥1,200 Each (Before Tax)

Menu ②: November 2, 2019 – November 24, 2019

Katsuki Bakugo's Spicy Mapo Doufu / Shoto Todoroki's Fire & Ice Tomato Cheese Pasta – ¥1,200 Each (Before Tax)

Dessert Menu

Menu ①: October 12, 2019 – November 1, 2019

Ochaco Uraraka's Japanese-Style Dessert Set with Matcha Milk – ¥1,200 (Before Tax) / Tenya Iida's Source of Strength Orange Parfait – ¥900 (Before Tax)

Menu ②: November 2, 2019 – November 24, 2019

U.A. Dessert Plate – ¥1,200 (Before Tax) / Tsuyu Asui's Kero Kero Parfait – ¥900 (Before Tax)

Enjoy a fun selection of food, drinks and desserts inspired by the My Hero Academia character cast. You can only pick between one meal and/or dessert when ordering.

 

Bonus Merch

When ordering from the drinks menu or one of the latte art coffees, you will receive one drinks coaster selected randomly from the following designs during the following dates.

Coaster Line-Up ①: October 12, 2019 – November 1, 2019

Coaster Line-Up ②: November 2, 2019 – November 24, 2019

And when ordering from the food or dessert menu, you will receive one of the below-pictured original bromide pictures chosen randomly. All of these bonus items are first-come, first-served.

Merchandise Shop

The cafe will also have its own merchandise corner selling exclusive items in collaboration with SEGA.

Available From October 12

Holographic Pin Badge (7 Designs) – ¥500 Each (Before Tax) *Chosen randomly, up to 10 allowed per person in one transaction 

Acrylic Key Ring with Stand – ¥1,200 Each (Before Tax) *Chosen randomly, up to 10 allowed per person in one transaction

Available From November 2

Mini Card (7 Designs) – ¥600 Each (Before Tax)

There are lots of other pieces of merchandise to get your hands on too. The cafe-exclusives are available only to those who use the cafe.

You must book a table in advanced if you want to visit, so be sure to get yours in quick.

©Kohei Horikoshi / Shueisha・My Hero Academia Production Committee ©SEGA

*Photos are for illustrative purposes only. Actual product may differ.

Information

SEGA Collabo Cafe My Hero Academia

Running: October 12, 2019 – November 24, 2019

Location: SEGA Collabo Cafe Ikebukuro GiGO (SEGA Ikebukuro GiGO Floor B2F, 1-21-1 Higashi-Ikebukuro, Toshima Ward, Tokyo

Schedule

Menu ①: October 12, 2019 – November 1, 2019

Menu ②: November 2, 2019 – November 24, 2019

*Menu items and coaster designs will change for each menu

*More details can be found on the SEGA Collabo Cafe official website

Cafe Website: https://sega-collabocafe.com/ikebukuro/heroaca02.html

My Hero Academia Official Website: https://heroaca.com/

Sanrio-Style Sarazanmai Café to Steal the Scene at Tokyo and Osaka

A café based on the popular anime Sarazanmai is coming to Tokyo on September 19 and Osaka on September 26 and will run for a limited time only. The café designs were produced by Sanrio. 

Sarazanmai is a TV anime which was produced by animation studios MAPPA and  Lapin Track. The anime became incredibly popular when it aired between April and June 2019 on the Fuji TV programming block Noitamina. The last episode was met by an undying stream of grateful messages from fans and even those involved in the creation of the series. 

Sanrio produced Sarazanmai designs which are perfect for the traditional coffee shop theme and the retro Asakusa atmosphere of the series. The collaboration cafés will open in Ikebukuro in Tokyo and Nipponnbashi in Osaka.

Menu

Football Curry of Youth: ¥1,380 (before tax)

Football is what connects the three main characters Kazuki, Kuji and Enta. Come taste the delicious flavour of budding friendship in the form of a delicious curry at the café.   

Pudding a la Mode of Friendship: ¥1,280 (before tax)

The three middle schoolers are represented in the form of colourful fruit. This is a delicious dish easily enjoyed by anybody. 

Sparkling Jelly Juice (Kazuki/Kuji/Enta): ¥650 each (before tax)

These jelly drinks are also themed around Kazuki, Kuji and Enta. The jelly lurking at the bottom of the cup adds a wonderful accent to the flavour.  

Original Goods

Badge (10 random designs): ¥450 (before tax)

Mug (one design only): ¥1,500 (before tax) 

Special Bonus Goods

Those who book seats in advance (¥500 + tax) and order from the menu will receive an original design sticker. You will be presented with one of four designs at random. 

For each item ordered from the menu, you will receive an original design drink coaster. One of six designs will be given to you at random. 

This café is the perfect place to relax at your own pace this autumn. 

© イクニラッパー/シリコマンダーズ

Information

Sarazanmai Café (Designs Produced by Sanrio)

Open:

・Ikebukuro, Tokyo: September 19 ー October 27, 2019

・Nipponnbashi, Osaka: September 26 ー November 5, 2019 

Advanced reservations accepted from 7pm on September 6, 2019 

Reservation Fee: ¥500 (comes with a bonus for reserving)

Official Website: https://sarazanmai-sanrio-cafe.jp/

Tokyo's Revolutionary Buena Àrte Hostel to Open in Ryōgoku Area On September 14

Buena Àrte Hostel is a revolutionary new hostel set to open in the Ryōgoku area of Tokyo on September 14, 2019.

In response to the increase in the number of foreigners staying in Tokyo, and especially in anticipation of the Tokyo 2020 Olympics and Paralympics-when numbers are expected to skyrocket-Japan's capital is well underway in developing more accessible accommodation options for foreign travellers, from hotels to hostels.

Hostels in particular are a huge focus for the city, and so more and more of them are opening. Catered to younger people and travellers, hostels are a much cheaper accommodation option when compared to hotels, and thus are likely to increase the number of days in which people will stay.

However, what is considered much more valuable for foreign travellers is the level of comfort, cleanliness, and safety. Buena Àrte Hostel is all of these and more, meaning even somebody travelling on their own can feel safe and secure. With over 200 pieces of art adorning its walls, it is the world's first art-centred capsule hotel, focusing on "fun, comfort, and encounters."

The hostel has collaborated with globally-active artists and up-and-coming illustrators to bring their art to the walls of the communal spaces, restaurant, and even bedrooms. A lot of the pieces you can buy too.

Found in over 160 of the bedrooms are illustrations drawn by artists who want to convey the fun and excitement of travel. These illustrations are exclusive as they were drawn for the hostel and so there is only one of each in the world. There are around 60 rooms without illustrations yet, so the hostel is asking for submissions. If your illustration is picked, the hostel will offer you a free night with breakfast and dinner as thanks. You can find more details on the official website.

Buena Àrte Hostel has its own cafe and restaurant on the first floor, the Buena Cafe & Dining Bar, where guests including foreign tourists can enjoy authentic Japanese cuisine. The "Washoku Plate" is a meal set aimed at those arriving from overseas so they can enjoy a filling portion of Japanese-style cuisine. It includes everything from sukiyaki to tempura, kushikutsu, and more. It also includes Japanese sake. The bar sells other drinks too including wine, whisky and highball.

The closest station to Buena Àrte Hostel is Ryōgoku Station. Ryōgoku is a district of Tokyo filled with Japanese tradition. It is home to Ryōgoku Kokugikan, which is considered the holy ground of sumo wrestling, as well as the Sumida Hokusai Museum which houses works by the famous ukiyo-e painter Hokusai, the Japanese Sword Museum, the traditional Japanese garden Former Yasuda Garden, the Edo-Tokyo Museum-the list goes on. And all of these places and more are within 10-minutes' walking distance from Buena Àrte Hostel.

©2003-2019 valuepress CO,LTD. ALL RIGHT RESERVED.

Information

Buena Àrte Hostel

Address: 2-9-11 Yokoami, Sumida, Tokyo

Grand Opening: Buena Arte Hostel – September 14, 2019 / Buena Cafe & Dining Bar – September 20, 2019

Opening Hours: Breakfast 7:00-10:00 / Lunch 11:00-15:00 / Afternoon Tea 15:00-17:00 / Dinner 17:00-23:00

Access: 6-minutes on foot from Ryōgoku Station's JR Line Building West Exit / 5-minutes on foot from Ryōgoku Station's Toei Ōedo Line Building A1 Exit

TEL: 03-6658-8489

Official Website: http://buenaarte.com/

*No car park

*Children aged 6 years and under not permitted; those aged 6+ must share a room with parents or guardians and are charged the same price as adults

Akihabara's New Samurai Rock Restaurant Offers Exciting Shows and First-Class Entertainment

SAMURAI ROCK ORCHESTRA opened its all-new Samurai Rock Restaurant at Pasela Resorts Akiba Multi Entertainment in July and went into full throttle on August 5. This 'show restaurant' offers a dining experience like no other, serving not only food but thrilling entertainment from world class artists from a wide range of backgrounds including samurai, ninja, acrobats, and many more, all of whom are rallied and ready to put on a show you will never forget.

Children and adults from around the world can look forward to experiencing what Samurai Rock Restaurant has to offer as their performances transcend language barriers, needing only to be seen to be appreciated. The restaurant has also cooked up one delicious menu with many options to pick from, including some meals inspired by something specific such as samurai.

Expect to see acrobatics from the vaulting box to baton performance, rhythmic gymnastics, ropes and more, all sure to make you go "wow!"

You can even meet and speak to the performers, and maybe ask them how on earth they were able to do what they did!

Experience a new form of nightlife in Akihabara at the Samurai Rock Restaurant.

Information

Samurai Rock Restaurant

Open: Every Wednesday (Dates in August: 7th, 14th, 21st & 28th)

Time: Open 18:30 / Start 20:00 (Performance time is 50 minutes)

Location: Pasela Resorts Akiba Multi Entertainment Floor 7F (1-1-10 Sotokanda, Chiyoda Ward, Tokyo)

Capacity: 200 people

Price: ¥6,500 (Tax Included) *2 order ticket of food and drink (5 order for ¥8,000)

Official Website & Reservations: http://www.samurai-rock-restaurant.com/