Q-pot Cafe's Dreamy Sailor Moon Afternoon Tea | Food Review
Hey, readers. I'm Midori from MMN's editorial team.
Sailor Moon fans are going to want to visit Q-pot right now―a cafe in Omotesando that makes desserts that look like real accessories―as the cafe is currently collaborating with the franchise. The inside of the cafe has been transformed into a cute and magical Sailor Moon world, the kind you could only imagine in your dreams. It has blown up since it opened on June 30 across Japanese social media.
There was no way I was going to miss a chance to eat here, so I took a trip to Q-pot to see what kind of kawaii things they had on the menu for the collaboration.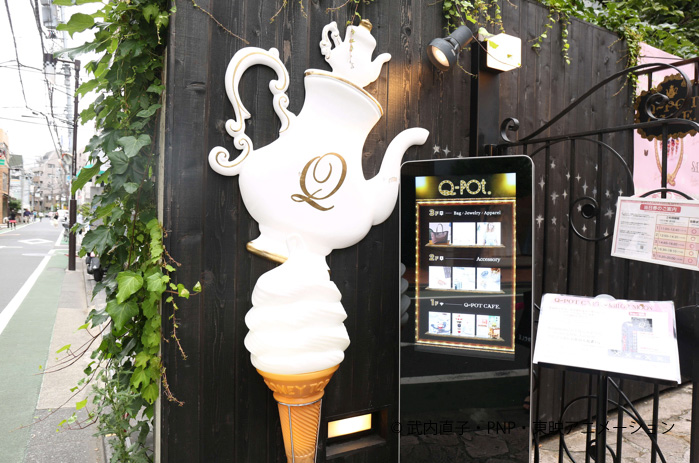 You'll know Q-pot when you see it in Omotesando by the pouring teapot on the wall next to the menu outside.
Strung up at the entrance are lots of ema plaques where people write their wishes and goals.
As soon as you step inside the cafe you are transported into a world of cute. The various chocolate and biscuit decorations on the wall are just plain kawaii. It gets you excited to start eating♡
I started by ordering the drink set which comes with the Moon Twilight Soda and Tuxedo Night Mocha. The soda contains berries and its lemon and apple flavour gives it a sweet and sour taste. The pink gradation is cute too♡
The mocha takes inspiration from Tuxedo Mask flying through the city at night. The rim of the glass is lined with sparkly sugar. The drink isn't just an ordinary cafe mocha – it secretly contains a sweet strawberry flavour which adds an enchanting aftertaste.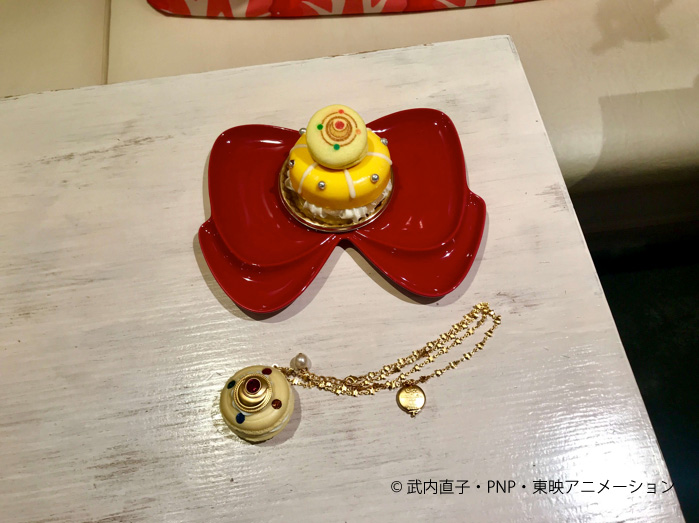 Next I tried the Transformation Brooch Macaron Cake. Shaped as a macaron, this cake is based by the brooch necklace which Usagi uses to transform into Sailor Moon. It's served on a ribbon-shaped plate which you can take home with you. The cake is filled with apricot and mango mousse inside which is pineapple♡
On top of the macaron is another exquisite macaron containing lemon jelly. The jelly and fruit sparkle to create a girly and gorgeous dessert. After you've eaten you can take the plate back to use at home!
And now for the crowning jewel: the Sailor Moon Afternoon Tea Set! This is one that anybody is going to crave when seeing it. It comes with two plate packed with food and desserts. The ribbon at the top is cute too.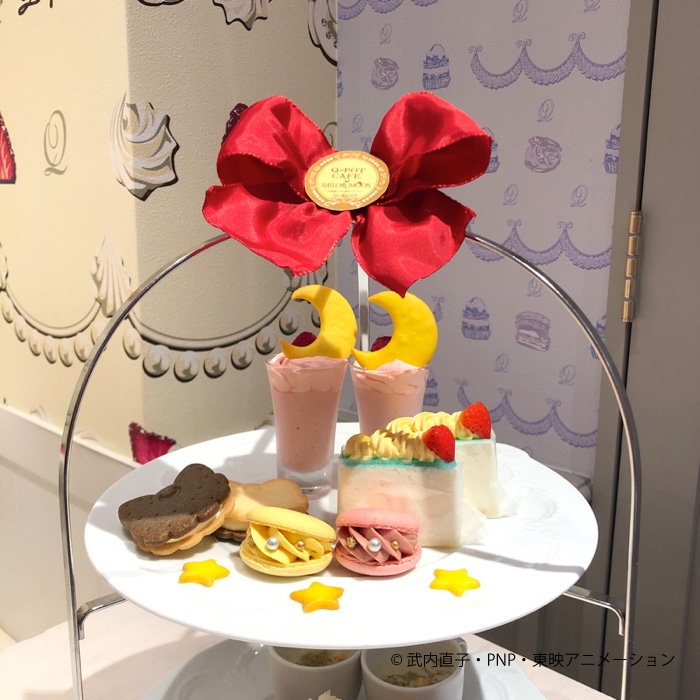 The upper tier is adorned with macarons, mousse cakes, cookie sandwiches, and glass desserts.
The lower tier has sandwiches, vichyssoise soup, and olive and tomato pinchos.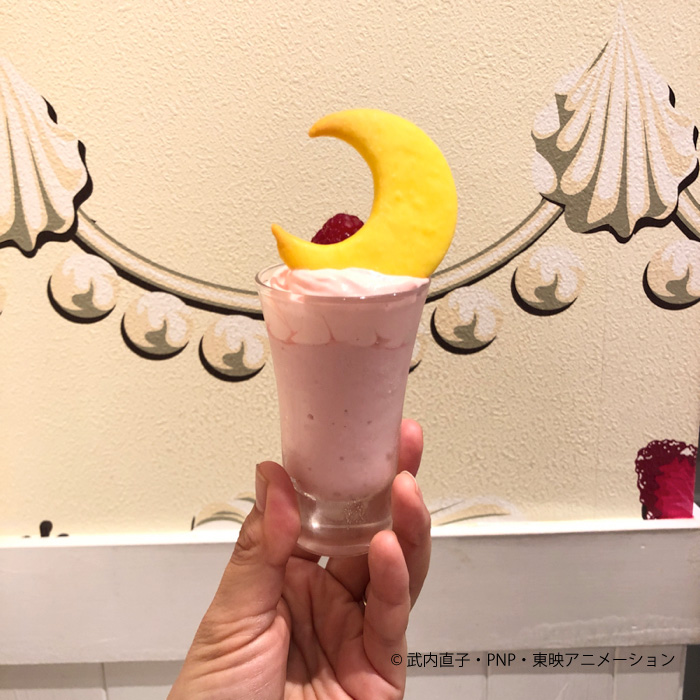 The glass dessert is a raspberry mousse topped with Sailor Moon's Moon Stick. The mousse is fluffy and very tasty. The sourness of the berries isn't too strong either – it's a nice and light flavour.
When biting into the mousse cakes your mouth is filled with the gentle sweetness of the white chocolate.
Macarons are a popular dessert at Q-pot. The Sailor Moon ones are bite-sized and almost seem a waste to eat because of how cute they are. The cookie sandwiches, which are based on Luna and Artemis, are stuffed with lemon cream which has a refreshing taste. The cookies also have a delicious buttery flavour.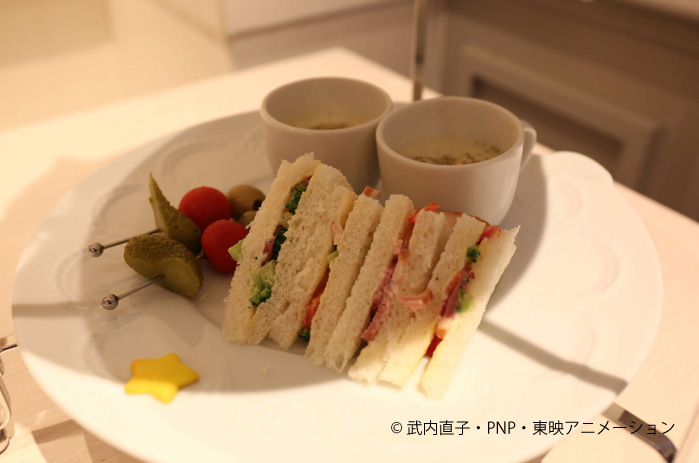 The lower tier sandwiches contain duck and broccoli. The sandwiches are small but you get a lot of veg so you won't go hungry. The soup is great not just as a light meal but as a palate cleanser after the desserts too. Try eating some when your stomach says it's full from all the sweet stuff!
My belly was pretty full after this afternoon tea set. I recommend ordering it for lunch.
If you're looking for a place to eat out with your girl friends when why not enter the fairy tale world of Q-pot for the Sailor Moon collaboration? Q-pot even has its own merchandise too so be sure to check it out!
©Naoko Takeuchi・PNP・Toei Animation
RECOMMENDED ENTRIES
Sailor Moon Show Restaurant To Open in Azabu Juban, Tokyo

Dining on Sailor Moon-themed food while being entertained by a live Sailor Moon musical is a dream come true for many. On August 15, 2019, a show restaurant called Sailor Moon-SHINING MOON TOKYO will open in Azabu Juban, Tokyo. 

Japan has already surprised many with the release of a Sailor Moon 2.5D Musical. This is a type of modern Japanese musical theatre based on anime where the characters are brought into the real world. This new show restaurant is aiming even higher, offering a completely new form of live entertainment. 

There isn't a better place for the restaurant to open than Azabu Juban, where the Sailor Moon characters are often seen in the anime. In fact, Azabu Juban is a holy land for all Sailor Moon fans, attracting fans from all over Japan and even from overseas. Once fans heard the news of the show restaurant, excitement spread like wildfire.

There is no doubt that this original show is a fantastic opportunity to delve deep into the world of Sailor Moon. There will also be the opportunity to try meals and drinks that are based on the anime which is not sold anywhere else. Of course, there will also be an area dedicated to the sale of original goods. 

The official website was published ahead of the grand opening of the restaurant. General ticket sales will be launched at 10 am on July 21. Enjoying Sailor Moon-themed meals and drinks while being entertained by a Sailor Moon stage show is a completely unique experience that many are curious about.

©️Naoko Takeuchi

©️Naoko Takeuchi, PNP, Sailor Moon  –SHINING MOON TOKYO –

Information

Sailor Moon  –SHINING MOON TOKYO –

Location: Basement Floor 1, Joule A, 1 Chome-10-10 Azabu Juban, Minato City, Tokyo 

Grand Opening: August 15, 2019 

※ Ticket sales start at 10 am on July 21, 2019

General Ticket Enquiries: info@sailormoon-shiningmoontokyo.com 

Official Website: https://sailormoon-shiningmoontokyo.com/ 

Sailor Moon Manga to be Released Digitally Worldwide

The Sailor Moon themed event USAGI BIRTHDAY SPECIAL PARTY 2019 was held at Laforet Museum Harajuku on June 30. This event has become an annual celebration in recent years to honour the birthday of Usagi Tsukino, the main character of the series. The venue was packed by countless fans.

It began with a video of the opening for the Sailor Moon musical "Pretty Guardian Sailor Moon" The Super Live after which its cast appeared on stage to open the event: Tomomi Kasai (Sailor Moon/Usagi Tsukino), Momoko Kaechi (Sailor Mercury/Ami Mizuno), Kyoko Ninomiya (Sailor Mars/Rei Hino), Kanna Matsuzaki (Sailor Jupiter/Makoto Kino), and Yu Nakanishi (Sailor Venus/Minako Aino).

They were followed by Kotono Mitsuishi (Sailor Moon/Usagi Tsukino) and Misato Fukuen (Sailor Chibi Moon/Chibiusa), voice cast from the TV anime series Sailor Moon Crystal. The two of them did a rerun of a radio show previously presented by Mitsuishi for members of the official Sailor Moon fan club "Pretty Guardians" where they answered questions from fans.

Legendary Sailor Moon composerAkiko Kosaka was then invited on stage to answer questions from listeners. She performed La Soldier and Tuxedo Mirage from the franchise's 400+ track discography.

The event didn't end here however, things were just getting started as a string of announcements were about to commence. New information for the Sailor Moon 25th Anniversary Project was announced.

Firstly, it was revealed that the Sailor Moon manga series will be released digitally worldwide in 10 languages. It began rolling out on July 1.

To celebrate this, t-shirts with illustrations from Sailor Moon author will are being released exclusively at UNIQLO through their graphic t-shirt brand UT.

It was also announced that the franchise will celebrate with Japanese jewellery company Samantha Thavasa this fall and that this year will see the return of the popular Sailor Moon Cafe from 2017 with the new theme "Girls Night Out" this October.

An event will also be held to commemorate the 45th anniversary of Akiko Kosaka titled "Sailor Moon x Akiko Kosaka 45h Anniversary Music History Supported by Pretty Guardians." The line-up includes an appearance from ANZA, the first person to play Sailor Moon and Usagi in the Sailor Moon musicals back in the 90s. This two-day event will be held at Harajuku Quest Hall on November 9 and 10 with the first day focusing on piano performances and a talk and the second with a full backing band.

The first ever Sailor Moon themed ice skating show is also set for June 2020 with a performance by Russian figure skater Evgenia Medvedeva who made headlines for appearing as Usagi and Sailor Moon for Dreams on Ice at Nagaoka City Hall in July 2016 and again for the 2017 ISU World Team Trophy at Yoyogi National Gymnasium in Tokyo.

Medvedeva released the following video where she commented on the forthcoming performance.

Pre-sale tickets for the ice skating show and Akiko Kosaka's 45th anniversary event are now on sale over at the official Pretty Guardians fan club for 2019 members only.

Finally, a new two-part film titled Sailor Moon Eternal. Kazuko Tadano, who was the original character designer 90's series, is returning to work on the character design for the films. Check out the teaser below.

The films are set to be released sometime next year and will be overseen by Naoko Takeuchi.

At the end of the event, everybody sang Moonlight Densetsu together, drawing the info-packed event to a close.

Photography: 佐藤里奈

©Naoko Takeuchi

©Naoko Takeuchi・PNP/"Pretty Guardian Sailor Moon" The Super Live Production Committee

©Naoko Takeuchi・PNP/ Sailor Moon Eternal: The Movie Production Committee

Information

Sailor Moon x Akiko Kosaka 45h Anniversary Music History Supported by Pretty Guardians

Date: November 9 – November 10, 2019

Location: Harajuku Quest Hall

Day One Line-Up

Akiko Kosaka/ANZA・Hisano Akamine・Misako Iwana・Emi Kuriyama・Meiko Miyazawa・Sanae Kimura/Hikari Ono・Sakoto Yoshioka・Yūta Mochizuki

Day Two Line-Up

Akiko Kosaka/ANZA・Hisano Akamine・Misako Iwana・Emi Kuriyama・Meiko Miyazawa・Yūko Hosaka・Sanae Kimura・Yuhka Asami・Mao Mita・Tamaki Shirai/Yūta Mochizuki・Ryuji Kasahara・Momoko Okuyama/Hikari Ono

Sailor Moon Official Website: http://sailormoon-official.com/

Universal Studio Japan's Attack on Titan, Sailor Moon & Other New Attractions Now Open

A special press preview and opening ceremony was held at Universal Studios Japan (USJ) in the run up to the park's Universal Cool Japan 2019 event.

Universal Cool Japan is an annual event held at USJ where Japanese entertainment brands and companies who promote Japan's "cool" culture to the world come together and turn the worlds they create into attractions. This year's event will see attractions from "6 big franchises" including the first ever Lupin the Third attraction as well as Detective Conan, Attack on Titan, Godzilla, Neon Genesis Evangelion and Sailor Moon. A total of eight attractions have arrived, the most in the event's history.

The opening ceremony was held at USJ's 4D cinema theatre in the park's Hollywood area. Japanese actor Yukiyoshi Ozawa, who has played roles in both the Japanese and Hollywood film industry, appeared as a special guest. The event was attended by a small selection of just 100 fans of the entertainment franchises introduced to this year's Universal Cool Japan.

When Yukiyoshi Ozawa stepped onto the dark stage donning a very stylish outfit, the crowd erupted with surprise and a flurry of cheers. When asked about struggles that have been important to him, the San Francisco-born actor responded: "When I was accepted for the Hollywood film audition, I was trembling with excitement. I thought to myself, 'This will help me grow, and I will be able to express myself to the world.' On the first day of shooting [the Hollywood film], I was so nervous I was shaking, but when the first day ended, I realised that the entire system for shooting films was all the same, the only difference being whether it's in English or Japanese. That relieved my tension and I was able to concentrate on the film shoot thereafter. You only have to step outside to see, but I think that more and more of the wonderful brands and works of Japan want to be received well around the world, and I believe that Universal Studios Japan is making that big chance possible."

Dramatic music played as gigantic visuals of Attack on Titan, Godzilla, Neon Genesis Evangelion and Salior Moon appeared. Ozawa spoke of his experience seeing three 4D attractions that are running for the event for a limited time, praising their high quality.

©2019 Gosho Aoyama / "Detective Conan" Production Committee ©Monkey Punch / TMS・NTV  ©Hajime Isayama・Kodansha / "Attack on Titan Production Committee TM & © TOHO CO., LTD.  ©Color  ©Naoko Takeuchi  Sisyu TM & © Universal Studios. All rights reserved.© SCRAP All rights reserved.
RELATED ENTRIES
The Strings Omotesando Promoting Breast Cancer Awareness with Special Pink Menu

Since 2003, the Pink Ribbon Festival has been held to convey the importance of early breast cancer detection and regular screenings. Breast cancer affects more than 90,000 people each year in Japan, making this initiative more important than ever. In October, the Strings Omotesando will be supporting the initiative with an all-pink menu at both the Zelkova Cake Boutique and Cafe & Dining Zelkova. These treats will be available from October 1 until October 31. 

October is Breast Cancer Awareness Month, making it the perfect time to spread vital information and inspire people to take proper precautions. The Pink Ribbon Shortcake, available for takeout only, and two bright pink cocktails, the 'Mary Pickford' and 'Diamond Lily' will be available. The shortcake, with a massive symbolic pink ribbon on top, is made with a light sponge, smooth semi-sweet cream, and a layer of juicy seasonal Shine Muscat. 

The Mary Pickford, made with white rum, pineapple juice, cherry liqueur, and grenadine, is served with a pink ribbon adorning the glass. The Diamond Lily mocktail is inspired by the flower of the same name, which typically blooms in October. Using pink grapefruit and rose syrup, it's sure to make anyone sipping it look glamorous. 

In addition to these limited menu items, the Breast Care Book, a guidebook detailing information about breast cancer, will be distributed for free, with donation boxes available for those who want to support cancer research. 

Information

Pink Ribbon Festival at The Strings Omotesando 

Running: October 1 – October 31, 2021

Venue: Zelkova Cake Boutique / Cafe & Dining Zelkova / (The Strings Omotesando 1F)

Hours: 11:30-22:00 (Cake Boutique open 12:00-20:00)

*Hours of operation have been shortened. See website for details.
Phone: 03-5778-4566 (Direct line to Cafe & Dining Zelkova)

Details: www.strings-hotel.jp/omotesando/restaurant/zelkova/info/zelkova-drink-special.html

Ace Attorney Celebrates 20th Anniversary with CAPCOM CAFE Collaboration, Releases Main Visual 

Saitama Ion Laketown kaze's CAPCOM CAFE will be holding an Ace Attorney collaboration cafe between October 8 and November 18 to commemorate the series' 20th anniversary.

The never-seen-before main visual is themed around the 20th anniversary and features the Ace Attorney and Great Ace Attorney characters in their fanciest clothes! Look forward to the new collaboration menu and limited goods which will feature the new artwork.


The Great Ace Attorney Chronicles is now on sale.


© CAPCOM CO., LTD. ALL RIGHTS RESERVED.

Information

CAPCOM CAFE x Ace Attorney Series Collaboration

Duration: October 8 ~ November 18, 2021

Location: CAPCOM CAFE Ion Laketown

Address: Ion Laketown Kaze 3F, 4-2-2 Laketown, Koshigaya City, Saitama

Contact: 048-967-5163

Official Site: http://www.capcom.co.jp/amusement/capcomcafe/ 

THE STRINGS Omotesando Introduces New 'Violet Halloween Afternoon Tea'

THE STRINGS Omotesando will be offering a new and limited 'Violet Halloween Afternoon Tea' at the 'Cafe & Dining ZelkovA' 1F between October 5 and October 31 2021.

 

The Halloween themed afternoon tea offers a selection of cute sweets, including black monster themed Maritozzo and purple taro Mont Blanc cream puffs topped with witch hats.

The cool Autumnal menu is made up of sweet and savory violet snacks, with purple potatoes, cassis, blueberries and more. You'll find yourself able to taste the season, with the rich fig cheesecake and sweet chestnut scones.

Enjoy bottomless drinks with a selection of 16 herbal and flavored teas, coffees and lattes. You can even enjoy a cup of tea from TWG, a luxury brand from Singapore.

This adult-aimed afternoon tea is full of luxurious ingredients, such as parfait-like organic vegetables and salmon micuy, roasted Angus beef, and violet desserts. Spend your afternoon relaxing on the French and Italian crafted sofas while you take a break from the hustle and bustle of the city.

 

  

Why not spend an elegant Autumn afternoon enjoying a luxurious afternoon tea, watching out over the iconic zelkova-lined streets of Omotesando?

9th Installment of Anime-Inspired Cooking Project AniCook Features Bungo Stray Dogs

AniCook, a project using anime to make cooking more fun, is already holding it's 9th collaboration with a popular series. This time, characters from the popular anime series Bungo Stray Dogs are coming to cook up some fall treats at Shinsaibashi PARCO in Osaka from October 1 until October 26! 

Menu

Sticker gifted to guests who purchase a meal or dessert (8 varieties) / Postcard gifted to guests ordering a drink (8 varieties) 

Original Merchandise

Acrylic Stands (8 varieties) / 8-pack set

Pins (8 varieties) / 8-pack set

Acrylic Keychain (8 varieties) / 8-pack set

Acrylic Muddler (8 varieties) / 8-pack set

100 Limited-Edition pouches (2 varieties) available by lottery: Those spending over ¥5,000 at the cafe will be entered.

CookpadTV is behind the cafe, and continues to lead the way in quality collaboration cafes across Japan. This time, popular characters from Bungo Stray Dogs are serving up their favorite autumn-themed foods, inspiring visitors to enjoy cooking just a little more. Themed meals and sweets will be available, while the beverages are each themed on the character's abilities. Be sure to grab some of the limited-edition merchandise only available during the event! These can now be pre-ordered on the cookpadLive cafe Online Store. 

Which character would you like to see in the kitchen? 

Sega to Open Limited-time Love Live! Themed Cafes Around Japan

GENDA SEGA is set to open a series of Love Live! School Idol Festival themed collaboration cafes around Japan starting September 4. Guests can enjoy original food, desserts, and drinks inspired by characters from the franchise. The limited-time cafes will be open until November 7, and will be divided into four phases, each based on a certain aspect of the Love Live! series.

Drinks: ¥660 each (Tax Included) 

Food Menu

Phase 1: Teru Teru Bozu White Rice & Soup / Magic of Makeup Open-Faced Hamburger 

Phase 2: Cat Ear Curry Soup / Spring Fairy Soba with Yuzu 

Phase 3 : Menu to be announced soon

Phase 4 : Menu to be announced soon

Dessert Menu

Love Live! Parfait (Liella!) (Available during entire event period.)

Phase 1:  μ' s 1st Grade Soda Parfait / μ' s 2nd Grade Strawberry Parfait / μ' s 3rd Grade Muscat Parfait 

Phase 2: Aquors 1st Grade Banana Parfait / Aquors 2nd Grade Strawberry Parfait / Aquors 3rd Grade Muscat Parfait

Phase 3 / Phase 4: Dessert Menus to be announced soon

Get Special Freebies for Each Order

Phase 1: Drink Coaster / Food Coaster / Parfait Coaster

Phase 2: Drink Coaster / Food Coaster / Parfait Coaster

Phase 3 / Phase 4: Freebies to be announced soon

Love Live! Character Birthday Cards

Kotori Minami – September 12

Riko Sakurauchi – September 19

Ruby Kurosawa – September 21

Sumire Heanna – September 28

Shioriko Mifune – October 5

Eli Ayase – October 21

Rin Hoshizora – November 1

Limited-time Merchandise

Releasing: September 4, 2021

Art Panel (μ' s Thanksgiving 2020 ~ONLINE~, 10 designs, random) / Art Panel (Aqours Thanksgiving 2020 ~ONLINE~, 10 designs, random) / Art Panel (Nijigasaki Thanksgiving 2020 ~ONLINE~, 11 designs, random): ¥660 each (Tax Included)

Art Panel (μ' s Makeup Magic, 9 designs, random): ¥660 each (Tax Included) / Chibi Acrylic Key Rings (μ' s Thanksgiving Festival 2020 ~ONLINE~, 9 designs, random): ¥770 each (Tax Included) / Acrylic Stands (μ' s Teru Teru Bozu, 9 designs): ¥1,320 each (Tax Included)

Releasing: September 18, 2021

Art Panel (Aqours Cat Cafe, 9 designs, random): ¥660 each (Tax Included) / Chibi Acrylic Key Rings (Aqours Thanksgiving Festival 2020 ~ONLINE~, 9 designs, random): ¥770 each (Tax Included) / Acrylic Stands (Aqours Spring Fairy, 9 designs): ¥1,320 each (Tax Included)

Bonus Merch for Every ¥2,000 Spent

Limited-edition clear photos, 4 designs: Available September 4 – September 17

Limited-edition clear photos, 4 designs: Available September 18 – October 1

Phase 3 / Phase 4: Bonus merch to be announced

Which Love Live! character's merch would you be after?

©2013 プロジェクトラブライブ! ©2017 プロジェクトラブライブ!サンシャイン!!
©2020 プロジェクトラブライブ!虹ヶ咲学園スクールアイドル同好会 ©2021 プロジェクトラブライブ!スーパースター!!
©KLabGames ©SUNRISE ©bushiroad ©GENDA SEGA Entertainment Inc.

Information

SEGA x Love Live! School Idol Festival Collaboration Cafe

Running: September 4 – November 7, 2021

Where: SEGA Collaboration Cafe Akihabara 3 (SEGA Akihabara 3 Floor 7F) /

SEGA Collaboration Cafe Stand / SEGA Akihabara 4 / Nanbasennichimae / Sendai / Okayama / Fukuoka Tenjin / Sasashima/ Kumamoto

Phase 1, μ' s: September 4 – September 17, 2021

Phase 2, Aqours: September 18 – October 1, 2021

Phase 3, Nijigasaki High School Idol Club: October 2 – October 15, 2021

Phase 4, Love Live! ALL STARS: October 16 – November 7, 2021

Official Site: https://sega-collabocafe.com/top/sif06.html

Miss Kobayashi's Dragon Maid to Collaborate with At Home Maid Cafe

Maid cafe At Home in Akihabara is collaborating with Kyoto Animation's new anime series Miss Kobayashi's Dragon Maid S for a limited-time crossover cafe starting September 1. Original menu items and special merch will be on sale during this month-long period.

Food Menu

I love you, Miss Kobayashi! Tohru's Omurice: ¥1,400 (Tax Included)

 

Let's play together! Mogu Mogu Lunch: ¥1,200 (Tax Included)


Eat while you game! Jet-black Sweet Curry: ¥1,200 (Tax Included)

The more we fight, the closer we get? Let's have seconds Parfait: ¥1,100 (Tax Included)

 

Magic power up?! Secret Apple Pie: ¥1,100 (Tax Included)

 

Classic Candies a la mode: ¥1,100 (Tax Included)

Special Drinks: Tohru/Kanna/Elma/Lucoa/Ilulu: ¥800 each (Tax Included)

Bonuses

Original Placemat

Coasters

 

Shop Decorations

Entrance Tapesty

Interior Tapestries

Original Collaboration Uniforms

Miss Kobayashi's Dragon Maid S Uniform (Tohru Color)

Kanna and Elma Color Uniforms

Special Merchandise

First Release: September 1, 2021

B2-size Tapestry: ¥5,500 (Tax Included)

 

Luggage Tag: ¥1,430 (Tax Included)

Second Release: September 18, 2021

 

Tote Bag: ¥4,400 (Tax Included)

At Home Cafe, celebrating its 17th anniversary this month, has been collaborating with a number of characters and properties. Kyoto Animation's Miss Kobayashi's Dragon Maid S began airing in July, and has amassed legions of fans both in Japan and abroad with its collection of adorable characters and hilarious universe.

For this new maid cafe collaboration, Kyoto Animation provided new illustrations of the show's five main characters: Tohru, Kanna, Elma, Lucoa, and Ilulu. World-famous designer Keita Maruyama designed the staff's new uniforms, inspired by the characters!

Customers who order a special food and drink set during the event period will get a limited-edition placemat. Those who order a character's drink will receive a coaster featuring that character's face. The shop will feature various tapestries and visuals from Miss Kobayashi's Dragon Maid S throughout the space.

All goods will be sold at the At Home Cafe Shop Akihabara and the At Home Web Shop. Maids at the cafe will wear one of three special uniforms each day–Tohru, Kanna, and Elma–so guests will want to come back to see them all!

(C)Coolkyousinnjya・Futabasha/Dragon Maid Production Committee

Information

At Home Cafe x Miss Kobayashi's Dragon Maid S

Running: September 1 – September 30, 2021

Location: At Home Cafe Main Store (7F)

Address: 7F Mitsuwa Building, 1-11-4 Sotokanda, Chiyoda-ku, Tokyo

Hours:

Weekdays 11:00 – 22:00

Weekends: 10:00 – 22:00 (Last orders at 21:20)

*Hours of operation are subject to change. Please check the official website for details.

Stop-motion Series Pui Pui Molcar Gets Collaboration Cafe for Limited-Time

Adorable stop-motion series Pui Pui Molcar is getting a limited-time cafe run! The Mogu Mogu Molcar Restaurant will open in four areas–Tokyo, Osaka, Shizuoka, and Sendai–starting September 2. 

Main Visual

Those who reserve a seat early will receive a randomly-selected sticker. (5 designs.)

For each drink ordered, guests will receive a random paper coaster. (5 designs)





Menu

Who Caused the Traffic Jam? PUIPUI Temarizushi: ¥1,430 (Tax Included)

Cat Rescuing Operation – Meat! Meat! Pasta: ¥1,540 (Tax Included)

Zombies and Lunch Green Curry: ¥1,540 (Tax Included)

Pui Pui Racing Salad: ¥1,210 (Tax Included)

Time Molcar Stew: ¥1,320 (Tax Included)

It's a Prank? It's Tiramisu: ¥1,430 (Tax Included)

Mission Impossible Pancakes: ¥1,430 (Tax Included)


Everything is a Surprise Box Cake: ¥1,100 (Tax Included)

Angelic Parfait: ¥1,320 (Tax Included)

Let's Molcar Party Drinks: ¥880 each (Tax Included)


Masked Shiromo Cafe Latte: ¥990 (Tax Included)

Chewing Chewing Popcorn Smoothie: ¥1,100 (Tax Included)

Original Merchandise

Acrylic Keychains (5 designs): ¥700 (Tax Included)


Pins (5 designs): ¥450 each (Tax Included)

Acrylic Stands (5 designs): ¥1,100 each (Tax Included)

Mug: ¥1,800 (Tax Included) / Tag Roll: ¥800 (Tax Included)

Neck Strap: (5 designs): ¥1,700 each


Drawstring Pouch: ¥1,200 (Tax Included)

Pui Pui Molcar is the first animated television series directed by Asaki Misato, and has captured the hearts of children and adults alike with it's short episodes and fluffy characters. The series began broadcasting in January 2021, and in only the first week, the official Molcar Twitter page exceeded 100,000 followers. The show is available on Netflix in the west, and is being rebroadcast in Japan each Tuesday morning on TV Tokyo. 

The cafe menu utilizes each episode's title, and guests can enjoy reliving their favorite moments of the show through artfully-plated dishes. 

What would you order at the cafe? 

©Tomoki Misato JGH・Shin-Ei Animation/Molcars

Information

Mogu Mogu Molcar Restaurant

Locations

Tokyo

Location: TOKYO BOX cafe&space Tokyo Solamachi

Address: 1F Tokyo Skytree Town Solamachi, 1-1-2 Oshiage, Sumida-ku, Tokyo

Running: September 2 – October 17, 2021

Osaka

Location: #702 CAFE&DINER Namba Parks

Address: 7F Namba Parks, 2-10-7 Nambanaka, Naniwa-ku, Osaka

Running: September 2 – October 9, 2021

Shizuoka

Location: kawara CAFE&KITCHEN Shizuoka PARCO

Address: 3F Shizuoka PARCO, 6-7 Konyacho, Aoi-ku, Shizuoka

Running: September 8 – October 11, 2021

Miyagi

Location: GabuLIcious Sendai

Address: 1-2F 1-6-3 Chuo, Aoba-ku, Sendai

Running: September 10 – October 11, 2021

Online Shop Open: September 2, 11:00 – October 17, 23:59

Online Shop: https://molcar-cafe.jp/online_store

Reservations/Official Site: https://molcar-cafe.jp/

*The cafe will take thorough measures to prevent the spread of COVID, and will implement various safety measures for both customers and employees. For more information, refer to the official website. 

Upcoming The Prince of Tennis CG Film Inspires Limited-Time Cafe

Capcom Cafe Ikebukuro will be hosting a special cafe inspired by the upcoming The Prince of Tennis film, releasing in theaters September 3. The cafe will run from September 3 until October 14. 

The Prince of Tennis ran in the popular manga magazine Shonen Jump from 1999 until 2008, and found incredible popularity in Japan. It was adapted into an anime series in 2001, running for 178 episodes, and has also been transformed into 15 stage musicals, a live-action film, a radio show, multiple video games, and more. The upcoming 3DCG film was announced in 2019. 

In a teaser image released to promote the special cafe, main character Ryoma appears beside other characters from the series in an adorable tiny style. More details about the menu and goods offered will be revealed soon, so keep an eye out for an update!

What goods are you hoping to see sold at the cafe? 

©TK/S ©RPT
©CAPCOM CO., LTD. ALL RIGHTS RESERVED.

Pretty Boy Detective Club Anime Themed Cafe Menu to be Served in Osaka

As part of their AniCook project which gets people to enjoy anime through cooking, CookpadTV have announced that the 7th series they are collaborating with is Pretty Boy Detective Club. The collaboration includes a food menu inspired by the series that will be served on the 5th floor of Shinsaibashi PARCO in Osaka from August 19 to September 5.

Food

Trump Demi Hamburger / Hagoita Chirashi Chahan

Desserts

Starry Sky Cream Pancakes / Yubiwa Academy Middle School Gateau Chocolate / Auditorium Cheesecake

Drinks

Manabu's Assam Blue Moon Tea / Nagahiro's English Breakfast Sesame Tea / Michiru's Earl Grey Acerola Tea / Hyota's Ceylon Mango Tea / Sosaku's Darjeeling Hazelnut Tea

Get 1 of 5 stickers with every food and dessert order, and 1 of 5 postcards when ordering a drink

Exclusive merchandise

Acrylic Stands | 5 Designs

Acrylic Keyrings | 5 Designs

Acrylic Coasters | 5 Designs

Pins | 5 Designs

The dishes and drinks on the menu were created to get people enjoying food more. The cafe is also selling a range of exclusive merchandise both at the cafe and online.

Life Lessons with Uramichi Oniisan Anime Themed Cafe to Open in Ikebukuro

Animate Cafe Stand Hareza Ikebukuro has announced a collaboration with the ongoing TV anime series Life Lessons with Uramichi Oniisan which will see the cafe served up a themed menu, sell exclusive merchandise, and decorate the interior with original illustrations from August 25 to September 27.

Animate Cafe exclusive illustrations

Animate Cafe exclusive chibi illustrations

Collab Menu (Excerpt)

Parfait | ¥700 (Tax Included)

Latte | ¥600 (Tax Included)

Soda | ¥650 (Tax Included)

Original Merchandise

Big Acrylic Stand Keyrings | 3 Designs | ¥1,600 Each (Tax Included)

Cookies | ¥1,000 (Tax Included)

Acrylic Stand Keyrings | 6 Designs | ¥700 (Tax Included)

Rubber Keyrings | 10 Designs | ¥700 Each (Tax Included)

Life Lessons with Uramichi Oniisan is a dark comedy manga series by Gaku Kuze that's been serialised in Comic POOL since 2017. An anime adaptation began airing on July 6, 2021.

(C)久世岳・一迅社/「うらみちお兄さん」製作委員会

Rilakkuma x Tower Records Collaboration Includes Exclusive Merchandise and Themed Cafe Menu

Tower Records has announced Rilakkuma x Tower Records Campaign 2021, an event set to run from August 4 to August 29. The retail music chain is joining paws with Rilakkuma and company for a campaign with the theme "Wow, what a surprise!" at Tower Records stores, their online shop, and Tower Records Cafe.

Merch collab line-up

Tower Records has collaborated with Rilakkuma every year since 2009. This year sees the arrival of brand new original merchandise, a CD, and themed cafe.

The merchandise will be available at 27 Tower Records stores, Tower Records Cafe Omotesando, and online. Enjoy adorable original artwork of Rilakkuma, Korilakkuma, Chairokoguma, and Kiiroitori. There's lots of freebies to get your hands on too – check out the line-up below.

Available at 27 Tower Records stores, Tower Records Cafe Omotesando, and the online shop

Available at Tower Records Shibuya, Tower Records Cafe Omotesando, and the online shop

Free character cards with every purchase

Red Rilakkuma zabuton floor cushion

For this year's campaign, Rilakkuma fans can win themselves a zabuton floor cushion too. For a chance to win, you need to sign up online.

Tower Records x Rilakkuma CD cover

Postcard included with CD

The eighth Tower Records x Rilakkuma CD includes background music for doing yoga. There are 15 popular J-pop tracks in total which can be enjoyed for just chilling out to as w2ell.

Themed cafe menu

The cafe collaboration at Tower Records Cafe Omotesando takes on an American diner theme. Takeout drinks will also be available at the Nagoya Sakae SKYLE and Umeda NU Chayamachi branches too.

At Tower Records Omotesando

Table mats at Tower Records Omotesando

Rilakkuma, Korilakkuma, Chairokoguma, and Kiiroitori themed dishes, drinks, and desserts

Receive a free fan when you book a table in advance

Receive a free postcard when you order from the collab menu

Set of 3 original stickers

Free postcard when ordering from the Special Menu

Free postcard when you order a takeout bottle

Collect all six stamps in the stamp rally to win a poster

During the campaign, for every piece of merchandise ordered, you'll receive one of four possible character cards. 20 people who also scan the QR codes included on the cards by September 12 will be randomly chosen to win either a white Rilakkuma zabuton cushion or a ¥3,000 Tower Records gift card.

©2021 San-X Co., Ltd. All Rights Reserved.

Information

Rilakkuma x Tower Records Campaign 2021

Running: August 4, 2021 – August 29, 2021

Zabuton Cushion Applications

Units: 20

Submission Page: Tower Records Online

Submission Period: July 15, 2021 – August 29, 2021

Collab Merchandise

Pre-Orders: July 15, 2021

Release Date: August 4, 2021
Details: http://tower.jp/rkmg21 

Collab Cafe


Locations: Tower Records Cafe Omotesando / Tower Records Cafe Nagoya Sakae SKYLE (Takeout Drinks Only + Closed August 17) / Tower Records Cafe Umeda NU Chayamachi (Takeout Drinks Only + Closed August 16)

Menu ①: August 4, 2021 – August 13, 2021

Menu ②: August 14, 2021 – August 22, 2021

Details: https://tower.jp/rilakkuma-cafe2021 

*Table bookings mandatory

Manga Artist Arina Tanemura Opens Cafes Based On Seven of Her Series Including Phantom Thief Jeanne

Two branches of Animate Cafe in Ikebukuro and Nagoya are celebrating seven manga works of manga artist Arina Tanemura including I.O.N, Phantom Thief Jeanne, Time Stranger Kyoko, Full Moon o Sagashite, Sakura Hime: The Legend of Princess Sakura, The Gentlemen's Alliance Cross, and Neko to Watashi no Kinyōbi.

The collaboration will run from July 28 to August 23. Table reservations must be made for those wanting to dine from July 28 to August 1 as well as on weekends and public holidays. Reservations are not required for all other days.

Arina Tanemura Precious Wedding Party at Animate Cafe

The Menu Line-Up (Excerpt)

Full Moon o Sagashite: Negi Ramen Lunch | ¥980 (Tax Included)

Arina's Precious Wedding Plate | ¥1,300 (Tax Included)

Phantom Thief Jeanne: Tiramisu | ¥800 (Tax Included)

The Gentlemen's Alliance Cross: Glass Dessert | ¥800 (Tax Included)

I.O.N: Drink | ¥600 (Tax Included)

Phantom Thief Jeanne: Sindbad | ¥600 (Tax Included)

Time Stranger Kyoko: Crystal Stranger | ¥600 (Tax Included)

Full Moon o Sagashite: Honey Hot Milk | ¥600 (Tax Included)

The Gentlemen's Alliance Cross: Espresso | ¥600 (Tax Included)

Sakura Hime: The Legend of Princess Sakura: Soda | ¥600 (Tax Included)

Neko to Watashi no Kinyōbi: Curry Soup With Bread | ¥600 (Tax Included)

Free coaster with every menu order

Exclusive Merchandise (Excerpt)

Big Acrylic Stand (Wedding Ver.) | ¥1,600 (Tax Included)

Wedding Card | ¥800 (Tax Included)

CoLotta Acrylic Plate Keyrings | ¥800 (Tax Included)

Big Ribbon Pouch | ¥2,500 (Tax Included)

Stamp Card Campaign

Arina Tanemura made her debut in the shojo manga magazine Ribbon Original in 1996 with her short manga The Style of the Second Love. In 1998, she garnered mainstream popularity when her work Phantom Thief Jeanne began serialisation which has over 5.5 million copies in circulation. Some of her other famous works including Full Moon o Sagashite, Sakura Hime: The Legend of Princess Sakura, and The Gentlemen's Alliance Cross. In 2015, she worked as the character designer for the smartphone game IDOLiSH7.



This marks her third cafe collaboration, and this time it's themed on a 'Precious Wedding Party' with food inspired by the characters from her stories as well as exclusive merchandise.

©種村有菜/集英社