Sailor Moon Show Restaurant To Open in Azabu Juban, Tokyo
Dining on Sailor Moon-themed food while being entertained by a live Sailor Moon musical is a dream come true for many. On August 15, 2019, a show restaurant called Sailor Moon-SHINING MOON TOKYO will open in Azabu Juban, Tokyo. 
Japan has already surprised many with the release of a Sailor Moon 2.5D Musical. This is a type of modern Japanese musical theatre based on anime where the characters are brought into the real world. This new show restaurant is aiming even higher, offering a completely new form of live entertainment.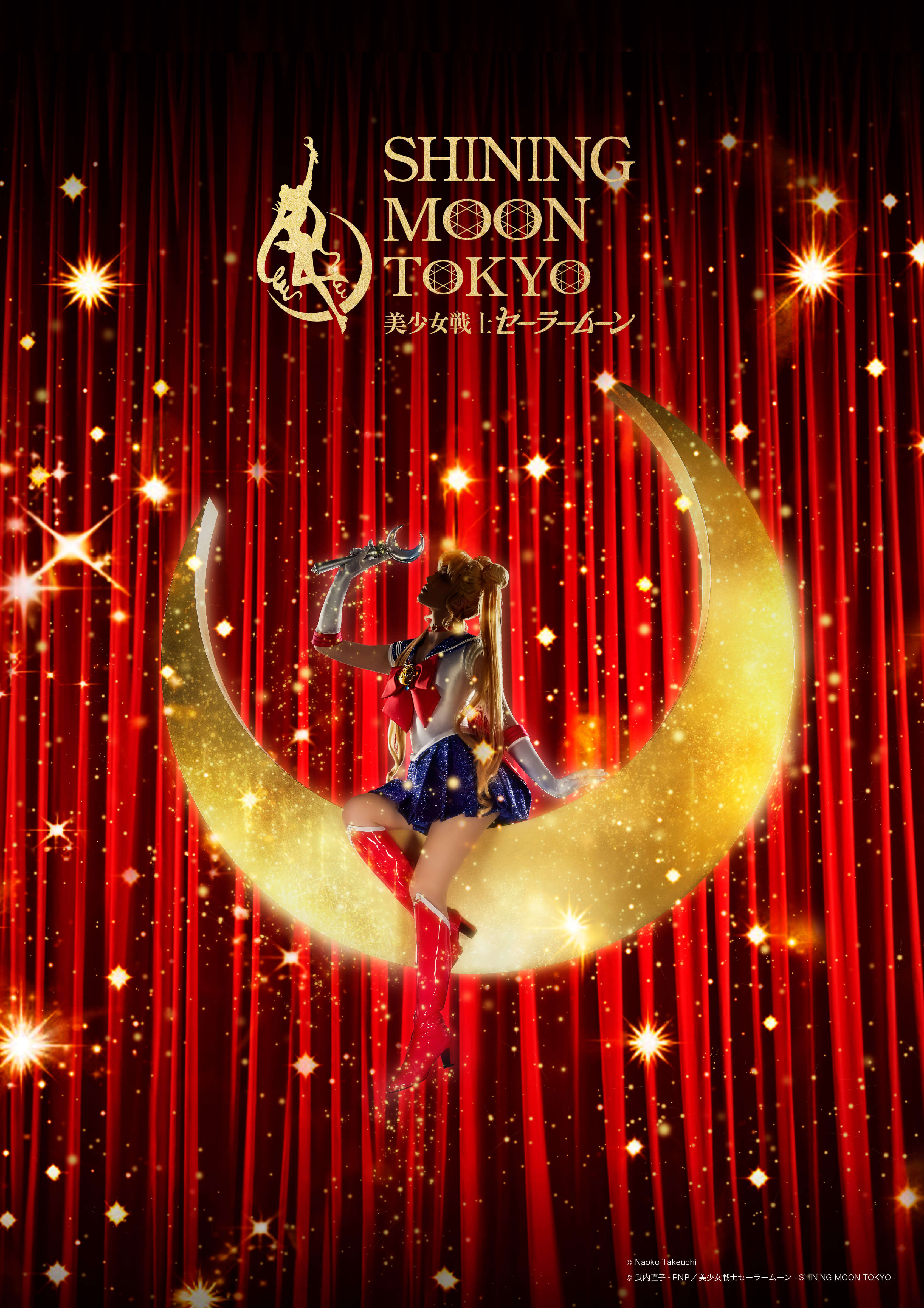 There isn't a better place for the restaurant to open than Azabu Juban, where the Sailor Moon characters are often seen in the anime. In fact, Azabu Juban is a holy land for all Sailor Moon fans, attracting fans from all over Japan and even from overseas. Once fans heard the news of the show restaurant, excitement spread like wildfire.
There is no doubt that this original show is a fantastic opportunity to delve deep into the world of Sailor Moon. There will also be the opportunity to try meals and drinks that are based on the anime which is not sold anywhere else. Of course, there will also be an area dedicated to the sale of original goods. 
The official website was published ahead of the grand opening of the restaurant. General ticket sales will be launched at 10 am on July 21. Enjoying Sailor Moon-themed meals and drinks while being entertained by a Sailor Moon stage show is a completely unique experience that many are curious about.
©️Naoko Takeuchi
©️Naoko Takeuchi, PNP, Sailor Moon  –SHINING MOON TOKYO –
Information
Sailor Moon  –SHINING MOON TOKYO –
Location: Basement Floor 1, Joule A, 1 Chome-10-10 Azabu Juban, Minato City, Tokyo 
Grand Opening: August 15, 2019 
※ Ticket sales start at 10 am on July 21, 2019
General Ticket Enquiries: info@sailormoon-shiningmoontokyo.com 
Official Website: https://sailormoon-shiningmoontokyo.com/ 
RECOMMENDED ENTRIES
Sailor Moon Manga to be Released Digitally Worldwide

The Sailor Moon themed event USAGI BIRTHDAY SPECIAL PARTY 2019 was held at Laforet Museum Harajuku on June 30. This event has become an annual celebration in recent years to honour the birthday of Usagi Tsukino, the main character of the series. The venue was packed by countless fans.

It began with a video of the opening for the Sailor Moon musical "Pretty Guardian Sailor Moon" The Super Live after which its cast appeared on stage to open the event: Tomomi Kasai (Sailor Moon/Usagi Tsukino), Momoko Kaechi (Sailor Mercury/Ami Mizuno), Kyoko Ninomiya (Sailor Mars/Rei Hino), Kanna Matsuzaki (Sailor Jupiter/Makoto Kino), and Yu Nakanishi (Sailor Venus/Minako Aino).

They were followed by Kotono Mitsuishi (Sailor Moon/Usagi Tsukino) and Misato Fukuen (Sailor Chibi Moon/Chibiusa), voice cast from the TV anime series Sailor Moon Crystal. The two of them did a rerun of a radio show previously presented by Mitsuishi for members of the official Sailor Moon fan club "Pretty Guardians" where they answered questions from fans.

Legendary Sailor Moon composerAkiko Kosaka was then invited on stage to answer questions from listeners. She performed La Soldier and Tuxedo Mirage from the franchise's 400+ track discography.

The event didn't end here however, things were just getting started as a string of announcements were about to commence. New information for the Sailor Moon 25th Anniversary Project was announced.

Firstly, it was revealed that the Sailor Moon manga series will be released digitally worldwide in 10 languages. It began rolling out on July 1.

To celebrate this, t-shirts with illustrations from Sailor Moon author will are being released exclusively at UNIQLO through their graphic t-shirt brand UT.

It was also announced that the franchise will celebrate with Japanese jewellery company Samantha Thavasa this fall and that this year will see the return of the popular Sailor Moon Cafe from 2017 with the new theme "Girls Night Out" this October.

An event will also be held to commemorate the 45th anniversary of Akiko Kosaka titled "Sailor Moon x Akiko Kosaka 45h Anniversary Music History Supported by Pretty Guardians." The line-up includes an appearance from ANZA, the first person to play Sailor Moon and Usagi in the Sailor Moon musicals back in the 90s. This two-day event will be held at Harajuku Quest Hall on November 9 and 10 with the first day focusing on piano performances and a talk and the second with a full backing band.

The first ever Sailor Moon themed ice skating show is also set for June 2020 with a performance by Russian figure skater Evgenia Medvedeva who made headlines for appearing as Usagi and Sailor Moon for Dreams on Ice at Nagaoka City Hall in July 2016 and again for the 2017 ISU World Team Trophy at Yoyogi National Gymnasium in Tokyo.

Medvedeva released the following video where she commented on the forthcoming performance.

Pre-sale tickets for the ice skating show and Akiko Kosaka's 45th anniversary event are now on sale over at the official Pretty Guardians fan club for 2019 members only.

Finally, a new two-part film titled Sailor Moon Eternal. Kazuko Tadano, who was the original character designer 90's series, is returning to work on the character design for the films. Check out the teaser below.

The films are set to be released sometime next year and will be overseen by Naoko Takeuchi.

At the end of the event, everybody sang Moonlight Densetsu together, drawing the info-packed event to a close.

Photography: 佐藤里奈

©Naoko Takeuchi

©Naoko Takeuchi・PNP/"Pretty Guardian Sailor Moon" The Super Live Production Committee

©Naoko Takeuchi・PNP/ Sailor Moon Eternal: The Movie Production Committee

Information

Sailor Moon x Akiko Kosaka 45h Anniversary Music History Supported by Pretty Guardians

Date: November 9 – November 10, 2019

Location: Harajuku Quest Hall

Day One Line-Up

Akiko Kosaka/ANZA・Hisano Akamine・Misako Iwana・Emi Kuriyama・Meiko Miyazawa・Sanae Kimura/Hikari Ono・Sakoto Yoshioka・Yūta Mochizuki

Day Two Line-Up

Akiko Kosaka/ANZA・Hisano Akamine・Misako Iwana・Emi Kuriyama・Meiko Miyazawa・Yūko Hosaka・Sanae Kimura・Yuhka Asami・Mao Mita・Tamaki Shirai/Yūta Mochizuki・Ryuji Kasahara・Momoko Okuyama/Hikari Ono

Sailor Moon Official Website: http://sailormoon-official.com/

Sailor Moon & Q-pot.'s 5th Accessory and Food Collaboration Begins June 30

Every year, dessert-inspired accessory brand Q-pot. collaborates with Sailor Moon, and this year will mark their fifth.

Macarons are the theme this year. The collaboration will begin on June 30, the birthday of the titular character Usagi Tsukino, with the release of various accessories and menu items.

Q-pot. Accessories

Transformation Brooch Macaron: Necklace ¥15,000 (Before Tax) / Key Ring ¥13,000 (Before Tax)

Macarons have been a long-awaited entry to the series amongst fans, and they are finally here in the form of the Sailors' transformation brooch. This luxury accessory features a gold plate and colourful gemstones.

Sailor Ribbon Macaron: Necklace ¥9,500 (Before Tax) / Bag Charm ¥7,500 (Before Tax)

These mini macarons are inspired by each Sailor's costume, with the pâte de fruits part representing the ribbon on each character's breast and the macaron itself their collars. The colours too are in line with each character's costume.

Luna Macaron & Artemis Macaron: Necklace ¥10,000 (Before Tax) / Bag Charm ¥8,000 (Before Tax)

Luna and Artemis who support the Sailors on their adventures have been turned into delicious-looking macaron accessories. The gem colour of the Luna accessory is based on Sailor Moon while Artemis's is based on Sailor Venus.

All of these accessories are packaged in this beautiful round box. Their elegant presentation makes them look like luxurious sweets.

Q-pot. Cafe's Collaboration Menu

Transformation Brooch Macaron Cake (w/ Plate) + Drink Set: ¥3,900 (Before Tax) *Contains milk, eggs and wheat

This gorgeous cake is made to look just like the transformation brooch macaron. It contains apricot which glistens just like when the Sailors transform and a rich mango mousse. The fancy ribbon plate it is served on can be taken away with you.

Crystal Star Macaron Cake (w/ Plate) + Drink Set: ¥3,900 (Before Tax) *Contains milk, eggs and wheat

Another beautiful cake, this time based on the Crystal Star Compact macaron. It contains a peach and strawberry mousse which glistens just like when the Sailors transform. This ribbon plate too can be taken away with you.

Sailor Ribbon Macaron Parfait (w/ Coaster) + Drink Set: ¥2,500 (Before Tax) *Contains milk, eggs and wheat

These parfaits topped with cute macarons are inspired by the Sailors' costumes. They include refreshing cream cheese, milk tea mousse and different sauces depending on the character such as peach or kiwi. If you line all five up on the table it will feel like casting Sailor Planet Power!

Sailor Afternoon Tea Set / Drink Set for 1 Person: ¥2,600 (Tax Included) *Contains milk, eggs and wheat

If you're looking for a little more luxury why not indulge in this tea set? It's packed full of fruits and other delights representative of the Sailor Moon world.

Moon Twilight Soda

Also on the menu is the apple and lemon flavoured Moon Twilight Soda which captures the romantic instant when the sky turns a light pink colour just before it's completely wrapped in night.

There are lots of other accessories and menu items in addition to these too so be sure to check out the collaboration.

©Naoko Takeuchi

©Naoko Takeuchi・PNP・Toei Animation

© Gramme Co.

Sailor Moon Charms, Accessories & More Merchandise Coming to Casselini This Summer

Clothing and accessories shop Casselini is set to collaborate with Sailor Moon for its second time starting on July 5 when it will drop a whole array of Sailor themed accessories and items.

The tote bag series―which featured designs taken from the anime series―and was popular during the first collaboration round has been revived and all-new designs. The hugely-popular cat charms are also making a return with a total of six new designs to look forward to.

Sailor Moon Princess Serenity Cat Charm ¥6,480 (Before Tax) Release: July 5, 2019

The "Sailor Moon Cat Charms" were a huge hit with fans in the first collection. Fans won't be able to resist this second collection either. This time, Princess Serenity is also making an appearance. They will make for a super cute bag charm or key chain.

Sailor Moon Crystal Star Compact Earrings ¥3,132 (Before Tax) Release Date: July 5, 2019

These earrings have the same pattern as the Crystal Star Compact that Sailor Moon and the other Sailors use to transform. These large earrings will sway gently in the summer breeze. The colours too are also very summery, making them a perfect summertime accessory.

Sailor Moon Choker ¥3,132 (Before Tax) Release Date: July 5, 2019

This simple yet dainty choker is casually decorated with Sailor Moon motifs. You're sure to look as cute as a Sailor by wearing this together with the earrings.

Sailor Moon Quilted Shoulder Bag ¥8,100 (Before Tax) Release Date: July 5, 2019

These quilted sacoche shoulder bags are a must-take wherever you go this summer. There are two designs: the Crystal Star Compact and Luna the cat♡

Sailor Moon Beaded Pouch ¥4,320 (Before Tax) Release Date: July 5, 2019

The beaded designs on both the Crystal Star Compact pouch and Luna pouch have been carefully embroidered by hand. These items have been made with the closest attention to detail, down to the moon-shaped zip charm and the embroidery on the reverse side!

These are special items that fans just cannot miss out on!

©Naoko Takeuchi , PNP, Toei Animation Co., Ltd. ©️Naoko Takeuchi

Universal Studio Japan's Attack on Titan, Sailor Moon & Other New Attractions Now Open

A special press preview and opening ceremony was held at Universal Studios Japan (USJ) in the run up to the park's Universal Cool Japan 2019 event.

Universal Cool Japan is an annual event held at USJ where Japanese entertainment brands and companies who promote Japan's "cool" culture to the world come together and turn the worlds they create into attractions. This year's event will see attractions from "6 big franchises" including the first ever Lupin the Third attraction as well as Detective Conan, Attack on Titan, Godzilla, Neon Genesis Evangelion and Sailor Moon. A total of eight attractions have arrived, the most in the event's history.

The opening ceremony was held at USJ's 4D cinema theatre in the park's Hollywood area. Japanese actor Yukiyoshi Ozawa, who has played roles in both the Japanese and Hollywood film industry, appeared as a special guest. The event was attended by a small selection of just 100 fans of the entertainment franchises introduced to this year's Universal Cool Japan.

When Yukiyoshi Ozawa stepped onto the dark stage donning a very stylish outfit, the crowd erupted with surprise and a flurry of cheers. When asked about struggles that have been important to him, the San Francisco-born actor responded: "When I was accepted for the Hollywood film audition, I was trembling with excitement. I thought to myself, 'This will help me grow, and I will be able to express myself to the world.' On the first day of shooting [the Hollywood film], I was so nervous I was shaking, but when the first day ended, I realised that the entire system for shooting films was all the same, the only difference being whether it's in English or Japanese. That relieved my tension and I was able to concentrate on the film shoot thereafter. You only have to step outside to see, but I think that more and more of the wonderful brands and works of Japan want to be received well around the world, and I believe that Universal Studios Japan is making that big chance possible."

Dramatic music played as gigantic visuals of Attack on Titan, Godzilla, Neon Genesis Evangelion and Salior Moon appeared. Ozawa spoke of his experience seeing three 4D attractions that are running for the event for a limited time, praising their high quality.

©2019 Gosho Aoyama / "Detective Conan" Production Committee ©Monkey Punch / TMS・NTV  ©Hajime Isayama・Kodansha / "Attack on Titan Production Committee TM & © TOHO CO., LTD.  ©Color  ©Naoko Takeuchi  Sisyu TM & © Universal Studios. All rights reserved.© SCRAP All rights reserved.
RELATED ENTRIES
BT21 Amusement Park Event to Open in Tokyo, Osaka, and Fukuoka

NAMJATOWN, a theme park located in Ikebukuro, Tokyo, will be holding a special BT21 event from May 14 until June 12, 2022! The 'BT21 MerryLand ~Welcome to our Dreamy World!~' event celebrates the popular LINE FRIENDS characters, and guests can enjoy lots of games and treats!



The event recreates MerryLand, an amusement park in the BT21 member's dreams. Guests can participate in three unique mini-games inspired by amusement park attractions, along with a stamp rally and riddle-solving game! Original merchandise and menu items will also be available.

Original Mini-Games

BT21 MerryLand Spinning Ferris Wheel / BT21's  Whirling Teacups ♪ / The Full Stomach Yum-yum Wagon

Mini-Game Prizes

A Prize: Relaxing Cushion (7 varieties)

B Prize: Bandana (7 varieties)


C Prize: Mini Acrylic Stand (7 varieties, random)


D Prize: Character Pin (7 varieties, random)

*The design for A Prize and B Prize will differ depending on the mini-game.
(Guests can choose the design for each game.)
*For C Prize and D Prize, the design is the same for all mini-games.

Venue Exclusive Project! Rally Game

Rally Game Prizes

Participation Prize: Mascot Rubber Charm (7 varieties, random)
*Prizes are the same for each Rally Game.

Original Merchandise

Original Food & Drinks

Soft Drink with Acrylic Coaster / Fortune Latte (14 varieties) / Icing Cookie (7 varieties)


Those unable to attend the event can head to the Namco Parks Online Store to play some web-based mini-games offering the same prizes! Certain pieces of merchandise will also be available for purchase online.

Following Tokyo, the event will head to HEP FIVE in Osaka from July 2 until July 24 and Canal City Hakata in Fukuoka from August 5 until August 28.

©Bandai Namco Amusement Inc.

Information

BT21 MerryLand

Tokyo Event
Venue: NAMJATOWN
Address: Sunshine City World Import Part Building 2F/3F (3-1-3 Higashi-Ikebukuro, Toshima-ku, Tokyo)
Running: May 14 – June 12

Osaka Event
Venue: Hugood! from NAMJATOWN
Address: HEP FIVE 9F (5-15 Kakudacho, Kita-ku, Osaka)
Running: July 2 – July 24, 2022

Fukuoka Event
Venue: Namco Canal City Hakata
Address: Canal City Hakata South Building B1F (1-2-74 Sumiyoshi, Hakata-ku, Fukuoka)
Running: August 5 – August 28, 2022

Online Sales / Online Lottery Wheel

 https://parks2.bandainamco-am.co.jp/ 
Sales Period: May 16, 11:00 – June 13, 23:59

Official Site: https://event.bandainamco-am.co.jp/cx/bt21-merryland/ 

Special Shop to Open in Tokyo and Kanagawa to Celebrate the Release of Dragon Ball Super: Super Hero

A special pop-up store celebrating the upcoming Dragon Ball Super: Super Hero film is coming to four locations in Tokyo and Kanagawa! The film is scheduled to be released on June 11, 2022, and fans can pick up some exclusive merchandise at Shinjuku Station, Kawasaki Station, Ikebukuro Station, and Akihabara Station. The dates are listed below!

Exclusive Products

Special Bonus

Product Lineup

Shop Displays

The pop-up shop will feature exclusive items decorated with popular imagery from the Dragon Ball series. Fans will also be able to grab some home goods themed around the Capsule House where Bulma lives!

As a purchase bonus, customers spending ¥2,500 or more will receive a special holographic sticker!

Each venue will be decorated, so enjoy taking some photos with your family and friends.

Information

DRAGON BALL POP-UP STORE BY FLOWERING

Locations/Dates: 

Shinjuku Station / April 25 – May 8

Kawasaki Station / May 17 – May 24

Ikebukuro Station / June 1 – June 9

Akihabara Station / June 14 – June 23

Official Site: https://www.jr-cross.co.jp/

Kyary Pamyu Pamyu Collaborates with 153-year-old Kimuraya Bakery for LOCAL POWER JAPAN Project

Last month, Kyary Pamyu Pamyu performed on the Gobi Stage at Coachella, one of the largest music festivals in the United States. Her Weekend 1 performance was streamed live worldwide and trended on Twitter in both the U.S. and Japan. After an accident during the second weekend left the singer alone on stage, many wondered if she could pull of a dazzling performance. Kyary's joy and excitement completely transfixed the massive crowd, and the artist has drawn praise from around the world for her talent and passion.

Kyary has returned to Japan to continue her 'Kyary Pamyu Pamyu 10th ANNIVERSARY JAPAN TOUR 2022 CANDY WAVE,' seeing the singer performing 30 shows across Japan. On May 7, she'll perform at LINE CUBE SHIBUYA in Tokyo.

In conjunction with the nationwide tour, the LOCAL POWER JAPAN Project was launched to energize Japan through the appeal of regional towns and cities and has been attracting major attention. To celebrate the Tokyo leg of the tour, a new Tokyo collab has been announced!

Kyary is teaming up with Kimuraya Sohonten, a bakery that has been in business for over 150 years. The brand is known for inventing the anpan sweet bun in 1874. Given how much this simple food has influenced Japanese culture, it seems appropriate to team up with Kyary–the singer has brought Japanese influence around the world and continues to inspire fans with her creativity and sweetness. 

For the collaboration, fans will be able to purchase the aptly-named 'Ninjari Anpan,' based on Kyary's hit song Ninjari Bang Bang released in 2013. The limited-edition set includes five different flavors of anpan and shows Kyary in her ninja attire on the box. Concertgoers can purchase these sweets at the show on May 7, and they will also be available at select Kimuraya stores and online.

A collaborative T-shirt is also on sale featuring the new logo and the singer's 10th-anniversary logo. The shirt is available on the LOCAL POWER JAPAN Project website for two weeks only. Support Japanese businesses and pick one up while you can!

Sailor Moon Commemorates 30th Anniversary with Museum, Details Revealed

The Sailor Moon franchise's 30th-anniversary museum will run from July 1 to December 30 in Tokyo's Roppongi Museum. The series became a global phenomenon in the 1990s and remains popular to this day.

The exhibition will feature the largest-ever exhibition of original illustrations by Sailor Moon's creator Naoko Takeuchi, at over 600 pieces. Rare original color drawings and some never-before-scene creations will be on display, and fans won't want to miss this incredible chance. The museum will have three phases: volume 1 (July 1 – September 4), volume 2 (September 10 – November 6), and volume 3 (November 12 – December 30). 

The event will also include an 'immersive experience theater,' which will display colored images on a massive 4.5 x 8-meter screen with special effects. Fans can also enjoy a 'hologram manuscript exhibit,' which will display the Sailor Scouts' famous dialogue. Anime materials and a selection of classic merchandise from the 90s to the modern-day will be available to peruse, as well as outfits from the musicals.


More information regarding original merchandise and the on-site cafe menu will be announced soon, so stay tuned!

© Naoko Takeuchi

Information

Sailor Moon Museum

Running: July 1 – December 30, 2022

Vol.1: July 1 – September 4

Vol. 2: September 10 – November 6

Vol. 3: November 12 – December 30

Closed: September 5-9, November 7-11

Hours: 10:00-18:00 (Last entry at 17:30)

Venue: Roppongi Museum (5-6-20 Roppongi, Minato-ku, Tokyo)

Official Site: sailormoon-museum.com

BTS Characters 'TinyTAN' to Appear at Cafes in Tokyo, Yokohama, Osaka, Nagoya, and Miyagi

The popular BTS chibi characters TinyTAN will be featured at TinyTAN Cafe locations in five cities for a limited time! Nine locations will be open across Tokyo, Yokohama, Osaka, Nagoya, and Miyagi starting April 21, 2022.

The TinyTAN characters were designed by the seven members of BTS to embody their "second selves."

Select Cakes: ¥990

Fruits Deco Style: Strawberry, Fruits Deco Style: Mango, Fruits Deco Style: White Grape: ¥1,760


The menu is packed with desserts, including seven different types of cakes each inspired by a member of TinyTAN.

American Sundae Style Chocolate Cookie, American Sundae Style Caramel Nuts, American Sundae Style Pistachio Honey: ¥1,870

Afternoon Style Tea: ¥3,190

The Afternoon Style Tea includes a base plate that can be customized with guest's favorite fruits and chocolates. Two types of TinyTAN Select Cakes will also be included to share!

Ham (2 types) & Scrambled Egg Peanut Butter Sandwich: ¥1,760

Cafe Style Drink & Cake Set *Prices vary based on drink selection.

Guests can choose from colorful bagel sandwiches, pancakes, and open sandwiches, along with a selection of sweet drinks to match each meal.

Bonuses

Acrylic Stand (7 varieties, random): ¥1,320

Sticky Note Roll: ¥880, Acrylic Nameplate (7 varieties): ¥990 each


Original cafe merchandise and special offers will make visiting the TinyTAN Cafe even more exciting!

© BIGHIT MUSIC. All Rights Reserved

Information

TinyTAN CAFE

Tokyo, Omotesando: BOX cafe&space Omotesando

April 21 – June 5, 2022

Pine Under Flat B1F (5-13-2 Jingumae, Shibuya-ku, Tokyo)

Tokyo, Shinjuku: BOX cafe&space Lumine EST Shinjuku

April 28 – July 3, 2022

Lumine EST Shinjuku B1F (3-38-1 Shinjuku, Shinjuku-ku, Tokyo)

Tokyo, Harajuku: BOX cafe&space Harajuku Alta

April 21 – June 5, 2022

Harajuku Alta 3F (1-16-4 Jingumae, Shibuya-ku, Tokyo)

Tokyo, Omotesando: BOX cafe&space Omotesando Hills

April 21 – June 26, 2022

Main Building, B3F (4-12-10 Jingumae, Shibuya-ku, Tokyo)

Kanagawa, Yokohama: Collabo_Index Lumine Yokohama

April 22 – June 19, 2022

Lumine Yokohama 6F (2-16-1 Takashima, Nishi-ku, Yokohama)

Aichi, Nagoya: BOX cafe&space Nagoya LACHIC #1

April 28 – June 5, 2022

LACHIC B1F (3-6-1 Sakae, Naka-ku, Nagoya)

Osaka, Umeda: BOX cafe&space HEP FIVE

April 28 – June 5, 2022

HEP FIVE 7F (5-15 Kakudacho, Kita-ku, Osaka)

Osaka, Shinsaibashi: Shinsaibashi contact

April 29 – July 3, 2022

1-6-24 Kitahorie, Nishi-ku, Osaka

Miyagi, Rifu: BALLER:S

April 27 – June 26, 2022

AEON MALL Shin-Rifu South Building 2F (3-1-1 Shinnakamichi, Rifu, Miyagi)

Reservations Open

Reservation Fee: ¥660 (Includes Bonus)

TinyTAN CAFE Official Site: https://tinytan-cafe.jp/

Sailor Moon Eternal Film Inspires Bridal Jewelry Collection

The U-Treasure brand is known for releasing incredible jewelry for adults based on popular brands and characters. This time, the company has released a number of bridal pieces inspired by Sailor Moon Eternal The Movie, including an engagement ring, wedding rings, and more.

Crisis Moon Compact Ring

Moonlight Ring Eternal ver.

Moon Kaleidoscope Half Eternity Ring

Moon Kaleidoscope Ring

Crystal Carillon & Pegasus Dream Necklace

The Crisis Moon Compact Ring engagement ring is made in a solitaire style and embellished with the Crisis Moon Compact on the stone seat supporting the diamond. The simple wedding bands feature a moon design in the center, perfect for fans of the series who don't want to be too flashy.

 

The Moon Kaleidoscope Half Eternity Ring contains 15 diamonds and can be worn as an engagement ring or a wedding band. The Moon Kaleidoscope Ring is a wedding band with the moon kaleidoscope motif inspired by Super Sailor Moon.

 

The Crystal Carillon & Pegasus Dream Necklace features a cute design with a Pegasus plate set in a resin that resembles a crystal bell.

Which of these designs would you prefer to wear to show off your love story? 

Tasty Half-Moon Sandwiches Coming in Second Doraemon Tokyo Banana Collaboration

Doraemon Tokyo Banana Half-Moon Sandwiches are coming on April 1, 2022! These tasty snacks come in a pack of eight and are sure to make the perfect gift.

This release of Doraemon Tokyo Banana is celebrating the 30th anniversary of the Tokyo Banana brand and the 50th anniversary of Doraemon. Why not enjoy your daily snack time with these cute treats?

Each sandwich is filled with chocolate-banana cream with the dough baked into a crispy, savory crust with a winking Doraemon on both sides.

©Fujiko-Pro,Shogakukan,TV-Asahi,Shin-ei,and ADK ※画像はイメージです

History of OSAMU GOODS to be on Display in 'OSAMU GOODS 45th Anniversary Exhibition'

Palette Club, a school for illustrators located in Tsukiji, will be holding a 45th Anniversary exhibition for OSAMU GOODS! The characters were created in 1976 by Osamu Harada, who is from Tsukiji, and Dusty Miller. Items featuring these adorable characters are still incredibly popular to this day.

Exclusive Merchandise

Rare original drawings, prints, and goods from the 1970s to the 1990s, as well as Dusty Miller store bags and fan club newsletters, will be on display during the event. Those more nostalgic about these characters and those new to them will both find something to enjoy!

Information

OSAMU GOODS 45th Anniversary Exhibition

Running: April 12 – May 22, 2022

Hours: 13:00-19:00 (Last Entry at 18:30)
*Closed Mondays
Admission: Free

Venue: Palette Club School (4-11-10 Tsukiji, Chuo-ku, Tokyo)

Information: https://www.osamugoods.com/

NAKED Collaborates with Uta no Prince-sama Game for Special Art Installation

Creative company NAKED is bringing the world of Uta no Prince-sama to life! From April 16 until April 24, fans will want to come to Ikebukuro Sunshine Plaza to see MAJI LOVE KINGDOM MEMORIES, a sensory photo booth decorated with floral art.

The first Uta no Prince-sama game was released in 2010, with an anime series following in 2011. In 2019, the first Uta no Prince-sama film, Maji LOVE Kingdom, was released.

NAKED's project mapping and digital art are being used to create unique photo booths where guests can take pictures with their favorite idols as seen in the 2019 film.

Each photo booth was created using a variety of techniques, combining video, sound, scent, and even wind. The flowers included in each booth were inspired by the flowers that members of ST☆RISH, QUARTET NIGHT, and HE★VENS wear on their chests. How often do you get to experience a 3D photo booth with your favorite fictional boys?

Guests can also enjoy a unique AR experience at the venue by using NAKED INC PLAY!

©︎UTA☆PRI-MOVIE PROJECT

Information

Uta no Prince-sama on Stage: MAJI LOVE KINGDOM MEMORIES

Location: Ikebukuro Sunshine City World Import Building 4F Event Hall A

Running: April 16 – April 24, 2022
Hours: 10:00-20:00 (Last admission 60 minutes prior to closing)
*Open 10:00-17:00 on April 24

Official Site: https://ml-kingdom-memories.com/

Kyo Hayashiya and Hayashiya Shinbei Offering Special Parfaits Perfect for Spring

Hibiya Hayashiya Shinbei in Tokyo Midtown Hibiya is now offering a scrumptious Strawberry Matcha Parfait until April 24, 2022! If that's not up your alley, four Kyo Hayashiya locations in Shinjuku, Omiya, Yokohama, and Ikebukuro will begin offering a Matcha and Berry Mascarpone Parfait from April 1 until May 8, 2022. 

Strawberry Matcha Parfait


The Strawberry Matcha Parfait is an eye-catching mix of green and pink, reminiscent of cherry blossoms and bright green grass. Green tea blends with rose jelly and lychee sorbet, offering a refreshing taste with a hint of bitterness. The sweet accent of crunchy chocolate feuillantine gives each bite a little kick.

Matcha and Berry Mascarpone Parfait


The Matcha and Berry Mascarpone Parfait mixes the deep, bitter taste of Uji matcha, the sweet and sour taste of berries, and the gentle sweetness of mascarpone cream. The berry sauce is blended with crunchy chocolate feuillantine, a layer of whipped cream, green tea jelly, green tea ice cream, and milk panna cotta. To finish, it's garnished with refreshing raspberry sorbet, bittersweet matcha ice cream, and fresh strawberries.

Information

Strawberry Matcha Parfait

Price: ¥1,650 (Tax Included) / with Tea: ¥2,090 (Tax Included)

Available: March 18 – April 24, 2022

Available at Hibiya Hayashiya Shinbei (Tokyo Midtown Hibiya 2F)

Matcha and Berry Mascarpone Parfait

Price: ¥1,430 (Tax Included) / with Tea: ¥1,870 (Tax Included)

Available: April 1 – May 8, 2022

*Available until April 30 at the SOGO Yokohama location.

Available at the following 4 Kyo Hayashiya locations. 

・Takashimaya Times Square (Shinjuku Takashimaya Times Square Main Building 2F)

・Seibu Ikebukuro (Seibu Ikebukuro Main Building 8F)

・SOGO Omiya (SOGO Omiya Main Building 9F) 

・SOGO Yokohama (SOGO Yokohama 10F)

Hotel New Otani Tokyo to Hold Fourth Collaboration with Paul & Joe

From April 1 until June 30, 2022, Hotel New Otani Tokyo will hold its fourth collaboration with the Paris-born fashion brand Paul & Joe! One specially designed room will be available per day. The brand is extremely popular with women in their 20s and 30s, and those wanting to reserve a room will want to act quickly, as the previous collab room was booked up almost immediately!

The pink and ivory interior is dotted with chrysanthemums and images of Gipsy and Nounette, the iconic cats of brand designer Sophie. Everything from the couch cushions to the hairbrush is completely inspired by Paul & Joe.

Items Only Available in the Paul & Joe Room


4th Collaboration Cosmetics

Limited Edition Pajama and Slipper Set with Room Plan

The fourth cosmetic collection has been sourced from the Les Vacances series, a collection made to take on summer vacation. The lineup includes a body primer sunscreen made to moisturize and protect and an 'After Sun Oil' with a floral citrus scent perfect for use after outdoor lounging.

A special Les Vacances-themed spa bag will also be available for guests to take home. Enjoy taking it to the pool, to the spa, or simply while taking a stroll around the hotel. 

Guests can also take home a sample of the brand's Protecting Foundation Primer, a makeup base that has taken home a number of Best Cosmetics Awards. Selected skincare samples, such as lotions and oils, will also be included in the room package. 

One of the collaboration plans will also allow guests to take home an exclusive pair of pajamas and slippers decorated with an adorable cat design. 

*Guests cannot choose the pajama color or slipper pattern.
*The design of pajamas and slippers is subject to change without notice.

Cherry Blossom Menu Appears at Cafe Accueil Ebisu for a Limited Time

Cafe Accueil Ebisu is currently offering a limited Sakura-themed menu featuring pancakes, afternoon tea, and drinks until April 10, 2022.

Sakura & Strawberry Pancakes

Sakura Afternoon Tea

Special Latte with Cherry Blossoms

The seasonal menu includes Sakura & Strawberry Pancakes with pale pink and strawberry red accents, and savory items such as a croissant with cherry cheese cream. Guests can also enjoy Sakura Afternoon Tea, a colorful 12-item menu featuring cherry and strawberry delights. Come enjoy the coming of spring at this gorgeous Tokyo cafe!

Information

Cafe Accueil Ebisu Sakura Season Special Menu

Available until April 10, 2022

Address: 2-10-10 Ebisunishi, Shibuya-ku, Tokyo

Hours: 11:00-22:00 (Last Order at 21:00)

Official Site: http://accueil.co.jp/ebisu/