Sailor Moon & Q-pot.'s 5th Accessory and Food Collaboration Begins June 30
Every year, dessert-inspired accessory brand Q-pot. collaborates with Sailor Moon, and this year will mark their fifth.
Macarons are the theme this year. The collaboration will begin on June 30, the birthday of the titular character Usagi Tsukino, with the release of various accessories and menu items.
Q-pot. Accessories
Transformation Brooch Macaron: Necklace ¥15,000 (Before Tax) / Key Ring ¥13,000 (Before Tax)
Macarons have been a long-awaited entry to the series amongst fans, and they are finally here in the form of the Sailors' transformation brooch. This luxury accessory features a gold plate and colourful gemstones.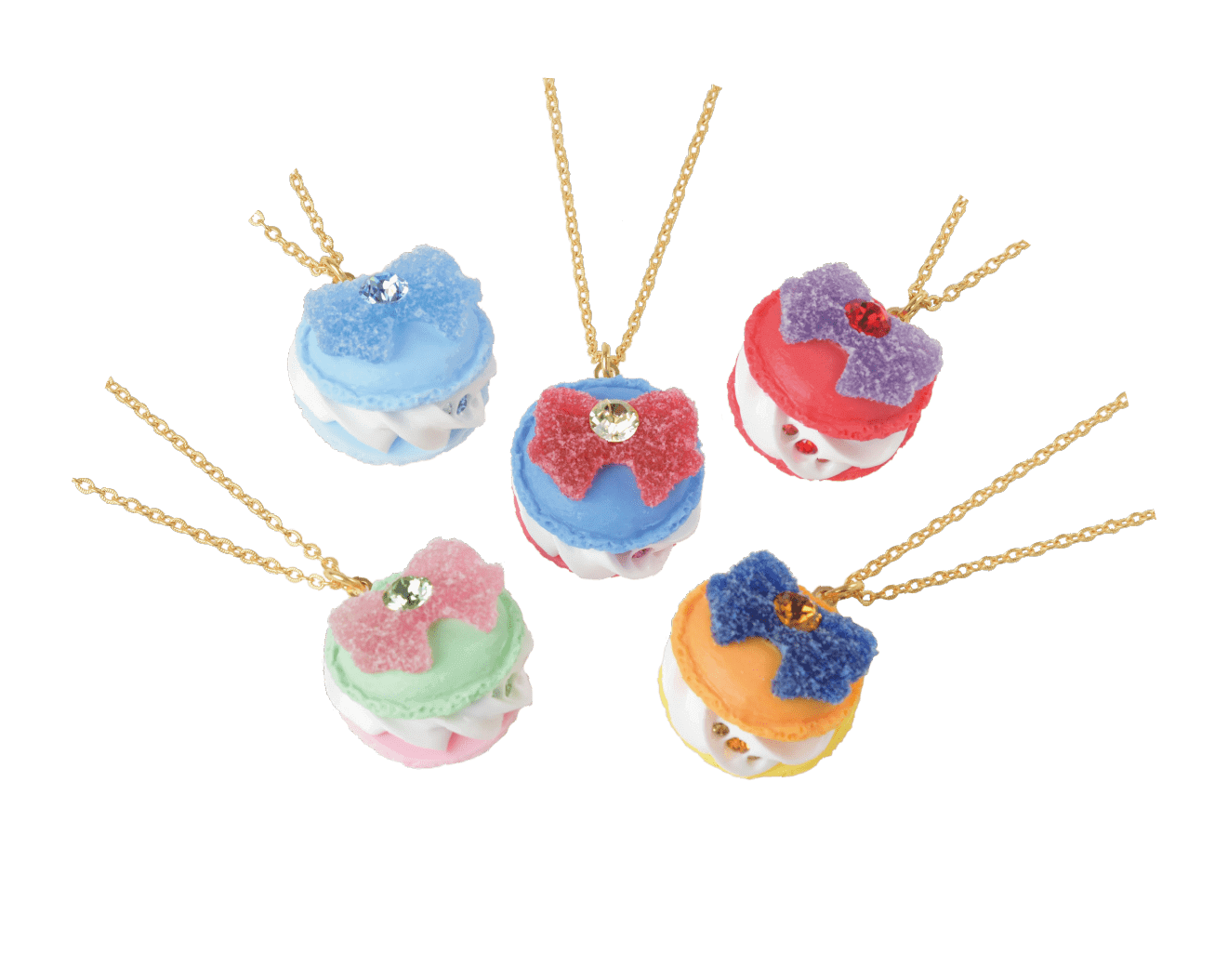 Sailor Ribbon Macaron: Necklace ¥9,500 (Before Tax) / Bag Charm ¥7,500 (Before Tax)
These mini macarons are inspired by each Sailor's costume, with the pâte de fruits part representing the ribbon on each character's breast and the macaron itself their collars. The colours too are in line with each character's costume.
Luna Macaron & Artemis Macaron: Necklace ¥10,000 (Before Tax) / Bag Charm ¥8,000 (Before Tax)
Luna and Artemis who support the Sailors on their adventures have been turned into delicious-looking macaron accessories. The gem colour of the Luna accessory is based on Sailor Moon while Artemis's is based on Sailor Venus.
All of these accessories are packaged in this beautiful round box. Their elegant presentation makes them look like luxurious sweets.
Q-pot. Cafe's Collaboration Menu
Transformation Brooch Macaron Cake (w/ Plate) + Drink Set: ¥3,900 (Before Tax) *Contains milk, eggs and wheat
This gorgeous cake is made to look just like the transformation brooch macaron. It contains apricot which glistens just like when the Sailors transform and a rich mango mousse. The fancy ribbon plate it is served on can be taken away with you.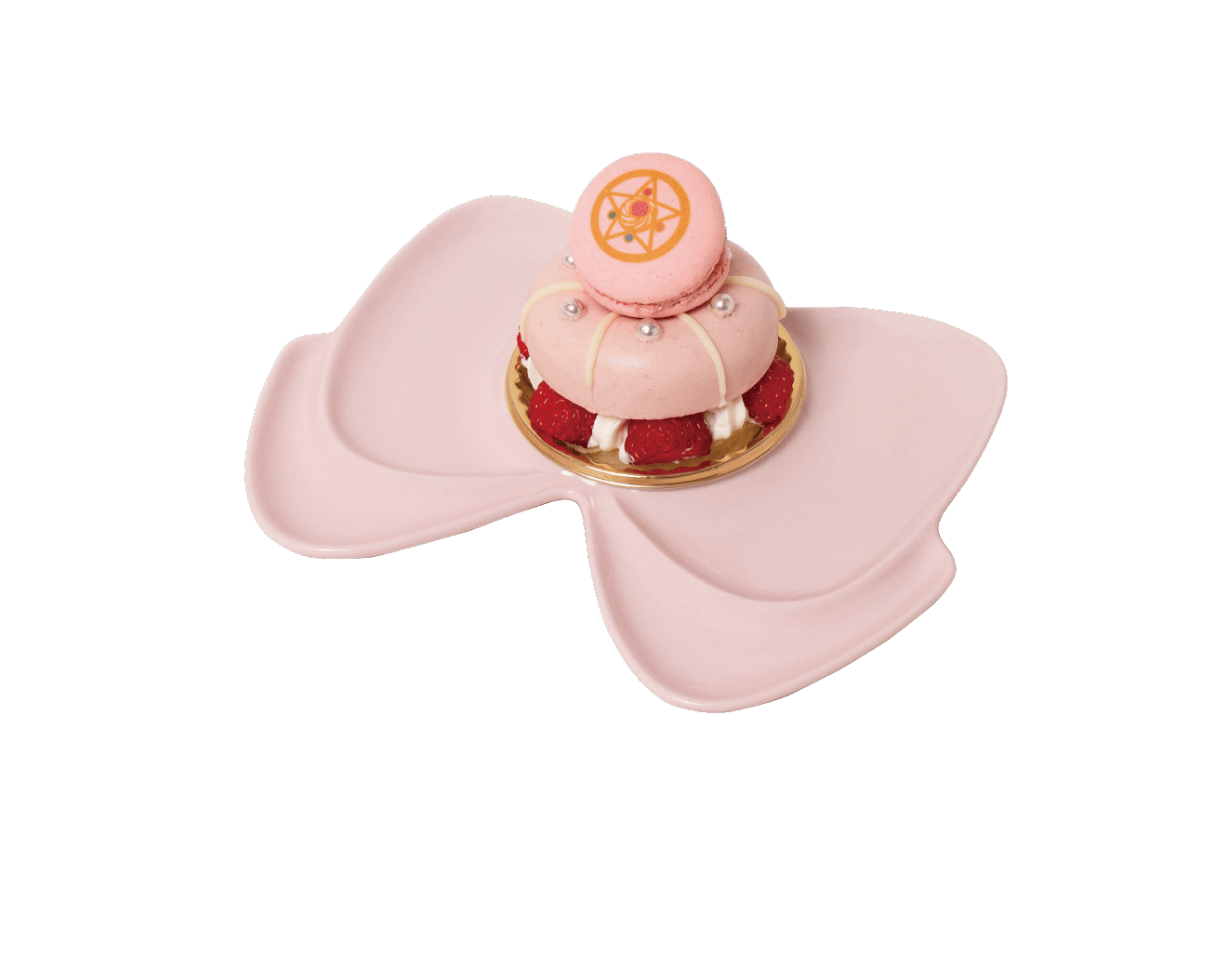 Crystal Star Macaron Cake (w/ Plate) + Drink Set: ¥3,900 (Before Tax) *Contains milk, eggs and wheat
Another beautiful cake, this time based on the Crystal Star Compact macaron. It contains a peach and strawberry mousse which glistens just like when the Sailors transform. This ribbon plate too can be taken away with you.
Sailor Ribbon Macaron Parfait (w/ Coaster) + Drink Set: ¥2,500 (Before Tax) *Contains milk, eggs and wheat
These parfaits topped with cute macarons are inspired by the Sailors' costumes. They include refreshing cream cheese, milk tea mousse and different sauces depending on the character such as peach or kiwi. If you line all five up on the table it will feel like casting Sailor Planet Power!
Sailor Afternoon Tea Set / Drink Set for 1 Person: ¥2,600 (Tax Included) *Contains milk, eggs and wheat
If you're looking for a little more luxury why not indulge in this tea set? It's packed full of fruits and other delights representative of the Sailor Moon world.
Moon Twilight Soda
Also on the menu is the apple and lemon flavoured Moon Twilight Soda which captures the romantic instant when the sky turns a light pink colour just before it's completely wrapped in night.
There are lots of other accessories and menu items in addition to these too so be sure to check out the collaboration.
©Naoko Takeuchi
©Naoko Takeuchi・PNP・Toei Animation
© Gramme Co.
RECOMMENDED ENTRIES
Isetan Celebrates Sailor Moon's Birthday With Merchandise Collection

Bandai's fashion division has teamed up with the Shinjuku branch of Japanese department store Isetan to release a range of new Sailor Moon items on their official website. The collection is being released to celebrate series protagonist Usagi Tsukino's birthday which falls on June 30.

This is the 6th time Isetan has collaborated with Sailor Moon The theme this year is a combination of "Usagi's bedroom" and "boutique." The huge range includes a jewellery series made using Swarovski® crystals, phone cases and more. Expect to deck yourself out with Sailor Moon jewellery, decorate your house with Sailor Moon furniture, and more.

Sailor Moon Silver Crystal Necklace: ¥95,040 (Tax Included)

The line-up includes everything from designs based on items that appear in the anime series itself to accessories inspired by the characters' image colours such as Sailor Moon and Luna. The items are chic and nonchalant, meaning you can wear them in an everyday setting while still channelling your love for the series.

LIGHTS STYLE Collaboration – Sailor Moon/Princess Serenity Smartphone Cases: ¥13,200

13,200円(税込)

Bandai has collaborated with LIGHTS STYLE to release three smartphone cases made with Swarovski® crystals.

Sailor Moon Low Table: ¥64,800 (Tax Included)

The first ever furniture piece of the Sailor Moon collaboration series is also being released: three styles of low tables that represent Usagi's bedroom as a grown-up.

Lots of other items are included in the line-up, so be sure to check out the official product page.

©Naoko Takeuchi・PNP・Toei Animation ©Naoko Takeuchi

Sailor Moon Charms, Accessories & More Merchandise Coming to Casselini This Summer

Clothing and accessories shop Casselini is set to collaborate with Sailor Moon for its second time starting on July 5 when it will drop a whole array of Sailor themed accessories and items.

The tote bag series―which featured designs taken from the anime series―and was popular during the first collaboration round has been revived and all-new designs. The hugely-popular cat charms are also making a return with a total of six new designs to look forward to.

Sailor Moon Princess Serenity Cat Charm ¥6,480 (Before Tax) Release: July 5, 2019

The "Sailor Moon Cat Charms" were a huge hit with fans in the first collection. Fans won't be able to resist this second collection either. This time, Princess Serenity is also making an appearance. They will make for a super cute bag charm or key chain.

Sailor Moon Crystal Star Compact Earrings ¥3,132 (Before Tax) Release Date: July 5, 2019

These earrings have the same pattern as the Crystal Star Compact that Sailor Moon and the other Sailors use to transform. These large earrings will sway gently in the summer breeze. The colours too are also very summery, making them a perfect summertime accessory.

Sailor Moon Choker ¥3,132 (Before Tax) Release Date: July 5, 2019

This simple yet dainty choker is casually decorated with Sailor Moon motifs. You're sure to look as cute as a Sailor by wearing this together with the earrings.

Sailor Moon Quilted Shoulder Bag ¥8,100 (Before Tax) Release Date: July 5, 2019

These quilted sacoche shoulder bags are a must-take wherever you go this summer. There are two designs: the Crystal Star Compact and Luna the cat♡

Sailor Moon Beaded Pouch ¥4,320 (Before Tax) Release Date: July 5, 2019

The beaded designs on both the Crystal Star Compact pouch and Luna pouch have been carefully embroidered by hand. These items have been made with the closest attention to detail, down to the moon-shaped zip charm and the embroidery on the reverse side!

These are special items that fans just cannot miss out on!

©Naoko Takeuchi , PNP, Toei Animation Co., Ltd. ©️Naoko Takeuchi

New Sailor Moon Attraction Arriving at Universal Studios Japan This Summer

Universal Studios Japan has been rolling out new attractions since January 18, 2019. The park is set to bring 8 attractions from six of Japan's biggest entertainment franchises that have taken the world by storm, such as Attack on Titan.

This summer, the next big attraction arriving at Universal Studios Japan will be Sailor Moon themed and will run from May 31 to August 25.

Last year, the gave host to Pretty Guardian Sailor Moon: The Miracle 4-D, an immersive 4-D experience that will followed an original Sailor Moon story. It was so popular that the attraction received an extension to run for longer, and even the manga's author Naoko Takeuchi praised it.

This year, the 4-D experience will return with a brand new original story featuring 10 Sailors and Super Sailor Moon. Guests are invited to the Moon Palace to join hands and combine their strength with the sailors to help save Sailor Moon who has been attacked by the enemy. They must awaken Super Sailor Moon.

Guests will be treated to a visual feast with the Sailors appearing right before their very eyes and transforming. It's the Sailor Moon experience all fans have dreamed of.

A selection of merchandise popular last year will also make a return. This will include the Universal Heart Contact pictured above which Sailor Moon uses to transform in the attraction.

Join the Sailors in their efforts to rescue Sailor Moon.

Information

Pretty Guardian Sailor Moon: The Miracle 4-D ~Moon Palace~
Location: Universal Studios Japan Cinema 4-D Theatre
Running: May 31, 2019 – August 25, 2019

USJ Official Website: https://www.usj.co.jp/

TM & © TOHO CO., LTD.

©カラー

©Naoko Takeuchi  書・紫舟

TM & © Universal Studios. All rights reserved.

© SCRAP All rights reserved.
RELATED ENTRIES
9th Installment of Anime-Inspired Cooking Project AniCook Features Bungo Stray Dogs

AniCook, a project using anime to make cooking more fun, is already holding it's 9th collaboration with a popular series. This time, characters from the popular anime series Bungo Stray Dogs are coming to cook up some fall treats at Shinsaibashi PARCO in Osaka from October 1 until October 26! 

Menu

Sticker gifted to guests who purchase a meal or dessert (8 varieties) / Postcard gifted to guests ordering a drink (8 varieties) 

Original Merchandise

Acrylic Stands (8 varieties) / 8-pack set

Pins (8 varieties) / 8-pack set

Acrylic Keychain (8 varieties) / 8-pack set

Acrylic Muddler (8 varieties) / 8-pack set

100 Limited-Edition pouches (2 varieties) available by lottery: Those spending over ¥5,000 at the cafe will be entered.

CookpadTV is behind the cafe, and continues to lead the way in quality collaboration cafes across Japan. This time, popular characters from Bungo Stray Dogs are serving up their favorite autumn-themed foods, inspiring visitors to enjoy cooking just a little more. Themed meals and sweets will be available, while the beverages are each themed on the character's abilities. Be sure to grab some of the limited-edition merchandise only available during the event! These can now be pre-ordered on the cookpadLive cafe Online Store. 

Which character would you like to see in the kitchen? 

Sega to Open Limited-time Love Live! Themed Cafes Around Japan

GENDA SEGA is set to open a series of Love Live! School Idol Festival themed collaboration cafes around Japan starting September 4. Guests can enjoy original food, desserts, and drinks inspired by characters from the franchise. The limited-time cafes will be open until November 7, and will be divided into four phases, each based on a certain aspect of the Love Live! series.

Drinks: ¥660 each (Tax Included) 

Food Menu

Phase 1: Teru Teru Bozu White Rice & Soup / Magic of Makeup Open-Faced Hamburger 

Phase 2: Cat Ear Curry Soup / Spring Fairy Soba with Yuzu 

Phase 3 : Menu to be announced soon

Phase 4 : Menu to be announced soon

Dessert Menu

Love Live! Parfait (Liella!) (Available during entire event period.)

Phase 1:  μ' s 1st Grade Soda Parfait / μ' s 2nd Grade Strawberry Parfait / μ' s 3rd Grade Muscat Parfait 

Phase 2: Aquors 1st Grade Banana Parfait / Aquors 2nd Grade Strawberry Parfait / Aquors 3rd Grade Muscat Parfait

Phase 3 / Phase 4: Dessert Menus to be announced soon

Get Special Freebies for Each Order

Phase 1: Drink Coaster / Food Coaster / Parfait Coaster

Phase 2: Drink Coaster / Food Coaster / Parfait Coaster

Phase 3 / Phase 4: Freebies to be announced soon

Love Live! Character Birthday Cards

Kotori Minami – September 12

Riko Sakurauchi – September 19

Ruby Kurosawa – September 21

Sumire Heanna – September 28

Shioriko Mifune – October 5

Eli Ayase – October 21

Rin Hoshizora – November 1

Limited-time Merchandise

Releasing: September 4, 2021

Art Panel (μ' s Thanksgiving 2020 ~ONLINE~, 10 designs, random) / Art Panel (Aqours Thanksgiving 2020 ~ONLINE~, 10 designs, random) / Art Panel (Nijigasaki Thanksgiving 2020 ~ONLINE~, 11 designs, random): ¥660 each (Tax Included)

Art Panel (μ' s Makeup Magic, 9 designs, random): ¥660 each (Tax Included) / Chibi Acrylic Key Rings (μ' s Thanksgiving Festival 2020 ~ONLINE~, 9 designs, random): ¥770 each (Tax Included) / Acrylic Stands (μ' s Teru Teru Bozu, 9 designs): ¥1,320 each (Tax Included)

Releasing: September 18, 2021

Art Panel (Aqours Cat Cafe, 9 designs, random): ¥660 each (Tax Included) / Chibi Acrylic Key Rings (Aqours Thanksgiving Festival 2020 ~ONLINE~, 9 designs, random): ¥770 each (Tax Included) / Acrylic Stands (Aqours Spring Fairy, 9 designs): ¥1,320 each (Tax Included)

Bonus Merch for Every ¥2,000 Spent

Limited-edition clear photos, 4 designs: Available September 4 – September 17

Limited-edition clear photos, 4 designs: Available September 18 – October 1

Phase 3 / Phase 4: Bonus merch to be announced

Which Love Live! character's merch would you be after?

©2013 プロジェクトラブライブ! ©2017 プロジェクトラブライブ!サンシャイン!!
©2020 プロジェクトラブライブ!虹ヶ咲学園スクールアイドル同好会 ©2021 プロジェクトラブライブ!スーパースター!!
©KLabGames ©SUNRISE ©bushiroad ©GENDA SEGA Entertainment Inc.

Information

SEGA x Love Live! School Idol Festival Collaboration Cafe

Running: September 4 – November 7, 2021

Where: SEGA Collaboration Cafe Akihabara 3 (SEGA Akihabara 3 Floor 7F) /

SEGA Collaboration Cafe Stand / SEGA Akihabara 4 / Nanbasennichimae / Sendai / Okayama / Fukuoka Tenjin / Sasashima/ Kumamoto

Phase 1, μ' s: September 4 – September 17, 2021

Phase 2, Aqours: September 18 – October 1, 2021

Phase 3, Nijigasaki High School Idol Club: October 2 – October 15, 2021

Phase 4, Love Live! ALL STARS: October 16 – November 7, 2021

Official Site: https://sega-collabocafe.com/top/sif06.html

Miss Kobayashi's Dragon Maid to Collaborate with At Home Maid Cafe

Maid cafe At Home in Akihabara is collaborating with Kyoto Animation's new anime series Miss Kobayashi's Dragon Maid S for a limited-time crossover cafe starting September 1. Original menu items and special merch will be on sale during this month-long period.

Food Menu

I love you, Miss Kobayashi! Tohru's Omurice: ¥1,400 (Tax Included)

 

Let's play together! Mogu Mogu Lunch: ¥1,200 (Tax Included)


Eat while you game! Jet-black Sweet Curry: ¥1,200 (Tax Included)

The more we fight, the closer we get? Let's have seconds Parfait: ¥1,100 (Tax Included)

 

Magic power up?! Secret Apple Pie: ¥1,100 (Tax Included)

 

Classic Candies a la mode: ¥1,100 (Tax Included)

Special Drinks: Tohru/Kanna/Elma/Lucoa/Ilulu: ¥800 each (Tax Included)

Bonuses

Original Placemat

Coasters

 

Shop Decorations

Entrance Tapesty

Interior Tapestries

Original Collaboration Uniforms

Miss Kobayashi's Dragon Maid S Uniform (Tohru Color)

Kanna and Elma Color Uniforms

Special Merchandise

First Release: September 1, 2021

B2-size Tapestry: ¥5,500 (Tax Included)

 

Luggage Tag: ¥1,430 (Tax Included)

Second Release: September 18, 2021

 

Tote Bag: ¥4,400 (Tax Included)

At Home Cafe, celebrating its 17th anniversary this month, has been collaborating with a number of characters and properties. Kyoto Animation's Miss Kobayashi's Dragon Maid S began airing in July, and has amassed legions of fans both in Japan and abroad with its collection of adorable characters and hilarious universe.

For this new maid cafe collaboration, Kyoto Animation provided new illustrations of the show's five main characters: Tohru, Kanna, Elma, Lucoa, and Ilulu. World-famous designer Keita Maruyama designed the staff's new uniforms, inspired by the characters!

Customers who order a special food and drink set during the event period will get a limited-edition placemat. Those who order a character's drink will receive a coaster featuring that character's face. The shop will feature various tapestries and visuals from Miss Kobayashi's Dragon Maid S throughout the space.

All goods will be sold at the At Home Cafe Shop Akihabara and the At Home Web Shop. Maids at the cafe will wear one of three special uniforms each day–Tohru, Kanna, and Elma–so guests will want to come back to see them all!

(C)Coolkyousinnjya・Futabasha/Dragon Maid Production Committee

Information

At Home Cafe x Miss Kobayashi's Dragon Maid S

Running: September 1 – September 30, 2021

Location: At Home Cafe Main Store (7F)

Address: 7F Mitsuwa Building, 1-11-4 Sotokanda, Chiyoda-ku, Tokyo

Hours:

Weekdays 11:00 – 22:00

Weekends: 10:00 – 22:00 (Last orders at 21:20)

*Hours of operation are subject to change. Please check the official website for details.

Stop-motion Series Pui Pui Molcar Gets Collaboration Cafe for Limited-Time

Adorable stop-motion series Pui Pui Molcar is getting a limited-time cafe run! The Mogu Mogu Molcar Restaurant will open in four areas–Tokyo, Osaka, Shizuoka, and Sendai–starting September 2. 

Main Visual

Those who reserve a seat early will receive a randomly-selected sticker. (5 designs.)

For each drink ordered, guests will receive a random paper coaster. (5 designs)





Menu

Who Caused the Traffic Jam? PUIPUI Temarizushi: ¥1,430 (Tax Included)

Cat Rescuing Operation – Meat! Meat! Pasta: ¥1,540 (Tax Included)

Zombies and Lunch Green Curry: ¥1,540 (Tax Included)

Pui Pui Racing Salad: ¥1,210 (Tax Included)

Time Molcar Stew: ¥1,320 (Tax Included)

It's a Prank? It's Tiramisu: ¥1,430 (Tax Included)

Mission Impossible Pancakes: ¥1,430 (Tax Included)


Everything is a Surprise Box Cake: ¥1,100 (Tax Included)

Angelic Parfait: ¥1,320 (Tax Included)

Let's Molcar Party Drinks: ¥880 each (Tax Included)


Masked Shiromo Cafe Latte: ¥990 (Tax Included)

Chewing Chewing Popcorn Smoothie: ¥1,100 (Tax Included)

Original Merchandise

Acrylic Keychains (5 designs): ¥700 (Tax Included)


Pins (5 designs): ¥450 each (Tax Included)

Acrylic Stands (5 designs): ¥1,100 each (Tax Included)

Mug: ¥1,800 (Tax Included) / Tag Roll: ¥800 (Tax Included)

Neck Strap: (5 designs): ¥1,700 each


Drawstring Pouch: ¥1,200 (Tax Included)

Pui Pui Molcar is the first animated television series directed by Asaki Misato, and has captured the hearts of children and adults alike with it's short episodes and fluffy characters. The series began broadcasting in January 2021, and in only the first week, the official Molcar Twitter page exceeded 100,000 followers. The show is available on Netflix in the west, and is being rebroadcast in Japan each Tuesday morning on TV Tokyo. 

The cafe menu utilizes each episode's title, and guests can enjoy reliving their favorite moments of the show through artfully-plated dishes. 

What would you order at the cafe? 

©Tomoki Misato JGH・Shin-Ei Animation/Molcars

Information

Mogu Mogu Molcar Restaurant

Locations

Tokyo

Location: TOKYO BOX cafe&space Tokyo Solamachi

Address: 1F Tokyo Skytree Town Solamachi, 1-1-2 Oshiage, Sumida-ku, Tokyo

Running: September 2 – October 17, 2021

Osaka

Location: #702 CAFE&DINER Namba Parks

Address: 7F Namba Parks, 2-10-7 Nambanaka, Naniwa-ku, Osaka

Running: September 2 – October 9, 2021

Shizuoka

Location: kawara CAFE&KITCHEN Shizuoka PARCO

Address: 3F Shizuoka PARCO, 6-7 Konyacho, Aoi-ku, Shizuoka

Running: September 8 – October 11, 2021

Miyagi

Location: GabuLIcious Sendai

Address: 1-2F 1-6-3 Chuo, Aoba-ku, Sendai

Running: September 10 – October 11, 2021

Online Shop Open: September 2, 11:00 – October 17, 23:59

Online Shop: https://molcar-cafe.jp/online_store

Reservations/Official Site: https://molcar-cafe.jp/

*The cafe will take thorough measures to prevent the spread of COVID, and will implement various safety measures for both customers and employees. For more information, refer to the official website. 

Upcoming The Prince of Tennis CG Film Inspires Limited-Time Cafe

Capcom Cafe Ikebukuro will be hosting a special cafe inspired by the upcoming The Prince of Tennis film, releasing in theaters September 3. The cafe will run from September 3 until October 14. 

The Prince of Tennis ran in the popular manga magazine Shonen Jump from 1999 until 2008, and found incredible popularity in Japan. It was adapted into an anime series in 2001, running for 178 episodes, and has also been transformed into 15 stage musicals, a live-action film, a radio show, multiple video games, and more. The upcoming 3DCG film was announced in 2019. 

In a teaser image released to promote the special cafe, main character Ryoma appears beside other characters from the series in an adorable tiny style. More details about the menu and goods offered will be revealed soon, so keep an eye out for an update!

What goods are you hoping to see sold at the cafe? 

©TK/S ©RPT
©CAPCOM CO., LTD. ALL RIGHTS RESERVED.

Pretty Boy Detective Club Anime Themed Cafe Menu to be Served in Osaka

As part of their AniCook project which gets people to enjoy anime through cooking, CookpadTV have announced that the 7th series they are collaborating with is Pretty Boy Detective Club. The collaboration includes a food menu inspired by the series that will be served on the 5th floor of Shinsaibashi PARCO in Osaka from August 19 to September 5.

Food

Trump Demi Hamburger / Hagoita Chirashi Chahan

Desserts

Starry Sky Cream Pancakes / Yubiwa Academy Middle School Gateau Chocolate / Auditorium Cheesecake

Drinks

Manabu's Assam Blue Moon Tea / Nagahiro's English Breakfast Sesame Tea / Michiru's Earl Grey Acerola Tea / Hyota's Ceylon Mango Tea / Sosaku's Darjeeling Hazelnut Tea

Get 1 of 5 stickers with every food and dessert order, and 1 of 5 postcards when ordering a drink

Exclusive merchandise

Acrylic Stands | 5 Designs

Acrylic Keyrings | 5 Designs

Acrylic Coasters | 5 Designs

Pins | 5 Designs

The dishes and drinks on the menu were created to get people enjoying food more. The cafe is also selling a range of exclusive merchandise both at the cafe and online.

Life Lessons with Uramichi Oniisan Anime Themed Cafe to Open in Ikebukuro

Animate Cafe Stand Hareza Ikebukuro has announced a collaboration with the ongoing TV anime series Life Lessons with Uramichi Oniisan which will see the cafe served up a themed menu, sell exclusive merchandise, and decorate the interior with original illustrations from August 25 to September 27.

Animate Cafe exclusive illustrations

Animate Cafe exclusive chibi illustrations

Collab Menu (Excerpt)

Parfait | ¥700 (Tax Included)

Latte | ¥600 (Tax Included)

Soda | ¥650 (Tax Included)

Original Merchandise

Big Acrylic Stand Keyrings | 3 Designs | ¥1,600 Each (Tax Included)

Cookies | ¥1,000 (Tax Included)

Acrylic Stand Keyrings | 6 Designs | ¥700 (Tax Included)

Rubber Keyrings | 10 Designs | ¥700 Each (Tax Included)

Life Lessons with Uramichi Oniisan is a dark comedy manga series by Gaku Kuze that's been serialised in Comic POOL since 2017. An anime adaptation began airing on July 6, 2021.

(C)久世岳・一迅社/「うらみちお兄さん」製作委員会

Rilakkuma x Tower Records Collaboration Includes Exclusive Merchandise and Themed Cafe Menu

Tower Records has announced Rilakkuma x Tower Records Campaign 2021, an event set to run from August 4 to August 29. The retail music chain is joining paws with Rilakkuma and company for a campaign with the theme "Wow, what a surprise!" at Tower Records stores, their online shop, and Tower Records Cafe.

Merch collab line-up

Tower Records has collaborated with Rilakkuma every year since 2009. This year sees the arrival of brand new original merchandise, a CD, and themed cafe.

The merchandise will be available at 27 Tower Records stores, Tower Records Cafe Omotesando, and online. Enjoy adorable original artwork of Rilakkuma, Korilakkuma, Chairokoguma, and Kiiroitori. There's lots of freebies to get your hands on too – check out the line-up below.

Available at 27 Tower Records stores, Tower Records Cafe Omotesando, and the online shop

Available at Tower Records Shibuya, Tower Records Cafe Omotesando, and the online shop

Free character cards with every purchase

Red Rilakkuma zabuton floor cushion

For this year's campaign, Rilakkuma fans can win themselves a zabuton floor cushion too. For a chance to win, you need to sign up online.

Tower Records x Rilakkuma CD cover

Postcard included with CD

The eighth Tower Records x Rilakkuma CD includes background music for doing yoga. There are 15 popular J-pop tracks in total which can be enjoyed for just chilling out to as w2ell.

Themed cafe menu

The cafe collaboration at Tower Records Cafe Omotesando takes on an American diner theme. Takeout drinks will also be available at the Nagoya Sakae SKYLE and Umeda NU Chayamachi branches too.

At Tower Records Omotesando

Table mats at Tower Records Omotesando

Rilakkuma, Korilakkuma, Chairokoguma, and Kiiroitori themed dishes, drinks, and desserts

Receive a free fan when you book a table in advance

Receive a free postcard when you order from the collab menu

Set of 3 original stickers

Free postcard when ordering from the Special Menu

Free postcard when you order a takeout bottle

Collect all six stamps in the stamp rally to win a poster

During the campaign, for every piece of merchandise ordered, you'll receive one of four possible character cards. 20 people who also scan the QR codes included on the cards by September 12 will be randomly chosen to win either a white Rilakkuma zabuton cushion or a ¥3,000 Tower Records gift card.

©2021 San-X Co., Ltd. All Rights Reserved.

Information

Rilakkuma x Tower Records Campaign 2021

Running: August 4, 2021 – August 29, 2021

Zabuton Cushion Applications

Units: 20

Submission Page: Tower Records Online

Submission Period: July 15, 2021 – August 29, 2021

Collab Merchandise

Pre-Orders: July 15, 2021

Release Date: August 4, 2021
Details: http://tower.jp/rkmg21 

Collab Cafe


Locations: Tower Records Cafe Omotesando / Tower Records Cafe Nagoya Sakae SKYLE (Takeout Drinks Only + Closed August 17) / Tower Records Cafe Umeda NU Chayamachi (Takeout Drinks Only + Closed August 16)

Menu ①: August 4, 2021 – August 13, 2021

Menu ②: August 14, 2021 – August 22, 2021

Details: https://tower.jp/rilakkuma-cafe2021 

*Table bookings mandatory

Manga Artist Arina Tanemura Opens Cafes Based On Seven of Her Series Including Phantom Thief Jeanne

Two branches of Animate Cafe in Ikebukuro and Nagoya are celebrating seven manga works of manga artist Arina Tanemura including I.O.N, Phantom Thief Jeanne, Time Stranger Kyoko, Full Moon o Sagashite, Sakura Hime: The Legend of Princess Sakura, The Gentlemen's Alliance Cross, and Neko to Watashi no Kinyōbi.

The collaboration will run from July 28 to August 23. Table reservations must be made for those wanting to dine from July 28 to August 1 as well as on weekends and public holidays. Reservations are not required for all other days.

Arina Tanemura Precious Wedding Party at Animate Cafe

The Menu Line-Up (Excerpt)

Full Moon o Sagashite: Negi Ramen Lunch | ¥980 (Tax Included)

Arina's Precious Wedding Plate | ¥1,300 (Tax Included)

Phantom Thief Jeanne: Tiramisu | ¥800 (Tax Included)

The Gentlemen's Alliance Cross: Glass Dessert | ¥800 (Tax Included)

I.O.N: Drink | ¥600 (Tax Included)

Phantom Thief Jeanne: Sindbad | ¥600 (Tax Included)

Time Stranger Kyoko: Crystal Stranger | ¥600 (Tax Included)

Full Moon o Sagashite: Honey Hot Milk | ¥600 (Tax Included)

The Gentlemen's Alliance Cross: Espresso | ¥600 (Tax Included)

Sakura Hime: The Legend of Princess Sakura: Soda | ¥600 (Tax Included)

Neko to Watashi no Kinyōbi: Curry Soup With Bread | ¥600 (Tax Included)

Free coaster with every menu order

Exclusive Merchandise (Excerpt)

Big Acrylic Stand (Wedding Ver.) | ¥1,600 (Tax Included)

Wedding Card | ¥800 (Tax Included)

CoLotta Acrylic Plate Keyrings | ¥800 (Tax Included)

Big Ribbon Pouch | ¥2,500 (Tax Included)

Stamp Card Campaign

Arina Tanemura made her debut in the shojo manga magazine Ribbon Original in 1996 with her short manga The Style of the Second Love. In 1998, she garnered mainstream popularity when her work Phantom Thief Jeanne began serialisation which has over 5.5 million copies in circulation. Some of her other famous works including Full Moon o Sagashite, Sakura Hime: The Legend of Princess Sakura, and The Gentlemen's Alliance Cross. In 2015, she worked as the character designer for the smartphone game IDOLiSH7.



This marks her third cafe collaboration, and this time it's themed on a 'Precious Wedding Party' with food inspired by the characters from her stories as well as exclusive merchandise.

©種村有菜/集英社

Hololive VTuber Sakura Miko Gets Themed Cafe in Akihabara to Celebrate 3rd Anniversary

In celebration of her 3rd anniversary, Hololive virtual YouTuber Sakura Miko is set to collaborate with STELLAMAP Cafe (located on floor 7F of Sofmap Tokyo AKIBA ④ Store) from July 29.

Food Menu

Drinks Menu / Latte Art

Merchandise

Sakura Miko to serve as the cafe manager

Sakura Miko will attend virtually as the cafe manager via a monitor. See her work hours below:



1. August 7, 2021 @ 11:00 / 12:30 / 14:00

2. August 8, 2021 @ 15:30 / 17:00 / 18:30

3. August 14, 2021 @ 11:00 / 12:30 / 14:00

4. August 15, 2021 @ 15:30 / 17:00 / 18:30


Table bookings run through a lottery system

Book for a day when Sakura Miko is attending
Booking Window: July 5, 2021 – July 9, 2021

Winner Announcements: July 12, 2021

Book for a day when Sakura Miko isn't attending
Booking Window: July 13, 2021 – July 16, 2021

Winner Announcements: July 20, 2021

Sakura Miko fans can enjoy a range of dishes, drinks, and desserts based on the VTuber, receive a free coaster and lunch mat when ordering from the menu, and get their hands on official and exclusive merchandise.

ⓒ2016 COVER Corp.
ⓒCopyright 2019 STELLAMAP CAFE

Minerva Cafe to Open at The Promised Neverland Jailbreak Arc Museum Exhibition

Roppongi Museum is set to open its The Promised Neverland exhibition on July 17 where it will run until December 30. The exhibition covers the Grace Field House Jailbreak Arc, where guests can feel like they're really walking through the house.

Cafe Logo


As part of the exhibition, a themed cafe called the Minerva Cafe will open inside the museum serving food and drink inspired by the anime series.

BLT Sandwich & Salmon Cream Cheese | ¥1,740 (Tax Included)

Minerva & Phil's Chocolate Banana Pancakes | ¥1,600 (Tax Included)

The Minerva Cafe menu includes the mysterious William Minerva who Emma, Norman, and Ray are pursuing, chocolate banana pancakes with Minerva and Phil designs, and more, including a range drinks.

Latte Art | ¥770 (Tax Included)

Isabella's Brown Sugar Milk Tea | ¥540 (Tax Included)

The Emma, Norman, and Ray lattes also come with a coaster you can take home, and there's a special Isabella milk tea you can buy at THE ALLEY, a food truck at Roppongi Musuem that's popular for its Taiwanese milk teas.

©白井カイウ・出水ぽすか/集英社・約束のネバーランド製作委員会

Information

The Promised Neverland Grace Field House Jailbreak Arc Exhibition

​Running: July 17, 2021 – December 30, 2021

Venue: Roppongi Museum
Address: 5-6-20 Roppongi, Minato-ku, Tokyo

Opening Hours: 10:00-18:00 (Until 20:00 on Saturdays)

Tickets: On sale June 30, 2021

Event Page: https://neverland.taiken-museum.com

Legend of the Galactic Heroes Anime Themed Cafe Opens in Tokyo

DINING CAFE ISERLOHN FORTRESS is a cafe themed on the anime adaptation Yoshiki Tanaka's science fiction novel masterpiece series Legend of the Galactic Heroes which is now open for a limited time until August 31. It's based specifically on Oskar Reuental and Wolfgang Mittermeyer, both known as the "Twin Pillars," from the Legend of the Galactic Heroes: The New Thesis series.

The New Thesis Twin Pillars Muddler | ¥990 (Tax Included)

Suzuki's Oven Baked Twin Pillars | ¥1,760 (Tax Included)

Twin Pillars Sworn Friend Dolce | ¥1,320 (Tax Included)

Drinks Menu | Serving: June 3, 2021 – July 4, 2021

Tristan Mojito | ¥1,045 (Tax Included) *Non-alcoholic option available

Beowulf's Mojito | ¥1,045 (Tax Included) *Non-alcoholic option available

Drinks Menu | Serving: July 8, 2021 – August 1, 2021

Twin Pillars Gin & Tonic | ¥1,045 (Tax Included) *Non-alcoholic option available

Twin Pillars Cider Sidecar | ¥1,045 (Tax Included) *Non-alcoholic option available

The cafe is open as part of an event centred on Legend of the Galactic Heroes. The event returns again this year, with a menu of drinks and dishes inspired by the characters, merchandise, and more.

Information

DINING CAFE ISERLOHN FORTRESS

Running: June 3, 2021 – August 31, 2021

Address: 2-1-9 Ueno, Taito-ku, Tokyo

Opening Hours: [Weekdays] 17:30-20:00 / [Weekends & Holidays] 11:30-19:00

TEL: 03-3834-4430

Official Website: http://gineiden-iserlohn-fortress.com