Every Single Spot in Hokkaido's Green Town of Biei is a Sight to Behold
Japan's northernmost prefecture Hokkaido is immensely popular with travellers and sightseers not only during the winter season but in the summertime too.
If you have never heard of Biei before then we guarantee you'll want to make it your next travel destination. Located roughly at the heart of Hokkaido, the town of Biei is nothing short of majestic when it comes to its natural scenery for which it is treasured greatly. It also goes by the name "Town of Hills."
We are joined by Mirina who travels around Hokkaido and posts the sights she sees on her Instagram page. Here are some of the must-visit places located in Biei using photos kindly provided by Mirina.
Patchwork Road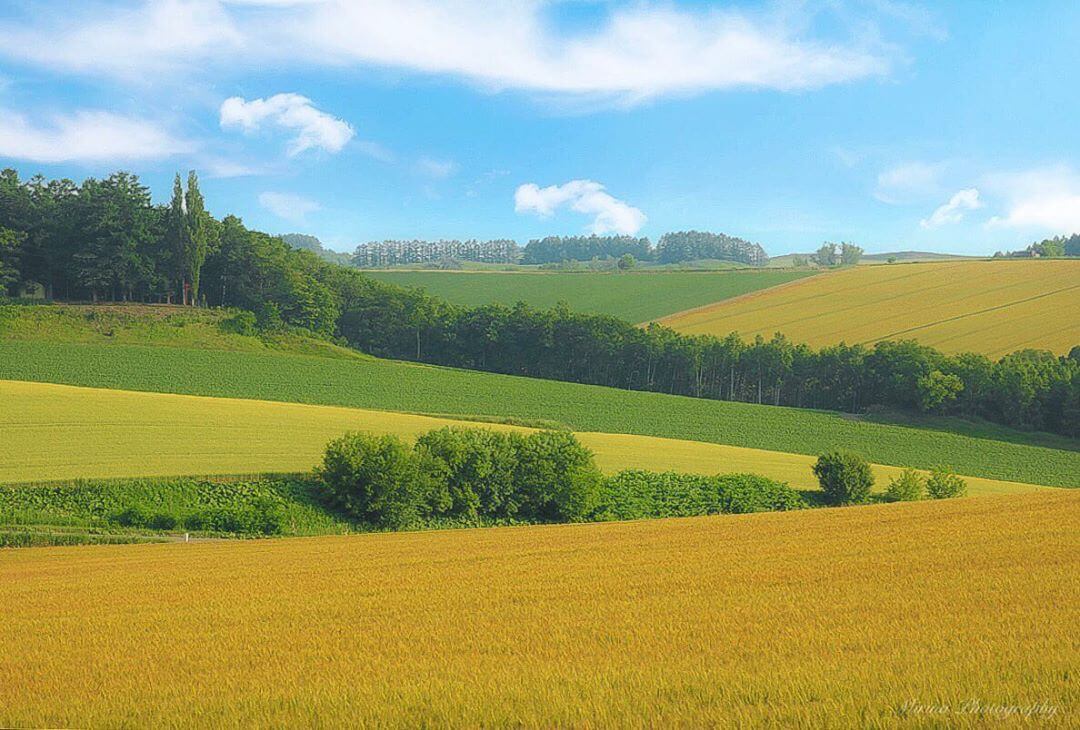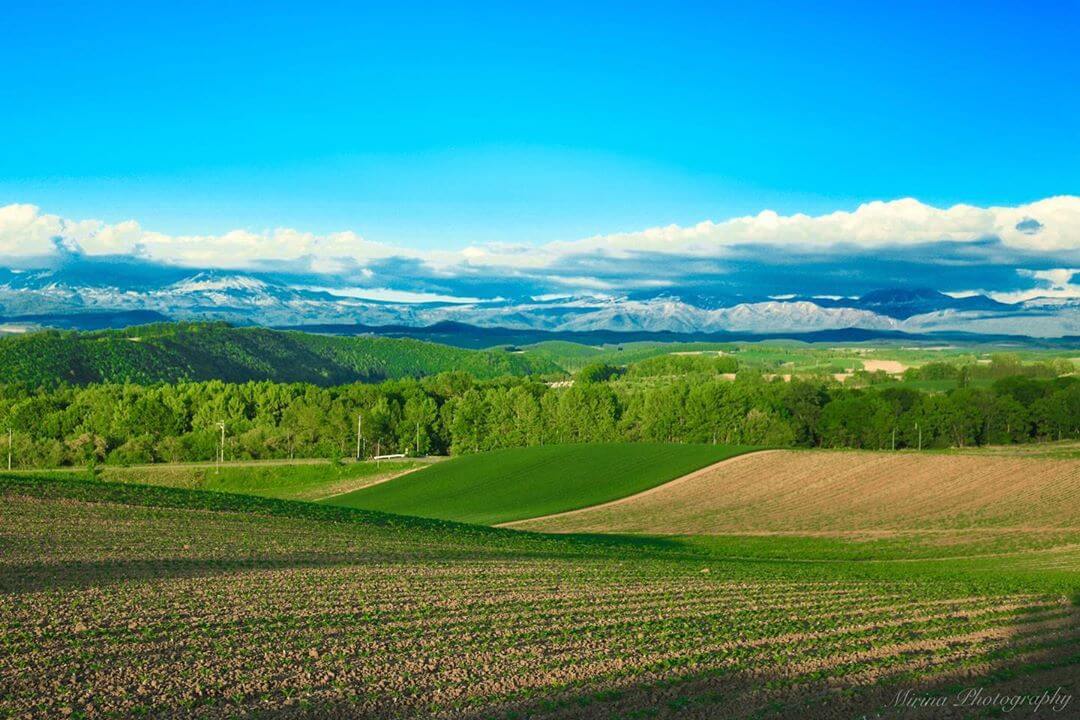 These are the kind of beautiful sloping hills you can expect your eyes to roll across when visiting Biei. The hills connect to many different locations bearing their own colours of nature. Biei's hilly area is known as "Patchwork Road," and as its name suggests, it looks just like patchwork.
▼Patchwork Road
Address: Hokuei, Kamikawa District, Biei, Hokkaido
Time: Sunrise to sunset
Biei Official Website: https://www.biei-hokkaido.jp/en/
Shirogane Blue Pond
Shirogane Blue Pond can be reached by car or Dohoku bus from JR Biei Station in 20 minutes. People flock to this place every year to see the enchanting blue colour of the pond's surface. The way you see the colour also changes depending on the weather, so we recommend going one afternoon when the weather is good.
▼Shirogane Blue Pond
Address: Shirogane, Biei, Kamikawa District, Hokkaido
Official Website: https://www.biei-hokkaido.jp/en/sightseeing/shirogane-blue-pond/
Seven Stars Tree
Seven Stars Tree can be reached by car in 13 minutes from JR Biei Station. It gets its name from having appeared on the packaging for Seven Star cigarettes. Mirina's photo was taken by the nearby white birches.
She also took one as the sun set. The pink evening sky is an equally beautiful sight to behold next to the green spectacle during the day.
▼Seven Stars Tree
Address: Hokuei, Kamikawa District, Biei, Hokkaido
Opening Hours: Sunrise to sunset (Light-up runs until 21:00)
Official Website: https://www.biei-hokkaido.jp/en/sightseeing/sevn-stars-tree/
Shikisai No Oka
The Shikisai no Oka flower park is 12 minutes by car from JR Biei Station and a 25-minute walk from Bibaushi Station. When summer rolls around, the fields bloom rainbows of flowers. During winter you can enjoy riding snowmobiles across the snowy hills.
This photo was taken in June and showcases the nemophilia beds. During summer break you can expect to see dianthus, scarlet sage, marigolds, sunflowers, and more. Every spot on the flower fields looks picturesque.
▼Shikisai No Oka
Address: Shinsei-daisan, Biei, Kamikawa District, Hokkaido
Opening Hours: Dependent upon season, please check the website for more details
Official Website: https://www.biei-hokkaido.jp/en/sightseeing/shikisai-no-oka-flower-park/
Rubeshibe no Oka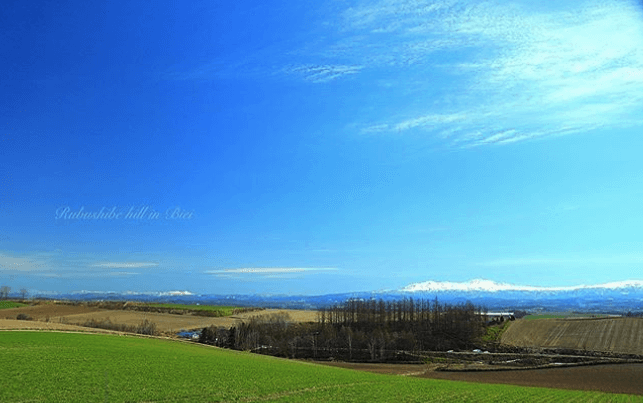 The hills of Rubeshibe are a sightseeing spot not yet known to a lot of people. They're just a 5-minute car ride from JR Biei Station. Rubeshibe comes from the Ainu language and means "the marshy road that leads down from the mountain." From here you can see the fields and roads of Biei, and beyond Mount Tokachi, Mount Tomuraushi and more.
▼Rubeshibe no Oka
Address: Rubeshibe, Biei, Kamikawa District, Hokkaido
Biei Official Website: https://www.biei-hokkaido.jp/en/visit/observationfacility/
The Sunsets of Biei
If you're visiting Biei then you can't leave without witnessing its breathtaking sunsets. The colours of the late afternoon sky offer a much different experience to that during the day. It really is a picturesque world.
Mirina has countless other photos of must-see sightseeing spots from around Hokkaido over on her Instagram page. You should definitely check it out if you're thinking of travelling there for some amazing location recommendations.
Photos: Mirina Nishio
RECOMMENDED ENTRIES
6 Must-Visit Cafes in Hokkaido For Their Kawaii Pancakes

Hokkaido is the northernmost of Japan's islands and a popular tourist location with both locals and overseas visitors, enjoyed for its winter sports like skiing, hot springs and more. It is also enjoyed for its cool climate, being the coldest region in Japan. It's home to many tourist spots and seafood restaurants, but today we're covering its countless cute cafes.

Kei, a Japanese Instagrammer, posts his visits to the many cafes of Sapporo―the capital of Hokkaido―on his Instagram page(

607keih). Today he will introduce us to 6 must-visit cafes in Hokkaido with the cutest pancakes.

Fafi Tamago no Pancake g-plus (Susukino, Sapporo)

This popular little cafe in the district of Susukino showcases its assortment of pancakes in a glass display. The cafe now sells affordable pancake and purin sets. I ordered the "Fruits and Milky & Chocolate Purin" set (¥980).


The fluffy pancake is made with Fafi's famous eggs which have a rich flavour and big yolks. The milky cream is sweet and silky smooth. Inside the pancake is delicious pineapple and strawberries which add a deliciously fruity accent.

Their pancakes are noticeably smaller at g-plus but since it comes with a purin in the set you're sure to be nice and full after. The set is perfect to share too.

▼Fafi Tamago no Pancake g-plus (Japanese: ファフィたまごのパンケーキ g-plus)

Address: 9-1019 Minami 5 Jonishi, Chuo Ward, Sapporo, Hokkaido

Business Hours: 11:30-19:00 (Last Orders 18:00)

Closed: Thursdays & Fridays

Official Website: https://g-plus.owst.jp/

Café ZIKKA (Kiyota, Sapporo)

Café ZIKKA serves a variety of pastries and desserts. Their elusive strawberry pancakes are a limited-time-only offer. These fat and fluffy pancakes have a distinctly different taste to other places. Heaping with strawberries, the fruit and pancakes marry in the most sumptuous of flavours when eaten with the yogurt ice cream centre. The strawberries also come in a variety of forms including whole, compote and sauce, making for a variety of succulent textures.


The fresh cream isn't overly-sweet making for a lighter pancake. It's also topped with crushed almond for added texture. The size of the pancakes aren't huge but since it's served with two and many toppings you'll absolutely be satisfied afterwards.

▼Café ZIKKA

Address: 11-12 Hiraokakoenhigashi, Kiyota Ward, Sapporo, Hokkaido

Business Hours: 11:00-20:00 (10:00-19:00 in January and February)

Closed: Wednesdays (Open on national holidays)

Official Website: http://yoshidacoffee.com/index.html

Kaze o Kanjite (Motomachi, Sapporo)

This cafe is just a 5-minute walk from Motomachi Station via the Tōhō Line. Simply exit from Exit 1 of the station, make a right and you'll arrive right there.

This cafe's aim is to bring it lots of students to eat their pancakes which are both cheap and delicious. I ordered the berry sauce pancakes.


The cafe's homemade strawberry jam contains pieces of fresh strawberry which alone already make the pancakes tantalising enough. They are served with a side of fresh fruits like extra strawberries as well as orange slices. The pancakes served here are so good that I personally count them as the best in Sapporo. That, and the prices are amazing for the huge portions you get. I want more people to get to know about this place, and not just students.

▼Kaze o Kanjite (Japanese: 風をかんじて)

Address: Kita House 1F, 17-2-3 Kita 24 Johigashi, Higashi Ward, Sapporo, Hokkaido

Business Hours: 10:00-18:00 (Last Orders 17:00)

Closed: Mondays & Tuesdays

Website: https://tabelog.com/hokkaido/A0101/A010202/1058705/

ROJIURA CAFÉ (Susukino, Sapporo)

ROJIURA CAFÉ is another cafe located in Susukino round on the backstreet of Round One. They serve pancakes and parfaits right into the early hours of the morning.

Their caramel sauce has salt in it to add a mouthwatering salty flavour that draws out the sweetness of the fresh cream. The nuts only add to this delectable delight of a pancake.

Fine and fluffy pancakes fit for the gods. Whether it's a dessert like pancakes or parfaits or even meals, ROJIURA CAFÉ's doors are open to  you from the evening until the deepest hours of the night.

▼ROJIURA CAFÉ

Address: TAKARA6.3, 3 Chome Minami 6 Jonishi, Chuo Ward, Sapporo, Hokkaido

Business Hours:

[Mon-Thurs] 18:00-03:00 (Last Orders 02:00)

[Fri-Sat] 18:00-04:00 (Last Orders 03:00)

[Sun & Holidays] 18:00-01:00 (Last Orders 00:00)

No Fixed Holidays

Official Website: http://sapporo-rojiuracafe.com/

OJ Coffee (Kotoni, Sapporo)

You'll find OJ Coffee just a few minutes' walk from Kotoni Station in Nishi Ward, Sapporo. This cafe serves exquisite coffees and boasts an abundant menu consisting of soba noodles, curries, steaks and more. They also serve pancakes so I decided to give them a go.

Fluffy, moist and glorious. The pancake is topped with custard and served with a side of fresh cream, both of which aren't overly sweet and go perfectly with the sweet beaten eggs of the pancakes. Decorated the outside of the plate is an assortment of fruits, maple syrup and other tempting treats for a variety of flavours. The coffee flavoured soft serve ice cream is a great palate cleanser too. The ice cream doesn't have the bitterness that comes with coffee but it's very coffee flavoured. It's close to Kotoni Station so if you're strolling around Nishi Ward looking for a cafe I highly recommend visiting here.

▼OJ Coffee

Address: D Planning Bldg. 1F, Kotoni 2 Jo, Nishi Ward, Sapporo

Business Hours: 7:30~22:00 (Last Orders 21:30)

No Fixed Holidays

Official Website: https://www.oj-coffee.com/

 

Café Blue (Ishiyama-dori, Sapporo)

Café Blue, built up from a renovated old house, is currently selling a new lemon and yogurt pancake for a limited time.

Their pancakes never fail to be anything less than fluffy. The generously drizzled yogurt sauce is fairly refreshing and sweet while still retaining that yummy yogurt flavour. The lemon curd sauce, too, is refreshing and combines well with the pancakes as lemon always does. The lemon also has honey in it making for a satisfyingly sweet and sour combination.


The ice cream on top is salt flavoured which bring out all the sweet flavours of the dessert. The crunchy almonds are nice and nutty and bring a great texture to the soft and sticky combinations. When I eat pancakes this is the  kind of thing I'm looking for!

The sauce was refreshing and the pancake overall was delicious and very easy to get down. The yogurt sauce really is amazing!

▼Café Blue

Address: 16-9-12 Minami 19 Jonishi, Chuo Ward, Sapporo, Hokkaido

Business Hours: 9:00-19:00 (Last Orders 18:00)

No Fixed Holidays

Website: https://tabelog.com/hokkaido/A0101/A010104/1036972/

Did you enjoy Kei's picks? Be sure to check out their Instagram page for more recommended desserts and foods to try in Sapporo. There's a wealth of choices on there that will make for great reference when travelling to Hokkaido.

Photo & Text: Kei (@607keih)

Translation: Joshua Kitosi-Isanga

2016-2018 rankings for top lodgings in Hokkaido! Best picks for foreigners included!

TrustYou is a campaign aimed at encouraging tourism in Hokkaido. They have released accommodation rankings 2016-2018 to reveal which are the most highly rated hotels, resorts and lodgings based on word of mouth, and which places cater most for international guests. TrustYou's stats also include the best picks for foreigners!

1st place (general) : Noboribetsu Onsen Kyo Takinoya

In 1st place is Noboribetsu Onsen Kyo Takinoya. It has a history of 102 years in the business and was founded in the 6th year of the Taisho era of Japan. Due to a large scale renovation that took place in 2008, the 61 room hotel was converted into 30 room hotel which stayed true to its traditional Japanese style whilst holding a slightly modern touch. They have many large hot springs so it is often called the  "Onsen Depart" (because it is full of variety ー like an onsen department store). Here there are four varieties of natural baths from sulphur baths to radium baths. As well as indoor baths, there are also baths on the rooftop which are surrounded by a forest view and gardens.

Website: http://www.takinoya.co.jp/

2nd place (general): Pension Jokura

In 2nd place comes Pension Jokura. The building was once the main office of a northern wealthy merchant from the Edo period called Takadaya Kahei. The old wood from the warehouse was used to build a six-room boarding house.

"44 years ago, I stayed in a boarding house in Central America to pursue my career. I was there for a few weeks which then led to my dream of owning and managing my own boarding house. After many years, I have finally made my dream come true!" said owner Sato-san, who manages the property with their partner. The best part about this place is the at-home atmosphere that you can only get in such a small boarding house like this. From word of mouth of the guests, it is clear that the owners are "very kind and friendly" and "their hospitality is absolutely wonderful". They can even speak English. This level of hospitality has made them extremely loved by their guests.

Website: https://hakodate-kankou.com/stay/2099/

In 5th and 10th place come Shikotsu Lake tsuruga resort spa Mizunouta and Extract of Niseko Konbuonsen Tsuruga villa heather. These lodgings are run by the Tsuruga group, which manages 13 hot spring lodgings in Hokkaido.

 Shikotsu Lake Tsuruga resort spa Mizunouta

Shikotsu Lake Tsuruga resort spa Mizunouta is a resort hotel which holds the concept of physical beauty and healing. From plentiful rest, food, walks, aesthetics and fitness to hot spring baths, this hotel covers all areas of health and well-being. The resort is located in Shikotsu-Tōya National Park and it is here that you can enjoy the beauty of Lake Shikotsu. There are a variety of exercise machines in the gym and approximately 20 types of pillows in the pillow gallery for guests. You can also pay a visit to the aqua bar which serves a variety of mineral waters sourced from within and outside of Japan. This truly is a unique hotel that provides more than enough for its guests.

Website: https://www.mizunouta.com/

After looking at the highly rated lodgings based on the language support they offer, you can see a clear distinction in the hotel locations and the other features that they offer. 3 of the top 5 English lodgings are located in Abuta District, Niseko. Each of these is suitable for long stay trips so it is clear that these places are popular amongst western tourists who stay for longer periods of time.

 

For Chinese speakers, there are two resorts that are managed by a Chinese company. The Hoshino Resorts Tomamu The Tower and Hoshino Resorts RISONARE Tomamu ranked highly for foreign language support. These large-scale resorts are useful for making large group bookings which adds to its high popularity.

TrustYou will help you find accommodation in Hokkaido so that you can be completely satisfied with your trip! For more information on the rankings, please check out the individual official lodging websites.

Information

TrustYou word of mouth platform

6 Delicious Desserts in Sapporo ― The Gourmet City of Hokkaido

Sapporo is the fifth most populous city of Japan and the capital of Hokkaido. It's a location bustling with tourists from around the world every year who come to enjoy its lush natural environment, fabulous food and amazing art.

The city also has a whole range of popular sweets and desserts. Here's our list of 6 of them you have to try when visiting Sapporo.

Saturdays Chocolate Factory Cafe

Saturdays Chocolate Factory Cafe is a local chocolate brand that started in Sapporo. They delicately craft chocolate in chocolate using carefully selected ingredients from around the world. The shop interior is stylish like that of a general store, with chocolate decked out in cosmetic-like packaging. Enjoy a variety of chocolate and drinks sat at the counter or on the benches.

KANON PANCAKES

KANON PANCAKES is a popular pancake cafe that opened in 2012. The cafe has a high ceiling and a relaxing space with table seats and window seats where you can enjoy yourself even on your own. Their pancakes will satisfy your belly and are the perfect picture for your Instagram feed. They have a range of different pancakes to try, so tuck in!

WORLD BOOK CAFE

This spacious cafe has huge bookshelves lining the interior just like a bookshop with books on world travel and more. Displayed on the walls are illustrations of famous figures. The cafe is so relaxing you'll want to stay there for a lengthy period of time. Enjoy a cup of fragrant coffee and pick from a line-up of delicious sweets or something from the food menu. They also offer a book borrowing service that lets you keep the book for 2 weeks, so if you couldn't finish the book you were reading in the cafe then take it with you!

Rokkatei

The Sapporo branch of Rokkatei is just a 5-minute walk from the south exit of JR Sapporo Station. They are famous for their crispy biscuit snacks called Marusei Butter Sandwich which they also have an ice cream version of. This version is made with vanilla ice cream, white chocolate and raisins. This dessert can only be eaten in the Sapporo and Obihiro branches.

Shiroya

This mochi shop uses komochi from the city of Nayoro in Hokkaido, a white, chewy kind of mochi that doesn't dry out and get hard easily. They are made with adzuki and black soy bean both from Tokachi. They stock a whole range of different mochi using ingredients from Hokkaido, with prices starting at a resonable ¥140. They also serve matcha for ¥200 when you eat in, meaning you can kick back and enjoy some authentic traditional Japanese confections.

Parfaiteria PaL

This bar style shop is open until 2am where you can enjoy sake together with a parfait. Their sweet parfaits are irresistible, combined with pear and yogurt. It's the sister shop to the restaurant Risotteria GAKU which has boasted popularity for 10 years in Sapporo and Asahikawa. If you're a fan of parfait or even of Risotteria GAKU then you've got to eat at Parfaiteria PaL.

Did you enjoy this list? Which do you want to try the most? Be sure to check out these places if you're in Sapporo!
RELATED ENTRIES
'Rilakkuma & Sumikko Gurashi Festival' Photo Event Starting in Sapporo

The 'Rilakkuma & Sumikko Gurashi Festival Commemorative Photo Event' will be held between September 17 and November 28 2021 on the third floor of the Sapporo Factory San Jō-kan Building.

 

After enjoying yourself at the joint event, you can take some commemorative photos with Rilakkuma and the Sumikko's, who will be wearing new costumes especially for this event! 

October 9: 11:00/ 13:00/ 15:00/ 17:00 (Approx. 30 slots) (Each session lasts approx. 30 minutes)
Featured Characters: Korilakkuma and Tokage


October 31: 11:00/ 13:00/ 15:00/ 17:00 (Approx. 30 slots) (Each session lasts approx. 30 minutes)
Featured Characters: Chairokoguma and Neko

Weekday Limited Admission Freebies: 'RilaSumi Festival' Original Bookmark (Selected from 8 random designs: Rilakkuma & Kiirotori, Korilakkuma, Chairokoguma, Shirokuma, Penguin?, Tonkatsu & Ebifurai no Shippo, Neko, Tokage)


Don't miss out on this limited time opportunity! 

Information

'Rilakkuma & Sumikko Gurashi Festival'  Sapporo

Duration: September 17 ~ November 28, 2021

Closures: Every Thursday (excluding September 23)

Opening Hours:

Weekdays: 13:00 ~ 17:00(September 17 opening hours 10:00 ~ 17:00)

Weekends, Holidays: 10:00 ~ 17:00 ※Admissions close at 16:30

Location: Sapporo Factory San Jō-kan 3F

Address: 4-chome, Kita 2 Johigashi, Chuo Ward, Sapporo

Ticket/Event Information: https://www.ntv.co.jp/rilakkuma-and-sumikko-fest/ 

Official Twitter:  https://twitter.com/rk_sumikko_fest (@rk_sumikko_fest)

 

Commemorative Photo Spot Location: Sapporo Factory Event Space

Lottery Appilcation Period: September 1 ~ September 26 at 23:59

Details & Application Info: http://www.stv.jp/event/rilakkuma-and-sumikko-fest/photo.html 

Nature and Art Scene of Jozankei, Hokkaido on Display in New Night Walk Attraction

The Jozankei Tourism Association is currently hosting the JOZANKEI NATURE LUMINARIE -WATER LIGHT VALLEY- event until October 20, 2021. This marks the sixth year of the event, which presents the natural beauty of the rivers, valleys, and forests of Jozankei in a new light. 

Guests can enjoy an illuminated walk along the Toyohira River in the Jozankei area of Hokkaido, and wander across the picturesque Futami Suspension Bridge. The night walk takes places to the southwest of the Sapporo city center. 

Forest Illumination

Futami Valley

Visitors will encounter a variety of unique light art as they stroll through the rich nature of Jozankei guided by the elusive kappa, known to be the guardian Gods of the region. 

Nature Light Canvas

River Road

As visitors approach, the river begins to glow while flowers bloom in this interactive art experience. By using projection mapping across the Futami Suspension Bridge and an all-encompassing light show within the canyon, the event hopes to remind visitors that nature is important and worth preserving. 

Which part of the nature walk would you be most excited to see? 

Information

JOZANKEI NATURE LUMINARIE-WATER LIGHT VALLEY

Address: Jozankei Futami Park – Futami Suspension Bridge
Jozankei Onsen Nishi 4-chome, Minami-ku, Sapporo, Hokkaido

Running: July 1-October 20, 2021

Opening Hours: 

July/August: 19:00-21:00

September/October: 18:00-21:00

Tickets: Guests of Jozankei Onsen only

Official site: https://jozankei.jp/jozankei-nature-luminarie

Peanuts 70th Anniversary Exhibition Now Open in Sapporo

Beginning at Seibu Ikebukuro in December 2019, the "Snoopy Time Capsule Exhibition" is celebrating the 70th Anniversary of the Peanuts comic strip all over Japan. Sapporo is the sixth stop on this final tour, and the event will be open until August 23, 2021. 

The immersive space is divided into time periods, displaying various Peanuts works from the 1950s until the 2000s. Guests can enjoy photo ops featuring beloved characters, and browse limited-time merchandise made especially for the exhibition. 

The story behind the event is fitting: Snoopy finds a time capsule, and upon opening it, the contents fly out! Together with the Peanuts gang, it's up to visitors to help find each memory made over the past 70 years. 

© 2021 Peanuts Worldwide LLC  www.snoopy.co.jp

Special Exhibition Events

The Exhibition

The entire Peanuts gang awaits visitors at the entrance, each with their own key.

 

The history of author Charles M. Schulz and the Peanuts characters are presented in a vividly-colored timeline. 

One exhibit from the 1950s focuses on the unrequited love between Lucy and Schroder. 

Another from the 1960s takes a look at the many occupations Snoopy has attempted. 

Learn more about Charles M. Schulz while browsing past Peanuts goods, books, and more. 

Anniversary Market

Snoopy Plushie: ¥3,850 (Tax Included, limit one per customer)

70th Anniversary Pin Set: ¥7,700 (Tax Included)

Acrylic Key Holder: ¥715 Each (Tax Included)

A4 Clear File (2 designs): ¥440 Each (Tax Included)

Snoopy Plush Badge (2 designs): ¥880 Each (Tax Included)

A6 Notepad (2 designs): ¥660 Each (Tax Included)

Mascot Keychain: ¥1,980 Each (Tax Included, limit one per customer)

Each ticket purchased for the exhibition includes a special key. By finding 5 pieces of art hidden throughout the venue and using this key, guests will receive a special comic illustration as a gift to take home. 

The Final Tour is coming to an end soon, so don't miss it!

© 2021 Peanuts Worldwide LLC(短縮形 © 2021 Peanuts)

Information

Snoopy Time Capsule Exhibition Final Tour

Running: Until August 23, 2021

Location: Daimaru Sapporo (7F Hall)

Hours of Admission: 10:00-19:30 (Until 16:30 on August 23)

Official Site: https://www.snoopy.co.jp/

Hoshino Resort Tomamu Offers Limited-Time Salmon Themed Package

One of the largest resorts in Hokkaido, Hoshino Resort Tomamu will be offering a 'Family Salmon Trip' package starting on September 4, 2021. This two-day, one-night plan will be available until October 31, 2021, and features a salmon-themed room complete with salmon pajamas! The accompanying meal plan includes dishes made from different parts of salmon, complete with a challenge: try your hand at making salmon roe, and enjoy your creation at breakfast the next day! Who knew that a salmon-themed getaway was even possible? 

Salmon Room

Bath inspired by a salmon roe bowl

Salmon Roe making experience

Children's Salmon Plate

Salmon Dinner

Breakfast 'Salmon and Roe Oyako-don'

Why the salmon theme? The source of the Mukawa River is located near the resort, and where salmon are said to migrate, leaping upstream. Starting in September 2017, the salmon travel plan was introduced to inspire visitors to enjoy this fish at peak season. During the two-day, one-night stay, guests can surround themselves with all things salmon, going so far as to feel like one themselves! This 'Family Salmon Trip' was launched to give children a chance to experience the fun, based on one of Hokkaido's most beloved dishes. 

The plan includes a room decorated from floor to ceiling in fishy furnishings, including salmon curtains, mugs, figures, and cushions. The bedroom is inspired by the salmon's difficult trek up the river, with a bed frame depicting father and son bears attempting to make a catch. Children will have a blast transforming into a salmon in their special pajamas, complete with a nightcap. The whirlpool tub offers stunning views, but that's not all–with the help of bath salts, the bathtub transforms into a bowl of salmon roe, with a new salmon fillet float to make the experience even more memorable!

Families can change into a cook's coat and try their hand at preparing salmon roe, which will then be used in next day's 'Salmon and Roe Oyako-don' breakfast. The 'Children's Salmon Plate' features a collection of unique salmon dishes on a fish-shaped plate, while adults can enjoy the featured Salmon Dinner, which uses every part of the salmon, from the nose to the tip of the tail!

How do you feel about a salmon-themed family vacation? 

Information

Family Salmon Trip

Running: September 4, 2021-October 31, 2021 until check-in
Details/Reservations (up to 10 days in advance): https://www.snowtomamu.jp/ 

Japan's Poké Lid Project Lays Down Seven New Manhole Covers in Hokkaido

Seven new Pokémon manhole covers were laid in Hokkaido on July 7 as part of the Poké Lid project to place Pokémon-design manhole covers across the country. The new designs include Alola Vulpix, Togekiss, Bewear, Ditto, Combusken, and more, which were placed in Hakodate, Otaru, Nemuro, Noboribetsu, Hombetsu, Rikubetsu, and Nakashibetsu.

アローラロコンとロコンと「ポケふた」

Hokkaido is now home to 26 Poké Lids

All of the Poké Lids placed across Japan feature completely original Pokémon designs making each individual one the only one in the world. The Pokémon Company is also working to make each one of them PokéStops for Pokémon GO.

Appointed in November 2018 as the leader and deputy leader of the "Hokkaido Aficionado Expedition," Alolan Vulpix and Vulpix have been promoting Hokkaido in their respective capacities. Alolan Vulpix is known as the Fox Pokémon and thrives in snow mountains. It was chosen to promote Hokkaido, one of Japan's snowiest regions.

©2021 Pokémon. ©1995-2021 Nintendo/Creatures Inc./GAME FREAK inc.
ポケットモンスター・ポケモン・Pokémonは任天堂・クリーチャーズ・ゲームフリークの登録商標です。

Popular Character Chiikawa Gets Exhibition at Sapporo PARCO

PARCO has announced an exhibition based on the popular Japanese character Chiikawa which will take place on the 7th floor of their Sapporo branch from July 3.

Entrance photospot

Chiikawa Diagnosis

Game

Bye Bye Photospot

Message board

Entrance ticket pochette bag bonus

Game stickers

Exclusive shopping bag

Event exclusive merchandise

Pins (10 Designs)

Chiikawa no Mori Postcard Book – Event Exclusive Edition

Chiikawa no Mori Postcard Book – Regular Edition

Folder

Hand Towels (2 Designs)

Face Towel

Acrylic Clock

Large Tote Bag

T-Shirt

Puzzle

Chiikawa is a popular character by Japanese illustrator Nagano. In Chiikawa no Mori, or Chiikawa Forest, lives Chiikawa, Hachiware, and Usagi, who enjoy relaxed lives there. Nagano's stories of them have drawn much attention on Twitter. The event will include newly-drawn artwork, photo spots, a new animation, a game, a corner where you can write messages to Chiikawa and his friends, and much more. Pre-sales of postcard books are also available. And if you spend over ¥2,200 at the event, you get a free exclusive shopping bag.

Information

Chiikawa no Mori
Running: July 3, 2021 – July 25, 2021

Opening Hours: 10:00-20:00 (Last entries 19:30 / Until 18:00 on July 25)

Venue: Sapporo PARCO (Floor 7F)

3-3 Minami 1 Jonishi, Chuo-ku, Sapporo-shi, Hokkaido
*In case of crowding, you won't be able to return  to the exhibition room if you go onto the merchandise corner

*1 person per transaction

*Entry restrictions may be applied in case of crowding to avoid the spread of COVID-19


Details: https://sapporo.parco.jp/

Tickets

Price: General ¥500 / Student ¥400 / Elementary school children and below – Free

Buy Tickets: https://eplus.jp/chiikawa/

Chiikawa Official Twitter: https://twitter.com/ngnchiikawa (@ngnchiikawa)

Official Site: https://art.parco.jp/

KYARY PAMYU PAMYU meets IMABARI: A Visit to the Historical Sea Route

Imabari is a city in Ehime Prefecture that faces the Seto Inland Sea. Since olden times, it has flourished as an important location for marine traffic. It's home to a bounty of recognised national treasures and historical heritage sights, and is also famous for its production of citrus fruits such as mikan. Japanese pop star, model, and icon Kyary Pamyu Pamyu took a trip to this ancient city to discover its wonder and beauty.

A Visit to the Historical Sea Route

Oyamazumi Shrine

A 'power spot' revered by prominent people

Oyamazumi Shrine has been revered by prominent figures throughout history as a place dedicated to the god of the mountain, god of the ocean, and the god of war. It's home to numerous Important Cultural Properties which are available for viewing by the public such as the armour worn by the military commander Minamoto no Yoshitsune when the Minamoto clan won the Genpei War (1180-1185), armour worn by women, and more. The shrine is also a notable power spot for the ancient tree that has stood there for 2,600 years and is now recognised as a natural monument of Japan. Power spots are places in Japan where the spiritually-inclined draw energy from.

Information

Oyamazumi Shrine

Address: 3327 Omishimacho Miyaura, Imabari, Ehime 794-1393, Japan

TEL: 0897-82-0032

Opening Hours: Sunrise to 17:00

National Treasure Building: 8:30-17:00 (Last Entries 16:30)

Official Website: https://oomishimagu.jp/

Kurushima Kaikyo Service Area

Lip-smacking food aplenty

If you're one for great views, then the Kurushima Kaikyo service area is a must-visit, offering a panoramic look at the Kurushima Strait of the Seto Inland Sea. The service area is very well know particularly for the Jaguchi Mikan Juice, something of a city legend in Ehime where you can enjoy fresh mikan juice straight from a tap. You can also tuck a rice bowl dish made with tachiuo hairtail caught in the Seto Inland Sea that's made to look like Kurushima Kaikyō Bridge, or try Imabari's soul food dish: the Imabari Yakibuta Tamago Meshi, a pork, egg, and rice bowl. Don't pass up the chance to snap a photo at the designated photo spot with the Seto Inland Sea in the back either like Kyary above.

Information

Kurushima Kaikyo Service Area

Address: 3-9-68 Ohamacho, Imabari, Ehime, 794-0002, Japan

Food Court: [Weekdays] 8:00-21:00 / [Weekends & Holidays] 7:00-22:00

Shops: [Weekdays] 8:00-21:00 / [Weekends & Holidays] 7:00-22:00

Outside Shopping Area & Cafes: [Weekdays] 9:00-17:00 / [Weekends & Holidays] 9:00-18:00

Official Website: https://www.jb-highway.co.jp/sapa/kurushima.php

Murakami Suigun Museum

Dedicated to the Imabari heroes who protected the ocean




Murakami Suigun Museum is dedicated to kaizoku—pirates, or lords of the sea—something which conjures to mind villainy or bad guys, but the Murakami pirates were also considered heroes who helped maintain order and protect the sea during the Sengoku warring period of Japan. The museum features many displays of Murakami family treasures including the battle surcoat which the pirate leader wore over his armour, proudly bearing the Murakami family crest. Visitors can wear replicas of this coat, which Kyary tired herself: "Now I'm sorta like a military commander too," she said.

Information 

Murakami Suigun Museum

Address: 1285 Miyakubocho Miyakubo, Imabari, Ehime 794-2203, Japan
TEL: 0897-74-1065

Opening Hours: 9:00-17:00

Closed: Mondays (or Tuesday if the Monday falls on a public holiday) / New Year Holidays (Dec 29-Jan 3)

Official Website: https://www.city.imabari.ehime.jp/museum/suigun/

Roadside Station Yoshiumi Iki-iki-kan

A bundle of fun and entertainment in one place

Roll on up to Roadside Station Yoshiumi Iki-iki-kan to enjoy a shichirin BBQ feast with fresh seafood caught in the Seto Inland Sea while gazing out across Kurushima Kaikyo. This building complex serves as a resting spot and is also the perfect place to purchase local souvenirs including Ehime specialty products. It's also famous for its offering the chance to board a boat to ride around Kurushima Kaikyo, renting out bicycles, and more. You'll also be able to meet Koro-chan, a popular fish who has lived there for 30 years.

Information

Roadside Station Yoshiumi Iki-iki-kan

Address: 4520-2 Yoshiumichomyo, Imabari, Ehime 794-2114, Japan

TEL: 0897-84-3710

Opening Hours: 9:00-17:00

Restaurant: 10:00-16:00 (Last Orders 15:00)

Closed: New Year's Day (and certain days in winter)

Official Website: http://www.imabari-shimanami.jp/ikiiki/

Dolphin Farm Shimanami

Meet the cute and friendly dolphins

Dolphin Farm Shimanami, which is connected to Hakata Beach, is the best and biggest place in Japan to interact with dolphins. Visitors can get close to them and the dolphins will show off their tricks and skills. There's even a car camping area you can stay at.

Information

Dolphin Farm Shimanami

Address: 1673 Hakatacho Kanoura, Imabari, Ehime 794-2302, Japan

TEL: 0897-72-8787

Opening Hours: 9:00-17:00

Closed: On days with bad weath

Official Website: https://www.df-shimanami.com/

Hakata Beach

A white sandy beach rolling out 200-meters 

Hakata Beach is located at the base of Oshima Bridge in Hakata. The beach is famous for its salt which is best tried on their popular sweet-tasting sea salt ice cream.

Information

Hakata Beach

Address: 1668-1 Hakatacho Kanoura, Imabari, Ehime 794-2302, Japan

Sea Bathing: Early July – Late August

Official Website: https://www.city.imabari.ehime.jp/kanko/spot/?a=198

Imabari Towels

High quality towels woven with tradition and technique

Imabari is the biggest producer of towels in Japan. Even their white towels alone have countless types you can choose from, allowing you to pick which level of softness and comfort you want. The iconic brand logo is also impactful, capturing the quality, production, and enthusiasm that the makes have for the product. Kyary herself uses them all the time!

Information 

Imabari Towel

Official Website: https://www.imabaritowel.jp/

Sunrise Itoyama

Need a bike?

Sunrise Itoyama, located in the Imabari Central Cycling Terminal, is a rental bicycle service that has bikes and helmets for everyone's needs. Rent out a bike and ride the Shimanami Sea Route which connects Ehime and Hiroshima with a series of bridges that hop across the islands of the Seto Inland Sea.

Information 

Sunrise Itoyama

Address: 2-8-1 Sunabacho, Imabari, Ehime 794-0001, Japan

TEL: 0898-41-3196

Rent-a-Cycle Details: https://www.sunrise-itoyama.jp/archives/rentacycle/

Official Website: https://www.sunrise-itoyama.jp/

Marutomi

The famous restaurant known to every local

If you want the real experience of Imabari's yakitori soul food, you should visit Marutomi, a yakitori eatery. Imabari yakitori is different from the usual Japanese yakitori as it doesn't come skewered. Instead, the chicken is cut into small pieces and fried that way. One of the most popular ways to have it is with the skin on so the outside is crunchy and the inside succulent. It goes perfect with a cup of sake too.

Information 

Marutomi

2-3-6 Katayama, Imabari, Ehime 794-0063, Japan

TEL: 0898-23-2740

Opening Hours: 17:30-22:00

Closed: Wednesdays

Official Website: https://maru-marutomi.jp/

Imabari Castle

A castle by the sea

Imabari Castle, built by the daimyo Tōdō Takatora, is known famously as one of Japan's three "Castles on the Sea" and was also listed in Japan's Top 100 Castles. When it was first constructed, boats could enter the moat from the ocean. It's a site that breathes the prosperity that Imabari has enjoyed as a significant location for maritime traffic, the same Imabari that the Murakami pirates sought to protect. Head on up to the top of the castle to stand on the observation deck and gaze at an unbroken view of the city.

Information

Imabari Castle

Address: 3-1-3 Toricho, Imabari, Ehime, 794-0036, Japan

TEL: 0898-31-9233

Opening Hours: 9:00-17:00

Closed: December 29 – December 31

Official Website: https://www.city.imabari.ehime.jp/museum/imabarijo/

Kirosan Observatory Park

A breathtaking spectacle to remember

Kirosan Observatory Park is officially recognised by Setonaikai National Park. Standing atop the observation deck fills the eyes with wonder as they gaze upon a panoramic stretch of Imabari, the Seto Inland Sea, and Kurushima Kaikyo all at once. Kyary wrapped up her time in Imabari here as the sunset coloured the sky and sea in warm evening hues.

Information 

Kirosan Observatory Park

Address: 487-4 Yoshiumicho Minamiura, Imabari, Ehime 794-2115, Japan

No Fixed Holidays

Open 24-hours a day

Official Website: https://www.city.imabari.ehime.jp/kanko/spot/?a=182

Imabari Tourism Information: https://www.city.imabari.ehime.jp/kanko/

We hope you enjoyed joining Kyary on her adventures across Imabari, and perhaps she even got you a little curious in wanting to visit the city yourself. It's a treasure trove filled with vistas by the sea, in nature, and in the city itself with its Important Cultural Properties. Food is also a big part of travel for many people, so you can rest assured that your belly will be satisfied in Imabari as you try their speciality mikan, fresh seafood fished in the Seto Inland Sea, and more.

All About Matsuyama | Final Episode: Introducing the New Matsuyama Tourist Information Centre

The reception staff are ready and waiting to greet customers with a smile

The all new Matsuyama Tourist Information Centre finally opened in the heart of Matsuyama—the capital city of Ehime Prefecture in Japan—in Okaido on May 27. You'll find it on the first floor of Matsuyama Mitsukoshi which isn't even a one-minute walk from Okaido Station. It features an interior fusion combining history and culture with a design inspired by Matsuyama Castle while also throwing in a contemporary feel.

Six giant screens serve as the perfect place for tourism-related PR of Matsuyama

The first sight many visitors will lay their eyes on upon entering the information centres are the six screens spanning 1.5 meters high and 4.5 meters across the wall. Here, a variety of promotional material centred on the highlights of Matsuyama will be displayed.

The information centre offers many useful services, including for foreign customers who don't speak Japanese. There is a translation and interpreting service, money exchange, rental electrical outlets for smart devices, and more. The staff themselves are multilingual, but the interpreting service includes access to a call centre which you can access using the free WiFi or using an iPad. The availability of foreign currency exchange is also extremely beneficial as Matsuyama is a city abundant with long-standing shops that have been around for decades and longer. Another convenience with the centre is easy access to public transport. If you're looking to travel around the prefecture, we recommend paying a visit to the centre first as it's sure to provide valuable information. You can even rent mobile batteries for your smartphone to lessen the stress when sightseeing.

The pictogram shows the many handy services available

Visitors will also find a comprehensive duty-free counter inside the information centre which covers all stores in Okaido, Gintengai, Matsuchika Town, Dogo Shoten, and Ropeway Shotengai. You must spend over ¥5,000 (before tax) on products to be duty-free eligible. Since it's a comprehensive service, if you have multiple receipts you can be exempt from tax as long as all your receipts exceed ¥5,000. Participating stores have special stickers plastered up inside so tourists can quickly and easily identify them.

Stores participating in the duty-free service have stickers and signs to show it

For example, if you spend ¥500 at participating stores in Dogo Shotengai, ¥1,000 in Okaido Shopping Street, and ¥3,500 in Gintengai Shotengai, and take all three of those receipts adding up to ¥5,000 to the information centre, you can get your items duty free. But keep in mind that the receipts have a validity period on them, so be sure to check opening hours.

The Matsuyama Tourist Information Centre serves as the perfect site for bringing in all kinds of tourists, including foreign travellers, to Matsuyama post-COVID. The information also goes by the cute nickname "Dan Dan info." Dan dan is an old Ehime phrase meaning "thank you" and ties in with the smiling and hospitable welcome staff wish to greet guests with. It's exciting to look into the future and see how Matsuyama's tourism and economic growth will develop in its shopping districts, stores, and elsewhere. Make one of your first stops the Matsuyama Tourist Information Centre when visiting the city.

All About Matsuyama | Episode 8: Souvenirs Are Part of Matsuyama's Fun and Are Everywhere

The all new Matsuyama Tourist Information Centre opened in the heart of Matsuyama—the capital city of Ehime Prefecture in Japan—in Okaido on May 27. In celebration of its opening, this new featured series by MOSHI MOSHI NIPPON will explore the wonders of Matsuyama, a city abundant with places to shop, leisurely hot spots, must-visit restaurants, and opportunities to dive deep into its history and culture. You're sure to discover something new and exciting about Matsuyama in this series.

From tasty treats to home and lifestyle goods, Matsuyama has no shortage of souvenirs

Popular sightseeing spots and delicious food you can't get anywhere else—these are all part of the fun experience to be had when travelling. To wrap up your time there and memorialise all that's happened, nothing's better than picking up a little souvenir. In Episode 8 of All About Matsuyama, we take a look at the many wonderful items you can take home with you as souvenirs from food to traditional handicrafts, special dyed fashion and accessories, and more. MOSHI MOSHI NIPPON has picked out a range of delightful treats like Matsuyama's famous tartes, jakoten, three-colour botchan dango as well as Tobe ware porcelain which is an Ehime tradition, and iyo-kasuri fabric which is one of Japan's three main kasuri fabrics.

First on the list is the 'tarte,' a speciality product of Shikoku which is more of a sponge cake. They're made of a soft and fluffy sesame seed-coloured sponge and coarse red bean paste. A famous treat of Matsuyama, you can find these tarts just about anywhere in Okaido Shopping Street, near Dogo Onsen, and elsewhere.

Jakoten is considered a soul food of Ehime Prefecture. It's made from fish that are blended into a paste and fried. You can find jakoten everywhere in Matsuyama, but every restaurant serves theirs with different textures and flavours. Many places fry them fresh, so be sure to try a bunch to compare the flavours and then you can decide which to buy as a souvenir. There are even places so popular that they have lines outside them before they even open.

The botchan dango is something many of our readers have probably seen or heard about. These three-coloured skewered dango are served bite-sized, cute enough to snap a photo of. The ones sold at Dogo Onsen are something of a speciality. They have their name from Natsume Soseki's novel Botchan. You'll find them all around Dogo Shotengai.

Tobe ware is a traditional type of porcelain from Tobe in Ehime, known for its smooth touch and durability. This traditional porcelain has been handed down from old times until today, and in recent years, ceramists have been hammering out their own unique shapes, so have become popular as stylish, everyday use lifestyle items.

You can't talk about Ehime's traditional craftwork without mentioning iyo-kasuri fabric. Matsuyama used to have huge production output of this fabric type, which stands as one of three of Japan's most famous kasuri fabrics alongside kurume-gasuri from Fukuoka and bingo-kasuri from Hiroshima. Production has dwindled in modern times, but if you go to Art Labo KASURI Rekishikan, you can learn all about iyo-kasuri. There are lots of gorgeous iyo-kasuri products to buy like cute pouches, bags, and more.

And that's our list of must-grab souvenirs. There are of course endless other things you can get your hands on, so if you're lost on what to pick up, try asking at the Matsuyama Tourist Information Centre.

Stay tuned for the next and final episode of All About Matsuyama.

All About Matsuyama | Episode 7: Mitsuhama Port is a Nostalgic Trip Down Memory Lane

The all new Matsuyama Tourist Information Centre is set to open in the heart of Matsuyama—the capital city of Ehime Prefecture in Japan—in Okaido on May 27. In celebration of its opening, this new featured series by MOSHI MOSHI NIPPON will explore the wonders of Matsuyama, a city abundant with places to shop, leisurely hot spots, must-visit restaurants, and opportunities to dive deep into its history and culture. You're sure to discover something new and exciting about Matsuyama in this series.

The Mitsu Ferry, managed by Matsuyama City, has been running for over 500 years

We've covered much about the land in this series, so in Episode 7 of All About Matsuyama, we're heading to the sea. Mitsuhama Port sits in the western part of Matsuyama, Ehime. Mitsuhama is a port town that flourished during and following the Edo Period as the 'front door to the ocean.' Visiting the town is a trip down memory lane as there are still pseudo Western-style buildings from the Meiji and Taisho periods that suffered damage from the war, as well as traditional Japanese houses, and more. The Mitsuhama Shotengai shopping district was once a bustling place for the fishing and trade industries. Today, buildings have been renovated and taken on new managers who have turned places into stylish cafes, galleries, and other businesses, creating a quaint mix of new and old.

Matsuhama Port is a 15-minute car ride from Matsuyama Station, which itself is connected to other must-visit spots we've covered in this series such as Matsuchika Town and Gintengai. If you're looking for a place to walk around, the port area is somewhere you can really stretch your legs. It's right outside Mitsu Station from where you can see Mitsuhama Shotengai lined with concrete shops. The street has an old-timey Japanese nostalgic feeling to it. The number of young people frequenting the local shops and houses that have been renovated into various stores is on the rise which is changing its image from a former port town to a hip place to go for shopping. In the summer there are firework festivals and events held by the shopping district, so it's quickly becoming one of Matsuyama's new tourist spots.

A luxurious sea bream meshi-zen set meal

If you're strolling through Mitsuhama Shotengai, one place we absolutely want to recommend people visit is Taimeshi, a restaurant that set up shop inside a Japanese house that's registered as a Tangible Cultural Property. They have only one order on the menu as pictured above: the Taimeshi-Zen, a sea bream set meal, which is made even more enjoyable by the restaurant's elegant decor.

Mitsuyamayaki is a fast food delicacy of Mitsuhama

Everyone needs to try the local fried food as well. The most popular is their okonomiyaki, a common food in Japan. However, the type served in Mitsuhama, known as Mitsuhamayaki, is a little different from the Osaka or Hiroshima styles. They load the batter with noodles and garnish with chikuwa fish-paste, an ingredient long-loved in Mitsuhama, and the secret ingredient—fish flakes. Beef is used as the meat filling. The result is the kind of flavours you'd imagine tucking into in a port down. Each restaurant that serves Mitsuhamayaki serves theirs with their own original sauces too, so no two places will be exactly the same. Try several to compare the tastes.

Something else that can't be passed up when visiting Mitsuhama is the Mitsu Ferry, a boat with a 500-year history that rides up and down the river and is free of charge. Not only has it been used since the Muromachi Period for transporting goods, it also enjoys 40,000 passengers every year having been recognised as a tourist spot in recent years.

Baishinji Station, which is right next to Minatoyama Station and is how you get to the Mitsu Ferry, is known for being the location of the final episode of the 1991 Japanese drama series Tokyo Love Story. There, visitors can also gaze at the gorgeous view of the Seto Inland Sea, pay a visit to Baishinji Garden to enjoy the plum and cherry blossoms, and more.

Matsuyama is vast and full of many places to enjoy. Mitsuhama is one of these locations and is easily accessed by train from the city centre. It's a tranquil place where you can feel both the preserved old atmosphere and the modern changes. It's sure to continue growing as one of the city's must-visit sightseeing spots.

Information

Taimeshi

Homepage: http://taimesi.net

Address: 1-3-21 Mitsu, Matsuyama, Ehime

味処いとさん

住所 愛媛県松山市住吉2-8-33

Rilakkuma & Sumikko Gurashi Festival Announced For Fall in Sapporo

Rilakkuma and Sumikko Gurashi are set to collaborate at a special festival centred entirely around the characters which will run at Sapporo Factory from September 17 to November 28.

Rilakkuma, Sumikko Gurashi, and you are invited to the festival which will be split into two areas: the Rilakkuma Pavilion and Sumikko Gurashi Pavilion where the characters will be present to greet guests. The event is taking on a magical theme which imagines the spirits of San-X, the company who created Rilakkuma and Sumikko Gurashi, casting a mysterious magic on the festival to bring happiness to all.

There's plenty for fans of the characters to enjoy including fun photo spots, exclusive merchandise, and much more.

If you're in Sapporo this autumn, don't miss the Rilakkuma & Sumikko Gurashi Festival.

Information

Rilakkuma & Sumikko Gurashi Festival

Running: September 17, 2021 – November 38, 2021

Venue: Sapporo Factory 3 (Floor 3F)

Address: 4 Chome-1-2 Kita 2 Johigashi, Chuo Ward, Sapporo, Hokkaido 060-0032, Japan

Opening Hours: [Weekdays] 13:00-17:00 (From 10:00 on September 17) / [Weekends] 10:00-17:00 (Last Entries 16:30)

Closed: Thursdays (Except September 23, 2021)

TEL: 011-272-9302 (10:00-17:00 except weekends and holidays)

Official Website: https://ntv.co.jp/rilakkuma-and-sumikko-fest/

All About Matsuyama | Episode 6: Feast Your Eyes Upon the City's Food

The all new Matsuyama Tourist Information Centre is set to open in the heart of Matsuyama—the capital city of Ehime Prefecture in Japan—in Okaido on May 27. In celebration of its opening, this new featured series by MOSHI MOSHI NIPPON will explore the wonders of Matsuyama, a city abundant with places to shop, leisurely hot spots, must-visit restaurants, and opportunities to dive deep into its history and culture. You're sure to discover something new and exciting about Matsuyama in this series.

One of the biggest attractions to anyone travelling abroad, or even domestically, is the food. In Episode 6 of All About Matsuyama, we give you a mouth-watering tour of Matsuyama's food scene. Every area of the city is bursting with flavours to be savoured, so here's our list of places we can't recommend enough, all located around Okaido Shopping Street, Matsuyama Gintengai, and Matsuchika Town.

Higiriyaki

Higiriyaki is a sweet local treat from Matsuyama with chewy skin and filled with hot adzuki bean paste

The first delectable treat MOSHI MOSHI NIPPON recommends begins at a shop in Okaido Shopping Street. The 'higariyaki' is a local food that was first created during the Taisho period in Japan and is also the name of the shop that sells them. It's said that the first higariyaki was made at Zenshoji Temple which is located in front of Matsuyama Station. The temple is nicknamed "Ohigiri-san," and the dessert's name derives from the Higiri Jizo god that is worshiped there. Its dough is made with high quality wheat flour and eggs and is stuffed with an azuki bean paste recipe that has been preserved and passed down since it was first created. You get to see the higiriyaki being made fresh before you when ordering one.

Noma Kajuen noma-noma

Every cup of their refreshing juice is freshly squeezed

Noma Kajuen noma-noma is a juice and gift shop managed by Noma Kajuen, a fruit grower in Ehime which ships tasty mikan oranges around Japan. noma-noma not only serves fresh juice but ice creams, parfaits, drinkable jelly, and other takeout items too – all made with mikan. They have plenty of fruity gifts too, so don't pass up the opportunity to try some sweet Ehime mikan.

Roken Manto

The only place left making steamed bread with koubokin yeast fungus

Next on the menu is Roken Manto which is famous in Matsuyama for its steamed bread. This bread is made with koubokin yeast fungus and has been since 1931. No preservatives or other additives are used so they don't have a shelf life – you can only buy and eat them from here. The bread was adapted in Kurashiki from the Chinese steamed bun to cater to Japanese palettes. Fillings include pinto beans, raisins, cheese, cocoa, and more. None are overly sweet so make for a nice easy bite. They are particularly popular with male customers who you often see in droves buying them in the evenings and late into the night.

Nabeyaki Udon Asahi

A bowl of their sweet udon will leave you feeling happy

We're moving locations now – towards Matsuyama Gintengai. Nabeyaki Udon Asahi is a famous udon bar in Matsuyama known for its sweet tasting nabeyuki udon, something of a soul food to the locals. The restaurant opened in 1947 and has been frequented by locals since. Their udon is simple but delicious, made with a sweet broth, chewy noodles, kamaboko fish paste, chikjuwa fish paste, and boiled egg. The restaurant itself has a retro vibe to it which serves as the perfect setting for your bowl of udon. It will definitely have you wanting a second visit. One thing to note is that the restaurant closes once all noodles have been served, so we recommend visiting in the early afternoon.

Usuzumi Yokan

The quality of the adzuki beans elevate this dessert to sublime new heights

The usuzumi yokan is a famous sweet of Matsuyama which was first made over 1,000 years ago when Empress Jito visited Dogo. Its surface has a sheen to it, and inside are white beans made to look like cherry blossom petals, giving it an extravagant appearance. It's a sweet famous across Japan having won awards at national confection competitions. You can order them to have-in at this cafe if you like – and their gorgeous Tobe ware plates are available to buy too. Both would be great as souvenirs bought together.

Tonkatsu Katsuyoshi

The crunchy, mouth-watering tonkatsu is nice and light and not fatty at all

Last up on our list takes out to Tonkatsu Katsuyoshi in Matsuchika Town. They serve up some seriously succulent and juicy meat covered in a crunchy layer and served with an in-house sauce. Their menu is long, and all set meals come with a bowl of grated Japanese yam soup. Matsuchika Town is full of popular eateries with lots of takeout items to enjoy, so we recommend visiting there before moving away from the station area.

Matsuyama is loaded with restaurants so you'll never go hungry. The places on this list, and many others, are waiting for your arrival.

Information

Higiriyaki

Homepage: https://higiriyaki.jp

Address: 2-5-1 Okaido, Matsuyama, Ehime

Noma Kajuen noma-noma

Homepage: https://www.kajuen.co.jp/shop/nomanoma/

Address: 1-4-20 Okaido, Matsuyama, Ehime

Roken Manto

Homepage: http://home.e-catv.ne.jp/takeuchi/

Address: 2-3-15 Okaido, Matsuyama, Ehime

Nabeyaki Udon Asahi

Address: 3-10-11 Minatomachi, Matsuyama, Ehime

Usuzumi Yokan

Homepage: http://www.usuzumi.co.jp

Address: 1-2-2 Okaido, Matsuyama, Ehime

Tonkatsu Katsuyoshi

Homepage: http://matsuchika-town.com/shop/?mode=shop_detail&shop_id=5

Address: Matsuchika Town, 5-1-1 Minatomachi, Matsuyama, Ehime