Most Popular Sweets & Chocolate Sold at Tokyo Station
Summer is here, and if you're travelling around Japan, chances are you'll be using Tokyo Station station at some point.
We recently covered 6 must-buy souvenirs at Tokyo Station. Today we'll be looking at the most popular Japanese and western sweets you can pick up there as ranked by sales.
Western Sweets & Snacks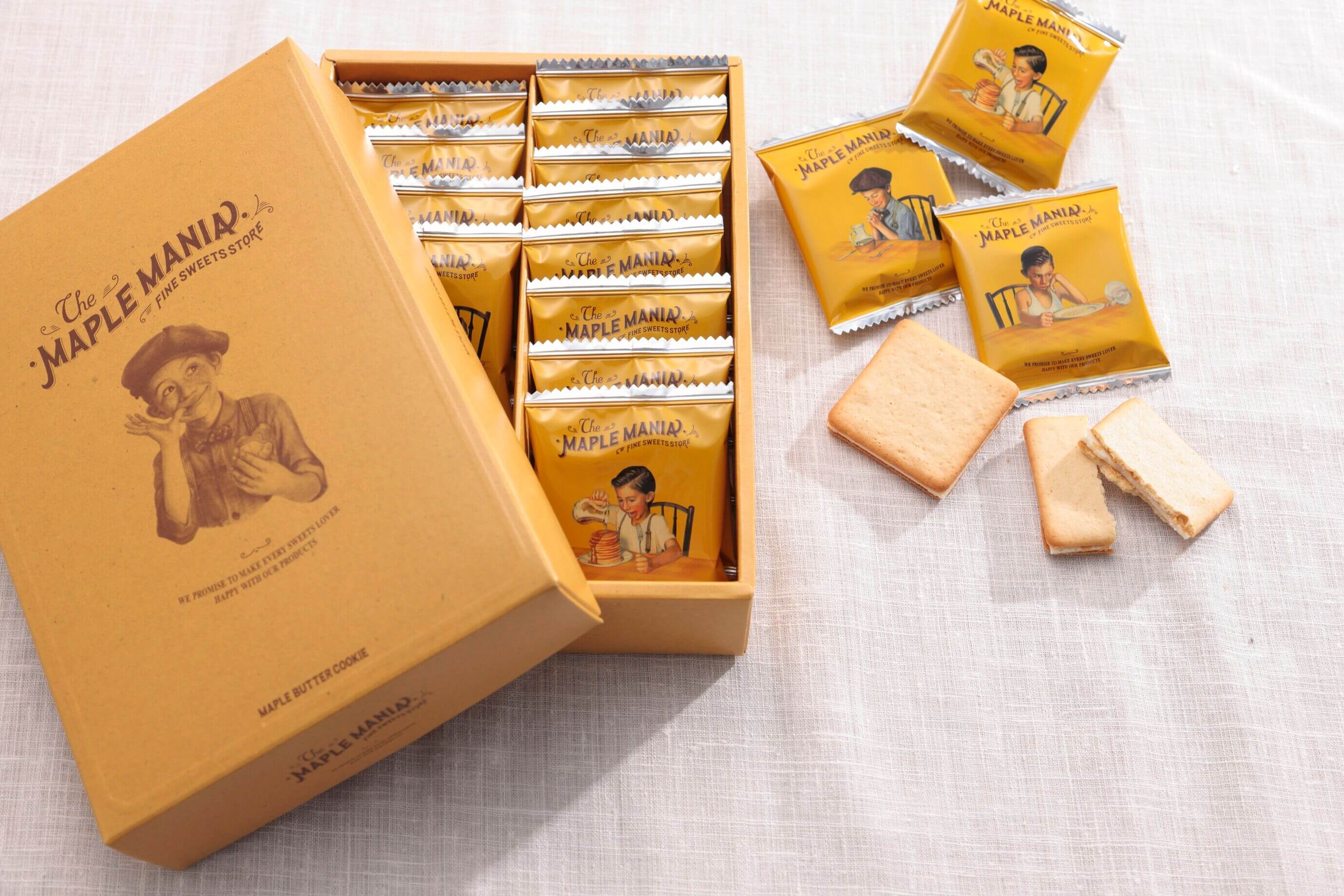 1st Place: Maple Butter Cookie (Contains 18) – ¥1,900 (Tax Included) / Sold @ The Maple Mania
These cookies are made from maple sugar and fermented butter and baked with dark chocolate in the middle to make a crunchy cookie sandwich. They have been the most popular treat since they were released♡
2nd Place: Tokyo Station Waffles (10 Included) – ¥1,300 (Tax Included) / Sold @ R.L waffle cake
A flagship product of R.L. Waffle Cake, their fluffy waffles contain cream and fruit. These Tokyo Station exclusives have been improved this year and are now made with bamboo charcoal. This set of 10 plain waffles are available for a limited time only.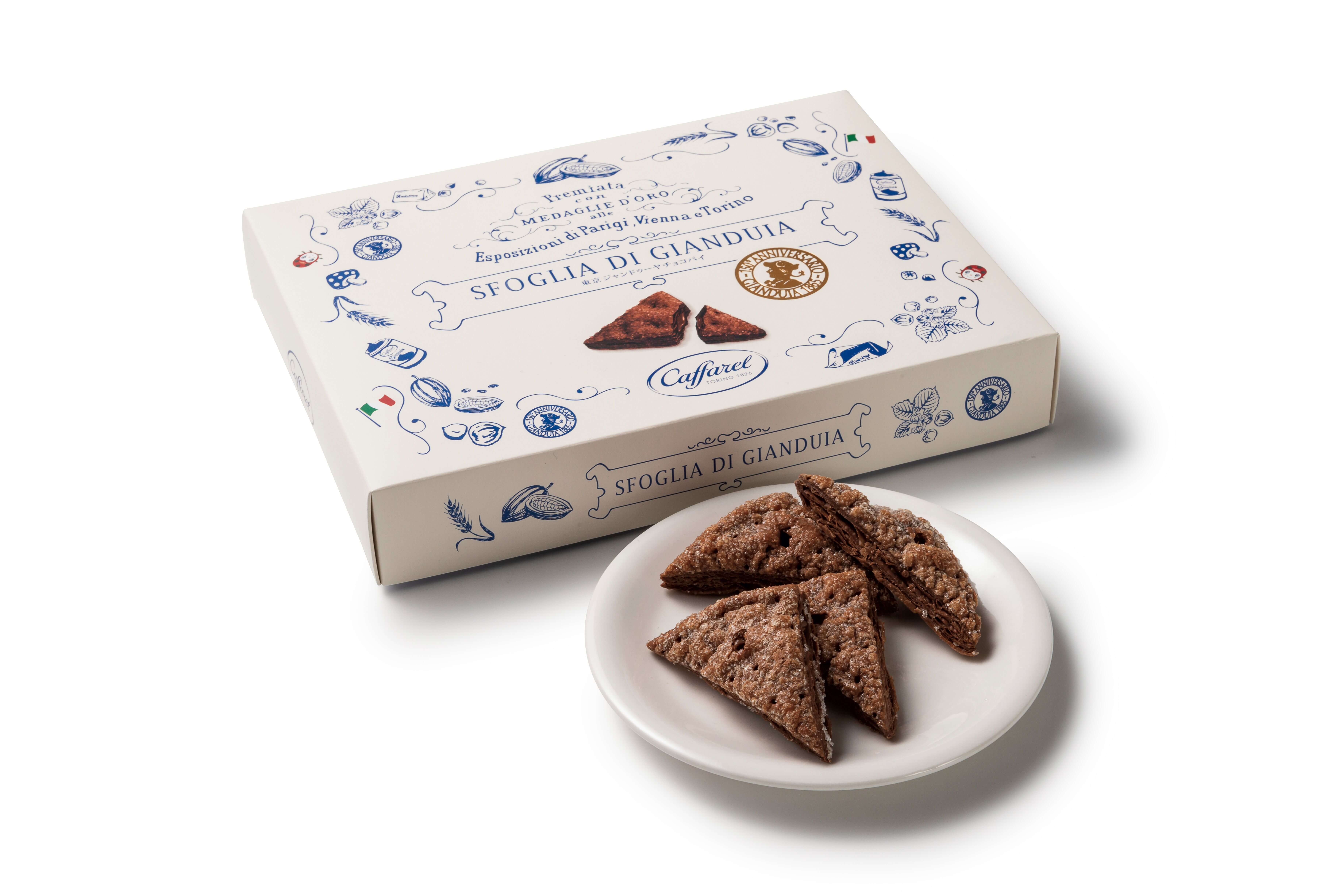 3rd Place: Tokyo Gianduja Chocolate Pie (Contains 8) – ¥1,080 (Tax Included) / Sold @ Caffarel
Chocoholics are going to love Caffarel's chocolate pies which are made lusciously with their gianduja chocolate. The pies enjoy repeat purchases from people who enjoy the crunchy outside of the pie and rich chocolate centre. They are enjoyed by people of all ages.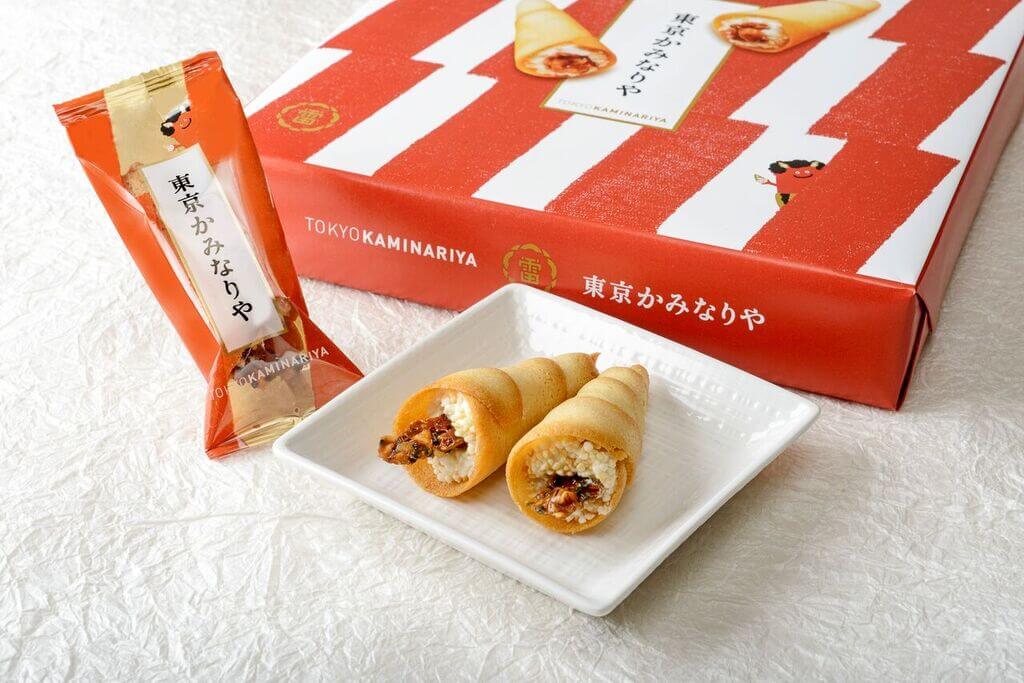 4th Place: Tokyo Kaminariya (Contains 8) – ¥1,062 (Tax Included) / Sold @ Tokyo Kaminariya
Tokyo Kaminariya is known for its sweet cone puffs which topped with fluffy cream, nuts and sesame seed bean paste. They are shaped like the god of thunder's horn and are cat tongue biscuits containing fragrant rice flour.
5th Place: Tokyo Station Assorted Cookies (Contains 20) – ¥1,965 (Tax Included) / Sold @ Tokyo Milk Cheese
This cookie assortment features the classic Salt & Camembert and Honey & Gorgonzola flavours. A perfect souvenir from Tokyo with its cute packaging!
Japanese Sweets & Snacks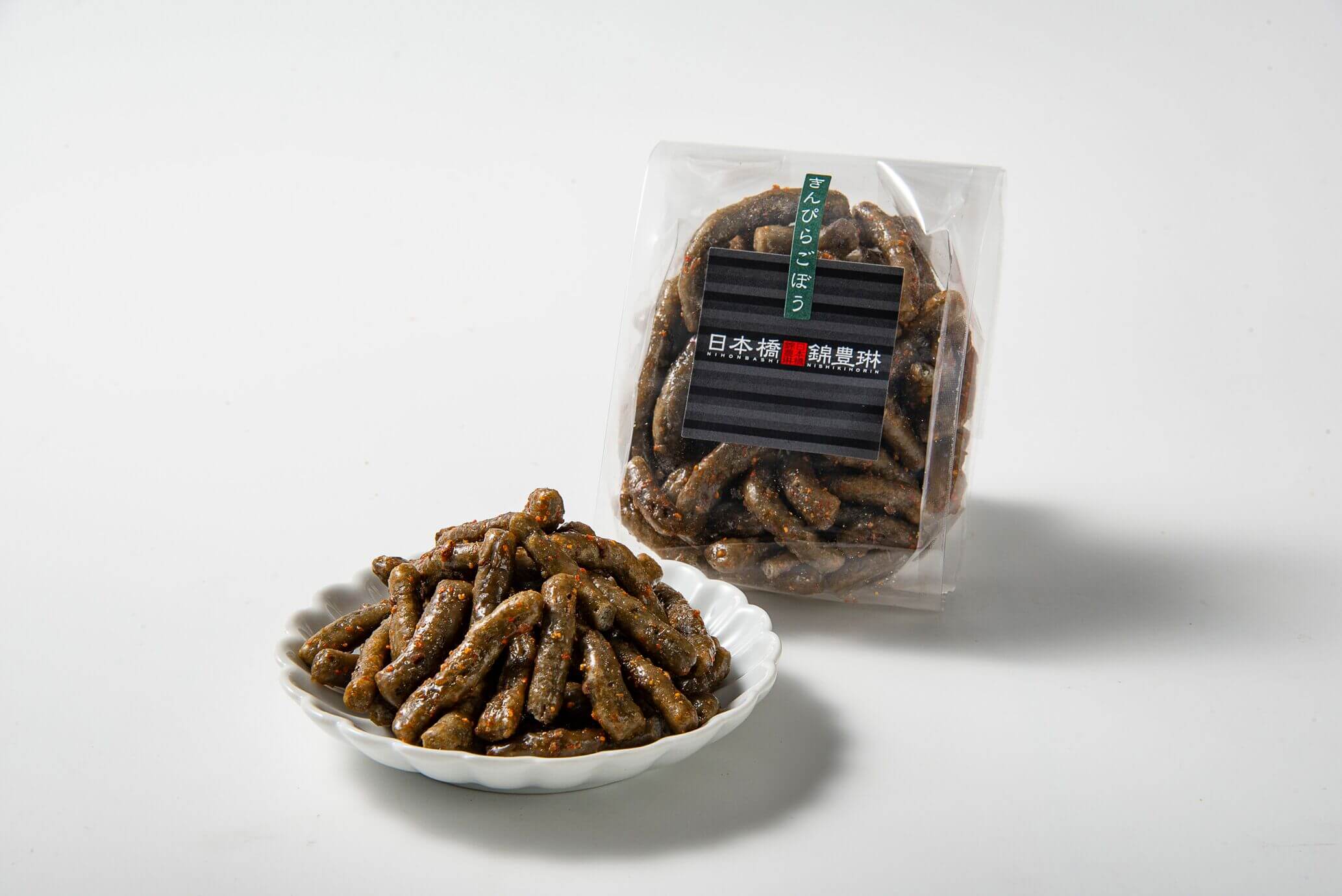 1st Place: Kinpira Gobo (1 Bag) – ¥350 (Tax Included) / Sold @ Nishikihonrin
This crispy snack retains the original flavour of the ingredients and is made using 100% domestic wheat flour. It contains great burdock and spicy finely chopped vegetable flavours. It's a perfect little treat to yourself or someone you know and is a hit with foreign customers!
2nd Place: Mame Daifuku: ¥206 (Tax Included) / Sold @ Ginza Kanra
A hallmark product of Ginza Kanra, these soft daifuku contain whole adzuki beans grown by contracted farmers. Their simple flavour has transcended generations and is a beloved traditional Japanese dessert with all ages.
3rd Place: Panda no Tabi (Contains 5) – ¥1,080 (Tax Included) / Sold @ Keishindo
Keishindo's senbei shrimp rice cookies have various designs on them including cute pandas as well as famous sites in Tokyo such as Tokyo Tower and Kaminarimon. Exclusive to Tokyo Station, these are a fun and delicious choice.
4th Place: Wasanbon (Contains 9) – ¥756 (Tax Included) / Sold @ Kurio Shoten Gransta
Wasanbon is a type of traditional Japanese sugar. This product is made with traditional molasses which has been used since the store first opened. Using high quality sugar, Kurio Shoten has created a sweet and simple delicious snack.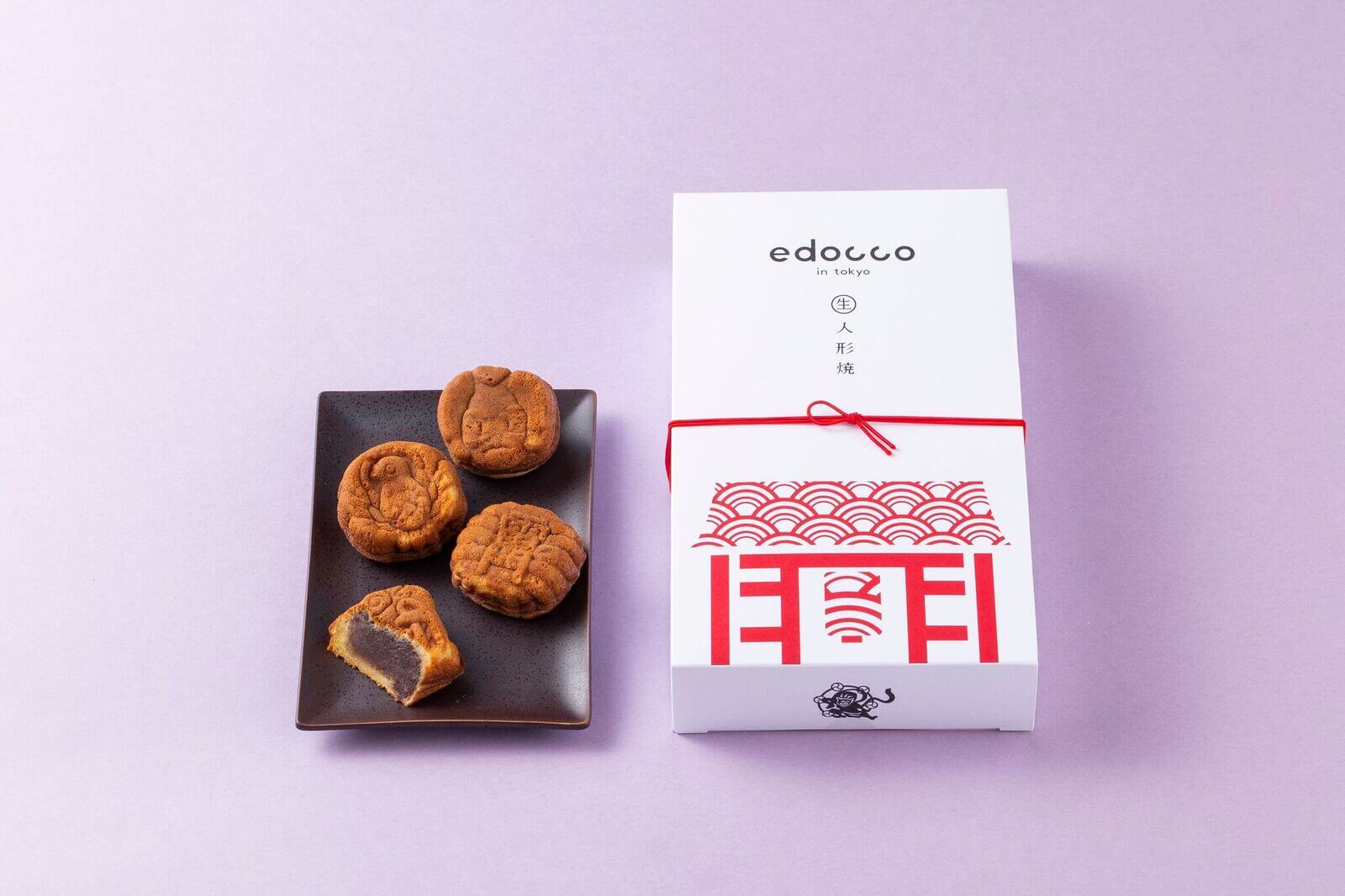 5th Place: edocco Nami Ningyo Yaki – ¥1,080 (Tax Included) / Sold @ Hattendo & edocco
Ningyo yaki are little baked doll cakes, and these ones have a "raw" texture to them which is both moist and chewy, a texture enjoyed by Japanese people.
Did you enjoy this list? Be sure you get to try all the sweets and snacks you can in Japan and share them as souvenirs when you travel back home!
RECOMMENDED ENTRIES
Six Recommended Souvenirs You Can Buy At Tokyo Station

It is already summer! As people return to their families in the countryside or embark on a special trip with friends, Tokyo station is just a thriving hive of busy bees. That is why today we will be introducing you to a variety of general souvenirs that you can buy at Tokyo Station and take to your friends and family. 

Souvenirs for Visitors to Japan

Tokyo Station Hand Towel (SHARED TOKYO): ¥1,404 (after tax )    ※ GRANSTA-limited 

This hand towel is decorated with classic illustrations of Tokyo Station's reliefs and clematis flowers. The flowers portray the message: "happiness of travellers"

Furoshiki Patchin (SHARED TOKYO ) 1 set: ¥2,484 (after tax) 

This is a beautiful shaped piece of wood with four holes. When you wrap your bento lunch inside a cloth, this piece of wood comes in handy when tying the corners of the cloth together. In moments, you can turn a normal piece of cloth into a useful bag. When you are going on a trip and have lots of luggage, this will come in very handy. 

Character-themed Souvenirs

Suica Penguin O-mikuji Fortunes (TRAINIART TOKYO): ¥594 each (after tax)

Perhaps you are familiar with the Suica card, which is a form of rechargeable contactless card used to pay for train fares in Japan. For fans of the adorable Suica Penguin, which is the mascot of the card, this gift is a must. Peel off the sticker on the bottom and a red string will be revealed. Pull the string and your fortune will be revealed to you!

Unusual Souvenirs

Stained Glass-Style Bookmark (Neue ): ¥1,188 (after tax) 

How about a luxurious stained glass-style book mark? This would make the perfect gift for any bookworm. Just having this would make you excited to get reading.

Bullet Train Souvenirs 

TOKYO STATION SOCKS (Happy Socks): ¥972 (children )/¥ 1,620 (prices after tax ) ※GRANSTA-limited 

The pop-coloured socks are perfect for pumping energy through any child's feet! There are also socks for adults which come in more mature colours which are easier to colour coordinate. These socks are easy to put on and are a great way to add a touch of cuteness to your look. 

Electric Pen: E6 Series Super Komachi Shinkansen /Electric Car Pen E5 Hayabusa (Neue): ¥648 (after tax)

 Tip the pen and the bullet train will zip to Tokyo Marunouchi Station. There's no doubt that train fans and children would love to get this present. 

We hope this article helps you choose a souvenir on your next visit to Tokyo station.

Information

Tokyo Station City Official Website: 

Hotel Ryumeikan Tokyo: A Michelin-Recognised Modern Ryokan in Front of Tokyo Station

The area surrounding Tokyo Station is home to many different types of hotels. One standout location is Hotel Ryumeikan Tokyo. This hotel, which featured in Michelin Guide Tokyo 2017, renovated 30% of its guest rooms as part of its 10th anniversary. Its concept is a modern-style ryokan (a traditional Japanese in) and it stands just so as the closest to Tokyo Station. Today, we will take a look at the hotel's design rooms.

Of its 38 rooms, 33 of them take on a ryokan style design. The rooms are fitted with small tatami flooring spaces where guests must take their shoes off on which sits a small chabudai, a short-legged table, on a raised floor. These elements have a nostalgic quality to them with Japanese guests and an inherently Japanese feel to them for foreign guests.

The carpet is decorated with a chrysanthemum design in a traditional Japanese dusky purple colour.

There are also kendama toys, books on Japanese confections and more to elevate that feeling of Japanese culture. There is plenty of space for tired bodies to relax after a long day trip.

The other 5 rooms are "Office Rooms" made with business workers in mind. They come with a big sofa and whiteboards to create a lounge-type space.

All of the bed mattresses are the highest quality models provided by long-standing bed makers Nishikawa. They aren't excessively soft which I really liked and ensure a long, deep and natural sleep.

Rooms come with three types of original tea blended by the staff so you can pick whichever caters to your mood that day.

The feature you must absolutely try however is the hotel's breakfast. It's served in a buffet style so there is plenty to choose from with everything from Japanese-style food to Western-style. The buffet is packed with vegetables too so you can get your daily intake nice and early.

All of the new rooms are double rooms and are priced from ¥27,000 per night. The price changes depending on the season to be sure to check the official website for more details.

If you're looking for a taste of Japan with that ryokan feel then be sure to check out Hotel Ryumeikan Tokyo.

Tokyo Station's Pokémon Store & Tokyo Gourmet Zone Announce Collaborative Event

Tokyo Gourmet Zone in Tokyo Station's First Avenue shopping complex turned 1 year old on June 28. To celebrate its 1st anniversary, the station's Pokémon Store located along Tokyo Character Street is teaming up with Tokyo Gourmet Zone to host a Pokémon-themed event where you can meet Pikachu, get your hands on original merchandise, and more.

From July 13th to 15th at 11:00-15:00, if you order a soft drink or dessert at participating restaurants in Tokyo Gourmet Zone you can receive the above-pictured 1st anniversary lunch mat with a Pikachu design. These are limited to 1,000 per day on a first-come, first-served basis.

You can also get a photo with Pikachu on the same three days. Your photo will be printed with an original photo frame.

Over at the photo spot, you can get your photo taken next to 278 Pokémon plush toys. This is running right now until September 1 and includes Pokémon No. 001-251 in the Pokédex and all 28 forms of Unown.

Several restaurants at Tokyo Gourmet Zone are also serving special meals in celebration of the 1st anniversary. These are available now until July 31.

Head to Tokyo Gourmet Zone and help Pikachu in celebrating their first year!

©2019 Pokemon. ©1995-2019 Nintendo/Creatures Inc./GAME FREAK inc.

Pokémon, ポケットモンスター and ポケモン are registered trademarks of Nintendo, Creatures and Game Freak.

Information

Tokyo Gourmet Zone 1st Anniversary x Pokémon Tokyo Station

Running: June 28 – September 1, 2019

Location: Tokyo Station First Avenue Floor 2F (Tokyo Station Yaesu North Exit Floor 2F)

Official 1st Anniversary Website:  https://www.tokyoeki-1bangai.co.jp/tokyogourmetzone1st/

Photo With Pikachu Event

Running: July 13 – 15, 2019

Slots: ①11:00 / ②13:00 / ③15:00 / ④17:00 (30 minutes each)

Participation: Free
RELATED ENTRIES
Krispy Kreme Celebrates the Year of the Rat With Cute New Year's Doughnuts

Krispy Kreme Doughnuts Japan is releasing three new end-of-year doughnuts on December 26. They will be available for a limited time only.

2020 is the Year of the Rat in the Chinese zodiac, and so Krispy Kreme has taken that theme to create its own adorable rat doughnut. Lathered in caramel chocolate, this cute doughnut is filled with rock salt caramel cream. Its eyes, tail and large round ears are made of  dark chocolate while its nose is made of coffee chocolate.

The second New Year's doughnut in the series is the Lucky Strawberry Ring (¥230), which gets its deep crimson colour from the sweet and sour nappage made from strawberry puree and milky white chocolate. It's finished with sprinkles of freeze-dried strawberries and gold leaf for that festive touch.

The Snowman Chocolate (¥230) is a cute snowman shaped doughnuts filled with a rich chocolate cream and covered in a milky snow white chocolate coating. Together with the Lucky Strawberry Ring, you get a festive mix of red and white which are symbolic colours of the New Year in Japan.

The three doughnuts are also available to purchase in a box set called Good Luck Zodiac Dozen which comes with twelve doughnuts including four Original Glazed®, the chain's most popular doughnut.

Welcome the new year with some delicious and kawaii doughnuts from Krispy Kreme Japan.

Information

New Year's Doughnuts

Available: December 26, 2019 to Mid-January 2020 (subject to change)

Official Website: https://krispykreme.jp/

Instagram Launches #MY TOKYO IS Campaign With Tokyo Metropolitan Government

Instagram launched a campaign with the Tokyo Metropolitan Government entitled "#MY TOKYO IS" on November 11 together with three limited-time stamps that can be used on people's Instagram stories.

The campaign is a global initiative to have people capture their favourite moments in Tokyo in the form of photos, videos and stories on Instagram. Shared posts will be used to curate places and scenery in Tokyo that the Tokyo Metropolitan Government want to showcase to the people of the world. This curation will take the form of an exhibitionーwhich will take place at GINZA ATRIUM on floor 6F of GINZA SIX and GINZA TSUTAYA BOOKS in late March 2020ーas well as a website and a book.

Statistics have shown that Instagram has a significant influence on the Japanese economy in terms of tourism, and so the Tokyo Metropolitan Government hopes that this interactive campaign will help to promote the city to tourists and travellers worldwide.

The stamps created as part of the campaign only appear in the tray when you're in the city of Tokyo. When you click the stamp, the #MYTOKYOIS search result page will be displayed, allowing you to see the other photos and videos posted by the people who have used the campaign hashtag.

If you're in Tokyo, then be sure to get involved in the campaign and show the world your favourite things about the city!

Information

Enter via Feed Posts

・Follow the official Tokyo Tokyo Instagram account @tokyotokyooldmeetsnew

・Add hashtags #MYTOKYOIS and #TokyoTokyo to your post

・Add spot or location info to the photo or video you took, and post

Enter via Stories

・Follow the official Tokyo Tokyo Instagram account @tokyotokyooldmeetsnew

・Use the #MYTOKYOIS sticker or add the hashtag #MYTOKYOIS using the text tool / hashtag sticker

・Add spot or location sticker of the photo or video you took, and post

#MY TOKYO IS Campaign Website

BAKE CHEESE TART will be baking up another fresh flavour which will be released in BAKE CHEESE TART shops across the country from November 15. The new featured flavour is of a Japanese Satsuma sourced from Shizuoka prefecture called Mikka Mikan. The brand new Mikan Cheese Tart will be sold at BAKE CHEESE TART shops countrywide. 

The Mikka Mikan Satsumas used for the cheese tart are sourced from Shizuoka, which is renowned for its deep history of producing Mikka Mikans, which are a kind of Satsuma Mandarin (Unshu Mikan). The Mikka Mikans are used to make a purée and powder which is then mixed with an original recipe cheese mousse for the tart.

This flavour first arrived at BAKE CHEESE TART's PARCHÉ branch in Shizuoka to celebrate its grand opening back in November 2018. The tart was intended to be a delicacy limited to the Shizuoka branch and to only be sold for a limited time. However, following its immense popularity, the Mikka Mikan Cheese Tart is going to be released again this winter for a limited time. 


The mild and fresh cheese mousse is perfectly balanced with the tangy sweetness of the Mikka Mikans. The subtle sweetness of the biscuit base makes for the perfect match with the soft cheese mousse which will melt in your mouth. 


BAKE CHEESE TART is also running an Instagram campaign involving the hashtag #おすそわけタルト. Those who purchase the Mikan Cheese Tart and post a photo of it on Instagram during the limited time period have the chance to enter a prize draw for a BAKE CHEESE TART coupon.

Warm up your heart with a soft and sweet, freshly-baked cheese tart and join in the campaign fun. 

Information

Mikan Cheese Tart

Price: ¥280 each (Tax Included)

Selling: November 15, 2019 – November 30, 2019

Available at: BAKE CHEESE TART shops across Japan *Not available at ASSE Hiroshima and SAN-A PARCO CITY branches.

More Information: https://cheesetart.com/en/

Instagram Campaign Information #おすそわけタルト

Running: November 15 – November 30, 2019

Prize: A coupon for 6 freshly-baked cheese tarts from BAKE CHEESE TART (20 winners)

* For more information on application requirements and how to apply, please refer to BAKE CHEESE TART's social media websites.

BAKE CHEESE TART Official Website: https://cheesetart.com/en/

Sleigh Bells Ring at Tokyo Disneyland This Year With Plenty Of Food & Merchandise to Go Around

Jolly faces are all around at Tokyo Disney Resort right now as Disney Christmas kicked off last Friday. It's set to sleigh its way up to Christmas Day this year.

The editorial team at MOSHI MOSHI NIPPON jumped ahead and got a taste of the festive fun at the parks recently, so we're going to showcase some more of the seasonal food and merry merchandise you can get your hands on this Christmas at Tokyo Disneyland.

Food that makes you want to kick back and enjoy a nice break

 

Special Set – ¥1,500 @ Grandma Sara's Kitchen

Grandma Sara's has created the perfect hot lunch for warming up cold guests this year, adorned with a clam and seafood tomato cream, cheese and white sauce. Dip your bread into the rich sauce and tuck in! For dessert, you get a cranberry cake inspired by the look of a snow-tipped Christmas tree.

Hot drinks of all kinds

'Tis the season to stay warm, and so Tokyo Disneyland has devised a line-up of tasty drinks to warm the cockles of your heart, with flavours ranging from ruby chocolate to matcha and tapioca cheese teaーa unique flavour that's all the rage right now.

We actually covered these drinks in detail last Monday, so check out our report here.



Deck the halls with these dessert & souvenir sets

Cranberry & Tea Cake With Souvenir Cup – ¥800 @ Sweetheart Cafe and elsewhere

Strawberry Dessert With Souvenir Cup – ¥800 @ Sweetheart Cafe and elsewhere

Head to the Sweetheart Cafe to enjoy some desserts which come with cute take-home souvenirs, like cups and plates. The cranberry and tea cake is a subtly sweet cake with a fragrant tea flavour and filled with sweet and sour cranberries.

The strawberry dessert is like strawberry shortcake with ascending layers of cake batter, cream, and strawberries. It's topped with holly to give it that Christmas-y finish.

Chocolate Doughnut – ¥380 @ Cleo's and elsewhere

The chocolate doughnuts at Cleo's are completely lathered in a chocolate danish-like dough and custard cream.

The doughnuts even come in this cute Mickey and Minnie packaging, who are dressed ready and for giving gifts to guests.

If you pay an extra ¥700 you can get this adorable pouch featuring Mickey, Minnie, Donald and Daisy as snowmen.

Have a merry little Christmas with these holiday season goodies

Headband – ¥1,800

Fun Cap – ¥3,000 / Plush Toy Wristband – ¥1,700

Feel happy simply by placing these Mickey & Minnie headband ears and getting into party mode. The park has also developed a Christmas version of the Pluto fun cap so he has reindeer antlers and holly attached. Both items were previously available in a pre-sale on the park app, so depending on the shop you visit, they may have none left in stock. But if you see one, be sure to grab it quick!

There's also a Mickey version of the Minnie Mouse plush toy wristband. Wear one and have your friend or loved one wear the other!

Popcorn Basket – ¥2,400 @ The Gazebo (Popcorn Wagon)

Pick up some popcorn served in a Christmas present basket decorated with cute illustrations of Mickey and company celebrating Christmas.

It comes strung with a ribbon decorated with green, red and white colouring like a candy cane.

Spend a Disney Christmas this winter at Tokyo Disneyland where you can stay warm with some comfort food and dress up!

Model: Yuna Yabe

Writer: Sayuri Mizuno (MOSHI MOSHI NIPPON)

Translator: Joshua Kitosi-Isanga

Butter Sandwich Shop PRESS BUTTER SAND Releases Uji Matcha Flavour at Tokyo Station

The butter sandwich specialists over at PRESS BUTTER SAND are bringing their famous Uji matcha flavour butter sandwiches to their Tokyo Station branch on November 13.

Known as the Uji Matcha Butter Sand, this tasty snack was developed to celebrate the grand opening of the Kyoto Station branch of PRESS BUTTER SAND. Due to high demand, they've decided to take the product to Tokyo for a limited time.

The exterior is made with butter cream and carefully selected Uji matcha. You get the full rich flavour of the matcha and delicious taste of the butter at once. The sandwich itself is filled with bitter matcha butter cream and sweet caramel butter for a sumptuously smooth combination that marries temptingly with the crunchy cookie exterior.

The sandwich biscuits come in packaging that features navy Kyoto-esque artwork inspired by the characteristic cultivation method for Uji matcha which blocks out sunlight. The sandwiches themselves are individually packaged in matcha green packets to contrast with the box.

Don't miss out on a chance to enjoy the flavours of Kyoto while in Tokyo. Available at Tokyo Station only.

Information

Uji Matcha Butter Sand

Price: Box of 5 – ¥1,150 (Tax Included) / Box of 9 – ¥2,070 (Tax Included)

Shop: PRESS BUTTER SAND Tokyo Station

Available: November 13, 2019 – November 30, 2019

Official Website: https://buttersand.com

Tokyo Station's Best Rice Bowl & Noodle Dishes as Voted by Commuters

Tokyo Station and surrounding facilities are currently holding the "Tokyo Station Rice Bowl vs. Noodles Grand Prix 2019" tournament from October 7 to November 24 to find out people's favourite rice bowl and noodle dishes at the station.

The past three tournaments have focused only on rice bowls, but this year sees the introduction of noodles too, with past restaurants in Kitchen Street and GRANSTA competing once again as well as new ones in ecute Tokyo and KITTE for a total of 13 participating station areas. 92 dishes are in the line-up, the biggest list to date.

The current rankings for the rice bowl and noodle categories have finally been unveiled, so let's take a look at the Top 3 of each to see which is leading the race.

Category Is: Rice Bowl

1st Place

Ultimate Japanese Spiny Lobster Bowl – ¥2,200 (Tax Included) @ Tsukiji Sushiko (GRANSTA Marunouchi)

Tsukiji Sushiko was the victory of last year's grand prix. This year, they've whipped up a hearty seafood bowl made with a whole Japanese spiny lobster and 11 other delicious critters from the ocean.

2nd Place

Premium Wagyu & Uni Otsukimi Date – ¥2,530 (Tax Included) @ Uniya no Amagokoro (Kitchen Street)

Served with sliced premium brand wagyu, this bowl is topped with uni sea urchin eggs and ikura salted salmon roeーa luxurious combination you won't find anywhere else.

3rd Place

Ura Ooedo Tempura Bowl – ¥1,800 (Tax Included) @ Tenkiyo (Grand Roof)

This is an alternate version of the restaurant's famous Ooedo Tempura Bowl, served with delicious tempura.

Category Is: Noodles

1st Place

MISO JIRO – ¥1,000 (Tax Included) @ Tokyo Style Miso Ramen Do Miso (KITTE GRANCHE)

A super-filling bowl piled with pork char siu and a mountain of vegetables.

2nd Place

Lanzhou Wagyu Noodles – ¥950 (Tax Included) @ Mazilu Lanzhou Beef Noodles

Authentic Lanzhou ramen served by the Halal-certified Mazilu Lanzhou Beef Noodles, customers can choose between nine different thicknesses for their noodles to satisfy their palate.

3rd Place

Dehydrated Hamburger Bolognese – ¥1,190 (Tax Included) @ HAMBURG WORKS

Enjoy the full flavour of the hamburger meat made from Japanese black wagyu beef and served with pasta.

Be sure to use this list as reference if you're looking to eat while travelling through Tokyo Station!

Information

Tokyo Station Rice Bowl vs. Noodles Grand Prix 2019

Running: October 7, 2019 – November 24, 2019

Locations: Kitchen Street, Kurobei Yokocho, Kitamachi Dining, Grand Roof, Grand Roof Front, GranAge, GRANSTA, GRANSTA Marunouchi, KITTE, ecute Tokyo, ecute Keiyo Street

Participating Restaurants: 91

Menu Items: 92 (79 of which are exclusive to Tokyo Station)

Tokyo's Instagram-Worthy Christmas Cakes Are a Must-Grab This Holiday Season

With Halloween now out of the way, it's time to plunge ourselves into that Christmas spirit! We've compiled a list of some of the most delicious-looking and Instagrammable Christmas cakes available to buy in Tokyo this year that make for the perfect Christmas party accompaniments.

Noel Tokyo Station Hotel @ Tokyo Station

Noel – ¥6,200 (Tax Included) @ Tokyo Station Hotel

This chestnut cake is inspired by the pine pillars that supported the Tokyo Station Marunouchi station building until it was restored. It has a chestnut and sweet potato base and is layered with chestnut mousse and coffee mousse to recreate the rings of a tree which are used to tell a tree's age.

*10 served per day

*Reservation Window: November 5 – December 17, 2019

*Delivery Window: December 22-25, 2019

*Online reservations available. Exclusive to GRANSTA.

More Details: https://www.moshimoshi-nippon.jp/267999

pon pon×Chris.P @ Tokyo Solamachi

Crispy Cakes (Happy Wreath/Santa/Reindeer) – ¥508 Each @ pon pon×Chris.P (East Yard Floor 2F) [Available From November 15]

These tiny crispy cakes are another great little bite to eat. The cute Santa version is cookie and milk flavoured and has marshmallows as the fluff of his hat.

More Details: https://www.moshimoshi-nippon.jp/269015

Café Cova Milano @ GINZA SIX

Panettone Babbo Natale – ¥7,407 @ Café Cova Milano

Cova's panettone is made with a secret recipe that has been handed down since the beginning of the 19th century.

More Details: https://www.moshimoshi-nippon.jp/265169

Tokyo Disney Resort

Christmas Cake: ¥1,480 / Available at: Tokyo DisneySea (Horizon Bay Restaurant), Tokyo Disneyland (Queen of Hearts Banquet Hall)

There's lots going on at Tokyo Disney Resort this year, at both Tokyo Disneyland and Tokyo DisneySea. Don't miss out on this cute Mickey and Minnie Mouse Christmas cake!

More Details: https://www.moshimoshi-nippon.jp/266495

Which is your favourite from the list? Christmas cakes are a must-have on Christmas Day, so make sure you pick one up before the big day!

Witness the Breathtaking Illuminations and Tokyo City Night Lights at Shinagawa Season Terrace Illumination 2019

Shinagawa Season Terrace Illumination 2019 is set to run from December 1 to 25.

The event will take place at Shinagawa Season Terrace, a towering office building in Tokyo, where the rolling grass lawn will be lit up beautifully with enchanting blue lights. They offer a breathtaking view against the city nightscape of Tokyo's skyscrapers. Last year's event saw nearly 17,000 people in attendance.

2019 marks the 4th run of the event, and this year, the long staircase leading up to the lawn will also be lit up, welcoming visitors to see the illuminations from their first step upon arrival. The lights will flicker in 10 different patterns from the first floor (ground floor) up to the second.

Entry is free, and visitors will be able enjoy an unbroken view of the structural spectacle that is Tokyo Tower too. If you're in Tokyo this December, be sure to mark Shinagawa Season Terrace Illumination 2019 in your calendar for the holiday season.

*Pictured photos are for illustrative purposes only

Information

Shinagawa Season Terrace Illumination 2019

Running: December 1, 2019 – December 25, 2019

Time: 17:00-22:00

Location: Shinagawa Season Terrace (1-2-70 Konan, Minato Ward, Tokyo)

Access: 6 minutes on foot from Shinagawa Station's Konan Exit (JR Line side)

Entry: Free

Event Website: https://sst-am.com/

*The event will take place if there is light rainfall but will be suspended in the case of stormy weather

Adorable Mini Penguin and Polar Bear Confections to Arrive in Family Mart

Tabemas is a Japanese confectionery series of small, traditional sweets designed to look like characters. For the first time, Tabemas is collaborating with the popular fictional character series Sumikko Gurashi to release Shirokuma and Penguin? sweets. The new confections will be sold in the chilled desserts corner of Family Mart convenience stores across Japan from November 12, 2019.

The lovable characters who have been transformed into delicious sweets are Shirokuma: the shy polar bear who tends to get cold easily; and Penguin?, who has no confidence in their identity as a penguin. 

The series name "Tabemas" means "edible mascot" and as the name suggests, these are traditional nerikiri confections which are made from bean paste and soft mochi, creating an adorable plump appearance.  Shirokuma's body is white with pink ears whereas Penguin? has a pea-green body with a white stomach and yellow feet and beak. Both confections are kneaded with the characters' charm and stand joining their tiny hands, staring at you with their adorable round eyes. 

Both confections are filled with the mild flavour of red bean paste. To match the colour schemes of the characters, the white Shirokuma is milk-flavoured and the pale green Penguin? is apple-flavoured. The flavours of these confections are just as irresisitble as their appearance. You're bound to be taking lots of photos of them for your next social media post in no time!

As these confections are in limited supply, make sure to buy them as soon as possible if you are interested.

(C)2019 San-X Co., Ltd. All Rights Reserved.

Information

Tabemas Confectionery Series: Sumikko Gurashi

Confections: Shirokuma (Milk), Penguin? (Apple)

Recommended Retail Price: ¥369 each (Before Tax)

Release Date: November 12, 2019

Available at: The chilled desserts section of Family Mart convenience stores across Japan.

* These are in limited supply and sales will end once all stock has been depleted.

*The days on which the Tabemas Confectionery series is sold may vary from store to store.

* Some Family Marts may not sell the Tabemas series.

More Information on the Tabemas Sumikko Gurashi Series (Japanese Only):https://www.bandai.co.jp/candy/products/2019/4549660424444000.html

Masaki Aiba & Jun Matsumoto Take Over Shibuya Station Billboards in New Promo Ads

Meiji plastered up some new billboard advertisements for their Meiji Oishii Gyunyu milk and Meiji Milk Chocolate products at Shibuya Station on Monday.

Actors and singers Masaki Aiba and Jun Matsumoto were chosen to be part of the ad promos for the products respectively.

The advertisements will also feature back-to-back in the Saturday November 9 issue of Japanese newspaper Yomiuri Shimbun where they have both written columns about what they like about their chosen products.

The pictures in this photoshoot were also released as downloadable wallpapers on Tuesday. Links below!

These Hello Kitty Kintsuba Japanese Confections are the Perfect Souvenir From Japan

Confectionery company Nakataya has teamed up with Sanrio to release the Hello Kitty Kintsuba.

Kintsuba is a type of traditional Japanese confection of sweet beans wrapped in wheat-flour dough. Nakataya is famous for their kintsuba, which are made with large-grained beans and red bean paste. They have maintained the flavour and quality of these confections, each of which is made with the utmost precision, and all individually.

This year marks the 85th anniversary since Nakataya opened. The long-standing store hopes to bring in more foreign and younger customers by collaborating with Hello Kitty.

They have crafted several flavours. Pictured above is the apple pie flavour, Hello Kitty's favourite. It's made with fuji apples from Aomori Prefecture which is known for its incredible apples. It's mixed with white bean paste and is lightly flavoured with cinnamon.

The mixed berry flavour is a fruity sweet and sour mix of strawberries, raspberries and blueberries which have been mashed together with white bean paste.

The confection comes in two kinds of packaging: one designed by Nakataya's founder Nakata (中田憲龍), and a Hello Kitty version where she is dressed as a dragonーa symbol of the shop. This is a completely original Hello Kitty design made specially for the collaboration.

The outer packaging is made with a wrapping cloth to both pass down an aspect of traditional Japanese culture while also catering to the eco-friendly lifestyle of the modern age. It's made from amuzen fabric and can be reused. The inner packaging is a simple paper tray so can be recycled. And if you take the wrapping cloth back to the store, they can refill it with the three Hello Kitty kintsuba confections at a discounted price.

Information

Hello Kitty Kintsuba

Released: November 1, 2019

Contains: One box of 6 (x3 mixed berry/x3 apple pie)

Price: Hello Kitty Kintsuba – ¥2,500 (Before Tax) *Comes with wrapping cloth

Hello Kitty Kintsuba Refill – ¥1,800 (Before Tax)

*The refill is only available to those with a wrapping cloth

Available: At participating Nakataya branches and the online shop

Official Website: www.kintuba.co.jp

5 Christmas Desserts to Buy at Tokyo Station | Christmas 2019

Shops in and around Tokyo Station are starting to roll out their Christmas products this month. We've select our Top 5 must-buy Christmas cakes and desserts if you're travelling in Tokyo or passing through Tokyo Station this year.

Christmas Koisuru☆Kumagoron – ¥980 (Tax Included) @ Siretoco Donuts (ecute Keiyo Street)

The perfect, most adorable doughnut treats to pick up this Christmas to share with friends and familyーor to enjoy yourself!

*Exclusive to the ecute Keiyo Street branch. Online orders available.

Suica Penguin Waffle Cake – ¥540 (Tax Included) @ RL waffle cake (GRANSTA)

Inspired by the adorable Suica penguinーthe mascot for Suica travel cardsーthis mini cake is a fluffy waffle rolled into whipped cream and yellow peach and is coated in chocolate.

*Only 100 to be sold. Sales begin from November 5 and is are first-come, first served. Reservation-only. Online reservations available.

*Delivery Window: December 20-25, 2019.

*Exclusive to GRANSTA.

©︎Chiharu Sakazaki/East Japan Railway Company/DENTSU by East Japan Railway Company

Suica is a registered trademark of East Japan Railway Company

Christmas Box (4 Included) – ¥1,940 (Tax Included) @ Fairycake Fair

Cute cupcakes decorated for Christmas. Also available in boxes of 6 and 9.

*Reservation Window: November 5 – December 20, 2019

*Delivery Window: November 30 – December 25, 2019

*Available for direct purchase in-store between November 30 – December 25, 2019

*Online reservations available. Exclusive to GRANSTA.

Chestnut Yule Log – ¥3,780 (Tax Included) @ le billet (ecute TOKYO)

This Christmas yule log is a mix of chestnuts and hazelnuts and contains a rich tiramisu-style chestnut cream.

*Online reservations available.

Noel – ¥6,200 (Tax Included) @ Tokyo Station Hotel

This chestnut cake is inspired by the pine pillars that supported the Tokyo Station Marunouchi station building until it was restored. It has a chestnut and sweet potato base and is layered with chestnut mousse and coffee mousse to recreate the rings of a tree which are used to tell a tree's age.

*10 served per day

*Reservation Window: November 5 – December 17, 2019

*Delivery Window: December 22-25, 2019

*Online reservations available. Exclusive to GRANSTA.

Eat all of the cute treats you can this Christmas and holiday season.