Introducing Four Delicious Strawberry Desserts This Summer in Hokkaido
Hokkaido is a popular tourist destination for Japanese people as well as foreigners. During the winter, it is the perfect place to go skiing and during the summer, you will not suffer under sweltering heat like the rest of Japan. Hokkaido not only flourishes with wonderful tourist locations and delicious gourmet seafood, but also beautiful and stylish cafés.
Instagrammer Kei @607keih) uses his account to introduce the world to delicious desserts and meals. Today, he will be introducing you to the delicious strawberry-flavoured desserts that Hokkaido's capital Sapporo has to offer.
holidays pancake/ Susukino
Strawberry Pancake with Raspberry Sauce: ¥1200
holidays pancake is only open on Sundays. It is located inside a beer bar called es CRAFT. I ordered the strawberry pancake with raspberry sauce. The plate was stacked with three pancakes which were deliciously covered in fresh cream, whipped cream, vanilla ice cream, strawberries and raspberry sauce. The pancakes were soft and spongy. The flavour of the ricotta cheese really came through. Overall, this pancake is a very unique pancake to Hokkaido.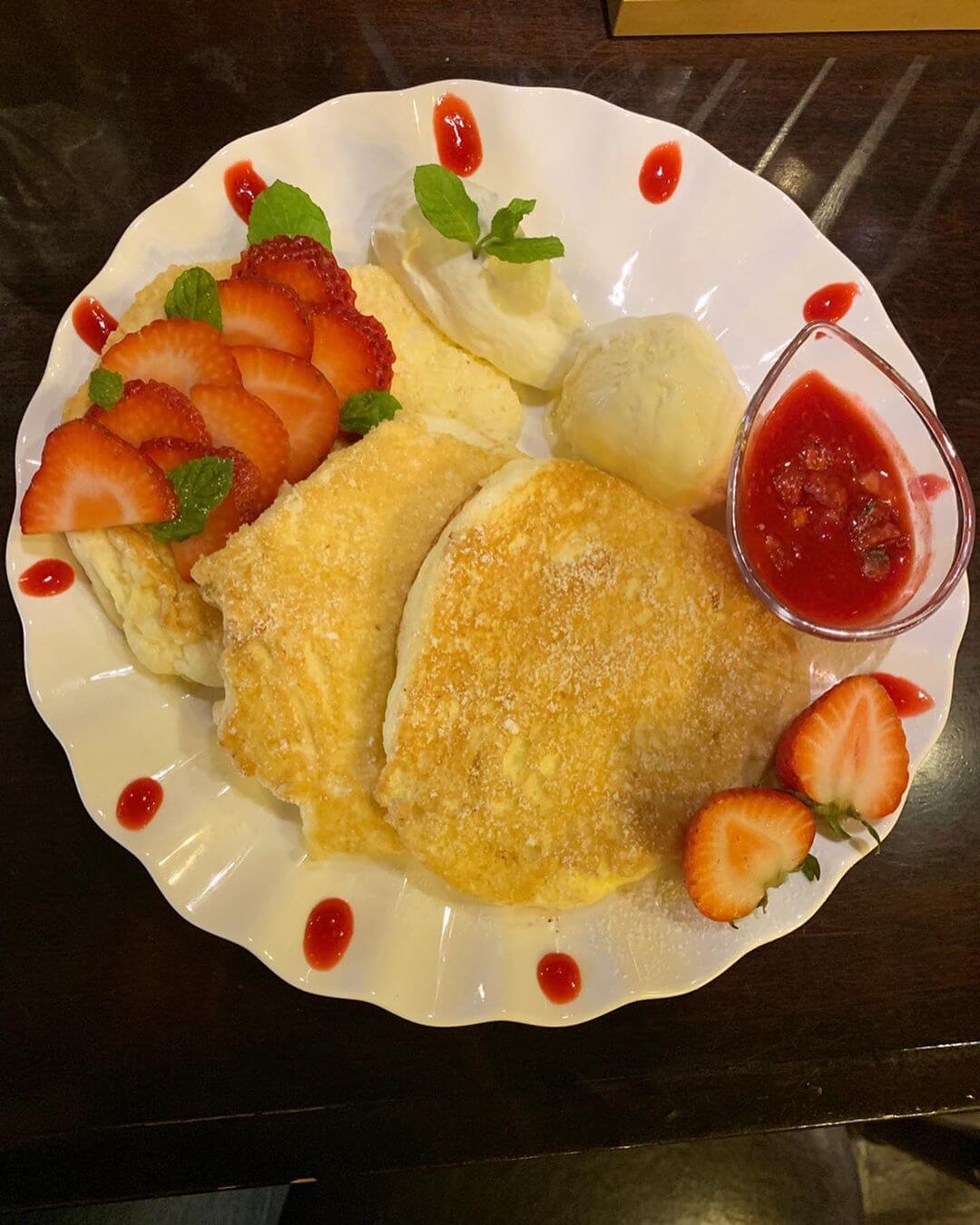 The sweetness of the raspberry sauce and sourness of the lemon juice balanced out for a slightly sour tinge. The fresh cream and vanilla ice cream toppings can be obtained for free by simply following the café on Instagram. The variety of toppings add a whole new range of flavours and colours for you to mix and match, so there is no getting bored. You can reserve your spot simply by sending them a direct message on Instagram, or by referring to their story! These pancakes are a rare find in Hokkaido, so you must try them.
▼holidays pancake
Address: 1st floor N-place Building, 3-2-1, 4 Jonishi, Chuo Ward, Sapporo
Access: 3-minute walk from Susuki Station/Hosui-Susukino Station  
Opening Hours: 11:00 ー 16:00(Last orders: 5:30)
Closed: Mondays ー Saturdays
Official Instagram: https://www.instagram.com/kyujitsulab/
BerryBerryCrazy/ Susukino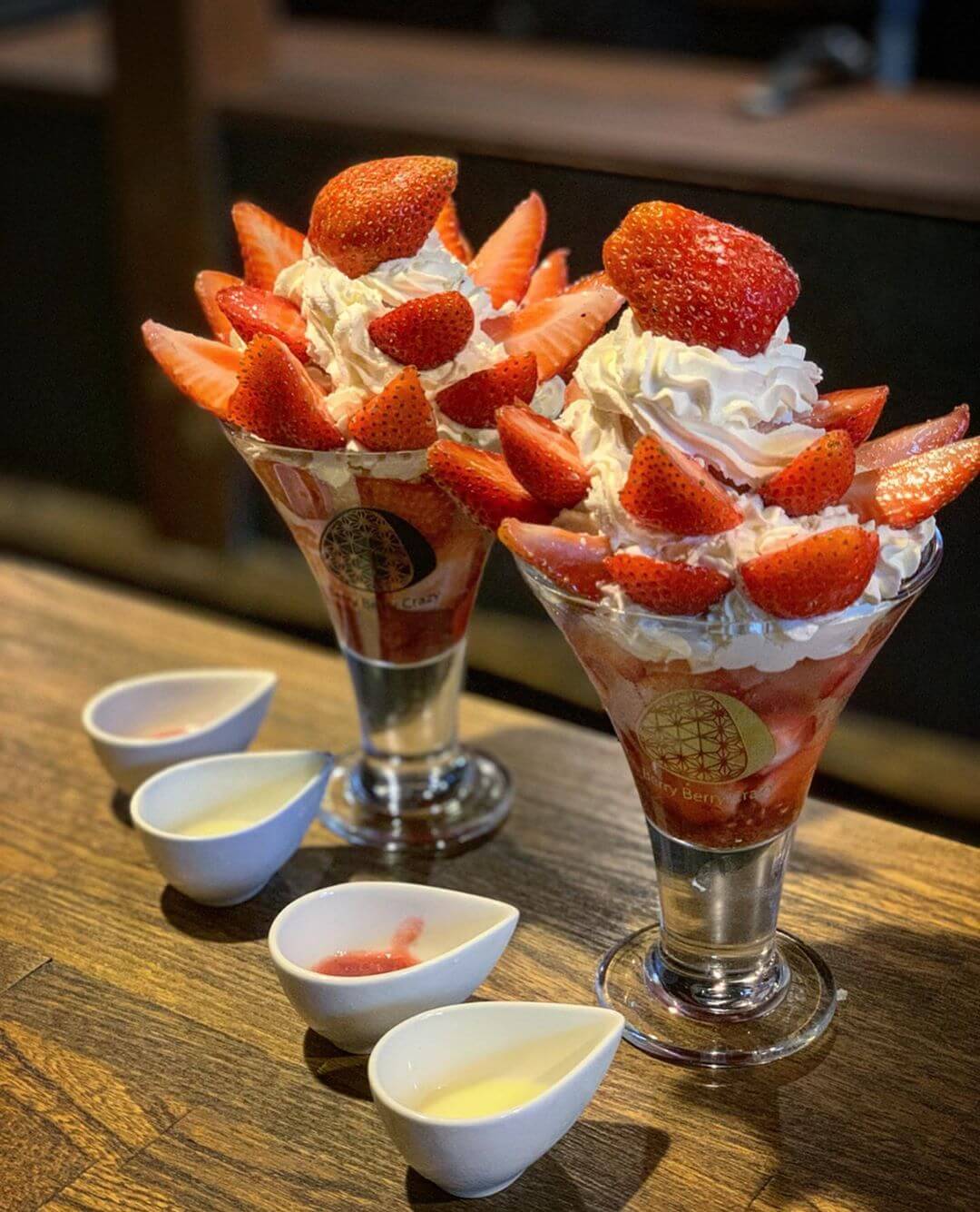 Berry Berry Crazy is located on the 2nd floor of the building between 5-chome and 6 chome of Tanuki-Koji. The desserts here are made using strawberries sourced from Urakawa Sugano Orchard in Hokkaido. The species of strawberry used in the desserts is completely dependent on what is received upon the delivery of the ingredients that are received on the day. The parfait I ordered was made using a species of strawberry called Kaorino.
The parfait contained fresh strawberries and strawberry compote, whipped cream, strawberry granita, pie crust, chiffon cake, and milk ice cream. You can tell that this parfait is full of strawberry goodness just by looking at it. Not only are the strawberries delicious, but the strawberry granita and strawberry compote were also to die for. This combined with the delicious whipped cream enhances the rich flavour even more. 
▼Berry Berry Crazy
Address: 2nd floor, 5-20-2, Minami 3 Jonishi, Chuo Ward, Sapporo
Access: Approx. 5-minute walk from Odori Subway Station/Susuki Station
Opening Hours: 18:00 ー 24:00 (Last orders: 23:30)
Official Instagram: https://www.instagram.com/berryberrycrazy/
Café Blue/ Chuo Ward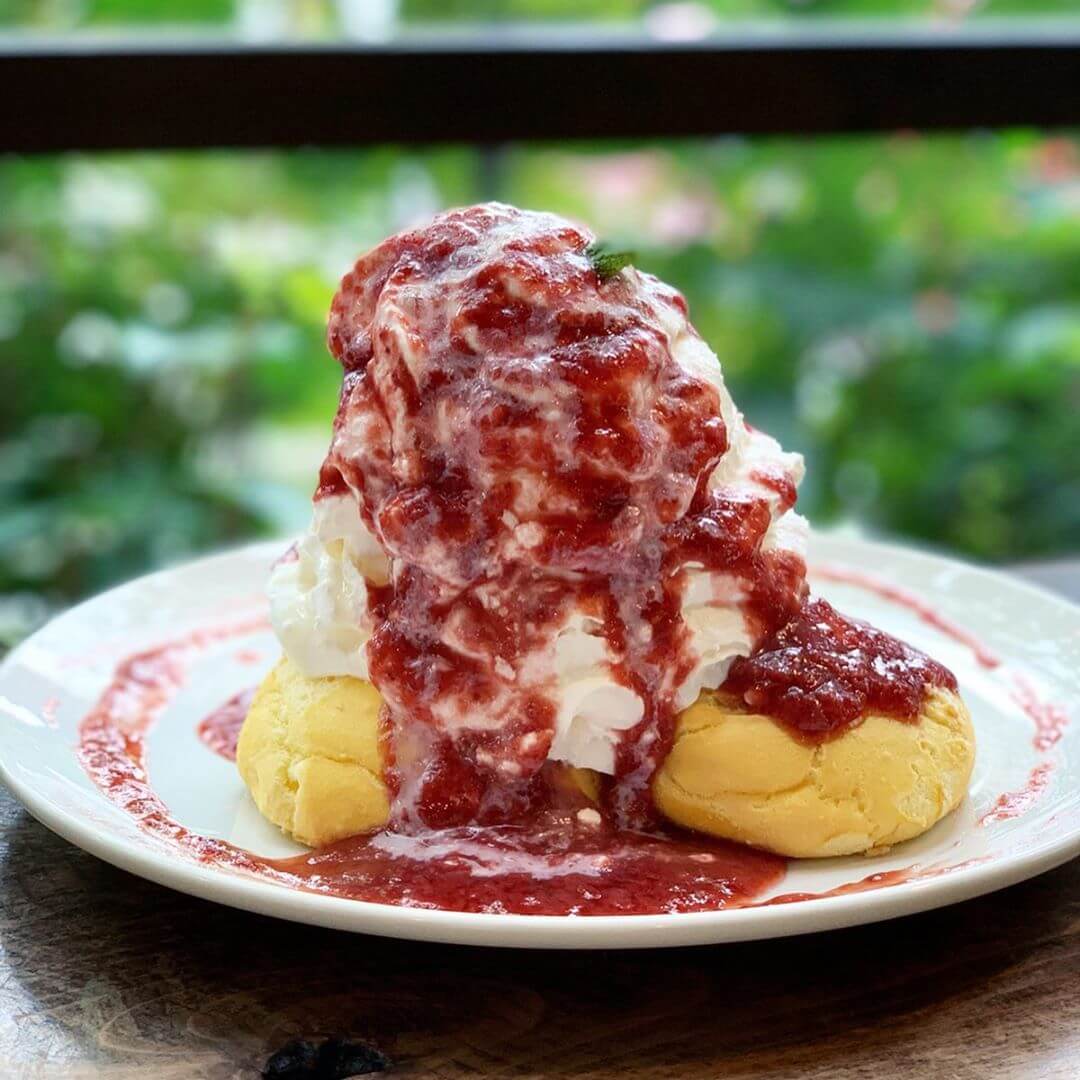 Condensed Milk Strawberry Pancake: ¥1380 ※ Can change pancakes to waffles
A mountain of whipped cream sits on the pancakes served at this popular café. The condensed milk strawberry pancake intrigued me for quite while so I decided to order it. 
The plate is stacked with three pancakes, fresh cream and condensed milk. This is then drizzled with strawberry sauce and topped with vanilla ice cream. The pancakes were fluffy and the cream balanced the overall flavour, making it moderately sweet. The sweetness of the condensed milk and the sourness of the strawberry sauce were so delicious that there was no way I could get bored. 
▼ Café Blue
Address: 16-9-12, Minami 3 Jonishi, Chuo Ward, Sapporo
Access: 5-minute walk from Ropeway iriguchi Station
Opening Hours: 9:00 ー 19:00, (last orders: 18:00) 
Breakfast: 9:00 ー 11:00, lunch/dinner: 10:00 ー 19:00, desserts: 10:00 ー 19:00,
Open all year round.
Official Website: https://cafeblue.exblog.jp/
SHIRAYUKI/Tanuki-Koji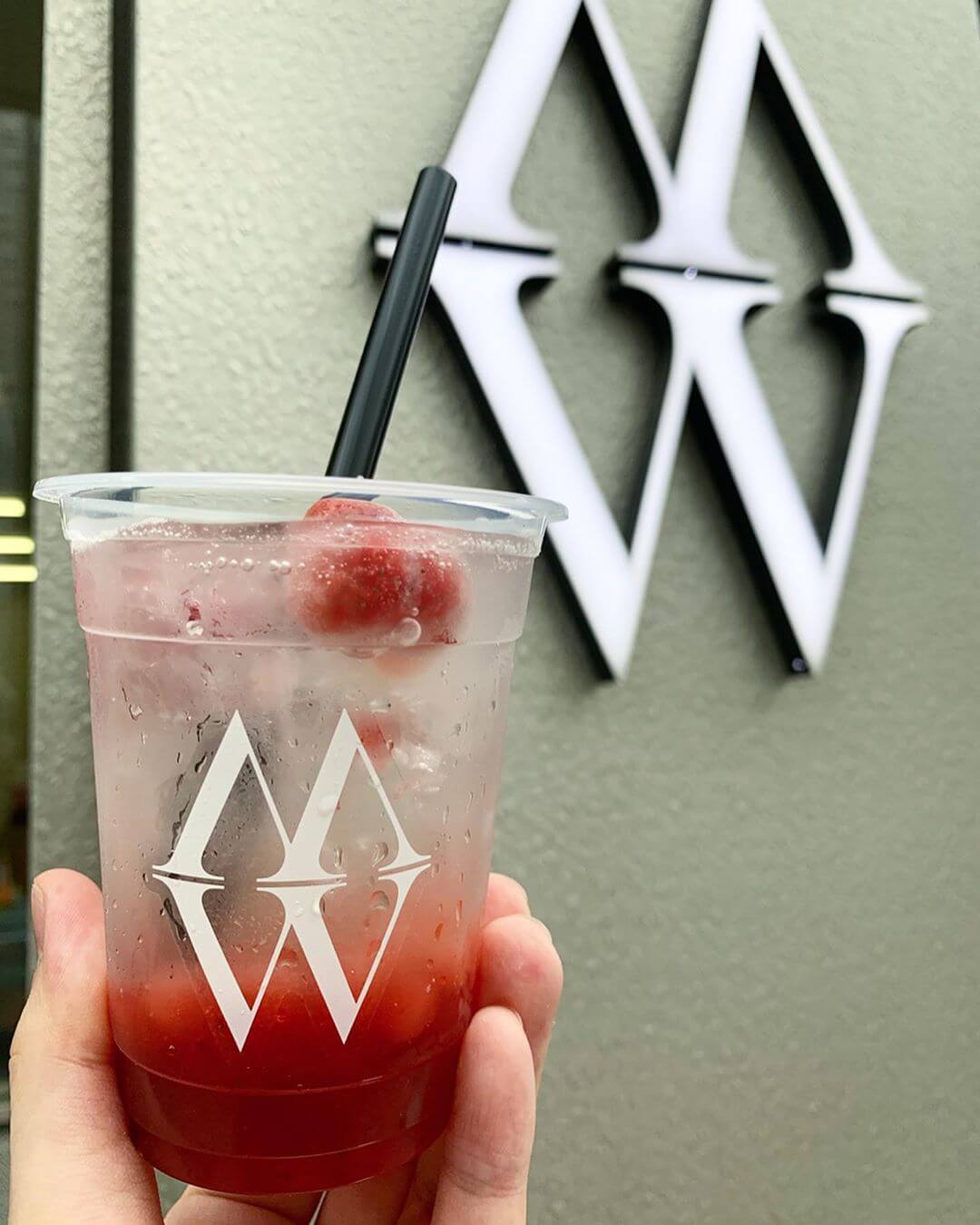 Fruit Squash: ¥500 each
Shirayuki is located in Tanuki-Koji. The fruit squash here comes in four flavours and each contains popping boba. Today I ordered the Strawberry Squash. Strawberry sauce is drizzled into a cup of carbonated water. Popping boba is then added. The drink is topped with strawberries. 
The bubbles of the carbonated water makes it the perfect way to cool down in the summer. This drink is only available until August 15, so if you want to try it, get there soon.
▼SHIRAYUKI
Address: Shirayuki Sapporo Aiseikan Building, 5 Chome, Minami 1-jo nishi 5, Chuo Ward, Sapporo
Access: Approx. 5-min walk from Odori Subway Station
Opening Hours: 12:30 ー 19:00
No regular holidays
Official Instagram: https://www.facebook.com/shirayuki.hokkaido
So how about it? Kei's Instagram account is full of desserts and meals that you absolutely must try. If you are going to visit Hokkaido, make sure to check out Kei's Instagram so you know exactly which restaurant or café you want to visit!
Original article information and photographer: Kei (@607keih)
RECOMMENDED ENTRIES
6 Must-Visit Cafes in Hokkaido For Their Kawaii Pancakes

Hokkaido is the northernmost of Japan's islands and a popular tourist location with both locals and overseas visitors, enjoyed for its winter sports like skiing, hot springs and more. It is also enjoyed for its cool climate, being the coldest region in Japan. It's home to many tourist spots and seafood restaurants, but today we're covering its countless cute cafes.

Kei, a Japanese Instagrammer, posts his visits to the many cafes of Sapporo―the capital of Hokkaido―on his Instagram page(

607keih). Today he will introduce us to 6 must-visit cafes in Hokkaido with the cutest pancakes.

Fafi Tamago no Pancake g-plus (Susukino, Sapporo)

This popular little cafe in the district of Susukino showcases its assortment of pancakes in a glass display. The cafe now sells affordable pancake and purin sets. I ordered the "Fruits and Milky & Chocolate Purin" set (¥980).


The fluffy pancake is made with Fafi's famous eggs which have a rich flavour and big yolks. The milky cream is sweet and silky smooth. Inside the pancake is delicious pineapple and strawberries which add a deliciously fruity accent.

Their pancakes are noticeably smaller at g-plus but since it comes with a purin in the set you're sure to be nice and full after. The set is perfect to share too.

▼Fafi Tamago no Pancake g-plus (Japanese: ファフィたまごのパンケーキ g-plus)

Address: 9-1019 Minami 5 Jonishi, Chuo Ward, Sapporo, Hokkaido

Business Hours: 11:30-19:00 (Last Orders 18:00)

Closed: Thursdays & Fridays

Official Website: https://g-plus.owst.jp/

Café ZIKKA (Kiyota, Sapporo)

Café ZIKKA serves a variety of pastries and desserts. Their elusive strawberry pancakes are a limited-time-only offer. These fat and fluffy pancakes have a distinctly different taste to other places. Heaping with strawberries, the fruit and pancakes marry in the most sumptuous of flavours when eaten with the yogurt ice cream centre. The strawberries also come in a variety of forms including whole, compote and sauce, making for a variety of succulent textures.


The fresh cream isn't overly-sweet making for a lighter pancake. It's also topped with crushed almond for added texture. The size of the pancakes aren't huge but since it's served with two and many toppings you'll absolutely be satisfied afterwards.

▼Café ZIKKA

Address: 11-12 Hiraokakoenhigashi, Kiyota Ward, Sapporo, Hokkaido

Business Hours: 11:00-20:00 (10:00-19:00 in January and February)

Closed: Wednesdays (Open on national holidays)

Official Website: http://yoshidacoffee.com/index.html

Kaze o Kanjite (Motomachi, Sapporo)

This cafe is just a 5-minute walk from Motomachi Station via the Tōhō Line. Simply exit from Exit 1 of the station, make a right and you'll arrive right there.

This cafe's aim is to bring it lots of students to eat their pancakes which are both cheap and delicious. I ordered the berry sauce pancakes.


The cafe's homemade strawberry jam contains pieces of fresh strawberry which alone already make the pancakes tantalising enough. They are served with a side of fresh fruits like extra strawberries as well as orange slices. The pancakes served here are so good that I personally count them as the best in Sapporo. That, and the prices are amazing for the huge portions you get. I want more people to get to know about this place, and not just students.

▼Kaze o Kanjite (Japanese: 風をかんじて)

Address: Kita House 1F, 17-2-3 Kita 24 Johigashi, Higashi Ward, Sapporo, Hokkaido

Business Hours: 10:00-18:00 (Last Orders 17:00)

Closed: Mondays & Tuesdays

Website: https://tabelog.com/hokkaido/A0101/A010202/1058705/

ROJIURA CAFÉ (Susukino, Sapporo)

ROJIURA CAFÉ is another cafe located in Susukino round on the backstreet of Round One. They serve pancakes and parfaits right into the early hours of the morning.

Their caramel sauce has salt in it to add a mouthwatering salty flavour that draws out the sweetness of the fresh cream. The nuts only add to this delectable delight of a pancake.

Fine and fluffy pancakes fit for the gods. Whether it's a dessert like pancakes or parfaits or even meals, ROJIURA CAFÉ's doors are open to  you from the evening until the deepest hours of the night.

▼ROJIURA CAFÉ

Address: TAKARA6.3, 3 Chome Minami 6 Jonishi, Chuo Ward, Sapporo, Hokkaido

Business Hours:

[Mon-Thurs] 18:00-03:00 (Last Orders 02:00)

[Fri-Sat] 18:00-04:00 (Last Orders 03:00)

[Sun & Holidays] 18:00-01:00 (Last Orders 00:00)

No Fixed Holidays

Official Website: http://sapporo-rojiuracafe.com/

OJ Coffee (Kotoni, Sapporo)

You'll find OJ Coffee just a few minutes' walk from Kotoni Station in Nishi Ward, Sapporo. This cafe serves exquisite coffees and boasts an abundant menu consisting of soba noodles, curries, steaks and more. They also serve pancakes so I decided to give them a go.

Fluffy, moist and glorious. The pancake is topped with custard and served with a side of fresh cream, both of which aren't overly sweet and go perfectly with the sweet beaten eggs of the pancakes. Decorated the outside of the plate is an assortment of fruits, maple syrup and other tempting treats for a variety of flavours. The coffee flavoured soft serve ice cream is a great palate cleanser too. The ice cream doesn't have the bitterness that comes with coffee but it's very coffee flavoured. It's close to Kotoni Station so if you're strolling around Nishi Ward looking for a cafe I highly recommend visiting here.

▼OJ Coffee

Address: D Planning Bldg. 1F, Kotoni 2 Jo, Nishi Ward, Sapporo

Business Hours: 7:30~22:00 (Last Orders 21:30)

No Fixed Holidays

Official Website: https://www.oj-coffee.com/

 

Café Blue (Ishiyama-dori, Sapporo)

Café Blue, built up from a renovated old house, is currently selling a new lemon and yogurt pancake for a limited time.

Their pancakes never fail to be anything less than fluffy. The generously drizzled yogurt sauce is fairly refreshing and sweet while still retaining that yummy yogurt flavour. The lemon curd sauce, too, is refreshing and combines well with the pancakes as lemon always does. The lemon also has honey in it making for a satisfyingly sweet and sour combination.


The ice cream on top is salt flavoured which bring out all the sweet flavours of the dessert. The crunchy almonds are nice and nutty and bring a great texture to the soft and sticky combinations. When I eat pancakes this is the  kind of thing I'm looking for!

The sauce was refreshing and the pancake overall was delicious and very easy to get down. The yogurt sauce really is amazing!

▼Café Blue

Address: 16-9-12 Minami 19 Jonishi, Chuo Ward, Sapporo, Hokkaido

Business Hours: 9:00-19:00 (Last Orders 18:00)

No Fixed Holidays

Website: https://tabelog.com/hokkaido/A0101/A010104/1036972/

Did you enjoy Kei's picks? Be sure to check out their Instagram page for more recommended desserts and foods to try in Sapporo. There's a wealth of choices on there that will make for great reference when travelling to Hokkaido.

Photo & Text: Kei (@607keih)

Translation: Joshua Kitosi-Isanga

2016-2018 rankings for top lodgings in Hokkaido! Best picks for foreigners included!

TrustYou is a campaign aimed at encouraging tourism in Hokkaido. They have released accommodation rankings 2016-2018 to reveal which are the most highly rated hotels, resorts and lodgings based on word of mouth, and which places cater most for international guests. TrustYou's stats also include the best picks for foreigners!

1st place (general) : Noboribetsu Onsen Kyo Takinoya

In 1st place is Noboribetsu Onsen Kyo Takinoya. It has a history of 102 years in the business and was founded in the 6th year of the Taisho era of Japan. Due to a large scale renovation that took place in 2008, the 61 room hotel was converted into 30 room hotel which stayed true to its traditional Japanese style whilst holding a slightly modern touch. They have many large hot springs so it is often called the  "Onsen Depart" (because it is full of variety ー like an onsen department store). Here there are four varieties of natural baths from sulphur baths to radium baths. As well as indoor baths, there are also baths on the rooftop which are surrounded by a forest view and gardens.

Website: http://www.takinoya.co.jp/

2nd place (general): Pension Jokura

In 2nd place comes Pension Jokura. The building was once the main office of a northern wealthy merchant from the Edo period called Takadaya Kahei. The old wood from the warehouse was used to build a six-room boarding house.

"44 years ago, I stayed in a boarding house in Central America to pursue my career. I was there for a few weeks which then led to my dream of owning and managing my own boarding house. After many years, I have finally made my dream come true!" said owner Sato-san, who manages the property with their partner. The best part about this place is the at-home atmosphere that you can only get in such a small boarding house like this. From word of mouth of the guests, it is clear that the owners are "very kind and friendly" and "their hospitality is absolutely wonderful". They can even speak English. This level of hospitality has made them extremely loved by their guests.

Website: https://hakodate-kankou.com/stay/2099/

In 5th and 10th place come Shikotsu Lake tsuruga resort spa Mizunouta and Extract of Niseko Konbuonsen Tsuruga villa heather. These lodgings are run by the Tsuruga group, which manages 13 hot spring lodgings in Hokkaido.

 Shikotsu Lake Tsuruga resort spa Mizunouta

Shikotsu Lake Tsuruga resort spa Mizunouta is a resort hotel which holds the concept of physical beauty and healing. From plentiful rest, food, walks, aesthetics and fitness to hot spring baths, this hotel covers all areas of health and well-being. The resort is located in Shikotsu-Tōya National Park and it is here that you can enjoy the beauty of Lake Shikotsu. There are a variety of exercise machines in the gym and approximately 20 types of pillows in the pillow gallery for guests. You can also pay a visit to the aqua bar which serves a variety of mineral waters sourced from within and outside of Japan. This truly is a unique hotel that provides more than enough for its guests.

Website: https://www.mizunouta.com/

After looking at the highly rated lodgings based on the language support they offer, you can see a clear distinction in the hotel locations and the other features that they offer. 3 of the top 5 English lodgings are located in Abuta District, Niseko. Each of these is suitable for long stay trips so it is clear that these places are popular amongst western tourists who stay for longer periods of time.

 

For Chinese speakers, there are two resorts that are managed by a Chinese company. The Hoshino Resorts Tomamu The Tower and Hoshino Resorts RISONARE Tomamu ranked highly for foreign language support. These large-scale resorts are useful for making large group bookings which adds to its high popularity.

TrustYou will help you find accommodation in Hokkaido so that you can be completely satisfied with your trip! For more information on the rankings, please check out the individual official lodging websites.

Information

TrustYou word of mouth platform

5 Delicious Places to Eat Hokkaido Style Breakfast Around Sapporo Station

Sapporo has no shortage of delicious food, and when it comes to breakfast, you're in for a treat.

Here are 5 places we recommend eating at in the morning offering a Hokkaido/Sapporo breakfast experience you won't get anywhere else.

Cafe de Nord

Cafe de Nord is located on floor B1F of the Hokkaido Building which is directly connected to exit 6 in the underground walkway of Sapporo Station. It is also known for managing coffee roasting cafe Infinity Coffee. Going to CAFE de NORD means you can enjoy a luxurious time drinking coffee from one of their special cups while listening to some jazz. Their delicious breakfast menu includes toast with jam, cheese toast and more all of which can be enjoyed together with your favourite choice of coffee.

Saera

This coffee and sandwich shop is located on floor B3F below the underground shopping centre of Odori Station on the Toho Line side. The great thing about this place is their long menu and the ability to create your own sandwich to your liking. Popular menu items include the Red King Crab Sandwich, Fruit Sandwich and Fried Shrimp Sandwich. Whatever you order you can rest assured your sandwich will be filled to the brim.

Peche Grand

Peche Grand is a 5-minute walk from Sapporo Station on the first floor of Akarenga Terrace facing the Hokkaido Government Office. It's inspired by cafes in Paris and was opened by Peche Mignon, a French sweet shop in Hakodate. Their breakfast menu at first was served as is, but now you can get all the French toast you like. With that you'll also get eggs, salads, drinks, and if you're they're known to sometimes bring cake too. When the weather's nice you can enjoy eating in the open terrace like a real Parisienne.

Arinko

Arinko is located in Satsueki Eat next to the east ticket gates at Sapporo Station on the JR side. They first opened in 1980 and make hand-made onigiri rice balls. If you're going there for the first time we recommend trying their most popular choice which is cheese katsuo (cheese bonito) together with pork miso soup, a delicious combination of vegetables grown in Hokkaido and pork. It's sure to fill you up. They also allow takeout so you can stuff your cheeks while strolling around the local sites like Hokkaido University and Odori Park. The onigiri are also made right in front of you which is exciting to watch.

Northern Kitchen All Day Dining

This place is a 13-minute walk from Sapporo Station and is designed under the concept of 'top quality Hokkaido breakfast.' They serve a buffet style breakfast with each and every item prepared to the utmost perfection. You'll be spoilt for choice at the huge selection. The inside of this eatery is also spacious and welcomes a refreshing morning meaning you can spend a calm and relaxed early start to your day.

Sapporo is the gourmet city of Hokkaido, so if you're Japan trip is taking you around the north, be sure you get a great breakfast to start your day.
RELATED ENTRIES
Pokémon Cafe and Pikachu Sweets by Pokémon Cafe Reveal New Desserts Including Polteageist Tea Set

Pokémon Cafe and Pikachu Sweets by Pokémon Cafe are releasing a new teatime menu at their respective branches on October 24, 2020.

Pokémon Cafe

Polteageist & Sinistea Tea Party! Fruit Tea Set ~Apple Flavoured~ | ¥1,188 (Tax Included)


Polteageist & Sinistea Tea Party! Fruit Tea Set ~Strawberry Flavoured~ | ¥1,188 (Tax Included)

Pokémon Cafe is serving up two different fruit tea sets based on the Ghost-type Pokémon Polteageist and Sinistea. Customers are free to pour in their desired amount of fruit syrup which changes the colour of the tea. The sets come with a cute cookie too.

Pikachu Sweets by Pokémon Cafe

Left: Polteageist's Tea Party! Fruit Tea ~Mixed Berry Flavour~ / Right: Polteageist's Tea Party! Fruit Tea ~Peach Orange Flavour~ | ¥700 Each (Before Tax)

Pikachu Sweets by Pokémon Cafe is also going to serve up some Polteageist themed fruit teas as well as a selection of desserts like macarons and financier almond cakes which have Pokémon tail and ear designs.

After ordering one of the Polteageist fruit teas, customers can place their cups under the Polteageist tea pot as pictured above and activate the pot to dispense their drink, so it's like Polteageist  really pouring tea for you.

Left: Swirlix Strawberry Macaron | Middle: Pikachu Vanilla Macaron | Right: Galarian Ponyta Pistachio Macaron – ¥500 Each (Before Tax)

Treat yourself to one of the super cute Swirlix, Pikachu, or Ponyta macarons each with designs that tell you instantly which Pokémon they're inspired by.


Polteageist Fruit Tea and & Pikachu Macaron Set

Customers can order a tea and macaron combination set too.

Pikachu Parfaits

Pikachu Glass Parfait Set | ¥1,500 (Before Tax)

An adorable set of Pikachu parfaits, one being caramel banana flavoured and the other chocolate.

Pikachu Tea Party Assortment – Pika Pika Pikavee Set | ¥2,800 (Before Tax)

Another set to share between friends and family, this time with two Pikachu glass desserts as well as Pikachu and Eevee cupcakes.

Pikachu Tea Party Assortment – Ghost Type Set | ¥2,800 (Before Tax)

This set comes with the Pikachu glass desserts as well as Ghost-type Gengar and Litwick mousse cakes.

The Polteageist teapot and Sinistea teacup used at the Pokémon Cafe and Pikachu Sweets by Pokémon Cafe will also be released at Pokémon Center Online in Japan on December 5, 2020.

© 2020 Pokémon.©1995-2020 Nintendo/Creatures Inc./GAME FREAK inc.
Pokémon, ポケットモンスター, and ポケモン are registered trademarks of Nintendo, Creatures Inc., and GAME FREAK inc..

Information

Pokémon Cafe (Nihombashi, Tokyo)
Address: Nihombashi Takashimaya SC East Bldg. 5F, 2-1-2 Nihombashi, Chuo Ward, Tokyo
Business Hours: 10:30-22:00
No Fixed Holidays (Except when Nihombashi Takashimaya SC is closed)
Reservations: https://www.pokemoncenter-online.com/cafe/reservation.html

Pokémon Cafe (Shinsaibashi, Osaka)
Address: Daimaru Shinsaibashi Honkan 9F, 1-7-1 Shinsaibashisuji, Chuo Ward, Osaka, Osaka Prefecture
Business Hours: 10:00-21:30
No Fixed Holidays (Except when Daimaru Shinsaibashi is closed)
Reservations: https://www.pokemoncenter-online.com/cafe/reservation.html

Pikachu Sweets by Pokémon Café 

Address: Sunshine City Alpa Floor 2F, 3-1-2 Higashiikebukuro, Toshima City, Tokyo

Opening Hours: 10:00-20:00
Official Website: https://www.pokemoncenter-online.com/cafe/pikachu_sweets/

*Opening hours subject to change, please check in advance before travelling.

*Food served and duration subject to change without notice.

*Photos are for illustrative purposes only.

*Seat reservations are taken online only – phone reservations not available.

Shibuya's L'OCCITANE CAFE Reveals Spooky Parfait For Halloween 2020

L'OCCITANE CAFE Shibuya is getting ready for Halloween with the reveal of its sweet potato and apple parfait which will be served from October 21 to 31. The Tokyo-based cafe is centred on the food culture and lifestyle of Provence in southern France.

Sweet Potato and Apple Parfait | ¥1,280 (Tax Included)

The seasonal treat is a mix of purple sweet potato and regular sweet potato, baked apples, apple sherbet, and vanilla ice, all topped off with whipped cream, roasted nuts, and almond tuile biscuits in the shape of ghosts and a pumpkin.

Information

Sweet Potato and Apple Parfait
Serving: October 21, 2020 – October 31, 2020

L'OCCITANE CAFE Shibuya
Address: 2-3-1 Dogenzaka, Shibuya, Tokyo
Opening Hours:
[Sun-Thur] 11:00~22:00 (Last Orders 21:00)
[Fri-Sat] 11:00-23:00 (Last Orders 22:00)
TEL:03-5428-1563
Access: Straight ahead of Shibuya Station's 5th Exit (Inokashira Exit)
L'OCCITANE Japan Official Website: https://jp.loccitane.com/

Rilakkuma Book Cafe Themed Afternoon Teas in Osaka Will Serve Bear-Huggingly Kawaii Food

Major bookstores across Japan are rolling out the Rilakkuma Book Fair where fans can get their hands on short Rilakkuma fairy tails, exclusive merchandise, and more.


In line with the event, Fruits Parlor & Bakery Season & Co., a cafe in Umeda, Osaka, is serving up a special menu with the theme "Rilakkuma Book Cafe" from October 30 to November 30. This includes a afternoon teas which also celebrates the cafe's 1st anniversary, more exclusive merchandise, and novelties for customers who order from the Rilakkuma menu.

Rilakkuma Zukin Afternoon Tea | ¥4,000 (Before Tax) *Reservation-only

A special afternoon tea featuring 13 different goodies from desserts to a sandwich, quiche, and more. It comes with a fruit iced tea welcome drink too.

Rilakkuma Yuki Hime Afternoon Tea | ¥4,000 (Before Tax) *Reservation-only

A different afternoon tea that serves up 12 items. This also comes with a fruit iced tea.

Rilakkuma's Honey Apple Smoothie | ¥800 (Before Tax)

A honey apple smoothie topped with refreshing vanilla ice cream, smooth fresh cream, and a Rilakkuma jelly candy.

Rilakkuma's Royal Chocolate Milk Tea | ¥1,200 (Before Tax)

Classic royal milk tea served with chocolate Rilakkumas. Eat on their own or dip into your tea!

The cafe is now taking reservations for the afternoon teas. Bookings must be made two days in advance by telephone or the official website.

Information

Rilakkuma Book Cafe
Running: October 30, 2020 – November 30, 2020
Reservations: https://season-co.shop/rilakkuma2020/

Fruits Parlor & Bakery Season & Co.
Address: LINKS UMEDA 1F, 1-1 Ofukacho, Kita-ku, Osaka
Opening Hours: 9:30-22:00 (Last Orders 21:30)
TEL: 06-6743-4212
Official Website: https://season-co.shop

Pastel Coloured Halloween Served Up at Grand Nikko Tokyo Bay Maihama's Happy Halloween Sweets Buffet

Grand Nikko Tokyo Bay Maihama is a new hotel which opened on July 1 this year. Easily spotted by its pink exterior, the hotel offers Grand Nikko's brand concept of guests releasing all of their sense to enjoy a relaxing and sophisticated time while providing a refreshing resort-like experience.

This Halloween, the hotel's all-dining restaurant Le Jardin will serve up its "Happy Halloween Sweets Buffet" from October 10 to 16.

There will be 20 different desserts to pick from all in pastel colours, offering a different kind of Halloween vibe. Desserts are decorated with cute Halloween motifs like Jack-o'-lanterns, ghosts, and pumpkins. The chefs will also be certain desserts in front of guests like pumpkin mont blanc, praline mille-fuille, and pavlova.

There will also be a savoury menu too like roast beef in onion sauce, seafood acqua pazza, bread, salad, soups, and more, as well as soft drinks and non-alcoholic cocktails.

The restaurant will be restricting the number of people allowed in the dining area at once to protect diners during the pandemic.

Information

Happy Halloween Sweets Buffet
Location: Le Jardin – Grand Nikko Tokyo Bay Maihama Floor 3F
Running: October 10, 2020 – October 16, 2020

Time: 12:00-14:30 (Last Orders 14:00)

Prices: General ¥4,500 / 9-12 years old ¥2,780 / 4-8 years old ¥1,580 / 3 years old and below – Free
Enquiries/Bookings: 047-711-2427 (10:00-18:00)

Official Website: https://bit.ly/325uwjt

Grand Nikko Tokyo Bay Maihama
Address: 1-7 Maihama, Urayasu, Chiba

Official Website: https://tokyobay.grandnikko.com

Tangled Inspired Disney Princess Cake Revealed by Ginza Cozy Corner

Ginza Cozy Corner has revealed its new Disney princess cake based on the 2010 animated film Tangled which will be available to order at all branches in Japan from October 1, 2020.

Tangled Dress Cake | ¥3,500 (Before Tax)

The cake is centred on the golden-lock beauty Rapunzel, with her dress as the foundation for the cake. The cake is made with cream chess, strawberry jam, and blueberries, while Rapunzel's iconic hair is lemon flavoured.

Decorate the cake yourself

The cake comes with the parts for you to decorate yourself. This adds a whole new level of fun to parties!

Exclusive Rapunzel design box

This cake was actually sold earlier this year during the Hinamatsuri festival in Japan, with all 1,000 cakes being sold out. It is now returning on October 1 and is made-to-order only.

Information

<ラプンツェル>ドレスケーキ

店頭受付

予約受付:10月1日(木)より *4日前までの予約限定
引き渡し:10月5日(月)より

Online Orders

Order Here: Ginza Cozy Corner

Order Window: From October 1, 2020
Delivery Window: From October 6, 2020

Official Website: https://www.cozycorner.co.jp/

Luxurious Matcha Loaded Parfait Served Up at MICASADECO&CAFE KYOTO

MICASADECO&CAFE KYOTO had to shorten its menu due to the effects of COVID-19. Their legendary parfait too was taken off the list, but now has finally returned, and even more delicious looking than ever.

MICASADECO&CAFE KYOTO has tried to make the parfait as breathtaking as possible, and they've certainly captured that. It's vivid like the furisode long-sleeved kimono worn by the maiko of Kyoto, beautiful and dignified.

Uji Matcha Pudding & Raspberry Parfait | ¥1,250 (Tax Included)

This towering parfait is made up of many layers, one of which is a homemade Japanese-style pudding made with high quality matcha from Uji, Kyoto. It has a subtly sweet and deep flavour, and is taken to the next level with the matcha sauce it's served with.

The homemade raspberry jam brings a delightful sweetness too as well as adds that eye-catching aspect they're going for. As you spoon your way through, your taste buds are treated to an amalgamation of indulging flavours.

The lid that's sat on top of the parfait is actually a tuile biscuit. The best way to go about beginning your feast is to break the biscuit and then pour the matcha sauce inside.

Hidden within the parfait are also pieces of homemade matcha brownies made with lots of top grade matcha.

These parfaits will be served from September 14 but are limited in stock, so if you're in Kyoto this month, make sure you don't miss out.

Kawaii Fruit Desserts Now Being Sold at Shibuya Scramble Square in Tokyo

Tokyu Food Show Edge and +Q Beauty inside Tokyo's Shibuya Scramble Square mixed-use skyscraper are now serving a succulent selection of autumn fruit desserts, incorporating autumn flavours like chestnuts, apples, and Japan's famous Shine Muscat grapes.

Let's take a look, and try not to drool too much on your keyboard.

MORI YOSHIDA PARIS

Mont Blanc | ¥918 (Tax Included)

A mont blanc with cream draped around like a helix. Inside you will find Crème Chantilly and chestnuts, while the base is baked in parcel.

apple & roses

Caramel Apple Rose Cake/Raspberry Rose Cake | ¥2,160 (Tax Included)

These rich butter and almond rose cakes come in two flavours: caramel apple with apples specially selected from Nagano Prefecture, and raspberry, which add a sweet and sour kick.

Péché Mignon

Feuilletée (Box of Two) | ¥756 (Tax Included)

Feuilletée pies filled with a chestnut paste which add a delightful sweetness. The box contains two base flavours: chestnut and chestnut chocolate.

c7h8n4o2


Fresh Fruit Tablet Shine Muscat | ¥2,592 (Tax Included)

Whole specially selected Shine Muscat grapes wrapped in chocolate and shaped into a tablet bar. The chocolate is a rich 70% Piura Quemazon from Pacari Chocolate which blends deliciously with the grape juice.

Atelier Anniversary


Whole Chestnut Pound Cakes (Set of 4) | ¥1,404 (Tax Included)

The dough is combined with chestnut paste and each mini pound cake contains a whole chestnut.

ANNA'S by Landtmann


Red Apple | ¥693 (Tax Included) *Eat-in price

This apple cake is filled with apple mousse, chocolate mousse, and chocolate sponge. The entire thing is coated in a red apple glaze, giving it a cute appearance.

Grand Front Osaka Opens New Cafe PANCAKE&books bibliotheque

Grand Front Osaka opened its new cafe PANCAKE&books bibliotheque on September 11, 2020, serving a wide variety of fresh pancakes made with high quality ingredients.

Special Fruit Genmai Guilt-Free Pancakes | ¥1,500

These pancakes are made using gluten-free brown rice flour which creates a delicious fragrance and delightfully chewy texture to the pancakes. The pancakes are made even more chewier thanks to the incorporation of silken tofu, an ingredient which is also said to be good for dieting and the intestinal tract. The pancakes are topped with nuts and dried fruits, making them a very nutritional option.

Strawberry & Marshmallow Brûlée | ¥1,300

A hybrid pancake of two different desserts. It's loaded with fluffy caramelised custard sauce to create a brûlée-like appearance and texture and is topped with sliced strawberries and roasted marshmallows. The caramel sauce drizzled on top adds a sweet and slightly bitter edge, bringing everything together.

Whole Peach & Fromage Blanc Cream Pancake | ¥1,500

Served with a whole juicy peach, these pancakes are combined with refreshing fromage blanc. The peach adds an ambrosial sweetness that melts perfectly with the fluffy pancakes. Complete the pancakes with a drizzle of the accompanying mint anglaise sauce.

Kyoho Grape, Blackcurrant, & Mascarpone Cream Pancakes | ¥1,700

A special combination of seasonal fruits including Kyoho grapes and blackcurrants. The mascarpone cream adds sweetness and the blackcurrant sauce a sour kick. If you're wanting to taste autumn, then this one's for you.

Mont Blanc & Praline Cream Pancakes in Caramel Sauce | ¥1,400

These pancakes make you feel summer changing to autumn with its fat dollops of rum-infused chestnut cream and praline cream. The chestnut cream brings a rich sweetness to your taste buds and the caramel sauce an appetising bitterness.

Pancake Burger | ¥1,300

bibliotheque's incredible pancakes have also turned into hamburgers stuffed with a hand-rolled patty, melted cheddar cheese, sunny-side up egg, tomato, and lettuce.

Eggs Benedict Pancakes | ¥1,500

Pancakes towered with bacon, tomato, salad, and poached egg. The runny egg is a match made in heaven when combined with the homemade hollandaise sauce.

Salmon & Ricotta Cheese Pancakes | ¥1,500

Salad pancakes of smoked salmon, ricotta cheese, and poached egg. They are finished with rich Gruyère cheese.

Original Milkshake "Mixed Shake" | ¥700

A hybrid drink of authentic milkshake and Osaka's speciality "Mixed Juice" beverage, this shake contains sakura tamago egg from Awaji Island and premium grade milk from Hamanaka in Hokkaido. It's also made with vanilla cream and is topped with an apricot compote.

Information

PANCAKE&books bibliotheque
Grand Opening: September 11, 2020

Address: Grand Front Osaka Shops & Restaurants (South Bldg. 1F), 4-Ofukacho, Kita-ku, Osaka
TEL: 06-6359-1389
Opening Hours: 11:00-21:00

Official Website: http://www.bibliotheque.ne.jp/pancake/

Demon Slayer Exhibition to Open at Sapporo Factory in Hokkaido

Sapporo Factory is set to welcome an exhibition themed on the popular TV anime series Demon Slayer: Kimetsu no Yaiba from October 17 to November 8 this year.

Demon Slayer: Kimetsu no Yaiba is a manga series by Koyoharu Gotouge serialised in Weekly Shonen Jump. The popular series has over 80 million copies in circulation and spawned a hit anime series last year. The upcoming anime film Demon Slayer: Kimetsu no Yaiba the Movie: Mugen Train set for release on October 16, 2020 will serve as a direct sequel to the 2019 anime series and is being animated by ufotable.

The exhibition will look back over the anime series to date, as well as the upcoming film, which will be released the day before the exhibition starts. Fans can expect a variety of exhibits at the event, from video content to artwork, as well as exclusive merchandise.

Tickets go on sale in Japan on September 15 at 17:00 via Lawson. The first round of tickets will be allocated to random people who sign up.

Information

Demon Slayer: Kimetsu no Yaiba Exhibition (Japanese Title: TVアニメ「鬼滅の刃」全集中展)
Running: October 17, 2020 – November 8, 2020

Opening Hours: 10:00-19:30 (Last Entries 18:30)

*Open until 17:00 (Last Entries 16:30) on November 8
Location: Sapporo Factory Building 3 (Floor 3F

Exhibition Website: https://kimetsu.com/zenshuchuten/
STV Event Homepage: http://www.stv.jp/event/zenshuchuten/index.html

Spooky Halloween Dessert Buffet to be Served at Conrad Tokyo

Conrad Tokyo has unveiled its upcoming Halloween and autumn inspired sweet and savoury buffet which will be sold at its Cerise restaurant from September 5, 2020.

Cerise's Halloween dessert buffet is popular every year, delighting customers with its array of Halloween motif bites. The theme this year is "Witch's Castle," so the restaurant's chefs have cast some spooky culinary magic to create a tasty lineup of sweet and savoury food fitting for the occasion and to put customers in the Halloween mood. This year, the chefs will also be holding the buffet's first ever live station where they will prepare food in front of people too.

The dessert lineup includes velvet cupcakes inspired by a witch's pointy hat, a black cat-topped purple pistachio cream cheesecake, a pistachio cream-loaded pavlova covered in bats, a rose and strawberry mousse, a blackcurrant ganache made with a skeletal white chocolate mousse, and other fun witch treats. There's also a selection of general Halloween and autumn desserts too like chocolate tarts that look like coffins, pumpkin mont blanc, chocolate cream puffs with ghouls on them, raspberry jelly fromage blanc mousse, and more.

On the savoury side of things there's raisin-topped quiche made with butternut squash, smoked salmon tarts with basil and tomato, egg sandwiches with chopped truffles, and more.

The chefs have whipped up a true Halloween feast to enjoy this autumn.

Miffy Café Opening in Tokyo Solamachi to Celebrate Miffy's 65th Anniversary

In commemoration of Miffy's 65th anniversary, the themed Miffy Café will open on the first floor of Tokyo Solamachi from September 11, 2020 for a limited time. The café will also see a collaboration with Japanese illustrator Shogo Sekine

The cafe is being produced by LEGS COMPANY, LTD. and will feature a casual yet grown-up feminine design. The menu will serve a healthy lineup of Netherlands cuisine—in line with the heritage of Miffy's Dutch creator Dick Bruna—and customers can get their hands on a selection of original Miffy merch.

Food

Terrine-Style Open Miffy Sandwich: ¥1,499

A cute open sandwich made to look like Miffy and served with a side of potato salad and avocado dip sauce, both of which go well with the salmon.

Stammpot Salad Plate: ¥1,499 | With Plate ¥2,499 *From September 19

Inspired by the traditional Dutch dish of stammpot, this plate is topped with sausages, salad, and a gravy sauce to mix.

Balloon Pannenkoek Pancakes: ¥1,599

Pannenkoek pancakes are a staple of the Dutch cuisine. These Miffy versions are topped with balloon-shaped mini tomatoes, eggs, and blueberries.

Desserts

Miffy & Giant Tree Mousse Cake: ¥1,299

Miffy is made from sponge cake and mousse, while the giant tree is a tower of cotton candy, granola, and assorted fruits.

Carrot Dessert Plate: ¥1,299 | With Plate ¥2,299 *From September 19

Served on a café-original plate, this dessert features a cream puff made to look like a carrot. It's served with a dollop of vanilla ice cream and an assortment of fruits.

Miffy Colourful Oat Milk Bowl: ¥1,299

A colourful serving made using fibre-loaded and low-calorie oat milk and a bunch of different fruits.

Drinks

Miffy's Orange Float: ¥899

Made using orange and Grenadine syrup and topped with a Miffy lemon sherbet.

Takeout

Carrot Cream Puff: ¥899

The same cream puff made to look like a carrot is available as a separate takeout option.

Acrylic Key Rings (6 Designs): ¥650 Each / Acrylic Magnets (8 Designs): ¥600 Each (All Before Tax)

Plush Toys (Floral/Blue): ¥3,000 Each

The stylish original and exclusive merchandise was made in collaboration with popular Japanese illustrator Shogo Sekine.

Illustrations Dick Bruna © copyright Mercis bv, 1953-2020  www.miffy.com

Information

Miffy Café

Address: TOKYO BOX cafe&space, Tokyo Solamachi 1F, 1-1-2 Oshiage, Sumida-ku, Tokyo

Running: September 11, 2020 – October 18, 2020

Reservation Fee: ¥500

Official Website:  https://miffy-skn-65.cafe.jp/

4 Must-Try Kawaii Parfaits in Kyoto – MOSHI MOSHI NIPPON

Though autumn is not far off, the summertime heat of Japan has yet to let up, and so what better way to keep cool than treating oneself to a parfait? Here are 5 must-try parfaits that are popular in Kyoto, with photos and descriptions provided by Instagrammar Tiara who posts and reviews desserts around Japan's Kansai region.

CAFE YAMANEKO / Ryōan-ji, Kyoto

Orange Parfait

CAFE YAMANEKO is located along Kinukake-no-michi, a road that connects the Kinkaku-ji, Ryōan-ji, and Ninna-ji temples. Their Orange Parfait is made with a delicious jam that uses all of the orange right down to the peel, and is topped with a Japanese-style pudding, vanilla ice cream, and orange and caramel sauces.

▼CAFE YAMANEKO
Address: 39-6 Tōjiin Kitamachi, Kita-ku, Kyoto
Opening Hours: 11:00-17:30
Official Instagaram: https://www.instagram.com/kyoto_cafe_yamaneko/

CAFE attmos. / Shichijo

Ichijiku Parfait

CAFE attmos. serves super sweet desserts made with choice seasonal fruits. I ordered the 'Ichijiku Parfait' which is made with lots of figs harvested in Kyoto. It was really delicious.

▼CAFE attmos.
Address: ELLA490 1F, Shimoumacho, Higashiyama-ku, Kyoto
Opening Hours: 9:00-17:00
Instagram: https://www.instagram.com/cafe_attmos/

Chocolat BEL AMER Kyoto Villa / Sanjo Sakaimachi

Peach & Chocolate Parfait

This kawaii parfait has a whole mix of ingredients from peach to white chocolate ice cream, sweet white bean paste mousse, crunchy meringue, and more♡ The meringue really adds something different to the parfait.

▼BEL AMER Kyoto Villa
Address: 66 Sanjodori Sakaimachi Higashi Iru Kitagawa Masuyacho, Nakagyo-Ku, Kyoto
Opening Hours: 10:00-20:00

Official site:https://www.belamer-kyoto.jp/

La Klassique / Demachiyanagi

Cherry Glass Dessert

La KLASSIQUE is a cafe close to Shimogamo Shrine. Their "Cherry Glass Dessert" parfait is loaded with ingredients, including cherry sorbet, whipped cream, milk ice cream, fruity red wine sauce, cinnamon crumble, rosehip, blood orange, cherries, meringue, red bean paste, and more. The red wine sauce makes this one for the grown ups to enjoy.

▼La Klassique
Address: 13-9 Shimogamo Morimotocho, Sakyo-ku, Kyoto
Opening Hours: 10:00-18:00
Official Instagram: https://www.instagram.com/laklassique/

These parfaits are available until the end of August and are limited to 15 servings per day. Visit the cafe's official Instagram to find out about reservations.

For more recommendations on desserts to try around the Kansai region of Japan, follow Tiara over on Instagram.

Original Japanese Text & Photos: @happy_pinkrose_tiara

*The information about the items on this list are correct at the time of publishing. For the latest information, please visit each cafe's official websites and social media pages.