Introducing Four Delicious Strawberry Desserts This Summer in Hokkaido
Hokkaido is a popular tourist destination for Japanese people as well as foreigners. During the winter, it is the perfect place to go skiing and during the summer, you will not suffer under sweltering heat like the rest of Japan. Hokkaido not only flourishes with wonderful tourist locations and delicious gourmet seafood, but also beautiful and stylish cafés.
Instagrammer Kei @607keih) uses his account to introduce the world to delicious desserts and meals. Today, he will be introducing you to the delicious strawberry-flavoured desserts that Hokkaido's capital Sapporo has to offer.
holidays pancake/ Susukino
Strawberry Pancake with Raspberry Sauce: ¥1200
holidays pancake is only open on Sundays. It is located inside a beer bar called es CRAFT. I ordered the strawberry pancake with raspberry sauce. The plate was stacked with three pancakes which were deliciously covered in fresh cream, whipped cream, vanilla ice cream, strawberries and raspberry sauce. The pancakes were soft and spongy. The flavour of the ricotta cheese really came through. Overall, this pancake is a very unique pancake to Hokkaido.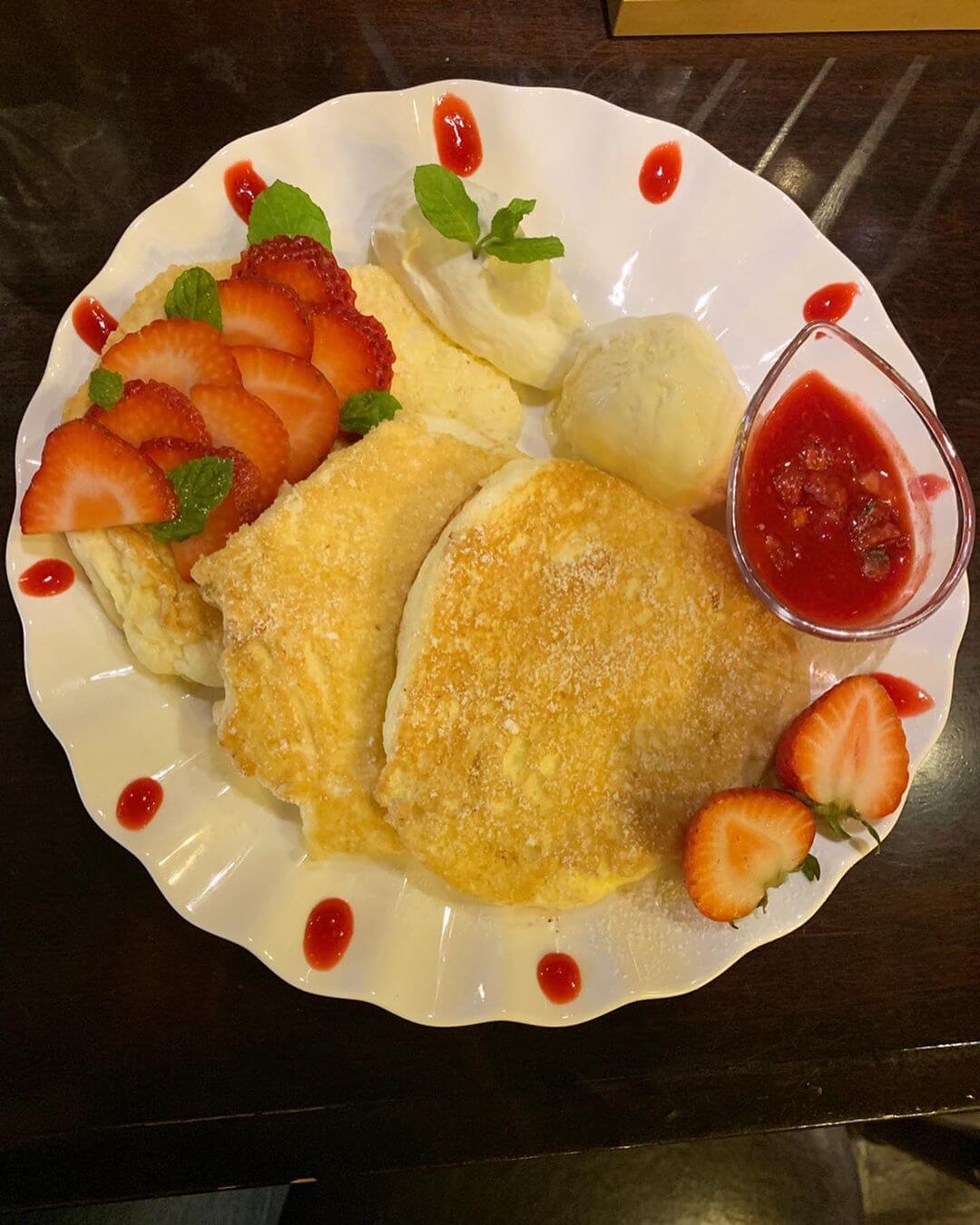 The sweetness of the raspberry sauce and sourness of the lemon juice balanced out for a slightly sour tinge. The fresh cream and vanilla ice cream toppings can be obtained for free by simply following the café on Instagram. The variety of toppings add a whole new range of flavours and colours for you to mix and match, so there is no getting bored. You can reserve your spot simply by sending them a direct message on Instagram, or by referring to their story! These pancakes are a rare find in Hokkaido, so you must try them.
▼holidays pancake
Address: 1st floor N-place Building, 3-2-1, 4 Jonishi, Chuo Ward, Sapporo
Access: 3-minute walk from Susuki Station/Hosui-Susukino Station  
Opening Hours: 11:00 ー 16:00(Last orders: 5:30)
Closed: Mondays ー Saturdays
Official Instagram: https://www.instagram.com/kyujitsulab/
BerryBerryCrazy/ Susukino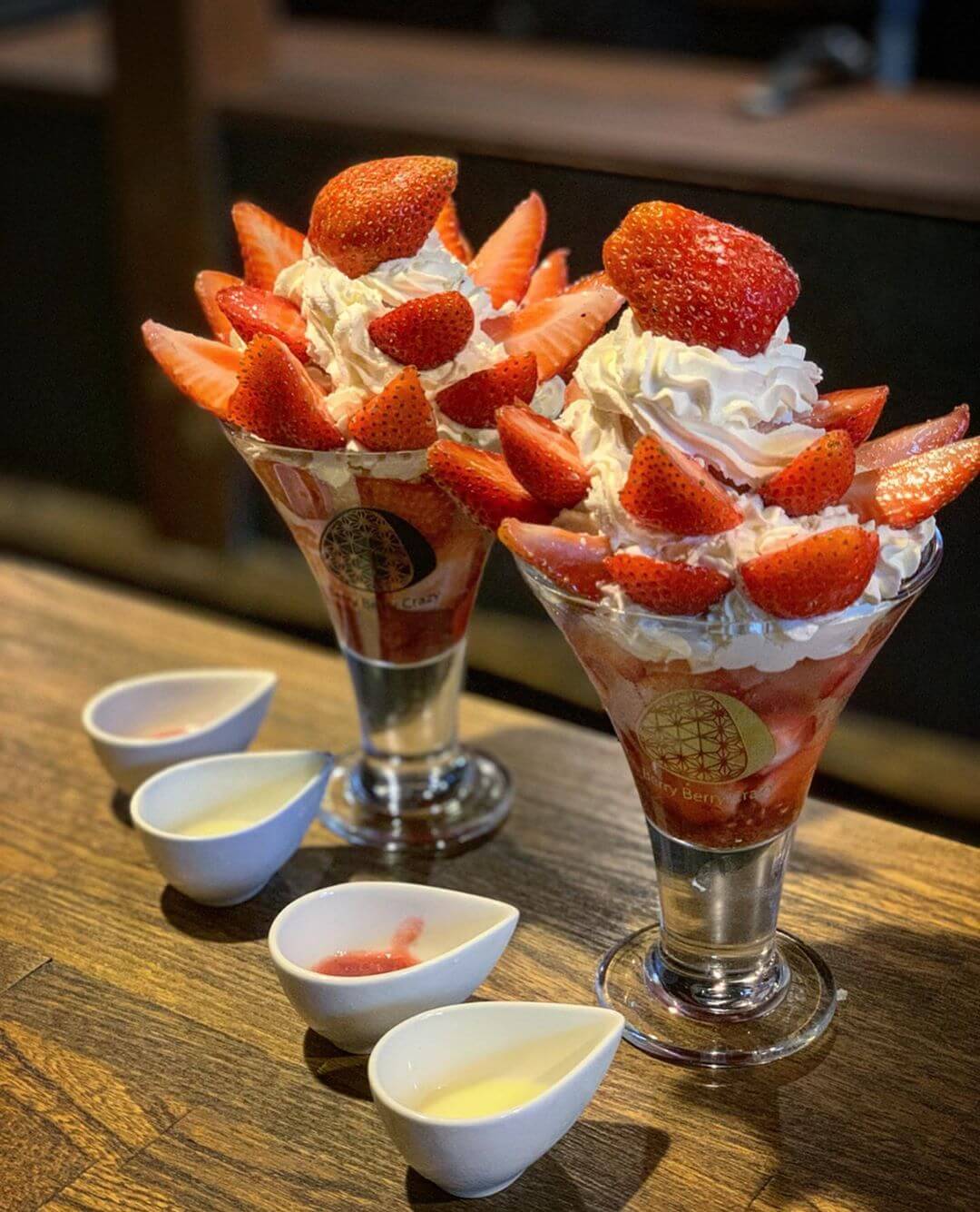 Berry Berry Crazy is located on the 2nd floor of the building between 5-chome and 6 chome of Tanuki-Koji. The desserts here are made using strawberries sourced from Urakawa Sugano Orchard in Hokkaido. The species of strawberry used in the desserts is completely dependent on what is received upon the delivery of the ingredients that are received on the day. The parfait I ordered was made using a species of strawberry called Kaorino.
The parfait contained fresh strawberries and strawberry compote, whipped cream, strawberry granita, pie crust, chiffon cake, and milk ice cream. You can tell that this parfait is full of strawberry goodness just by looking at it. Not only are the strawberries delicious, but the strawberry granita and strawberry compote were also to die for. This combined with the delicious whipped cream enhances the rich flavour even more. 
▼Berry Berry Crazy
Address: 2nd floor, 5-20-2, Minami 3 Jonishi, Chuo Ward, Sapporo
Access: Approx. 5-minute walk from Odori Subway Station/Susuki Station
Opening Hours: 18:00 ー 24:00 (Last orders: 23:30)
Official Instagram: https://www.instagram.com/berryberrycrazy/
Café Blue/ Chuo Ward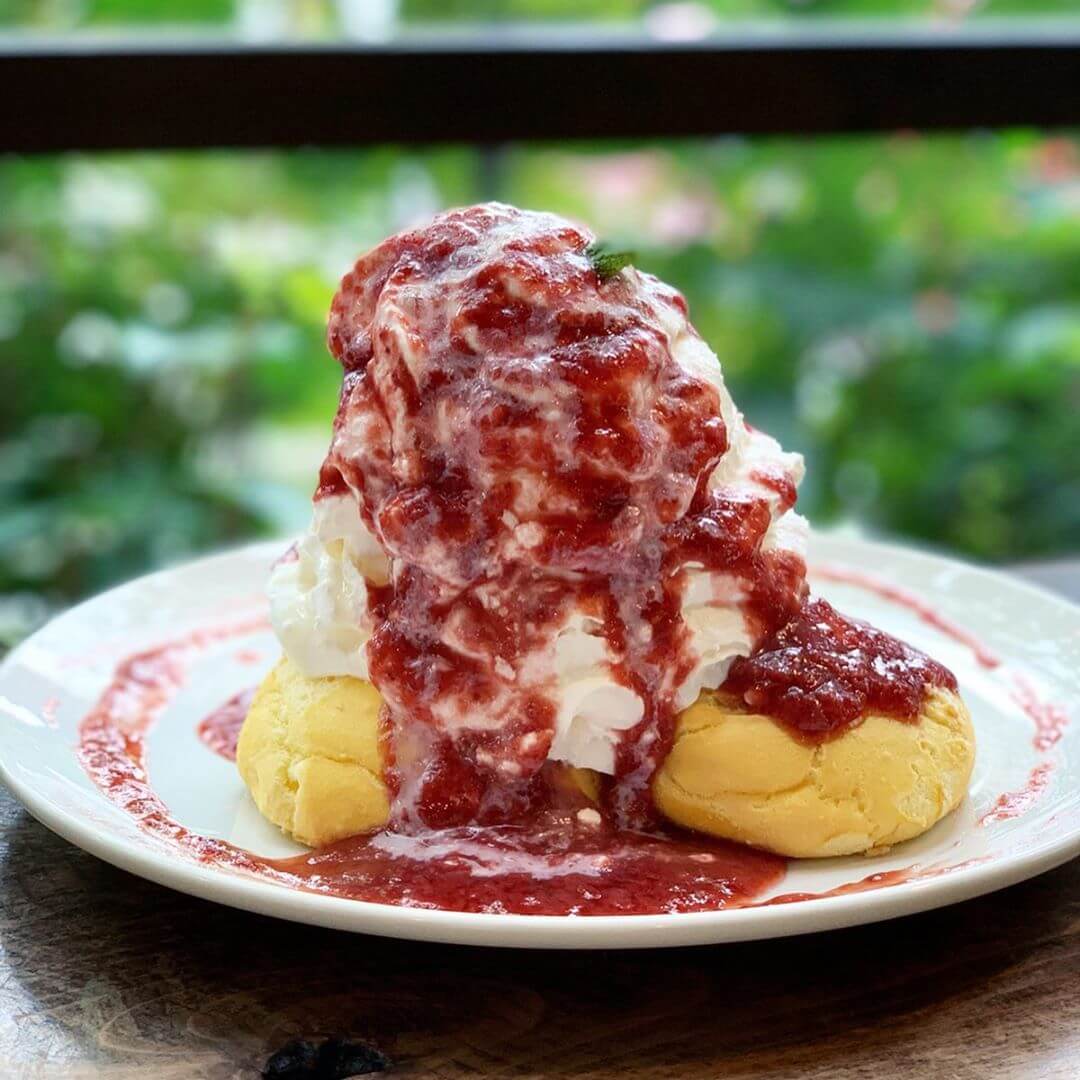 Condensed Milk Strawberry Pancake: ¥1380 ※ Can change pancakes to waffles
A mountain of whipped cream sits on the pancakes served at this popular café. The condensed milk strawberry pancake intrigued me for quite while so I decided to order it. 
The plate is stacked with three pancakes, fresh cream and condensed milk. This is then drizzled with strawberry sauce and topped with vanilla ice cream. The pancakes were fluffy and the cream balanced the overall flavour, making it moderately sweet. The sweetness of the condensed milk and the sourness of the strawberry sauce were so delicious that there was no way I could get bored. 
▼ Café Blue
Address: 16-9-12, Minami 3 Jonishi, Chuo Ward, Sapporo
Access: 5-minute walk from Ropeway iriguchi Station
Opening Hours: 9:00 ー 19:00, (last orders: 18:00) 
Breakfast: 9:00 ー 11:00, lunch/dinner: 10:00 ー 19:00, desserts: 10:00 ー 19:00,
Open all year round.
Official Website: https://cafeblue.exblog.jp/
SHIRAYUKI/Tanuki-Koji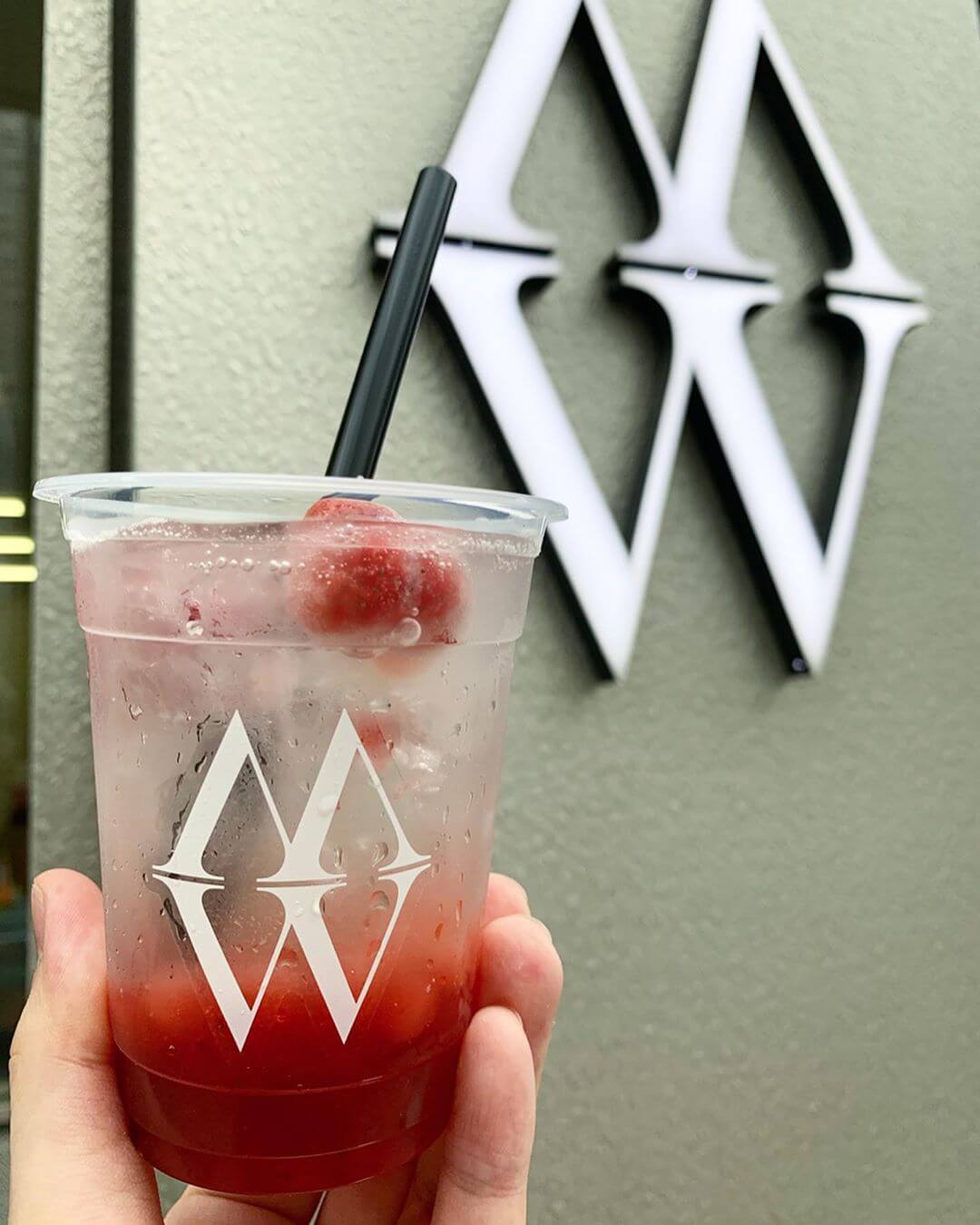 Fruit Squash: ¥500 each
Shirayuki is located in Tanuki-Koji. The fruit squash here comes in four flavours and each contains popping boba. Today I ordered the Strawberry Squash. Strawberry sauce is drizzled into a cup of carbonated water. Popping boba is then added. The drink is topped with strawberries. 
The bubbles of the carbonated water makes it the perfect way to cool down in the summer. This drink is only available until August 15, so if you want to try it, get there soon.
▼SHIRAYUKI
Address: Shirayuki Sapporo Aiseikan Building, 5 Chome, Minami 1-jo nishi 5, Chuo Ward, Sapporo
Access: Approx. 5-min walk from Odori Subway Station
Opening Hours: 12:30 ー 19:00
No regular holidays
Official Instagram: https://www.facebook.com/shirayuki.hokkaido
So how about it? Kei's Instagram account is full of desserts and meals that you absolutely must try. If you are going to visit Hokkaido, make sure to check out Kei's Instagram so you know exactly which restaurant or café you want to visit!
Original article information and photographer: Kei (@607keih)
RECOMMENDED ENTRIES
6 Must-Visit Cafes in Hokkaido For Their Kawaii Pancakes

Hokkaido is the northernmost of Japan's islands and a popular tourist location with both locals and overseas visitors, enjoyed for its winter sports like skiing, hot springs and more. It is also enjoyed for its cool climate, being the coldest region in Japan. It's home to many tourist spots and seafood restaurants, but today we're covering its countless cute cafes.

Kei, a Japanese Instagrammer, posts his visits to the many cafes of Sapporo―the capital of Hokkaido―on his Instagram page(

607keih). Today he will introduce us to 6 must-visit cafes in Hokkaido with the cutest pancakes.

Fafi Tamago no Pancake g-plus (Susukino, Sapporo)

This popular little cafe in the district of Susukino showcases its assortment of pancakes in a glass display. The cafe now sells affordable pancake and purin sets. I ordered the "Fruits and Milky & Chocolate Purin" set (¥980).


The fluffy pancake is made with Fafi's famous eggs which have a rich flavour and big yolks. The milky cream is sweet and silky smooth. Inside the pancake is delicious pineapple and strawberries which add a deliciously fruity accent.

Their pancakes are noticeably smaller at g-plus but since it comes with a purin in the set you're sure to be nice and full after. The set is perfect to share too.

▼Fafi Tamago no Pancake g-plus (Japanese: ファフィたまごのパンケーキ g-plus)

Address: 9-1019 Minami 5 Jonishi, Chuo Ward, Sapporo, Hokkaido

Business Hours: 11:30-19:00 (Last Orders 18:00)

Closed: Thursdays & Fridays

Official Website: https://g-plus.owst.jp/

Café ZIKKA (Kiyota, Sapporo)

Café ZIKKA serves a variety of pastries and desserts. Their elusive strawberry pancakes are a limited-time-only offer. These fat and fluffy pancakes have a distinctly different taste to other places. Heaping with strawberries, the fruit and pancakes marry in the most sumptuous of flavours when eaten with the yogurt ice cream centre. The strawberries also come in a variety of forms including whole, compote and sauce, making for a variety of succulent textures.


The fresh cream isn't overly-sweet making for a lighter pancake. It's also topped with crushed almond for added texture. The size of the pancakes aren't huge but since it's served with two and many toppings you'll absolutely be satisfied afterwards.

▼Café ZIKKA

Address: 11-12 Hiraokakoenhigashi, Kiyota Ward, Sapporo, Hokkaido

Business Hours: 11:00-20:00 (10:00-19:00 in January and February)

Closed: Wednesdays (Open on national holidays)

Official Website: http://yoshidacoffee.com/index.html

Kaze o Kanjite (Motomachi, Sapporo)

This cafe is just a 5-minute walk from Motomachi Station via the Tōhō Line. Simply exit from Exit 1 of the station, make a right and you'll arrive right there.

This cafe's aim is to bring it lots of students to eat their pancakes which are both cheap and delicious. I ordered the berry sauce pancakes.


The cafe's homemade strawberry jam contains pieces of fresh strawberry which alone already make the pancakes tantalising enough. They are served with a side of fresh fruits like extra strawberries as well as orange slices. The pancakes served here are so good that I personally count them as the best in Sapporo. That, and the prices are amazing for the huge portions you get. I want more people to get to know about this place, and not just students.

▼Kaze o Kanjite (Japanese: 風をかんじて)

Address: Kita House 1F, 17-2-3 Kita 24 Johigashi, Higashi Ward, Sapporo, Hokkaido

Business Hours: 10:00-18:00 (Last Orders 17:00)

Closed: Mondays & Tuesdays

Website: https://tabelog.com/hokkaido/A0101/A010202/1058705/

ROJIURA CAFÉ (Susukino, Sapporo)

ROJIURA CAFÉ is another cafe located in Susukino round on the backstreet of Round One. They serve pancakes and parfaits right into the early hours of the morning.

Their caramel sauce has salt in it to add a mouthwatering salty flavour that draws out the sweetness of the fresh cream. The nuts only add to this delectable delight of a pancake.

Fine and fluffy pancakes fit for the gods. Whether it's a dessert like pancakes or parfaits or even meals, ROJIURA CAFÉ's doors are open to  you from the evening until the deepest hours of the night.

▼ROJIURA CAFÉ

Address: TAKARA6.3, 3 Chome Minami 6 Jonishi, Chuo Ward, Sapporo, Hokkaido

Business Hours:

[Mon-Thurs] 18:00-03:00 (Last Orders 02:00)

[Fri-Sat] 18:00-04:00 (Last Orders 03:00)

[Sun & Holidays] 18:00-01:00 (Last Orders 00:00)

No Fixed Holidays

Official Website: http://sapporo-rojiuracafe.com/

OJ Coffee (Kotoni, Sapporo)

You'll find OJ Coffee just a few minutes' walk from Kotoni Station in Nishi Ward, Sapporo. This cafe serves exquisite coffees and boasts an abundant menu consisting of soba noodles, curries, steaks and more. They also serve pancakes so I decided to give them a go.

Fluffy, moist and glorious. The pancake is topped with custard and served with a side of fresh cream, both of which aren't overly sweet and go perfectly with the sweet beaten eggs of the pancakes. Decorated the outside of the plate is an assortment of fruits, maple syrup and other tempting treats for a variety of flavours. The coffee flavoured soft serve ice cream is a great palate cleanser too. The ice cream doesn't have the bitterness that comes with coffee but it's very coffee flavoured. It's close to Kotoni Station so if you're strolling around Nishi Ward looking for a cafe I highly recommend visiting here.

▼OJ Coffee

Address: D Planning Bldg. 1F, Kotoni 2 Jo, Nishi Ward, Sapporo

Business Hours: 7:30~22:00 (Last Orders 21:30)

No Fixed Holidays

Official Website: https://www.oj-coffee.com/

 

Café Blue (Ishiyama-dori, Sapporo)

Café Blue, built up from a renovated old house, is currently selling a new lemon and yogurt pancake for a limited time.

Their pancakes never fail to be anything less than fluffy. The generously drizzled yogurt sauce is fairly refreshing and sweet while still retaining that yummy yogurt flavour. The lemon curd sauce, too, is refreshing and combines well with the pancakes as lemon always does. The lemon also has honey in it making for a satisfyingly sweet and sour combination.


The ice cream on top is salt flavoured which bring out all the sweet flavours of the dessert. The crunchy almonds are nice and nutty and bring a great texture to the soft and sticky combinations. When I eat pancakes this is the  kind of thing I'm looking for!

The sauce was refreshing and the pancake overall was delicious and very easy to get down. The yogurt sauce really is amazing!

▼Café Blue

Address: 16-9-12 Minami 19 Jonishi, Chuo Ward, Sapporo, Hokkaido

Business Hours: 9:00-19:00 (Last Orders 18:00)

No Fixed Holidays

Website: https://tabelog.com/hokkaido/A0101/A010104/1036972/

Did you enjoy Kei's picks? Be sure to check out their Instagram page for more recommended desserts and foods to try in Sapporo. There's a wealth of choices on there that will make for great reference when travelling to Hokkaido.

Photo & Text: Kei (@607keih)

Translation: Joshua Kitosi-Isanga

2016-2018 rankings for top lodgings in Hokkaido! Best picks for foreigners included!

TrustYou is a campaign aimed at encouraging tourism in Hokkaido. They have released accommodation rankings 2016-2018 to reveal which are the most highly rated hotels, resorts and lodgings based on word of mouth, and which places cater most for international guests. TrustYou's stats also include the best picks for foreigners!

1st place (general) : Noboribetsu Onsen Kyo Takinoya

In 1st place is Noboribetsu Onsen Kyo Takinoya. It has a history of 102 years in the business and was founded in the 6th year of the Taisho era of Japan. Due to a large scale renovation that took place in 2008, the 61 room hotel was converted into 30 room hotel which stayed true to its traditional Japanese style whilst holding a slightly modern touch. They have many large hot springs so it is often called the  "Onsen Depart" (because it is full of variety ー like an onsen department store). Here there are four varieties of natural baths from sulphur baths to radium baths. As well as indoor baths, there are also baths on the rooftop which are surrounded by a forest view and gardens.

Website: http://www.takinoya.co.jp/

2nd place (general): Pension Jokura

In 2nd place comes Pension Jokura. The building was once the main office of a northern wealthy merchant from the Edo period called Takadaya Kahei. The old wood from the warehouse was used to build a six-room boarding house.

"44 years ago, I stayed in a boarding house in Central America to pursue my career. I was there for a few weeks which then led to my dream of owning and managing my own boarding house. After many years, I have finally made my dream come true!" said owner Sato-san, who manages the property with their partner. The best part about this place is the at-home atmosphere that you can only get in such a small boarding house like this. From word of mouth of the guests, it is clear that the owners are "very kind and friendly" and "their hospitality is absolutely wonderful". They can even speak English. This level of hospitality has made them extremely loved by their guests.

Website: https://hakodate-kankou.com/stay/2099/

In 5th and 10th place come Shikotsu Lake tsuruga resort spa Mizunouta and Extract of Niseko Konbuonsen Tsuruga villa heather. These lodgings are run by the Tsuruga group, which manages 13 hot spring lodgings in Hokkaido.

 Shikotsu Lake Tsuruga resort spa Mizunouta

Shikotsu Lake Tsuruga resort spa Mizunouta is a resort hotel which holds the concept of physical beauty and healing. From plentiful rest, food, walks, aesthetics and fitness to hot spring baths, this hotel covers all areas of health and well-being. The resort is located in Shikotsu-Tōya National Park and it is here that you can enjoy the beauty of Lake Shikotsu. There are a variety of exercise machines in the gym and approximately 20 types of pillows in the pillow gallery for guests. You can also pay a visit to the aqua bar which serves a variety of mineral waters sourced from within and outside of Japan. This truly is a unique hotel that provides more than enough for its guests.

Website: https://www.mizunouta.com/

After looking at the highly rated lodgings based on the language support they offer, you can see a clear distinction in the hotel locations and the other features that they offer. 3 of the top 5 English lodgings are located in Abuta District, Niseko. Each of these is suitable for long stay trips so it is clear that these places are popular amongst western tourists who stay for longer periods of time.

 

For Chinese speakers, there are two resorts that are managed by a Chinese company. The Hoshino Resorts Tomamu The Tower and Hoshino Resorts RISONARE Tomamu ranked highly for foreign language support. These large-scale resorts are useful for making large group bookings which adds to its high popularity.

TrustYou will help you find accommodation in Hokkaido so that you can be completely satisfied with your trip! For more information on the rankings, please check out the individual official lodging websites.

Information

TrustYou word of mouth platform

5 Delicious Places to Eat Hokkaido Style Breakfast Around Sapporo Station

Sapporo has no shortage of delicious food, and when it comes to breakfast, you're in for a treat.

Here are 5 places we recommend eating at in the morning offering a Hokkaido/Sapporo breakfast experience you won't get anywhere else.

Cafe de Nord

Cafe de Nord is located on floor B1F of the Hokkaido Building which is directly connected to exit 6 in the underground walkway of Sapporo Station. It is also known for managing coffee roasting cafe Infinity Coffee. Going to CAFE de NORD means you can enjoy a luxurious time drinking coffee from one of their special cups while listening to some jazz. Their delicious breakfast menu includes toast with jam, cheese toast and more all of which can be enjoyed together with your favourite choice of coffee.

Saera

This coffee and sandwich shop is located on floor B3F below the underground shopping centre of Odori Station on the Toho Line side. The great thing about this place is their long menu and the ability to create your own sandwich to your liking. Popular menu items include the Red King Crab Sandwich, Fruit Sandwich and Fried Shrimp Sandwich. Whatever you order you can rest assured your sandwich will be filled to the brim.

Peche Grand

Peche Grand is a 5-minute walk from Sapporo Station on the first floor of Akarenga Terrace facing the Hokkaido Government Office. It's inspired by cafes in Paris and was opened by Peche Mignon, a French sweet shop in Hakodate. Their breakfast menu at first was served as is, but now you can get all the French toast you like. With that you'll also get eggs, salads, drinks, and if you're they're known to sometimes bring cake too. When the weather's nice you can enjoy eating in the open terrace like a real Parisienne.

Arinko

Arinko is located in Satsueki Eat next to the east ticket gates at Sapporo Station on the JR side. They first opened in 1980 and make hand-made onigiri rice balls. If you're going there for the first time we recommend trying their most popular choice which is cheese katsuo (cheese bonito) together with pork miso soup, a delicious combination of vegetables grown in Hokkaido and pork. It's sure to fill you up. They also allow takeout so you can stuff your cheeks while strolling around the local sites like Hokkaido University and Odori Park. The onigiri are also made right in front of you which is exciting to watch.

Northern Kitchen All Day Dining

This place is a 13-minute walk from Sapporo Station and is designed under the concept of 'top quality Hokkaido breakfast.' They serve a buffet style breakfast with each and every item prepared to the utmost perfection. You'll be spoilt for choice at the huge selection. The inside of this eatery is also spacious and welcomes a refreshing morning meaning you can spend a calm and relaxed early start to your day.

Sapporo is the gourmet city of Hokkaido, so if you're Japan trip is taking you around the north, be sure you get a great breakfast to start your day.
RELATED ENTRIES
Hotel Made Entirely of Ice Opens in Tomamu, Hokkaido

Hoshino Resort Tomamu, one of the largest stay-and-go snow resorts in Hokkaido, will open a hotel made entirely of ice from January 20 until February 28, 2022. The ceiling, walls, and furniture will all be made of ice, and guests can also enjoy an outdoor ice bath! In addition, a new Ice Dinner will be on offer, where visitors can enjoy a beautiful table surrounded by ice overlooking a forest of white birches while staring up at the starry winter sky.

The seamless dome-shaped ice structure is about 8.5 meters in diameter and 3.5 meters high. Sleeping bags will be provided to guests to keep them warm and comfortable until morning.

Visitors can enjoy a hot spring in the open winter air in Shimukappu Village's Scan Portopia Yunosawa Onsen. 

The aforementioned Ice Dinner features three ice-themed dishes and welcomes guests to sit at a table made entirely of ice surrounded by majestic nature.

The appetizer includes iced vegetables like tomatoes, bell peppers, and cauliflower. Each is dipped in a warm garlic sauce, balancing the sweetness of the veggies, which become more sugary when cold. 

The main course, Iceberg Bouillabaisse, is covered with ice. This begins to melt as the soup pot is slowly heated in front of the guests, revealing gorgeous seafood like cod and shrimp. It's a feast for the eyes as well as the tastebuds!

The frozen fruit dessert mixes strawberries and kiwis with hot wine and a touch of cinnamon. Sweet and sour flavors come together to end the night on a high note.

Information

Ice Hotel

Running: January 20 – February 28, 2022
Price: ¥28,000 per person, per night (Includes tax, service charge)
Check-in: 21:40-22:00 / Check-out: 8:00
Capacity: 1 group per day (Minimum 1 guest, maximum 2 guests)
Eligibility: Must be elementary school age or older and staying at Tomamu The Tower or Hoshino Resort RISONARE Tomamu
Reservations: https://www.snowtomamu.jp/summer/
*Must be made at least 1 week in advance.
Official Site:https://www.snowtomamu.jp

Chocolate Specialty Shop Minimal Offering Rare Strawberry and Chocolate Treats

Japan-based chocolate specialty store Minimal is now offering a limited-edition set of gateau chocolates with fresh strawberries from Mei Strawberries in Kagawa Prefecture. These are available for preorder and are perfect for Valentine's Day!

These sweets were a huge hit last year, selling out immediately. The rare variety of strawberries used is only found in 1 percent of Japanese strawberry farms, and these are blended with milk cream and specialty chocolate. 




The strawberry jam found on the top of each chocolate piece is made from these rare Nyohou strawberries.  Originally a small-grained variety, the Nyohou varietals send from Mei Strawberries in Kagawa Prefecture are larger with a beautiful dark-red color. Fragrant, juicy, and sweet, they also have a slight acidity that provide a more complex flavor.


 

To maximize the natural strawberry flavor, the chocolate is made from Madagascar cocoa beans with a more berry-like flavor. Only slightly roasted, the graininess is intact, leaving a more powerful and rich flavor. A milky sweet cream has also been added to the center to provide a better balance.

This is the second year that the company has worked with these strawberries from Mei, and after making a number of prototypes, Minimal has found the best possible way to express these unique flavors in harmony. 


Information

Fresh Gateau Chocolate & Strawberries featuring Mei Strawberries

Price: ¥3,510 (Tax Included)
Release Date:   

Online Store/LINE Preorders: December 24, 2021~

Yoyogi Ueno Store: January 15, 2022

Sales Period: Until the End of February 2022
LINE: https://page.line.me/yrn4346m?openQrModal=true

Official Site: http://mini-mal.tokyo

Anniversaire Cafe Minatomirai Yokohama to Start Strawberry Garden Sweets Fair

Anniversaire Cafe Minatomirai Yokohama, a popular location for anniversary celebrations, is holding a limited-time Strawberry Garden fair for a limited time, from January 7 until February 6, 2022. Guests can enjoy a collection of strawberry sweets and pink drinks to start the new year in style.

Limited-Time Dessert Menu *Limited Quantities

Strawberry Plate: ¥1,870 (Tax Included)

Strawberry Caramel Pain Perdu: ¥1,870 (Tax Included)

Strawberry Mont Blanc: ¥1,980 (Tax Included)

Limited-Time Drink Menu

Strawberry Tiramisu Latte, Hot (Left)/Iced (Right): ¥1,100 (Tax Included)



Sparkle Berry Soda (Center): ¥990 (Tax Included)

Limited-Time Afternoon Tea Plan *Limited Quantities/By Reservation Only

Strawberry Stand Afternoon Tea: ¥3,800 (Tax Included)


Strawberry Plate Afternoon Tea: ¥3,300 (Tax Included)



Limited-Time Sweets for Takeout *Limited Quantities

Petit Fleur (5 pieces): ¥1,300 (Tax Included)

Information

Strawberry Garden
Running: January 7 – February 6, 2022
Address: Anniversaire Cafe Minatomirai Yokohama (2-1-4 Shinko, Naka-ku, Yokohama, Kanagawa)
Hours: Weekdays 11:00-17:00 (Last Order 16:00) / Weekends & Holidays 11:00-21:00 (Last Order 20:00) *Closed Tuesdays and Wednesdays. Hours are subject to change.
Official Site: https://cafe.anniversaire.co.jp/minatomirai/

The St. Regis Osaka Launches Strawberry Afternoon Tea for a Limited Time

The St. Regis Osaka Hotel is offering a special strawberry-themed afternoon tea set until May 2022. 

Strawberry Afternoon Tea '5th Avenue Collection'

Strawberry  Parfait 'The New York Gallery' 

Strawberry Afternoon Tea '5th Avenue Collection' to GO!

 

The St. Regis New York Hotel was founded in 1904, and is located on 5th Avenue, one of the most famous shopping streets in the world. This new afternoon tea set features a gorgeous three-tiered array of colorful savory and sweet dishes inspired by the many fashion items that line the shop windows of the NYC street. 

The Strawberry Heel Panna Cotta shows a woman's leg peeking out from the dessert clad in a fancy high heel, while the Berry Opera is made to look like a designer bag. Many of the available dishes are made using seasonal strawberries sourced from around Japan.

The French Bistro Ruedor on the first floor is also offering 'The New York Gallery,' a strawberry parfait set of three inspired by the art of New York City. This set also comes with an assorted plate of six savory and sweet items.

The WOW Strawberry, with its pop-art motif, will surprise guests with its massive strawberries and variety of different textures from mousse to jelly. The LOVE Strawberry mixes juicy, sweet, and sour strawberries with pistachio mousse and was inspired by Banksy's 'Balloon and Girl' painting. The Banana & Chocolate parfait pulls from the colorful wall art seen all around the famous city streets.

For those wanting something less sweet, hamburgers, hot dogs, and bagels, all popular on the streets of Manhattan, will be served alongside these strawberry delights. For those wary about the current pandemic conditions, the Fifth Avenue Collection can also be taken home!

Information

Strawberry Promotion 'Strawberry at the Best Address -55th Street, 5th Avenue-

Strawberry Afternoon Tea '5th Avenue Collection'
 Running: January 8 – May ~
Available Time Slots: ①12:00~ ②12:15~ ③12:30~ ④14:30~ ⑤14:45~ ⑥15:00~
*2-hour Seatings

Location: St. Regis Bar 12F

Reservations: https://www.ruedor.stregisosaka.com/stregistogo
*Welcome drink, dress cookie, and glass dessert are not included.
*Reservations are required at least one day in advance.

Strawberry Parfait Set 'The New York Gallery' 
Available: January 8 – May ~ (15:00~ / 15:30~) *Only 5 seatings per day.

 Location: Ruedor French Bistro 1F
https://www.ruedor.stregisosaka.com/

Shiseido Parlour Ginza Salon de Cafe to Hold 'Special Strawberry Day 2022' for Two Days Only

The Shiseido Parlour Ginza Salon de Cafe in Tokyo will hold the 'Special Strawberry Day 2022' event for two days only, on January 14 and 15, 2022. Guests will be able to enjoy a Strawberry Parfait prepared using carefully selected varieties of strawberries from all over Japan. Two varieties of the dessert will be available for the first time in 2022, with twelve varieties available in total–some varieties will only be available on a specific date.

Strawberry Parfait

Special Strawberry Parfait with 'Angel Strawberries' from Saga Prefecture: ¥2,600 (Tax Included)

Special Strawberry Parfait with 'Marihime Strawberries' from Wakayama Prefecture: ¥2,600 (Tax Included) *Only available on January 15

Premium Strawberry Parfait with Strawberries from Saga Prefecture: ¥3,600 (Tax Included)

Premium Strawberry Parfait with 'Mino Musume Strawberries' from Gifu Prefecture: ¥3,600 (Tax Included)

Royal Strawberry Parfait with 'Kotoka Strawberries' from Nara Prefecture: ¥5,000 (Tax Included)

Cocotte de Fraise Sales Period: January 14 – January 15

Information

Shiseido Parlour Ginza 
Address: Tokyo Ginza Shiseido Building 1F (8-8-3 Ginza, Chuo-ku, Tokyo)
Hours: 11:00-20:30 
*Closed during the New Year holiday

FUKUCHA to Offer Limited-Time Strawberry Desserts with Uji Tea Pairings

FUKUCHA Teahouse, a Fukujen cafe in Kyoto, will start a limited-time Strawberries and Uji Tea Fair on January 8, 2022. Last year's Matcha fair was incredibly popular, and certain items will also be available again in 2022. The new menu includes a strawberry version of the popular Herbal Tea Pairing Set, making it even more fun and elegant! Guests can enjoy flavorful Uji green tea along with a number of tasty strawberry treats. 

Mont Fraise: ¥1,150

Mont Fraise means 'mountain of strawberries' in French. This dessert is made with thin white chocolate and sponge cake soaked in matcha syrup with matcha cream and strawberries covering every inch. It is also served with a green tea chocolate sauce. 

Strawberry Pairing Set: ¥1650

The strawberry version of the popular Herbal Tea Pairing Set on the regular FUKUCHA menu.
・Ginger Blend Genmaicha and Strawberry Cheese Tart
・Hibiscus Blend Hojicha and Strawberry Chocolate Bonbons
・Cinnamon Blend Twig Tea with Strawberry Cream
・Peppermint Blend Twig Tea with Large Strawberry

Marscapone Strawberries: ¥1450

Using 10 strawberries, this parfait is designed to look like a herbarium. Putting a spoon into the light mascarpone cream will reveal the bright green color of the matcha chocolate sauce.

Information

Strawberry and Uji Tea Fair

Running: January 8 – May 15, 2022
*Limited to 10 Servings per day.

Official Site: https://www.fukujuen.com/

Sheraton Miyako Hotel Osaka to Hold Little Red Riding Hood-Inspired Strawberry Fair

The Sheraton Miyako Hotel Osaka will hold a 'Strawberry Fair' at four of its restaurants starting on January 1, 2022!

Little Red Riding Hood (Mascarpone and Berry Mousse)

Forest Friend (Cream Puff), Friendly Bear Macaroons

Forest Tree Stump (Nuts & Pistachio Cake)

Menu featuring Strawberry Items

Cafe & Gourmet Shop 'Cafe Bell' 

Running: January 15 – February 28, 2022

Sweets

Strawberry Brioche Sandwich / Strawberry Pudding / Strawberry Pistachio / Strawberry Tart / Strawberry Shortcake

Bread

Strawberry Cannelé de Bordeaux / Strawberry & Almond Chocolate Danish / Strawberry and Cream Cheese Flute 

Chinese Restaurant 'Shisen' 

Running: January 6 – February 28, 2022

Strawberry Apricot Tofu / Strawberry Pudding

'Bar eu'

Running: January 1 – February 28, 2022

Strawberry Grasshopper / Strawberry Milk for Adults / Strawberry Mojito

※Menu items subject to change depending on availability.
※Please inform the staff of any food allergies in advance.

Shiroikoibito Park in Sapporo to Hold Chocolate Factory of Light and Love Illumination Event

Shiroikoibito Park in Sapporo will hold a special illumination event from December 27, 2021 until March 14, 2022! The 'Chocolate Factory of Light and Love' is perfect for couples to visit during these cooler months. 

A popular event each year, the Shiroikoibito Park Illumination was cancelled last year due to the pandemic. As this event is held inside, it offers some shelter from the cold as guests wander through the 85-meter-long course. An escape game will also be held for the first time at the location, and will involve two participants attempting to solve riddles based on 'love' and 'chocolate.' The room is decorated with luxurious antique items imported from England.

Escape Game! Escape from the Chocolate Laboratory

Running: January 7 – March 14, 2022

Hours: 10:00-16:00

Reservations Available at Ticket Counter

Location: Study Base – Cacao Pod

Chocolate Take-Out

Available: February 11 – February 14, 2022 / March 12 – March 14, 2022

Hours: 10:00 until sold out

Price: ¥500 (Tax Included)

Location: Tudor House 1F Special Event Space

Dessert Set (with Drink): ¥1,700 (Tax Included)

Very Cocoa Set (with Drink: ¥1,700 (Tax Included)

Chocolate & Berries: ¥800 (Tax Included)

One-sided Love Hot Cocoa: ¥550 (Tax Included)


Beef Stew with Hokkaido Beef (served with bread or rice): ¥1,380 (Tax Included)


Chocolate Baumkuchen: ¥1,512 (Tax Included)
Where to Buy: Piccadilly Shop
On sale January 15, 2022 (Valentine's Day Exclusive)

Select Chocolates: ¥648 (Tax Included)
Where to Buy: Piccadilly Shop
On sale January 15, 2022



Inspired by the novel 'Charlie and the Chocolate Factory,' Shiroikoibito Park was opened to bring people together with sweets. How could guests not be happy in such a magical place?

Information

Shiroikoibito Park ~Chocolate Factory of Light and Love~

Running: December 27, 2021 – March 14, 2022

Ticket Office Open: 10:00-16:30 *Tickets available until 16:00

Official Site: https://www.shiroikoibitopark.jp/

English Dessert Strawberry Eton Mess Available at koe lobby During the Holiday Season

The koe lobby on the first floor of hotel koe Tokyo is now selling the traditional English dessert Strawberry Eton Mess for a limited time. 

Eton Mess is made with a mixture of strawberries, meringue, and whipped cream, and is popular during the holiday season!

koe lobby's Eton Mess features a baked meringue with a crispy texture, homemade sweet and sour strawberry sauce, and fluffy cream and fresh strawberries. If you're in the area, be sure to order one before they're gone!

Information

Available: Starting December 21, 2021 

Available Hours: 12:00-18:00 (Last Order at 17:30)

*While supplies last. 

Price: ¥850 (Tax Included) 

*Drink Set: ¥1,290 (Tax Included)

Address: koe lobby (3-7 Udagawacho, Shibuya, Tokyo)

Hours: 7:30-12:00 (Breakfast, Last Order at 11:30) / 12:00-15:00 (Lunch, Last Order at 14:30) / 15:00-20:00 (Tea Time, Last Order at 19:30)

*After 18:00 only drinks and bread are served. 

Official Site: https://hotelkoe.com/food/ 


Tokyo Gift Palette at Tokyo Station Selling Seasonal Strawberry Sweets

Tokyo Gift Palette, located near the Yaesu North Gate at Tokyo Station, offers a wide selection of unique souvenirs. From December 26, 2021 until January 11, 2022, the location will be holding the Exciting New Year's Fair, with the Strawberry Sweets Fair coming soon after from January 5 until January 25, 2022. 

Konigs-Krone Luxury 'Strawberry Parfait'


Patisserie Ginza Sembikiya 'Strawberry Omelet'


Strawberry Shop by FRANCAIS 'Strawberry Parfait'


*Only available at Tokyo Gift Palette
Tokyo Kaikan 'Reward Parfait ~Strawberry & Chestnut~

Strawberry Shop by FRANCAIS 'Fresh Strawberry Milk Cake'

Oosumi Tamaya 'Strawberry Daifuku'

Oosumi Tamaya 'Chinese New Year Daifuku'

Tokyo Kaikan 'Chocolate & Orange Tart' 

Paq & Mog Terrace 'Calbee and Tokyo Banana Bonito & Kelp Umami Dashi Potato Chips

The New Year's Fair will feature cute cakes and sweets inspired by the Chinese Zodiac, along with traditional Japanese goods. The Strawberry Sweets Fair will see a number of popular goodies on sale, including desserts that won top prizes in the 'Favorite Fruit Survey' conducted by Tokyo Gift Palette on Instagram in June 2021.

Kyary Pamyu Pamyu Explores Tomakomai, Hokkaido in New Tour Video

Kyary Pamyu Pamyu is introducing potential travelers to the charms of Tomakomai, Hokkaido in a new two-part tourism video on her YouTube channel. 

In the new videos, fans can see Kyary in a new light very unlike her onstage persona. Along with her tour guides, she travels for two days around this gorgeous city on Japan's northernmost island.
The first video begins with her visit to a Red Eagles Hokkaido hockey game, quickly followed by tons of outdoor activities like canoeing and horseback riding. The singer enjoys plenty of local dishes and captures some spectacular views of Lake Utonai. 


Who is the one who invited Kyary to Tomakomai anyway? Fans will have to watch to find out. Whether living in Japan or dreaming about visiting someday, these videos are sure to inspire a future trip.

Rihga Royal Hotel Kyoto to Hold Strawberry Fair in 2022

From January 4 until April 30, 2022, Rihga Royal Hotel Kyoto will hold a special Strawberry Fair at its cozy lounge.

Those who love strawberries enough to want to drown in them won't want to miss this limited-time event featuring four unique desserts and an afternoon tea set.

Strawberry Parfait 'Drowning Strawberries' 

 

Guests can enjoy pouring warm homemade confiture made from Kyoto strawberries from Uesugi Farm in Yawata City over thin chocolate hidden beneath strawberry ice cream. This is recommended by the patisserie.

'Strawberry Shortcake ~Buried in the Glass~'

 

This limited-edition version of the hotel's strawberry shortcake is filled with white meringue and soft sponge, with cherry brandy flavoring making it light and easy to eat.

'Strawberry Afternoon Tea Set' 

Strawberry Stack Option

The popular 'Afternoon Tea Set' is served in a bamboo box made by Kochousai Kosuga, a bamboo craft manufacturer in Kyoto. This special strawberry version features nine sweet and nine savory items, including strawberry shortcakes and cream puffs. For a limited time until March, guests can add a pile of strawberries to the third tier. Using the special scoop spoon, you'll feel as though you're harvesting strawberries of your own! Be sure to take pictures.

Overflowing Strawberry Gift Box

Although it looks like a present, this dessert is meant to be enjoyed on-site! Overflowing with strawberry mousse, strawberry jelly, and pistachio brulee, raspberry sorbet, and streusel are hidden beneath the white chocolate box. Now that's luxury!