Introducing the Kawaii Girls of the World | Kawaii Fashion Snap #3: Hat Heaven
Welcome to Episode 3 of Kawaii Fashion Snap where we get to know all about the kawaii girls of the world and their fashion. Each girl in this series has incorporated Japanese-like fashion into their wardrobe and turned it into something of their own.
Today, we'll be taking a look at stylish hats♡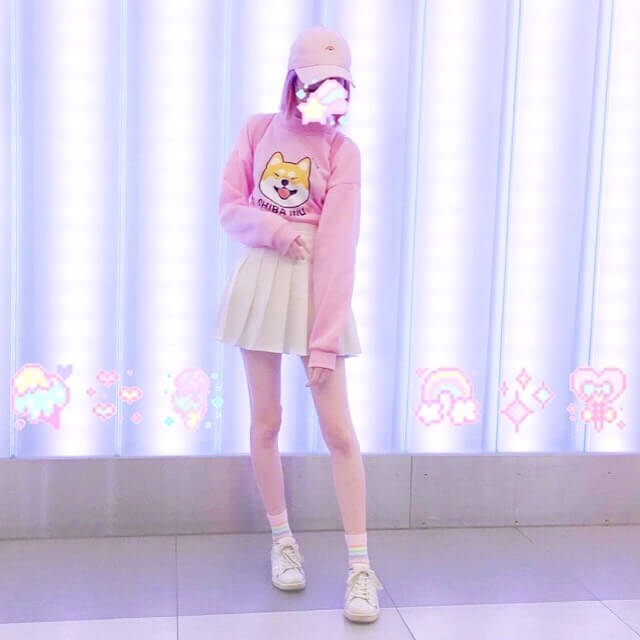 Our first model today is unbelievably cute Lumia who is all about the 'yume-kawaii' (dreamy cute) aesthetic. Her Shiba Inu top coupled with the pink cap is the peak of kawaii! By combining this girly outfit with the cap she has created a very stylish yume-kawaii look.
If you're interested in seeing more yume-kawaii fashion then we highly recommend following Lumia on Instagram below.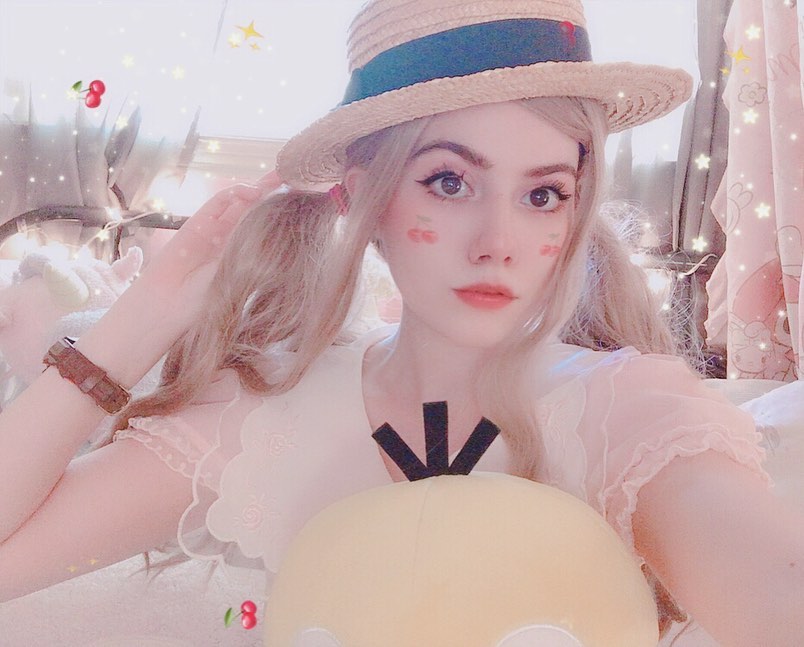 Our next model is Dannielle from France. She has gone for a beautifully girly yet ever so slightly classic style which is absolutely kawaii♡
What makes this outfit so incredibly good is the summery boater which Dannielle has coordinated perfectly with her blonde twin tails, creating a romantic kind of style.
For more looks by Dannielle, check out her Instagram page where she is as cute as a princess.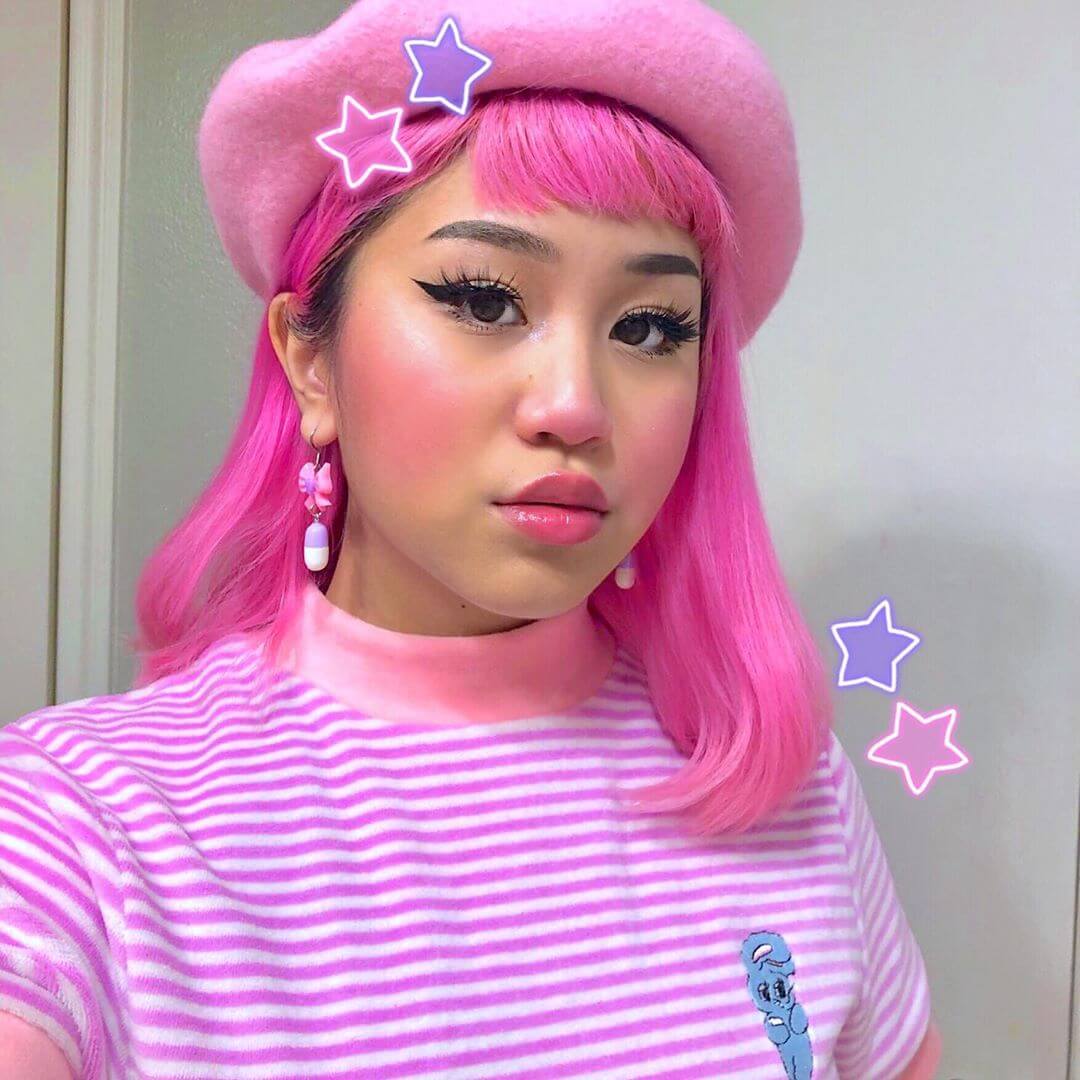 Ruthy's vivid pink hair is on point in this look and looks positively kawaii together with her pink beret♡
Not only is her hat and hair pink but her top, accessories and makeup too! If you're into pop fashion then you'll definitely want to give Ruthy a follow on her colourful Instagram page. She has lots of makeup examples on her page, it's a lot of fun just scrolling through it!
Arashi is from Hong Kong and is currently studying abroad in Japan. She has gone for an all-black co-ord with her black mask, black outfit and black cap. This look is like the one she wore when she went to see The Weeknd perform live in Japan.
She posts photos of her cosplay, anime figures and more on her Instagram, so be sure to give her a follow!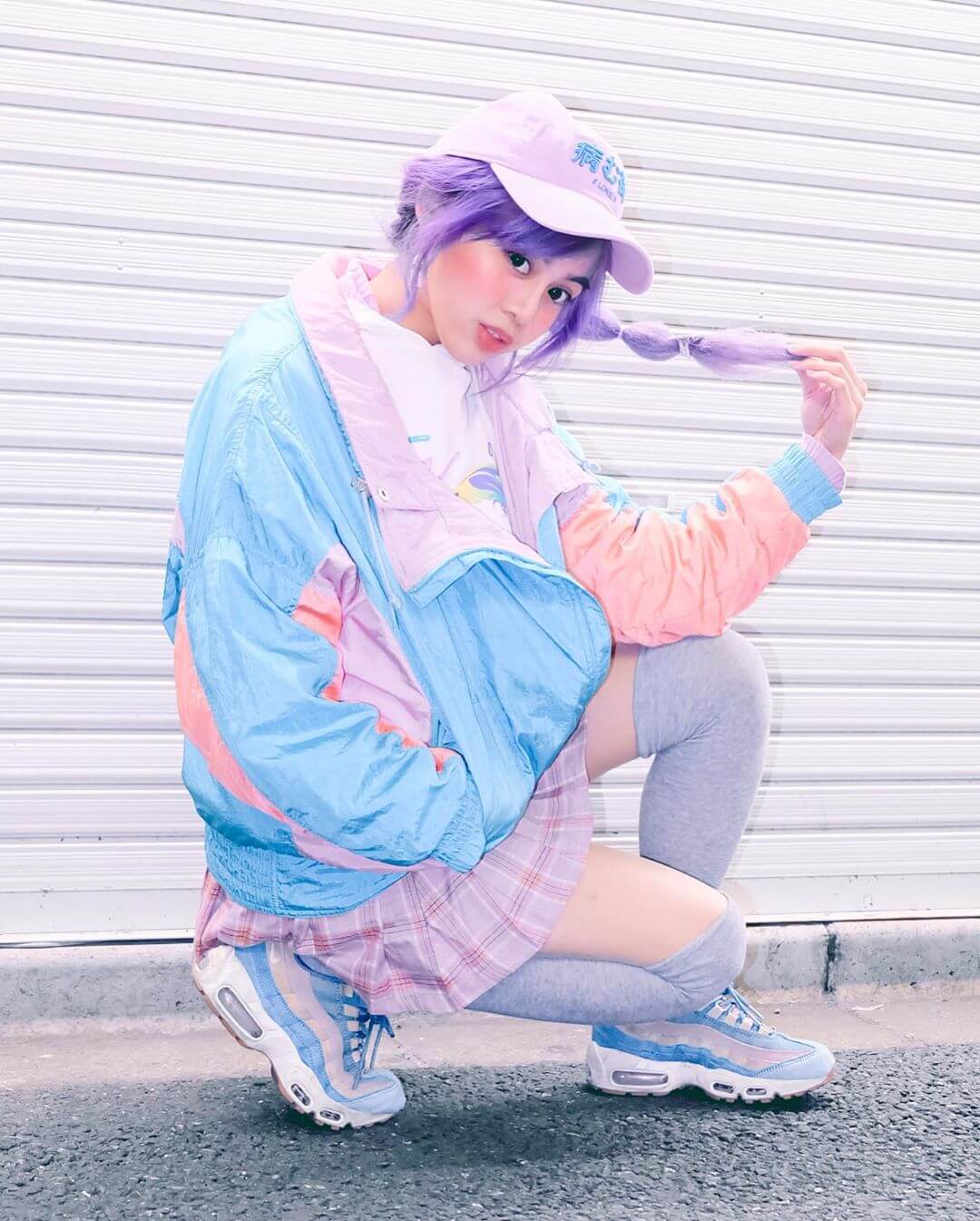 Naomi's violet hair looks really cute on her. She has gone for a sporty style with the sporty blouse and cap♡ Her shoes too remind you of keeping active, but when you break it down she has incorporated all pastel colours giving it that kawaii vibe.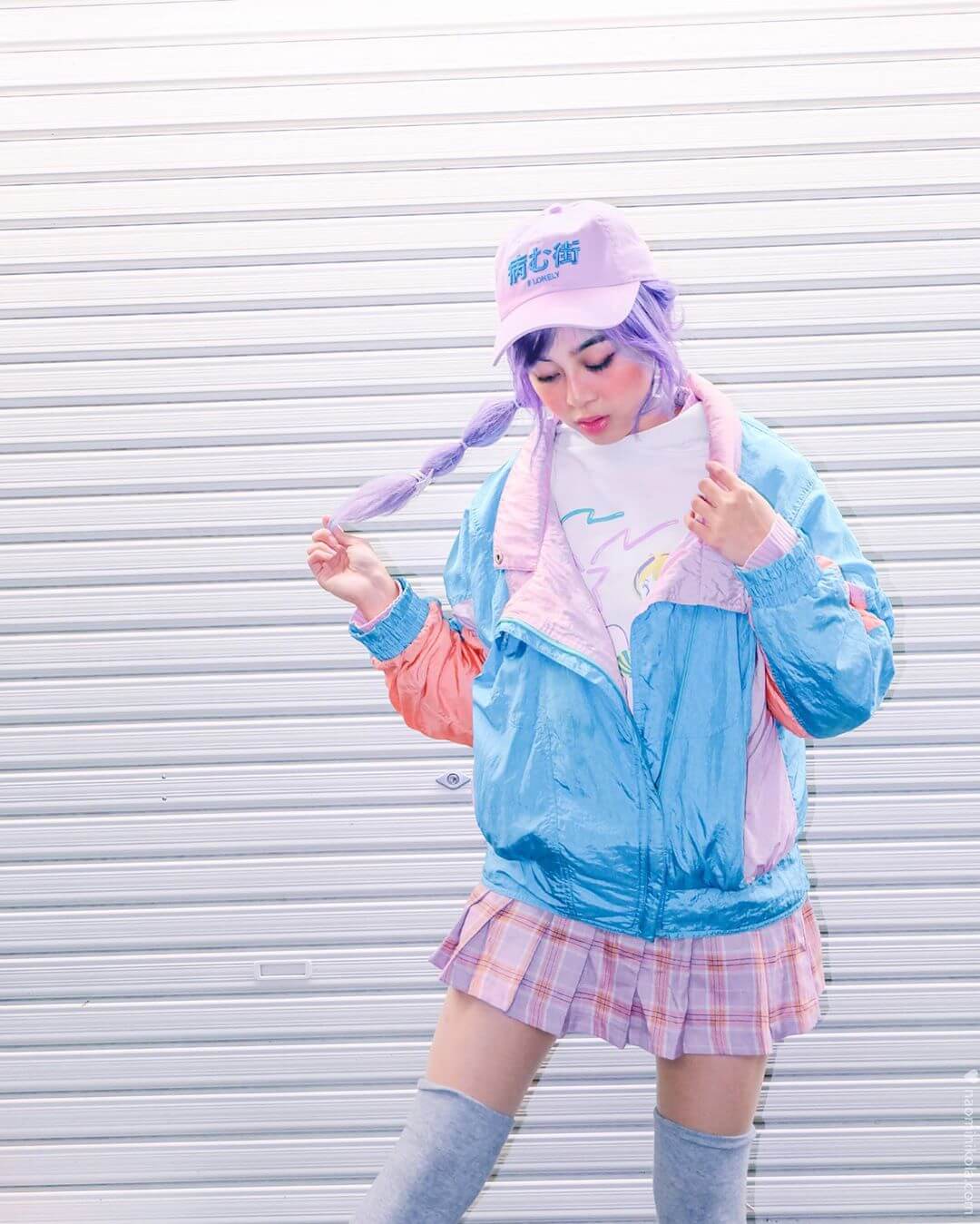 The Japanese text on her cap is stylish too.
Naomi has lots of photos of herself taken in Japan so check them out to find some great places for taking kawaii photos!
Mikan from Sweden is currently studying at a fashion school in Tokyo. She's giving us those summertime vibes with her boater and beautiful flowery background♡
Her off-shoulder top and denim bottoms looks just like something a girl in Japan would wear.
Mikan has her own YouTube channel where she posts about her daily life in Japan. Be sure to subscribe and check out her Instagram page too.
We will continue to introduce more of the world's kawaii girls in this new series. If you'd like to feature in Kawaii Fashion Snap or know somebody that would, then follow us on Instagram and post with the hashtag #moshimoshiphoto.
Look forward to the next entry!
RECOMMENDED ENTRIES
Introducing the Kawaii Girls of the World | Kawaii Fashion Snap #2: Colourful Pop

Welcome to Episode 2 of Kawaii Fashion Snap where we get to know all about the kawaii girls of the world and their fashion. If you're new to this feature then you'll want to check out Episode 1 which dropped last week.

The theme of today's Kawaii Fashion Snap is Colourful Pop. We have 5 new names to look forward to with 5 completely different looks. Let's take a peek♡

The cute Milli loves fantasy, her pastel coloured outfit and accessories matching perfectly in this look. Her outfits over on her Instagram page are in sync with the seasons, creating a professional magazine-like layout. The clothing in this look are even coordinated with the building in the background!

See more of Milli @plantlovingrose

Leader of The Kawaii Cult, BRITTANY looks like she jumped straight out of an anime series. The pink feminine base of this outfit mixed with the boyish cap makes for a unique look―and those shoes are to die for! You should most definitely check out her dance video on YouTube where she's cosplaying Hatsune Miku too.

See more of BRITTANY @brittanymichelle.jpg

It's no secret that Kiri loves Rilakkuma. One peek at her lookbook also tells us that she looks amazing in anything she wears, from girly styles to kimono. Her beautifully vibrant orange hair and colourful pop garbs, carefully pinned with cute decorations, is nothing less than kawaii♡

Her Instagram page shows off not only her fashion but her lifestyle too where she is surrounded by her favourite characters.

See more of Kiri @kirukeru

Sarah is currently studying abroad in Japan. Her kawaii ensemble today features a one piece with a blue sky soaring across it coupled with rainbow socks. Her outfit is enough to bring out the sun as simply gazing at it will make you feel bright and sunny. Her Instagram page takes us on a trip with her to various apparel shops, cafes and many other kawaii spots in Japan.

See more of Sarah @Sarah

Sandra's mixes her colourful rainbow top with cropped jeans that have a cute heart on them. Don't miss the adorable Sora-chan on her top either, the official mascot character for Tokyo Skytree♡ Everything from the clothing up to her hair accessories are a perfect kawaii match.

See more of Sandra @bubblechutea

We will continue to introduce more of the world's kawaii girls in this new series. If you'd like to feature in Kawaii Fashion Snap or know somebody that would, then follow us on Instagram and post with the hashtag #moshimoshiphoto.

Look forward to the next entry!

Introducing the Kawaii Girls of the World | Kawaii Fashion Snap

Kawaii Fashion Snap is a new feature we are starting here on MOSHI MOSHI NIPPON that puts the spotlight on girls around the world who have incorporated Japan's culture of kawaii fashion into their wardrobe. From lolita to gothic lolita, yume-kawaii, colourful Harajuku-like pop styles and more, we will showcase and interview the girls of the world who are active with their kawaii endeavours on social media.

Check out the co-ords of each of these Japan-loving fashionistas, and if you like their style be sure to follow them.

This is Chirikku. She coordinates pastel colours into her outfits. She likes the kind of styles featured in the Japanese fashion magazine LARME. The photos she took while at the Pokémon Café are nothing short of kawaii. She buys a lot of her clothes in Japan and online. Visit her Instagram page to see all the photos she has taken in many of Japan's kawaii spots.

Kawaii Dream is an avid cosplayer. In this look she has gone full pink, from the pink wig to the pink sailor uniform and pink bag. Her hair accessory is beautiful too. She mainly buys her kawaii-style fashion items online. You can see more of her ultra-kawaii looks in her cosplay photos over on her Instagram page, so be sure to check them out.

Danielle's outfit is girly from top to bottom: the umbrella, skirt and the laces of her shoes are both stylish and kawaii. The locale for this photoshoot in the garden was a perfect choice. She's been a fan of visual-kei since high school which is where her interest in Lolita fashion sprouted. She posts many different looks over on her Instagram page.

Angelic Amii's pastel-coloured co-ord is also kawaii, combining an Esther Bunny t-shirt with jeans that have hearts on them. This shoot was taken in London's Selfie Factory. The location and her outfit match splendidly. Amii gets her clothes when she visits Japan as well as at Lazy Oaf in London. She bought her jeans and belt are from lazy oaf. Make sure to check out her summertime kawaii on her Instagram page.

For Thyra's look, she is wearing a beret and big and beautiful ribbon earrings. The transparent ribbon together with her gorgeous blue top gives a cool and refreshing look. It's very kawaii indeed. Thyra gets her kawaii fashion from online stores and second-hand clothing shops and even makes her own. The various items that appear on her Instagram, like cherries and unicorns, match beautifully with her style.

We will continue to introduce more of the world's kawaii girls in this new series. If you'd like to feature in Kawaii Fashion Snap or know somebody that would, then follow us on Instagram and post with the hashtag #moshimoshiphoto.

Look forward to the next entry!

MOSHI MOSHI ROOMS: The Most 'Kawaii' Accommodation Experience in Harajuku

I visited MOSHI MOSHI ROOMS -SAKURA- with Chinese talent Etsuna and Japanese model Ren Koseki. This accommodation and Harajuku hot spot is gaining much attention right now for its interior design which offers the full 'kawaii' experience wherever you look. It is produced by ASOBISYSTEM, a company that aims to promote Harajuku culture to the rest of the world.

It is located just an 8-minute walk from Meiji-Jingumae Station via the Tokyo Metro Line or 10 minutes on foot from Harajuku Station via the JR Line. Its ideal location places it very close to the most popular areas in Harajuku including Takeshita Street, Ura-Harajuku and Omoteando. It is even within walking distance from the New National Stadium which is set to be completed in November 2019 and will serve as the venue for the 2020 Summer Olympics and Paralympics.

The concept of this single-room accommodation is 'SAKURA' which is the Japanese word for cherry blossom making it the perfect place to be in right now for the spring season. Its gorgeous and unique layout is overlooked by a huge cherry blossom monument in the bedroom which also works as a light to create a magical atmosphere.

Pink is the base colour for the room which is perfect for parties and girl-only get-togethers. The is the main bed and separate simple beds to accommodate up to 5 guests. But it can house as many people as you like if they're just coming to play! This fantastic system is made possible by Airbnb.

You're sure to snatch an Instagram moment in front of this neon sign which reads 桜―that's 'sakura' in Japanese!

The room even comes with an iconic dresser fitted with a huge mirror. This means you and your friends can all put your makeup on together at the same time before you head out. There's a hair drier as well as hair straighteners which Ren is using in the photo.

There's even a rooftop area which provides a panoramic view of Harajuku. This space can be used for parties, BBQs and whatever else you can think of! But keep in mind that the roof can be reserved by non-guests too in which case access will be restricted. Be sure to find out in advance if you're thinking of using it.

How did you find your stay at MOSHI MOSHI ROOMS -SAKURA-, Etsuna and Ren?

Etsuna: "From a foreigner's perspective, I really felt the Japanese-ness towards the sakura which is great. The dresser is huge too, I'm happy that two people can do their makeup at the same time! The place is not only cute, but it's made in such a way that the functionality of the room is easy to use. It felt heart-warming to be there."

Ren: "When it comes to lots of girls wanting a place to get together, not for travel but just to hang out, love hotels are the mainstream, but 'fun' and 'cute' don't really stand together in a place like that. But here, five people can stay together, and no matter where they take photos it's going to look cute! Plus it's in Harajuku, you can get some stylish-looking food and drinks from nearby cafés for takeout and stay up late. That sounds amazing. I can think of so many things!"

SAKURA is located on the 5th floor of a building, but if you have a lot of luggage you can contact the staff in advance and they will carry it up for you. MOSHI MOSHI ROOMS offers a very special experience where you get to stay the night in Harajuku. And SAKURA is just the start. We plan to open even more rooms on the other floors with different concepts, so look forward to it!

Q-pot CAFE Dives Into the Ocean This Summer With Food, Desserts & Accessories

Q-pot is an accessory brand whose products are made to look just like delicious desserts. They also have their own cafe in Omotesando where they flip that concept, making desserts that look exactly like real accessories.

Q-pot CAFE has just unveiled its new line-up of "Mint Soda Lagoon" themed drinks and desserts. This dreamy pastel-coloured menu is available this summer only for a limited time.

Mint Soda Lagoon Parfait w/ Drink – ¥1,850 (Tax Included)

Whether you're planning a trip to the beach for a dip in the sea or are out catching some sun while shopping, you're going to want to keep cool this summer, and Q-pot CAFE has you covered. Their delicious, cold pastel-coloured parfait is topped with shell and coral-shaped meringue and contains salt milk ice cream, grapefruit, fluffy mint cream, and lychee jelly. The beautiful gradation of colours and textures through the glass is enough to have you panting for an order. Squished at the bottom of the glass is sponge cake with almonds and a syrupy blueberry anglaise.

Shell Macaron Plate w/ Drink – ¥2,060 (Tax Included)

If you're looking for something a little more by the sea then you'll want to order the shell macaron plate. The standout of this dish is the blueberry flavoured macaron shell which is stuffed full of fluffy strawberry custard cream. It also contains a sweet and sour strawberry and blueberry sauce. It's served with a salted vanilla starfish cookie, tropical passion fruit and mango sherbet, and an additional macaron from which you have a choice of four flavours.

Mint Soda Float – ¥750 (Tax Included)

You're sure to be tempted by this mint soda float which contains a mix of refreshing Blue Curaçao and lychee puree which come together beautifully. It has a taste as refreshing as a mojito and if finished with a dollop of salted milk ice cream, fresh grapefruit, and mint cream which is topped with a mint leaf for extra kick and colour.

Mint Soda Lagoon Afternoon Tea Set for One w/ Drink – ¥2,400 (Tax Included)

There's even an incredibly cute afternoon tea set.

Sitting on the top plate are adorable mini parfaits coming in pink, purple and blue pastel colours. They include sumptuous lychee jelly crowned with mint cream and decorated with shell-shaped meringue.

Also on the upper tier are scones filled with Q-pot CAFE's homemade blueberry jam and fromage blanc cream, salted vanilla starfish cookies, and the cafe's rich macarons.

The second tier has two seriously stuffed crunchy croissants which contain smoked duck and broccoli. You won't be able to resist the combination of the sweet and spicy sauce and mayonnaise either. There's also a serving of rich onion soup made with caramelised onions and melted cheese as well as a side of olives, mini tomatoes and pickles.

Feel like a mermaid of the Mint Soda Lagoon with this luxurious afternoon tea set♡

Q-pot is also selling a new range of accessories in line with the new menu featuring starfish sugar cookies and more.

Starfish Sugar Cookie Necklace – ¥9,000 (Before Tax) / Shell Macaron Ring – ¥5,000 (Before Tax) / Jellyfish Earring – ¥5,200 (Before Tax)

Starfish Sugar Cookie Necklace – ¥9,000 (Before Tax) / Earring and Ring – ¥5,400 Each (Before Tax)

Fall into the Mint Soda Lagoon this summer at Q-pot CAFE in Omotesando, Tokyo.

Information

Q-pot CAFE "MINT SODA LAGOON" Menu

Location: Q-pot Cafe Omotesando

Release Date: August 5, 2019

Reservations accepted via telephone and online.

TEL: 03-6447-1218 (11:00-20:00)

Website reservations accepted from August 5, 2019 at 13:00 (JST)

MINT SODA LAGOON COLLECTION

Release Date: August 3, 2019

Available: at Q-pot stores

Official Website: http://www.q-pot.jp/

Yukata IN LAFORET: Grab Your Summer Yukata at Laforet Harajuku's Event

Laforet Harajuku is holding a yukata event on its second floor CONTAINER area from June 25 to July 24 where you'll be able to pick from a wide range of different yukata designs.

This marks the 5th run of the event, and this year, it is being split into three separate periods. A total of 9 shops are participating including the popular kimono brand Roccoya Summer Shop which fuses the traditional with the modern as well as MICOPARADE which is managed by designer and Japanese clothing model Maria Kawahara.

The event's main visual was conceived by art director Tomoko Katayama, a designer at airlinesinc. and president of kimono teaching company Airport Lounge. There will be a photo spot as well as displays created by Katayama.

Period 1: June 25, 2019 – July 4, 2019

Roccoya Summer Shop

Roccoya is a brand popular for fusing together traditional and modern designs. The company is returning to Yukata IN LAFORET once again to sell a variety of new yukata, kimono and accessories. Pick anything from cute to contemporary to sophisticated couture. They also sell head accessories and customers can order specific sizes.

MICOPARADE

MICOPARADE is a kimono brand led by designer and Japanese clothing model Maria Kawahara which offers contemporary twists of traditional ideas. Expect kimono like you have never seen as modern fashion. This event will be MICOPARADE's first unveiling of their new products.

Period 2: July 5, 2019 – July 14, 2019

MIKI SAKURA & Sakura Maison

Sakura Maison focuses on "Japanese kawaii" kimono, accessories and obi sashes while MIKI SAKURA's concept, conceived by designers at Sakura Maison, is "dignified women wrapped in beautiful fragrances."

These two brands will come together to showcase an array of feminine yukata including yukata made from lase. They will also sell headdresses, ornate hairpins and other accessories. Expect to get your fill of kawaii♡

Asobiya Meets yuminique

Asobiya is a brand that adds a bit of fun to traditional Japanese motifs. They will collaborate with the "nostalgic and cinematic" brand yuminique for the very first time. Asobiya will have their popular paper crane series of items while yuminique will showcase their "SECRET" themed line-up this summer with an assortment of handmade head accessories with rose and lily of the valley designs. You're sure to find the right decorative accessories for your yukata look here♡

Period 3: July 15, 2019 – July 24, 2019

AYAKONAGAHASHI


Ayako Nagahashi's select shop is associated with many different kimono and yukata brands. The new yukata and accessory collection by KIIRO, which Nagahashi is the director of, and Furifu will be on show. New Yukata and obi sashes the likes of which the industry has never seen before from Nagahashi's private brand Fruttarossa will also make an appearance. There will also be plenty of other pieces like geta shoes and obi clips.

Shigemune Tamao

Unique and innovative kimono creator and artist Shigemune Tamao is opening her first ever store where she will sell original kimono, obi sashes, and a selection of items made in collaboration with guest brands that transcend traditional and contemporary clothing.

Find the yukata for you at this year's Yukata IN LAFORET.

POSTOKYO By jouetie Pop-Up Shop to Open at HEP FIVE in Umeda Osaka

Japanese fashion brand jouetie is running a pop-up souvenir shop called POSTOKYO By jouetie on the first floor atrium of HEP in Umeda, Osaka from June 21 – June 30.

POSTOKYO By jouetie will serve original fashion items in a new an original style from the lens of jouetie, who fuse the many cultures of Japan, in the form of a souvenir shop from Tokyo where various cultures and subcultures and fashion mix together. Following the success of the first pop-up shop in Tokyo, demand for the store to open across other parts of Japan has been made clear, and it is now moving to Osaka for the first time.

Yuka Furukawa

Japanese model duo AMIAYA who conceived jouetie will be at the sop on Saturday June 22 from 11:00am to welcome customers. Popular Japanese YouTuber Yuka Furukawa, who is a big fan of the brand, will also make an appearance on June 21.

Let's take a look at some of the items you can expect to get your hands on at the souvenir store.

POSTOKYO Mix Flower Open Colour Shirts: ¥6,000 (Before Tax)

These colourful open shirts are a mix of colour variation and camellias. They are made of super soft and comfortable satin.

NANCY SNAKE POSTOKYO T-Shirts: ¥5,000 (Before Tax)

jouetie has collaborated with paint artist NANCY SNAKE for the first time to release thiese manga-esque t-shirts with unique touches and coloured trims. The main print designs are beautifully coloured with careful detail embroidered by jouetie.

MASAKO.Y POSTOKYO T-Shirts: ¥5,000 (Before Tax)

Another debut collaboration, this time with artist MASAKO.Y. These t-shirt designs are inspired by Japanese izakaya and can be worn and enjoyed by any lover of Japanese cuisine. It also includes Japanese and English letter embroidery.

POSTOKYO Tokyo Bi-Colour No-Sleeve Knit: ¥4,500 (Before Tax)

These summery dresses are perfect for the coming warm season. The back is embroidered with a gorgeously eye catching crane while the front features the word "Tokyo" written in Japanese (東京) in the same colours.

Head to the shop to see even more must-get items from jouetie.