Visiting Hakone? Pick Up A Freshly Baked Hakone Basque Cheesecake
A brand new Basque Cheesecake shop called Hakone Cheese Terrace opened on July 26th. The carefully balanced rich flavour and smooth texture of these cheesecakes makes them the perfect Hakone souvenir! Basque cheesecake is a type of burnt cheesecake that originated from Basque, Spain.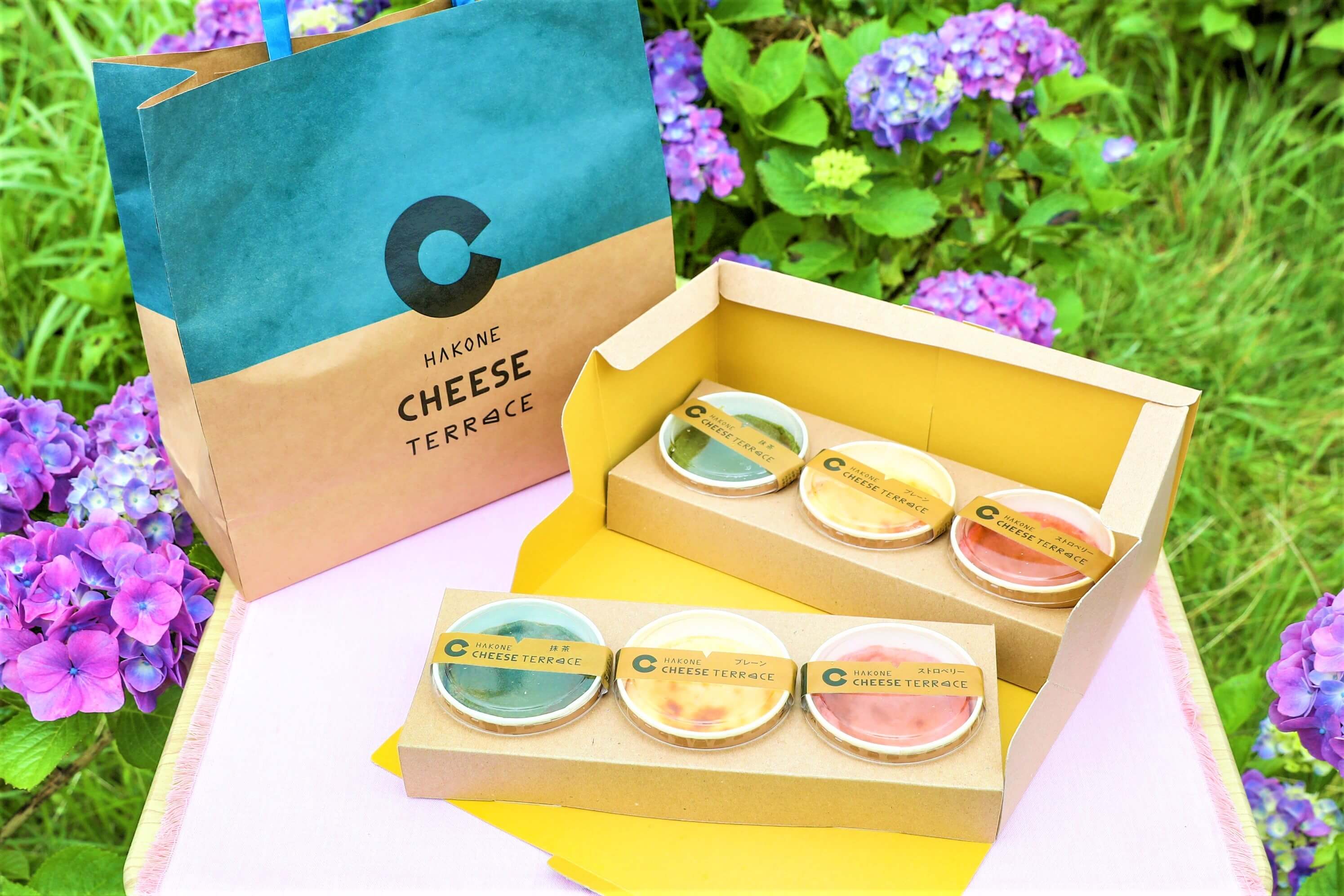 Hakone is home to a large number of Japan's popular tourist spots as well as relaxing hot springs and beautiful nature. Located just 1.5 hours from Tokyo, Hakone has an extraordinary atmosphere which will heal both your body and mind. Hakone Cheese Terrace opened to enhance the appeal of the nature surrounding Hakone resorts and to contribute to the fascinating culture of the area.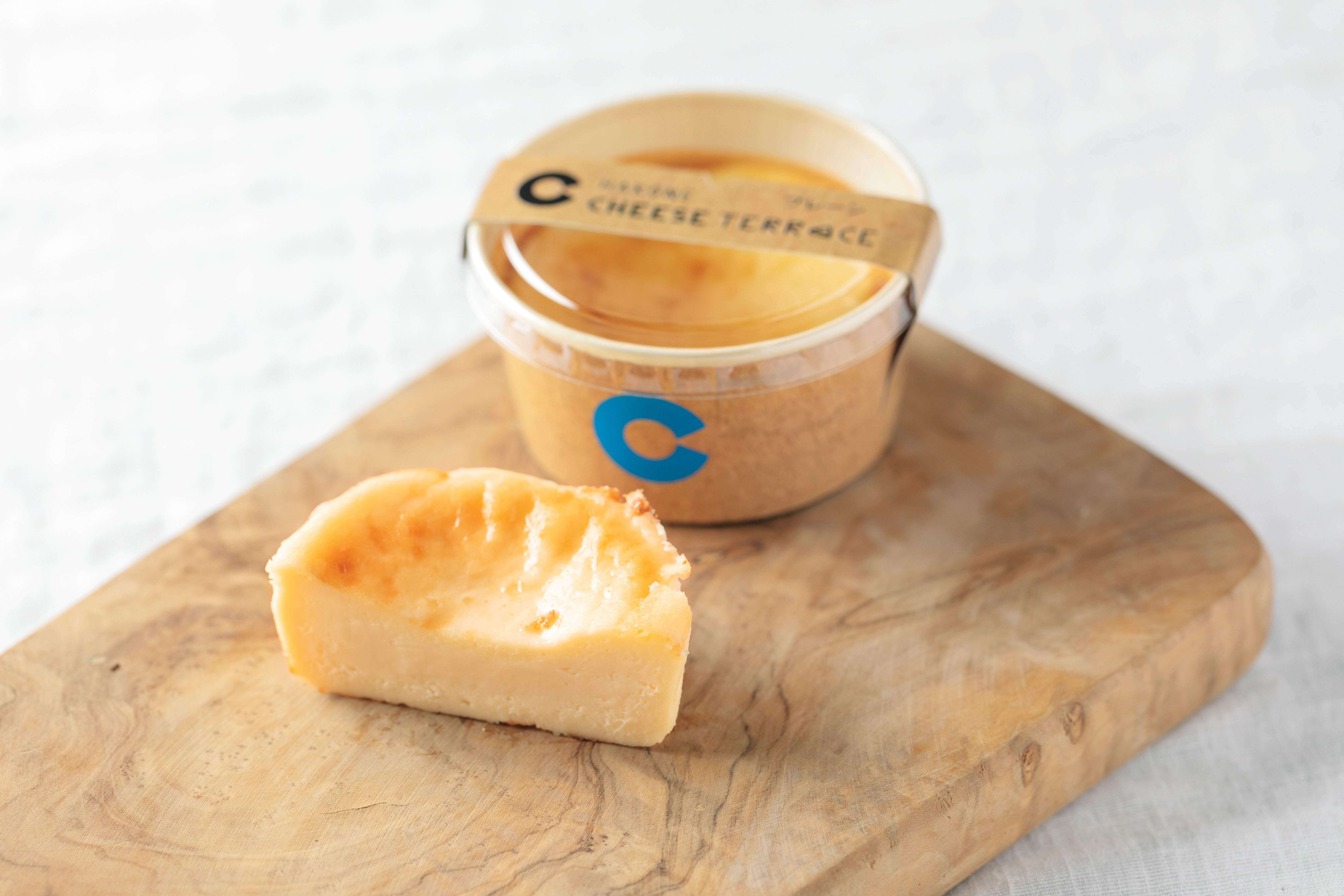 The basque cheesecake comes in a mini cup so customers can enjoy this delicious treat while on the go exploring the local area. This is also the perfect souvenir size.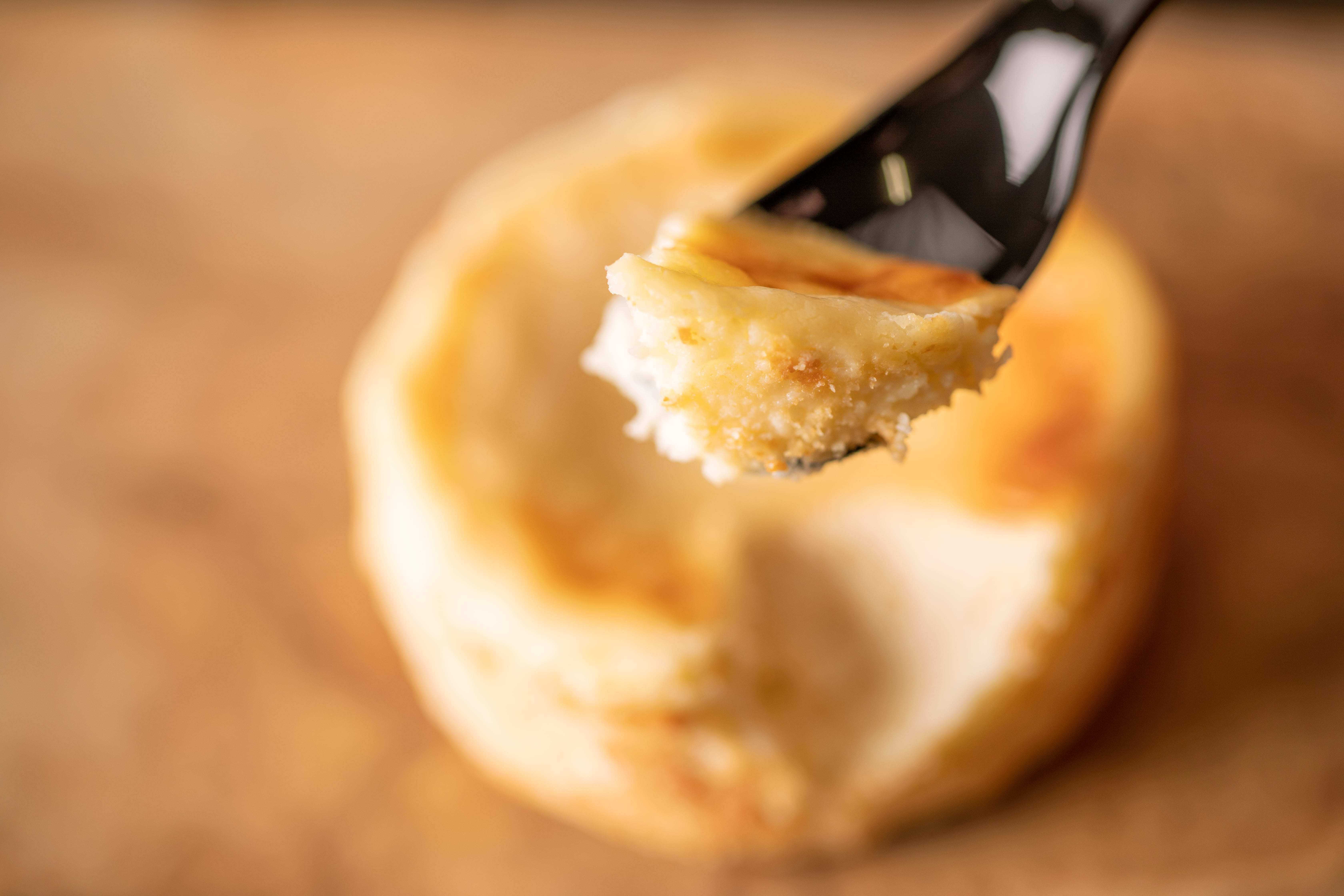 The cheesecakes at Hakone Cheese Terrace are made mostly from locally sourced ingredients. For a creamy, fresh taste, milk sourced from the south of Hakone is combined with high-quality cream cheese. An original recipe blend is used for a rich flavour and smooth texture.
The cheesecakes are baked fresh at the shop so you can enjoy your cheesecake at its most delicious stage. Rock salt, black pepper and soy sauce are available as toppings for customers to discover a new flavour.
Come enjoy the flavours of Hakone to your heart's content at Hakone Cheese Terrace. 
Information
Hakone Cheese Terrace  
Address: 54 Motohakone, Hakone, Ashigarashimo-gun, Kanagawa
Access: 3-minute walk from Motohakone Minato, 1-minute walk from Hakone Jinja Iriguchi (Hakone Shrine entrance), Hakone Tozan Bus.
Opening Hours:  9:00 ー 16:00
Official site: https://hakone-cheese-terrace.com/
RECOMMENDED ENTRIES
New lineup of Basque cheesecakes made by skilled Japanese bakers and patissieres!

Basque cheesecake is a type of burnt cheesecake that originated from Basque, Spain. Sweets Gift Shop "BLOCK BLOCK TOKYO Roppongi sells mini sizes of Spanish Basque cheesecakes. They are collaborating with the patissieres Handmade Fruits Sweets Shop "shirokane sweets TOKYO which uses seasonal Japanese fruits!

The two collaboration cakes "BASQUE APPLE CINNAMON BLOCK BLOCK" and "BASQUE CASSIS BLOCK BLOCK" will be released for sale from 2nd April on the online store.


BASQUE APPLE CINNAMON BLOCK BLOCK ー ¥360

When you take your first mouthful, you can taste the cinnamon. The acidity and sweetness of the apple lingers and finally, you get a taste of rich cream cheese. The perfectly balanced flavours spread through your mouth. This divine dessert is something you just cannot get enough of.

BASQUE CASSIS BLOCK BLOCK ー ¥360

As the highlight of this cheesecake is its caramelized flavour, this has been enhanced further to make a rich cheesecake. The flavour of the cassis blackcurrant liqueur and its acidity have been deepened. The characteristic polyphenol Cassis Anthocyanin, which is known to be good for your eyes, back, and good for healing your fatigue, has been included in the dessert. This is perfect for the modern workaholic!

The new Basque cheesecakes would make for the perfect gift! So ー how about it?

Information

BLOCK BLOCK TOKYO -Roppongi-
Address: 4-1-19, Roppongi, Minato Ward, Tokyo

TEL: 03-6804-1252
Online store: http://b-b.tokyo/

Handmade Fruits Sweets Shop shirokane sweets TOKYO
Address: 4-7-4, Shirokanedai, Minato Ward, Tokyo

TEL: ​03-6409-6512
Online store: http://shirokanesweets.shop/

The cheesecakes will start selling at the front of the stores from 2nd April. You can start making reservations to purchase at the store from 1st April.

The online stores of  both sweets shops will start shipping the cheesecakes on 2nd April. You can start making reservations online from 27th March.

Kaori's Easy Recipe: Learn to Make Hello Kitty No-Bake Cheesecake

With just a small bit of ingenuity, turn everyday food into something cute using Kaori's easy recipe! With a few simple ideas, an ordinary recipe magically transforms into a cute dish.

In this recipe you'll learn how to make a no-bake cheesecake by simply combining and mixing! This easy recipe can be followed by anyone and can be easily changed into a character cake of your choosing. Chocolate plates are hard to make but if you follow these steps you'll be able to make your own in no time!

Ingredients

200g cream cheese

200g fresh cream

70g sugar

1 tbsp lemon juice

10g gelatin

20 crackers (I used Ritz crackers)

50g unsalted butter

Preparation

・Add 5 tbsp water into the gelatin. Head it in the microwave for 40 seconds before combining with the cream cheese.

・Melt the unsalted butter in the microwave

・Let the cream cheese come to room temperature and then wrap the bowl in cling film before leaving to soften in the microwave.

1.

①Blitz 10 crackers in a food processor and then pour in your melted unsalted butter. Add the other 10 crackers and blitz again.

Add the mix into a cake tin. Wrap a potato masher in cling film like the photo below and press the mix.

*By pressing multiple times with force at this stage it will prevent the biscuit from breaking later when the cake is cooked.

2.

①Blitz the cream cheese and sugar in the food processor to combine.

②Transfer the combined cream cheese and sugar into a bowl and add the lemon juice, fresh cream and the microwaved gelatin.

③Once fully mixed pour it on top of your cracker in the cake tin. Put into the refrigerator to fully cool and solidify. Your no-bake cheesecake is done!

Next we need to draw Hello Kitty's face. I made a video so check that out below too.

1: Get a picture of Hello Kitty (or character of your choice) and affix see-through baking paper on top with sellotape.

2: Trace the lines of the picture with a chocolate pen that has been warmed.

*The fatter your lines the less likely it is to break when you put it on the cake.

3: Once you've finished drawing, place it into the refrigerator to harden. Once both the cheesecake and chocolate have cooled you can begin decorating.

4: Place the hardened chocolate on top of the cheesecake.

*Don't worry if your chocolate breaks a little when putting it on top. You can join the broken lines back up once you've placed it on so nobody will know.

5: Once the framework is on add the eyes and nose making sure to check the sizes and balance. Finally, fill in the ribbon and clothing with either strawberry sauce or strawberry jam that has been mixed with a bit of water.

And you're done!

Kaori invites you into her world of character-themed food dishes in her recipe series. Be sure to check out her Instagram where she has uploaded many pictures of her character dishes!

Information

Kaori Kubota (@kaopan27)
I live in Hokkaido and I love to make character themed foods, desserts and pastries♡

I want to see my family smile, so I enjoy putting in a bit of effort to make character foods and changing food into something cute♡

You can see more of my character foods and character bento boxes on my Instagram page→@kaopan27

5 Refreshing Shaved Ice Desserts to Try in Japan This Summer – MOSHI MOSHI NIPPON

The Japanese photo app LINE STEP is used to look up the hottest and most popular spots in your current location. The company has just revealed this summer's Top 10 must-try shaved ice desserts in Tokyo.

We're going to take a look at our 5 most recommended from the selection.

Shaved Ice Serve in an Entire Watermelon at KKOTBING

KKOTBING in Jiyūgaoka serves Korean-style shaved ice, including their very Instagrammable melon shaved ice which is served in an entire melon! The mango yoghurt flavoured shaved ice is also a tantalizing treat guaranteed to make you drool with its refreshing combination of fresh mango pieces and light yoghurt. The store even has photo spots where you can set down your shaved ice and snap tempting photos to show off online.

LINE STEP Page: https://m.linestep.io/review/1293001925947556534

▼KKOTBING

Address: Jiyūgaoka Masumoto Bldg. 1F, 1-26-3 Jiyūgaoka, Meguro Ward, Tokyo

Business Hours: Weekdays 12:00-23:00 / Weekends 11:30-22:30 (Food & Drink Last Orders 22:00)

No Fixed Holidays

Official Website: https://kkotbing-japan.com/

Super Fluffy Shaved Ice Made With Natural Ice at Shigeyoshi


Everybody knows about Shigeyoshi in the northern part of Senju. Every year without fail, you could be waiting up to 2 hours during shaved ice season at this hugely popular store. The unmissable menu choice this year is their cute strawberry flavoured bear shaved ice. This succulent strawberry selection is swimming in strawberry sauce. And don't worry, the ears won't melt or slide off while you're taking your photo!

LINE STEP Page: https://m.linestep.io/review/1293003652490855077

▼Shigeyoshi

Address: 1-24-8 Senju, Adachi City, Tokyo

Business Hours: 11:00-18:00 (*Summer season hours)

Closed: Mondays & Tuesdays (Subject to change

Official Twitter Page: https://twitter.com/shige_2017

Cute, Crunchy & Fluffy Shaved Ice at foru cafe

Out shopping or taking purikura pictures in Harajuku? Then make sure you drop by foru cafe which is famous for its brulee French toast. This summer, the cafe has whipped up a very special strawberry milk pavlova shaved ice dessert. The creamy and refreshing taste of the milk mixes lovingly with the sweetness of the strawberries. It's all crowned with a crunchy meringue too which makes a delicious pairing with the shaved ice. Oh, and there's a lemon pavlova version too which is super refreshing!

LINE STEP Page: https://m.linestep.io/review/1292991141230150422

▼foru cafe

Address: WeWork Iceberg 1F, 6-12-18 Jingumae, Shibuya, Tokyo

Business Hours: 9:00-19:00 (Food Last Orders 18:00 / Drink Last Orders 18:30)

Official Website: https://forucafe.com/

Make Your Own Shaved Ice at #gram factory

If you'd like a little serving of self-customisation with your shaved ice then you'll want to head to#gram factory where you are free to choose your own toppings to make your own personalised dessert. Their milk flavoured shaved ice is made only with milk and condensed milk for a smooth and fluffy texture. Their popular choices include "SNOW QUEEN" where you can pick from various cute cookies like a flamingo or shell, and #OREOgram which is piled full of crunchy Oreo cookies. Delicious AND Instagram-worthy!

LINE STEP Page: https://m.linestep.io/review/1293361333047132186

▼#gram factory

Address: 2-15-1 Kitazawa, Setagaya Ward, Tokyo

Business Hours: 11:00-20:00

No Fixed Holidays

Official Instagram Page: https://www.instagram.com/gram_factory/

 

Combinations and Toppings You Have Never Seen Before at Ichou no Ki

Last on our list is Ichou no Ki where you can experience their beautiful hydrangea shaved ice. The littering of purple and light blue petal toppings are made from agar-agar to look like a hydrangea. Hiding underneath the white shaved ice is matcha cream, mint powder, houjicha tea syrup, and cornflakes, making for a kaleidoscope of colours and textures.

LINE STEP Page: https://m.linestep.io/review/1293370743358226467

▼Ichou no Ki

Address: 1-28-14 Kita-Shinagawa, Shinagawa, Tokyo

Business Hours:

[July-September] 11:30 until all reservations are made

[October-June] 11:30-17:00

*Group bookings can only be made for groups of 4 and under

Closed: Thursdays (and select days which can be found on the shop's official blog)

Official Blog: http://s.ameblo.jp/ichounoki1979/

Nothing beats shaved ice when the weather's hot, so eat as much of it as you can this summer while in Tokyo.
RELATED ENTRIES
Bandai Candy Releases Second Round of Family-Sized Demon Slayer Tarts

Bandai Candy has begun selling the second round of Demon Slayer-themed tarts! This time, the family-sized treats will feature the taste of two varieties of cheesecake, and will be available at select AEON, AEON Style, MaxValu, and Daiei locations throughout Japan.

Each tart features characters from the popular Demon Slayer anime series with smiles on their faces. With a two-layered structure, customers can enjoy the flavor of baked cheesecake and gelatin cheesecake. Characters included are Tanjiro, Nezuko, Zenitsu, Giyu, Inosuke, Kyojuro, Shinobu, and Kanao.

(C)吾峠呼世晴/集英社・アニプレックス・ufotable

Information

Demon Slayer Big Tart Round Two ~Two Types of Cheesecake~

Price: ¥537 each (Tax Included)

Available Now

Where to Buy: 

AEON / AEON Style (Honshu, Shikoku, Kyushu)

MaxValu (Kanto, Hokuriku, West Japan)

Daiei's Chilled Dessert Corner

※Products only available in limited quantities. 

※Only available at participating stores.

Details: https://www.bandai.co.jp/candy/products/2021/4549660736721000.html 

Alice in Wonderland' Inspired Afternoon Tea Served at Aoyama St. Grace Cathedral for Seven Days Only

For seven days only from January to April 2022, the Aoyama St. Grace Cathedral wedding hall will open its doors to those wanting their fill of Alice in Wonderland-inspired sweets! 'Alice's Tea Party' will be an afternoon tea experience you'll never forget, and reservations are required.

The limited-time-only afternoon tea will feature a variety of adorable sweets that look like they popped out of a picture book, from Berry and Pistachio Bunny Ears Mousse to the Queen's Chandelier Butter Sandwich Cookies decorated like playing cards. Each sweet makes use of seasonal ingredients like strawberries, perfect with chocolate dips, petite tarts, and macaroons.

Information

Sweets Palette Afternoon Tea 'Alice's Tea Party' 

Running:

January 19, 2022
February 2, February 9
March 2, March 9, March 16
April 6 *Reservations Required
Times:

First Seating 12:15-13:45(Open at 12:00)

Second Seating 14:45-16:15(Open at 14:30)
Price: ¥4,500 per person (Tax and Service Charge Included)
Address: Aoyama St. Grace Cathedral Guest House (3-9-14 Kita-Aoyama, Minato-ku, Tokyo)

Access: 3-minute walk from Omotesando Station Exit A1 on Ginza Line / Chiyoda Line / Hanzomon Line
Reservations: https://www.bestbridal.co.jp/guestparty/tokyo/akasaka_aoyama_omotesando/stgrace_aoyama/2022event-10/ 

Peter Pan and Wendy-Inspired Sweets Buffet Comes to Nagoya

The Strings Hotel Yagoto NAGOYA in Aichi Prefecture is holding the 'Strawberry Neverland – Tinkerbell in Love Sweets Buffet' at it's sweets restaurant SCALA Terrace from January 15 until March 31, 2022. These limited-time desserts will use seasonal strawberries and pistachios.

Inspired by Peter Pan, the space will feature cute and refreshing sweets that will make guests think of the adorable fairy Tinkerbell. The 'Tinkerbell in Love – Raspberry Lime Mousse' is covered in the character's fairy dust, and is highly recommended by the restaurants chef patissier. A total of 16 desserts will be available, with some featuring edible flowers and other fantasy-inspired decorations. Those wanting something a little heavier can enjoy slow-cooked Indian Curry and Farfalle Cream Pasta. The space will also feature plenty of photo spots, so be sure to take some pictures with the person you love!

Sheraton Miyako Hotel Osaka to Hold Little Red Riding Hood-Inspired Strawberry Fair

The Sheraton Miyako Hotel Osaka will hold a 'Strawberry Fair' at four of its restaurants starting on January 1, 2022!

Little Red Riding Hood (Mascarpone and Berry Mousse)

Forest Friend (Cream Puff), Friendly Bear Macaroons

Forest Tree Stump (Nuts & Pistachio Cake)

Menu featuring Strawberry Items

Cafe & Gourmet Shop 'Cafe Bell' 

Running: January 15 – February 28, 2022

Sweets

Strawberry Brioche Sandwich / Strawberry Pudding / Strawberry Pistachio / Strawberry Tart / Strawberry Shortcake

Bread

Strawberry Cannelé de Bordeaux / Strawberry & Almond Chocolate Danish / Strawberry and Cream Cheese Flute 

Chinese Restaurant 'Shisen' 

Running: January 6 – February 28, 2022

Strawberry Apricot Tofu / Strawberry Pudding

'Bar eu'

Running: January 1 – February 28, 2022

Strawberry Grasshopper / Strawberry Milk for Adults / Strawberry Mojito

※Menu items subject to change depending on availability.
※Please inform the staff of any food allergies in advance.

English Dessert Strawberry Eton Mess Available at koe lobby During the Holiday Season

The koe lobby on the first floor of hotel koe Tokyo is now selling the traditional English dessert Strawberry Eton Mess for a limited time. 

Eton Mess is made with a mixture of strawberries, meringue, and whipped cream, and is popular during the holiday season!

koe lobby's Eton Mess features a baked meringue with a crispy texture, homemade sweet and sour strawberry sauce, and fluffy cream and fresh strawberries. If you're in the area, be sure to order one before they're gone!

Information

Available: Starting December 21, 2021 

Available Hours: 12:00-18:00 (Last Order at 17:30)

*While supplies last. 

Price: ¥850 (Tax Included) 

*Drink Set: ¥1,290 (Tax Included)

Address: koe lobby (3-7 Udagawacho, Shibuya, Tokyo)

Hours: 7:30-12:00 (Breakfast, Last Order at 11:30) / 12:00-15:00 (Lunch, Last Order at 14:30) / 15:00-20:00 (Tea Time, Last Order at 19:30)

*After 18:00 only drinks and bread are served. 

Official Site: https://hotelkoe.com/food/ 


Tokyo Gift Palette at Tokyo Station Selling Seasonal Strawberry Sweets

Tokyo Gift Palette, located near the Yaesu North Gate at Tokyo Station, offers a wide selection of unique souvenirs. From December 26, 2021 until January 11, 2022, the location will be holding the Exciting New Year's Fair, with the Strawberry Sweets Fair coming soon after from January 5 until January 25, 2022. 

Konigs-Krone Luxury 'Strawberry Parfait'


Patisserie Ginza Sembikiya 'Strawberry Omelet'


Strawberry Shop by FRANCAIS 'Strawberry Parfait'


*Only available at Tokyo Gift Palette
Tokyo Kaikan 'Reward Parfait ~Strawberry & Chestnut~

Strawberry Shop by FRANCAIS 'Fresh Strawberry Milk Cake'

Oosumi Tamaya 'Strawberry Daifuku'

Oosumi Tamaya 'Chinese New Year Daifuku'

Tokyo Kaikan 'Chocolate & Orange Tart' 

Paq & Mog Terrace 'Calbee and Tokyo Banana Bonito & Kelp Umami Dashi Potato Chips

The New Year's Fair will feature cute cakes and sweets inspired by the Chinese Zodiac, along with traditional Japanese goods. The Strawberry Sweets Fair will see a number of popular goodies on sale, including desserts that won top prizes in the 'Favorite Fruit Survey' conducted by Tokyo Gift Palette on Instagram in June 2021.

Ginza Cozy Corner Launches Limited Edition New Year's Chinese Zodiac Tiger Cake

From December 31, 2021, until January 3, 2022, Ginza Cozy Corner locations nationwide will be selling a limited edition New Year's cake featuring the Tiger from the Chinese Zodiac! 

Chinese Zodiac Tiger Cake

Fortune Cookies (10 pieces)

New Year Madeleines (6 pieces)

New Year's Grab Bag (24 pieces / 40 pieces)

Ginza Cozy Corner began selling a variety of New Year's-themed sweets starting in 2011. Traditionally, families in Japan enjoy a luxurious boxed meal called osechi on New Year's Day, and the company wanted to provide something to satisfy people's sweet tooth afterward! This year is the Year of the Tiger, making this chocolate and banana cake the perfect way to welcome 2022. Shops will also be selling other sweets like fortune cookies and mini Madeleine cakes, so there's something to bring a smile to everyone's face.

Information

Chinese Zodiac Tiger Cake

Available: December 31, 2021 – January 3, 2022

Where to Buy: Cozy Corner Locations Nationwide

Official Site: https://www.cozycorner.co.jp/

Kyary Pamyu Pamyu Explores Tomakomai, Hokkaido in New Tour Video

Kyary Pamyu Pamyu is introducing potential travelers to the charms of Tomakomai, Hokkaido in a new two-part tourism video on her YouTube channel. 

In the new videos, fans can see Kyary in a new light very unlike her onstage persona. Along with her tour guides, she travels for two days around this gorgeous city on Japan's northernmost island.
The first video begins with her visit to a Red Eagles Hokkaido hockey game, quickly followed by tons of outdoor activities like canoeing and horseback riding. The singer enjoys plenty of local dishes and captures some spectacular views of Lake Utonai. 


Who is the one who invited Kyary to Tomakomai anyway? Fans will have to watch to find out. Whether living in Japan or dreaming about visiting someday, these videos are sure to inspire a future trip.

Rihga Royal Hotel Kyoto to Hold Strawberry Fair in 2022

From January 4 until April 30, 2022, Rihga Royal Hotel Kyoto will hold a special Strawberry Fair at its cozy lounge.

Those who love strawberries enough to want to drown in them won't want to miss this limited-time event featuring four unique desserts and an afternoon tea set.

Strawberry Parfait 'Drowning Strawberries' 

 

Guests can enjoy pouring warm homemade confiture made from Kyoto strawberries from Uesugi Farm in Yawata City over thin chocolate hidden beneath strawberry ice cream. This is recommended by the patisserie.

'Strawberry Shortcake ~Buried in the Glass~'

 

This limited-edition version of the hotel's strawberry shortcake is filled with white meringue and soft sponge, with cherry brandy flavoring making it light and easy to eat.

'Strawberry Afternoon Tea Set' 

Strawberry Stack Option

The popular 'Afternoon Tea Set' is served in a bamboo box made by Kochousai Kosuga, a bamboo craft manufacturer in Kyoto. This special strawberry version features nine sweet and nine savory items, including strawberry shortcakes and cream puffs. For a limited time until March, guests can add a pile of strawberries to the third tier. Using the special scoop spoon, you'll feel as though you're harvesting strawberries of your own! Be sure to take pictures.

Overflowing Strawberry Gift Box

Although it looks like a present, this dessert is meant to be enjoyed on-site! Overflowing with strawberry mousse, strawberry jelly, and pistachio brulee, raspberry sorbet, and streusel are hidden beneath the white chocolate box. Now that's luxury!

Egg specialty store TAMAGOYA to launch Strawberry Fair for a limited time in Shizuoka

Shizuoka-based egg specialty store TAMAGOYA is currently running a BERRY BERRY Strawberry Fair for a limited time.

TAMAGO Pudding Parfait

ICHIGP Pudding Parfait


Gigantic ICHIGO Shortcake Parfait

Strawberry-filled Pancakes

The cafe offers pancakes and parfaits made with strawberries from Shizuoka Prefecture. The menu includes the "TAMAGO Pudding Parfait" that looks like a fried egg with fluffy pancakes and pudding as a specialty of egg stores, and the seasonal "ICHIGO Pudding Parfait". The "ICHIGO's Giant Shortcake Parfait," which weighs over 5 kg, is available by reservation only.

Enjoy the harmony of eggs and strawberries to your heart's content.

Information

TAMAGOYA

Address: 1-322, Yasuhisa, Mishima-shi, Shizuoka, 〒411-0815 

Opening Hours: 9:00~17:00/cafe branch 9:30~17:00(L.O15:30)

Official Site: http://izu-tamagoya.com/

McCafe by Barista to Offer Cookies & Cream Frappe for Winter Season

McDonald's Japan locations with McCafe by Barista installations will begin selling the Cookies & Cream Frappe for a limited time starting December 8, 2021. The McCafe by Barista corner employs full-time baristas serving 'authentic cafe coffee.' 

McCafe by Barista invites guests to enjoy high-quality frappuccinos and smoothies and these locations are offering three unique Frappes this winter. Following the Strawberry Creme Brulee Frappe and normal Creme Brulee Frappe released in late November, the Cookies & Cream Frappe will release soon, filled with rich vanilla sweetness!

Cookies & Cream Frappe Medium: ¥470 / Large: ¥540 (Tax Included) 

 

The drink is a rich blend of creamy vanilla made from Madagascar Bourbon vanilla beans, blended with crunchy Oreo cookie bits and topped with whipped cream and chocolate sauce. What's not to love?

New Year's Mini-Cakes Available for Preorder from Ginza Cozy Corner

Ginza Cozy Corner, a popular cake store in Tokyo, has started accepting preorders for its beautiful selection of New Years' mini-cake sets, called Sweets Osechi. In Japan, osechi refers to traditional foods eaten on New Years Day, which come in a special box, not unlike a bento box. Of course, they aren't usually packed with sweets, but these look absolutely scrumptious. 

In 2011, Ginza Cozy Corner started the 'First Sweets' tradition to invite people to welcome the new year by enjoying some sweets after finishing the traditional osechi dishes. This is when the idea of Sweets Osechi was born, sure to put a smile on your face going into 2022!

9-piece Sweets Osechi: ¥2,400 (Tax Included) 

12-piece Sweets Osechi: ¥3,000 (Tax Included) 

This year's selection includes tarts featuring the Chinese zodiac sign of the Tiger and the first sunrise of 2022. Each set will come in a special box in a bright red design perfectly exemplifying the holiday spirit!

Information

Sweets Osechi

Preorders Now Open

*Preorders will close as soon as items sell out. 

*Preorders can only be made in-store. Online preorders will not be accepted. 

Official Site: https://www.cozycorner.co.jp/