Japanese Musician YOSHIKI Impresses Prince Charles
Having previously had a picture with Queen Elizabeth II, Japanese musician YOSHIKI is making more and more of an impression on the British royal family. In a recent photograph he posted on Instagram, he is seen with Prince Charles at Buckingham Palace. The photo was taken at a music-related charity event supported by Prince Charles to which YOSHIKI was invited as a guest.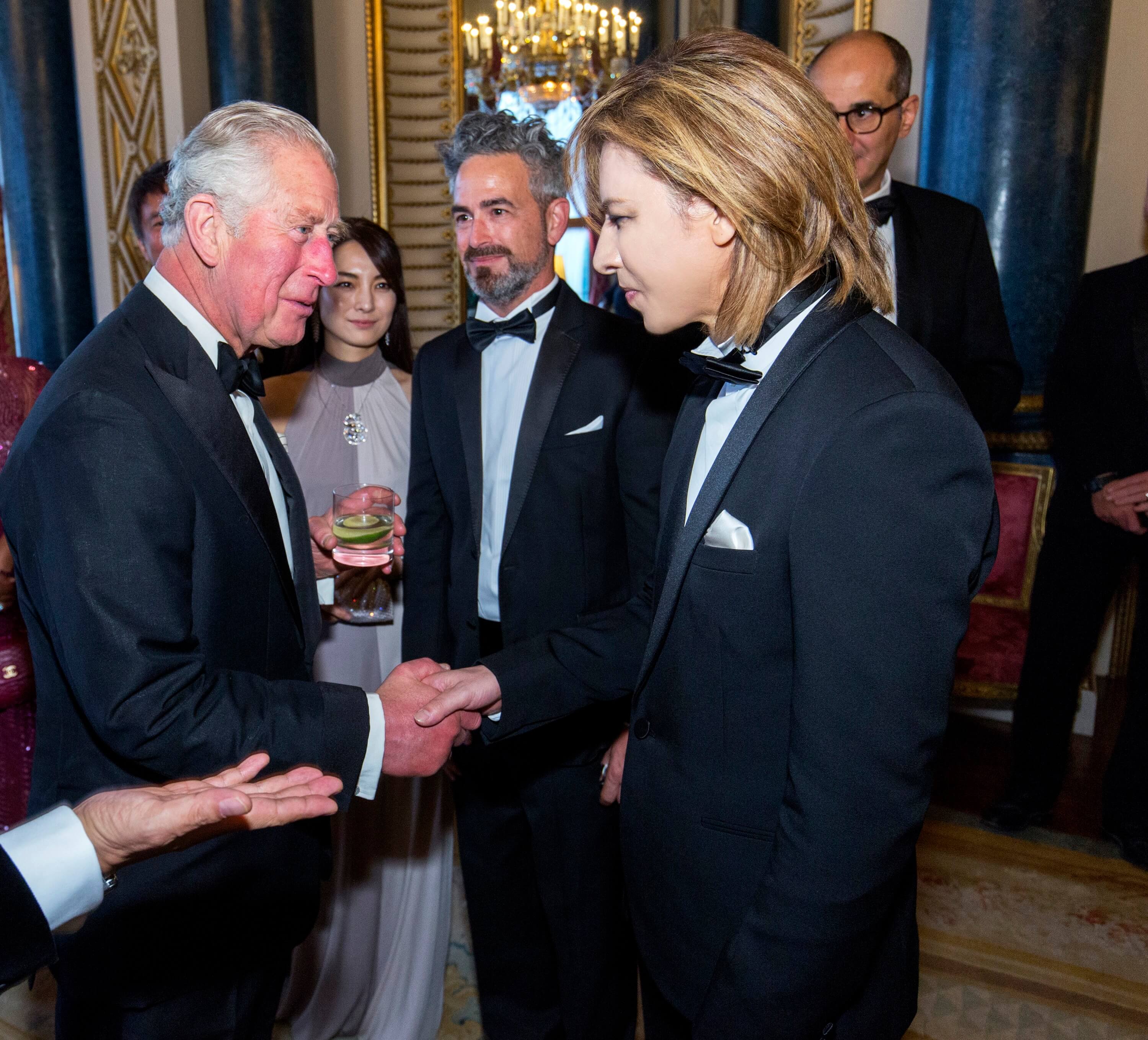 YOSHIKI and Prince Charles had a conversation that day. The fact that YOSHIKI wrote and performed the 10-year commemoration song for the Emperor of Japan was mentioned and Prince Charles supposedly reacted positively, stating that he would love to have YOSHIKI perform at Buckingham Palace.
YOSHIKI is making an impression on people all over the world so do not take your eyes off him for a second. 
RELATED ENTRIES
YOSHIKI will perform as a guest act at the Royal Albert Hall in London, England on 11th November 2019 as part of Sarah Brightman's world tour Hymn: Sarah Brightman In Concert.

The Royal Albert Hall is a prestigious venue which opened in 1871. It is a grand and significant building which is a key part of London history. It is also referred to by many as London's greatest venue.

YOSHIKI has performed in many leading American performance venues such as Radio City Music Hall, New York, the San Francisco Masonic Auditorium and The Dolby Theatre, Los Angeles. He has also just performed at two live concerts held at Yokohama Arena last month! To follow, he is now going to be a guest performer at world songstress Sarah Brightman's world tour!

YOSHIKI wrote the music and lyrics for the song Miracle performed by Brightman which was released worldwide. It is ranked in the top 10 in the iTunes classical music charts in 15 countries! The song became known as the masterpiece of her album.

The last time YOSHIKI performed in England was at X Japan Wembley Arena in 2017. X Japan's documentary WE ARE X received lots of film festival awards in many countries. The soundtrack of this documentary reached no.1 on England's rock charts!

In 2014, YOSHIKI held his solo concert YOSHIKI classic at the Royal Festival Hall in London. In 2015, he delighted the audience with his piano performance of Queen's Bohemian Rhapsody at the Classic Rock Awards. He also collaborated with Queen's drummer Roger Taylor, creating the song Foreign Sand which was ranked into the music charts in England.

Recently, YOSHIKI has been involved in writing the theme song for the movie xXx 4; the sequel to the epic movie XXX, which stars Hollywood actor Vin Diesel. He also wrote the theme song for the original film Spycies, which will be released in China countrywide.

No matter where in the world, YOSHIKI has made breathtaking contributions!

Information

<HYMN Sarah Brightman In Concert>YOSHIKI performance schedule

06/02/2019 New York City – Radio City Music Hall

09/03/2019  San Francisco, CA – The Masonic

10/03/2019  Los Angeles, CA – Dolby Theatre

23/04/2019  Yokohama, Japan – Yokohama Arena

24/04/2019  Yokohama, Japan – Yokohama Arena

YOSHIKI official website: https://www.yoshiki.net/

Yoshiki to Score Music for xXx 4 Movie Starring Vin Diesel

An event was held in Shanghai on January 21, 2019 for the fourth instalment of the xXx film franchise starring Vin Diesel. D.J. Caruso will return as director after having worked on the previous film, xXx: Return of Xander Cage. A TV series adaptation was also announced.

It was revealed at the event that Japanese singer-songwriter Yoshiki will score music for both the new film and the TV series.

Yoshiki revealed at a conference in Japan on January 25 that not only will he write the music he will also be one of the producers for the TV series and make a cameo in xXx 4.

The xXx series has grossed $656,539,421 worldwide. It is estimated that the fourth film will earn $182 million. Casting is currently underway for the film and production is expected to begin in early 2019.

Yoshiki wrote the theme song for the 69th Golden Globes as well as the theme for Saw 4 (2007). He is also currently working on the next X Japan album.

"Yoshiki is a great friend of ours at THC and we are incredibly proud to be working with such a talent on two movies which are both global in scope," comments Nic Crawley, CEO of The H Collective which produces the xXx series.

YOSHIKI CLASSICAL 2018 to be Streamed Live Worldwide, Special Guests Sarah Brightman and HYDE

YOSHIKI is set to perform two nights at Tokyo International Forum on November 12 and 15. The concert, titled YOSHIKI CLASSICAL 2018 ~ Two Violet Nights ~ YOSHIKI with Philharmonic Orchestra, will feature special guests Sarah Brightman on November 12 and HYDE on November 15.

Tickets for both nights sold out the moment they went on sale. In response to demand from fans unable to obtain a ticket, the entire concert on the 15th will be streamed live on Yoshiki's official channel on Nico Nico Channel. Select parts from YOSHIKI's performance with Sarah Brightman on the 12th will also be shown during the stream.

The concert will be streamed on YOSHIKI's official YouTube channel too―which is being renewed as YOSHIKI CHANNEL International―for overseas fans. It will be available to those who pay to become a member of the channel, a new system introduced by YouTube.

YOSHIKI collaborated with Sarah Brightman on her upcoming new album Hymn which is set for worldwide release on November 9. He wrote the lyrics for and composed the song Miracle. Brightman has sold over 30 million records worldwide and has acquired over 180 gold and platinum albums in over 40 countries. She has performed at the Olympics in Barcelona and Beijing. Her song Time to Say Goodbye is one of the biggest selling singles in history.

YOSHIKI and Brightman performed Miracle to a select number of fans at Brightman's global TV and cinema event "Extravaganza in Bavaria!" at Ludwigs Festspielhaus in Hohenschwangau, Germany on September 21. Japan will mark her first performance of the song at a real concert.

YOSHIKI performed alongside Jean Simmons of KISS at Visual Japan Summit in 2016, a visual-kei festival organised by YOSHIKI. He was also joined by Marilyn Manson at Coachella in April 2018 and Skrillex at Fuji Rock in July 2018. Now he is set to make history once again by collaborating with British soprano songstress Sarah Brightman.

He is also set to perform Red Swan―the opening theme for season three of Attack on Titan―together with HYDE on the November 15 show. It will be a special arrangement backed by a full orchestra.

Make sure you don't miss the worldwide stream of YOSHIKI's concert.

'Red Swan' by YOSHIKI feat. HYDE Tops Rock Music Charts Inside & Outside Japan

Attack on Titan's season three opening theme song Red Swan by YOSHIKI feat. HYDE was released digitally worldwide on October 3 and has quickly shot to the top of the charts at home and abroad.

The second Red Swan his iTunes it shot to no.1 in the music platform's rock charts not only in Japan but in Argentina, Mexico, Chilie and Colombia. It also clocked in at no.2 in Hong Kong, no.4 in Taiwan and no.5 in Thailand.

The song's success can be credited not only to the fact that it's part of one of the most popular anime series in the world but because it's created in collaboration with two of Japan's most celebrated artists, Yoshiki of X Japan and Hyde of L'Arc-en-Ciel. Fans have praised the song for its extremely beautiful melody, its degree of perfection and for composer Yoshiki's ability to keep evolving and pushing the boundaries of what he can do.

Yūki Kaji, the voice actor of Attack on Titan's protagonist Eren Jaeger, appeared on YOSHIKI CHANNEL―the most subscribed to channel on Japan's biggest video streaming platform niconico―in celebration of the song's release to talk about the show. Kaji has provided the voices for characters in many popular series including Shu Ouma in Guilty Crown and Meliodas in The Seven Deadly Sins.

Information

"Red Swan"

Released: October 3, 2018 (Available for digital download worldwide

YOSHIKI feat. HYDE CD Edition: ¥926 (+Tax)

Attack on Titan CD Edition: ¥1,111 (+Tax)

YOSHIKI feat. HYDE "Red Swan" Website: http://yoshiki-hyde.com

"Attack on Titan" Season 3 Official Homepage: https://shingeki.tv/season3/

YOSHIKI CHANNEL: Talk With Yūki Kaji (Eren Jaeger, Attack on Titan)
Boradcast Date: October 4, 2018 at 21:30 (JST)
Guest: Yūki Kaji

Link: http://live.nicovideo.jp/gate/lv315989205
*If you're signed up to niconico you can watch the stream in the archive after it has aired.

YOSHIKI Official Website: http://www.yoshiki.net/

Yoshiki Features on Sarah Brightman's Song 'Miracle' From New Album 'Hymn'

20.September.2018 | MUSIC

British soprano songstress Sarah Brightman has announced her brand new album Hymn which is set for release on November 9.

Japanese musician Yoshiki, the lead songwriter of X Japan, collaborated with Brightman on her song Hymn for which he composed and played the piano. To date, Brightman has teamed up with some of the industry's most celebrated musicians including English composer Andrew Lloyd Webber and Italian composer Ennio Morricone.

Yoshiki will appear as a special guest at Sarah Brightman's global TV and cinema event "Extravaganza in Bavaria!" at Ludwigs Festspielhaus in Hohenschwangau, Germany on September 21.

Sarah Brightman has sold over 30 million records worldwide and has acquired over 180 gold and platinum albums in over 40 countries. She has performed at the Olympics in Barcelona and Beijing. Her song Time to Say Goodbye is one of the biggest selling singles in history.

Yoshiki's experience as a composer of classical music includes his composition and performance of his song Anniversary which was performed in celebration of Emperor Akihito's rise to the throne in 1999. He also wrote the official theme song for the 69th Golden Globe Awards. This year, on November 12 and 15, he will hold a classical concert entitled YOSHIKI CLASSICAL ~Two Violet Nights~ with Philharmonic Orchestra. A trailer for the concert can be seen below.

Comments: Sarah Brightman
"This is the biggest piece of music on the album. It has elements of Carl Off's 'Carmina Burana.' I really like it. Yoshiki has real talent." (Translated from Japanese)

Attack on Titan Season 3 Opening 'Red Swan' by YOSHIKI feat. HYDE to Get CD Release on October 3

It was announced on Yoshiki's official Nico Nico Channel page on September 15 that Attack on Titan's season three opening theme song Red Swan by YOSHIKI feat. HYDE will be released on CD on October 3. The two CD covers were also unveiled and can be seen below.

The single will be released in two editions: the cover of the YOSHIKI feat. HYDE Edition features a bewitching image of a swan and woman bathed in red while the Attack on Titan Edition showcases Eren and Levi with a swan splayed behind them in a crimson background.

A special website has also be opened for the song.

Red Swan was performed live for the first time by Yoshiki and Hyde on Music Station Ultra Fes 2018 on September 17. Yoshiki will also appear as a guests at Hyde's Halloween Party 2018 Supported by XFLAG which is set to take place at Makuhari Messe on October 28, while Hyde will appear as a guests at Yoshiki's show YOSHIKI CLASSICAL 2018 taking place at Tokyo International Forum in November.

■Information

"Red Swan"

Release Date: October 3, 2018 (worldwide digital download to be available on the same day)

"YOSHIKI feat. HYDE" Edition: ¥926 (+Tax)

"Attack on Titan" Edition: ¥1,111 (+Tax)

YOSHIKI feat. HYDE "Red Swan" Website: http://yoshiki-hyde.com

X JAPAN Live ~Kurenai ni Somatta Yoru~ Makuhari Messe 3Days

Venue: Makuhari Messe International Exhibition Hall – Halls 1-3

9/28 @ Open 16:30 / Start 18:30

9/29 @ Open 16:00 / Start 18:00

9/30 @ Open 15:00 / Start 17:00

TEL: 03-3402-5999 (UDO ARTISTS Inc.)

YOSHIKI CLASSICAL 2018 ~Murasaki ni Somatta Yoru~ YOSHIKI with Philharmonic Orchestra

Venue: Tokyo International Forum – Hall A

11/12 @ Open 18:00 / Start 19:00

11/15 @ Open 18:00 / Start 19:00

Concert Homepage: https://udo.jp/concert/YoshikiClassical

TEL: 03-3402-5999 (UDO ARTISTS Inc.)

HYDE "HALLOWEEN PARTY 2018"

Venue: Makuhari Messe International Exhibition Hall – Halls 9-11

Dates: October 26, 2018 / October 27, 2018 / October 28, 2018

*Yoshiki to perform on October 28th

Time: Open 15:30 / Start 17:00

Ticket Prices:

Standing Block S / Reserved Seating S – ¥12,000 (Tax Included)

Standing Block A / Reserved Seating A – ¥9,300 (Tax Included)

*Those under the age of 3 not permitted. Those aged 3+ must hold a valid ticket.

*Tickets on sale from October 13, 2018 at 10:00am (JST)

HALLOWEEN PARTY 2018 Website: http://hwp2018.hyde.com/

YOSHIKI Official Website: https://Yoshiki.net

HYDE Official Website: https://www.hyde.com/

Attack on Titan Season 3 Website: http://shingeki.tv/season3/

©Hajime Isayama・Kodansha / "Attack on Titan" Production Team

YOSHIKI feat. HYDE to Perform on TV Show 'MUSIC STATION ULTRA FES 2018'

YOSHIKI and HYDE will perform their song Red Swan on the Japanese TV show MUSIC STATION ULTRA FES 2018 on September 17. The song serves as the opening theme song for season three of the ongoing anime series Attack on Titan.

MUSIC STATION ULTRA FES is a popular show in Japan that features an amazing line-up of artists. They have had 45 guests on to date. Season 4 is soon to conclude marking the end of the show.

YOSHIKI of X Japan will perform a special three-day concert at Makuhari Messe International Exhibition Hall from September 28 to 30. He will also perform at HYDE's (L'Arc~en~Ciel, VAMPS) 2018 solo tour which consists of 32 dates in 6 locations.

Attack on Titan Season 3 Opening 'Red Swan' by YOSHIKI feat. HYDE Released Digitally

Red Swan, the opening theme for the new season of anime series Attack on Titan, was showcased on YOSHIKI CHANNEL on July 20 where it was announced the song would be released officially under the artist name YOSHIKI feat. Hyde instead of the previous X Japan feat. Hyde.

On the show, both members expressed their consideration for all the fans while explaining the song was still in production. They said they had a lot of choices at their disposal when making the song, and although it took a lot of time due to traffic regulation, it turned out to be an amazing song. The complete track will be released on August 2018.

Yoshiki spoke about Red Swan which came to life during a bout of hardships. "How do we move forward in this world? What's that extra oomph that's needed when making the best song ever, or the best album? That's what I'm thinking frantically. How long can I fight for in this life? When will the time come when I can say myself, 'You've done well'?"

Red Swan appeared on the show ahead of the anime's broadcast as well as on Yoshiki's official Instagram page. He also surprised fans with a piano performance of the song as well as expressed his gratitude to the X Japan members, Hyde, and the production team behind Attack on Titan.

The moment Yoshiki posted the clip on his Instagram page, fans flooded the comment section, expressing their happiness for him reconfirming his love for the members, being touched by his gratitude towards Hyde, being moved by him taking it upon himself to take full responsibility for worrying people, and so on.

The third season of Attack on Titan began airing on July 22. The TV edit of Red Swan is now available digitally on Apple Music, Spotify and other digital music platforms.

BEAMS opens pop-up shop "TOKYOJIN" in London's luxury department store Harvey Nichols!

BEAMS Co., Ltd. have opened a pop-up store called "TOKYOJIN" in London's representative department store Harvey Nichols in Knightsbridge. The store opened on September 1st and will be open until October 15th.

Tokyo is a truly diverse city home to people from all over the world all with different cultural backgrounds. It's an environment that can be both dead silent and tumultuous. It's a place where the traditional and the innovators co-exist. The people who live in this city, one that is always advancing in complexity and originality; who still cherish traditional Japan while also looking out to the world to expand their interests, are called "Tokyo Jin" ("Tokyo People"). The "TOKYOJIN" pop-up store has been set up in Harvey Nichols by BEAMS, who cater to the needs and lifestyle of the modern man, to present Japanese fashion, sundries and more.

Arc'teryx x BEAMS

Sendaikiji Seisakujo x fennica

Champion × Harvey Nichols × BEAMS

In addition to original items from BEAMS, a brand very familiar to the Japanese people, the shop stocks a wide of items, including wares from Japanese fashion brands such as "Loopwheeler," a high quality cut-and-sew brand that makes its clothing with old-style loopwheel knitting machines; "Buzz Rickson's," whose painstaking work into their bomber jackets is recognised all around the world; "Teatora," a brand which wields very modern design concepts; "Arc'teryx," who creates made-to-order items with BEAMS; and more, all of which lead the Tokyo fashion world. The shop is also selling a variety of traditional Japanese craftwork goods including original BEAMS sensu folding fans, pottery works from "Hamada-Pottery," kokeshi dolls made by "Sendaikiji Seisakujo" and more. But it doesn't stop there, as there's photo collections from Japanese photographers including Moriyama Daido and Takashi Homma available for purchase to showcase the techniques and sensitivity of Japanese people. And to celebrate the opening of the pop-up store, there's limited edition items for sale too including a Champion×Harvey Nichols×BEAMS triple collaboration.

Publisher HATO PRESS are holding a range of workshops while the shop is open and there will also be numerous events for people to experience Japanese culture. Workshops include bonsai, Risograph, calligraphy and more. There's a special page on the official Harvey Nichols website introducing "TOKYOJIN" and what it's all about. It includes a movie produced with "poweredby.tokyo," a project introducing the Tokyo Jin lifestyle to the rest of the world in their own original way. There's also an interview with BEAMS representative Yō Shitara, along with a range of other things to see.

Don't miss out on your chance to experience the real Tokyo at the TOKYOJIN pop-up store.

■Information

TOKYOJIN
Open: September 1, 2017 to October 15, 2017
Location: Harvey Nichols B1F "Project 109"
Address: 109-125 Knightsbridge, London, SW1X 7RJ
Brands: Approx. 50 brands and 250 items including: BEAMS / BEAMS PLUS / BEAMS JAPAN / fennica / Arc'teryx / Buzz Rickson's / Loopwheeler / Sun Surf / Tailor Toyo / Teatora / Hamada-Pottery / Shussai Pottery / Kita Gama / Sendaikiji Seisakujo

Harvey Nichols Official Website Special Page: http://www.harveynichols.com/project-109/beams/

Yoshiki to perform special rendition of X Japan's "Forever Love" at ULTRA FES 2017!

17.September.2017 | MUSIC

It has been announced that Yoshiki will perform at "MUSIC STATION ULTRA FES 2017" set for broadcast on September 18th. He will be wrap up the festival as the 57th and last artist to perform.

The programme spans across 10 hours, and Yoshiki will finish the show with a special piano and orchestral performance of "Forever Love." The full title of the track is Forever Love "Iki to Shi to Ai to…" Piano with Orchestra Version. This special arrangement of X Japan's famous hit was written specially for this show.

All eyes are on Yoshiki as he prepares for his first music show performance since his surgery. This is a special occasion we absolutely cannot afford to miss.

YOSHIKI participated the opening ceremony of "VOGUE FASHION'S NIGHT OUT 2017" which was held on the 9th of September, 2017. He perform "Forever Love" and "ENDLESS RAIN" which are known as the signature pieces of X JAPAN with the beautiful crystal piano and 3,400 audience were awed with his performance.

 

Information about YOSHIKI performing at the event was released one hour before he appeared on stage. As soon as the information was released, many people gathered at Omote Sando Hills to catch a glimpse of Yoshiki playing the piano. When Yoshiki appeared on stage, the audience howled with joy and many of them started to take photos.

A big chorus occurred when he performed "ENDLESS RAIN" and Omote Sando Hills was filled with excitement.

>>next page

VOGUE JAPAN introduces the world of rock with YOSHIKI and Kenshi Yonezu!

VOGUE JAPAN's October 2017 issue was launched for sale on 28th August. With "ROCK STAR" as the running theme, the new release is packed with rock-themed fashion for the  autumn-winter 2017 runway. Demolishing the old and reconstructing the new – the spirit of rock from the old to the new makes up this special feature.

This marks the first appearance of Japanese rock star YOSHIKI on the front cover of VOGUE.

Actor Masaki Suda has transformed into legendary rock stars Patti Smith, Sid Vicious and David Bowie for this special edition. For the fashion story, soaring music band D.A.N, and multitalented artists such as Kenshi Yonezu are featured wearing clothes designed by Yves Saint Laurent and Alexander McQueen. There is so much rock smashed into this feature of VOGUE JAPAN!

In the special rock video feature, Yoohei Kawakami; the freaky vocalist of popular band Alexandros, stands alongside top consultant of United Arrows Ltd. and fashion and music devotee Kurino Hirofumi, and stylist Ikuko Jibiki to introduce their recommended rock videos. Additionally, VOGUE JAPAN's "Editor's Pick" will introduce the editor's top fashion items. The editorial department's popular web project will also feed their recommended rock to the public!

The rock video that is incorporated into these two plans will be available to rent out at TSUTAYA BOOKS Daikanyama (2nd floor – video floor) thanks to a special campaign that will be running until Wednesday 27th September. At this bookstore, a poster exhibition will be running alongside the magazine sales. The poster exhibition features the ROCK STAR front cover, story and much more!

Feel the ROCK STAR vibes from this magazine and event!

■Information

VOGUE JAPAN – October 2017 commemoration edition featuring rock videos – rental service and poster exhibition

Location:TSUTAYA BOOKS Daikanyama(2nd floor) – video floor

Event period:Monday 28th August 〜 Wednesday 27th September 2017

Contents of October 2017 magazine edition: https://www.vogue.co.jp/magazine

Editor's pick edition:  https://www.vogue.co.jp/fashion/feature/rock-movies-2017