Introducing the Kawaii Girls of the World | Kawaii Fashion Snap #4: Pink Paradise
Welcome to Episode 4 of Kawaii Fashion Snap where we get to know all about the kawaii girls of the world and their fashion. Each girl in this series has incorporated Japanese-like fashion into their wardrobe and turned it into something of their own.
Today, we'll be taking a look at outfits that make use of the colour pink♡
Currently residing in Tokyo, Molly leaves a huge impression with her T-shirt that reads "ANTI WAR" in both English and Japanese. Her stylish use of cute pastel colours throughout accentuates this fashionable look, and her pink and purple hair combined with the thick sole trainers is a match made in heaven.
Molly is a big fan of the Japanese idol group CY8ER and has even gotten a photo with the group―as well as several chekki photos with Rinahamu, one of the members. Be sure to check out her Instagram @pink_morii
The Pinkmilkteahime has us wanting to dye our own hair blue because hers looks so cute. This co-ord may look simple at first with the single big pink t-shirt, but in fact the rest of her outfit and all of her accessories are uniformly blue, which makes her hair look even more beautiful. Even the blue and pink artwork in the background is in tune with her look.
On her Instagram, she posts not only more beautiful looks, but pictures of her latest purchases too―from snacks to stationery. Follow her on Instagram @pinkmilkteahime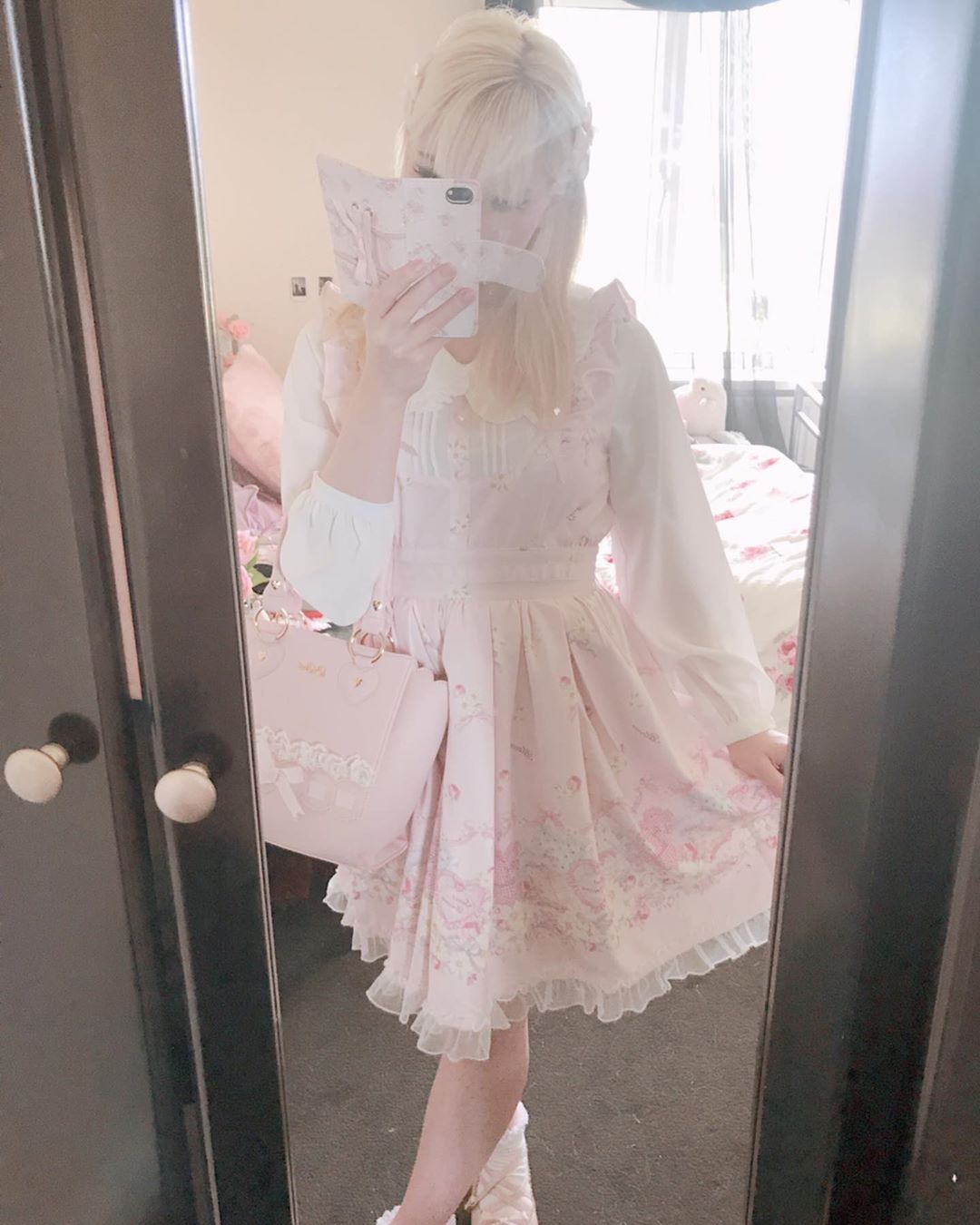 Brodie's baby pink jumper skirt co-ord is kawaii supreme. She is serving us regalia princess with her frilly blouse and jumper skirt which has sweet patterns on it. And if you look closely, her white phone case has a cute flower pattern design♡
If you're look for some girly styles then we highly recommend following Brodie @vanillabwunny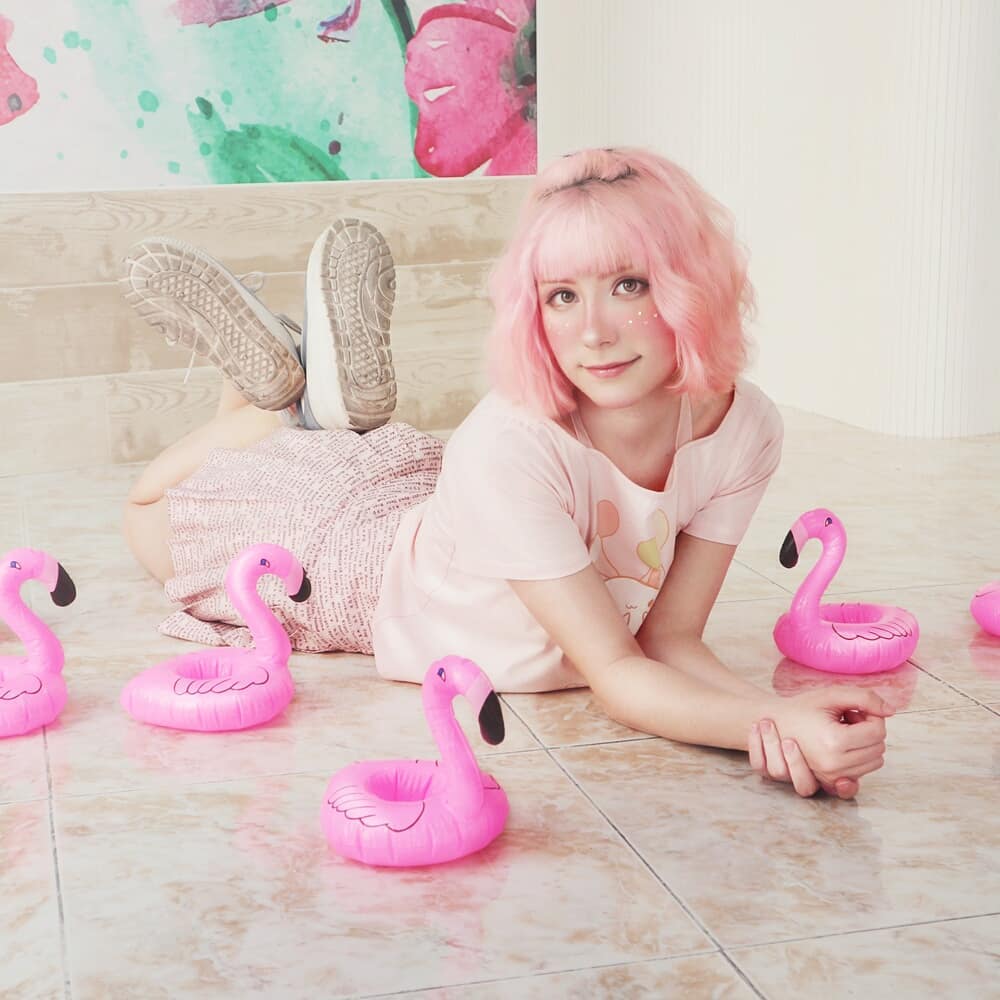 Everything about the composition of this shot of Mimi Usagi can be described as cute. She has a cute character t-shirt on, and everything from her innerwear to her skirt is perfectly pink.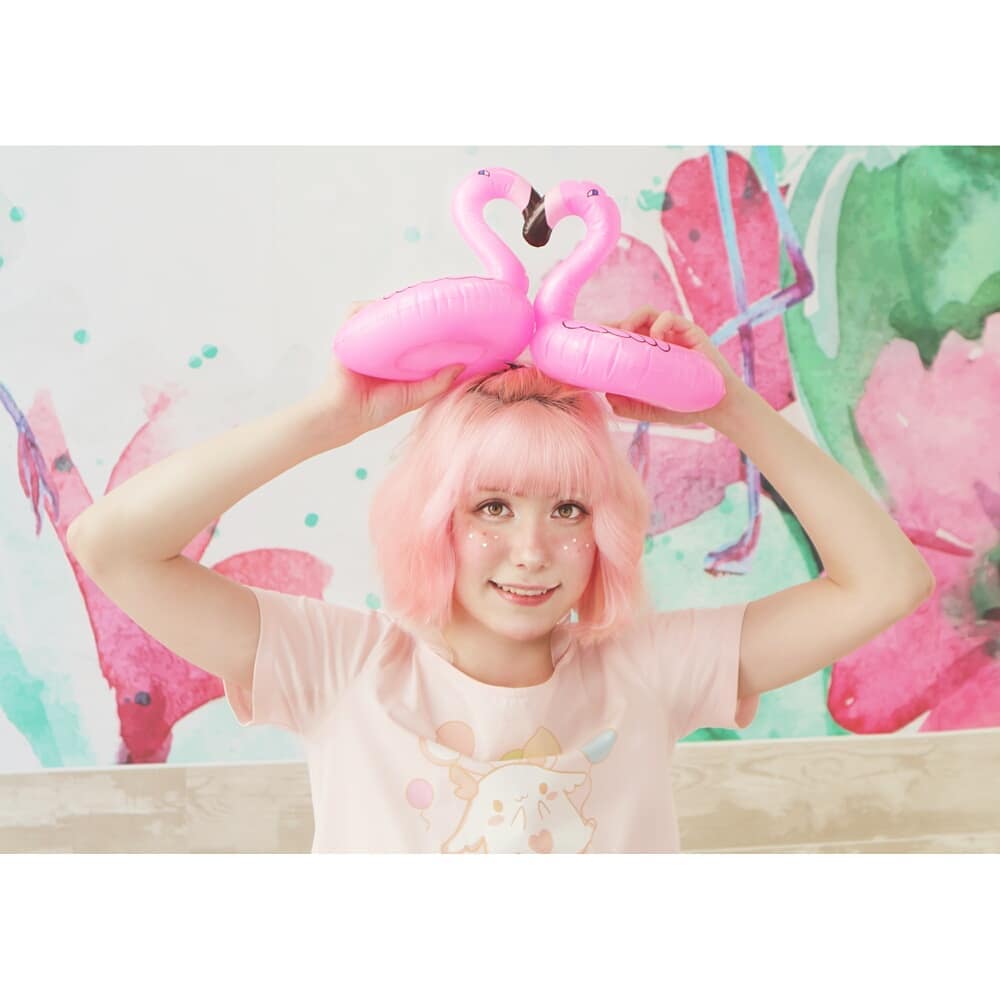 Her pink cheek makeup adds a glimmering allure and helps flaunt her clearly innate kawaii. We want to try shooting a look like she has in this photo too! Be sure to follow her @usagimimichu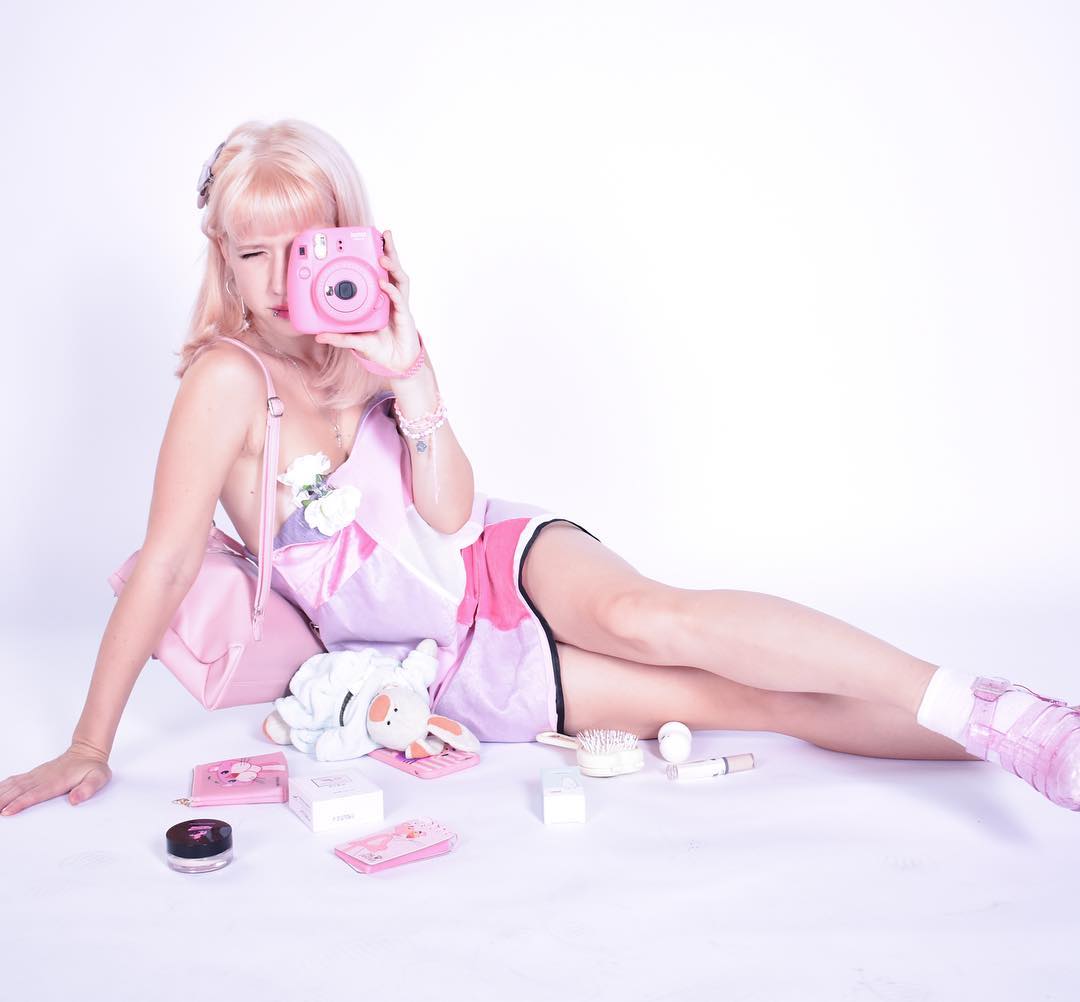 Alexandra has gone for a sexy style here: her simple pink one piece is stunning and laces together flatteringly with those glittery shoes. And all of the items and accessories she has with her are pink, from the chekki camera in her hand to her shoulder bag♡
Alexandra's Instagram feed is a treasure trove of exquisite and artistic looks. If fantasy takes your fancy, then make sure you follow her @sasha786x
If you'd like to feature in the next Kawaii Fashion Snap or know somebody that would, then follow us on Instagram and post at us with the hashtag #moshimoshiphoto. We hope you look forward to the next entry!
RELATED ENTRIES
Felissimo's KAWAII COMPANY to Sell Colorful Miwa Soumen Noodles for a Limited Time

In late 2020, Felissimo teamed up with the 'King of Kawaii' Sebastian Masuda to create KAWAII COMPANY, a project selling adorable original items. The company is now teaming up with Ikeri, a long-running Miwa Soumen shop in Nara, to create some colorful noodles to enjoy this summer. Five colors will be available, and these noodles can be purchased online until September 30, 2022. 

The Kawaii Soumen box includes five scents and flavors of noodle–purple sweet potato, plum, Kabosu, Blue Beefsteak Plant, and plain. The adorable box is also reusable!

Ikeri has been selling soumen in Nara for over 170 years. This new collaboration aims to introduce more 'kawaii' into traditional pieces of Japanese culture. Ikeri's thin soumen noodles are made by hand one by one and shine like jewels when boiled.

Customers are welcome to try different arrangements with these gorgeous noodles. These are the perfect summer gift for adults who love tasty food, tradition, and appearance! The wooden box is handmade by craftsmen in Nara Prefecture.

How would you like to not only eat these tasty noodles but post them all over social media?

KAWAII LAB. Report #1: IDOLATER Welcomes Two New Members

KAWAII LAB. is a project spearheaded by ASOBISYSTEM with the aim of introducing the world to popular Japanese idol culture. The idol group IDOLATER was born from this idea, and in April, the girls welcomed two new members, transforming it into a fresh new 5-member group. Announced at the group's solo concert 'New IDOLATER' on April 24, Fuuka Oishi and Ririka Satsuki joined the lineup consisting of Ayu Okuda, Kurumi Tsukishiro, and Yukino Fushiki.

A typical idol group is peppy and filled with energy, but IDOLATER is doing things a little differently. What is their appeal? How do they want to shake things up? 

A Group Formed by Finalists from ASOBISYSTEM's First National Audition

IDOLATER debuted in April 2019. In the spring of 2018, ASOBISYSTEM, the management company behind Kyary Pamyu Pamyu and a number of other popular talents, announced its first large-scale nationwide audition, ASOBISYSTEM THE AUDITION 2018. IDOLATER's history began with five audition finalists–Fushiki, Okuda, Tsukishiro, and two others. The catchphrase for the audition was fitting for the group: "Seeking the next generation of talents to shape Japanese pop culture and share it with the world."

IDOLATER Welcomes Solo Singer Ririka Satsuki & Model Fuuka Oishi

Following the departure of two members and intense restrictions imposed on the group's activities due to the pandemic, IDOLATER continued to operate with only three members. Although they didn't manage to get a ton of media coverage or appeal in large-scale events, the group continued to pull in new fans and gain recognition in the idol community. After a while, Fuuka Oishi and Ririka Satsuki joined the group, giving a much-needed boost to IDOLATER's activities and energy.

Ririka Satsuki is a solo artist based in Fukuoka with an incredible husky voice. Fuuka Oishi has previously worked as a model and is popular with creators for her sweet yet listless atmosphere. Despite their incredible confidence, this is the first time either has worked as an idol!

IDOLATER and the Concept of 'Idols' 

The word 'idol' can conjure plenty of images to mind, but what does the word mean to the members of IDOLATER?

The group's music blends together elements of city pop, future funk, and house, while still keeping true to traditional J-pop roots. The familiarity of their music makes it easy to approach, and Yukino Fushiki's powerful voice alongside Ririka Satsuki's melodies shower fans with some of the best vocals in the idol world. 

The group's choreography is provided by YU-KA, formerly of TEMPURA KIDZ. Her experience as both a dancer and an idol makes her an asset, and her refreshing moves are a highlight of each IDOLATER show.

A former pattern maker for a Japanese fashion brand designed the group's costumes. 

If this sounds like the idol group for you, come and check out an IDOLATER event to see the girl's incredible appeal for yourself.

On June 19, IDOLATER will hold their second regular performance, 'Camel,' at Ebisu CreATO. (The title of the show was chosen because it sounded fun, not for any other specific reason.)

Stay tuned for the next report, where we'll delve a little deeper into the life of each member of IDOLATER!

From Harajuku to the world! Chasing the bright future of a rising star, FRUITS ZIPPER

FRUITS ZIPPER is a group quickly rising to stardom, debuted from "KAWAII LAB." KAWAII LAB is a new project to introduce Japanese idol culture from "Harajuku", a fashion town where various cultures and personalities gather, to the world. Members of the group include Amane Tsukihashi, Suzuka Chinzei, Yui Sakurai, Runa Nakagawa, Manaka Mana, Karen Matsumoto, and Noel Hayase.

Even before their debut, the group garnered attention for their breathtaking visuals. Their performances are so powerful, you would never expect such refined skill from such an adorable aesthetic, which is known to captivate the hearts of their fans. The group is produced by Misa Kimura, a model and TV personality who is also the general producer of "KAWAII LAB. She will utilize her experience and creativity as the leader of the idol group "Musubizm" to introduce idol culture to the world.

Expressing FRUITS ZIPPER's world through collaborations with creators

Furthermore, even before their debut, the group drew a lot of attention because of their collaborations with many different renowned creators. Among the collaborations includes the artist photos created by video director/art director/3DCG artist YUKARI. She uses a cutting-edge trend of CG-moving techniques, in addition to still-images. The mysterious colors of bright light that embraces the girls are definitely eye-catching.

Catchy and cute choreography of FRUITS ZIPPER

Followed by the debut song "Kimino Akaruimiraiwo Oikakete," a song with a positive message for the future, "Watashino Ichiban Kawaiitokoro," with its cute choreography and lyrics, won the hearts of people and was selected as one of the "TikTok Hot Songs in Japan" and charted on the Billboard. More than 13,000 videos using "Watashino Ichiban Kawaiitokoro" have been posted on TikTok with the hashtag "#わたしの一番かわいいところ (Watashino Ichiban Kawaiitokoro)." The long-awaited third single "Kanpeki Syugide☆", which was released on May 20, is an energetic tune created by music producer Manaka Suzuki.

Performances that reach into people's hearts and minds

A pop-culture event presented by Asobisystem "ASOBE!!," was held at Spotify O-EAST on May 26th. In addition to FRUITS ZIPPER, fellow Asobisystem members Atarashii Gakko! and IDOLATER, who is also a member of "KAWAII LAB.", performed at the event. Many other remarkable idol groups also took part in the event, enlivening the venue.
Alongside their regular performances, they are scheduled to participate in a number of events, including the "LEADING PALETTE! and "HYPE IDOL! vol. 20" at Nihonbashi Mitsui Hall both June 12th. Make sure to come and see their live performance, it's sure to steal your heart!

Additionally, KAWAII LAB. will be serialized on "Moshi Moshi Nippon," a website that provides the latest news of Japan to the world. The articles will be published in hopes of sharing the charm of IDOLATER and FRUITS ZIPPER with people not only in Japan, but also around the world. Details will be announced soon. Stay tuned for more from KAWAII LAB.!

Hokkaido's Menkoi Nabe Kuma-chan Onsen, the Cutest Way to Eat Hotpot, Now Available Online

Chances are you've seen the Hokkaido Menkoi Nabe Kuma-chan Onsen. Menkoi means 'cute' in Hokkaido dialect, and these cute little bears are made from soup stock. Set them in a pot, and they begin to melt, looking like they're enjoying a hot spring bath. Once they melt, you can enjoy their delicious flavor! Currently, the only place in Japan to offer this adorable and creative dish is a little shop in Miyamasu-Zaka, Shibuya, which opened in 2021. The shop is full every day, and getting a reservation can take up to a month!

For those unable to visit Japan, you can now purchase these tasty bears online.


 

Variations Available Online

Grab one of these cute bears and whip up the tastiest and most adorable meal you've ever had!

Ginza Tsutaya Books to Hold 'What is Kawaii' Exhibition Featuring Art by Three Female Artists

From April 2 until April 22, Ginza Tsutaya Books will be holding a 5th-anniversary exhibition featuring art by three young female artists! These creators specialize in drawing girls, and the event will ask one question: what is 'Kawaii?' The artists featured are Amane Ishii, Azusa Nozawa, and Yumi Nagata. 

These three artists have captured the spotlight with their unique styles. Ishii prefers oil painting, Nozawa has a style perfect for manga, and Nagata specializes in more Japanese-style paintings. Those who planned the exhibition noted that the reason these three artists have become so popular stems from how they depict cuteness–they don't try to conform to society's idea of 'cute,' but rather depict what they themselves consider to be cute.

Many motifs in Ishii's works are based on the artist's personal experiences, many stemming from childhood. Her unique characters are sure to grab your attention, and although her pieces are two-dimensional, the linework almost makes them seem 3D. 

For Nozawa, 'cute' is the most important element found in her works. She often uses pastels, and something about the way she draws her characters is nostalgic, harkening back to purikura filters and manga characters of the early 2000s. Her unique worldview and nostalgic characters amount to truly one-of-a-kind pieces.

The girls appearing in Nagata's pieces are projections of herself. She draws the clothes she would like to wear and the poses she'd love to strike! Pursuing her idea of 'cuteness' with traditional Japanese techniques and paints, she often includes polka dots in her works, which are a feminine symbol. 

The exhibition will feature two of Ishii's oil paintings and 13 drawings, the first time such a large number of drawings have been shown all at once. In addition, three of Nozawa's new portrait series will be on display, along with nine of Nagata's works. 

'Kawaii' is one of the most prominent keywords found in contemporary Japanese culture. What does it mean to you?

Report: Sebastian Masuda's 'Yes, Kawaii is Art' Exhibition at Kanda Myojin Shrine Goes Beyond 'Cute'

What does the word 'kawaii' mean to you? For most people overseas, it's a purely Japanese aesthetic combining colorful visuals with cutesy characters to make something so adorable it defies imagination. In recent years, however, 'kawaii' has become a kind of philosophy that transcends language, national borders, and even consciousness. It's a driving force behind people's lives and something that pulls people out of bed in the morning–it's something capable of instantly putting a smile on people's faces. For those wishing to study the philosophy behind the 'kawaii' movement, the Godfather of Kawaii Sebastian Masuda is currently holding an exhibition at Kanda Myojin Shrine in Tokyo until December 12, 2021. What is it about 'kawaii' that is so capable of inspiring so many different people and cultures around the world? 

A correlation chart welcomes guests to the grounds. The 'Kawaii Archival Research,' a project on kawaii culture conducted with students from the Kyoto University of Arts, collected data on 'kawaii' trends from the post-war period to the present day. Through interactions with the worldwide 'kawaii' community, it's clear how much of an impact the aesthetic has had on people around the globe. 

In the midst of the pandemic in 2020, Masuda announced #KAWAIITRIBE, a way to encourage those coping with depression during the days of COVID-19. His followers were asked to use 'color' to bring the world together, and more and more, the 'kawaii' movement became a way to express and love oneself. Using #KAWAIITRIBE, more and more fans of the movements became connected–even if those users were countries apart. 

The hashtag #SPEAKUP was also utilized by Masuda to collect data from 'kawaii' lovers around the world, asking about hobbies, interests, and opinions on 'kawaii' culture. The data collected over the course of 12 days was incredibly meaningful to Masuda and led to plenty of new discoveries about the community as a whole. 

Masuda explains that each country has different types of 'kawaii,' and that the aesthetic is expressed in different ways around the world. One country may have people influenced mainly by 'kawaii' expressions in anime and manga, while another expresses it through fashion or music. 'Kawaii' is diverse, just as people are diverse. 

Sebastian Masuda has also held a Zoom meeting with people in 'kawaii' communities around the globe to discover how they became involved with the aesthetic initially, while also asking how it inspired them and gave them strength during these difficult times. Certain people claimed that 'kawaii' helped them in their personal growth, while others say it has brought out some of their potential in new and unexpected ways. While Masuda's artwork may simply seem visual, 'kawaii' has become a tool for new communication and personal healing and growth. Some may even call it a kind of therapy: a place where people can surround themselves with color and joy to heal from the difficulties of life. The bold colors of the 'kawaii' movement can inspire people to be bold in their daily lives. Individuality should be celebrated and self-confidence should reign supreme–that is yet another message of the 'kawaii' movement. 

Many people involved in the Zoom call had never met, and after the initial meeting, the room was left open to give people a place to communicate. Afterward, the 'kawaii' circle only became bigger, with a Facebook group bringing together more and more members of the community. 

The research done during the last year of the COVID-19 pandemic has given 'kawaii' lovers a reason to think deeply on how to overcome the many struggles born from the 'new normal,' and these forums are perfect places to share colorful messages of hope and strength. 

Inspired by Masuda's own struggles during his time in Manhatten in 2013, Colorful Rebellion -Seventh Nightmare- is on display at Kanda Myojin. The installation has previously appeared in locations around the world including New York City, Milan, and Amsterdam. This time, the exhibit was inspired by 'muro,' a basement room in Omotesando where amazake is fermented. The room was used as an air-raid shelter during the war, and walking along the dimly-lit path leading to Masuda's brightly-colored room, it's hard not to wish that those evacuees could have been surrounded by these beautiful colors instead of pitch darkness. 

It is no exaggeration to say that this is Masuda's representative work. Created in the midst of the artist's own struggles, it has helped establish the philosophy of 'kawaii' culture and continues to help those dealing with their own problems.

The Time After Time Capsule Art Project, starting in 2014 and held in 12 cities around the world, is a massive time capsule filled with messages and wishes for the future. Shaped like the beloved Sanrio character Hello Kitty, the capsule is gradually changing color as it becomes heavier and heavier with wishes for peace and happiness from fans around the world. Originally planned to be exhibited at the 2020 Tokyo Olympics, this couldn't come to fruition due to the current pandemic. This is the first time it is being shown in Japan. 

The WORLD TIME CLOCK, a once-famous landmark of Harajuku, has also been recreated and installed within Kanda Myojin. 

'Yes, Kawaii Is Art' at Kanda Myojin is a deeply emotional, personal, and inspiring exhibition allowing visitors to experience firsthand how 'kawaii' culture is capturing the hearts of people around the world. Sebastian Masuda isn't slowing down any time soon, and his works will continue to heal people and bring joy for many years to come. 

Sebastian Masuda's solo exhibition 'Primal Pop' will be held at Roppongi Hills A/D Gallery from December 11, 2021, until January 10, 2022.

TEXT:Natalie(MOSHI MOSHI NIPPON)

A Sneak Peek at Sebastian Masuda's 'Yes, Kawaii Is Art' Exhibition at Kanda Myojin Shrine

The Godfather of Kawaii Sebastian Masuda will open his 'Yes, Kawaii Is Art' exhibition at the 1,300-year-old Kanda Myojin Shrine on December 4, 2021. A number of Masuda's representative works will be on display at the historical site, known as one of the most important shrines during the Edo period. 

Colorful Rebellion -Seventh Nightmare-

Kanda Myojin Shrine

 

Colorful Rebellion -Seventh Nightmare- has been shown in New York, Milan, and Amsterdam over the past few years, and will now make an appearance as part of this exhibition. Given the magnificence of the venue, the work will be presented in a unique way–in the basement of the shrine. In addition, a part of the research on Kawaii culture conducted in collaboration with Kyoto University of Arts Ultra Factory will be on display as well. Guests will be invited to ponder the nature of Kawaii, and what makes it so beloved by audiences worldwide.


 

Colorful Rebellion -WORLD TIME CLOCK-

Time After Time Capsule Art Project

Kawaii Archival Research

Near the entrance to the shrine, the Colorful Rebellion -WORLD TIME CLOCK will be on display. Clad in the cutest colors imaginable, it has become a symbol of Harajuku around the world. The Hello Kitty-shaped time capsule, which was on display for five months in New York City in 2015, will also be shown on the temple grounds. The participatory art project has made it to 12 cities around the world so far. 

Kawaii culture will blend with traditional Japanese culture during this exhibition, so keep an eye out for more details coming soon!

What is 'Yes, Kawaii Is Art?' 

Sebastian Masuda has been at the helm of the global Kawaii movement for decades. 

 In 2020, Masuda asked a number of questions to fans of Japanese pop culture around the world–what is Kawaii? Why does Kawaii cross borders, generations, and gender? This new exhibition tries to find an answer to those questions while bringing some joy and excitement to the local community. 

Information

Sebastian Masuda Exhibition 'Yes, Kawaii Is Art' at Kanda Myojin Shrine

Dates: December 4 – December 12, 2021

Hours: 12:00-18:00 (Last Entry at 17:30)

Address: Kanda Myojin Shrine (2-16-2 Sotokanda, Chiyoda-ku, Tokyo)

Admission: Free (¥500 for Colorful Rebellion -Seventh Nightmare-)

https://sebastianmasuda.com/works/tokyo/

For more details on the event, follow Sebastian Masuda's Twitter: 

Sebastian Masuda Kawaii Exhibition to be Held at 1,300-Year-Old Kanda Myojin Shrine

Sebastian Masuda, the Godfather of Kawaii, is bringing his 'Yes, Kawaii is Art' exhibition to Tokyo. If that isn't cool enough, the event will be held from December 4 until December 12, 2021, at the 1,300-year-old Kanda Myojin Shrine, known as one of the most important shrines during the Edo period. 

Kanda Myojin, the Tokyo Venue

Work at 'Yes, Kawaii is Art' Venue in Osaka

Related Event, 6%DOKIDOKI Fashion Show

Originally scheduled to arrive in Tokyo in September, the exhibition was postponed due to the state of the COVID-19 pandemic. Kanda Myojin is known as the site of the Kanda Festival, one of the three major Shinto festivals in Tokyo started by Tokugawa Ieyasu in 1600. The shrine is very close to Akihabara, and has become a place for technophiles to pray for their electronics!

Sebastian Masuda is known as the Godfather of Kawaii, and his colorful and crazy art is known around the world. In 2020, Masuda asked a number of questions to fans of Japanese pop culture around the world–what is Kawaii? Why does Kawaii cross borders, generations, and gender? This new exhibition tries to find an answer to those questions while bringing some joy and excitement to the local community. 

Osaka's City of Art Kitakagaya has hosted Masuda's exhibition since October 30, with his works spread out across three different venues. These will be open until November 30, 2021. 

Additionally, on November 13, a street fashion show by Masuda's popular Harajuku fashion brand 6%DOKIDOKI will be held at the third venue. The brand turns 26 this year. 

Information

Yes, Kawaii is Art

Tokyo Event

Sebastian Masuda's "Yes, Kawaii is Art" Exhibition at Kanda Myojin Shrine

Running: December 3 – December 12, 2021

Hours: 12:00-18:00

Address: Kanda Myojin Shrine (2-16-2 Sotokanda, Chiyoda-ku, Tokyo)

*Details to be announced at a later date.

Osaka Event

Exhibition Pricing

Venue 1: ¥500 (Weekdays) ¥1,000 (Weekends/Holidays) 

Both Venue 1 + Venue 2: ¥1,500 (Viewing) ¥2,000 (Experience) 

Venue 3: Free

Details: https://sebastianmasuda.com/works/osaka/

Access: Close to Kita-Kagaya Station on the Osaka Metro Yotsubashi Line, Exit 4

Map: https://www.google.com/maps/placelists/list/fGC5yMFnbboXkfjYxijLmbHIzgP88w

Venue 1: kagoo

Main Work: 'Colorful Rebellion -Seventh Nightmare-

Running: October 30 – November 21, 2021

Closed Mondays and Tuesdays, November 17

Hours: 12:00-18:00

Address: 5-4-19 Kita-Kagaya, Suminoe-ku, Osaka

Venue 2: Oto Building

Main Work: 'Fantastic Voyage, Prototype II' 

Running: November 5, 6, 7, 12, 13, 14

Hours: Shows at 13:00, 15:00, 17:00 *Only at 17:00 on November 14

Address: 5-5-1 Kita-Kagaya, Suminoe-ku, Osaka

Tickets: https://sebastianmasuda.peatix.com/

Venue 3: Chidori Bunka

Main Work: 'Colorful Rebellion -WORLD TIME CLOCK-

Running: November 12 – November 21, 2021

Closed on Mondays, Tuesdays, Wednesdays

Hours: 12:00-18:00

Address: 5-2-28 Kita-Kagaya, Suminoe-ku, Osaka

Related Event

6%DOKIDOKI Fashion Show 'Colorful Riot'

Date: November 14, 2021

Time: 15:00~

Address: Venue 1 (Free Admission)

Official Site: https://sebastianmasuda.com/

King of Kawaii Sebastian Masuda Opens Exhibition in Osaka

Artist Sebastian Masuda is a leading figure in Japan's culture of KAWAII. The creator of the popular Harajuku brand 6%DOKIDOKI, the creator has worked with Kyary Pamyu Pamyu and a number of other kawaii personalities in the past. Now, his exhibition titled 'Yes, Kawaii is Art' is coming to Osaka from October 30 to November 21, 2021. The event will take place in Kitakagaya, an art district located in an old factory area, with three distinct venues opening each week. Each will exhibit a different work. 

Fantastic Voyage Digest Video

Presale tickets for Fantastic Voyage, Prototype II, a performance taking place at the second venue, went on sale on October 21. The prototype was created as a device for 'imagining the isolated future,' and shows a transparent capsule traveling through space. The thirty-minute performance will surround viewers with sounds and images and is sure to dig deep into the psyche. 

An exclusive VIP plan will be available on October 30 and 31 and is reserved for only two groups per day. Those who can afford the ¥80,000 per person ticket price can enjoy a luxurious Halloween buffet at the Conrad Osaka hotel. Each scrumptious sweet was designed by Masuda himself, and VIP guests can also tour rooms where his works are displayed. Masuda will accompany visitors to directly explain his works, so the cost might be worth it!

Information

Yes, Kawaii Is Art 

Details: https://sebastianmasuda.com/works/osaka/

1st Showing – kagoo (General reception and ticket office)

Featuring 'Colorful Rebellion -Seventh Nightmare– and more 

Running: October 30 – November 21, 2021 (Closed Mondays and Tuesdays, and November 17)

Hours: 12:00-18:00

Address: 5-4-19 Kitakagaya, Suminoe-ku, Osaka

2nd Showing – Oto Building

Featuring 'Fantastic Voyage, Prototype II'

Open: November 5, 6, 7, 12, 13, 14 at 13:00, 15:00, and 17:00 (Only 17:00 on November 14)

Address: 5-5-1 Kitakagaya, Suminoe-ku, Osaka

Details: https://voyage-osaka2021.peatix.com/

3rd Showing: Chidori Bunka

Featuring 'Colorful Rebellion -WORLD TIME CLOCK– and more

Open: November 12 – 21, 2021 (Closed Monday, Tuesday, Wednesday) 

Hours: 12:00-18:00

Address: 5-2-28 Kitakagaya, Suminoe-ku, Osaka

6%DOKIDOKI Fashion Show 'Colorful Riot'

Date: November 14, 2021 from 15:00-16:00

Address: At 1st Showing location's Free Area

 "Yes, Kawaii is Art" VIP Plan

Yes, Kawaii is Art VIP Plan Including Conrad Osaka Halloween Buffet

Price: ¥80,000 per person (Tax Included, limited to two groups per day) 

Dates: October 30 & 31, 2021

Hours: 14:30-18:30

Private Art Tour Plan for Groups and Businesses

Price: ¥200,000 (Tax Included) 

Dates: November 6, 7, 10, 11, 12

Hours: Morning Group 10:00-12:00 / Evening Group 18:30-20:30

VIP Plan Details/ Reservations: https://forms.gle/BMjMHb9jr6RMZg1G7

Masuda Sebastian is Spreading KAWAII Culture with these Commemorative Events

Artist Masuda Sebastian, a leading figure in Japan's KAWAII culture, is celebrating his 30th year of activities this year. His works express KAWAII from a variety of perspectives, taking the world by storm and creating a new KAWAII culture with new values. His store 6%DOKIDOKI opened in Harajuku in 1995, and Masuda has since been working as an art director, spreading KAWAII culture throughout Japan and across the world. 

He has also been in charge of the art direction and costumes for Kyary Pamyu Pamyu's music videos since her debut in 2011, often featuring 6%DOKIDOKI pieces. The combination of art and music captured the imagination of fans across the globe, inviting them into their world of music.

 

 

To commemorate his anniversary, fans will be able to experience his artwork, both past and present, at a variety of special KAWAII events. 

Be sure to check out these unmissable events and exhibitions!

 

【SPOT】Masuda Sebastian and 6%DOKIDOKI 1995→2021

Duration: Until October 3 2021

 

Masuda Sebastian opened 6%DOKIDOKI in Harajuku back in 1995. To commemorate the 26th anniversary since it's opening, a limited pop up shop has opened in Shibuya PARCO to celebrate the brand's history. Here you can find posters featuring designs from the 90's alongside modern 6% products. 

 

Details: https://www.moshimoshi-nippon.jp/ja/498415

【SPOT】MORI ART MUSEUM – Masuda Sebastian Pop Up Store

Duration: Until October 17 2021

A pop up shop from Masuda Sebastian's art brand, Sebastian Masuda ART. The shop will stock the latest goods from the brand, alongside a selection of art pieces. The store will be opened in TOKYO CITY VIEW on the 52nd floor of the Roppongi Hills Mori Tower, which is also hosting the 'Sanrio Exhibition: 60 Years of Japanese Kawaii History,' where you can view Masuda Sebastian's 'Unforgettable Tower' art piece. 

Details: https://www.moshimoshi-nippon.jp/ja/499990 

 

【SPOT/FOOD】Masuda Sebastian x Conrad Osaka Second Collaboration

Duration: October 31 2021 

Masuda Sebastian has worked closely with Conrad Osaka's executive pastry chef Jimmy Boulay to create a limited-time Halloween sweets buffet. Why not treat yourself to a colorful sweets party this Autumn, packed full of seasonal ingredients?

Details: https://www.moshimoshi-nippon.jp/ja/492445 

【SPOT】Yes, Kawaii Is Art

Duration: November 12 ~ November 21 (closed Monday,  Tuesday, Wednesday) 

A Masuda Sebastian art exhibition hosted in Kitakagaya, Osaka's City of Art. Here you can experience his artwork while discovering the "KAWAII" that has influenced the world and sparked new ideas.

Details: https://www.moshimoshi-nippon.jp/503083

【BOOK】Masuda Sebastian's Artworks PAINT IT, COLORFUL

 Published in 2020, this is Masuda's first artbook. It compiles a variety of his works, including those from Kyary Pamyu Pamyu's PONPONPON and Fashion Monster music videos, the KAWAII MONSTER CAFE restaurant, and Sanrio Puroland's Miracle Gift Parade. Dive into Masuda Sebastian's world with this colorful book which showcases all his art from around the world. 

 Details: https://www.moshimoshi-nippon.jp/ja/345928 

 

【SPOT】Future Peace Nursery

Masuda Sebastian was the visual producer for this nursery which opened in Sendagaya in June 2019. The community contribution project was headed by childcare facility developer Edulead and ASOBISYSTEM, which fosters and spreads Japanese culture. Masuda's colorful design creates a bright and charming space, ideal for nurturing children's growth. 

Details: https://www.moshimoshi-nippon.jp/ja/223582 

TEXT:Natalie(MOSHI MOSHI NIPPON)

Masuda Sebastian Exhibition "Yes, Kawaii is Art' Held in Kitakagaya, Osaka's City of Art

Artist Masuda Sebastian will be holding the 'Yes, Kawaii is Art' exhibition in Osaka and Kyoto. The exhibition will be starting in Kitakagaya, Osaka's City of Art, held between October 30 and November 30.

 

The exhibition explores the current state of 'Kawaii,' a keyword which has influenced the world, along with a selection of Masuda Sebastian's works.

In 2020, Masuda started conversations with Kawaii communities across the globe to light up the world with vivid colors following the pandemic. What is Kawaii? Why does Kawaii surpass borders, generations, and gender, as the community moves onwards? This exhibition investigates the depths and new possibilities that Kawaii offers, through the works of Masuda Sebastian and his activities as an activist. 

 

Special Focus

Venue 1: Japan's First Colorful Room Exhibition


The first venue features a full-room installation titled 'Colorful Rebellion Seventh Nightmare.' 

The piece was first released in 2014 and was created as a self-portrait representing the seven deadly sins. Following its first exhibition in Chelsea, New York, it has since been exhibited in Florida's Young at Art Museum, Milano's Milano Salone, Amsterdam's Tropenmuseum, and Antwerp's Museum aan de Stroon. This will be the first exhibition of this work in Japan.

Second Venue: An Experience Based on the Artist's Memories

The second venue features the experience-type exhibit, 'Fantastic Voyage.' The piece, which was originally shown for just three days in Tokyo during February 2021, has been reworked and will be exhibited once more. The art reflects the current world, where everything is rapidly changing due to the Covid pandemic. 

A transparent capsule drifts through space, travelling through a world studded with snippets of sound and words. Both the guest experiencing this world and the person within the capsule are experiencing the same time together without exchanging words. It is the concept and prototype of "a device that imagines the future in an isolated world." The performance lasts for 30 minutes, reaching deep into the viewer's senses.

Venue Three: Harajuku's Famous World Time Clock is Revived in Two New Forms


The third venue features the famous 'Colorful Rebellion -WORLD TIME CLOCK-,' a piece which was beloved by the city of Harajuku since its unveiling in 2015, remembered by tourists from all over the world. The original 2015 world clock, which was displayed on the streets of Harajuku, has been reconstructed while retaining the original faded materials. The 2019 version, which was made based on the colors of the original world clock, will also be displayed. 

 

The Tokyo exhibition was expected to open in September 2021 but was postponed due to Covid-19. Details for the new exhibition dates will be announced in the future. 

 

"I want to see the future of Kawaii. That is why I cannot stop creating; that is what drives me." – Masuda Sebastian. 

Information

 "Yes, Kawaii is Art"

First Venue – kagoo: 5-4-18 Kitakagaya, Suminoe-ku, Osaka

Duration: October 30 ~ November 21 2021 (Closed Sunday and Tuesdays, closed on November 17.)

Opening Hours: 12:00 ~ 18:00

 

Second Venue: 5-5-1 Oto Building, Kitakagaya, Suminoe-ku, Osaka

Duration: November 5, 6, 7, 12, 13, and 14, 2021

Opening Hours: 13:00 ~ 14:00 / 15:00 ~ 16:00 / 17:00 ~ 18:00 (*Only open between 17:00 ~ 18:00 on November 14.)

 

Third Venue: 5-2-28 Sendori Bunka Hall, Kitakagaya, Suminoe-ku, Osaka

Duration: November 12 ~ November 21 (Closed on Monday, Tuesday, Wednesday)

Opening Hours: 12:00 ~ 18:00

Official Site: https://sebastianmasuda.com 

Godfather of Kawaii Sebastian Masuda Celebrates 30 Years in Showbiz with Pop-Up Shop at Roppongi Hills

Sebastian Masuda is a powerhouse of all things cute. From starting the popular Harajuku-based brand 6%DOKIDOKI in 1995 to creating the now-legendary music video for Kyary Pamyu Pamyu's PONPONPON, Masuda is now celebrating 30 years in the industry. An exhibition of the artist's works will be shown in an upcoming exhibition in both Tokyo and Osaka from Fall 2021 until 2022. Prior to that, a Sebastian Masuda pop-up shop is coming to Roppongi Hills and Shibuya PARCO starting this month!

From September 23 until October 17, the art goods brand Sebastian Masuda ART will hold a pop-up shop within the Mori Art Museum Shop on the third floor of Roppongi Hills West Walk. In addition to the latest art goods, including the brand-new 'Inner Voyage' series, a number of Masuda's colorful art pieces will be on display, with some being for sale. 

When visiting Roppongi Hills, don't forget to head up to the 52nd floor for the 60th Anniversary Sanrio Exhibition: The Beginning of Kawaii, running from September 17 until January 10, 2022. Sebastian Masuda's work 'Unforgettable Tower' will be on display when entering the event, while the Tokyo City View store will be selling some of the artist's products! Basically, both the 3rd and 52nd floors will be nothing but kawaii. 

Mori Art Museum Shop

Stickers: ¥550 – ¥2,860 (Tax Included)

 Inner Voyage T-Shirt: ¥7,480 (Tax Included)

Microcosmos -Tattoo Pink & Me-   

Sebastian Masuda & 6%DOKIDOKI 1995→2021

Mesh Top:  ¥10,450 (Tax Included)

Long Sleeve T-Shirt: ¥8,250 (Tax Included)

DOKI DOKI Earrings: ¥4,290 (Tax Included) / Logo Plate Necklace: ¥7,590 (Tax Included) / 6% Logo Pochette: ¥6,050 (Tax Included)

Charm Pouch – Kawaii Company: ¥2,860 (Tax Included) / Sebastian Masuda STUDIO COLOR PALETTE: ¥4,400 – ¥2,860 (Tax Included) Felissimo

The Sebastian Masuda & 6%DOKIDOKI 1995→2021 event will be held from September 17 to October 3 at Hobonichi CultureN, located inside Shibuya PARCO. Guests will be able to look back at the 26-year history of the 6%DOKIDOKI brand. 

2021, much like 2020, has lost a lot of it's brightness due to the ongoing pandemic. Why not surround yourself with some kawaii goods to raise your spirits? 

Information

Sebastian Masuda Pop Up Store

Running: September 23 – October 17, 2021

Address: Mori Art Museum Shop (Roppongi Hills West Walk 3F,  6-10-1, Roppongi, Minato-ku, Tokyo)

Details: https://art-view.roppongihills.com/jp/shop/

Sebastian Masuda & 6%DOKIDOKI 1995→2021

Running: September 17 – October 3, 2021

Address: Hobonichi CultureN (Shibuya PARCO 4F, 15-1 Udagawa-cho, Shibuya-ku, Tokyo)