Ice Cream Lovers' Paradise: Over 100 of Japan's Best Ice Creams Unite at Ice Cream Fair in Hokkaido
For six days only, The most mouthwatering ice cream flavours from all over Japan are heading to Sapporo Kita 3-jo Plaza AKAPLA for the regional ice cream fair Aipaku Hokkaido in Sapporo 2019. The ice cream fair will start on August 15 and end on August 20, 2019. 
The concept of Aipaku® is to make everyone's childhood dream into a reality; a paradise park where visitors are surrounded by the most delicious ice cream flavours that are found countrywide.  The Japan Ice Mania Association carefully selected heart-melting ice cream flavours from all over Japan to sell at this event. The event has been running since 2015 and has so far welcomed approximately 2 million satisfied ice cream lovers, making it the largest ice cream event in Japan. Visitors can tuck in to their ice creams straight away or buy cooler bags and dry ice at the venue to take it back home as a souvenir.
This time, Aipaku Hokkaido in Sapporo 2019 is completely changing its lineup. Compared to when it was last run in 2017, this year will see many ice creams and ice cream brands that are new to Hokkaido making their debut. If you are an ice cream lover, this is a paradise world you just cannot miss out on.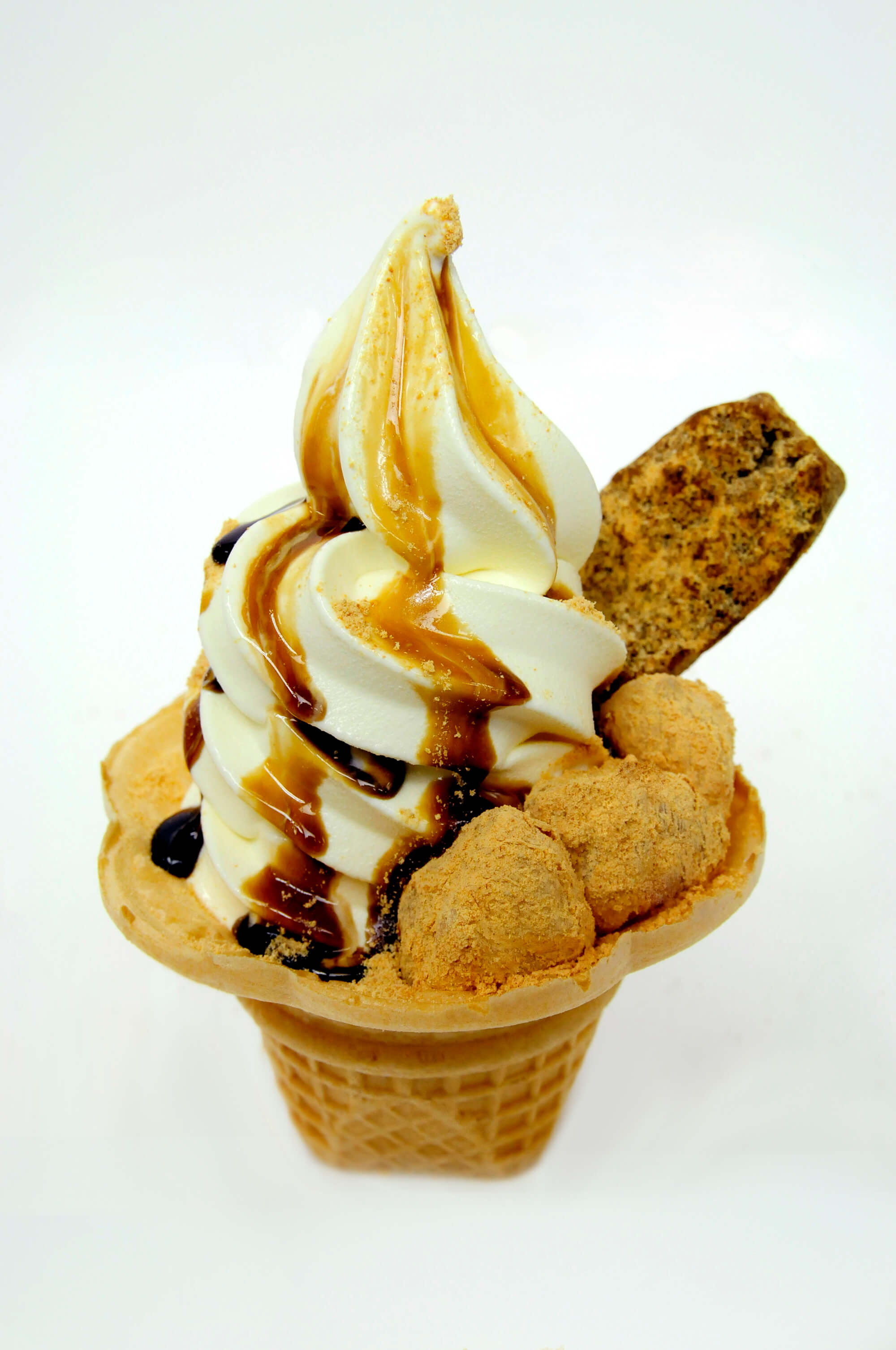 Kikyou Shingen Soft/KIKYOUYA (¥500)
Since being launched in 2015, this ice cream has become the star of the show at Aipaku. This ice cream is otherwise only available in Yamanashi prefecture. The beautiful scent of the soft serve ice cream's kinako roasted soy bean will be the first thing to reach your nose. This ice cream is made with the original, rich-flavored brown sugar syrup of Yamanashi prefecture. 
Manhattan Roll Ice Cream/ Manhattan Roll ¥850
Roll Ice Cream is currently a big hit in Japan, so naturally it has infiltrated into this ice cream fair. This ice cream is not made using eggs like conventional ice creams. It is made with a unique combination ratio of milk, fresh cream and syrup. The result is a smooth ice cream which is rich but not overpoweringly sweet. 
Double Ruby Fantasy/ MAISON GIVRÉE/¥600
This is an Aipaku-limited ice cream. Its rise to fame occurred as a result of the World Championship of Pastry Ice Cream and Chocolate which took place in Milan in 2015. This Aipaku-limited soft serve ice cream was created by Team Japan's captain and world champion pâtissier Hiroyuki Emori. It is covered in sugar-coated ruby chocolate and decorated luxuriously with almonds, hazelnuts and pistachios. The pink colour is enough to melt your heart.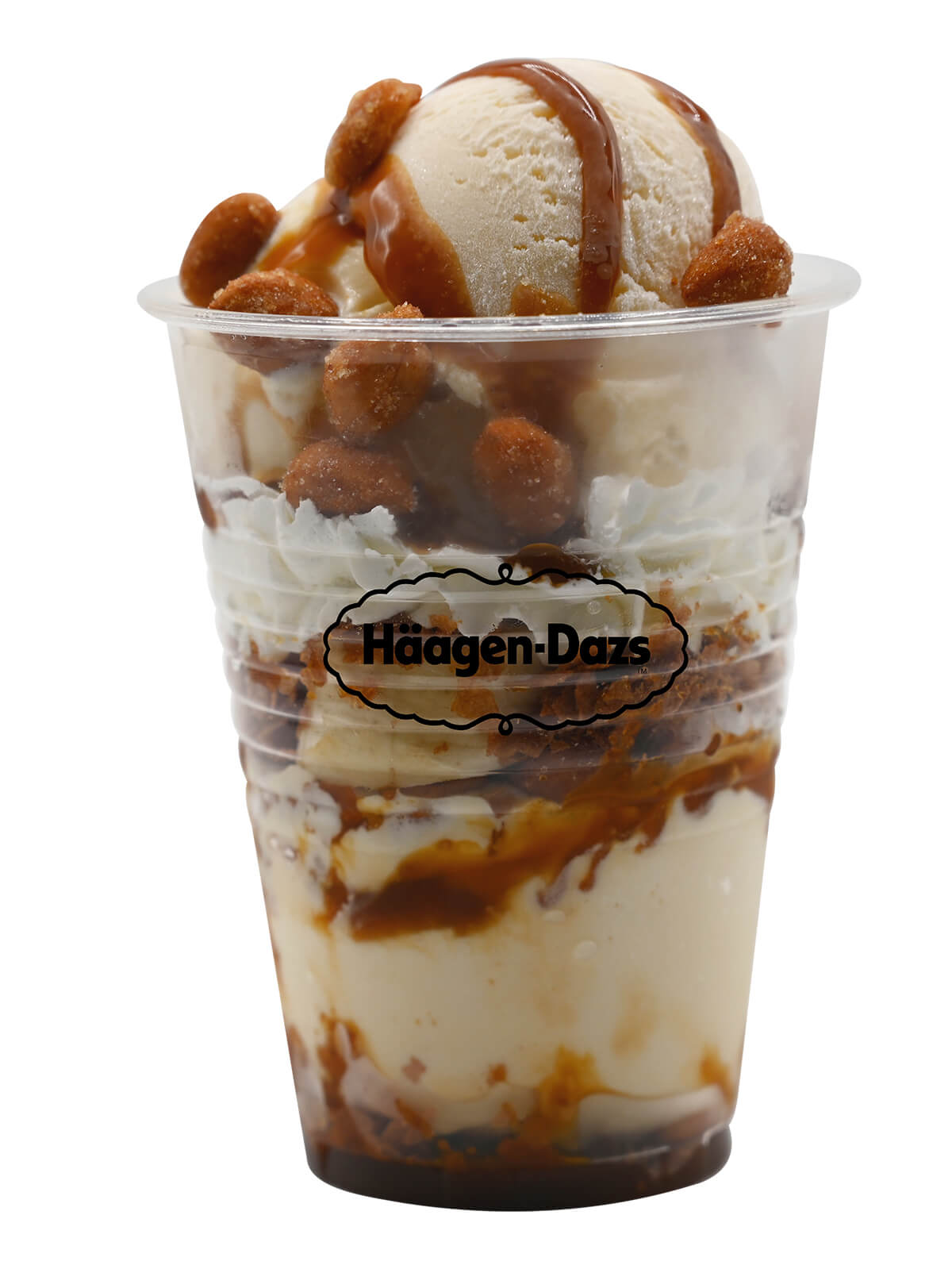 Aipaku Original Häagen-Dazs Sundae/ Aipaku Official ¥800
This is an original sundae flavour that can only be obtained from Aipaku. The ice cream is made using Häagen-Dazs vanilla ice cream with a generous layer of luxurious whipped cream. This is drizzled with a rich caramel sauce. Crispy feuillantine, which is made by smashing baked crêpe batter, accents the flavour and adds texture. Chunky slices of banana and salty vanilla-roasted peanuts are placed on top. This is a special sundae that ice cream-lovers will not be able to resist. 
These are just a few of the vast range of ice creams you could be trying. There are just so many that you will be frozen for choice. The venue is also easy to access from Sapporo station. This is a wonderful way to leave the house and enjoy a Japanese summer whilst staying refreshed. 
*Prices after tax stated above
* The ice creams at the event may differ to the images above.
Information
Ice Cream Fair Aipaku Hokkaido in Sapporo 2019
Running: August 15 ー 20, 2019
Opening Times: 11:00 ー 20:00
Venue: AKPLA, (Sapporo Kita 3-jo Plaza)
Kita 2 Jonishi, 4/ Kita 3 Jonishi 4, Chuo Ward, Sapporo, Hokkaido
Free entry. 
Takeaway: If you wish to purchase ice creams to take away, please consider purchasing a cooler bag and dry ice (保冷バッグ+ドライアイス) at the venue.
Aipaku Official Website: http://www.i-89.jp
RECOMMENDED ENTRIES
Introducing Four Delicious Strawberry Desserts This Summer in Hokkaido

Hokkaido is a popular tourist destination for Japanese people as well as foreigners. During the winter, it is the perfect place to go skiing and during the summer, you will not suffer under sweltering heat like the rest of Japan. Hokkaido not only flourishes with wonderful tourist locations and delicious gourmet seafood, but also beautiful and stylish cafés.

Instagrammer Kei @607keih) uses his account to introduce the world to delicious desserts and meals. Today, he will be introducing you to the delicious strawberry-flavoured desserts that Hokkaido's capital Sapporo has to offer.

holidays pancake/ Susukino

Strawberry Pancake with Raspberry Sauce: ¥1200

holidays pancake is only open on Sundays. It is located inside a beer bar called es CRAFT. I ordered the strawberry pancake with raspberry sauce. The plate was stacked with three pancakes which were deliciously covered in fresh cream, whipped cream, vanilla ice cream, strawberries and raspberry sauce. The pancakes were soft and spongy. The flavour of the ricotta cheese really came through. Overall, this pancake is a very unique pancake to Hokkaido. 

The sweetness of the raspberry sauce and sourness of the lemon juice balanced out for a slightly sour tinge. The fresh cream and vanilla ice cream toppings can be obtained for free by simply following the café on Instagram. The variety of toppings add a whole new range of flavours and colours for you to mix and match, so there is no getting bored. You can reserve your spot simply by sending them a direct message on Instagram, or by referring to their story! These pancakes are a rare find in Hokkaido, so you must try them.

▼holidays pancake

Address: 1st floor N-place Building, 3-2-1, 4 Jonishi, Chuo Ward, Sapporo

Access: 3-minute walk from Susuki Station/Hosui-Susukino Station  

Opening Hours: 11:00 ー 16:00(Last orders: 5:30)

Closed: Mondays ー Saturdays

Official Instagram: https://www.instagram.com/kyujitsulab/

BerryBerryCrazy/ Susukino

Berry Berry Crazy is located on the 2nd floor of the building between 5-chome and 6 chome of Tanuki-Koji. The desserts here are made using strawberries sourced from Urakawa Sugano Orchard in Hokkaido. The species of strawberry used in the desserts is completely dependent on what is received upon the delivery of the ingredients that are received on the day. The parfait I ordered was made using a species of strawberry called Kaorino.

The parfait contained fresh strawberries and strawberry compote, whipped cream, strawberry granita, pie crust, chiffon cake, and milk ice cream. You can tell that this parfait is full of strawberry goodness just by looking at it. Not only are the strawberries delicious, but the strawberry granita and strawberry compote were also to die for. This combined with the delicious whipped cream enhances the rich flavour even more. 

▼Berry Berry Crazy

Address: 2nd floor, 5-20-2, Minami 3 Jonishi, Chuo Ward, Sapporo

Access: Approx. 5-minute walk from Odori Subway Station/Susuki Station

Opening Hours: 18:00 ー 24:00 (Last orders: 23:30)

Official Instagram: https://www.instagram.com/berryberrycrazy/

Café Blue/ Chuo Ward


Condensed Milk Strawberry Pancake: ¥1380 ※ Can change pancakes to waffles

A mountain of whipped cream sits on the pancakes served at this popular café. The condensed milk strawberry pancake intrigued me for quite while so I decided to order it. 

The plate is stacked with three pancakes, fresh cream and condensed milk. This is then drizzled with strawberry sauce and topped with vanilla ice cream. The pancakes were fluffy and the cream balanced the overall flavour, making it moderately sweet. The sweetness of the condensed milk and the sourness of the strawberry sauce were so delicious that there was no way I could get bored. 

▼ Café Blue

Address: 16-9-12, Minami 3 Jonishi, Chuo Ward, Sapporo

Access: 5-minute walk from Ropeway iriguchi Station

Opening Hours: 9:00 ー 19:00, (last orders: 18:00) 

Breakfast: 9:00 ー 11:00, lunch/dinner: 10:00 ー 19:00, desserts: 10:00 ー 19:00,

Open all year round.

Official Website: https://cafeblue.exblog.jp/

SHIRAYUKI/Tanuki-Koji 

Fruit Squash: ¥500 each

Shirayuki is located in Tanuki-Koji. The fruit squash here comes in four flavours and each contains popping boba. Today I ordered the Strawberry Squash. Strawberry sauce is drizzled into a cup of carbonated water. Popping boba is then added. The drink is topped with strawberries. 

The bubbles of the carbonated water makes it the perfect way to cool down in the summer. This drink is only available until August 15, so if you want to try it, get there soon.

▼SHIRAYUKI

Address: Shirayuki Sapporo Aiseikan Building, 5 Chome, Minami 1-jo nishi 5, Chuo Ward, Sapporo

Access: Approx. 5-min walk from Odori Subway Station

Opening Hours: 12:30 ー 19:00

No regular holidays

Official Instagram: https://www.facebook.com/shirayuki.hokkaido

So how about it? Kei's Instagram account is full of desserts and meals that you absolutely must try. If you are going to visit Hokkaido, make sure to check out Kei's Instagram so you know exactly which restaurant or café you want to visit!

Original article information and photographer: Kei (@607keih)

6 Must-Visit Cafes in Hokkaido For Their Kawaii Pancakes

Hokkaido is the northernmost of Japan's islands and a popular tourist location with both locals and overseas visitors, enjoyed for its winter sports like skiing, hot springs and more. It is also enjoyed for its cool climate, being the coldest region in Japan. It's home to many tourist spots and seafood restaurants, but today we're covering its countless cute cafes.

Kei, a Japanese Instagrammer, posts his visits to the many cafes of Sapporo―the capital of Hokkaido―on his Instagram page(

607keih). Today he will introduce us to 6 must-visit cafes in Hokkaido with the cutest pancakes.

Fafi Tamago no Pancake g-plus (Susukino, Sapporo)

This popular little cafe in the district of Susukino showcases its assortment of pancakes in a glass display. The cafe now sells affordable pancake and purin sets. I ordered the "Fruits and Milky & Chocolate Purin" set (¥980).


The fluffy pancake is made with Fafi's famous eggs which have a rich flavour and big yolks. The milky cream is sweet and silky smooth. Inside the pancake is delicious pineapple and strawberries which add a deliciously fruity accent.

Their pancakes are noticeably smaller at g-plus but since it comes with a purin in the set you're sure to be nice and full after. The set is perfect to share too.

▼Fafi Tamago no Pancake g-plus (Japanese: ファフィたまごのパンケーキ g-plus)

Address: 9-1019 Minami 5 Jonishi, Chuo Ward, Sapporo, Hokkaido

Business Hours: 11:30-19:00 (Last Orders 18:00)

Closed: Thursdays & Fridays

Official Website: https://g-plus.owst.jp/

Café ZIKKA (Kiyota, Sapporo)

Café ZIKKA serves a variety of pastries and desserts. Their elusive strawberry pancakes are a limited-time-only offer. These fat and fluffy pancakes have a distinctly different taste to other places. Heaping with strawberries, the fruit and pancakes marry in the most sumptuous of flavours when eaten with the yogurt ice cream centre. The strawberries also come in a variety of forms including whole, compote and sauce, making for a variety of succulent textures.


The fresh cream isn't overly-sweet making for a lighter pancake. It's also topped with crushed almond for added texture. The size of the pancakes aren't huge but since it's served with two and many toppings you'll absolutely be satisfied afterwards.

▼Café ZIKKA

Address: 11-12 Hiraokakoenhigashi, Kiyota Ward, Sapporo, Hokkaido

Business Hours: 11:00-20:00 (10:00-19:00 in January and February)

Closed: Wednesdays (Open on national holidays)

Official Website: http://yoshidacoffee.com/index.html

Kaze o Kanjite (Motomachi, Sapporo)

This cafe is just a 5-minute walk from Motomachi Station via the Tōhō Line. Simply exit from Exit 1 of the station, make a right and you'll arrive right there.

This cafe's aim is to bring it lots of students to eat their pancakes which are both cheap and delicious. I ordered the berry sauce pancakes.


The cafe's homemade strawberry jam contains pieces of fresh strawberry which alone already make the pancakes tantalising enough. They are served with a side of fresh fruits like extra strawberries as well as orange slices. The pancakes served here are so good that I personally count them as the best in Sapporo. That, and the prices are amazing for the huge portions you get. I want more people to get to know about this place, and not just students.

▼Kaze o Kanjite (Japanese: 風をかんじて)

Address: Kita House 1F, 17-2-3 Kita 24 Johigashi, Higashi Ward, Sapporo, Hokkaido

Business Hours: 10:00-18:00 (Last Orders 17:00)

Closed: Mondays & Tuesdays

Website: https://tabelog.com/hokkaido/A0101/A010202/1058705/

ROJIURA CAFÉ (Susukino, Sapporo)

ROJIURA CAFÉ is another cafe located in Susukino round on the backstreet of Round One. They serve pancakes and parfaits right into the early hours of the morning.

Their caramel sauce has salt in it to add a mouthwatering salty flavour that draws out the sweetness of the fresh cream. The nuts only add to this delectable delight of a pancake.

Fine and fluffy pancakes fit for the gods. Whether it's a dessert like pancakes or parfaits or even meals, ROJIURA CAFÉ's doors are open to  you from the evening until the deepest hours of the night.

▼ROJIURA CAFÉ

Address: TAKARA6.3, 3 Chome Minami 6 Jonishi, Chuo Ward, Sapporo, Hokkaido

Business Hours:

[Mon-Thurs] 18:00-03:00 (Last Orders 02:00)

[Fri-Sat] 18:00-04:00 (Last Orders 03:00)

[Sun & Holidays] 18:00-01:00 (Last Orders 00:00)

No Fixed Holidays

Official Website: http://sapporo-rojiuracafe.com/

OJ Coffee (Kotoni, Sapporo)

You'll find OJ Coffee just a few minutes' walk from Kotoni Station in Nishi Ward, Sapporo. This cafe serves exquisite coffees and boasts an abundant menu consisting of soba noodles, curries, steaks and more. They also serve pancakes so I decided to give them a go.

Fluffy, moist and glorious. The pancake is topped with custard and served with a side of fresh cream, both of which aren't overly sweet and go perfectly with the sweet beaten eggs of the pancakes. Decorated the outside of the plate is an assortment of fruits, maple syrup and other tempting treats for a variety of flavours. The coffee flavoured soft serve ice cream is a great palate cleanser too. The ice cream doesn't have the bitterness that comes with coffee but it's very coffee flavoured. It's close to Kotoni Station so if you're strolling around Nishi Ward looking for a cafe I highly recommend visiting here.

▼OJ Coffee

Address: D Planning Bldg. 1F, Kotoni 2 Jo, Nishi Ward, Sapporo

Business Hours: 7:30~22:00 (Last Orders 21:30)

No Fixed Holidays

Official Website: https://www.oj-coffee.com/

 

Café Blue (Ishiyama-dori, Sapporo)

Café Blue, built up from a renovated old house, is currently selling a new lemon and yogurt pancake for a limited time.

Their pancakes never fail to be anything less than fluffy. The generously drizzled yogurt sauce is fairly refreshing and sweet while still retaining that yummy yogurt flavour. The lemon curd sauce, too, is refreshing and combines well with the pancakes as lemon always does. The lemon also has honey in it making for a satisfyingly sweet and sour combination.


The ice cream on top is salt flavoured which bring out all the sweet flavours of the dessert. The crunchy almonds are nice and nutty and bring a great texture to the soft and sticky combinations. When I eat pancakes this is the  kind of thing I'm looking for!

The sauce was refreshing and the pancake overall was delicious and very easy to get down. The yogurt sauce really is amazing!

▼Café Blue

Address: 16-9-12 Minami 19 Jonishi, Chuo Ward, Sapporo, Hokkaido

Business Hours: 9:00-19:00 (Last Orders 18:00)

No Fixed Holidays

Website: https://tabelog.com/hokkaido/A0101/A010104/1036972/

Did you enjoy Kei's picks? Be sure to check out their Instagram page for more recommended desserts and foods to try in Sapporo. There's a wealth of choices on there that will make for great reference when travelling to Hokkaido.

Photo & Text: Kei (@607keih)

Translation: Joshua Kitosi-Isanga

Häagen-Dazs Releases Mouthwatering Yuzu Orange Blanc Manger Ice Cream

Häagen-Dazs Japan will release their mini cup Yuzu orange Blancmange ice cream countrywide on 23rd July. This will be available for a limited period only. 

This cooling ice cream is made with milky blancmange. You will be hit by the sudden sourness of the yuzu orange which accents the flavour perfectly. Blancmange is a chilled French dessert which is perfect for the summer. It is made by boiling milk and adding milk, sugar, whipping cream, vanilla and gelatin. This is then cooled to solidify. 

This ice cream is made using rich-flavoured milk and the juice of Japanese yuzu oranges. This is then combined with Häagen-Dazs ice cream. Yuzu oil is also added to the ice cream so that you immediately taste the deeply-flavoured and aromatic yuzu orange with your first mouthful. The refreshing fruitiness will instantly spread all over your mouth, simultaneously harmonising with the milky flavour.

Even the sauce for the ice cream is made using the skin of Japanese yuzu oranges so that ice cream-lovers can fully enjoy the true flavour of yuzu oranges. The rich milky flavour is accented with the refreshing sourness of the yuzu orange. 

This summer, treat yourself to a mild and milky yet fruity and flavourful ice cream.

Information

Häagen-Dazs Mini Cup Yuzu Blanc Manger (limited time ice cream)

Release: July 23, 2019

Price: ¥319 (RRP)

Available at: Supermarkets, convenience stores and department stores countrywide.

Special Edition Website: https://www.haagen-dazs.co.jp/yuzu_blancmanger/ 

Baskin-Robbins Releases Pokémon Ice Creams, Sorbets and Cakes

Whether you're exploring Japan with your adult pals or on a family holiday with young kids, Pokémon fans from all generations cannot deny that treating yourself to Pokémon ice cream is the golden razz you need in this heat. 

From August 1 to 30, 2019, Baskin-Robbins will run a collaboration scheme with Pokémon to celebrate the release of the new Pokémon movie Mewtwo Strikes Back: Evolution. This involves the release of BR's first ever Pokémon-themed ice creams.

Pikachu Thunderbolt: Fruit Mix (price for single scoop, regular size: ¥390 after tax) *prices may vary,

Mewtwo Strikes Back: Evolution was released earlier this summer and there is no better opportunity to maximise your Pokémon experience than to indulge in the luxurious taste of Baskin-Robbins ice cream that has been combined with your favourite Pokémon with a beauty that no Pokémon fusion generator is possible of producing!

Pokémon Double Cup

Pikachu has arrived at Baskin Robins in the form of a sorbet, which is appropriately coloured yellow. The fruity sorbet flavours include pineapple, yellow peach, banana, apple and orange. This is decorated with bright red studs of delicious popping candy which look like Pikachu's cheeks. This is the first ever Pikachu sorbet to ever be sold at Baskin-Robbins.

BR also introduced a promotion scheme where those who purchase a Small Double-size ice cream (¥490 after tax)  can upgrade it to a Regular Double size for just an extra ¥100. Your ice cream will be served in a Pokémon-themed cup and you can even pick your favourite cup design out of the three available to maximise your ice cream experience.

Customers who order the Double Cup will receive a Pikachu spoon for each cup ordered. There are three different Pokémon spoon designs. Which one will you get? Hurry over to your nearest Baskin-Robbins to collect them all!

Pokémon Variety Pack

Small 6 pack: ¥1,550 Small 12 pack : ¥2,990 Regular six pack: ¥2,130 Regular 12 pack: ¥4,140 *All prices tax included and are subject to change. 

Want them all? The variety pack is perfect for those of you who want a selection to eat while on the go. The Pokémon-themed box is filled with rainbows of colours and all your favourite Pokémon, however, it is only available for a limited time. When you and your friends need a break from catching Pokémon, this is the perfect way to get refreshed.

Finally, don't miss out on BR's legendary Pikachu and Eevee ice cream cakes. The Pikachu Cake features BR's popular "Popping Shower" ice cream, which is a fusion of white chocolate and popping candy. This is wrapped in yellow strawberry-flavoured whipped cream. Pikachu's rounded chocolate eyes and red cheeks are enough to charm you. 

Pokémon Ice Cream Cake (Pikachu/ Eevee): ¥3,300 after tax *prices may vary, a variety of sizes are available

The Eevee Cake will stare at you with cute chocolate eyes. Eevee is wrapped in milk chocolate whipped cream and is wearing a caramel ribbon. Complete your cakes by placing the ears on by yourself. 

 

Maximise your Pokémon experience by watching the new Pokémon movie and indulging in Baskin-Robbin's legendary Pokémon ice creams.

©Nintendo・Creatures・GAME FREAK・TV Tokyo・ShoPro・JR Kikaku ©Pokémon ©2019 ピカチュウプロジェクト
RELATED ENTRIES
OMO7 Asahikawa Resort in Hokkaido Offers Polar Bear Valentine's Day Girls' Party Package

Not a fan of Valentine's Day? Want to get away from all the in-your-face romance and just have a good time with your gal pals? OMO7 Asahikawa by Hoshino Resort in Hokkaido is offering a limited-time polar bear-themed Valentine's Day Girls' Party package for all of February 2022. The single polar bear room, opened in November 2020, will be transformed into its Valentine's Day version. 

Valentine's Day has been popular in Japan for many years and is a day when women give gifts to men to express their feelings. However, in recent years, it has also become a less romantic event for some–people are buying chocolate for themselves, or giving candies to friends. The polar bear room is perfect for girlfriends who just want to relax and have a good time. Why a polar bear? The Asahikawa Zoo is nearby and is an incredibly popular attraction.

The Polar Bear Valentine Room, Only Available for One Party per Day

Decorated from top to bottom in cute bears, guests can also wear matching polar bear loungewear, perfect for those Instagram shots. This will be a girls' gathering you'll never forget!

Polar Bear-inspired Snacks for the Perfect Girls' Night

When girls get together, they just love to chat. But talking so much can make you hungry, so plenty of snacks will be waiting in the guest room! If you're not in the snacking mood, they also make wonderful souvenirs. 

Polar Bear Desserts, A Must-Have in Asahikawa

The area around OMO7 Asahikawa is lined with stylish cafes where you can take a break from your daily life. After enjoying the Valentine's Room, head out into the nearby neighborhood to Fukuyoshi Cafe for some polar bear sweets. The treats are included with the price of the room, so there's no reason to miss it!

Mister Donut Announces Limited-Time Pokemon Christmas Sweets

Popular Japanese donut chain Mister Donut is teaming up with Pokemon for the fourth year in a row! Lots of new themed sweets and merchandise will be available for a limited time starting November 12. 

Together Again This Year Collection

Pikachu Donut

Eevee Donut

Turning-Back Pikachu Donut

Turning-Back Eevee Donut

Pokemon Turning-Back Donut

Christmas Donuts

Pon de Ring Chocolate

Pon de Ring Pudding Flavor

Pon de Ring White

Christmas Set

Donut Set

Drink Set

Merchandise

Mister Donut x Pokemon Blanket

Mister Donut x Pokemon Plate

Mister Donut x Pokemon Mug

This year, guests can enjoy not only Eevee and Pikachu themed donuts, but other adorable Pokemon too! The Pokemon Turning-Back Donuts show these cute characters looking over their shoulder. Adults will fondly look at these designs and remember their childhoods, while children are currently in the midst of becoming Pokemon masters. These are perfect to bring people together during the holiday season.

The Christmas Set comes with three pieces of merchandise: a blanket, a plate, and a mug, all featuring this year's Mister Donut x Pokemon design. How would you like to have this as a gift this Christmas?

©2021 Pokémon. ©1995-2021 Nintendo/Creatures Inc./GAME FREAK inc.
『ポケットモンスター ブリリアントダイヤモンド』
『ポケットモンスター シャイニングパール』 are developed by ILCA,Inc.
ポケットモンスター・ポケモン・Pokémonは任天堂・クリーチャーズ・ゲームフリークの登録商標です。
Nintendo Switchは任天堂の商標です。

Information

Together Again This Year Collection

Mister Donut Pokemon Donuts

Available: November 12 – End of December (While Supplies Last)

Where to Buy: Participating Mister Donut Shops Nationwide

Christmas Donuts

Available: November 12 – End of December (While Supplies Last)

Where to Buy: Participating Mister Donut Shops Nationwide

Christmas Set

Available: November 12 – Until Sold Out

Where to Buy: Participating Mister Donut Shops Nationwide

Official Site: https://www.misterdonut.jp

Anime Idol Group HAKOMEN Becomes Tourism Ambassadors for Hakodate

Hakodate is one of the main cities in Hokkaido, Japan's northernmost island. In September 2021, the city launched a new tourism initiative called HAKOMEN, an anime idol group based on historical figures associated with Hakodate. Starting November 1, the members are now official tourism ambassadors! In July 2021, the Jomon historical sites in Hokkaido and the northern Tohoku region were registered as World Heritage Sites, so what better time to promote these incredible areas? 

Debut Song 'Kimi to HAKO☆DATE'

HAKOMEN lore tells the story of incredible historical figures summoned to the present day by the Hollow Dogu, the only National Treasure in Hokkaido and on display at the Hakodate Jomon Culture Center. Forming an idol group to promote the town, the five members see the Hollow Dogu as their producer. On October 14, HAKOMEN made their debut with the song Kimi to HAKO☆DATE, which is already racking up impressive YouTube views. 

Comments from the Members

Hijikata Toshizo / A Cutting-Edge Commander and Moodmaker
https://twitter.com/hako_hijikata



"I was surprised that I, a man who had mastered the way of the blade, would somehow become Hakodate's tourism ambassador.
I will put all of my energy into promoting this place!" 

Takeaki Enomoto / A Highly Ambitious Peacemaker
https://twitter.com/hako_enomoto



"I'm not even from this era, but you want me to do PR for Hakodate?!
Now that I'm here, I'll be sure to convey some of the charms that only someone from the past would know!"

Takuboku Ishikawa / A Calm and Peaceful Lover of Sweets
https://twitter.com/hako_isikawa

"I love Hakodate so much that I moved there during my time, so I'm thrilled to promote it as an ambassador!
I'll do my best to make all kinds of people fall in love with Hakodate!"


Matthew C. Perry / A Happy and Gourmet Scatterbrain
https://twitter.com/hako_perry



"Back when I showed up on my black ships, the people of Hakodate were so lovely♪
It's such an honor to be able to work with Hakodate~ I'll do my very best!"

Ayasaburo Takeda / An Open-Minded Big Brother Character
https://twitter.com/hako_takeda

"As an ambassador for tourism to Hakodate, I'd love to promote Goryokaku fortress which I designed as an architect in 1855.
Of course, it's not the only attraction Hakodate has to offer!"

VTuber Group NIJISANJI to Celebrate Four Years with 2-Day FANTASIA Event

The massive VTuber collective NIJISANJI will be holding a special 2-day event to celebrate four successful years! The NIJISANJI FANTASIA Event will be held at Pia Arena MM in Yokohama on January 22 and January 23, 2022. Female streamers will perform on Day 1, and male streamers will take the stage on Day 2. Presale tickets are now available by lottery for certain Fanclub members. 

As of October 2021, there are 107 Japanese NIJISANJI members, and a total of 156 members including the company's English, Indonesian, Korean and Chinese members. The group has over 30 million subscribers on YouTube across all members. The group has held a live event each year to celebrate these massive milestones. This year's event will be held in full-scale 3D collaborative costumes for the first time, and sixteen talents will be taking the stage total.

Who is your favorite member of NIJISANJI?

Information

NIJISANJI 4th Anniversary LIVE 'FANTASIA'

Performers: 

DAY 1: Mito Tsukino, Kaede Higuchi, Saku Sasaki, Yukia Shiina,  Uiha Aiba, Rena Yorumi, Inui Toko, Tomoe Shirayuki

DAY 2: Touya Kenmochi, Kanae, Hayato Kagami, Kakeru Yumeoi, Akina Saegusa, Kou Uzuki,  Shellin Burgundy, Kizuki Yashiro

Dates:

DAY 1: January 22, 2022 / Doors Open at 16:00, Show Starts at 17:00

DAY 2: January 23, 2022 / Doors Open at 16:00, Show Starts at 17:00

Location: Pia Arena MM (https://pia-arena-mm.jp/)

Official Site: https://event.nijisanji.app/4thanniv_fantasia

Ticket Information

Individual Member Fan Club Presale Tickets (Lottery)

NIJISANJI Fan Club (Kaede Higuchi, Saku Sasaki, Yukia Shiina, Kakeru Yumeoi) Presale Lottery Registration

Open: October 31, 2021 20:00 – November 7, 2021 23:59

URL: https://eplus.jp/nijisanji-4th-anniversary/fc/

Fan Club Site: https://fanclub.nijisanji.jp/

NIJISANJI Fan Club Presale Tickets (Lottery)

Presale Lottery Registration

Open: October 31, 2021 20:00 – November 14, 2021 23:59

URL: https://eplus.jp/nijisanji-4th-anniversary/fc/

'Reflexion' Serial Presale Tickets (Lottery)

Open: November 24, 2021 12:00 – December 5, 2021 23:59

URL: https://eplus.jp/nijisanji-4th-anniversary/sp/

*Must purchase NIJISANJI Cover Song Album 'Reflexion' 

Purchase Here: https://shop.nijisanji.jp/s/niji/item/detail/NJSJ-033?ima=0932

TRUFULL TOKYO Releases First Truffle Ice Cream

Truffles aren't something most people eat every day, but TRUFULL TOKYO wants to change that. The casual truffle brand wants to combine this luxury ingredient with simple dishes to make it easier to chow down on this tasty treat more often, and now, their first product release has been announced! TRUFULL ICE CREAM, playfully created by a French chef, aims to give people a new view of what food can be.

The truffles aren't the only thing that makes this ice cream special. The milk used to create it is gathered at Zao Provence Farm in Miyagi prefecture in the morning and processed the exact same day! After the ice cream is made, it is mixed with plenty of French black truffles, making a flavor like no other. 

The upscale TRUFULL ICE CREAM, a perfect dessert for the discerning adult, is available at CARBON COFFEE in Fukuoka. 

Information

TRUFULL ICE CREAM
Release Date: November 15, 2021

Price: ¥500 for 120ml cup (Tax Included)

Where to Buy: CARBON COFFEE

Address: Royal Building 1F 1-2-34 Daimyo, Chuo-ku, Fukuoka

Official Online Store: Scheduled to Open November 15

Instagram: https://www.instagram.com/trufull_tokyo/ (@trufull_tokyo)

Official Site: https://trufulltokyo.com/

McDonald's Japan Releases New Black Thunder Winter Lightning McFlurry

McDonald's Japan has just released a tasty new treat for winter! The Black Thunder Winter Lightning McFlurry, a collaboration with the popular chocolate bar Black Thunder, is now available at participating locations nationwide. 

This popular collaboration firsts appeared in 2017 and is now available in winter for the first time. Even though the weather is chilly, it's impossible not to want to eat this unique blend of dark and white chocolate. The sugar rush is sure to get you through the day!

Black Thunder Winter Lightning McFlurry: ¥290 (Tax Included) 

Smooth soft-serve ice cream is mixed with Black Thunder incused cocoa cookies and plain cookies, then topped with two types of chocolate sauce. What's not to love about this blend of textures and flavors? Be sure to grab one before they disappear at the end of November!

Information

Black Thunder Winter Lightning McFlurry

Available: November 4 – end of November

Where to Buy: Participating McDonald's Locations Nationwide 

Sales Hours: 10:30-close (Until 1:00AM at 24-hour locations)

Official Site: https://www.mcdonalds.co.jp/

Cute Brothers Grimm's 'Rapunzel' Themed Dessert Buffet to be Held for Six Days

Wedding venue 'Art Grace Wedding Coast Tokyo Bay' will be hosting the 'Princess Rapunzel's Flower Sweets Party,' a colorful garden-themed dessert buffet based on The Brothers Grimm's 'Rapunzel' for six days this Winter. The buffet will be open on November 14, November 21, November 23, December 4, December 8, and December 25. 

 

Rapunzel's Singing Voice Rare Cheese Tart

Sweet and Sour Romance Flavored Strawberry Mont Blanc




Rapunzel's Yellow Carrot Salad

Braided Meat Pie

Dressed Up in Flowers Berry Roll Cake

 

You'll find a selection of over 20 delicious desserts that can be enjoyed by both children and adults at the buffet, including a cheese tart topped with a drawing of Rapunzel, a strawberry mont blanc that tastes like a sweet and sour love with a prince, roll cakes and chiffon cakes topped with plenty of flowers. It isn't just sweets either! You can also enjoy braided meat pies, vegetable and chicken meatballs with tomatoes, and a spicy doria among other savory meals.

The buffet will be held in the spacious wedding venue, which boasts impressive views and a gentle sea breeze. The hall will be decorated in flowers, inviting customers into a spectacular new world. Whether you're a couple, a friend group, or a family with children, be sure to check out this floral sweets party!  

 

Information

Dessert Buffet 'Princess Rapunzel's Flower Sweets Party' 

Availability: November 14, November 21, November 23, December 4, December 8, December 25 (Reservations required) 

Opening Hours: First Session 12:30 ~ 14:00 (L.O 13:30) Second Session: 15:00 ~ 16:30 (L.O 16:00)

Location: Art Grace Wedding Coast Tokyo Bay Guest House

Address: 5-8-2 Meikai, Urayasu City, Chiba 279-0014

Details & Reservations:  https://www.bestbridal.co.jp/guestparty/chiba/artgrace_shinura/2021event-79/ 

Boat Race Tokoname in Aichi Prefecture to Screen Popular Films at Drive-in Theater

The Boat Race track at BOATRACE Tokonome will be home to a 3-day Drive-in Theater event on November 19, 20, and 21. The vast west parking lot will welcome guests to enjoy three films from the safety and privacy of their vehicles. In past years, the Hamanako, Tokuyama, Naruto, and Mikuni locations have participated. Now, it's Tokoname's turn!

Selected Films

La La Land (with subtitles) – November 19, 2021

© 2017 Summit Entertainment, LLC. All Rights Reserved.

The Secret Life of Pets 2 (dubbed) – November 20, 2021

© 2019 Universal Studios. All Rights Reserved.

A Whisker Away – November 21, 2021

© 2020「泣きたい私は猫をかぶる」製作委員会

This lineup of films can be enjoyed by families, lovers, and friends. The final film, A Whisker Away, is a coming-of-age fantasy set in the city of Tokoname. Visitors can enjoy these films on one of the largest air screens in Japan, at 722 inches. Don't miss some additional boat race content that even beginners can enjoy!

Information

BOATRACE de DRIVE-IN THEATER in BOATRACE Tokoname

Dates: November 19, 20, 21 – Doors open at 18:00, film starts at 19:00

Address: BOATRACE Tokoname West Parking Lot (4-111 Shinkaicho, Tokoname-shi, Aichi)

Official Site: https://boatrace-driveintheater.com

Sanrio Puroland Announces Snow Globe-Themed Christmas Event

This holiday season, Sanrio Puroland will hold its Puro Christmas celebration from November 5 until December 26, 2021. The snow globe-themed event is sure to bring some cheer to the Tokyo area!

Snow Globe Lights

Photo Spots

Puro Christmas Special Greeting

Kitty & Daniel's Party-Party Christmas

Exclusive Menu

Puro Christmas Limited-Time Merchandise

'The Puro Christmas' Musical Show

Guests will be treated to an entire world of Sanrio characters within a glittering snow globe, and each of them will be wearing limited-edition Christmas costumes. Seasonal photo spots and opportunities to spend time with characters will line the space, along with Christmas trees and other holiday decorations!

The special Christmas food menu features a Santa Claus theme and dishes are dotted with red and green. Exclusive snow globe-themed merchandise available for purchase includes keychains, pins, and sweets that are perfect to give as a gift this holiday season. In addition, a special four-day event 'Kitty & Daniel's Party-Party Christmas' will invite guests to enjoy a full buffet while watching a live performance and partaking in a photo session after the meal!

First performed in 2018, 'The Puro Christmas' musical show is making a comeback this year after becoming a big hit with fans. 

© 2021 SANRIO CO., LTD. TOKYO, JAPAN  著作 株式会社サンリオ

'Maruko & Cojicoji' Collaborates with Popular Fruit Sandwich Store 'FruitsBOX DAIKANYAMA'

A collaboration between 'Maruko & Cojicoji' and FruitsBOX DAIKANYAMA has been announced. The 'Maruko & Cojicoji Fruit Sandwich POP UP SHOP' will be open between October 16 and October 31 in Kinshicho TERMINA 2.

 

Matcha Bean Paste & Strawberry Sandwich

Hokkaido Suzu Akane! Strawberry Sandwich

Four Seasons! FruitsBOX Sandwich

Crispy Taste! Banana and Chocolate Chip Sandwich

Collab Goods

Tote Bag: ¥2,200 (Tax Incl.)

Parka (FREE SIZE: Length 71cm, Width 58cm, Shoulder Width 52cm): ¥6,050 (Tax Incl.)


 

FruitsBOX DAIKANYAMA is a fruit sandwich specialty store that opened in 2019. The 'Maruko & Cojicoji' lineup will include eight new sandwiches. You'll get addicted to the new Matcha Paste and Strawberry sandwich, which combines the sweet and sour taste of strawberries and a rich bean paste! 

The pop up shop will stock a parka and tote bag, which both feature original artwork, alongside a! exciting collection of 50 Chibi Maruko-chan and Cojicoji items to purchase! Why not check it out?

Information

Maruko & Cojicoji Fruit Sandwich POP UP SHOP

Duration: October 16 ~ October 31 2021

Opening Hours: 11:00 ~ 20:00 (Subject to change)

Fruit Sandwich Store Location: Kinshicho TERMINA 2 1F La Gare Entrance Outdoor Exhibition Hall (Closest train: JR Kinshicho Station North Exit)

Pop Up Store Location: Kinshicho TERMINA 2 1F La Gare Indoor Exhibition Hall

Official Site: https://fruitsbox.net/ 

MUSER FEST.2021 -MUSIC AID- Event Holds Spin-Off Event for One Night Only

Last month's MUSER FEST.2021 -MUSIC AID- event isn't quite over! A spin-off event, ZIP-FM presents LIVE LIVE! Super Collaboration with MUSER FEST.2021, will be broadcast online on October 22 at 21:00. Since August, collaborative live performances have been planned with different guest artists each month on ZIP-FM's LIVE LIVE! With MUSER FEST.2021 program hosted by CHAI. This event is the culmination of these plans and the lineup is sure to get fans pumped. 

Performing artists include YUNA from CHAI, Suzuka and Mizyu from Atarashii Gakko!, Tabu Zombie from SOIL & "PIMP" SESSIONS, and Shingo Suzuki from Ovall. Ryo Kishimoto from fox capture plan will also join the live performance as a supporting artist. An archived stream will be available for two weeks after the live show, and tickets are on sale now on the official MUSER website. 

 

Information

ZIP-FM presents LIVE LIVE! Super Collaboration with MUSER FEST.2021

Broadcast Date: October 22, 2021 from 21:00-22:00

Price: 2,000YELL – ¥2,200 (Tax Included) *Includes access to archive

Buy Tickets: https://muser.link/__b/events/573 

Archive Available from October 23 – November 5 at 23:59

Archive Ticket Sales Period: October 23 – November 5 at 23:59

Official Site: https://muser.link/

'Kyoto Yura Hotel M Gallery' New Halloween Menu Features Adorable Monster Motifs

The '1F Lounge & Bar 1867' at the Kyoto Yura Hotel M Gallery will be hosting a Halloween themed afternoon tea from October 1 2021, with tea sets and cocktails available. The premium hotel is owned by Accor, a Paris, France based group that owns over 5,000 hotels and resorts in 110 countries.

The Halloween-themed afternoon tea has been made by Jennie Chiu, a pastry chef who grew up in America, the home of Halloween. The afternoon tea features cute and playful monster motifs, including a witch-hat Mont Blanc, a Cassis and Chestnut Cake topped with a small ghost, and a spider-web topped Raspberry and Chocolate Mousse. For savory treats, Chef Nishimura Niki has prepared Foie Gras soaked in Salted Koji, plus two luxurious lobster dishes.

The creative Halloween cocktails were brainstormed by Yamazaki Sousei, who ranked in the Japan Top 10 category of bartending competition 'WORLD CLASS 2021.' The Halloween and apple pie inspired lineup was inspired by Scotland and the Celtic people, looking back to when Halloween was first celebrated. 

Enjoy some adult-only time in this retro-modern "family mansion" themed space. 

Information

Halloween Afternoon Tea Set

Availability: October 1 ~ October 31 2021

Location: Lounge & Bar 1867 

Serving Hours: 12:00 and 15:00 *Please reserve your table by 17:00 on the day prior to your arrival

Halloween Cocktails

Availability: October 1 ~ October 31 2021 

Price: ¥1,900
Location: Lounge & Bar 1867

Serving Hours/Opening Hours: 11:30 ~ 21:00 (L.O. 20:30) 

Official Site:  https://kyotoyurahotel-mgallery.com/ja