Love Live! & Sanrio Open Collaborative Cafes in Tokyo and Osaka
Multimedia project Love Live!―which has spawned an anime series, manga, game, movie and more―is teaming up with Sanrio to open themed cafes in Tokyo and Osaka on August 16 and September 27 respectively.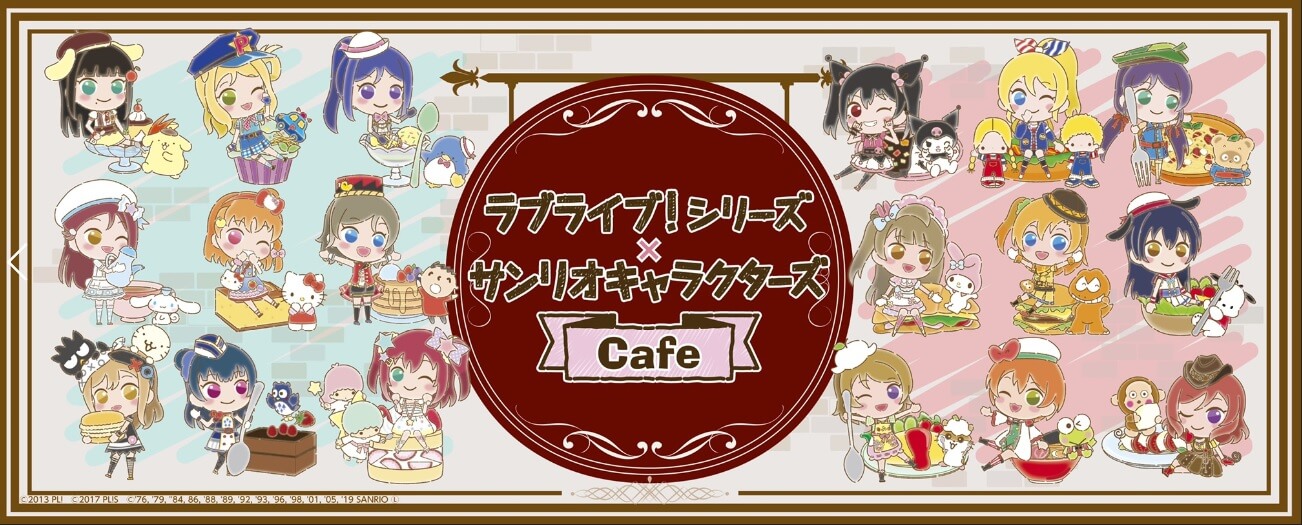 The cafe will see 20 characters from the Love Live! series music groups μ's, Aqours and Saint Snow and 20 characters from the Sanrio cast come together at the cafe, with decorations, themed food, and merchandise.
The menu features a bounty of flavourful food and drink which incorporates popular flavours, luscious taste, and hearty servings. Menu item names below are translated from Japanese.
An Unlucky Combination Food Plate – ¥1,390 (Before Tax)
An interesting assortment of a mini omurice, soy sauce ramen, and a fresh tomato caprese salad. It also comes with the pictured postcard which features a blackboard design.
Deliciousness Ensemble! Invigorating Dessert Plate – ¥1,390 (Before Tax)
This dessert set is one fit for the gods, adorned with an apple topped castella, mini pancake laced with salted caramel ice cream, an tea-flavoured jelly. This also comes with the pictured postcard featuring different characters.
If you decide to buy a drink at the cafe you'll be treated to one of the three coasters chosen randomly. They are topped with fine fruits. There are many more menu items in addition to these, so be sure to check the official website to see the full listing.

Fans of both franchises can pick up plenty of exclusive merchandise too, featuring the characters from Love Live! dressed like the Sanrio cast. There are bonus items for customers who book a table in advance too. Don't miss this first ever collaboration between Love Live! and Sanrio♡
Information
Love Live! Series x Sanrio Characters Cafe
Tokyo Cafe
Running: August 16, 2019 – October 14, 2019
Location: HARAJUKU BOX CAFE&SPACE (Lucessimo Bldg. Floor 2F, 4-28-28 Jingumae, Shibuya, Tokyo)
Osaka Cafe
Running: September 27, 2019 – October 27, 2019
Location: UMEDA BOX CAFE&SPACE( (Umeda LOFT Floor 1F, 16-7 Chayamachi, Kita Ward, Osaka, Osaka Prefecture)
Reservations: ¥500 (Before Tax)
Official Website: https://lovelive-sanrio-cafe.jp/
RELATED ENTRIES
Hello Kitty Movie to be Directed by Jennifer Coyle and Leo Matsuda

Sanrio and Warner Bros. Japan have announced the release of the first-ever Hollywood adaptation Hello Kitty movie which will be directed by animation veterans Jennifer Coyle and Leo Matsuda. New Line Cinema and Flynn Picture Company are on board for the film which will be a hybrid fusion of live-action and animation. The film's title and release date have yet to be announced but it has been confirmed that it will be released worldwide.

Ⓒ 2021 SANRIO CO.,LTD.

Jennifer Coyle and Leo Matsuda are top-class artists and directors who bring their incredible history in and experience working with animation to the project. This marks their first collaboration, both of them beating many other directors to the job.

Jennifer Coyle

Coyle's early days are rooted in series such as King of the Hill where she was a storyboard artist. She worked as a producer for the HBO Max animated series Harley Quinn and has also directed episodes in the hit animated series Bob's Burgers, lent her penned her art for The Spectacular Spider-Man, and more.

Jennifer Coyle Photo by Andrew Marlin

Jennifer Coyle | Comment

"This is not only a rare chance to bring a beloved character to life, but also to spread the message of love, friendship and inclusivity that Hello Kitty stands for. The world so needs her brand of joy and happiness."

Leo Matsuda

Matsuda is a Brazilian director whose career began at Walt Disney Animation. He has worked on films such as Big Hero 6, Zootopia, Ralph Breaks the Internet and most recently Abominable for DreamWorks Animation. 

Leo Matsuda Photo by Peter Lefevre Photography

Leo Matsuda | Comment

"Growing up in Brazil with a Japanese family, I was surrounded by the whimsy of Hello Kitty and it served as a reminder that it's okay to be different. Along with Jen, FlynnPictureCo. and New Line, I am delighted by this incredible opportunity to work with one of the most universally beloved characters and expand their relatable Sanrio stories even further."

2021 Sanrio Character Ranking Voting Begins in April

Sanrio has finally announced news about the 36th annual Sanrio Character Ranking. This year's award event, the 2021 Sanrio Character Ranking, will open initial votes on April 9 to May 24 when fans can vote for their favourite character from Sanrio's roster. As with previous years, the 2021 run will also welcome the "Collaboration Category" of the awards which will feature 27 character entries from those who have collaborated with other companies and businesses over the past year.

Ichigo Shimbun is a monthly magazine published by Sanrio. It not only includes information about the latest character merchandise, but is also the place where the Sanrio Character Ranking first began in 1986. From Sanrio's long list of over 450 characters, just 80 are entered into the awards each year. Cinnamoroll took first place for the 3rd year in a row at the 2020 Sanrio Character Ranking which we covered in detail, including the initial first round up of winners and second round up.

Normally, the results are announced in-person at a big event. This year's announcement gathering was originally scheduled for June 8, but was cancelled due to the COVID-19 pandemic. It will now be hosted online instead, and fans will also be able to vote using the new Sanrio members service Sanrio+.

This year's 80 entrants are now being rolled out over on the official Sanrio Character Awards Twitter page.

This Year's Award Theme: "The Witness of a New World – Your Support Will Change the Future"

Every Sanrio Character Awards has a theme, and this year's is, "The Witness of a New World – Your Support Will Change the Future." The "new world" refers to the future of Sanrio—which celebrated its 60th anniversary last year—that fans will bear witness to. The key visuals for the 2021 Sanrio Character Awards have the characters holding a magnifying glass with which they are peeking into that new world.

 

New Entrants Announce Everyday On the Official Twitter Page

The Sanrio Character Rankings' official Twitter page will post the key visuals and personal messages from all 80 entrants on its official Twitter page between February 26 to March 31. Leading this year's awards ceremony are the popular characters Kuromi, Badtz-Maru, and Hangyodon. Voting opened on February 25.

 

How to Cast Your Vote

Votes for the 2021 Sanrio Character Ranking can be cast online, at Sanrio shops, and for the first time, on the new Sanrio members service Sanrio+. Votes for the Collaboration Category however can only be placed online. Last year's vote was open to all fans worldwide. It is unconfirmed whether this year will be the same, but stay tuned as we follow the event.

Online Votes (Smartphone Only) *Cannot be cast on computers or tablets

Sanrio Shops

Sanrio Online Shop

Ichigo Shimbun (May 2021 Issue, on sale April 10 / June 2021 Issue, on sale May 10).

*Ichigo Shimbun voting open from April 10

Sanrio+ Members Smile Vote (Sanrio Shops/Online Votes)

Sanrio+ Members Ticket Vote (Online Votes) *More info TBA

Other Voting Methods (TBA)

 

Vote With Sanrio+

Sanrio+ allows members to exchange 100 Smiles (the currency on the Sanrio Shop) for two voting chips. Members can exchange a maximum of 1,000 smiles for 20 chips in one go. The chips are spent at the voting box on the Sanrio Shop. One chip counts for a total of three votes.

Additionally, when members first log in to Sanrio+ on the voting website, they can used 50 Smiles to cast one vote. Members can vote with a maximum of 500 smiles in one day. One Smile vote counts for a total of two votes.

Stay tuned for the latest news and updates on the 2021 Sanrio Character Ranking.

Information

2021 Sanrio Character Ranking

Running: April 9, 2021 – May 24, 2021 (From April 10 in Ichigo Shimbun)

First Round-Up Announcements: April 14, 2021 at Noon (JST)

Second Round-Up Announcements: May 13, 2021 at Noon (JST)

Winner Announcement: June 8, 2021 (Online event, details TBA)

News Page: https://www.sanrio.co.jp/news/mx-ranking2021-20210225/

Detective Conan Themed Cafes Open in Japan to Promote Upcoming 'Scarlet Bullet' Anime Film

To promote the upcoming anime film Detective Conan: The Scarlet Bullet which is set to released in Japan on April 16, 2021, seven themed cafes will open in Tokyo, Osaka, Nagoya, and Sapporo from March 24. The cafe is themed on a retro diner which will transport fans back in time to diners inspired by America in the 1950s and 60s.

Main Visual

Bonus Items

RETRO AMERICAN DINER MENU

DETECTIVE BURGER/SNIPER BURGER/ZERO BURGER/BOYISH BURGER/SHERRY BURGER/OSUSOWAKE BURGER – ¥1,599 Each (Before Tax), +¥500 For Acrylic Key Ring

DETECTIVE SUNDAE/SNIPER SUNDAE/ZERO SUNDAE/BOYISH SUNDAE/SHERRY SUNDAE/OSUSOWAKE SUNDAE – ¥1,099 Each (Before Tax), +¥500 For Acrylic Key Ring

DETECTIVE SODA/SNIPER SODA/ZERO SODA/BOYISH SODA/SHERRY SODA/OSUSOWAKE SODA – ¥899 Each (Before Tax), +¥500 For Acrylic Key Ring

CONAN CAFE CLASSIC Menu

APTX-4869 TROPICAL LAND CURRY | ¥1,400 (Before Tax)

COLUMBO MINT SAUCE PASTA ¥1,499 / DELICIOUS TO DIE FOR RAMEN ¥1,099 / POIROT CAFE SANDWICH ¥1,399 (All Prices Before Tax)

AI'S BERRY CHEESE FRENCH TOAST ¥1,200 / RAN'S LEMON PIE ¥1,499 / HIROSHI AGASA'S "SHIPPAI JA" PANCAKES VER.2 ¥1,199 (All Prices Before Tax)

CRIMINAL'S BLACK SESAME STRAWBERRY AU LAIT ¥999 / CRIMINAL'S SOUVENIR MUG +¥1,400 (All Prices Before Tax)

LEFT'S CAFE LATTE ¥899 / YOUNG DETECTIVE SHAKE ¥1,099 / RAN'S BERRY JELLY SODA ¥999 (All Prices Before Tax)

LIMITED EVENT MENU

1st Menu: Detective Conan: The Scarlet Bullet Menu | April 16, 2021 – May 31, 2021

AKAI FAMILY BANQUET ¥1,499 / UNAGI'S KABAYAKI & TARE OKAWARI RICE ¥1,699 / SHUKICHI & YUMI'S DELICIOUS SHORTCAKE ¥1,399 / SCARLET OGURA STRAWBERRY TOAST ¥1,599 (All Prices Before Tax)

2nd Menu: Phantom Thief Kid & Aoyama Sensei's Birthday Menu | June 1, 2021 – July 11, 2021

*Only available at Nagoya cafe from July 1-11

THE JEWEL GARDEN SALAD ¥1,499 / MAGIC SPICE PARFAIT ¥1,200 / AOYAMA-SENSEI BIRTHDAY CURRY ¥1,399 (All Prices Before Tax)

3rd Menu: Shuichi Akai Season 1 Menu | July 1, 2021 – August 15, 2021

4th Menu: Shuichi Akai Season 2 Menu | August 16, 2021 – September 26, 2021

*Menus 3 and 4 exclusive to Shinjuku and Umeda cafes

*Menus 3 and 4 are centred on the character Shuichi Akai

Original Merchandise

Pins (6 Designs) | ¥450 Each (Before Tax)

Acrylic Coasters (12 Designs) | ¥800 (Before Tax)

Mini Acrylic Stands (12 Designs) | ¥900 (Before Tax)

Acrylic Magnets (6 Designs) | ¥500 (Before Tax)

Folders (6 Designs) | ¥300 (Before Tax)

Bandanas (2 Designs) | ¥1,500 Each (Before Tax)

Eco Bag | ¥1,850 (Before Tax)

Chocolate Tin | ¥1,600 (Before Tax)

Fans can tuck into a Detective Conan-themed retro menu as well as get their hands on some exclusive merchandise featuring original chibi art.

Make sure you don't miss Detective Conan: The Scarlet Bullet.

©青山剛昌/小学館・読売テレビ・TMS 1996

Sanrio Releases Tea Gift Set in Collaboration With World Tea Brand LUPICIA

World tea brand LUPICIA launched its 7th collaboration with Sanrio on Thursday (February 25) featuring a range of tea gift sets. Every year, LUPICIA releases a wide variety of rea-related gift sets for White Day, the spring season, Mother's Day, and more.

Four Fruit Fruity Tea With Lidded Mug

Hello Kitty LUPICIA Mug & Flavoured Tea | ¥3,300 (Tax Included)

My Melody LUPICIA Mug & Flavoured Tea | ¥3,300 (Tax Included)

Cinnamoroll LUPICIA Mug & Flavoured Tea | ¥3,300 (Tax Included)

Kuromi LUPICIA Mug & Flavoured Tea | ¥3,300 (Tax Included)

This year adds the dearly beloved Kuromi to the new collaboration which features a variety of fresh and fruity teas together with a mug that comes with a lid to keep your tea hot.

Will you be having tea with Hello Kitty, My Melody, Cinnamoroll, or Kuromi?

(c)'21 SANRIO 著作(株)サンリオ

THE iDOLM@STER SideM Themed Cafes Open in Ikebukuro, Tennoji, and Nagoya

Three branches of Animate Cafe in Ikebukuro, Tennoji, and Nagoya are now serving as the venues for a limited-time THE iDOLM@STER SideM cafe experience until March 14. Fans of the multimedia series can enjoy a range of themed food and drink as well as get their hands on exclusive merchandise of their favourite characters in chibi form.

Animate Cafe Ikebukuro Exclusive Mini Character Illustration Tapestry

Animate Cafe Ikebukuro "High x Joker" Life-Size Panels

The idol characters will be waiting to welcome you, the Producer, to a special "Sweetie Wonderland" themed space.

Food and drink names, which are inspired by past event that have taken place in THE iDOLM@STER SideM video game, have been translated from Japanese by MMN.

Themed Food Inspired by Past In-Game Events

Ryu Kimura's Workout Tray Don | ¥950 (+¥200 for Cocoa Protein Drink) | Comes With SASUGA Logo Sticker

Super Live Fes 2016 Shiki Iseya – Shiki's Kumacchiman Steamed Bun | ¥750

2020 Valentine's Event – Prepping the Cacao Soil | ¥800

Bubbly AP CIDER!! Live Hokuto Ijūin – Sparkling Moment | ¥600

Jiro Yamashita's Jelly Drink | ¥600

Shoma Hanamura's Night Party Lemonade | ¥600

Merch

Acrylic Key Rings Sweetie Wonderland A-Group (15 Designs) – DRAMATIC STARS / Altessimo / Shinsoku Ikkon /  Café Parade / S.E.M | ¥700

Acrylic Key Rings Sweetie Wonderland B-Group (15 Designs) –  Beit / Sai / THE Kogado / F-LAGS / Legenders | ¥700

Acrylic Key Rings Sweetie Wonderland B-Group (16 Designs) –  Jupiter / W / FRAME / High x Joker / Mofumofuen | ¥700

Pins – Sweetie Wonderland A-Group (15 Designs) – DRAMATIC / STARS / Altessimo / Shinsoku Ikkon / Café Parade / S.E.M | ¥400

Pins – Sweetie Wonderland B-Group (15 Designs) – Beit / Sai / THE Kogado / F-LAGS / Legenders | ¥400

Pins – Sweetie Wonderland C-Group (16 Designs) – Jupiter / W / FRAME / High x Joker / Mofumofuen | ¥400

Pin Cover Sets (3 Included / 15 Designs) | ¥500

Pin Cover Example

Frog Chocolates With 2 Coasters (46 Designs) | ¥1,800カエル型チョコ 注文特典コースター全46種よりランダム2枚付き 1,800円

Clear Tasty Box With PVC Key Ring (15 Designs) | ¥1,800 Each

Campaign

Free Birthday Bromide Campaign

Free Coaster Campaign

©BANDAI NAMCO Entertainment Inc.

Sanrio Design Face Masks by Maison de FLEUR Keep You Stylish and Safe

Maison de FLEUR has revealed a new collection of face masks created in collaboration with Sanrio which will be released in Japan on February 23.

Sanrio Character Collab Masks | ¥2,200 Each (Tax Included)

My Melody

     Cinnamoroll

Little Twin Stars

Pompompurin

Kuromi

The masks are designed from the popular Sanrio characters My Melody, Cinnamoroll, Little Twin Stars, Pompompurin, and Kuromi. The parts that hook over your ears are fitted with a big, cute satin ribbon, and the front of the masks feature a gold leaf print matte design.

The masks can be used both as a fashion item and for protection against COVID-19.

Information

Maison de FLEUR x Sanrio Character Collab Masks

Release Date: February 22, 2021 at 20:00 @ STRIP CLUB / February 23, 2021 @ Maison de FLEUR stores

STRIPE CLUB Official Website: https://stcl.page.link/Z3cE

ZOZOTOWN: https://zozo.jp/

Little Twin Stars Doughnuts at Floresta Celebrate White Day

Floresta Nature Doughnuts, a doughnut cafe in Japan that hand-makes doughnuts using organic ingredients, is celebrating White Day this year by releasing two doughnuts based on the Little Twin Stars which will be served from March 1 to 14.

The Little Twin Stars, also known as Kiki & Lala, are two of the most popular characters by Sanrio, the company known for such iconic faces as Hello Kitty.

Kiki & Lala Doughnuts | ¥450 (Before Tax)

Kiki & Lala are twins who were born on the Star of Compassion. The doughnuts capture the cute duo atop fluffy pink clouds made from strawberry and white chocolate.

The doughnuts are made without any additives or colouring. The ring part of the doughnut is coated in a strawberry chocolate made from organic strawberry powder for a sweet and sour kick.

 

Celebrate White Day this year, the sequel to Valentine's Day in Japan, with the Little Twin Stars.

©'21 SANRIO CO., LTD. APPROVAL NO. L615092

ROLL ICE CREAM FACTORY x Mr. Osomatsu Collaborate On Themed Ice Creams in Japan

Japananese ice cream chain ROLL ICE CREAM FACTORY is collaborating with the TV anime series Mr. Osomatsu at seven of its branches from February 10 to March 14. It will include a selection of ice creams, hot drinks, and merchandise based on the characters from the popular comedy series.

ROLL ICE CREAM FACTORY x Mr. Osomatsu Collab Visual

Ice Cream Menu

Drinks Menu

Novelty Coasters (7 Designs)

Merchandise line-up

Campaign for 5 people to win prize

Coupon to receive novelties earlier

So what exactly is 'roll ice cream'? Just as the name suggests, liquid ice cream is poured onto a freezing cold plate which is then rolled with a spatula to create cylindrical shapes. As expected, roll ice cream continues to make its way onto Instagram for its cute visual impact and unique design. Roll ice cream began in Thailand before becoming a boom over in New York. It's now popular worldwide having spread across Europe and the rest of Asia too. The first branch opened in Harajuku, Tokyo, back in 2017.

Fans of Mr. Osomatsu can look forward to a special selection of berry, vanilla, chocolate mint, and other tasty ice cream scoops based on the Matsuno siblings. Each cup also comes with a toothpick featuring an illustration of the character. There are also three hot takeout beverages perfect for the cold inwter season.

Customers can get their hands on a novelty coaster at participating branches for every item they order from the Mr. Osomatsu menu. There are seven designs which includes a secret, unknown design.

ROLL ICE CREAM FACTORY is also hosting a campaign on their official Twitter and Instagram accounts for 5 lucky fans to win a free poster. Details below.

Information

ROLL ICE CREAM FACTORY x Mr. Osomatsu Collab Cafe
Running: February 10, 2012 – March 14, 2021
Participating Branches: ROLL ICE CREAM FACTORY (Harajuku/Omotesando/Marui Family Mizunokuchi/Osaka/Dotonbori/AEON Mall Tokushima/Nagasaki/Huis Ten Bosch, Hiroshima, Hatchobori/Kumamoto/Shimotori)
Collab Details: https://edith-online.com/lp/osomatsusan-rollice

Twitter & Instagram Campaign
Running: February 10, 2012 – March 14, 2021
How to Participate: Follow ROLL ICE CREAM FACTORY on Instagram or Twitter and post with hashtag #おそ松ロールアイス
Twitter Account: @ROLLICErCREAM_F
Instagram Account:  @rollicecreamfactory
*Winners will be contacted directly on Twitter/Instagram

ROLL ICE CREAM FACTORY Official Website: https://rollicecreamfactory.com/

Love Me Pom Poko! Manga Gets Themed Cafe at NewType Shinjuku in Tokyo

NewType Shinjuku, a subculture cafe and bar in Tokyo, is collaborating with Modomu Akagawara's manga series Love Me Pom Poko! from February 6 to 28. The cute and charming world of the series arrives not only on the food and drinks menu but in the form of merchandise and decorations too. As is the case with collaboration cafes in Japan, there's some free novelties for customers to enjoy when they purchase something from the menu too.

The Menu

©Modomu Akagawara/Hakusensha

©Modomu Akagawara/Hakusensha

Merchandise Line-Up

©Modomu Akagawara/Hakusensha

Novelty Coasters

©Modomu Akagawara/Hakusensha

Love Me Pom Poko! is not that known in the West yet, but if you happen to be in Tokyo this month, be sure to stop on by to experience the art of the series yourself.

Information

Love Me Pom Poko! Collab Cafe
Running: February 6, 2021 – February 28, 2021
Location: NewType Shinjuku
Address: Dash Bldg. 1F, 5-12-16 Shinjuku, Shinjuku-ku, Tokyo
Opening Hours: [Weekdays] 16:00-20:00 / [Weekends & Holidays] 11:00-20:00
TEL: 03-5315-4799
Official Website: http://ntsnjk.tokyo/

Perfectly Pink Sanrio Valentine's Day Collection Heads to Maison de FLEUR

For Maison de FLEUR's annual "PINK MANIA" Valentine's season event, it is teaming up with Sanrio to release a positively-kawaii pink collection of bags at its stores in Japan on February 11. The line-up also made a pre-release on the online shop STRIPE CLUB last week.

PINK MANIA x Sanrio Characters Collection: Azato Melody / Azato My Sweet Piano / Azato Cinnamoroll / Azato Bonbonribbon / Azato Pochacco

PINK MANIA Double Ribbon Tote Bag | ¥5,290 (Before Tax)

PINK MANIA Side Pocket S Tote Bag | ¥5,290 (Before Tax)

PINK MANIA Side Pocket M Tote Bag | ¥5,990 (Before Tax)

PINK MANIA Ribbon Pouch | ¥3,590 (Before Tax)

PINK MANIA Pouch | ¥3,590 (Before Tax)

PINK MANIA Face Mask Case Pouch | ¥3,590 (Before Tax)

Interior design of each bag and pouch

PINK MANIA is an event held by Maison de FLEUR every year around Valentine's Day where select items turn all pink. This year's line-up includes some of the brand's iconic tote bags and pouches as well as some new entries. Familiar faces from Sanrio include My Melody, My Sweet Piano, Bonbonribbon, Pochacco, and Cinnamoroll.

Go pink and kawaii this Valentine's Day with this year's PINK MANIA collection.

Cute Hello Kitty and Little Twin Stars Face Masks Release in Sanrio Collaboration

Japanese sneakers select shop atmos pink teamed up with Sanrio to release a cute collection of face masks on Thursday (January 28).

KIKI&LALA★atmos MASK Colours: White/Blue – ¥1,400 (Before Tax)

HELLO KITTY♡atmos MASK Colours: White/Pink – ¥1,400 (Before Tax)

The masks can be washed and are durable, fast-drying, block pollen, and cut UV. Face masks are part of everyday life now, so why not add a little fun to routine?

Pokémon, My Melody, Moomin and More Valentine's Day Chocolates Arrive at Daimaru Tokyo

The Hoppe Town area of Daimaru Tokyo is currently celebrating Valentine's Day up to February 14 with the release of a selection of gift chocolates by six brands in collaboration with popular characters.

Pokémon Chocolate Set (Large Box) | ¥1,404 (Tax Included)

My Melody x Goncharoff Chocolates (Contains 21) | ¥2,160 (Tax Included)

Moomin x Merry Chocolate's Hattifatteners Chocolates (Contains 11) | ¥1,188 (Tax Included)

Dick Bruna by Morozoff: Picture Book Chocolates (Contains 15) – ¥864 (Tax Included) / Miffy Pouch Chocolates (Contains 8) – ¥1,320 (Tax Included)

Chatrois Kitten Tiny Plain Chocolates | ¥783 (Tax Included)

Katanukiya Angel Panda | ¥684 (Tax Included)

Which of these cute and tasty-looking treats has caught your eye the most?

©Nintendo・Creatures・GAME FREAK・TV Tokyo・ShoPro・JR Kikaku ©Pokémon
©1976,2021 SANRIO CO,LTD.APPROVAL NO.L613374
©Moomin Characters™

Information

Daimaru Tokyo Valentine's Sweets
Running: January 27, 2021 – February 14, 2021

Location: Hoppe Town on Floor 1F of Daimaru Tokyo
Official Website: https://www.daimaru.co.jp/