A Date With Yutaro: Soaking Up the Japanese Summer Sun & Visiting the Art Aquarium | Tokyo Stroll
It's been a while since our last date with Yutaro. He's been very busy with film shoots. He had some spare time today so we paid a visit to Nihonbashi for our next date. "ECO EDO Nihonbashi: Enjoy Cool Edo With All Five Senses" is an event held every year in the Nihonbashi area which takes the Edo period cultural idea of "coolness"―an in, to enjoy being cool during the summer-and puts a modern spin on it. There are many exciting things to look forward to, including the art aquarium which proves massively popular every year.
We gave ourselves more time to arrive at the meeting place to be in the safe side, but it seems Yutaro-kun was already there waiting for us!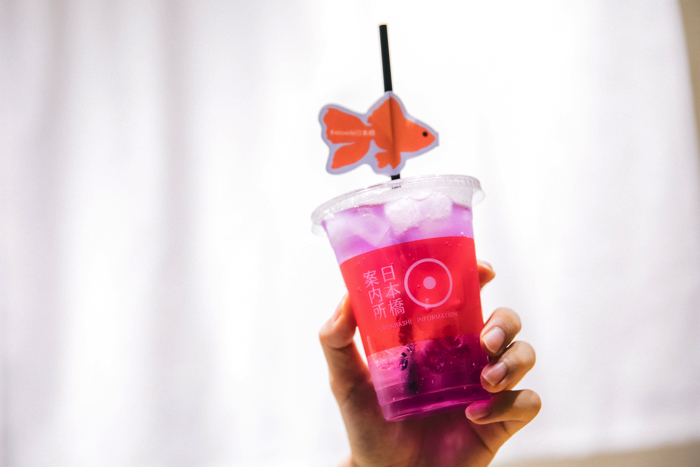 Nihonbashi Information Center | IPPIN CAFÉ "Sparkling Herb Tea" – ¥518 (Tax Included)
"Here, you must be boiling." Yutaro-kun kindly offers a cup of IPPIN CAFE's limited-edition sparkling herb tea. It's a delicious mix of fizzy soda and lemon, a perfect refreshment for the summer. Since he ordered takeout the drink came with a goldfish straw. Goldfish are a staple sight during Japanese summer festivals so it's very fitting for the occasion! 
With our drinks in hand, it's time to head to Nihonbashi for our Edo summer date!
Wind-Chime Forest Path
Lining the path between Fukutoku Shrine and Fukutoku Garden is the Wind-Chime Forest Path where around 200 Edo-style wind chimes dangled. This year, during the evenings, the path is illuminated with beautiful lighting.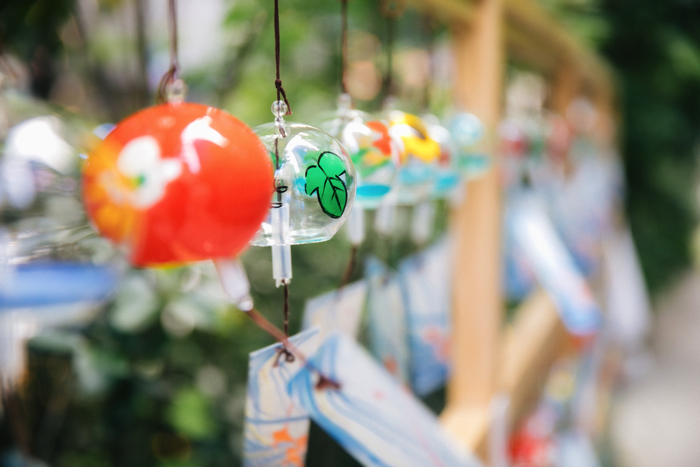 When the breeze rolls past the wind chimes ring one by one-a cool and refreshing sound.
"I hear each one of these Edo wind chimes are individually handmade by craftsmen."
When you hear the sound of the wind chimes it makes you feel cool like a gentle breeze of the wind.
After strolling along the Wind-Chime Forest Path we make our way towards this year's ECO EDO Art Aquarium event.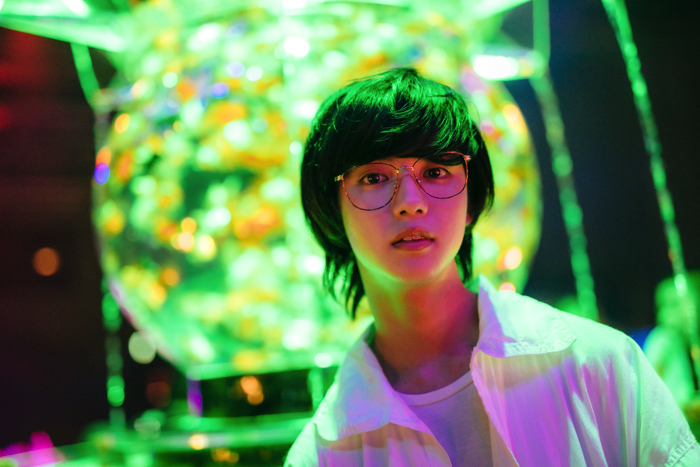 The moment we step instead Yutaro is already dazzled by all the goldfish: "Wow! I knew about this place from what I'd seen online, but this my first time here! This art aquarium really is something!"
The full title of the event is "ECO EDO Nihonbashi ART AQUARIUM 2019 ~Edo, Coolness of Kingyo~ & Night Aquarium."  Goldfish were a huge part of the common culture in Nihonbashi during the Edo period. This event recreates that and brings that "coolness" aspect while combining it with contemporary art by having people observe the fish in lots of different artistic environments.
Super Oiran
"This is the biggest fish tank, apparently it has 3,000 fish swimming inside!"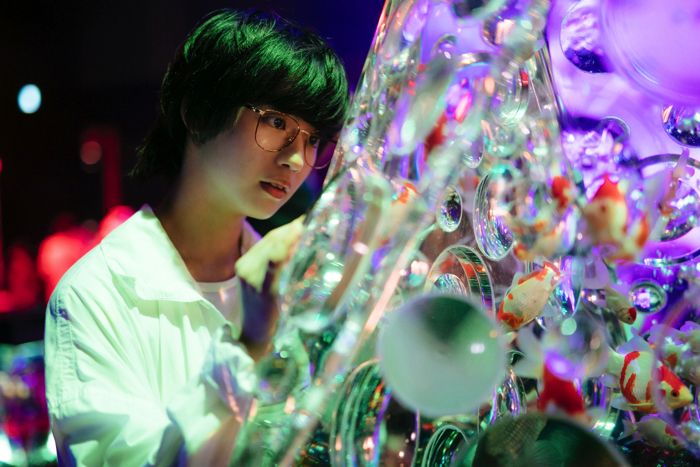 "Seeing the light reflect on the water from the illuminations lets you see the fish in a different light, doesn't it?"
Looks like Yutaro-kun is having a lot of fun taking photos.
He's equally interested in just about every fish tank!
These other fish tanks have a different aesthetic to them. Their Japanese-style designs make for great photos.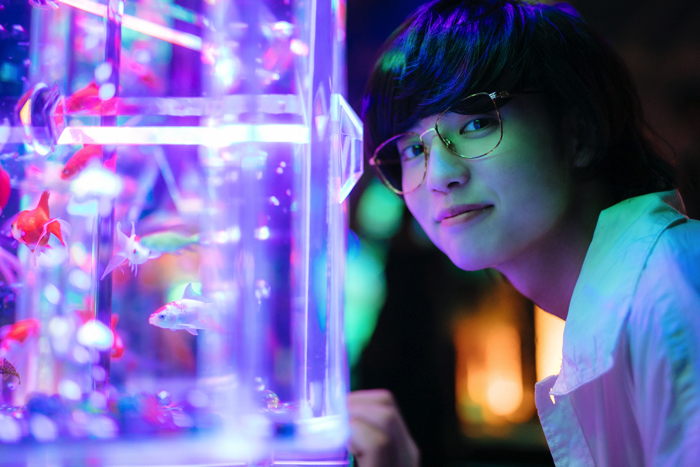 Kaleidorium 3D
"This one's beautiful, it's like a kaleidoscope."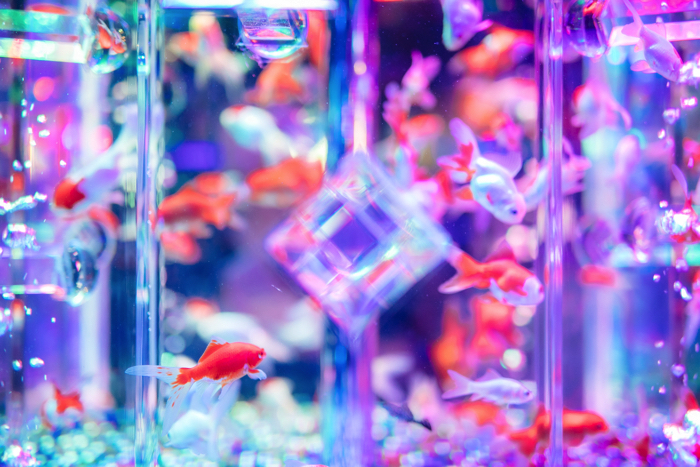 It really does look like one. When you take a peek instead you can glimpse all kinds of colourful fish gently swimming around.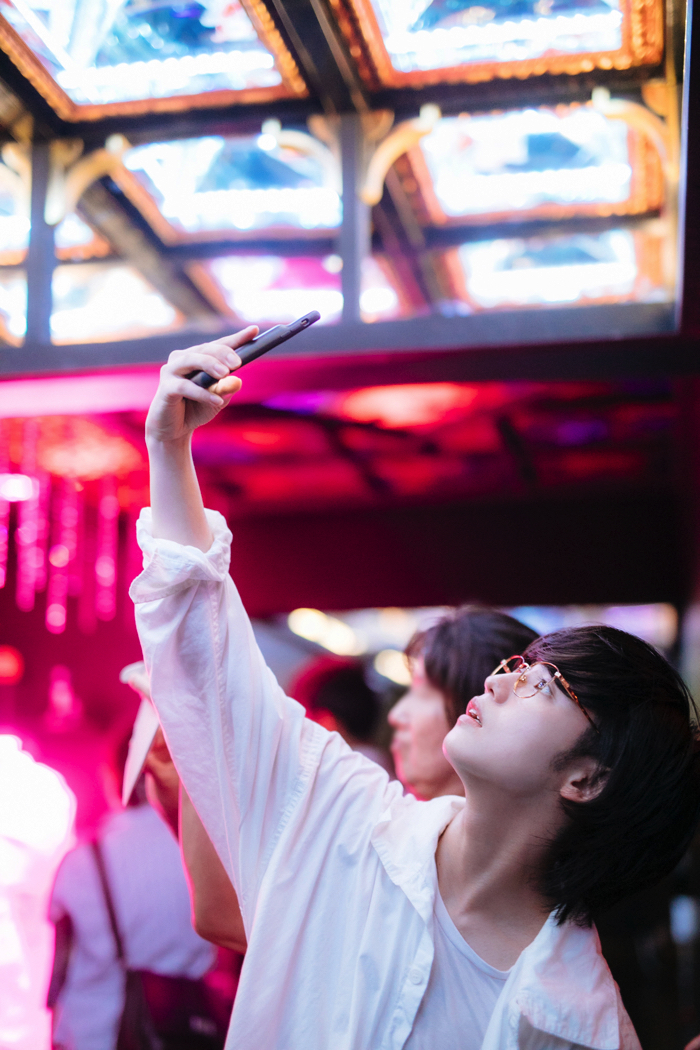 Ceiling Kingyo
"There're goldfish swimming on the ceiling too. So cool! This aquarium is incredible. It brings together the great culture of Edo and contemporary art."
The Art Aquarium bustles every single year with visitors, but this year will mark its last run. It's being held at Nihonbashi Mitsui Hall, so if you have the chance to go then please do.
We of course checked out some local Nihonbashi treats too! We stopped by morozoff for some cheesecake after the aquarium.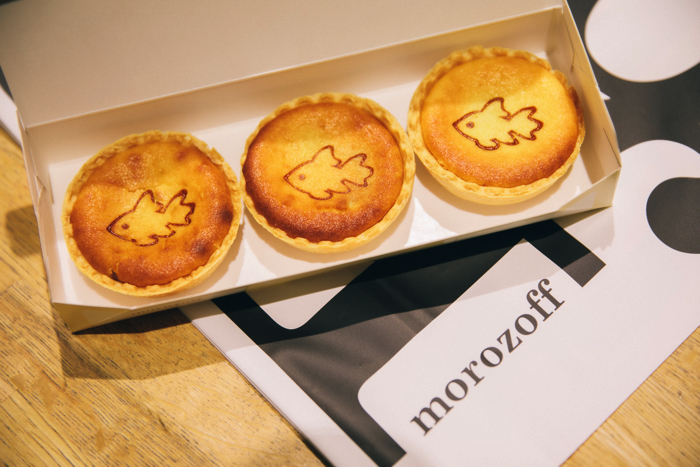 morozoff Kamadashi Cheesecake (Goldfish) – ¥270 Each (Tax Included)
These cute cheesecakes with their goldfish designs are available for a limited time only. They're filled with sweet red bean paste. They perfect with iced tea.
"Got some! Let's eat them while we head back."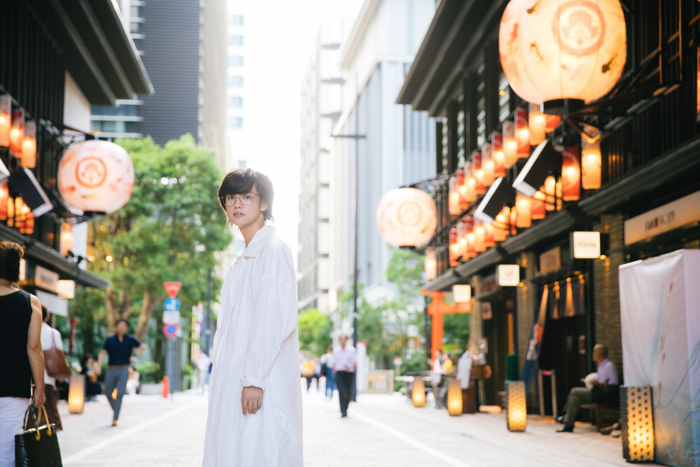 Goldfish Lantern Walkway
Our first date in Nihonbashi was so much fun. While on the date Yutaro-kun spoke about the new live-action film he's in, Kaguya-sama: Love Is War.
"It's a romance film with mind games to try and make the other person confess their love. I play the character Tsubasa. His number one highlight scene is the kabedon scene. That was my first day shooting, so I was super nervous, but I got along well with the other actors, and the atmosphere on set was harmonious, so I was able to relax for the shoots. Tsubasa is a genuine guy who will believe things that have been said to him in earnest. You've definitely gotta check out all his scenes throughout the film!"
"A lot of the cast are the same age as me, so we were all energetic together in the waiting room. There's a scene at the end where all the cast get together. It took 3 days to shoot so we ended up getting along really well."
"This film has made me realise that love comes in many shapes, and that mind games happen in a variety of ways between guys and girls. There's cute scenes that express that small bit of pride that teenagers have, the embarassment they feel, when they get butterflies, scenes that will warm your heart. The film has various elements to it so I thoroughly enjoyed watching it myself. I hope that couples in love in their teens and twenties watch it, and I also hope that married couples watch it and crack up laughing too."
"In the film it's summer break, and they go and see fireworks and stuff. It's definitely one to watch durnig the summer. You're gonna come watch it too, right? Shall we go?"
An offer we cannot refuse! We'll definitely go and see it with you, Yutaro-kun! 
Model: Yutaro
Writer: Yuki Yokoo
Photographer: Kayo Sekiguchi
Information
ECO EDO Nihonbashi 2019 ~Enjoy Cool Edo With All Five Senses~
Running: July 5, 2019 – September 23, 2019
Location: Nihonbashi Area
TEL: 03-3242-0010 (Nihonbashi Information Center)
Event Page: https://www.nihonbashi-tokyo.jp/en/ecoedo2019/
ECO EDO Nihonbashi ART AQUARIUM 2019 ~Edo, Coolness of Kingyo~ & Night Aquarium
Running: July 5, 2019 – September 23, 2019
Location: Nihonbashi Mitsui Hall Floor 5F (Entrance at 4F),  COREDO Muromachi 1, 2-2-1 Nihonbashimuromachi, Chuo Ward, Tokyo
Opening Hours: Art Aquarium 11:00-19:00 / Night Aquarium From 19:00
[Sun-Fri] 11:00-22:00 (Last Entries 22:00) [Sat & days prior to public hoiday] 11:00-23:30 (Last Entries 23:00)
Access: Directly connected to Exit A6 of Mitsukoshimae Station, accessible on the Tokyo Metro Ginza Line and Hanzomon Line / Directly connected to Shin-Nihombashi Station / 8-minutes on foot from East Exit of Kanda Station JR 8-minutes on foot from Nihonbashi Exit of Tokyo Station
TEL: 03-3270-2590
Event Page: https://www.nihonbashi-tokyo.jp/en/ecoedo2019/contents/005.html
Kaguya-sama: Love Is War Film
Release Date: September 6, 2019
Adapted from the manga of the same name by Aka Akasaka (Shueisha/Weekly Young Jump)
Cast: Sho Hirano (King & Prince), Kanna Hashimoto, Hayato Sano, Natsumi Ikema, Nana Asakawa, Mayu Hotta, YUTARO, Takashima Masahiro, Jiro Sato
Official Website: https://kaguyasama-movie.com/
TALENT PROFILE
Yutaro
Yutaro was born in Hiroshima on June 3rd 1998. His modeling career has earned him lots of attention as a fashion icon of the new generation. The famous model also works as a "charisma" shop assistant. Yutaro has gained his reputation as a "mysterious and handsome guy" from his appearance on Japanese variety shows. His debut was made on the show "Gyoretsu no Dekiru Horitsu Sodanjo" and has since then appeared on numerous different TV shows. He challenged himself to appear on stage for the very first time in March this year and is gaining popularity by the day for his diverse work.
RECOMMENDED ENTRIES
Lorenzo Ferro and Yutaro Discuss the True Crime Film 'El Angel' | MMN Interview

The 2018 Argentine-Spanish true crime film El Angel is set to hit theatres in Japan this year on August 16.

The movie is inspired by the real-life Argentine serial killer Carlos Robledo Puch. It was screened at the 2018 Cannes Film Festival and was chosen for the Best Foreign Language Film at the 91st Academy Awards in the Argentine category. The film caught public attention and has enjoyed great success, and that's in huge part thanks to Argentina actor Lorenzo Ferro, a newcomer who has made his acting debut with his role as Puch. He plays the character naturally and effortlessly, capturing the seemingly "pure" looks of Puch coupled with his evil intent, a killer who had free reigns to do whatever he needed to do to achieve his goal. The 60s-70s fashion that Ferro dons in the film is also a highlight worthy of note.

MOSHI MOSHI NIPPON spoke to Ferro who came to Japan to promote the film, and Yutaro, who is the same age as Ferro, and is a model that has recently become very busy in the acting world. We questioned them about them about the film, the character role, and fashion.

*Interview translated from Japanese.

──What are your thoughts after having seen El Angel, Yutaro?

Yutaro: This was actually my first time watching an Argentine movie. The first thing that piqued my interest was the unique sound of the language. With the story, when I heard that it was about a serial killer I thought it would be a pretty graphic portrayal, but it wasn't. Even people who aren't good with graphic and shocking kinds of films would be able to watch this.

──That kind of reasoning and moral compass [which the film depicts] makes you feel kind of uneasy, doesn't it?

Yutaro: Obviously the things that the protagonist Carlos does is against the law and morally wicked, but he himself doesn't believe any little thing he does is bad. He moves on instinct which in his mind is somehow acceptable, and that's dangerous. Was it hard for you to create the character, Lorenzo?

 

Lorenzo: It really was tough. I hadn't played a character until then, so the first thing I had to learn was just being in front of a camera. Playing the role came after. I had to become "friends" with the movie and "friends" with the camera. Those were the first things I needed to do to fulfill my commitment.

The whole shoot took around a month and a half, but prep time was half a year. During that time I practised playing piano and mastered riding a bike. It was a lot of work, but when I finally saw the completed movie, I felt it was definitely worth all the effort.

Yutaro: When you're playing someone who is far from anything like yourself, prep time is really important, isn't it? You have to gather material on the role and really use your imagination. I also make sure to properly communicate with the director before shoots. I ask about the film's theme and intent. If our perceptions don't match then it's not going to hold up on screen.

Lorenzo: It's definitely important to respect the director and communicate with them effectively. When we were filming, I wanted to make sure I didn't forget to see the director as a friend. For instance, if the hierarchal relationship is overly strict and the director is the kind of person to look down on you and order you around, then you can't build trust. I also think the best kind of relationship is when you can give your own opinion. Saying to them like, "That was no good, was it?" [laughs] "Why do I gotta do the same thing 40 times!?" You should be frank and express your doubts.

Yutaro: Speaking of that, it's important to have trust with your fellow cast members too. I believe that even if you're filming together, if you can't build that trust, that subtle distance between you will be conveyed [in the scene]. You yourself have got to try and converse with them in a positive manner. Go out for a meal together before a shoot, talk together about your roles.

──You live your days laboriously, Yutaro, including as an actor. What does a time look like for you when things get particularly tough?

Yutaro: I've recently been doing a lot of shoots for multiple films at the same time. When that happens I find it very important to maintain retention so that I don't forget my roles. In that sense, I also find that it's important to look at how you spend your time outside of shoots when you're working an acting job.

Lorenzo: Oh, yeah! Having spare time during shoots is a curse as an actor [laughs] Even if you fire yourself up―preparations are done, you've done your warmups, and you say, "Right, time to shoot!"―you have to start from zero again if you have time until the next shoot. That happens quite a lot.

 

──So you're demanded to have self-discipline too. El Angel is set in 1970s Buenos Aires. The fashion and interior designs seen in the film really stood out.

Yutaro: For me personally the women's clothes left an impression on me, particularly the one piece that Carlos's mother wears. The clothes that Carlos wears in each scene too. They're plain and simple but cool. I liked the leather jacket he wore when he went on a double date with his pal Ramón.

Lorenzo: Wow, you really took in at all the little details. The influence for Carlos and Ramón was drawn heavily from James Dean and Marlon Brando who were both popular actors at the time.

Yutaro: Oh, really?

Lorenzo: Like smoking cigarettes and wearing a leather jacket. We naturally had an amazing stylist who prepared our outfits for us. We were both also conscious of people like James Dean and Marlon Brando when we played Carlos and Ramón.

──What kind of clothes do you like, Lorenzo?

Lorenzo: I usually wear the kind of thing I have on now. I have a lot of rough-looking clothes. I really like fashion, my wardrobe is packed [laughs] The more clothes you have the harder it is to decide what to wear, so I really want to just wear the same t-shirt, pants and shoes all the time [laughs].

Yutaro: I looked at your Instagram, you wear t-shirts with Japanese games and anime characters on them, don't you? You have a Super Mario one on today, and I saw a Pokémon one on your Instagram. I like how you venture to wear t-shirts of games that were popular a while back now.

Lorenzo: Really? Thanks, that makes me happy. The overalls you have on now are really cute, but I think that's because it's something that would suit you. If I wore something like that I'd probably look like a clown [laughs].

Yutaro: Do you have a criteria when picking out a character t-shirt?

Lorenzo: Well, I try not to wear t-shirts of franchises I don't like, or games I haven't played yet, or of bands I've never listened to before [laughs]. I'm wearing a Mario t-shirt today but there's still much I don't know about Japanese games or culture. I'm interested in many different cultures of many different countries, so I want to know more about Japan.

Yutaro: In that case, let's go shopping together in Harajuku next time!

Writer: Takanori Kuroda

Photographer: MURA

Models: Yutaro, Lorenzo Ferro

Translator: Joshua Kitosi-Isanga

©2018 CAPITAL INTELECTUAL S.A / UNDERGROUND PRODUCCIONES / EL DESEO

Information

El Angel

Release Date: August 16, 2019 (Japan)

Cinemas: Shibuya CINE QUINTO, Human Trust Cinema Yurakucho, Shinjuku Musashino-kan, and elsewhere across Japan

Director: Luis Ortega

Producers: Pedro Almodóvar, Agustin Almodóvar (Wild Tales, 2014) 

Distributor: Gaga Corporation

Running Time: 115 Minutes

Japanese Subtitles: Rie Harada

Rating: R15

Official Website: https://gaga.ne.jp/eiennibokunomono

©2018 CAPITAL INTELECTUAL S.A / UNDERGROUND PRODUCCIONES / EL DESEO

TALENT PROFILE

Yutaro

Yutaro was born in Hiroshima on June 3rd 1998. His modeling career has earned him lots of attention as a fashion icon of the new generation. The famous model also works as a "charisma" shop assistant. Yutaro has gained his reputation as a "mysterious and handsome guy" from his appearance on Japanese variety shows. His debut was made on the show "Gyoretsu no Dekiru Horitsu Sodanjo" and has since then appeared on numerous different TV shows. He challenged himself to appear on stage for the very first time in March this year and is gaining popularity by the day for his diverse work.

Tokyo Stroll: An izakaya date with Yutaro at Sai in Shibuya

Shibuya―Tokyo's central hub for youth culture and fashion trends. This commercial and business centre is one that never sleeps: it is always bustling with people enjoying themselves whether that be shopping with friends, going on dates with their special someone, and pretty much anything you can think of a young person doing in one of the most popular parts of a city like Tokyo.

This is where Yutaro-kun is taking me on our next long-awaited next date. It's little more of a grown-up date than usual this time as we're going to an izakaya. Yutaro-kun is crazy about umeshu, or "plum wine," so he's taking me to a place that stocks a wide variety of tasty drinks. This is our first time drinking together. My heart is pounding.

Our destination is Sai, an izakaya with private booths and charcoal fires for cooking yakitori. It's a 5-minute walk from Shibuya Station's Hachiko Exit. It's on the third floor of the building directly in front of the Udagawa Kōban police station. The bar has around 100 varieties of umeshu as well as food and meals made using them. The wall is lined with wine bottles as far as the eye can see. I'm already getting excited.

The menu lists where each wine is produced by prefecture along with descriptions of each drink. I'm interested in trying the umeshu from the region I was born in, but there's lots of other delicious sound ones too so I'm spoiled for choice.

"What shall we do? Want to compare different drinks?"

Yutaro-kun is quick to jump on board the idea. He's so manly!

Umeshu Taste-Comparing Set (3 Drinks): ¥1,000

This taste-comparing set comes with three types of umeshu. It's an 'introductory-level' set that rings true as all three varieties are very easy to drink and each of their flavours are completely different. The Akatan Umeshu produced in Nara Prefecture is made with unripened plums farmed from Nara. It has a refreshing taste and the flavour of the plums is very rich. The Kishu no Yuzu Umeshu from Wakayama is made with plums from Wakayama Prefecture and the fresh juice of yuzu fruits from Tokushima Prefecture. It's sweet and sour with a refreshing flavour complemented by the citrus fruits. The Hotei Fuku Ume Nigori Umeshu from Osaka is made from highly valuable plum wine that has been aged over a long period of time. It's mixed with plum jam and pieces of fresh plum to give it a sweet and thick texture.

As well as this introductory-level set there's the mid-level set that focuses on shochu, an upper-level set with a wide variety of drinks, and an extra set that features fruit sake.

"Mm, this one's delicious! It has a real citrus-y feel. Ah, but the Hotei Fuku is good too."

Yutaro-kun looks like he's really enjoying drinking and comparing the different varieties of umeshu.

My heart beats fast seeing his adult side drinking sake. Huh, am I drunk already?

Zeppin Caesar Salad: ¥780

The Caesar salad comes with a specially-made egg salad dressing made from soft-boiled eggs. It's fun mixing the dressing. After mixing it enough we pour it over and tuck in!

"Do you eat tomatoes?"

I'm happy how considerate he is in portioning out the salad.

Seafood Carpaccio: ¥720

We both enjoy a carpaccio together made with fresh fish bought on the day and a jelly made with Kishu Akai Umeshu. Today's fish ingredient was fatty salmon!

The amazing flavour of the salmon comes through the centre of the refreshing umeshu jelly.

Pork Spare Ribs: ¥820

Kishu Umeshu is this izakaya's No. 1 recommendation. These spare ribs are cooked slowly in it, giving them a rich and intense flavour as well as a subtle sweetness.

They're too delicious I could eat as many as they'd give me!

"So tender! So delicious! This is true happiness!"

Yutaro-kun never changes, he's always so energetic when eating something tasty.

"Thank you for the meal."

The umeshu and umeshu food was amazing, but what makes me happy more than anything is that I got to drink with Yutaro-kun. I wonder where our next date will take us?

Information

Sai

Address: JOW Bldg. Floor 3F, 30-5 Udagawacho, Shibuya, Tokyo

TEL: 03-3770-6770

Official Website: https://izakayasai.owst.jp/

Tokyo Stroll Special: A cozy lunch date at home with Yutaro

Normally, Yutaro-kun takes us on a date to hot spots around town, but in this special edition we're staying indoors. He's planned a laid-back morning where he'll wake up early and make us breakfast, and afterwards take us on a stroll around the area close to the house.

Since this is a special edition, there'll be an interview with Yutaro-kun too. We spoke with him about his role in 3D Kanojo Real Girl and other things.

Today is a date at home. We made sure to arrive at the arranged time, but…

Are you still asleep? Are you awake?

It's hard to tell, he still seems dozy.

First thing's first, checking today's weather on TV. Seems the weather will be nice today.

What kind of day will we have…?

After sleeping in until noon, it's time for lunch. Yutaro-kun is making us Gaprao from scratch!

He changes out of his pajamas, puts on an apron and gets straight to cooking.

He slices up the vegetables and fries them. His technique shows that he's definitely done this before. It's nice to have a boyfriend that can cook♡

ーーDo you cook regularly, Yutaro-kun?
I cook when my older sister or friends come over. I made gyoza with my sister recently!

ーーWhat's your speciality?
I'm not sure if you can call it a 'speciality' (laughs), but curry.

ーーWhat's a dish you'd want your girlfriend to make you?
I like curry, so curry like this again!

Yutaro's specially made Japanese style Gaprao is seasoned with mirin, shoyu and sauce!

Lunch is served! The dish has rice, minced meat and vegetables, all of which is topped with a sunny-side-up fried egg.

Itadakimasu!

The seasoning is extremely delicious and was made short work of.

The fact that Yutaro is so good at cooking… does this make him the most perfect guy around?

After finishing food it's time to laze around and read a magazine.

We check out lots of different magazines, ones on foreign culture, Japanese culture, and so on.

ーーWhat's a place you want to visit most right now?
I like cold places, so if we're talking Japan then Hokkaido. If overseas, then perhaps Finland.

ーーDo you have a recommended sightseeing spot?
Ura-Harajuku in Harajuku has a bunch of shops and there's not that many people around so I go there a lot.

ーーWhat do you do most often on your days off?
I don't really like staying at home so I might invite my friend to see a movie or go eat. I go and meet up with people I want to see.

We've lounged around at home plenty now, so it's time to take a walk around the neighbourhood.

We take just a handbag with us and walk along at a steady pace. Going on a date just strolling around without any plans is absolute bliss.

We stopped by a nearby café and basked in the sun.

ーー3D Kanojo Real Girl comes out in September. How was filming for it?
It was very hot that day (laughs). But I got along really well with the cast and staff. For the first time in my life I really felt I experienced my adolescence.

ーーWhat role do you play?
A frank guy with cat ears. I appear from the start to the end and move around a lot, so I'd be happy if everyone looked out for me when they watch.

ーーFinally, what's the highlight of the movie for you?
Each character is interesting. The characters are all unique in their own way, but somehow it all really comes together. The cast get along really well in this movie. I hope everybody looks forward to it.

That's it for today's date. It was fun going outside, but having an indoor date with Yutaro-kun and chatting was a fun time too.

You can find the details of the movie that Yutaro-kun will be in here. Be sure to check it out!

Photographer:Kayo Sekiguchi
RELATED ENTRIES
Celebrate Sasuke Uchiha's Birthday at Fuji-Q Highland's Naruto x Boruto Summer Event

Fuji-Q Highland began its 'NARUTO x BORUTO Fuji Hidden Leaf Village' event on Wednesday which is set to run throughout summer until August 29. The event is taking place to celebrate the birthday of the popular character Sasuke Uchiha from the Naruto franchise.

During the event, a keyword rally will take place, and a special menu will be served up.

Keyword Rally

Guests must play and ride six Naruto-themed attractions at the park where they will be able to collect keywords related to the Uchiha family. Those who manage to answer all the questions correctly will receive one of two free exclusive pins. The Sasuke & Itachi design will be available from June 9 to July 22 and the Uchiha Family design from July 23 to August 29. Check out the designs below, both of which are must-grabs for fans of Sasuke and the Uchihas.

Pin Design 1: Sasuke & Itachi (Uchiha Brothers) | Available: June 9, 2021 – July 22, 2021 

Pin Design 2: Sasuke & Sakura & Sarada (Uchiha Family) | Available: July 23, 2021 – August 29, 2021

Special Menu

Guests will also be able to enjoy a special menu line-up including a ramen dish served at Ichiraku, the ramen bar at Fuji-Q Highland which is themed on the same eatery of the same name in Naruto, and two cakes at Fuji-Q Highland's official hotel resort and spa.

Uchiha Brother's Spicy Ramen | ¥1,500 (Tax Included)

Uchiha Brother's Print Cake

Uchiha Family's Print Cake


ⓒ岸本斉史 スコット/集英社・テレビ東京・ぴえろ

Information

Uchiha's Summer
Running: June 9, 2021 – August 29, 2021

Where: Fuji-Q Highland

Official Website: https://www.fujiq.jp/

Tokyo's Craft Chocolate Shop nel Releases Cacao Kintoki Shaved Ice Desserts

nel craft chocolate tokyo, a craft chocolate shop located in Nihonbashihamacho, Tokyo, released two chocolate shaved ice desserts last Wednesday for the hot summer season. The desserts are also being sold at Saryo Tsukikage, a restaurant inside the hot spring ryokan Yuen Bettei Daita in Setagaya.


Left: Cacao Kintoki | Right: White Cacao Kintoki

Cacao kintoki is a type of shaved ice made with specially-selected cacao beans from Vietnam. It uses a 'bean to bar' method where the shaved ice is made from scratch, roasting the beans fresh to create the dessert.

The two new treats at nel use a chocolate base and add cacao pulp to the mix, adding a natural fruity flavour derived from the bean. Each is also served with a special cacao sauce for extra flavour. The white cacao version is made by combining with in-house white chocolate. It also comes with an Okinawan passion fruit and cacao pulp sauce, resulting in a sour kick and refreshing taste.

Saryo Tsukikage

The open-air baths at Yuen Bettei Daita

A special matcha version of this shaved ice can also be enjoyed while bathing in the open-air baths at Yuen Bettei Daita. It's made with nel's homemade white chocolate as well as dark chocolate, cacao pulp, and specially-selected yame matcha from Shimokita Chaen Ōyama, a cafe in Setagaya.

Sanrio Character Ranking 2021 to Announce Winner in Collaboration With Tokyo Girls Collection

Sanrio has announced that the announcement ceremony for the winner of the 2021 Sanrio Character Ranking will take place in collaboration with Tokyo Girls Collection (TGC), a semi-annual fashion festival in Tokyo, on June 8. The event will be streamed live on Hello Kitty and TCG's respective LINE accounts, as well as Sanrio's official YouTube account, so that more people can tune in to this year's announcement and see which of Sanrio's characters will take the crown.

80 characters are participating in this year's Sanrio Character Ranking which will be announced in order from 80 to 1. This year also sees the return of the sub-award categories including Collaboration. Hosting the event as MC is tarento and actress Nao Asahi and the Japanese comedy duo Wagyu ga Tsutome.

But the winner announcement is not the only event scheduled for 2021's ranking. Since this time is a collaboration with TGC, there will be a fashion runway where popular models will show off their looks, a live performance with JO1 and the Sanrio characters, a rap battle, and more.

Fashion Runway: Famous models display the Sanrio character aesthetic

On the fashion stage, a line-up of well-known Japanese models will serve fashion inspired by Sanrio's most famous characters including My Melody, Kuromi, Little Twin Stars, and Pompompurin.

Marie Iitoyo and Maika Yamamoto will use a real-time composite photography system as they dress up as the adorable My Melody and her rival Kuromi. Serving the dreamy star-filled world of Kiki and Lala are Kaane and Sakura Saiga, Yoshiaki & Michi, and Rikariko. For the Pompompurin section, which is themed on the golden retriever's daily life, we have Nana Kato, Ami Komuro, Natsuki Deguchi, Sachi Fujii, and Roy. But that's not all as Sakachin, Yuki Higashihara, and Reina, who won the LINE LIVE auditions to appear on this year's fashion runway, will also appear.

A heated rap battle between the Sanrio characters

In the rap battle, KIRIMI-chan, Kuromi, Kogimyun, and Pompompurin will go head to head against special guests Tsukasa Saito of comedy duo Trendy Angel and Yuriyan Retriever. 

The Sanrio cast join music artists for a concert

The adorable Cinnamoroll, who is also expanding his work as an idol, will perform alongside JO1, while Hello Kitty will sing with singer-songwriter Sonoko Inoue.

A new virtual experience using the latest technology

Japanese digital advertising company CyberAgent, who produced virtual events and 3DCG content, will be using the latest in 3DCG and XR tech to blur the lines between reality and the virtual space with an interactive experience, such as people's comments on social media and the video displaying in real time, and more.

Rilakkuma & Sumikko Gurashi Festival Announced For Fall in Sapporo

Rilakkuma and Sumikko Gurashi are set to collaborate at a special festival centred entirely around the characters which will run at Sapporo Factory from September 17 to November 28.

Rilakkuma, Sumikko Gurashi, and you are invited to the festival which will be split into two areas: the Rilakkuma Pavilion and Sumikko Gurashi Pavilion where the characters will be present to greet guests. The event is taking on a magical theme which imagines the spirits of San-X, the company who created Rilakkuma and Sumikko Gurashi, casting a mysterious magic on the festival to bring happiness to all.

There's plenty for fans of the characters to enjoy including fun photo spots, exclusive merchandise, and much more.

If you're in Sapporo this autumn, don't miss the Rilakkuma & Sumikko Gurashi Festival.

Information

Rilakkuma & Sumikko Gurashi Festival

Running: September 17, 2021 – November 38, 2021

Venue: Sapporo Factory 3 (Floor 3F)

Address: 4 Chome-1-2 Kita 2 Johigashi, Chuo Ward, Sapporo, Hokkaido 060-0032, Japan

Opening Hours: [Weekdays] 13:00-17:00 (From 10:00 on September 17) / [Weekends] 10:00-17:00 (Last Entries 16:30)

Closed: Thursdays (Except September 23, 2021)

TEL: 011-272-9302 (10:00-17:00 except weekends and holidays)

Official Website: https://ntv.co.jp/rilakkuma-and-sumikko-fest/

Tokyo Mew Mew New Anime Cast Music Group Smewthie Performs Live

In promotion of the upcoming new anime series adaptation of Tokyo Mew Mew New, which is releasing in 2022, the cast hosted an event titled '2nd MEW♡ting' on Saturday May 22 where they read their lines aloud to fans.

The event was held on the same date as Masaya Aoyama's birthday – the male love interest of the series protagonist Ichigo Momomiya. There was a section of the event where Ichigo spoke about the cake she made for Aoyama the day before.

This was Smewthie's first event with a live audience. They performed full versions of bitter sweet darling and Resolution of colors for the first time, amongst other fun things such as a segment similar to a Japanese variety show.

'bitter sweet darling' was the group's first single

Smewthie「bitter sweet darling」Music Video


Smewthie「bitter sweet darling」Dance Performance Video


bitter sweet darling: Track Download ¥250 / Full Single Download ¥1,350 / His-Res Track Download ¥400 / Hi-Res Full Single Download ¥1,800

bitter sweet darling is available on music streaming and download services.

Will you be watching Tokyo Mew Mew New when it airs next year?

©征海美亜・吉田玲子・講談社/「東京ミュウミュウにゅ~」製作委員会
©征海美亜・吉田玲子/講談社

HATSUNE MIKU Digital Stars 2021 Online Event Announced For August

Crypton Future Media has announced that the 'HATSUNE MIKU Digital Stars 2021' online music event will take place on August 29, 2021 as part of their Digital Stars project. The club event sees fans come together to party online.

Merchandise for the event is available to buy on HOBBY STOCK between May 20 and June 10.

The HATSUNE MIKU Digital Stars 2021 Compilation, a CD which is part of the annual Digital Stars series, was also released at music stores in Japan on May 18.

For more information on the event, check the official website below.

Virtual Harajuku to Showcase Artiswitch's First Original Animation by Sunrise Studio & ASOBISYSTEM

Artiswitch is a Harajuku-focused fashion, art, and music project launched by Japanese animation studio Sunrise (Mobile Suit Gundam; Love Live!) and ASOBISYSTEM, who are perhaps best known as the agency that Kyary Pamyu is signed to, as well as working with other artists such as Yasutaka Nakata and promoting Japanese pop culture to the world from Harajuku where they are based. As part of the project's launch, they will feature a pre-showing of an original animation on Virtual Harajuku on May 27, 2021 at 20:00 (JST).

Virtual Harajuku is the second area to open inside Virtual Shibuya, a service that recreates Tokyo's area of Shibuya and its entertainment facilities virtually. Artiswitch's original animation will feature as part of 'Virtual Harajuku au 5G POP DAY OUT 2021' which is being held as part of the opening ceremony of Virtual Harajuku which opened on Tuesday (May 25).

The original animation will be Artiswitch's first released to the world. A special talk show will also take place hosted by Barbie of the Japanese comedy duo Fall in Love. Guests will include Utano Aoi and Yutaro who voice Nina and Akihiro in the animation. MIOCHIN, who has been called the leader of Harajuku's girl scene and has over 1.6 million followers on TikTok, will also make an appearance. The trio will talk about their favourite parts of the animation, stories from Harajuku, and more. All the guests will appear in Virtual Harajuku as avatars on a special stage located in a virtual version of Jingumae Crossing.

The event can be enjoyed with or without a VR headset for free on smartphones, PC, and Mac. Head inside Virtual Harajuku to enjoy the animation and event yourself.

The animation will also be subsequently released on Artiswitch's official YouTube channel on May 28, 2021 at 20:00 (JST). Six episodes are planned in total.

"Artiswitch" Teaser

Animation Promotional Video


Be sure to check out Artiswitch's first release coming this week!

©SUNRISE/Artiswitch Project 

Mineko Orisaku Exhibition Combines Gold Leaf With Photography

FUJIFILM SQUARE in Minato, Tokyo, has announced the HAKU graphy Hommage to Hokusai exhibition by Mineko Orisaku which will run from July 21 to August 19 this year.

Hommage to Hokusai ©Mineko Orisaku

Following sunset (Tanuki-ko Lake) ©Mineko Orisaku

Pine and Mt.Fuji (Kawaguchi-ko Lake) ©Mineko Orisaku

Since announcing her "HAKU graphy" project in 2017, Mineko Orisaku has been experimenting with combining gold leaf and photography. This is different from the usual method of printing photos onto printing paper or washi paper, instead using FUJIFILM's Acuity UV inkjet printer to print delicate gold leaf. This technology allows a wider use of printing materials and colours.

Mineko Orisaku's exhibition is an homage to Hokusai, one of Japan's most celebrated ukiyo-e painters and artists. She has used FUJIFILM's large-format GFX digital camera for her works on Hokusai's Thirty-six Views of Mount Fuji to create something unique to her vision. Her work can be enjoyed alongside another Hokusai exhibition taking place at FUJIFILM Photo Salon Tokyo's Space 1 and 2.

Information

HAKU graphy Hommage to Hokusai
Running: July 21, 2021 – August 19, 2021

Times: 10:00-19:00 (Until 16:00 on August 19)

Entry: Free

Venue: FUJIFILM Photo Salon Tokyo Space 3 inside FUJIFILM Square
Address: Tokyo Midtown West, 9-7-3 Akasaka, Minato-ku, Tokyo, 107-0052
TEL: 03-6271-3350 

Official Website: https://fujifilmsquare.jp/

Sakura Miku Blossoms On Merchandise at Hirosaki Sakura Matsuri 2021 in Aomori

Japanese anime, game, and hobby merch site CharaAni released a new collection of Sakura Miku merchandise on Monday in collaboration with the Hirosaki Sakura Matsuri 2021 festival.

Hirosaki Sakura Matsuri 2021 x Sakura Miku Line-Up

Folders | ¥450 Each (Tax Included)

Tapestries | ¥3,500 Each (Tax Included)

Acrylic Stands | ¥1,500 Each (Tax Included)

Holographic Pins | ¥550 Each (Tax Included) *Blind box, designs are random

Reversible Blankets | ¥5,500 Each (Tax Included)

Scarf Towel (Art by iXima) | ¥2,000 (Tax Included)

Happi (Art by iXima) | ¥6,000 (Tax Included)

Hand Towel (Art by Mamo) | ¥1,000 (Tax Included)

Motel Key Ring (Art by iXima) | ¥1,500 (Tax Included)

Teacups | ¥1,700 Each (Tax Included)

Flat Pouch (Art by iXima & Mamo) | ¥2,500 (Tax Included)

Drum Bag (Art by iXima) | ¥6,500 (Tax Included)

Full Graphic T-Shirt (Art by Morichika) | ¥5,500 (Tax Included)

Full Graphic Zipper Hoodie (Art by Hechima) | ¥9,900 (Tax Included)

Fashion Mask (Art by iXima) | ¥2,200 (Tax Included)

Desk Mat (Art by iXima) | ¥3,300 (Tax Included)

Shitakawa Rayaki Dove Whistle | ¥2,200 (Tax Included)

Music Box: "Haru o Matsu Hito" – PolyphonicBranch feat. Hatsune Miku

The Sakura Miku x Hirosaki Sakura Matsuri 2021 collection invites on board four artists: iXima, Mamo, Hechima, and Morichika who have created original artwork for the line-up. The items can be bought both at the festival and online.

The collection also includes Sakura Miku-inspired dove whistles made by Shitakawa Rayaki Tsuchi Ningyo, a clay doll company that has been around for over 200 years. The company began in the latter half of the Edo Period when Takaya Kanegura, who had learned how to make ceramics in the town of Chikuzen in Fukuoka, was employed by the Hirosaki Domain to build a furnace.

Miku fans can also get their hands on a music box which features an original song created for the festival called Haru o Matsu Hito ("Person Waiting For Spring"). It features artwork by iXima.

Art by iXima / Mamo / へちま / もりちか © Crypton Future Media, INC. www.piapro.net

Disney Princesses Help You to Answer the Question 'What is Love?' at This Tokyo Event

As part of Disney's Ultimate Princess Celebration, a worldwide festival themed on courage and kindness that began in April, an event titled "What is Love? ~The Secret to Shining Bright Lies in the Princess World~" will take place at Shibuya Marui in Tokyo from June 23 to July 29 this year. It will subsequently move to JR Nagoya Takashimaya from August 4 to 23 and finally conclude next year in Shizuoka where it will run from January to March.

This event tries to answer the question "What is Love?" through a range of content that encourages the use of all five senses: visually, digitally, musically, through scent, and more.

 

What is Love? ~The Secret to Shining Bright Lies in the Princess World~

Visitors are guided by 12 Disney princesses who will take them on a journey of their 'love' in six different areas.

 

A Look at the Event

1. Introduction: 12 Shining Princesses

At the event, you will meet the 12 princesses and learn their story, what their personality is like, and more.

2. Opening Theater: Discover the Secrets to Shining Bright

Attend the theatre and watch the stories of the princesses with your own eyes.

3. 7 Keywords Unravelled From Their Stories

Seven keywords that appear in the princesses' stories will be explored, each of which are tied back to love. This will include exhibits of scenes from the Disney animated movies, an AR experience using smartphones, and more.

From Beauty and the Beast

Using their smartphones, visitors can hold up their phones and utilise AR technology to see various scenes from Beauty and the Beast in an area inspired by the library that Beast bestowed upon Belle.

From Tangled

In Tangled, the King and Queen release lots of sky lanterns on Rapunzel's birthday each year in hopes that she will see them and return. Let your own lanterns fly like in the movie and witness a beautiful spectacle.

4. Music and Fragrance: Clad in Radiance Unseen to the Eye

A unique experience combining music and fragrances inspired by the princesses, who radiate from love, will let visitors feel closer to them.

5. Glowing Lines: Words That Make the World Shine

At the Closing Theater, words and lines said by the princesses will be displayed, offering another way of enjoying their world that radiates from love.

6. Prologue: Your Own Unique Story Begins

Pick up a range of merchandise featuring designs of the exhibition's main visual, the seven key words, and more.

 

Services and Content Offered by Disney at the Exhibition

Disney+

Disney+ is a streaming service that brings together all Disney, Pixar, Marvel, Star Wars, and National Geographic content in one place, as well as exclusives. Those at the exhibition can watch the content offered by Disney+ at the Opening Theater.

 

Disney DX App

The Disney DX is an app exclusive to Japan that comes as a set with Disney+. It offers the chance to see cut scenes from movies, behind-the-scenes content, and more. The exhibition utilises this app through AR experiences, so if downloaded, you're sure to have an even more fun time.

A curated list of Disney Princess music is played at the exhibition. If you head to the shop, you can pick up movie soundtracks and other albums. Disney even created a playlist themed on the princesses that's now available on music streaming services.

Information

What is Love? ~The Secret to Shining Bright Lies in the Princess World~

Japanese Event Title: WHAT IS LOVE? ~輝くヒミツは、プリンセスの世界に。~

Running: June 23, 2021 – July 29, 2021

Where: Shibuya Marui (Floors 7F & 8F) *Reception is on floor 7F

Address: Shibuya Marui, 1-22-6 Jinnan, Shibuya-ku, Tokyo

Opening Hours: 11:00-20:00

Official Website: https://PrincessExhibition.jp

*Exhibition will subsequently move to JR Nagoya Takashimaya (August 4, 2021 – August 23, 2021) and Shizuoka (January 2022 – March 2022)w

BEAMS JAPAN Shinjuku Launches Event to Promote Japan's Sento Bath Houses

The Sento no Susume 2021 event being held by BEAMS JAPAN and Cow Brand Soap has now headed to BEAMS JAPAN Shinjuku. As part of the event, Mizuno has held designed a 'running course' is collaboration with sento bath house owners who have listed their recommended spots for running.

From Left: Hiroshi Fukui (Managing Director at Cow Brand Soap), Aya Terakawa (Sports Caster), Mari Yamazaki (Manga Author), Ryozo Naganuma (Kotobukiyu's 3rd Generation Owner), Hikaru Ikeuchi (Chairman of Board of Directors)

BEAMS JAPAN Shinjuku Floor 1F – Sento no Susume 2021 Pop-Up

BEAMS JAPAN Shinjuku Floor 1F – Sento no Susume 2021 Pop-Up

BEAMS JAPAN Sento no Susume 2021 Virtual Venue

For many years, sento public bath houses have been big part of Japanese culture and are located up and down the country. They are places people go to unwind, relax, and destress. However, with times changing, they are because less part of people's lives, and the facilities themselves are seeing significant wear and tear as well as not having successors to take over the businesses. Sento no Susume aims to revitalise sento and raise their cultural value once again by showing how they can be enjoyed. The first event was held in January and February in 2019.

The event arrived at BEAMS JAPAN Shinjuku on April 26 and  invites manga artist Mari Yamazaki on board who has given the store a makeover with her iconic artwork themed on exercise and bathing. This event combines sento bath houses with sports, and so as well as discovering bath houses to visit, you can learn find out about great running courses at the Sento Run no Susume corner. There's also a virtual venue accessible on the official website that creates the store in 4K 3D so everyone around the world can get involved regardless of their location.

Information

Sento no Susume 2021
Srart Date: April 26, 2021

Special Areas

BEAMS JAPAN Shinjuku




Running: April 26, 2021 – May 31, 2021

MIZUNO OSAKA CHAYAMACHI




MIZUNO TOKYO

Sento no Susume 2021 Merchandise

Available at BEAMS in-store and online

Participating Branches: BEAMS JAPAN (Shinjuku)

Dates: April 26, 2021 – June 30, 2021

Future participating branches depending on Japan's state of emergency: BEAMS JAPAN SHIBUYA/BEAMS JAPAN KYOTO/BEAMS STREET UMEDA/HEP FIVE 



Event Details: https://www.beams.co.jp/special/teamjapan/sentou/
Virtual Venue: https://my.matterport.com/show/?m=pMV2FmHUg4M

BEAMS Official Website: https://www.beams.co.jp/

Hibiya Festival 2021: Musicals, Performances, and More

This year's Hibiya Festival will take place around Tokyo Midtown Hibiya from April 29 to May 16. Visitors can enjoy free musicals, Japanese dance, opera, and more, all in an open space.

Hibiya Festival main visual

Peter Pan Broadway Musical – Mini Concert & Talk | Thursday April 29, 2021

Everybody's Talking About Jamie – Japan's First Rendition | Sunday May 9, 2021

Hibiya Festival x Hibiya Music Festival Collaboration Stage | Saturday May 8, 2021

Hibiya Outdoor Noh Performance | Thursday April 29, 2021

NBA Ballet | Saturday May 1, 2021

CAT-A-TAC SHOW (CAT-A-TAC) | Sunday May 2, 2021

"Hibiya Ongaku Daigaku" – Shibuya Ongaku Daigaku Open Campas

Hibiya Festival Program

This year marks 40 years since the Peter Pan Broadway musical first hit Japan, and so it will be performed at Hibiya Festival 2021. The hit British musical Everybody's Talking About Jamie will also be performed in Japan for the first time with a full Japanese cast. On the music side of things, music producer Seiji Kameda is spearheading the Hibiya Musical Festival. There are around 20 different slots to enjoy at the festival, all of which are free to watch and many which don't need to be booked in advance. The festival is also producing video content this year for those unable to attend so they can still be part of the fun online.