A Date With Yutaro: Soaking Up the Japanese Summer Sun & Visiting the Art Aquarium | Tokyo Stroll
It's been a while since our last date with Yutaro. He's been very busy with film shoots. He had some spare time today so we paid a visit to Nihonbashi for our next date. "ECO EDO Nihonbashi: Enjoy Cool Edo With All Five Senses" is an event held every year in the Nihonbashi area which takes the Edo period cultural idea of "coolness"―an in, to enjoy being cool during the summer-and puts a modern spin on it. There are many exciting things to look forward to, including the art aquarium which proves massively popular every year.
We gave ourselves more time to arrive at the meeting place to be in the safe side, but it seems Yutaro-kun was already there waiting for us!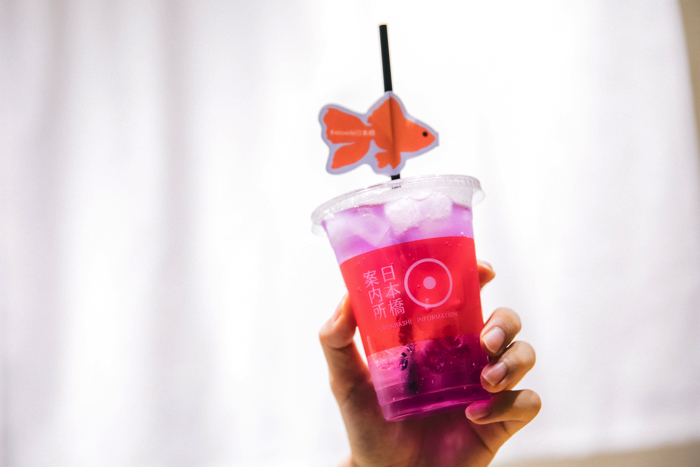 Nihonbashi Information Center | IPPIN CAFÉ "Sparkling Herb Tea" – ¥518 (Tax Included)
"Here, you must be boiling." Yutaro-kun kindly offers a cup of IPPIN CAFE's limited-edition sparkling herb tea. It's a delicious mix of fizzy soda and lemon, a perfect refreshment for the summer. Since he ordered takeout the drink came with a goldfish straw. Goldfish are a staple sight during Japanese summer festivals so it's very fitting for the occasion! 
With our drinks in hand, it's time to head to Nihonbashi for our Edo summer date!
Wind-Chime Forest Path
Lining the path between Fukutoku Shrine and Fukutoku Garden is the Wind-Chime Forest Path where around 200 Edo-style wind chimes dangled. This year, during the evenings, the path is illuminated with beautiful lighting.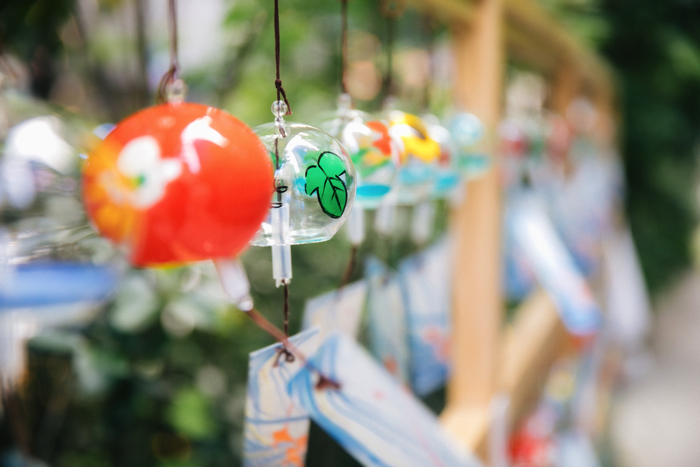 When the breeze rolls past the wind chimes ring one by one-a cool and refreshing sound.
"I hear each one of these Edo wind chimes are individually handmade by craftsmen."
When you hear the sound of the wind chimes it makes you feel cool like a gentle breeze of the wind.
After strolling along the Wind-Chime Forest Path we make our way towards this year's ECO EDO Art Aquarium event.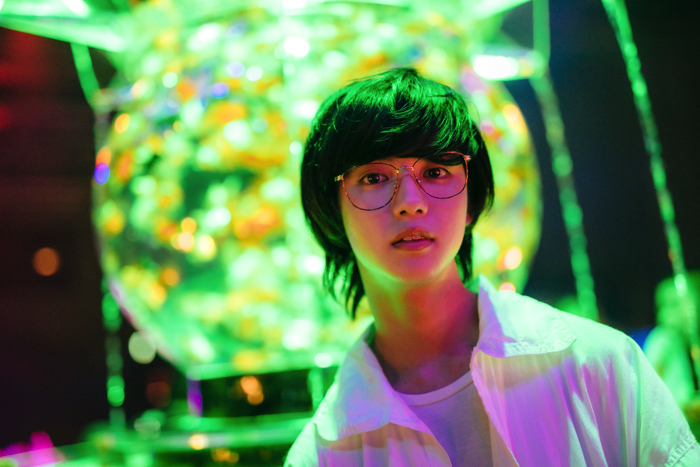 The moment we step instead Yutaro is already dazzled by all the goldfish: "Wow! I knew about this place from what I'd seen online, but this my first time here! This art aquarium really is something!"
The full title of the event is "ECO EDO Nihonbashi ART AQUARIUM 2019 ~Edo, Coolness of Kingyo~ & Night Aquarium."  Goldfish were a huge part of the common culture in Nihonbashi during the Edo period. This event recreates that and brings that "coolness" aspect while combining it with contemporary art by having people observe the fish in lots of different artistic environments.
Super Oiran
"This is the biggest fish tank, apparently it has 3,000 fish swimming inside!"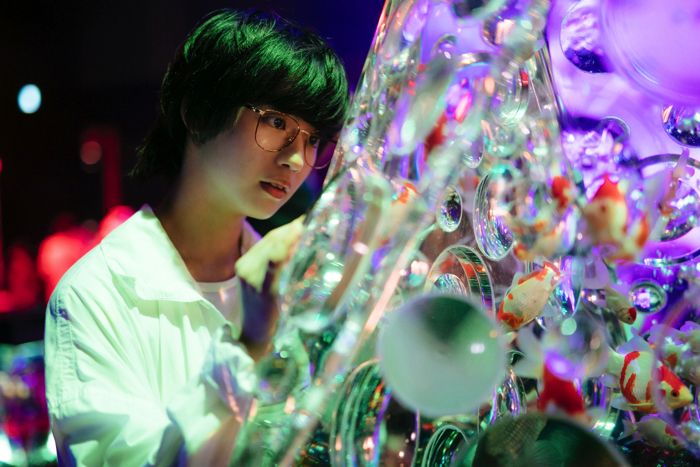 "Seeing the light reflect on the water from the illuminations lets you see the fish in a different light, doesn't it?"
Looks like Yutaro-kun is having a lot of fun taking photos.
He's equally interested in just about every fish tank!
These other fish tanks have a different aesthetic to them. Their Japanese-style designs make for great photos.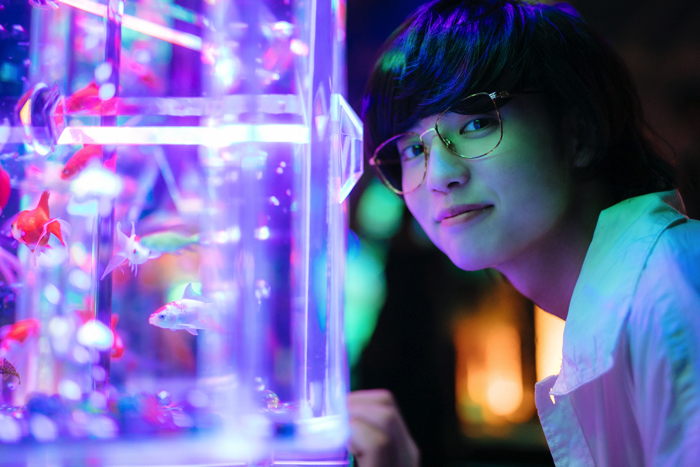 Kaleidorium 3D
"This one's beautiful, it's like a kaleidoscope."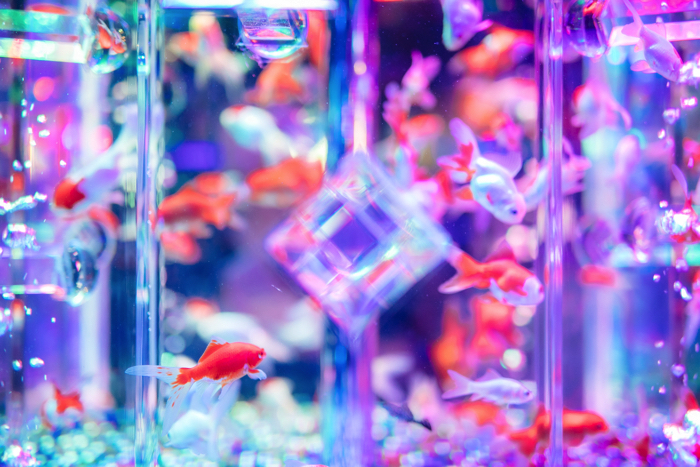 It really does look like one. When you take a peek instead you can glimpse all kinds of colourful fish gently swimming around.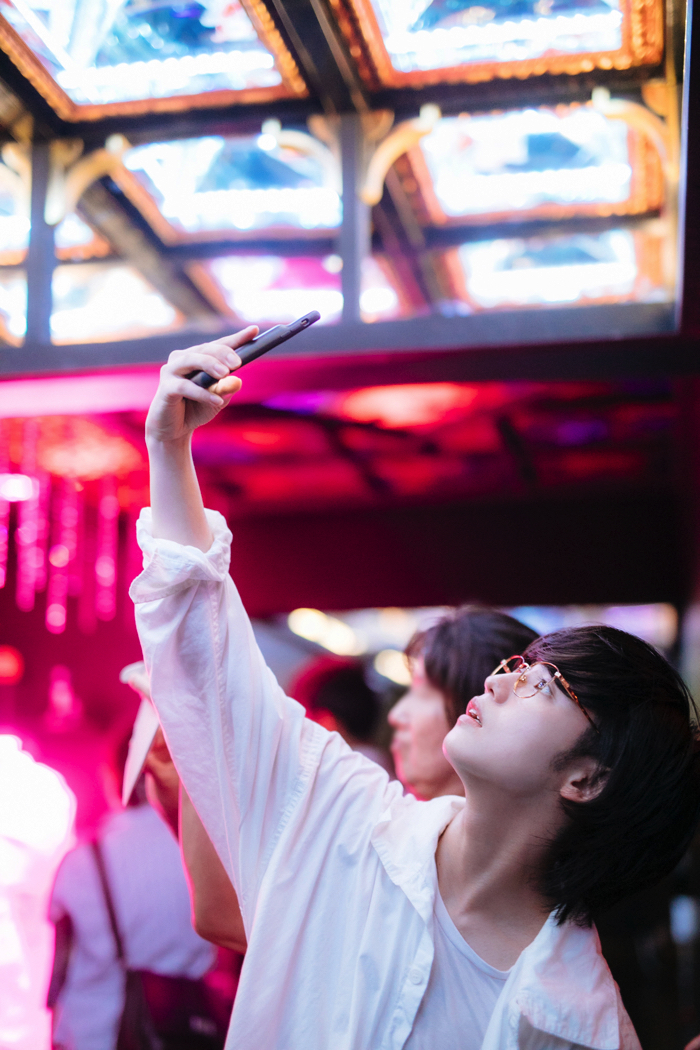 Ceiling Kingyo
"There're goldfish swimming on the ceiling too. So cool! This aquarium is incredible. It brings together the great culture of Edo and contemporary art."
The Art Aquarium bustles every single year with visitors, but this year will mark its last run. It's being held at Nihonbashi Mitsui Hall, so if you have the chance to go then please do.
We of course checked out some local Nihonbashi treats too! We stopped by morozoff for some cheesecake after the aquarium.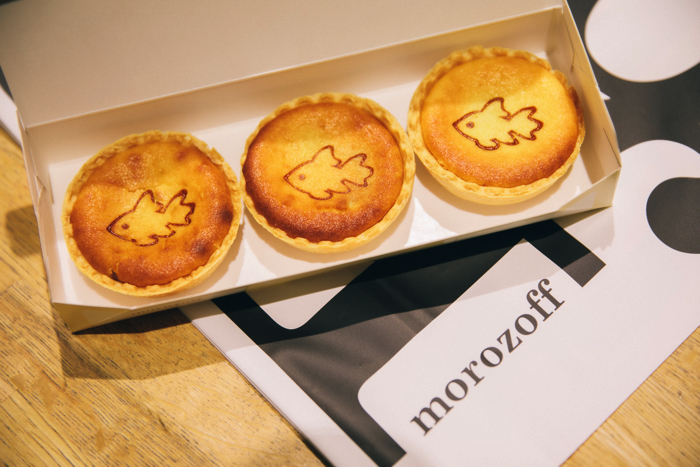 morozoff Kamadashi Cheesecake (Goldfish) – ¥270 Each (Tax Included)
These cute cheesecakes with their goldfish designs are available for a limited time only. They're filled with sweet red bean paste. They perfect with iced tea.
"Got some! Let's eat them while we head back."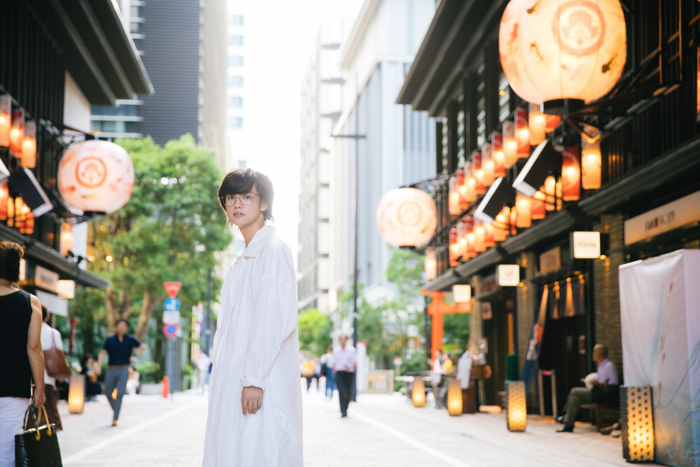 Goldfish Lantern Walkway
Our first date in Nihonbashi was so much fun. While on the date Yutaro-kun spoke about the new live-action film he's in, Kaguya-sama: Love Is War.
"It's a romance film with mind games to try and make the other person confess their love. I play the character Tsubasa. His number one highlight scene is the kabedon scene. That was my first day shooting, so I was super nervous, but I got along well with the other actors, and the atmosphere on set was harmonious, so I was able to relax for the shoots. Tsubasa is a genuine guy who will believe things that have been said to him in earnest. You've definitely gotta check out all his scenes throughout the film!"
"A lot of the cast are the same age as me, so we were all energetic together in the waiting room. There's a scene at the end where all the cast get together. It took 3 days to shoot so we ended up getting along really well."
"This film has made me realise that love comes in many shapes, and that mind games happen in a variety of ways between guys and girls. There's cute scenes that express that small bit of pride that teenagers have, the embarassment they feel, when they get butterflies, scenes that will warm your heart. The film has various elements to it so I thoroughly enjoyed watching it myself. I hope that couples in love in their teens and twenties watch it, and I also hope that married couples watch it and crack up laughing too."
"In the film it's summer break, and they go and see fireworks and stuff. It's definitely one to watch durnig the summer. You're gonna come watch it too, right? Shall we go?"
An offer we cannot refuse! We'll definitely go and see it with you, Yutaro-kun! 
Model: Yutaro
Writer: Yuki Yokoo
Photographer: Kayo Sekiguchi
Information
ECO EDO Nihonbashi 2019 ~Enjoy Cool Edo With All Five Senses~
Running: July 5, 2019 – September 23, 2019
Location: Nihonbashi Area
TEL: 03-3242-0010 (Nihonbashi Information Center)
Event Page: https://www.nihonbashi-tokyo.jp/en/ecoedo2019/
ECO EDO Nihonbashi ART AQUARIUM 2019 ~Edo, Coolness of Kingyo~ & Night Aquarium
Running: July 5, 2019 – September 23, 2019
Location: Nihonbashi Mitsui Hall Floor 5F (Entrance at 4F),  COREDO Muromachi 1, 2-2-1 Nihonbashimuromachi, Chuo Ward, Tokyo
Opening Hours: Art Aquarium 11:00-19:00 / Night Aquarium From 19:00
[Sun-Fri] 11:00-22:00 (Last Entries 22:00) [Sat & days prior to public hoiday] 11:00-23:30 (Last Entries 23:00)
Access: Directly connected to Exit A6 of Mitsukoshimae Station, accessible on the Tokyo Metro Ginza Line and Hanzomon Line / Directly connected to Shin-Nihombashi Station / 8-minutes on foot from East Exit of Kanda Station JR 8-minutes on foot from Nihonbashi Exit of Tokyo Station
TEL: 03-3270-2590
Event Page: https://www.nihonbashi-tokyo.jp/en/ecoedo2019/contents/005.html
Kaguya-sama: Love Is War Film
Release Date: September 6, 2019
Adapted from the manga of the same name by Aka Akasaka (Shueisha/Weekly Young Jump)
Cast: Sho Hirano (King & Prince), Kanna Hashimoto, Hayato Sano, Natsumi Ikema, Nana Asakawa, Mayu Hotta, YUTARO, Takashima Masahiro, Jiro Sato
Official Website: https://kaguyasama-movie.com/
TALENT PROFILE
Yutaro
Yutaro was born in Hiroshima on June 3rd 1998. His modeling career has earned him lots of attention as a fashion icon of the new generation. The famous model also works as a "charisma" shop assistant. Yutaro has gained his reputation as a "mysterious and handsome guy" from his appearance on Japanese variety shows. His debut was made on the show "Gyoretsu no Dekiru Horitsu Sodanjo" and has since then appeared on numerous different TV shows. He challenged himself to appear on stage for the very first time in March this year and is gaining popularity by the day for his diverse work.
RECOMMENDED ENTRIES
Lorenzo Ferro and Yutaro Discuss the True Crime Film 'El Angel' | MMN Interview

The 2018 Argentine-Spanish true crime film El Angel is set to hit theatres in Japan this year on August 16.

The movie is inspired by the real-life Argentine serial killer Carlos Robledo Puch. It was screened at the 2018 Cannes Film Festival and was chosen for the Best Foreign Language Film at the 91st Academy Awards in the Argentine category. The film caught public attention and has enjoyed great success, and that's in huge part thanks to Argentina actor Lorenzo Ferro, a newcomer who has made his acting debut with his role as Puch. He plays the character naturally and effortlessly, capturing the seemingly "pure" looks of Puch coupled with his evil intent, a killer who had free reigns to do whatever he needed to do to achieve his goal. The 60s-70s fashion that Ferro dons in the film is also a highlight worthy of note.

MOSHI MOSHI NIPPON spoke to Ferro who came to Japan to promote the film, and Yutaro, who is the same age as Ferro, and is a model that has recently become very busy in the acting world. We questioned them about them about the film, the character role, and fashion.

*Interview translated from Japanese.

──What are your thoughts after having seen El Angel, Yutaro?

Yutaro: This was actually my first time watching an Argentine movie. The first thing that piqued my interest was the unique sound of the language. With the story, when I heard that it was about a serial killer I thought it would be a pretty graphic portrayal, but it wasn't. Even people who aren't good with graphic and shocking kinds of films would be able to watch this.

──That kind of reasoning and moral compass [which the film depicts] makes you feel kind of uneasy, doesn't it?

Yutaro: Obviously the things that the protagonist Carlos does is against the law and morally wicked, but he himself doesn't believe any little thing he does is bad. He moves on instinct which in his mind is somehow acceptable, and that's dangerous. Was it hard for you to create the character, Lorenzo?

 

Lorenzo: It really was tough. I hadn't played a character until then, so the first thing I had to learn was just being in front of a camera. Playing the role came after. I had to become "friends" with the movie and "friends" with the camera. Those were the first things I needed to do to fulfill my commitment.

The whole shoot took around a month and a half, but prep time was half a year. During that time I practised playing piano and mastered riding a bike. It was a lot of work, but when I finally saw the completed movie, I felt it was definitely worth all the effort.

Yutaro: When you're playing someone who is far from anything like yourself, prep time is really important, isn't it? You have to gather material on the role and really use your imagination. I also make sure to properly communicate with the director before shoots. I ask about the film's theme and intent. If our perceptions don't match then it's not going to hold up on screen.

Lorenzo: It's definitely important to respect the director and communicate with them effectively. When we were filming, I wanted to make sure I didn't forget to see the director as a friend. For instance, if the hierarchal relationship is overly strict and the director is the kind of person to look down on you and order you around, then you can't build trust. I also think the best kind of relationship is when you can give your own opinion. Saying to them like, "That was no good, was it?" [laughs] "Why do I gotta do the same thing 40 times!?" You should be frank and express your doubts.

Yutaro: Speaking of that, it's important to have trust with your fellow cast members too. I believe that even if you're filming together, if you can't build that trust, that subtle distance between you will be conveyed [in the scene]. You yourself have got to try and converse with them in a positive manner. Go out for a meal together before a shoot, talk together about your roles.

──You live your days laboriously, Yutaro, including as an actor. What does a time look like for you when things get particularly tough?

Yutaro: I've recently been doing a lot of shoots for multiple films at the same time. When that happens I find it very important to maintain retention so that I don't forget my roles. In that sense, I also find that it's important to look at how you spend your time outside of shoots when you're working an acting job.

Lorenzo: Oh, yeah! Having spare time during shoots is a curse as an actor [laughs] Even if you fire yourself up―preparations are done, you've done your warmups, and you say, "Right, time to shoot!"―you have to start from zero again if you have time until the next shoot. That happens quite a lot.

 

──So you're demanded to have self-discipline too. El Angel is set in 1970s Buenos Aires. The fashion and interior designs seen in the film really stood out.

Yutaro: For me personally the women's clothes left an impression on me, particularly the one piece that Carlos's mother wears. The clothes that Carlos wears in each scene too. They're plain and simple but cool. I liked the leather jacket he wore when he went on a double date with his pal Ramón.

Lorenzo: Wow, you really took in at all the little details. The influence for Carlos and Ramón was drawn heavily from James Dean and Marlon Brando who were both popular actors at the time.

Yutaro: Oh, really?

Lorenzo: Like smoking cigarettes and wearing a leather jacket. We naturally had an amazing stylist who prepared our outfits for us. We were both also conscious of people like James Dean and Marlon Brando when we played Carlos and Ramón.

──What kind of clothes do you like, Lorenzo?

Lorenzo: I usually wear the kind of thing I have on now. I have a lot of rough-looking clothes. I really like fashion, my wardrobe is packed [laughs] The more clothes you have the harder it is to decide what to wear, so I really want to just wear the same t-shirt, pants and shoes all the time [laughs].

Yutaro: I looked at your Instagram, you wear t-shirts with Japanese games and anime characters on them, don't you? You have a Super Mario one on today, and I saw a Pokémon one on your Instagram. I like how you venture to wear t-shirts of games that were popular a while back now.

Lorenzo: Really? Thanks, that makes me happy. The overalls you have on now are really cute, but I think that's because it's something that would suit you. If I wore something like that I'd probably look like a clown [laughs].

Yutaro: Do you have a criteria when picking out a character t-shirt?

Lorenzo: Well, I try not to wear t-shirts of franchises I don't like, or games I haven't played yet, or of bands I've never listened to before [laughs]. I'm wearing a Mario t-shirt today but there's still much I don't know about Japanese games or culture. I'm interested in many different cultures of many different countries, so I want to know more about Japan.

Yutaro: In that case, let's go shopping together in Harajuku next time!

Writer: Takanori Kuroda

Photographer: MURA

Models: Yutaro, Lorenzo Ferro

Translator: Joshua Kitosi-Isanga

©2018 CAPITAL INTELECTUAL S.A / UNDERGROUND PRODUCCIONES / EL DESEO

Information

El Angel

Release Date: August 16, 2019 (Japan)

Cinemas: Shibuya CINE QUINTO, Human Trust Cinema Yurakucho, Shinjuku Musashino-kan, and elsewhere across Japan

Director: Luis Ortega

Producers: Pedro Almodóvar, Agustin Almodóvar (Wild Tales, 2014) 

Distributor: Gaga Corporation

Running Time: 115 Minutes

Japanese Subtitles: Rie Harada

Rating: R15

Official Website: https://gaga.ne.jp/eiennibokunomono

©2018 CAPITAL INTELECTUAL S.A / UNDERGROUND PRODUCCIONES / EL DESEO

TALENT PROFILE

Yutaro

Yutaro was born in Hiroshima on June 3rd 1998. His modeling career has earned him lots of attention as a fashion icon of the new generation. The famous model also works as a "charisma" shop assistant. Yutaro has gained his reputation as a "mysterious and handsome guy" from his appearance on Japanese variety shows. His debut was made on the show "Gyoretsu no Dekiru Horitsu Sodanjo" and has since then appeared on numerous different TV shows. He challenged himself to appear on stage for the very first time in March this year and is gaining popularity by the day for his diverse work.

Tokyo Stroll: An izakaya date with Yutaro at Sai in Shibuya

Shibuya―Tokyo's central hub for youth culture and fashion trends. This commercial and business centre is one that never sleeps: it is always bustling with people enjoying themselves whether that be shopping with friends, going on dates with their special someone, and pretty much anything you can think of a young person doing in one of the most popular parts of a city like Tokyo.

This is where Yutaro-kun is taking me on our next long-awaited next date. It's little more of a grown-up date than usual this time as we're going to an izakaya. Yutaro-kun is crazy about umeshu, or "plum wine," so he's taking me to a place that stocks a wide variety of tasty drinks. This is our first time drinking together. My heart is pounding.

Our destination is Sai, an izakaya with private booths and charcoal fires for cooking yakitori. It's a 5-minute walk from Shibuya Station's Hachiko Exit. It's on the third floor of the building directly in front of the Udagawa Kōban police station. The bar has around 100 varieties of umeshu as well as food and meals made using them. The wall is lined with wine bottles as far as the eye can see. I'm already getting excited.

The menu lists where each wine is produced by prefecture along with descriptions of each drink. I'm interested in trying the umeshu from the region I was born in, but there's lots of other delicious sound ones too so I'm spoiled for choice.

"What shall we do? Want to compare different drinks?"

Yutaro-kun is quick to jump on board the idea. He's so manly!

Umeshu Taste-Comparing Set (3 Drinks): ¥1,000

This taste-comparing set comes with three types of umeshu. It's an 'introductory-level' set that rings true as all three varieties are very easy to drink and each of their flavours are completely different. The Akatan Umeshu produced in Nara Prefecture is made with unripened plums farmed from Nara. It has a refreshing taste and the flavour of the plums is very rich. The Kishu no Yuzu Umeshu from Wakayama is made with plums from Wakayama Prefecture and the fresh juice of yuzu fruits from Tokushima Prefecture. It's sweet and sour with a refreshing flavour complemented by the citrus fruits. The Hotei Fuku Ume Nigori Umeshu from Osaka is made from highly valuable plum wine that has been aged over a long period of time. It's mixed with plum jam and pieces of fresh plum to give it a sweet and thick texture.

As well as this introductory-level set there's the mid-level set that focuses on shochu, an upper-level set with a wide variety of drinks, and an extra set that features fruit sake.

"Mm, this one's delicious! It has a real citrus-y feel. Ah, but the Hotei Fuku is good too."

Yutaro-kun looks like he's really enjoying drinking and comparing the different varieties of umeshu.

My heart beats fast seeing his adult side drinking sake. Huh, am I drunk already?

Zeppin Caesar Salad: ¥780

The Caesar salad comes with a specially-made egg salad dressing made from soft-boiled eggs. It's fun mixing the dressing. After mixing it enough we pour it over and tuck in!

"Do you eat tomatoes?"

I'm happy how considerate he is in portioning out the salad.

Seafood Carpaccio: ¥720

We both enjoy a carpaccio together made with fresh fish bought on the day and a jelly made with Kishu Akai Umeshu. Today's fish ingredient was fatty salmon!

The amazing flavour of the salmon comes through the centre of the refreshing umeshu jelly.

Pork Spare Ribs: ¥820

Kishu Umeshu is this izakaya's No. 1 recommendation. These spare ribs are cooked slowly in it, giving them a rich and intense flavour as well as a subtle sweetness.

They're too delicious I could eat as many as they'd give me!

"So tender! So delicious! This is true happiness!"

Yutaro-kun never changes, he's always so energetic when eating something tasty.

"Thank you for the meal."

The umeshu and umeshu food was amazing, but what makes me happy more than anything is that I got to drink with Yutaro-kun. I wonder where our next date will take us?

Information

Sai

Address: JOW Bldg. Floor 3F, 30-5 Udagawacho, Shibuya, Tokyo

TEL: 03-3770-6770

Official Website: https://izakayasai.owst.jp/

Tokyo Stroll Special: A cozy lunch date at home with Yutaro

Normally, Yutaro-kun takes us on a date to hot spots around town, but in this special edition we're staying indoors. He's planned a laid-back morning where he'll wake up early and make us breakfast, and afterwards take us on a stroll around the area close to the house.

Since this is a special edition, there'll be an interview with Yutaro-kun too. We spoke with him about his role in 3D Kanojo Real Girl and other things.

Today is a date at home. We made sure to arrive at the arranged time, but…

Are you still asleep? Are you awake?

It's hard to tell, he still seems dozy.

First thing's first, checking today's weather on TV. Seems the weather will be nice today.

What kind of day will we have…?

After sleeping in until noon, it's time for lunch. Yutaro-kun is making us Gaprao from scratch!

He changes out of his pajamas, puts on an apron and gets straight to cooking.

He slices up the vegetables and fries them. His technique shows that he's definitely done this before. It's nice to have a boyfriend that can cook♡

ーーDo you cook regularly, Yutaro-kun?
I cook when my older sister or friends come over. I made gyoza with my sister recently!

ーーWhat's your speciality?
I'm not sure if you can call it a 'speciality' (laughs), but curry.

ーーWhat's a dish you'd want your girlfriend to make you?
I like curry, so curry like this again!

Yutaro's specially made Japanese style Gaprao is seasoned with mirin, shoyu and sauce!

Lunch is served! The dish has rice, minced meat and vegetables, all of which is topped with a sunny-side-up fried egg.

Itadakimasu!

The seasoning is extremely delicious and was made short work of.

The fact that Yutaro is so good at cooking… does this make him the most perfect guy around?

After finishing food it's time to laze around and read a magazine.

We check out lots of different magazines, ones on foreign culture, Japanese culture, and so on.

ーーWhat's a place you want to visit most right now?
I like cold places, so if we're talking Japan then Hokkaido. If overseas, then perhaps Finland.

ーーDo you have a recommended sightseeing spot?
Ura-Harajuku in Harajuku has a bunch of shops and there's not that many people around so I go there a lot.

ーーWhat do you do most often on your days off?
I don't really like staying at home so I might invite my friend to see a movie or go eat. I go and meet up with people I want to see.

We've lounged around at home plenty now, so it's time to take a walk around the neighbourhood.

We take just a handbag with us and walk along at a steady pace. Going on a date just strolling around without any plans is absolute bliss.

We stopped by a nearby café and basked in the sun.

ーー3D Kanojo Real Girl comes out in September. How was filming for it?
It was very hot that day (laughs). But I got along really well with the cast and staff. For the first time in my life I really felt I experienced my adolescence.

ーーWhat role do you play?
A frank guy with cat ears. I appear from the start to the end and move around a lot, so I'd be happy if everyone looked out for me when they watch.

ーーFinally, what's the highlight of the movie for you?
Each character is interesting. The characters are all unique in their own way, but somehow it all really comes together. The cast get along really well in this movie. I hope everybody looks forward to it.

That's it for today's date. It was fun going outside, but having an indoor date with Yutaro-kun and chatting was a fun time too.

You can find the details of the movie that Yutaro-kun will be in here. Be sure to check it out!

Photographer:Kayo Sekiguchi
RELATED ENTRIES
Drama Series Zenra Meshi, Starring Yutaro, to Get Official Photo Book in June

The Kansai Television drama Zenra Meshi, starring Yutaro, is getting an official photobook release on June 23, 2023 titled Zenra Meshi Official Photobook -Our Recipes Start Here-.

The unusual romantic comedy follows an elite businessman hiding an incredible secret–he loves to eat naked to relieve his stress. One day, this habit is revealed, and Ichijo finds himself quickly falling in love.

The official photobook will include over 30 pages of gravure photos of Yutaro (Miki Mahiro) and Shori Kondo (Futa Ichijo). Set as an epilogue taking place after the main story shown in the series, Futa and Miki can be seen enjoying a picnic date with a handmade bento and spending cozy time together in PJs at home.

Also included are 20 pages of solo photos of Futa wearing a suit and posing in front of a beautiful night scene and Miki wearing a hoodie in a restaurant that smells of spices. Both shoots were intended to look as though a lover snapped the images. The photobook also includes Mizuchi's Recipe Notebook, highlighting recipes from around the world with comments by popular cookbook author Yummy. Fans can also look forward to plenty of interviews with the cast and crew along with behind-the-scenes filming and production details.

Information

Zenra Meshi Official Photobook -Our Recipes Start Here-
Release Date: June 23, 2023
Price: ¥3,850
Publisher: Tokyo News
*The book may be released on a different date depending on the area.

■Purchase Bonus
Amazon: Limited Edition Cover
We! Premium Limited Store: Photo (Shori Kondo)
Seven Net Shopping: Autographed Photobook (Shori Kondo or Yutaro)

<Notes>
*The start date and time for orders may vary depending on the store. Check each company's website for details.
*Purchase bonuses and limited-edition copies are available while supplies last.
*Additional retailers and special offers may be added in the future.
*Availability will vary by store. Please check with each location for details.

Official Photobook Release Event
Date: June 24, 2023
Venue: Tokyo
More details will be released later in TOKYO NEWS magazine&mook (https://zasshi.tv/)

Licaxxx Announces Tokyo Community Radio's Second Event Series 'communities' to be Held in Tokyo and Osaka

Tokyo Community Radio (TCR), an online radio platform run by Licaxxx, has announced a new event titled communities. The event will be held at Daikanyama UNIT / Saloon in Tokyo on June 30 and at Osaka JOULE on July 1.

The guest lineup includes re:ni and Laksa, two hot up-and-coming DJs and producers reshaping the UK music scene. The duo has a monthly program on NTS Radio titled re;lax, along with a party series of the same name. In February 2023, they released a new EP, Body Score, on their new label founded to explore music with faster tempos and to carry the torch of UK techno, jungle, dubstep, and grime. Each DJ is also active individually and the two have constantly been in the spotlight.

Music fans are invited to partake in this stunning musical event led by Licaxxx and targeted at the current generation of music makers as they extend beyond Asia and take their activities around the world.

re:lax (re:ni & Laksa)

Licaxxx

Information

■Tokyo
Tokyo Community Radio presents 'communities' with re;lax
Date: June 20, 2023
Time: 22:00
Venue: Daikanyama UNIT / SALOON
Admission: ¥2,000 (Early Discount) / ¥3,000 (ADV) / ¥3,500 (At the door)
Buy Tickets: https://tokyocommunityradio.zaiko.io/item/356159

LINEUP:
Licaxxx
Temple Ov Subsonic Youth (a.k.a Mars89) – Live
Romy Mats

and more..

[Starring]
Special Guest:
re:lax (re:ni & Laksa)

Lineup:
Licaxxx

Temple Ov Subsonic Youth (a.k.a Mars89) – Live
Romy Mats

and more!

■Osaka
Tokyo Community Radio presents 'communities' with re;lax in OSAKA
Date: July 1, 2023
Time: 22:00
Venue: Osaka JOULE
Admission: ¥2,000 (Early Discount) / ¥3,000 (ADV) / ¥3,500 (At the door)
Buy Tickets: https://peatix.com/event/3590421/view

[Starring]

SPECIAL GUEST:
re:lax (re:ni & Laksa)

LINEUP:
Licaxxx
kotsu(CYK)
Romy Mats

and more..

■Attention
Guests under the age of 20 will not be allowed entry.
All guests will be subject to an ID check prior to entry. Please bring a photo ID showing date of birth. (Photocopies will not be accepted.)
If we are unable to confirm your identity, you may be denied admission.

<About Tokyo Community Radio>
TCR is a distribution platform based in Tokyo that focuses on introducing both local DJs and up-and-coming DJs from around Japan. The program features all musical genres and showcases both DJ mixes and live performances. In featured podcasts, DJs talk about their music, hobbies, and interests, allowing fans the rare chance to learn more about their favorite creators. The station also cooperates with community radio stations in other Asian cities and supports DJs and artists from Asia and beyond when they visit Japan. In addition to regular DJ sessions and podcasts, TCR also collaborates with corporate events, produces music events, and matches DJs to places and brands

Licaxxx, Yutaro Appear in Ad for Mandom's 'Gatsby' Brand

Licaxxx and Yutaro are currently appearing in a new ad for Meta Rubber, a new series of products from Mandom's 'Gatsby' hair styling brand.

A total of nine cast members from all areas of the entertainment world appear in the ad, from voice actors and video creators to idols and DJs. The video features the song Kororon by the popular artist Eve.

Be sure to check out the ad for a glimpse into the Meta Rubber lineup, which aims to transcend standard hair styling techniques.

Information

Cast:
kemio (Video Creator)
Mizuho Habu (Artist, Sakurazaka46)
Keito Kimura (Performer, FANTASTICS)
Subaru Kimura (Voice Actor)
Yamato Inoue (Model/DJ)
Shuichiro (Video Creator)
Licaxxx (DJ)
Yutaro (Actor)
Tensei Saito (Model/Younger Song Director)

Official Site
https://www.gatsby.jp/product/hairstyling/meta-rubber/

Yutaro to Appear in Original Drama During the Recitation Play 'Shitaitoka, Shitakunaitoka no Hanashi Janai'

The recitation play Shitaitoka, Shitakunaitoka no Hanashi Janai (It's Not About Whether or Not I Want To) will be performed at the Haiyuza Theater in Tokyo starting on April 20. Yutaro will appear in the drama that will be shown as part of the production.

The recitation tells the story of a sexless couple and raises pertinent questions about the state of married couples and child-rearing today. AOI Pro., which has produced many theatrical films and TV dramas including the film Shoplifters and the drama series silent, planned and produced this performance.

For the stage production, the recitation will be staged with full-scale video footage from the play. It tells the story of Takashi, an unsuccessful screenwriter and husband, who was dumped by his lover. After his wife, Kyoko wins an award for excellence in a screenwriting contest she entered without her husband's knowledge, she tries to break free from her conventional life of housework and childcare into a new world. The original drama shown during the performance will detail Takashi and Kyoko's life when they were young and their first meeting before later becoming husband and wife.

The drama was produced exclusively for the performance by Izuru Kumasaka, the director of Pretenders and other popular films. Yutaro will play the role of Takashi.

<Comment from Yutaro>
"This story is both sweet and bittersweet. It tells the tale of two young people who, I think, should be adults by now, but they can't seem to grow up.
I had never met Seira Hayakawa before this, but I've gotten to know her so well through this role. I hope you'll enjoy the realistic struggles of two people through this reading!"

<Comment from Director Izuru Kumasaka>
"There's a specific shot used in the play that Yutaro filmed with his smartphone. He managed to get a lot of great expressions out of Ms. Hayakawa, saying things like "the camera's rolling," and "the mic was in the shot, so is it okay if I resize the footage a bit?" It was a really novel experience. The last shot of the last day of filming was also done by him. The two of them really gave it their all until the end. There's a scene where Hayakawa has to confess that she's carrying her husband's child, and it was so incredibly convincing despite how young she is. I was shaken. Please come to the theater to see their performance."

<Comment from Producer Yusuke Kurozawa>
"Since we're a video production company, we had to look at this theatrical performance in a unique way. We incorporated a lot of visual effects even though it's largely a recitation. On stage, you see a fast-paced conversation between a couple on the verge of separation, but on the screen, you see them when they first met–when they were in love. You see how happy they were, and you wonder how their relationship became so incredibly warped. I was thrilled to work with Izuru Kumasaka on location in Chigasaki, since I'm a huge fan of Southern All Stars and Chigasaki Story – My Little Hometown, which he directed. I hope you'll come to the theater to experience this blend of recitation and drama!

Information

Shitaitoka, Shitakunaitoka no Hanashi Janai (It's Not About Whether or Not I Want To)
Venue: Haiyuza Theater (Tokyo)
Original Work/Screenwriter: Shin Adachi (Shitakunaitoka no Hanashi Janai) (Futabasha Publishing)

Performance Date/Time/Cast:
4/20, 19:00 / Ryoko Shinohara x Hirofumi Araki
4/21, 19:00 / Ryoko Shinohara x Hirofumi Araki
4/22, 15:00 / Hitomi Sato x Shigenori Yamazaki
4/22, 19:00 / Hitomi Sato x Shigenori Yamazaki
4/23, 15:00 / Ryoko Shinohara x Shigenori Yamazaki

Drama Cast during the play:
Seira Hayakawa (Nogizaka46), Yutaro

<Tickets>
Admission: ¥8,500 (Tax Included, all seats reserved)
General Sales: April 8, 10:00~
・Ticket pia
・Lawson Ticket (L-Code: 32329)
・e+

<Summary>
It's spring 2020, and the pandemic is the talk of the town. Once a successful film director, Takashi has since had bomb after bomb. His wife Kyoko finally gives him the boot after entering and winning a screenwriting contest without his knowledge, eager to break free from housework and childcare for a new life. One night, while Kyoko is busy revising a script that has been chosen to be dramatized, she receives a LINE message from Takashi, who has gone to pick up their child from preschool. "I wanna do it tonight. It's been a while…" Though the message is brief, it starts something in their marriage, which is filled with compromises and self-restraint. A husband who wants to do it and a wife who doesn't–is sex essential for a couple to have a good relationship? As they mercilessly confront each other, they realize their true feelings for the first time…This is a story of a clumsy couple who rethink their lives and the state of their marriage in the wake of their sexless relationship.

Official Site: https://aoistage.com/shitaitoka/

©AOI Pro.

ZEROTOKYO and ASOBISYSTEM Collaborate on ASOBIZA Party Event

ZEROTOKYO, an entertainment mecca known for heating up Tokyo nights, is teaming up with ASOBISYSTEM to create an exciting new party! ASOBIZA, named after the origin of Kabukicho, will be held on April 28.

The lineup includes music artists as well as charismatic figures at the top of their fields in fashion, beauty, and art. Transcending musical genres and generations, this night will embody ZEROTOKYO's concept of being a true "Entertainment Junction."

Additional performers may be announced in the future.

Yutaro will appear in the new Kansai TV drama series Zenra Meshi. The series is scheduled to begin airing this April during the EDGE time slot.

The romantic comedy follows the protagonist Ichijo, a professional man hiding an incredible secret–he loves to eat naked. One day, this habit is revealed, and Ichijo finds himself quickly falling in love. Yutaro will play the role of Miki Mahiro, a young man who runs a fruit and vegetable store in Ichijo's hometown.

One highlight of the show is the number of tasty-looking dishes supervised by Yummy, a cooking expert who has gained incredible popularity for sharing simple recipes that anyone can make. The dishes that Ichijo and Mahiro prepare using foreign spices are especially noteworthy, and viewers will definitely want to recreate them at home.

<Comment from Yutaro>

"My name is Yutaro and I play the role of Miki Mahiro.

When I first heard the name of the series, I was so confused. I'd be naked? And eating? I thought I'd need to strip, but I was told that my character didn't need to. I was so relieved…

My character is a young man who runs a fruit and vegetable store and likes to cook, so I tried to cook for myself as much as I could after being cast. Be sure to look forward to the cooking scenes–I did all of it myself!

I've previously worked with Shori Kondo, who plays Ichijo, so we already had a good relationship. So, there were some scenes where we get pretty close to each other, but it wasn't stressful at all. Everything went smoothly from day one. The staff has been amazing–everyone has been fun to work with, and even during darker scenes, everyone starts laughing as soon as the director yells "cut!"

Even though this is a romantic comedy, there are sad scenes scattered throughout that will make your heart ache, and I think it will touch a lot of people's hearts. Please look forward to it!"

Information

Zenra Meshi (Drama Series)
Premieres April 13, 2023
Airing Thursdays during the EDGE slot from 0:25~0:55 (Kansai Local)
*Episode 1 will air from 0:40~1:10
Streaming on Kantele Douga・TVer

Starring: Shori Kondo, Yutaro, etc.
Script: Tomomi Ookubo, Ryo Kawasaki, Yoriko Kodama
Directors: Misato Kato, Ayaka Kato, Ryo Kawasaki
Producers: Yoko Toyofuku, Keiko Nakayama
Made in Collaboration with FCC
Written in Collaboration with Kansai Telecasting Corporation

<Episode 1 Synopsis>
Futa Ichijo (Shori Kondo) is an elite salaryman working for the Financial Services Agency. A "perfect" man both in appearance and work performance, he has a secret hobby that he can't tell anyone about…

After an exhausting day at work, he comes home to his empty apartment, taking off his suit and his underwear, and eats a meal in the nude. Ah, what freedom! These stress-relieving nude meals would always be his secret.

One day, Ichijo receives a letter from his deceased grandmother–the letter had been sent before her death. Enclosed was the key to her house, and one day, after working overtime until the early morning hours, Ichijo is led to his grandmother's house. After falling asleep, an unfamiliar man comes in through the front door! Fighting back against the intruder, sure it was a thief, it turns out to be Miki Mahiro, a friend of Ichijo's grandmother. Mahiro owns a produce stand and spent time teaching the woman how to cook before she passed away.

Unique foreign spices and recipe notes were left in the house, and feeling hungry, Ichijo attempts to cook one of the dishes. Stripping naked before digging in, his secret is revealed as Mahiro appears!

Official Pages
HP: https://www.ktv.jp/zenrameshi/
Twitter: @lalala_meshi
Instagram: @lalala_meshi

BAND-MAID to Hold First Performance at KNOTFEST JAPAN 2023 to be Held at Makuhari Messe

The popular female rock band BAND-MAID will perform for the first time at KNOTFEST JAPAN 2023, scheduled for April 1 and April 2 at Makuhari Messe in Chiba.

KNOTFEST was begun by the American heavy metal band Slipknot, and the festival has been held yearly since 2012. BAND-MAID will perform on Day 1 along with headliners Slipknot, Trivium, and MAN WITH A MISSION.

Tickets for the May shows to be held in the United States as part of the BAND-MAID 10TH ANNIVERSARY TOUR are none on sale. The group managed to bring in over 20,000 fans during their solo U.S. tour in 2022. In addition to performing at Pointfest 2023, Welcome to Rockville 2023, and the Sonic Temple Art & Music Festival, BAND-MAID will also perform six solo shows. With some venues selling out instantly last year, you'll want to snag tickets while you can!

Information

KNOTFEST JAPAN 2023

*BAND-MAID to perform on Day 1, April 1
DAY 1 – ROADSHOW

April 1, 2023
DAY 2 – FESTIVAL

April 2, 2023
Venue: Makuhari Messe International Exhibition Halls 9-11
https://knotfestjapan.com
Official Site: https://bandmaid.tokyo

Yutaro will appear in the upcoming stage production of How Many Sins are There, written, directed, and performed by Shigeyuki Totsugi. The play will begin in April 2023.

5D2-FIVE DIMENSIONS is a solo project by members of TEAM NACS, giving each member space to express themselves. This play will be Shigeyuki Totsugi's first new work in nearly four years.

Yutaro will play the role of Raido Beppu, a transgender inmate on death row who is interviewed by the reporter protagonist.

<Comment from Shigeyuki Totsugi>
"Four whole years have passed since my last solo project, MONSTER MATES. I'm incredibly happy to finally be able to return to my professional solo career in this big way.

Moreover, as with previous performances, I've assembled the best possible cast. We're all grateful for this opportunity and we're determined to bring audiences the best possible performance. Please look forward to it!"

Information

TEAM NACS Solo Project 5D2 -FIVE DIMENSIONS II-
Ikutsu no Daizai ~How many sins are there?~

Starring:
Kenta Suga, Fumika Baba
Tomoya Maeno, Yutaro, Noritaka Hamao, Tsukasa Kuroiwa, Kazuki Namioka
Shigeyuki Totsugi

Created and Directed by Shigeyuki Totsugi

■Tokyo Performance
Venue: EX THEATER ROPPONGI
Running: April 15 – April 23, 2023

■Osaka Performance
Venue: Morinomiya Piloti Hall
Running: April 28 – April 30, 2023

■Sapporo Performance
Venue: Kanamoto Hall
Running: May 5 – May 7, 2023

<Tickets>
Admission: ¥8,500 (Tax Included, all seats reserved)
General Sales: Lawson Ticket, March 18, 2023 at 10:00~
*General tickets for these performances will only be available for purchase at the Lawson Ticket website.

Details here
https://www.teamnacs.com/

<Summary>
Gossip magazine reporter Karasumi Ootani (Kenta Suga) is assigned a feature-length piece on death row inmates by his editor-in-chief Hitomi Kanzaki (Fumika Baba).

The content of the piece is simple and terrifying: "Convicted Killers Brainstorming the Perfect Murder."

The death row inmates to be interviewed include the dancer Tony Ogura (Tomoya Maeno), transgender inmate Raido Beppu (Yutaro), fisherman and gambling addict Idoharu Donguri (Noritaka Hamao), entertainment manager Rousuke Arisu (Tsukasa Kuroiwa), self-proclaimed musician Ichirou Enbi (Kazuki Namioka), and college professor Tobiemon Urasu (Shigeyuki Totsugi).

During the lengthy–and sometimes bumpy–interview process, the prisoners begin to mysteriously die one by one.

As the condemned prisoners become increasingly troubled as they face execution, they finally discover why they were brought together. An unpredictable ending awaits…

Yutaro to Appear in NHK E Special Drama Series 'Tokyo no Yukiotoko'

Yutaro will appear in the upcoming drama series Tokyo no Yukiotoko airing on NHK E starting February 4, 2023.

The family-centered series is packed with both humor and sorrow and tells the story of humanity living alongside a mysterious other species–the Snow People. Kouichi Yajima, known for his work on Kazeyo Arashiyo, Kounodori, and Busujima Yuriko no Sekirara Nikki, penned the screenplay.

Information

Tokyo no Yukiotoko (Special Drama Series)
Starting: February 4, 2023 on NHK Educational TV
Airing every Saturday, 21:00-21:30 (5 episodes)
Script: Kouichi Yajima
Starring: Hayato Isomura, Kana Kita, Shingo Mizusawa, Miwako Shishido, Akari Takaishi, Tamae Ando, Manabu Hamada, Yutaro, Naoto Eguchi, Eri Tokunaga, Saori, Yasuhi Nakamura, Ron Mizuma, Kaito Yoshimura, Yui Kitamura, Shuntaro Miyao, Tamaki Ogawa, Shiro Sano, Yorie Yamashita

Yutaro to Appear in TV Tokyo Drama Series 'Nani ka Okashii 2' with Theme Song by Atarashii Gakko!

The sequel to the May 2022 suspense drama series Nani ka Okashii (Something's Strange) is now streaming on the Paravi streaming service. It has been announced that Atarashii Gakko! will provide the theme song titled Suki Lie.

The original series featured a mysterious radio program and a murder mystery. The story was first written by occult horror writer Uketsu, whose bestseller Strange House sold over 300,000 copies.

<Comment from Atarashii Gakko!>
"We're honored that our song Suki Lie will be used as the theme song for Nani ka Okashii 2! Thank you so much!
The song is a strange pop tune, and that strangeness makes it perfect for this show. We're looking forward to the show's ending, where Uketsu will dance to our choreography! We also get to appear as radio guests in the drama in Episode 12, so keep an eye out!"

Atarashii Gakko!

<Comment from Yutaro>
"I'm Yutaro and I'll be starring in the series as a listener. I've been watching Uketsu's YouTube channel last year, so I was so happy to hear this new story. I really hope you'll enjoy this unique drama series."

Yutaro

<Comment from Director and Screenwriter Yu Ota (TV Tokyo)>
"Nani ka Okashii 2 is complete. In every episode, someone gets badly hurt, but a bad ending is rarely seen in Japanese dramas. The show sees someone hurt, and the malice born from that action splashes up and hurts someone else, and so on.
The cast for this series is incredible and extremely varied. The people on the radio booth side–who will be playing themselves–were asked to be calm with no connection or interest in horror or drama. On the other hand, those on the other side needed to have stronger personalities.
I'm also so happy to hear the theme song by Atarashii Gakko! Many people on the staff are fans of their music, and we thought it would be incredible to have Uketsu dance to their bizarre choreography as part of the series."

©テレビ東京

Information

Nani ka Okashii 2 (TV Tokyo Drama)
Airing on TV Tokyo in 2023
Episodes: 12
Starring: Yosuke Asari, Shogo Hama, Kanji Tsuda, Satoru Matsuo, Gaku Hosokawa, Saikou no Ningen (Yoichi Okano, Yoshizumi), Kenta Hamano, Hajime Syacho, LiLiCo, Glover, Yuuchami, Suzu Yamanouchi, Hina Higuchi, Atarashii Gakko!, Maju Ozawa, Nao Yumiki (Nogizaka46), Wakana Sakai, Yutaro, Yurina Yanagi
Original Story: Uketsu

Theme Song:
・Advanced stream & terrestrial TV & webcasts (Airing 2023)
intersolid – Toko Miura
・Terrestrial TV & Webcasts (Airing 2023)
Suki Lie – Atarashii Gakko!

*Honorifics omitted

Streaming Dates:

■Paravi Streaming Service
December 23, 2022 – Episodes 9 and 10 streaming at 9:00
January 20, 2023 – Episodes 11 and 12 streaming at 9:00
Nani ka Okashii 2 – Episodes 1-8 now streaming

■Odd-numbered episodes available for free on TV Tokyo's YouTube drama channel
Nani ka Okashii 2 – Episodes 1, 3, 5, and 7 now available
Nani ka Okashii – Episodes 1-3 now available

【Paravi】https://www.paravi.jp/title/98313
【YouTube】https://www.youtube.com/c/tvtokyodrama

Official Site
https://www.tv-tokyo.co.jp/nanikaokashii2/

Yutaro will star in the TV Tokyo Paravi original drama series Raise de wa Chanto Shimasu (I Will Do It in the Next Life).

The series is based on the manga of the same name written by Itsuma-chan and serialized in Shueisha's Grand Jump. Characters in the series live their lives without boundaries, from sex addicts and BL otaku to virgins and idol addicts. The erotic comedy blends risqué topics with tender and sometimes sad storytelling, giving hope to those facing troubles in their love and sex lives.

Prior to the start of the broadcast, the series will pre-stream on the Paravi video service starting December 28, 2022.

<Comment from Yutaro (Nagi Kuriyama)>
"This series began in 2020.
I'm so happy to play Nagi-chan in Season 2, the New Year's Special, and now again. I'm also honored to start 2023 by starring in this series that I have such a strong attachment to. I've started feeling the pressure of everyone's rising expectations for Nagi, and before filming started, I enhanced my sense of beauty, going on a diet to create an even better version of the character. The same incredible director has led me for three years, and I think I'll be lonely when this is all over.
I'm sure plenty of viewers are wondering if Nagi will have a happy ending after so much bitterness and sadness emerged from him last time. Will he become more powerful in Season 3? After all, a new character is about to appear. Be sure to tune in!"

(C)いつまちゃん/集英社

(C)「来世ではちゃんとします 3」製作委員会

Information

Drama Paravi – Raise de wa Chanto Shimasu (I Will Do It in the Next Life)
Where to Watch: TV Tokyo, TV Osaka, TV Aichi, TV Setouchi, TV Hokkaido, KVQ Kyushu Broadcasting
*Scheduled to air on BS TV Tokyo in the future
Airing January 4, 2023 at 0:30
Streaming: Available to watch on Paravi starting on December 28, 2022 at 9:00
Based on Itsuma-chan's manga series in Shueisha's Grand Jump

Lead Actress: Rio Uchida
Starring: Rina Ota, Yuta Koseki, Takenori Goto, Tsubasa Tobinaga, Yutaro, Chika Nakagawa, Akihisa Shiono, Yuya Hirata, Kentaro Tomita, Obata no Onisan, Miwako Kakei, Sakurako Konishi, Misaki Akari, Ryouya Ihara (Daw 90000)

Official Site: https://www.tv-tokyo.co.jp/raisechan3/

Drama Series Nani ka Okashii 2 Starring Yutaro to Feature Theme Song by Atarashii Gakko!

The sequel to the May 2022 suspense drama series Nani ka Okashii (Something's Strange) is now streaming on the Paravi streaming service. Atarashii Gakko! will provide the theme song titled Suki Lie. The show will air on TV Tokyo in 2023. In addition, actor Yutaro stars in episodes 9-12. 

The original series featured a mysterious radio program and a murder mystery. The story was first written by occult horror writer Uketsu, whose bestseller Strange House sold over 300,000 copies.

<Comment from Atarashii Gakko!>

"We're honored that our song Suki Lie will be used as the theme song for Nani ka Okashii 2! Thank you so much!

The song is a strange pop tune, and that strangeness makes it perfect for this show. We're looking forward to the show's ending, where Uketsu will dance to our choreography! We also get to appear as radio guests in the drama in Episode 12, so keep an eye out!"

<Comment from Yutaro>

"I'm Yutaro and I'll be starring in the series as a listener. I've been watching Uketsu's YouTube channel last year, so I was so happy to hear this new story. I really hope you'll enjoy this unique drama series."

<Comment from Director and Screenwriter Yu Ota (TV Tokyo)>

"Nani ka Okashii 2 is complete. In every episode, someone gets badly hurt, but a bad ending is rarely seen in Japanese dramas. The show sees someone hurt, and the malice born from that action splashes up and hurts someone else, and so on. 

The cast for this series is incredible and extremely varied. The people on the radio booth side–who will be playing themselves–were asked to be calm with no connection or interest in horror or drama. On the other hand, those on the other side needed to have stronger personalities.

I'm also so happy to hear the theme song by Atarashii Gakko! Many people on the staff are fans of their music, and we thought it would be incredible to have Uketsu dance to their bizarre choreography as part of the series."

©テレビ東京

Information

Nani ka Okashii 2 (TV Tokyo Drama)

Airing on TV Tokyo in 2023

Episodes: 12

Theme Song: Suki Lie – Atarashii Gakko!

Streaming Dates:

■Paravi Streaming Service

December 23, 2022 – Episodes 9 and 10 streaming at 9:00

January 20, 2023 – Episodes 11 and 12 streaming at 9:00

Nani ka Okashii 2 – Episodes 1-8 now streaming

■Odd-numbered episodes available for free on TV Tokyo's YouTube drama channel

Nani ka Okashii 2 – Episodes 1, 3, 5, and 7 now available

Nani ka Okashii – Episodes 1-3 now available

Paravi: https://www.paravi.jp/title/98313