A Date With Yutaro: Soaking Up the Japanese Summer Sun & Visiting the Art Aquarium | Tokyo Stroll
It's been a while since our last date with Yutaro. He's been very busy with film shoots. He had some spare time today so we paid a visit to Nihonbashi for our next date. "ECO EDO Nihonbashi: Enjoy Cool Edo With All Five Senses" is an event held every year in the Nihonbashi area which takes the Edo period cultural idea of "coolness"―an in, to enjoy being cool during the summer-and puts a modern spin on it. There are many exciting things to look forward to, including the art aquarium which proves massively popular every year.
We gave ourselves more time to arrive at the meeting place to be in the safe side, but it seems Yutaro-kun was already there waiting for us!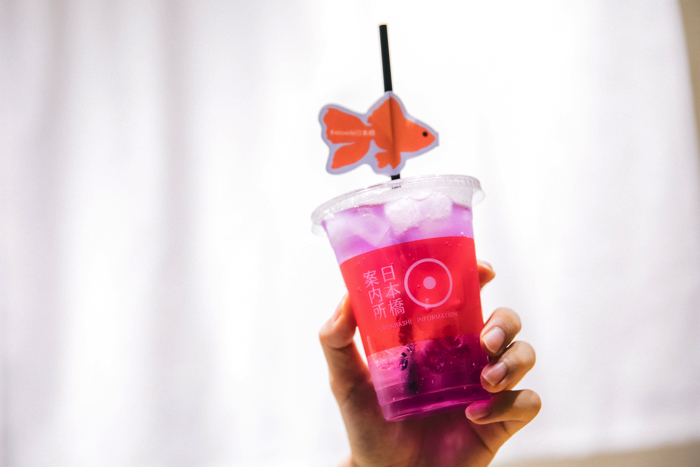 Nihonbashi Information Center | IPPIN CAFÉ "Sparkling Herb Tea" – ¥518 (Tax Included)
"Here, you must be boiling." Yutaro-kun kindly offers a cup of IPPIN CAFE's limited-edition sparkling herb tea. It's a delicious mix of fizzy soda and lemon, a perfect refreshment for the summer. Since he ordered takeout the drink came with a goldfish straw. Goldfish are a staple sight during Japanese summer festivals so it's very fitting for the occasion! 
With our drinks in hand, it's time to head to Nihonbashi for our Edo summer date!
Wind-Chime Forest Path
Lining the path between Fukutoku Shrine and Fukutoku Garden is the Wind-Chime Forest Path where around 200 Edo-style wind chimes dangled. This year, during the evenings, the path is illuminated with beautiful lighting.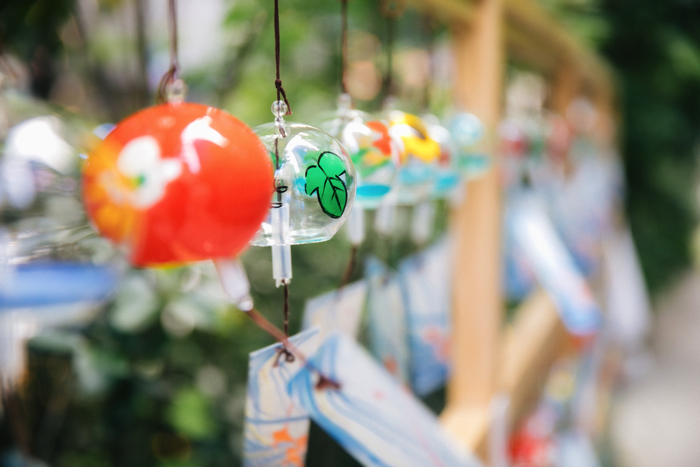 When the breeze rolls past the wind chimes ring one by one-a cool and refreshing sound.
"I hear each one of these Edo wind chimes are individually handmade by craftsmen."
When you hear the sound of the wind chimes it makes you feel cool like a gentle breeze of the wind.
After strolling along the Wind-Chime Forest Path we make our way towards this year's ECO EDO Art Aquarium event.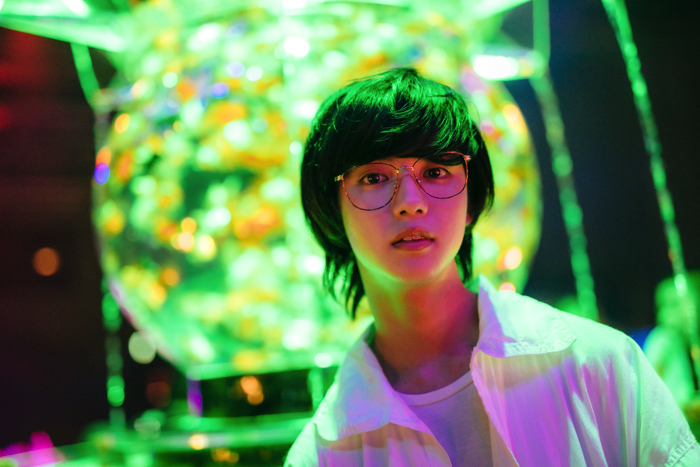 The moment we step instead Yutaro is already dazzled by all the goldfish: "Wow! I knew about this place from what I'd seen online, but this my first time here! This art aquarium really is something!"
The full title of the event is "ECO EDO Nihonbashi ART AQUARIUM 2019 ~Edo, Coolness of Kingyo~ & Night Aquarium."  Goldfish were a huge part of the common culture in Nihonbashi during the Edo period. This event recreates that and brings that "coolness" aspect while combining it with contemporary art by having people observe the fish in lots of different artistic environments.
Super Oiran
"This is the biggest fish tank, apparently it has 3,000 fish swimming inside!"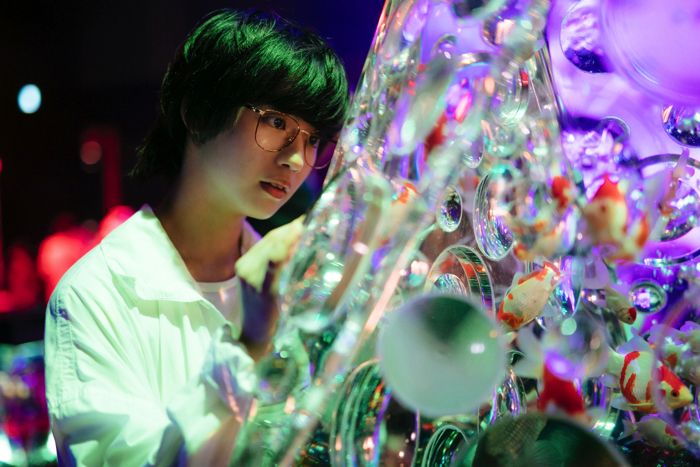 "Seeing the light reflect on the water from the illuminations lets you see the fish in a different light, doesn't it?"
Looks like Yutaro-kun is having a lot of fun taking photos.
He's equally interested in just about every fish tank!
These other fish tanks have a different aesthetic to them. Their Japanese-style designs make for great photos.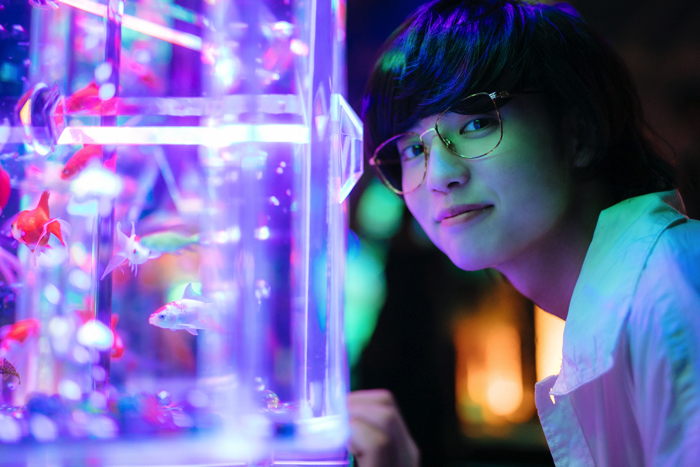 Kaleidorium 3D
"This one's beautiful, it's like a kaleidoscope."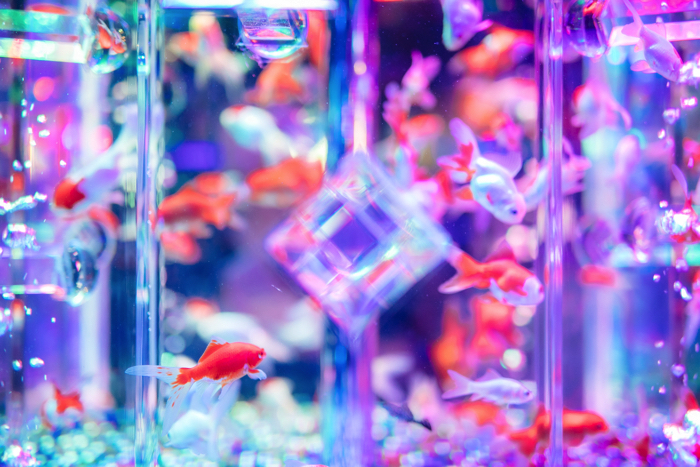 It really does look like one. When you take a peek instead you can glimpse all kinds of colourful fish gently swimming around.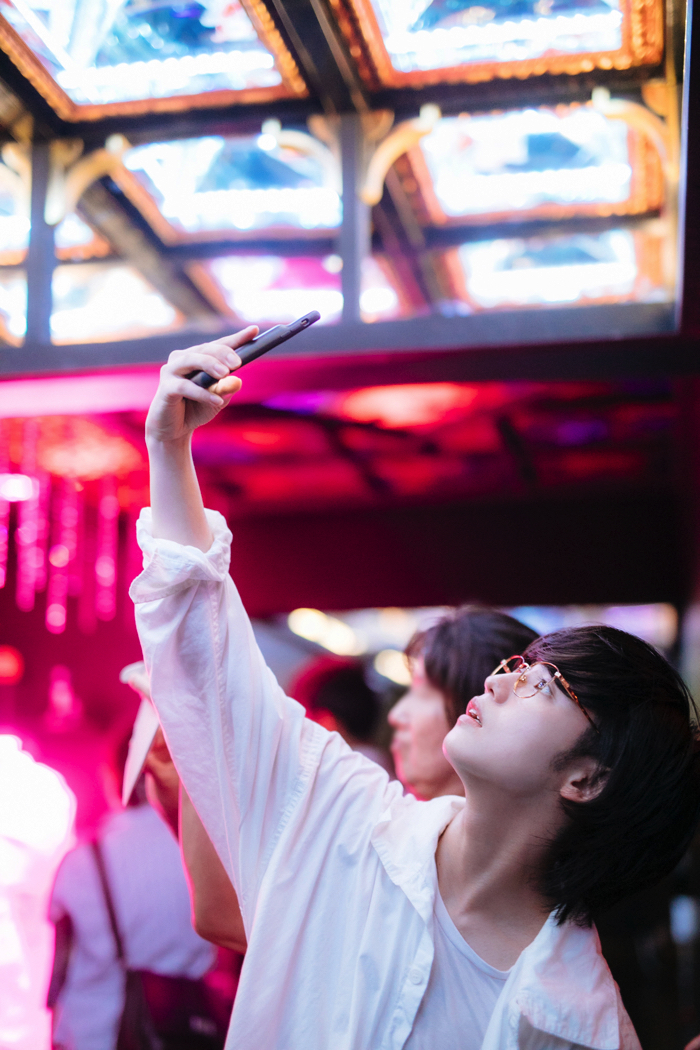 Ceiling Kingyo
"There're goldfish swimming on the ceiling too. So cool! This aquarium is incredible. It brings together the great culture of Edo and contemporary art."
The Art Aquarium bustles every single year with visitors, but this year will mark its last run. It's being held at Nihonbashi Mitsui Hall, so if you have the chance to go then please do.
We of course checked out some local Nihonbashi treats too! We stopped by morozoff for some cheesecake after the aquarium.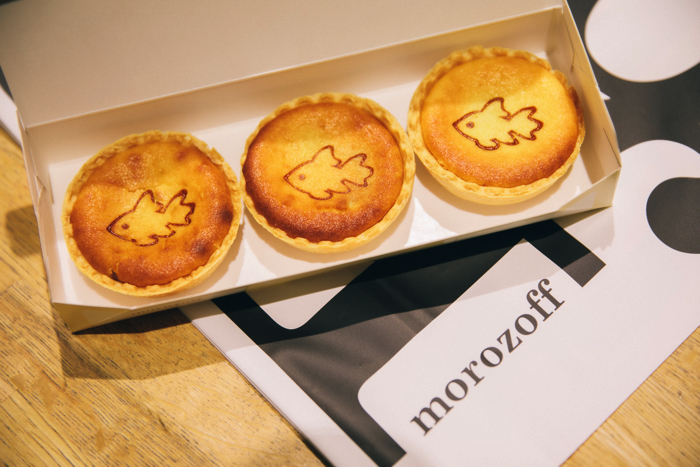 morozoff Kamadashi Cheesecake (Goldfish) – ¥270 Each (Tax Included)
These cute cheesecakes with their goldfish designs are available for a limited time only. They're filled with sweet red bean paste. They perfect with iced tea.
"Got some! Let's eat them while we head back."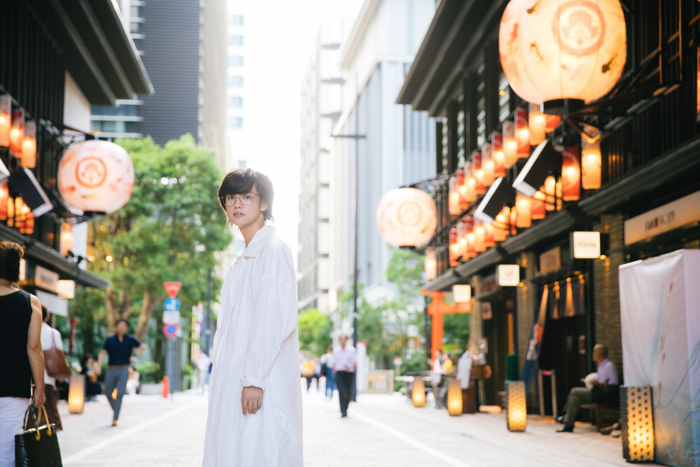 Goldfish Lantern Walkway
Our first date in Nihonbashi was so much fun. While on the date Yutaro-kun spoke about the new live-action film he's in, Kaguya-sama: Love Is War.
"It's a romance film with mind games to try and make the other person confess their love. I play the character Tsubasa. His number one highlight scene is the kabedon scene. That was my first day shooting, so I was super nervous, but I got along well with the other actors, and the atmosphere on set was harmonious, so I was able to relax for the shoots. Tsubasa is a genuine guy who will believe things that have been said to him in earnest. You've definitely gotta check out all his scenes throughout the film!"
"A lot of the cast are the same age as me, so we were all energetic together in the waiting room. There's a scene at the end where all the cast get together. It took 3 days to shoot so we ended up getting along really well."
"This film has made me realise that love comes in many shapes, and that mind games happen in a variety of ways between guys and girls. There's cute scenes that express that small bit of pride that teenagers have, the embarassment they feel, when they get butterflies, scenes that will warm your heart. The film has various elements to it so I thoroughly enjoyed watching it myself. I hope that couples in love in their teens and twenties watch it, and I also hope that married couples watch it and crack up laughing too."
"In the film it's summer break, and they go and see fireworks and stuff. It's definitely one to watch durnig the summer. You're gonna come watch it too, right? Shall we go?"
An offer we cannot refuse! We'll definitely go and see it with you, Yutaro-kun! 
Model: Yutaro
Writer: Yuki Yokoo
Photographer: Kayo Sekiguchi
Information
ECO EDO Nihonbashi 2019 ~Enjoy Cool Edo With All Five Senses~
Running: July 5, 2019 – September 23, 2019
Location: Nihonbashi Area
TEL: 03-3242-0010 (Nihonbashi Information Center)
Event Page: https://www.nihonbashi-tokyo.jp/en/ecoedo2019/
ECO EDO Nihonbashi ART AQUARIUM 2019 ~Edo, Coolness of Kingyo~ & Night Aquarium
Running: July 5, 2019 – September 23, 2019
Location: Nihonbashi Mitsui Hall Floor 5F (Entrance at 4F),  COREDO Muromachi 1, 2-2-1 Nihonbashimuromachi, Chuo Ward, Tokyo
Opening Hours: Art Aquarium 11:00-19:00 / Night Aquarium From 19:00
[Sun-Fri] 11:00-22:00 (Last Entries 22:00) [Sat & days prior to public hoiday] 11:00-23:30 (Last Entries 23:00)
Access: Directly connected to Exit A6 of Mitsukoshimae Station, accessible on the Tokyo Metro Ginza Line and Hanzomon Line / Directly connected to Shin-Nihombashi Station / 8-minutes on foot from East Exit of Kanda Station JR 8-minutes on foot from Nihonbashi Exit of Tokyo Station
TEL: 03-3270-2590
Event Page: https://www.nihonbashi-tokyo.jp/en/ecoedo2019/contents/005.html
Kaguya-sama: Love Is War Film
Release Date: September 6, 2019
Adapted from the manga of the same name by Aka Akasaka (Shueisha/Weekly Young Jump)
Cast: Sho Hirano (King & Prince), Kanna Hashimoto, Hayato Sano, Natsumi Ikema, Nana Asakawa, Mayu Hotta, YUTARO, Takashima Masahiro, Jiro Sato
Official Website: https://kaguyasama-movie.com/
TALENT PROFILE
Yutaro
Yutaro was born in Hiroshima on June 3rd 1998. His modeling career has earned him lots of attention as a fashion icon of the new generation. The famous model also works as a "charisma" shop assistant. Yutaro has gained his reputation as a "mysterious and handsome guy" from his appearance on Japanese variety shows. His debut was made on the show "Gyoretsu no Dekiru Horitsu Sodanjo" and has since then appeared on numerous different TV shows. He challenged himself to appear on stage for the very first time in March this year and is gaining popularity by the day for his diverse work.
RECOMMENDED ENTRIES
Lorenzo Ferro and Yutaro Discuss the True Crime Film 'El Angel' | MMN Interview

The 2018 Argentine-Spanish true crime film El Angel is set to hit theatres in Japan this year on August 16.

The movie is inspired by the real-life Argentine serial killer Carlos Robledo Puch. It was screened at the 2018 Cannes Film Festival and was chosen for the Best Foreign Language Film at the 91st Academy Awards in the Argentine category. The film caught public attention and has enjoyed great success, and that's in huge part thanks to Argentina actor Lorenzo Ferro, a newcomer who has made his acting debut with his role as Puch. He plays the character naturally and effortlessly, capturing the seemingly "pure" looks of Puch coupled with his evil intent, a killer who had free reigns to do whatever he needed to do to achieve his goal. The 60s-70s fashion that Ferro dons in the film is also a highlight worthy of note.

MOSHI MOSHI NIPPON spoke to Ferro who came to Japan to promote the film, and Yutaro, who is the same age as Ferro, and is a model that has recently become very busy in the acting world. We questioned them about them about the film, the character role, and fashion.

*Interview translated from Japanese.

──What are your thoughts after having seen El Angel, Yutaro?

Yutaro: This was actually my first time watching an Argentine movie. The first thing that piqued my interest was the unique sound of the language. With the story, when I heard that it was about a serial killer I thought it would be a pretty graphic portrayal, but it wasn't. Even people who aren't good with graphic and shocking kinds of films would be able to watch this.

──That kind of reasoning and moral compass [which the film depicts] makes you feel kind of uneasy, doesn't it?

Yutaro: Obviously the things that the protagonist Carlos does is against the law and morally wicked, but he himself doesn't believe any little thing he does is bad. He moves on instinct which in his mind is somehow acceptable, and that's dangerous. Was it hard for you to create the character, Lorenzo?

 

Lorenzo: It really was tough. I hadn't played a character until then, so the first thing I had to learn was just being in front of a camera. Playing the role came after. I had to become "friends" with the movie and "friends" with the camera. Those were the first things I needed to do to fulfill my commitment.

The whole shoot took around a month and a half, but prep time was half a year. During that time I practised playing piano and mastered riding a bike. It was a lot of work, but when I finally saw the completed movie, I felt it was definitely worth all the effort.

Yutaro: When you're playing someone who is far from anything like yourself, prep time is really important, isn't it? You have to gather material on the role and really use your imagination. I also make sure to properly communicate with the director before shoots. I ask about the film's theme and intent. If our perceptions don't match then it's not going to hold up on screen.

Lorenzo: It's definitely important to respect the director and communicate with them effectively. When we were filming, I wanted to make sure I didn't forget to see the director as a friend. For instance, if the hierarchal relationship is overly strict and the director is the kind of person to look down on you and order you around, then you can't build trust. I also think the best kind of relationship is when you can give your own opinion. Saying to them like, "That was no good, was it?" [laughs] "Why do I gotta do the same thing 40 times!?" You should be frank and express your doubts.

Yutaro: Speaking of that, it's important to have trust with your fellow cast members too. I believe that even if you're filming together, if you can't build that trust, that subtle distance between you will be conveyed [in the scene]. You yourself have got to try and converse with them in a positive manner. Go out for a meal together before a shoot, talk together about your roles.

──You live your days laboriously, Yutaro, including as an actor. What does a time look like for you when things get particularly tough?

Yutaro: I've recently been doing a lot of shoots for multiple films at the same time. When that happens I find it very important to maintain retention so that I don't forget my roles. In that sense, I also find that it's important to look at how you spend your time outside of shoots when you're working an acting job.

Lorenzo: Oh, yeah! Having spare time during shoots is a curse as an actor [laughs] Even if you fire yourself up―preparations are done, you've done your warmups, and you say, "Right, time to shoot!"―you have to start from zero again if you have time until the next shoot. That happens quite a lot.

 

──So you're demanded to have self-discipline too. El Angel is set in 1970s Buenos Aires. The fashion and interior designs seen in the film really stood out.

Yutaro: For me personally the women's clothes left an impression on me, particularly the one piece that Carlos's mother wears. The clothes that Carlos wears in each scene too. They're plain and simple but cool. I liked the leather jacket he wore when he went on a double date with his pal Ramón.

Lorenzo: Wow, you really took in at all the little details. The influence for Carlos and Ramón was drawn heavily from James Dean and Marlon Brando who were both popular actors at the time.

Yutaro: Oh, really?

Lorenzo: Like smoking cigarettes and wearing a leather jacket. We naturally had an amazing stylist who prepared our outfits for us. We were both also conscious of people like James Dean and Marlon Brando when we played Carlos and Ramón.

──What kind of clothes do you like, Lorenzo?

Lorenzo: I usually wear the kind of thing I have on now. I have a lot of rough-looking clothes. I really like fashion, my wardrobe is packed [laughs] The more clothes you have the harder it is to decide what to wear, so I really want to just wear the same t-shirt, pants and shoes all the time [laughs].

Yutaro: I looked at your Instagram, you wear t-shirts with Japanese games and anime characters on them, don't you? You have a Super Mario one on today, and I saw a Pokémon one on your Instagram. I like how you venture to wear t-shirts of games that were popular a while back now.

Lorenzo: Really? Thanks, that makes me happy. The overalls you have on now are really cute, but I think that's because it's something that would suit you. If I wore something like that I'd probably look like a clown [laughs].

Yutaro: Do you have a criteria when picking out a character t-shirt?

Lorenzo: Well, I try not to wear t-shirts of franchises I don't like, or games I haven't played yet, or of bands I've never listened to before [laughs]. I'm wearing a Mario t-shirt today but there's still much I don't know about Japanese games or culture. I'm interested in many different cultures of many different countries, so I want to know more about Japan.

Yutaro: In that case, let's go shopping together in Harajuku next time!

Writer: Takanori Kuroda

Photographer: MURA

Models: Yutaro, Lorenzo Ferro

Translator: Joshua Kitosi-Isanga

©2018 CAPITAL INTELECTUAL S.A / UNDERGROUND PRODUCCIONES / EL DESEO

Information

El Angel

Release Date: August 16, 2019 (Japan)

Cinemas: Shibuya CINE QUINTO, Human Trust Cinema Yurakucho, Shinjuku Musashino-kan, and elsewhere across Japan

Director: Luis Ortega

Producers: Pedro Almodóvar, Agustin Almodóvar (Wild Tales, 2014) 

Distributor: Gaga Corporation

Running Time: 115 Minutes

Japanese Subtitles: Rie Harada

Rating: R15

Official Website: https://gaga.ne.jp/eiennibokunomono

©2018 CAPITAL INTELECTUAL S.A / UNDERGROUND PRODUCCIONES / EL DESEO

TALENT PROFILE

Yutaro

Yutaro was born in Hiroshima on June 3rd 1998. His modeling career has earned him lots of attention as a fashion icon of the new generation. The famous model also works as a "charisma" shop assistant. Yutaro has gained his reputation as a "mysterious and handsome guy" from his appearance on Japanese variety shows. His debut was made on the show "Gyoretsu no Dekiru Horitsu Sodanjo" and has since then appeared on numerous different TV shows. He challenged himself to appear on stage for the very first time in March this year and is gaining popularity by the day for his diverse work.

Tokyo Stroll: An izakaya date with Yutaro at Sai in Shibuya

Shibuya―Tokyo's central hub for youth culture and fashion trends. This commercial and business centre is one that never sleeps: it is always bustling with people enjoying themselves whether that be shopping with friends, going on dates with their special someone, and pretty much anything you can think of a young person doing in one of the most popular parts of a city like Tokyo.

This is where Yutaro-kun is taking me on our next long-awaited next date. It's little more of a grown-up date than usual this time as we're going to an izakaya. Yutaro-kun is crazy about umeshu, or "plum wine," so he's taking me to a place that stocks a wide variety of tasty drinks. This is our first time drinking together. My heart is pounding.

Our destination is Sai, an izakaya with private booths and charcoal fires for cooking yakitori. It's a 5-minute walk from Shibuya Station's Hachiko Exit. It's on the third floor of the building directly in front of the Udagawa Kōban police station. The bar has around 100 varieties of umeshu as well as food and meals made using them. The wall is lined with wine bottles as far as the eye can see. I'm already getting excited.

The menu lists where each wine is produced by prefecture along with descriptions of each drink. I'm interested in trying the umeshu from the region I was born in, but there's lots of other delicious sound ones too so I'm spoiled for choice.

"What shall we do? Want to compare different drinks?"

Yutaro-kun is quick to jump on board the idea. He's so manly!

Umeshu Taste-Comparing Set (3 Drinks): ¥1,000

This taste-comparing set comes with three types of umeshu. It's an 'introductory-level' set that rings true as all three varieties are very easy to drink and each of their flavours are completely different. The Akatan Umeshu produced in Nara Prefecture is made with unripened plums farmed from Nara. It has a refreshing taste and the flavour of the plums is very rich. The Kishu no Yuzu Umeshu from Wakayama is made with plums from Wakayama Prefecture and the fresh juice of yuzu fruits from Tokushima Prefecture. It's sweet and sour with a refreshing flavour complemented by the citrus fruits. The Hotei Fuku Ume Nigori Umeshu from Osaka is made from highly valuable plum wine that has been aged over a long period of time. It's mixed with plum jam and pieces of fresh plum to give it a sweet and thick texture.

As well as this introductory-level set there's the mid-level set that focuses on shochu, an upper-level set with a wide variety of drinks, and an extra set that features fruit sake.

"Mm, this one's delicious! It has a real citrus-y feel. Ah, but the Hotei Fuku is good too."

Yutaro-kun looks like he's really enjoying drinking and comparing the different varieties of umeshu.

My heart beats fast seeing his adult side drinking sake. Huh, am I drunk already?

Zeppin Caesar Salad: ¥780

The Caesar salad comes with a specially-made egg salad dressing made from soft-boiled eggs. It's fun mixing the dressing. After mixing it enough we pour it over and tuck in!

"Do you eat tomatoes?"

I'm happy how considerate he is in portioning out the salad.

Seafood Carpaccio: ¥720

We both enjoy a carpaccio together made with fresh fish bought on the day and a jelly made with Kishu Akai Umeshu. Today's fish ingredient was fatty salmon!

The amazing flavour of the salmon comes through the centre of the refreshing umeshu jelly.

Pork Spare Ribs: ¥820

Kishu Umeshu is this izakaya's No. 1 recommendation. These spare ribs are cooked slowly in it, giving them a rich and intense flavour as well as a subtle sweetness.

They're too delicious I could eat as many as they'd give me!

"So tender! So delicious! This is true happiness!"

Yutaro-kun never changes, he's always so energetic when eating something tasty.

"Thank you for the meal."

The umeshu and umeshu food was amazing, but what makes me happy more than anything is that I got to drink with Yutaro-kun. I wonder where our next date will take us?

Information

Sai

Address: JOW Bldg. Floor 3F, 30-5 Udagawacho, Shibuya, Tokyo

TEL: 03-3770-6770

Official Website: https://izakayasai.owst.jp/

Tokyo Stroll Special: A cozy lunch date at home with Yutaro

Normally, Yutaro-kun takes us on a date to hot spots around town, but in this special edition we're staying indoors. He's planned a laid-back morning where he'll wake up early and make us breakfast, and afterwards take us on a stroll around the area close to the house.

Since this is a special edition, there'll be an interview with Yutaro-kun too. We spoke with him about his role in 3D Kanojo Real Girl and other things.

Today is a date at home. We made sure to arrive at the arranged time, but…

Are you still asleep? Are you awake?

It's hard to tell, he still seems dozy.

First thing's first, checking today's weather on TV. Seems the weather will be nice today.

What kind of day will we have…?

After sleeping in until noon, it's time for lunch. Yutaro-kun is making us Gaprao from scratch!

He changes out of his pajamas, puts on an apron and gets straight to cooking.

He slices up the vegetables and fries them. His technique shows that he's definitely done this before. It's nice to have a boyfriend that can cook♡

ーーDo you cook regularly, Yutaro-kun?
I cook when my older sister or friends come over. I made gyoza with my sister recently!

ーーWhat's your speciality?
I'm not sure if you can call it a 'speciality' (laughs), but curry.

ーーWhat's a dish you'd want your girlfriend to make you?
I like curry, so curry like this again!

Yutaro's specially made Japanese style Gaprao is seasoned with mirin, shoyu and sauce!

Lunch is served! The dish has rice, minced meat and vegetables, all of which is topped with a sunny-side-up fried egg.

Itadakimasu!

The seasoning is extremely delicious and was made short work of.

The fact that Yutaro is so good at cooking… does this make him the most perfect guy around?

After finishing food it's time to laze around and read a magazine.

We check out lots of different magazines, ones on foreign culture, Japanese culture, and so on.

ーーWhat's a place you want to visit most right now?
I like cold places, so if we're talking Japan then Hokkaido. If overseas, then perhaps Finland.

ーーDo you have a recommended sightseeing spot?
Ura-Harajuku in Harajuku has a bunch of shops and there's not that many people around so I go there a lot.

ーーWhat do you do most often on your days off?
I don't really like staying at home so I might invite my friend to see a movie or go eat. I go and meet up with people I want to see.

We've lounged around at home plenty now, so it's time to take a walk around the neighbourhood.

We take just a handbag with us and walk along at a steady pace. Going on a date just strolling around without any plans is absolute bliss.

We stopped by a nearby café and basked in the sun.

ーー3D Kanojo Real Girl comes out in September. How was filming for it?
It was very hot that day (laughs). But I got along really well with the cast and staff. For the first time in my life I really felt I experienced my adolescence.

ーーWhat role do you play?
A frank guy with cat ears. I appear from the start to the end and move around a lot, so I'd be happy if everyone looked out for me when they watch.

ーーFinally, what's the highlight of the movie for you?
Each character is interesting. The characters are all unique in their own way, but somehow it all really comes together. The cast get along really well in this movie. I hope everybody looks forward to it.

That's it for today's date. It was fun going outside, but having an indoor date with Yutaro-kun and chatting was a fun time too.

You can find the details of the movie that Yutaro-kun will be in here. Be sure to check it out!

Photographer:Kayo Sekiguchi
RELATED ENTRIES
Fujikawaguchiko Autumn Leaves Festival 2020 Begins This November

The Fujikawaguchiko Tourism Association will host this year's Fujikawaguchiko Autumn Leaves Festival, which will be the 22nd run, to help support the tourism industry in the northern region of Fuji which has seen a great impact as a result of the COVID-19 pandemic.

With much less people travelling to Japan during the pandemic, and the virus having continued for a long time, the Fujikawaguchiko Tourism Association is instead focusing on travellers within the country by hosting various events that can be enjoyed at Fujikawaguchiko.

All the necessary precautions will be taken at this year's festival, including taking people's temperature upon arrival, the mandatory wearing of face masks, alcohol gel being available at the site, and more. This will protects not only the locals but sightseers too, and so cooperation is being asked of everyone visiting.

At this year's festival, visitors can look forward to the popular Momiji Tunnel of maple trees which will be lit up at sunset until 10:00pm. The beautiful autumn colours can be enjoyed with Mount Fuji in the background. There will also be food, souvenirs, and a variety of activities to be enjoyed.

The Momiji Tunnel is an absolute must-see for anyone visiting Yamanashi during autumn and is nothing less than Instagram-worthy.

Information

22nd Fujikawaguchiko Autumn Leaves Festival
Location: Around Lake Kawaguchi
Running: November 7, 2020 – November 29, 2020

Opening Hours: 9:00-19:00 (Light up is from sunset to 22:00)
Access: 25 mins from Kawaguchiko Station by bus (nearest bus stop: Itchiku Kubota Art Museum Stop)
Entry: Free

*Please observe social distancing and government guidelines in relation to COVID-19.

*Fujikawaguchiko is a World Heritage Site and recognised as a place of natural beauty. Please take your trash home with you.

Review | ART AQUARIUM MUSEUM: A Magical Place Swimming With Life

ART AQUARIUM MUSEUM officially opened permanently in Nihonbashi, Tokyo, on August 28, 2020. Before that, it was simply an exhibition that was held around Tokyo which brought together over 10 million visitors throughout its run, exhibiting goldfish in a variety of breathtaking ways.

We visited ART AQUARIUM MUSEUM together with Japanese model Yuna Yabe to take a deeper dive into what lies within those doors.

ART AQUARIUM MUSEUM can be found in Nihonbashi, an area of which served as one of many places where ART AQUARIUM previously held its exhibitions. Nihonbashi is steeped in tradition and is actually the place where Japan's goldfish culture spawned from during the Edo Period.

ART AQUARIUM was conceived and is managed by Hidetomo Kimura, an author and general producer. It's a collaboration between art, design, and entertainment, all fused into an aquarium to create a completely unique experience. The museum has taken what was once a pop-up exhibition and expanded it many-fold, housing close around 30,000 goldfish.


The aquarium is divided into different areas each with its own unique theme that plunges visitors into a multitude of fantastical worlds. One of the must-sees when visiting ART AQUARIUM MUSEUM is the masterful Oiran works—giant goldfish bowls as pictured above—which are inspired by the red light district of the Edo Period.

Perhaps the most striking and gorgeous part of the Edo Period was Hanamachi, the districts where geisha worked. The high-ranking courtesans, known as Oiran, engaged in what was known as the Oiran Dochu, or procession of the courtesans, and this too has been captured at the museum in the designs of the beautiful fish tanks in this area.


Another unmissable part when visiting the aquarium are the Goldfish Shrines, towering fish tanks lined up like a column of water trees which make for an incredible viewing experience.

The lighting and music is ever-changing, and so transports visitors into a completely different realm every time. It can be one way one moment, and in the next instant it changes entirely.


From the second floor you can overlook the fish shrines with dynamic 3D visuals in the background. These visuals change depending on the season, so you'll be in for a treat however many times you visit.

There are countless works of goldfish art scattered throughout the aquarium—too many to count, so your eyes will never grow tired.


Suigian Lounge – Old Pine Tree Area

ART AQUARMIUM MUSEUM even has its own dining lounge where guests can enjoy a meal while gazing at a painting of old pine trees, a cultural property of the Edo Period said to have been painted by those of the Kano school of Japanese painting. Traditional performances are also carried out on the stage for diners.


These drinks are ¥1,200 each (before tax)

Every five days, a new line-up of cocktails is served at Suigian Lounge. Japan used to be divided into 24 sekki rather than the now-used four seasons of springs, summer, autumn, and winter. These were further divided into 72 Kō, which are five days apart each. That's where the lounge gets its idea for changing its cocktails every five days. So you're sure to find an interesting flavour on every visit.


Kagyo Ryoran – Joy Area 

Kagyo Ryoran is a separate cafe lounge at the aquarium where they serve authentic Japanese sweets in collaboration with famous confectionery shops.


From Left Clockwise: Goldfish Sarasa ¥750 / Palet D'or Cacao Soda ¥900 / Echire Butter & Cream Castella ¥800 / lohasbeans coffee Matcha Tiramisu ¥850 / Goldfish Jelly ¥750 (All Before Tax)

The cafe serves up range of tasty Japanese desserts, from traditional ones to others inspired by goldfish and some made in collaboration with other shops.

Large Plush Toys: ¥3,200 Each (Before Tax)

The aquarium event sells its own souvenirs, such as goldfish plushies in various sizes, original confections, collaborative products, and more.

"Everything was magical—the goldfish, the sounds, the lights, the atmosphere!" explains Yuna. "They have a lot of different varieties of goldfish, and the fish tanks come in all shapes and sizes, which makes for plenty of Instagram-worthy moments. And since it's inspired by Edo culture, it has a Japanese vibe to it too. The fish are always swimming around, so no two moments are ever the same, meaning you're offered something fresh every time you visit."

If you're visiting Tokyo, be sure to pay a visit to ART AQUARIUM MUSEUM.

Information

ART AQUARIUM MUSEUM
Address: 1-3 Nihonbashihoncho, Chuo Ward, Tokyo
Opening Hours: 10:00-22:00 (subject to change)
No Fixed Holidays
General Admission: Adults (13 and over) ¥2,300 (Tax Included) / After Dark Ticket: Adults (13 and over) ¥2,000 (Tax Included)

*Free for 12 and under
Official Website: https://artaquarium.jp/en/

*ART AQUARIUM MUSEUM is currently operating with social distancing and COVID-19 preventative measures. Special permission was granted to take these photos safely without a mask.

Tokyo Stroll: The Café That You Want to Visit to See Someone #14 – 'Kayaba Coffee' in Yanaka

In this edition of The Café That You Want to Visit to See Someone, I visited Kayaba Coffee, a coffee shop in Yanaka, Tokyo, which is a perfect example of the old and traditional shitamachi neighbourhoods.

Kayaba Coffee is just a 10-minute walk from both Nezu Station and Nippori Station.


This is a place I've visited in my private time out of work and I'm always excited to go. Kayaba Coffee was established in 1938, and actually closed in 2006. But due to public demand, the cafe reopened just two years later in 2008. It's a popular coffee shop loved by people of all generations.

Time to head on in.

The first floor houses the counter and table seats, while the seating on the second floor is traditional zashiki style on tatami flooring. Although it's a cafe, you I feel so relaxed in there that it's like I'm visiting my grandma's house. The sun shines through the big windows, making you all warm and want to take a nap.

I ordered their super popular egg sandwich! The menu was changed in May this year, and a new and improved version of their egg sandwich was put on there. It's made using sourdough bread from VANER, a local bakery in Uenosakuragi not far from the cafe.


Breakfast Menu – Egg Sandwich | ¥1,000

The chewy, sour bread is the perfect combination with the fluffy eggs.

Lemon Squash | ¥600

The lemon squash has a cinnamon aftertaste. Everything on the menu is made with love and perfection; before I realised it, I was hooked on going there.

Strawberry Shaved Ice | ¥800

This was my first shaved ice of the year! I went with the classic strawberry flavour. The syrup is super juicy and nearly collapsed the fluffy shaved ice the moment I put it on. It has a syrupy texture and the strawberry juice has a sweet and sour kick that's just simply delightful♡

And you can make it even sweeter by pouring over your desired amount of condensed milk. It was really tasty.


Kayaba Coffee is the same as it was back in the day, and continues to be loved dearly. I think even people who visit it for the first time will feel a sense of nostalgia. If you have a place you can go to relax on bad days or when you're feeling down, it's sure to give you the strength to work hard again. This cafe is a wonderful place that's close to people's hearts.

I want to visit there again already.

Writer/Model: Ema Tanioku
Photographer: Haruka Yamamoto
Design: Yuko Takayama (ASOBISYSTEM)

Translator: Joshua Kitosi-Isanga

Information

Kabaya Coffee
Address: 6-1-29 Yanaka, Taito-ku, Tokyo

Opening Hours: [Tue-Fri] 8:00-18:00 (Last Orders 17:30) / [Weekends] 8:00-19:00 (Last Orders 18:30)

Closed: Mondays

J-Pop Group Perfume to Make and Eat Recipes Submitted by Fans at P.O.P Festival

Japanese food tech company Cookpad Inc. is set to co-host the "P.O.P" Fes Food Court at Japanese pop group Perfume's upcoming Perfume Online Present ("P.O.P") Festival which will be held on September 21, 2020. Cookpad has also opened applications for fans to submit the recipes that they want Perfume to eat at the festival

"P.O.P" Festival Breakdown

With concerts and music festivals forced to be cancelled or postponed as a result of COVID-19, Perfume too had to cancel their Japan dome tour. September 21, 2020 marks the 15th anniversary since Perfume made their major debut, and the 20th anniversary since they formed. Since their tour was cancelled, they still wanted to celebrate in some way, which is how the "P.O.P" Festival was conceived. The online event will feature both free and paid content with a full timetable for the day.

"P.O.P" Fes Food Court

Food is an indispensable part of music festivals, so the event will have its own interactive "P.O.P" Fes Food Court which encourages fans to submit the recipes that they want Perfume to eat. The chosen recipe will be displayed on the food court page of the event's website and Perfume will actually make and eat it in a video. Fans can prepare their own food at the same time so they can sit down and eat with Perfume. Details on submitting can be found on the official website in Japanese.

Perfume | Comment

"We're happy to announce the Perfume Online Present Festival  which will take place on the 15th anniversary of our major debut, September 21. We're starting applications for the food court, so we're waiting for your submissions. We'll pick one recipe and actually try making it ourselves! We're going to get found out that we actually did this during lockdown period, but we also think it's good for you to see our normal lives, so we will give it out all and hope you enjoy."

Japanese Chawanmushi Egg Custard Dessert Turns Into Drink in Tokyo

Japanese food company Ninben has announced that it is extending its sales period for its drinkable chawanmushi dessert at Nihonbashi Dashi Bar in Tokyo until September 30.

Chawanmushi is a refreshing Japanese egg custard dessert that's perfect for cooling down during the summer, and seeing as the summer heat isn't letting down in Japan just yet, Ninben's drinkable rendition is now available until the end of September.

Chawanmushi Drink | ¥300 (Tax Included)

The chawanmushi drink is a collaboration between the owner of Suzunari and Ninben's Nihonbashi Dashi Bar. The drink was created to get more people enjoying the delicious taste of dashi. Exclusive to Nihonbashi Dashi Bar, which is located inside Ninben in Nihonbashi, Tokyo, the drink is being served for takeout only.

Normally, chawanmushi is eaten with a spoon, so using a straw adds an entirely new experience to enjoying the dessert. It's seasoned with salt from Christmas Island which elevates the flavour of the egg and dashi.

It's still hot in Tokyo, so if you're in the city, then why not order one to cool down?

Information

Nihonbashi Dashi Bar
Address: COREDO Muromach 1 (Floor 1F), 2-2-1 Nihonbashimuromachi, Chuo-ku, Tokyo

TEL: 03-3241-0968

Official Website: www.ninben.co.jp

Animal Crossing: New Horizons to Host Kanda Shrine's Summer Festival In-Game

Noryo Matsuri is a popular summer festival held every August at Kanda Shrine in Tokyo, bringing in over 40,000 visitors every year to enjoy a variety of fun and exciting activities like the big bon-odori dance to anime songs, live performances, events in collaboration with anime series and more. Unfortunately, the event was cancelled this year due to COVID-19.


However, that isn't stopping the festival from being held in some sort of form. In fact, the festival organisers are teaming up with Animal Crossing: New Horizons to bring the festival to the Nintendo Switch title in Japan.

Players can even get their hands on some original Kanda Shrine outfits, as well as visit Kanda Shrine Island by using Luna's dreaming service in game (until September 30).

Information

Kanda Shrine Noryo Matsuri x Animal Crossing
Release Date: August 28, 2020 at 10:00 (JST)
Official Website: https://www.kandamyoujin.or.jp/atumori/

Dreaming Service: August 28, 2020 – September 30, 2020
Dreaming Service ID: DA-0760-0601-9410

Creamy Mami Ani-Art Pop Up Shop to Open in Ikebukuro and Shizuoka

Two Creamy Mami themed pop-up shops are set to open in Ikebukuro Marui on September 5 and in Shizuoka Marui on September 19. Fans can expect to get their hands on a range of exclusive and new merchandise themed on the popular anime series Creamy Mami, the Magical Angel, from pin badges and a parker hoodie to tote bags and more.

Pre-Sale Merchandise (Excerpt)

Trading Ani-Art Pin Badge (9 Designs) | Single: ¥430, Box: ¥3,870 (Before Tax)

Trading Ani-Art Acrylic Stands (9 Designs) | Single: ¥800, Box: ¥7,200 (Before Tax)

Back Print Zipper Parker (1 Design) | ¥5,980 (Before Tax)

Clear Pouch (1 Design) | ¥1,980 (Before Tax)

Fans who spend over ¥3,000 (tax included) on related merchandise and display their Epos cards will have the chance to enter a lottery to win a prize.

The pop-up shop is also currently holding a Twitter campaign in Japan until October 5, 2020. One lucky fan can receive a complete set of bromide photos by following AMNIBUS on Twitter and retweeting this tweet.

The pop-up shop is a chance for fans and newcomers to jump into the magical world of Creamy Mami.

©Pierrot

Information

Creamy Mami, the Magical Girl Ani-Art POP UP SHOP in Marui

Official Website: https://event.amnibus.com/mami-0101/

Ikebukuro Marui

Running: September 5, 2020 – September 13, 2020

Entry: Free

Opening Hours: 11:00-20:00

Address: 3-28-13 Nishi-Iekbukuro, Toshima Ward, Tokyo, 171-0021

Official Website: https://www.0101.co.jp/048/

Shizuoka Marui

Running: September 19, 2020 – October 5, 2020

Entry: Free

Opening Hours: 10:30-19:30 (until 19:00 on October 5, 2020)

Address: 6-10 Miyukicho, Aoi-ku, Shizuoka, 420-0857

Official Website: https://www.0101.co.jp/036

Pokémon Virtual Fest Virtual Theme Park Trailer Released

The Pokémon Company's "Pokémon Virtual Fest" is now open for business in Japan and is set to run until August 31, 2020. A trailer was posted on the official Pokémon YouTube channel in promotion of the event.

Pokémon Virtual Fest | Promotional Video

Pokémon Virtual Fest is accessible by using the 'cluster' app on mobile or PC. Pokémon Trainers can look forward to jumping into a fully-realised Pokémon world with themed attractions, events, and much more. More content will be added to the virtual theme park in the coming weeks.

Being a theme park, Pokémon Virtual Fest of course has its own attractions like the Pokémon Ferris Wheel, the Galarian Weezing Train which gives players a tour of the park, and more. Players can watch Pokémon Sword and Shield Pokémon battles on the stage, complete various escape games, visit the store area, go to the beach, and much more. For a full run-down of the event, check out our detailed breakdown here.

©2020 Pokémon. ©1995-2020 Nintendo/Creatures Inc. /GAME FREAK inc.
Pokémon, ポケットモンスター, and ポケモン are registered trademarks of Nintendo, Creatures Inc., and GAME FREAK inc.
© 2017 Cluster, Inc.

Information

Pokémon Virtual Fest Virtual
Running: August 12 – 31, 2020

Compatible Devices: Smartphone (iOS/Android), PC (Win/Mac), VR HTC VIVE/VIVE Pro, Oculus Rift/RiftS)

How to Acess: Create a free account on the 'cluster' app. The app must be installed on your device. For full details, visit the Pokémon Virtual Fest website below.

Pokémon Virtual Fest: https://pokemon2020.cluster.mu/

Pokémon Virtual Fest Virtual Theme Park to Open in Japan

The Pokémon Company has announced the opening of a virtual theme park―Pokémon Virtual Fest―in Japan which will open from August 12 to 31 this year.

Pokémon Virtual Fest will be accessible via the 'cluster' app on mobile or PC. Pokémon Trainers can look forward to jumping into a fully-realised Pokémon world with themed attractions, events, and much more. Let's take a look at just some of the content players can look forward to experiencing.

Entrance

The first place that users will come to when entering Pokémon Virtual Fest is the Entrance. Just like a real theme park, Pokémon Virtual Fest has its own proper entrance too, beckoning players to the fun that is to be had. This first virtual area will feature holograms of Pikachu, Polygon, and other Pokémon. At the centre of the entrance is a board which displays the results of players' who have completed missions in the park.

Avatars

Choose your own avatar from Grookey, Scorbunny, or Sobble. More avatars are in the works to be added to the roster. Users can take photos in the virtual space too. Find an ideal spot and snap some pictures with friends.

Mission

The missions are in the style of an escape game. Created by escape game specialists SCRAP, players must figure out how to escape the room which will earn them a clear. There is the "Maze Mission" where you must navigate through twists and turns while answering questions, the "Word Puzzle Mission" where you must collect letters scattered around the room to solve the puzzle, and the "Riddle Missions" where you must decipher codes to figure out the riddle.

Theme Park

When players approach the gate, they are welcomed by an enormous Pikachu. As they walk around the park, checking every nook and cranny, they may even find Pokémon hidden here and there.

Attractions

Since this is a theme park, you've got to have attractions. At Pokémon Virtual Fest, there is a Pokémon Ferris Wheel, the Galarian Weezing Train which gives players a tour of the park, and many more.

Store Area

Numerous shops will line the park where players can get themselves a range of virtual souvenirs, ice cream, and other fun summertime things.

Beach Area

There's even a beautiful beach in the park. Players are invited to listen to the sounds of the waves while doing some beach athletics on the water with friends, take photos, and make some great summer memories.

Event Stage

Sat underneath the giant Pikachu monument is a stage where a flurry of exciting events will take place. Players can watch Pokémon Sword and Shield Pokémon battles amongst other things. And from August 29 to 31, a special event will take place which includes a Pikachu dance show, fireworks, and more.

Pokémon Virtual Fest will open from August 12 to 31 in Japan.

©2020 Pokémon. ©1995-2020 Nintendo/Creatures Inc. /GAME FREAK inc.
Pokémon, ポケットモンスター, and ポケモン are registered trademarks of Nintendo, Creatures Inc., and GAME FREAK inc.
© 2017 Cluster, Inc.
*Photos are of a product still in development


Information

Pokémon Virtual Fest
Running: August 12, 2020 – August 31, 2020
Compatible Devices: Smartphone (iOS/Android), PC (Win/Mac), VR HTC VIVE/VIVE Pro, Oculus Rift/RiftS)
How to Acess: Create a free account on the 'cluster' app. The app must be installed on your device. For full details, visit the Pokémon Virtual Fest website below.
Pokémon Virtual Fest: https://pokemon2020.cluster.mu/

Cautions
*Information and content subject to change without notice.
*Time slots are allocated, and so there may be restrictions on the number of people who can enter at once.
*Please note that it is possible for devices (smartphone, PC or VR device) may overheat if you play for long periods of time. If you are concerned about this occurring, you are encouraged to close the 'cluster' app and let your device cool down for a while before playing again.

Tokyo's New ART AQUARIUM MUSEUM to Open in Nihonbashi This Summer

ART AQUARIUM MUSEUM is set to open in Nihonbashi, Tokyo on August 28, 2020. Produced by Hidetomo Kimura, the museum will be Art Aquarium's first permanent museum which will fuse music and lighting to create a breathtaking aquarium experience

Area Concepts

ART AQUARIUM MUSEUM will offer Art Aquarium's biggest museum space to date, with each area having its own unique theme.

Prologue

Dive into the extraordinary world of water. This area will showcase popular artworks of past events held by Art Aquarium, with artwork altered on an irregular basis from the company's collection.

Transitoriness

This area symbolises the modern Edo Hanamachi district, which represents the basic concept of the Art Aquarium. Feel the beautifully transient stories and gorgeous glittering world through the life of oiran.

Mystery

Visitors are invited to an extraordinary world and surreal space, one with different dimensions beyond human wisdom. Is it on the ground? Underwater? In the universe? Stepping into this mysterious and overwhelming space where different worlds coexist at the same time will bring you incredibly unforgettable experiences.

Traditional Art

Here, you can feel the Japanese aesthetics while gazing at Oimatsu, the cultural property drawn by the Kano school during the Edo period. Traditional art performances will often take place here too.

Joy


The sense of taste is most familiar to human beings among five basic human senses. Enjoy the Art Aquarium and feel the Japanese nostalgic atmosphere along with the original cuisines of the Cafe Lounge.

Gift


Souvenirs are essential for remembering the places where you have visited.  Visit the gift shop and take away a piece of the dreamlike Art Aquarium world away with you.

Information

ART AQUARIUM MUSEUM
Grand Opening: August 28, 2020

Address: 1-3 Nihonbashihoncho, Chuo Ward, Tokyo
Opening Hours: 10:00-22:00 (subject to change)

No Fixed Holidays (Except for planned maintenance, special events, and so on)

Official Website: https://artaquarium.jp/en/

Tokyo Stroll: The Café That You Want to Visit to See Someone #13 – 'Sepia' in Shibamata

In this edition of The Café That You Want to Visit to See Someone, I visited Sepia in Shibamata, a Showa-retro style cafe which I've always wanted to visit.

The cafe is just a 2-minute stroll from Shibamata Station which appears in the Japanese film Otoko wa Tsurai yo. The walk along the road that leads to Sepia, which is nearby the Buddhist temple Shibamata Taishakuten, is a pleasant one. Tokyo is a city consistently perceived as one that is cutting-edge in every aspect, but what I felt from each and every building surrounding Shibamata Station was a kind of warmth that you feel when something has history to it.

It's been seven years since I came to Tokyo. Visiting Shibamata made me me realised how many places there are which I still don't know about. It invigorated me. As my mind wandered with these pondering thoughts, I finally spotted the sign outside the cafe, and it sure is a cute one!

The moment I stepped inside, I stood, my mouth agape, and looked at my surroundings. It's the first time I've entered such a bright, shining cafe. It was littered with characters I've never seen before, manga, magazines, and more.

When you hear the word kira kira ("glitter," "sparkle"), the first thing that comes to mind for a lot of people is probably Harajuku and the Harajuku style, but Sepia's version of kira kira is a nostalgic one betwixt 1965 and 1975 during the Showa Period. The cafe is incredibly delicate in every spot and corner, like I'm looking inside some grand treasure chest.

The owner of Sepia is Kiyoko Hasezawa. The cafe gets its name from the manga Milky Sepia Monogatari by Ako Mutsu. Ms. Hasezawa said that she wanted to bring to life the world of the manga she loved. The cafe is full of her dreams and is enjoyed by everyone, both children and adults alike.

The cafe menu is even inspired by the food that appears in the Milky Sepia Monogatari manga. The hard pudding I had, which combined caramel sauce and cream, was an absolute delight.

Homemade Showa Pudding & Cream Soda Set: ¥1,200

If we're talking cafes, then you can't go wrong with cream soda. The cream soda served at Sepia comes in seven different flavours and colours: melon, Blue Hawaii, strawberry, lemon, peach, grape, and orange. I was spoilt for choice on which to go for, but in the end I went with the pink-coloured strawberry. It had a sweet flavour and was really delicious.

Strawberry Cream Soda: ¥750

I devoured the hotcakes too. The pastry was so fluffy and tasty – I could have eaten a hundred of them. The second one I ate with honey.

Hotcakes: ¥600


At the back of the cafe, they also have the "Candy Candy Museum." There's a personal collection of items from Candy H Milky, a female fashion enthusiastic who used to be a customer at Sepia. There's a photo spot for snapping a photo in the cafe too.

It's a great time getting to go and look at the displays after eating. I recommend going to see the collection yourself with your own eyes. Entry to the museum is ¥300.

There's a tearoom up on the second floor which has a nostalgic vibe to it. I felt warm and relaxed, like I'd been transported to my grandma's house.

Humans can't travel back in time, but if we look after mementos properly, we can go back there in our minds and memories. Sepia, a place that continues to be cherished and loved, is everybody's treasure trove.

My oh my, I really want to go back there again.

Writer/Model:Ema Tanioku
Photographer:Haruka Yamamoto
Design:Yuko Takayama(ASOBISYSTEM)

Information

Sepia
Address: 7-4-11 Shibamata, Katsushika-ku, Tokyo
Days Open: Fridays, Saturdays, Mondays
Business Hours: 12:00-17:00 (Last Orders 16:30)
For the latest information, visit Sepia's official Twitter page @sepia_mama

Universal Studios Japan's 'We are One' Summer Festival Begins This July

Universal Studios Japan (USJ) reopened on June 19, 2020 after temporary closure as a result of COVID-19. The park is now running with strict measures in place to prevent the spread of the novel coronavirus, including practicing the 2m social distancing rule, making it mandatory to wear face masks, and so on. The park has posted a full video demonstration of the rules on their official website.

That means summertime is set to shine on USJ once again this year. The new 'Universal Summer Parade: We are One' event will begin on July 23 as the first parade held by the park since its reopening. Guests will be able to enjoy a fun and exciting summer at USJ with all the necessary precautions in place to ensure their safety.

Many familiar faces will gather at USJ to celebrate summer with guests, including the Minions, Elmo, Snoopy, Hello Kitty, and more. Each of them will board colourful floats for the parade during the parade, which will open with the fittingly-titled "Opening Float" followed by a flurry of unique floats like the flashy "Latin Float," cute European-inspired "Europe Float," the mysterious "Indian Float," and the finale "America Float," amongst many others. There will be music to entertain guests for laughs, smiles, and fun energy while characters and entertainers ride the floats and serve summertime vibes.

The peak moment of the parade will be when confetti rains down on guests in huge quantities. Flags can also be bought for the parade for the first time in this year. Performers and the park characters will be able to entertain guests at a distance while still connecting with them through the fun performances. A special "social distance" performance created in cooperation with the Osaka Prefectural Board of Education will also be part of the parade. This year's parade plans to have guests dancing and smiling even more than previous years to lift some of that stress away and give them the fight and energy to continue into tomorrow.

Universal Summer Parade: We Are One

Put your hands into the air as the sun beats down and the floats arrive to a lively rhythm. 'We are One' is the catchphrase, so get your boogie on and explode with excitement together with the entertainers and park characters for a heated summer parade!

Running: July 23, 2020 – August 27, 2020

Location: Parade Route

Time: One per day from 11:00am (approx 40 mins) 

Buy yourself a parade flag for ¥500 and wave it around to the beat of the festival!

Cool yourself off with some summer merch

Get your hands on some merch for cooling off, including the must-have summer "Handy Fan," a "UV Poncho" which keeps you cool in the heat of the sun, a classic "Sensu" folding fan, and more.

Feel the Japanese festivities with the Universal Market

The Universal Market will give that Japanese 'matsuri' festival vibe. Enjoy some cool desserts, spicy food, and more.

Left: Super Hot! Turkey Leg ¥1,000 / Centre: Peach Jelly Soda: ¥650 / Right: Frappe Sundae ~Strawberry & Blue Hawaii~ ¥750

Since guest safety is the number one priority this summer, the park will not be holding its famous splash performance where guests are soaked with water by water shooters.

Additionally, the parade will also not stop in any of the usual designated places and will instead keep on moving, meaning the parade can be enjoyed from anywhere along the parade route. Guests will be able to keep plenty of distance from others as they watch the parade.

The park also released a statement on its 'enhanced sanitation in park operations' on its official website so you can find out more about what USJ is doing to tackle the COVID-19 spread.

If you're in Osaka this year, you can still enjoy summer at Universal Studios Japan with all the necessary precautions in place.