4 Must-Try Kawaii Aesthetic Tapioca Drinks in Aichi Prefecture
Japan is a haven for bubble tea and tapioca-based beverages. Here on MOSHI MOSHI NIPPON we have covered many stores selling these tasty drinks in Harajuku―the town which started the tapioca boom in Japan―but today we will be heading southwest of Tokyo to Aichi Prefecture, located in central Honshu Island, to look at 4 must-drink tapioca drinks.
We are joined by meme whose Instagram page is packed full of drinks and desserts from cafes across Japan.
The Flower Table in Sakae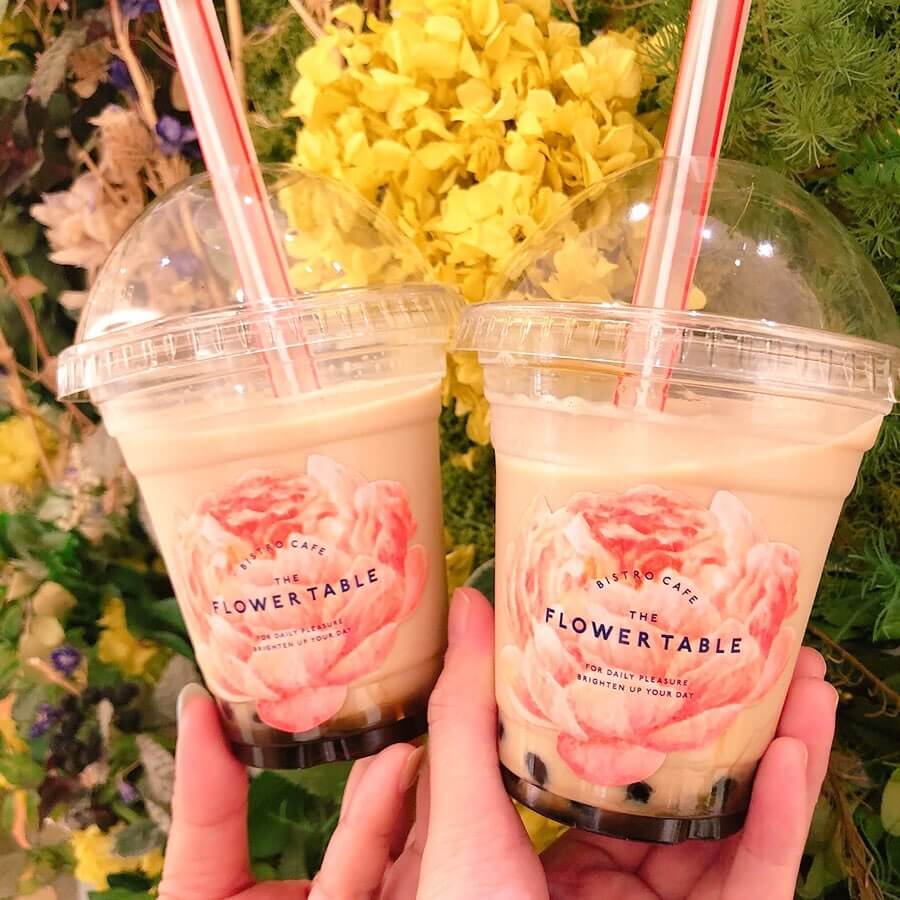 Located inside the MITSUKOSHI shopping complex in Nagoya's retail and entertainment district Sakae is The Flower Table. I absolutely recommend this store for those who aren't good with sweet drinks as you can choose between having sugar or no sugar.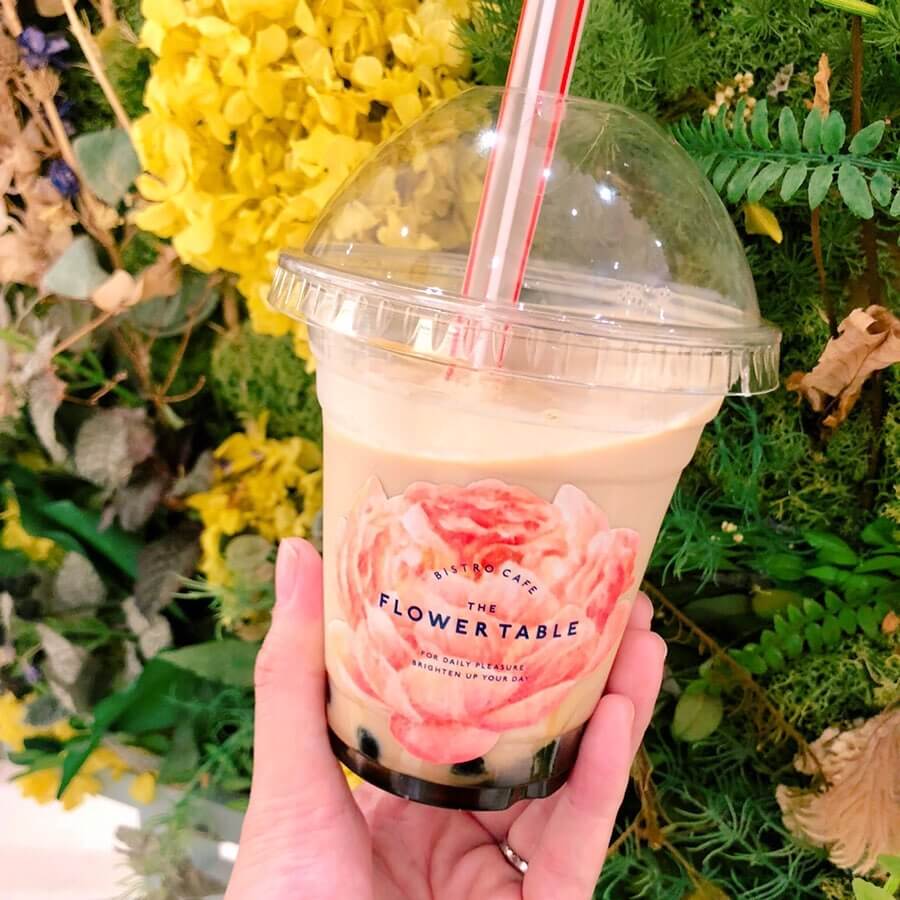 Your taste buds are hit by the flavour of the milk tea on the first sip which has a bite to it. The tea leaves used by the shop in this drink are from Kusumi Tea, a Paris-based premium tea brand.
If you're someone who likes chai then this taste is sure to tempt your palate. Not only does the milk tea taste exquisite, the tapioca pearls are sweet and satisfyingly chewy too. And let's not forget to mention their adorable takeout cup designs!
▼The Flower Table
Address: MITSUKOSHI Nagoya Sakae Store Floor 3F, 3-5-1 Sakae, Naka Ward, Nagoya, Aichi Prefecture
Opening Hours: 10:00-19:30 (Food Last Orders 19:30)
*Food not served until 11am, only drinks between 10-11am
*Afternoon tea sets, parfaits and other teatime menu options served from 2pm
Official Website: https://theflowertable.owst.jp/en/
BON CAFÉ in Sakae
BON CAFÉ can also be found in Sakae. I had heard lots of praise about this place before my first visit so I was eager to get in there. I ordered two drinks: the mango cream cheese tea (with cream and tapioca pearls) and the brown sugar milk tea (with tapioca pearls). It's hard to tell by the photos but both drinks are packed with tapioca pearls aplenty.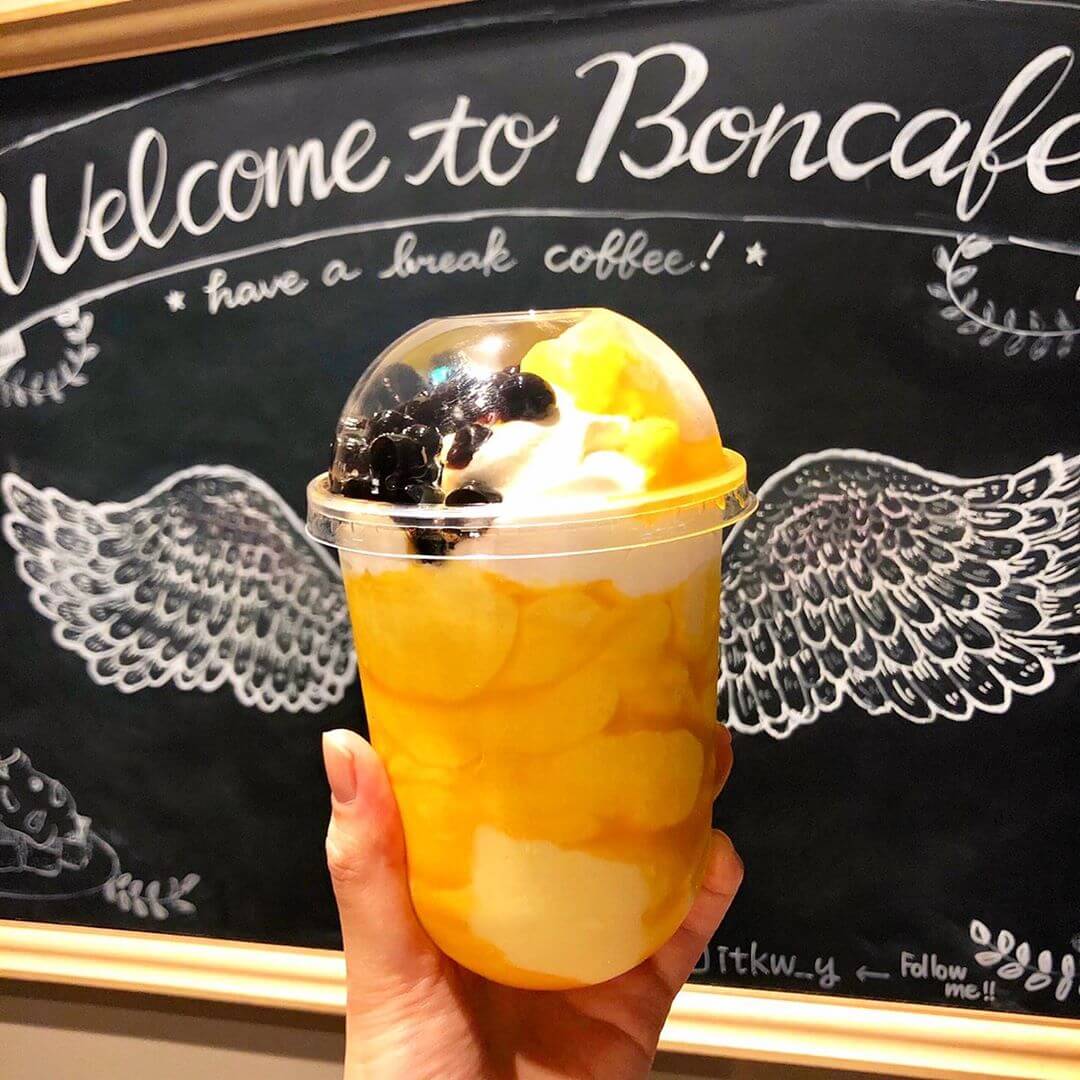 I'd heard before that the mango cream cheese tea was like a "dessert that you can drink," and I can confirm that it's true. It's topped with fresh cream and pearls so it's just as satisfying as a mango parfait.
▼BON CAFÉ
Address: Apa Hotel Nagoya Nishiki Floor 2F, Nishiki 3-15-30, Naka Ward, Nagoya, Aichi Prefecture
Opening Hours: 11:00-23:00 (Last Orders 22:00)
No Fixed Holidays
Official Website: https://bon-cafe.jp/tapioca/
Peripatos in Kita-Okazaki
Drinks at Peripatos are takeout-only. Their bottle designs are cute and simple with just a kitty illustration on them. The three drinks in the photo are Very Berry, Tropical, and Hazelnut & Caramel Sauce with coffee jelly.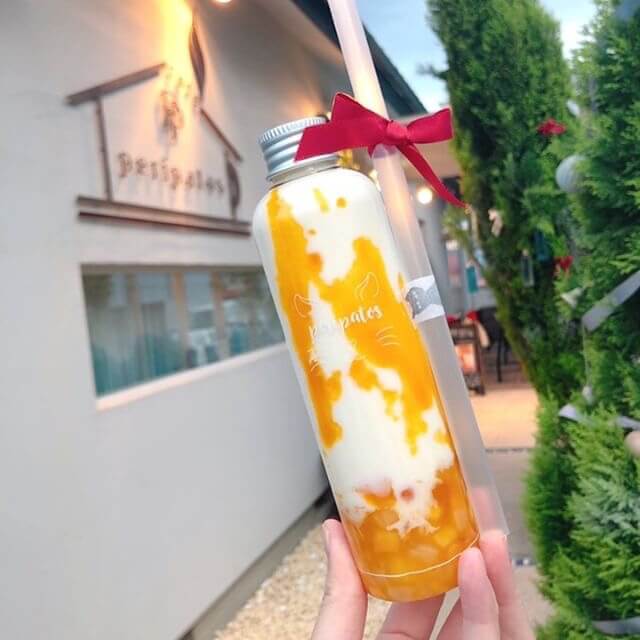 The tropical drink has pieces of fresh mango in it while the Very Berry has fresh strawberry and chewy strawberry flavoured tapioca pearls in it. My friend ordered the Hazelnut & Caramel one which has coffee flavoured jelly in it instead of tapioca pearls. You sip it while crushing the jelly.
The shop interior is really cute too!
▼Peripatos
Address: 4-4 Ida Nishimachi, Okazaki, Aichi Prefecture
Opening Hours: [Mon-Tues & Fri-Sat] 11:00-21:30 / [Thurs & Sun] 11:00-18:00
Closed: Wednesdays
Official Instagram Page: https://www.instagram.com/c.peripatos/
Watashi to Cafe in Kariya
At Watashi to Cafe I ordered the strawberry milk tapioca drink. The pearls in this drink are strawberry flavoured too, and there's a lot of them making is super tasty. The glasses they come in are cute too.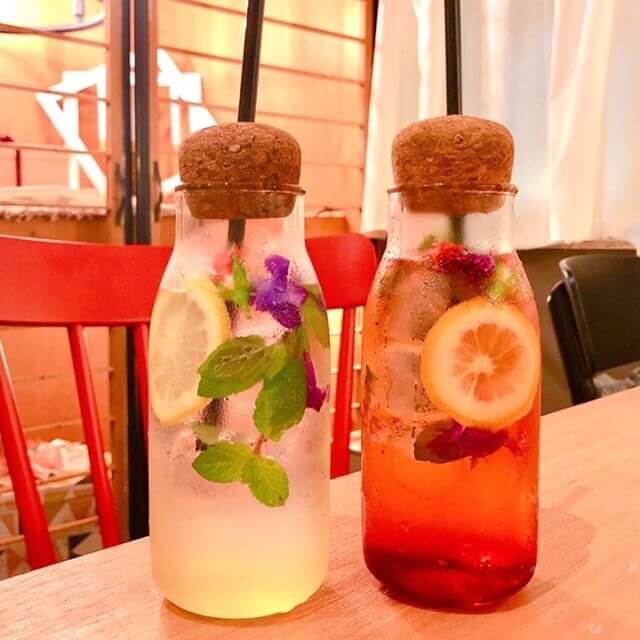 They also sell beautiful herbarium-like drinks. These don't have tapioca pearls in them but I recommend these too!
▼Watashi to Cafe
Address: 2-20 Minamisakuramachi, Kariya, Aichi Prefecture
Opening Hours: Lunch 11:00-15:00 / Dinner 15:00-Midnight
Closed: Tuesdays
Official Website: https://watashitocafe.gorp.jp/
Did you enjoy this list? meme has lots of other tempting recommendations of drinks and desserts on their Instagram page too, so if you're looking for something to try while in the Tokai region of Japan be sure to give them a follow.
Translation: Joshua Kitosi-Isanga
RECOMMENDED ENTRIES
Three Perfectly Peachy Parfaits This Summer In Nagoya

Summer is the perfect time to enjoy Japanese peaches, which are particularly juicy and sweet around this time. Peaches go well with red bean paste, cream and a variety of other flavours, which is why you will be seeing a lot of peachy desserts this summer. You just have to try them!

Today, Instagrammer meme, who is a big fan of cute and stylish cafés, will be introducing you to peach parfaits that you absolutely must try in Aichi prefecture.

BLUE STAR CAFE(ブルースターカフェ)/Nagakute

BLUE STAR CAFE has started selling a peach parfait. The peaches are so sweet and juicy that I was moved to tears. The parfait is made up of fresh cream, vanilla ice cream, peach sherbet and frozen peach. It is simple, delicious and very satisfying. 

▼BLUE STAR CAFE

Address: 504 Tsukada, Nagakute, Aichi

TEL:0561 42 6878

Official Website: https://bluestar-cafe.com/

Halleloo Garden(ハレルゥ ガーデン)

I was just waiting and waiting for Halleloo Garden to release their peach parfait and I was far from disappointed. Just looking at the pretty pink peaches is enough to get your mouth watering. When you cut into the peach, it will explode with colourful popping boba. What a fun parfait.♡

The parfait is made up of a variety of fruits including melon, blueberries, grapefruit and apple. It also contains vanilla ice cream, custard, fresh cream, and dried fruit too. Be aware that the contents of this parfait will change according to the season. 

This peach parfait also comes with peach-flavoured black tea with boba. Add this to your parfait and notice the change in flavour as your parfait becomes a milk bubble tea! This was my first experience of popping boba. It was such a fun experience to bite into the boba and feel them explode, flooding my tastebuds with a delicious juicy flavour. Whether Halleloo Garden can serve this parfait seems to be dependent on whether they can receive peaches from their supplier, so I recommend phoning up the café before you turn up to if you want to try this. 

▼Halleloo Garden

Address: Kami-222-1 Miyoshicho, Miyoshi, Aichi

TEL: 0561 56 1080

Official Website: http://www.halleloo.jp/

merry café(メリーカフェ)/Toyoake

merry café serves a beautiful peach parfait that looks just like a bouquet of flowers.

The simple peach compote allows you to enjoy the natural deliciousness of the peaches. During this season, finding peaches that are highly sweet can be a bit of a hit or miss, however there is no doubt that they will be sweet when made into a compote. It was a delicious peach parfait. ♡

▼merry café

Address: 7-18 Komochimatsu Shindencho, Toyoake,

TEL:0562-91-3230

Opening Hours: 11:00 ー 15:00, 17:30 ー 22:00

Official Facebook Page: https://ja-jp.facebook.com/merrycafe1218/

All these pink peach treats look so beautiful. This peachy season is the perfect time to wrap yourself in the wonderful fragrance of sweet peach. Please check out meme's Instagram which is full of information on cute cafés you can visit for delicious desserts. 

Author/ Photographer: meme

3 Must-Visit Places in Japan's Aichi Prefecture – MOSHI MOSHI NIPPON

Aichi Prefecture is located in the centre of Japan's Honshu island. It is home to countless shops, astounding castles, and many sightseeing spots. Mother nature is a huge part of Aichi's beauty where she has provided plenty of places for enjoying the outdoors.

Instagrammer NAMIKO, who travels all over Japan to visit tourist and sightseeing spots, is here today to showcase three unmissable places to visit when travelling to Aichi using photos she has posted.

Aichi Farm (Aichi Bokujo)

Running just a 10-minute stroll from Kurozasa Station is Aichi Farm which is home to various farm animals, a place where you can enjoy BBQ food, and more, making it a very popular spot for friends and families looking for a day out.

But the absolute must-see part of your trip here during summer are the sunflower beds which bloom from early July right up to early September. The best times to see them in full bloom are posted on the farm's official website so be sure to check before packing your outdoor gear and heading out.

▼Aichi Farm (Aichi Bokujo)

Address: Minamiyama-977 Komenokichō, Nisshin, Aichi

Opening Hours: Dependent on the season, check the official website for details

No Fixed Holidays (Except New Year's and Tuesdays when the horse riding club is running)

Official Website: http://www.aiboku.com/

Noma Lighthouse

Nomazaki Lighthouse, or Noma Lighthouse for short, can be found along the coast of a town called Mihama in Chita District. This town bears many sightseeing spots including the aquarium and art museum. The lighthouse can be reached by riding the Meitetsu Chita New Line to Noma Station. You then change onto the Mini Seibu Bus and get off at Noma Lighthouse (野間灯台).

It is the oldest lighthouse in all of Aichi Prefecture and is popular for its "kawaii" appearance. Wanderlust travellers will love basking in the radiant summer sun by the sea and sandy beach when they go to visit Noma Lighthouse.

▼Noma Lighthouse

Address: Iwanari-20-1 Onoura, Mihama, Chita District, Aichi

No Fixed Holidays

Official Website: https://www.aichi-now.jp/spots/detail/115/

Himakajima

Himakajima is an island in Mikawa Bay which can be reached in just an hour from Nagoya, the capital of Aichi Prefecture. Not only do you have sunny beaches, there's also a temple, a park for children to play in, the island's famous giant swing, and lots of other fun places to explore. It's also known for its octopus and blowfish catches which can be eaten there.

There are plenty of spots for taking great photos too. Since it's an island located off the coast, any photo you take will look picturesque.

▼Himakajima

Official Website: https://www.himaka.net/

If you're seeking out even more travel recommendations and sightseeing spots around Japan for your bucket list then we highly encourage you to follow NAMIKO on Instagram.

Photos: NAMIKO

Japan's First Rurouni Kenshin Escape Game Slices its Way Into Museum Meiji-Mura in Aichi

A new escape game themed on Rurouni Kenshin has been created by SCRAP and is to slash its way into Museum Meiji-Mura on September 11. The museum has stood for over 60 years, focusing on the Meiji period of Japan.

Rorouni Kenshi is a hit manga series loved the world over with over 70 million copies sold. The latest arc of the manga, Rurouni Kenshin: The Hokkaido Arc, is serialised in Jump Comics SQ and is being published in English by Viz Media.

In the first ever escape game based on the series, you will become a practioner of the Kamiya Kasshin-ryū and join Kenshin in facing enemies. To accomplish your objective, you will need to speak to various people in the game, as well as learn sword techniques from a certain character in the series. It taking place in the Museum Meiji-Mura means you will be fully immersed in the story―like you have slipped back in time―as the series itself is set during the Meiji period.

Help Kenshin defend Tokyo by participating in this new exciting escape game.

©Nobuhiro Watsuki / Shueisha ©SCRAP

Information

Rurouni Kenshin Escape Game at Museum Meiji-Mura

Location: Museum Meiji-Mura (1 Uchiyama, Inuyama, Aichi Prefecture)

Running: September 11, 2019 – December 15, 2019

Tickets

Price: ¥2,200 (comes with kit to play the game) *does not include entry fee to the museum

Available: At the reception desk for events at the museum

Game

・Time Restriction: None (allot yoruself 2-3 hours to play)

・No. of Participants: Unlimited (you can play on your own or with a group)

・Once the game starts, you are free to walk around the museum to complete the game

・Though there is no time restriction the game will end at the museum's closing hours

Official Website: https://realdgame.jp/ruroken/
RELATED ENTRIES
Ojamajo Doremi Cafe 2020 ~FRUITS PARLOR~ to Open in Tokyo, Osaka & Aichi

Japanese company LEGS has announced the opening of the limited-time Ojamajo Doremi Cafe 2020 ~FRUITS PARLOR~. The themed cafes will open in Tokyo on October 29, Osaka on October 30, and Aichi on October 23.

Ojamajo Doremi is an original magical girl created by Toei Animation that ran from February 1999 to January 2003. To celebrate the series's 20th anniversary last year, LEGS opened a different Ojamajo Doremi limited-time themed cafe in collaboration with Cafe&Kitchen which welcomed lots of magical girl fans.

This year once again welcomes Etoile et Griotte as the art director for the fruit parlor-inspired cafe.

Ojamajo Doremi Cafe 2020 ~FRUITS PARLOR~ celebrates the 20th anniversary of Ojamajo Doremi Sharp is the second series in the Ojamajo Doremi series. Fans will be able to get their hands on a range of exclusive magical merchandise as well as tuck into pastel coloured fruity food.

FOOD

Doremi's Cheese Steak Doria in Cherry Sauce | ¥1,699


Steak is Doremi-chan's favourite food, so it was a must-have on the menu. The cream cheese is coloured like Doremi, and there's a cute musical note topping too. It comes with a cute lunch mat that looks like Doremi's skirt.

Hazuki's Omurice in Porcino & Orange Cream Sauce | ¥1,399


The omelette is made to look like Hazuki's yellow skirt. Enjoy together with the delicious porcino sauce and orange combination.

Onpu's Waffles With Crepe & Mascarpone | ¥1,299

Blueberry sauce-drizzled and mascarpone-topped waffles served with a mashed potato skirt. The sweet and sour mix is to die for.

DESSERT

Aiko's Blueberry Float | ¥999

A fresh blueberry float inspired by Ai-chan. Mix everything together to create a different flavour.

Momoko's Lemon Cheesecake Parfait | ¥1,399

A fresh lemon cheesecake packed parfait with lots of enjoyable flavours and textures.

Rhythm Tap Tart | ¥1,300


Inspired by the Rhythm Taps seen in the series, the tart imagines Doremi's transformation scene in Ojamajo Doremi Sharp.

DRINK

Onpu Melody Drink (5 Flavours) | ¥1,099


A rainbow line-up of colourful Onpu drinks available for takeout.

Movie Theater Menu

Girls Meet Sushi | ¥1,299


Inspired by the meat sushi that Sora and the gang eat in the animated film Majo Minarai wo Sagashite. Comes with an original postcard.

Exclusive Merchandise

Acrylic Keyrings (6 Designs) – ¥600 Each

Letter Set (1 Design) – ¥1,200 | Folder Set (2 Designs) – ¥700

A selection of super kawaii cafe-original merchandise is available for fans to grab.

Bonus Items


Those who book a table in advance, order a drink, or spend more than ¥2,000 at the cafe will receive one of six possible A5 folders.

Become a magical girl like Doremi at the Ojamajo Doremi Cafe 2020.

©Toei Animation


Information

Ojamajo Doremi Cafe 2020
Tokyo Cafe
Running: October 29, 2020 – December 6, 2020
Location: SHIBUYA BOX cafe&space
Address: Shibuya LOFT 2F, 21-1 Udagawacho, Shibuya, Tokyo

Osaka Cafe
Running: October 30, 2020 – November 23, 2020
Location: Abeno Q's Mall 4F
Address: Abeno Contact, 1-6-1 Abenosuji, Abeno Ward, Osaka

Aichi Cafe
Running: October 23, 2020 – November 23, 2020
Location: NAGOYA BOX cafe&space
Address: LACHIC B1F, 3-6-1 Sakae, Naka-ku, Nagoya, Aichi

Tokyo's Pokémon Café Adds Eevee Frappe to the Menu

The Pokémon Café in Ikebukuro, Tokyo, is adding an apple flavoured Eevee frappe to its ever-growing Pikachu Sweets by Pokémon Café menu. The frappe will be available from October 2 to December 4.

Eevee Apple Pie Frappe

The sweet tang of the apple combines with the caramel to create a tasty dessert drink, topped with whipped cream, crunchy piece bits, and a cute Eevee tail cookie.

Buy the separate Eevee sleeve to put on your drink to make a fully complete and adorable Eevee frappe♡

© 2020 Pokémon.©1995-2020 Nintendo/Creatures Inc./GAME FREAK inc.
Pokémon, ポケットモンスター and ポケモン are registered trademarks of Nintendo, Creatures Inc. and GAME FREAK inc.

RAYARD Hisaya-odori Park: The New Landmark of Nagoya Combines Shopping Experience With the Outdoors

Hisaya-odori Park is a park and shopping complex which opened on Friday (September 18, 2020) in Nagoya, Aichi. It will serve culture, experience, and products next to the newly renovated Nagoya TV Tower.

Hisaya-odori Park


Hammock Day


Park Wagons

The park is split into five areas like Hammock Day where you can kick back in one of the hammocks while listening to music, pick up some produce at the Farmer's Market, do some morning yoga, and more. The park will also have a line of trucks and wagons selling food, drink, items, and more.

RAYARD Hisaya-odori Park

RAYARD has also opened its second shopping complex at Hisaya-odori Park following the opening of RAYARD MIYASHITA PARK in Shibuya. The complex houses 35 restaurants and shops, 22 of which have never opened a branch in Nagoya before, which will deliver fashion, sports, food, communication, and so on.

A variety of popular cafes in RAYARD are opening in Nagoya for the first time, like the Snoopy-themed PEANUTS Cafe, the the bakery and cafe ESPRESSO D WORKS which is known for its "100 one hundred" bread which is world's first made with 100% water content, and Karuizawa's very popular cafe and restaurant Eloise's Cafe.

There'll be plenty of sweet treats to tuck into too, like crepes from ROCCA&FRIENDS CREPERIE to TEA which is so popular in Osaka that people can be waiting up to 2 hours in line, matcha desserts from Kyoto-based sweet shop Shimizu-Ippoen, and bonbons from South Korea's number one cafe Cafe de paris.

If you're wanting a real meal, enjoy some casual Italian dining at Arcoba which is managed by the former head chef of Kyoto's famous restaurant IL GHIOTTONE. Or perhaps yakiniku from Yakiniku Tokugawaen which uses Japanese black wagyu from Kyushu as the main meat on its menu. Kouji MARUTANI will also be there serving up local ingredients from Mikawa, food made with koji, a variety of craft sakes, and more.

RAYARD Hisaya-odori Park will offer a wide range of interactive experiences too such as at the creative community cafe FabCafe Nagoya which makes use of 3D printing and digital fabrication, Snow Peak which provides a live view of nature, T4 NAGOYA where you can play ping pon indoors and outdoors, narifuri which sells bicycle apparel, and so on.

There is much and more to see at RAYARD Hisaya-odori Park, so if you're in Japan this year, head to Nagoya to enjoy the autumn atmosphere.

Hotel New Otani Tokyo, Osaka & Makuhari Now Serving Rich Chestnut Pancakes For Autumn

The Tokyo, Osaka, and Makuhari branches of Hotel New Otani are now serving seasonal autumn versions of their specially made pancakes at their coffee shop and all-dining restaurant SATSUKI until November 30, 2020

Fantastically fluffy pancakes

Hotel New Otani has been serving its special pancakes for the past 10 years which have become a favourite amongst guests.

The hotel's pastry chefs have whisked up a variety of flavours in line with the changing seasons this past decade using strictly-selected ingredients including strawberry, melon, mango, chestnut, and more.

A marriage of rich chestnut and fluffy pancake

Hotel New Otani Specially Made Chestnut Pancakes 2020 | ¥2,800 (Before Tax/Service Charge)


Chestnuts are the flavourful theme for autumn 2020's pancakes, made with strictly-selected chestnut astringent skin, sweet bean jelly, and topped with a chestnut macaron.
The pancakes are served with melt-in-the-mouth Italian ricotta. There are two different doughs, one made from coffee flour which has high nutritional value, and the hotel's original "White Cereal" which is a combination of millets and amaranth.
The pancakes are cooked on a low heat for about 5 minutes on each side so they rise to a fluffy 5cm thickness and become startlingly smooth.

Strawberries for winter

For this year's winter, the hotel will be serving strawberry pancakes.

Enjoy a selection of seasonal pancakes when staying at Hotel New Otani.

Information

Hotel New Otani Tokyo
Location: SATSUKI, Hotel New Otani Tokyo Main Lobby
Address: 4-1 Kioicho, Chiyoda-ku, Tokyo
Bookings/Enquiries: 03-5275-3177 (10:00-21:00)
Official Website: https://www.newotani.co.jp/tokyo/restaurant/satsuki/

Hotel New Otani Makuhari
Location: SATSUKI, Hotel New Otani Makuhari
Address: 2-120-3 Hibino, Mihama-ku, Chiba, Chiba Prefecture
Bookings/Enquiries: 043-299-1848 (07:00-21:00)
Official Website: https://www.newotani.co.jp/makuhari/restaurant/satsuki/

Hotel New Otani Osaka
Location: SATSUKI, Hotel New Otani Osaka
Address: 1-4-1 Shiromi, Chuo-ku, Osaka, Osaka Prefecture
Bookings/Enquiries: 06-6949-3234 (07:00-20:00)
Official Website: https://www.newotani.co.jp/osaka/restaurant/satsuki/

Kaori's Easy Recipe: Learn to Make Winnie the Pooh Pumpkin Soft Cookies

With just a small bit of ingenuity, turn everyday food into something cute using Kaori's Easy Recipe! With a few simple ideas, an ordinary recipe magically transforms into a cute dish.

Halloween in closing in, so for this recipe I'll be using pumpkin to make delicious cookies—crunchy on the outside and moist in the middle. This recipe rolls the dough into a ball, so it's a great alternative for people who aren't good with shaping or cutting cookies.

Ingredients

50g pumpkin (mashed and skin removed)

20g-25g sugar (I used sanonto sugar to bring out the sweetness of the pumpkin, but white sugar is fine too)

30g unsalted butter

A pinch of salt

60g weak flour

1

Combine and mix the steamed pumpkin, room temperature butter, and sugar. Then incorporate the salt and flour and mix again.

2

Now to shape everything. For pumpkin decorations, roll the pumpkin together and create a little depression in the top. Use a toothpick or something similar to create five indents around the outside as pictured above.

To make Pooh Bear, simply roll round and add the ears.

3

Bake at 150℃ for 20-25 minutes. Leave to cool, then decorate Pooh's facial features with a chocolate pen.

Kaori invites you into her world of character-themed food dishes in her recipe series. Be sure to check out her Instagram where she has uploaded many pictures of her character dishes!

Kaori Kubota (@kaopan27)

I live in Hokkaido and I love to make character themed foods, desserts and pastries♡

I want to see my family smile, so I enjoy putting in a bit of effort to make character foods and changing food into something cute♡

You can see more of my character foods and character bento boxes on my Instagram page → @kaopan72

Starbucks Japan Unveils Candied Sweet Potato Frappuccino®

Starbucks Coffee Japan has revealed the second beverage in its Artful Autumn @ Starbucks® series of drinks. The "Candied Sweet Potato Frappuccino®" will be released at Starbucks branches in Japan on September 23, 2020.

Candied Sweet Potato Frappuccino® | Tall Size Only – ¥590

Each drink is made using a whole chopped and blended Japanese daigaku imo candied sweet potato to serve those autumn flavours, with its marbled golden colour also reminiscent of the autumn leaves. It's topped with whipped cream, black sesame seeds, and sweet potato syrup.

Truly the perfect dessert drink to sip on for the changing seasons.

Information

Candied Sweet Potato Frappuccino®
Serving: September 23, 2020 – October 31, 2020

Available: Starbucks in Japan (select branches not participating)

Starbucks Coffee Japan Official Website: https://www.starbucks.co.jp/

Halloween Doughnuts Creep Their Way Into Krispy Kreme Doughnuts in Japan

Halloween arrived at Krispy Kreme Doughnuts in Japan on September 16 with the "monster HARVEST" collection of themed doughnuts. Available until November 1, the spooky lineup incorporates a selection of Japanese autumn flavours like pumpkin and purple sweet potato.

The doughnut collection is here to put us in the Halloween spirit nice and early. Krispy Kreme Japan's popular jack-o'-lantern doughnuts are back this year, as are the new black cat doughnuts which first arrived last year. A completely new purple sweet potato flavour was also introduced to the menu on September 1.

Pumpkin Pudding Jack-o'-lantern | ¥240 (Before Tax)

The jack-o'-lantern doughnuts have been made even more delicious for Halloween 2020 by using pumpkins from Hokkaido and filling them with velvety pumpkin Japanese-style pudding. Add to that the chocolate facial features and you've got yourself a tantalising treat for the spooky season.

Black Cat Caramel | ¥250 (Before Tax)

A black cat made with big white chocolate eyes and a dark chocolate face topped with crunchy almond pieces and stuffed with caramel cream.

Muchimochi Purple Sweet Potato Mont Blanc | ¥240 (Before Tax)

The tasty, chewy, and hot purple sweet potato doughnut is made with sliced sweet potato and coated in powdered sugar. It's served hot which makes the flavour even more intense.

Halloween Dozen (12 Doughnuts) | ¥2,000 (Before Tax)

Share a dozen with friends this Halloween which includes not only two of each of the ones already shown, but Krispy Kreme's popular "Chocolate Sprinkle" and "Original Glazed®" too.

Halloween Mini Box (20 Doughnuts) | ¥2,000 (Before Tax)

There's also a colourful box of 20 mini versions of the doughnuts too.

Information

monster HARVEST
Running: September 16, 2020 – November 1, 2020

Krispy Kreme Doughnuts Official Website: https://krispykreme.jp

Pastel Coloured Halloween Served Up at Grand Nikko Tokyo Bay Maihama's Happy Halloween Sweets Buffet

Grand Nikko Tokyo Bay Maihama is a new hotel which opened on July 1 this year. Easily spotted by its pink exterior, the hotel offers Grand Nikko's brand concept of guests releasing all of their sense to enjoy a relaxing and sophisticated time while providing a refreshing resort-like experience.

This Halloween, the hotel's all-dining restaurant Le Jardin will serve up its "Happy Halloween Sweets Buffet" from October 10 to 16.

There will be 20 different desserts to pick from all in pastel colours, offering a different kind of Halloween vibe. Desserts are decorated with cute Halloween motifs like Jack-o'-lanterns, ghosts, and pumpkins. The chefs will also be certain desserts in front of guests like pumpkin mont blanc, praline mille-fuille, and pavlova.

There will also be a savoury menu too like roast beef in onion sauce, seafood acqua pazza, bread, salad, soups, and more, as well as soft drinks and non-alcoholic cocktails.

The restaurant will be restricting the number of people allowed in the dining area at once to protect diners during the pandemic.

Information

Happy Halloween Sweets Buffet
Location: Le Jardin – Grand Nikko Tokyo Bay Maihama Floor 3F
Running: October 10, 2020 – October 16, 2020

Time: 12:00-14:30 (Last Orders 14:00)

Prices: General ¥4,500 / 9-12 years old ¥2,780 / 4-8 years old ¥1,580 / 3 years old and below – Free
Enquiries/Bookings: 047-711-2427 (10:00-18:00)

Official Website: https://bit.ly/325uwjt

Grand Nikko Tokyo Bay Maihama
Address: 1-7 Maihama, Urayasu, Chiba

Official Website: https://tokyobay.grandnikko.com

Luxurious Shine Muscat Grape Parfait Served Up at Hotel Gajoen Tokyo For Autumn

Hotel Gajoen Tokyo, a museum and hotel combination, is home to New American Grill "KANADE TERRACE," the hotel's restaurant popular for its food grilled in the open kitchen, its afternoon teas made with seasonal ingredients, and cocktail lineup.

This autumn, Hotel Gajoen Tokyo is serving up its new "Shine Muscat Parfait," an richly-sweet and elegance-scented dessert made using Shine Muscat grapes.

Shine Muscat Parfait ¥2,800 | With Champagne ¥3,600 (Before Tax & Service Charge)

The parfait is layered with Kyoho grape and shampagne jelly, crémet d'Anjou which is made from fresh cheese, and maqui berry granola. It's topped with blackcurrant sherbet and tuile.

Information

Shine Muscat Parfait
Serving: October 1, 2020 – November 20, 2020

Location: New American Grill "KANADE TERRACE" (Hotel Gajoen Tokyo)

Serving Hours: 14:30-17:30 everyday

Official Website: https://www.hotelgajoen-tokyo.com/archives/54655

Tangled Inspired Disney Princess Cake Revealed by Ginza Cozy Corner

Ginza Cozy Corner has revealed its new Disney princess cake based on the 2010 animated film Tangled which will be available to order at all branches in Japan from October 1, 2020.

Tangled Dress Cake | ¥3,500 (Before Tax)

The cake is centred on the golden-lock beauty Rapunzel, with her dress as the foundation for the cake. The cake is made with cream chess, strawberry jam, and blueberries, while Rapunzel's iconic hair is lemon flavoured.

Decorate the cake yourself

The cake comes with the parts for you to decorate yourself. This adds a whole new level of fun to parties!

Exclusive Rapunzel design box

This cake was actually sold earlier this year during the Hinamatsuri festival in Japan, with all 1,000 cakes being sold out. It is now returning on October 1 and is made-to-order only.

Information

<ラプンツェル>ドレスケーキ

店頭受付

予約受付:10月1日(木)より *4日前までの予約限定
引き渡し:10月5日(月)より

Online Orders

Order Here: Ginza Cozy Corner

Order Window: From October 1, 2020
Delivery Window: From October 6, 2020

Official Website: https://www.cozycorner.co.jp/

Sweet Potato Milk Bubble Tea Pours Into Chun Shui Tang For Autumn

Chun Shui Tang, a chain of Taiwanese bubble tea stores, is adding a new limited-time drink to the menus of all branches in Japan on September 16: the "Tapioca Sweet Potato Milk Tea."

Tapioca Sweet Potato Milk Tea | ¥650 (Before Tax)

The beverage is made with annouimo sweet potatoes grown on the island of Tanegashima in Kagoshima Prefecture. The potatoes are known for their high sugar content, adding a delicious natural sweetness to the tea. It's blended with a high grade sugar syrup and topped off with whipped cream and sweet potato chips to create a dessert drink.

Those who order the drink via the Smatapi (スマタピ) app from September 9 can get the drink early before its general release on September 16.

In Japan for the autumn season? Enjoy the tasty autumn flavour of sweet potato with the Tapioca Sweet Potato Milk Tea.

Information

Tapioca Sweet Potato Milk Tea

Release Date: September 16, 2020

*Mobile pre-sales available from September 9 to those who order using the Smatapi (スマタピ) app

Available: All Chun Shui Tang shops in Japan

Chun Shui Tang Japan Official Website: https://www.chunshuitang.jp/

Luxurious Matcha Loaded Parfait Served Up at MICASADECO&CAFE KYOTO

MICASADECO&CAFE KYOTO had to shorten its menu due to the effects of COVID-19. Their legendary parfait too was taken off the list, but now has finally returned, and even more delicious looking than ever.

MICASADECO&CAFE KYOTO has tried to make the parfait as breathtaking as possible, and they've certainly captured that. It's vivid like the furisode long-sleeved kimono worn by the maiko of Kyoto, beautiful and dignified.

Uji Matcha Pudding & Raspberry Parfait | ¥1,250 (Tax Included)

This towering parfait is made up of many layers, one of which is a homemade Japanese-style pudding made with high quality matcha from Uji, Kyoto. It has a subtly sweet and deep flavour, and is taken to the next level with the matcha sauce it's served with.

The homemade raspberry jam brings a delightful sweetness too as well as adds that eye-catching aspect they're going for. As you spoon your way through, your taste buds are treated to an amalgamation of indulging flavours.

The lid that's sat on top of the parfait is actually a tuile biscuit. The best way to go about beginning your feast is to break the biscuit and then pour the matcha sauce inside.

Hidden within the parfait are also pieces of homemade matcha brownies made with lots of top grade matcha.

These parfaits will be served from September 14 but are limited in stock, so if you're in Kyoto this month, make sure you don't miss out.