4 Must-Try Kawaii Aesthetic Tapioca Drinks in Aichi Prefecture
Japan is a haven for bubble tea and tapioca-based beverages. Here on MOSHI MOSHI NIPPON we have covered many stores selling these tasty drinks in Harajuku―the town which started the tapioca boom in Japan―but today we will be heading southwest of Tokyo to Aichi Prefecture, located in central Honshu Island, to look at 4 must-drink tapioca drinks.
We are joined by meme whose Instagram page is packed full of drinks and desserts from cafes across Japan.
The Flower Table in Sakae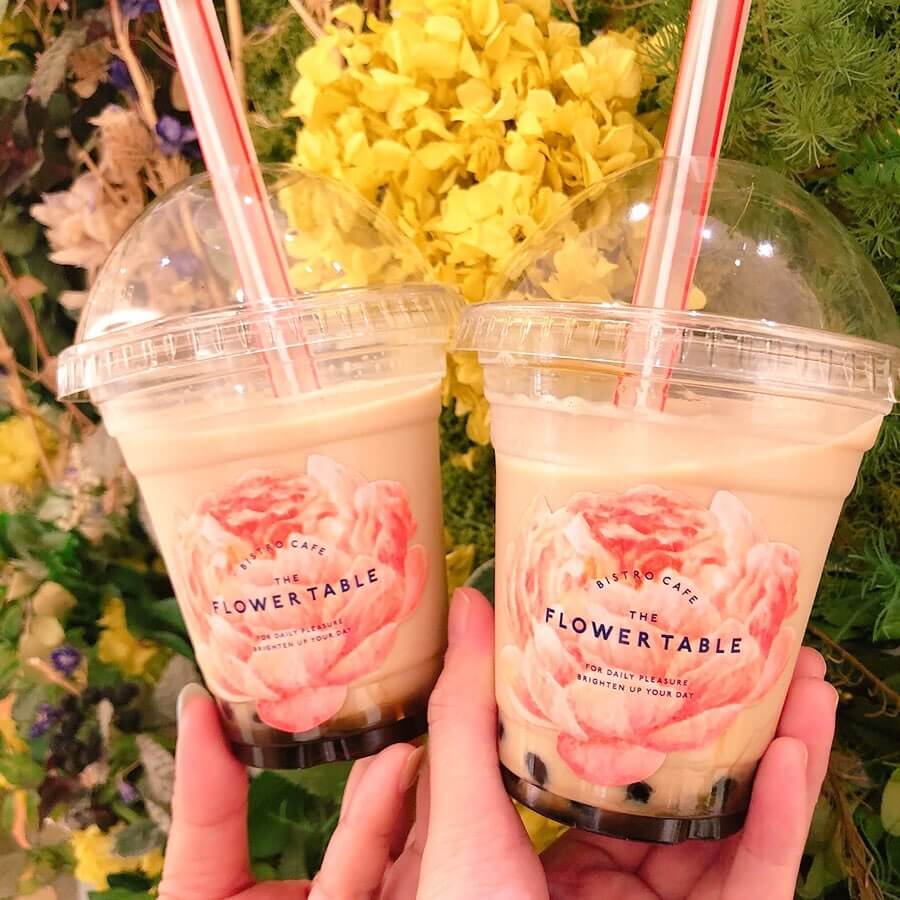 Located inside the MITSUKOSHI shopping complex in Nagoya's retail and entertainment district Sakae is The Flower Table. I absolutely recommend this store for those who aren't good with sweet drinks as you can choose between having sugar or no sugar.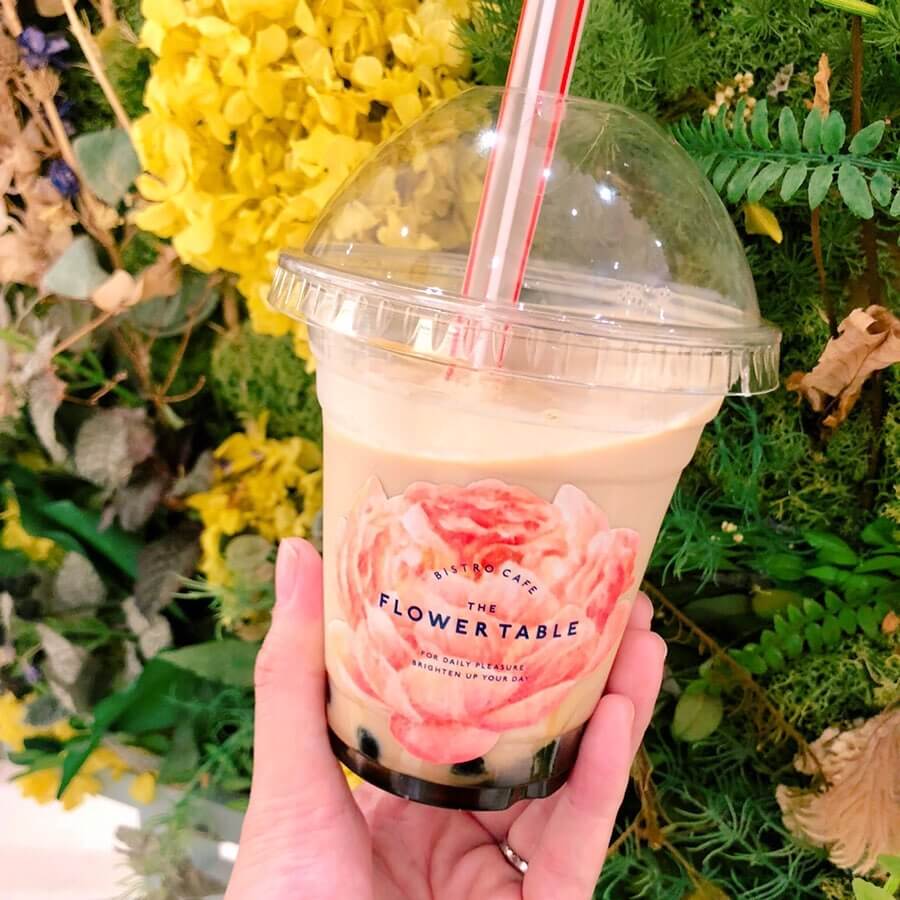 Your taste buds are hit by the flavour of the milk tea on the first sip which has a bite to it. The tea leaves used by the shop in this drink are from Kusumi Tea, a Paris-based premium tea brand.
If you're someone who likes chai then this taste is sure to tempt your palate. Not only does the milk tea taste exquisite, the tapioca pearls are sweet and satisfyingly chewy too. And let's not forget to mention their adorable takeout cup designs!
▼The Flower Table
Address: MITSUKOSHI Nagoya Sakae Store Floor 3F, 3-5-1 Sakae, Naka Ward, Nagoya, Aichi Prefecture
Opening Hours: 10:00-19:30 (Food Last Orders 19:30)
*Food not served until 11am, only drinks between 10-11am
*Afternoon tea sets, parfaits and other teatime menu options served from 2pm
Official Website: https://theflowertable.owst.jp/en/
BON CAFÉ in Sakae
BON CAFÉ can also be found in Sakae. I had heard lots of praise about this place before my first visit so I was eager to get in there. I ordered two drinks: the mango cream cheese tea (with cream and tapioca pearls) and the brown sugar milk tea (with tapioca pearls). It's hard to tell by the photos but both drinks are packed with tapioca pearls aplenty.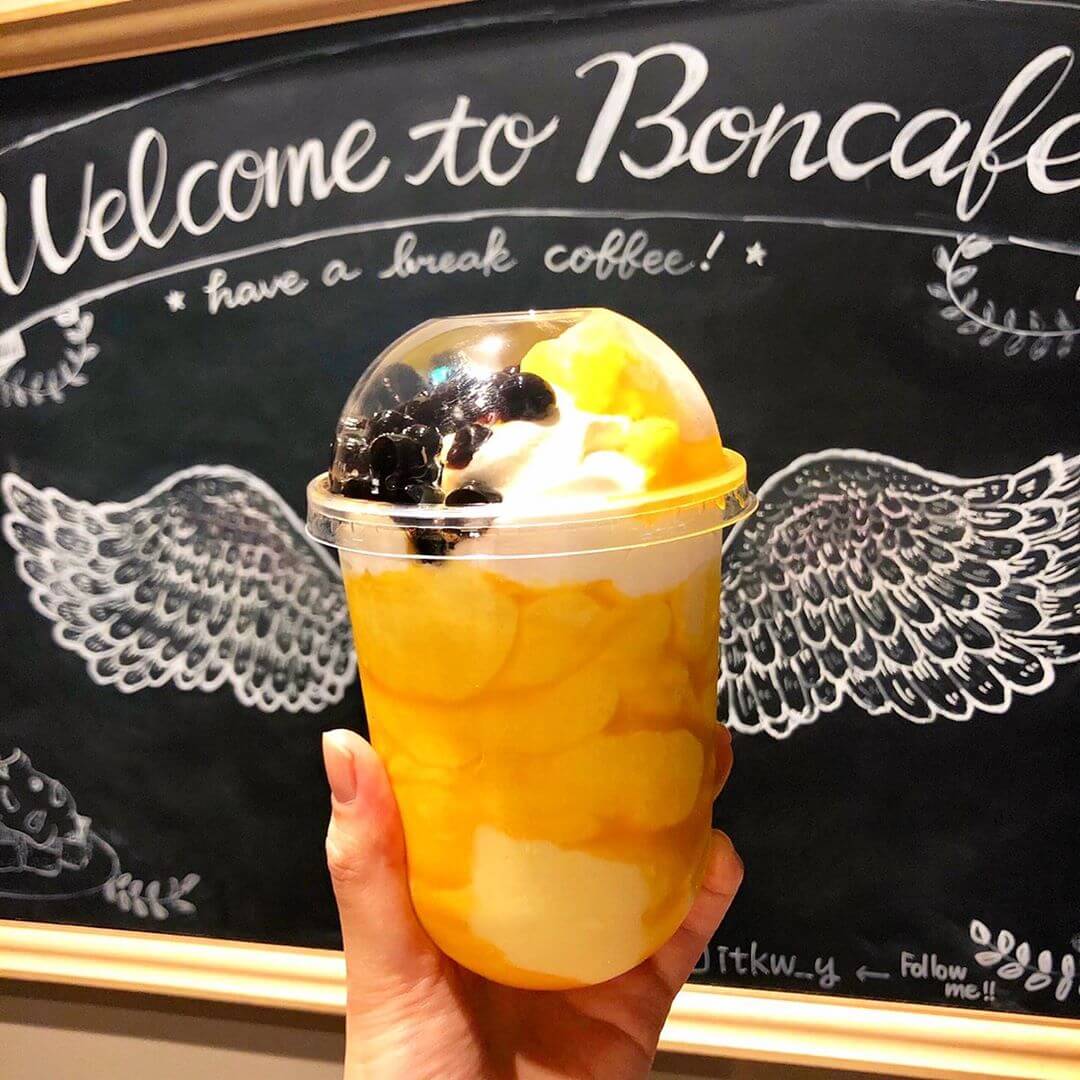 I'd heard before that the mango cream cheese tea was like a "dessert that you can drink," and I can confirm that it's true. It's topped with fresh cream and pearls so it's just as satisfying as a mango parfait.
▼BON CAFÉ
Address: Apa Hotel Nagoya Nishiki Floor 2F, Nishiki 3-15-30, Naka Ward, Nagoya, Aichi Prefecture
Opening Hours: 11:00-23:00 (Last Orders 22:00)
No Fixed Holidays
Official Website: https://bon-cafe.jp/tapioca/
Peripatos in Kita-Okazaki
Drinks at Peripatos are takeout-only. Their bottle designs are cute and simple with just a kitty illustration on them. The three drinks in the photo are Very Berry, Tropical, and Hazelnut & Caramel Sauce with coffee jelly.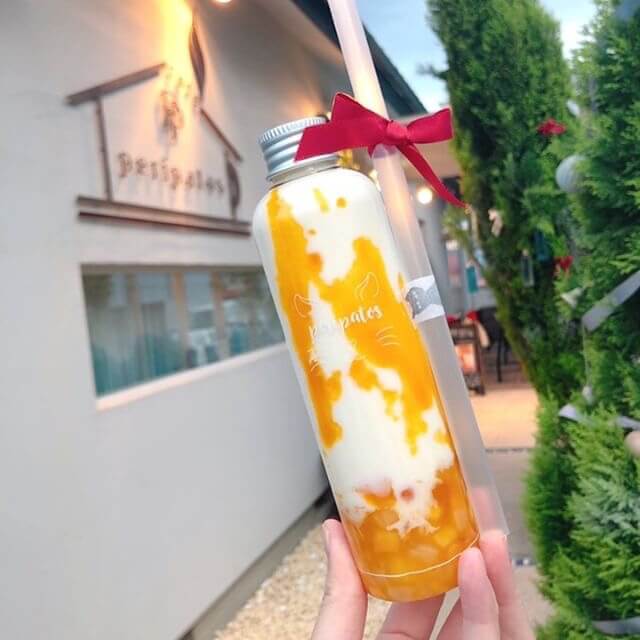 The tropical drink has pieces of fresh mango in it while the Very Berry has fresh strawberry and chewy strawberry flavoured tapioca pearls in it. My friend ordered the Hazelnut & Caramel one which has coffee flavoured jelly in it instead of tapioca pearls. You sip it while crushing the jelly.
The shop interior is really cute too!
▼Peripatos
Address: 4-4 Ida Nishimachi, Okazaki, Aichi Prefecture
Opening Hours: [Mon-Tues & Fri-Sat] 11:00-21:30 / [Thurs & Sun] 11:00-18:00
Closed: Wednesdays
Official Instagram Page: https://www.instagram.com/c.peripatos/
Watashi to Cafe in Kariya
At Watashi to Cafe I ordered the strawberry milk tapioca drink. The pearls in this drink are strawberry flavoured too, and there's a lot of them making is super tasty. The glasses they come in are cute too.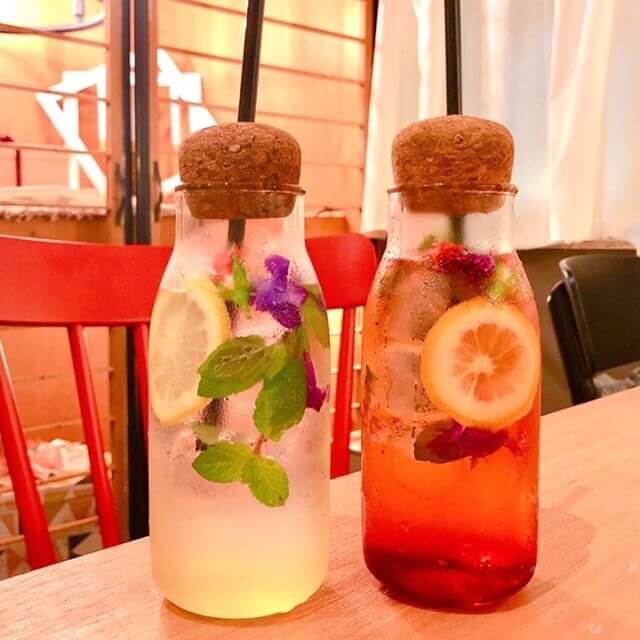 They also sell beautiful herbarium-like drinks. These don't have tapioca pearls in them but I recommend these too!
▼Watashi to Cafe
Address: 2-20 Minamisakuramachi, Kariya, Aichi Prefecture
Opening Hours: Lunch 11:00-15:00 / Dinner 15:00-Midnight
Closed: Tuesdays
Official Website: https://watashitocafe.gorp.jp/
Did you enjoy this list? meme has lots of other tempting recommendations of drinks and desserts on their Instagram page too, so if you're looking for something to try while in the Tokai region of Japan be sure to give them a follow.
Translation: Joshua Kitosi-Isanga
RECOMMENDED ENTRIES
Three Perfectly Peachy Parfaits This Summer In Nagoya

Summer is the perfect time to enjoy Japanese peaches, which are particularly juicy and sweet around this time. Peaches go well with red bean paste, cream and a variety of other flavours, which is why you will be seeing a lot of peachy desserts this summer. You just have to try them!

Today, Instagrammer meme, who is a big fan of cute and stylish cafés, will be introducing you to peach parfaits that you absolutely must try in Aichi prefecture.

BLUE STAR CAFE(ブルースターカフェ)/Nagakute

BLUE STAR CAFE has started selling a peach parfait. The peaches are so sweet and juicy that I was moved to tears. The parfait is made up of fresh cream, vanilla ice cream, peach sherbet and frozen peach. It is simple, delicious and very satisfying. 

▼BLUE STAR CAFE

Address: 504 Tsukada, Nagakute, Aichi

TEL:0561 42 6878

Official Website: https://bluestar-cafe.com/

Halleloo Garden(ハレルゥ ガーデン)

I was just waiting and waiting for Halleloo Garden to release their peach parfait and I was far from disappointed. Just looking at the pretty pink peaches is enough to get your mouth watering. When you cut into the peach, it will explode with colourful popping boba. What a fun parfait.♡

The parfait is made up of a variety of fruits including melon, blueberries, grapefruit and apple. It also contains vanilla ice cream, custard, fresh cream, and dried fruit too. Be aware that the contents of this parfait will change according to the season. 

This peach parfait also comes with peach-flavoured black tea with boba. Add this to your parfait and notice the change in flavour as your parfait becomes a milk bubble tea! This was my first experience of popping boba. It was such a fun experience to bite into the boba and feel them explode, flooding my tastebuds with a delicious juicy flavour. Whether Halleloo Garden can serve this parfait seems to be dependent on whether they can receive peaches from their supplier, so I recommend phoning up the café before you turn up to if you want to try this. 

▼Halleloo Garden

Address: Kami-222-1 Miyoshicho, Miyoshi, Aichi

TEL: 0561 56 1080

Official Website: http://www.halleloo.jp/

merry café(メリーカフェ)/Toyoake

merry café serves a beautiful peach parfait that looks just like a bouquet of flowers.

The simple peach compote allows you to enjoy the natural deliciousness of the peaches. During this season, finding peaches that are highly sweet can be a bit of a hit or miss, however there is no doubt that they will be sweet when made into a compote. It was a delicious peach parfait. ♡

▼merry café

Address: 7-18 Komochimatsu Shindencho, Toyoake,

TEL:0562-91-3230

Opening Hours: 11:00 ー 15:00, 17:30 ー 22:00

Official Facebook Page: https://ja-jp.facebook.com/merrycafe1218/

All these pink peach treats look so beautiful. This peachy season is the perfect time to wrap yourself in the wonderful fragrance of sweet peach. Please check out meme's Instagram which is full of information on cute cafés you can visit for delicious desserts. 

Author/ Photographer: meme

3 Must-Visit Places in Japan's Aichi Prefecture – MOSHI MOSHI NIPPON

Aichi Prefecture is located in the centre of Japan's Honshu island. It is home to countless shops, astounding castles, and many sightseeing spots. Mother nature is a huge part of Aichi's beauty where she has provided plenty of places for enjoying the outdoors.

Instagrammer NAMIKO, who travels all over Japan to visit tourist and sightseeing spots, is here today to showcase three unmissable places to visit when travelling to Aichi using photos she has posted.

Aichi Farm (Aichi Bokujo)

Running just a 10-minute stroll from Kurozasa Station is Aichi Farm which is home to various farm animals, a place where you can enjoy BBQ food, and more, making it a very popular spot for friends and families looking for a day out.

But the absolute must-see part of your trip here during summer are the sunflower beds which bloom from early July right up to early September. The best times to see them in full bloom are posted on the farm's official website so be sure to check before packing your outdoor gear and heading out.

▼Aichi Farm (Aichi Bokujo)

Address: Minamiyama-977 Komenokichō, Nisshin, Aichi

Opening Hours: Dependent on the season, check the official website for details

No Fixed Holidays (Except New Year's and Tuesdays when the horse riding club is running)

Official Website: http://www.aiboku.com/

Noma Lighthouse

Nomazaki Lighthouse, or Noma Lighthouse for short, can be found along the coast of a town called Mihama in Chita District. This town bears many sightseeing spots including the aquarium and art museum. The lighthouse can be reached by riding the Meitetsu Chita New Line to Noma Station. You then change onto the Mini Seibu Bus and get off at Noma Lighthouse (野間灯台).

It is the oldest lighthouse in all of Aichi Prefecture and is popular for its "kawaii" appearance. Wanderlust travellers will love basking in the radiant summer sun by the sea and sandy beach when they go to visit Noma Lighthouse.

▼Noma Lighthouse

Address: Iwanari-20-1 Onoura, Mihama, Chita District, Aichi

No Fixed Holidays

Official Website: https://www.aichi-now.jp/spots/detail/115/

Himakajima

Himakajima is an island in Mikawa Bay which can be reached in just an hour from Nagoya, the capital of Aichi Prefecture. Not only do you have sunny beaches, there's also a temple, a park for children to play in, the island's famous giant swing, and lots of other fun places to explore. It's also known for its octopus and blowfish catches which can be eaten there.

There are plenty of spots for taking great photos too. Since it's an island located off the coast, any photo you take will look picturesque.

▼Himakajima

Official Website: https://www.himaka.net/

If you're seeking out even more travel recommendations and sightseeing spots around Japan for your bucket list then we highly encourage you to follow NAMIKO on Instagram.

Photos: NAMIKO

Japan's First Rurouni Kenshin Escape Game Slices its Way Into Museum Meiji-Mura in Aichi

A new escape game themed on Rurouni Kenshin has been created by SCRAP and is to slash its way into Museum Meiji-Mura on September 11. The museum has stood for over 60 years, focusing on the Meiji period of Japan.

Rorouni Kenshi is a hit manga series loved the world over with over 70 million copies sold. The latest arc of the manga, Rurouni Kenshin: The Hokkaido Arc, is serialised in Jump Comics SQ and is being published in English by Viz Media.

In the first ever escape game based on the series, you will become a practioner of the Kamiya Kasshin-ryū and join Kenshin in facing enemies. To accomplish your objective, you will need to speak to various people in the game, as well as learn sword techniques from a certain character in the series. It taking place in the Museum Meiji-Mura means you will be fully immersed in the story―like you have slipped back in time―as the series itself is set during the Meiji period.

Help Kenshin defend Tokyo by participating in this new exciting escape game.

©Nobuhiro Watsuki / Shueisha ©SCRAP

Information

Rurouni Kenshin Escape Game at Museum Meiji-Mura

Location: Museum Meiji-Mura (1 Uchiyama, Inuyama, Aichi Prefecture)

Running: September 11, 2019 – December 15, 2019

Tickets

Price: ¥2,200 (comes with kit to play the game) *does not include entry fee to the museum

Available: At the reception desk for events at the museum

Game

・Time Restriction: None (allot yoruself 2-3 hours to play)

・No. of Participants: Unlimited (you can play on your own or with a group)

・Once the game starts, you are free to walk around the museum to complete the game

・Though there is no time restriction the game will end at the museum's closing hours

Official Website: https://realdgame.jp/ruroken/
RELATED ENTRIES
BTS TinyTAN Pop-Up Shop Open in Nagoya for a Limited Time

BTS fans will want to head to Nagoya! The TinyTAN Licensed Product Special Exhibition is now open at Nagoya Kintetsu Pass'e until October 2, 2022. Tons of new products inspired by Butter are available at an on-site pop-up shop!

The exhibition opened on September 17, and fans of the BTS song Butter are flocking to the event to snag some adorable new merch. In addition to new interior goods being unveiled for the first time, popular products have been released with entirely new designs. 

Many other world premiere products will also be available, including the 4 Season Blanket decorated with TinyTAN characters and inspired by spring, summer, fall, and winter. This will be available in limited quantities, so don't miss out!

Information

TinyTAN​ Licensed Product Special Exhibition in Nagoya (DIRECTOR JAPAN)
Venue: Nagoya Kintetsu Pass'e 4F Special Event Space (1-2-2 Meieki, Nakamura-ku, Nagoya)
Running: September 17 – October 2, 2022
Hours: 10:00-20:00
Reservations: https://select-type.com/rsv/?id=zf4tWp-4ICA

Ghibli Park Gives First Look at Ghibli's Grand Warehouse Ahead of November Opening Date

Ghibli Park Phase 1 will open to the public on November 1 in Nagakute City, Aichi Prefecture at Moricoro Park within the Expo 2005 Aichi Commemorative Park. Ahead of the exciting day, fans are getting their first glimpse at the Ghibli's Grand Warehouse area!

For those looking to immerse themselves in the world of Ghibli, look no further. Phase 1 will see the opening of a theater, a shop, a cafe, and three unique exhibits. 

Cinema Orion

The theater will screen ten short films that were previously only available to watch at the Ghibli Museum in Mitaka, Tokyo. 

Trio of Special Exhibitions

The Famous Scenes Exhibition will invite guests to pretend to be a character in their favorite Ghibli films, stepping directly into recreated scenes. In addition, due to how often fans claim that food in Ghibli films looks exceptionally tasty, a special exhibition from the Ghibli Museum is also coming to Ghibli Park featuring these delectable-looking treats. 

The on-site store and cafe will also be selling original products only available at the park. A new trailer has been released for the park as well, showing what fans can look forward to in November. Tickets for Ghibli Park will go on sale on the 10th of each month and are reservation-only, with a date and time assigned for each area. Lottery sales for December admission will run from September 10 until September 21 at 23:59.

© Studio Ghibli

Information

Ghibli Park

Phase 1 Opening: November 1, 2022

Address: Expo 2005 Aichi Commemorative Park (1533 Ibaragabasama, Nagakute, Aichi)

Official Website: https://ghibli-park.jp/

Hilton Tokyo Odaiba to Hold Second Touken Ranbu ONLINE Collaboration Sweets Buffet

From October 21 until November 30, 2022, Hilton Tokyo Odaiba will hold the Touken Ranbu ONLINE Special Buffet ~Black & White~ event! This second collaboration with the popular series will be held Grillogy Bar and Grill on the second floor.

Dessert Menu

Drink Menu

Drink Order Bonus: Original Coaster (8 varieties)

At the buffet, guests can enjoy luxurious dishes inspired by characters from the sword-centered game and anime series. The desserts blend Japanese and Western cuisine, and special cocktails will be available during the first phase, each coming with a special coaster as a bonus! In addition, original goods will be on sale at the venue, so don't miss it!

Information

Touken Ranbu ONLINE Special Buffet ~Black & White~

Running: October 21 – November 30, 2022

Reservation Start Dates and Times: 

Lottery Opens: September 16, 12:00~

General Reservations Open: October 6, 12:00~

*Lottery reservations and general reservations will be open
for the first and second runs.

*Please see the official website for the full reservation schedule.

Venue: Hilton Tokyo Odaiba 2F Restaurant, Grillogy Bar and Grill

*Reservations required

Tickets/Details: https://odaiba.site/

Online Shop: https://touken-yorozuya.com/

Yokohama Royal Park Hotel to Hold Halloween Sweets Fair in October

From October 1 until October 31, Yokohama Royal Park Hotel will hold a special Halloween Fair at its delicatessen and lounge Coffret. In addition to six playful sweets from the Halloween Frankenstein to the Halloween Mummy, two types of autumn bread featuring pumpkin and purple sweet potato will be available, allowing guests to enjoy the taste of the season!


Halloween Frankenstein

Halloween Cat

Halloween Mont Blanc

Halloween Mummy

Halloween Pudding

Halloween Pound Cake

Pumpkin Cream Fondue / Halloween Anpan

  

Come enjoy this Halloween with some cute and silly sweets!

Information

Halloween Fair

Running: October 1 – October 31, 2022
Venue: Coffret Delicatessen and Lounge, 1F
Hours: Lounge 10:00-20:00 (*Cakes served starting at 11:00) /
Delicatessen 11:00-20:00
Reservations: 045-221-1111 (Representatives available 11:00-20:00)

Tsujiri Reveals Colorful Autumn Parfait Using Purple Sweet Potatoes

Tsujiri, a staple of Uji, Kyoto, has announced an exclusive autumn menu! Guests can enjoy the Tsujiri Soft Autumn Parfait, the Kyo Latte Smoothie with Purple Sweet Potato, and the Kyo Latte with Hojicha at the Kyoto location and three other stores starting September 1, 2022.

Tsujiri Limited Time Autumn Menu

These three limited-time items are filled with fall flavors. The Tsujiri Soft Autumn Parfait is filled with Uji green tea carefully selected by tea masters and topped with purple sweet potato paste, sweet potato nectar, and other gorgeous goodies.

The Kyo Latte Smoothie with Purple Sweet Potato features an autumn-only flavor combining purple sweet potato bean paste, cream, and sweet potato nectar with Tsujiri's matcha green tea smoothie. The Hojicha version is made with luxurious Uji Hojicha and milk for a soothing experience.

Enjoy autumn with these tasty treats filled with seasonal flavors!

Information

Tsujiri Kyoto Store
Address: 215 Nakanocho, Kyoto 

Tsujiri Kyoto Tower Sando
Address: Kyoto Tower Sando Building 1F (721-1 Higashishiokojicho,
Shimogyo-ku, Kyoto)

Tsujiri arde! Shin-Osaka
Address: arde! Shin-Osaka, JR Shin-Osaka Station 2F (5-16-1 Nishinakajima, Yodogawa-ku, Osaka)

*The autumn menu is not available at the Uji location or the Naha Airport location.

Q-pot CAFE to Offer Cute Halloween Sweets to Celebrate 10th Anniversary

Q-pot CAFE in Omotesando will be offering up some Halloween treats to celebrate the location's 10th anniversary! Guests will be able to sample these special sweets from September 3 until October 31, 2022.

Happy Halloween! Afternoon Tea Set

The festive Happy Halloween afternoon tea features pink Jack-o'-lantern macarons and other Halloween-inspired sweets.

Fluffy Floating Ghost Plate (Drink Included)

The adorable ghost is made from fluffy milk mousse covered with gyuhi, a typical ingredient in Japanese sweets made from rice flour. Inside is blackcurrant and redcurrant jelly with an incredibly sweet and sour flavor.

Black Devil Tea Mocha

Featuring large devil wings, this tasty and eye-catching beverage is a mix of black tea, chocolate, and milk. When the cocoa cream melts, the taste changes to something creamy and cozy, perfect for the autumn months.

Shimmering Blueberry & Grapefruit Soda

This refreshing sweet and sour drink combines blueberries and pink grapefruit along with soda and pearl powder.

Come enjoy Halloween while celebrating the cafe's 10th anniversary!

Information

Q-pot CAFE 10th Halloween Menu

Location: Q-pot CAFE Omotesando

Running: September 3 – October 31, 2022

Hours: 11:00-19:00 (Last Order at 18:30)

Details/Reservations: http://www.Q-pot.jp/news/2022/08/1746.html

Pastel Collaborates with My Melody and Kuromi for Autumn Puddings

Pastel, a sweets brand known for its smooth pudding, has announced a collaboration with the Sanrio characters My Melody and Kuromi! Fans can snag some tasty treats from September 1 to October 31, 2022.

This year's collaboration is based on a sweet circus. Fall is full of wonderful events like Halloween, and the company is ready to celebrate with these colorful desserts.

New items include limited edition puddings featuring illustrations of My Melody and Kuromi and sweet and sour treats made with strawberries that will crackle and pops in your mouth!

My Melody Mini Pudding: ¥430 (Tax Included)

Left 2 Puddings: September 1 – September 30 / Right 2 Puddings: October 1 – October 30, 2022

Kuromi Mini Pudding: ¥430 (Tax Included)

Left 2 Puddings: September 1 – September 30 / Right 2 Puddings: October 1 – October 30, 2022

Pastel's original mini puddings are topped with whipped cream and finished with a My Melody illustration in cocoa powder. Enjoy the smooth texture and soft whipped cream!

My Melody's Merry-go-Round Pudding: ¥600 (Tax Included)
Top: September 1 – September 30 / Bottom: October 1 – October 30, 2022

This exclusive pudding was inspired by My Melody. Smooth pudding is topped with sponge cake and diced strawberries, sweet and sour strawberry cream, and colorful marshmallows.

Kuromi's Circus Pudding: ¥600 (Tax Included)

Top: September 1 – September 30 / Bottom: October 1 – October 30, 2022

Smooth chocolate pudding is accented with raspberry sauce and finished with fluffy cream. This treat is perfect for fall, and the chocolate that crackles in your mouth is sure to amaze and delight!

Come enjoy some autumn sweets decorated with your favorite Sanrio characters!

© 2022 SANRIO CO., LTD. APPROVAL NO. L632735

*AEON Mall Shin-Rifu South Building, AEON Mall Okazaki, and THE OUTLETS HIROSHIMA will only offer mini-puddings of each character.
*All images are sample images.

Popular Manga Series Chihayafuru Celebrates Finale with Exhibition in Nagoya

Matsuzakaya Nagoya will hold an exhibition for the popular manga series Chihayafuru from August 10 until August 29. The manga concluded on August 1 after 15 years of serialization and tells the story of Chihaya, a girl aiming to become the greatest competitive karuta player in Japan. Karuta is a Japanese card game, requiring players to memorize a collection of 100 classical poems in order to play. Generations of readers have been sucked in by the inspiring and romantic tale, and the series has grown to include an anime adaptation and a live-action film. The story has now reached its inevitable climax, and fans are saying farewell to Chihaya, Taichi, and Arata. 

Works on Display

Original Exhibition Goods

Daddy Bear Plush / Snow-maru Plush

Maki-e Nail Clippers by Hashimoto Lacquerware

Goshuin-cho (Shrine and Temple Stamp Book) Set

The exhibition will feature over 500 original drawings and will offer a look back at the series as a whole. Guests will also be able to see new drawings made exclusively for the event. In addition to valuable setting materials and research notes, the exhibition will also go behind the scenes, and a video of the elaborate production process and the creator Yuki Suetsugu's thoughts on the work will be shown. If you're a fan, you shouldn't miss it!

©末次由紀/講談社

Creepy-Cute Halloween Sweets Available for a Limited Time at Hyatt Centric Kanazawa

Halloween is on the way, and the Hyatt Centric Kanazawa hotel is prepping some spooky sweets to celebrate! From October 1 until October 31, a Monster Halloween Cake Set will be available at the hotel's restaurant FIVE – Grill and Lounge. Guests can also enjoy a Halloween lunch and dinner menu featuring a chic menu filled with black, red, and purple dishes. Visitors who come in costume will gain access to some special offers as well!

Halloween Lunch / Dinner Course

Poached Eggs with Black Chaudfroid Sauce

Grilled Beef Tenderloin with Beet Variation

 

The courses were inspired by an adult Halloween party and will be available for four days only. Each dish contains colors perfect for the season, like haunting black and bloody red punctuated with a purple-tinted memory of moonlight. While the dishes may look strange, they are made with the finest ingredients. 

Monster Halloween Cake Set

Witch's Mont Blanc Pudding

Mummy Macaron

Denture Parfait

Jack-o'-Lantern Cream Puff

Frankenstein Brownie

Gyuhi Ghost

Spider Web Mousse

GO FOR KOGEI 2022 Collaboration 5×5 Cake Set

A special cake set featuring everything from Frankenstein to spider webs will get you in the Halloween mood. The lineup includes Witch's Mont Blanc Pudding topped with purple sweet potato cream, and the adorable Jack-o'-Lantern cream puff filled with–you guessed it–pumpkin cream. Come enjoy some other playful treats like the Mummy Macaron filled with apricot and the Denture Parfait with berries and marshmallows. On weekdays from October 3 until October 21, the cakes will be served on a special Kutani ware in collaboration with GO FOR KOGEI 2022. This 5×5 set will be limited to five servings per day. Kutani ware is a style of traditional Japanese porcelain found in Ishikawa Prefecture.

Halloween Cocktail


This year's Halloween cocktail is the rock-themed Back in Black. With a tequila base, you're sure to have some extra fun after downing this classy beverage. 

Come enjoy some spooky and cute Halloween sweets while you can!

Information

Monster Halloween 

Hyatt Centric Kanazawa
FIVE – Grill & Lounge
Address: Hyatt Centric Kanazawa 3F (1-5-2 Hirooka, Kanazawa, Ishikawa)
Official Site: http://fivegrillandlounge.jp

Lunch / Dinner Menu

Available: October 28 – October 31, 2022
Hours:
Lunch: 11:30-14:30 (Last Order at 14:00)
Dinner: 17:30-21:00 (Last Order at 20:30)
Details/Reservations: https://bit.ly/FIVEHalloween 

Monster Halloween Cake Set
Available: October 1 – October 31, 2022
*On weekdays from October 3 to October 21, the 5×5 cake set, made in collaboration with GO FOR KOGEI 2022, will only be offered in a limited number of 5 per day. (Advance reservations required.)
Hours: 12:00-17:00 (Last Order at 16:30)
Details/Reservations: https://bit.ly/FIVEHalloween 

Halloween Cocktail
Available: October 24 – October 31, 2022
Hours: 17:00-24:00 (Last Order at 23:30)

*Menu subject to change depending on availability.

VTuber Group NIJISANJI EN Inspires Collaboration Cafes in Ikebukuro and Nagoya

From August 3 until August 30, VTuber group NIJISANJI EN fans won't want to miss two unique collaboration cafes coming to Ikebukuro and Nagoya! The cafes are being held at Animate Cafe and a number of themed dishes and goods will be available for purchase.

Menu

Pomu, Selen, and Reimu's Favorite Things Plate

Ike, Shu, and Luca's Favorite Things Plate

Pomu, Selen, and Reimu's Favorite Sweets Set

HOW CAN I WORK PLEASE! Cake Set by seisoxiem

Big Powerful Pomu Energy Drink

Mango Cider That Won't Make You Blackout

Miso Soup & Toast

fika time

Super Popular Taiyaki Drink

C&C (Cookies & Cream) Frozen Drink with Cheddar Cheese Flavored Thing

Goods

At the collaboration cafe, limited-edition goods featuring entirely new illustrations of the members will be on sale. Pomu Rainpuff, Selen Tatsuki, Reimu Endou, Ike Eveland, Shu Yamino, and Luca Kaneshiro are waiting for you!

©ANYCOLOR, Inc.

Information

NIJISANJI EN x Animate Cafe

Running: August 3 – August 30, 2022
Venue: Animate Cafe Ikebukuro #3 / Nagoya #2
How to Visit:
  

Animate Cafe Ikebukuro #3
Reservations by lottery for all dates (Online)

Animate Cafe Nagoya #2
August 3 – August 5, Weekends & Holidays: Reservations by lottery (Online)

*All other dates feature first-come-first-served seating. If the shop becomes too crowded, numbered tickets may be handed out.
Details: https://cafe.animate.co.jp/event/nijisanji-en2208/


Chainsaw Man Manga Series Collaborates with Tasaki Jewelry, Pop-up Event to Open in Nagoya

Matsuzakaya Nagoya will hold a special collaboration pop-up between the popular manga Chainsaw Man and the fine jewelry brand Tasaki from July 27 to August 2, 2022. Fans of the series won't want to miss seeing these exquisite pieces in person! The event is also celebrating the launch of 'danger,' one of Tasaki's new iconic items. 

At the venue, guests can peruse a selection of Tasaki's fine jewelry, including the new 'danger' collection which was inspired by the beauty of insectivorous plants. This is a perfect mix with Chainsaw Man, which has captivated audiences around the world with its unique plot, savage content, and one-of-a-kind characters. Fans won't want to miss out on these manga-inspired pieces perfect for everyday wear. A special visual for the pop-up was drawn by the original author of the series Tatsuki Fujimoto. 


Also on display at the venue will be a special Pochita figure, whose chainsaw will be lavishly set with pearls.

Chainsaw Pendant & Ear Cuff (One Ear)

Chainsaw Man Pendant

Pochita Pendant

Pochita Pendant

Power Necklace

These collaboration jewelry pieces inspired by characters and motifs from Chainsaw Man will be available in limited quantities at the venue, so don't miss it!

©TASAKI

Information

Tasaki x Chainsaw Man Pop-up

Running: July 27 – August 2, 2022

Venue: Matsuzakaya Nagoya

Toy Story Aliens Cafe to Open in Tokyo, Osaka, and Nagoya

The Toy Story Aliens Cafe will be opening for a limited time in Tokyo starting July 23, in Osaka on July 27, and in Nagoya on August 4. Fans of the film series will remember the adorable Alien characters, originally shown as prizes in a crane game. This pop-up cafe will feature themed dishes and merchandise, and Pixar fans should be sure to attend!

Menu

Food

Space Curry

Green Pasta

Alien Burger A (Teriyaki Soy Meat) / Burger B (Tomato Soy Meat) / Burger C (Chicken & Potato)

Moon Landing?! Potato & Bread

Kids Plate

Fruit Bread

Drinks

Alien Smoothie

Space Soda

Melon Milk

Space Crane Game Cider / Grape Juice

Hot Tea / Hot Milk

Goods

The food menu includes a tasty black curry, a green pasta featuring broccoli, edamame, spinach, and snap peas, and three types of alien burgers featuring either teriyaki soy meat, tomato soy meat, or chicken and potato. Even the drinks stick to the Alien theme, and the menu includes an Alien Smoothie with a tasty banana yogurt flavor. 

Guests will also be able to purchase event-exclusive merchandise from keychains and stickers to tote bags and letter sets. 

©Disney/Pixar

Information

Toy Story Aliens Cafe at OH MY CAFE

Venues/Dates: 

Tokyo: OH MY CAFE TOKYO

Running: July 23 – September 25, 2022

Tokyu Plaza Omotesando Harajuku Mall 3F (4-30-3 Jingumae, Shibuya-ku, Tokyo)


Osaka: OH MY CAFE OSAKA

Running: July 27 – October 3, 2022

1-6-1 Shinsaibashisuji, Chuo-ku, Osaka (2F)

Nagoya: kawara CAFE&KITCHEN

Nagoya PARCO

Running: August 4 – October 10, 2022

Nagoya PARCO South Building 5F (3-29-1 Sakae, Naka-ku, Nagoya)

Details: https://planet.ohmycafe.jp/

Online Store

July 23, 12:00~